Wales is particularly proud of two of its poets: Dylan Thomas and R.S. Thomas. There is an irony here in that, at least for much of their lives, both Dylan and R.S. were very rude indeed about the sort of people who now hail them as heroes. Dylan Thomas famously took the piss out of Wales and the Welsh, most famously of course  in 'Under Milk Wood' and he was considered pretty much beyond the pale by many in Wales until he was safely dead.
R.S. Thomas was embraced while he was still alive and is famous as a nationalist poet who was very hostile towards the English. However R.S. Thomas's letters and diaries compiled when he was at UCNW (Bangor University) are scathing about the Welsh-speaking students from areas like the Llyn – where R.S. Thomas later made his home as the vicar of Aberdaron  – in rural Wales; when R.S. was a student he made it clear that as far as he was concerned, the Welsh students were a bunch of ignorant near-animals. R.S. Thomas's son Gwydion has spent much of his adult life in the Far East and his comments about his father don't paint a very flattering picture of R.S.
R.S. Thomas's view of Wales is relentlessly bleak, such as the sentiments expressed in 'Welsh landscape':
To live in Wales is to be conscious
At dusk of the spilled blood
That went into the making of the wild sky,
Dyeing the immaculate rivers
In all their courses.
It is to be aware,
Above the noisy tractor
And hum of the machine
Of strife in the strung woods,
Vibrant with sped arrows.
You cannot live in the present,
At least not in Wales.
There is the language for instance, 
The soft consonants 
Strange to the ear.

There are cries in the dark at night 
As owls answer the moon, 
And thick ambush of shadows, 
Hushed at the fields' corners.

There is no present in Wales, 
And no future; 
There is only the past, 
Brittle with relics, 
Wind-bitten towers and castles 
With sham ghosts; 
Mouldering quarries and mines; 
And an impotent people, 
Sick with inbreeding, 
Worrying the carcass of an old song.
To live in Wales is to be conscious 
At dusk of the spilled blood 
That went into the making of the wild sky, 
Dyeing the immaculate rivers 
In all their courses.
His poem 'Meet The Family' articulates a truly grim imagined past of a family who's portraits over generations are displayed in the family home:
John One takes his place at the table/He is the first part of the fable
His eyes are dry as a dead leaf/Look on him and learn grief
John Two stands in the door done
You have seen that face before/Leaning out of a dark past
Tortured in thoughts bitter blast
John Three is still outside/Drooling as the daylight died on the wet stones
His hands are crossed in mourning 
For a playmate lost
John Four and his lean wife/Whose forced complicity gave life
To each loathed foetus
Stare from the wall/Dead not absent
The night falls
In this blog post I will provide details of a family who have exerted a strong influence on Wales, much stronger than Dylan's and R.S. Thomas's families ever did.
Previous posts (eg. 'Enter Professor Robert Bluglass CBE') have detailed how Dafydd's mate Bluglass concealed the crimes of Dafydd and the gang in 1989, when Bluglass finally investigated – or indeed failed to investigate – my complaint against Dafydd et al. This was the only time that a complaint of mine was 'investigated', other complaints were simply ignored or batted into the long grass. This was not the only time that Bluglass – let alone his network – came to the rescue of Dafydd and the gang. Dafydd and the gang had a branch of their empire in Liverpool and in that capacity, they ruled over Ashworth Hospital on Merseyside, which was used as the Final Solution for some of the victims of Dafydd's gang. The abuses at Ashworth were horrific, so much so that even the best efforts of Gov't could not deny them by the late 1980s. See eg. post 'Security, Security'.
Ashworth was the subject of two public inquiries in the 1990s, the Blom-Cooper Inquiry and the Fallon Inquiry; Dafydd's mate Bluglass was a member of the Fallon Inquiry. The Fallon Inquiry reported specifically on the Personality Disorder Unit in Ashworth, Lawrence Ward. Which was established and managed by Dr Chris Hunter, who was the man who Chaired a case conference about me and took evidence from Tony Francis and Dafydd as well as a number of people who had never met me, just before the first Inquiry into Ashworth, the Blom-Cooper Inquiry. Chris Hunter had never met me either. Hunter concluded from his case conference that I had was extremely dangerous, had a homicidal capacity and he offered to prepare an opinion for the Court. Was I facing any charges at the time? No, I was, when the case conference took place, sitting in a London Medical School and as a postgrad not a patient. I knew nothing of this case conference until some four years ago when I finally received copies of all of my records. I had never previously heard of Chris Hunter. See post 'The Night Of The (Dr Chris) Hunter' for details.
When a patient at Ashworth was battered to death by the staff, it was Bluglass who investigated. To assist him in his task, Bluglass sought the assistance of two senior Angels, one of whom was a senior Angel from Bluglass's own Reaside Clinic in Birmingham, the other being a senior Angel of Dafydd's who was employed by Clwyd Health Authority. Bluglass called upon the talents of Dafydd's Angel after Bluglass had concealed the crimes of Dafydd et al in 1989.
When I was illegally imprisoned by Dafydd in the North Wales Hospital in Dec 1986/Jan 1987, I was violently assaulted by an Angel called Stephen Rose. My complaint was not investigated but I did refuse to shut up about Rose. The North Wales Hospital's solution was to transfer Stephen Rose to a job at Park Lane Hospital, which shortly after Rose arrived merged with Moss Side, to form Ashworth.
This collection of people traffickers and abusers were all one big happy family, as foul as the foulest that could ever have been conjured up by the imagination of R.S. Thomas. Who, being a clergyman in Gwynedd, would have known about Dafydd and the gang, because for years one of the gang's umbrellas was Gwilym Williams, the Bishop of Bangor, 1957-82, who also doubled up as the Archbishop of Wales, 1971-82. See previous posts.
Some years ago, Bluglass mysteriously requested that his name should be removed from the Medical Register and he virtually disappeared from the internet as well, or he did until I began this blog. The only reason why a Top Doc asks to be removed from the Medical Register is in the event of them having been caught red handed doing something so serious that a major scandal is threatened. If one voluntarily has one's name removed, there can be no investigation by the GMC and 'the doctor retains their good name'.
Trebles all round! I'll drink to that Bluglass! Bottoms Up!
That Bluglass was almost erased from medical history was extraordinary, because for years he was considered to be the leading forensic psychiatrist in the UK and he wrote the Mental Health Act 1983. Bluglass wrote that Act as a response to Dafydd's abuse of the Mental Health Act 1959 in the Mary Wynch case, to show that Something Had Been Done. So no-one should have been surprised that, when Dafydd Did it Again, ie. illegally imprisoned someone – me – under Bluglass's new Act soon after it was on the statute books, that it was Bluglass who was called in by the Welsh Office to (fail to) investigate. The Welsh Office who had concealed the wrongdoing re Mary Wynch and who were also concealing the en masse abuse of the kids in children's homes in north Wales.
Meet The Family!
The Lord Crickhowell
The Lord Walker of Worcester
The Lord Hunt of Wirral
Since June 1996 – the month that William Hague announced the Waterhouse Inquiry, which was rigged from beginning to end and constituted one huge cover-up of the criminality in north Wales and its mycelia into the wider UK and Europe –  Bluglass  has been a Director of Compton Verney Coach House Ltd (see post 'The Village'). Compton Verney is one of the finest art galleries in Europe and is located in Warwickshire. Although Bluglass went to St Andrew's University, he has lifelong links with Warwickshire. He features as an Old Warwickian on the website of Warwick School and held the Chair of Forensic Psychiatry at Birmingham University for many years; Bluglass also Chaired one of the NHS Boards in Birmingham and lived/lives in Solihull, although he had/has a second home in the Pyrenees. Bluglass's wife Kerry Bluglass is a psychiatrist who was/is also based at Birmingham University. Unlike Robert Bluglass, Kerry Bluglass has never requested that her name be removed from the Medical Register.
Warwick School, one of Britain's oldest and proudest public schools:
A selection of images from the 1940s-1960s School House Dinner on September 4, 2015:
It was in 1993 that the Peter Moores Foundation bought Compton Verney House, then categorised as a building 'at risk' and transferred the ownership to a Trust supported by the Foundation. By 1993, my career had been ruined as had the careers of four of my friends who were witness to the crimes of Dafydd and the gang. Another friend who was a witness had been killed by the gang and five witnesses to the North Wales Child Abuse Scandal had been killed by a firebomb the year before, in April 1992 (see post 'The Silence Of The Welsh Lambs').
In March 2004 the Compton Verney Gallery at the House was opened by Carlo.
So what is the Peter Moores Foundation, which invested an enormous amount of money into a prestige initiative with one of Dafydd's mates at the centre of it?
The Peter Moores Foundation is a charidee which was established in 1964 by Peter Moores when Moores was 32 years old, which supported music and the visual arts, but also education, health, social and environmental projects. The Foundation continued in existence until 5 April 2014, when its funds were exhausted. Compton Verney probably did that alone, so one wonders what was in it re Compton Verney for the Peter Moores Foundation. During its fifty years of existence, the Foundation donated over ₤231 million to the causes that it supported.
The Peter Moores biennial contemporary art exhibitions were held at the Walker Art Gallery in Liverpool, 1971-86. In 1994 the Foundation enabled a permanent Transatlantic Slave Trade Gallery at the Liverpool Merseyside Maritime Museum. The Foundation began a variety of charitable support initiatives in Barbados in 1973 – these activities became a separately constituted organisation in 2011.
Er Barbados; are organised crime and dirty money now bywords for business interests in Barbados perhaps?
From 1970 to 2010 the Foundation supported the Opera Rara classical music label. It awarded scholarships to young British singers, including to Amanda Roocroft and Simon Keenlyside. The Foundation has supported the Opera in English project.
The Foundation provided funding for health projects in the UK and overseas, particularly in the field of HIV/AIDS. Previous posts eg. 'Apocalypse Now' have explained how many of the deaths in the late 1980s and 1990s of young gay men were actually of rent boys who had been coerced into sex work while in care in north Wales and then trafficked back down to London and Brighton. Some of the HIV/AIDS charidees were organised and supported by the very same people who had concealed what had been happening in north Wales. Everyone who worked with the dying AIDS patients at the time knew the histories of many of them; yet no-one uttered a word (see eg. post 'Holding The Country To Ransom – Part I').
The Foundation also supported a range of youth and education projects.
To mark its final phase, the Foundation's Swansong Project made donations to enable eight new productions in 2014/5 by British opera companies, including the British premiere of George Betjamin's 'Written on Skin' at the Royal Opera House, Terry Gilliam's production of Berlioz's 'Benvenuto Cellini' and three production of operas by Donizetti and the Welsh National Opera. 
The charidee's founder, Sir Peter Moores (9 April 1932 – 23 March 2016) was a British businessman, art collector and philanthropist who was Chairman of the Liverpool-based Littlewoods Football Pools and retailing business in the UK, 1977-80. Sir Peter's father, Sir John Moores, was the founder of the Littlewoods company, although the family no longer owns it. In the Sunday Times Rich List 2006, the Moores' family wealth was estimated at £1,160m. Peter Moores was educated at Eton and Christ Church, Oxford.
Sir John Moores (25 January 1896-25 September 1993) was born into a working-class family in Lancashire. He left elementary school at the age of 13 and became a messenger boy at the Manchester Post Office. Shortly afterwards John Moores was accepted on a course at the Post Office School of Telegraphy which enabled him to join the Commercial Cable Company as a junior operator. He served in the Navy during WWI from 1917 onwards, as a wireless operator.
After demobilisation from the Navy, John Moores carried on working for the Commercial Cable Company. In 1920 he was posted to Liverpool where he stayed for a few months but in November 1920, Moores was posted to County Kerry, Ireland. After complaining about the food that was served at the Waterville Cable Company Station, he was elected to run the Mess Committee. Moores established the Waterville Supply Company and reduced costs and raised the quality of meals. After noticing that there was no public library for miles, Moores set up a store that sold books and stationery. He bulk imported books and also sold golf balls as there was no sports shop or golf course. Between his telegraphist's salary and the profits he made from the Waterville Supply Company (helped by his status of Mess President which meant that he didn't have to pay for his own meals), Moores made £1,000 in 18 months.
In May 1922, Moores was back in England as the cable company reposted him again to Liverpool, where he remained for the rest of his life. John Moores was friends with Colin Askham and Bill Hughes as a result of them all working together as Post Office messenger boys in Manchester. Whilst looking for a new money-making idea, Moores heard about John Jervis Barnard, a Birmingham man who had latched onto the public's growing passion for two things: football and betting. Moores had been an avid football fan from when he was very young; he used to go and watch Manchester United with his father, a United supporter and season ticket holder, from the age of seven or eight.
Barnard had devised a 'football pool', where punters would bet on the outcome of football matches. The payouts to winners came from the 'pool' of money that was bet, less 10% to cover "management costs". It had not been particularly successful and Barnard was struggling to make a profit. Bill Hughes obtained one of Barnard's pools coupons and the three friends one night were discussing what Barnard would have to do to make money on it. They decided they could do it better.
Moores, Askham and Hughes could not let their employers, the Commercial Cable Company, know what they were doing, or they would be sacked. No outside employment was allowed. That ruled out calling it, for example, John Moores football pool or the Colin Askham football pool. The solution to that particular problem came from Colin. He had been orphaned as a baby and been brought up by an aunt whose surname was Askham, but he had been born Colin Henry Littlewood. And so, in 1923, the Littlewood Football Pool – as it was called originally – was started.
Each of the three partners invested £50 of their own money into the venture and with the help of a small, discreet and cheap printer they got to work. A small office in Church Street, Liverpool, was rented and the first 4,000 coupons were distributed outside Manchester United's Old Trafford ground before one Saturday match that winter.
It was not an instant success as just 35 coupons were returned. With bets totalling £4 7s 6d, the 10% deducted did not cover the three men's expenses. They decided to print 10,000 coupons and took them to Hull, where they were handed out before a big game. This time, only one coupon was returned. In the canteen of the Commercial Cable Company, the three partners held a crisis meeting. They continued pumping money into the fledgling business, but midway through the 1924-25 football season it was still losing money. There was no prospect of things improving. Bill Hughes suggested they cut their losses and forget the whole thing. Colin Askham agreed. They could see why John Jervis Barnard's idea of a football pool had failed in Birmingham. They expected Moores to concur, but instead he said: "I'll pay each of you the £200 you've invested, if you'll sell me your shares".
Moores admitted that he considered giving up on the business himself, but was encouraged by his wife, who told him "I would rather be married to a man who is haunted by failure rather than one haunted by regret". Moores kept faith and he paid Askham and Hughes £200 each. Moores was prosecuted under the Ready Money Football Betting Act. Following a court appearance, he was convicted. However, as his company never accepted cash, only postal orders that were cashed after the football results and the winning payout had been confirmed, his appeal was upheld. In 1928, Moores' younger brother Cecil devised a security system to prevent cheating. The breakthrough came when the owner of the coupon printing company suggested that he took his exact expenses out (plus a bit extra) before calculating the winning payout. Eventually the pools took off, becoming one of the best-known names in Britain.
In January 1932, Moores, by now a millionaire, started up Littlewoods Mail Order Store. This was followed on 6 July 1937 by the opening of the first Littlewoods department store in Blackpool. By the outbreak of WWII, there were 25 Littlewoods stores across the UK and over 50 by 1952.
The company then turned to war work; warehouses were equipped and staff were retrained so that the company could make parachutes. From 1940 they also made barrage balloons and in 1941 dinghies and munitions were added to the manufacturing portfolio. 1942 saw aircraft parts and bridge pieces being manufactured and from 1943 the firm built storm-boats that could cross water and land on beaches. They also became experts at 'boxing' – making compact transportable kits containing dismantled vehicles that could be reassembled at their destination overseas. The boxing division also made Pacific Packs containing rations for soldiers in the Far East. The football pools continued during the war years.
At the end of January 1947, Moores fell ill and contracted meningitis – he survived but it took him a while to recover. The businesses continued to expand and his two sons were given roles in the chain stores and at director level. The company branched out into manufacturing and testing of garments as a natural progression from the manufacturing work that had been carried out during World War II.
In 1960, John Moores gave up his Chairmanship of the pools business, and handed over the reins to his brother, Cecil Moores, (10 August 1902-29 July 1989), so that John Moores could become a Director of Everton Football Club. In June, John Moores became the Chairman. On 23 June it was revealed that during the 1959-1960 season, Moores had lent Everton £56,000 interest free so that they could buy players.
Moores remained as Everton Chairman until July 1965. In August 1968, Moores regained the Chairmanship and was Chairman until August 1973 when he resigned for the second and final time. He then became Vice-Chairman. Moores retired from the Everton Board of Directors on 8 July 1977.
Moores attended the 1984, 1985 and 1986 FA Cup finals, all of which featured Everton. The 1987 Football League Cup Final was sponsored by Littlewoods and Moores was the guest of honour. He presented the League Cup to the winning team, Arsenal.
John Moores was a keen baseball fan and created a league for Liverpool-based teams in 1933. He later enticed Everton players to the game. In 1938 Moores donated the John Moores trophy to the Great Britain national team for beating the United States Olympic team four games to one in a five-game series. Moores was posthumously inducted into the British Baseball Hall of Fame in October 2009.
In April 1970 Moores was made a Freeman of the City of Liverpool. In June 1980 he was knighted.
Moores retired as Chairman of Littlewoods in Oct 1977 and was succeeded by Peter. However, as profits fell from 49 million to 11 million, (Moores remained on the Board) Sir John resumed the Chairmanship on 10 October 1980. He resigned and retired for the second and final time on 25 March 1982. On 28 May 1982 Sir John Moores was made life President of the organisation and for the next four years he went to his office at Littlewoods three times a week.
Moores's family carried on running Littlewoods but John Clement succeeded Moores as Chairman. Moores had two operations straight after each other during the spring of 1986, but never fully recovered nor regained his health. In May 1988, Moores attended his final AGM. During that year he began to lose his speech. Moores was unable to talk at all in his final years, which were spent in a wheelchair and mostly confined to his home. He died in September 1993 at his home in Formby where he had lived since 1930.
The Sunday Times Rich List 1989 estimated John Moores's estate to be worth £1.7 billion. The Littlewoods businesses were sold to the Barclay Brothers, nine years after Moores's death, in October 2002.
Throughout the latter decades of Sir John Moores' life, Dafydd and the gang were running huge swathes of Liverpool, including Liverpool University, the NHS, the criminal justice system, the legal profession and the Courts. The gang had many Merseyside Councillors – of all political hues – in their pockets and they had a very cosy relationship with Liverpool Social Services, as well as with many people in Liverpool's entertainment/cultural scene. Abuse of children and young people in the various institutions on Merseyside, including those run by Liverpool Catholic Social Services, was rampant and there was an exchange of staff between those institutions/schools/homes in Liverpool and of those in north Wales/Cheshire. Diverse Liverpool politicians eg. Eric Heffer, David Hunt and Robert Kilroy Silk were chummy with those in Dafydd's network. Many more people simply would not say a word about the activities of Dafydd and the gang.
When Liverpool Poly became a university in 1992, it was named Liverpool John Moores University after Sir John Moores. I presume that Moores supported the institution financially, but I have not yet had time to research that.
The John Moores Painting Prize is co-ordinated by National Museums Liverpool. The first John Moores exhibition was held in 1957, six years after the Walker Art Gallery re-opened after World War II. It was intended as a one-off, but its success led to it becoming a biennial event. By the early 1960s, the exhibition was regarded as the UK's leading showcase for avant-garde painting. Winning works have included classic paintings by Jack Smith ('Creation and Crucifixion'), William Scott, Roger Hilton ('March 1963') and David Hockney ('Peter getting out of Nick's Pool').
Between 1933 and 1940 John Moores was a Conservative Councillor for Sefton Rural District and West Lancashire Rural District. In 1933 he stood as a National Government candidate for Clay Cross and at the 1935 General Election in Nuneaton but failed to be elected both times. Despite his views, Moores was good friends with the Labour MP Bessie Braddock and the two worked together on several projects involving Liverpool.
Bessie Braddock was the most dreadful old bat and was one of the Liverpool figures who showed not a jot of concern over the protests of people in Wales regarding the proposed flooding of Cwm Tryweryn in north Wales to create a reservoir to provide water for Liverpool. There was a Welsh speaking village called Capel Celyn in the Cwm and Capel Celyn was literally drowned; the villagers were forcibly kicked out and relocated. Dafydd was a medical student at Liverpool while the Welsh activism re Tryweryn was happening and he scored many brownie points among Welsh activists by making links with Republican activists in Ireland to learn at their knee; at the same time Dafydd the old hypocrite was cultivating his contacts with corrupt professional people in Liverpool with whom he would then enter into business a few years later (see post 'A Network Stretching Back Decades…').
A cause close to Dafydd's heart: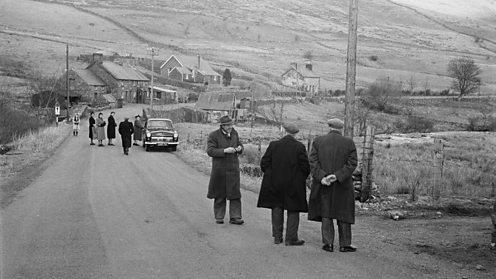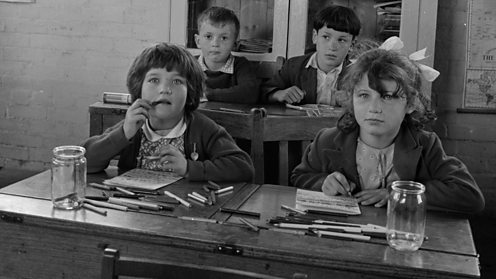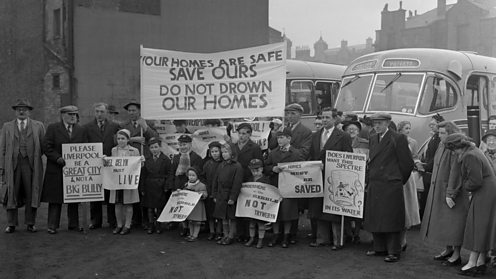 Causes very much closer to Dafydd's heart:
Dafydd's network of corrupt professionals on Merseyside didn't live in Liverpool 8, they were the affluent middle classes who lived in areas like Crosby and Formby on the Wirral and many of them were Tory voters. The good burghers of Crosby defected to the SDP in 1981 which was how Shirl bagged her seat there, the Shirl who had known all about Dafydd et al for years (see post 'We've Been Expecting You…).
The Baroness Williams of Crosby
John Moores Jr. (22 November 1928-22 May 2012) was the eldest son of Sir John Moores. John Moores Jr became Executive Director and Deputy Chairman of the family firm in 1968.
John Moores Jr was educated at Eton and later spent 2 years at Syracuse University in New York in the late 1940s studying a business course. John Moores Jr joined the family firm in 1946. He became a Director of Littlewoods in 1950 and was Chair of the Littlewoods equal opportunities strategy committee from the mid 1960s until the mid-1990s after wanting to promote equal opportunities in the firm following his return from the US after a two year academic stay.
John Moores Jr resigned as a Director at Littlewoods in October 1996 to spend time breeding Aberdeen Angus Cattle at his farm in Formby. He was a member of the Aberdeen Angus Cattle Society, of which he later became President.
John Moores Jr would surely have known Carlo's close friend, Gerald Cavendish Grosvenor aka the Duke of Westminster, who's main home was his family seat in Cheshire (see previous posts). The Duke was President of the City of Chester Conservative Association when Peter Morrison was the constituency MP and was the subject of open discussion in the Association (and the locality) re Morrison's child molesting. The Duke of Westminster's name pops up again and again among Dafydd's network. Boys from Bryn Estyn were taken to the Duke's estate for 'work experience' and refused to return without explaining why. The Duke took a great interest in agricultural/land management matters and was President of the Holstein UK & Ireland (formerly British Holstein Society), 1988; Life Governor, Royal Agricultural Society of England; Vice-President, Country Landowners' Association, 1999 until his death in 2016; Vice-President, Royal Smithfield Club, 2004 until his death.
John Moores Jr would almost certainly have known other influential farming/land owning families from north Wales/Cheshire who were involved with Dafydd et al eg. Beata Brookes's family, Lord Kenyon's family and Antoinette Sandbach's family. See previous posts.
John Moores Jr 'continued to promote equality in Liverpool just as he had done in the company'. He Chaired the Liverpool Charity and Voluntary Services until 1986, helped to establish the organisation 'Priority' which helps disadvantaged children and established 'South Liverpool Personnel' which helps the city's black community to find jobs.
Charidees and welfare societies based on Merseyside or with links to the area were choc full of those with links to Dafydd eg. Liverpool Catholic Social Services, Liverpool Personal Social Services, Nugent and the Eleanor Rathbone Trust. Some of these organisations employed people named as abusers of children in north Wales and some of them provided advice and support for abusers.
For his charidee work on Merseyside, John Moores Jr was awarded a CBE in 1993 and made a Freeman of the City of Liverpool.
By 1993, key witnesses to the crime in north Wales had had their lives and careers destroyed or had been found dead; the North Wales Police had declared in the previous year that their investigation had found 'no evidence' of a paedophile ring operating in north Wales/Cheshire.
John Moores Jr remained in a long association with Liverpool John Moores University. He was a Trustee and served as Pro-Chancellor and Chair of the Board of Governors, 1992-94. John Moores Jr was the University's Chancellor, 1994-99, being preceded by Henry Egerton Cotton. John Moores Jr was subsequently appointed Chancellor Emeritus and was an honorary fellow of the University.
John Hamilton, the former Leader of Liverpool City Council when Militant dominated the Council in the mid-1980s and when Degsy was Deputy Leader, served as a Governor of Liverpool Poly. Hamilton had links with many of Dafydd's network and was involved with education/children's services in Liverpool. John Hamilton nearly died when his house went up in flames very shortly before the publication of the Waterhouse Report. When it was published, Hamilton was in agony from third degree burns and will still have had the dressings on, which will have held him back if he had have been tempted to comment publicly on the Report. See previous posts. John Hamilton was a Bachelor who was not blessed with children.
John Moores Jr was Pro Chancellor and Chair of the Governors of Liverpool John Moores while the media was full of demands for an investigation into the abuse of children in north Wales and allegations that a VIP paedophile ring was in operation and was being concealed at the highest levels of Gov't. He was in post when the dead bodies of former kids in care and psych patients from north Wales were turning up everywhere and when the Jillings Investigation was announced and launched and when Gordon Anglesea began his libel case against 'Private Eye' and other media outlets when they named Anglesea as having abused kids in care in north Wales.
Moores was Chancellor of Liverpool John Moores when in 1994, the Head of Bryn Estyn, Matt Arnold, died from an 'unspecified blood disease' and when days later Arnold's friend and colleague Peter Howarth stood trial for a series of sexual assaults on boys at Bryn Estyn, for which Howarth was found guilty and imprisoned for 10 years. Moores was Chancellor when Peter Morrison and Dafydd's mate Bing Spear, a corrupt mandarin with responsibility for the Home Office Drugs Branch, were found dead four days apart from each other in July 1995.
Moores was Chancellor throughout the Jillings Investigation, the Waterhouse Inquiry and throughout the years that Dafydd et al were frantically beavering away behind the scenes trying to have me banged up in a secure hospital, which involved, toward the end of 1994, planting evidence to demonstrate that I had thrown a brick through the glass door of Dafydd's house in the middle of the night and then submitting details of my 'crime' to Liverpool High Court in Nov 1994, along with details of other practical jokes which another Hergest patient had played on Dafydd. See post 'Dirty Rotten Scoundrels' and 'The Banality of Evil'.
John Moores Jr was Chancellor of Liverpool John Moores University when Bart's failed to revive John Smith after his heart attack in May 1994 and when Miranda subsequently became Leader of the Labour Party, days after Arnold died and Howarth was jailed! Miranda was married to Cherie, a daughter of Liverpool – her home town is Crosby – and indeed a daughter of the Liverpudlian actor Tony Booth, who made his name by playing the Scouse Git in 'Til Death Us Do Part'.
Cherie succeeded John Moores Jr as Chancellor of Liverpool John Moores University! She served from 1999-2006  and in July 2006 was awarded the honorary title of Emerita Chancellor. Liverpool John Moores also named their new Cherie Booth Building after her.
Here's Cherie doing her international wimmin's rights lawyer bit with Lubna Khalid Al Qasimi, who was previously the Minister of State for Tolerance, Minister of State for International Cooperation, and Minister of Economic and Planning of the United Arab Emirates:
Until 1988 Cherie's Head of Chambers was the crooked, violent, alcoholic barrister George Carman QC who knew about Dafydd and the gang's crimes and who was on stand by to act for dear old Jimmy Savile should anyone dare name Savile in the media. Jimmy dropped into Ashworth when he felt like it and also visited Bryn Estyn, where it is claimed by one boy that Jim watched him gang raped. Miranda himself was a pupil of George Carman.
Cherie's colleague Michael Beloff QC, who is also a good mate of Miranda and Cherie's and was one of their guests at Chequers, was the legal adviser to Municipal Mutual, the insurers of Clwyd County Council and the North Wales Police. It was Beloff who supplied the legal advice that ensured that no-one at all, part from the Council's lawyers and insurers, saw the Jillings Report when it was completed in 1996. No-one saw the Report until almost 20 years later when the last surviving copy – all other copies having been pulped in the 1990s – was discovered lurking somewhere in north Wales. Even then the Jillings Report had been so heavily redacted that it was almost meaningless. See post 'It's A Piece Of Cake…'. Michael's dad was Lord Max Beloff, who was mates with Ioan Bowen Rees, the Chief Executive of Gwynedd County Council when Dafydd's mistress Lucille Hughes was Director of Gwynedd Social Services and the paedophile gang were given free reign in the Council's children's homes. See post 'I Know Nuzzing…'
Cherie is not the only star who has had doings with Liverpool John Moores. Ieuan Wyn Jones, the Deputy FM of Wales, 2007-11, read law at Liverpool Poly. Ieuan comes from Denbigh as did his wife the Angel Eirian Llwyd and before Ieuan became an MP he worked as a solicitor in north Wales, with all the other solicitors who fitted up victims of Dafydd's gang. Ieuan and Erian colluded with Dafydd et al for years. See eg. post 'Tan yn Llyn'.
Fiona Irvine, who worked as an Angel in north Wales throughout the Paedophile Years, was given a Chair at Liverpool John Moores after leaving a trail of destruction and students having nervous breakdowns in her wake at Bangor University. See previous posts.
John Moores Jr died suddenly on 22 May 2012. By that time, Operation Pallial had begun and the Macur Review of the Waterhouse Inquiry was on the way. Dafydd's partner-in-crime Tony Francis killed himself in 2012 but I'm not sure in which month.
Cherie was succeeded as Chancellor of Liverpool John Moores by Brian May and then Lord Levenson.
John Moores Jr and Peter had two sisters, Betty Suenson-Taylor aka The Dowager Lady Grantchester and Janatha Stubbs.
Betty married Kenneth Bent Suenson-Taylor, the 2nd Baron Grantchester and their daughter Kirsten Suenson-Taylor is Chair of the Governors of Compton Verney! Originally an archaeologist, Kirsten went on to train as an archaeological conservator and worked for many years at the Museum of London.  She has a particular interest in the conservation of wet archaeological organic materials, such as wood, leather and textiles. More recently Kirsten has worked with ICON (The Institute for Conservation) helping to promote conservation to Gov't and to the public as well as organising professional conferences and events.   Kirsten has been a Trustee of Compton Verney Collection Settlement since 1999 and was a Trustee of the Peter Moores Foundation from 2004 until its close in 2014. Kirsten replaced Graham Greene as Chairman of the Governors of Compton Verney in 2012.
I can highly recommend that readers pay a visit to the Compton Verney website and read all about the Governors of Dafydd's pal's splendid art gallery. They are truly impressive:
Lloyd Grossman, who is famous for presenting 'Through the Keyhole' and flogging those Thai curry sauces; Will Hanrahan, the BBC reporter/presenter who 'retains an over-indulged passion for Everton Football Club'; Rita McLean, who was Director of Birmingham Museums and Art Gallery (BMAG), 2004-2012 and is a member of the National Trust's Midlands Region Advisory Board, Chairs Birmingham Civic Society's Heritage Committee and is an Editorial Board member for the West Midlands History publication; Janet Bell Smith, a graduate of Aston University, who worked as Head of HR (Assurance) of  PricewaterhouseCoopers in the Midlands, who currently works for the NHS in a lay advisor capacity and who's previous non-executive roles have included the Birmingham Royal Ballet, Warwickshire Primary Care Trust and two local Hospices and who has been a magistrate for over 25 years including Chairing the Coventry and Warwickshire Magistrates Bench for the last three years; Howard Jones, an Associate Professor of Finance at the Saïd Business School, University of Oxford and a Fellow of Keble College, Oxford, who has previously worked at Deutsche Bank and at BNP Paribas, where he was worldwide head of equity capital markets; Professor Paul Smith, Director of Oxford University Museum of Natural History and formerly Head of the School of Geography, Earth & Environmental Sciences at the University of Birmingham and Director of the Lapworth Museum of Geology; Peter Wilson, who formerly worked with the Tate Gallery St Ives, Tate Gallery Liverpool, Tate Modern and Tate Britain Centenary Development; Lydia Thomas, a Cardiff University graduate and a former producer and presenter for the BBC, who has held public appointments with Ofcom, as Chair of the Advisory Committee on Older and Disabled People, with the Big Lottery Fund and has served on a number of advisory committees including the BMA Patient Liaison Group and the Wellcome Trust arts and science funding committee as well as being  a long-term member of the Spinal Injuries Association; Sarah Carthew, who is the Director of Development at St Hugh's College, University of Oxford.
The Compton Verney Guv'nor who surely must wield most clout is Janatha Stubbs, Sir John Moores' daughter:
Janatha Stubbs was educated at Cheltenham Ladies College and Bedford College London where she studied History. Conrad, the Earl Russell, was an historian at Bedford College. Conrad was the son of Bertrand, a sexual predator who spent the last decades of his life living in north Wales and knew a great deal about Dafydd et al. See post 'So Who Was Angry About What?'
Janatha moved to Malta in 1969 where she remained after the death of her husband in 1998. Between 1982 and 1998, Janatha acted as consultant, Main Board or International Board Director for the Littlewoods Organisation. A member of the Malta Playing Fields Association, 1972-2007, Janatha was Chairman, 1980-2000.
From 1989 Janatha has been President and Founder of Ir-Razzett Tal-Hbiberija, a centre for people with disabilities. She is also a Founder Member and President of Soroptimist International Malta. Janatha was Chairman of Compton Verney House Trust, 1993-2005.
Again and again, the police have located paedophiles with links to Dafydd et al in Malta and some of them have now been extradited. Lady Juliet Bingley, who concealed the crimes of Dafydd and the gang from the 1970s onward while leading MIND and then passed that baton onto her son William in his capacity as Legal Director for MIND and then Chief Exec of the Mental Health Act Commission, lived in Malta when her husband Sir Alec Bingley was stationed there in his capacity as Commander of the Mediterranean Fleet. Lady Juliet involved herself in Good Works in Malta and established medical and other welfare services. She was a personal friend of the PM of Malta, Dom Mintoff and maintained that friendship after the Bingleys left Malta. I was told the other day that Malta is now a centre for organised crime.
Lucille Hughes was a leading light in Soroptimist International in north Wales/Chester. See previous posts.
Janatha was awarded the Malta Order of Merit for charitable works in 1993 and the MBE in 2003 for services to the disabled in Malta.
Here's Janatha, should anyone spot her and wish to carry out a citizen's arrest:
Janatha's sister Betty – Kirsten's mum and the daughter of Sir John Moores – is the matriarch of the dynasty. Betty was Director of Littlewoods, 1977-97 and is credited with steering the company back on to an even keel after a turbulent late 1980s and early 1990s. The family started to sell off stores in 1998 and the pools business in 2000; those proceeds and past dividends are worth £445m. Another windfall came in 2002 when the mail order business was sold to the Barclay Brothers for £750m. 
 In 1971 Betty enrolled on a business course and was later invited to join the Littlewoods Board. She was educated at Newnham College, Cambridge. In 1986 it was reported in 'The Times' that Betty aka Lady Grantchester provided 'considerable financial support' for the Lucy Cavendish College, Cambridge, which gives undergraduate places for mature women students.
The President of Lucy Cavendish College, 1985-94, was Dame Anne Warburton, a diplomat who was the first female British Ambassador. She served as British Ambassador to Denmark, 1976-83, and British Permanent Representative to the UN in Geneva, 1983-85. Anne Warburton was educated at Somerville College, Oxford – as were Thatch and Shirl. She worked at the London office of the Economic Co-operation Administration, 1949-52; at the NATO Secretariat, then located in Paris, 1952-54; and for Lazard Brothers in London, 1955-57. In 1958 Warburton joined the Diplomatic Service and served with the UN in New York, 1959-62. She served at the British Embassy at Bonn, 1962-65, then in the newly created Diplomatic Service Administration Office in London, 1965-67. Warburton moved back to the FCO, 1968-70 and was then posted as Counsellor to the UK's Geneva Mission to the UN. She then spent a further period at the FCO as Head of the Guidance and Information Policy Dept, 1975-76, before her posting to Denmark. After leaving Denmark, Warburton was Ambassador and UK Permanent Representative to the UN and other international organisations in Geneva, 1983–85. She was Deputy Leader of the UK delegation to the third UN World Conference on Women at Nairobi in July 1985, which closed the UN Decade for Wimmin.
Warburton was a member of the Equal Opportunities Commission, 1986–88, which housed many of Dafydd's protectors, including Geoffrey Howe's wife, Elspeth, who along with Geoffrey, was a close friend of Ronnie Waterhouse (see previous posts). Warburton was a member of the Committee on Standards in Public Life, 1994–97 and of the Council of the University of East Anglia. Warburton led a European Community investigative mission into the treatment of Muslim women in the former Yugoslavia, which reported in January 1993. She died on 4 June 2015.
The story of Dame Anne's ground-breaking career is a familiar one; that of a privileged woman who was closely associated with abusive people, so she flew the flag for Wimmin's Rights in High Places.
The story re the Presidents of Lucy Cavendish College continued in the same vein after Dame Anne. Pauline Perry, Baroness Perry of Southwark (née Welch; born 15 October 1931) 'an educator, educationist, academic and activist' was President of Lucy Cavendish, 1994-2001. Perry is a Tory politician and sat in the Lords. She joined the DES as part of HM Inspectorate in 1970 and in 1981 she became HM Chief Inspector of Schools. Pauline obviously missed quite a few things while she worked for the DES, including the trafficking of disadvantaged kids. In 1986 Perry became Vice-Chancellor of South Bank Polytechnic and serving during its transition to a university, became the first woman in the history of the world to run a British university. It wasn't anything to boast about, the institution was very troubled and was linked to a number of  who were involved in the North Wales Child Abuse Scandal.
Pauline: There isn't much point in being the first woman to do something if what you do is seriously crap and causes much harm.
The Baroness Thatcher
Perry was educated at Girton College, Cambridge and became a teacher and philosophy lecturer, working in England, Canada and the USA.
Pauline Perry was Pro-Chancellor of the University of Surrey, which employed Dafydd's protector Professor Vincent Marks, who was linked to people in the Cancer Research Campaign who were perpetrating large scale research fraud. See previous posts. The University of Surrey at the time boasted of hosting Professor Daphne Jackson, a rare specimen, a female Professor of Engineering. What was less rare about Daphne and the Wimmin with whom she networked in the cause of the battle against those with testicles, was her penchant for crapping on other women and at least in my case, stealing their work and using it to gain funding and promotion for themselves. See previous posts.
In 1986, Pauline Perry collaborated with John Cassels and James Prior to create the Council for Industry and Higher Education (CIHE) which would become the National Centre for Universities and Business in 2013. James Prior was a member of Thatch's Cabinet who concealed serious crime on the part of Dafydd's network and Prior's son Lord David Prior has also concealed some serious shite in healthcare. See previous posts.
Perry has also been active in the Southwark Cathedral and the Church of England, as well as the City of London. She was appointed Chair of the review group examining the operation of the Crown Appointment Commission, the body which nominates Diocesan Bishops. The Perry Report "Working With The Spirit", was published in May 2001 and led to more transparent selection procedures for the appointment of Anglican Bishops. But not to screening out those who had concealed organised abuse.
Among other things, Perry was/is:
Member of the Nuffield Committee on Bioethics (2003-05) and Chaired the Working Party on the Ethics of Research Involving Animals.
Chair, Commission on Secondary Reorganisation for the London Borough of Hammersmith and Fulham,
Chair, Commission on Academies and Free Schools in the London Borough of Wandsworth.
Co-chair of The Conservatives Public Services Commission which reported in 2007.
Chair of the Governing Body of Kaplan College and Law School, in 2013.
Perry bagged her peerage in 1991, which was the year of the Great Cover-Up of organised abuse in er Wandsworth and Southwark; Peter Morrison landed his knighthood in Feb 1991. She was appointed a Conservative Party Whip in the Lords in January 2011. She retired from the Lords on 26 May 2016.
Perry was/is also a member of:
Sub-Committee I (Higher Education in STEM subjects) Lords 2011-12
Science and Technology Committee (L) Lords 2009-14
Select Committee on Science and Technology Sub-Committee 2 Lords 2004-09
Science and Technology Committee (L) Lords 2003-07
Human Rights (Joint Committee) Lords 2001-03
Science and Technology Committee (L) Lords 1992-95
She has also been/is:
President, Council for Independent Education (CIFE)
President, Foundation for Higher Education
President, Westminster & City Branch of Chartered Management Institute
Chair of City and Guilds Quality and Standards Committee
Governor of Gresham's School, Holt
Chair of Governors and Trustee of Roehampton Institute, University of Surrey
Pro-Chancellor and Member of Council, University of Surrey
Trustee, Bacon's City Technology College
Trustee, Cambridge University Foundation
Trustee, Daphne Jackson Memorial Trust
Companion of the Institute of Management
Political Editorial Advisor at i-MAGAZINE
Member of Flooved advisory board
Member of the Institute of Directors
Member of the International Women's Forum
Dame Veronica Sutherland, succeeded Lady Pauline as President of Lucy Cavendish College, 2001-08.
Dame Veronica Evelyn Sutherland, (née Beckett; born 25 April 1939) is a former British diplomat who served in government from 1965 until 1999, including a stint as Ambassador to the Republic of Ireland, 1995-99.
Born to Lt Col Maurice Beckett and Constance Cavenagh-Mainwaring, Sutherland was appointed Commonwealth Deputy Secretary-General with responsibility for economic and social affairs. She was the first woman to hold this post and to serve the Commonwealth at such a high rank. She took up her Commonwealth post in February 1999, succeeding Sir Humphrey Maud who was retiring.
Not so much 'We Are Wimmin, We Are Strong' as 'We are Wimmin, We Are Posh'.
Janet Margaret Todd (born 10 September 1942) followed Dame Veronica as President of Lucy Cavendish College, 2008-15. Janet Todd is an academic and author. She was educated at Cambridge University and the University of Florida. She has worked in universities in Ghana, Puerto Rico, North America, India (New Delhi) and England. She was appointed Professor of English Literature at Glasgow University in 2000, and was then at Aberdeen University, 2004-2008. Janet Todd is now a full-time novelist and researcher living in Cambridge.
Jackie Ashley followed Janet Todd as President. Jackie is if anything even more of a sell-out than her predecessors. Jackie is a former lobby/political correspondent who has spent her entire career toadying to the truly vomit-inducing. Jackie knows all about the Westminster Paedophile Ring, as well as Dafydd et al's role in it, as does her husband the journo and broadcaster Andrew Marr. Jackie's dad was Jack Ashley, the Labour MP for Stoke-on-Trent South, 1966-92. Jack's constituency hosted a paedophile/trafficking ring with links to Dafydd's gang in north Wales and as in north Wales, a knock-on effect was a lethal, corrupted NHS. Jack didn't say a word. See previous posts for matters Ashley, Marr, Jackie's dad Jack and organised abuse in Staffordshire.
The current President of Lucy Cavendish College who succeeded Jackie Ashley this year is Professor Madeleine Julia Atkins, the a former VC of Coventry University, who was/is also Chief Executive of HEFCE. Atkins was born 1952 and took a degree in Law and History at Cambridge. After a PhD at the University of Nottingham, Atkins was a school teacher before joining Newcastle University, where she rose to become PVC. Newcastle University was run by Dafydd's pal the Bastard of Newcastle-upon-Tyne, Lord John Walton. Walton didn't just collude with serious crime to do Dafydd a favour – although Walton would no doubt have been more than happy to do so for that reason alone – but because Newcastle University was instrumental in concealing the abuse ring in the north east which had longstanding links to Dafydd's gang in north Wales and supplied Dafydd et al with children and abusive staff. See previous posts.
Atkins was VC of Coventry University, 2004-13. Coventry of course is an area which was covered by the trafficking ring of the West Midlands, of which Bluglass was a leading light. Bluglass's partner-in-crime Colin Berry, who assisted Bluglass in his non-investigation of my complaint about Dafydd et al in 1989 was a Top Doctor from Coventry.
As Chief Executive of HEFCE, in 2015, Atkins was paid a salary of between £230,000 and £234,999. In June 2018, it was revealed by the UCU that she received a pay package worth £554,648 in 2017, which represents a 96% increase on the £282,354 paid to her in 2016-17.
The honorary fellows of Lucy Cavendish are of the same cadre as the Presidents. They include Betty, Lady Grantchester herself, who is bankrolling the whole scam; Baroness Jean Trumpington aka Trumpers, Thatcher's friend and who as Health Minister appointed Jimmy Savile to the senior management of Broadmoor Hospital; Dame Stella Rimington, who as Head of MI5 failed to stop the organised trafficking of kids and vulnerable people through the welfare services of the UK; and the novelist P.D. James who abandoned her husband to the Top Doctors and an asylum, found out what they were all up to and ruthlessly used it to further herself. See previous posts for further info on all these charming folk.
Other honorary fellows of Lucy Cavendish include Queen Margrethe of Denmak and Dame Judi Dench. Dame Judi is Patron of the St James's Singers, the elite choir in Warwickshire of which Bluglass and his wife are both leading lights.
Traffickers in distress, traffickers in distress, get me the BMA and quickly…
In 1994 Betty and her Janatha were given a 40% stake of Everton Football Club by their brother Peter who had inherited the shares from their father Sir John. Betty sold her stake in the club to Peter Johnson in 1997, the same year that she retired from the Board of Littlewoods.
In 1997 the Waterhouse Inquiry began.
Betty Suenson-Taylor regularly features in the media as one of the wealthiest individuals in the UK. The summary below highlights how her wealth has been reported over time:
Year
Estimated Wealth
Ranking
Source
1992
£170 million
7th Wealthiest woman in Britain
The Daily Mail
1997
£1,000 million
2nd Wealthiest woman in Britain
Press Association
1999
£1,500 million
1st Wealthiest woman in the United Kingdom
The Independent
2000
£1,300 million
The Journal
2001
£1,170 million
4th Wealthiest woman in the United Kingdom
The Daily Record
2002
£380 million
64th Wealthiest person in the United Kingdom
The Sunday Times
2003
£1,260 million
5th Wealthiest woman in the United Kingdom
The Daily Mail
2005
£1,160 million
35th Wealthiest person in the United Kingdom
The Sunday Times
2006
£1,160 million
42nd Wealthiest person in the United Kingdom
The Sunday Times
2007
£1,200 million
53rd Wealthiest person in the United Kingdom
The Sunday Times
2008
£1,200 million
60th Wealthiest person in the United Kingdom
The Sunday Times
Betty has been a Trustee of the Family Education Trust since 2004 and involved in the European Atlantic Group. 
Betty's husband, Kenneth – Kirsten's dad – was the son of the 1st Baron Grantchester, who was the banker, neoliberal activist and Liberal politician Alfred Jesse Suenson-Taylor (1893-1976). The peerage was created in 1953 for Alfred.
Alfred Jesse Suenson-Taylor, 1st Baron Grantchester was the son of Alfred George Taylor of Surrey. Lord Alfred Grantchester was educated at Epsom College and King's College Cambridge and served at Gallipoli and in France during WWI. Alfred stood for Parliament as a Liberal Party candidate four times but was unsuccessful on each occasion.
In 1947 Suenson-Taylor played a significant role in gaining Bank of England support for the emergent Mont Pelerin Society.
The Mont Pelerin Society was one of the original neoliberal 'think tanks' whose ideas later influenced Thatch, although she was too dim to understand them, confusing the ideology with the efficient management of a grocer's shop. See previous posts.
Lord Alfred Grantchester was later President of the London Liberal Party. Lord Grantchester served as Chairman of the London and Manchester Assurance Company, 1953-61, as Joint Honorary Treasurer of the Liberal Party Organisation, 1953-62 and as President of the Society for Individual Freedom. He also initiated the unofficial meetings of the EFTA parliamentarians at Strasbourg and was a Delegate to the Assemblies of the Council of Europe and the Western European Union.
Lord Grantchester married Mara Henrietta (Mamie), daughter of Albert Suenson of Copenhagen in Denmark, in 1920 and assumed the surname of Suenson in addition to that of Taylor. Alfred, Lord Grantchester, died in July 1976 and was succeeded by his son Kenneth. Lady Grantchester died the same year.
The 1st Baron Grantchester's younger brother Sir Charles Stuart Taylor (10 April 1910-29 March 1989) was a businessman and the Tory MP for Eastbourne, 1935-74. Charles Taylor was educated at Epsom College and Trinity College, Cambridge.
Taylor fought in WWII in the Royal Artillery. He was MD of Cow and Gate and later Unigate. In 1946 Taylor became President of Grosvenor House (Park Lane) Ltd, Residential Hotels Association. He became Deputy Lieutenant of Sussex in 1948 and was knighted in 1954. In 1958 Taylor became Honorary Colonel in the 3rd (Sussex Battalion) Mobile Defence Corps. He was invested as a Serving Brother, Most Venerable Order of the Hospital of St John of Jerusalem.
Taylor held the seat until he was de-selected by his local Party prior to the Feb 1974 General Election. Taylor married actress Constance Shotter. They lived at Eastbourne. Eastbourne was of course on the patch of the Sussex paedophile ring, of which John Allen and Dafydd's gang were an essential part. Eastbourne was also the site of the shenanigans featuring the murdering Top Doctor John Bodkin Adams, who was extracted from an even deeper slurry pit by friends in high places, including Harriet Harman's dad, Top Doctor John Harman. See previous posts.
Charles Taylor was succeeded as Tory MP for Eastbourne by Ian Gow. Ian Gow was Thatcher's big mate who was blown up in July 1990. Gow was one of those who's murder was attributed to Irish Republican activity but it is suggested by some to have been linked to his involvement/concealing of paedophilia, may not have been at the hands of Irish Republicans and may have even involved the assistance of the British security services themselves.
Betty's son, Kirsten's brother, is Christopher John Suenson-Taylor, 3rd Baron Grantchester, known as John Grantchester.
John Grantchester was educated at Winchester College and at the LSE. Lord Grantchester has two sons, including his heir apparent, Jesse David Suenson-Taylor and two daughters. Lord Grantchester is a former Director of Littlewoods. The Sunday Times 2015 rich list stated that his net worth was £1,200m.
Lord Grantchester was a Director of Everton, leaving the Everton Board in Dec 2000. As of December 2015, he owned 8.5% of the club. Lord Grantchester is a Trustee of the Foundation for Sport and the Arts. He is also a Trustee of the David France Collection, the world's largest club specific football memorabilia collection.
Lord Grantchester runs a dairy farm near in Cheshire. He is Chairman of the South West Cheshire Dairy Association, a Council Member of both the Cheshire Agricultural Society and of the Royal Agricultural Society. Lord Grantchester was the Chairman of one of the UK's largest milk and cheese businesses, Dairy Farmers of Britain, accounting for 10% of the UK milk market, when it entered receivership in June 2009.
We're back to the Duke of Westminster and his mates again…
John Grantchester succeeded to his father's title in 1995. . He replaced the deceased Lord Milner of Leeds as one of the 92 hereditary peers remaining in the Lords under the House of Lords Act 1999, Miranda's attempt at not reforming the Lords sufficiently to upset the hereditary peers.
Lord Grantchester sits in the Lords as a Labour peer.
There's still another member of this family that readers need to meet. That is David Moores, the son of Cecil Moores, ie. David, Sir John Moores's nephew. David Richard Moores (born 15 March 1946) was the Chairman of Liverpool F.C., 1991–2007; he is now their honorary life President.
David Moores became Chairman on 18 September 1991. He owned 17,850 shares in Liverpool F.C. which represented 51% of the club. His uncle, Sir John Moores, was Chairman of Everton.
The Moores family owned their stake in Liverpool F.C. for over 50 years. They increasingly sought external investment to help Liverpool develop a new ground, and ended up selling it in 2007, to American investors Tom Hicks and George Gillett, although the deal turned sour soon after. In 2010, David Moores said that "significant shareholders like Granada and Steve Morgan were insistent the board of Liverpool F.C. should accept the Gillett and Hicks offer and left me in no doubt about my legal duty to accept the offer". In a letter to 'The Times' in May 2010, Moores admitted that he "hugely regrets" selling Liverpool to the American duo. Moores called on Gillett and Hicks to step aside and find a suitable buyer for the club. Moores wrote: "I call upon them now to stand back, accept their limitations as joint owners, acknowledge their role in the club's current demise, and stand aside, with dignity".
Under the Chairmanship of David Moores, Liverpool had a turbulent period under manager Graeme Souness, 1991-94. When Moores sacked Souness in January 1994, it was the first time a Liverpool manager had been sacked since 1956. Under David Moores, Liverpool went through their most barren spell for three decades. Though they won the most club competitions over the sixteen years, this excluded the most prized English Premiership. As a result, Manchester United have now overtaken their championship total haul, and are close to their total haul for all major trophies, something which was unimaginable when Moores' tenure started. In 2005, Liverpool won a fifth UEFA Champions League after defeating A.C. Milan in the final. 
After the departure of David Moores, Kenny Dalglish returned to the manager's position amid rumours that he had wanted to return in the mid-1990s, but was frustrated by the hesitancy and inconsistency of the decision-makers at Liverpool. Dalglish returned as manager in January 2011 but left the club at the end of the 2011-12 season.
Moores's first wife Kathy Anders was a beauty queen and model, who became Miss England in 1974. She featured in TV advertisements for the Littlewoods Group and married Moores in February 1976. After just 18 months of marriage, Anders died in a car crash in September 1977, aged 26, when Moores' Jaguar car overturned into a ditch on a quiet country road in Lancashire. Moores went to hospital with serious head injuries. It was the second family tragedy that year for the Moores family. Five months earlier in April 1977, Moores's elder brother Nigel died in a car crash in the South of France.
It's incredible how many people in the wider network of Dafydd et al meet sticky ends. I have observed before that being Of Dafydd et al is as dangerous as being one of those of us who have Spilt Their Pints.
Moores is currently married to wife Marjorie. Betty remains the family head which was ranked joint 32nd in the 2009 Sunday Times Rich List with assets worth £1.2 bn.
A case of 'I Own Shrinks?'
Here's a man from Liverpool who bangs on at length about supporting Everton and who concealed thousands of deaths at the hands of the people traffickers of Staffordshire:
Andy Burnham speaking at the NHS Confederation Annual Conference in 2014.