My post 'Sleeping With The Fishes' described how, in the 1980s, UCNW (Bangor University) accepted local young people on work placement schemes with the Manpower Services Commission (MSC). One such 'trainee', T, with the Zoology Dept, lodged in our student house on Anglesey for one terrible term and it took us a very long while to recover from her presence. T stole from us, never paid any rent, left without notice owing us hundreds of pounds and made a false allegation of rape against a young man in Bangor. As for T's activities in the Zoology Dept, on one occasion she got completely bladdered and couldn't walk, so had to be carried out of the building by the workmen. She also lied about feeding and watering the research animals, who died as a result.
The authorities at UCNW were well aware of what a liability this 'trainee' was and we had all told our tutors and the Student Health Centre what was going on and asked for help. We were ignored. I was also aware that Dr Phil W. White, a GP in Menai Bridge, was prescribing T a combination of drugs that could have killed her, because she was drinking with them. White knew that T was drinking. White however surpassed himself a while later when T discovered that she was pregnant and panicked. White told her to stop making such a fuss. I understand that T's baby was eventually taken into care because, fairly obviously, she was incapable of looking after a baby and no-one was going to help her.
At the time, because we were 20 and students, it was a case of 'Christ, what is she going to do next?', but now that I've hit middle age I can only marvel at the dereliction of duty of care on the part of both the MSC and UCNW with regard to T. T was 17 when she turned up, so they were probably supposed to be in loco parentis. T returned to her parents in north Anglesey some months later owing money everywhere – thousands – under investigation by the police for conduct likely to pervert the course of justice and pregnant. I cannot imagine that her mum and dad were too happy.
The MSC trainees were allocated a supervisor and T's was a rather ineffectual former teacher from England who wasn't able to get a teaching job in Gwynedd because she couldn't speak Welsh.  On one occasion I spent the morning with this supervisor and explained very clearly that T was not capable of any sort of independent living and there was not going to be a happy ending if someone didn't step in. There was no action forthcoming. However I did find out from the supervisor that T had not coped at all well on the outward bound residential course that the trainees had been sent on. The supervisor knew this because in true north Wales cronyism style, her own daughter, who I think was a social worker, had been responsible for taking T and co on the outward bound course.
When T returned from the outward bound course, she was covered in bruises and injuries, more than one would have hoped for if one was taking a group of teenagers out into the mountains. We gained the impression that the supervision was not what it should have been, an impression reinforced when T made some comments which suggested that there had been sexual activity between the MSC trainees on the outward bound course.
North Wales is full of outward bound centres and some of them are excellent. However, the standards vary and even those offering mountain leadership training differ in rigour. I know one teacher – well-networked into the paedophiles' friends herself – who in 2001 told me that she wasn't going to do her mountain leadership at Plas-y-Brenin because it was 'too tough' there, she was going to another centre to complete the qualification, which was known as being the 'easiest' in north Wales. She subsequently took a teenaged girl up into Snowdonia on a difficult route, after being warned that the route was far too tough for the girl concerned, only to witness the teenager collapse and need the help of the mountain rescue team to get her off the mountain.
I don't know which centre T et al visited, but in the 1980s, those outward bound centres were often the domain of the paedophile gang, as all those kids in care were given 'experiences' in the mountains.
Following T's false reporting of a rape, a file was sent to the DPP, as it was felt that T's lies over the course of several weeks did rather go beyond the bounds of a frightened/distressed/confused young woman and amounted to a fairly serious attempt to have an innocent man convicted. The CPS did not prosecute. Which suggests that the paedophiles' friends were concealing something that was at risk of being discovered if publicity fell upon this young woman's conduct while on the MSC scheme.
Many of the young people employed on the Manpower Services Commission scheme at UCNW had already been victims of the paedophiles' friends. I knew that at least one of the young men, S, who was on the residential  course with T, was a patient of Dr Tony Francis. This young man had experienced problems before his parents moved to Anglesey – his father was an academic who had been made redundant  in the 'cuts' of the 1980s – but S ending up in the hands of the Top Doctors in north Wales will have resulted in nothing but harm, although as Brown observed because S had supportive middle class parents he'll have been cushioned from the extremes of the North Wales Psychiatry Experience.
Sir Melvyn Rosser was appointed as the Chairman of the MSC Committee for Wales in 1980 and was reappointed in 1983; I mentioned in an earlier post that I can only conclude that Rosser must have fallen from grace in some way, because although he held a number of high profile public roles until the late 1990s, there is little information about him online, simply records stating that he was Chairman of HTV Group, 1986-91 and President of Aberystwyth University, 1985-97. There is a file under Rosser's name in the National Archives, 1974-76, but it hasn't been digitised so I have not been able to access it online. There is no indication as to what aspects of Sir Melvyn's work the file concerns. Rosser must have done a few favours for someone many years ago because he was knighted in 1974.
Hansard, March 1985, records that Ron Davies, the Labour MP for Caerphilly, asked Nicholas Edwards, then Secretary of State for Wales, if 'he will list all those appointments held under his patronage' by Sir Melvyn 'since 1979'. Edwards replied that 'I have not appointed Sir Melvyn Rosser to any public body in Wales for which I am the responsible appointing Minister. I was consulted by the Chairman of the Manpower Services Commission prior to Sir Melvyn's initial appointment as Chairman of the MSC Committee for Wales in 1980 and on his reappointment in 1983'.
So I presume that in 1985 Melvyn Rosser and his appointments were being questioned, although he was nonetheless subsequently given the HTV Group and Aberystwyth University to play with.
Melvyn Rosser was leading the Wales branch of the MSC at the time when the victims of Dafydd et al were left to their own devices 'on placement' at UCNW, although some of them were under 18 yrs old and obviously not coping with 'independent living'.
The person responsible for the MSC's employment rehabilitation programme for disabled people in the mid-1980s was none other than Huw Vaughan Thomas, who did a stint as Chief Exec of Denbighshire County Council and succeeded Ioan Bowen Rees as Chief Exec of Gwynedd County Council. Huw Vaughan Thomas was as comfortable as Ioan had been with a paedophile gang operating within the Council's children's homes, he refused to respond to any concerns at all (see post 'I Know Nuzzing…).
Huw was an adviser to the Welsh Office as the dawn of the National Assembly was in view and then became Auditor General for Wales, after the previous Auditor General, Jeremy Colman, was jailed for the possession of child porn. Huw has clocked up a truly impressive list of public appointments, even by the standards of a paedophiles' friend, as has his wife Enid Rowlands, who among many other things, was a member of the North Wales Health Authority (see post 'Dirty Rotten Scoundrels'). Enid is a member of the Solicitors' Regulation Authority, which is only understandable for someone who's husband allowed a paedophile gang to rage within the children's homes for which he was responsible and who was involved in a major scandal herself involving the disappearance of a large sum of public money followed by allegations of conflict of interest into the bargain. Should anyone delude themselves that they can escape Enid by 'going private', oh no you can't, she was involved with BUPA as well.
Enid and Huw have a son. His career got off to a flying start when he was given a training place in the National Auditor for Wales's Office, where his dad occupied the most senior position. I look forward to Thomas minor joining an NHS Board very soon, it'll be in his genes.
The man who Chaired the MSC on a UK wide level, 1976-82, so who was in post when Rosser and Huw Vaughan Thomas were appointed, was Sir Richard O'Brien.
Richard O' Brien led a distinguished career in public service, which spanned several Gov'ts. O'Brien was Director of the CBI's industrial policy committee in the early 1970s and was described as being 'at heart of the postwar consensus in favour of Gov't intervention and planning'. In 1976 Callaghan's Gov't appointed O'Brien as Chairman of the MSC. In 1979 Thatch confirmed O'Brien's appointment as the first Chairman of the Crown Appointments Commission to appoint an Archbishop of Canterbury. O'Brien recommended Robert Runcie.
After the Scarman Report which followed the inner-city riots of the early 1980s, Runcie invited O'Brien to Chair the Commission which led to the 1985 report 'Faith in the City'. An unnamed Cabinet Minister dismissed the Report as 'Marxist' and Thatch complained that there was nothing in it about 'self-help or doing anything for yourself'. It was perceived that 'Faith in the City' led to very great strains between some members of Thatcher's Gov't and the Church of England, which resulted in Tebbit being as rude as he felt able to be to C of E Bishops on 'Question Time' and Thatch making comments about the Bishops being 'cuckoos in the nest'. Yet Douglas Hurd, then Home Secretary, 'was impressed by the conclusions on crime', drawn by 'Faith in the City' whilst Heseltine, then Secretary of State for Defence, stated that the Bishops had got it wrong and 'conditions in the inner cities are much worse than they say'.
At the time Hurd was Home Secretary, running a Home Office that was actively colluding with the serious organised crime in north Wales on the part of Dafydd and the gang and ignoring the appalling events and constant deaths at Risley Remand Centre (see posts 'Security, Security' and 'Include Me Out'). Hurd was the nephew of the botanist Professor Edred Henry Corner, who knew Prof Greig-Smith of the Plant Biology Dept at UCNW, whose colleagues were concealing the activities of Dafydd and the gang. Furthermore, Greig-Smith's colleague Chris Wood was married to Dr D.G.E. Wood, the corrupt GP who was facilitating the gang. Greig-Smith and Chris Wood were particularly helpful to one mature student, Gaye Kennaway. Gaye was married to Ian Kennaway, who was Director of Regions for the National Trust (see post 'Additional Security Measures').
During the mid-1980s, Penrhyn Castle, which was under the control of the NT, ran an MSC scheme which employed the victims of Dafydd and the paedophiles, many of whom were witnesses to crime so serious that had anyone listened to them their evidence could have put a few people behind bars (see posts 'That's Entertainment' and 'Today We Have Naming Of Parts'). My post 'Criminals Are Getting Away With It' describes the situation of the teenaged girls employed on the MSC scheme as nursery assistants in the UCNW creche for the children of staff and students in 1982. The girls were not mentored, they were completely out of their depth and there were a lot of things happening in that nursery that should not have been happening and people allowed access to the nursery who should not have been.
The nursery was located in the Students' Union building and I have explained in previous posts how every SU sabbatical officer was a lackey who concealed the activities of Dafydd and the gang. Duncan Orme, the Welfare Officer, was rewarded with a career in NHS senior management after crapping himself and fleeing when I approached him about Gwynne the lobotomist, the forged documents and the threats made to Brown and I (see post 'Cry, The Beloved Country'). Fiona Woolmer the Wimmin's Officer bollocked on about campaigning to have VAT removed from sanitary products but failed to breathe a word about the trafficking gang which was targeting vulnerable wimmin students (see post 'Just A Language Divide'), a man called Aiden was busying himself with Irish Republican activity and Martyn was the Gay Rights Champ which would normally be a benign role but the sex trafficking ring were targeting male students and schoolboys and the Chester branch of CHE was alleged to have been a front for paedophilia. Dear old Fran Tate was Welfare Officer at some point after Duncan Orme, which led Fran into a lifelong fulfilling career in north Wales as a paedophiles' friend of the highest order (see post 'The Bloody State We're In'). One of the SU Presidents embezzled a large sum of money from the coffers of the SU but was not prosecuted and received references and a cheery wave to see him on his way. The richest student society was CA (Community Action), which 'helped out' at Ty'r Felin children's home, where the kids were battered, raped and trafficked to locations including Dolphin Square. CA had its own minibus and salaried organiser.
So how I laughed when years after the rest of the world woke up to the excesses of apartheid South Africa, UCNW SU announced that they would be banning the sale of Nestle chocolate products in the SU shop and would be renaming the SU watering hole 'The Mandela Bar'. While all this went on, the branch of Barclays Bank in the SU continued to do a roaring trade. It was located next to the shop that refused to sell Nestle chocs. The SU sabbatical officers were such dipsticks that I can only presume that someone at an NUS conference told them about Nestle's interests in South Africa because they were completely unaware of the wider world. There were bright political students at UNCW, but they steered well clear of the SU because it was dominated by embryonic paedophiles' friends.
Friends at other universities told me that they too gave up with student politics because it was dominated by complete wankers. I used to think that perhaps the levels of engagement and awareness was higher at elite institutions such as Oxford, but I don't think that they were. It was once more the wankers who flooded through the doors into student politics, but richer more privileged wankers who had believed that they were Prime Ministerial material since the age of 12. Indeed they were Prime Ministerial material and just look at the mess.
As for Heseltine's concern for urban deprivation, readers can read all about what he did with the info regarding the crimes of Dafydd et al in my post 'Those Who Are Ready to Serve'.
'Faith in the City' led to the establishment of a Church Urban Fund – of which Richard O'Brien was Vice Chairman – to strengthen the Church's work in the inner-cities, which led to the Church coming up sharp against the kids in care who had been trafficked from north Wales into sex work in the inner cities. No-one said a word, even when those young people were dying of AIDS. The Church and other organisations simply used their knowledge of how those former kids in care contracted AIDS to extract funding from Gov't for their work with AIDS patients, which was given a PR boost by the patronage of high profile celebs, including Princess Di (see posts 'Apocalypse Now' and 'The Bodies Buried Under Canary Wharf'). Di was married to the man who was Chancellor of UCNW and who refused to 'get involved' after Alison Taylor wrote to him in the late 1980s telling him that children in care were being abused in north Wales.
Richard O'Brien grew up in Derbyshire, the son of a Top Doctor. In the 1980s there was a paedophile ring in Derbyshire with links to Dafydd's gang in north Wales. As in north Wales, it seemed that the organised abuse of children in Derbyshire had stretched back decades and had been concealed by the usual culprits – the police, Top Doctors, social services, politicians etc. O'Brien studied law at Clare College Cambridge and had an outstanding record of service in WWII, during which time he acted as personal assistant to Field Marshal Montgomery. Their relationship developed into a friendship which continued after the war and Montgomery took O'Brien to Number 10 and introduced him to Attlee. O'Brien would definitely have had links with the security services.
After retiring from the Army, for two years O'Brien was the Development Officer for the National Association of Boys' Clubs. O'Brien took up this role after being inspired by Attlee's work with the same organisation. He then took up a career in engineering. O'Brien was Director of Industrial Relations at the British Motor Corporation (later known as British Leyland), 1961-66 and was an adviser to Harold Wilson's Dept of Economic Affairs, 1966-68, under Ministers Michael Stewart and then Peter Shore.
Peter Shore was the Labour MP for Bethnal Green and Stepney and then Stepney and Poplar (1964-83) and a Cabinet Minister in Wilson's and Callaghan's Gov'ts. Shore knew about kids from north Wales being trafficked to his patch and he also knew why so many of them began dying of HIV in the 1980s. Shore remained schtum but was most helpful to all those good hearted people linked to Dafydd's associates who helped the poor things dying from AIDS (see post 'Apocalypse Now' and 'The Bodies Buried Under Canary Wharf').
It was Michael Foot, in his capacity as Employment Secretary in Wilson's Gov't, who appointed O'Brien as Chair of the MSC in Feb 1976. Footie himself concealed a great deal of crime related to the sexual exploitation of vulnerable people, including children and there are indications that his own sexual activities were potentially scandalous but he successfully kept them out of the press because of the dirt that he had on the press barons (see post 'Oh, No! It's The Pathetic Sharks…!'). I have only just woken up to the fact that Footie was Lord President of the Council, April 1976-May 1979, which made him the visitor for UCNW. At the time, Sir Charles Evans's management of the institution was so bad that Dafydd Wigley asked Shirl, as Education Secretary, to hold a public inquiry into the matter. Shirl refused, which was just as well because the institution was facilitating Dafydd's sex trafficking gang which so many people had a vested interest in concealing that Parliament would have collapsed if Shirl had even scratched the surface.
'Tell me Mr Urquhart, is Dr Dafydd Alun Jones an insane incompetent old fool who is only tolerated because he's running the Westminster Paedophile Ring?'
'You might very well think that; I couldn't possibly comment.'
It's almost as if 'House of Cards' was written by someone who knew something of what was going on in 1990, when the BBC screened the drama. The story line revolved around murderous politicians and in the 2013 US remake, Francis Urquhart metamorphosed into 'Frank Underwood'. Frank was Tony Francis's middle name, it appeared on all those affidavits that he swore when he was perjuring himself.
'House of Cards' was written by Michael Dobbs. From 1977 to 1979, Dobbs was an adviser to Thatch, then leader of the Opposition. From 1979 to 1981, he was a Conservative MP speechwriter. From 1981 to 1986, Dobbs served as a Government Spad. From 1986 to 1987, he was the Conservative Party Chief of Staff. Considered a 'masterful political operator', he was called 'Westminster's baby-faced hit man', by 'The Guardian' in 1987. From 1994 to 1995, Dobbs served Major's Gov't as Deputy Chairman of the Conservative Party. In addition, Dobbs was Deputy Advertising Chairman at Saatchi & Saatchi, 1983-86, then Director of Worldwide Corporate Communications, 1987-88 and Deputy Chairman, working directly under Maurice Saatchi, 1988-91.
Michael Dobbs has stated that he wrote 'House of Cards' after witnessing a particularly dreadful scene involving Thatch.
Michael: I didn't watch 'House of Cards', but my house mates did. I was working at St George's Hospital Medical School when it was screened in the UK and I was the target of the sociopaths upon which you based your TV drama. The nation loved it, but if you ever find that you are working with murdering child abusers again and that I and my friends are the people whom they have in the sight of their cross-hairs, could you pop over to my place and warn me please? Thanks.
In April 1992, days after John Major won the General Election, the firebomb in Brighton killed five witnesses to the North Wales Child Abuse Scandal (see post 'The Silence Of The Welsh Lambs').
Thanks Mike!!!
'House of Cards' didn't contain a character called 'Dafydd', because it's an unusual name in England and it would have been a bit of a giveaway. Furthermore, had Dobbs based a fictional character on the real thing, his drama would have been dismissed out of hand as being so ludicrous that the BBC wouldn't have screened it. Having said that, the BBC did employ Jimmy Savile, so they knew that truth is stranger than fiction.
Savile visited Bryn Estyn, where one boy alleged that Savile watched as the boy was raped by a group of men.
Marmaduke James Hussey, Baron Hussey of North Bradley, Chairman of the BBC Board of Governors, 1986-96:
Marmaduke was married to Susan Katharine Hussey, Baroness Hussey of North Bradley, Lady in Waiting to Lilibet and Godmother of Prince William: 
Lady Susan with friends:
Lady Susan is the sister of The Lord Waldegrave of North Hill who was Secretary of State for Health, Nov 1990-April 1992 and who has been Provost of Eton College since Feb 2009:
In Dec 1986 Professor Oliver Brooke, the Prof of Paediatrics at that institution favoured by the privileged, St George's Hospital Medical School, was imprisoned for his vast collection of child porn.
It was Tebbit who in 1981 did not renew Richard O'Brien's appointment at the MSC, although O'Brien thought that Thatch was behind the decision. Lord David Young replaced O'Brien. David Young was Thatcher's mate who was responsible for pushing through the privatisation agenda. Thatch viewed David Young as personally loyal to her and in March 1987 appointed him to a central role in planning the 1987 General Election campaign. Young was responsible for organising Thatch's tours and appearances on TV. One week before polling day on June 4 1987, Young and Tebs had a major disagreement about campaign strategy, on the day that has become known as 'Wobbly Thursday'. Young is said to have grabbed Tebs by the lapels and said to him 'Norman, listen to me, we are about to lose this fucking election'.
No you weren't David, because you were imprisoning and killing the witnesses who could have gone public about Sir Peter Morrison, who was at the time molesting children in north Wales while he doubled up as Conservative Party Deputy Chairman.
Sir Peter Morrison
The Tory Party Chairman for much of the time when Morrison was Deputy Chairman was this old war horse, who's dad didn't riot but got on his bike and looked for work:
Morrison's sister Dame Mary spent most of her life as Woman of the Bedchamber to Lilibet.
The month following the Tories' 1987 General Election victory, Dafydd and the paedophile gang made a well-planned, co-ordinated effort to frame and imprison me for 'attempting to stab a doctor'. The Mental Health Act Commission and Risley Remand Centre were on board with the conspiracy, as evidenced by copies of letters that are now in my possession written by David Ewart of the Mental Health Act Commission's Liverpool office. The plan failed thanks to  a nursing officer, Jeff Crowther, making a statement in which he admitted that I had not attempted to stab anyone and Sgt Morgan in Bangor Police Station protected me further by refusing to take untruthful statements from staff at the North Wales Hospital Denbigh who were ringing him up making allegations against me as I sat in front of him and also by preventing D.G.E. Wood from coming into my cell. See posts 'Workers' Play Time' and 'Security, Security'.
Jeff Crowther left north Wales just before the Waterhouse Inquiry opened, after his wife died while 'in the care of Ysbyty Gwynedd' and a drug addict threatened to kill him (see post 'Criminals Are Getting Away With It'). Sgt Morgan's career came to an end not long after he protected me, after he was found guilty of indecently assaulting a teenaged girl in custody. Jeff seemed to know that Sgt Morgan was going to be found guilty before Sgt Morgan was even put on trial.
Meanwhile, over at Labour Party HQ, Ron Davies – who subsequently became notorious for his 'moment of madness' with a male prostitute called Boogie and then an episode in which he was 'looking for badgers' – was journeying toward his eventual destination of Secretary of State for Wales under Blair. In 1987 the Windbag was still leader of the Labour Party and deluded himself that he was going to win the election (see post 'I Warn You…'). The Windbag who had known Tony Francis when Francis was a student in Cardiff. The Windbag who was married to Glenys from Anglesey. Which was where the girl on the MSC scheme who encountered such problems was from as well as her colleague, S. Glenys and her family were personal friends of scores of those who had spent years concealing the wrongdoing of Dafydd and the paedophiles, including Lord Cledwyn, MP for Anglesey and one time Secretary of State for Wales  (see post 'The Cradle Of Filth').
At the time of and after the attempt by Dafydd et al to have me framed and imprisoned, a number of students from Leicester University – an institution heaving with paedophiles' friends as detailed in previous posts, as a result of the presence of the Leicestershire paedophile ring involving Frank Beck and Greville Janner – knew what was happening to me. The students all had Radical Consciences and were involved with the SU at Leicester University and other leftist groups in the city, including Wimmin's causes. One such person shared our house and was given extensive accounts of what was happening to me by both Brown and I. She and her friends read the statements in which the Top Docs perjured themselves. This person went to school with me in Somerset and was called Caroline Goodman then. By the time that we were living in Leicester she was known as Carrie Grant, but the last I heard she was living in Aberdeen, working as a teacher and using a different name. She is married to a retired economics lecture from Aberdeen University. Brown didn't think that Caroline was involved with the paedophiles' friends in Leicester, but I have been told that she definitely was and decided to keep quiet about what she knew was happening in north Wales.
Caroline's Radical Conscience had its limits though. I made the mistake of telling her that I was very concerned at the fate of a Denbigh patient who had been unlawfully transferred to Risley Remand Centre, because I witnessed Dafydd's mole Sister Janice Davies fit him up and then spread the word that he was violent and dangerous. This man had been previously accused of a sex offence and I very much suspected that he'd been fitted up for that as well. Caroline became very angry with me and screamed that she 'didn't give a fuck' about this man. Well you'll be delighted to know Caroline that he was almost certainly found dead in Risley Remand Centre, that tended to happen to the victims of Dafydd and the gang who stood accused of sex offences. I witnessed this man being fitted up in Jan 1987. I told Caroline – and other people – in Leicester about it over the summer of 1987.
18 Nov 1987, Kings Cross. 31 people died. I was due to pass through the station at the time of the fire but I'd been delayed so I missed it.
Just how thick and callous are you all?
After the 1987 General Election, David Young was promoted to Secretary of State for Trade and Industry. He served two years in the role and privatised the last of the state industries in the department. In May 1989 Young told Thatch that he would like to return to private life. He resigned from the Cabinet in 1989 but received an appointment as Deputy Chairman of the Conservative Party to help Kenneth Baker reorganise Central Office and then stood down on the resignation of Margaret Thatcher.
Young returned to business as a Director of Salomon Inc and Executive Chairman of Cable and Wireless. From 1993 he was President of the Institute of Directors and from 1995 was Chairman of Council of University College, London, with which many paedophiles' friends are associated.
Young was the first President of Jewish Care, 1990–1997.
In 1996 Young set up his own company, Young Associates Ltd, with two partners Simon Alberga and Yoav Kurtzbard, that actively invests in technology companies. He is Chairman and controlling shareholder of the Camcon Federation of companies, a Cambridge-based federation of companies with innovative technology in the Oil and Gas, Auto and Medical fields. Young is controlling shareholder and on the board of TSSI Systems Ltd, a long established company in security technology and in both these companies he works with Danny Chapchal. He is a substantial shareholder and Chairman of Deep Tek Ltd, a company with developed technology to enable operations in deep and ultra deep waters in the Oil and Gas sectors and in scientific exploration. Young is a substantial shareholder and Chairman of KashFlow Software Ltd, a leading provider of online accounting for SMEs.
Lord Young has a number of charitable interests including the Presidency of Chai Cancer Care and the Coram Trust, Chairman of the Chichester Festival Theatre and of the Jewish Museum London and Trustee of the Co-Existence Trust and the MBI Jaber Foundation. In December 2010, Young also became a Patron of Lifelites, the charity providing technology for children in hospices.
In June 2010, Young was appointed adviser to PM David Cameron by the Coalition Gov't to review health and safety laws.
In October 2010, David Young was appointed Enterprise Adviser to Cameron and asked to conduct a 'brutal' review of the relationship of Gov't to small firms. This resulted in a three-part review to Cameron on enterprise and small business.
In May 2012, Young delivered the first part of this review, entitled 'Make Business Your Business'. Young highlighted the number of start-up businesses to indicate a growing culture of enterprise and entrepreneurship in the UK. The report introduced a new Gov't programme, Start Up Loans, providing loans and mentoring to get a business venture started. In June 2013, Young delivered 'Growing Your Business', which looked at how new and developing small firms can grow and expand into new markets. In June 2014, Young reviewed the relevance of enterprise in education in 'Enterprise for All'.
One of the wealthiest Top Doctors in north Wales, if not the wealthiest, is Dafydd. Dafydd's partner in crime John Allen, who owned the Bryn Alyn Community as well as the brothels in Brighton and London to which he trafficked kids from children's homes in north Wales, was a millionaire on the back of the profits from Bryn Alyn by the mid-1970s. Their business interests did very well under Health, Wilson and Callaghan, but the tills really rang out under Thatch.
Coutts cheque to buy off unscrupulous people? That'll do nicely! See post 'Upper Class Twit Of The Year – Shooting Themselves'.
Norman Tebbit appointed Richard O'Brien Chairman of the Engineering Industry Training Board in 1982 and O'Brien continued to serve with a number of other organisations concerned with training and education.
O'Brien was Chairman of the Policy Studies Institute, 1984-90, serving subsequently as its joint Chairman until 1998. Sociologist Tariq Modood was a Senior Research Fellow at the Policy Studies Institute, 1993-97. Tariq's empire is at the University of Bristol, Dr D.G.E. Wood's and Lord David Hunt's alma mater. For many years now Tariq has been constructed as the leading authority on the sociology of ethnic minorities and New Labour really loved him. When I was doing my PhD I wrote to Tariq, not realising how rich and famous he was. I did not receive a reply. A couple of years later I mentioned this to a senior academic who laughed and said that Tariq was so important that he really would not concern himself with a PhD student, but I mustn't feel embarrassed about contacting him if ever I met Tariq because Tariq wouldn't even remember my e mail. This academic then let on that he had interviewed Tariq for a lecturing job before Tariq was quite so grand, but the panel decided not to appoint him because Tariq's 'sense of importance' would make him impossible to work with.
So imagine my surprise when a couple of years later, I was involved in preparing a big research bid re ethnic minorities with some colleagues from Bradford, when I was told by one of the leading lights in ethnic minorities research in Bradford that if our bid was successful, we'd undoubtedly find one Tariq Modood knocking on our door and when we did, would we please not let him in because he was an unscrupulous nightmare. I subsequently got to know someone who had worked with Tariq and was told that he was at that point busy trying to ingratiate himself to Tony Blair. If one reads Modood's work, one can see that he has significantly shifted his intellectual and political position over the years. The shift coincides with whichever policy the Gov't of the day wishes to promote.
Tariq completed his Bachelor's and Master's degrees at Durham University, when social scientists in that institution were concealing the paedophile gang operating in the north east which was linked to Dafydd's gang in north Wales (see post 'I Warn You…'). Professor Eric Sunderland was Professor of Anthropology at Durham, 1971-84 and then PVC, 1979-84. In 1984 the paedophiles' friends of north Wales sent up a distress flare, Eric responded to the call and was duly installed as Principal of UCNW. After completing his first degrees at Durham, Tariq undertook a PGCE at Cardiff University and did his PhD at Swansea University, an institution dominated by the family of paedophiles' friend Rhodri Morgan (see post 'A Bit More Paleontology').
Richard O'Brien was a lifelong Anglican, a member of the Court of Advisers to St Paul's Cathedral and involved in a number of charidees. He was a Trustee of HURT (Help Untwist Rape Trauma), the charity established by Jill Saward, the vicar's daughter at the centre of the notorious Ealing Rape Case in 1986.
Although O'Brien was an establishment figure, he enjoyed hanging out with others considered radical. He was friends with E.P. Thompson, the Marxist historian from Warwick University. E.P. Thompson was a leading light in E.N.D. (European Nuclear Disarmament). More interestingly with regard to this blog's subject matter, E.P. Thompson was a regular visitor to Croesor in north Wales, the village which hosted the 'Welsh Bloomsbury set', many of whom knew what Dafydd et al were doing (see post 'The Village'). O'Brien was also friends with Lindsay Anderson, who directed the films 'If…' and 'O Lucky Man'. 'O Lucky Man' was an alleged fantasy, which featured a lot of people doing the sort of things described on this blog.
Do you mean mari-jew-ana?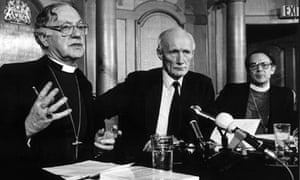 It has now been acknowledged that Runcie concealed child abuse. A quick look at his biography suggests that Runcie will have concealed child abuse on an even grander scale than has been admitted.
David Sheppard was the cricketing Bishop of Liverpool, 1975-97, who also concealed child abuse and Sheppard knew a great deal about the havoc that Dafydd and the paedophiles were causing in Liverpool as well (see posts 'These Sharks Are Crap As Well' and 'Apocalypse Now').
So when I witnessed UCNW neglecting their duty of care towards vulnerable, not very capable teenagers on the MSC employment scheme in 1983-84, David Young was commanding the MSC on a UK-basis and Sir Melvyn Rosser was commanding the Wales arm of the MSC. Sir Peter Morrison was a Minister in the Dept of Employment at the time, under Secretary of State Tom King, who was personally known to a close relative of that unskilled manual worker in Somerset who found himself in receipt of a Coutts cheque at the time that there was such a strenuous effort on the part of the paedophile gang in north Wales to imprison me (see post 'Upper Class Twit Of The Year – Shooting Themselves').
Richard O'Brien went to Oundle School, Northamptonshire. As did Sir Clough Williams-Ellis, who owned the Brondanw estate in Croesor and let out his properties to E.P. Thompson and many others, who knew what Dafydd et al were up to (see post 'The Village'). Other old Oundelians include:
Sir Kenneth Robinson, Labour MP and Minister of Health, 1964-68, under Harold Wilson. Robinson was the man who would do anything for the Top Docs and spent years at the helm of the National Association of Mental Health (MIND) when Dafydd was involved with that organisation and while it was concealing child abuse and even deaths of psychiatric patients. After years of such sterling service, Robinson was appointed as Chair of the Arts Council of Great Britain, a post usually occupied by those who have attained the status of paedophiles' friends at an earlier stage in their careers. See post 'The White Heat Of This Revolution' for info on Robinson. Robinson was Health Minister when Dafydd was appointed as consultant to the North Wales Hospital Denbigh. Almost immediately, Dafydd was involved in a scandal concerning the serious neglect of patients which even made the pages of 'The Times'.
Michael Wynn, 7th Baron Newborough. Lord Newborough owned estates in north Wales and served in the RNVR, along with so many paedophiles' friends and would have known about their wrongdoing (see post 'The Defence Of The Realm'). Michael Wynn is the father of the current Lord Newborough, who spent most of his career in the world's financial centres but now runs the family estate and is a friend of Carlo (see post 'Little Shop Of Horrors').
Sir Peter Scott achieved fame as the naturalist who was behind Slimbridge and he also did much broadcasting with the BBC, along with David Attenborough. Attenborough's father Frederick was Principal of the institution which became Leicester University (see post 'Gwlad y Menig Gwynion'. Scott served in the RNVR. He was one of the founders of the World Wide Fund for Nature (formerly called the World Wildlife Fund), which entertained the nation as a result of its association with Prince Philip who enjoyed himself shooting wildlife at the time:
Peter Scott was Chancellor of Birmingham University, 1973-83, whilst it housed Professor Robert Bluglass (see post 'Enter Professor Robert Bluglass CBE') and Professor Ian Brockington (see post 'Ian Brockington's Mischief'), both of whom concealed the paedophile gang in north Wales.
Anthony Holden is a journo and a biographer, his most notable biography being one of Carlo.
Oundle has produced heaps of others who have occupied or do occupy positions of influence, including many people who attained high rank in the forces. Other old pupils include:
Alex Baldock, CEO of Dixons Carphone; Sir Howard Stringer, Chairman and CEO, Sony Corporation (Sony gave rock star Gruff Rhys – the son of Ioan Bowen Rees the Chief Exec of Gwynedd County Council while the paedophile gang did their worst in the Council's children's homes – that very favourable recording contract (see post 'The International Language of Screaming'); Damian Grammaticas, BBC Europe Correspondent; David Lyon, International Development Correspondent of BBC News; Rufus Pollock, economist and founder of Open Knowledge International; Norman Smith, Assistant Political Editor of BBC News; Charles Wintour, newspaper editor; Lord Richard Allan, Lib Dem MP; Michael Beaumont, Conservative MP; Sir Roy Beldam, Lord Justice of Appeal; Caroline Criado Perez, feminist campaigner and writer; Lord Robert Dixon-Smith, Conservative MP; Lord Frederick Erroll, Conservative MP; Donald Gorrie, Lib Dem MP; Sir Herbert Palmer, Governor of Gambia and Cyprus; Ralph Bonner Pink, Conservative MP; David Reddaway, diplomat, Lord David Lockhart-Mure Renton, Conservative MP; Sir Joseph Simpson, Met Commissioner; Peter Thurnham, Conservative and Lib Dem MP; Prince Tomislav of Yugoslavia; Michael Mustill, Law Lord; Michael Ashby, neurologist; Colin Bibby, conservationist; Sir Cyril Clarke, physician; Richard Dawkins, evolutionary biologist; Charles Fagge, surgeon; Sir Alister Hardy, marine biologist; John Harman, former Chairman of the BNF; Leslie Hilton Browne, ornithologist and agriculturalist; Richard Keynes, physiologist; Clive Minton, ornithologist; David Nabarro, UN system coordinator; Joseph Needham, biochemist; Robin Nicholson, Chief Scientific Adviser to the Cabinet; Alan Lindsay Mackay, crystallographer.
There are many, many more…
I have mentioned before that I was friendly with many zoology students, both undergrads and postgrads when I was an undergrad at UCNW in the 1980s. My friend Anne Vernon who was killed by the paedophiles' friends in 1986 was a PhD student in the Dept of Zoology. I knew how fraught the relationships between the staff of the Zoology Dept were, as well as some of the relationships between the staff and the students, particularly the PhD students, some of whom complained of being treated very badly, even of having their career prospects damaged, by vindictive supervisors. The two academics in the Zoology Dept who seemed to have the worst track records for this were Cliff Rankin and Tony Pitcher.
I was told again and again that Rankin was having affairs with female students who would then secure jobs and postgrad places in return for their favours. I wasn't sure whether to believe this until just before finals, one of my male house mates was given the firm offer of a PhD studentship by Rankin. After he'd achieved the required 2:1, my friend went to see Rankin to make arrangements to register for his PhD, only to be told by Rankin that he'd decided to give the studentship to another student. It was one of the girls with whom Rankin was having a relationship. It was said by the PhD students that this was characteristic of Rankin, no-one could plan their futures on any offers from him. This may be coincidental, but that housemate of mine was one of the people who knew what was happening to me at the hands of the Top Docs. After Rankin blew him out, he spent a year in Australia, where someone attempted to blackmail him, but I'm not sure what over. He then completed a PhD at Aberdeen University and ended up working as a researcher for a drug company in Kent. He was forced out of his job there in early 1991, when I was forced out of St George's and my two friends working in the media were intimidated out of their house by a gangster and then forced out of their jobs at the Royal Television Society and the BBC (see post 'The Turn Of The Screw').
In my post 'Upper Class Twit Of The Year – Shooting Themselves', I described how there was barely a functioning health service in north Wales and the mental health services had been completely hijacked by the sex trafficking gang, so there was no real mental health care at all. Undergrads who developed mental health problems nearly always returned to their families in order to avoid the horrors of Gwynne the lobotomist, Dafydd et al and the postgrads just suffered. One of Cliff Rankin's postgrads seemed to be very obviously in a fairly advanced state of anorexia, with dangerously low body weight. None of the staff batted an eyelid, although all the other students were commenting on this young woman becoming obviously quite ill.
Tony Pitcher was cohabiting on Anglesey with a young woman who was working as his research assistant – I think that she had previously been a student of his. I was very friendly with one of Pitcher's (male) PhD students who told me that Pitcher was a real nightmare, very nasty and the only way of surviving was to get on with your work and give him a wide berth or you'd find that your career was somehow ruined. Pitcher's foibles led to an incident with one of his PhD students in about 1985 which was so embarrassing for UCNW that it was hushed up and very few people knew about it. I did because my friend was on the scene when it happened, although he wouldn't tell me what particular sin of Pitcher's precipitated it.
Tony Pitcher had an outstanding PhD student who was nearing completion when Pitcher did something very, very nasty to him, which my informant would not detail. The PhD student had been mistreated and pissed about by Pitcher from the day that he arrived – he had done his first degree in Glasgow University, so he didn't know that Pitcher should be avoided as a supervisor. Whatever Pitcher did was absolutely the last straw for this student and he walked out of the lab and went to a pub in Bangor where he got very, very drunk. The PhD student then returned to the Zoology Dept armed with a broken bottle and held a terrified Pitcher hostage. My friend was on the scene and said that the sight of Pitcher believing that he was going to die at the hands of a furious, drunk Glaswegian was very entertaining, but for the sake of Pitcher's physical safety, my friend spent an hour helping defuse the confrontation.
Everyone expected the PhD student to be thrown out of the University. He wasn't. I was told that what Pitcher had done to him was so serious that UCNW couldn't defend it and therefore agreed to forget about any action against the PhD student in return for no-one mentioning what Pitcher had been up to. When all this happened, the Principal/VC of UCNW was the well-camouflaged paedophiles' friend Professor Eric Sunderland and the Dean of Science was Dr Eifion Jones, Prof Richard Bentall's then father-in-law (see post 'Interesting Facts'), who was also a paedophiles' friend.
The zoology PhD student went on to become one of the world's best known cychlid fish experts and bagged his first Chair at a very young age. So imagine my surprise when I was working at Bangor more recently as a sociologist and I was told that there was much gnashing of teeth in Biological Sciences because Prof Fergus Lowe had head hunted a Professor of Zoology, paid him a great deal of money and created a job for the new Professor's wife as well. Then someone told me the name of the head hunted Professor. It was that PhD student who had terrified the living daylights out of Tony Pitcher all those years ago.
The new Professor was then given the post of Director of Research for the whole University, which caused yet more bad feeling. No-one could understand why Fungus had gone to such lengths to curry favour with this particular academic. It might have been because he was one of the world's leading fish behaviourists. Or, it might have been because Professor George F. Turner, when he was a PhD student, shared a house with some of my closest friends and knew what was happening to me at the hands of Dafydd and the paedophile gang – with whom Fungus was working in those days. George was still sharing that house when my friend Anne was killed. George's house at 123 Caernarfon Road was second home to Anne and me, because of our friendship with George's housemates and we used to stay over at 123 Caernarfon Road several nights a week. Anne was engaged to one of the students in George's house.
Before George did his first degree in zoology, he began a degree in medicine at Glasgow University, but he withdrew because he couldn't stand the Top Doctors. When Wood et al began ruining my chances of a place at medical school – that was before Dafydd offered me one at Liverpool in return for dropping my complaints about him, obviously – it was George who told me that I wouldn't be missing anything, because medicine was a profession with the most appalling people at the helm…
Time to fess up George. When Fungus headhunted you, he knew that I was onto him and was desperately tying up all witnesses. OK, he did want good researchers as well, but I wouldn't be surprised if you saw the opportunity and squeezed every penny that you could out of him.
Anne was not the only person that gang killed.
In the 1980s, the older lecturers of staff in the Zoology Dept were famed for their pomposity, incompetence and lack of effort and were collectively known as the Bow Tie Club, on the basis of their penchant for, naturally, bow ties and their regular appearance in the refectory at lunchtime, in a special cordoned off section provided with extras such as a white table cloths, decent cutlery etc. They had done their degrees at Oxbridge and Durham and had connections to influential people at institutions like the London Zoological Society. The governing body of the London Zoo was composed of society big wigs who were keeping the lid on Dafydd et al at a high level, including Sir Ronnie Waterhouse (see post 'Heart of Darkness'). Members of the Bow Tie Club were mates with local Top Doctors. It was the zoology PhD students who told me that the Bow Tie Club were the King's New Clothes, not actually up to very much as zoologists, but jealously guarding their territory, resources and jobs.
One member of staff of the Zoology Dept had his life wrecked by the Top Doctors himself, a snake venom specialist, Bill Hemmings. Bill's family certainly knew a lot about venomous snakes, they have all had a lifetime on the receiving end of them. Bill developed bipolar disorder and ended up in the hands of Dafydd. He spent years literally rotting in the North Wales Hospital Denbigh. Bill's wife was appalled at what was happening and desperately tried to extract Bill from Dafydd's clutches. The response of Dafydd et al was to denounce her as being the cause of Bill's problems and to ban her from visiting him. I first met Bill's wife when she had experienced decades of this, but I didn't know that. I remember her being very stressed and very hostile to Laingian theory. I later became friendly with her daughter and son-in-law and their family and they explained that at one point Dafydd had begun styling himself as the R.D. Laing of north Wales and that particular horrid spectacle had never left Bill's wife.
The poison wasn't just thrown at Bill's wife, the whole family were subjected to a nasty whispering campaign by the paedophiles' friends, particularly when Bill's wife established a mental health research charity. Before she died Bill's wife was awarded an MBE. She was too frail to go to the palace for the occasion, so she was presented with the medal by Lilibet's representative in Gwynedd, the Lord Lieutenant, who was at the time paedophiles' friends Huw Daniel. I was of the opinion that Gwyneth should have delivered a hard kick to Daniel's carregs when she picked up that MBE, but her son-in-law told me that she restrained herself and accepted the MBE as recognition of the suffering that the whole family had experienced.
When he was older, Bill enjoyed a much better quality of life. After years of being written off by Dafydd et al, Bill went on a visit to Shrewsbury, where he experienced a manic episode in the town. He ended up in the hands of a Top Doctor who incredibly enough knew what she was doing and after a short while in her care, Bill's condition stabilised. That was all that it took to turn Bill's life around – someone who wasn't just a total idiot running a sex trafficking gang.
Oh, when I first met Bill's wife, D.G.E. Wood told me to have nothing to do with her on the grounds that her husband was 'completely mad' and had not recovered from a serious illness because his wife ignored the 'expertise' of Dafydd et al. You worthless twat Wood, I have now known Bill's family for 20 yrs and I know exactly how gross the Top Doctors' abuse of Bill and his family was.
Dafydd et al were clueless anyway, but in the light of Bill working in an institution which was facilitating the sex trafficking gang, I do wonder whether the severe neglect of Bill and the poison thrown at his family might have been for the routine reason ie. Bill discovering the extent of the wrongdoing.
Just before I left north Wales, I was on a bus when someone sat next to me who remembered me from years before as a UNCW student. He had worked as a junior technician in the Zoology Dept for a short while and we started chatting about old times. He told me that the nicest lecturer in Zoology had been Dr Hemmings…
There are still a few members of the Bow Tie Club alive, as are some of their wives. Perhaps they'd like to let us all know why they abandoned their colleague to Dafydd's dungeon and showed no support at all for Bill.
BBC News Wales is telling us that Bangor University is opening its doors to train medical students. Hywel Williams, MP for Caernarfon and a former social work colleague of Dafydd's, is delighted and has explained that GPs tend to practice in the area in which they studied, so this will be a solution to the lack of GPs in north Wales. Hywel knows as well as I do that GPs won't work in north Wales because the region is still run by those who facilitated a paedophile gang some 20 yrs ago. D.G.E. Wood had been responsible for GP training in north Wales for decades. However Hywel also knows that there will be applications for places to study medicine at Bangor – the applications will be from the children of the paedophile gang who's A level grades won't be sufficient to get them into any other medical school. The paedophiles' friends are Hywel's bread and butter, so it is little wonder that he has greeted the news with pleasure. In 20 yrs time the health outcomes of people in north Wales will still be among the worst in Europe and no doubt one of Hywel's children will be an MP and they'll tell everyone that there is a problem with the NHS and it is a result of 'cuts'.
Down at Westminster, the resignation of David Davies the Brexit Secretary looks as though it might bring down the Gov't. I could well miss all the action because I'm going away for a few days to a place with no access to wifi or indeed even TV and radio. The 'Today' programme were excitedly discussing whether Theresa can survive. I don't know why she even wants to, she presides over a Gov't of backstabbing vacuous idiots who are knifing her after telling her that she was the best thing since sliced bread. 'Leave it Theresa, they ain't worf it'. Go to your favourite hotel, that one near Dolgellau and spend some time among normal people and hills and let them stew at Westminster. They'll all 'be ready to serve' from the minute that you resign.
I keep being told that I should receive an apology for what happened to me. I would take it as an insult if I did. None of this was an accident. No-one accidentally missed a vicious sex trafficking gang as they targeted me and my friends for thirty years. Their crimes were recorded by and known to the security services and received the full backing of Gov't. The harsh reality is that for decades the careers and pensions of a bunch of vile troughing old Top Docs and their allies were systematically considered to be more important than the lives of hundreds of young people. Get over it world. The British state did this, it did it deliberately and over a course of many, many years as an awful lot of people stood by and assisted or watched. It wasn't long ago and far away, I was being threatened and harassed until the day that I left north Wales. No amount of Me Tooing or inquiries into organised abuse will bring back the dead. Live with what you have all done. If anyone really had one ounce of regret those bodies at Denbigh would be recovered. There is no sign of that happening.