My post 'The Vermin Club' discussed a piece of pure propaganda on behalf of the NHS in the form of an episode of 'Kilroy' which was broadcast in Jan 1997, just as the Waterhouse Inquiry opened. Every guest on the show – with the exception of the members of the general public – knew a considerable amount about the North Wales Child Abuse Scandal as well as the Westminster Paedophile Ring. As they scrapped and argued between themselves the studio guests only agreed on one thing: Ah, the doctors they were wonderful! One of the guests was the PR guru Julia Hobsbawm. Julia's business partner at the time was Sarah Macaulay, who in 1997 officially became Gordon Brown's other half. Which was just as well because there were unkind comments being made about Gordon being single and into middle age. I don't know why, but British politics can't cope with unmarried leaders, perhaps people just never forgot Ted Heath, who was a Bachelor and not blessed with children. Sarah and Gordon married in 2000 and in 2007 Julia's mate from school was the PM's wife!
Sarah's Teddy Bear did some pretty disgusting things on the way to No 10, including cooking up a plan with his mate Jack McConnell to shaft two of my closest friends who knew what had happened and continued to happen to me at the hands of Dafydd and the gang, who had been at Stirling University with Lord Jack. See previous posts.
Not that Julia will have needed Sarah and Gordon's mate Lord Jack to tell her what had happened to me or indeed the others targeted by Dafydd et al, because for years, until she was in her teens, Julia's family had a second home in Croesor, south Gwynedd, an area in which the locals were suffering badly at the hands of the gang. The Hobsbawms didn't suffer themselves being among the circle of friends of Sir Clough Williams-Ellis, the Anglo-Welsh aristocrat who owned the Brondanw estate at Llanfrothen/Coresor and who's network made use of the services of Dafydd et al themselves.
Sir Clough's mates were known as the Welsh Bloomsbury Set, as so many of his older friends had been members of the original Bloomsbury Set. Sir Clough married Amabel Strachey and via Amabel had a vast collection of friends and relatives who were famous names in the arts, medicine, politics, psychoanalysis, literature. See post 'The Vermin Club'. Clough used to let his cottages out to them to use as second, or sometimes permanent, homes. The presence of Bertrand Russell down the road at Penrhyndeudreath added to the fun. It also made Dafydd et al completely untouchable.
Among Clough's extended network there were people involved in organised abuse and even more who were knowingly concealing it because their family and friends were involved. See post 'The Vermin Club'.
There are people who were brought up in the Croseor area who's fathers were members of Clough's network; sometimes this was an open secret but I imagine that there were a great many others who had no idea who their fathers were. There is at least one documented case of one of the dumped wives of one of Clough's mates being hauled off to the North Wales Hospital Denbigh when her pregnancy became inconvenient to the man who had abandoned her. She stayed there until the 1980s when she was by then in her 60s, at which point she was rehoused in the community, the community being Betws-y-Coed, well away from anyone who might remember what had happened to her. What happened to the baby was never explained but a great many babies of Denbigh patients disappeared without explanation.
Posh people with a penchant for having sex with a whole variety of other people, sometimes with children? Gwynne the lobotomist and Dafydd nearby who'll do anything at all to ingratiate themselves to the rich and powerful, even illegally imprisoning the victims of sexual assault in a dungeon and then lobotomising them? No wonder Dafydd was able to build an empire supplying the Westminster Paedophile Ring on the back of it all.
Previous posts (eg. 'Lest We Forget' and 'The Point Is To Change It') have detailed how Merfyn Jones, the former VC of Bangor University and then the Chairman of the Betsi Cadwaladr University Health Board, came under attack from the combined forces of the gwerin, the paedophiles' friends and a range of politicians, bolstered by No 10 when Miranda and then Sarah's Teddy Bear were resident in there. Merfyn grew up in Llanfrothen and knew what was happening in the area.
While I'm sure that Merfyn received quite enough crap from the gang when he lived at Croesor, he certainly came under attack from one of the gang's big boys in England, Harold Wilson's friend Lord Asa Briggs, the then VC of Sussex University, in 1967, after Merfyn and two of his friends staged an anti-Vietnam protest against a visiting US official which involved throwing red paint over him. Briggs's daughter spoke about the incident years later just after Merfyn had been appointed VC of Bangor and told Radio 4 that her father had never forgiven the students who had done this, although Merfyn wasn't mentioned by name. Briggs was very much alive at the time – he didn't die until quite recently – and Merfyn was also a member of the BBC Board of Governors at the time of the interview, so it was a fairly obvious warning of what was in store for Merfyn. Furthermore Merfyn had really pissed them all off by giving me a place to do a PhD at Bangor University and then allowing me to remain there as a postdoc. My PhD supervisor was bullied out of his job at Bangor University, as was his wife and then amassed forces turned on Merfyn. Anyone remember Hutton? Merfyn was in the middle of it. I'll be blogging about that soon…
Asa Briggs and many others colluding with Dafydd and the Westminster Paedophile Ring had worked for the security services and were utilising that network to cause trouble.
The extremes that this lot were prepared to go became clear when Merfyn's wife died at the hands of Dafydd's colleagues in 2008… Things did not get any easier. When Merfyn was appointed Chairman of the Betsi Board in 2011, the Top Docs, senior managers and others conspired to allow patients to die in order to create a scandal and force Merfyn's resignation and removal from public life. The gang's plan came to fruition in 2013 when Merfyn resigned after a scandal. See post 'The Point Is To Change It'.
When dealing with the gang, I am always reminded of Monty Python's Piranha Brothers, Doug and Dinsdale, who, like Esther's Gentleman Friend Nicholas Fairbairn the violent drunken sex offender (see post 'The Vermin Club'), Are Absolutely Charming and Know How To Treat A Lady. On one occasion, Doug and Dinsdale arrived at a target's house to collect their protection money and when their target was asked if he'd ever considered going to the police, he said that he was about to do that until he noticed that the member of Dinsdale's gang holding the thermo-nuclear device was the Deputy Chief Constable. The former Deputy Chief Constable of North Wales, Clive Wolfendale, is CEO of Dafydd's charidee CAIS.
Doug and Dinsdale nailed people's ears to the floor and sawed people's heads off but there were never any complaints about the Pirhana Brothers, because those who had been brutally assaulted really liked Doug and Dinsdale and anyway they knew that they had deserved it. The Piranhas ran a prostitution racket and a porn empire. Dinsdale suffered from depression and when he was 'very down', he imagined that a giant hedgehog, Spiny Norman, was following him.
I love the Piranha Brothers, they are just like Dafydd et al and I have long been a fan of Spiny Norman. The irony is that Graham Chapman was networked into Dafydd's gang and John Cleese was friends with some of the Top Docs concealing Dafydd's crimes. But perhaps that is how Python were able to characterise Dafydd et al so well, in the same way that they could accurately play pompous lawyers and Top Docs, having trained for those professions themselves…
Julia Hobsbawm's father, Eric John Ernest Hobsbawm (9 June 1917 – 1 October 2012) was a Marxist historian who wrote on the rise of industrial capitalism, socialism and nationalism. His best-known works include his trilogy 'The Age of Revolution: Europe 1789-1848', 'The Age of Capital: 1848-1875' and 'The Age of Empire: 1875-1914', as well as 'The Age of Extremes' and an edited volume that introduced the idea of "the invention of tradition". Such as this:
Hobsbawm was born in Alexandria, Egypt, to Leopold Percy Hobsbaum (né Obstbaum), a merchant from the East End of London who was of Polish Jewish descent and Nelly, who was from a middle-class Austrian Jewish family background. Hobsbawm's early childhood was spent in Vienna and Berlin. A clerical error at birth altered his surname from Hobsbaum to Hobsbawm. Eric grew up speaking English as his first language.
In 1929, when Hobsbawm was 12, his father died and he started contributing to the family income by working as an English tutor. Upon the death of his mother in 1931, he was adopted by his maternal aunt, Gretl, and paternal uncle, Sidney. Hobsbawm was a student at the Prinz Heinrich-Gymnasium Berlin (today Friedrich-List-School) when Hitler came to power in 1933; that year the family moved to London, where Hobsbawm enrolled in St Marylebone Grammar School (now defunct). St Marylebone Grammar was proud of its tradition of educating the children of professional families who had experienced a downturn in their financial circumstances.
St Marylebone's Grammar alumni include many well-known academics, politicians, Top Doctors and lawyers. One former pupil who's life unravelled after he received Help from the Top Doctors is Stuart Goddard aka Adam Ant. After being sectioned in a secure unit in London some years ago, Adam Ant was interviewed on the 'Today' programme and tried to talk about what had happened to him in that unit. John Humphrys silenced him when Adan said 'let me tell you what is happening in those places' by telling Adam that he was ill and angry at the time and will have had a distorted view. No Mr Humphrys, you need to listen; assaults are common and patients are sometimes dying with no investigations held into those deaths. It doesn't matter how ill or angry Adam was, you really need to listen to him because the brutality and inhumanity in some psych units is breathtaking. Adam was silenced even more effectively after appearing in Radio 4, by a Top Doc who obtained a Court Order preventing Adam from going on tour or speaking to the media, because Adam was so fragile that he was at high risk of killing himself if he spoke to the media and looked foolish.
This is outrageous. Someone is desperate to stop Adam Ant talking about something that he very much wants to discuss in public. I note that his friends had him transferred from an NHS hospital to a private unit because they were horrified at what was happening in the NHS hospital.
Adam Ant was at the centre of the 1980s pop scene which involved many celebs who didn't behave too honourably and who are now much older, much richer and really do not ever want anyone to know what they were doing in those days. They've started to peg out as well: eg. Steve Strange – who was originally from Wales – and George Michael, even though they are not that old… See previous posts for further details re Adam Ant aka Stuart Goddard, Steve Strange and others.
The novelist Patrick O'Brian (born Richard Patrick Russ) attended St Marylebone's Grammar, 1925-26; O'Brian lived in Croesor, 1946-49. O' Brian is best known for his Aubrey-Maturin series of novels set in the Royal Navy during the Napoleonic Wars, Radio 4 'did' one the other day. One of the older residents of Croesor told me that O'Brian was remembered as a rather mysterious man, so much so that no-one ever really knew who he was. This is backed up by published information about O'Brian; there is much confusion about his identity and biography. However, this seems to have been the result of other people alleging things about O'Brian and him not bothering to clarify matters. What is known is that he was the son of a Top Doctor in Buckinghamshire and claimed to work in the intelligence services during WW II, a claim backed up by a number of other people.
O'Brian is remembered in Croesor for his 1952 novel 'Testimonies' – published in the UK as 'Three Bear Witness' – which is a novel set in Croesor and features the people of Croesor, only thinly disguised. People in the village enjoyed identifying themselves and their neighbours in the book.
In 1949 O'Brian and his wife Mary moved from Croesor to Collioure, a Catalan town in southern France, where they remained until Mary's death in 1998. When in Collioure, O'Brian got to know Pablo Picasso, who also lived there and O'Brian wrote a detailed and comprehensive biography of Picasso. O'Brian spent the winter of 1998–99 at Trinity College, Dublin and died there on 2 January 2000.
Until people in Croesor told me about Patrick O'Brian, I'd never heard of him, but I was familiar with his stepson, Nikolai Tolstoy. In 1989, Nikolai Tolstoy was sued by Lord Aldington aka Toby Low, for libel, after Tolstoy had published allegations that Aldington had overseen war crimes during his time as an officer in the British Army. The case received a great deal of publicity and Aldington won and was awarded £2 million in damages and costs, the biggest ever sum by a long way at the time. The case was highly political, Aldington was the former Chairman of the Conservative Party and although Tolstoy actually produced much evidence to back up his allegations, the British judiciary were not going to allow someone to claim that Aldington, who had served as Chief-of-Staff to Field Marshal Alexander, was a war criminal. It was admitted that British officers had indeed done what Tolstoy alleged, but it was a case of I Know Nuzzing as far as Aldington was concerned.
The claims about Aldington were made by Tolstoy in a pamphlet distributed by Nigel Watts, a man in dispute with Sun Alliance, of which Aldington was Chairman, on an insurance matter. Although Tolstoy was not the initial target of the libel action, he insisted in joining Watts as defendant because, Tolstoy later wrote, Watts was not a historian and so would have been unable to defend himself. After Tolstoy lost, he delayed payment by appealing to 15 courts in Britain and Europe and the European Court of Human Rights ruled that the size of penalty violated his right to freedom of expression. Documents subsequently obtained from the MoD suggested that, under Gov't instructions, files that could have had a bearing on the defence case might have been withdrawn from the Public Record Office and retained by the Ministry of Defence and Foreign Office throughout the run-up to the trial and the trial itself. Just like some of those disappearing medical records of mine! Tolstoy sought to appeal on the basis of new evidence which he claimed proved that Aldington had perjured himself. This was ruled inadmissible at a hearing in the High Courts of Justice, from which the press and public were barred and his application for an appeal was rejected.
Because Tolstoy just could not be allowed to win this case.
British state: please can you stop backing up criminals all the way to the High Court because they have compromised the rest of you? Even if Professor Geoffrey Chamberlain was friends with Sir George Pinker, the Royal gynaecologist and incompetent old fool who delivered Prince William and nearly cocked that up? If you can't find a reliable Top Doc to deliver the heir to the throne there's not much hope for the rest of us is there? Chamberlain ran a paedophile ring and experimented on live, unlawfully aborted, late gestation foetuses and then killed them (see post 'Now Then…') Excuse my naivety, but I think that should take priority over his Royal links when evaluating him.
In July 1995, the ECHR decided unanimously that the British Gov't had violated Tolstoy's rights in respect of Article 10 of the Convention on Human Rights. This decision referred only to the amount of the damages awarded against him and did not overturn the guilty verdict of the libel action. Tolstoy refused to pay anything in libel damages to Lord Aldington while he was alive; it was not until 9 December 2000, two days after Aldington's death, that Tolstoy paid £57,000 to Aldington's estate.
Tolstoy is not a member of the SWP, he is a Russian nobleman, Chancellor of the International Monarchist League, toured with the Monday Club and stood as a Parliamentary candidate for UKIP. The High Court even shafted him. They really are making themselves look rather foolish aren't they.
Top table L to R: Christopher Arkell & Lord Nicholas Hervey (standing), Gregory Lauder-Frost (speaking to Arkell), Countess Georgina Tolstoy, Count Nikolai Tolstoy (under painting) and Lord Sudeley, at the Russian Monarchist League Annual Dinner in 1990.
Lord Nicholas Hervey had a very bad time and was found hanging dead in Chelsea in 1998, aged 36. Hervey's mother was the only child of the 8th Earl Fitzwilliam; she was 13 years old when her father died in a small aircraft crash that also killed his intended second wife, Kathleen Cavendish, Marchioness of Hartington, sister of JFK, in 1948. Hervey's parents married in 1960, his father for the second time, his mother for the first. His father was Victor Hervey, 6th Marquess of Bristol and was once tagged "Mayfair's No. 1 Playboy," in a series of "life story" articles he wrote after serving a gaol sentence for a jewel robbery, a crime he claimed he had committed for a dare.
Nicholas Hervey was the second heir to the title and estates of the Marquess of Bristol, after his elder half-brother John the 7th Marquess, the only child of his father's first marriage. Hervey's father's final marriage was to his Private Secretary, Yvonne Sutton and with her he had three further children, Frederick Hervey, 8th Marquess of Bristol and two daughters Lady Victoria Hervey and Lady Isabella Hervey.
Nicholas Hervey was educated at Eton, Yale and the Royal Agricultural College, Cirencester. He was a member of the Turf Club. His sister Helena attended Bristol University. Hervey was a leading member of the International Monarchist League. Through the League, which his father had subsidised for many years, he was introduced to numerous right-wing conservative activities. 
In 1983, Lord Nicholas was diagnosed as with mild schizophrenia which was treated 'with medication'. In 1986, he graduated from Yale and, in 1991, voluntarily underwent treatment in a clinic. In 1991, Nicholas was forced to declare bankruptcy due to lawyers' debts of £38,000, which his Trustees refused to fund. His mother, who in 2003, was estimated to be worth £45,000,000, did not act to prevent the bankruptcy, which immediately preceded his entry into a clinic. She subsequently declared that "he was never himself again" after the clinic stay. Nicholas had severe depression. His landlady said that "he was a recluse in the sense that he was heavily sedated and slept all day – a typical schizophrenic. [No, just a typical person dosed up by the Top Docs] He was very quiet…He was a nice guy, but very 'out of it'. Nobody visited him here, except sometimes we would hear someone come and take him out to dinner." Lord Nicholas Hervey was found dead in his Chelsea flat on 26 January 1998 at the age of 36, 'having hanged himself'. He never married and had no children.
Jan 1998. Ronnie Waterhouse had finished hearing the evidence from the former residents of the children's homes in north Wales, who were denounced as liars because they were criminals and drug addicts or told that they weren't credible witnesses because they had been diagnosed with mental health problems. Ronnie had begun writing the whitewash…
I do not know if Nicholas Hervey knew anything about the North Wales Child Abuse Scandal, but his half-brother John did because John had slept with quite a few of the kids who were forced into sex work by Dafydd's gang. Nicholas didn't follow a lifestyle anything like John's, but they were close and got on well. John died less than a year after Nicholas. So he was out of the way by the time that the Waterhouse Report was published as well.
John Hervey, 7th Marquess of Bristol aka John Jermyn or John Bristol, has starred previously on this blog. John Jermyn inherited approx £35 million and blew most of it before he died, substantially on drugs. He was addicted to cocaine and other drugs, served several jail sentences for possession and was a promiscuous gay who boasted of having slept with thousands of rent boys, sometimes for an incredibly low rent as well eg. just handing over a fiver to the boy in care. John Jermyn was HIV positive by 1986 and many of those with whom he had sex would have been infected by him.
During the 1970s, John Jermyn lived in London, then Monte Carlo and then  Paris. By the end of the decade, he had moved to Manhattan. In May 1983, Jermyn was arrested on suspicion of trafficking $4 million of heroin and moved from New York back to the family seat at Ickworth House, Suffolk. Over the following years, John continued to conduct himself as a tosser, crashing helicopters and cars, firing shotguns at people while screaming that they were 'fucking peasants' and cursing the National Trust, to whom he had handed his estate over but of course still lived there himself in style, as is usually the deal with the NT. In 1988, the Marquess was imprisoned for a year in Jersey for cocaine possession and trafficking; a contemporary report said he was spending around £25,000 a year on the drug. He was released in April 1989.
The poor old House of Lords, by then under threat of reform, generally disliked the Marquess as his behaviour was damaging the House's reputation. They don't need to worry about that post-Miranda, just look at who is in there now…
By the early 1990s, friends were concerned about the Marquess's addiction to drugs, particularly since multiple prison sentences had done nothing to alleviate it. He was deported from Australia in April 1990 and charged with drug possession in November 1991 and March 1992. In June 1993, Jermyn avoided a jail sentence by being ordered to attend a rehab clinic after helpful intervention from Top Docs, but snorted coke in the Court building and then travelled to the South of France instead. He was sentenced to 10 months in an open prison and he was released after five. He was arrested again in September 1994 for possession.
On 9 January 1999, the Marquess complained of a stomach ache and dizziness and spent most of the day in bed. The following morning, his butler went into his room and found he was not breathing. Mouth-to-mouth resuscitation was attempted and an ambulance called. This arrived about 11:30 am, when paramedics concluded that he had died.
While 'there were rumours that the Marquess had died from AIDS', having contracted HIV in 1986, the Coroner recorded that he died of "multiple organ failure due to chronic drug abuse". There could have been some very difficult questions asked re all those kids in care had the world been told that John Hervey had died of AIDS one year before the Waterhouse Report was published. A postmortem examination showed traces of cocaine, as well as several legal drugs, in his system. John's agent said that despite years of ill health through drug abuse, he was greatly shocked by John's death. I'm more shocked at the lack of investigations into John's brother's death. Lord Nicholas was left to die by the Top Docs, or he could even have been killed by someone else, like some of the 'suicides by hanging' of witnesses in north Wales. 
After John Jermyn's death, it was revealed that he had been a friend of Andy Warhol. So Jermyn knew about US celeb gay sex excess in the late 1970s, which was even more impressive than his own. The San Franciscan Baths were a staple topic of conversation and wonder among UK Top Docs and medical researchers during the 1980s. 'Now don't you worry my dear, we'll look after you.' That was not what was said out of the patient's ear shot…
John Jermyn spent most of his life at the family seat in Suffolk. He was born in 1954, so was embarking upon his life of rent boys and class A drugs bolstered by helpful Top Docs in the late 1960s/early 70s. Before John Allen arrived in north Wales and opened Bryn Alyn in the late 1960s, Allen had been based in Suffolk. As was the dangerous experimenting Dr John W. Paulley and his wife, Deirdre, who's 'clinic' provided 'help' for people with 'psychological disturbances'. Paulley was one of the founders of the University of Buckingham, closely associated with Thatch, the IEA and was an associate of Lord Max Beloff, friend of Ioan Bowen Rees, Chief Exec of Gwynedd County Council and one of those at the heart of the rot. Lord Max's son is Michael Beloff QC, a former colleague of Cherie's and friend of both Miranda and Cherie. Beloff was a visitor to Chequers when Miranda was PM. See post 'The International Language Of Screaming' for details of the numerous terrifying tentacles of these very unsavoury people. Suffolk was  hosted organised abuse with which Lord Henniker's name constantly crops up and an associate of Jeremy Corbyn's from Islington Council was jailed for abusing schoolboys at St George's School in Suffolk. Kids in care from Islington were being sent on visits to Henniker's estate in Suffolk, where Peter Righton, the social work academic who was convicted of child sex offences, rented a cottage. See previous posts.
Because Lord Nicholas had predeceased him, John Jermyn was succeeded by his half-brother, Frederick Hervey, 8th Marquess of Bristol. Bristol's godparents include King Fuad II and his former wife, Queen Fadila of Egypt, Prince Tomislav of Yugoslavia, Prince Nikita Romanoff of Russia and the Countess of Dundonald. He was educated at St Maur School in Monaco, Sunningdale School, Eton College and the University of Edinburgh. After leaving university in 2002, he moved to Estonia where he lived for seven years and managed a Baltic property fund. He is currently the CEO and founder of property investment platform Brickowner.
Lord Bristol is Patron of several organisations, including the Gwrych Castle Preservation Trust; the Athenaeum, Bury St Edmonds; and the Friends of West Suffolk Hospital. He is Vice President of Friends of the Suffolk Record Office, Trustee of General Sir William Hervey's Charitable Trust, and founder, Trustee, and Chairman of the Ickworth Church Conservation Trust.
Gwrych Castle is a country house near Abergele, north Wales. The castle was last open to the public in 1985 and thereafter it started to decline. It was bought in 1989 by Nick Tavaglione, an American businessman, for £750,000, but his plans to renovate the building were not carried out. The castle was extensively looted and vandalised. It is currently open for guided and self-guided tours but part of the site is closed due to some dangerous parts of the castle.
During the period of Tavaglione's ownership, historian Mark Baker campaigned for the castle to be brought back to its days of glory – a campaign that Mark started when he was twelve years old. Baker was instrumental in forming the Gwrych Castle Preservation Trust who lobbied Conwy County Borough Council to compulsorily purchase the property, eventually placing enough pressure on the American owner, who put it up for sale in March 2006.
City Services Ltd, trading as Clayton Homes and Clayton Hotels, bought the castle in January 2007 for £850,000, after it failed to reach its £1.5 m reserve price at the 2 June 2006 auction. On 30 April 2007, Clayton Hotels announced a 3-year project, costing £6,000,000, to renovate the castle and convert it into a 90-bedroom 5-star hotel, creating 100 jobs. The project was subject to planning permission, but had the support of the Trust. Clayton Hotels spent about half a million pounds on its plans, clearing the site and rebuilding areas. After Clayton Hotels was placed in administration, new developers obtained fresh planning permission in November 2012 from Conwy County Borough Council for the castle to be converted into a luxury hotel. On 13th June 2018, Gwrych Castle and its estate was sold to Gwrych Castle Preservation Trust, enabled by a grant from the National Heritage Memorial Fund.
Mark Baker (born 16 April 1985) is an architectural historian who became a Welsh Conservative Party Conwy County Borough Councillor in May 2017. Baker was educated at Rydal Penrhos School, Colwyn Bay, then at Bangor University, 2003-06 and then he completed an MA and PhD at Cardiff University. Baker was made a member of the National Trust Committee for Wales in 2009 (later renamed the Wales Advisory Board). In 1997, Baker founded ASFOG (A Society For the Friends of Gwrych). The organisation changed its name in 2001 to Gwrych Castle Preservation Trust and became a registered charity. Baker was made the youngest honorary life member of SAVE Britain's Heritage as a result of his efforts with regard to Gwrych Castle. Among Mark Baker's many adventures, he contributed to the appearance of Plas Teg near Mold on 'Obsessive Compulsive Cleaners: Country House Rescue', Channel 4 in July 2015. His volume A Royal Home in Wales: Llwynywermod was the first book to explore the history of Carlo's home in Wales, which he had purchased in 2006. The book was commissioned by the Welsh Historic Gardens Trust. In March 2013, Baker was appointed historical researcher for the S4C TV series, Y Plas. In November 2013, to coincide with the broadcast of the TV series, a book titled Y Plas: The Story of the Welsh Country House was published, co-authored by Baker, Dewi Gregory and Sian Price. 
Baker worked with US singer and musician Linda Lamb on a collection of songs based on the poems of Margaret Sandbach of Denbighshire, which was released as an album in 2012. With the aid of an Arts Council Wales grant, Baker and Gregory wrote a book based on Margaret's life, published in 2013. 
In 2012, Baker led a Cardiff University archaeological dig at Plas Brynkir, Dolbenmaen. Since 2006, Mark Baker has been developing artistic collaborations with a variety of artists for work with historic sites. Notably, Ceri Leeder of Eglwysbach, Conwy, has worked several times with Baker, providing the cover images for 'Llwynywermod: A Royal Home in Wales and Plas Brynkir', Dolbenmaen. Antonia Dewhurst has also had a long-standing collaboration with Baker and her photography has been featured in 'Margaret Sandbach: A Tragedy in Marble' and 'Ink, Y Plas: The Story of the Welsh Country House'. North Wales artist, Liz Bolloten, contributed several paintings of Plas Brynkir, which were featured during an exhibition at Golan, Dolbenmaen, Gwynedd, in December 2014.
In 2014, Baker collaborated with Marc Rees for 'The Artwork of J. Walkter Richards', which had been discovered by Baker in 2013, was featured in displays throughout Llandudno for the duration of the LLAWN02 festival. On 1 September 2008, Forgotten Welsh Houses was published, sponsored by the Georgian Group and SAVE Britain's Heritage. To coincide with this release, the Georgian Group commissioned Baker to research and write Welsh Country Houses Illustrated. Baker has been involved with the restoration of Hay Castle, Hay-on-Wye and has presented at the Hay Festival.
OK. The network of gwerin and paedophiles' friends associated with Gwyrch Castle and Mark Baker is so impressive that they are worthy of a blog post in themselves. I simply cannot do justice to them here, so I'll just make a few observations:
Jac O' The North's blog has provided some excellent exposes of the massive scam which is the 'restoration of historic properties' industry in Wales. It usually involves relatively well-heeled people with not very impressive academic backgrounds in archaeology doubling up as historic preservation charidees and then milking public funds for their 'restoration' projects while picking up lucrative sidelines such as media work. Mark Baker has a degree in archaeology from Bangor University, which he completed in the School of History in Bangor which heaved with gwerin who had links to people involved in the North Wales Child Abuse Scandal and who subsequently took part in the Plot To Overthrow Merfyn, although Merfyn had previously been Head of School and was very helpful to many of them. Baker was doing his degree while the Revolution was being planned.
Conwy County Borough Council is a hot bed of corruption and gwerin and for decades was one of the hubs facilitating organised abuse in north Wales. The Director of Conwy Social Services was Joanna Griffiths, who is married to Aled Griffiths aka the Buffet Slayer, a lecturer at Bangor University who was at the centre of the Get Merfyn posse. The Slayer's sister is Gwenan Carrington, who as Director of Gwynedd Social Services presided over neglect and abuse and the Slayer's brother Huw is a grossly incompetent solicitor who used to sit in Bangor Magistrates Court in the 1980s and 90s and watch victims of the gang fitted up. That's just the Slayer's immediate family; his friends are legion and just as impressive and include Hywel Williams, the Plaid MP for Arfon, a former psychiatric social worker who worked with Dafydd et al and then became the Director of the Welsh medium social work course at Bangor University. See previous posts for more information on all of these people.
Mark Baker went to Rydal Penrhos School, which has not only been the subject of a sexual abuse scandal dating back to the 1980s, but has many high profile alumni who are wheeled out as reinforcements when the gang are under investigation again, as they have been since 2011. The star of the show from Rydal is William Roache aka 'Ken Barlow' from Coronation Street; Roache's son Linus went to Rydal as well. William Roache was appointed Patron of St David's Hospice when Alun Davies became CEO of St David's Hospice. Davies took that job after decades of NHS senior management posts in the mental health services in Gwynedd when the suicides and scandals at the Hergest Unit could no longer be concealed or blamed on any other manager. Davies is the man who has featured so often in previous blog posts in terms of his forging of documents, perjury, bullying of staff etc. Davies is famed for his charidee work in north Wales which I was told years ago was a cover for his corruption. St David's Hospice was established and run by the paedophiles' friends and still is (see post 'The CEOs Of St David's Hospice'). Why Ken Barlow ever agreed to touch that gang of crooks who were directly involved with the abuse of children and psych patients I cannot fathom, but then Marcus Brigstocke, Paul Merton and Phil Jupitus were all happy to put on a fund raising concert when asked by Davies. See previous posts. Davies told me that if I attended any charidee event organised by St David's Hospice, he would have me arrested. He said that not long after his previous attempt to have me imprisoned on the basis of his perjury and the perjury of seven of his NHS colleagues had fallen apart on the first day of the trial.
The National Trust are not only well-known for their scams to assist the owners of stately homes, but Dafydd's gang have been on good terms with the National Trust for years. Penrhyn Castle, owned by the National Trust, used to run a summer work scheme in the 1980s, which offered low paid casual jobs to local 'disadvantaged' people, overseen by Wing Commander I.H. Panton, who 'understood' mental illness. Everyone on the scheme were victims of the gang, who chatted away in front of the Wing Commander about their wrongful arrests and imprisonment and assaults at the hands of Dafydd and those we know and love. They did have a laugh there, I heard all about it (see previous posts), but it was certainly a very effective way of isolating and containing a group of witnesses to the most serious crimes. There was only one thing that the workers in the garden of Penrhyn Castle never did: they never accepted an invitation to go up the clock tower with Johnny Banana. Because Johnny Banana tried to sexually assault people if they went up the clock tower with them. Johnny Banana was as famous as Dirty Dick. Dirty Dick wasn't working in the gardens at Penrhyn Castle, Dirty Dick used to travel on the buses around Caernarfon. I was never in receipt of the gen re Dirty Dick, but I did know all about Johnny Banana and a few other people famed for their degeneracy, all of whom had learned it at the hands of Dafydd et al. They weren't born like it, no matter what crap is spouted about Genes and Neural Pathways.
The National Trust have now come out of the closet re being part of Dafydd's gang and Lucille Hughes works – or was working – at Penrhyn Castle. See previous posts for more National Trust links with Dafydd et al, including those at the highest levels of the NT.
S4C is run by the gwerin and paedophiles' friends and Arts Council Wales is pretty much in the same category, which leaves a very big question mark over the head of Professor Dai, Owen Smith's dad, who has been a leading light in the Welsh Arts Council for years.
Margaret Sandbach, the 'renowned poet and novelist' from Denbighshire, who is a subject of interest – as is her house – from Mark Baker, Linda Lamb and Arts Council Wales, is the ancestor of some even more renowned people, including Antoinette Sandbach, the Tory MP for Eddisbury and a former Tory AM.
Stained Glass Window Depicting Margaret Sandbach:
Stained Glass Window Depicting Antoinette Sandbach:
Antoinette's dad, Ian Mackeson Sandbach, was another renowned poet and novelist, who served as the most senior Freemason in north Wales throughout the years of murders of witnesses and the Waterhouse Inquiry. Antoinette's grandma, Geraldine, was President of the Denbigh branch of the Royal College of Midwives and oversaw the illegal abortions and the abduction and disappearance of the babies of the rape victims who found themselves in the North Wales Hospital Denbigh. Other ancestors of Antoinette's were renowned slave owners in the West Indies as well as poets and novelists. See previous posts for further details of Antoinette and her renowned ancestors and post 'The Right Honorable David Jones MP' for more background on David who, like Antoinette's dad, is a Freemason with many close friends who are dishonest, who found it in his heart to give Antoinette the farm labourer a job as a lawyer.
The jewel in the crown of Baker's efforts is, I note, Carlo. Furthermore, Baker played a central role in that Dolbenmaen project just when I was living some four miles down the road from Dolbenmaen. While I lived there, someone let themselves into my car at night on several occasions, someone got into my house while I was out and one night when I was in bed, a man tried to get in through the front door. My dog saw him off which was the only reason that I even knew that anyone was on the property. In the winter I used to leave the house for work before dawn, but one day I was delayed. When daylight broke, I found a collection of obstacles and a piece of nylon string stretched across the end of my drive and had I not been delayed, I'd have driven into all of it in the dark. Then there was the man driving at speed who tried to run me off the road one morning just after I'd left the house…
I don't know why the horse's head didn't turn up in my bed, perhaps the poets and novelists behind it all were too busy applying for an Arts Council Wales.
I have no idea who Mark Baker's colleague Antonia Dewhurst is, there was a butchers in Bangor called Dewhurst, she's probably the heir to the butcher.
In 1998 John Jermyn sold his right to occupy the East Wing of Ickworth House. After his death in 1999, the 8th Marquess vigorously criticised the National Trust for not reselling what would have been the remaining term of that leasehold to him, arguing that John Jermyn could only sell his own life interest, not that of his descendants. This was disputed by the National Trust who have since converted the East Wing into a hotel. However, in 2009 Sir Simon Jenkins, the National Trust's new Chairman, stated, "I think it is in our interest for the Marquesses of Bristol to be living there."
Sir Simon was the Editor of 'The Times', 1990-92, during the first police investigation into the possible existence of a paedophile ring in north Wales/Cheshire, while I was dragged through the High Court and had my career ruined, as did my friends and when the gwerin declared war on Graham Day, the senior sociologist at Bangor University and were assisted by 'The Guardian' publishing lies about Graham. See post 'Badlands'. Sir Simon has a second – or some allege that it is a third – home at Aberdyfi in Gwynedd. Aberdyfi is a very nice place but because it is so nice, no local people can afford to live there. Houses in the surrounding countryside are cheaper, but still too expensive for many locals because there is very little work in the area, except for summer jobs in the cafes and hotels serving drinks to Simon and his friends. Not so long ago Simon penned an article in one of the broadsheets explaining that people's offspring have no right to live near their parents, if the area is too expensive for them that's just hard luck. Simon's own children will be able to afford to live next to one of their dad's multiple homes, even the one in Aberdyfi. The cleaners that the Jenkins' clan will need can be bussed in from Dolgellau or Machynlleth, the houses there are just about still affordable. Much of the cleaners' wages will go on the bus fare, but they can always claim Sliding Scale Universal Credit Which Makes Work Pay. Sir Simon can continue to write articles explaining why he has the right to price them out of their place of origin and be paid a hefty whack for doing so.
Just before I left Bangor University, Sir Simon was made an Honorary Fellow at the Graduation Ceremony of Dysfunction. Merfyn had given up and gone and the Registrar Dr David Roberts did a fantastic job of presiding over the ceremony without letting the new graduates know that anything was amiss, although the gwerin were letting bombs off everywhere. Key gwerin and paedophiles' friends hogged front row seats and glowered at my friends and I throughout the ceremony; and the Buffet Slayer had conspired with the gwerin to receive an award for Teaching Excellence, so students could be heard yelling 'Aled fucking Griffiths has been given a Teaching Fellowship, he never even turns up to give us our lectures'.
Sir Simon was given his Fellowship by the loathed Stephanie Marriott, Head of the School of Creative Industries. Marriott was a nightmare, she ferociously bullied a Jewish lecturer and so obviously tried to block his promotion; he could have brought a case for both racial and sexual harassment had he so chosen. Marriott also tried to block my salary when part of it was for a joint project carried out with the Jewish lecturer, by refusing to sign the required paperwork and then made a complaint of bullying against me when I challenged her about it. Marriott's complaint about me involved her leaning on another member of staff to lie about me and they later fessed up and ended up in tears. Marriott's husband was one of the UCU reps and a Committed Marxist.
Marriott targeted another member of staff as well as the Jewish lecturer and I, Llion Iwan. Her conduct towards Llion was appalling and the Jewish lecturer was one of the few who was brave enough to say this publicly. Llion's father is Dafydd Iwan and his uncle is Alun Ffred, who was then the Plaid AM for Arfon. Alun Ffred publicly announced to third parties that he would get rid of Marriott. We all waited in hope. It didn't happen. What did happen was that Alun Ffred joined the War On Merfyn. Alun Ffred co-ordinated with Elfed Roberts and others in this. Elfed was a member of Bangor University's Council and was the Chairman of the NW Wales NHS Trust who unlawfully refused me NHS services and repeatedly had me wrongfully arrested. Elfed had previously been the Assistant Chief Constable of the North Wales Police but left under a big cloud re allegations of corruption. See previous posts. Marriott never moderated her behaviour and Llion left Bangor University for a plum job at S4C. Alun Ffred formerly worked for S4C in senior roles and Dafydd Iwan is a good mate of S4C as well.
Marriott was given a job as a senior academic at Bangor University despite being very obviously unsuitable for it and in possession of a laughably mediocre CV. While Marriott was Head of the School of Creative Industries at Bangor, outstanding young academics were turned down for jobs and hopelessly inadequate people appointed. It became so obvious, that media academics in other universities were asking if there was someone with an agenda to wreck Bangor's attempts to build on their Creative Industries/Media base. Indeed there was and Marriott had been sent as the vehicle to do this. Whether Marriott knew that I'm not sure, she was so dim and nasty that she could destroy a university all by herself uninstructed.
This was the problem Dafydd Iwan/Alun Ffred:
Marriott had previous as a long-serving mediocrity at Stirling University which was under the domain of Gordon's pal Lord Jack McConnell – who has been shafting my friends who were at Stirling University as students with Lord Jack since they graduated – so someone thought that Bangor University could do with her…
See previous posts for more Marriott, Sir Simon and Lord Jack fun…
On 11 May 2018 Sir Simon's mate Lord Bristol married Meredith Dunn, an American art consultant, in a Roman Catholic wedding at the Brompton Oratory.
Eric Hobsbawm, the father of Gordon's wife's friend and business partner, attended King's College, Cambridge from 1936, where Eric was elected to the Cambridge Apostles.
Bertrand Russell and the philosopher G.E. Moore joined the Apostles as students, as did John Maynard Keynes, who invited Ludwig Wittgenstein to join. Wittgenstein did not enjoy it and attended infrequently. Russell had been worried that Wittgenstein would not appreciate the group's unseriousness and style of humour. Wittgenstein was admitted in 1912 but resigned almost immediately because 'he could not tolerate the level of the discussion on the Hearth Rug'; although they took Wittgenstein back in the 1920s when he returned to Cambridge. Wittgenstein 'also had trouble tolerating the discussions in the Moral Sciences Club'.
Bertrand Russell was known to be a sexual predator and demanded that Top Doctors certify his son John when John stated that Russell was having sex with John's wife. It was subsequently revealed that Russell and John's wife had an affair. Russell was much bothered by close family relatives who were a great trial to him because of their madness, including his granddaughter Lucy, who burnt herself to death in her late 20s, after suffering from schizophrenia for years. As a child, Lucy had spent a lot of time in the care of Russell after Russell declared that Lucy's dad John was far too mad to bring up his own daughter. When she was in her teens Lucy told people that her grandfather's behaviour towards her was upsetting her, including the way that he kissed her. Lucy acquired a boyfriend when she began university and Russell did his best to break the relationship up. He then cut Lucy off completely, emotionally and financially, which was when Angels and Top Doctors realised that Lucy had schizophrenia. After Lucy's death, Russell explained to everyone that Lucy had killed herself as a peace protest. Lucy's friends stated that Lucy was in a terrible way and had been for years. I haven't read the view of the Top Doctors on Lucy's suicide, they probably didn't even notice it. See post 'So Who Was Angry About What?'
Bertrand Russell had the symptoms of tertiary syphilis. Whether anyone noticed when they were all on the Hearth Rug or at the Moral Sciences Club I don't know.
The Apostles became well known outside Cambridge in the years before the WW I because of so many members of the Bloomsbury Set were Apostles who had enjoyed activities on the Hearth Rug together, including Keynes, Leonard Woolf, Lytton and James Strachey, G.E. Moore, E.M. Forster and Rupert Brooke.
I don't know whether Dafydd was ever invited onto the Hearth Rug, but a Hergest Unit patient rang him up pretending to be from the Daily Mail wanting to write a feature on him. Dafydd was up for it and it was explained that the Mail would like a photo of Dafydd. Naked on a bear skin rug, looking rather coy. Dafydd slammed the phone down.
The Apostles came to public attention again following the exposure of the Cambridge spy ring in 1951. Three Cambridge graduates with access to the top levels of British Gov't – Guy Burgess, an MI6 officer and Secretary to the Deputy Foreign Minister, Donald MacLean, Foreign Office Secretary and Kim Philby, MI6 officer and journalist – were eventually found to have passed information to the KGB. Burgess was an Apostle. In 1963, Michael Straight, also an Apostle, admitted to a covert relationship with the Soviets and named Anthony Blunt, MI5 officer and art adviser to Lilibet, as his recruiter and a Soviet spy. Blunt acknowledged his own treason. Several other Apostles have been accused of being Soviet agents, including Victor Rothschild, 3rd Baron Rothschild, who was a friend to both Burgess and Blunt. In the 1930s when Guy Burgess and Anthony Blunt were elected as Apostles, the membership was mainly Marxist. Goronwy Rees, who served as the Principal of what became Abersytwyth University for a short time in the 1950s, was linked with the Cambridge spy ring and has been outed as a double agent himself, although some of his friends and relatives robustly denied this. Goronwy's brother Geraint Rees was a High Court judge in Wales and one of Ronnie Waterhouse's network. See previous posts eg. 'A Bit More Paleontology'.
Anthony Blunt was knighted in 1956, but was stripped of his knighthood in 1979 after Thatch publicly named him as a spy, his confession having been kept secret before then. Amidst the muddy waters of the investigations and inquiries into the VIP paedophile ring that operated at the Kincora Boys' Home, one of the few things that has been acknowledged was that Anthony Blunt was part of it. Another person definitely involved was Dr Morris Fraser, the paedophile child psychiatrist who was allowed to continue practising after appearing in front of the GMC in the wake of a conviction for molesting a boy. The barrister involved in Fraser's case was Patrick Mayhew, who, years later as Attorney General, authorised the prosecutions of me for contempt of court on the basis of the perjury of Tony and Sadie Francis and others, although the MDU and Ann Ball, the solicitor representing the Drs Francis, knew that they had perjured themselves.
Dr Morris Fraser subsequently relocated to England and worked at Springfield Hospital, the mental health unit attached to St George's Hospital Medical School and UCL. I was forced out of my job at St George's as a result of charges brought against me my Tony and Sadie Francis; when the charges were withdrawn in early 1991, the contempt of court case in the spring of 1991 was brought against me. I had recently been a patient at Springfield Hospital, was discharged with no follow up care and told to go back to north Wales 'because they knew me' there, by Professor Nigel Eastman. Nigel Eastman is a friend and colleague of St Helena Kennedy and St Helena pays tribute to Nigel in her book 'Eve Was Framed'.
In Dec 1986, Professor Oliver Brooke, a paediatrician at St George's was jailed for the possession of child porn. Ollie was a key figure in the pan-European paedophile gang of which Dafydd et al were part. Ollie's mates, one of which was Prof Geoffrey Chamberlain, remained at St George's facilitating the gang.
In the late 1980s, a group of Wimmin established a charidee called WISH, (Women In Special Hospitals), to support and campaign on behalf of wimmin in high security hospitals. WISH publicised the fact that huge numbers of those women had been the victims of sexual assault and were only in high security hospitals because they repeatedly tried to kill themselves and mainstream hospitals had refused to treat them, but WISH remained silent about the number of those wimmin who had been sexually abused as children in care or in the mental health system itself. WISH also remained silent about the assaults on those wimmin while they were in the high security hospitals. They did not raise any concerns when Jimmy Savile was appointed to a senior management role in Broadmoor Hospital and they did not speak out about Savile assaulting patients in Broadmoor, even when two female patients killed themselves as result. See previous posts eg. 'Close Your Eyes And Make A WISH'. Some of the victims of Dafydd and his gang were sent to high security hospitals and from the late 1980s onward, Tony Francis, Dafydd et al maintained that I should be placed in a high security institution and gathered 'evidence' without my knowledge in an attempt to achieve this.
St Helena was involved with WISH. When the Presiding judge in the spring 1991 contempt of court case against me – which was heard at the Royal Courts of Justice in The Strand, only the best for me – refused to jail me, as I left the Court, I was waylaid by a group of Wimmin protesters, including some who were working with WISH. They asked for my support with regard to a case that was being heard in a neighbouring court that day involving Sara Thornton. The Thornton case was a famous one; Sara Thornton killed her husband, Malcolm Thornton, a violent policeman and received a substantial prison sentence. St Helena represented Sara and managed to get her released on appeal, but not at the hearing which took place when I was at the Royal Courts, that appeal was unsuccessful. The case made St Helena's name as a Wimmin's Champ, because St Helena successfully argued that in the case of someone like Sara, provocation needn't necessarily be the victim blowing a gasket on the spot, it could be the cumulative effect of sustained violence and abuse. The case was highly contentious, with opponents of St Helena pointing to Sara's own long history of violence and much evidence suggesting that her husband was a scumbag but that Sara had in fact carried out a well-planned premeditated murder. See previous posts.
The protesting Wimmin in The Strand won't have known about my case, but I'm fairly sure that St Helena did. I am not someone who wanted to see Sara Thornton languish in prison for years, but what's the betting that representing the former wife of a violent – and almost certainly corrupt – police officer was going to be easier and more fruitful for St Helena than speaking up about what was happening to me or any of those Wimmin (or indeed men) who were sitting in high security institutions because they had complained about a Top Doc or a member of the Westminster Paedophile Ring? Dafydd's gang ran the high security Ashworth Hospital, where one patient was beaten to death by Angels. The murder was investigated by Dafydd's mate Professor Robert Bluglass, who's investigating team consisted of a senior Angel from his own clinic in Birmingham and a senior Angel from Clwyd Health Authority who was facilitating Dafydd's gang himself. See previous posts.
Ashworth was the centre of two Public Inquiries during the 1990s. It was admitted that there were serious problems and severe brutality towards patients, but it was all blamed on Dangerous Mental Patients, not a trafficking gang facilitated by the Top Docs who were running the hospital. See previous posts eg. 'Security, Security'.
In 1993, I wrote to Michael Mansfield QC about the abuses of Gwynedd social workers. I received a one sentence reply. St Helena worked in Took's Court Chambers with Michael Mansfield. Michael Mansfield worked on cases involving terrorist cases with solicitor Gareth Peirce. Gareth Peirce worked for Birnberg & Co, who represented Mary Wynch in the early 1980s, when Mary sued Dafydd and the gang and won the first part of her case. See previous posts for info re Gareth Peirce. Then the legal world abandoned Mary and left her to be ruined by Michael Howard when he was Home Secretary (see post 'The Mary Wynch Case – Details').
Julia Hobsbawm maintains contact with people in north Wales with whom it is worth her while to maintain contact and at one of Julia's dos at the Portmeirion Hotel some years ago, St Helena was a guest of honour.
Previous posts have discussed the corrupt Independent Advocacy Association which was the Patients' Voice at the Hergest Unit. The IAA refused to support patients making serious complaints because 'the Health Authority funds this service'. At the time the suicide rate for women in that geographical area was the second highest in England and Wales; the highest was for Camden. One of the Independent Advocates who's head was stuck particularly deeply into the sand – which was why she was appointed to select and train new advocates – was a woman called Marilyn. Marilyn subsequently had a breakdown, after her own partner committed suicide. In the wake of the distress and scandal, Marilyn was found a new job, as a Senior Advocate at Broadmoor Hospital. While Savile was still running the place. Savile visited both Ashworth and Bryn Estyn – one boy at Bryn Estyn alleged that Savile was present when the boy was subjected to a gang rape – both institutions run by Dafydd's gang.
I would very much like to know who arranged that job for Marilyn. Does anyone from WISH happen to know?
With regard to this genocide supported by the extreme fuckwittery of friends of Eric Hobsbawm's daughter, Eric the Revolutionary remained silent. Eric who's main home was in er Camden – but the posh bit, Camden consists of two worlds –  and who's daughter went to Camden High School for Girls with Sarah Brown. Julia and Sarah weren't the sort of wimmin who were killing themselves while in the care of the mental health services in Camden.
St Helena is a Roman Catholic who grew up in Glasgow and since 1986 has been married to surgeon Iain Hutchison; Miranda made her Baroness St Helena in 1997 and she sits as a Labour peer.
St Helena is Chancellor of Sheffield Hallam University; she was preceded by Lord Robert Winston, another New Labour peer who knows all about the research fraud perpetrated by his colleagues at Hammersmith Hospital, as well as the Westminster Paedophile Ring, particularly the branches facilitated by Dafydd and the linked gang at St George's. Somebody needs to find out what is going on at Sheffield Hallam University. St Helena's appointment as Chancellor of Sheffield Hallam University was announced in Nov 2018.
Corrupt Professional People linked to Dafydd's network: When you are in need of yet another public appointment, feel free to send me details of your most sordid deeds and I will be happy to blog about them. Yet another role as Patron of a dodgy charidee working for abused wimmin or children or a Chancellor of a university with matters to hide will not be far away. If you supply me with evidence of your direct involvement with child abuse or sex crimes in High Places, I can probably get you a peerage if you haven't already bagged one. You won't even have to have sex with me a la Lords Rennard and Lester.
Hobsawm received his PhD from Cambridge University and served with the Royal Engineers and the Army Educational Corps during WW II.  Hobsbawm's first marriage was to Muriel Seaman in 1943. They divorced in 1951. His second marriage was to one of his students, Marlene Schwarz, with whom he had two children, Julia and Andy. Hobsbawm also had an out-of-wedlock son, Joshua Bennathan, who died in November 2014.
In 1947, Hobsbawm became a lecturer at Birkbeck, University of London, eventually holding a Chair, 1970-82 and was then appointed an Emeritus Professor in 1982 and served as President of Birkbeck from 2002 until his death.
Birkbeck is part of the University of London and for years Lord Brian Flowers reigned supreme at London University. Flowers grew up in Swansea, remained loyal to his old muckers in Wales and oversaw the rampant research fraud and serious organised crime which pervaded the London Medical Schools during the 1970s, 80s and 90s. See previous posts.
Hobsbawm was a Fellow of King's College, Cambridge, 1949-55. Hobsbawm claimed that there was a weaker version of McCarthyism that took hold in Britain and affected Marxist academics: "you didn't get promotion for 10 years, but nobody threw you out". Hobsbawm 'was also denied a lectureship at Cambridge by political enemies and, given that he was also blocked for a time from a Chair at Birkbeck for the same reasons, spoke of his good fortune at having got a post at Birkbeck in 1948 before the Cold War really started to take off'.
Conservative commentator David Pryce-Jones questions the existence of such career obstacles. So do I. Eric Hobsbawm was never hampered in the way that I was or my friends, including Brown. Indeed Brown was hampered by Uncle Harry's dad, Prof Stuart Hall and other pals of Eric's. Eric was an Apostle. Apostles of Eric's vintage keep being outed as spies and double agents. Now Eric could have caused a great deal of trouble and precipitated the People's Revolution that he claimed to desire so greatly if he had said a few things about matters Dafydd et al. He didn't. Ever. Instead Eric did very nicely for himself, as did those in his immediate family and they became friends with the PM, while Eric moaned on about a career hindered by the Establishment. Which included a secure comfy job and then bit of a wait until he was given his Chair, but he wasn't ever destitute, lobotomised or imprisoned was he? Eric was one of the most famous historians in the world, President of Birkbeck and he always got his work published. Eric's claim to have been the subject of a witch-hunt by the Establishment is about as credible as Dafydd Iwan's claim that MI5 were after him. No, they were after us.
Empowered Service Users?
Hobsbawm helped found the journal 'Past & Present' in 1952. Hobsbawm was a visiting Professor at Stanford in the 1960s and in 1978 he became a Fellow of the British Academy. He was elected a Foreign Honorary Member of the American Academy of Arts and Sciences in 1971 and a Fellow of the Royal Society of Literature in 2006. Merfyn's late wife Nerys who died under the care of Dafydd's colleagues at the Walton Centre after she, Merfyn and one of Merfyn's friends had spilt the paedophiles' pints, was the ex-wife of Orlando Patterson, a Harvard Prof of Sociology who is popular with black elite groups in the US; Orlando is a member of the American Academy of Arts and Sciences (see posts 'Right To Reply', 'The Bay of Pigs Invasion', 'Thought For The Day' and 'The Vermin Club').     
Hobsbawm retired in 1982 but stayed as visiting Professor at the New School for Social Research in Manhattan, 1984-97. He was from 2002 until his death Professor Emeritus in the New School for Social Research in the Political Science Department.
Hobsbawm's writing focused on the analysis of the political French Revolution and the British Industrial Revolution and saw their effect as a driving force behind the predominant trend towards liberal capitalism today. Another recurring theme in Hobsbawm's work was social banditry, which Hobsbawm placed in a social and historical context, thus countering the traditional view of it being a spontaneous and unpredictable form of primitive rebellion.
Outside of his academic writing, Hobsbawm wrote a regular column (under the pseudonym Francis Newton, taken from the name of Billie Holiday's communist trumpet player, Frankie Newton) for the 'New Statesman' as a jazz critic and from time to time about popular music such as with his "Beatles and before" article.
Previous posts have detailed the adventures that Brown and I had with Leslie Gore the Offensive Therapist and Naomi Grunfell the Mad Teacher whom Brown met via 'New Statesman', who I have been since told were working undercover for the security services and sent to cause us maximum bother in 1984-85, when the Top Docs opened fire on us.
I have also discussed the man in Bangor who was offered money by George Melly to have sex with him although he was underage, when Melly the Jazz Legend stayed in Bangor after a gig at Theatre Gwynedd. This man's dad was a prison officer who was ferociously violent towards him and as a young adult, George Melly's target became involved with the really sordid end of the local drugs scene. So had he ever appeared as a witness re George Melly, he'd have been yet another ne'er do well who could not be believed. After a lifetime of media profiles characterising George Melly as a colourful character who was not afraid to discuss his open marriage or bisexuality, George Melly retired to Brecon. His sexual adventures with kids never received a mention, although he cheerily said in one interview not long before he died that there was nothing like the joy of feeling a young boy's thigh. A la Savile's boasts about handing a runaway girl over to the police but only after he'd spent the night with her first heh heh heh, it was simply ignored. But then so were Dafydd's 'jokes' about having sex with animals and group sex with patients. Heh heh heh, as Dafydd chuckled at the time.
George Melly retired to the Brecon/Abergavenny area. There were people linked to Dafydd's gang in that area and one of them was convicted for sexual assaults on kids in care from north Wales, who would be taken down to the Brecon area for holidays. Other people who retired to that area included: Adrianne Jones, the former Director of the City of Birmingham Social Services which placed kids in care in children's homes in north Wales and who then acted as a social work adviser to John Major's Gov't and as an adviser to the Waterhouse Inquiry panel; Baroness Eirene White – daughter of the Principal of what became Aberystwyth University – the Labour MP for East Flintshire, 1950-70 and Deputy Speaker of the Lords, 1979-89. Lord Chief Justice Thomas Bingham, who did many a favour for Dafydd et al, lived nearby at Boughrood, Powys. See previous posts for the background on Adrianne, Eirene and Tom.
Billie Holiday's 1939 classic 'Strange Fruit', originated as a poem written by Jewish-American writer, teacher and songwriter Abel Meeropol, under his pseudonym Lewis Allan, as a protest against lynchings.
Meeropol cited this photograph of the lynching of Thomas Shipp and Abram Smith, August 7, 1930, as inspiring his poem.
'We didn't know.'
Another name on the jazz scene Who Knew About Dafydd et al was Dr Dannie Abse the Top Doc and poet, who's whole family were facilitating the Westminster Paedophile Ring, particularly his brother Leo, a south Wales Labour MP from a Jewish family and a close friend of the child molester George Thomas (see post 'O Jones, O Jones'). Labour Party-supporting Wimmin's Champ and Top Doctor Wendy Savage was married to a jazz musician; Wendy was a friend of Prof Geoffrey Chamberlain at St George's Hospital Medical School, who was perpetrating research fraud and concealing the trafficking ring at St George's as well as Dafydd's gang in north Wales (see eg. post 'Now Then…'). Wendy worked at the London Hospital in Tower Hamlets which was the location of another gang linked to Dafydd et al. See previous posts. Some of the Top Docs at St George's favoured Ronnie Scott's as a place in which to hang out.
Other well-known jazz fans include:
as well as this social bandit, photographed smacking someone in the chops while on the election campaign trail in north Wales, after he'd been traumatised by an egg hitting him on the shoulder:
Prezza: it was only an egg, politicians are natural targets for eggs, bottles of ink, purple flour etc. It's not as if you were 14 and being gang raped in Bryn Estyn was it?
Prezza came from north Wales and studied at Ruskin College at the same time as Matt Arnold taught at Ruskin and Peter Howarth studied there (see post 'A Study In Tyranny'). Arnold and Howarth both worked at Axwell Park Approved School in Gateshead, where boys were abused. The paedophile gang in the area was concealed by Ernest Armstrong, MP for North West Durham, 1964-87. Ernest was succeeded in the seat by his daughter, Hilary Armstrong, now Baroness Hilary, who was a member of Miranda's inner circle. Miranda was pals with Ernest as well; Ernest helped Miranda the London barrister, pupil of the corrupt George Carman QC who was concealing Dafydd and the Westminster Paedophile Ring, end up in that safe seat in Sedgefield. In 1973, Matt Arnold and Peter Howarth relocated to Bryn Estyn where they helped run the trafficking ring. Arnold died of an 'unspecified blood disease' on 4 June 1994. On 13 June 1994 Howarth's trial for a series of sex assaults on boys in care in north Wales began. Howarth was convicted and sentenced to 10 years in prison on 8 July 1994. Miranda became leader of the Labour Party on 21 July 1994. See previous posts.
From May 1994 onwards, after I and Patient F met with two Mental Health Act Commissioners and told them that Dafydd was sexually abusing patients and that serious complaints were not being investigated, Dafydd, Tony Francis and the gang really began busting a gut to have me charged with a criminal offence, anything at all would do and they continued to write letters to third parties about my 'dangerousness'. See post 'The Banality Of Evil'.
In Nov 1994, Dafydd obtained an injunction against me from Liverpool High Court on the grounds of no evidence at all. Dafydd's affidavit detailed a number of phone calls that F had made to him, in which F certainly took the piss but wasn't threatening – one such call simply consisted of F blowing a raspberry down the phone at Dafydd or as Dafydd explained 'impersonating the sound of a flatus' – and an allegation from Dafydd that I had thrown a brick through his glass door at 3 am in the morning. I hadn't and there was absolutely no evidence that I had. I have since been told that no-one threw the brick, Dafydd et al planted it, told the police that I had thrown it and this was recorded as fact. I wasn't even told about it at the time. See previous posts 'The Banality Of Evil'. Dafydd was represented by the MDU and they knew that there was no evidence against me.
Much more recently, I have been told that when Dafydd et al were gathering evidence of my murderous qualities, they contacted people who were known to me at school and at Bridgwater College where I did my A levels, who then willingly made statements about me, because they were associated with the gang which was operating in Bridgwater in the 1970s and 80s and linked to Dafydd's. I'm not going to bother to spend time on these people, although some names have been given to me. It is utterly ludicrous; my school was not a posh one, it was a deeply troubled school where some kids were assaulted by some teachers and it hit the media on a few occasions in the wake of such incidents. What can be said of anyone who listens to the word of a gang of paedophiles in north Wales who were under investigation at the time and a related gang of clapped-out old teachers in Somerset who were working in a school with such a terrible reputation that virtually all professional people living in the catchment area did anything possible to send their kids to another school? Thirty-six statements I have been told. I couldn't give a stuff, just look at who made them.
The only person whom I will name is Dr Lyn Branson, a particularly vile physics teacher from Bridgwater College. Brown's mum used to look after Lyn's little boy Ben, so Lyn Branson knew a great deal about what was happening to us in north Wales. Lyn had post-natal depression after having Ben which is how Brown's mum ended up looking after him, so Lyn knew the Top Docs well. They certainly didn't do her much good, but if they'd leaned on her she'd have never stood up to them. Brown and I were gobsmacked to find out some five years later that Lyn Branson knew a tutor at Newcastle University who was Brown's brother's tutor at the time and that Brown's brother had been discussed with everyone. Brown's brother was a witness to what had happened to us in north Wales, we were good mates with him and he used to come up and stay with us. Brown's brother found this tutor so difficult that he withdrew from the course. After seeing conditions in Denbigh for himself (see post 'Hey, Hey DAJ, How Many Kids Did You Kill Today?'), Brown's brother was the target of a number of murder attempts. He eventually emigrated.
The University of Newcastle-upon-Tyne was concealing the gang in the north east linked to Dafydd et al, particularly Newcastle Medical School. The University and the city were substantially run by Lord John Walton, a corrupt Top Doc who Chaired the GMC, 1982-89 and the BMA, 1980-82, served as Warden of Green College, Oxford, 1983-89 and as the President of the Royal Society of Medicine, 1984-86. See previous posts. Walton was a mate of Dafydd's and kept Dafydd et al out of trouble for years, as well as Dafydd's colleagues who had previously worked in Newcastle, including Dr Neil Davies, Professor Bob Woods and Professor Mark Williams.
After I was shafted at Surrey University where I worked in the Cancer Research Campaign team led by Prof Vincent Marks, the brother of the Chairman of the BMA at the time, John Marks – John Marks was doing battle with Ken Clarke when I worked for Vincent and the BMA were also giving legal advice to Tony Francis, Dafydd et al as to how to prosecute me although they knew how serious their wrongdoing was – my research was plagiarised and given to Professor Nicola Curtin at Newcastle, who subsequently published it with her own name on it. Curtin was not part of our team and neither was she one of the teams whom we were partnering. I have no idea why Vincent Marks decided that Nicola Curtin needed to be assisted by receiving my data; did Lord John Walton demand that data Vincent and was Fergus Lowe from Bangor involved, because he usually was at the root of such skulduggery? Newcastle was desperately building an empire on the back of its Global Leading Medical Research. Nicola is one of the Global Leaders at Newcastle, although I only found out about her being given my data relatively recently. At the time that my data was given to Nicola, one of the Profs at Newcastle who was researching lung cancer was funded by the tobacco industry. He was a mate of Professor Sir Nicholas Wright at Hammersmith Hospital, who was leading a team there involved with research fraud. Nick Wright's research has been substantially funded by the CRC – now known as CR UK – and Nick also holds senior roles in CR-UK. See post 'Oh, Lordy! It's CR UK' for further details of Nicola, Nick and their colleagues.
Professor Hugh Bentall the Famous Surgeon at Hammersmith was also involved in colluding with research fraud. See post 'Interesting Facts'. Hugh Bentall is the dad of Professor Richard Bentall, a clinical psychologist who trained at UCNW with Dafydd and the gang and who married the daughter of Eifion Jones, the Dean of Science at UCNW, who was one of those colluding with the gang. Eifion's daughter was a Plant Biology graduate of UCNW who then trained and worked as an Angel and taught for the OU and WEA. Richard Bentall has held Chairs at Bangor University, Liverpool University and Manchester University. See previous posts.
Not only did Prezza study at Ruskin alongside two of the biggest abusers in the UK, but Prezza then completed a degree at Hull University, an institution concealing the Yorkshire gang which had links to Dafydd's gang and others. Prezza served as the MP for Hull East, 1970-2010, although why the big meathead was ever selected as the candidate in the first place I'd like to know. Prezza crowned his achievements by being Deputy PM, 1997-2007 and then joined the St Helena, Lord Bob et al in the Lords in 2010, as a result of Sarah Brown's Teddy Bear giving Prezza a peerage in the dissolution honours. They let anyone Who Knows in the Lords these days, even those too stupid and inarticulate to make speeches.
Prezza with Dennis Skinner Who Also Knows and was another student at Ruskin College (see previous posts):
Dennis is not such a Beast that he ever blew the whistle on the gang in Derbyshire, where he was an MP – along with Edwina Currie, Margaret Beckett and her Caravan and Tony Benn – who were exchanging social care staff with Dafydd's gang.
On 7 May 2006, 'The Sunday Times' quoted Linda McDougall, wife of Austin Mitchell, as saying that in 1978 Prescott had pushed her "quite forcefully" against a wall and put his hand up her skirt as she opened the door for him to a meeting in her own house just after her husband became an MP; Prescott had not met McDougall before. Don't worry Linda, it's the traditional Neanderthal Greeting on Introduction to a Lady. Did you know that your husband Austin kept quiet about the paedophile gang in Hull just like all of his colleagues did? See previous posts.
Other Hull University alumni in the Labour fold who concealed the crimes of Dafydd et al are David Hanson, PPS to Miranda in the years following the Waterhouse Report and when Dafydd's gang had yet another go at framing me, that time for 'threatening to kill'  – Hanson's wife Margaret was a senior social worker for families and children for Cheshire Social Services when Dafydd's gang ran riot in north Wales and Cheshire – and Tom Watson, Fattersley, Frank Field, and Chris Mullin. See previous posts. Labour MPs Kevin McNamara and Jon Trickett are also Hull graduates. Anthony Giddens who invented The Third Way for Miranda to follow is an alumnus of Hull, as is Nick Hardwick who after an entire career in the criminal justice system concealing the criminality of Dafydd et al became engulfed in scandal as Head of the Parole Board because the mess was so great (see previous posts). Allan Levy QC, who was also directly involved in concealing organised abuse including that linked to Dafydd's gang, was an alumnus of Hull. Then there were the Hull University staff Who Were Involved, including the poet Philip Larkin (see eg. post 'Come, Friendly Bombs'). Larkin's mistress Monica was as bad as old Larkin; when not participating in those well-publicised spanking sessions with Philip, Monica worked at Leicester University where for years she kept the lid on the gang there which starred Greville Janner and was er directly linked to Dafydd et al. Monica lived down the road from Brown when Brown was being hampered by Uncle Harry's nephew's dad et al and Monica joined in the party. Jacob Brunowski, the father of Professor Lisa Jardine who really pushed the boat out to collude with the Top Doctors (see previous posts), was a member of staff at Hull, as was Richard Hoggart who was linked to a group of scholars who concealed Dafydd and linked gangs and the Marxist historian, John Saville, who was part of Hobsbawm's network.
The current Chancellor of Hull is not a Labour politician, she is a Tory who as a Health Minister and then Heath Secretary oversaw the concealing of some of the worst criminality in north Wales and elsewhere; it is the frequent star of this blog, former psychiatric social worker and long time ally of abusive Top Docs, Virginia Bottomley.
The Top Doctors (see post 'An Expert From England') and Leicester University Medical School were particularly active in concealing the gang in Leicester and the Westminster Paedophile Ring. Dickie and David Attenborough's dad Frederick was the Principal of what later became Leicester University and Leicester University have dined out on famille Attenborough ever since. See previous posts. Lord Robert Kilpatrick, after many enjoyable years as Dean of Leicester Medical School overseeing the facilitating of the trafficking ring in Leicestershire, was then asked to become President of the GMC, 1989-95, just when Dafydd et al were in need of a Friend In A High Place. Kilpatrick remained at the top of the GMC batting all those complaints into the long grass and was President when the Chamberlain-Pearce research fraud scandal at St George's erupted. Kilpatrick certainly got out and about and made friends with lots of influential people, partly via his membership of posh golf clubs. See post 'Remember Girls – Never Get Into A Car With A Stranger!'.
Among the many other fun people who worked at Leicester University at the time of Greville et al entertaining themselves with kids in care was Lisa Nandy's dad, Dipak (see previous posts). Having Dipak as a dad isn't as good as having Uncle Harry as an uncle, but Lisa had an ace up her sleeve; her granddad was Lord Frank Byers, the Liberal Party's Chief Whip who, years before Jeremy Thorpe found himself on trial at the Old Bailey, was a member of the secret inquiry held by the Liberal Party into Thorpe's past-times. Lord Frank Byers was so offensive to Norman Scott during the hearing that Norman walked out and went to the police, where he made a lengthy statement detailing all of his allegations against Jeremy. I expect that Lord Byers thought that Norman was a Nancy Boy. Lisa's credentials are such that she was deemed acceptable by Uncle Harry's nephew to be wheeled out as the Labour Party's Asian Woman. Those very white homophobic genes from Lord Byers' were quietly disregarded. Anthony Giddens passed through Leicester University, after his student years at Newcastle, on his way to being Director of the LSE and Miranda's fave sociologist. See previous posts.
People at Leicester Poly must have known about Greville and friends as well, because the whole of Leicester was run for their benefit. Because Brown only worked at that institution years later by which time it was De Montfort University, I don't know much about Leicester Poly in the 1970s and 80s, but when I lived in Gwynedd, at one time my neighbours were a retired senior academic from Leicester Poly and his family. They didn't get on very well with everyone else; they were very high church and felt the need to try and encourage others in this which I can understand if they considered that they were onto a good thing, but the neighbours often weren't interested so bad feeling developed. However I did make friends with their adult son who lived with them after having been diagnosed with mental health problems as a young man when he was at university. Nasty rumours were put around the local area and everything that he did was pathologised; he liked walking and used to walk into Caernarfon rather than go on the bus, so this was taken as a sign of him being a mad 'loner' and ooh possibly dangerous. He wasn't, he was a very nice man but he had been subjected to so much hassle and grief that he just kept away from everyone. Some years before I knew him, he had been the subject of false allegations from some girls at Friars School, Bangor. Teachers and police were involved yet no-one could produce any evidence that he had done anything that he should not have.
Friars School educated many of the children of the gang; professionals living in Bangor often sent their kids there and the paedophiles' friends had an iron grip on Friars school; the Normal College, which was run by the gang (see post 'Thought For The Day'), trained many of the teachers at Friars. My neighbour's son who was accused lived in a village near Caernarfon which was run by the gwerin; the GPs were paid up members of the gang and Dafydd Iwan lived in the area, while his son Llion told people that his mum was one of the few true 'locals' in the village. I expect that's why people like my neighbour and I were the centre of false allegations was it Llion?? We can't trace our genes back to the woolly mammoths of Waunfawr? Neither can your mother but she doesn't know enough about molecular biology to understand that. As for your father appearing in the TV programme where they Tested His Genes and traced his line back to the Ancients Of Gwynedd, I'm sorry to say that they didn't, he was conned, in exactly the same way that he would have been if they'd read his palm or got out the crystal ball.
I can see a Gwynedd County Councillor…and a corrupt judge who's father was friends with the father of the Gwynedd County Councillor…and Liverpool Medical School is visible as well…
Dafydd Iwan is known for being a folk singer as well as the former Leader of Gwynedd County Council. In a previous post I discussed a group of folkies who used to play in the King's Arms in Bangor during the 1980s. Among them was a mental health Angel and a lecturer at the Normal College who had previously taught at Friar's School. That Angel definitely knew about the paedophile ring and I bet that the Normal College lecturer did as well. Friars School was a two tier establishment; not only did the kids of the gang members go there but so did the kids from Maesgeirchan, which was where the Ty'r Felin children's home was located, which was trafficking kids to a variety of places, including Dolphin Square. See post 'Are You Local?' Maesgeirchan had one of the highest crime rates of any council estate in Wales and it was rough there, at least in one notorious part of Maesgeirchan. No-one ever seemed to ask why the crime and social problems on Maesgeirchan, in a corner of Gwynedd, were even worse than on bigger, urban estates in other parts of Wales.
Nigel Lawson was the Tory MP for Blaby, Leicestershire, 1974-92. Greville Janner's social worker mate Frank Beck, who in 1991 was convicted of hundreds of offences against kids in care in Leicestershire throughout the 1970s and 80s and was jailed for life, was elected in 1983 as a Liberal Party Councillor to a seat on Blaby District Council, which Beck successfully defended in 1987.
Loughborough was within the area covered by the Leicestershire paedophile ring. Stephen Dorrell served as the Tory MP for Loughborough, 1979-97; Dorrell was Health Secretary under John Major, 1995-97, during the rising panic in north Wales as investigations continued and the desperation to convict patients, including me, reached new heights. See previous posts. Since 2010, the bland and dim Nicky Morgan has been the Tory MP for Loughborough. Some of Nicky's older constituency party activists and constituents will have known about the ring. Morgan is a corporate lawyer who joined the Conservative Party as a teenager in 1989. She was the Chair of Wessex Young Conservatives, 1995-97, during which time Nicky knew some of those who knew what was happening to me in north Wales. Nicky was Vice-Chair of Battersea Conservatives, 1997 -99. Battersea was within the area served by the gang linked to Dafydd's gang which operated out of Wandsworth Social Services/St George's Hospital Medical School.
All aboard! When the general public start becoming sceptical about the claims of the Men Of Science and the Hampstead crowd refuse to have their kids vaccinated, the lid on the worst of the Top Docs still won't be blown off because Eric the Revolutionary and his Bohemian Radical Friends are here to help!
Eric Hobsbawm published numerous essays in various intellectual journals, dealing with subjects such as barbarity in the modern age
the troubles of labour movements and the conflict between anarchism and communism. Among Hobsbawm's final publications were Globalisation, Democracy and Terrorism (2007)
As well as On Empire (2008) and the collection of essays How to Change the World: Marx and Marxism 1840–2011 (2011).
Hobsbawm joined the Sozialistischer Schülerbund (Association of Socialist Pupils), an offshoot of the Young Communist League of Germany, in Berlin in 1931 and the Communist Party in 1936. He was a member of the Communist Party Historians Group from 1946 until its demise and subsequently President of its successor, the Socialist History Society until his death. The Soviet invasion of Hungary in 1956 led most of its members to leave the British Communist Party – but Hobsbawm, unique among his notable colleagues, remained in the party.
Hobsbawm signed an historians' letter of protest against the Soviet invasion of Hungary and was strongly in favour of the Prague Spring. Hobsbawm was later a leading light of the Eurocommunist faction in the Communist Party of GB that began to gather strength after 1968, when the CPGB criticised the Soviet crushing of the Prague spring and the French CP failed to support the May students in Paris. Hobsbawm's Marx Memorial Lecture, "The British Working Class One Hundred Years after Marx", delivered to a small audience of fellow Marxists in March 1978, was published in 'Marxism Today' in September 1978; Hobsbawm argued that the working class was inevitably losing its central role in society and that left-wing parties could no longer appeal only to this class, a controversial viewpoint in a period of trade union militancy.
In 1978 Mary Wynch had gone on the run and was in hiding from Dafydd and the gang; she was finally apprehended, unlawfully arrested, detained illegally in Risley Remand Centre and then held in the North Wales Hospital Denbigh for a year, illegally, by Dafydd. Footie was the Leader of the Labour Party at the time, a left wing scholarly MP with numerous links to those we know and love as well as to those in Hobsbawm's circles. Not only did Footie know about the sex offences of George Thomas, but as a young man Footie had many interesting encounters himself. Reports never appeared in the press because Footie had worked as a journo and made it clear that if anything appeared about him, the world would get to know what press barons Lords Beaverbrook and Rothermere had been up to. See previous posts. Footie's wife didn't ever provide details of the 'additional needs' that she told third parties that Footie indulged in with her permission, part of the agreement being that she didn't want to hear about them; Footie himself just referred to the fun that he used to have on Hampstead Heath, so nothing too dreadful was ever admitted in print. One is however left with the impression that something was happening which could never have been admitted to and was being kept from the public by a process of mutual blackmail. Like Hobsbawm, Footie lived in Hampstead. Hobsbawm's autobiography refers to sexual encounters in a rather Michael Foot sort of way; Hobsbawm discusses visiting prostitutes well before he was out of his teens and there were obviously other activities as well. It's worth mentioning in this post because of who Hobsbawm was friends with and what else I know that he kept quiet about.
Hobsbawm supported the Windbag's transformation of the Labour Party from 1983 and, although not close to the Windbag, he came to be referred to as "Neil Kinnock's Favourite Marxist". The Windbag knew Tony Francis from their student days in Cardiff and the Windbag's wife's parents had been Councillors on Anglesey who had concealed the early years of Dafydd's abuses as did Lord Cledwyn, the Labour MP for Anglesey, 195-79, who was a big mate of the Windbag's in-laws and served as Secretary of State for Wales with George Thomas as his junior Minister. See post 'How Much Greater Is A Man Than A Sheep?'.
The Windbags' friend Lord Cledwyn was certainly served by some colourful characters while he was Secretary of State for Wales. As if George Thomas wasn't enough for him, Lord Cledwyn's PPS was William Edwards, the Labour MP for Merioneth, 1966-74. The constituency of Merioneth encompassed Llanfrothen and Croesor. William Edwards was a bent lawyer who studied at Liverpool University at about the same time that Dafydd and Lucille were students there and subsequently embezzled his clients' money; not that William Edwards had much time for his clients, what with them being a load of boring old farmers from Bala rather than snappy dressing, 'flamboyant' lawyers who nicked the funds. See post 'Slaves, Perfect Slaves'.Edwards was succeeded as the MP for Merioneth by Plaid's Dafydd Elis-Thomas, whom everyone takes the piss out of because he accepted a seat in the Lords and is openly seen being a good deal more polite than he should be to members of the Royal Family.
One of the communists who was somewhat disillusioned with Eric Hobsbawm's brand of Revolution who used to live at Croesor told me that Dafydd El was unfairly maligned and that he accepted a seat in the Lords because he wanted to be in a place in which he could actually help his constituents, being pretty bloody fed up at what was happening to some of them. Dafydd El has not yet been caught stealing other people's money and as far as I know he hasn't been protecting Dafydd's gang; in fact I was in the audience when Dafydd El raised his deep concerns in a public lecture at what was happening to patients in the Hergest Unit. Which is probably why a rumour was put around that Dafydd El was shagging Meri Huws, the notorious former Gwynedd social worker who was a member of Dafydd's gang in the 1980s… Sorry to disappoint Dr Dee Jones aka Dee Gray who fuelled the fire, but Dafydd El was one person whom seems to have had rather more sense than to Risk Everything by discussing Uganda with Meri, even if Rhodri Morgan, Andrew Davies and Alan Pugh did just that. That's the Dee who used her knowledge of what Dafydd's gang were doing to gain well-paid NHS job after NHS job that she could not do and after seeing Brown and me in the media discussing the mental health services asked me to place an untruthful story about Merfyn Jones in the media. Dr Gray is now a management consultant who flogs her expertise to NHS Trusts and County Councils. Dee began her career as an Angel in Liverpool, then completed a law degree at Liverpool Poly, so she was off to a flying start. See post 'Little Shop Of Horrors'.
Before the citizens of Croesor elected Dafydd El, they certainly had some excitement with their MPs. The MP who preceded the thieving lawyer William Edwards was Thomas William Jones, who became Lord Maelor. Lord Maelor was a teacher who trained at the Normal College in Bangor who served as the Labour MP for Merioneth, 1951-66, when the Captain and his friends were swinging at Croesor. Lord Maelor came to an unfortunate end in Nov 1984, when he died in an overnight fire at his home near Wrexham, the area in which he grew up and the constituency for which his brother James was the Labour MP, 1955-70, while the kids down the road at Bryn Estyn were being so horribly abused. 1984 was when it was all kicking off in north Wales: Brown and me were refusing to withdraw our complaint about Gwynne the lobotomist and were being threatened by D.G.E. Wood et al; Mary Wynch was fast heading towards the Master of the Rolls; and Alison Taylor was given a formal warning by Gwynedd County Council, then reporting injuries to kids in care to the police, only to be told that her concerns were unjustified. At some point in 1984 George Thomas ended up in hospital because of an STI and there was a panic lest all became public. The Top Docs kept their mouths shut and Leo Abse told a pack of lies to the press as a cover story (see post 'It Wasn't On Our Radar'). It was concluded that the fire which killed Lord Maelor was begun by a 'smouldering cigarette', although there was no evidence for this at all… See post Slaves, Perfect Slaves' for further details of the MPs who represented the constituency which covered the Croeser area and some of the extraordinary events with which they were involved.
October 1984! Remember this:
Bob was married to Paula, who grew up and went to school in north Wales, lived in the same village as Lord Wyn Roberts who colluded with Dafydd and the gang and as a teenager became a groupie and a porn model! Where is Paula now? Er, six feet under, along with the man whom she left Bob for and her daughter. Dafydd must have had a little chuckle as he heard the news of each death. Wyn Roberts must have been mighty relieved as well.
Gee, how did St Bob et al get Fatcher's Gov't to Support The Cause when they were initially so hostile??
Hobsbawm and the crowd down at Croesor were academics or professionals, but being Revolutionaries, they encouraged their own young adult children to follow Other Paths, including in the rock music industry.
Lord Maelor was not the only person Who Knew with close links to Croesor who met a nasty, untimely end which very obviously was not a result of the official explanation. In 2010, retired Gwynedd social worker Thomas Merfyn Hughes who lived in Croesor was found dead in someone's else's garden in Llanfrothen, at the bottom of an embankment. Mr Hughes's body was concealed from view and lay undiscovered for many, many hours; he had last been seen alive leaving the Brondanw Arms in the small hours, walking home. It was concluded at the inquest that Mr Hughes had fallen down the embankment, decided to have a nap and had frozen to death in the cold winter's night while he was snoozing, presumably before hiding his body. Only Coroner Dewi Pritchard Jones could have ever conjured up such a scenario and only in Gwynedd would he never have been questioned about this lunacy.
When Mr Hughes was found dead, the PM was the husband of Julia Hobsbawm's friend Sarah.

I encountered Thomas Merfyn Hughes in 2005. The thugs of the Arfon Community Mental Health Team were refusing to give me access to files on me – which they should not have had anyway because I had never been 'on their books' – and Mr Hughes had recently been appointed their line manager. I was told by a colleague at Bangor University that Mr Hughes 'was doing his best to sort that lot out'. Mr Hughes kindly confirmed to me that the Arfon Team were breaking the law and as they wouldn't hand the ill-gotten gains over, he would go and collect the file himself. Which he did and he sent me copies. Within the file there were huge quantities of personal information about me to which the Arfon Team should never have had access, including info about a physical health condition unrelated to mental health, as well as my PhD and career, as well as information about Patient F, which they also should not have had access to. As well as numerous inaccuracies and lies. The thug and perjurer Keith Fearns was leader of the Arfon Team when Mr Hughes confronted them. See previous posts.
Mr Hughes had previously acted as the agent for Elfyn Llwyd, who succeeded Dafydd El as Plaid MP for the constituency covering Croesor, 1992-2010, after Dafydd El went to the Lords. Llwyd is a solicitor and barrister whom I was told was 'very, very dodgy' who served as President of Gwynedd Law Society, 1990-91, when virtually every lawyer in Gwynedd was on board with Dafydd's gang and I was being dragged through the High Court on the basis of the perjury of Drs Tony and Sadie Francis. Not only did their lawyers know that they had perjured themselves, but so did my solicitor, Alwyn Jones of Bangor, who was married to a lawyer employed by Gwynedd County Council. Alwyn's wife worked with Ron Evans, the crooked lawyer employed by Gwynedd County Council, who in 1990 conspired with Lucille Hughes and the Arfon Team to frame and imprison me for contempt at Chester Court. See post 'Some Big Legal Names Enter The Arena'. Ron is married to Dinah Evans who is a magistrate and worked as a lecturer in the School of History in Bangor University. Their daughter is a lawyer who joined the civil service and worked as Peter Mandelson's aide. Elfyn Llwyd is an Aber graduate and trained at Chester Law College. He is married to Eleri Llwyd, a folk singer. Dafydd Iwan, the former Leader of Gwynedd County Council, is a folk singer.
Hobsbawm's interventions in the Windbag's remaking of the Labour Party helped prepare the ground for New Labour and Miranda, whom Hobsbawm later derisively referred to as "Thatcher in trousers". Miranda based his politics on Anthony Gidden's ideas. The Anthony Giddens who had worked in the Sodom and Gomorrah that was Leicester University when Eric's network colonised the institution.
All Eric ever needed to have done was to blow the whistle on Dafydd and the Westminster Paedophile Ring which were busy under his nose and they'd have all come tumbling down…
Until the cessation of its publication in 1991, Hobsbawm contributed to the magazine Marxism Today. A third of the 30 reprints of Marxism Today's articles that appeared in The Guardian during the 1980s were articles or interviews by or with Hobsbawm, making him by far the most popular of all contributors.
I used to read 'Marxism Today' when Hobsbawm and others were regulars in there. I could not understand why, among all the concerned articles written by theorists focusing on Oppression and Abuse of State Power, that there was never any attempt to publicise what was happening in the NHS in north Wales; even I could see, as a young woman, that it was scandalous in terms of the abuse of state power.
In addition to his association with the CPGB, Hobsbawm also developed close ties to the largest Communist Party in the western world, the  Italian Communist Party (PCI). He developed contacts with Italian left-wing academics and intellectuals in the early 1950s and Antonio's Gramsci, whose work was a key influence on some of Hobsbawm's work. Hobsbawm spoke favourably about PCI general secretary Enrico Berlinguer's strategy of Historic Compromise in the 1970s, seeking rapprochement with the RC Church and the Christian Democrats, providing passive support to the latter in Gov't in order to bring the Communists into the political mainstream, by accepting Italy's position as a member of NATO.
From the 1960s, Hobsbawm came to recognise that his political hopes were unlikely to be realised and he no longer advocated "socialist systems of the Soviet type". Until the day of his death, however, he remained firmly entrenched on the Left, maintaining that the long-term outlooks for humanity were 'bleak'.
"I think we ought to get out of that 20th-century habit of thinking of systems as mutually exclusive: you're either socialist or you're capitalist, or whatever," Hobsbawm stated in regards to the emergence of a new historical system…One of the worst things about the politics of the past 30 years is that the rich have forgotten to be afraid of the poor…"
There was a solution when the rich became afraid of the poor, a drastic one which Eric knew all about but somehow never managed to publicise:
For years Hobsbawm was severely criticised by many because of the perception that he was an apologist for the abuses of Stalin and the Soviet Union. Hobsbawm continued in his own sweet way until finally his critics were deafening and he responded, including with this:
I have never tried to diminish the appalling things that happened in Russia, though the sheer extent of the massacres we didn't realise…In the early days we knew a new world was being born amid blood and tears and horror: revolution, civil war, famine—we knew of the Volga famine of the early '20s, if not the early '30s. Thanks to the breakdown of the west, we had the illusion that even this brutal, experimental, system was going to work better than the west. It was that or nothing.
With regard to the 1930s, Hobsbawm wrote that
It is impossible to understand the reluctance of men and women on the left to criticise, or even often to admit to themselves, what was happening in the USSR in those years, or the isolation of the USSR's critics on the left, without this sense that in the fight against fascism, communism and liberalism were, in a profound sense, fighting for the same cause. Not to mention the more obvious fact…that, in the conditions of the 1930s, what Stalin did was a Russian problem, however shocking, whereas what Hitler did was a threat everywhere.
Hobsbawm claimed that the demise of the USSR was "traumatic not only for communists but for socialists everywhere".
Hobsbawm stated that constitutional monarchy in general has "proved a reliable framework for liberal-democratic regimes" and "is likely to remain useful".
In the late 1980s, Alison Taylor wrote to Carlo and told him that kids in care were being abused in north Wales. Carlo's office wrote back saying that Carlo 'could not become involved' in the matter. At the time Carlo had been the Chancellor of UCNW for more than 10 years. UCNW was facilitating the trafficking ring and employing many of those directly involved. The Principal himself at UCNW, Eric Sunderland, had received complaints about Gwynne the lobotomist and others – including my complaint – and because students were repeatedly attempting suicide, it has to be concluded that the highest authorities at UCNW had failed to deal with the trafficking ring operating within the institution.
Carlo was appointed Chancellor of UCNW in 1976, when the gwerin at UCNW began to rip each other's heads off as levels of panic reached a high. In Oct 1975, Andrew Newton shot Norman Scott's dog dead and then tried to shoot Norman. The press did not initially cover the story, but their reticence to report ended in January 1976 when Scott, in court on a minor social security fraud charge, claimed he was being hounded because of his previous sexual relationship with Thorpe. This statement, made in court and thus protected from the libel laws, was widely reported. On 16 March 1976 Newton's trial began at Exeter Crown Court, where Scott repeated his allegations against Thorpe despite the efforts of the prosecution's lawyers to silence him. Newton was found guilty and sentenced to two years' imprisonment, but did not incriminate Thorpe. Jeremy Thorpe was friendly with members of the Royal Family and used to boast that he had slept with both Ma'am Darling and her husband Lord Snowdon. Thorpe's second wife Marion had previously been married to the Earl of Harewood, a cousin of Lilibet's. Thorpe had grown up with Lloyd George's family and was friendly with them as well, who were still very influential in north Wales.
There was a fear that the Westminster Paedophile Ring and the role of Dafydd et al in the ring would be blown open, Harold Wilson resigned and The Heir To The Throne rocked up as Chancellor of the University which was running the racket… See previous posts.
At Jeremy's trial for conspiracy and incitement to murder, key evidence was not made available because of 'the embarrassment' that it would have caused the Royal Family. Thorpe's barrister was George Carman QC, Miranda's former pupil master. Cherie worked in Carman's Chambers until 1988.
Such was the threat to Dafydd et al, that a belt and braces approach was adopted and in 1976 George Thomas was appointed Speaker of the Commons.
The supply of casual sexual partners was not the only thing at risk if Dafydd et al were to be exposed; the supply of class A drugs to the rich and famous could have been interrupted as well, because Dafydd, Drs Ann and Peter Dally and the corrupt Home Office Drugs Branch mandarin Bing Spear were doing a great job on that front. The Dallys boasted of their role as Top Docs to Ma'am Darling. See previous posts eg. 'Little Things Hitting Each Other'.
In 1981, when the diplomat Sir Peter Hayman was named in the House by the Tory MP Geoffrey Dickens as having been found in possession of porn – including child porn – yet had not been prosecuted, the Speaker, who did his best to prevent further discussion of the matter in the House, was George Thomas. Hayman's solicitor was Sir David Napley. Napley acted for Jeremy Thorpe when Thorpe was finally charged and for Greville Janner when Janner was interviewed about the abuse of kids in care in Leicestershire in the early 1990s.
I have only just discovered that Jeremy Thorpe was Chairman of the Political Committee of the UNA and kept this position after his trial until the mid-1980s, when Parkinson's disease caused him to retire from public life. After graduating from Oxford, Jeffrey Archer worked as a fund-raiser for the UNA. The former Deputy Principal of the Normal College in Bangor, Menai Williams, was involved with the UNA. In 2005 Menai and the UNA arranged a one day conference on drug abuse in Bangor and Dafydd was the keynote speaker. Menai's family were a high profile Liberal family and she knew Megan Lloyd-George. See post 'Thought For The Day'.
Eric Hobsbawm was quoted as saying that, next to sex, there is nothing so physically intense as 'participation in a mass demonstration at a time of great public exaltation'.

Although Hobsbawm did receive savage criticism for his stance on Stalin and the Soviet Union, he nonetheless received universal praise across the political spectrum into the 21st century, which is surprising because by that time Hobsbawm's generation of Marxist historians were being ridiculed and the word 'Marxist' had become an insult. In 2003,'The New York Times' described Hobsbawm as "one of the great British historians of his age, an unapologetic Communist and a polymath whose erudite, elegantly written histories are still widely read in schools here and abroad". James Joll wrote in 'The New York Review of Books' that "Eric Hobsbawm's nineteenth century trilogy is one of the great achievements of historical writing in recent decades". Ian Kershaw said that Hobsbawm's 1994 book, 'The Age of Analysis' consisted of "masterly analysis". Meanwhile, Tony Judt, while praising Hobsbawm's vast knowledge and graceful prose, cautioned that Hobsbawm's bias in favour of the USSR and communism in general and his tendency to disparage any nationalist movement as passing and irrational, weakened his grasp of parts of the 20th century.
Eric left Croesor in the late 1970s as a result of the hostility towards him and his family; he wrote about this in his autobiography 'Interesting Times' and I have been told that he was not exaggerating. There was naked aggression towards the Hobsbawms from some other people in the Croesor area which caused Eric to go. He took a second home in the Brecon/Hay-on-Wye area instead. However, Eric spent many years in Croesor and was friendly with many of the left/radical crowd who either knew about the Westminster Paedophile Ring or were actually involved in it and he was friends with Sir Clough and the Stracheys network, including Bertrand Russell.
Even years after he left Croesor, unlike other people who were too thick to see how big this scandal was, Eric Hobsbawm knew just how much power and influence could be wielded by someone like him who could list numerous high profile politicians, aristocrats, members of the Royal Family and their associates, figures in the arts, academia, media, music, literature and directly link them with the most serious crimes against children and vulnerable people which were facilitated by those at the top of the legal and medical establishment. I am in the same position but I haven't got a daughter who's a PR guru who is mates with Gordon Brown's wife and I've always made it clear that I take the piss out of people like Eric who used their info in the way that he did. That is why people were trying to imprison and kill me throughout the years that Eric, that elderly Commie, was receiving nothing but praise across the board…
While Eric was being hailed as a hero in spite of those embarrassing comments in support of Stalin, another Marxist historian, of the generation who followed Eric, was under serious attack from the friends of Eric's daughter and her pal Sarah Brown – Merfyn Jones, the VC of Bangor University.
Merfyn knew as much about that paedophile ring as Eric did; Merfyn had spent his youth watching his neighbours destroyed by Gwynne and Dafydd with Eric and his mates Being All Radical while that was happening. Instead of capitalising on that and dining at the trough, Merfyn had challenged the paedophiles' friends and then given me a place to do a PhD and postdoc jobs. Who was constantly accused of dining at the trough by the gwerin? Merfyn. Is Merfyn in the Lords? No. Is his friend, the Minister in Blair's Gov't who cleared my name in 2004, after I was wrongly accused by the gang and there was an attempt to have me struck off the teaching register and branded a danger to children? Er, no. Instead he was named in the media as a Minister who let a paedophile return to teaching. When Miranda produced his list of toadies-for-peerages after he waved goodbye in 2007, this Minister's name was very obviously missing and media reports stated that Miranda didn't trust him, what with him being a bit Welsh with a penchant for taking the piss. Well he'd have had a great time in the Lords, there's no shortage of material in there. Then I was told by a former social worker who had been given the most appalling time by the gwerin but who obviously felt that Dinsdale and his mates were far too much to take on, that 'Merfyn's sinister friend is a philanderer'. Not the gwerin ever nailed her ear to the floor; not at all, they were a great bunch really and anyway she deserved it and was thankful.

If only he'd have been running a gang of paedophiles, the Philanderer and his friend Merfyn would be in the Lords and dining at the trough right now. They could have a lovely time sitting next to the Baroness of Ely, St Helena, Lord Bob etc.
Contrast that Philanderer with the shameless toadying of a gang of paedophiles in the direction of the Man Who Knows and do you know his daughter is friends with Sarah Brown!!!, British historian David Pryce-Jones charged that Hobsbawm, as a professional historian who has "steadily corrupted knowledge into propaganda, and scorns the concept of objective truth", was "neither an historian nor professional." After reading Age of Extremes, Kremlinologist Robert Conquest concluded that Hobsbawm suffers from a "massive reality denial" regarding the USSR and John Gray described Hobsbawm's writings on the post-1914 period as "…highly evasive. A vast silence surrounds the realities of communism, a refusal to engage which led the late Tony Judt to conclude that Hobsbawm had 'provincialised himself'. It is a damning judgement".
Hobsbawm was a very, very able historian. I never knew him so I have no idea as to the reasons for his vast silence with regard to a murderous regime, but Hobsbawm maintained a vast silence about a few other matters closer to home as well, along with many other people:
In a 1994 interview on BBC TV with Michael Ignatieff (whose grandfather and great-grandfather were Ministers of the Czar prior to the Bolshevik Revolution), Hobsbawm stated that the deaths of millions of Soviet citizens under Stalin would have been worth it if a genuine Communist society had been the result. The following year, when asked the same question on Radio 4's 'Desert Island Discs' that is if "the sacrifice of millions of lives" would have been worth the future communist society, Hobsbawm replied: "That's what we felt when we fought the Second World War", repeating what had already been said to Michael Ignatieff, "now people says we shouldn't had World War II" because of the massive number of deaths, but in fact, at the time, "very few people ended up by saying 'we think it was wrong [to fight] in World War II'", as World War II was worth fighting.
Which is an incredibly simplistic answer from someone like Hobsbawm, who would have had an excellent knowledge of the complexities of the politics which preceded WW II, of the many powerful figures who knew what Hitler was doing but decided that they were not going to stop him and of course with regard to anti-semitic sentiment which, far from being a preserve of the Nazis, was widespread among many people in many countries.
Tony Judt opined that Hobsbawm "clings to a pernicious illusion…that if one can promise a benevolent outcome it would be worth the human cost. But one of the great lessons of the 20th century is that it's not true…he appears blind to the sheer scale of the price paid. I find it tragic…" Neil Ascherson believes that, "Eric is not a man for apologising or feeling guilty. He does feel bad about the appalling waste of lives in Soviet communism. But he refuses to acknowledge that he regrets anything. He's not that kind of person." Hobsbawm himself, in his autobiography, wrote that he desires "historical understanding…not agreement, approval or sympathy".
Hobsbawm was criticised for never relinquishing his Communist Party membership. Arthur Koestler and others left the Party after seeing the friendly reception of Nazi foreign minister Joachim von Ribbentrop in Moscow during the years of the Molotov-Ribbentrop Pact (1939–1941), yet Hobsbawm stood firm even after the Soviet invasions of Hungary and Czechoslovakia, though he was against them both. Arthur Koestler was someone else who lived in a house in Croesor that he rented from Sir Clough, 1945-48/9. During that time Koestler become a close friend of George Orwell.
In his review of Hobsbawm's 2002 memoirs, Interesting Times, Niall Ferguson wrote:
The essence of Communism is the abnegation of individual freedom, as Hobsbawm admits in a chilling passage: "The Party . . . had the first, or more precisely the only real claim on our lives. Its demands had absolute priority. We accepted its discipline and hierarchy. We accepted the absolute obligation to follow 'the lines' it proposed to us, even when we disagreed with it . . . We did what it ordered us to do….Whatever it had ordered, we would have obeyed….If the Party ordered you to abandon your lover or spouse, you did so."

Consider some of the "lines" our historian dutifully toed. He accepted the order to side with the Nazis against the Weimar-supporting Social Democrats in the great Berlin transport strike of 1932. He accepted the order to side with the Nazis against Britain and France following the Ribben trop-Molotov Pact of 1939. He accepted the excommunication of Tito. He condoned the show trials of men like Laszlo Rajk in Hungary.

In 1954, just after Stalin's death, he visited Moscow as one of the honoured members of the Historian's Group of the British Communist Party. He admits to having been dismayed when, two years later, Khruschev denounced Stalin's crimes at the Twentieth Congress of the Soviet Communist Party. When Khrushchev himself ordered the tanks into Budapest, Hungary, Hobsbawm finally spoke up, publishing a letter of protest. But he did not leave the Party.
Hobsbawm let his membership lapse not long before the Party's dissolution in 1991. In his review of Hobsbawm's memoirs, David Pryce-Jones accuses him of actually supporting the invasion of Hungary:
[H]e carefully makes sure not to quote the letter he published on 9 November 1956 in the Communist Daily Worker defending the Soviet onslaught on Hungary: "While approving, with a heavy heart, of what is now happening in Hungary, we should therefore also say frankly that we think the USSR should withdraw its troops from the country as soon as this is possible." Which is more deceitful, the spirit of this letter, or the omission of any reference to it [in his memoirs]?
In those memoirs, Hobsbawn wrote: "The dream of the October Revolution is still there somewhere inside me…I have abandoned, nay, rejected it, but it has not been obliterated. To this day, I notice myself treating the memory and tradition of the USSR with an indulgence and tenderness." Reviewing the book, David Caute wrote: "One keeps asking of Hobsbawm: didn't you know what Deutscher and Orwell knew? Didn't you know about the induced famine, the horrors of collectivisation, the false confessions, the terror within the Party, the massive forced labour of the gulag? As Orwell himself documented, a great deal of evidence was reliably knowable even before 1939, but Hobsbawm pleads that much of it was not reliably knowable until Khrushchev's denunciation of Stalin in 1956."
Reviewing Hobsbawm's 2011 How to Change the World in the 'Wall Street Journal', Michael Moynihan argued:
When the bloody history of 20th century communism intrudes upon Mr. Hobsbawm's disquisitions, it's quickly dismissed. Of the countries occupied by the Soviet Union after World War II—"the Second World War," he says with characteristic slipperiness, "led communist parties to power" in Eastern and Central Europe—he explains that a "possible critique of the new [postwar] socialist regimes does not concern us here." Why did communist regimes share the characteristics of state terror, oppression and murder? "To answer this question is not part of the present chapter." Regarding the execrable pact between Nazi Germany and Stalinist Russia, which shocked many former communist sympathizers into lives of anticommunism, Mr. Hobsbawm dismisses the "zig-zags and turns of Comintern and Soviet policy," specifically the "about-turn of 1939–41," which "need not detain us here." In one sense, Mr. Hobsbawm's admirers are right about his erudition: He possesses an encyclopedic knowledge of Marxist thought, specifically Italian communism and pre-Soviet socialist movements. But that knowledge is wasted when used to write untrustworthy history.
Reviewing the same book, Francis Wheen argued: "When writing about how the anti-fascist campaigns of the 1930s brought new recruits to the communist cause, he cannot even bring himself to mention the Hitler-Stalin pact, referring only to 'temporary episodes such as 1939–41'. The Soviet invasion of Hungary and the crushing of the Prague Spring are skipped over."
David Evanier, in an article published in the American neocon magazine 'The Weekly Standard', called Hobsbawm "Stalin's cheerleader", writing: "One can learn almost nothing about the history of communism from Hobsbawm's Interesting Times – nothing about the show trials, the torture and execution of millions, the Communist betrayal of Spain."
If Eric failed to mention that, he wasn't going to worry about the gang rape of children, bestiality, child porn, the framing and murders of victims and witnesses and the lobotomies happening around him in north Wales. Particularly when his rather dozy daughter and her friends had left school,  needed careers and the Labour Party was in desperate need of assistance as well because things weren't going too well under Footie, who when younger had indulged in interesting sexual activities himself and then the Windbag. Neither was it going to end with those two bozos; there was a Bright Young Star and Future Leader of the Labour Party in south Wales who had to be considered as well:
Ron Davies
By the time that Julia's pal Sarah had got together with her Teddy Bear, Ron was Secretary of State for Wales and considered himself and was considered by everyone else to be a dead cert as First Minister of Wales once Wales had been persuaded to vote Yes in the Devolution referendum in Sept 1997. It all unravelled on that night in Oct 1998 on Clapham Common with Boogie… After which the whole of south Wales confirmed that everybody had Known About Ron, except for Rhodri Morgan who Didn't Have Any Idea and Didn't Know What Cottaging was, so Lesley Griffiths explained the mechanics of it to him in impressive detail. Particularly for someone who had Helped The Mums when she was a Wrexham Borough Councillor and a medical secretary in Wrexham Maelor Hospital for all those years but Didn't Know about Bryn Estyn herself. According to Rhodri, Lesley explained that when Men Like Ron go cottaging, one of them stands with their feet in shopping bags while they are doing the business in the cubicle, so that if a policeman comes in and shines his torch under the door, all he sees is one pair of feet and some shopping bags and his suspicions will not be aroused and he will go away. Because obviously the police don't know about the shopping bags trick, not even policemen like Gordon Anglesea, who were members of Dafydd's gang. I didn't know about the shopping bags until I read Rhodri's autobiography, but I knew about Dafydd and I knew that kids in care were being abused and I knew that Wrexham Maelor was a dangerous hospital full of dishonest staff who were on board with Dafydd, so I wonder how that bit escaped Lesley while she was party to the shopping bags deception??? Particularly as Lesley worked in a Dept in Wrexham Maelor Hospital concerned with STIs. How does a rather dim former medical secretary end up as the Welsh Gov't Health Minister???
Not only did all of south Wales fess up to Knowing About Ron after the Boogie-related explosion, but some of south Wales were brave enough to say that Ron was a nasty piece of work who was relentlessly aggressive and hostile to female colleagues. Ron was a man who had been around a long time. He was a Councillor in south Wales in his early 20s and was elected as the MP for Caerphilly in 1983. When Wales was swinging thanks to Dafydd and the gang… Before becoming an MP, Ron was an adviser to Mid-Glamorgan Education Authority, while Mid-Glamorgan Education Authority ignored complaints of the Pontypridd drama teacher John Owen's sexual abuse of his pupils. John Owen took part in youth drama groups, concerts, Eisteddfodau and was the driving force behind well-loved S4C teens programmes, such as 'Pam Fi Duw?' Owen molested away for years until he was finally charged on a number of counts and was found dead in 2001, days before his trial was due to open. See post 'Yet More Inglorious Bastards'.
Ron Davies's ex-wife Christina Rees is a barrister and since 2015 has been the Labour MP for Neath. I wonder if she knew about the shopping bags, because she won't know about Dafydd, no-one does, except for the patients who rolled around laughing at him, rang him up taking the piss, drew cartoons, portraits etc and openly discussed him having group sex with patients.
In the early hours of 1 October 2012, Hobsbawm died at the Royal Free Hospital in London. Julia confirmed that he died of pneumonia, while suffering complications of his leukemia. She said:
He'd been quietly fighting leukemia for a number of years without fuss or fanfare. Right up until the end he was keeping up what he did best, he was keeping up with current affairs, there was a stack of newspapers by his bed.
Ah the doctors they were wonderful!
After Hobsbawm's death, Uncle Harry's nephew called him "an extraordinary historian, a man passionate about his politics…'
One of Hobsbawm's fellow travellers in the New Left who also had a second home at Croesor but who fell out with Hobsbawm in a big way when Hobsbawm remained in the Communist Party after the 1956 Soviet invasion of Hungary, was E.P. Thompson. Thompson was famous for his work 'The Making Of The English Working Classes', which as Brown once observed, 'was what made him E.P. Thompson'.
Edward Palmer Thompson (3 February 1924 – 28 August 1993) was the leading figure in the European Campaign for Nuclear Disarmament (END) and was a regular in outlets like the 'New Statesman' during the 1980s, where events such as this were advertised:
The 1980s… the 'New Statesman', Leslie Gore the Offensive Therapist, Naomi the Mad Teacher, 'Marxism Today'…
The 1980s… Uncle Harry's nephews' dad and his buddies trying to hinder Brown's career…
Although Thompson left the Communist Party in 1956 over the Soviet invasion of Hungary, he nevertheless remained an "historian in the Marxist tradition", calling for a rebellion against Stalinism as a prerequisite for the restoration of communists' "confidence in our own revolutionary perspectives". Thompson was a vociferous left-wing critic of the Labour Gov'ts of 1964–70 and 1974–79, which were of course the Gov'ts of Harold Wilson and Jim Callaghan who not only concealed Dafydd and the Westminster Paedophile Ring, but legislated to ensure that Dafydd et al could expand business and remain untouchable. See eg. post 'Cry, The Beloved Country'. Like Hobsbawm, E.P. Thompson knew about Dafydd's gang operating under his nose at Croesor and I have found no record or memories from people who knew Thompson that he ever tried to chuck a spanner in their works. Thompson was an early and constant supporter of CND before leading END in the 1980s. George Thomas was involved with CND at its beginning, although he later drifted away.
E.P. Thompson was born in  Oxford to Methodist missionaries. My post 'There's Methodism In This Madness' discussed the facilitating of Dafydd's gang by Methodists in Wales and elsewhere, including Methodist missionaries. So many of them were involved that those who were not would have known about it. My post 'Come, Friendly Bombs' detailed Harold Wilson's wife's – the daughter of a Congregationalist Minister herself – network of poets and literary folk who assisted with the effort with regard to ensuring that Dafydd et al were never hindered or exposed. Thompson's father, Edward John Thompson was alive until 1946, which was the year after George Thomas, by then already one of the most well-known Methodists in Britain, was elected as the Labour MP for Cardiff Central.
E.P. Thompson and his dad both wrote poetry.
Thompson attended The Dragon School in Oxford and Kingswood School in Bath. During WW II, Thompson served in a tank unit in the Italian campaign. Following that, Thompson studied at Corpus Christi College, Cambridge where he joined the Communist Party of Great Britain. In 1946, he formed the Communist Party Historians Group with Christopher Hill, Hobsbawm, Rodney Hilton, Dona Torr and others. In 1952 they launched 'Past and Present'. 
Thompson launched the dissident Marxist journal The New Reasoner in the summer of 1957. The publication would merge to form New Left Review in 1960.
After Khruschev's 'secret speech' to the 20th Congress of the Communist Party of the Soviet Union in 1956, which revealed that the Soviet party leadership had long been aware of Stalin's crimes, Thompson (with John Saville and others) started a dissident publication inside the CP, called The Reasoner. Six months later, he and most of his comrades left the party in disgust at the Soviet invasion of Hungary. 
Thompson remained what he called a "socialist humanist" and the 'New Reasoner' sought to develop a democratic socialist alternative to what its editors considered the ossified official Marxism of the Communist and Trotskyist Parties and the managerialist Cold War social democracy of the Labour Party and its international allies. The New Reasoner was the most important organ of the New Left. The New Reasoner combined with the 'Universities and Left Review' to form the 'New Left Review' in 1960, though Thompson and others fell out with the group around Perry Anderson, who took over the journal in 1962. The fashion ever since has been to describe the Thompson et al's New Left as "the first New Left" and the Anderson et al group, which by 1968 had embraced Tariq Ali and various Trotskyists, as the second New Left.
The People's Front Of Croesor:
The Croesor People's Front:
Thompson subsequently allied himself with the annual 'Socialist Register' publication. With Raymond Williams and Stuart Hall, he was one of the editors of the 1967 May Day Manifesto, one of the key left-wing challenges to Wilson's 1964–70 Labour Gov't.
Raymond Williams was a cultural theorist who also wrote novels, including 'Border Country', which was so boring that I never finished it, although that might have been due to shortcomings on my part. Whenever I read biographical descriptions of Raymond Williams's childhood with all the info about the working class male culture and the identity which wasn't quite Welsh but not quite English either, I am reminded of the 'Private Eye' spoofs of such literary figures which used phrases such as 'a rough tough puff poof'. Which it seems was true of more than a few of the rough tough puffs from Northern Working Class Male Roots or similarly framed backgrounds.
The Lord Briggs
Great backstory Asa, as Uncle Harry's nephew would no doubt tell you. Pity that you were a total scumbag.
The challenge from the May Day Manifesto failed because no-one mentioned the war:
The Making of the English Working Class had a profound effect on the shape of British historiography, and still endures as a staple on university reading lists more than 50 years after its first publication in 1963. Writing for The Times Higher Education Supplement in 2013, Robert Colls recalled the power of Thompson's book for his generation of young British leftists:
I bought my first copy in 1968 – a small, fat bundle of Pelican with a picture of a Yorkshire miner on the front – and I still have it, bandaged up and exhausted by the years of labour. From the first of its 900-odd pages, I knew, and my friends at the University of Sussex knew, that this was something else. We talked about it in the bar and on the bus and in the refectory queue. Imagine that: young male students more interested in a book than in gooseberry tart and custard.
Robert Croll has forgotten that this was Sussex and Asa ruled supreme, the male students will have had rather more on their minds than gooseberry tart and custard.
In his preface to this book, E.P. Thompson set out his approach to writing history from below:
I am seeking to rescue the poor stockinger, the Luddite cropper, the "obsolete" hand-loom weaver, the "Utopian" artisan, and even the deluded follower of Joanna Southcott, from the enormous condescension of posterity….they lived through these times of acute social disturbance, and we did not. Their aspirations were valid in terms of their own experience; and, if they were casualties of history, they remain, condemned in their own lives, as casualties.
Thompson's thought was 'original and significant because of the way he defined "class." By re-defining class as a relationship that changed over time, Thompson proceeded to demonstrate how class was worthy of historical investigation.' So was what Dafydd and Bertrand Russell were doing down the road from E.P. Thompson's second home in Croesor, never mid the deluded follower of Joanna Southcott, there were hundreds of deluded followers banged up in the North Wales Hospital who were worthy of a bit of Thompson's 'history from below'.
With 'The Making Of The English Working Classes', Thompson 'demonstrated the power of an historical Marxism rooted in the experience of real flesh-and-blood workers'. Thompson wrote the book while living in Siddal, Halifax, West Yorkshire and based some of the work on his experiences with the local Halifax population. But not on those who had doings with Jimmy Savile who even then had quite a crime empire on his hands, with which some people at Leeds University were colluding. By the 1970s at least, when Thompson had his second home in Croesor, Savile had close links with Dafydd's gang, was visiting children's homes in north Wales and was present on the occasion of at least one gang rape of a child. E.P. Thompson worked at Leeds University until 1965. Uncle Harry's nephews' dad held a Chair at Leeds University, 1972-78.
Thompson left the University of Warwick, where he worked, 1965-71, in protest at the commercialisation of the academy, documented in the book Warwick University Limited (1971). Warwick University probably weren't too chuffed with E.P. Thompson, because not only did he dish the dirt on them with that book, but some of his postgrad students took part in the Warwick Events, in which students discovered secret files which the University had compiled on them, raided the files, held protests and generally caused trouble.
Two of those involved in the Events were Merfyn and the Philanderer. The Brexit Bulldog David Davies was also a student at Warwick at the time, but being a Tory (even in those days), I presume that Davies did not participate in the Events. However, the Brexit Bulldog is one of the many who has dined at the trough on the back of his knowledge of Dafydd et al and the Westminster Paedophile Gang. See previous posts.
E.P. Thompson continued to teach and lecture as a visiting Professor, particularly in the United States.
However, Thompson increasingly worked as a freelance writer, contributing many essays to 'New Society', Socialist Register and historical journals. 'New Society' was a magazine aimed primarily at social workers, which not only employed the corrupt Inner London probation officer who knew about Dafydd's gang's London arm, Geoffrey Parkinson, as a columnist (see post 'Only One Died'), but it also published adverts for staff in John Allen's children's home in north Wales. Allen had already served a prison sentence for assaulting kids and numerous complaints had been made about the abuse of kids in north Wales on placement from Councils who were advertising for their senior managers of Depts of Social Services in 'New Society'.
In 1978, Thompson published The Poverty of Theory which attacked the structural Marxism of Louis Althusser and his followers in Britain in New Left Review (famously saying: "…all of them are Geschichtenscheissenschlopff, unhistorical shit"). His comment would have been appreciated by Dr Delyth Morris aka Duckula, a former Gwynedd social worker who was given a PhD and then a job as a sociology lecturer which she couldn't do at UCNW by the gwerin. As well as plagiarising my work – and no doubt other peoples – Duckula denounced Althusser as being 'a load of old rubbish really'. But I don't think that was because Duckula thought that Althusser and his followers were Geschichtenscheissenschlopff, I think it was because Duckula didn't understand a word of it. Althusser famously murdered his wife supposedly while suffering from manic depression and was imprisoned, but some years after the outpouring of sympathy, another version of events became public which maintained that Althussser was a highly abusive man who'd been beating up his wife for years and after he murdered her he utilised his pals in the French elite to ensure that he was treated less harshly than would be normally expected.
During the late 1970s, Thompson acquired a large public audience as a critic of the then Labour Gov't's disregard of civil liberties; his writings from this time are collected in Writing By Candlelight (1980). Not a word about Mary Wynch or the North Wales Hospital Denbigh though, which must have been the ultimate examples of the Labour Gov'ts disregard for civil liberties.
From 1981 onward, Thompson was a frequent contributor to the American magazine 'The Nation'.
From 1980, Thompson was the most prominent intellectual of the revived movement for nuclear disarmament, revered by activists throughout the world. In Britain, his pamphlet Protest and Survive, a parody on the Gov't leaflet 'Protect and Survive', played a major role in the revived strength of CND.
CND had a substantial following in north Wales, places like Bangor and Blaenau Ffestiniog were Meccas for CND because of the number of hippies and alternative people living there. I knew some of the people involved and I used to frequent the left wing bookshop in Bangor – called the Information Centre and then it changed its name to Rainbows – and loads of the associated crowd were active in CND and going to protests at Greenham etc. Brown's dad got very cross with me when we were watching TV at his place and I saw a girl I knew from the Information Centre being arrested at Greenham. I said 'ooh I know her, she's from Bangor'  and Col Brown said 'well could you ask her to go and protest in Red Square then'. He had a point, she wasn't even going to protest outside of a Top Doctor's surgery or Gwynedd Social Services HQ, she'd never have risked her neck in Red Square. But then E.P. Thompson didn't protest outside Lucille Hughes's office either. None of the Information Centre lot ever mentioned the activities of Dafydd and the gang, but they did know that all was not well. I heard rumours of 'terrible cruelty' to kids in care, kids who had been left virtually destitute and to fend for themselves could be seen around the region and there were whispers that Denbigh was a really horrific place. A lot of the Information Centre lot gradually drifted away, but a few remained and got jobs with MIND, and Wimmin's Aid and then some even became social workers…
It's just as well that I wasn't involved with CND, I'd have wanted to protest in Red Square and they'd have all grassed me up to the authorities, scarpered, stood by while I was arrested and sent to a Gulag and then they'd have become members of the Politburo.
I know where else Wimmin CND activists came across victims of Dafydd et al: in Holloway, when they were imprisoned for protesting. Some of them published accounts of making friends with distressed traumatised women in Holloway who very obviously should not have been in prison and some of the campaigners mentioned that huge numbers of women in prison were mentally ill. Not one of them ever published an account in which they discussed how many of their fellow prisoners had been abused in children's homes or in psych hospitals. They will have been told about this because the CND protesters made a point of showing solidarity with other prisoners as a result of one technique being used by the screws to isolate CND protesters, which was to tell the other prisoners that they were stuck up cows or baby batterers. The CND activists were fully aware that this was going on so they made efforts to befriend other prisoners. Even if you are perceived as posh, you cannot spend more than a few days in a prison or psych hospital and not be told what has happened to people at the hands of the professional classes and welfare services; it is the spirit of the Blitz and if you are friendly you will hear many things, particularly if it's clear that you will listen and not accuse whoever you are talking to of lying. Welsh language activists also knew what had happened to other prisoners at the hands of the Top Doctors.
There is only one such activist whom I know to have published about the abusive mental health services in north Wales and that was Angharad Tomos, who wrote an account of the shite 'care' that she received herself at the Hergest Unit. I acknowledge that many of those activists would never have had an article on the abuse of people at the hands of the Top Docs accepted by any mainstream publication, but huge numbers of them were working in jobs and careers which were colluding with the abuse completely or were even involved in the abuse themselves. Not many Gwynedd social workers voted Tory and supported nuclear weapons.
Thompson was, with Ken Coates, Mary Kaldor and others, an author of the 1980 Appeal for European Nuclear Disarmament, calling for a nuclear-free Europe from Poland to Portugal, which was the founding document of European Nuclear Disarmament. Confusingly, END was both a Europe-wide campaign that comprised a series of large public conferences (the END Conventions) and a small British pressure group.
Thompson played a key role in END and CND throughout the 1980s, speaking at many public meetings, corresponding with hundreds of fellow activists and sympathetic intellectuals and doing more than his fair share of Committee work. He had a particularly important part in opening a dialogue between the west European peace movement and dissidents in Soviet-dominated eastern Europe, particularly in Hungary and Czechoslovakia, for which he was denounced as a tool of American imperialism by the Soviet authorities.
Thompson wrote dozens of polemical articles and essays during this period and edited a collection of essays opposing Shotgun Ronnie's Strategic Defence Initiative, Star Wars (1985). Dr Adrian Bell, a plant biologist at UCNW used to bang on about Star Wars and what an outrageous waste of money it was and how appalling Thatch was. Adrian was facilitating Dafydd's gang and two of his colleagues were married to members of the gang. You didn't ever think of blowing it all wide open then Adrian??? You'd have stopped Thatch in her tracks and the ripples would have hit Shotgun Ronnie as well, what with that Special Relationship. Thatch's Gov't facilitating a paedophile ring with a side line in class A drugs and the Home Office complicit with the whole lot, right at the point when Ronnie was ramping up his War On Drugs…  That's the Adrian who ignored me when I told him that Brown was receiving murder threats from the gang, the Adrian who knew that at least two other students had been targeted by the gang and were receiving threatening visits from corrupt members of the Drug Squad. Breaking into students' houses at night, grabbing the girls as they tried to run away, forcing them into admitting to crimes by threatening to stitch them up for serious offences if they didn't… After graduation, the more robust girl was found a plum academic job in America by Adrian's colleague Dr Chris Wood who was married to Dr D.G.E. Wood, the corrupt GP who was a mate of Dafydd's – but her dad was a journo on the Torygraph, so something had to be worked out!!! – and her pal, who by the time we graduated was a total wreck and in the 'care' of Wood at the Student Health Centre, was found a job in Australia, by Wood, who ORDERED her to leave the UK. She crumbled, began crying hysterically and Wood announced that he'd had enough of her and they wouldn't be helping her again… A few weeks later Wood yelled at me 'to leave Bangor, forget about everything that has happened her and make a new life for yourself'. I did leave in 1986 to to an MSc at Hammersmith Hospital. The gang sent sex offenders and nasties after me and then tried to kill me. Within four years, their mate in London, Nigel Eastman, ordered me to go back to north Wales…
It's make your mind up time! Do you want Sally Baker in north Wales refusing to shut up? Or do you want her in London refusing to shut up?
If any readers know who it was in the Royal College of GPs who appointed Wood as the person responsible for GP training in north Wales – and they made him the Royal College's Treasurer! – please do let me know. I suspect that there may be a correlation between that and trainee GPs flatly refusing to take training placements in north Wales! Wood's father was a Top Doc in Bristol, but I don't know how Top of the Docs he was, whether he was a pompous mediocrity who made it big by involving himself in serious organised crime or someone who held a senior role as a result of other methods.
In 1948 E.P. Thompson married Dorothy Towers, whom he met at Cambridge. A left-wing feminist historian, Dorothy was Professor of History at the University of Birmingham, another outpost of Dafydd's network and one which not only housed Robert Bluglass but Professor Stuart Hall and friends as well.
The Thompsons had three children, the youngest of whom is the award-winning children's writer, Kate Thompson. Thompson died at the age of 69 in Worcester.
Thompson's older brother William Frank Thompson (1920–1944), was also a member of the British Communist Party during World War II. Frank Thompson parachuted into fascist-occupied Bulgaria as part of a "Phantom Brigade" during Operation Mulligatawny. There, he supported the resistance as a liaison officer. Frank Thompson was captured and on 10 June 1944 he was executed. His body was buried in the War Cemetery of Sofia. E.P. Thompson and his mother wrote There is a Spirit in Europe: A Memoir of Frank Thompson (1947). Frank Thompson was also a friend and confidant of Iris Murdoch, the philosopher and novelist. Murdoch will have been yet another useful contact to use when the gang needed reinforcements.
Leszek Kolakowski wrote a very harsh criticism of E.P. Thompson in his 1974 essay "My Correct Views on Everything". Tony Judt considered this rejoinder so authoritative that he claimed that "no one who reads it will ever take E.P. Thompson seriously again". Kolakowski's portrait of Thompson elicited some protests from readers and other left-wing journals came to Thompson's defence. 
Wade Matthews argued in 2013: '[Since his death] interest in Thompson has waned…Today, Thompson's histories are viewed as old-fashioned, while his socialist politics are believed extinct. Class is considered neither a fruitful concept of historical analysis nor an appropriate basis for an emancipatory politics….At the beginning of the twenty-first century, then, Thompson seems out of place. …certainly part of his distinctiveness lay in his literary style and tone. But it also lay in the moral quality which undergirded his histories and his political interventions.'
Thompson's class analysis is needed now more than ever, as is a genuine history from the bottom. The problem with Thompson – as well as with Hobsbawm, Uncle Harry's nephews' dad, Stuart Hall and so many of their fellow travellers – was not that their socialism was wrong or is of no value anymore, it is that they were prize hypocrites and colluded with serious crime for personal benefit at worst and weak at best. When I chatted to people in Croesor who remembered that contingent of second homers, again and again I was told 'they were friendly to us and nice to chat with; but we had nothing, nothing at all; their holiday homes were better than the only homes that we had; they played at being peasants, they played at chopping the wood outside in the cold and then went back to Hampstead…' Harsher views were that they were 'complete idiots' and a few people were so resentful of them that by the 1970s relationships were very strained and some local people were openly hostile to them.
Mary Kaldor's obituary for E.P. Thompson published in the Indie in Aug 1993 give us some idea as to how Thompson et al saw themselves:
WHEN THE dust settles from the end of the Cold War, EP Thompson will be viewed, along with Mikhail Gorbachev and Vaclav Havel, as one of the key individuals who influenced the course of events in the 1980s…Thompson… ensured that the energies of the peace movement were directed at ending the Cold War and not just at getting rid of nuclear weapons. 'We are going to stop those piffling cruise missiles, you know, on land if not on sea,' he wrote to a friend in 1981. 'What we have to do is seize this moment of mass consciousness to move directly into the structures of the Cold War themselves, the blocs behind the missiles. We have to keep to some very large and simple ideas – like remaking Europe and putting peace and liberty together.'…His career as a peace activist went back to the early 1950s when he was secretary of the West Riding Federation of Peace Organisations and editor of the Yorkshire Voice of Peace. He joined the Campaign for Nuclear Disarmament when it was founded in 1957…he drafted the European Nuclear Disarmament (END) Appeal which became the mobilising document for literally millions of people all over Europe. The signatories include Olof Palme, Vaclav Havel, Jiri Dienstbier, Baerbel Bohley, Rainer Eppelman…'We must commence to act as if a united, neutral and pacific Europe already exists. We must learn to be loyal, not to 'East' or 'West' but to each other, and we must disregard the prohibitions and limitations imposed by any national state.'
In short, he engaged himself in everything from the administrative minutiae of choosing the design for badges, or the structures of particular committees, to the high politics of the ideological struggle not only with the political leaders and military planners of the West but also with peace committees and 'disarmament' specialists of the Warsaw Pact. He had the distinction of being denounced both by the spokespeople of the Western establishment and the Soviet establishment. END, said Georgi Abatov, the Director of the US-Canada Institute, confidently, is well-known to be 'a CIA affair'.
Thompson and END succeeded in breaking the identification of the Western peace movement with the Soviet Union once and for all. The integrity and non-alignment of the peace movement was decisively established. This meant that the campaign against cruise missiles had to be taken seriously, as a genuine moral protest. It also created the basis for the strategy of detente from below, of communication between citizens, which became the central strategy of parts of the peace movement after the deployment of cruise missiles in 1983. Undoubtedly, the constant pressure on officials, the public and private support for harassed peace and human-rights activists in East Central Europe, the network of correspondence, clandestine meetings and relationships, encouraged and helped to provide space for the growing numbers of independent groups that were to burst into the open in the autumn of 1989. Thompson was extraordinarily prescient about what he was doing. In his pamphlet Beyond the Cold War, written in 1982, he envisaged an East-West confluence of popular movements of peace and human rights…
The mark of EP Thompson's success is that his ideas of linking peace and human rights and of reuniting Europe, which seemed so Utopian in 1980, were on the lips of nearly every politician, East and West, 10 years later.
While he was saving the world, E.P. Thompson failed to deal with Dafydd.
E.P. Thompson himself was in possession of a fine head of hair and no doubt used it as a bargaining tool when dealing with the Nuclear Threat.

Eric Hobsbawm seemed to have been the brunt of the worst of the bad feeling in Croesor; yet even people who more sympathetic to him remembered that Eric refused to use his holiday cottage until Clough, who owned all the properties in question, had improved it and installed an indoor bog. It was remembered that Eric's neighbour was a single parent with five kids who did not have an indoor bog, although Clough was her landlord as well. Hobsbawm himself viewed the aggro as being solely the result of race hatred whipped up by Plaid; Hobsbawm was vehemently opposed to any nationalist sentiment, but many people of his generation who lived through what happened in central Europe in the middle years of the 20th century were. Most of the second homers in Croesor vacated the area when Sir Clough's grandson, Robin Llywelyn, evicted the second homers, stating that he would rent to local people only. Robin had aligned himself with Plaid and deeply offended many of his grandfather's old friends who'd rented the cottages for decades. They argued – correctly – that in the case of Croesor, they weren't occupying houses desired by locals, Croesor is a lovely valley but there was and is no work there and the local kids all moved away as they grew up. More background is given in previous posts eg 'The Village'.
The elephant in the room was of course Dafydd et al. By the time that Robin Llywelyn pledged his support for Plaid, Dinsdale ruled supreme and was destroying the whole region, but there was the panic re Jeremy Thorpe… Some of the wider network of the Stracheys and their many friends and relatives were involved with the abuse of kids and many many more of them knowingly concealed that abuse and the whole bloody lot of them were colluding with Dafydd et al: Clough's lot, the second homers, Robin and Plaid. Everyone. The poor sods being targeted by the gang were completely on their own…
It was the Partisan Coffee House in Soho that is considered to have given rise to the New Left. The cafe was set up in 1958 by the historian Raphael Samuel with the help of Hobsbawm and Stuart Hall and was intended to support Samuel's socialist History Workshop Journal as well as to fund the magazine Universities and Left Review. Initial investors included the actor Michael Redgrave and the Observer's theatre critic Kenneth Tynan.
A feature about the Partisan Coffee House appeared in 'The Observer' Online in 2017. Michael Berlin was staging an exhibition remembering the Partisan Coffee House and 'The Observer' was called upon to give it a free plug. We were told that:
Among its regulars were social and cultural theorists Stuart Hall and Raymond Williams, as well as the film-maker Lindsay Anderson, the novelist and Nobel laureate Doris Lessing and the folk singer Peggy Seeger. "It was a beacon of a certain kind of non-aligned leftist politics that we think of now as the New Left," said exhibition curator Michael Berlin, a historian at Birkbeck, University of London. "Much of the thinking went against all the orthodoxies, so these people were rejecting Stalinism, and distancing themselves from what Britain was doing in Africa – and Kenya in particular – and they were against the acquisition of nuclear weapons."
The cafe marked a moment in social history," said Berlin. "It was here that the CND's 'Committee of 100' was named and the first Aldermaston marches were arranged. The cafe staged a series of debates and it was part of the effort to get the Labour party to put disarmament into its manifesto, which it failed to do. Samuel's History Workshop movement was an attempt to popularise the study of history, so that the people themselves were contributing to it."
Anderson, the director of If….notable fans of the Partisan Coffee House included Quentin Crisp, the author of The Naked Civil Servant, the poet Christopher Logue and the singer Rod Stewart. The designer at Penguin Books, Germano Facetti, was responsible for several magazine covers, while the influential graphic designer Desmond Jeffery created the in-house menus and posters.
I know that Special Branch officers used to come in and play chess so that they could listen in to the conversations," he told the Observer.
With regard to the associates of this lot who were ignoring or even involved in organised abuse and sexual exploitation, Special Branch studiously failed to follow the trail…
"Mayne's photographs are a great record of the first coming together of many of the people behind the counter-cultural revolution that was to come in the 1960s,
The counter-cultural revolution, one of who's stars was R.D. Laing; who not only failed to stop Dafydd et al abusing their patients en masse but who provided them with yet more excuses when complaints were made. See previous posts eg. 'The Vermin Club'.
and the genesis of organisations like the Campaign for Nuclear Disarmament. Some of the images are quite obviously set up, but Mayne may have been there with his camera on more than one occasion as there are some evening shots."
Lessing was a frequent speaker at the cafe, but Mayne's photographs reflect women's more usual backroom role. "They were present, but this was a place of its time, so it was run by men. A lot of the hard work was done by women though, and many of them went on to be part of the new wave of feminism," said Berlin.
Some of the women of that generation have written about the way in which the men got on with the revolution while they made the coffee. This theme crops up so frequently that it obviously was present. Yet even the women of that generation who did end up articulating intelligent ideas challenging gender stereotyping, patriarchal oppression and even discussed how the alleged sexual revolution which accompanied the availability of the contraceptive pill simply opened up a new dimension of sexual exploitation of women who were now coerced into unwanted sexual encounters without having the reason of refusing because of the fear of an unwanted pregnancy did not utter a word about the large scale abuse and trafficking of kids and young people in care contexts. Why? Because the funding for so much of the 'research', the publications and the jobs for those feminists who were going into action came from the left-leaning Councils or charidees which were colluding with the abuse. It is why the wimmin's groups of the GLC and other Metropolitan Boroughs – including Leicester City Council – would not touch anything or anyone who were raising concerns re the abuse of children or vulnerable adults. Educational institutions were on board as well, no-one dared rock the boat. It was like trying to have journal articles published today discussing the abuse of psych patients; if you word your article carefully you will get it accepted by some of the braver sociology journals but you won't get anything at all about serious patient abuse published in a health or social care journal.
I saw how it worked on the ground. Vulnerable adults eg. with learning disabilities or mental health problems, were 'supported in their relationships' or were given 'advice'. People even tried doing that to me; I had a Masters in medical sciences, why on earth would I discuss sex or contraception with a groper or the colleague of a groper??? With kids in care or kids being targeted at school it came under the umbrella of informal sex education. Girls of 14 and 15 were told that they were being 'sensible' if they went on the pill. This could fairly be said in circumstances where a girl had established a genuine non-abusive relationship and it would be preferable to an unwanted pregnancy, but in the cases that I knew of that was not what was happening. The Sensible Girls were being grossly exploited by some very unpleasant men, some of them well into middle age. The Top Docs handing out those contraceptive pills knew exactly what was going on and they also knew when they were preparing kids in care 'for action' as it were. The Top Docs knew that what was going on was illegal and that the kids were not being given the time and opportunity to voice concerns if they really didn't want to do this. Girls refusing to join the party were pathologised in various ways. The favourite technique was not, as might be expected, used by boys who wanted to get their leg over. It was from Top Doctors and Angels who were understandably and frequently told by girls of 15 that they did not want to go on the pill because it involved a vaginal examination. They were mocked. Ooh you women are all so silly. No, they weren't 'silly', they weren't 'ashamed of their bodies', they just didn't want that sort of encounter with a strange man – and some of those involved were very strange men – and their instincts in nearly every case were right. Neither was The Lady Doctor the answer either, because they were fully complicit with those trafficking gangs and like the pill were there to take away someone's rationale to say 'I really am not going to get involved with this or indeed even this conversation, now fuck off'.
I did not ever see one daughter of a Top Doctor or Angel or social worker subjected to this. Their children were supported and protected and treated with dignity and respect. This happened to Other People's Children, in the way that Other People were Referred To Dafydd. No-one, no-one at all, dared to publicise what was happening. People certainly knew because if you chatted to people you heard about it and after I began this blog people whom I didn't know when I was in north Wales e mailed me and told me that they had witnessed this in Gwynedd as well.
In her autobiography, Jenny Diski wrote of how, when she moved in under the wing of Doris Lessing, Doris spent virtually her whole time in her study writing and pretty much ignored Jenny, except for on one point: she took Jenny to a Top Doctor to acquire some sort of prehistoric form of contraception, a cap or something (no, I have never actually encountered one, but I know about them theoretically and have heard witness accounts). Jenny didn't have a boyfriend and was rather bemused by it all. It came in useful though, she was shagged within weeks as word got round that Jenny, who had been in a psych unit at the age of 14 and had been abandoned by her parents, was living at Doris's place. Another writer of Jenny's vintage who was in the same situation observed that the welfare system didn't know what to do with a kid who's parents had simply abandoned her. It still doesn't, although it is what the welfare system is supposed to be there for and it has had 70 years of practice now…
In her later years, Claire Rayner did of course Open Her Heart about her own experiences of being sexually exploited and abandoned by her parents when young and ending up in a psychiatric institution in her mid-teens. Rayner received much praise for her Bravery but no-one mentioned that Rayner had followed a career as an Angel in the NHS, including posts in senior roles, in hospitals which were facilitating abuse rings. Claire Rayner knew what was going on and she kept quiet. Had she not kept quiet, Rayner would not have been offered work as a journo or invited to appear on TV, let alone sit on Gov't Committees. Claire was such a safe pair of hands that Miranda invited her to advise on the problem of the mentally ill women prisoners in Holloway, which had become a national scandal by the late 1990s. Claire found the solution. They would be transferred to high security hospitals where they could receive 'specialist treatment'. Many of them had already been in high security hospitals, where they had been severely abused and their abusers had then transferred them to Holloway, which why they had been driven completely mad and spent all day injuring or trying to kill themselves. So back they all went to live with Mr Savile and not a word of their dire journeys through life was made public. Claire's fellow adviser on the Final Solution was St Helena of the Kennedys. See posts 'The Wretched Of The Earth' and 'The Compassion Centre'.
Claire and St Helena were Helping the Holloway Wimmin at the time that the Waterhouse Report was published.
[Michael Berlin] suspects the name "partisan" was chosen for its rebellious cachet and because it carried a hint of the respect around at the time for the Yugoslavian partisans who had fought the Nazis under Tito. "It represented an alternative lifestyle that appealed to beatnik outsiders. It was a moment of youthful optimism in a very dark time," he said.
Beatnik outsiders who ended up joining in with the genocide…
But far from supporting the journal, the coffee shop lost money and eventually closed in 1962. "The old shop is next to Private Eye's building in Carlisle Street. At the time it had a strikingly modernist stripped pine interior, but it has been converted into offices now. It was the home of a PR company for a while," said Berlin.
I have read The Eye for years, but it wasn't until Ian Hislop took over as Editor that anything re Dafydd et al appeared, although Richard Ingrams, John Wells and Candida Lycett Green certainly knew about Dafydd and the Westminster Paedophile Ring as well as Jeremy Thorpe, many years before Jeremy appeared in the dock. See post 'Come, Friendly Bombs'. The Eye used to employ Ronnie Waterhouse as a libel reader.
In a grim joke, the lettings agency now in charge of the site mentions the coffee house in its details for the property. A boldly radical 1950s venture has become a quirky commercial selling point.
And Robin Llywelyn, who evicted his grandfather's posh bohemian friends to house the natives in the name of Plaid, subsequently used Balfour Beatty to manage the properties. See post 'The Village'.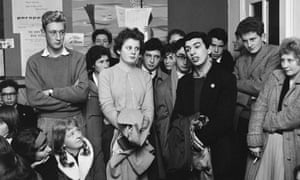 The PR piece in 'The Observer' advertising the exhibition of the lives of the youthful Eric and Uncle Harry's brother-in-law as organised by Michael Berlin appeared in April 2017. By which time this blog was gathering steam as well as readers and I had made it clear that I would be writing the history of Dafydd and the North Wales Hospital Denbigh from the bottom up a la E.P. Thompson.
Eric and friends were international in many dimension, Eric alone being Jewish and having grown up in Egypt, before moving to central Europe, before moving to London and then kipping on Dafydd's manor.
Julia Hobsbawm (born 15 August 1964) is a 'writer and speaker on Social Health and modern connectedness' and the author of Fully Connected: Social Health in an Age of Overload (Bloomsbury paperback 2018). She is Honorary Visiting Professor in Workplace Social Health at Cass Business School, Editor-at-Large for Arianna Huffington's global wellbeing portal 'Thrive' (I have no idea what a wellbeing portal is) and a columnist for Strategy + Business Magazine. An entrepreneur who founded the knowledge networking company Editorial Intelligence in 2005, she was awarded an OBE in the Queen's Birthday Honours list in 2015.
Julia attended Camden School for Girls and then the Poly of Central London (now the University of Westminster), leaving without qualifications in the early 1980s. Not that the lack of even a booby prize from the Poly of Central London held Julia back, she bagged a job as a TV researcher before moving into PR. Julia is a Patron of the Facial Surgery Research Foundation and the Zoe Sarojini Trust, a charidee educating girls in South Africa.
Julia founded Julia Hobsbawm Associates in 1992, subsequently Hobsbawm Macaulay Communications, in collaboration with her pal from Camden High School for Girls, Sarah, who later married the Teddy Bear. Hobsbawm Macaulay Communications existed between 1993 and 2001. Between 2002 and 2005, Julia ran Hobsbawm Media + Marketing Communications. She launched Editorial Intelligence in 2005.