My post  'There's Methodism In This Madness' discussed the collusion of Nonconformists, including some well-known Nonconformist missionaries with Dafydd's gang as well as the Welsh Congrationalists associated with the Bala-Bangor Theological College. The corrupt judge Huw Daniel's father, J.E. Daniel, worked at the Bala-Bangor College. J.E. Daniel was a leading light in Plaid in the early years of Plaid and was a contemporary of Saunders Lewis. It was Saunders Lewis who made the famous Feb 1962 broadcast Tynged yr Iaith', ('The Fate Of The Language') which was recorded by Dafydd. Dafydd has been in action since before I was born…
'Tynged yr Iaith' was the BBC's annual Radio Lecture. Saunders Lewis stated that Welsh was the "only political issue … it's worth a Welshman to worry about it". The lecture was a strict criticism of the leadership of Gwynfor Evans, then the Plaid Cymru President. Lewis argued that there was a Party that would support people like Eileen and Trefor Beasley who were fighting for the Welsh language. (The Beasleys were Welsh Congregationalists.) Lewis called on the Welsh to refuse to fill in forms and pay taxes and licenses if it was not possible to do so through the medium of Welsh. In his opinion, campaigners would need to be prepared to pay fines and face prison. Although the number of Welsh speakers decreased, Lewis stated: "The Welsh language can be saved" and "Only through revolutionary methods can we succeed. "
The Point Is To Change It. But Saunders didn't. Dafydd is still alive and running the crime empire which he had recently begun expanding when he recorded 'Tynged yr Iaith'. The result of Lewis's lecture was the creation of the Welsh Language Society. The first woman to Chair the Welsh Language Society was Meri Huws, that breaker of glass ceilings who worked as a Gwynedd social worker with Dafydd's gang in the 1980s, the decade in which she also Chaired the Welsh Language Society. See previous posts eg. 'People With Energy'.
Dafydd was a Plaid activist during the Tryweryn campaign in the late 1950s when he was a medical student in Liverpool; in this capacity he nipped over to Ireland to learn about violent methods at the knee of Irish Republicans (see post 'A Network Stretching Back Decades…'). In the General Elections of 1959 and 1964 Dafydd stood as the unsuccessful Plaid candidate for Denbigh. See previous posts eg. 'Slaves, Perfect Slaves'.
Dafydd Iwan and Alun Ffred's Minister father was also associated with the Bala-Bangor College, but I'm not sure if he trained there, worked there or both. Dafydd Iwan and Alun Ffred are both former leaders of Gwynedd County Council and Alun Ffred Jones was the Plaid AM for Caernarfon, 2003-07 and Arfon, 2007-16.
I mentioned in 'There's Methodism In This Madness' that Wales was not the only Nonconformist stronghold in Britain; the north of England embraced Methodism as did some parts of Devon and Cornwall. Brown's mum came from Durham and was brought up a Methodist, although when she moved to Somerset she became involved with the Church of England. I have been made aware that once Brown and I were perceived to be a threat to those we know and love, people who could not be described as well-wishers were busy tracking Brown's mum via her old friends and relatives in Durham, including those at Durham University which was a stronghold of a gang linked to Dafydd et al.
Some years ago, one of Brown's books won a prize in a BMA 'Book of the Year' competition of all things and Brown's mum found herself approached by Top Doctors in Somerset observing that she was the lady with the clever son wasn't she. The Top Doctors might have been complimentary about Brown to his mum but the Top Docs really hated Brown for being that clever son. If Brown had been, at least in their eyes, thick, the Top Doctors would have found him far more acceptable.
Nonconformists do a great deal of networking with other Nonconformists in different parts of the country, they are a very sociable bunch, which was how George Thomas spread his wings so far and wide, despite being rooted and based in south Wales. It was said that Thomas preached in every town in Britain and throughout many of the middle years of the 20th century, Thomas was the most well-known Methodist in Britain. He was also a serial child molester as numerous people in politics and virtually the whole of the Labour Party knew and there must have been many Methodists who knew it as well. See post 'It Wasn't On Our Radar'.
So imagine my surprise when I was told by a helpful stranger yesterday that Harold Wilson's wife Mary was the daughter of a Congregationalist Minister. Mary Wilson was born in Diss, Norfolk, the daughter of the Rev Daniel Baldwin. She attended a boarding school for Minister's daughters, Milton Mount College, near Crawley, Sussex, leaving aged 16 to attend a secretarial course for two years. Mary was employed as a stenographer at Lever Brothers in Port Sunlight, before marrying Harold Wilson on New Year's Day, 1940.
Sussex was the root of many of those involved with the North Wales Child Abuse Scandal. Many of those who concealed the abuse of kids in care in north Wales were brought up in Sussex, went to school there or lived there as adults eg. Keith Best, the former MP for Anglesey and Welsh Office Minister. John Allen trafficked the kids in his care from north Wales to brothels owned by him in London or Brighton. Business boomed when Brighton became the gay capital of Britain.
Asa Briggs, the VC of Sussex University, 1967-76, knew about Dafydd and the gang and the Westminster Paedophile Ring. Briggs was well-regarded by Harold Wilson and was one of those appointed by Wilson who assisted Lord Goodman and Jennie Lee in getting the Open University  – of which Briggs was subsequently Chancellor, 1978-94 – up and running, as were a number of other people connected with Sussex University. Asa Briggs bore a lifelong grudge against three Sussex undergrads who threw red paint at a visiting US official in 1967 as an anti-Vietnam War protest (see post 'Anthem For Doomed Youth'), one of those students being Merfyn Jones who, years later, as VC of Bangor University and Chairman of the Betsi Cadwaladr University Health Board, was targeted by the paedophiles' friends (see posts 'Lest We Forget' and 'The Point Is To Change It').
Merfyn came from Llanfrothen in north Wales, which was a village particularly clobbered by Dafydd's gang and pre-Dafydd, Gwynne the lobotomist's gang (see previous posts eg. 'The Village and 'Slaves, Perfect Slaves'). Briggs worked for the security services so he won't have not realised from where Merfyn originated and furthermore Merfyn's mum and dad ran the Bromdanw Arms, the pub in Llanfrothen. Although Nonconformists who were temperance – as were Ronnie Waterhouse's family – would have had a very big problem with that pub, I was told that virtually everyone else went in there, including the radicals and bohemians who holidayed in the area as a result of their friendship with Sir Clough Williams-Ellis and Bertrand Russell. Loads of that crowd had links with Gov't and the security services because they were Posh People, so Briggs et al could have constantly gathered info and caused a great deal of trouble for Merfyn. Briggs was alive until March 2016, by which time the paedophiles' friends had forced Merfyn out of public life.
Paedophiles' Friends and Gwerin: Are you completely crackers?? Merfyn threw red paint over a visiting git when he was 21 and I refused to join a lobotomist's shagfest when I was 21 and you ended up killing Merfyn's wife and murdering a load of NHS patients to destroy Merfyn's career in public life and trying to murder Brown and me. Do you think that you might be over-reacting? I would suggest Mindfulness if I didn't know that it was a scam based on a research fraud perpetrated by one of your own.
Asa Briggs continued to live in Sussex until he died and was there in April 1992 when a firebomb killed five witnesses to the North Wales Child Abuse Scandal who were at a party in Brighton. See post 'The Silence Of The Welsh Lambs.'
Harold Wilson was fully supportive of the Vietnam War, which was one reason why so many on the left hated his Gov't.
Lever Brothers, for whom Mary Wilson worked, were hugely influential in the north west of England because of their substantial business which was based there, which in 1930 became Unilever. Port Sunlight was the model village built by Lever brothers. Fiona Bruce who hosts the 'Antiques Roadshow' on BBC TV lived in Port Sunlight as a child; her father was a Managing Director of a division of Unilever.
It was Unilever who funded the vast expansion of the School of Psychology at Bangor University during the 1990s as a result of Professor Fergus Lowe squeezing their knackers because of Lord Leverhulme's – Philip Lever, the 3rd Viscount Leverhulme – long-standing links with Sir Peter Morrison and Dafydd's gang. See previous posts eg. 'Heart Of Darkness'.
Philip Lever was Chancellor of Liverpool University, 1980-93. It was in 1987 that Dafydd tried to bribe me into dropping my complaint about him by telling me that he was mates with a Professor Richard someone or other at Liverpool Medical School and if I withdrew my complaint about him, his mate Richard would get me a place on the medicine degree at Liverpool. Liverpool Medical School certainly did favours for Dafydd's gang. In 1984, Sonia Maxwell, the daughter of Terry Maxwell, the corrupt-as-fuck Clinical Director of Ysbyty Gwynedd (see posts 'Maxwell's Silver Hammer' and 'A Mystery From Twenty Years Ago'), received a phone call from Liverpool Medical School offering her a place to do medicine there even though she hadn't applied because 'they knew her dad'. The lovely Sonia went to a London Medical School instead and later returned to north Wales to work as a GP in Llanberis and subsequently unlawfully refused to treat a patient who had complained about Dafydd and the gang.
Sonia's mum and her best friend believed that they were the It Girls of Bangor in the 1980s and they could be seen driving around the area in Sonia's mum's sporty car. They were known as 'the two old trollops' and a great many people derived a lot of entertainment from them. Meri Huws succeeded the two old trollops in the role as a sad old bag with delusions of panache and when I was still working at Bangor University a Professor with a sense of humour who spotted Meri zooming along in her sporty car with the top down while wearing sunglasses a la California e mailed me the word 'Lolita'.
I reminded the Professor that Lolita was 12 and Meri was pushing 60, but I was told that 'she can still dream'.
Lever Brothers built Port Sunlight on the back of a rather sordid business. The company made its name by producing soap using palm oil rather than tallow. Much of the palm oil used was produced on plantations in the Belgian Congo through Lever Brothers'  subsidiary Huileries du Congo Belge (HCB), which utilized forced labour. Palm cutters failing to meet requirements regarding compulsory cultivation of crops were liable to prison sentences, where the chicotte, a type of whip, was used.
The Belgian Congo had a truly appalling legacy in terms of genocide and slavery under King Leopold II of Belgium aka the Butcher of the Congo (1835-1909). Child slaves working on the Congo rubber plantations had their hands amputated as a punishment for not working hard enough.
Leopold was the founder and sole owner of the Congo Free State and all its people, a private project undertaken on his own behalf. He used explorer Henry Morton Stanley to help him lay claim to the Congo.
Map of the Congo Free State, c. 1890
Sir Henry Morton Stanley (born John Rowlands; 28 January 1841 – 10 May 1904) was a Welsh journalist and explorer from Denbighshire who was famous for his exploration of central Africa and his search for missionary and explorer David Livingstone and was alleged to have uttered the phrase  "Dr. Livingstone, I presume?" upon finding him, although that account has been questioned. Stanley is also known for his search for the source of the Nile and his command of the Emin Pasha Relief Expedition as well as his work that enabled the plundering of the Congo Basin by King Leopold II.
H.M. Stanley was quite a hero in north Wales until about 15 years ago when a group of paedophiles' friends, who claimed that Stanley's actions were so appalling that he should no longer be remembered with pride, had a huge row with another group of paedophiles' friends who maintained that Stanley was a man of his time and an OK guy. The gwerin had a grade A scrap between them of the sort familiar to anyone who lives in north Wales.
Stanley was born John Rowlands in Denbigh. His mother Elizabeth Parry was 18 years old at the time of his birth. She abandoned him as a very young baby and cut off all communication. Stanley never knew his father, who died within a few weeks of his birth. There is some doubt as to his true parentage and some historical accounts name Dr Dafydd Alun Jones as his father; others name Dr T. Gwynne Williams. As his parents were unmarried, Stanley's birth certificate describes him as a bastard – as should the birth certificate of a few others with links to Denbigh – and the stigma of illegitimacy weighed heavily upon Stanley throughout his life. Stanley's fan club use this as an explanation for his compulsive lying and appalling conduct.
The boy John was given his father's surname of Rowlands and brought up by his maternal grandfather Moses Parry, a once-prosperous butcher who was living in reduced circumstances. He cared for the boy until he died, when John was five. Rowlands stayed with families of cousins and nieces for a short time, but he was eventually sent to the St. Asaph Union Workhouse for the Poor. The overcrowding and lack of supervision resulted in his being frequently abused by older boys. Historian Robert Aldrich has alleged that the headmaster of the workhouse raped or sexually assaulted Rowlands, and that the older Rowlands was "incontrovertibly bisexual". When Rowlands was ten, his mother and two half-siblings stayed for a short while in this workhouse, but he did not recognize them until the headmaster told him who they were.
Rowlands emigrated to the United States in 1859 at age 18. He disembarked at New Orleans and, according to his own declarations, became friends by accident with Henry Hope Stanley, a wealthy trader. He saw Stanley sitting on a chair outside his store and asked him if he had any job openings. He did so in the British style: "Do you need a boy, sir?" The childless man had indeed been wishing he had a son, and the inquiry led to a job and a close relationship between them. Out of admiration, John took Stanley's name…
Stanley travelled to Zanzibar in March 1871, later claiming that he outfitted an expedition with 192 porters. In his first dispatch to the New York Herald, however, he stated that his expedition numbered only 111. This was in line with figures in his diaries. Bennett, publisher of the New York Herald and funder of the expedition, had delayed sending to Stanley the money he had promised, so Stanley borrowed money from the United States Consul. During the 700 mile expedition through the tropical forest, his thoroughbred stallion died within a few days after a bite from a tsetse fly, many of his porters deserted and the rest were decimated by tropical diseases.
Denbigh's Most Famous Son:
After the many heroic years of slaughter and genocide in Africa, on his return to Europe, Stanley married 'Welsh artist' Dorothy Tennant in 1890. They adopted a child, Denzil, who donated around 300 items to the Stanley archives at the Royal Museum of Central Africa in Tervuren, Belgium in 1954. Denzil died in 1959.
Dorothy Tennant (22 March 1855 – 5 October 1926) was an English painter of the Victorian era neoclassicism. Being a Welsh artist, Tennant was born in Russell Square, London. Her sister was the photographer Eveleen Tennant Myers. Dorothy studied painting at the Slade School of Fine Art, London, as did Anglesey's most celebrated artist Sir Kyffin Williams, the man who was Michael Mansfield's art teacher. Kyffin knew many gwerin and paedophiles' friends as does Michael Mansfield. Kyffin died in 2006, but his works continued to decorate the walls of Bangor University. See previous posts. Like Sir Charles Evans, the Principal of UCNW while Dafydd and the gang ran their trafficking ring from that institution, Kyffin went to Shrewsbury School. As did Richard Ingrams and Michael Heseltine. 
One knew that Kyffin was an Artist because he had a silly moustache a la Salvador Dali.
Sir Kyffin Williams
When I lived in north Wales I was told by two different people that Kyffin was up his own arse and to demonstrate what a famous artist he was, he would be rude and disrespectful to people on social occasions. So imagine my surprise when one day I was out having lunch with my PhD supervisor and some friends and Kyffin was on the next table with his friends, being rude and disrespectful to everyone.
Patient F was someone who hated Kyffin Williams and maintained that Kyffin only became famous because he had a private income on which he supported himself for years and owned his own gallery. F told me a few other things about Kyffin as well, the Kyffin who never married and wasn't blessed with children. When I found myself on the next table to Kyffin I sniggered to myself and thought 'it's a good job that F isn't here or there could well be a Scene involving abuse being hurled at Kyffin', but I'm beginning to think that if F had done that he would have been providing a useful public service.
Lady Dorothy edited her husband's autobiography, reportedly removing any references to other women in Stanley's life. Stanley had an unusual life and had been involved with young boys too. Stanley died in 1904 and in 1907 Dorothy married Henry Jones Curtis (died 19 February 1944), a Top Doctor (pathologist and surgeon).
Dorothy was also an author and illustrated several books, including London Street Arabs in 1890.
Illustration of the fuzzy wuzzies fighting with spears, by Dorothy Stanley on the title page of A. J. Mounteney-Jephson's 'Emin Pasha and the Rebellion at the Equator' (1890).
Stanley served as the Liberal Unionist MP for Lambeth North, 1895-1900. He became Sir Henry Morton Stanley when he was knighted in the 1899 Birthday Honours, in recognition of his service to the British Empire in Africa. In 1890, Stanley was given the Grand Cordon of the Order of Leopold by King Leopold II.
Stanley himself acknowledged, "Many people have called me hard, but they are always those whose presence a field of work could best dispense with, and whose nobility is too nice to be stained with toil". With reference to society women, Stanley wrote that they were "toys to while slow time" and "trifling human beings". The authors of the book The Congo: Plunder and Resistance argued that Stanley had "a pathological fear of women, an inability to work with talented co-workers and an obsequious love of the aristocratic rich".
St Asaph's much loved HM Stanley Hospital was named after the man who on one occasion stated that 'chaff won't do'; the hospital was the former workhouse which once housed Stanley and his relatives. When Merfyn was Chairman of the Betsi Board, he proposed closing HM Stanley Hospital and relocating services to another more suitable site. He was confronted by angry gwerin who told the bastard that they wouldn't let him close down their hospitals with his Cuts. One of the Board members did make the point that HM Stanley Hospital was a former workhouse and utterly unsuitable for use as a hospital in the 21st century but the gwerin were yelling abuse so loudly that they probably missed that bit.
Liz Stables, the people trafficking Angel who worked in the Student Health Centre at UCNW and who is a friend of Dafydd (see previous posts), worked at HM Stanley Hospital as did Eirian, the Angel who was married to Ieuan Wyn Jones, the solicitor and former Plaid MP and AM who spent his entire career in law and politics colluding with Dafydd. Ieuan's dad was a Nonconformist Minister. Ieuan was born in Denbigh and Eirian came from a village on the outskirts of Denbigh. See previous posts.
When Merfyn was VC of Bangor University, Ieuan Wyn Jones stood up in a University Court meeting and demanded that Merfyn should establish a medical school at Bangor. Ieuan explained that the gwerin would be united behind Merfyn if he did this and that the gwerin would find the money for the medical school no less. Merfyn made polite noises and I thought 'why is Merfyn not being more positive about this, the NHS is so fucking bad in this region that we could really do with a medical school'. What I didn't realise was that Dafydd's gang had already held many discussions and had decided which of them and their children would be bagging the highly paid jobs running the new medical school
in much the same way that Uncle Harry's nephew and his friends decided which jobs in Cabinet they would all have when Uncle Harry's nephew became PM. Great thinking Batman, there was only one problem:
Merfyn's successor as VC at Bangor has indeed invested in the development of a 'clinical school' and the gwerin have been in clover for a few years now. The Betsi Board is bankrupt, the Betsi is unable to recruit staff because the regional NHS has such a dreadful reputation for workplace bullying and patient abuse and the mortality rates are some of the highest in Europe and getting higher. The gwerin occupy most of the jobs in the clinical school.
Ah the doctors they were wonderful!
Lever Brothers were a major donor to the Labour Party under Harold Wilson.
Lever House, New York City:
Mary and Harold Wilson had two sons, Robin (born 1943) and Giles (born 1948).
The Wilsons' sons went to University College School in Hampstead when Baroness Jean Trumpington's husband Alan Barker was the Headmaster and Trumpers used to entertain Harold and Mary Wilson to dinner. Trumpers was given a peerage by Thatch in 1980 and subsequently was appointed as a junior Health Minister, in which capacity she gave Jimmy Savile a senior manager's job at Broadmoor Hospital. Savile sexually assaulted a number of patients while in that position, two of whom killed themselves. When Savile's crimes were discussed in the media after his death, Edwina Currie was blamed for his employment at Broadmoor. Edwina was in on the plan but it was Trumpers who did the deed. Trumpers' giving Savile the job at Broadmoor was simply the high point in her long life of idiotic, rash, dangerous decisions at the expense of vulnerable people. See posts '95 Glorious Years!' and 'Rejoice!'
Robin James Wilson is an Emeritus Professor in the Department of Mathematics at the Open University, having previously been Head of the Pure Mathematics Department and Dean of the Faculty. He was a Stipendiary Lecturer at Pembroke College, Oxford and, as of 2006, Professor of Geometry at Gresham College, London, where he has also been a visiting Professor. On occasion, he guest-teaches at Colorado College in the United States. From January 1999 to September 2003, Robin Wilson was Editor-in-Chief of the European Mathematical Society Newsletter.
In the 1980s when Dafydd's gang declared open war on Brown and I, Brown's cousin wanted to go to Oxford to read law. She was turned down for a place but was instead offered a place to do theology at Pembroke College, Oxford, because her school, Tiffin Girls' School in Kingston-upon-Thames, had a reserved place at Pembroke College for one of their pupils to do theology, so the place was offered to Brown's cousin. See post 'Conference At Cold Comfort Farm'.
Oxford at the time were denying that any schools in the UK had any reserved places at Oxford. Katy's mum worked at Bentall's, the posh department store in Kingston-upon-Thames at the time and had done for years. Bentall's was owned by Professor Hugh Bentall, who was a surgeon at Hammersmith Hospital/Royal Postgraduate Medical School for many years. Bentall was involved in research fraud, received a Chair after making a huge donation to Hammersmith Hospital/RPMS and bagged his mistress, who was also his secretary, a place to do a degree and then a PhD in anatomy and followed that up with a lecturing job for her. Bentall and his fortune pretty much ran Hammersmith Hospital. See post 'Interesting Facts'.
Bentall's son Richard did his clinical psychology training at UCNW with Dafydd's gang. Richard married the daughter of Eifion Jones who was the Dean of Science at UCNW when Dafydd's gang ran the institution. Richard's wife did her degree in the Dept of Plant Biology at UCNW, where all the staff were colluding with Dafydd's gang because some of them were married to members of the gang and one of the lecturers was having sex with local school girls; Richard Bentall's wife then trained and worked as an Angel. See post 'I Told You I Was Trouble'. She later set up her own holistic therapy business and also worked for the Open University and WEA in north Wales.
Richard Bentall became famous as a Radical Psychologist and has held Chairs at Bangor, Manchester and Liverpool Universities. See previous posts. Dafydd's gang were mates with Richard's dad before they ever realised that Richard was a prodigy.
Brown's family did not get on with the cousin who bagged the reserved place at Pembroke College or her mother who worked at Bentall's, although they did like the other cousin and the girls' father, Mrs Brown's brother. Relationships were so difficult that sparks flew at Christmas and other such occasions. The family knew some of what had happened to me in north Wales.
As Thatcher said of William Hague: 'Remember the name – Katy Dent'. And Auntie Sheila as well.
Do you know anything about that offer from Pembroke College Robin??? Or did your mum??
Mary Wilson was widowed on 24 May 1995 when Harold died of colorectal cancer and Alzheimer's after ten years of illness. She continued to live in Westminster,  a short distance from Downing Street and retained the couple's holiday home in the Isles of Scilly. In 2013, aged 97, Mary attended the funeral of Thatch. Mary Wilson lived to the age of 102 and died on 6 June 2018. Mary was fit and active until well into old age and was on hand to assist with concealing the crimes of Dafydd et al and the Westminster Paedophile Ring, Mary being very much more than the dull suburban housewife of 'Private Eye' caricature.
Mary Wilson's obituary published by 'The Guardian' included the following information:
…Her problem was that she married Harold, as she complained, "under false pretences". She did not sign up to be the wife of an ambitious politician but, rather, the wife of the clever Oxford don she married, a choice that would have given her the quiet, cloistered academic life she sought for herself, as much as for her family. She regretted all her life that she had been unable to go to university because her family could not afford it, and as an aspirant poet she longed for a lifestyle that would allow her to develop her talent in an atmosphere, as she said, imbued with the presence of old buildings and young people. "Oxford was my idea of heaven," she lamented.
…Mary became an accomplished poet…whose name was reportedly once mentioned as a possible poet laureate. She also had strong leftwing political convictions of her own. She was a Bevanite in the 1950s and a member of the Campaign for Nuclear Disarmament, and, as a critic of the Common Market – as the European Union was known – voted against Britain's continued membership in the 1975 referendum. As prime minister, Wilson held the referendum largely to appease leftwingers in his cabinet
Wilson was on the right of the Labour Party, as were senior Ministers in his Gov't such as Barbara Castle and Denis Healey. All of them colluded with Dafydd's gang, the Westminster Paedophile Ring and massive amounts of Gov't corruption. They knew about the abuses and dreadful conditions in institutions for the mentally ill, the learning disabled and the elderly and concealed all of it, while investing much-publicised millions in flagship NHS facilities for more fortunate people. One such project was that of the development of the Heath, the University Hospital and Medical School in Cardiff, which was a gift to the Top Doctors from George Thomas in return for their silence with regard to his sex offending (see post 'The Great Stink'). This continued even after the Ely Hospital Scandal of 1969 (see post 'All the Ingredients Of A Scandal') when It Must Never Happen Again.
It did Happen Again, repeatedly and it is still happening because the NHS is institutionally corrupt and does not serve the needs of the least privileged and indeed systematically neglects and abuses them. Harold Wilson's particular stroke of genius under the guise of 'democratising medical education' and 'bringing medicine to the people' was to locate the flagship St George's Hospital Medical School in Tooting, thus bringing together the elite Knightsbridge Top Doctors of Hyde Park Corner who had been colluding with serious organised crime in High Places for decades and the huge paedophile ring with was operating via Wandsworth Social Services. The Top Doc who did most of the mechanics with regard to this merger which resulted in a pan-European trafficking ring facilitated by Top Doctors, including paediatricians, psychiatrists and obstetricians/gynaecologists was Sir Peter Brett Storey, yet another Giant Of Psychiatry who was a mate of Dafydd's. Harold Wilson and his mates spent years planning the merger of the Snobbiest Most Criminal Top Doctors On Earth with the Paedophiles Of Wandsworth. See post 'Meet The Gwerin!' for further details.
…In later years she adopted a view on Europe similar to the Labour party's official line, maintaining that "you can't unscramble eggs", but she clearly did not ever lose her radical edge. She was very careful never to criticise any of her husband's successors, but in the only lengthy newspaper interview of her life, which she gave at the age of 90 to the party's former deputy leader Roy Hattersley, she continued to describe herself as "old Labour".
That'll mean that Mary distanced herself from Miranda's crowd and the old lefties who hated her crook of a husband and his mates.
Born in Diss, Norfolk, she was the daughter of a Congregationalist minister, the Rev Daniel Baldwin and the former Sarah Bentley. They moved often because of her father's work,
Mary will have done much mixing with Congregationalists in places other than Norfolk. I am fairly sure that Dr Tony Francis grew up in Norfolk; certainly by the time that Francis was part of Dafydd's gang in north Wales, Francis's parents were living in Norfolk… Tony Francis knew the Windbag from their time as students in Cardiff.
but she discovered the solace that poetry could bring to a lonely childhood when she got her hands on a copy of Palgrave's Golden Treasury at her school for ministers' daughters at Crawley, Sussex. At home, family life was governed by pride and propriety: she went to church twice on Sundays and was banned from reading fiction on the day of rest.
They were devout Congregationalists then and if they were governed by pride, Mary will have never wanted it made public that Congregationalists in north Wales were involved in something as dreadful as a paedophile ring whose members were producing child porn with added bestiality. Even if Mary did not consider herself 'religious' in adult life, there was the reputation of her father, her family and all her friends, before one even starts thinking about her husband's political career. Mary didn't speak the language of heaven a la Dafydd and she didn't ever max out on the images of Welsh cakes and Bara Brith, but her dad was a Minister, she really will not have wanted that shit bomb exploding. Ever.
On leaving school, she trained as a stenographer and her first job was as a secretary at Lever Brothers at Port Sunlight. It was on a tennis court in the area that she met Harold Wilson, a sixth-former about to go up to Jesus College, Oxford
Jesus College, Oxford is famous for being the 'Welsh' Oxford college. It is still 'Welsh' but in Wilson's day it was incredibly Welsh. Readers might have noticed from previous posts, that again and again, influential paedophiles' friends and gwerin who colluded with Dafydd et al went to Jesus College, Oxford, or read law at Aberystwyth. They were the two common destinations for gwerin with ambitions.
J.E. Daniel went to Jesus College, as did his son the dreadful Huw. J.E. was 14 years older than Wilson and Huw Daniel much younger, but it's the alumni network which is the important factor. Gwilym Williams, the Bishop of Bangor, 1956-82 and Archbishop of Wales, 1971-82, who was fully on board with Dafydd and the gwerin went to Jesus College and his time there overlapped with Wilson's. Gwilym Williams had many other roles including a very long stint as a chaplain at St Mary's College, Bangor – which merged with UCNW in the 1970s – and as a lecturer in the Dept of Theology at UCNW. Gwilym Williams was one of those who used his knowledge of Dafydd's gang to twist Willie Whitelaw's and Thatch's arms regarding the establishment of S4C, along with Alwyn Roberts, a Nonconformist missionary who then became Vice-Principal of UCNW (see posts 'Meet The Gwerin!' and 'There's Methodism In This Madness') and Goronwy Rees, who was Principal of Abersytwyth University, 1953-57, a friend of the Cambridge spies and who it was alleged was a double agent himself, working for the KGB (see post 'A Bit More Paleontology'). Gorony's brother Geraint Rees was a High Court judge who was a mate of Ronnie Waterhouse. See post 'Heart Of Darkness'.
Among the many other gwerin who studied at Jesus College was Professor Gareth Roberts, who served as an adviser to Gwynedd Education Authority as the paedophile ring swung in the children's homes and schools, then became Principal of Bangor Normal College (the teacher training college) when that institution was full of gwerin and then Head of the School of Education at Bangor University as the gwerin in that School planned the Uprising Against Merfyn, when Merfyn was VC of Bangor University. One of the gwerin at Coleg Normal was Dafydd Orwig, a Gwynedd County Councillor, who played a key role in the false allegations levelled at Patient F in 1992/93 and the placing of F's baby with a family containing two people who were known to have assaulted children. See previous posts. Many, many more whom we know and love benefited from an education at Jesus College.
When Harold Wilson met Mary, Harold was at Wirral Grammar School for Boys, an institution which was educating many of the future corrupt professionals of the north west of England who would form part of Dafydd's Merseyside/Cheshire empire. Harold's parents had moved to Cheshire two years previously, from Huddersfield in Yorkshire. So Harold grew up in the bosom of Savile-land, then moved to Dafydd's patch when it was run by Dafydd's mentors. Harold Wilson later became the Labour MP for Ormskirk, 1945-50 and then Huyton, 1950-83. Ormskirk is just outside Liverpool – the constituency later was split into two constituencies, one being Crosby – and Huyton is just outside of Liverpool.
Once Dafydd got going, Ormskirk was part of his empire and many of the corrupt Merseyside professionals who colluded with Dafydd's gang lived in Crosby. Crosby also has a big Catholic population and was where Cherie grew up. Shirl served as the SDP MP for Crosby, 1981-83. See post 'We've Been Expecting You…' Like Cherie, Shirl is a Catholic. There was a major problem with organised abuse in institutions run by Liverpool Catholic Social Services and some of the staff from those institutions took jobs in north Wales. See previous posts. Archbishop Derek Worlock also colluded with organised abuse in Liverpool by Dafydd's gang. See previous posts.
Shirl served as a junior Minister in the Home Office in Wilson's Gov't, where she was given responsibility for monitoring porn no less. In this capacity, Shirl whiled away many hours being shocked at the soft porn which she was given to inspect, while the endemically corrupt police officers and civil service colluded with Dafydd's gang who were producing and exporting child porn with added bestiality. Shirl also ignored the rest of Dafydd's gang's crimes, as well as the wider Westminster Paedophile Ring while she occupied various roles in Wilson's Gov't. Along with the rest of the Gang of Four, Shirl exploited her knowledge of Dafydd et al when she and friends Broke The Mould – or should that be 'Mold'? – Of Politics. See post 'We've Been Expecting You…'
There'll be much more on Shirl soon on this blog, but I'll just mention here that Bernard, Shirl's first husband, was a graduate of New College, Oxford – the college in which Harold Wilson lectured before he entered politics – and like so many from that institution (see post 'A Study In Tyranny'), was working for the security services. So Shirl's own success at Breaking Glass Ceilings wasn't even solely a function of her mum being Vera Brittain; Shirl just happened to be married to C or M or Dame Stella Rimington or whatever Bernard called himself.
Baroness Shirley Williams of Crosby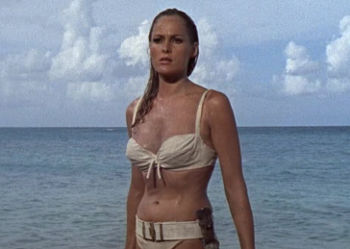 Honey Ryder
Pussy Galore
Harold Wilson's famous shock resignation as PM on 5 April 1976 was, I am sure, not a case of 'ooh he knew that he had Alzheimer's' or 'ooh he was a KGB spy', the crooked old bastard had worked for the security services himself and was almost certainly spooked by the opening of the trial of Andrew Newton, who had attempted to murder Norman Scott after being hired by people who seemed to be associated with Jeremy Thorpe. See post 'Meet The Gwerin!' Wilson thought that all was going to be revealed re the Westminster Paedophile Ring.
No, Things Were Not Different In The 70s, there would have been blood on the streets if the general public had discovered that some of those ruling over us in Westminster were gang raping children and filming them having sex with animals, that people associated with the Royal Family were involved and that many people in public life knew about this but were concealing it. This all probably also had something to do with Carlo becoming Chancellor of the University of Wales – which included UCNW – in 1976, having been appointed instead of the other possible candidate, Dai Francis, the former Communist and trade unionist and father of Top Doctors' best friend Hywel Francis. Dai also knew about Dafydd et al. See previous posts.
Goronwy Roberts aka Lord Goronwy-Roberts, Labour MP for Caernarfonshire, 1945-Feb 1974, held a number of Ministerial positions in Wilson's Gov't. Goronwy came from Bethesda, as did Dafydd and Goronwy was a fully paid up member of the gwerin and served as a loyal umbrella for Dafydd et al until Goronwy's death in 1981. See post 'Slaves, Perfect Slaves'.
Although Wilson resigned as PM in April 1976, he remained as the MP for Huyton until 1983. 1983 was the year in which Brown began receiving murder threats from the gang and we began to find ourselves bothered by various crazy and incompetent people who caused us to waste much time and energy, whom I now know were undercover police officers/people working for the security services…
'Ooh Dr DA tried so hard with them ewe know…ooh he did try, but ooh they were verrrry ill you know, ooh and the stories that they came out with oooh outrageous, ooh they said that the Top Doctors were sexually assaulting childrrrren ooohh no-one else would have bothered with them ewe know…they were smoking mari-jew-ana as well… they had reefer madness ewe know…Dr DA gave our chapel a talk on it…verry interrresting…he's Europe's leading forensic psychiatrist, I read it in the Bangor and Anglesey Mail… Oooh those Angels and Doctors deserve every penny you know…they all need a pay rise…
After Harold Wilson left the Commons, he was given a peerage. The old bastard died in 1995.
I think that I am going have to tour the UK, there are so many graves that I need to dance on.

When they married, on New Year's Day 1940, Mary asserted her spirited independence by declining to say that she would "obey" her husband in the marriage service. It was a considerable rebellion for a minister's daughter of those times and something of a statement of intent. Harold had graduated and become a research assistant to Sir William Beveridge at University College, but because of the second world war took a job in London with the Ministry of Supply in place of military service.
The marriage trembled at this point. The only real evidence is provided by a revelatory poem in her first published collection, where she describes the end of a love affair that she had embarked on in her husband's absence…
There was constant speculation about Mary and Harold having extra-marital affairs, particularly with regard to Harold and his political Secretary Marcia Williams, later Marcia Falkender. Whether they did or not was irrelevant; extra-marital affairs were very nearly de rigueur for that crowd and there were more than a few who were open about being bisexual swingers eg. Tony Crosland and Woy Jenkins. It was the sex with children that they were all desperate to keep quiet and that's what everyone was blackmailing everyone else over.
She apparently told Harold and he, anxious to maintain appearances, particularly as they were something of a frontispiece as the only young couple in Attlee's government,
That is the key. It was about presenting a front for the nation, just as it was for the Royal Family. No-one cared how much shagging was going on behind the scenes. Neither do I if it's a case of consenting adults, but not everyone was…
persuaded her to leave Oxford for London, to be at his side when he was appointed to the cabinet aged 31 in 1947.
Readers will remember that William Hague suddenly acquired a Welsh wife when he was Secretary of State for Wales and wanted to be the next Leader of the Tory Party. William and Ffion have been married for years now and they have not been blessed with children. But considering that they both covered up what Dafydd and the gang were doing, that is just as well. See previous posts.
They moved to Hampstead Garden Suburb, a location that became the butt of many jokes when Wilson later became prime minister, but Mary steadfastly refused to embrace a political or public social life. She was inevitably obliged to do so to some degree after Labour's election to office in 1964, but she still attempted to maintain her privacy.
So no-one knew whether she was a suburban housewife and as dull as ditchwater or a wicked old cow busying herself with concealing the trafficking business run by Dafydd et al in north Wales which was built on the foundations of organised abuse concealed by Wilson's first administrations and then vastly expanded, including under Wilson's next Gov't.
She became friends with the poet laureate John Betjeman, whom she contrived to sit beside at an official dinner and subsequently invited to tea. Thereafter they met regularly, at his house or No 10, sometimes in St James's Park, to read and recite poetry to each other. He encouraged her to write and publish and they remained friends until his death….
Betjeman died in 1984 and had been poet laureate since 1972. Mary Wilson's first book of poetry was published in 1970 and her career soon took off…
A friendship with Betjeman will have given Mary Wilson many contacts in poetry/arts circles, including to poet and Top Doctor Dannie Abse, who's brother Leo Abse was George Thomas's close friend and a Labour MP for many years, including throughout Wilson's years as PM, who was part of the Westminster Paedophile Ring. There was a third brother Wilfred Abse, who was a psychiatrist who knew Dafydd and Gwynne the lobotomist and who assisted them in the criminal activities. See post 'O Jones, O Jones'. George Thomas was known to get on very well with Harold Wilson and Wilson kicked off his General Election campaigns in south Wales, sharing a platform with George Thomas. At Oxford, Betjeman was friends with Sir Cecil Maurice Bowra, a graduate of New College, Oxford and Warden of Wadham College, 1938-70 and VC of Oxford University, 1951-54 (see previous posts).
There was a senior academic at Bangor University who suffered very badly at the hands of the paedophiles' friends and who had studied at Wadham when Bowra was Warden there. This academic suffered so badly that they became very seriously depressed. One of the people who gave this person such a bad time had been at Oxford with them and would have known that they had been a student at Wadham. Another of this person's  colleagues at Bangor helpfully recommended that they should go and see a really wonderful Lady Doctor, one Dr Sadie Francis. When that offer was made, Tony Francis and the gwerin, assisted by Those In Gov't, were doing all that they could to destabilise Bangor University in their efforts to force Merfyn out of his job as VC. The clinically depressed senior academic who was being bullied and undermined by friends of Tony Francis received that recommendation to consult the lovely Sadie from someone else in Francis's network, but I'm not sure whether my depressed colleague knew that. My senior colleague became particularly distraught when one of their close friends killed himself, another senior academic at Bangor. They had been in the 'care of' the Hergest Unit for some years…
I told my depressed colleague that no matter how bad they felt, I doubted very much if they would benefit in any way from any contact with the 'team' who had proved to be so disastrous to so many people, including the senior academic who had just killed himself.
One Oxford graduate who played a central role in perpetrating all this misery was Bangor's PVC for Research, John Farrar, a plant biologist who taught me when I was an undergrad and who's colleagues were variously shagging school girls, married to members of Dafydd's gang and ignoring death threats made to students who had crossed the gang's path. See previous posts. John Farrar was holding discussions with Tony Francis with regard to Francis taking up a job as the psychiatrist in the Bangor University Student Welfare Service because so many students were unable to 'access care' for mental health problems. Farrar knew as well as I did that Tony Francis was a long-standing part of the rot in the mental health services, that he was causing havoc in his attempts to get rid of Merfyn and that people died because of Francis's desperation to conceal the legacy of Gwynne, Dafydd and the paedophile gang. But at least Farrar's ex-wife got a job out of it all as a Welsh for Adults lecturer in the Bangor University Dept headed by Meri Huws and then Farrar's son Robin bagged a senior job with the Welsh Language Society!
Meet the Eco-friendly bilingual troughers:
Here's the mother of them all, Stel:
Farrar shagged a student himself, Stel and she moved in with him. After graduation Stel bagged the only job going in the Dept of Plant Biology that year as a research assistant. When Stel finished her PhD she couldn't get a job, so she decided to start a family and had Robin. Then a few more…
When I returned to Bangor years later to do my PhD, Stel made a point of telling me that 'My John' loathed my PhD supervisor. Yes Stel I knew, because Your John – who wasn't your John anymore, in case you hadn't noticed he'd left you years previously with four young children but then he'd been shagging around for a very long time anyway –  was one of those who was trying to hound my PhD supervisor out of his job because he had given me a place to do a PhD. Other reasons why Your John hated my PhD supervisor was that your John was friends with a gang of paedophiles and was sexually exploiting students and my PhD supervisor made it clear that he was appalled.
Stel also made a point of telling me that 'sociology was an easy subject'. Well it is at GCSE level Stel, but then so is botany. I was far too polite to say this at the time but I thought 'yes, this is me Stel is talking to, who had higher A level grades than Stel, who was just as able at plant biology, who didn't have a baby when she graduated because she couldn't get a job but did a Masters in a Hard Subject instead and who was subjected to murder attempts by those with whom Stel colluded'. And now I've got a PhD in Easy Sociology Stel and no matter how hard you and Your John try there's a blog which cannot be ignored as well…
DUH!
When Stel and Her John were assisting the gwerin in the causing of havoc in Bangor University, 'The Daily Post' – which was entirely under the control of the gwerin – ran an intriguing festive article for no explicable reason, entitled 'Stel's Very Special Christmas'. There was a photo of Stel and the many kids – and they are ALL SOOOO talented you know!!! – sitting next to a Christmas tree, accompanied by an interview with Stel explaining how She Does Christmas Differently, her kids don't have a TV, they don't max out on consumerist junk, or on alcohol and they don't have chocolate, they just have a mango in their stocking and they are such a happy clean-living family.
Oh we laughed until we cried, those of us who were au fait with famille Farrar just howled with laughter. The shagging and sexploitation, the drunken party appearances, the screaming rows, the distressed kids, the bullying of colleagues and postgrads… That account of Stel's Very Special Christmas certainly caused a sensation. One of the more polite readers of the article observed that those mangos will have clocked up many air miles when they were on their way to participate in Stel's Very Special Christmas.
I had the misfortune to bump into Stel again shortly before I fled Wales, but she completely ignored me so it wasn't too traumatic. Where was she? She'd turned up at a family party held by my PhD supervisor and his wife, whom Her John hates and had assisted in hounding out of their jobs. I did discuss with another party-goer how John and Della could bear to have her in their house, but of course John and Della are rather nicer than Stel and Her John, so they'd never say something like 'Oh piss off you nasty hypocritical exploitative cow, how have you got the nerve to gatecrash this party?'.
A Very Special Christmas With Those Who'll Do Anything For A Part-Time Lecturing Job With Meri Huws On Top (so to speak):
I have mentioned many times now how Merfyn's wife died while in the 'care' of the Top Docs at the Walton Centre on Merseyside. That place is governed and staffed by Dafydd's mates; they were also mates of Tony Francis's and one of them was involved in concealing the wrongdoing of Francis and Dafydd when I complained back in 1989.
Merfyn's wife died Stel, as did a lot of other NHS patients, so you, Your John and even Your Robin had better start fessing up.
Meanwhile I'll look forward to Christmas.

John Betjeman famously decided to write one of his exam papers in Welsh at Oxford and although there are accounts of a tutor arriving from Aberystwyth to teach him, other accounts maintain that he was taught Welsh by someone from Jesus College. Betjeman wrote the high society gossip column for the Evening Standard, 'Londoner's Diary'. He'll have known about much more than he ever published.
Betjeman was bisexual, although his longest and best documented relationships were with women. Nevertheless, he has been considered "temperamentally gay" and even became a penpal of Bosie, Lord Alfred Douglas, the man who's relationship with Oscar Wilde eventually resulted  in Wilde going to prison.
Betjeman married the Hon. Penelope Chetwode, the daughter of Field Marshal Lord Chetwode. The couple had a son, Paul, in 1937, and a daughter, Candida, in 1942. The couple drifted apart and in 1951 Betjeman met Lady Elizabeth Cavendish, with whom he developed an immediate and lifelong friendship.
Lady Elizabeth Georgiana Alice Cavendish (24 April 1926 –15 September 2018) was a childhood friend of Lilibet and a Lady-in-Waiting to Ma'am Darling from the late 1940s until the latter's death in 2002. As a contributor to Viz magazine's 'Letterbocks' observed at the time, Ma'am Darling's death was met with an outpouring of indifference by the British public, which was just what Ma'am Darling would have wanted, being an truly dreadful person who never had time for anyone else. Another contributor to 'Letterbocks' stated that it wasn't true that Ma'am Darling's death would not affect anyone because he owned the tobacconist and off-licence at the end of her street and he was finished.
Lady Elizabeth would have known Sir Peter Morrison's sister, Dame Mary Morrison, who was Woman-of-the-Bedchamber to Lilibet throughout those happy years when Sir Peter was molesting kids in care in north Wales and elsewhere.
By Royal Permission, Lady Elizabeth spoke on the record to Lilibet's official biographer, Ben Pimlott. Lady Elizabeth was the daughter of Edward Cavendish, 10th Duke of Devonshire and his wife Mary. She was born three days after Lilibet.
It has been suggested that Lady Elizabeth introduced her friend Ma'am Darling to the bisexual shagger Antony Armstrong-Jones, whom Ma'am Darling married. Armstrong-Jones was the only son from the marriage of barrister Ronald Armstrong-Jones (1899–1966) and his first wife Anne Messel (later Countess of Rosse; 1902–1992). Tony Armstrong-Jones was born at Eaton Terrace, Belgravia, London. His paternal grandfather was Sir Robert Armstrong-Jones, a Top Doctor who was a psychiatrist and physician. His paternal grandmother, Margaret Armstrong-Jones (née Roberts), was the daughter of Sir Owen Roberts, the Welsh educationalist. Tony Armstrong-Jones was of good gwerin stock, so obviously a marriage to Ma'am Darling was inevitable. See previous posts for details of Tony's gwerin ancestry.
Armstrong-Jones enjoyed himself with rent boys and recreational chemicals, visited the family seat near Caenarfon with Ma'am Darling and in old age had an affair with Marjorie Wallace, who was married to a Top Doctor who was concealing the crimes of Dafydd et al. When the North Wales Hospital Denbigh was earmarked for closure, Marjorie established a charidee, SANE, which campaigned to keep hell holes like Denbigh open on the grounds that dangerous patients needed to be within their walls. Marjorie also knew about Jimmy Savile. I wrote to Marjorie and told her what Dafydd et al were doing but she did not reply. SANE enjoyed huge support from Top Doctors and celebs. See post 'One Dangerous Fucker'.
Marjorie Wallace lives in Hampstead, among all those Top Doctors and analysts who were/are colluding with organised abuse. The Wilsons lived in Hampstead.
Candida called Lady Elizabeth her father's "beloved other wife". Lady Elizabeth was one of the godparents of Ma'am Darling's son, David Armstrong-Jones, 2nd Earl of Snowdon. 
When Betjeman died in Cornwall on 19 May 1984, Lady Elizabeth was at his side. Lady Elizabeth herself lasted many more years to help keep the lid on Dafydd et al. She died on 15 September 2018 at the age of 92.
In 1959 BBC's arts magazine 'Monitor' TV programme screened a film that Ken Russell made about Betjeman, 'John Betjeman: A Poet in London'. The Editor of 'Monitor' was Huw Wheldon, who was born in Denbighshire and went to Friar's School in Bangor, as did Huw Daniel, Huw Daniel's father before him, numerous Top Docs, lawyers, NHS managers, Top Cops, lecturers, teachers, Angels, social workers and other gwerin. Wheldon 'set about molding a team of exceptional talents, including Ken Russell and Melvyn Bragg'.
Huw's father, Sir Wynn Wheldon, was a prominent educationalist and his grandfather, Tomos Jones Wheldon, had been the Moderator of the Calvinist Methodist Church in Wales. His mother, Megan Edwards, was an accomplished pianist. Although if Megan was really crap on the piano, everyone will still have stated that she was an accomplished pianist.
After serving in the war, when he worked for the security services, Wheldon joined the Arts Council of Wales and then in 1951 became the Arts Council's administrator for the Festival of Britain, with which Mandy's granddad Herbert Morrison was involved. See previous posts. Wheldon joined the BBC in 1952.
Wheldon's 'Monitor' lasted until he had "interviewed everyone I am interested in interviewing", and he was succeeded by Top Tosser and another of Dafydd's umbrellas, Jonathan Miller (see previous posts) for the series' last season.
Wheldon entered BBC management, becoming by turns Head of Documentaries and then Controller, BBC1. In 1968 he became Managing Director, BBC TV, a position he held until compulsory retirement in 1975. During this time 'he again gathered a team of the talents about him, promoting fellow programme makers such as David Attenborough and Paul Fox – who both knew about Dafydd and the gang and Paul Fox helped wreck the career of one of my friends who was a witness to what had happened to me in north Wales (see previous posts) – high executive office. Wheldon's period of administration included programmes such as Kenneth Clark's 'Civilisation' and Jacob Bronowski's 'The Ascent Of Man' . Clark's son was Alan Clark the Tory MP who sexually harassed and exploited underaged girls and who knew about Dafydd et al but wouldn't have given a stuff (see previous posts) and Bronowski's daughter Lisa Jardine also did Dafydd and the gwerin many favours, as described in my post 'Lest We Forget'.
After he retired from management Wheldon co-wrote, with J.H. Plumb, and presented Royal Heritage, a ten-part series on the history of the British monarchy as expressed through the Royal Collections. Produced by Michael Gill, it achieved immense popularity ratings in 1977, the year of Lilibet's Silver Jubilee. Gawd Bless 'Er.
Following his retirement from the BBC, Wheldon became Chairman of the Court of the Governors of the LSE, where he had studied before WW II, along with other gwerin previously discussed on this blog. Wheldon disarmed potential sponsors of the LSE by eschewing flattery and opening negotiations with the bald statement that what he was after was their cash. Wheldon didn't have to do the 'now don't you worry dear, we'll look after you' bit he wasn't a Top Doctor. Wheldon was also a President of the Royal Television Society – which employed a manager who was convicted of sexually assaulting a 10 year old boy and unlawfully dismissed my friend when they got wind that she was my friend. Wheldon bursaries and awards exist at the LSE and at Bangor University and Wheldon was also on the governing body of UCNW/Bangor University. There is a Wheldon Building at Bangor University, but I don't know which Wheldon it is named after. The child molester Ed Ingram aka Filthy Ed who taught stats in the School of Psychology, had sex with school girls and lived with one of those who starred in the bestiality porn made by Dafydd's gang, used to favour hanging around in the Wheldon Building long after he'd finally been sacked from the School of Psychology. See previous posts for more information about Filthy Ed and his porn queen wife Jane, who was actually very nice. I imagine that somehow the gang pressurised her into working for them.
Wheldon died in 1986. His ashes were spread in the Royal Botanic Gardens of Kew, where he had served as a Trustee. So sadly he has no grave upon which I can dance on my UK tour.
Sir Huw Wheldon was highly regarded in the United States, where he had many friends, one of whom, Senator Daniel Patrick Moynihan, caused Norman Podhoretz's obituary of his friend Wheldon, a version of which had first appeared in Podhoretz's syndicated column, to be entered into the 'Congressional Record'. 
Wheldon was married to the novelist Jacqueline Wheldon, who suffered from manic depression and no the Top Doctors weren't much use. They had three children. Sir Huw's son, Wynn Wheldon (named after his grandfather), is his biographer.
See previous posts for further information about the Wheldon clan.
John Betjeman was a big fan of the Church of England and served as a churchwarden.
Betjeman's daughter Candida met Richard Ingrams and John Wells at Oxford and started up 'Private Eye' with them. The Eye knew about Dafydd and they knew about the Westminster Paedophile Ring, including Jeremy Thorpe as long ago as the 1960s but published nothing about them; they also employed Ronnie Waterhouse as a libel reader. Paul Foot knew Candida at Oxford and worked as a journo on the Eye; Paul Foot The Fearless Investigative Reporter who did a great deal of excellent work did not however expose Dafydd et al although he knew all about them. Because Paul Foot's uncle Michael Foot was also involved in the Westminster Paedophile Ring and he was one of those who was hoping to become PM on the back of currying favour with the Top Docs and those on the left who were colluding with Dafydd and the gang. Including Ed's Uncle Harry. After all, no-one dared point at Nye's legacy and say 'they're abusing and killing the poorest and most vulnerable members of society' rather than 'Ah the doctors they were wonderful!'.
In 1963, Candida married Rupert Lycett Green, a tailor who's shop 'Blades' opened first in Dover Street, London and later in Savile Row. The Krays purchased their clothes in Savile Row and people were so impressed that they overlooked the fact that they were vicious criminals who were associated with a number of politicians, both Tory and Labour. 
During the swinging 60s, when Dafydd swung more than most despite being so closely associated with Nonconformist Ministers and chapels and the Bala-Bangor Theological College, the Lycett Green family was associated with young people who listened to the new style of music sung by popular singers such as Mr Bob Dylan. 'Blades' was frequented by many 'stars' of the period, including 'The Beatles', who's hair touched their collars and who came from Liverpool, where Dafydd's gang was supplying underaged sex workers to celebs.
Candida knew actor Terence Stamp, a man who was certainly where it was at. In the 1960s, just before and as they became famous, Terence Stamp shared a flat with Michael Caine in Wimpole Street at Top Doctor Central. What's It All About Alfie?  It's about keeping your mouth shut in the face of a murderous gang of paedophiles while pretending to be radical/on the left/caring/a bad boy of stage and screen. Jane Asher starred in 'Alfie'. Jane is the former girlfriend of Paul McCartney. Jane's dad was a Top Doctor who was found dead in worrying circumstances during a period of time when a number of other witnesses to wrongdoing linked to Dafydd's associates also died in worrying circumstances (see post 'An Appalling Vista'). Terence was at the centre of the luvvies with street cred and he had a romance with actress Julie Christie, who in 1977 moved to a farm in Wales. Julie Christie eventually married 'The Guardian' journo Duncan Campbell, another fearless investigator who knows about Dafydd's gang and has never printed a word about them.
On New Year's Eve 2002, Stamp married for the first time at age 64. His 29-year-old bride was Elizabeth O'Rourke, whom Stamp first met in the mid-1990s at a pharmacy in Bondi, New South Wales. O'Rourke is a pharmacologist, so that explains why she was meeting people in pharmacies but I wonder what Terence Stamp was doing in there. They divorced on the grounds of Stamp's "unreasonable behaviour" in April 2008.
The Lycett Greens were also friends with John Aspinall, the self-styled alpha male who communed with gorillas and who owned a zoo with lions which kept eating the keepers. Aspinall was a big pal of Lord Lucan, who's possible links with Dafydd were discussed in my post 'Yes, There Is Still Green Paint On The Renault…'.
John Betjeman also contributed to 'Private Eye' from 1971. Auberon Waugh was of course another Eye regular for years. I understand that among all that evidence that Dafydd and Tony Francis collected to demonstrate a case for locking me up in Broadmoor with Jimmy Savile was a bit of fun that Brown and I had with Auberon Waugh when we were 19 yrs old. We got so sick of Bron's far-right rantings in the Sunday Torygraph – particularly because my father used to quote them at us – and Bron's tirades against feminists, that we sent Bron a copy of 'Spare Rib', with a message saying 'go on, open your mind'. Bron of course did not live a million miles away from us in Somerset, although he lived in the poshest house in the very posh village of Combe Florey.
Another bit of fun that I had which I am told was also diligently collected by Dafydd, Francis et al was a satirical supplement that I wrote on one of my biology essays when I was 17 in which I speculated that one of our teachers at Bridgwater College was Lord Lucan with a false beard and his wife was a hired nanny. Now if I was a teacher reading that, I think that I would have understood immediately that this was a teenager having a laugh. Apparently not if Dafydd Needs Evidence. The very much more worrying thing is that I have been told recently that the teacher concerned was part of the paedophile network in Bridgwater which was how Dafydd et al were able to trace him via confidential information about me stored at Bangor University – the teacher concerned wrote my university reference so there was a record of his name etc at Bangor University – and that is why he was so happy to write bollocks about me years after I'd left Somerset. Brown and I had no idea that he was involved with such things, I'm horrified actually. We knew that this teacher was friends with someone who had molested a girl whom I was friends with, but Brown and I thought that he had no idea what his friend had done; I just wondered how that teacher could be friends with such a horrible man.
So that's how dangerous Brown and I were.
In 2006 after my lawyers finally managed to obtain copies of many of my medical records and I saw how incriminating they were, I took copies of some of them down to 'Private Eye'. I had a nice chat with them and they took copies of the records which detailed the conspiracy on the part of Alun Davies and the Top Doctors to frame me for criminal offences. The journo whom I spoke to told me that they were well-aware that these things were happening to mental health patients but in every case when they had tried to run a story, the Top Docs had simply declared their source to be mad. The eye could see that I wasn't mad and the contents of those documents very clearly demonstrated what was going on in north Wales. I left copies with the Eye and as I left the building, I saw Ian Hislop leave the building just before me. The Eye didn't run my story and I didn't hear from them again.
I didn't know at the time that Ronnie Waterhouse had previously worked for them as a libel reader but then I didn't know that after the Eye published Mark Humphrys' allegations that former police officer Gordon Anglesea had molested him at Bryn Estyn, Anglesea had sued the Eye and won nearly £400k damages and that Mark was found dead weeks later. See posts 'Y Gwir Yn Erbyn Y Byd' and 'Y Gwir Yn Erbyn Y Byd – A Few Additional Comments'. The barristers involved in the trial were George Carman QC and Lord Gareth Williams QC and the Presiding judge was Sir Maurice Drake. All three of them knew about Dafydd et al and had previously concealed their criminality.
In 2016 when Gordon Anglesea was jailed for abusing kids in care in north Wales, Ian Hislop gave an interview stating that the Eye would not be trying to recover their money and what needed to be remembered was that Mark 'killed himself' with the distress of it all. Mark was found hanging in the stairwell of the block of flats where he lived in Wrexham. If I wanted to kill myself I'd do it in peace in my flat, not in the stairwell, where all sorts of nasties might be lying in wait for me.
In 1939, Betjeman was rejected for active service in World War II but found war work with the films division of the Ministry of Information. In 1941 he became British press attaché in neutral Dublin, Ireland, working with Sir John Maffey. Maffey was a civil servant and diplomat who was a key figure in Anglo-Irish relations during WW II.
Maffey entered the Indian Civil Service in 1899, and notably served Assistant Secretary to Chief Commissioner of North-West-Frontier-Province, 1912-16 and then as Private Secretary to the Viceroy of India Lord Chelmsford, 1916-20 and then Chief Commissioner of the North -West Frontier Province, 1921-24. After a disagreement with the British government in 1924, Maffey resigned from the Indian Civil Service. In 1926 he became Governor-General of the Sudan, followed in 1933 by his appointment as Permanent Under-Secretary of State for the Colonies.
At Churchill's request, Maffey became the first UK representative to Ireland in 1939. His appointment raised some delicate constitutional issues for the UK insofar, as the Irish government suggested that he be designated a "Minister", in line with how representatives of foreign governments were titled. The title "Representative" was agreed with the Irish as a compromise.
Here's the Representative relaxing at home in casual dress:
Neville Chamberlain remarked that the title would "seem to be well suited to an appointment such as this which is essentially an emergency arrangement intended to meet a temporary but urgent situation". After Maffey took up his appointment as "Representative", there were reports that the IRA might abduct or kill him.
Maffey held the post throughout the war years and until his retirement in 1949. During WW II, he was undoubtedly the most important foreign diplomat resident in Dublin. As "British Representative to Eire", Maffey quickly established a good working relationship with Eamon de Valera. De Valera was personally in favour of the survival of democracy but did not necessarily trust the British to look after Ireland's best interests. Maffey was vital in mediating between the 'Warlord' Churchill and 'the Chief' de Valera.
When de Valera was replaced by a coalition, headed by John A. Costello in 1948, Maffey again established a good working relationship with its members, but he was scathing about the clumsy manner in which the declaration of a Republic was handled: "Mr. Costello has handled the business in a slipshod and amateur fashion".
Maffey encouraged Betjeman, as press attache, the to establish friendly relations with leading and rising figures in the Dublin literary world, such as Patrick Kavanagh; Maffey himself suggested the subject for one of Kavanagh's poems.
In 1947, Maffey was raised to the peerage as Baron Rugby. Lord Rugby married Dorothy Gladys Huggins in 1907. They became the parents of three children: Alan, Henry and Penelope. Penelope married Tory MP Sir William Aitken and became a well-known socialite. She was the mother of the former Tory politician Jonathan Aitken and the actress Maria Aitken. Her grandchildren are the actor Jack Davenport, the artiste and environmentalist Alexandra Aitken (also known as Uttrang Kaur Khalsa), Victoria Aitken, and William Aitken.
Jonathan Aitken was once a suitor of Carol Thatcher and famously incurred Thatch's wrath because 'he made Carol cry'. Jonathan Aitken became even more famous when he was jailed for perjury after making a song and dance about being a righteous and truthful man. Jonathan discovered Christianity in prison and has never looked back, he's a fixture on the Christian scene now. See previous posts for Aitken's impressive previous re dishonesty, corruption, deception etc and his brief career as a TV executive.
Maria Aitken was prosecuted for drugs offences when she was found to have received an envelope containing recreational chemicals through the post, but she experienced remarkably few negative consequences as a result of it all. Maria has been a Patron of the British Thyroid Foundation since 1992, and was appointed a Trustee of the Noël Coward Foundation in 2012.
I have no real desire to be a Patron of a Top Doctors charidee, but somehow I suspect that if I was, within weeks, if not days, the charidee would receive a phone call from a member of the gwerin explaining that they were Sharing Information, the shit would hit the fan and I would as usual end up agreeing to step down to save everyone a lot of bother. If only I had received class A drugs through the post instead of 'looking at a social worker' who was a member of a paedophile gang 25 yrs ago, my life would have been so much easier.
Lord Rugby died in April 1969, aged 91. He was succeeded in the barony by his eldest son Alan Loader Maffey.
Betjeman was involved with the gathering of intelligence in Ireland. He is reported to have been targeted for murder by the IRA. The order was rescinded after a meeting with an unnamed Old IRA man who was 'impressed by his works'. 
I'll just mention the words 'Kincora Boys' Home, Lord Louis Mountbatten, MI5 and MI6, Dr Morris Fraser, Sir Patrick Mayhew, network of Top Docs facilitating organised sexual abuse, guns, Troubles, serious injuries needing medical treatment, oh please Top Doctors don't refuse to treat me and let me die and even more importantly please BMA don't order an all-out strike oh God when patients start dying the shit will really hit the fan, Dafydd, OK we'll keep quiet, it's only Baker and Brown in the firing line and anyone who dares support them'.
Ah the doctors they were wonderful!
OH FUCK OFF.
There was no impropriety to this relationship and Mary subsequently indicated that neither did she believe the rumours of a sexual relationship between her husband and his political secretary, Marcia Williams, who became Lady Falkender. In her interview with Hattersley, Mary suggested that such allegations were beneath contempt and when he asked if that was because she knew the scandal-mongering was untrue, he reported that she smiled contentedly. Certainly the closeness between the two women, as they helped sustain each other in increasing old age, demonstrated a sincere friendship and Mary spoke to friends of the gratitude she felt for the help she had been given by her husband's former adviser precisely because of her own disdain for politics and Falkender's compensating political professionalism.
There is no reason at all why Mary should not have been friendly with Marcia even if Marcia did have a relationship with Harold Wilson. It would entirely depend upon how Mary, Marcia and Harold saw their relationships with each other. The corruption and serious criminality with which all three of them were colluding would be such a strong binding factor between the three of them that Mary and Marcia wouldn't let petty jealousies over Harold get in the way.
….When Harold was returned to office in the surprising February 1974 election, they chose to live in a nearby house in Lord North Street, Westminster, in preference to "the flat above the shop" in Downing Street.
Sir Peter Morrison lived in Lord North Street.  Morrison was elected as the Tory MP for Chester in Feb 1974.
Mary also knew, unlike the rest of the political world, that they would not have been there long because he had already decided to retire early, that he was concerned that he might have a genetic predisposition to the dementia from which his mother suffered, and that he lacked energy and zest.
I suspect that none of this is true; Mary Wilson could hardly have admitted the real reason for Wilson's sudden departure.
After he stood down as prime minister in 1976 there were difficult times as he struggled with a progressive memory loss, but his wife believed this had more to do with the after-effects of an operation for colon cancer than with the Alzheimer's disease diagnosed. He left the Commons in 1983, and was raised to the peerage as Lord Wilson of Rievaulx.
1983; Thatch made George Thomas Viscount Tonypandy, although as a gay paedophile he had no heirs to inherit the hereditary title; Brown began receiving murder threats; Mary Wynch advanced towards the Master Of The Rolls; Dafydd's mate Robert Bluglass rewrote the Mental Health Act so that It Could Never Happen Again; and Brown, my friends and I began to find ourselves surrounded by the security services in various states of fuckwittery.
Mary was a patient, quiet, uncomplaining carer, looking after him at home until two days before his death in 1995, and he, too, accepted his condition and his reliance upon her.
…She retained her discreet composure until the end of her long life, never drawing personal attention to herself even though her circumstances were greatly compromised by a government decision to halve her husband's pension on his death.
Mary's first book, Selected Poems (1970), sold 75,000 copies and enabled her to pay off the mortgage on the family's holiday home in the Scilly Isles. Her later books were New Poems (1979) and an edited anthology, Poems I Like (1983).
The Indie's obituary for Mary Wilson told us a little bit more:
Lord Asa Briggs who bears life-long grudges:
Archbishop Gwilym Williams, 'the Welsh Language Champion':
Another alumnus of Jesus College, Oxford:
The Brothers Grim, Who's Dad Was A Colleague Of Huw the Corrupt Judge's Dad:
Yma O Hyd!
Harold Wilson was PM between 1964-70 and 1974-76. UCNW was ruled by Dafydd and the gwerin throughout Wilson's entire time as PM. The beginnings of the people trafficking and drugs n porn business were undoubtedly in place before Wilson became PM, but it was while he was PM that Dafydd, John Allen and their associates planned their huge trafficking organisation and then went into business. Under Wilson, legislation was implemented and then further legislation planned and developed that assisted the gang and hindered anyone who tried to challenge them. There were no effective safeguards at all to protect victims, none. Just toothless guidelines and layers and layers of deeply corrupt public officials and lawyers in key positions to ruin anyone who tried to present a legal challenge. At every opportunity, the Legacy Of Nye would be conjured up to tell everyone that all of this was For the Good of The Poor.
Just a few key names (see previous posts for further details of their wrongdoing):
Lord Arnold Goodman, Harold Wilson's friend and crooked solicitor. Advised Wilson on every sticky matter and popped up out of mothballs when Jeremy Thorpe was arrested.
Sir Kenneth Robinson. The crooked Health Minister whom Top Doctors loved, because he did exactly what they told him to and gave them lots of money as well.
Lord Elwyn-Jones. Attorney-General and then Lord Chancellor under Wilson. A crooked Welsh lawyer who relocated to London to do Dafydd's bidding down there.
The MPs who were Top Doctors and their acolytes, who were in cahoots with Dafydd et al and some of whom were personal friend of Dafydd's or members of his gang. Dr Death, Shirl, Woy, Merlyn Rees, Dr John Dunwoody, Gwyneth Dunwoody for starters…
Then there was George Thomas, Leo Abse and Greville Janner…
If Mary Wilson was Of The Poets and was friends with John Betjeman, she'll have known Philip Larkin, who was for years the librarian at Hull University. Larkin's enthusiasm for porn, for lusting after the students and his spanking sessions with his friend Monica Jones were well-known and have long been the subject of light-hearted discussions among people interested in poetry. People are now beginning to wonder a bit more because of that abuse ring in Hull. Larkin and Monica may have been utterly harmless and just having a great time, but Monica worked at Leicester University, who's staff had for years concealed the sex abuse ring which included Janner…
The Wilsons and their extended circle all know what was going on, every one of them and it was among this lot that future generations of Labour politicians were selected and raised. The casualties were everyone on the left who was not dishonest. There was no room for them.
That is why we now have a welfare state that does not work and cannot be fixed and why the prospects for less privileged people are becoming worse and worse and worse. Widening participation? Mindfulness? Advances In Brain Science? Talking Treatments? Personalised Medicine Tailored To Your DNA? You will find that they are all totally ineffective because for a long time now the British state and its statutory services have been exterminating vulnerable people and this is now embedded within its practices…
To quote Denbigh's most celebrated son, Chaff Won't Do.