My posts 'A Celebration Of Dafydd's Medical Training' and 'This Is A Nightmare For All Of Us' discussed Gwynne and Dafydd's people trafficking friend Wendy Savage and her Brave Battle Against The Male Medical Establishment
as well as some of those who Supported Wendy. One Top Doc who provided Expert Evidence in Defence Of Wendy was John McGarry, Consultant Obstetrician, North Devon District Hospital, Barnstaple. John McGarry published a number of papers with his junior colleagues during the mid-1980s when Brave Wendy was Battling and his affiliation on those papers in indeed given as the North Devon Hospital, Barnstaple. However, John McGarry also published a few academic papers earlier in his career when he worked at a different hospital, precisely the University Hospital of Cardiff/Welsh National School of Medicine!
For example, in Dec 1972, McGarry published 'A Community Study of Smoking in Pregnancy' (co-authored with Joan Andrews) in the 'British Journal of Obstetrics and Gynaecology'. Joan Andrews is described as a consultant obstetrician at St David's Hospital, Cardiff and McGarry is described as a consultant obstetrician and a Lecturer in Obstetrics at the University Hospital of Wales, Cardiff.
In Jan 1973, McGarry published a paper on Monoamniotic Twin Pregnancy in the 'International Journal of Obstetrics and Gynaecology'. McGarry's affiliation was given as the Welsh National School of Medicine.
In July 1980, McGarry published again in the 'British Journal of Obstetrics and Gynaecology', with Pravin N. Kasan, on 'Oral Contraception and Congenital Abnormalities'. Both authors gave their affiliations as the Welsh National School of Medicine.
Pravin Kasan seems to have emigrated to Australia and is working there, but then Brave Wendy has worked in the United States of America, Nigeria, Kenya and New Zealand. In New Zealand Brave Wendy set up an abortion service before the law was liberalised ie. performed illegal abortions, but that wasn't the first time that Brave Wendy had done that.
The Welsh National School of Medicine (now known as Cardiff University School of Medicine) was and is responsible for upholding standards and training across the whole of Wales. In addition to rubber stamping Gwynne's lobotomies and Dafydd's Denbigh Dungeon, the Welsh National School of Medicine ignored the cartel of Top Docs across the whole of north Wales who ensured that no woman in the region could access an abortion on the NHS for virtually any reason, although any woman who paid would be referred on demand to a private abortionist in Chester, who was known to have put women's lives in danger. This situation prevailed until the late 1980s. See 'It's Bachman Turner Overdrive'.
The Welsh National School of Medicine knew that newborns were being abducted from women delivering at St David's Hospital in Bangor (see 'The BMA and It's Ethics'); they knew that girls in care as young as 13 and 14 were becoming pregnant and naming staff of the children's homes as the fathers of their babies and that those girls were being transported to secure units in south Wales and either ordered to have an abortion or remain in the secure unit for years or they never emerged with a baby yet no-one explained where the foetus/baby had gone; they knew that a sex abuse gang was in operation in north Wales facilitated by Top Docs; they knew that pysch patients in north Wales were becoming pregnant by Docs, including obstetricians in Ysbyty Gwynedd (see 'Another Case Of Not Knowing?'); they knew that obs and gynae patients were being sexually assaulted by docs; they knew that none of these matters were being investigated despite numerous complaints; and they knew that the medical students at the Welsh National School of Medicine dreaded placements in north Wales because of what was happening there.
John McGarry
will also have known of his own notorious colleagues, including those working in obs/gynae, at the Welsh National College of Medicine, one obs/gynae of whom was so offensive, dangerous and out to lunch that he had the shortest waiting list in Cardiff because women simply refused to see him. McGarry will also have known of the eccentric old lady at the Welsh National School of Medicine called Mrs Walker who claimed to be running a fertility unit despite knowing nothing about the subject.
I am sure that McGarry also knew about the sex abuse ring that was operating within the Welsh National School of Medicine itself and targeted the more vulnerable students, George Thomas's sexual offences against children
and that the flagship Welsh National School of Medicine/University Hospital at the Heath was built with money plundered by George Thomas from the NHS budget for Wales that had been allocated for facilities in the north and west of Wales by Prof Brian Abel-Smith, the DHSS adviser. The north and the west went without, but George Thomas was Secretary of State for Wales, the big Labour vote was in south Wales, so they got the flagship building and in return the Top Docs continued colluding with George Thomas. See 'The Great Stink'.
John McGarry was holding a senior clinical post and a lecturing job at the Welsh National School of Medicine when Tony Francis was a medical student and then a junior doctor there…
Are these facts by any chance related Brave Wendy? I think we should be told. Not only did Brave Wendy's 100% rigged Battle With the Male Medical Establishment begin in 1985 when her mate Ollie Brooke was under police investigation, when I had complained about Gwynne and Tony Francis  and when Mary Wynch won her appeal to the Master of the Rolls and received coverage in the London-based press, 
but Brave Wendy began her battle when I received an offer of a place at the Welsh National School of Medicine and when I was still friendly with Clare Cheek, with whom I had done A levels in Somerset who was a med student at Cardiff and was witnessing the most appalling things, including in obs and gynae…
One of Clare's closest friends at school and at Bridgwater College was Rachel Crowhurst, who's dad Donald Crowhurst was a small businessman in Bridgwater and was presumed to have died at sea sometime in July 1969, after entering the Sunday Times Golden Globe yacht race. The story was always that Rachel's dad had been very over-ambitious in attempting to compete in this race, got into difficulties and thus just holed up in his boat sending misleading radio messages out re his location, duping everyone into believing that he was performing well in the race, circumnavigating the globe. Donald Crowhurst went down in British history as a Cheat and a Liar who tried to con people into believing that he was a better yachtsman than he was.
Many films, books etc have told Donald's Story, with varying degrees of sympathy for him, ranging from portraying Donald as crazy, seriously ill, a conman or the victim of bigger names than him who were backing his entry in the Golden Globe race and used him ruthlessly. Some of the Donald Crowhurst outputs have been of an investigative journalism or detective story nature; Paul Foot was involved in one of them.
Donald's body was never found, it was the log books left behind allegedly written by Donald that were used to declare that Donald Crowhurst sank into psychosis, suicidal depression and then suicide.
Donald had experienced a rather difficult life; he had been dressed as a girl as a child, he had a few failed business ventures behind him and he had been obliged to leave the RAF in 1956 for unclear reasons. Edward du Cann was elected as the MP for Taunton in 1956.
Gwynne and Dafydd's accomplices were big names in the RAF when Crowhurst was serving and then forced out.
The yacht in which Donald disappeared was built by Arthur Piver, (1910–68), a World War II pilot, amateur sailor, author, printshop owner and boatbuilder who lived in Mill Valley on San Francisco Bay and became "the father of the modern multihull." Piver's boats had a rather sorry track record; Donald Crowhurst was not the only person to disappear or die in one, Piver himself did, the year before Donald.
Donald Crowhurst was sponsored to enter the Golden Globe by entrepreneur Stanley Best and Donald hired Rodney Hallworth, a crime reporter for the Daily Mail and then the Daily Express, as his PR officer. Rodney Peterson Hallworth (3 June 1929-15 June 1985) was born in Stockport and died in Newton Abbot, Devon, just as I had the first big clash with Tony Francis and Francis alerted Keith Best, the Tory MP for Anglesey and Welsh Office minion, that I would be making a complaint. Anthony Eden's son Nicholas Eden, a customer of Gwynne and Dafydd's was dying from AIDS and had resigned from Thatch's Gov't in March 1985. Nicholas died in Aug 1985.
Hallworth most famously reported on the case of suspected serial killer Dr John Bodkin Adams in 1956. Hallworth was very close to the main investigating officer, Herbert Hannam, and twice during the investigation Hallworth himself was investigated: once for being discovered with a memorandum alleging a homosexual link between Adams, a local magistrate (Sir Roland Gwynne) and a local policeman; and a second time for leaking information to two MPs that the Attorney-General Reginald Manningham-Buller had handed a confidential police report to the BMA, who were organising Adams' defence. Both times Hallworth was given a dressing-down but no more.
Harriet Harman's dad Top Doc John Harman, who knew Gwynne and Dafydd, gave Expert Evidence for the defence at Bodkin Adams's trial…
The Bodkin Adams case starred those we know and love from beginning to end, which suggests that not a lot 'known' about Donald Crowhurst's demise may be true.
Hallworth later co-wrote a book about the Adams' case, published in 1983 after Adams' death. In it Hallworth accused the prosecuting Counsel of mismanaging the case, saying that Adams, who was acquitted, was in fact a murderer. Hallworth was not the only person who stated that Adams was a killer. Later Hallworth joined the rival Daily Express, hoping to replace Percy Hoskins as head crime reporter. However, Hoskins carried on in his position and Hallworth was left to "wither on the vine".
Hallworth eventually left the Daily Express to become a publicist, representing, amongst others, Crowhurst. When Crowhurst disappeared, Hallworth flew to the Caribbean to collect Crowhurst's logbooks, which he then sold to The Times for "a small fortune". Mystic Mogg was Editor of 'The Times' when Hallworth flogged them Crowhurst's alleged logbooks demonstrating his descent into madness and suicide…
Hallworth's part in the affair brought him a lot of criticism, leading to his being called "money-grubbing" and "unscrupulous". According to others who knew him, however, Hallworth was a "genial, rotund chap" who was "larger than life" ie. a drunken pillock.
Donald Crowhurst and his wife were Liberal Party activists – Donald was a Bridgwater Councillor for the Liberal Party – who lived in Bridgwater at a time when not only was Mr Thrope busy next door in Devon but some very unpleasant things were happening in small town life in Bridgwater.
There wasn't just Edward du Cann, the Tory MP in Taunton, swindling people en masse while receiving protection from Tiny Rowland,
Duncan Sandys, Peter Walker and other big City names, but Sir Gerald Wills, the Tory MP for Bridgwater since 1950 for whom my grandfather campaigned, died suddenly in office on 31 Oct 1969. Wills had held Gov't posts in Eden and Macmillan's Gov'ts, alongside Gwynne and Dafydd's accomplices and those who knew Crowhurst when Crowhurst was in the RAF. Gerald Wills was a barrister who was a member of Middle Temple, as was Greville Janner, Patrick Mayhew, Ronnie Waterhouse and Patrick Jenkin, under whom Nicholas Eden was a Minister when he resigned from Thatch's Gov't in 1985.
Gerald Wills dying resulted in that major blot on the landscape Tom King
becoming the Tory MP for Bridgwater on 12 March 1970. King had grown up in north Devon,
attending St Michael's School at Tawstock, near Barnstaple, until Rugby.. After that King studied at Emmanuel College, Cambridge. In 1952 King was commissioned into the Somerset Light Infantry and also served in the King's African Rifles.
I think that I may have found a clue as to how Mr Anonymous but Ruthless ever made it through the selection process to become a Tory candidate. When King was at Rugby, the Headmaster was Percy Hugh Beverley Lyon MC (1893–1986), a poet and a winner of the Newdigate Prize as well as Headmaster of Rugby School, 1931-48. Lyon studied at Oriel College, Oxford, 1910-14. Lyon interrupted his studies during WW I serving as a lieutenant in the Durham Light Infantry. Taken prisoner, Lyon was in Graudenz at the end of hostilities. Lyon was a big enough poet to have been well connected in the world of poetry and literature, many in that world being of the Gang's network, as of course was Harold Wilson's wife Mary. Percy Lyon was father to three daughters, Jill, Barbara and the children's writer Elinor Lyon.
From 1926 to 1931 Percy Lyon was the Rector of the Edinburgh Academy. Within a month of taking up the post, Lyon proposed a redesign of the school cap and during his five years of his Rectorship, he set up the Edinburgh Academy Stockbridge Club, a social club for boys in the district, persuaded the directors to install electric lighting throughout the school and directed the school's first Shakespeare production, Hamlet.
While Headmaster of Rugby, Lyon was mentor and friend to John Gillespie Magee, Jr., author of the famous poem High Flight. Magee also fell in love with Lyon's daughter Elinor. After serving as Headmaster of Rugby, Lyon opened the Public Schools Appointment Bureau to find jobs for ex-public school boys. As Tory MPs facilitating trafficking rings perhaps?
Percy's daughter Elinor Lyon was born in Guisborough, Yorkshire, and educated privately, and then at St George's School, Edinburgh and Headington School, Oxford (1934–38). After a period in Switzerland, Elinor returned to Oxford to read English at Lady Margaret Hall just as World War II began. She completed four terms, but then joined the WRNS and served two-and-half years as a radar operator. John Gillespie Magee, Jr. met Elinor while attending Rugby School and he remained close friends with her and her family until his death in December 1941.
Elinor met her future husband Peter Wright at Rugby when he was a temporary classics and English teacher and became engaged to him in 1943. He returned to teaching when he was demobbed in 1946, and although Lyon's father retired in 1948 they remained at Rugby until 1975, when they retired to Harlech, Gwynedd.
Harlech! On the patch of Dafydd and Gwynne then Lord King! The first person I knew who studied at Coleg Harlech, the flagship residential college for mature students who had missed out on education at A level stage, was a girl called Karen Knowledon from Bridgwater. She lived on Sydenham Estate, the sort of place in which Tom King was just not interested and was the girlfriend of a member of my family. I knew Karen well, although I was a lot younger than her – I was 12 when she was 18 – and I used to like having her around. Karen shared the cottage down the lane from my home as a teenager, with Stuart, the paedophile who was a spotter for Dafydd and Gwynne's Gang.
When I blogged about Karen in an earlier post, I received info telling me 'That lot [Karen and her mates] are still out there' and that the police wanted to nab them. May I suggest that the police nab Dafydd and Tom King if they want to nab anyone, they are the real problem. No matter what Karen has or hasn't done in the years since I knew her in terms of deals with the Gang, when I knew Karen she was being kicked about and used by the Respectable Classes of Bridgwater and as far as I know, Karen is not in the Lords as so many other very culpable people are.
I liked Karen when I was young, she NEVER did anything untoward to me, I loved having her around to chat with and I remember how badly she was treated by certain other people. Dafydd et al are gangsters, if someone wanted to have helped us they could, years ago, but they were not interested. Karen wrote to me when I lived in north Wales, she wrote a friendly letter and sent me a photo of her little girl, Jenny. If Karen did anything that she shouldn't have done it could well have been because she was terrorised by a bunch of bloody gangsters working as Top Docs, lawyers and social workers. Or indeed police officers. Would someone like to point the finger at the real problem here, instead of CONSTANTLY at just people who were shafted and abused themselves?
Karen's letter and the photo of Jenny were among the documents that were stolen from my house and flogged to George Carman and the Digger. So Karen could well have been pursued by heavies, as well as her daughter. Carman's former colleagues Cherie and Miranda might be able to let us know or the Digger's Mrs, Jerry.
Did anyone warn any of us that those documents had been sold to a barrister who defended people involved in serious organised crime? Er, no. All of us will have been targeted by them.
Elinor Lyon spent much time on the west coast of Scotland, near to where the uncle of mine who encountered such problems businesswise in terms of his health owned and ran a small hotel… Elinor Lyon died at Harlech on 28 May 2008, as Gordon was after Merfyn's blood, Elinor's husband having died from a stroke in 1996, the year in which there was more perjury in an attempt to have me imprisoned and the year in which The Hague announced the Waterhouse Inquiry.
In the very last hours of 1996, Anne Hills, Lord Snowdon's long-term mistress and the daughter of Top Doctor Eliott Philipp, a cousin of Freud and a facilitator of the Westminster Paedophile Ring, died on the roof of her London penthouse, dressed in party gear. 'Suicide'. Except that it would have been impossible for Anne to have died in the manner suggested in the timescale suggested. The Westminster Coroner who made the impossible suggestion was the infamous Paul Knapman, a Top Doc who qualified at St George's Hospital Medical School and who was, I was told when I worked in London, 'corrupt'. See 'Error Of Judgement'.
Knapman is wheeled out for all the best celeb deaths in worrying circumstances, he even did the inquest on Sandra Rivett, Lord Lucan's nanny who was dead in the basement while St George's staff denounced Lady Lucan as a Nutter after she arrived at the hospital with a head wound claiming that nice husband of hers had tried to kill her. St George's staff Knew Lady Lucan, she'd been Under A Psychiatrist for ages, one that Lord Lucan hired after declaring his wife to be mad. See previous posts.
Elinor Lyon was survived by her two sons, two daughters and twelve grandchildren.
Among the admirers of Lyon's books was Walter de la Mare. More recently, Lyon was named by the US children's writer Lizzie K. Foley as a favourite author. However, Lyon as a children's novelist escaped almost all critical attention during her 30 year writing career. Lyon ceased to write in 1975, but reprints of several titles appeared in the 1980s and four were reissued from 2006 onwards by an Edinburgh publisher.
Now there's a surprise; the work of the daughter of the man who gave Tom King a hand-up enjoyed much attention once Tom and his mates achieved fame and when so many of those on good terms with them also achieved greatness. Tom et al owe their success to the residents of Sydenham Estate, it was the crimes against them that built the careers of the Gang.
I think that Lord King who utilised the Public Schools Appointment Bureau was also at Rugby when Lyon's successor took over as Headmaster.
When Brave Wendy's mate McGarry formerly of the Welsh National School of Medicine was busying himself Top Doctoring at Barnstaple as well as giving Expert Evidence on behalf of Brave Wendy, Tom King was Secretary of State for N Ireland, a post he occupied from 3 Sept 1985 until 24 July 1989, having previously been Secretary of State for Employment, 16 Oct 1983-2 Sept 1985, in which role Sir Peter Morrison was King's Minister of State.
King was elected for Bridgwater when Grocer Heath was Tory Leader and Reginald Maudling was Deputy Leader. Reggie was a crook and famously had to resign as the Grocer's Home Secretary in July 1972 when he was exposed in one crooked business scandal too many. At the time the Home Secretary was also responsible for N Ireland; Bloody Sunday occurred on Reggie's watch. The Kincora Boys' Home VIP paedophile ring was swinging when Reggie was Home Secretary and such efforts were made to conceal it that Reggie will have known. Kincora was linked to the Gang.
Dr Morris Fraser, the Belfast-based paedophile child psychiatrist, 'treated' boys at Kincora; after Fraser was convicted of sexual offences against a child, in the mid-1970s the GMC allowed him to continue practicing. Patrick Mayhew was the MDU barrister at the hearing. Harriet's dad John Harman was President of the MDU at the time. Fraser later relocated to the mainland and worked at UCL and Springfield/St George's Hospitals. During 1990 when I was working at St George's and in 1991 when I was a patient at Springfield and the Gang repeatedly took me to the High Court and demanded my imprisonment on the basis of their perjury, they were represented by the MDU. Paddy Mayhew was the Attorney-General who approved the cases against me. See eg. 'The Bitterest Pill'. The MDU and Mayhew knew that perjury was committed in every case.
Reggie Maudling was involved in exactly the same crooked businesses – those starring John Poulson and T. Dan Smith – directly connected to Gwynne and Dafydd's ring as so many others were, but Reggie was sacrificed.
When Harold Macmillan had kicked Gwynne and Dafydd's mates out of the Cabinet in the Night of the Long Knives in July 1962, Macmillan replaced Dafydd and Gwynne's mate Chancellor of the Exchequer Selwyn Lloyd with Reggie and the Gang never forgave Macmillan or Reggie. When Reggie was forced to resign from the Grocer's Cabinet, one of Reggie's sons was named in the scandal as well. Reggie went downhill, developed a serious alcohol problem for which the Doctors were wonderful but could do nothing and he died in the Royal Free Hospital in Hampstead (the Royal Free was run by the Gang's friends) on 14 Feb 1979, when Mr Thrope was awaiting trial.
Another son of Reggie's, William, who when younger trained as an accountant and was a member of the Hampstead and Highgate Labour Party, was found dead at the foot of a tower block in north London in May or June 1999, during the Waterhouse Inquiry. Suicide, after heroin took William to a life in the gutter. Not that anyone saw William jump and there was no suicide note. The death wasn't announced by the police for at least two weeks after William's body was found and identified. All in all the sort of end that so many have met who have spilt the Gang's pints.
Reggie's daughter Caroline Maudling was a journo in the 1960s, the 'travelling teenager' of the Daily Mail. In 1963 Caroline appeared on BBC TV's 'Jukebox Jury' next to John Lennon.
As well as companies in which Poulson and T. Dan Smith played major roles, Reginald Maudling's business interests extended as far as other people to whom I have paid less attention in earlier posts.
OTHERS HERE
J. Gwyn Morgan was the Assistant General Secretary of the Labour Party when Tom King won the by-election in Bridgy and was wheeled out to comment on King's triumph. Labour thought that they might have been in with a chance of winning the seat and the by-election receives a mention in Richard Crossman's Diary, re King not winning by as much as the Tories had hoped that he would.
J. Gwyn Morgan died in 2010 and 'The Guardian' published an obituary:
Gwyn Morgan, who has died aged 76,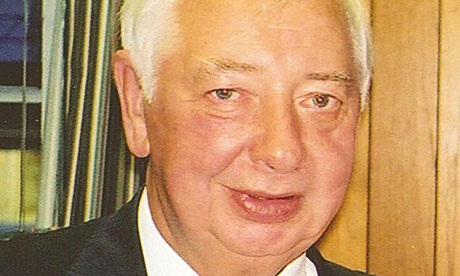 was one of the nearly men of politics. In 1969, he was appointed to the new post of assistant general secretary of the Labour party, to be groomed, it was thought, to succeed the elderly trade unionist Sir Harry Nicholas as the party's general secretary.
Nicholas had himself succeeded Sir Len Williams in a carefully timed piece of national executive skulduggery which had thwarted the prime minister Harold Wilson's desire to see his cabinet minister Tony Greenwood in the post. Wilson retreated to lick his wounds. The Labour party was defeated in the 1970 general election, and the party drifted leftward and away from Europe.
Ron Hayward, a regional organiser, in the meantime became the party's national agent. Hayward saw few enemies to the left and blunted the Labour organisation department's traditional hostility to infiltration by Trotskyite and other far-left groups. Nicholas did not retire as expected, after the 1970 election, but two years later. By then, Hayward was able to present himself as a more sceptical European and more tolerant of the growing power of the hard left.
Gwyn was still seen as the firm favourite for the post, but he did not get it, on the casting vote of the then chairman, Tony Benn, after the NEC vote had been left deadlocked in three successive ballots. There have been many explanations for this, but the truth is that the National Union of Railwaymen's delegate voted in secret against Gwyn, although mandated by his union to support him. The key factor, however, was that an increasingly paranoid Wilson saw Gwyn as a Roy Jenkins placeman, and exacted revenge on the right for the Greenwood defeat by backing Hayward.
Gwyn left the Labour employ a year later to become chef de cabinet to one of Britain's first European commissioners, George Thomson (later Lord Thomson of Monifieth), from 1973 until 1975.
During the next three decades, [Gwyn Morgan] filled a variety of diplomatic and administrative posts for the EU. That he did so with flair and distinction only underlined what was lost by his premature departure from British politics. He gave one last service to the latter by using his good cross-party relations with Douglas Hurd, David Steel
and others to help forge the alliance that successfully fought the "yes" campaign in the 1975 European referendum.
Born into mining stock in the Welsh valleys near Aberdare, Gwyn escaped the pits thanks to the longstanding commitment of such communities to advancement through education. He was a successful sportsman and student, gaining a first-class degree in classics from the University of Wales, Aberystwyth. At university, a career that seemed destined for another great Welsh valley tradition – teaching – was diverted into student politics.
He became president of the National Union of Students in 1960, then director-general of the International Student Conference, the organisation of student unions set up in opposition to the communist-dominated International Union of Students. The two organisations fought a surrogate cold war of their own in the late 1950s and early 60s. The NUS and ISC experience honed Gwyn's talents for both political organisation and diplomacy. His wide range of political contacts made him an ideal successor to David Ennals as international secretary of the Labour party in 1964.
David Ennals facilitated organised abuse in every public role that he held, was a mate of Dafydd and Gwynne as well as a leading light in the Anti-Apartheid Movement, as was his brother John.
.
He became a formidable presence on the bureau of the Socialist International, renewing acquaintances with old student allies such as Olaf Palme of Sweden.
Olaf was assassinated on 28 Feb 1986. After much confusion as to the reason and who the real killer was, info was supplied alleging that Olaf's murder was related to an international Class A dealing and paedophile/trafficking ring.
He quickly established good relations with both the German SPD and the French socialists. These contacts proved invaluable when Wilson and George Brown, Gwyn's close friend,
George Brown was a leading Labour politician during the corruption of the Wilson years and renowned as a drunk
launched their renewal of Britain's bid to join the European common market. Gwyn's political network was well employed in dealing with key foreign policy areas such as the Nigerian civil war, Rhodesia and South Africa.
A feature on BBC online today about Peter Hain's anti-apartheid activities re Rugby in the late 1960s/70s mentions that Gordon Brown accompanied Peter Hain in those protests. As one of the eccentric Top Docs who went to Liverpool University with Dafydd and rang Dafydd up to reminisce about all the fun that they'd had in the dorms together in 1955 observed when he was told that Dafydd was away for a few days: 'Oh Dear! Well he didn't tell ME…'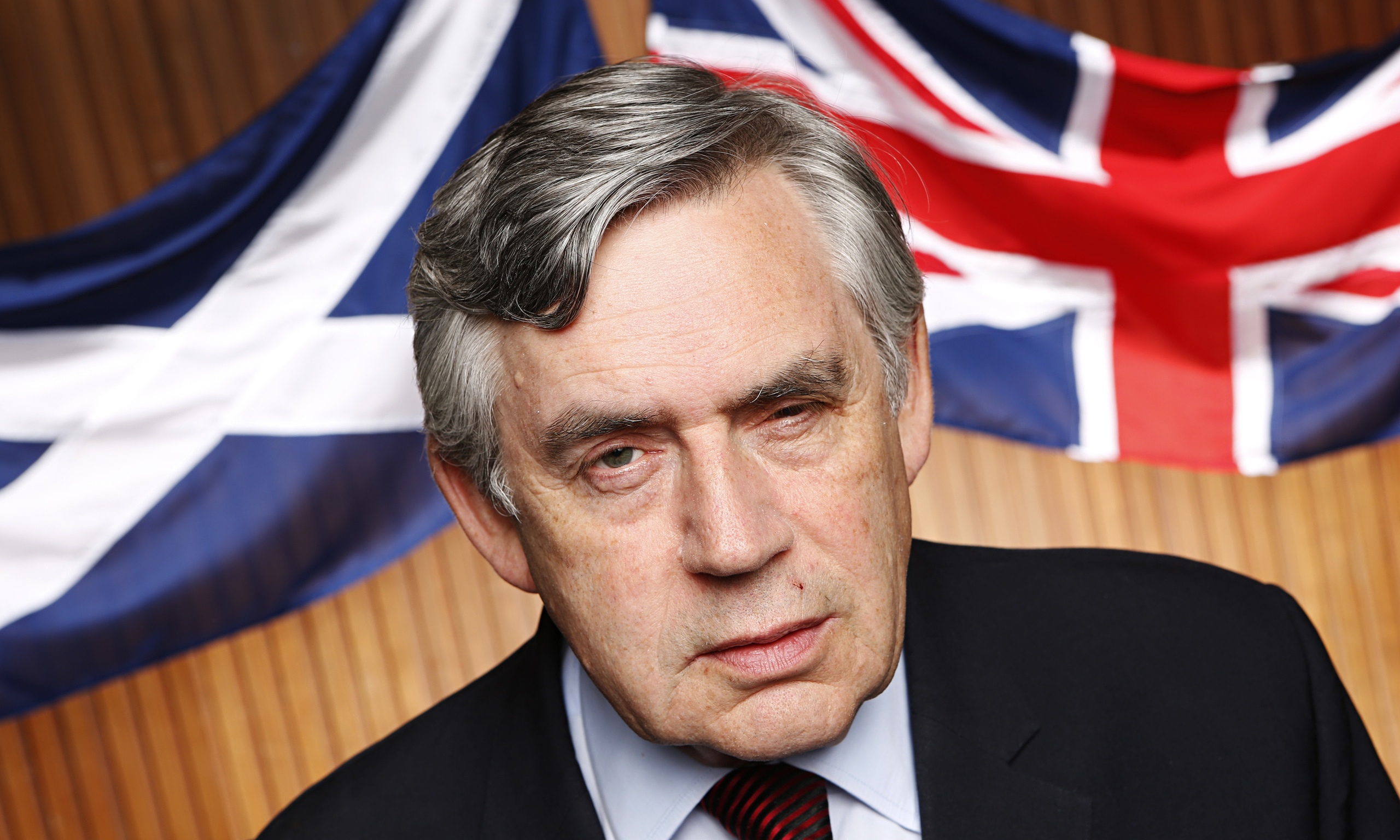 [Gwyn Morgan] also helped in maintaining the Wilson government's precarious balancing act over Vietnam.
Asa Briggs, Wilson's friend and VC of Sussex University, bore a lifelong grudge against Merfyn after Merfyn's role in an anti-Vietnam protest when Merfyn was a student at Sussex. See 'The Wizard War'.
He was appointed OBE in 1999.
Many will remember Gwyn as a gregarious and hospitable companion. He was an able diplomat and a politician of principle. He never wandered far from his desire for social change, his love of rugby, Glamorgan cricket and male voice choirs, and from those Welsh roots that in the past have contributed so much that is best about the Labour movement.
Gwyn married four times. He is survived by his wife Françoise, and four children, Sian, Gregory, Elliott and Joanna, from previous marriages.
• John Gwynfryn Morgan, politician, born 16 February 1934; died 21 April 2010.
I must provide a bit of detail at this point about Lord George Thomson for whom Gwyn Morgan was chef de cabinet; 'flies around a corrupt incestuous shithouse' doesn't do justice to George and his nearest and dearest.
George Morgan Thomson, Baron Thomson of Monifieth, (16 January 1921-3 October 2008), was educated at Grove Academy, Broughty Ferry, Dundee and served in the RAF from 1941–46. He was the Assistant Editor and then Editor of Forward, a socialist newspaper, from 1946–53. In 1952, Thomson was elected MP for Dundee East, where he served until his resignation in 1972. Thomson served in Wilson's Gov't as Minister of State, Foreign Office, October 1964-April 1966, then as Chancellor of the Duchy of Lancaster, 1966–67, and again from 1969–70, Secretary of State for Commonwealth Affairs, 1967–68, and Minister without Portfolio, 1968–69. Westminster paedophile George Thomas was Wilson's Welsh Secretary, 1968-70.
During his time as Commonwealth Secretary George Thomson had responsibility for trying to reach a settlement of the Southern Rhodesia (now Zimbabwe) question
and for implementing sanctions against the regime there. He was one of the first British Commissioners of the EC, 1973–76, with responsibility for regional policy.
In the 1980s, George Thomson joined the SDP.
Following the SDP's merger with the Liberal Party, Thomson became a Liberal Democrat and sat as a Liberal Democrat in the Lords.
As Chairman of the Independent Broadcasting Authority, 1981–88, Thomson oversaw the introduction of Channel 4 and TV-am. He was Chair of the Advertising Standards Authority, 1977–80; Chair of the Independent Broadcasting Authority (IBA) 1981–88; First Crown Estate Commissioner, 1977–80; and a Member of the Committee on Standards in Public Life, 1994-97. George Thomson was Deputy Chair of the Woolwich Building Society from 1988–91. He was a Lords' Member of the Parliamentary Broadcasting Unit since 1993. Thomson was a Fellow of the Royal Society of Edinburgh, the Royal Television Society and a Patron of Sustrans.
After moving with his wife, Grace, to Charing, Kent, Thomson held the position of Party President for Ashford Liberal Democrats, 1999–2006.
Thomson died on Friday 3 October 2008 at Tommy's, from a viral infection.
The Gang's memo?? 2008?? Betty W?
Thomson received an Honorary Doctorate from Heriot-Watt University in 1973.
Thomson was made a Privy Counsellor in 1966, was created a Life Peer on 23 March 1977 as Baron Thomson of Monifieth, when it was clear that Mr Thrope would very likely be charged with a serious offence before long.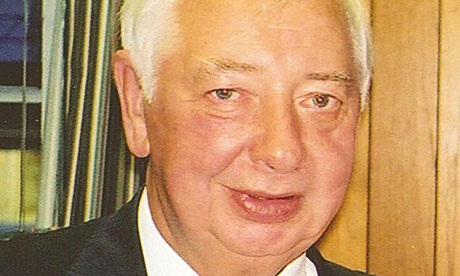 Thomson became a Knight of the Thistle in 1981, in the wake of Mr Thrope and as Mary Wynch began litigation…
Thomson's wife Lady Grace Thomson died in 2014; their two daughters are Ailsa and Caroline. Caroline's biography is a laugh for someone who's dad held influential roles in Harold Wilson's corrupt as they come Cabinet and on media regulation bodies.
Caroline Agnes Morgan Thomson, Lady Liddle (born 15 May 1954) is Chair of Oxfam. Caroline is a former BBC executive and was the BBC's Chief Operating Officer, 2006-12 and she stood in for Mark Thompson, the former Director General, when necessary. Caroline was one of the many who Didn't Know about Jimmy Savile.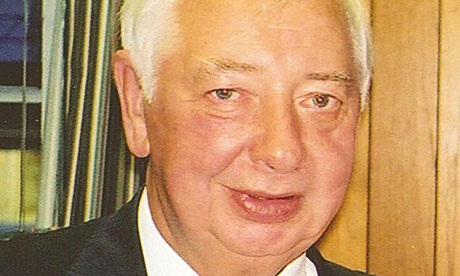 Lady Caroline was educated at Mary Datchelor Girls' School in Camberwell and graduated from York University. When Caroline was at York, the Conservative Society in particular was a little odd and a number of men in the society were subsequently named in connection with sex abuse scandals. Caroline was some four years younger than Harriet Harman and Christine Hamilton who also went to York when that rather worrying Conservative Society was busy at the University.
Caroline joined the BBC as a journalist trainee in 1975, ultimately becoming a producer on Analysis on Radio 4 and later Panorama.
Ronnie Waterhouse's closest friend Robin Day was the main man on Panorama for years. Sunny Jim's daughter Margaret Jay – who's first husband Peter was a good friend of Dr Death – worked on Panorama. Gwynne and Dafydd's mate Elwyn Parry-Jones who grew up in Denbighshire worked on 'Panorama' during the 1980s.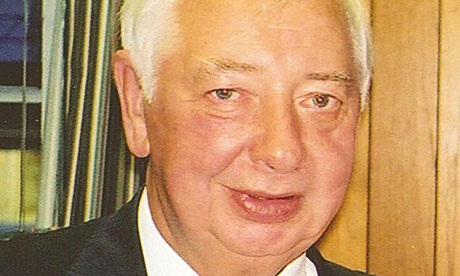 In 1982, Caroline was appointed PA to Woy, at the time SDP Leader. Well her dad was in the SDP and in the Lords…
Caroline spent over a decade at Channel 4 from 1984,
initially as a Commissioning Editor and as Head of Corporate Affairs from 1990. 
Caroline rejoined the BBC in 1996 as Deputy Director of the World Service and became the Corporation's Director of Policy and Legal Affairs in July 2000, a job description later expanded to include Strategy, before being promoted to Chief Operating Officer in 2006.
David Hendy, who grew up in Bridgwater and went to school and Bridgwater College with Brown and me joined the BBC after Grade declared war on my friend who also went to school with David Hendy, Brown and me. David's mum was friends with my friend's mum and they used to exchange info re the children. The husband of my friend who was targeted by Grade et al was forced out of his job at the BBC in the 1990s after refusing to accept a bribe, or more likely for being friends with me. He was working with William Miller, Jonathan's son, at the BBC. David Hendy became the producer  of 'The World Tonight' on Radio 4. David subsequently bagged an academic post at Westminster University when he was working for the BBC and is now a Prof at Sussex University. I see from David's Sussex webpage that he still does a lot of work for the BBC.
I did know that David's spectacular rise at the BBC paralleled the problems that I had with the Gang and the pursuit of my two close friends who worked in the media by Michael Grade et al, but I have no idea whether David has done the sort of sordid deals that other people who knew us have. From what I remember, David joined the BBC in 1987 after beginning a PhD at Oxford but hating it there, so he withdrew. David went to the same shite school in Bridgwater as I did but he wasn't targeted by the teachers in the way that some of us were, they liked David, but more importantly for the bigoted old gits in Bridgwater schools, they liked his parents. David was always very friendly and pleasant to everyone but he must have noticed how bloody awful some things were…
Things may have been outside of David's control though, because I remember him doing very well at St Andrew's University in his first degree and St Andrew's sent a letter of congratulation to our shite old school in Bridgwater. David was horrified because he had not been consulted and was concerned that it might be thought that he had asked St Andrew's to do this. I am happy to reassure readers that David Hendy's academic success was sod all to do with Chilton Trinity School, they taught none of us anything. David Hendy was like Brown, he was very able and managed to do very well in spite of a brutal mediocre school who were desperate to cash in on his success as a former pupil but contributed nothing to that success.
So I have no idea whether David actively toadied to the likes of Botney and Grade, or whether he is just better at tolerating their fuckwittery than the rest of us are, such as was on display when Chairman of the BBC Governors Michael Grade insulted Merfyn and Welsh people per se in 2004 or 2005 at a 'meet the guvnors' event in Cardiff.
Jack McConnell who was at Stirling University with my two friends who fell foul of Michael Grade, Botney etc and who definitely did benefit from doing sordid deals with various people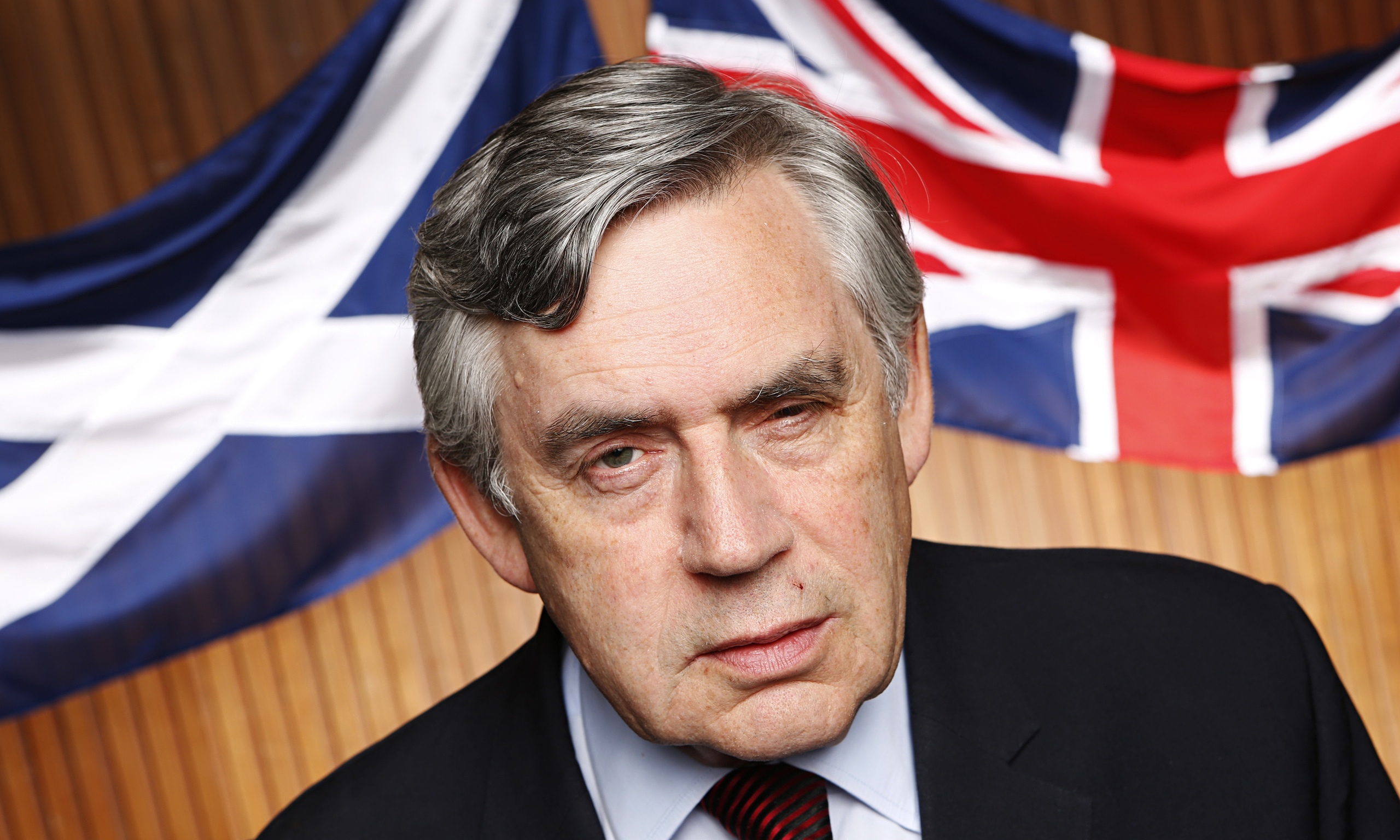 over Lord Jack's knowledge of the Gang, my friends and I, is a close friend of 'Newsnight' star Kirsty Wark. See previous posts.
In 2011 Lady Caroline was paid £385,000 by the BBC. The Commons Public Accounts Committee suggested that her £670,000 redundancy pay-off was effectively paid to "compensate" Caroline for missing out on the job of Director-General, which obviously was hers by right. I can only offer Caroline my sympathy that she has not received other huge sums of money in compensation for not being appointed PM, President of the World etc.
In October 2013 Caroline became Executive Director of the English National Ballet. Since November 2012, she has been Chair of Digital UK. Lady Caroline is also Chair of Tomorrow's People Trust's Ambassadors group and Trustee to a number of charities including the National Gallery.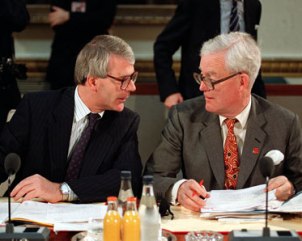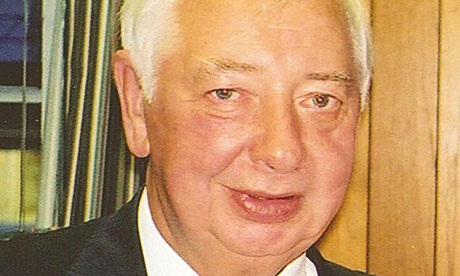 Caroline Thomson is married to the Labour peer Roger Liddle, an advisor to Miranda while Miranda was PM. One of Miranda's key men at No 10 was Matthew Taylor, son of sociologist Laurie, who was a Prof at York University. Laurie taught bank robber John McVicar when Laurie undertook his groundbreaking programme of sociology lessons for lifers. John McVicar wrote for the 'New Statesman' in the 1980s, as did Laurie's ex-wife, Matthew's mum Anna Coote. Laurie and Anna know a great deal about Gwynne, Dafydd and their mates. John McVicar and Anna wrote for 'New Statesman' in the 1980s when Eric Hobsbawm et al were starring in 'New Statesman' being all Radical but never mentioning a word about north Wales…
Anna was a leading light in NCCL when NCCL were affiliated to PIE in the 1970s; others in NCCL at the same time as Anna were Harriet, Little Nell's husband Henry Hodge, Paul Boateng, Patsy Hewitt… At one point, NCCL turned up at a MIND conference and held a session on paedophiles' rights. Tessa Jowell was Deputy Director of MIND at the time, in the midst of the rest of Gwynne and Dafydd's mates who ran that organisation.
Miranda's other big man at No 10 was John McTernan, who's brother-in-law stole my computer from Bangor University just after I finished my PhD. I didn't realise at the time that Miranda's mates had been hacking in anyway and that back in the 1990s, the builders who had stolen my documents from my house in Rachub had flogged them to Miranda's former boss and Cherie's senior colleague George Carman, as well as the Digger.
Caroline's husband:
Roger John Liddle, Baron Liddle (born 14 June 1947) was Special Adviser on European matters to Miranda and the President of the European Commission, José Manuel Barroso. Roger worked with Peter Mandelson on books outlining the political philosophy of the Labour Party under Miranda's leadership.
Roger Liddle was the son of John Thwaites Liddle and Elizabeth. Liddle attended Queen's College, Oxford, as did Ioan Bowen Rees, Chief Exec of Gwynedd County Council; they both studied history at Queen's College. Ron Evans, the bent Gwynedd County Council solicitor, was Ioan's man to go to re ensuring that the molesters and criminals of north Wales were never prosecuted but their targets were instead. Ron forged documents, rigged the Court cases, instructed the perjurers and co-ordinated with bent lawyers and officials in other organisations.
Ron's daughter grew up in Llandegfan, the village in which I used to live (as well as D.G.E. Wood and numerous NHS and Bangor University staff), went to Ysgol David Hughes with Aled Jones of Walking In The Air fame, became a lawyer (like her dad!), joined the Civil Service and by 2010 was Mandy's right hand aide! See 'Our Man In Llandegfan'.
In 1983 Roger Liddle married Caroline Of Father and Friends in High Places.
After completing his degrees, Liddle worked in research for the Oxford School of Social and Administrative Studies and as an industrial relations Officer for The Electricity Council. In 1976 Roger moved into politics by becoming Special Adviser to Bill Rodgers, Secretary of State for Transport, later a member of the Gang Of Four.
After working for Shirl's mate Bill, Roger Liddle became Director of the Public Policy Centre, 'undertaking pioneering work on the regulation of privatised industries, exchange rate policy, regional policy, science and industrial policy, employee participation and wage determination, and choice in public services'.
Liddle then moved into the private sector for 10 years, taking the position of Managing Director of Prima Europe Ltd, a consultancy company advising on the impact of politics and regulation at European and national level.
In 1997, when Ronnie Waterhouse began his Inquiry, Roger became Special Adviser on European matters to Miranda. During his seven years in this role, Roger developed a new UK policy of positive engagement in the European Union, 'focusing on economic reform, innovation and enterprise promotion; modernisation of Welfare States and labour market reform; as well as institutional issues, the Constitutional Treaty, and European Defence'. Roger was also responsible 'for liaison with business and trade unions on European issues'.
Advancing from No 10, Roger became a Member of the Cabinet of the European Union Trade Commissioner, where he advised on EU policy and their impact on the UK. In 2006 Roger became Principal Adviser to Jose Barroso, the President of the European Commission,
'leading a team of economists and experts in the Bureau of European Policy Advisers advising on the economic and social challenges facing Europe'.
Liddle is currently Chairman of Policy Network, an international think tank bringing together academics, policymakers and politicians across the progressive centre left, responsible for major projects on the future of the European Social Model, public service reform, immigration and integration, flexicurity, and globalisation and social justice. That's going well then isn't it Roger.
Roger a visiting fellow of the European Institute at the LSE.
Roger is also former Chair of the UK Gov'ts New Industry, New Jobs, Universities and Skills advisory panel, which reported directly to Mandy, then Secretary of State for Business, Innovation and Skills. Ron's daughter was Mandy's chief aide at the time.
Roger Liddle was created a life peer on 19 June 2010 as Baron Liddle and was introduced in the Lords on 21 June 2010, supported by Mandy and Lord Rodgers of Quarry Bank aka Bill of the Gang of Four, who was mates with Bill's father-in-law three decades previously. But then Roger himself was a founding member of the SDP in 1981 and a member of the SDP's National Committee until 1986. Roger had a go at entering the Commons as an SDP member on a number of occasions, including at the 1986 Fulham by-election. LOOK UP
Liddle has also served as a Councillor on Oxford City Council and Lambeth London Borough Council. Mandy too served as a Councillor for Lambeth. An organised abuse ring existed in Lambeth for decades linked to the Gang. In 2013 Roger Liddle was elected to Cumbria County Council.
Liddle has written four books, all on European issues, most recently Global Europe, Social Europe with Anthony Giddens and Patrick Diamond. Miranda's favourite sociologist Giddens found that his career received a substantial boost after he worked as a social psychology lecturer at Leicester University when that institution was pushing all boats out to facilitate the ring in Leicestershire that exchanged staff with the Gang in north Wales, although Greville Janner knew nothing about any of it and Greville had no idea that Gwynne and Dafydd were mates with Top Docs in Leicester. Keith Vaz Knew Nuzzing as well.
Together with Mandy, in 1996 Liddle wrote The Blair Revolution: Can New Labour Deliver? Er no Roger it couldn't and it didn't, but the fuckwittery didn't do you or your wife any harm.
Roger became a member of the Labour Party associated Progress strategy board in 2017.
Roger's publications include:
Challenging the politics of evasion: the only way to renew European social democracy, Policy Network, December 2009.
After the crisis: A new socio-economic settlement for the EU, Policy Network, November 2009
Creating a culture of fairness: a progressive response to income inequality in Britain, January 2008. 
Roger is a Pro-Chancellor of Lancaster University, DATES. Here he is with his mates from Lancaster University:

Dusty Bin and the attack on Merfyn n Bangor from the Lancaster cohort – HERE
The family of John Pardoe, Liberal MP for north Cornwall, 1966-79 and a pal of Mr Thrope, lived in the Bridgwater area. John Pardoe was a Leadership contender for the Liberal Party after Mr Thrope resigned, but David Steel won. Mr Thrope and David Steel supported AAM.
Pardoe then served as Deputy Liberal Leader, July 1976-May 1979, when Steel was Leader.
John Pardoe had been at Cambridge in the 1950s and was in Footlights with Jonathan Miller, an ally of the Gang who was always happy to help them out.
The Pardoe family solicitors business was based in Bridgwater and there was at least one solicitor in Pardoe, David and Shaw in the 1980s who was forging signatures on legal documents without the knowledge of the person who's signature had been forged and John Pardoe's brother Robin was a farmer who lived just down the lane from my family's house. As well as being at war with Edward du Cann, my Tory activist grandfather was at war with the Pardoes and indeed the Liberal Party per se because of their alleged 'immorality'.
John Pardoe was the only Liberal MP to have stood by Mr Thrope after he was charged with conspiracy to murder Norman Scott and Pardoe is now viewed as having made a substantial error of judgement with regard to that. If John Pardoe was just being a good mate in a time of crisis it would have been admirable, but he actively campaigned for Jeremy to remain as an MP, although the Liberal Party had been aware for years that Mr Thrope had done a great many things that he should not have done and I'm not including casual gay liaisons in that category.
John Pardoe disgraced himself again in 1987 when he was campaign manager for the SDP-Liberal Alliance.
At the time the Gang were in the throes of their Cunning Plan to fit me up for a serious crime and have me imprisoned shortly after the June 1987 General Election, but the Cunning Plan unravelled when Sgt Morgan at Bangor Police Station and Jeff Crowther, a Nursing Officer at Ysbyty Gwynedd, didn't tell as many lies as they should have. Some of those in the midst of the Cunning Plan were personally close to Dr Death.
John Pardoe's predecessor for North Cornwall, 1950-66, was the Tory Sir James Scott-Hopkins.
Sir James didn't die a political death when John Pardoe won North Cornwall, Sir James remerged as the MP for West Derbyshire in 1967 and retained that seat until 1979. There was a ring in Derbyshire that exchanged staff with the Gang in north Wales. Sir James was a man for having fingers in a number of PIEs and also doubled up as the MEP for Hereford and Worcester, 1973-94. Not only was there a ring in operation there as well, but Peter Walker, du Cann's mate and the Gang's man in the City, 
served as the Tory MP for Worcester, DATES. Scott-Hopkins was knighted in 1981, after the dust following Mr Thrope's appearance at the Old Bailey had begun to settle and just as Mary Wynch found her way to Birnberg's solicitors and began her history-making case against Dafydd et al.
Sir James's predecessor in North Cornwall, 1950-59, was the Tory Sir Harold Roper. Sir Harold was a graduate of Sidney Sussex College. As was Merfyn Jones's old enemy Asa Briggs, Asa who was mates with Harold Wilson and colluded with the Gang's Brighton end of operations, Brighton and London being the location of the brothels owned by John Allen to where boys in the north Wales children's homes were trafficked.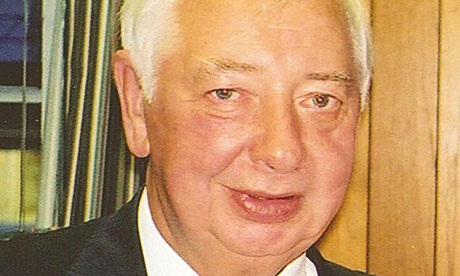 Dr Death was another Sidney Sussex alumnus. Harold Roper won the North Cornwall seat from Dingle Foot (then still a Liberal), brother of Michael. Dingle and his family will be discussed later in this post.
During WW II, Roper was the General Manager of the Burmah Oil Company in Rangoon and is considered to have played a crucial role in WW II via his control of oil.
The Crowhursts lived in Wembdon which, along with Durleigh, was the posh bit of Bridgwater. Wembdon was a popular habitat for teachers and I knew of at least three Bridgwater teachers who colluded with the abuse of children who were attending the establishments at which they taught who lived in Wembdon. I don't think that Rachel went to school in Bridgwater herself until she arrived at Bridgwater College to study for A levels; the Bridgwater schools were so bad that a lot of Wembdon and Durleigh parents sent their kids elsewhere until A levels or indeed university, although Wembdon and Durleigh were hardly Knightsbridge.
I have no idea whether Rachel, as a teenager, knew that there was an abuse ring in Bridgwater linked with the Gang in north Wales, but after I began this blog I was told that Rachel and her brother Simon somehow benefited from knowing about what happened to me in north Wales and that the resurgence of interest in the Donald Crowhurst Story very recently was the work of the dear old Gang… See previous posts.
So I have been considering that Donald Crowhurst may have died under rather different circumstances and for different reasons than the world was told.
Rachel Crowhurst's med student friend Clare Cheek stopped communicating with me soon after she qualified in 1987 and I've been told that it was made clear to her that if she wanted that career in surgery she'd better shut up about my experiences in north Wales. Clare Cheek is now a consultant surgeon in Herefordshire, so perhaps Clare would like to tell us what she knows about Wendy's Expert Witness who knew Tony Francis. The Expert Witness McGarry was teaching Tony Francis and his peers when the Windbag was leading the Students' Union at Cardiff.
John McGarry's old muckers from the Welsh National School of Medicine might like to come clean about the death of Philip Jones after all these years as well. Philip was a medical student at Cardiff who died after taking part in a clinical trial. Cardiff denied that Philip's death was anything to do with the trial, but Philip actually died in a London hospital who were of the opinion that Philip's death had a great deal to do with that trial. Cardiff's denials and reassurances received media coverage, the opinion of the London hospital did not. The medical students in Cardiff received the message loud and clear: you lot can bloody well die here and you will still have no voice…
James McGarry, Consultant Obstetrician and Gynaecologist and Honorary Clinical Lecturer, Glasgow University, also gave Expert Evidence in Defence of Wendy. I presume that James is a relative of John; there is little info about James McGarry online except for a notice that appeared in the 'Herald Scotland' announcing that James had died on 21 Jan 2017. That was four months after I began this blog.
In Aug 1992 James McGarry was involved in a discussion with colleagues in the BMJ regarding the teaching of vaginal examinations to medical students. Some of the views expressed were quite worrying, but not the views of McGarry. James McGarry and some others were concerned that highly inappropriate practices were taking place under the umbrella of teaching medical students to perform such examinations and McGarry and others suggested that such were the complaints from livid patients that such teaching should only be conducted by gynaecologists or GPs. An angry response from two female Top Docs in particular was elicited who stated that such examinations were no different to any other patient examinations and that these examinations should be a part of everyday life in A&E Depts no less. The two female Top Docs who proposed this were Linda Cardozo, now a Prof at King's College Hospital, London
(Cardozo also has a lucrative Harley Street practice), who was friends with Geoffrey Chamberlain and Malcolm Pearce at St George's when they were running the abuse ring there and perpetrating research fraud, and Susan Bewley. Susan Bewley is the daughter of one of Dafydd's old mates who was a big name at the Maudsley and helped keep Dafydd and Gwynne out of trouble… Susan's mum was also a Top Doc pal of Gwynne and Dafydd… See previous posts.
There is absolutely nothing that this lot will not do and then seek to justify in the wake of the deluge of complaints…
Barnstaple is located in what was the Parliamentary constituency of North Devon, held by the memorable John Jeremy Thorpe aka Jeremy Thorpe (29 April 1929-4 December 2014). Mr Thrope served as the MP for North Devon, 1959-79 and as Leader of the Liberal Party, 1967-76.
Mr Thrope was born in South Kensington. His father was John Henry Thorpe, a lawyer and politician who was the Conservative MP for Manchester Rusholme, 1919-23. Manchester Rusholme was a constituency that contained many of the affluent professional classes of Manchester who from the 1950s were providing protection for Gwynne and Dafydd. John Henry Thorpe was succeeded as the constituency MP by Liberal Charles Masterman, the brother of Howard Masterman, Bishop of Plymouth, 1923-33. Charles Masterman had previously served as the MP for East End constituencies. Masterman was an enthusiastic social reformer who's death in 1927 was the result of drug and alcohol abuse.
I think that Charles Masterman may have been a relative of Crispin Masterman, the barrister retained by Gwynedd Health Authority in May 1990 to act for them in the High Court in Cardiff against me. Crispin knew that the Gang had perjured themselves and he read much documentation demonstrating serious criminality on their part, which he simply ignored. Crispin subsequently became a judge specialising in child abuse. Crispin decided to retire early some five years ago after Operation Pallial succeeded in convicting a few of the bottom feeders who worked in children's homes in north Wales when Crispin acted against me in Cardiff High Court. See eg. 'Some Big Legal Names Enter The Arena' and 'The Bitterest Pill'.
Charles Masterman was succeeded as the MP for Manchester Rusholme by the Tory Lord Frank Boyd Merriman, 1924-33, a member of Inner Temple and Solicitor General for Stanley Baldwin and Ramsay MacDonald's Gov'ts.
Manchester Rusholme disappeared in 1950 in a boundary reorganisation but the theme remained the same re MPs who represented the replacement constituencies ie. MPs who were often lawyers on the Northern Circuit who had a cosy relationship with those protecting Dafydd and Gwynne and the linked ring in Manchester. From 1950 until 1983 the Tory MP for Denbigh was Geraint Morgan QC who worked as a barrister in Chambers in Manchester on the Northern Circuit. Morgan took little interest in Parliamentary work but the residents of Denbigh, who virtually all worked at the North Wales Hospital, loved him. Geraint never asked any questions of Gwynne and Dafydd no matter how big the outrage. See eg. 'Cymro 007'.
Labour MPs who represented seats that replaced Manchester Rusholme included Lord Leslie Lever and his brother Lord Harold Lever, who were both lawyers, as were their many siblings, the Levers being a big Manchester legal family. See previous posts. Harold Lever was appointed a Governor of the LSE in 1971 and had numerous links to the Gang. Harold Lever died in Aug 1995, the month after Peter Morrison was found dead. Sir James Scott-Hopkins also participated in the 1995 rush to die as discussed in previous posts, he pegged out on 11 March 1995.
Gerald Kaufperson, friend of Harold Wilson and the Gang, was another Labour MP who represented Manchester constituencies from 1970 until 2017 that replaced Manchester Rusholme. See previous posts.
Mr Thrope's mother, Ursula Norton-Griffiths (1903–92), was the daughter of another Tory MP, 'Empire Jack', Sir John Norton-Griffiths,
The more recent Thrope ancestors were Irish, stemming from the elder of two brothers who were, according to family tradition, soldiers under Cromwell during the combat in Ireland. Both were rewarded with land; the descendants of the younger brother – from County Carlow – prospered in Dublin as High Sheriffs and Lord Mayors, but those of the elder lost their land and became tenant farmers and tradesmen.
Mr Thrope's great-grandfather, William Thorpe, was a Dublin policeman who, having been a labourer, joined the police as a constable and rose to the rank of superintendent. One of his many sons, John Thorpe, became an Anglican priest and served as Archdeacon of Macclesfield, 1922-32. The Archdeacon's marriage to a daughter of the prosperous Anglo-Irish Aylmer family brought considerable wealth to the Thorpes, as did his elder daughter Olive's marriage into the influential Christie-Miller family of Cheshire. Both John Henry and Jeremy Thrope would benefit from this connection, as the Christie-Millers paid the costs of their education.
Cheshire was the site of longstanding organised abuse that spilt over from north Wales before Gwynne and Dafydd turned it into an industry.
Jeremy Thrope was his parents' third child. His upbringing was privileged and under the care of nannies and nursemaids until, in 1935, he began attending Wagner's day school in Queen's Gate. Mr Thrope became a proficient violinist. Although Mr Thrope's father John Henry Thorpe was no longer in Parliament, he had maintained many of his political contacts and friendships and leading politicians were regularly entertained at the Thorpe home.
Among the strongest of these friendships was that with the Lloyd George family. Ursula Thorpe was a close friend of David Lloyd George's daughter, Megan, who became Jeremy's godmother. Megan served as the Liberal MP for Anglesey, May 1929-Oct 1951 and then as the Labour MP for Carmarthen, Feb 1957-May 1966. Megan lived at the Lloyd George stronghold of Cricieth, some of her friends were friends with Gwynne and Dafydd and the Lloyd George family of politicians and lawyers dominated north Wales and still exert a considerable influence in the region.
Mr Thrope's godmother Megan was the mistress of the Labour MP and later peer Philip Noel-Baker. Megan became Noel-Baker's mistress in 1936 and the official story is that the relationship ended when Noel-Baker's wife Irene died in 1956. I doubt that is the whole story but I haven't had time to read more about the arrangement. Irene Noel-Baker was a friend of Virginia Woolf and thus networked into Sir Clough William-Ellis, Bertrand Russell and the Bloomsbury Group.
Baker was born in Brondesbury Park, London, one of the seven children of the Canadian-born Quaker, Joseph Allen Baker and the Scottish-born Elizabeth Balmer Moscrip. Philip's father had moved to England in 1876 to establish a manufacturing business and served as a Progressive member of the London County Council, 1895-1906 and as the Liberal MP for East Finsbury, 1905-08.
Philip Baker was educated at Ackworth School, Bootham School, and then in the US at the Quaker-associated Haverford College in Pennsylvania. He studied at King's College, Cambridge, 1908-12, serving as President of the Cambridge Union Society in 1912 and President of the Cambridge University Athletic Club, 1910-12. Philip competed in the Olympic Games as a middle distance runner, both before and after WW I, representing Great Britain at the 1912 Olympic Games in Stockholm and at the 1920 Summer Olympics in Antwerp, Baker was captain of the British track team and carried the team's flag. Baker was captain again at the 1924 Summer Olympics in Paris, but did not compete. Philip Noel-Baker may well have known General Lonsdale, the Browns' neighbour in Stogursey who had been an Olympic pentathlon champ and had played substantial roles in Olympic committees for years from the 1930s CHECK onwards, as discussed in 'He Was Looking At I In A Funny Way…'. General Lonsdale knew much about the organised abuse and criminality on his doorstep but his loyalty to establishment figures involved took priority.
Baker's early career was as an academic. In 1914 he was appointed Vice-Principal of Ruskin College, Oxford and in 1915 was elected a fellow at King's College, Cambridge. My post 'A Study In Tyranny' discusses the substantial problem at Ruskin in terms of tutors and former students facilitating organised abuse; Matt Arnold and Peter Howarth, two of the key figures in the paedophile ring in north Wales, met at Ruskin when Arnold was Howarth's tutor. They worked together at Axwell Park Approved School in Gateshead on the site of the ring in the North East before relocating to Bryn Estyn in 1973. Prior to Gateshead, Arnold and Howarth worked at an establishment for boys in Richmond, Yorkshire.
Ruskin educated scores of people who subsequently became big names in the Labour Party or trade union movement – Prescott was President of the Ruskin Students' Union when Arnold and Howarth were at Ruskin – and the Ruskin tutorials/workshops attracted as tutors a lot of well-known academics on the left eg. Raphael Samuel. The Ruskin crowd overlapped with the New Left/Marxist historians and sociologists crowd of Hobsbawm, Uncle Harry's brother-in-law etc. When I was in my 20s and reading 'New Statesman' and other such publications that used as their selling point the delights that could be read within penned by Raphael Samuel, Hobsbawm, Ralph Miliband, E.P. Thompson etc, I used to wonder why not a word was ever said about psych hospitals or north Wales even when articles close to such matters discussed state oppression. It really puzzled Brown and me, because what we were finding out about was just so much worse than what was causing outrage on the left of the Labour Party at the time. 
During WW I, Philip Baker organised and led the Friends' Ambulance Unit attached to the fighting front in France (1914–1915), and was then, as a conscientious objector from 1916, adjutant of the First British Ambulance Unit for Italy, in association with the British Red Cross (1915–1918).
After World War I, Noel-Baker was closely involved in the formation of the League of Nations, serving as assistant to Lord Robert Cecil, then assistant to Sir Eric Drummond, the league's first Secretary-General. Noel-Baker became the first Sir Ernest Cassel Professor of International Relations at the University of London, 1924-29 and a lecturer at Yale University, 1933-34. Noel-Baker was elected as the Labour MP for Coventry in 1929, and served as PPS to the Foreign Secretary Arthur Henderson. Noel-Baker lost his seat in 1931, but remained Henderson's assistant while Henderson was President of the World Disarmament Conference in Geneva, 1932-33. Noel-Baker stood for Parliament again in Coventry in 1935, unsuccessfully, but won the Derby by-election in July 1936 after the sitting Derby MP J. H. Thomas resigned. When that constituency was split in 1950, Noel-Baker transferred to Derby South.
Noel-Baker became a member of the Labour Party's NEC in 1937. On 21 June 1938, Noel-Baker, as MP for Derby, in the run up to World War II, spoke at the House of Commons against aerial bombing of German cities based on moral grounds. In the Coalition Gov't during the World War II Noel-Baker was a Parliamentary Secretary at the Ministry of War Transport from February 1942 and served as Minister of State for Foreign Affairs after Labour gained power following the 1945 General Election, but had a poor relationship with the Foreign Secretary, Ernest Bevin. Noel-Baker moved to become Secretary of State for Air in October 1946, and then became Secretary of State for Commonwealth Relations in 1947 and joined the Cabinet.
Noel-Baker was the Minister responsible for organising the 1948 Olympic Games in London. He moved to the Ministry of Fuel and Power in 1950. In the mid-1940s, Noel-Baker served on the British delegation to what became the United Nations, helping to draft its charter and other rules for operation as a British delegate. He served as Chairman of the Labour Party, 1946–47, but lost his place on the NEC in 1948, his place being taken by Michael Foot.
Noel-Baker was an opponent of left-wing Bevanite policies in the 1950s, and an advocate of multilateral nuclear disarmament, rather than a policy of unilateral disarmament and he received the Nobel Peace Prize in 1959. In 1979, with Fenner Brockway, Noel-Baker co-founded the World Disarmament Campaign, serving as co-Chair until he died in 1982 was an active supporter of disarmament into the 1980s. Noel-Baker stood down as the MP for Derby South at the 1970 General Election, at which he was succeeded by Walter Johnson. Sir James Scott-Hopkins,
formerly of North Cornwall, was knocking around Derby by then.
I'm keen on political history but for readers who don't share my enthusiasm, I reiterate that it matters. Megan's long-time partner Philip Noel-Baker is a name from the past now but when he was alive and influential, he was to be found where big rings developed that were in business with Gwynne and Dafydd: Coventry and Derby. Richard Crossman served as a Coventry MP, 1945-70, which in itself was very much a matter of 
There was organised abuse in the Coventry and Derby areas when Baker was younger but business boomed in the 1970s and 80s precisely because the association with people like Megan and Philip Noel-Baker made facilitators of such crime untouchable. Likewise the various organisations that Noel-Baker was central to eg. the League of Nations. These organisations have a romantic ring (so to speak) to them now and no doubt there were many genuine people involved trying to achieve something worthwhile, but time and again I come across people who were personal friends of Gwynne and Dafydd who were busy in such organisations or who had friends and family who were and some of them knew the seriousness and extent of the crime.
Being a Quaker or in the Peace Pledge Union is a great cover if one's friends are running a murderous paedophile ring, one is really not going to fall under suspicion and the standard response to accusations of wrongdoing 
is understandable in a way because one really just would not expect it of a Quaker…
Dr Paul Nickson, a GP in Bethesda who was on board with the Gang, was a Quaker, as was Owain Gethin Evans, Lucille's Deputy and henchman at Gwynedd Social Services. People Who Knew would be astounded and comments like 'He's a bloody Quaker, can you believe it?' would be made. Even I was surprised when Dafydd made an appearance in a Quaker's publication some years ago.
See previous posts for info on Quakers and the Gang.
Whenever I was told about Maurice Macmillan swindling my father and loads of other farmers (see eg. The Milk Street and Other Mafias'), it was always stressed that this was deeply shocking because this was the Prime Minister's son, how could it have been allowed? That was the standard view certainly at the time; people didn't expect PM's sons to be permitted to brazen out a scandal of that scale and be allowed to return to Gov't, as Maurice Macmillan did when the Grocer found himself PM in 1970. It isn't surprising that most of the electorate would have had difficulty believing in the existence of a Westminster Paedophile Ring because so much of the appalling conduct of those in Gov't, Whitehall and the Royal Family was totally suppressed, not a word emerged of how vast the collusion with scandals like Profumo was.
Noel-Baker's life peerage was announced in Brenda's 1977 Silver Jubilee and Birthday Honours and he was raised to the peerage on 22 July 1977, as Baron Noel-Baker.
In May 1976 Mr Thrope had resigned the Liberal Party leadership after Andrew Newton, the alleged hitman, had been jailed; Newton was jailed for firearms offences rather than attempted murder, but at Newton's Exeter Crown Court trial, Norman Scott had given evidence and told his story. 'The Times' – the Editor at the time was Mystic Mogg CHECK – had responded with a piece headed 'The Lies Of Norman Scott', a PR piece for Mr Thrope. Those we know and love knew that trouble was coming their way no matter how many insults were thrown at Norman, because Andrew Newton would soon be released from prison and could be relied upon to flog his story. Sunny Jim's ailing Gov't only survived by forming the Lib-Lab Pact in the spring of 1977, negotiated by Mr Thrope.
So the fancyman of Mr Thrope's godmother bagged a peerage when Mr Thrope and his mates knew that it was only a matter of time before criminal charges against Mr Thrope might be discussed.
Noel-Baker was President of the International Council of Sport Science and Physical Education from 1960 to 1976. Bear in mind the allegations and convictions now emerging from the world of young people's sport, some of them dating back to the 1970s. As discussed in previous posts, our school in Bridgwater, Chilton Trinity School, had a PE teacher who was a 'pervert', as did many other schools. Always dismissed as kids 'being silly'; in some cases it was, but when a teacher is known as Fiddler and no boy will go into the changing rooms if Fiddler is in there, it is probably not a good idea for the school to go into complete denial.
Philip and Irene Noel-Baker's only son, Francis Noel-Baker, also became a Labour MP and served together with his father in the Commons. Francis Edward Noel-Baker (7 January 1920-25 September 2009) was educated at Westminster School and King's College, Cambridge and served with the Intelligence Corps in World War II. Francis Noel-Baker was first elected to the Commons in the Labour landslide at the 1945 General Election as MP for Brentford and Chiswick. He lost his seat at the 1950 General Election, but returned to Parliament at the 1955 General Election as MP for Swindon, resigning his seat in March 1969.
In 1971 Francis left the Labour Party in response to the Party's opposition to British membership of the EEC. He later joined the SDP
and later still the Conservative Party.
In 1948, Francis acted covertly for the British Gov't inside Francoist Spain. His report "Spanish Summary" with a foreword written by Lady Megan Lloyd George MP had a huge influence in shaming the British and other gov'ts and worldwide organisations for allowing Francoist Spain to remain undefeated in Europe until the Spanish transition to democracy.
While he was an MP, Francis Noel-Baker advocated reforms to moderate the influence of outside interests in Parliament. In 1961 he published an article in Parliamentary Affairs warning that "the door, in fact, is wide open for a new form of political corruption, and there is an uneasy feeling in Parliament and outside that its extent could be much greater than the known or published facts reveal".
Before his death in 2009 Noel-Baker was one of the few surviving members of the 1945 Parliament, the others being Footie and John Freeman. Noel-Baker married in 1947 (dissolved 1956), Ann Saunders. In 1957 he married secondly Barbara Sonander, who died of skin cancer in 2004. Four sons and a daughter from his two marriages survive him, and a son predeceased him.
Extracts from Francis's Torygraph 2009 obituary provide more information:
The son of the Quaker Nobel Peace Prize winner Lord Noel-Baker, he entered parliament in 1945 as the "baby" of the new intake, campaigning for the overthrow of General Franco. But he would give Left-wing Greeks a pretext to demand seizure of the estate by supporting the Right-wing junta of the Colonels.
The estate at Prokopi has been in the family since 1832, when his forebear Edward Noel bought it from a departing Turkish bey for 10,000 sovereigns, borrowed from Lady Byron; he was in Greece to ascertain how Lord Byron, to whom the family was related, had died. Noel-Baker inherited it from his mother, setting up several businesses, a community charity and a clinic opened by King Paul and Queen Frederika.
Though the estate was half its original size by the time Andreas Papandreou's socialist government attempted to seize all but the house and 50 acres in 1984, Noel-Baker still valued his 11,000 acres at £20 million. After his ownership was assured in the late 1980s, he accommodated discerning holidaymakers.
D.G.E. Wood has been holding clinics in Cyprus for some years now for holidaymakers and others.
Noel-Baker's Greek connections and fluency in the language proved valuable to Anthony Eden at the height of the Cyprus emergency in 1956. Noel-Baker mediated between the governor, Sir John Harding, and Archbishop Makarios as the guerrilla campaign for enosis (or union) with Greece escalated.
The negotiations broke down despite what the Colonial Secretary Alan Lennox-Boyd called Noel-Baker's "ceaseless and selfless" efforts, and Makarios was exiled to the Seychelles. When Cyprus was eventually granted independence in 1960, Noel-Baker regarded the elaborate Greco-Turkish power-sharing agreement as a recipe for disaster. He warned that Greeks would want to pursue enosis and Turkey might invade to stop it. Sure enough, 14 years later the Turks did invade. In Athens, the Colonels' junta, which Noel-Baker supported, fell; and in Euboea he faced a campaign of disruption by islanders who resented that support. His pressure for the return of the Elgin Marbles counted for little.
Francis Edward Noel-Baker was born on January 7 1920, the only son of Philip (later Baron) Noel-Baker and the former Irene Noel. He was educated at Westminster and King's College, Cambridge…founding the University Labour Club.
Joining the Army in 1940 as a trooper in the Royal Tank Regiment, he was commissioned into the Intelligence Corps and served at home and in the Middle East, being mentioned in despatches. In 1945 he was adopted as Labour candidate for the Conservative-held seat of Brentford and Chiswick, and was elected.
Only 25, Noel-Baker was not overawed by the Commons or his father's presence as a Foreign Office minister… He campaigned on what he saw as a manifesto commitment to overthrow Franco, clashed with his father on the issue at the 1946 party conference, then secretly visited resistance leaders in Spain. He returned insisting there was no support for restoring the monarchy. Disconcertingly for the Left, Noel-Baker also proved staunchly anti-communist. He was alarmed by communists' activities in Greece, was an early champion of Western European political integration – he eventually resigned from the Labour party when it turned against the Common Market – and investigated claims that Stalin had sent 59 Spanish republicans to the gulag.
In June 1949 he became a parliamentary private secretary at the Admiralty,
Which will have resulted in Francis Noel-Baker gaining a great deal of info on a number of Important People, including Persons Of Low Morals.
but a year later lost his seat by 857 votes. Out of the Commons, he concentrated on journalism; he had edited magazines for the United Nations and Unesco, and now joined the BBC European service and became editor of Go!, a travel magazine in three languages.
He returned to Westminster in 1955 as MP for Swindon, and his prime concern became the railway workshops on which Swindon then depended, and the 9,000 engineering workers employed there and at the Pressed Steel plant. Later, disillusioned at Labour's failure to halt the contraction of the railways, he earned the opprobrium of British Railways' chairman Stanley Raymond for questioning the calibre of his managers.
Though holding no official position, Noel-Baker found the doors of the great opening for him.
In December 1958 he spent three hours in the Kremlin with Khrushchev, who told him that the West's behaviour over Berlin would be a "litmus paper" of its Cold War intentions. The next month he met Nasser, who insisted that the restoration of diplomatic relations could not be linked to the settling of Britons' financial claims against Egypt; and in July 1963 
he had talks at the Elysée with de Gaulle, paving the way for a visit by Harold Wilson.
With Wilson in office, Noel-Baker's disenchantment set in. He abstained on the 1967 defence White Paper – his first such vote – not because of its content but because he objected to Richard Crossman, Leader of the House, treating him like "lobby fodder" over decimalisation. He also believed that the Foreign Secretary, George Brown, was taking disastrous decisions on Aden, trying to hand over to moderate Arabs while keeping a military presence. Voting against the Bill to grant Aden independence, he described Brown's policy as a recipe for a "bloody and unnecessary colonial war".
In February 1968 Noel-Baker announced his retirement at the next election. Two months later he said he would go sooner, because party politics and the Commons had become "increasingly unsatisfactory and unpleasant"; parliament, he said, had a "death wish". Preparations were made for a by-election and Labour selected a candidate (the eventual Lord Stoddart of Swindon) but Noel-Baker did not resign. He went to Greece, leaving his agent to handle all constituency business; then, in December, he had a nervous breakdown.
Noel-Baker finally resigned in March 1969, after Left-wing MPs had tried to oust him as chairman of the all-party committee on Greece because he refused to acknowledge human rights abuses under the Colonels. At the subsequent by-election the Conservatives took the seat.
Noel-Baker now concentrated on his estate. In 1952 a constitutional amendment had threatened its division among the local farmers, and Noel-Baker appealed to the State Council for an exemption, granted in 1957. In 1961 he set up the Northern Euboean Foundation, a charity to help the island's poorest inhabitants; the next year he arranged treatment in London for a 16-year-old boy with a blood disease that had killed seven of his ten siblings.
In 1962 Noel-Baker invited the King and Queen of Greece to be godparents at the Anglican christening of his son on Euboea. The Greek Orthodox Church was not keen, but before it could pronounce the christening was moved to London. When Queen Frederika was given a hot reception there by demonstrators against the continued detention of communist prisoners, Noel-Baker accused them of "molesting" a woman with no say on the matter.
Noel-Baker had supported the democratic government overthrown by the coup of 1967, but he praised the "honest Colonels" for tackling corruption and inefficiency. He scorned torture allegations by Amnesty International as "grossly exaggerated", and hailed the regime as "the best for years".
After the departure of the Colonels, Noel-Baker's priority was to stay out of jail. He bought a sawmill on Euboea, only for the vendor to realise he would be taxed on the gain and accuse him of falsifying an invoice. A local court sentenced him to 10 months or a £900 fine, but the case was dismissed on appeal. The same court tried to imprison him again, for 15 days, for modifying a beach house; he paid a £45 fine instead.
During 1975 Left-wing locals staged demonstrations against him, culminating in arson attacks. The minister of agriculture then declared that because of the "unrest", the government must seize the estate. After documents found in his father's air-raid shelter showed the original purchase of the estate had Greek as well as Turkish approval, Noel-Baker's title was confirmed in 1978. A later attempt to have him evicted failed when Papandreou dropped the matter.
In 1971 Noel-Baker quit the Labour Party, its decision to oppose EC membership being the "final straw". He flirted with the Ecology Party,
The Ecology Party at the time had a small presence in Somerset. The wife of a teacher at Chilton Trinity School in Bridgwater – where some of the staff were involved in concealing the crimes of people related to Gwynne and Dafydd's activities – stood as a candidate for the Ecology Party in local Council elections.
Jonathan Porritt was Chair of the Ecology Party (now the Green Party), 1979-80 and 1982-84.
Porritt was educated at Wellesley House School, Broadstairs, Kent (Grocer Heath's home was at Broadstairs at one point), at Eton and Magdalen College, Oxford. Porritt started training as a barrister, but switched to teaching English at St Clement Danes Grammar School (later Burlington Danes School) in Shepherd's Bush, West London, in 1974. Porritt taught there from 1974 to 1984, serving as Head of English from 1980 to 1984. Some of the kids from that area near the BBC HQ were targeted by Jimmy Savile and accomplices.
Porritt presided over changes that made the Ecology Party much more prominent in elections, himself standing as a parliamentary candidate in General Elections in 1979 and 1983. In 1984, Porritt published Seeing Green: Politics of Ecology Explained, written while he was Policy Director of the Ecology Party.
In 1984 Porritt gave up teaching to become Director of Friends of the Earth in Britain, a post he held until 1990. When I was in the first year at UCNW, one of the others in hall with me was a third year teacher training student, Lisa Glover. Lisa was a mature student from Norfolk and was in her late 20s. I don't know if Lisa knew that a paedophile ring was operating in north Wales, but she did know that some kids in the 'care' of Gwynedd Social Services were not being looked after, she knew that Gwynne was causing huge distress in the Student Health Centre, she knew that all the Top Docs in north Wales had conspired to unlawfully deny women abortions on the NHS for any reason yet abortions on demand in return for payment were available from a dangerous private abortionist in Chester, she knew about some of the more notorious sexual harassers on the staff of UCNW and she knew that the North Wales Hospital Denbigh had a grim reputation.
Lisa hung around with freshers much younger than herself and was a sort of Big Nurse to them yet didn't genuinely support them when they couldn't cope. Lisa had much kudos at UCNW because her brother Mark Glover was a big wig in Friends of the Earth at the time and was often in the media. Friends of the Earth shared the notorious 9 Poland Street address in London with the NCCL and the drugs charidee Release, both of whom were linked to PIE. The NCCL and Release knew about Gwynne and Dafydd. A man from Release went up to see F when he was unlawfully incarcerated in Denbigh but simply told him that there was nothing they could do and never contacted him again. Since I knew Lisa in 1981-82, Mark Glover has been involved in rather more radical groups than FoE and has built up a controversial reputation, but neither he nor Lisa have ever spoken out about matters north Wales, even at the height of the media coverage of the North Wales Child Abuse Scandal. See previous posts.
Looking back in 2012, Porritt stated that becoming Director of Friends of the Earth in 1984 "was probably the best decision of my life." Yes, Jonathan's dad was a Top Doc who knew Gwynne and Dafydd as I shall discuss shortly and Jonathan's career in Radical Green Activism will have been assured when someone whom Mark Glover's sister knew refused to keep quiet about Gwynne. Gwynne and Dafydd's mate Lord David Ennals was a Radical Activist, an MP for a Norfolk constituency and facilitated abuse in Norfolk.
In 1992 Porritt backed the election of Cynog Dafis who was successfully elected to Parliament as the joint Plaid Cymru-Green MP for Ceredigion. BELOTTIE ETC HERE – MARY WYNCH link – the firebomb
In 1994, the regional council of the Green Party suspended Porritt for supporting Dafis, and demanded that Dafis stop identifying himself as Green.
Between 1996 and 2009, Porritt largely withdrew from active party politics. In March 2009, Porritt spoke at the launch of the South West Green Party European Election campaign in Bristol, stating that he had always remained a member of the Green Party and that it was the correct time to reaffirm his support. Prior to the 2015 General Election, Porritt was one of several public figures who endorsed the Parliamentary candidacy of the Green Party's Caroline Lucas.
With Sara Parkin and Paul Ekins, Porritt founded Forum for the Future in 1996, a sustainable development charity that offers advice on sustainability planning to multinational companies including Kellogg's and Unilever. Prof Fergus Lowe of the UCNW Dept of Psychology overthrew Dafydd's influence in that Dept in 1987 using his knowledge of what the Gang had done to my friends and I and then built his own equally toxic empire by blackmailing and manipulating all of those who had colluded with Dafydd and Gwynne. One organisation who parted with a great deal of funding in Fungus's direction because of this was Unilever, one reason being Lord Leverhulme aka Philip Lever being Chancellor of Liverpool University, Dafydd's corruption pervading that institution, leaving it very vulnerable indeed when the shark Fungus knocked on their door. See eg. post 'Feet In Chains'.
Liverpool University must be suckers for punishment because Dr Death subsequently served as the Chancellor, DATES.
Jonathan Porritt has had a great many fingers in a great many pies for years now; here are just a few…
Porritt served as Chairman of Sustainability South-West, the South-West Round Table for Sustainable Development in England, 1999-2001 and later as President.
Porritt served as a Trustee of the World Wildlife Fund (UK), 1991-2005. Sir Peter Scott Of Gwynne and Dafydd's network (see previous posts) was involved with WWF from its early days as of course was Phil the Greek. See previous posts for WWF info.
Porritt is on the advisory board of BBC Wildlife magazine and actively supports the efforts of experts promoting renewable energy and sustainable development such as Walt Patterson.
Porritt is an endorser of the Forests Now Declaration, presented at the United Nations Framework Convention on Climate Change (UNFCCC) meeting, held in Bali in December 2007. The Declaration calls for new market based carbon policies and reforms to prioritize the protection of tropical forests. Porritt has strongly criticized proposals by the UK Gov't to sell off Britain's remaining 635,000 acres of public woodlands and helped to form the organization Our Forests in 2012 to protect and expand public and private woodlands throughout England.
Porritt acts as advisor to many bodies on environmental matters, as well as to individuals, including Carlo.
As of 2004, Porritt became a Trustee of the Ashden Awards for Sustainable Energy. In 2005 Porritt became a Non-Executive Director of Wessex Water and in 2008 he became a Non-Executive Director for the Willmott Dixon Group. Porritt also serves on the Sustainable Retail Advisory Board for Marks & Spencer, advising the company on its long-term sustainability strategy.
Porritt is a convenor of the cross-party political movement, More United
On 9 February 2012 Porritt became Chancellor of Keele University. Keele has had a long and shameful problem of having on its staff people involved with organised abuse including the notorious social work academic Peter Righton, an active paedophile who used his publications to justify sex between adults and children.
Some 13 years ago, Charlotte Williams, a social work academic from Bangor University was given a Chair at Keele. Charlotte grew up in Bethesda and spent her career as a social worker in north Wales, during the Paedophile Years. Charlotte was treated very badly by other members of the Gang, but she didn't ever break ranks, although she knew just how horrific the abuse of children and vulnerable adults by her colleagues was. When Operation Pallial was announced Charlotte decided that her lifelong ambition had been to live in Oz and she emigrated! Charlotte returned a few years later when the coast was clear.
Charlotte's nephew William Housley completed his PhD at Bangor University and bagged a Chair in the Social Sciences Dept at Cardiff University on the strength of a CV of a not particularly good post-doc researcher. Mark Drakeford, Wales's FM,
was the senior Prof in that Dept at the time.
Should Drakeford wish to explain why Housley was entertained at Cardiff on the back of such a poor academic record as well as with his little foibles of following male students into the bogs and propositioning them,
a lot of people would be keen to hear.
See previous posts for Charlotte and Houseley gen.
Coat of arms of Jonathon Porritt hide

Notes

The arms of The Hon. Jonathon Porritt were originally granted to his father. They consist of:

Crest

On a wreath Or and Gules, a dent Heraldic Antelope Gules armed Azure collared Or, holding a Torch of the last enflamed proper between two Fern Fronds Vert

Escutcheon

Or, a serpent in bend vert between two lions' heads erased gules, on a chief of the last two swords points upwards in saltire of the first, between as many roses argent both surmounted by another gules barbed and seeded proper

Motto
Jonathan was the son of Lord Arthur Porritt, a very elite Top Doc to the Royal Family.
Colonel Arthur Espie Porritt, Baron Porritt, (10 August 1900-1 January 1994) was an Olympic athlete as well as a Royal Doc and a Guvnor. Lord Porritt was the son of Ernest Edward Porritt, also a Top Doctor. In 1920 Arthur began studying towards a medical degree at the University of Otago where he was a resident at Selwyn College and President of the Selwyn College Students' Association. In 1923 Porritt was awarded a Rhodes Scholarship and he studied medicine at Magdalen College, Oxford, 1924-26.
The Guvnor's Sporting Achievements:
Arthur Porritt, Baron Porritt

Personal information
Height
187 cm (6 ft 2 in)
Weight
74 kg (163 lb)
Sport
Sport
Athletics
Event(s)
Sprint
Achievements and titles
Personal

best(s)

100 yd – 9.8 (1923)
200 m – 21.5 (1925)[3][4]
Arthur Porritt represented New Zealand at the 1924 Summer Olympics in Paris, France, where he won a bronze in the 100 metre dash; the winner was Harold Abrahams (1899–1978).
Harold's daughter Sue Pottle lived at Croesor for many years. Sue's husband Pat Pottle was one of Bertrand Russell's Secretaries working for CND and other Russell-initiatives. Pat Pottle and Michael Randall helped George Blake the double agent escape from Wormwood Scrubs in the 1960s, for which Pat and Michael later faced trial in a farce at the Old Bailey in the Royal Courts of Justice in the Strand just a few weeks after the Drs Francis tried to have me imprisoned there in April 1991 (see eg. 'The Bitterest Pill'). Pat and Michael were acquitted and no-one asked any questions about two ridiculous court cases at the Royal Courts within the space of a few weeks in which there were attempts to have people with strong Gwynne and Dafydd links jailed. See eg. 'A Message Of Peace At Christmas'.
The race involving Porritt and Abrahams took place at 7 pm on 7 July 1924 and Abrahams and Porritt dined together at 7 pm on 7 July every year thereafter, until Abrahams' death. The race was later immortalised in the film Chariots of Fire, 'but due to Porritt's modesty' his name was changed to "Tom Watson".
Chariots of Fire man NAME?? did that PR vid for the Windbag – DATE
Porritt was captain of the New Zealand team at the 1928 Summer Olympics in Amsterdam, but withdrew from the 100 m because of an injury. Porritt is only one of two people to have the rare honour of twice being the New Zealand flag bearer at Olympic Games, the other being Les Mills. After retirement from athletics, Porritt was New Zealand's team manager at the 1934 British Empire Games in London and 1936 Summer Olympics in Berlin. Porritt was the New Zealand member of the International Olympic Committee, 1934-67. He was the first President of the IOC Medical Commission and served, 1961-67. Porritt served as Chairman of the British Empire and Commonwealth Games Federation from the 1950 Auckland games to the 1966 Kingston games.
Arthur Porritt knew General Lonsdale of Stogursey…
Porritt became a house surgeon at St Mary's Hospital, London, in 1926 and later that year was appointed surgeon to the Prince of Wales, the future King Edward VIII ie. Mrs Simpson's husband, who had an absolute bellyful of all of them in the end and buggered off to live in France. Mrs Simpson and her husband were yet another reason why the stakes were so high re Gwynne, but the fever on the part of Top Docs and so many still didn't subside after 24 April 1986 when Mrs Simpson died.
The Gang killed my friend Anne in April 1986. George Carman has the letter that I wrote to Brown on the night of the day on which Anne was killed, it was one of the documents stolen from my house. Wendy's mate Geoffrey Chamberlain's pal and colleague Ollie Brooke was jailed in Dec 1986, so he will have been charged by April 1986. See eg. 'Oliver!'.
D.G.E. Wood, you really are quite unhinged, as is everyone who has colluded with you.
The MDU solicitors Hempsons refused to defend Brave Wendy from June 1986. Not that there was much logic to that principled stance, because the MDU and Hempsons continued to represent the Drs Francis and Dafydd for years…
Arthur Porritt knew the violent, drunken, crazed Royal Doc who also worked (when he did actually turn up for work) at St Mary's, Arthur Dickson Wright, father of serious alkie Clarissa who used her knowledge of Dafydd and Gwynne et al to crawl back into polite society in middle age as a TV chef, after Clarissa had wasted an enormous inheritance, been barred from practising as a barrister and had been unemployable for years. See 'Arthur Dickson Wright – An Appreciation'.
On 8 March 1940, Porritt was commissioned in the RAMC. He served in France, then in Egypt, operating on seriously wounded soldiers from the North African campaign and later landing in Normandy on D-Day. On 18 December 1943, Arthur Porritt was appointed a consultant surgeon with the local rank of Brigadier. He relinquished this position and his Brigadier's rank on 1 September 1945, by which time he was a war-substantive Lieutenant Colonel. Porritt ended his military career in September 1956, with the honorary rank of Colonel in the Territorial Army.
Porritt was King's Surgeon to George VI, 1946-52, so knew the Top Docs who did not successfully treat George VI but told a lot of porkies about the King's condition and subsequent death (see post 'Successful Surgery On King George VI!') and was Serjeant Surgeon to Brenda until 1967, while Lord Snowdon and Ma'am Darling were using the services of Drug Dealers to the Royals and Celebs Drs Ann and Peter Dally, and Lord S was using the services of Gwynne and Dafydd…
Ann Dally was, like Wendy, a Strong Woman Who Came Under Attack From The Male Medical Establishment – in Ann's case in 1987 – after a police investigation sort of pointed the finger at Ann. See 'Little Things Hitting Each Other'. Wendy wrote a few kind words in Ann's subsequent book of Her Hell At The Hands Of The Male Medical Establishment. Like Brave Wendy, Strong Caring Ann was cleared – of course she was, Gwynne and Dafydd's mate Lord John Walton was Chairman of the GMC – and returned to her Harley Street practice, Strong Caring Ann not having any time for plebs who couldn't show the colour of their money. Why Brave Wendy, who Hated Private Practice, was a Committed Socialist and Loved the NHS and Poor People, ever supported the Class A drug dealer to the super-rich,
Brave Wendy never explained.
Ann Dally's mother's maiden name was Elizabeth Gwendoline Brandt, which causes me to wonder whether she was anything to do with Jackie Brandt, serial perjurer and social worker employed by Gwynedd County Council. I first complained about Brandt in the autumn on 1986, just after Brave Wendy had been cleared and just before Elizabeth Gwendoline's daughter was suspended by the GMC. Elizabeth Gwendoline died in 1997, the year that the Waterhouse Inquiry began.
In 1955 Arthur Porritt was called to Eastbourne by the suspected serial killer John Bodkin Adams to operate on his patient Jack Hullett for colon cancer. The operation was a moderate success but the death of Hullett under Adams' supervision a few months later followed soon after by the death of his wife Bobby, led to Adams being put on trial for Bobby's murder in 1957. He was acquitted but is suspected in up to 163 deaths. Harriet Harman's dad gave Expert Evidence in support of John Bodkin Adams at his trial, although Harman had no personal experience of the area in which he gave Expert Evidence.
Porritt was twice President of the Hunterian Society (once in 1951) and became President in 1960 of both the BMA and the Royal College of Surgeons of England, the first person to hold the two positions simultaneously. Porritt retained the Presidency of the RCS until 1963. Porritt was created a baronet of Hampstead on 25 Jan 1963.
In 1966 Porritt was elected president for two years of the Royal Society of Medicine but served only one year before leaving for New Zealand.
Porritt was elevated to the status of a Life Peer on 5 February 1973.
Prior to the 1969 General Election in September of that year, Porritt sparked a heated debate with a Labour candidate Eddie Isbey when he argued in a speech to the Southern Cross Medical Care Society that the welfare state was "uneconomic". Later, Porritt's wife also created controversy, when she replied to a question on equal pay for women by stating: "Perhaps when New Zealand, like India and Israel, produces a woman prime minister it will be time to call a halt to the emancipation movement". Thank goodness for us ladies that such an event happened in May 1979 and there was nothing else to bellyache about.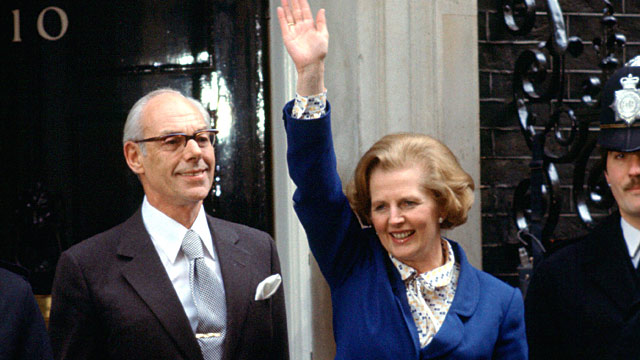 At his last Waitangi Day speech in 1972, Porritt caused more controversy by stating that: "Maori–Pakeha relationships are being dealt with adequately through the biological process of intermarriage." At the end of his term in September 1972 Porritt returned to England, presumably to mate with natives. If Lady Porritt did object, she could be ignored.
Lord Porritt was initiated in Oxford University's Apollo University Lodge No. 357 on 13 June 1925, and later joined other English Constitution lodges, including Sancta Maria Lodge No. 2682 (a medical practitioners' lodge), Prince of Wales's Lodge No. 259 (a so-called 'red apron' lodge as it nominates one of the 19 Grand Stewards each year, who wear red aprons), and Royal Alpha Lodge No. 16 (membership of which is at the personal invitation of the Grand Master).
During his term as Governor-General (1968–1971), Arthur Porritt served as Grand Master of the Grand Lodge of New Zealand.
In the early 1970sTop Doc Sir Martin Roth, pal of Lord John Walton and pal of Gwynne and Dafydd, negotiated a huge loan from Marks & Spencer of favourable terms for the newly created and flat broke Royal College of Psychiatrists who take possession of a palatial Belgravia building to use as their HQ, although other Top Docs warned Roth that the Royal College could not afford it and if Roth went ahead with the acquisition of the grand building, he could well bankrupt the newly created College. Roth went ahead anyway, the Royal College enjoyed a time of gracious living before having to relocate to a more modest HQ. See eg. 'The Newcastle-upon-Tyne Connection'. I don't know why Lord Sieff looked upon this gang of criminals and molesters so kindly but he did and after he died, Sieff's widow involved herself in charidee initiatives of the Gang's network. And now Lord Arthur's son Jonathan is advising M&S!
Lord Porritt died in London at the age of 93 on 1 January 1994, exactly one moth before hard left Labour MP Jo Richardson died in office, thus opening the door for Little Nell to become MP for Barking. Richardson went back as the late 1940s Labour Party with Footie, Crossman and Ian Mikardo. Mikardo who worked for the security services and was one of the East End MPs and general busybodies who assisted Brave Wendy et al at the London Hospital with their criminality.
Lord Porritt's wife died in 1998, midway through the Waterhouse Inquiry.
then in August 1981 [Francis Noel-Baker] joined the SDP.
Not offered a seat, he left in January 1984 for the Conservatives.
In Jan 1984, D.G.E. Wood was telling me that he would refuse to treat me if I did not agree to see Gwynne the Lobotomist. Wood and Gwynne's security services mate Prof Greig-Smith's security services mate Douglas Hurd (see post 'Our Man In Llandegfan') was a Minister in the Home Office at the time, under Home Secretary Leon Brittan.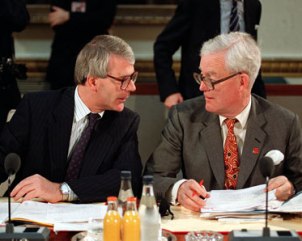 Tom King was Peter Morrison's boss at the Dept of Employment, Oct 1983-Sept 1985.
Gwynne and Dafydd's man in the city, Peter Walker, friend of du Cann and one time business partner of a friend and colleague of Nigel Lawson, served as Energy Secretary, DATES, having been put there by Thatch to use his knowledge of those who were customers of or colluding with Gwynne and Dafydd, to flatten the NUM. Once Walker had achieved that, Thatch appointed him as Welsh Secretary, DATES. See 'Holding The Country To Ransom – Part I' and 'Holding The Country To Ransom – Part II'. Lawson was Thatch's Chancellor of the Exchequer, DATES.
He was founder president of the European Council for Villages and Small Towns, and a member of the Soil Association.
The Guardian's obituary for Francis Noel-Baker provided further snippets:
In the period that ensued, [after Noel-Baker's retirement from Parliament in 1970] he spent an increasing proportion of his time in Greece, becoming active in a range of Cypriot, environmental and charitable activities. As a lordly host with his wife and family at his beloved Achmetaga, he displayed generosity, humour, and loyalty to friends in all walks of life… In 1957, he married Barbara (Barbro) Sonander, of the Swedish diplomatic service, who died in 2004…
If Noel-Baker owned much of Cyprus and effectively lived there, he won't have missed Edward du Cann, when, following bankruptcy, yet more swindling of many people and du Cann's 1995 media appearances in which he declared himself to be Shocked and Disgusted with the state of the Tory Party and that he 'had a lot to tell and would be telling it', du Cann didn't Tell All but disappeared, only to resurface years later as an elderly gent living the life of Riley in er Cyprus, where he had, since he decided that he didn't have anything to tell after all, been running his vineyards and wine-making business. See previous posts eg. 'Conference At Cold Comfort Farm'.
du Cann didn't explain where he acquired the dosh to purchase his vineyards and set himself up in a business that would have needed a considerable investment to get it off of the ground, although the Secretary of State for Wales at the time that du Cann was threatening to Tell All in 1995 might know. 
Or indeed a few other people.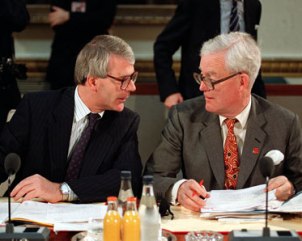 David Lloyd George, an occasional visitor to the Thropes, became Jeremy's hero and helped form his ambitions for a political career in the Liberal Party. Trumpers' autobiography of her life of idiocy, idleness and immense privilege mentions that in her family's privileged Belgravia circle, the Thropes were admired for being close to the Lloyd Georges and that Mr Thrope 'grew up with the Carey Evans children' (see post '95 Glorious Years!').
Carey Evans – HERE 'A Vampire At Glyndwr University'.
Dan Snow the 'TV historian' is the most recent Lloyd George descendent to allow himself to be used as a PR vehicle for the Gang's network. Dan is the great-grandson of Lady Olwen Carey-Evans ie. Dan is Lloyd George's great-great-grandson. Dan added to the scaffolding considerably a few years ago by marrying Lady Edwina Grosvenor, the daughter of Gerald Cavendish Grosvenor aka the 6th Duke of Westminster, the close friend of Carlo who seemed to be wherever Peter Morrison, Gwynne and Dafydd were when Gerald was at his Cheshire estate or wherever the Top Docs of St George's were when Gerald was hanging out in Belgravia, most of which he owned. Lady Edwina is a Philanthropist and Prison Reformer. Perhaps she thought that some of her dad's mates might be needing her soon. See previous posts.
In January 1938 Jeremy Thrope went to Cothill House in Oxfordshire, a prep school for Eton. By summer 1939 war looked likely and the Thorpes moved from London to the Surrey village of Limpsfield where Jeremy attended Hazelwood School. In June 1940, with invasion threatening, the Thorpe children were sent to live with their American aunt, Kay Norton-Griffiths, in Boston. In September that year Jeremy began at The Rectory School in Pomfret, Connecticut and he remained there for three years. In 1943 it was thought safe for the children to return to England and John Henry Thorpe used his political connections to secure for Jeremy a passage in the Royal Navy cruiser HMS Phoebe.
Mr Thrope started at Eton in September 1943; he was an indifferent scholar and his toadying to authority earning him the nickname "Oily Thorpe". Mr Thrope annoyed his fellow-pupils by parading his acquaintance with a range of famous and important people and shocked the school by expressing his intention to marry Ma'am Darling. Mr Thrope's time at Eton was marred by the death of his father in 1944, at the age of 57.
Having been accepted as a potential Liberal parliamentary candidate by the early 1950s, Thorpe looked for a constituency. The Liberal Party was in a very sorry state; in 1951 they only had six MPs. Commentators have stated that Mr Thrope showed a principled commitment to Liberalism because his chances of reaching Parliament would have been greater had he stood for the Tories or Labour.
There is another interpretation however. The Liberals were still dominated by the Lloyd George family who ran huge swathes of Wales. They were acutely aware of the past glories and as far as they were concerned the glories continued. Liberalism was still very strong in Wales and the West Country and Mr Thrope was a shining star with powerful connections and much backing. If Mr Thrope became a Liberal MP he would soon find himself at the top of the Party; that wouldn't have been a foregone conclusion had he been a Tory or Labour MP. Then there'd be all the Little Helpers and the powerful families, including the Royal one, behind Mr Thrope. Mr Thrope was not going to have to lead a revolution from the streets.
Initially Mr Thrope was offered the opportunity of succeeding the Liberal Party leader, Clement Davies, in Montgomeryshire, when Davies decided to retire. There being no immediate prospect of that, Thorpe looked elsewhere, in particular to Devon and Cornwall, where the party had a stronghold and had polled respectably in 1950 and 1951. In these elections Thorpe had assisted the Liberal candidate for North Cornwall, Dingle Foot, whose agent recommended Mr Thrope to the neighbouring North Devon constituency. The Foots were a big Plymouth family who, like the Lloyd Georges, were Liberal and Labour politicians and lawyers. Dingle Foot served as both a Liberal and Labour MP and as Harold Wilson's Solicitor-General. Dingle Foot was a Big Mate to have. See previous posts eg. 'The Bay Of Pigs Invasion' for details of the many Foots and their activities.
Michael Foot was a Westminster Swinger before he evolved into an elderly man leading the Labour Party and shaking his stick at journos while he took Dizzy for a walk. Footie's past Ugandan discussions were florid and he was as committed to concealing Gwynne and Dafydd's crimes as anyone was. Furthermore Footie's younger years as a journo – and working for the security services – meant that he had dirt on press barons like Lords Beaverbrook and Rothermere; Footie openly reminded them that one word published about his excesses and he'd publicise what they had been doing. Footie was Labour Party Leader when Brown and I were young adults and the Gang first came after us. Footie joined in with the battle against us, as did Footie's friends with Radical Consciences eg. Eric Hobsbawm.
Footie's friend and biographer Mervyn Jones was the son of Top Doc and psychoanalyst Ernest Jones, friend and colleague of Gwynne the Royal Lobotomist as well as of Kate Roberts the Welsh novelist and Plaid activist, a friend of Gwynne and Dafydd herself. See previous posts eg. 'Feet In Chains'.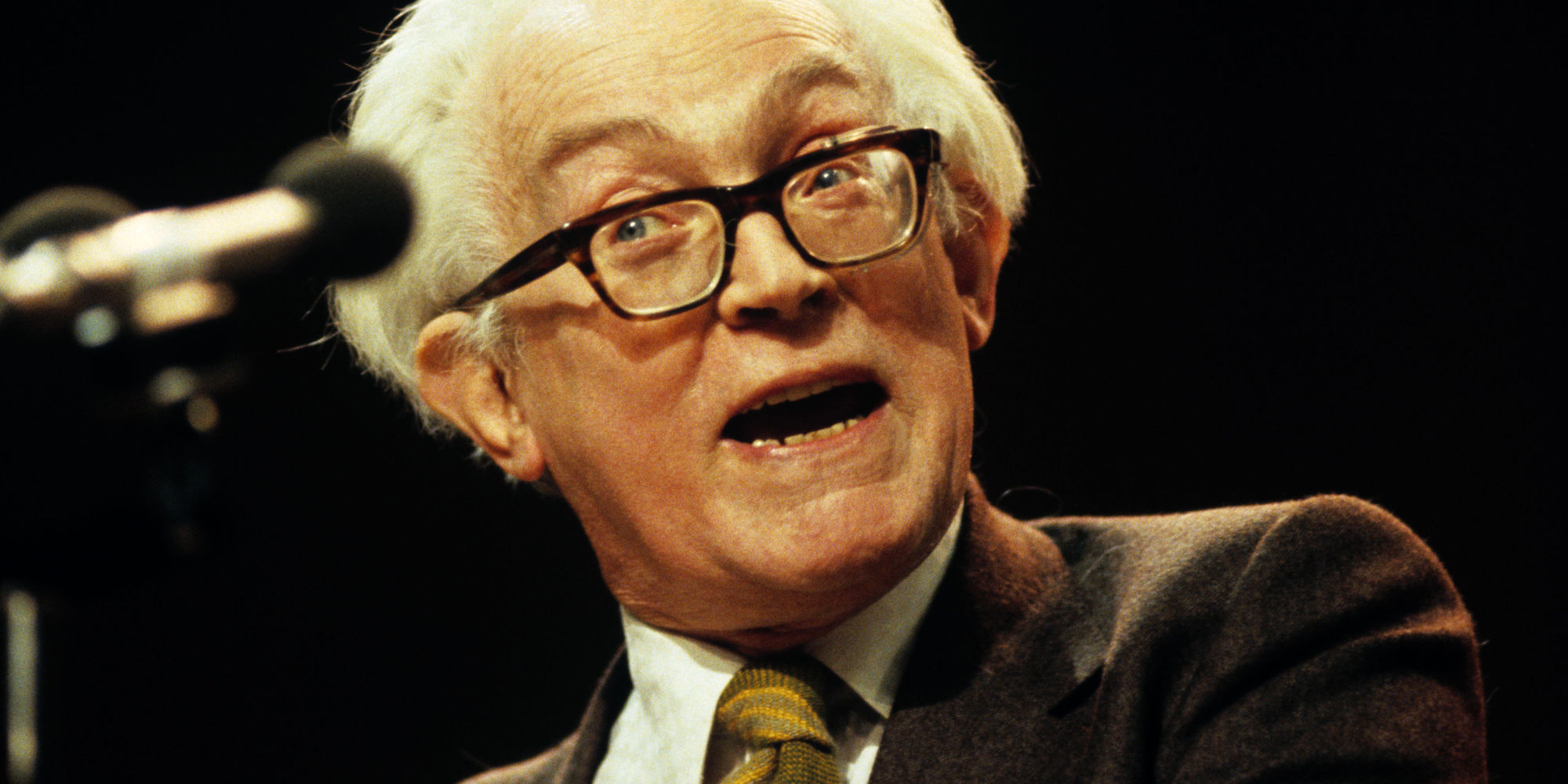 The Torrington local Liberal Party was also anxious to adopt Thorpe as their candidate, while Dingle saw him as a possible successor in North Cornwall. Thorpe chose to fight North Devon, a seat once held by the Liberals although, in 1951, the Party had finished in third place behind Conservative and Labour, with less than 20% of the vote.
The North Devon seat was created in 1950; between 1950 and 1955 it was held by the Tory Christopher Peto, who since 1945 had been the MP for Barnstable, that seat being reconfigured as North Devon in 1950. Brigadier Sir Christopher Henry Maxwell Peto, 3rd Baronet, (19 February 1897-19 May 1980) was born in 1897 at Chertsey, Surrey, the son of Sir Basil Peto and Mary Matilda Annie née Baird. Peto served in both WW I and WW II and clocked up an exceptional record in WW II. As well as being awarded the DSO in 1940, Peto also received:
3 Mentions in Despatches
French Légion d'honneur: Chevalier
French Croix de Guerre with palm
Belgian Order of Leopold: Commander
Belgian Croix de Guerre with palm
Czech Order of the White Lion: 3rd Class
Czech War Cross
Luxembourg Order of Nassau: Commander
Luxembourg Croix de Guerre
Polish Order of Polonia Restituta
In 1966, Peto was appointed the High Sheriff of Wiltshire for the year; Peter Morrison's family seat was in Wiltshire and the Morrisons pretty much ran the county.
In 1971, Christopher Peto inherited the baronetcy created for his father, upon the death of his elder brother. Peto died at Basingstoke, Hampshire, aged 83 in 1980, so at some point Peto migrated over to Lord Denning Central. When Peto died, the Tory MP for Basingstoke was Sir David Mitchell, father of star of Plebgate in Cameron's Gov't, Andrew Mitchell, Lord Denning having had Sir David's predecessor Denzil Freeth removed as the Basingstoke MP in 1964 after Denzil was found 'by a policeman' outside in his undies and drunk with it as well. Despite the Disgrace, Denzil, a Bachelor who was not blessed with children, continued to pursue a very enjoyable life as the classical music critic for outlets including the BBC and 'The Guardian', was active in the Anglican Church and surrounded by his friends who included Grocer Heath. See previous posts.
Sir Christopher will have known many of those discussed in previous posts, including the Browns' former neighbour General Lonsdale who was fully aware of the organised abuse and criminality surrounding him in Stogursey, a village substantially owned by the General's friend Lady Elizabeth Gass, who owned both of the houses that Brown's family lived in during their years in Stogursey, 1974-2006. See 'He Was Looking At I In A Funny Way…'.
The title was inherited by Sir Christopher's son, Michael (1938-2008), who became the 4th Baronet. Michael had three sons and the elder of these, Henry, is the 5th and current Baronet of this creation. The other Peto baronetcy, created for Sir Christopher's grandfather, is also still extant in the senior branch of the family.
Sir Christopher was preceded as the MP for Barnstaple by a man who was very much more of Mr Thrope's ilk than Sir Christopher, a member of a landed Devon family, Sir Richard Acland. Sir Richard Thomas Dyke Acland, 15th Baronet (26 November 1906-24 November 1990) was one of the founding members of the British Common Wealth Party in 1942, having previously been a Liberal MP. He joined the Labour Party in 1945 and was later a Labour MP. Sir Richard was one of the founders of the CND and knew Bertrand Russell and those around Russell in CND (see eg. 'Captain Swing and His Crew' and 'A Message Of Peace At Christmas'). 
Acland was the eldest son of Sir Francis Dyke Acland, 14th Baronet, the Liberal MP for WHERE DATES and Eleanor Margaret Cropper. Born on 26 November 1906 at Broadclyst, Devon, Acland was educated at Rugby School and Balliol College, Oxford, that conveyor belt for so many British leading politicians, including Grocer Heath, Denis Healey, Woy etc. After Balliol, Acland became a barrister, being admitted to the Inner Temple in 1930.
Inner Temple was the preferred refuge of the Havers family of Concealing VIP Paedophilia; Sir Cecil Havers began the family tradition and his children Lord Michael Havers and Lord Elizabeth Butler-Sloss also became members of Inner Temple. Inner Temple hit the jackpot in 1960, when the son of one Ronald Armstrong Jones, a members of Inner Temple, married Ma'am Darling! Mr Thrope became a member of Inner Temple in Feb 1954 and also hit the jackpot when Ronald's son married Ma'am Darling, because Mr Thrope had been sexually involved with both members of the happy couple by the time of their marriage. 
The Armstrong-Jones's lived in Belgravia but had a country home near Caernarfon. Ma'am Darling's husband enjoyed using the services provided by Gwynne and Dafydd and just in case anyone wished to object to the lobotomies and the dungeon at Denbigh, from 1955 Ronald Of Inner Temple doubled up as a Lord Chancellor's Visitor, one of those who ensured that Standards In Asylums Were Acceptable and that Patients' Rights Were Respected. Ronald Of Inner Temple stepped down as a Lord Chancellor's Visitor in 1963 as the Profumo Affair was in full swing, on Medical Advice having been told by his own Top Doc that the Travelling Would Be Too Much for him. 
Ronald Of Inner Temple was also a Governor of Bart's, a hospital that trained a lot of Docs who chose to work in Bangor. Bart's had a close relationship with the London Hospital and many of Brave Wendy's colleagues held joint appointments with the London Hospital and Bart's. See post 'This Is A Nightmare For All Of Us'.
Brave Wendy:
Ronald Armstrong-Jones:
Ronald's dad Robert Armstrong-Jones had grown up and gone to school in north Wales and trained as a Top Doc at Bart's after attending UCNW. Robert Armstrong-Jones was from one of the grand families that ran north Wales. Robert worked as a physician and a psychiatrist and became Superintendent of Colney Hatch Asylum, later known as Friern Barnet. Friern Barnet was a psych hospital in north London in which patients who were witnesses to serious crime were dumped and left to rot, such that as in the case of so many psych hospitals, no-one dared close it down.
When I worked at St George's Hospital Medical School, I shared a flat with Hilda, a student mental health Angel who worked at Friern Barnet, whom I now know was an undercover MI5 or Special Branch officer. Hilda had heard about Denbigh because she'd done her general Angel's training in Liverpool and she reported abuse of patients in a GP-led community unit attached to Friern Barnet. Hilda's concerns went nowhere and when she told her Nursing Tutor 'The care here is appalling, it is dreadful', she was met with the usual 'Perhaps, perhaps'. Hilda had actually reported a violent assault on an elderly lady by an Angel that had left the elderly lady visibly injured. There was no action taken against the violent Angel; instead Hilda was moved to another placement. Hilda also openly discussed with me the 'terrible' nursing at Springfield Hospital, the psych unit attached to St George's,
that was notorious among Angels in other hospitals in London.
I shared that flat in Sellincourt Road, Tooting, with Hilda in 1989. Hilda lived in Tooting but worked in the Haringey/Islington area of London. MI5 were very well aware of what was happening in the nation's NHS and welfare state, there were plants everywhere, but no-one stopped the crime or indeed helped me. I liked Hilda and other people whom I now know were plants and we discussed what was happening to me and other victims of the Gang extensively, but I really would have appreciated some help instead of being left to be attacked by gangsters.
The 'professionals' and public figures in the Haringey/Islington area around Friern Barnet were in business with Gwynne and Dafydd's Gang in north Wales. Wendy Savage served as a member of the Camden and Islington NHS Foundation Trust and she may still do so. Jezza Corbyn has also served as a member of that NHS Authority/Trust, which has gone under a number of different names.
Richard Acland served as a lieutenant in the Royal Devon Yeomanry. He married Anne Stella Alford, an architect, and together they had four sons, including John Dyke Acland and Robert D. Acland.
Richard Acland succeeded his father as baronet in 1939. Acland stood unsuccessfully as the potential MP for Torquay at the 1929 General Election. He was elected Liberal MP for Barnstaple in 1935, having first contested the seat in 1931. Acland was a junior Whip for the Liberals and he helped launch the Popular Front in December 1936, his politics changing course subsequently.
In 1942, Acland broke from the Liberals to found the socialist Common Wealth Party with J. B. Priestley and Tom Wintringham, opposing the coalition between the major parties. During WW II, the Common Wealth Party showed signs of a breakthrough, especially in London and Merseyside, winning three by-elections. However, the 1945 General Election was a severe disappointment. Only one MP, Ernest Millington, was elected and other figures left, some joining the Labour Party. Acland himself lost his seat in Putney.
Acland then joined Labour and was selected to fight the Gravesend seat following the expulsion of the Labour MP Garry Allighan from the Labour Party for making allegations of corruption. Acland won the Gravesend by-election of November 1947. Back in Parliament, Acland served as Second Church Estates Commissioner 1950–51. In 1955, he resigned from Labour in protest against the Party's support for the Conservative Govt's nuclear defence policy and lost Gravesend when he stood as an independent in the same year. Acland was considered to have helped the Conservative WHO to take the seat, denying it to the new Labour candidate, Victor Mishcon. LAWYERS HERE
As an advocate of public land ownership, Acland 'felt it impossible to reconcile his possession of the Acland estates with his politics'. In 1944 Acland sold his estates at Killerton in Devon and Holnicote in Somerset to the National Trust for £134,000 (2011 equivalent £13.5 million), partly out of principle and also to ensure their preservation intact. This decision almost led to Acland and his wife Anne splitting up. Anne Aclan destroyed all of her letters relating to this period, between mid-summer 1942 and January 1943.
Corresponding with the National Trust, Acland said: "I am not giving you all my property. I am keeping some of it to live on, some of it to buy a house, and some of it I am giving to Common Wealth. With what is left I pay off as much of the debts as possible [these being £21,000 death duties on his father's estate, and £11,000 accumulated debt, equivalent to circa £3 million in 2011], and then hand over the rest to you, leaving you, I regret to say, to look after what is left of the debts." This deal was not publicly known; "in widespread publicity from which the National Trust and the Aclands emerged glowing with virtue, the entire transaction was portrayed as a gift"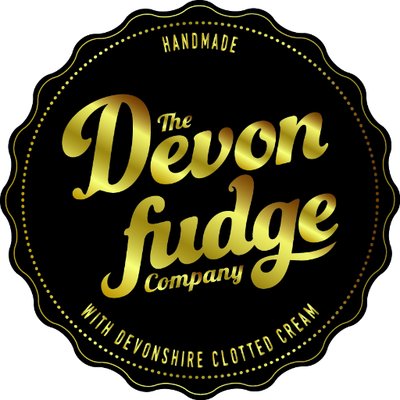 and "the Aclands held on to… eighteenth-century family plates and dishes, portraits and landscapes, a group of family miniatures, an early nineteenth-century piano… they were able to buy a nice house in Hampstead at 66 Frognal Street; there was to be an education fund for the boys; and Common Wealth received about £65,000, allowing it to win two more by-elections." Additionally, Acland retained some rights, including the gift of the living at the parish church, and entitlement to shooting ("to be arranged as to suit the convenience of the shooting tenants") and fishing.
Acland's sons were in later years displeased with the loss of the estates; the heir, John, left a 1994 document at Devon Record Office outlining "how he had made many requests that his mother 'should explain to me why the Killerton and Holnicote estates had been given to the National Trust in the 1940s'… John found on reading [the letters between his mother and father] that she had destroyed all the documents from the critical period at the end of 1942… His note continued: 'Anne only talked to me once, in 1989, about the gift of the estates… her principal contention was that she and Richard had been in complete agreement at every stage.' Perhaps all this secrecy, the denial of the story, was an attempt by Anne and Richard to protect themselves from the rage of their children."
Soon after leaving Parliament, Richard Acland took a job as a maths master at Wandsworth Grammar School with effect from September 1955. The ring run by St George's and Springfield Hospitals and Wandsworth Borough Council that boomed when it went into business with Gwynne, Dafydd et al from the late 1960s onward (see eg. 'Lord Snooty The Third'), already existed in Wandsworth in the 1950s.
In 1957 Richard Acland helped to form CND and was a senior lecturer in education at St. Luke's College of Education, Exeter, between 1959 and his retirement in 1974. Acland died in Exeter on 24 Nov 1990, at the age of 83, four days before Thatch resigned as PM.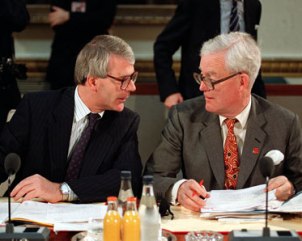 See post 'Our Man In Llandegfan' for details of the substantial role that Douglas Of the Security Services played re the Gang, Douglas being the nephew of a friend of Prof Peter Greig-Smith, who worked in the Dept of Plant Biology at UCNW. Brown and I lived in the same village as Greig-Smith, a village popular with NHS and University staff. Greig-Smith was one person in UCNW who was undoubtedly working for the security services and probably at a senior level. Greig-Smith was a dreadful old bugger who loathed and was loathed by most of his colleagues, but if he was trying to stop their criminal activities he was very ineffective.
Throughout 1990, the Gang took me to the High Court at least five times in attempts to have me imprisoned, as discussed in eg. 'Some Big Legal Names Enter The Arena' and 'The Bitterest Bill'. Perjury was committed by the Gang in every case, with the knowledge of the MDU and their solicitors Hempsons, as well as the Attorney General Patrick Mayhew of Middle Temple a la Ronnie Waterhouse, who had approved the prosecutions. In every case, the barristers and judges read masses of documentary evidence demonstrating serious criminality on the part of numerous people in north Wales. The evidence was simply ignored.
All documentation relating to two of the Court hearings has disappeared from my files and there was an unsuccessful application to a Court on the part of the Gang to have me detained at Brenda's pleasure. I only found out about this accidentally and no documentation referring to it exists in my files.
Some two weeks after Sir Richard Acland died, I was arrested yet again in London, on the orders of the Gang after yet more perjury, with a view to having me imprisoned…
Never mind, the enormous conspiracy between the Top Docs of St George's and other London hospital, others and Tory politicians who wanted to get rid of Thatch – led by Heseltine from Swansea who had served as the Tory MP for Tavistock in Devon, March 1966-Feb 1974 and assisted by Geoffrey Howe, bent barrister from south Wales  – had succeeded. Top Docs like Geoffrey Chamberlain, Wendy Savage, Uncle Harry and John Marks really wanted the Tories out completely
but such was the scrapping that wasn't achieved, they just ended up with John Major instead.
All deals, negotiations and knives in backs were done over my case.
I'm delighted to have got rid of Thatch, but I'd like to have been thanked rather than dragged through the Courts and hounded out of my career. Furthermore if I'd have known I'd have got rid of the whole lot of them.
Sir Christopher Peto's successor as the MP for North Devon was James Lindsay.
James Louis Lindsay (16 December 1906-27 August 1997) was the second and youngest son of David Lindsay, 27th Earl of Crawford, and Constance Lilian, daughter of Sir Henry Pelly, 3rd Baronet. David Lindsay, 28th Earl of Crawford, was his elder brother. James was educated at Eton and Magdalen College, Oxford.
Lindsay fought in WW II as a Major in the King's Royal Rifle Corps. Lindsay served for one term as the Tory MP for North Devon. He lost his seat in 1959 by 362 votes to Mr Thrope. Lindsay came from a political family, and was elected to Parliament in the same General Election as his nephew Lord Balniel who represented Hertford, also as a Conservative. Lord Balniel aka Robert Alexander Lindsay, 29th Earl of Crawford and 12th Earl of Balcarres, Baron Balniel was of course Gwynne and Dafydd's mate who held sway in the National Association for Mental Health (MIND), serving as Chairman, 1963-70 and ensured that Denbigh wasn't closed down. Balniel took part in the 1961 charade with Macmillan's Health Minister Enoch Powell discussed in previous posts, when Enoch visited Denbigh, expressed outrage, pretended that he was going to make damn sure that Denbigh closed 'but ooh Lord Balniel has made such a fuss that I can't shut it down'.
Balniel became Chairman of MIND in 1963, the year that the Profumo Affair hit the media and nearly brought down Macmillan's Gov't and Lord Snowdon's dad decided that the Travelling Would Be Too Much For Him if he continued his diligent visits to asylums to ensure that there were no lobotomised victims of his son's sex offences languishing in the Denbigh Dungeon.
Dafydd and Gwynne had a great deal to do with the Profumo Affair, but as ever their names were kept out of it.
Before inheriting two earldoms and therefore sitting in the Lords, Lord Balniel (Lord Balniel was a courtesy title conferred upon Balniel until he inherited his earldoms) served as the Tory MP for Hertford, May 1955-Feb 1974 and Welwyn Hatfield, Feb 1974-Oct 1974. Balniel served as PPS to Henry Brooke, 1955-59, the infamous and unpopular Tory Home Secretary who refused Ruth Ellis's plea for clemency and demanded that She Must Hang. Hampstead dwellers Henry Brooke and his wife Barbara Brooke bred a Tory dynasty, one of whom was Thatch's WHAT Peter Brooke. One of Peter Brooke's siblings was married to a Top Doc at St George's. Baroness Barbara Brooke was a Minister of Religion's daughter from south Wales and she had fingers in many NHS and welfare pies in London and nationally, as detailed in previous posts.
When the Grocer became PM, Balniel served as his Minister of State for Defence, June 1970-Nov 1972, under Defence Secretary Lord Carrington, who was as guilty as Quintin Hogg in terms of a long and glorious career of facilitating any crime, however serious, in order to keep Gwynne and Dafydd's activities under wraps. Balniel was then Minister of State for Foreign and Commonwealth Affairs, Nov 1972-March 1974, under Foreign Secretary Alec Douglas Home. In 1972, Douglas Home's son and heir David married Jane Williams-Wynne , a member of one of the Gang's network of Posh Families who call the shots in north Wales. Until 2013 David Douglas-Home served as Chairman of Coutts & Co (see 'Upper Class Twit Of The Year – Shooting Themselves' for details of how a Coutts cheque was used to pay Mr Bridgy Celeb for services rendered) and David Douglas-Home remains Chairman of the Grosvenor Group, the company that manages property belonging to the Duke of Westminster. See previous posts.
Six months after Balniel moved to the Foreign Office from Defence, his former Ministerial colleague from Defence Anthony Lambton aka Lord Lambton resigned after being caught in the News of the Screws call-girls and cannabis sting earlier in 1973. Lambton was Alec Douglas Home's cousin and was busy with the call girls and joints when he worked with Balniel under Carrington. Lord Lambton had been using the services of a Mayfair escort agency and spent much time in the posh bits of London, although his ancestral seat was in the Durham/Northumberland region, on the site of the trafficking ring in the North East that worked in partnership with Gwynne and Dafydd.
Once more, Gwynne and Dafydd were at the root of yet another huge Gov't sex scandal but their names were not mentioned. Lord Lambton had been using sex workers supplied by Gwynne and Dafydd's business…
Lord Lambton's daughter Lucinda is married to Torygraph old timer Peregrine Worsthorne.
Balniel's friend and fellow MIND big wig (and of course another good friend of Gwynne and Dafydd) Lady Juliet Bingley and her family lived in Hertfordshire. Lady Juliet was the daughter of Reginald Vick a surgeon at Bart's and as a Posh Young Lady Juliet had trained as a social worker at the LSE when Richard Crossman's Swinging mates managed and staffed the LSE. Lady Juliet worked as a social worker, including at Bart's and then married a Posh Man, Admiral Sir Alec Bingley, who in 1959 was appointed Commander in Chief of the Mediterranean Fleet and NATO Commander of the Allied Forces Mediterranean and in 1961 became Commander in Chief Portsmouth Allied Forces Channel, retaining that position until he retired in 1963.
Sir Alec served with and knew Lord Louis Mountbatten, A Person Of Low Morals.
After Sir Alec died on 28 Sept 1972 – two months before Balniel transferred from the Defence Dept to the Foreign and Commonwealth Office – Lady Juliet realised that MIND and her pal Lord Balniel were in need of her and she took over from Balniel as Chairman of MIND and the in situ Posh Person at MIND who's clout protected Gwynne and Dafydd.
Lord Balniel left the Grocer's Dept of Defence just in time to avoid being publicly identified as one of Lambton's close colleagues; he was by the time the scandal broke working as a Minister for Lambton's cousin.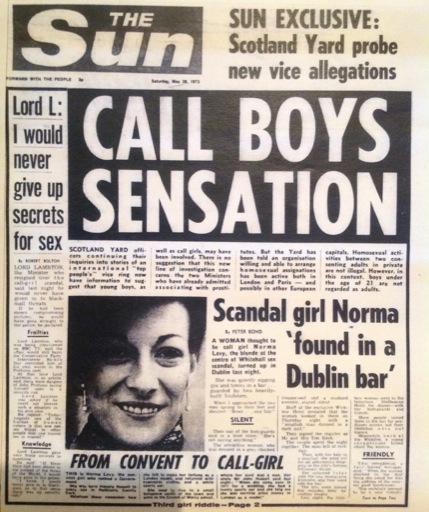 Balniel had handed over to Lady Juliet as Chairman of MIND just as he took up the Minster's role under Carrington, working alongside er Lambton.
That's Balniel of Eton and Trinity College, Cambridge, the Trinity College of Bertrand Russell and the Cambridge spies who found themselves at the centre of sex scandals linked to Gwynne and Dafydd.
There's a running theme here and it isn't that Thoroughly Immoral Man Stephen Ward or even the Poor Little Tart Christine Keeler let alone People Who Are Lying To Get Compensation.
Born in Chelsea on 6 June 1919, Peter Carington was the only son of the 5th Baron Carrington by his wife, the Hon. Sybil Marion Colville, a daughter of Charles Colville, 2nd Viscount Colville of Culross. Peter was a great-nephew of the Liberal statesman Charles Wynn-Carington, 1st Marquess of Lincolnshire, and also of politician and courtier the Hon. Sir William Carington. Brought up at the Millaton House in Devon, Lord Carrington was educated at: Sandroyd School from 1928 to 1932, based at the time in the town of Cobham, Surrey (now the site of Reed's School), and Eton.
Peter Alexander Rupert Carington, 6th Baron Carrington, KG, GCMG, CH, MC, PC, DL (6 June 1919-9 July 2018), served as Defence Secretary, 1970-74, Foreign Secretary, 1979-82, Chairman of British General Electric Company from 1983 to 1984, and Secretary General of NATO, 25 June 1984-1 July 1988. Before his death in 2018, Carrington was the last surviving member of the 1951–55 Gov't of Winston Churchill, the Eden Gov't, and the Macmillan Gov't, as well as of the Cabinets of Alec Douglas-Home and Grocer Heath. Following the House of Lords Act 1999, which removed the automatic right of hereditary peers to sit in the House of Lords, Carrington was created a life peer as Baron Carington of Upton.
Previous posts have detailed Carrington's numerous crimes re Gwynne and Dafydd, but here's a reminder of the worst:
From the end of 1959/beginning of 1960, Carrington served under Harold Macmillan as First Lord of the Admiralty until October 1963. Think Sir Alec Bingley as well as of course John Vassall and the Gay Spies in the Admiralty (see previous posts) and Lord Snowdon's dad having to stop All That Travelling.
These were the years of the Royal Navy's Indian summer and Carrington completed his education in high level defence with Lord Mountbatten. Carrington 'found Mountbatten impossibly vain and unrealistic in his pretensions' and no doubt A Person Of Low Morals as well.
In a 1977 letter discussing the policy of torture of Irish republican internees during Operation Demetrius in August 1971, Harold Wilson's then Home Secretary Merlyn Rees (a Leeds MP who served as Home Secretary and N Ireland Secretary in the post-war Labour Gov'ts who was himself as guilty as they come re concealing Gwynne and Dafydd's crimes, as discussed in previous posts) attributed the origins of the policy in particular to Carrington: '"It is my view (confirmed by Brian Faulkner before his death [NI's PM at the time]) that the decision to use methods of torture in Northern Ireland in 1971/72 was taken by Ministers – in particular Lord Carrington, then Secretary of State for Defence." Presumably when Lord Lambton et al were not actually out of the office discussing Uganda with sex workers supplied by Gwynne and Dafydd.
Carrington was prepared to carry out the same unlawful techniques with witnesses to Gwynne and Dafydd's criminality as he did with N Ireland internees.
It's incredible isn't it, the NATO Commander of the 1980s believed that it was OK to murder the witnesses to an international gang of paedophiles lest exposure cause embarrassment to Thatch's Gov't and the Royal Family.
'Oh Christ there's been another complaint about Gwynne and the boyfriend of the Mad Student concerned has backed her up, we know the parents of both of them, OK Carrington, it's NATO Commander for you…'
A further plus to Prof Eric Sunderland of the Durham contingent being parachuted in as Principal of UCNW in May 1984 when Brown and I refused to withdraw our complaint about Gwynne is that Carrington's old pal Lord Lambton's ancestral seat was on Eric's Durham/Northumberland turf.
Carrington served as Chairman of the Conservative Party, 1972-74, when Edward du Cann's hopes of becoming Leader of the Tory Party were dashed when the Grocer denounced du Cann, Tiny Rowland, Duncan Sandys et al at Lonrho as 'the unacceptable face of capitalism' after my grandfather had spent years denouncing du Cann as a crook. The lunch at the Clarence took place in 1973/74 and not long after, Sir Peter Morrison encouraged Thatch to stand for the Leadership of the Tory Party. A conspiracy of a small number of Tories ensured that du Cann was held over a barrel and supported Thatch himself,
bringing his crowd along with him. See 'The Milk Street and Other Mafias'.
We Shall Remember Them, the murderer of children at work:
In 1979 Carrington was made Foreign Secretary and Minister for Overseas Development in the first Cabinet of Thatch. Thatch spoke very highly of Carrington, stating that "Peter had great panache and the ability to identify immediately the main points in any argument; and he could express himself in pungent terms. We had disagreements, but there were never any hard feelings."
Carrington Chaired the Lancaster House conference in 1979, attended by Ian Smith, Abel Muzorewa, Robert Mugabe, Joshua Nkomo and Josiah Tongogara, which brought to an end Rhodesia's Bush War. Carrington later expressed his support for Mugabe over Ian Smith.
Carrington (then NATO Secretary General) with West German Foreign Minister Genscher in Bonn, 1984
Lord Carrington served as Secretary General of NATO from 1984 to 1988. Apart from his political posts, Carrington was the Chancellor of the University of Reading and served as Chairman of several companies, including Christie's, and as a Director of many others, including Barclays Bank, Schweppes and the Daily Telegraph. He also Chaired the Bilderberg conferences from 1990 to 1998. From 1983 to 2002, Carrington was President of the Pilgrims Society and from 1971 to 2018 the President of the Britain–Australia Society. Has anyone told Strong Woman Julia Gillard?
Carrington was appointed Chancellor of the Order of the Garter on 8 November 1994, four days after Dafydd obtained an injunction against F and me from Liverpool High Court on the grounds that I was an imminent threat to his life. The only truthful allegation in Dafydd's affidavit was that F had blown a raspberry down the phone at him some months earlier. Harriet Harman's dad, a Top Doc who knew Dafydd and Gwynne and who served as President of the MDU – the MDU organised Dafydd's affidavit – died on 13 Nov 1994. Carrington retired as Chancellor of the Order of the Garter in October 2012, a few weeks after Tony Francis was found dead.
Millaton House, Devon, Carrington's youthful home:
Carrington died on 9 July 2018 at the age of 99 yrs after hundreds and hundreds of complaints about the abuse of children in care and vulnerable people in north Wales were ignored, while official documentation was forged or destroyed and perjury was committed in open Court, including in the High Court, repeatedly.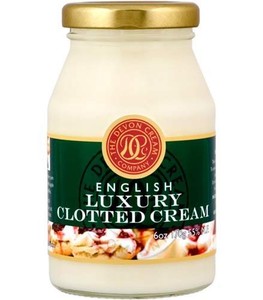 Oh and the corpses of those who had complained were found regularly.
Can someone explain please? What about you Lord Hain, being All Radical and having ignored a letter from me about these matters when you were Secretary of State for Wales?
Can I just mention that my grandfather took on Tiny Rowland which was more than you ever did, the Tiny who didn't treat Darkies in South Africa that well really and grandpa wasn't even a Secretary of State, he was just an angry old bloke from Somerset.
Lady Juliet's son William succeeded to the role of MIND's Resident Posh Person, but it was the late 1970s/80s by then, so William had to adopt the pretence of being a Radical Who Was Down With The Kids and just wanted to help patients get out of this shit yeah, rather than break cover as a Posh Man of the British Establishment who could meet every concern re a Gwynne and Dafydd outrage with 
When Radical William inherited MIND, Gwynne and Dafydd's mate – and Richard Crossman's mate – Labour MP David Ennals who served as Sunny Jim's DHSS Secretary, 1976-79, became Radical William's right hand man at MIND. Lord David Ennals served as Chairman of the Anti-Apartheid Movement, 1960-64, as did his brother John, 1968-76.
David Ennals' son Sir Paul clutters up many Safeguarding Boards in the North East as well as in north London, served as Chief Exec of the National Children's Bureau (another organisation which has found itself hosting paedophiles) and was appointed to a number of Gov't roles concerned with children and young people by Miranda and Gordon's New Labour Gov'ts.
David Ennals sadly died rather unexpectedly 'from pancreatic cancer' on 17 June 1995. A whole collection of Insider witnesses left for a Better Place in 1995, most notably Bing Spear, Dafydd's mate, the corrupt Civil Service mandarin who was at the top of the Home Office Drugs Branch Inspection Unit for decades and Peter Morrison. Bing died in Cornwall on 9 July 1995, Peter was found dead in his house in Belgravia on 13 July 1995. Brown was forced out of his lecturing job at Aston University in July 1995 and the Gang were gathering yet more Evidence of my Insanity and Dangerousness to present a case for me being sent to live with Mr Savile at Broadmoor. Alec Douglas Home died in Oct 1995 and Sir Charles Evans pegged out in Dec 1995. Viv Stanshall and Peter Cook also died in 1995; Viv spontaneously combusted in bed MONTH and Peter Cook died from cirrhosis CHECK in MONTH. That'll teach him for taking the piss out of Sir Joseph Cantley presiding over Mr Thrope's trial.
By 1995, Ronnie Waterhouse knew that he would be holding a rigged Public Inquiry into the North Wales Child Abuse Scandal although The Hague hadn't yet decided to hold the Inquiry, wouldn't decide to do so until Spring 1996 and wouldn't decide to appoint Ronnie to Chair it until Autumn 1996, so it's just as well that Ronnie knew and altered his retirement plans accordingly well in advance. See 'Heart Of Darkness'.
David Ennals was a personal friend of the Dalai Lama.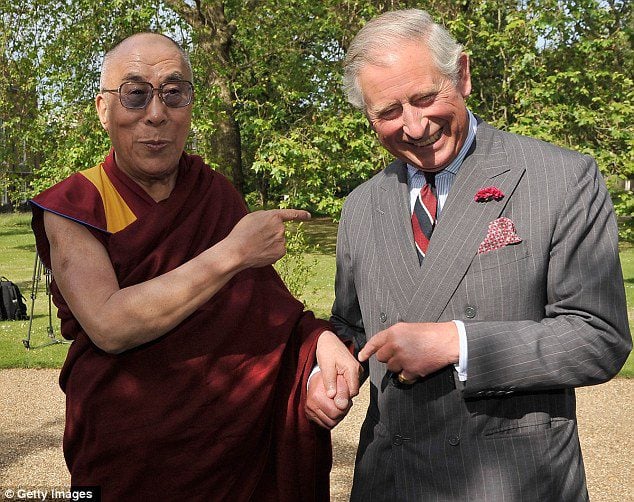 The other Ennals brother Martin, an LSE graduate, was Secretary-General of Amnesty International, 1968-80. Martin was a founding member of AAM in 1959 and also served as Secretary General of NCCL, 1959-66, before it became clear that NCCL had been infiltrated by paedophiles. When that did become obvious, the NCCL had been working with MIND. In 1966 Martin Ennals was appointed Information  and Publications Officer for the Commission for Racial Equality. Martin Ennals died aged 64 on 5 Oct 1991, which was just about when Tony and Sadie Francis pretended that peace had broken out in my direction after the numerous unsuccessful attempts to have me imprisoned, only to be busying themselves behind the scenes with others we know and love formulating the next Cunning Plan.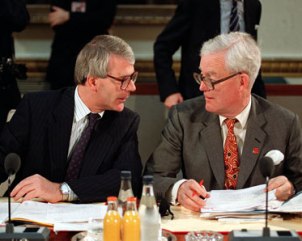 Martin Ennals was awarded the Ghandi Peace Prize. Here's Ghandi with Two Persons Of Low Morals: 
See eg. 'MIND Are Out For Mental Health – But Never For Themselves Of Course' and 'The Science of Animal Behaviour' for more Ennals laffs.
Mr Thrope was an early supporter of the AAM,
as was Lady Lavender Patten of Barnes, wife of Lord Chris, who served as Tory MP for Bath, DATES.
When Patten lost his seat – although he had organised the Tories' successful national General Election campaign of that year – Lord Chris and Lady Lavender nipped off to Hong Kong as Governor of the colony and his wife.
Lord Balniel's uncle James Lindsay married the Hon. Bronwen Mary, daughter of Thomas Scott-Ellis, 8th Baron Howard de Walden, in 1933. They had three sons and one daughter.
James Lindsay died on 27 August 1997, aged 90. George Thomas took a leaf out of Lindsay's book and died on 22 Sept 1997. Both of them died after Ronnie had spent a few months telling the former residents of children's homes in north Wales that they were Lying To Get Compensation after invited the Lying Criminal Drug Addicts to give evidence. Some of the Liars were unable to continue with their evidence because they were too distressed, one of them collapsed and had to be taken to hospital and others left the building helping each other to stay upright and keep walking, which Ronnie interpreted as being a sign that they had left their burden behind them. Another young woman decided that she wanted to unburden herself by live video link and Ronnie got really pissed off with her because she kept crying and was a Most Unsatisfactory Witness.
In the face of all of these crazy, distressed liars whom no sensible person would believe,
one can only wonder why every agency and member of staff giving evidence at the Inquiry was represented by solicitors and/or barristers, sometimes more than one of each. The Welsh Office was represented by Lady Patricia Scotland QC, they didn't even rely on their own crooked lawyer Andrew Park who had served them so well for years. Patsy bagged her People's Peerage from Miranda during the Inquiry! 
She's a Lady and she's Black and she enjoys Gracious Living:
Why the hell did Lord MacKay of Clashfern, a crusty old white male Tory Scottish Presbytarian not known for his positive discrimination, believe in 1991 that it was important for Patsy to become the First Black Lady QC?
Did Lord Mackay sign up to this campaign as well Patsy? Lord Mackay who will not work on the Sabbath and became embroiled in a spat over the matter of a Presbytarian attending the funeral of a Catholic friend?
Lord MacKay of Clashfern says RELAX!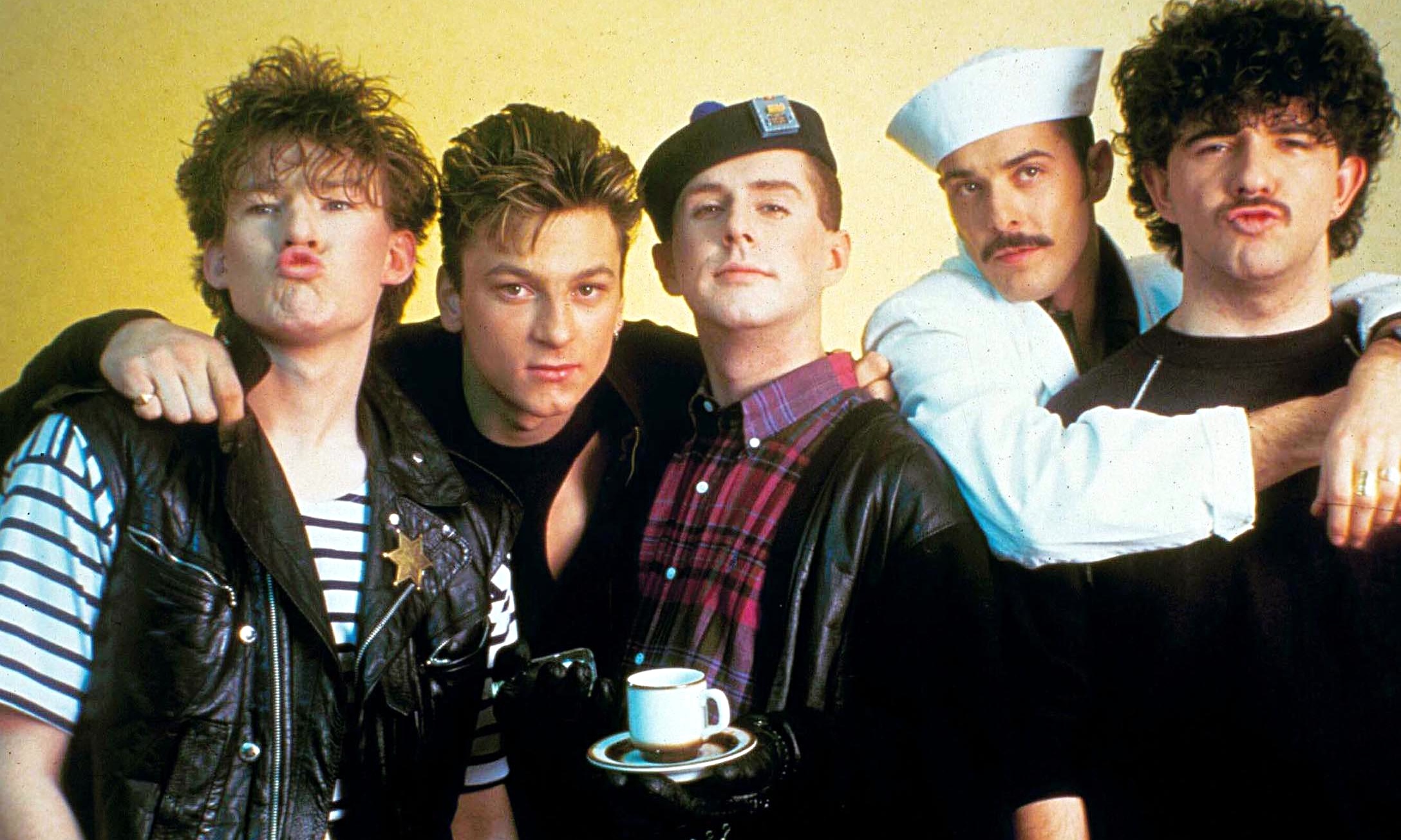 Jan – daughter of Col – See post 'Social Work – Theory'.
Shirl – MP for WHERE – Balniel DATES.
Thorpe was adopted as North Devon's Liberal candidate in April 1952. His political stance matched that of other young activists, who believed that the Party should offer a radical non-socialist alternative to the Conservative Gov't. Mr Thrope and others founded the Radical Reform Group, to drive the Party in that direction. He spent much of his spare time cultivating the voters in North Devon; at rallies and on the doorstep he mixed local concerns with conspicuously liberal views on larger, international issues such as colonialism and apartheid.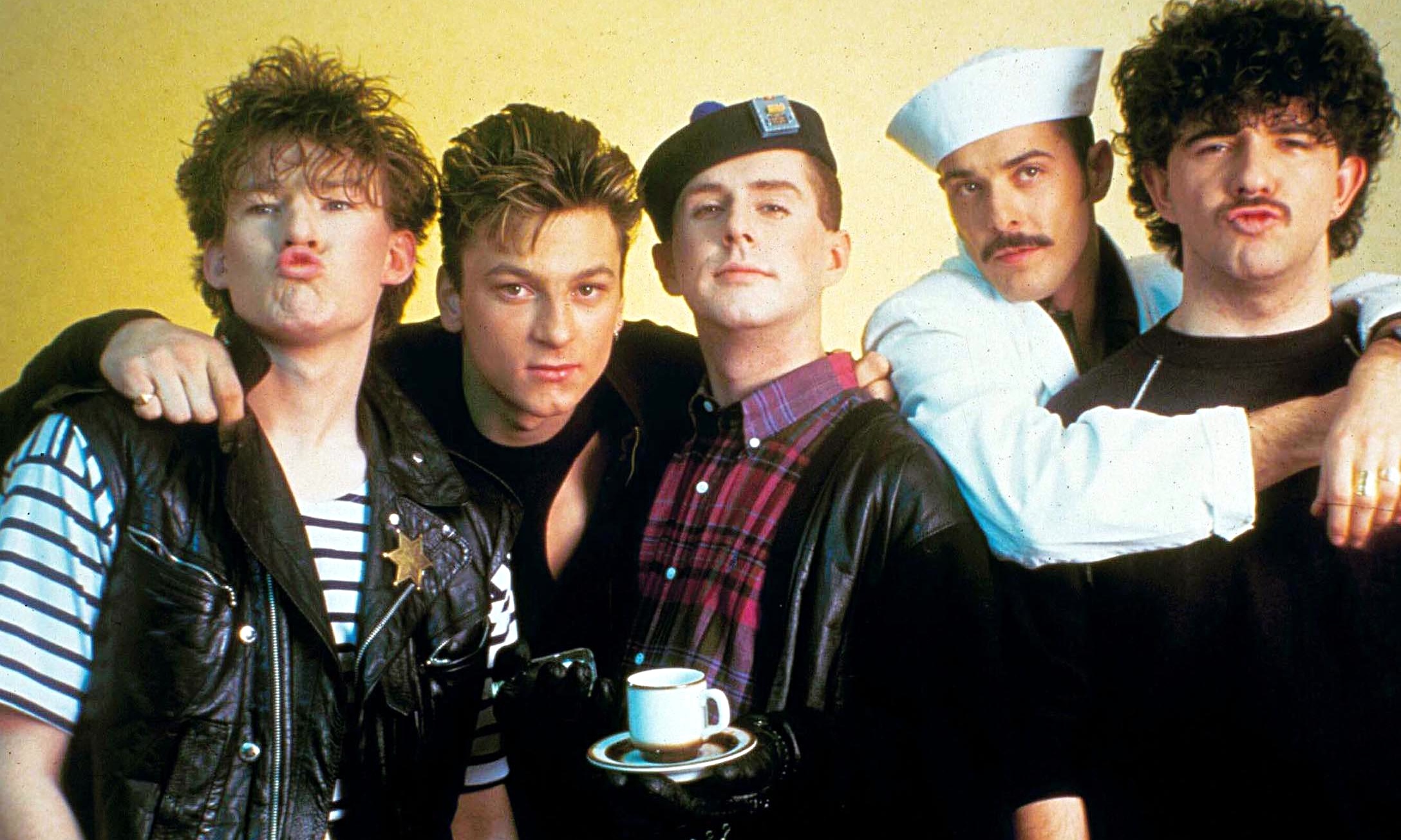 When Anthony Eden, who had succeeded Winston Churchill as PM, called a snap General Election in April 1955, Thorpe succeeded in halving the Conservative majority in the constituency, restoring the Liberals to second place. Anthony Eden's son and heir Nicholas was, like Lord Snowdon, utilising services provided by Gwynne and Dafydd.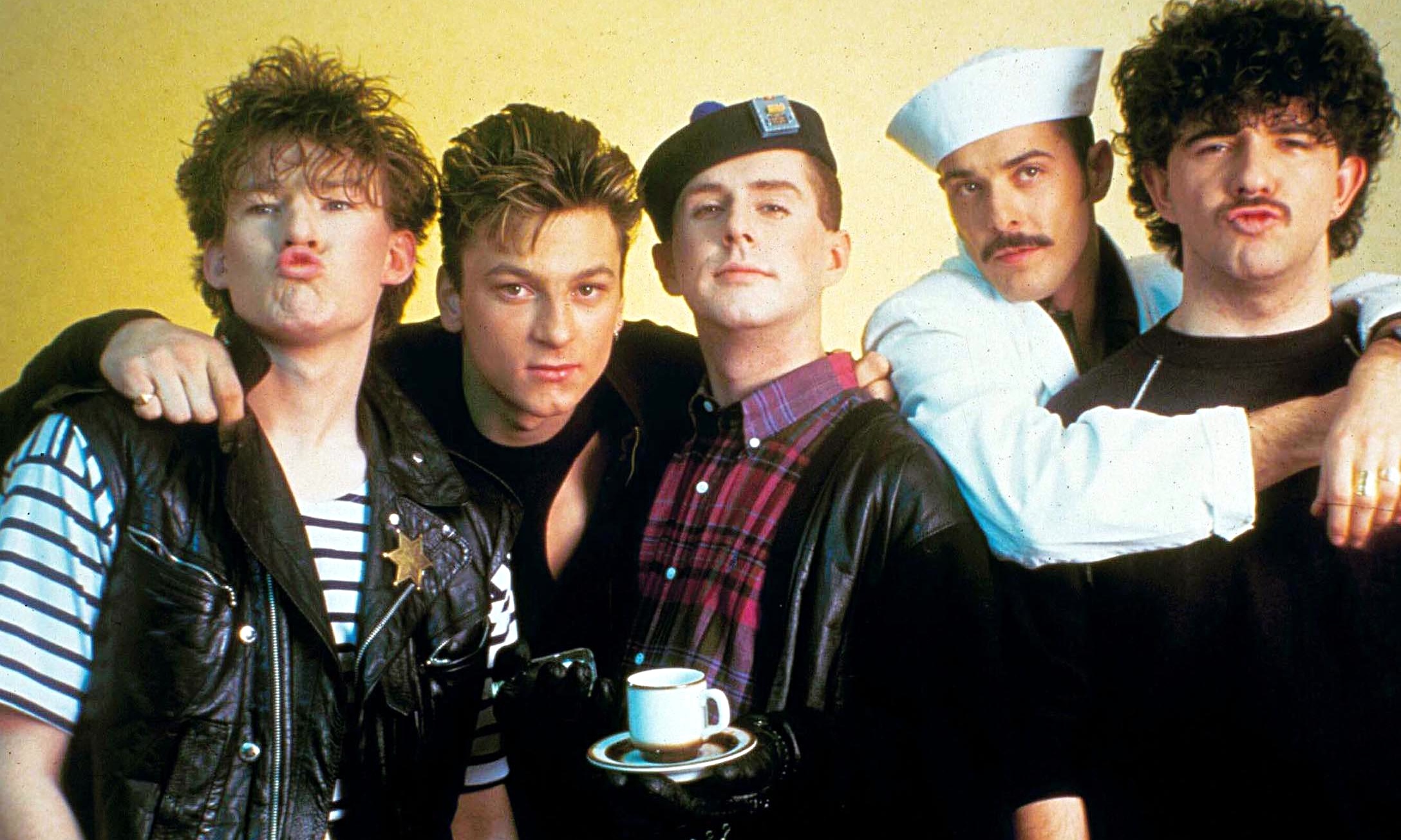 Nicholas died from AIDS in Aug 1985, yet another reason why Tony Francis and the Gang were in overdrive about my complaints by then. It was in Aug 1985 that I went to see Keith Best, MP for Anglesey and Welsh Office Minister about the Gang's activities, not realising that Best was Of The Gang himself and Tony Francis had contacted Best as soon as Francis knew that I was going to complain and ask for access to my medical records.
In need of a paid occupation, Thorpe opted for the law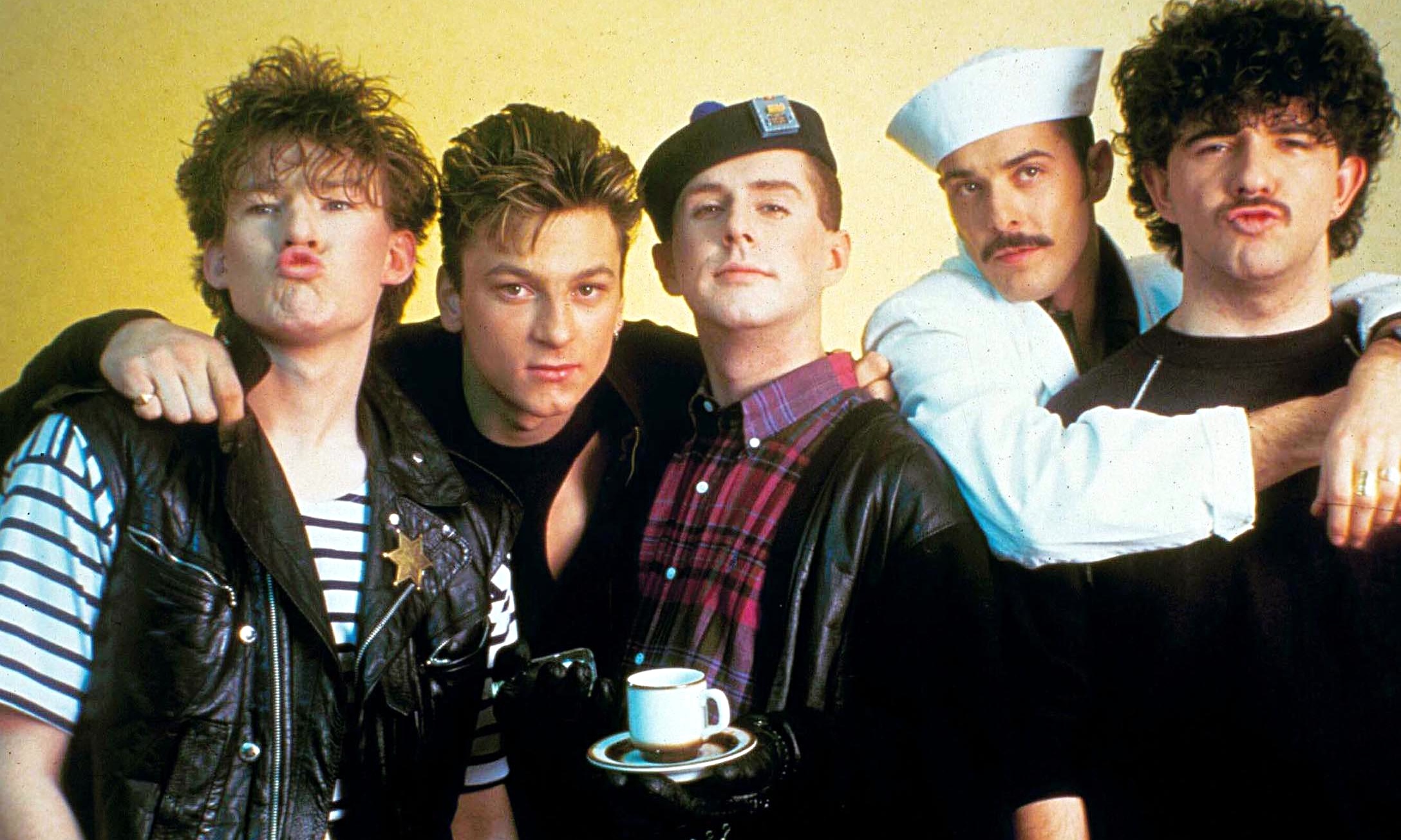 and in February 1954 was called to the bar in the Inner Temple. Mr Thrope found it difficult to earn a living from his fees; he needed another source of income and thus took up TV journalism. Thorpe was employed by Associated Rediffusion, at first as Chairman of a science discussion programme, The Scientist Replies, and later as an interviewer on the station's major current affairs vehicle This Week . Among various assignments for This Week, Mr Thrope travelled to Ghana in 1957 to cover the country's independence celebrations and in 1958 he reported from Jordan on a plot to assassinate King Hussein. Mr Thrope also became a regular on BBC radio's Any Questions?  In 1959 Mr Thrope was offered the post of chief commentator by Associated Rediffusion, but as the condition was that he gave up his parliamentary candidature, he declined.
Associated Rediffusion – the Asa Briggs link HERE
Through the later 1950s Thorpe juggled his legal and TV work with his political duties in North Devon, where he worked to build up support. From September 1956 the Liberal Party was led by Jo Grimond, a more up-to-date figure than his elderly predecessor Clement Davies and more in tune with the ideas of Thorpe and the Radical Reform Group, indeed down with the kids.
Jo Grimond's wife Laura, granddaughter of the former Liberal PM H.H. Asquith, was a big fan of Mr Thrope and campaigned for him.
The Liberal Party polled well in a series of by-elections during 1957 and 1958, culminating in a victory at Torrington in March 1958, a seat which the Party had not contested in the 1955 general election. Thorpe, who had figured prominently in the Torrington campaign, saw this victory in an adjoining Devon constituency as a harbinger of his own future success.
The victorious Torrington Liberal candidate in 1958 was Mark Bonham-Carter, a member of the Liberal dynasty.
Mark Raymond Bonham Carter, Baron Bonham-Carter (11 February 1922- 4 September 1994), was the son of the Liberal activists Sir Maurice Bonham Carter and his wife, the former Lady Violet Asquith, daughter of the Liberal PM H. H. Asquith. Mark's siblings were Helen, Laura and Raymond. Educated at Winchester College and Balliol College, Oxford, Mark's studies were interrupted by WW II and he was commissioned in the Grenadier Guards in November 1941. Bonham-Carter concluded WW II by standing as the unsuccessful Liberal candidate for Barnstaple in the 1945 General Election, before returning to finish the last year of his course at Oxford. Mark then spent a year at the University of Chicago before going into publishing, working for the Collins publishing firm but left as his directors did not agree with his political activities.
In 1955, Mark married Leslie, Lady St Just, the former wife of Peter George Grenfell, 2nd Baron St Just (1922–1984) and the younger daughter of American magazine publisher Condé Nast. By Leslie, Bonham-Carter had three daughters: Jane (created Baroness Bonham-Carter of Yarnbury), Virginia and Eliza Bonham Carter. He also had a stepdaughter from his wife's former marriage.
Bonham-Carter's family continued their heavy involvement in Liberal politics, especially when Mark's sister Laura married the Liberal leader Jo Grimond. It was in 1958 that the Torrington by-election was called in a safe Conservative seat and Bonham-Carter became the Liberal candidate. Much to everyone's surprise Mark won, overturning a 9,000 majority, giving the Liberals their first by-election gain since 1929. Bonham-Carter's margin of victory was just 219 votes. Nonetheless, it was a major boost to the Liberals and the first in a string of by-election victories that would make up the postwar Liberal Revival. Grimond was personally hopeful that Bonham-Carter would be his designated successor. However at the 1959 General Election, just 18 months after his victory, Mark narrowly lost the seat to the Conservatives. Mark continued to be a close advisor to Grimond throughout the latter's Leadership but would never again be an MP, despite a third, unsuccessful, and equally close candidature for Torrington in the 1964 General Election.
Mark Bonham-Carter was a friend of Richard Crossman's and is mentioned in Crossman's Diaries as enjoying the company of handsome young men in gentleman's clubs in London…
Previous posts discuss the Bonham-Carters in detail; there were/are a great many of them. Desmond Bonham-Carter was a big pal of Crossman; Desmond served as Chairman WHAT of UCH?? UCL?? and WHICH Regional Health Board. In that capacity Desmond  was a powerful figure in some of the most prestigious parts of Britain's NHS, including those parts central to the Westminster Paedophile Ring at Grand NHS Institutions and Medical Establishment HQ, keeping the lid on Gwynne and Dafydd. Sir Desmond was Chairman of UCH when Lord Max Rosenheim, one of the most powerful Top Docs of the 20th century, was King of UCH. Lord Max was known to make or break Top Docs' careers and many of those he mentored at UCH subsequently facilitated the Westminster Paedophile Ring and were the big London names who protected Gwynne and Dafydd. Lord Max was mates with Harriet's dad. Lord Max was a Bachelor who wasn't blessed with children.
After his short career as an MP, Mark Bonham Carter found other outlets for his political and publishing interests. He continued to work as a prominent member of the Collins firm, becoming close friends with Roy Jenkins (Mark was reportedly Woy's wife's lover)
and serving as Woy's literary agent. Bonham-Carter became the first Chairman of the Race Relations Board 1966–1971, and its successor, the Community Relations Commission 1971–1977.
Mark was also prominent in the Arts world, as one of the Directors of the Royal Opera House 1958–1982, a Governor of the Royal Ballet 1960–1994 (Chairman of the Board after 1985), and Vice-Chairman of the BBC 1975-80, being vetoed as Chairman by Thatch.
On 21 July 1986, two months after the Gang killed my friend Anne and the month after Hempsons refused to continue representing Wendy Savage in her Battle With The Male Medical Establishment (see post 'A Celebration Of Dafydd's Medical Training' and 'This Is A Nightmare For All Of Us'), Mark was created a life peer as Baron Bonham-Carter, of Yarnbury in the County of Wiltshire. It was just after D.G.E. Wood – a big fan of Dr Death – yelled at me to leave north Wales and forget about everything that had happened there…
Mark became Foreign Affairs spokesman for the Liberal Democrats. His last campaign focussed on granting British citizenship to ethnic minorities in Hong Kong, a measure that was only passed after his death.
Mark was an uncle of the actress Helena Bonham Carter. See previous posts…
Mark died from a heart attack in Italy on 4 September 1994, by which time an accomplice of Dafydd's had planted a brick and claimed that I had thrown in through Dafydd's glass door in the early hours and the police knew that the brick had been planted, as did Hempsons and the MDU but nonetheless meetings were held about me and that brick and the Danger that I presented to the life of Dafydd and all other Top Docs. On 4 Nov 1994 Dafydd obtained that notorious injunction against F and I from Liverpool High Court on the basis of no more evidence than that F had blown a raspberry down the phone at him months earlier. Just before the brick had been planted and the MDU and police contacted, F and I had met with the Mental Health Act Commission and told them that Dafydd was sexually exploiting patients and that serious complaints were not being investigated. The MHAC were honest enough to admit to our faces that they knew about this and 'had heard it many times before'. They then did not investigate our complaint and we were subsequently served with the injunction and banned from the Hergest Unit.
Now then. How's this for a Bonham Carter biography should anyone wish to exclaim 
Richard Erskine Bonham Carter b.27 August 1910 d.18 December 1994
MRCS LRCP( 1936) MRCP(1938) MB Bchir Cantab(1940) FRCP(1950)
As a paediatric cardiac specialist at the Hospital for Sick Children, Great Ormond Street, Dick Bonham Carter was a pioneer in the clinical care of children with heart problems. He was born in Poltalloch, Argyllshire, although the family house was in Hertfordshire until the early 1920s. In his early life a great deal of his time was spent in Scotland, either at Poltalloch, where there would be large family gatherings, or at the cottage on Loch Sween, which had been given to his mother when she was a young woman. To the end of his life Dick loved to be at the cottage, walking, sailing, fishing and later all the family holidays would be spent there.
He was an accomplished athlete, playing cricket for his school at Clifton 
Dame Janet Vaughan, Principal of Somerville College, Oxford when Thatch, Shirl, Shirley Summerskill, Margaret Jay, Esther, my Posh Relative Veronica Lady Piercy and Veronica's stepdaughter Penelope Piercy (see post 'Lord Gnome, My Distant Relative By Marriage') and so many others went to Somerville, was the daughter of an excessive Bloomsbury Group family who excelled at Ugandan discussions, often with children, who's father was a Master at Clifton College and later Head of three high profile public schools, including Rugby. See post 'A Celebration Of Dafydd's Medical Training'. Famous Clifton old boys include John Cleese. I think that D.G.E. Wood may have been a Clifton alumnus.
and for Peterhouse at Cambridge and gaining a blue at Cambridge for the long jump, besides being a very active skier. After reading natural sciences at Cambridge, he did his clinical studies at St Thomas's, qualifying in 1936 and obtaining his membership of the College in 1938. He was house physician and then casualty officer at Thomas's and remained indeed always very much of a Thomas's man.
Bonham Carter was one of the Almost Ancients who trod the path of Tommy's before Dr Death, Sister Hutt's dad, Shirley Summerskill, Ann and Peter Dally et al
In 1938 he moved to the Hospital for Sick Children, Great Ormond Street, as house physician and, after that, as resident assistant physician. This kindled the interest in children's medicine which led to his becoming one of the leading general paediatricians of his day, and later a pioneering child cardiologist.
Previous posts eg. 'Oliver's Army' and 'Too Many Pills' discuss the swathes of Top Docs of Bonham Carter's generation who prepared the landscape at Great Ormond Street for the Westminster Paedophile Ring generation of Docs who trained and were juniors in the 1950s and 60s. Max Rosenheim also trained many of the same Docs. They passed through GOSH  leading to the organised abuse boom in the 1970s and 80s that resulted in trafficking and even Jimmy Savile at GOSH and never any questions asked.
Memories of him in this period are of a person socially and clinically sure of himself and very competent and confident, always kind and always ready to help a junior, and always fun. There was never any question as to who was in charge in the mess though that did not mean that wild games were not played in the evenings, with Dick in the lead.
At the outbreak of war he worked in the emergency medical services for a while, but in 1940 moved to the Ministry of Health to help organize medical services for children evacuated from London. In 1942 he became medical officer and then deputy assistant director of medical services with 1st Airborne Division, rising to the rank of major and serving in North Africa, Sicily and Italy with 4th Parachute Brigade. He was mentioned in despatches during the tragic Arnhem landing when he was made a prisoner of war. Dick did not talk about this period, except to complain half humorously that the training for safe parachute landing was responsible for his bad back.
After the war he returned to Great Ormond Street as assistant to Sir Alan Moncrieff
Moncrieff trained many a Modern Abuser who partook of the 1970s and 80s boom in molesting, as discussed in previous posts
in the fledging Institute of Child Health.
A grand sounding name to provide a smokescreen for what was really happening, a criminal cartel of Top Docs expanding business
In 1947 he was appointed consultant physician to the hospital and in 1948 consultant physician in the children's department of University College Hospital, retiring from the latter in 1966 in order to concentrate his energies on his cardiac work.
Bonham Carter was at UCH during the Lord Max Rosenheim years when so many who were involved with the Westminster Paedophile Ring trained or worked at UCH. Bonham Carter's relative Sir Desmond was Chairman of UCH when Richard was consultant there.
At UCH Bonham Carter worked closely with Bernard Schlesinger, his senior colleague,
Bernard was another one of the crowd. The ring hit the jackpot with Bernard, because his son John Schlesinger, although brought up in Hampstead and educated at Balliol, Oxford, became a famous film director based in the US. John Schlesinger directed 'Midnight Cowboy' (1966), the film that made Jon Voight, Angelina Jolie's dad, famous.
John Schlesinger also directed that notorious 1992 party political broadcast for the Tories which featured John Major being filmed while driven around Brixton where he had grown up saying things like 'I wonder if that's still there?? Ooh yes, yes it is, I used to live next door'.
As PM, John Major appointed The Hague as Secretary of State for Wales and The Hague subsequently organised the massive cover-up of the crimes of Schlesinger's dad's friends and colleagues which was the Waterhouse Report.
The Hague went on to greater things. In his capacity as Foreign Secretary he 'worked with' Angelina, after Angelina, daughter of Jon Voight, was appointed a UN Special Envoy with a particular interest in Wimmin. Angelina also bagged a Chair at the LSE as a Professor of Practice, although Angelina had only a few 'O' levels.
See 'Oliver's Army' for info on John Schlesinger, Angelina and her activities with The Hague etc.
In that regard Angelina exceeded the achievements of Julia Hobsbawm, daughter of Eric, who was appointed Professor of Networking at the LSE, having withdrawn from her first degree years previously to form her PR company with Sarah Macaulay, who married Gordon Brown! Sarah Brown completed her own degree at Bristol University; she studied psychology there, along with Sarah Jenkins from Bangor, who's mum Sheila was a lying abusive social worker for Gwynedd Social Services. The Jenkins' family were friends with D.G.E. Wood and other members of the Gang, including those at UCNW, because Sarah's dad David Jenkins was an academic at UCNW. See previous posts.
Susie Orbach also bagged a Chair at the LSE after her famous patient Diana hit that tunnel in Paris. Unlike many of Di's Confidents, Orbach has never Opened Her Heart to a tabloid about Di's Hell and she didn't steal a load of Di's frocks a la Paul Burrell and get away with it by threatening to subpoena Brenda to give evidence, but Orbach has done very nicely for herself since her therapy failed to make Di less distressed. Orbach is so keen for Wimmin to understand that Fat Is A Feminist Issue and to advise on Body Image that Orbach looks like this:
Rather than like Beth Ditto:
Orbach relatively recently declared herself to be post-heterosexual and now lives with Jeanette Winterson, who also mouths off about right-on matters although she owned a fruit and veg shop in north London from which no ordinary person could ever have afforded to purchase an apple.
and formed a firm friendship with John Nixon, professor of obstetrics, which enabled him to introduce innovations not found at that time on obstetric wards; these included the presence of fathers at delivery and rooming-in for the new-born babies with their mothers.
As with the claims that all the Big Names in paeds allowed parents to visit their children in hospital regularly and that Dafydd and Gwynne were Experts in Psychotherapy, this just wasn't true. Hospitals were still being very difficult if fathers wanted to be in the delivery room until well into the 1970s (and in Bangor, until the 1980s), just as children's wards isolated children from their families until recently, causing emotional damage and Psychotherapy, if it did exist, was the sort of travesty on offer in north Wales ie. a means of extracting info from patients which was then misunderstood, embellished, Shared with the world and his wife and used to damage the patient. If it wasn't simply just made up.
He was also successful in promoting academic paediatric posts at UCH for the first time, an important advance for research and training.
And for the development of the Westminster Paedophile Ring.
At Great Ormond Street Bonham's interest in children's heart defects had developed early, but perhaps crystallised with the appointment of David Waterston as consultant surgeon. The two of them made an enduring partnership: the plumber and, as Bonham said of himself, the plumber's mate. In 1954 they established the cardio-thoracic unit with six beds, the first in the country to be devoted entirely to the diagnosis and treatment of children with heart and lung disorders.
The technical success of this, together with Bonham's determination and his perseverance in demanding and obtaining funds from the Ministry of Health,
Fings Break
persuaded the hospital to increase greatly the size of the unit. He had some notable battles with the nursing administration,
If Matron was getting stroppy, that meant visible chaos on the wards. Matron didn't mind serious wrongdoing and patient harm if appearances were kept up and Her Girls were to be seen on the ward in uniform Tending To The Sick, but obvious chaos caused ructions.
which did not take kindly to frequent demands for increasing numbers of their best staff to be diverted to the thoracic unit.
No Angels left to staff the wards then. Unlawful, even in those days.
The success of the unit and the personalities of Bonham and Waterston attracted an increasing number of young doctors and surgeons from all parts of the world.
It's great, we can do what we want at Bonham's, there's no interference from the hospital authorities.
These are now their successors,
Oh God, they Learnt with Bonham
and have been responsible for the cardiac unit becoming an internationally recognized leader in paediatric cardiology.
Using methods handed on from the Greats ie. we monopolise the best Angels for our own personal whims, we do what we want and their is no research governance or indeed governance of any kind. Just us, the Experts, with a lot of funding and more resources than nearly any other part of the NHS. Ah children's heart surgery, they're Performing Miracles there!
Bonham Carter's research interests were entirely clinical
and, although he could not be described as research minded, he certainly encouraged, inspired and selected juniors who developed the research potential of the cardiac unit.
If the plumber's mate wasn't research minded, how did he perform the Miracles, build up the world leading unit or indeed select the juniors who did develop the research potential? How would the plumber's mate identify their potential, what if he selected the tea lady instead of the silent paediatric cardiology genius in the corner?
The number of papers published by the department increased from two or three a year in the fifties to at least fifteen in the early seventies.
He was an excellent lecturer, clear, concise and always spoke with that element of humour which so endeared him to his juniors.
An excellent memory, extensive reading and wide experience gave him an enormous fund of knowledge. He had a great sense of fun
OBI
and a slightly sardonic sense of humour which flavoured all the many tales he told. It was perhaps his total lack of pomposity and his ability to treat all alike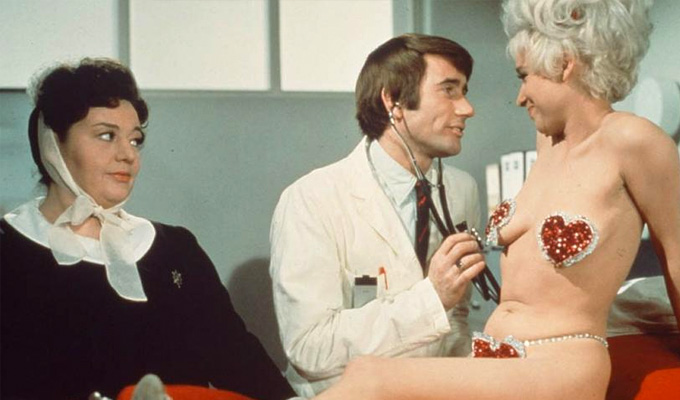 which most impressed those who worked for him. He always looked slightly crumpled, even in his newest suit, because appearances meant nothing to him. The story is told of the visiting bigwig, used to more self-important specialists, who was astonished when Dick happened to mention his brother, the admiral.
Modest Dick for whom social status and fancy clothes meant nothing. Dick's older brother Christopher whom Dick just mentioned in passing now and then:
Sir Christopher Douglas Bonham-Carter was Treasurer to the Phil the Greek, 1959 to 1970. Not that Dick ever let on of course, his only interest in life being to Help Those Children while wearing his crumpled old suit, passing himself off as a nobody.
Sir Christopher Bonham-Carter was educated at Elstree School and the Britannia Royal Naval College, Dartmouth. He entered the Royal Navy and was Naval Attache in Rome, 1951-53. After spending 1953 to 1955 at the Admiralty Christopher became Commanding Officer of HMS Glasgow in 1955 and 1956. His last posting was as Chief of Staff Mediterranean, 1957-59. So Sir Christopher was one of the senior Royal Navy officers who served in the Mediterranean Fleet with Admiral Sir Alec Bingley, the husband of Gwynne and Dafydd's pal Lady Juliet Bingley…
In 1959 Christopher Bonham-Carter joined the Household of Phil the Greek as Treasurer to Phil. In 1970 Christopher was appointed Private Secretary to Phil; he retired from both positions at the end of that year. In 1961, during a Royal visit to Nepal, Christopher was credited with sharing a tiger kill with Sir Michael Adeane (another Royal toady, as discussed in previous posts) on a Royal tiger hunt. The task of shooting the tiger had fallen to Christopher after Brenda had declined, Phil had been unable to do so due to having his trigger finger in a splint and the then Foreign Secretary Alec Douglas-Home had missed twice.
Sir Christopher was appointed Extra Equerry in 1970.
From 1971 until his death he was also Secretary and Registrar of the Order of Merit.
Christopher Bonham-Carter was made a Companion of the Order of the Bath in 1959, and a Commander of the Royal Victorian Order in 1962. He was advanced to Knight Commander of the Royal Victorian Order in 1968, and Knight Grand Cross of the Royal Victorian Order in 1970.
Christopher is the grandfather of actor Crispin Bonham-Carter. I don't know whether Crispin goes tiger hunting, but he's the sort of luvvie who ought to keep it quiet if he does.
[Dick] was a truly modest man,
Meet my brother Sir Christopher, Tiger Shooter To Brenda and Phil
whose happiness was in his family life; 
and of course Sir Norman Denning (Head of Naval Intelligence for years), Sir Norman's brother Lord (Master of the Rolls from the early 1960s until the early 1980s), all those Liberal politicians, including Mr Thrope and the Top Doctors.
it has been rightly said that he extended his family to cover all those with whom he worked, the children and their parents, nurses, doctors and domestic staff.
As well as Brenda and Phil and their servants
He and Margaret Stace were married in 1946 and their three daughters were a source of great pride and joy to him. The Bonham Carters' hospitality, first in their flat in Hampstead and then in Torrington Park, leave memories of many happy times, especially perhaps of the great fireworks parties in which Dick delighted. 
Unhappily his later years were clouded by increasing disability from chronic back pain, although he persisted in patient work for the Samaritans,
In distress and suicidal? Here's Dick, he has some interesting if rather eccentric friends, some of whom are sex offenders and murderers.
and then from the pain in his legs, and the loss of a leg, due to thromboangiitis obliterans.
Dafydd would enjoy diagnosing that. 'Ewe do rrrrealise that ewe are suffering from thromboangiitis obliterans. Ewe have about three weeks to live and I am sorry but there is no more that I can do for ewe. Goodnight Dr Bonham Carter.'
Thromboangiitis obliterans
Other names
Buerger disease, Buerger's disease, Winiwarter-Buerger disease, presenile gangrene[1]
[Note the complete occlusion of the left femoral artery.]
Unable to visit his beloved cottage at Achnamara, he was virtually immobilized, bearing himself in the manner he had conducted his life, uncomplaining and with that gentle humour he had always shown.
Dick the Life and Soul of the Doctors' Mess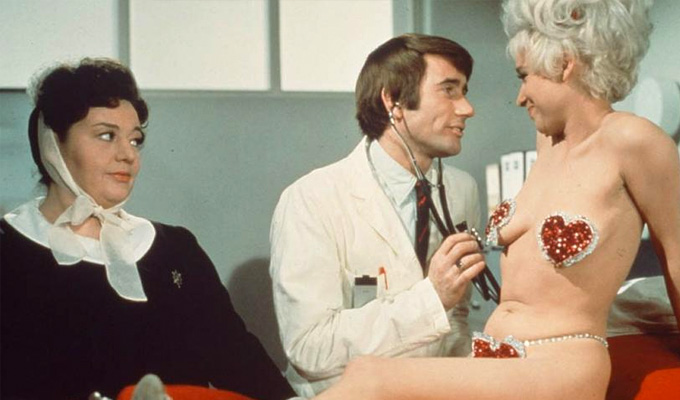 (It was a suspected case of thromboangiitis obliterans.)
Thromboangiitis obliterans
Other names
Buerger disease, Buerger's disease, Winiwarter-Buerger disease, presenile gangrene[1]
died on 18 Dec 1994, the month after Dafydd obtained that High Court injunction against F and I just as the Top Docs and bent lawyers of the Welsh Office and Gwynedd Community Health Trust began yet another Cunning Plan to have me sent to live with Mr Savile at Brenda's pleasure and if possible, lobotomised. Ronnie Waterhouse knew that he would be holding the Inquiry into the VIP paedophile ring that had never existed in north Wales by 1995, although The Hague wouldn't announce it until 1996…
Richard Bonham Carter's obituary was written by A P Norman.
Richard Bonham Carter's obituary in the Indie stated that his private practice consisted of virtually entirely the children of his colleagues and friends. It was also stated that after Bonham Carter and Waterston developed 'The Thoracic Unit' at GOSH (then known as GOS) 'the first join medical and surgical ward dedicated entirely to the diagnosis and treatment of children with chest and heart diseases' Bonham Carter wanted to build a whole cardiac centre at GOS, but 'financial, political and bureaucratic problems' needed to be overcome. Whether those problems were put in place by someone who had the sense to realise what a bloody nightmare was unfolding at the hands of Dickie Of The Mess and his Mates In High Places I'm not sure. I can't have any faith that was the reason, because of course dear old Audrey and Sunny Jim Callaghan were fundraising for GOSH – Audrey was Chairman of the Governors for years and Sunny Jim Helped When He Was PM – throughout these excesses. Dick's vision came to fruition in 1988 when the Cardiac Wing of GOSH was formally opened. By which time, Dafydd, Tony Francis, the BMA, John and Vincent Marks, Carlo and goodness knows who else were very busy with their plans for me indeed and were ordering Ken Clarke and others to hand over the dosh as demanded or Fings Would Break. And not just Brown's cheekbone, tooth and skull as in that attempt to murder him just after the Cardiac Wing opened.
Dick of the Mess died at Knebworth in Hertfordshire. The Hertfordshire that was the home of the Bingleys and the county that contained the one-time constituency of Dafydd and Gwynne's friend Lord Balniel and of course of Shirl.
Mr Thrope's TV and radio work brought him a measure of celebrity. The journalist Christopher Booker recalled: "He had an extraordinary ability both to cheer up his followers and send up his opponents". Throughout the 1950s Thorpe was leading a 'secret homosexual life', at a time when all such activity was illegal in the UK and subject to heavy penalties, thanks to Gwynne and Dafydd's friend David Maxwell-Fyfe aka Lord Kilmuir, Home Secretary, DATES, Lord Chancellor, DATES. Kilmuir was famously homophobic in public while doing all that he could to not only ensure that Gwynne and Dafydd remained in business, but became the Go To people for rent boys. Geraint Morgan QC and Lord Maelor moved in on north Wales (see 'Cymro 007') at exactly the time  as Mr Thrope and his friends were fishing around for Parliamentary seats in the West Country. Dafydd himself was selected and supported through Liverpool Medical School during the 1950s by the security services who identified Dafydd as a suitable person to train up to assist and then succeed Gwynne while also infiltrating Plaid.
Maxwell-Fyfe was a corrupt barrister of WHICH INN who had been lead prosecuting Counsel at the Nuremberg Trials, so enjoyed a towering reputation for Fair Play and Opposing Tyranny. The result of Maxwell-Fyfe's homophobia was of course an atmosphere of terror for gay men who were not friends with Maxwell-Fyfe, Dafydd, Gwynne etc. I imagine that one useful effect for Gwynne and Dafydd will have been that victims of their services for VIP closet gay men will have been most reluctant to pipe up that they had been sexually assaulted by Lord Snowdon/George Thomas/Mr Thrope/Nicholas Eden etc lest the fickle finger of suspicion was pointed at them and they were denounced as a Poof In Need Of Treatment From Gwynne or of course a prison sentence.
It was exactly the same game that was played during the Profumo Affair, when the Tarts procured from Gwynne and Dafydd's business were denounced by the very people who had been using the services. These tired old techniques were still in use when I and others complained about Dafydd and Gwynne, with added blackmail, threats and intimidation if the usual methods were unsuccessful.
This might come as a big surprise to the world but young women really were not interested in shagging Dafydd and Gwynne and the 10 year old boys who were repeatedly sexually assaulted by their customers didn't Ask For It in any way whatever.
Although exposure would have ended Mr Thrope's political prospects instantly, his Secret Homosexual Life wasn't in reality such a secret, it was widely known in the Liberal Party, in London and in North Devon. I very much suspect that it was widely known in North Wales as well. The wider electorate were the only people who didn't know and they didn't matter anyway.
Mr Thrope's efforts in North Devon came to fruition in the October 1959 General Election, when he won the seat with a majority of 362 over his Conservative opponent James Lindsay . It was the Liberal Party's solitary gain in what was generally an electoral triumph for Harold Macmillan's Conservative Gov't. Harold's wife Dorothy was having a long affair with Lord Bob Boothby, who was also making use of the services offered by Dafydd and Gwynne and had a sexual relationship with Ronnie Kray. Bob Boothby lived in Belgravia near the Armstrong-Jones residence, but spent much time in the East End on the territory served by the London Hospital.
On 10 November 1959, Mr Thrope made his maiden speech. He highlighted poor communications as the principal reason for the lack of employment opportunities in North Devon and called for urgent Gov't action. Soon after election, Mr Thrope succeeded in having developments secured for a local hospital; I presume that was the North Devon Hospital at Barnstaple.
In the early 1960s 'Private Eye' were given the story about Norman and Mr Thrope but declined to publish. At the time, the Eye was still under the control of it's founders, former Shrewsbury School boys Richard Ingrams, Christopher Booker and Willie Rushton. Ronnie Waterhouse worked as their libel reader.
Heseltine went to Shrewsbury School, as did Sir Charles Evans, Principal of UCNW, 1958-84 and others in the network eg. Prof Harold Scarborough JOB TITLE of the Welsh National School of Medicine, who nipped overseas for substantial periods of time, including to Nigeria, establishing hospitals and medical schools outside of the UK.
Mark Bonham-Carter was defeated at Torridge in 1959 by the Tory Percy Basil Browne (2 May 1923-5 March 2004) who served as MP for Torrington, 1959-64. Browne was educated at Eton before joining the Royal Armoured Corps in the British Army in 1941, and fought in North Africa, Sicily and Italy before joining the D-Day landings in Normandy in 1944. After the war Browne took up farming in Devon with his first wife, Pamela Exham, who died after a hunting accident.
Following Pamela's  death, Browne moved to Dorset where he took up steeplechasing; he rode in the 1953 Grand National. Browne then remarried and moved to Gloucestershire, where he bought and ran a coal merchant's business. He later married for a third time and moved to Wiltshire, land of Peter Morrison's family, where he died.
Browne was selected by the Conservative Party to fight the 1959 General Election in the Labour-held Gloucester constituency, but was persuaded to stand instead in Torrington, recently won by Mark Bonham-Carter. The defeated Conservative candidate at the by-election had been Anthony Royle, whose failure had been attributed partly to being perceived as a City businessman and the Party wanted a local candidate. Anthony Royle being rejected at Torrington because of his business in the City is curious because in 1956 Edward du Cann had been elected for the Tories in Taunton; du Cann was a City businessman and flashed this about as his USP. du Cann was known for travelling around Taunton in a Rolls Royce, like Mr Thrope du Cann made it very clear that he was Of London Circles not a bumpkin, yet I don't remember this being used against du Cann in any official discourse. du Cann rose and rose through the Tory Party and still didn't go away even after being exposed as a crook and denounced as a crook by people more powerful than my grandfather.
Browne agreed to stand on condition that he did have to undergo the usual process of appearing before a selection committee. In a year of Liberal gains, he retook the seat. Browne served for only one term, in which he developed a reputation as an independent-minded politician. He refused the offer of a post as PPS because it would have restrained his freedom to criticise the Conservative (Macmillan's) Gov't. Browne stood down at the 1964 General Election.
After leaving the Commons, Browne undertook various business ventures (including the Chairmanship of Appledore Shipbuilders) and accepted several public appointments, including serving as Commissioner of the National Parks. Browne was a Deputy Lieutenant of Devon from 1984 until his death on 5 March 2004. Percy Browne died just as the Gang were hoping that I'd be going to prison 'for seven years' as Alun Davies enthusiastically assured everyone for 'threatening to kill'. The charges were withdrawn on the first day of the trial in Spring 2004 when it became clear than en masse perjury had taken place. At the time, someone in Somerset who knew much of what had happened to me at the hands of the Gang and had used it for his benefit was awaiting trial for manslaughter. In May 2004 the helpful judge who presided over his trial at Bristol Crown Court, Heather Hallett, stopped the trial and ordered the jury to acquit. Heather was promoted and became Dame Heather not long afterwards. I've been told that events in Bristol Crown Court were directly related to the Gang but I haven't yet been supplied with details re the chain of command, although Miranda was alleged to have had something to do with it. There's irony for you, the Somerset contingent and the man who Walked Free From Bristol Crown Court in particular loathe Miranda and the Labour Party.
Percy Browne's duties as Deputy Lieutenant at that time may well have brought him into contact with High Society in Somerset ie. Col Walter Luttrell, Lady Elizabeth Gass, General Lonsdale and Brown's father, as discussed in 'He Was Looking At I In A Funny Way…'
Percy Browne's Torygraph obituary read:
Percy Browne, who has died aged 80, was the farmer and amateur jockey persuaded to stand for the Tories at Torrington, Devon, in the general election of 1959. Torrington had been won for the Liberals by Mark Bonham-Carter, a grandson of the Prime Minister Herbert Asquith, in the by-election of 1957. Browne initially declined to seek the nomination for the Tories, and only accepted provided he did not have to face a selection committee.
After being adopted as "very much the horse for the local course", Browne's tall, dark, handsome figure was seen as a winner with female electors, and he held off the rising Liberal tide that swept Jeremy Thorpe into the contiguous constituency of North Devon. In his maiden speech, Browne recalled receiving a phone call after the election in which a voice declared: "This is Asquith's voice speaking, and I am very displeased with you."
As an MP, Browne concentrated on constituency affairs, offering to introduce a measure to increase the powers of parish councils when he came third in the ballot for private members' Bills. He advocated the birch for certain sexual offences against children
Percy can't have been strongly committed to that particular policy or he'd have had great difficulty working and socialising with many of the people with whom he got on very well.
and, as a champion of pensioners, he criticised workshy layabouts on National Assistance.
There weren't many of them at the time, there were only millions of people Who Didn't Want To Work when Thatch became PM. When Thatch was PM there was also a big increase in the number of teenagers and young people who were destitute because They Don't Want To Live Like Decent People. Unusually for someone with a Masters degree from an elite medical school I was said to be one of them, so thank God that I and the others found ourselves constantly on the receiving end of Help from the Gang. Who knows what would have happened to us without it. There has recently been a rapid increase in homeless people Who Don't Want To Live In Accommodation Provided, they prefer to kip in a doorway being urinated upon and assaulted by thugs whom know that they won't be held to account.
He supported a Bill to tighten the regulation of City companies
Again this is admirable, but it contrasted with the presence of Edward du Cann down the road at Taunton who received support from the highest echelons of the Tory Party despite being denounced by the Grocer, with his Lonrho colleagues, as the unacceptable face of capitalism.
and, when Mrs Thatcher took departmental questions for the first time as a Parliamentary Secretary because the Minister of Pensions had been moved, Browne was gallantly on his feet, and received her assurance that she would pass on his concerns to her "next Right Honourable Friend – when I have one".
Although Browne had taken part in a backbench rebellion against the policy of maintaining excessive coal, he was still offered a post as a PPS. He declined, explaining, "I gathered that one is not expected to indulge in strong public criticism of the Government." He was happier forming a non-profit-making Association of Gilt-Edged Security Holders. In Who's Who he listed "whip baiting" among his hobbies.
But after four years, he developed a pulmonary embolism, which landed him in St Thomas's Hospital, where one of the registrars was the newlyadopted Labour candidate for Torrington, David Owen. In his autobiography, the future Social Democratic Party leader recorded how he had asked a colleague to take over Browne's case; the coincidence of a political opponent dying under a rival's care would not have been missed.
Well that was DEFINITELY a public display and one with which I am familiar. Not only has Death never shown himself to have any principles or to follow any ethical guidance, but Tony Francis and D.G.E. Wood did exactly the same thing to me. They Referred me to Someone Else because it would be Wrong for them to continue in these circumstances. Documentation in my possession demonstrates that not only did Wood and Francis Refer me to Docs whom they knew were dangerous and the key figures in a trafficking ring, but they had a cosy arrangement with those Docs to er Refer people. Then there were the regular chats, phone calls and letters etc between them all, even years after those who did the Referring were no longer Involved In My Care. Ooh and the statements to police, to the GMC, to the BMA, to the High Court…
As the patient slowly recovered, Owen dropped in for chats with Browne, who told him that his specialist had commented, on looking at his electro-cardiograph, "This is a by-election heart."
If Owen had passed Browne onto an Esteemed Colleague, what was this all about then? There is no such syndrome as a 'by-election heart' but Docs say some odd things  after reading ECGs, including 'You definitely do not have a heart problem' in the event of patients who have heart attacks. My father had this experience with the dreadful Dr Matthews of Nether Stowey in Somerset, but father was in good company because John Smith was told the same at Edinburgh Royal Infirmary before keeling over with a massive heart attack.
Could Dr Death have mistaken a case of thromboangiitis obliterans for a by-election heart? It's easily done.
Thromboangiitis obliterans
Other names
Buerger disease, Buerger's disease, Winiwarter-Buerger disease, presenile gangrene[1]
Browne duly recovered, but when the 1964 general election was called he declined to stand again, thereby enabling Owen to succeed him.
I suspect that there was an arrangement and one that Browne was party to, although Death didn't win Torrington in 1964…
The eldest son of Captain Bill Browne, Master of the Portman Hounds in the 1920s and 1930s, Percy Basil Browne was born on May 2 1923. He was educated at Eton, where his exasperated housemaster tried to expel him – but was frustrated because Captain Browne refused to take his son away.
Young Percy joined the Royal Dragoons in 1941 as a trooper. He later told an Any Questions audience on the wireless that he had had one of the cushiest jobs in the Army: looking after a six-seat latrine, a role which excused him from square-bashing. After being commissioned, he fought in North Africa, Sicily and Italy, then took part in the D-Day landings in Normandy.
At the end of the war, Browne procured the surrender of more than 1,000Russians serving in the German Army who, fearing their return to the Soviet Union, refused to surrender at Hostelbro, in Denmark, until he persuaded them to march out and lay down their arms. He made little of the incident, and was surprised to be invited back to celebrate the episode by the Hostelbro council 40 years later.
On demobilisation, Browne started to learn farming. After marrying his first wife, Pamela Exham, he farmed a family estate in Devon and hunted as joint master of the Steventon with his wife until she died as a result of a fall in the field.
Browne sold the estate and moved with their young son to Dorset, where he threw himself into steeplechasing, achieving success with his trainer, Peter Payne-Gallwey. In the 1953 Grand National, Browne rode Knuckleduster, which pulled up on the second circuit; only five horses completed the race.
In the same year he married Jenefer Petherick and moved to Gloucestershire. There he bought a coal merchant's, which involved his delivering to the servants' entrances of large houses, to which he would sometimes return in the evening as a guest. He was selected to fight Gloucester, which had an 8,000 Labour majority, but was then persuaded to switch to Torrington.
After stepping down as an MP in 1964, Browne found plenty to keep him busy. He was a cattle-haulier; local councillor; member of a hospital management committee;
I'd like to know which one
chairman of a building society;
Again, which one?
a sub-commissioner of Trinity House; National Park commissioner; chairman of the Ministry of Agriculture's Regional Panel; and chairman of a slaughterhouse. He still found time to return to his first love of horses, becoming a steward, and later chairman, of Devon and Exeter racecourse, while having horses in training with Martin Pipe.
He became chairman of Appledore Shipbuilders, which, under his leadership, emerged from serious financial difficulties to become one of the most successful medium-sized shipbuilders in Europe.
This was an extraordinary turnaround. However, let me tell readers a bit about Appledore Shipbuilders and then the turnaround under Chairman Percy Browne will seem positively sinister.
Appledore Shipbuilders was led by Philip Kelly Harris during the early part of the 20th century and known as P.K. Harris & Sons until 1963 when it became Appledore Shipbuilders. In 1964 the company was acquired by Court Line, a shipping and airline business.
Court Line was a charter airline company run by the Gang's big mates which specialised in cheap and cheerful holidays to sunny spots in the Mediterranean for the working classes of the sort that finished off the British coastal resorts in the 1970s. Court Line owned subsidiary tour operators Clarksons Travel Group and Horizon Travel. Court Line's business practices left much to be desired and it collapsed amidst scandal in Aug 1974, owing millions and leaving numerous holidaymakers stuck abroad.
Wilson's Gov't – in the form of Trade Minister Tony Benn – was obliged to agree to bail out Court Line re the compensation to holidaymakers for fear of the damage that the Gov't would sustain if it didn't, as the fickle finger of suspicion pointed very firmly to regulatory failures on the part of Wilson's Ministers, including the Gang's good friend Peter Shore, Secretary for Trade at the time…
Even more worrying was the July 1970 aircraft fire that engulfed a Manchester to Barcelona flight prior to the collapse of Court Line. The Clarkson's chartered plane caught fire in the skies over Spain and crashed, killing over 100 people on board. Safety legislation had been flouted but a cover-up on the part of the CAA ( Civil Aviation Authority) sort of blurred that aspect of the tragedy. The Chairman of the CAA who blurred the lines was Thatch's old mentor and pal, John Boyd-Carpenter, who resigned as the Tory MP for Kingston-upon-Thames in 1972 to become the Chairman of the CAA, just when a safe pair of hands was desperately needed at the CAA what with questions about that air tragedy refusing to go away…
In true dodgy-businessmen-associated-with-Gov't-style the Directors of Court Line and Peter Shore lived to take up further appointments in business and public life.
See post 'The Milk Street and Other Mafias' for details of the Court Line saga and the businesses and businessmen closely associated with Court Line, who included Tom Gullick, a former Royal Navy officer who will have known Edward du Cann and others we know and love.
Re Appledore Shipbuilders: a new shipyard was built on a greenfield site in Appledore, Devon, at a cost of about £4m, opening for business in 1970. In 1964, Wilson's Gov't made a deal with Court Line to sell Appledore shipyard and a shipyard at Sunderland owned by Appledore to Court Line for £60 million in an attempt to save Court Line but this was "too little too late" for Court Line and 10 years later on 15 August 1974, Court Line collapsed.
So that was the essence of Percy Browne's Successful Chairmanship of Appledore: a load of dosh from Harold Wilson to save Harold's crooked friends at Court Line, who were part of Gwynne and Dafydd's trafficking circle.
Appledore Shipbuilders was nationalised and subsequently subsumed into British Shipbuilders. My post 'The Milk Street and Other Mafias' detail the complex arrangements re the higher echelons of British Shipbuilders and those Big Names involved, including Carron Greig, Posh Man and Courtier to Brenda, father of press baron Geordie Greig who was remarkably reluctant to publish anything about the wrongdoing of the Gang, even during and after the Waterhouse Inquiry (see 'Did Glenda Play A Key Role In Keeping It All Out Of The Media?').
A la Court Line and Appledore, these 'businessmen' of British Shipbuilders were propped up constantly by huge amounts of money from various Gov'ts.
By the late 1980s the only shipyards still held in state ownership were the smaller Appledore and Ferguson yards.
In 1989, Appledore Shipbuilders was sold to Langham Industries. In the late 1990s the two square-rigged sail training ships of the Tall Ships Youth Trust, the Prince William and the Stavros S Niarchos, were completed at Appledore. Appledore built two Róisín class patrol boats for the Irish Naval Service: LÉ Róisín(P51) was completed in 1999 and LÉ Niamh(P52) in 2001. In 2010, Ireland ordered a further two, 90m, 23 knot offshore patrol vessels from Babcock with an option for a third, to be built at Appledore. The first Samuel Beckett-class OPV was commissioned in May 2014. In June 2014, the Irish Gov't took up the option for the third ship to be built at Appledore (delivered in 2016) and ordered a fourth in 2016 (to be delivered in 2018).
In October 2003, the Appledore shipyard went into receivership and in early 2004 was acquired by DML, the operators of Devonport dockyard. The company was reconstituted as Appledore Shipbuilders (2004) Limited and was run by the DML subsidiary DML Appledore. In June 2007, Babcock International Group acquired DML, including its operations at the Appledore Shipyard, renaming them Babcock Marine Appledore. A Royal Navy contract secured 300 jobs in Appledore until 2015. The Appledore yard has constructed elements of the two Queen Elizabeth class aircraft carriers. Bow sections for HMS Queen Elizabeth were completed in April 2010 and the yard then built flight deck sponsons and centre blocks for Queen Elizabeth. From 2012, Appledore built similar sections for Queen Elizabeth's sister ship HMS Prince of Wales. Babcock announced in November 2018 that it had no future for the shipyard, which closed on 15 March 2019.
James Venus, who was a central figure in Appledore, died in 1992 and his obituary appeared in the Indie:
James Venus, shipbuilder, born October 1920 Newcastle upon Tyne, OBE 1984, died London 21 August 1992.
JAMES VENUS had the distinction of designing and supervising the construction of two completely new shipyards – one in Appledore, in Devon, and the other in Sunderland, and then becoming chairman of the operating companies and associated shipyards and engineering works. Born, educated and apprenticed in shipbuilding at Newcastle upon Tyne, Venus rose to be chairman of Appledore Shipbuilders, in north Devon, and a joint founder with Austin & Pickersgill Ltd, in Sunderland, of the A. & P. Appledore international shipyard consultancy, formed at a time when the two shipbuilding companies were showing reasonable profits. This offshore company has since designed or developed vast shipyard projects in South Korea, South America, Gibraltar, Poland and most other shipbuilding nations.
In an almost 'rags to riches' career, Venus served his apprenticeship at the Hebburn shipyard of Hawthorn Leslie, designers and builders of merchant and naval ships. While there he gained a City & Guilds silver medal for naval architecture from Rutherford College, in Newcastle. His lecturer at the college, Ronald Kendall, arranged for Venus to use a room at his own house for his studies as facilities at the Venus home were unsuitable. Some years previously Kendall, Venus and another young naval architect, EC Corlett, together with a London shipping company, formed a London marine consultancy, Burness, Kendall & Partners, now known as Burness, Corlett & Partners.
Earlier, Venus served as a surveyor with the Ministry of Transport, before joining the Aluminium Development Association as its naval architect, but he really began applying his shipbuilding policies when he eased his association with Burness, Corlett & Partners to operate his own shipbuilding activities, with the forming of Seawork Ltd, which secured orders and supervised the building of small vessels at the old north Devon yard of P. K. Harris & Sons and the even smaller Friars Goose yard at Gateshead, on the River Tyne.
A boost to Seawork Ltd came in 1964 when they and the Appledore Shipyards were acquired by Court Line, and Venus joined the Court Line board. His ambitious policies were accepted for a then revolutionary concept in merchant shipbuilding – a totally enclosed 'ship factory' with a vast hall enclosing a wide building dock for ships of up to about 10,000 deadweight tons. The new shipyard was built on a 'green field' site in Appledore at a cost of about pounds 4m, and was opened in 1970. Subsequently, Court Line, with James Venus heading its shipbuilding division, acquired the assets of the mighty Doxford & Sunderland Shipbuilding Group, which was then controlled by the long-established Thompson, Marr and Laing families.
Venus went on to realise his ambition to rebuild the old-established Pallion shipyard in Sunderland. This pounds 23m project involved demolishing the six building berths in the yard, established in 1857 for the construction of sailing clippers. In this immense Pallion development project the whole of the old yard was replaced by what was then the world's largest enclosed shipbuilding factory – a development of the earlier Appledore shipyard. The new all-weather Pallion yard, which employed up to 1,000 people, could build two ships of up to 30,000 tons deadweight side-by-side. The steel came in at one end, and the completed ship left from the other with engines installed and sometimes with the machinery running.
The new Pallion yard opened with orders for 10 sophisticated cargo ships for Bank Line, of London, each of 16,300 tons and all with Doxford engines. The new yard continued successfully although it never achieved the output proposed by Venus, mainly because of dissatisfied labour. Venus was always restless under nationalised control but held senior positions in British Shipbuilders, and was for some time chairman of its Small Ships Divisions dealing with fishing vessels, coasters, dredgers and others, yet continuing to build all of Sunderland's larger ships of up to about 150,000 tons.
In fact his Appledore shipyard was the first to come under the control of British Shipbuilders, followed in 1974 by the Sunderland Group which became known as Sunderland Shipbuilders Ltd, from which Venus took early retirement on grounds of ill health. Venus, however, continued to be associated for some years with Appledore Shipbuilders and was involved in some consultancy work on bulk carriers and dredgers.
A Fellow of the Royal Institution of Naval Architects, a Member of the Institute of Marine Engineers and the North East Coast Institution of Engineers & Shipbuilders, James Venus was awarded the degree of Doctor of Science by Newcastle upon Tyne University in 1974 and appointed OBE in 1984.
We're back to Gwynne and Dafydd's friends in the North East once more, Lord John Walton, Lord Lambton, Prof Eric Sunderland et al…
James Venus died in Aug 1992, just before the Drs Francis pretended that peace had broken out and all the High Court cases were a misunderstanding…
British state, it is not a good idea to ensure that the fortunes of Top Docs and the country's welfare services are inextricably tied up with international crooked businesspeople.
Thromboangiitis obliterans
Other names
Buerger disease, Buerger's disease, Winiwarter-Buerger disease, presenile gangrene[1]
Sort it out suckers.
When, almost 20 years later, another substantial employer in the old Torrington seat, North Devon Meat, found itself in trouble, Browne stepped in as chairman to set the business right. During this period he wrote a privately published novel, Dartmouth Drop, about drug-smuggling on the South Coast, prompting the local press to describe him as "novelist and slaughterer". He was High Sheriff of Devon in 1978, and a Deputy Lieutenant from 1984.
Percy Browne had a son by his first marriage, and two sons and a daughter by his second, which was dissolved. In 1991 he married, thirdly, Susan Arkell, who survives him with his four children and two step-daughters.
LOOK UP HORSES – Brenda??
parachuted in a la Geraint morgan?? city inconsistency, no selection committee, flogging in the midst of the gang, turning down posts re 'independent', big jobs when he stepped down – dep l too – Appledore n north devon meat –
Agreement with Dr Death – both backed by sec services? Links between West Country and the Gang in north Wales – Kilmuir et al preparing ground – Profumo too
Percy Browne was succeeded in Torrington in 1964 by Sir Peter McLay Mills (22 September 1921-16 August 1993), who served as a MP for Torrington, 1964-74, West Devon, 1974-83 and Torridge and West Devon, 1983-87. Mills served as Parliamentary Secretary to the Ministry of Agriculture and Fisheries in 1972, Parliamentary Under-Secretary of State for the Northern Ireland Office, 1972-74, under N Ireland Secretary WHO?? Mills was knighted in 1982.
Sir Peter Mills died HOW MANY DAYS before EP Thompson, who spent so many years as a second homer at Croesor (see 'Captain Swing and His Crew'), just after F and me stood trial in the summer of 1993 following Gwynedd social worker Jackie Brandt's perjury. EP Thompson retired to Halifax, a constituency represented by Labour MP Dr Shirley Summerskill, DATES. Shirley Summerskill and family were friends of Sadie Francis's family and Of Dr Death, Uncle Harry etc as well. Maurice Macmillan, Harold's son who swindled my father when father was farming in Devon in the early 1960s, represented Halifax for the Tories, 1966-WHAT. Halifax has a shameful record of MPs, the former Angel Alice Mahon succeeded Summerskill as the Labour MP for Halifax, Alice who when the gross abuses of Dafydd's Gang in Ashworth Hospital – including the murder of a patient by Angels – were brought to her attention in the 1990s, Alice realised that it was all the fault of Dangerous Nutters and that Angels and Top Docs needed to Clamp Down on them, beating them to death being insufficient. See previous posts.
Halifax also produced the notorious Judge James Pickles who starred in Courts across Yorkshire, including in Leeds. See 'Judge James Pickles'.
The Indie obituary for Peter Mills was written by Patrick Cosgrave, a man who refused to believe that George Thomas was a Westminster paedophile, even when most other people admitted that the evidence was indisputable:
Peter McLay Mills, politician: born 22 September 1921; MP (Conservative) Torrington 1964-74, Devon West 1974-83, Torridge and West Devon 1983-87; Parliamentary Secretary, Ministry of Agriculture and Fisheries 1972; Parliamentary Under-Secretary of State, Northern Ireland Office 1972-74; Chairman, Houses of Parliament Christian Fellowship 1970-87, Conservative Agriculture Committee 1979-87, Ministry of Agriculture Panel for South-west England 1988-93; Kt 1982; married 1948 Joan Wetherley (one son, one daughter); died 16 August 1993.
PETER MILLS was, superficially, a contradictory character. A man of immense bonhomie, he could, quite suddenly, become most grave and serious about matters which had no connection – or one that he alone saw – with the subject in hand. Thus, I had lunch with him in Stormont Castle when he was a junior minister in the Northern Ireland Office during the time of the Heath government. I wanted to glean what I could about the Government's policy towards Ulster. He fenced amiably for a few minutes and, then, suddenly asked me whether I still held the view I had expressed seven years earlier opposing the liberalisation of the law on abortion on the mainland.
I told him that I did. He immediately asked me whether I supported capital punishment, particularly for terrorists. Again, we were in agreement. He then went into a moving soliloquy. He saw his role in Northern Ireland as striving as best he could to bring about reconciliation between the Catholic and Protestant peoples. This was entirely appropriate for a man who was to become chairman of the Houses of Parliament Christian Fellowship, but seemed to many who disagreed with him to be entirely inappropriate in a minister in a government which put measures placatory of the Ulster Catholic community, and the Dublin government, above all other priorities in Ulster.
More saliently, Peter Mills was a N Ireland Minister under Willie Whitelaw, Willie of a Cumbria constituency for eons, who facilitated organised abuse of a Gwynne and Dafydd nature throughout his long career dating back to office under Eden and Macmillan, which included responsibilities as the visitor for UCNW as a result of Willie being Lord President of the Council. As Thatch's Home Secretary, Willie Whitelaw positively encouraged the criminality of Gwynne and Dafydd. Whatever Willie Whitelaw was doing in Cumbria was enough to propel psych Angel Hector MacKenzie who worked in Cumbria to the very top of COHSE and then into the Lords. See previous posts.
Willie died on 1 July 1999. Sir William Mars-Jones, corrupt judge who worked for the security services as well as for Dafydd and Gwynne (and Willie) died on DATE 1999. Ioan Bowen Rees, Chief Exec of Gwynedd County Council while the ring raged, died on DATE 1999.
Peter Mills of the Christian Fellowship knew about Kincora.
To understand Mills, you have to understand that he was a West Countryman through and through, with all the stubborness and independence of spirit that the description implies. He cared nothing for ministerial office. He became a Conservative MP for Torrington in 1964, seeing off both Mark (now Lord) Bonham-Carter and David (now Lord) Owen with ease. But he had not applied for the candidacy: he was invited to take it on. However, even though the Boundary Commissioners arranged things to his apparent disadvantage, he had little difficulty in keeping the seat until his retirement in 1987. In the meantime, apart from Northern Ireland, he had served as a junior agriculture minister, as became a skilled and devoted farmer.
Above all, however, he was an MP of consummate devotion and skill. No problem arose in his constituency that he did not know about. No difficulty attended the affairs of a constituent that he did not act upon. He was both gregarious and dedicated. The Torrington Tories lost a lot when he decided to retire in 1987. The West Country has lost a doughty champion.
John Dunwoody – Gwyneth – dates
becks bessell
studholmes
Dr Death – Plymouth – dates details – Dr Death originally from plymouth
Nancy Astor – Dates
ioan n dafydd link re astors – bronwen
Foots
The sanitised biography of Hugh Jolly is of course available to read on the Royal College of Physicians Munk's Roll 'Lives of the Fellows' online.
Hugh Reginald Jolly
b.5 May 1918 d.4 March 1986
MRCS LRCP(1942) MA MB BChir Cantab(1942) MRCP(1948) DCH(1949) FRCP(1965)
Hugh Jolly was probably better known to the general public than any other living doctor.
Here's the 1974 book that so many people who had children at that time will recognise: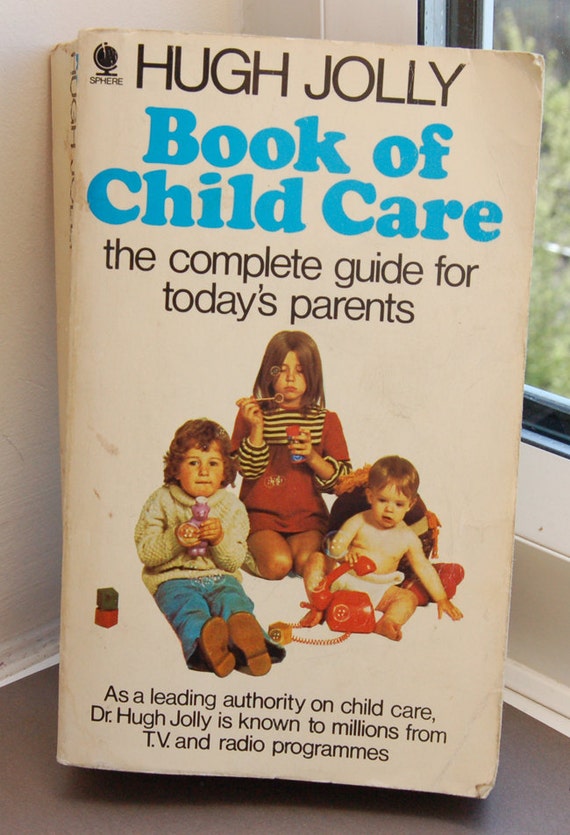 The series of such gurus began with Truby King who was of the 'regular beatings and cold showers' for every infant variety, moved onto Benjamin Spock for 1960s parents who were a little worried at Truby King's attitude to children and in the 1970s arrived at Hugh Jolly, friend of Gwynne and Dafydd. I've lost touch with childcare gurus, the last one to entertain me was neoliberal parenting adviser Gina Ford, whom one of my friends summed up as 'the Gillian McKeith of childcare, no personal experience, no qualifications but dispensing advice nonetheless'.
He was born in the Isle of Man, where his father was a Reverend Canon and reputedly an excellent speaker, an ability that Hugh inherited and utilized to the full. Hugh was educated at Marlborough College
Jolly's family background in establishment religion will have provided an excellent start in denial and outrage should Jolly ever be challenged by a lesser mortal and a belief that respect from the plebs should be automatic. Marlborough College in Wiltshire is a public school that was established for sons of the clergy and for a long while it had a reputation as one of brutal public schools pervaded by brutality and buggery. Marlborough has its own Masonic Lodge and had educated a great many high profile people, including members of the Royal Family and courtiers. A few old boys of Marlborough who could have been relevant to Hugh Jolly's career – many of whom have featured extensively in previous posts re their relationship with the Gang and it's network -include:
Marlborough b 1918 – David Donnison ??
Hugh Jolly's Headmaster at Marlborough would have been useful as well. Cyril M. Norwood (15 September 1875-13 March 1956) served as President of St John's College, Oxford. Norwood was a St John's College, Oxford graduate himself and was a classics schoolmaster at Leeds Grammar School (1901–1906), before serving as Headmaster of Bristol Grammar School (1906–1916), Master of Marlborough College (1917–1925), Headmaster of Harrow (1926–1934) and President of St John's, Oxford, 1934-46.
St John's College – HERE -alumni include David Lewis Davies (pal of Dafydd and Dean of the Maudsley), Edward du Cann, Kingsley Amis, Philip Larkin, John Betjeman CHECK, Sir Idwal Pugh (corrupt mandarin and friend of Gwynne and Dafydd, as discussed in 'The Naked Civil Servants') and at a later date, Miranda.
Norwood was appointed to Chair a Committee for RAB Butler, then Minister of Education on Curriculum and Examinations in Secondary Schools.
Through his role as Master of Trinity College, Cambridge, Rab was a friend of Trumpers, who as Thatch's Health Minister was the person who appointed Jimmy Savile to the management task force of Broadmoor in 1987, enabling Savile to be appointed as General Manager a few months later.
For Rab info, see 'Rab, High Table and the Founding Fathers'.
In his capacity as Master of Trinity College, Cambridge, Rab was appointed as Carlo's mentor/counsellor when Carlo was an undergrad at Trinity, 1968-71. That must have been why Carlo subsequently served as the Chancellor of UNCW when Dafydd pretty much ran UCNW, when Gwynne sat in the Student Health Centre there and Carlo decided that I was the problem rather than Dafydd and Gwynne.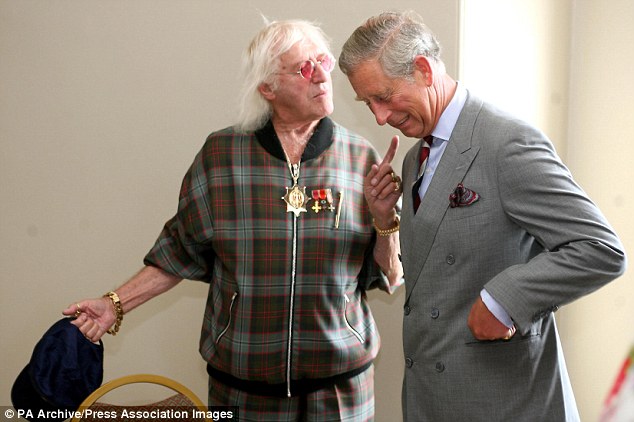 I wonder of Carlo used any of his weird expressions when discussing me as he is alleged to use when people piss him off, including the victim of Carlo's sex offending friend Bishop Peter Ball? A monstrous carbuncle or a perfect pest or a ghastly person who was plaguing poor Gwynne?
The result of Norwood's Committee as appointed by Rab was the 1943 Norwood Report that led to the establishment of three kinds of secondary schools: grammar, technical, and secondary modern. Obviously, pupils at public schools like Marlborough didn't have to rely on the frequent misjudgements of teachers to navigate that particular quaint maze that resulted in some people's life opportunities being restricted at the age of 11. Shirl et al proudly replaced the system with comprehensive schools which in spite of what Shirl believed were/are just as class ridden as Norwood's system. Although Shirl always robustly supported comps, the world had a good laugh when Shirl worked hard to ensure that her own daughter avoided one. Neither should we have been taken in by Auberon Waugh's rantings re how he'll never forgive Shirl for inflicting those shite schools on the nation's kids, because the Education Secretary who oversaw the establishment of the highest number of comps was Bron's old heroine Thatch.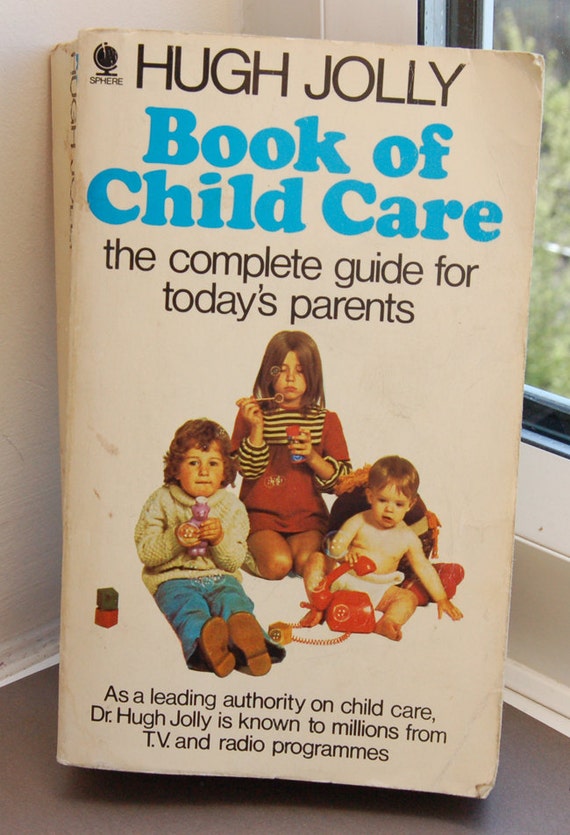 As someone who went to a truly dreadful sink comp school myself but managed to get to university only to then be shafted because I complained about a lobotomist running a paedophile ring who was sitting in the Student Health Centre at that University, then be hounded out of house, home and job years later in middle age after I'd acquired a PhD and an impressive publication list because the lobotomist's mates came after me yet again,
I think that I can reassure the world that stale arguments over the relative merits of comps or grammars are neither here nor there. The problem is just so much bigger
and no I am not the only person who suffered because of that gang of sex offenders…
Never mind! John Allen, one of their leaders, is On Trial at Mold Crown Court as I write this! Justice For the Victims Will Be Achieved! John Allen at the age of 78 is On Trial! Witnesses have been found dead for at least the last 35 years, hundreds of complaints were made and I lost touch of how many letters and e mails that I sent to various authorities providing full details of the crimes of Allen's accomplices. The conclusion of the police and a few High Court judges was that I was Harassing Caring People who were Helping Others. Corrupt judge Huw Daniel went one step further and after yet another trial had collapsed because of the industrial scale perjury of Allen's colleagues, Huw provided quotes for the local papers stating that I believed that I was a victim but the Real Victims were Alun Davies – one of John Allen's greatest gifts in north Wales – and Alun Davies's family, none of whom I have ever met or communicated with. That was in 2004. It's now 2019 and Paedophile John Allen is On Trial At Mold Crown Court Facing Justice. My trial over which Huw Daniel presided that collapsed on the first day was at Mold Crown Court…
Here's the international laughing stock who, after slandering me in 2004, was appointed Lord Lieutenant of Gwynedd: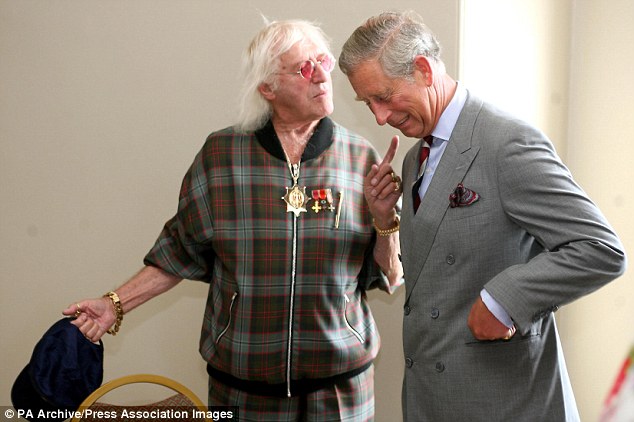 Can we have another quote for the north Wales press then Huw?
People have left comments on the blog observing that the charges against Allen are specimen charges, that the enormity of his crime empire has not been mentioned and neither have his accompanying interests including serious organised crime and money laundering.
Indeed not, John Allen stands accused of groping the genitals of a few boys over their clothes and at most of sexually assaulting a few of them. It just doesn't begin to cover what John Allen and his business partners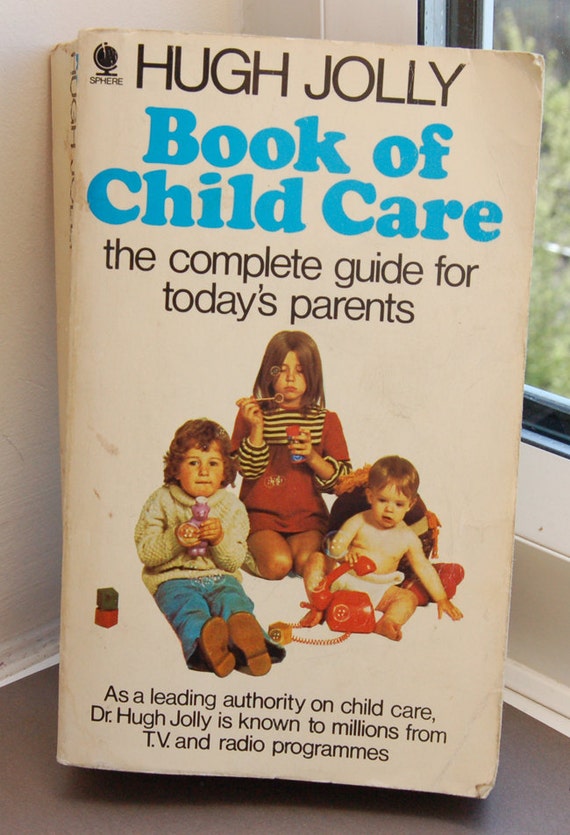 did over decades.
During WW II, Norwood served on the Tribunal hearing the cases of men seeking to be accepted as conscientious objectors. At this time Norwood owned and lived at Trerose Manor in Cornwall. His son-in-law was the Rev C. B. Canning, Headmaster of Canford. CANFORD HERE
After the War, in 1946, Cyril Norwood was the President of the Geographical Association, following an earlier Marlborough colleague: Clement Cyril Carter (who had been President at the outbreak of WW II) to the position. Sir Charles Evans – Eric Sunderland – ??
Cyril Norwood retired to Iwerne Minster in Dorset where he died in 1956.
Norwood wrote the lyrics, in Latin, for Bristol Grammar School's song, Carmen Bristoliense, which is still sung today. 
[After Marlborough Jolly attended] Sydney Sussex College, Cambridge,
As did Asa Briggs. Dr Death is also an alumnus of Sidney Sussex.
where he was in the water polo team,
Amanda Bluglass, daughter of Dafydd's mate Robert, is/was a keen water polo player
before proceeding to the London Hospital.
As discussed in previous posts eg. 'Oliver's Army', 'The Logic Of Medicine', 'A Celebration of Dafydd's Medical Training' and 'This Is A Nightmare For All Of Us', the London Hospital facilitated a big trafficking ring in its immediate environs of the East End. The crime facilitated by the London Hospital stretched back years before the founding of the NHS, but the party really got going  when the Krays empire bloomed during the 1960s. One reason why the Krays were untouchable was their business activities in collaboration with Lord Bob Boothby and Gwynne and Dafydd's partner gang. Hugh Jolly qualified in 1942, before the flurry of London Hospital-trained Top Docs who were of such great help to Gwynne and Dafydd, including Sir William Asscher, Lord Bob Winston and Wendy Savage.
Jolly was of the earlier cohort who qualified at the London Hospital that included Sir George Godber HERE Joseph Godber  eg. 'Cymro 007' – Tizard?? – John Rogers Ellis – Clifford Wilson
He used to recall that even as a student he was fascinated by paediatrics, so much so that he would run the two miles from his teaching hospital to the Queen Elizabeth Hospital for Children, Hackney, in order to arrive for the rounds on time – chewing sandwiches on the way.
Queen Elizabeth Hospital Hackney – Robin Skynner – the Count??
He qualified with the Conjoint and MB BChir in 1942. This was during the 1939-45 war and post-qualification jobs had to be few before joining the Services. Hugh's were at the London, and included that of children's house physician to Maitland Jones and Doyne Bell.
Arthur Griffith Maitland-Jones trained at the London Hospital 20 years before Godber, Jolly et al:
Arthur Maitland-Jones: b.6 March 1890 d.17 May 1957
MC(1918) OBE(1919) MB BS Lond(1921) MD Lond(1922) MRCS LRCP(1914) MRCP(1921) FRCP(1933)
Arthur Maitland-Jones, the elder son of the Rev. Joseph Maitland-Jones and his wife, Jeannie Maitland, was born in Merthyr Tydfil and educated at Taunton School and the London Hospital. Shortly after taking the conjoint diploma in 1914 he joined the R.A.M.C., and for his outstanding service was awarded the Military Cross, twice mentioned in dispatches, made an O.B.E, and given the Croix de Guerre (1917).
On demobilisation he held junior posts at the London Hospital, and was assistant to, and later Assistant Director of, the Medical Unit until 1923, when he spent a year at the Johns Hopkins Hospital, Baltimore. He returned to the London Hospital to hold the first staff appointment in the newly created Dept of Paediatrics, which he served until his retirement in 1945.
Maitland-Jones led paediatrics at the London Hospital when the East End was incredibly poor and, contrary to the fairy tales spun by Uncle Harry et al, those in the gutter in the East End  were of very little concern to Top Docs. Child prostitution was common and little concern was shown about it; children without parents were left to survive in whatever way they could. Life was very tough for everyone and there was notorious conflict between Jewish residents and others, most famously the British Union of Fascists. That received much more attention than organised abuse and trafficking of children or vulnerable people.
1930s and 40s – Battle of Cable Street??
The Mildmay Mission Hospital in Shoreditch provided services until the 1970s/80s. After its closure, those who had run the Mildmay and knew that the kids from the East End who had been trafficked to north Wales and trafficked back again as rent boys and were dying from AIDS, blackmailed Ken Clark at the Dept of Health into opening the purse to convert the Mildmay into an AIDS hospice thus allowing witnesses to serious crime to Die In Privacy and not publicise how they had become rent boys. Celebs were also cared for at the Mildmay, which is why it was built like Fort Knox. I suspect that Freddie Mercury was one celeb who spent time there. See post 'Apocalypse Now'.
Previous posts have discussed the MPs of the East End who colluded with the criminality spinning out of the London Hospital, including Reg Prentice (see post 'This is A Nightmare For us All'. Far less has been acknowledged about the role of Ian Mikardo and Peter Shore; Shore was the Labour MP who persuaded Ken Clark to cough up for the Mildmay. Peter's wife Dr Liz Shore was a mate of Richard Crossman's and a Gov't Top Doc. Liz Shore was Deputy Chief Medical Officer, DATES – Liz Shore – Dean of TITLES DATES
BING
Lord Elwyn-Jones – grew up in Carmarthenshire and also spent years as an East End Labour MP. Elwyn-Jones was Lord Chancellor under Harold Wilson and Sunny Jim and a key conduit between the East End and Wales. Once Elwyn-Jones was Lord Chancellor, Gwynne, Dafydd etc were laughing. Elwyn-Jones was married to Pearl 'Polly' Binder, an Artist with a Special Interest in East Enders and their little ways. Polly and her pictures of Pearly Kings were great PR for Lord Elwyn. Dan Jones, Elwyn and Polly's son, settled in the East End and became a social worker and an Artist. See previous posts…
[Maitland-Jones] was on the staff of the Infants' Hospital, Vincent Square, from 1928 till 1939, part of this time as Chairman of its Medical Committee.
In addition he was consultant to Dr Barnardo's Home, the Royal Merchant Navy School and the National Adoption Society, and a valued member of the League of Nations Committee on Infant and Child Nutrition. During World War II he administered two sectors of the Emergency Medical Service, and later was attached to the Southern Command of the Army.
Maitland-Jones was doing all this when babies were ruthlessly taken from young or simply just poor mothers and handed over to Dr Barnardo's or the National Adoption Society; it wasn't uncommon for the mother to be told that the baby had died and to have no knowledge that her baby was alive and well and had been given to someone else. Money changed hands in some circumstances. Dr Barnardo's children were, as was standard practice at the time, not always cared for as they should have been and the built-in institutional neglect allowed Dr Barnardo's kids to be targeted by the organised paedophile/trafficking gangs of the 1970s, 80s and 90s.
Rhodri Morgan's wife Julie is a former Barry social worker who was Deputy Director of Dr Barnardo's. Julie Morgan was educated at King's College London and as a student in the late 1960s and 70s would return home to south Wales to campaign for Sunny Jim, with her mates Rhodri and the Windbag. Rhodri Morgan represented Cardiff West, the seat that the Westminster molester George Thomas held, 1945-83. Julie Morgan is at present the AM for Cardiff North (see 'The Paedophiles' Friends Of Cardiff North') and the Welsh Gov'ts Deputy Health Minister. When Julie worked as a social worker, Hugh Jolly's Expert Advice re childcare had to be heeded.
Maitland-Jones… was a President of the section of Diseases of Children of the Royal Society of Medicine, and of the British Paediatric Association, 1949-50, although he had retired in 1945 to farm for two years in North Devon before returning to his native Wales to settle at Crickhowell, Brecon…
Maitland-Jones farmed in North Devon pre-Mr Thrope but he'll have kept his oar in as it were after he returned to Brecon, a region with a bit of action itself. Maitland-Jones died in 1957, shortly after Macmillan became PM. The Crickhowell area hosted the family seat of Roddy and Dai Llewellyn, Roddy the landscape gardener who found fame as Ma'am Darling's toyboy and companion for the holidays on Mustique, Dai for being an offensive drunken pillock or in Daily Mail-speak 'a playboy', who styled himself 'the seducer of the valleys'. See previous posts. Dai and Roddy were the sons CHECK of Sir David Llewellyn, Tory MP for Cardiff North, DATES and the nephews of Col Harry Llewellyn, the showjumper who rode 'Foxhunter'. See 'The Paedophiles' Friends Of Cardiff North'.
Lord Brecon aka David Vivian Penrose Lewis was a rural Councillor from the Brecon area who in 1957 under Harold Macmillan was given a Ministerial post and then months later a peerage. It caused entertainment, outrage and confusion and poor old Lord Brecon was very obviously out of his depth in his new roles. It isn't documented anywhere, but Lord Brecon was a man who knew a great deal; he was in the Welsh Conservatives. See post 'The Milk Street and Other Mafias'. Young Conservatives in Wales at the time included Gwynne's pal Denbighshire social worker Beata Brookes. Beata's mate Peter Walker was in the Young Tories in England, as was Tebbs, but they all socialised on a British-wide basis. David Hunt from Denbighshire and others soon joined the party. In 1957 Dafydd qualified as a Top Doc and joined Gwynne in his business…
Lord Brecon's daughter Lindy married Camden-based barrister Leolin Price QC. Leolin acted as legal advisor to the Maastricht rebels who constituted the 'bastards' with whom John Major became so angry. Leolin was a Governor of GOSH when Audrey Callaghan was Chair of the Governors. Leolin was the brains behind the methods of raising dosh for GOSH that Sunny Jim then put into practice using his clout as PM. Lindy and Leolin lived in both south Wales and Camden, enabling Lindy to occupy NHS governance positions in the 1990s, including as Chair of one NHS Trust in Wales. See 'Only One Died'. The Prices held other roles in public life as well.
[Maitland-Jones] had a great affection for his parent hospital… In 1926 he married Miriam, daughter of Dr John Ritchey, of Oil City, Pennsylvania. They had one son and one daughter….
Maitland-Jones's great affection for his parent hospital will mean that Maitland-Jones will have always been on hand to help in the face of Foul Allegations that may have needed more than an outraged 
to ensure that they disappeared.
Pensylvania – W Abse???
Tizard – Shell – London Hospital
[Hugh Jolly] then joined the RAMC, serving in the United Kingdom, Normandy and North West Europe; ending his service with the rank of captain and dermatologist to the Allied Forces in the Netherland East Indies, a specialty he quoted as being invaluable in his subsequent career.
After the war he renewed his acquaintance with paediatrics as house physician to Wilfrid Sheldon, later Sir Wilfrid, the first Royal paediatrician, at the Hospital for Sick Children, Great Ormond Street.
Institutional neglect and abuse was prevalent at Great Ormond Street, as I shall discuss in further detail later in this post.
There was immediate empathy between them and they shared an enthusiasm for a clearer understanding of children's illnesses, as well as a sense of humour and a lifelong love of gardening.
Hugh Jolly realized that to be a 'whole' paediatrician he needed a knowledge of paediatric surgery, and at considerable personal and financial sacrifice (he was poor in those days) he opted to postpone promotion and become a house surgeon at the same hospital before climbing the usual medical ladder to senior registrar. In November 1951 he was appointed consultant in Plymouth; the first full-time paediatrician in an area which included large parts of Devon and Somerset as well as the whole of Cornwall. There were only part-time paediatricians in Taunton and Truro, between Bristol and Land's End. For the first three months he elected to become a 'resident' again, at the Children's Hospital, Cincinatti. Back in Plymouth, only a man of his enormous energy could have achieved so much. His new 'cubicalized' ward attracted innumerable admiring visitors, even from abroad. He broke the isolation of children in hospital by encouraging parents to live in with their children, as well as by daily visiting. He also established combined clinics, then a novel concept, with orthopaedic and ear, nose and throat colleagues, which were of mutual benefit and helped his adult specialist colleagues to a better understanding of children.
I know enough about the NHS and children's services in the West Country after Jolly worked his magic to know that the last sentence of the above paragraph is not true. If anyone tries to tell me that it is, I'll remind them of not just of the very poor quality of Top Docs in the Taunton and Bridgwater area at the time or the in-joke on medical notes ie. NFB (normal for Bridgwater) or the sexual exploitation of certain kids in the area that was widely known about but ignored as discussed in previous posts, but also of Mr Rainey, the loathed and infamous orthopaedic surgeon based in Taunton, who physically assaulted at least one of his patients, a boy of 13.
Plymouth MPs – during the 1950s – who
Hugh made over 400 domiciliary visits annually, always with the general practitioner (the limit for payment was 200 visits), and he found time to visit prisoners in Princetown gaol to talk to the pre-release groups about the problems they would have to face on return to family life, and also to understand better the criminal mind.
Princeton – aka Dartmoor – was a prison with a terrifying reputation even among hardened villains. Dartmoor was a place in which prisoners were flogged, held in solitary confinement for many months or even years and where straightjackets were still used. Escapes could result in death on Dartmoor if the weather was inclement. For prisoners deemed to be 'difficult' there was little difference between how they lived in Dartmoor and how they might well have lived in the North Wales Hospital Denbigh pre-Gwynne.
I'm not sure with which 'pre-release' groups in Dartmoor Jolly held discussions, because people didn't tend to be released from Dartmoor, it wasn't a cosy open prison geared to preparing prisoners for life on the outside soon.
During his first 10 years as a consultant he attended a vast number of medical meetings, where he always made penetrating and usually apposite remarks. In later years they were often more controversial. At this time he also managed to be honorary secretary of the paediatric section of the Royal Society of Medicine. There were no motorways to London then, so he travelled by car in the small hours. He infuriated his junior staff by doing a full ward round at about 4 a.m, with only the frightened night sister, before leaving for London.
Hugh Jolly's Ward Rounds were obviously conducted using the Dafydd model of clinical excellence.  The children's ward at 4 am: no-one around  but a frightened night sister who of course Would Have Spoken Out if ever a Child Had Been At Risk.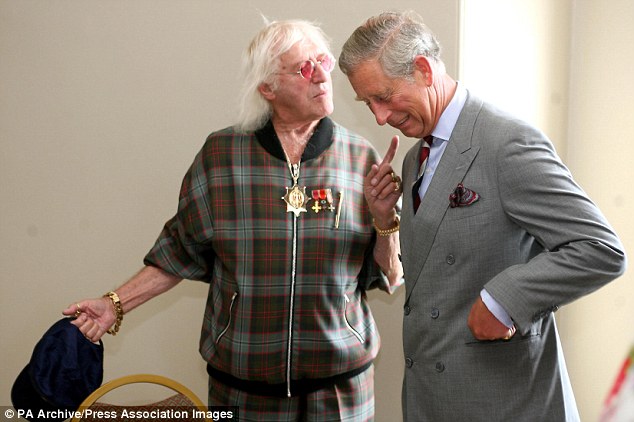 When the juniors came on duty at the normal time they had to sort out the myriad instructions left by 'the boss'. They got their own back: Jolly crept in for his usual morning round, but this time he found his whole staff standing strictly to attention in starched white coats, or nurse's uniforms.
This could well have been a creative response to a dangerous doctor whom none of the staff could openly challenge without having their livelihoods destroyed. I know of Docs and other staff in north Wales and London who would quietly ensure that they just happened to find something that needed doing on the ward when a patient was in great danger. I traced one such junior doc and asked him why he had not simply rung the police; he replied that he was a junior doc, an overseas graduate and the GMC would have struck him off for Making Allegations about a Senior Colleague. That senior colleague had one of the highest suicide rates in the UK among his female patients and had been the subject of complaint after complaint to the GMC, to his employer and even to the Secretary of State for Wales at the time, who busied himself looking in the other direction. 
Peter Hain's fellow travellers in the AAM, as well as Mr Thrope, David, John and Martin Ennals and Lady Lavender Patten of Barnes, included members of Gwynne and Dafydd's network such as Janey Buchan (the Glaswegian MEP who was married to the Glaswegian MP Norman Buchan), South African born Manchester based Top Docs Mervyn Susser and his wife Zena Stein (they emigrated to the US after a few years in the 1960s protecting Gwynne and Dafydd), as discussed in previous posts.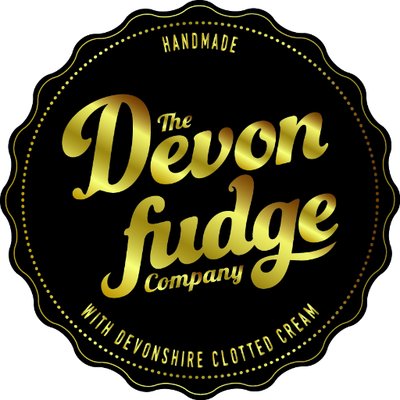 The dangerous idiot whom a junior overseas doc in north Wales knew was a huge risk to patients remains on the Medical Register with a licence to practice.
Small wonder that in 1960 he was invited to join Doyne Bell at Charing Cross Hospital, London.
The staff at Plymouth had presented a united front, so Promotion For Dr Jolly was the solution!
1960 – WHICH MPs?? pics
Obviously a Safe Pair Of Hands was needed in Plymouth after the outrage of the staff outwitting Dr Jolly and his 4am visits to the children's ward, so in the mid-1960s, a Nice Young Doctor – who's home town was Plymouth, who had undertaken his clinical training at Tommy's and then spent a few years there working as research registrar to William Sargant, a psychiatrist as dangerous and as unhinged as Gwynne and who a la Gwynne has been written out of medical history so embarrassing was he – was selected as the Labour candidate to contest Plymouth WHAT.
Dr Death entered the Commons in MONTH 1966.
It was in the early 1960s that Norman Scott became so distressed at Mr Thrope's less pleasant activities that he suffered a nervous breakdown. Mr Thrope came over all hearts and paid for Norman to be treated at St George's by Desmond Curran, one of the Founding Fathers of the Dept of Psychiatry at St George's who was facilitating the abuse and criminality there. Curran became an Expert on Perverts which would no doubt have been put to excellent use by Mr Thrope et al when Norman objected to Mr Thrope's increasing aggression.
It is quite extraordinary that pretty much exactly the same people who caused Norman such aggro were doing it to me years later. Like Norman, I and my friends were left to deal with these criminal Docs, lawyers and gangsters by ourselves. It's not as if no-one knew what they were up to, they went after Norman in the 1960s and 70s when they were youngish 'professionals' and they came after me in the 1980s and 90s when they were in late middle age. Exactly the same bunch, their names are on my documents.
Charing Cross Hospital was a centre of Docs who were facilitating the Westminster Paedophile Ring, particularly because of the presence of Dame Josephile Barnes as a consultant there. Josephile was married to Sir Brian Warren, Grocer Heath's personal physician and friend who was also facilitating the Westminster Paedophile Ring. See eg. 'Uncle Harry's Friends…'
In 1965 he became paediatrician in charge at Charing Cross, a post he retained until he retired in 1983.
Once Josephile was in residence at Charing Cross, the travesty that was the Charing Cross Gender ID clinic arrived. The Docs running that inflicted huge emotional damage on their patients, not just because they were sadists but because they were clueless re gender anyway. One of their patients who featured in a TV mini-series nearly died as a result of a dreadful surgical cock-up but no lawyer offered to take a case for them, because it was obviously a case of
Thromboangiitis obliterans
Other names
Buerger disease, Buerger's disease, Winiwarter-Buerger disease, presenile gangrene[1]
See 'R.I.P Julia Grant and Many More'.
He turned his energies to the handicapped, and the child development centre at Charing Cross is a fitting memorial.
'The handicapped' were the most vulnerable kids of all.
The last person that they needed taking an interest in them – apart from Jimmy Savile obviously, was Hugh Jolly.
He was also medical adviser to the Chailey Heritage Hospital. Generations of medical students flocked to his ward rounds and outpatients, as indeed did swarms of visitors – including many from overseas.
Of course they did, Jolly was on tele
and the uninitiated, upon witnessing that this man seemed either clueless, bonkers or unpleasant, will have presumed that he had hidden talents or was just having a bad day.
From 1961-62 he was seconded as professor of child health to University College, Ibadan, Nigeria.
Harold Scarborough ?? others??
This fired his interest in the child health problems of the developing world, which continued until his death. Jolly was probably the most widely travelled paediatrician.
An illustration of how serious the problem was.
He would often suggest alterations to the running of a service which were clearly common sense, but sometimes his enthusiasm to improve a situation blinded him to local difficulties so that his efforts were counterproductive.
Jolly inflicted damage then. I think we should be told where exactly Jolly's efforts had been 'counterproductive' and what the 'local difficulties' were that caused people to be foolish enough to seek the advice of the mad old bugger.
Not surprisingly, his ideas would either be so welcome that he was invited to return or the reaction would be 'Never again!'
The 'never again' contingent didn't find their concerns published by 'The Times', so Hugh's media appearances, advice to the masses and globe trotting accompanied by his advice to Darkies continued.
Hugh was particularly welcome in Australia where he was a member of the Panel of Assessors, National Health and Medical Research Council, as well as adviser to 'Parents' Centres' and the Nursing Mothers' Association.
kids from hackney to oz
His views on bereavement were movingly set out in a broadcast in Sydney in 1977 and later published: 'Loss of a baby', Aust.Paediatr. J. March 1978.
He examined abroad at the Universities of Benin and Nsukka, Nigeria; at Singapore and Riyadh, and at home for the Universities of Glasgow, Liverpool and London, as well as for the MRCP and DCH.
The Universities of Glasgow,
CALMAN PIC
Liverpool
Dafydd
and London
Chamberl – wendy
were all facilitating big rings directly linked to Gwynne and Dafydd.
As always, he demanded high standards which earned him a hawkish reputation.
Translates as 'Jolly was intimidating'. It simply wasn't true that this was because of his determination to uphold 'high standards', just look at what was happening.
Other appointments included the Tropical Medicine Research Board, Medical Research Council, the advisory council of the British Society of Music Therapy, the editorial board of Excerpta Medica, the Bureau of Overseas Medical Service, the Down's Children Association,
Dr Leonard Arthur – Leicester – DATE
the National Association for Hospital Play Staff, Nuclear Weapons FREEZE,
Russell??
Family Planning Association,
PIC Dunwoody – vera houghton
Exploring Parenthood, and the Institute for Social Inventions – all examples of his catholic interest in wide areas of child care which was reflected in his departments both in Plymouth and at Charing Cross.
link – Plymouth n c cross
Psychiatrists, psychologists and play therapists (Hugh was one of the first to introduce the latter) cooperated with him to establish a free and happy atmosphere where previously the rigidity of departments geared to adults had been the rule.
Play therapy was yet another smokescreen and a discipline that was colonised by the same old crowd who shifted the goalposts to retain their dominance of the field when criticism of their practices snowballed.
His first book, 'Sexual precocity', 1955, gave the clearest understanding of the problem at that time and was a culmination of his thesis for MD Cantab, which won him the coveted Raymond Horton Smith prize.
As with so much else, studies of sexual precocity were manna from heaven to people facilitating organised abuse. In the 1950s and 60s, the 'sexual precocity' exhibited by those being written about was nearly always a result of sexual abuse and more often than not was taken full advantage of by everyone, including Top Docs. It is only relatively recently that the standard response to allegations when backed up by Top Docs that 12 year olds 'seduced' adults is one of outrage. Top Docs' and other material written by academics and professionals or indeed law reports, coverage of sex abuse cases in the lay press etc, until just a few years ago demonstrate that the notion of children being responsible for their sexual assaults at the hands of predatory adults was rarely challenged if the predator had the support of those in high places. This notion prevailed in the most clear cut cases of violent sexual assault on even pre-pubescent children if certain offenders had to be protected; the defence was not just wheeled out in cases of consenting sex between girls of 15 with their boyfriends of 18.  Ideas of sexually precocious children kept Gwynne, Dafydd et al out of prison for their entire lives.
There followed a succession of books and articles, nearly all written in the small hours – sleep hardly seemed necessary.
PIC whizz
His student textbook 'Diseases of Children', Oxford, Blackwell, first appeared in 1964; the fifth edition, in collaboration with M Levene, appeared in 1985 only shortly before his death. Its universal popularity speaks for its clarity and explains why it was translated into other languages. Even more widely successful was his 'Book of Child Care', London, Allen and Unwin, 1975, which ran to four editions and appeared in six other languages. His regular column in 'The Times' during the 1970s culminated in collected articles (c.1973) entitled 'Common Sense About Babies and Children', London, Unwin Paperbacks, 1983 and 'More Common Sense About Babies', London, Pelham (also Sphere), 1978. Two new books appeared the year before he died: 'The First Five Years' and 'The Grandparents' Handbook', London, Pagoda Books, 1985.
Hugh the facilitator of organised abuse was dispensing advice to readers of 'The Times' under the Editorship of NAME and Hugh was still telling the world how to look after their children the year after I complained about Gwynne, in collaboration with M. Levene.
Malcolm Levene is a paediatrician who stars on the website of Leeds University:
Reproduction And Perinatal Health Research Group,

University of Leeds

People

Malcolm Levene MD FMedSc FRCP FRCPCH

Academic Department of Paediatrics, Obstetrics and Gynaecology
D Floor
Clarendon Wing
University of Leeds
LS2 9NS

Research Interests Causes of damage to the developing brain incorporating multidisciplinary research into interaction between environmental and genetic (maternal and fetal) factors (supported by a multidisciplinary PPARC grant) as well as imaging the neonatal brain to understand the causation of brain injury. This work and the work of many others has culminated in an MRC funded grant to evaluate brain cooling as a method of protecting the neonatal brain following severe birth asphyxia. This multi-centre study has enrolled 325 infants and is now in the second phase of evaluating primary outcome (death or disability) at 18 months. The last recruited baby will be examined in July 2008 and first publication of results are expected by end of 2008.

Malcolm and his team didn't make clear that one of the most common causes of severe birth asphyxia is a cocked-up delivery. At least the MRC handed over the dosh without Malcolm having to mention it. 
But then no-one mentioned that Leeds University employed the Top Docs who staffed the hospitals in which Jimmy Savile was given free rein and indeed appeared in TV documentaries filmed in those hospitals.
Leeds General Infirmary – Alan Franey – CEO of Broadmoor
Gren Kershaw – 1983
Jimmy Shroff – D.G.E. Wood – St George's dead DATE – Bart's graduate – Snowdon – Shroff's widow a senior dietician at the Betsi 
Bodger Chamberlain's partner in crime Malcolm Pearce trained at Leeds University. Jane Wynne, the Top Doc who played a key part in the Cleveland Child Abuse Scandal, providing 100% backing for the Bottom Inspectors, their crazed notions and confirming their use of a discredited sexual assault itself on young children as a reliable way of 'diagnosing' sexual abuse, was based in Leeds. See 'Twas the Night Before Christmas And The Guilty Were Named'.
Last night someone drew my attention to the career history of Wendy Burn, currently the President of the Royal College of Psychiatrists. Wendy trained at Leeds and has featured in previous posts, but I certainly missed some impressive parts of Wendy's CV:
Wendy Burn was born in Oxford in 1959. Her parents were both Top Docs and her grandfather was Joshua Harold Burn, a pharmacologist at the University of Oxford. Wendy trained at Southampton Medical School (the domain of Gwynne and Dafydd's mate Sir Donald Acheson as discussed in 'Professor Prestigious and His Associates') and joined the university theatre group. Wendy 'became interest in punk rock, partied every night and failed her first year of medicine'. Extremely poor student Wendy 'managed to turn her academic studies around and passed the later years of her degree whilst acting as stage manager for the medical school revue at the Edinburgh Festival Fringe'. That sort of activity at medical school provides one with kudos and contacts as useful as those acquired through hard work in medical fields. Wendy will have benefited even more than is usual because Wendy subsequently worked in Leeds, Savile Central. Is that perhaps why you went to Leeds Wendy?
Wendy eventually managed to qualify in 1982 without distinguishing herself and subsequently worked in house jobs at Lymington Hospital and Southampton General Hospital. In  1983 Wendy started a senior house officer post in the Royal South Hants Hospital and also worked in a Victorian asylum, Knowle Hospital, which had become an old people's home. Hampshire/Southampton was Lord Denning's territory as well as other notables eg. Sarah Ferguson and her dad Major Ron.
Wendy unsuccessfully applied to the training programme in psychiatry at Southampton – even psychiatry didn't want Wendy, so she must have been hopeless – so Wendy eventually started a research position with Guy Edwards at Southampton where she assessed patients on medical wards following self harm.
In 1985, by which time the Gang in north Wales who were strongly affiliated to Jimmy Savile were after my blood, Wendy obtained her Membership of the Royal College of Psychiatrists and started her career as an academic psychiatrist at the University of Leeds. Her first post was at High Royds Hospital,
Burn was one of the first women to be appointed a Consultant in Old Age Psychiatry at the University of Leeds in 1990, the year of my constant High Court cases, the first of which in Feb 1990 was at the High Court in Leeds. Wendy was appointed Chair of the Senior House Officer programme in 1995. During this time Wendy became more involved with the Royal College of Psychiatrists, including as  an examiner. Wendy's main research interest is in dementia and she sits on the national planning committees for dementia care; Wendy's not effected much improvement there.
Wendy was appointed Associate Medical Director for Doctors in Training at the University of Leeds in 2000, the year that the Waterhouse was published and eventually took over the clinical Part Two MRCPsych examinations, which involved finding psychiatric patients for candidates to interview. I know the routine, the patients are very carefully selected… Soon after, Burn became the Director of the Yorkshire Specialist Registrar Training Scheme in Old Age Psychiatry. At the time Wendy became clinical lead for dementia in Yorkshire and the Humber, working closely with Alzheimer's Society. The Alzheimer's Society have known of appalling patient abuse and neglect for many years but they won't be saying much about it or their funding will come to an end and their places on Gov't committees etc will stop as well.
Burn has been consistently involved with postgraduate medical training and established the Yorkshire School of Psychiatry. She was the first Head of the School of Psychiatry in 2007. In 2009 Wendy joined forces with the University of Sheffield, another Savile stronghold with Added David Blunkett (see post 'The Big Questions') and formed the Yorkshire and the Humber School of Psychiatry.
In 2011 Burn became Dean of the Royal College of Psychiatrists and in this capacity she coordinated clinical examinations, professional development and lead national recruitment.
Wendy oversaw the relocation of the Royal College of Psychiatrists from Belgrave Square to Aldgate, after the inevitable happened and the Royal College realised that they could not afford their Belgravia HQ even after such generosity from M&S (see post 'The Newcastle-upon-Tyne Connection').
Since 2016 Wendy Burn has led the Gatsby Foundation and Wellcome Trust Neuroscience Project, which looks to transform training for psychiatry trainees by increasing 'the neuroscience components of psychiatric training to make it meet modern mental health treatment requirements. The initial phase included a review of the current curricula of neuroscience and psychiatry, which made recommendations for a new curriculum. After the curriculum was finalised, approved and adopted, Burn has been responsible for assessing its impact.' See previous posts for the dirty money and scam that underlies the Gatsby Foundation and the dodgy deals and flaky practices inherent in the Wellcome Trust Neurosciences Project. Don't expect much improvement in the situation of dementia patients anytime soon…
Wendy was elected President of the Royal College of Psychiatrists in 2017, shortly after I began this blog. The focus of Wendy's Presidency has been 'helping old people with depression, dementia and anxiety' and she has also campaigned for more funding for the NHS. Improvements will surely follow, because nobody wants a bad case of
Thromboangiitis obliterans
Other names
Buerger disease, Buerger's disease, Winiwarter-Buerger disease, presenile gangrene[1]
Wendy knows that her patients are actually far more in need of social care that is not available because the NHS is gobbling up all of the funds. Wendy also campaigns for opportunities to increase mental health bed capacity, although occupancy of a mental health bed rarely benefits anyone anyway.
Burn identified that there are significant inequalities in mental health care across the UK and that people in Wales had the worst access to specialist care, in spite of the billions that have been given to Top Docs in Wales and the uncritical toadying to them on the part of the Welsh Gov't. Wendy serves as a member of the All-Party Parliamentary Health Group.
Burn married her husband William in 1991. In 1993 she was the first consultant in the Psychiatry Unit at the Leeds Teaching Hospitals NHS Trust to take maternity leave for her son's birth.
So that's the basics of Privileged Wendy, Daughter Of Oxford Top Docs, Granddaughter of Famous Pharmacologist, who was one of the most hopeless medical students in her cohort at Southampton and who managed to spend most of her career on the patch of the big trafficking ring in Yorkshire with Savile at the centre of it and not notice.
Wendy missed the Yorkshire Ripper as well, he caused havoc up there. A reader asked me the other day if I thought that the Yorkshire Ripper was killing women who had been abused by the ring in Yorkshire and was thus eliminating witnesses which is why there was that mystery of the police missing Sutcliffe's activities although he came up on their list of suspects I think 12 times before they twigged that he was Their Man. That thought hadn't occurred to me, but I had suspected that the Yorkshire Ripper presented great difficulties for The System because he knew about the ring, the police corruption and Savile. His wife Sonia almost certainly knew about such matters as well, Sonia the teacher who lived in Bradford and won the libel case against 'Private Eye', after a curious relationship with a journo from the Daily Mail.
Wendy Burn will also have known about William Kerr and Michael Haslam, the two Yorkshire psychiatrists who for decades systematically raped and sexually exploited their female patients. As with Dafydd et al, there was complaint after complaint but no investigation. One senior Angel who reported them was demoted and a Prof at Leeds University was told that he'd be sacked if he didn't shut up about Kerr and Haslam. As they hit retirement age, Kerr and Haslam were finally 'investigated'. One of them went to prison for a short time. They both retired with big Top Doc pensions. The women whom they assaulted were told that their records that Kerr and Haslam had compiled about them would not be amended and neither were any references to Kerr and Haslam's eventual exposure added to their records. So those women are still officially Disturbed Patients, most of them with Personality Disorders. See previous posts.
Never mind Kerr and Haslam targets, I'm far more Twisted and Dangerous than you, let's revel in our status as Dangerous Nutters who have refused to shut up about sex offending Top Docs!
Here's Privileged Wendy, former shite student and Role Model for Wimmin:
Malcolm Levene can also be found on the website of the Royal College of Paediatrics and Child Health:
Emeritus Professor Malcolm Levene
Year James Spence Medal awarded: 2010
As teacher, scientist, author and clinician, Malcolm's contribution to Paediatrics is testimony to outstanding quality and productivity. [Shurely shome mishtake – Ed.]
His driving educational interest, with student put first, is seen as Dean of Students. An international force in Fetal and Neonatal Neurology, his research focussing on perinatal brain injury
led to election to the Academy of Medical Sciences. Malcolm has authored over 200 peer reviewed articles and 19 books. Awards include Donald Patterson, Michael Blacow, Guthrie and recently the international William Liley Medal. In RCPCH, his contribution ranges from Academic Board to Editor of Mastercourse, winner of the BMA medical book competition.
Leeds University – Lord Edward Boyle
Jack Straw – Alice Perkins
Culpable Leeds MPs – Merlyn Rees, Keith Joseph, Denis Healey, the ONE BEFORE – Hilary Benn
Media Leeds – Mark Byford – dad Lawrence – Top Cop
Lawyers and judiciary – Sir John Kay – Feb 1990
Justice Joseph Cantley – Mr Thrope – George Carman
In [Jolly's] later years he concentrated on bereavement and greatly influenced obstetricians, paediatricians and general practitioners to react more sympathetically to parents of stillbirths and miscarriages.
One wonders what influence Jolly exerted, because parents in such situations still frequently report callous insensitivity.
He also drew attention to the problem of the dying child.
It was not surprising that the British Paediatric Association elected him an honorary member in 1985. He was also an honorary member of the section of paediatrics of the Royal Society of Medicine.
Previous posts eg. 'Too Many Pills' discuss how these organisations were packed to the rafters with and led by Top Docs facilitating abuse or at best ignoring it.
Through his numerous writings in medical and lay journals, and in newspapers, and by his appearances on television and his talks on radio, Hugh sought to establish a wider understanding of his patients: of their health, their behaviour, their illnesses and anxieties. This naturally involved parents and he was never happier than when talking through their difficulties. As a parent, it is unpleasant to hear oneself upbraided, but Jolly never spared the feelings of others if he believed he was acting in the best interests of his patient,
whether the latter be newly born or a tyrannical teenager. He recognized that this upset parents, even to anger, but he would argue passionately in defence of his stance.
No-one had the guts to tell the parents whom Jolly insulted, pathologized and blamed that the Great Man was propping up scores of child molesters in senior professional and political positions and assisted the state in removing children from their families to hand them over to the 'care' of organised paedophile rings.
Hugh Jolly was tall, with a slightly stooping, lolloping gait, a shock of hair and usually a large bow tie. He drove himself hard and fast, and all who worked with him; this included his cars.
Did Jolly crash as many cars as Dafydd I wonder? If so, did Jolly just dump the wreckages in his garden a la Dafydd?
He was indomitable and indefatigable. Even when ill, and in a wheelchair, he flew to Berlin to fulfil lectures he had promised. He was equally energetic in his leisure pursuits whether gardening, breeding budgerigars and peacocks, or water skiing and, later, gliding. Even when on holiday his thirst for knowledge continued, especially in regard to historic buildings and their treasures, which just had to be visited no matter how long the drive. Passengers were allowed no 'stops', not for food or even calls of nature – at least, not until pleas were desperate.
Is it possible that like a few of his colleagues, including Dafydd, Dr Jolly maintained this hectic schedule with the assistance of chemical stimulants, most probably prescribed by himself for himself?
Professor Sir Peter Tizard allows me to quote from his address at the Service of Thanksgiving at All Souls, Langham Place, London on 14 May 1986: 'And what of Hugh as a person? First, he was a man of high principles, but he did not wear his conscience on his sleeve.
Peter Tizard – HERE
Next, he was a man of boundless energy and boundless vitality. In his dealings with children and their parents he was a model of patience and the unhurried approach.
Including at those 4 am ward rounds.
As a friend he was always good company and always good humoured, and he never took offence even when deliberately baited. I generally attacked him on the elegance of his clothes – large bow ties, white dinner jackets and so on – or on the successful opening on TV, or in the Press, of his spring or autumn advertising campaign. All this needling Hugh accepted with amusement and good-humoured tolerance.'
In everything he did his wife Geraldine supported him devotedly. Equally, he was devoted to her, his three children and latterly, while he was so sadly ill, his granddaughter.
BM Laurance wrote this hagiography of a populist abuser and Media Doc.
Arthur Doyne Courtenay Bell, at who's knee the unstoppable Hugh Jolly learnt, received the Munk's Roll treatment:
b.15 June 1900 d.17 September 1970
MRCS LRCP(1928) BM BCh Oxon(1928) MA(1938) DM(1938) MRCP(1933) FRCP(1949)
Arthur Doyne Courtenay Bell, known as 'DB' to his many friends, was born at Prestwich, Lancashire, the son of Robert Arthur Bell, mathematician and consulting engineer, and Evelyn Maud Richardson. He was related on his father's side to Thomas Sydenham. He was educated at King's College School, Gresham's School, Holt, and St John's College, Oxford, where he was an open scholar and Adrian Graves memorial exhibitioner, also diving and playing water-polo for the university.
The Top Docs dedicated to The Poor do enjoy their water polo.
St John's College Oxford – Idwal Pugh – David Lewis Davies – Du Cann – Kingsley Amis – Betjeman – etc CHECK DATES –
He graduated BM BCh from St Thomas's Hospital in 1928.
Tommy's classics – Tudor Spart, Michael Hutt, Dallys, Dr Death etc
After early house appointments, he was awarded the Perkins travelling fellowship to Vienna and Berlin in 1931.
Freudian circles
On his return to Britain he became chief assistant in the children's department of St Thomas's Hospital in 1932. In 1938 he proceeded DM. During the second world war he served as paediatric consultant in Sector II of the EMS and was in charge of the children's department at the London Hospital. He was also medical officer to the Heavy Reserve Squad, City of Westminster. He joined the staff of the Charing Cross Hospital in 1945 and also became physician to the Belgrave Children's Hospital, and honorary physician to the children's department of Queen Mary's Hospital for the East End of London.
He was elected a Fellow of the Royal College of Physicians in 1949.
Lord Max Rosenheim, King of UCH, was a contemporary in the Royal College of Physicians. Rosenheim served as President of the Royal College from 1966 until his death in Dec 1972. Rosenheim was a Bachelor who was not blessed with children and made or broke medical careers. He was mentor to many of the Top Docs who later facilitated Gwynne and Dafydd's network, including Geoffrey Chamberlain and Josephile Barnes (see eg. Uncle Harry's Friends…') Rosenheim was mates with Harriet Harperson's father.
Rosenheim died in office when he wasn't that old, at the end of 1972 when Headmasters of Bryn Estyn were being suspended for uncertain reasons and replaced by people who then died in car crashes along with their Deputies and their entire families. It isn't beyond possibility that one of Lord Max's Esteemed Colleagues gave him a little push.
Thromboangiitis obliterans
Other names
Buerger disease, Buerger's disease, Winiwarter-Buerger disease, presenile gangrene[1]
Three months after Lord Max sadly passed over, Matt Arnold relocated from Axwell Park Approved School in Gateshead to become Head of Bryn Estyn and he soon appointed his friend and colleague from Axwell Park Peter Howarth to a post at Bryn Estyn, Howarth taking up his new post in Nov 1973.
Arnold died of an unidentified blood disease on 9 June 1994; Howarth's trial for serial sexual assaults on boys in care in north Wales opened on 13 June. He was convicted and imprisoned for 10 years in July 1994, just before Miranda became Leader of the Labour Party.
Ian Mikardo's old pal Jo Richardson, the MP for Barking, died in office on 1 Feb 1994, but at least that meant that Little Nell, former Leader of Islington Borough Council when the ring linked to Gwynne and Dafydd raged in Islington was able to become MP for Barking. Little Nell was elected to the Commons on 9 June  1994, just as Matt Arnold joined Jo in that Golden Den of Serious Organised Crime in the sky.
Harriet's dad died on WHAT Nov 1994 – Dafydd's High Court injunction – Rasp
Lord Max was educated at Shrewsbury School – Sir Charles Evans -DATES
In 1965 [Doyne Bell] retired from the consultant staff of the Charing Cross Hospital, and from the Board of Governors in March 1966.
Doyne Bell wielded enormous influence at Charing Cross and if anyone did ever raise concerns about the eccentric Dr Jolly, a Full and Speedy Investigation will have resulted 
and complete confidence in Dr Jolly will have been expressed. After all, there were the reputations of Experts in Plymouth as well as Charing Cross at stake. 
As well as serving as a member of the Board of Governors of the Charing Cross Hospital, and chairman of the Planning Committee, he was also examiner in medicine and child health for the RCP and examiner in paediatrics to the University of Birmingham.
Birmingham University HERE
A firm chairman in committee, it was his particular genius to extract from others, often at difference, the essence of their concepts, and to weld them into a workable plan for a new project.
For many years he was editor of St Thomas's Hospital Gazette, was consultant editor of the Charing Cross Hospital Gazette, and contributed many papers on his specialty to various professional journals. He was the author of a chapter on paediatric emergencies in the Modern Treatment Year Book, 1954.
'DB' was a superb example of the older type of paediatrician whose foresight paved the way for modern paediatrics.
He fought tenaciously for the principle that paediatricians should have sole responsibility for babies in maternity units as an essential step in reducing neonatal mortality. He was much at ease with the children he treated and it was characteristic that he never patronized or talked down to them. He would discuss their problems with them as gravely as if they were distinguished colleagues seeking his advice. This rapport with his young patients showed how successful he was in the management of the psychological aspects of children's illness. Awareness of the psychiatric side of children's illnesses made him encourage child psychiatrists to join his ward rounds.
That will have been a collection of Gwynne and Dafydd's mates from the Maudsley.
A great teacher, he maintained an old-world courtesy whatever the pressures — he would always make a point of getting up to greet each parent and child as they came into his outpatient consulting room. Essentially practical in his approach, common sense dominated his reaction to the many problems he was called upon to solve. To him a child was a person, not a potential new syndrome.
He was a great raconteur and a very competent broadcaster. His programme 'Portrait of a Doctor' has been repeated as a classic.
Info here
He had many friends in the world of stage and literature — listening to his repartee with Stephen Potter while playing snooker was an unforgettable experience.
The Stephen Potter whose acquaintance Mr Thrope made when Mr Thrope was farting about in the Oxford Union. Potter HERE
Essentially a clubman, a bon vivant, genial, of polished manner, he had an intense appreciation of the refinements of the table, especially in his role as chairman of the Savile Club,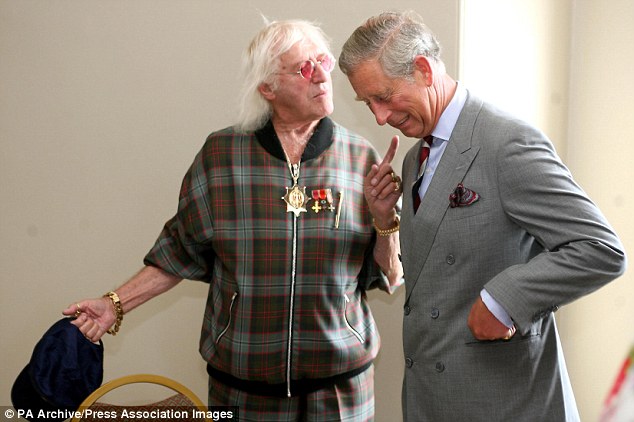 where he was an esteemed and popular figure. He was skilled in many aspects of la bonne vie, on which he once expounded in public. His pastimes included golf and fishing — especially fly-fishing — and, later in life, painting in oils, in which medium he attained such skill that he was able to exhibit at the Royal Academy. He was quick to recognize cant; his sardonic chuckle was a personalized comment on the foibles of the pretentious. His interest in the young and young in heart included a friendly involvement in student activities, and wise guidance for the editors of student publications. Always he encouraged and fostered the interests of juniors.
JOLLY PIC
He continued to be productive and fully active in his retirement years, and had time to edit a journal for midwives and health visitors, to whom his special knowledge and experience were very useful.
DB told them what to do and they did it because if they didn't, in the event of any adverse events, they'll have been hung out to dry by DB and his mates. It's why no Angels Ever Knew About Savile or indeed Gwynne and Dafydd.
He maintained regular contact with his friends and former colleagues and pursued his favourite sport of fly-fishing. It was while fishing that he died, and he could have wished no happier end to his life. Many will remember him for his capacity to make relationships and warm friendships. In all, he was the epitome of the Savilian motto 'Sodalitas Convivium'.
The Savile Club is a London gentlemen's club founded in 1868, located at 69 Brook Street, part of the Grosvenor Estate in Mayfair. This was the former home of "Loulou" Harcourt, 1st Viscount Harcourt, a Liberal Party Cabinet Minister. The building, a combination of Nos 69 and 71 Brook Street, owes its extravagant dix-huitième interior to Walter Burns, the brother-in-law of financier J. P. Morgan, who adapted it for his wife Fanny to entertain in suitable style. It thus includes an elegant hall, a grand staircase and a lavish ballroom. The traditional mainstays of the Savile are food and drink, good conversation, playing bridge, poker, and Savile Snooker, a 19th-century version of the game and of course, for Top Doctors who are Savilians, Helping People, in particular The Poor.
other doyne bell –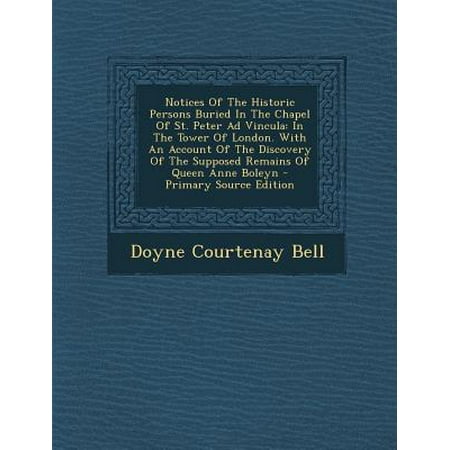 buck house link
Jolly's senior colleague Sir Wilfrid Percy Henry Sheldon (1901-1983), KCVO, MD, FRCP, was another man with a Royal Link, being Physician-Paediatrician to the Household of Brenda, 1952-71, a period spanning the childhoods of the Royal siblings Carlo, the Princess Snap, Andrew who Didn't Know About Jeffrey Epstein and Edward.
Wilfrid Percy Henry Sheldon was born on 23 November 1901 at Woodford, Essex. He attended Bancroft's School in Woodford, King's College, London, and King's College Hospital, London. In 1926, Sheldon was appointed consulting paediatrician at King's College Hospital and became consultant physician to the Hospital for Sick Children in Great Ormond Street several years later. Sheldon was one of the few full-time early practitioners of paediatric medicine in Britain during this era, when 'volunteer hospital consultants were not paid for their services'. I should clarify that they weren't paid by the hospital for their services; they were paid very handsomely indeed for their services by their private patients and their 'volunteer hospital posts' were an honour, enabling them to pompous at large in the London hospitals and wield huge power. These volunteers were keen to volunteer at the Middlesex or UCH because both of those institutions were within walking distance of Harley Street and it was easy to nip back and forth. Here they are, arriving to carry out Selfless Good Works:
The Middlesex and UCH were also near Soho and Bloomsbury which provided endless possibilities re the volunteers developing additional business interests, as Gwynne discovered when he was a student at the Middlesex in the 1930s, learning at the knee of the volunteers, one of whom was Sir William Gilliatt, the Royal Doc who delivered Carlo and the Princess Snap.
Volunteer Sir William's son Roger also studied at the feet of the volunteers at the Middlesex, including his own dad, although by the time that Roger qualified, the volunteers were picking up substantial NHS salaries, as well as their fees from Harley Street, thanks to the generosity of Sir George Godber and Radical Nye from Tredegar and subsequently as soon as possible, Chelsea.
Roger Gilliatt became a Famous Neurologist, his career really taking off after he served as Lord Snowdon's best man when Lord S married Ma'am Darling. Roger was given that job because Lord S's first choice, Jeremy Fry of the famous West Country chocolate producing family, had been recently convicted of importuning for immoral purposes
and the other possibility, Mr Thrope, MP for North Devon, rather blotted his copy book by boasting to third parties that he had slept with both Lord S and Ma'am Darling
whereas most people had only slept with one of them.
So Roger Gilliatt, Gwynne's friend, it was. 
Buck House thought that it was worth the risk, but no, it wasn't.
During WW II, Sheldon organized hospitals for children evacuated from London. In 1947 he became Director of the Department of Child Health at King's College Hospital. Sheldon also maintained a private practice in Harley Street.
As an advisor in child health to the Dept of Health, 1952-61, Sheldon was closely involved in establishing paediatric medical programs under the NHS.
Sheldon was made Commander of the Royal Victorian Order in 1954, and Knight Commander in 1959. During the later years of his life, Sheldon lived in Kingston upon Thames, domain of Hugh Bentall, corrupt surgeon who ran Hammersmith Hospital for decades (see post 'Now Then'). Hugh was the father of Richard Bentall, a clinical psychologist who trained and worked with the Gang at UCNW in Dafydd and Gwynne's day. See previous posts. Ollie Brooke's trial took place at Kingston-upon-Thames, where the extent of Ollie's offending, let alone his status as a key figure in a pan-European paedophile ring, was never disclosed and in addition an erroneous impression of Ollie's academic standing and record was provided. See 'Too Many Pills'. Bentall will have had a hand in it all, he didn't just run Hammersmith Hospital, Bentall was the very wealthy owner of Bentall's, the posh department store in Kingston and he virtually owned the town, a popular habitat for Top Docs, lawyers and City workers.
I haven't been able to find out who was the presiding judge at Ollie's trial, but Lord Peter Rawnsley being so influential in legal circles at Kingston will have helped Ollie. Rawnsley was a member of Middle Temple a la Ronnie Waterhouse, Paddy Mayhew etc and was Recorder for Kingston, 1975-2000. Rawnsley was Macmillan's Solicitor General and helped out over the Profumo Affair (see previous posts); he was then Grocer Heath's Attorney General and was the cause of a number of the high profile controversies re N Ireland miscarriages of justice. See eg. 'The Milk Street and Other Mafias'.
Peter Rawnsley was unusual in terms of the public roles that he held because he was a Catholic. Being a minority in that way, Rawnsley had a close relationship with other Catholics who held public roles often denied to them, such as Lord John Hunt, Cabinet Secretary under Wilson and Callaghan, who's sister Madeleine was married first to Gov't CMO Sir John Charles and then to Top Doc to Anthony Eden John Hume. John Hume was the brother of Cardinal Basil Hume. The Humes were a powerful medical family from Durham/Newcastle who's members also nipped down to London to act as Docs to Royals and PMs. See previous posts.
I'm not someone who believes that all Roman Catholics are child molesters, but I am interested in networks of ruthless people who use any contacts available to further their own interests. Ollie being convicted of child sex offences presented great opportunities for anyone who had knowledge of the rest of the iceberg.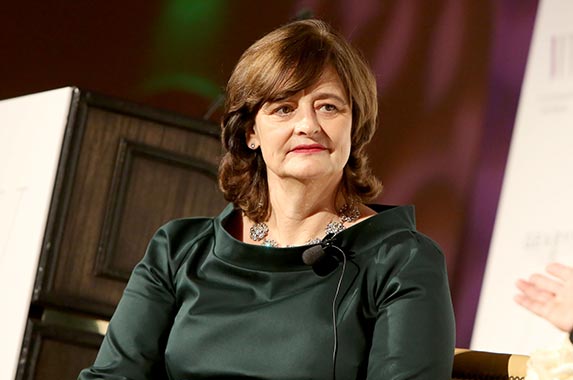 The Tory MPs for Kingston won't have done Ollie any harm either. From 1945 until 1972, it was Thatch's old mucker John Boyd-Carpenter, Thatch's mentor from her first days as a junior Minister in Macmillan's Gov't who remained close to Thatch throughout her career. When Boyd-Carpenter resigned as MP in 1972 to take up the post of Chairman of the Civil Aviation Authority, Norman Lamont succeeded him. See 'The Milk Street and Other Mafias'. Lamont's dad was the surgeon for Shetland and knew Sir Douglas Black, who grew up on Shetland, Top Doc and DHSS running doc who for years was part of the Manchester circle of Top Docs who protected Gwynne and Dafydd. Sir Douglas's son Andrew is a psychiatrist… See 'The Logic Of Medicine'.
Munk's Roll account of Sheldon's life:
Wilfrid Percy Henry (Sir) Sheldon b.23 November 1901 d.9 September 1983

KCVO(1959) CVO(1954) MRCS LRCP(1923) MB BS Lond(1924) MRCP(1925) FRCP(1933) MMSA(1972) Hon FRCOG(1972)
Sir Wilfrid Sheldon was an outstanding personality in the history of paediatrics in this country. In many ways he represented a link between the beginnings of paediatrics as a branch of medicine and the modern era of paediatrics which really began in the late 1960s. 
He succeeded, at King's College Hospital, Sir George Frederic Still, who was the first professor of child health in Britain. Still gave up his chair in 1916 when London University 'took over' the London medical schools.
The Earl of Athlone aka Prince Alexander of Teck, the brother of Queen Mary Consort of George V, was Chancellor of London University and Chairman of Governors of the Middlesex Hospital. George V's brother-in-law was still Chancellor of London University when Gwynne qualified as a Top Doc and the volunteers were practising Modern Paediatrics, establishing Today's Profession. 
At that time Still was offered retention of his chair but as this involved relinquishing the right to private practice Still, who had no private income, was forced to abandon his professorship.
Obviously there was a limit to how much the volunteers could do.
Sheldon, who had qualified at King's College Hospital in 1924, was appointed consultant at King's College Hospital in 1926. Even in those days, this was a very young age to be appointed consultant
Although it wasn't without precedent, what they got away with was impressive
and a few years later Sir Wilfrid was appointed as consultant physician to the Hospital for Sick Children, Great Ormond Street.
Wilfrid Sheldon's early life was complicated by the death of his parents when he was quite a young boy and he was supported through school and his medical education by an elder brother (J Harold Sheldon FRCP) who, it is fair to say, was worshipped by the younger Wilfrid. He quickly showed himself to be an outstanding clinician and produced one of the first major textbooks of paediatrics entitled Diseases of Children which was based, in the early editions, very largely on his own wide clinical experience.
As a volunteer.
He became the outstanding young physician at the Hospital for Sick Children, Great Ormond Street, and on the retirement of Still he took over the directorship of the department of child health at King's.
Sheldon was a tall, slim, aristocratic looking figure. A pleasant face when smiling, he could look extremely stern when displeased. When in critical mood, his eyes had the appearance almost of being 'hooded' and gave him a 'hawk-like' appearance which disappeared as soon as his sense of humour, which could be ebullient, forced its way into the situation. He was a very handsome man and was a great socialite, having a fund of stories and a great ability as a conversationalist.
During the second world war, he was largely responsible for organizing the care of sick children transferred from Great Ormond Street to the country branch at Tadworth.
His research interest in medicine was very largely devoted to coeliac disease, in which his powers of clinical observation were responsible for him being one of the first paediatricians to realize that coeliac disease was due to an intolerance of wheat products. His interest in coeliac disease brought him international fame but he was also famed in his own country for his teaching ability to students in general, and by his ability to impart to his assistants the clinical acumen that he had collected over the years.
He became paediatrician to Her Majesty The Queen at a time when she first became a young mother
and was very personally known to the Queen Mother,
Wilfrid Sheldon almost certainly knew about the rent boy ring that the Queen Mum's HIV +ve loyal retainer Backdoor Billy ran.
as well as to the Queen herself. He became a 'father figure' in British paediatrics and was a very popular president of the British Paediatric Association. 
His two great hobbies were gardening and golf. In the first he was a great expert and created a wonderful garden around his home on Kingston Hill. At golf he was less of an expert but was a great humourist who enjoyed not only the game, but the companions with whom he played it.
Golf is excellent for networking with corrupt professionals, in particular Top Docs and lawyers. It was bad enough at Bangor Golf Club, but Lord Robert Kilpatrick really excelled (see 'Remember Girls! Never Get Into A Car With A Stranger.)
Right to the end he retained his great critical faculties and his deep love of his family was accompanied by a very deep affection for his friends. He ultimately died due to secondary carcinoma in the liver from a primary in the colon. It was typical of him that he himself made the clinical diagnosis of both his primary carcinoma and the occurrence of the secondary deposits, many years later, in the liver. In the six weeks or so before his death he visited all his friends to say 'goodbye' to them and at that time he said that he felt that he had been blessed with a very happy life and happy family, and his only regret was that he was unable to look after his wife, Maithe, who herself was ill, and that his death would leave her without him.
Never mind the international trafficking ring that Sheldon and colleagues had developed over the previous decades.
Sheldon died on 9 Sept 1983, by which time the Gang were hot on my heels. D.G.E. Wood had done nothing at all for months while I had experienced serious depression, Brown had looked after me and by Sept 1983, thanks to Brown, I was actually able to gear myself up to starting the final year of my degree. As I began to recover – and Wood admitted that he hadn't thought that I would recover sufficiently to finish my degree – Wood began piling the pressure on to me and Brown for me to see an 'second opinion', that turned out to be Gwynne the Royal Lobotomist. The whole situation was farcical, whatever they were doing, they were not interested in providing a health service.
Above all, he will be remembered as a kind, gentle man, with an ability to be critical and forceful,
when Sheldon forgot about being kind and gentle
a great teacher, and a man who loved his family and his friends.
This tribute to Sheldon was the work of CE Stroud.
Wilfrid Sheldon's 1953 portrait is in the National Portrait Gallery. Lord Lloyd Kenyon was for many years a Director of the NPG and for a number of years the Chairman. Lord Kenyon is credited with making the NPG the grand institution that it is today.
The National Portrait Gallery online info helpfully reminds us of Events of 1953: A combination of low pressure in the North Sea, hurricane force winds, and high tides result in the Great Flood of 1953. With no warning system many were trapped in their homes as 20-foot waves crashed on the coast; hundreds were killed at sea and on the east coast. John Hunt's British Expedition conquers Everest. News of the achievement reached Britain on the day of Elizabeth's coronation.
The Everest Team also contained Charles Evans, the Liverpool surgeon who subsequently became Principal of UCNW. Hunt was known to be a senior officer in the Intelligence services and also served as Commandant of Sandhurst. John Hunt's advice was used by Gov't re policing in N Ireland, he was Chair of the Parole Board and was also involved in various youth/outward bound activities. Evans either worked for the intelligence services as well or used his mates like Hunt's links to misuse the security services for the Gang's own purposes. Evans's role as an Everest Hero made him untouchable, in spite of his massive shortcomings both as a Top Doctor and the Principal of UCNW.
The Glorious News of the Conquest of Everest by a team that included Plucky Brits was relayed back to London most conveniently in time for Brenda's coronation by team member and journo for 'The Times' James Morris, now known as Jan Morris. Jan has always been a source of excellent PR for the Gang, but whether that is because she actually likes them or just doesn't want to endure the consequences of not being their patsy I don't know.
Frances Crick and James Watson discover the double helix structure of DNA. Uncovering DNA's chemical make-up revolutionised our understanding of the building blocks of life.
Previous posts discussed how Crick and Watson not only stole Rosalind Franklin's work to bag glory and eventually a Nobel Prize, but that John Bernal, the man who facilitated this, was discussing Uganda with Thatch's tutor at Somerville, Dorothy Hodgkin (as well as with many other people). So many people in the Cavendish Lab, the Clarendon Lab and at Birkbeck knew about the huge fraud that it elicited a cascade of other frauds, a number of them resulting in Nobels. It also meant that for that crowd, when Thatch became PM, Christmas had come such was the blackmailing and bribery potential.
Ian Fleming publishes his first James Bond novel, Casino Royal.
Fleming was married to Ann, – RELATION ?? Charles Morrison, brother of Sir Peter
Chad Varah founds 'The Samaritans' helpline.
In both north Wales and Somerset the Samaritans embraced people involved with the Gang and their network. I suspect that this worrying phenomenon prevailed in other parts of the UK as well. In the way that practicing Top Doctors can not fail to be aware of organised abuse and the associated serious crime if it is present in their region, neither can the Samaritans.
There is available online Pathe news footage of Brenda visiting GOSH in 1952. The clip is summarised as:
Princess Elizabeth in hospital ward, Hospital staff and patients on balconies.

Description: Great Ormond Street hospital.

LS. Princess Elizabeth (Queen Elizabeth II) getting out of car and being greeted by Dr. Wilfred Sheldon. Going into the hospital. LS. (elevated) Princess walking between line of nurses in hospital. LS. Princess talking to girl in children's ward. MS. Baby in cot. Various shots of children in Hospital ward. MS. Children in cots (2 shots) LS. and MS. Queen in children's ward. CU. Two dolls LS. Princess walking on balcony. LS. Nurses waving. LS. Hospital staff and patients on balconies. MS. Sign over doorway "The New Southwood Building" LS. Hospital staff and patients on balconies. LS. Princess walking out of Southwood Building, and into car. LS. Nurses waving LS. General view Gt. Ormond Street Hospital; LS. Sign over doorway "Hospital for Sick Children"

If one watches the Pathe clip, one sees Brenda being given the Tour of North Korea accompanied by Sheldon and a small number of senior Angels In Uniform, complete with those ludicrous hats that did not serve any practical purpose. Brenda is sporting a hat herself, plus elbow length gloves and the ever-present handbag hangs from her arm. The children seem to be suffering from extreme sensory deprivation; there are no toys or any other form of stimulation visible but then in those ground-breaking children's wards of the 1950s there weren't. There are just rows and rows of iron cots with subdued isolated children in them who were denied contact with their families and have become used to not objecting to whatever is done to them by the series of strangers who wander into their bizarre environment…

No it Wasn't Just Like That in the 1950s, the parents of hospitalised children in those days spoke of their horror of how their kids were treated, but it was made clear to them that their children now Belonged To The Nurses. Some of the kids returned home from hospital 'a different child' and were never the same again. The parents were told to shut up, they were not Experts, of course Doctor wouldn't do anything that would harm their child. Matron however did at least know how to Keep Discipline On The Ward in those days and there was a good hospital corner on every bed. They Did Know how traumatised hospitalised kids were and that damage was being done, but it was simply not addressed because the NHS was not run for the benefit of the patients.

Bodger, Ollie Brooke and the crowd qualified in that era. All ambitious paediatricians as well as many obstetricians and gynaecologists who took themselves seriously worked for at least a time in the world-leading GOSH, including Dame June Lloyd, who after she was appointed Head of the newly created Dept of Paediatrics at St George's in the mid-1970s, appointed Ollie Brooke to a senior academic role there. See eg. 'Too Many Pills'.
Sheldon's idolised older brother Joseph Harold Sheldon (1893–1972) was a British physician, surgeon and gerontologist. After education at Bancroft's, a Drapers' Company School at Woodford, J. Harold Sheldon went to work at the secretarial department of Lloyds Bank. As he approached the age of twenty, he became fervently religious and decided to leave Lloyds Bank and become a Christian medical missionary. With a Worsley scholarship, Harold Sheldon began studying medicine at King's College Hospital Medical School in 1913.
When Sheldon had completed only one year of his clinical studies, he joined the Navy as a Surgeon Probationer, as it was possible to do in WW I and saw service in the Mediterranean, returning for study leave at intervals to complete his clinical work and qualify in 1918. After qualifying Sheldon volunteered as a Surgeon Lieutenant for mine-sweeping in the Baltic and abandoned his ambition to become a medical missionary. He held appointments at King's College Hospital, before qualifying there in 1920. In 1921 Sheldon was appointed to the staff of the Royal Hospital, Wolverhampton. .[3]
His early work was mainly on mineral elements. His Hunterian Lecture to the College of Surgeons in 1928 was entitled "An undescribed disease of bone", but he had already been writing on haemochromatosis and he began studying this disease in depth…and published the results as a book in 1935.
Sheldon 'gained an outstanding medical reputation throughout the Midlands and into mid-Wales'. In Wolverhampton, he arranged his out-patient clinic to coincide with market day, for the convenience of his patients. He was consultant physician to several hospitals.
Sheldon's Wolverhampton community survey of elderly people, the first of its kind after WW II, was carried out at the behest of the Nuffield Foundation, Chaired by Seebohm Rowntree. The ration card register was used to locate the random sample of 583 old people (186 men over 65 and 397 women over 60 years) and the survey was carried out between January and April 1945. Informed consent won't have entered into the equation; it will be defended today by the argument that no experimentation was involved or sensitive data. My point is 'just look at the people involved in this work and their colleagues and what they felt able to do even when experimentation and sensitive matters were involved'.
Sheldon's 1961 Report to the Birmingham Regional Hospital Board on its Geriatric Service found inadequate hospital services for infirm geriatric patients. He made several recommendations including replacement of some older hospital buildings, appointment of more geriatric physicians, more postgraduate medical education in modern geriatrics and adequate staffing of all sections of rehabilitation teams for geriatric patients. In the light of the enormous row over the series of scandals with regard to the hospital care of the frail elderly during the latter half of the 1960s one can only presume that Sheldon's recommendations from his 1961 Report were ignored.
The scandals that erupted years after that Report were so serious that Wilson's DHSS Secretary Richard Crossman could only manage them by lying to Parliament about the DHSS officials and others Not Knowing that the elderly were being treated like this, hoodwinking the one whistleblower (Barbara Robb) who couldn't be discredited, smeared or sacked and appointing corrupt Welsh barrister Geoffrey Howe to Chair a rigged Inquiry that concealed the worst.
Crossman and Wilson's Gov't were in meltdown because Westminster molester George Thomas was a member of the Welsh Hospital Board that managed Ely, one of the hospitals in the scandals. Thomas and the Board had ignored complaints about the abuse of patients, as had the Gov'ts Chief Angel, Dame Kathleen Raven. Inspectors had witnessed patient abuse on visits to the hospitals concerned but still nothing was done.
Dame Kathleen Annie Raven, (b. 9 November 1910) grew up in Cumbria, Willie Whitelaw country, in a Plymouth Brethren household. Kathleen's older brother Ronald became a surgeon and trained at Bart's,
where Kathleen undertook her Angel's training. Ronald was just a bit younger than the Bart's surgeon Reginald Vick, Lady Juliet Bingley's dad. Kathleen rose through the Angels' ranks at Bart's until the late 1940s, when she bagged a very senior post at Leeds General Infirmary.
Kathleen's senior posts included:
Matron, General Infirmary, Leeds (1949–57)
Deputy Chief Nursing Officer, Ministry of Health (1957–58)
Chief Nursing Officer, Department of Health and Social Security (1958–72)
Kathleen Raven Chaired the Yorkshire branch of the RCN. Not long after Kathleen arrived in Yorkshire, David Williams, an Angel who had trained at Denbigh when Gwynne the Lobotomist was at his lobotomising best, was appointed COHSE rep for the Yorkshire region. Like his colleague Hector MacKenzie who had worked as a psych Angel in Cumbria, Williams went right to the top of COHSE, ending up as General Secretary. See previous posts eg. 'The Milk Street and Other Mafias'.
The Dame married widower and Top Doc John Thornton Ingram while she was Chief Nursing Officer. Ingram was Prof of Dermatology at Durham University and a member of Lord John Walton's partner ring to Gwynne and Dafydd.
It was Dame Kathleen who suggested to Richard Crossman that it should be Asa Briggs to Chair the Committee on the Future of the Nursing Profession that Crossman wanted to set up, after the Dame had 'shared a Ministerial car' with Asa.
While Kathleen was Chief Nursing Officer at the DHSS, Jimmy Savile's star rose and he effectively ran the NHS in Yorkshire as well as making a nuisance of himself in hospitals elsewhere as well. Dafydd and Gwynne did pretty well under Dame Kathleen as well.
For someone brought up among Plymouth Brethren, the Dame had a laid back attitude to Ugandan discussions among the unwed. When Matron at Leeds, the Dame introduced 'beau parlours' to the hospital, 'rooms in which nurses could entertain their men friends'.
No doubt Jim dropped in regularly.
The Dame and Asa discuss Asa's role on Crossman's Nursing Committee while sharing the Ministerial car: 
After she retired in 1972 on the Grocer's watch as PM, the Dame bagged a job as Chief Nursing Advisor with Allied Medical Care and advised on the company's establishing hospitals in Iran, Saudi Arabia and Egypt.
Other strings to the Dame's bow included: serving on the Central Area Advisory Board for Secondary Education while she was Matron at Leeds General Infirmary; serving as a foundation Governor of Aylesbury Grammar School;and in her later years, serving as Vice-President and a member of Council of Epsom College, her brother's old school and one known for educating many pupils who went on to study medicine.
The Dame died in April 1999 as Ronnie Waterhouse was writing the draft of his Report that he showed to People Who Mattered before submitting it for publication. The Dame left for heaven among that 1999 cluster of Insider witnesses that included William Mars-Jones and Ioan Bowen Rees. A serious outbreak of


Thromboangiitis obliterans
Other names
Buerger disease, Buerger's disease, Winiwarter-Buerger disease, presenile gangrene[1]
See post 'I Passionately Believe' for more info about the Dame and other eccentric Chiefs of Nursing.
George Thomas was a particularly hot potato because he had ignored the abuse of patients in Ely when he was a Minister of State in the Welsh Office and the scandal broke just as George became Welsh Secretary and Healthcare was about to be transferred to the Welsh Office, before Social Services was as well. No-one fessed up that the Welsh Office and Thomas were utterly unfit to assume responsibility for Health and Social Services, instead lies were told.
Ely's defence was that no-one was bellyaching about Denbigh and things were much worse there. No, no-one was going to dare bellyache about Denbigh, the Welsh Hospital Board was directly responsible for running Denbigh as well, where the victims of George Thomas and his mates' sex crimes were being lobotomised and imprisoned in a dungeon, no-one was going to go there.
The expose of the scandal at Ely happened when the Windbags' friend Lord Cledwyn was Welsh Secretary. Lord Cledwyn served as the Labour MP for Anglesey, 1951-79, grew up in Holyhead and worked as a bent solicitor and was a long-standing friend of Glenys Windbag's mum and dad, who campaigned for Lord Cled. It was at Glenys's mum and dad's house in Holyhead that the Windbag was first introduced to Sunny Jim by Cledwyn. The Windbag and Glenys were both students in Cardiff at the time; by the time that the Windbag had become President of the Students' Union at what is now Cardiff University, Tony Francis had arrived as a med student at Cardiff and Francis and the Windbag would prove very useful to each other in the 1980s and 90s when Francis was working with the Gang and passing the Windbag confidential (and fallacious) info about me and probably other people who dared complain.
Perhaps the Windbag would like to tell us who else was the subject of 'And do you know…' conversations between Francis and the Windbags. The Gang didn't just reserve their disgusting tactics for me, it was how they conducted themselves and it was clearly how the Windbags conducted themselves as well or they would have raised concerns about Francis and told me what he was doing.
'It ends in the grotesque chaos of a LABOUR Windbag, a LABOUR Windbag, colluding with a gang of sex offenders who are fitting up and killing witnesses, while the LABOUR Windbag, the LABOUR Windbag, rants away at Degsy and his mates at the Party conference and the Hefferlump stomps off the stage in disgust, while Degsy and the Hefferlump are also doing deals with the same gang of sex offenders, as are Thatch, Dr Death and Plaid.'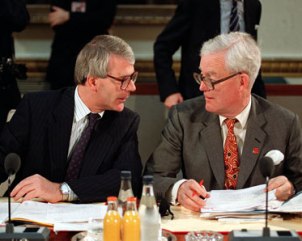 The Windbag became Leader of the Labour Party in Oct 1983. Previous posts have discussed Clive Jenkins's substantial role in ensuring that the Windbag became Leader of the Labour Party, but I have only just found out that Moss Evans collaborated with Jenkins to crowbar the Windbag in as the Labour Leader.
Arthur Mostyn Evans (13 July 1925-12 January 2002), aka Moss Evans, succeeded Lord Jack Jones (another big mate of Richard Crossman and part of Gwynne and Dafydd's circle) as the General Secretary of the TGWU, 1978-85. Moss was born in Cefn Coed near Merthyr Tydfil, but when he was 12 his family moved to Small Heath, Birmingham in his father's quest to find work. Moss first became involved with unions whilst working for the Joseph Lucas combine, where he joined the Amalgamated Engineering Union in 1940. His involvement with the TGWU started ten years later when he changed jobs, and moved to the Bakelite Factory in Birmingham, where Evans became shop steward a year later. Moss Evans's rise through the TGWU started in 1956 when he became engineering and chemical officer for the Birmingham East district.
This was followed by positions as:
Birmingham regional trade group secretary 1960-66
London Engineering National Officer 1966-69
National Secretary (Automotive Section)1969-73
National Organiser 1973-78
General Secretary 1978-85
as well as
Member, TUC General Council 1977-85
Councillor (Labour), Borough of King's Lynn and West Norfolk 1991-2001
King's Lynn Town Mayor 1996-97
Another component of the toxic brew re the institutional neglect and abuse of vulnerable people in Wales was Lord Gwilym Prys-Davies, who sat alongside George Thomas on the Welsh Hospital Board and also concealed what was happening at Ely and Denbigh and elsewhere. Prys-Davies HERE
So although Sheldon's opinions re improving the shite shameful 'care' that thousands of elderly people in hospital were receiving were thrown in the bin, Sheldon's opinions on other matters that resulted in the growth and protection of the gang of offenders who's umbrellas were allowing the mistreatment of the elderly weren't.
My how things haven't changed. 
In 1949 under the auspices of the Royal College of Physicians, Harold Sheldon gave the F. E. Williams Lecture on the Role Of The Aged In Modern Society. Easy: if The Aged are poor and frail, they are dumped in Ely or Denbigh, beaten, neglected and hosed down with cold water outside while naked. If The Aged are bigoted old judges or Royal Lobotomists, they play a rather different role in Modern Society and are afforded ever creature comfort requested, are valued for the Wisdom and in the event of being caught red handed doing what they shouldn't the response will be an en masse 
In 1954 Harold Sheldon was elected President of the International Association of Gerontology and in 1955 he went on an international lecture tour devoted to gerontology. As a leading gerontologist Harold must have known that the sort of conditions exposed at Ely Hospital a decade later weren't unusual. Which must have been why in 1955 Harold picked up a CBE. In 1956 Harold was made a Fellow of King's College, London.
A keen ornithologist and photographer, Harold Sheldon combined the two hobbies for a time to study the flight of birds, how they dived and the stability of some of them when asleep standing on one leg. He published in British Birds re his observations over a number of years on the movements of the Northern Golden Plover while on migration through South Staffordshire. There was a thriving ornithology scene in north Wales, much of it based around the biologists at UCNW and Harold Sheldon will have known them.
In his earlier years Harold did a good deal of mountaineering and in 1928 he was honoured by the French Gov't for a courageous Alpine rescue on the Aiguille of the Petit Dru. Sheldon was a member of the Alpine Club and President of the Midland Association of Mountaineers.
Sir Charles Evans, Principal of UCNW, served as President of the Alpine Club and his close friends were also high profile members and held office in the Alpine Club, including Dr Ann McCandless. Ann was a Top Doc who, like Sir Charles, was rather more interested in mountaineering that Top Doctoring and also found herself working with a gang of sex offenders wherever she went. Worryingly, Ann McCandless was a paediatrician… See previous posts eg. 'Meet The Gwerin!'.
J. Harold Sheldon had two brothers and two sisters, including Wilfrid Sheldon and Geoffrey Colin Sheldon (1906–1997), a GP in Reigate. Harold Sheldon married Marjorie Bannister in 1921 in Newport. Their first child, Peggy, was born in 1924. Their second child died at birth. In 1927 Harold and Marjorie went on a mountaineering trip to the Alps where Marjorie died, probably from a pulmonary embolus. In 1961 on the Isle of Wight Harold married Miss Luckett, with whom he had worked for many years and they moved to a small cottage in Codsall Wood.
Munk's Roll's contribution re Joseph Harold Sheldon:
b.27 September 1893 d.22 June 1972
CBE(1955) MRCS LRCP(1918) MB BS Lond(1918) M(1920) MRCP(1920) FRCP(1929) Hon MD Bristol(1958) Hon LLD Birm(1965) Fell King's Coll Lond(1956)
Harold was the eldest son of John Joseph Sheldon and Marion Squire, née Spring, a woman who had read widely and been blessed with a sense of humour. The pair had made their home at Woodford and Harold was born there. His father spent his life as a clerk in Lloyds Bank in Lombard Street, but he was a born countryman and a great horticulturist, and was elected a Fellow of the Linnaean Society for the work he had done on the raising of new ferns. Joseph and Marion Sheldon subsequently had four more children, two girls and two boys…
Harold Sheldon first went to Bancroft's, a Drapers' Company School at Woodford where the fees were £3 per term. He revelled in the Latin he was taught and the classical literature it opened up to him, and he begged the headmaster to be allowed to study Greek, but he was not allowed to do this and, to his lasting regret, he had to matriculate at 16 without Greek. He was never a games player and was probably fortunate not to have been at one of the large boarding schools in the early years of this century.
After he had matriculated Harold Sheldon followed his father into Lloyds Bank and was perhaps lucky to be sent to work in the secretarial department. In his late 'teens, however, Harold was overcome by the idealism of Christianity and a great desire to pass it on to others. This made him decide to leave the bank and to try to become a medical missionary. He set out to get a Worsley scholarship to help him through his training, and to show his ability was invited to write an essay on 'Pain in relation to a belief in God'. Few boys, before or since, would have felt equal to this challenge, but it proved just the right one in his case. He chose for his theme 'The fathers have eaten sour grapes and the children's teeth are set on edge' (Ezekiel 18, 2), was awarded the scholarship and started his career in medicine at King's College, London.
When he had completed only one year of his clinical studies, he joined the Navy as a Surgeon Probationer, as it was possible to do in the first world war…
By 1918 Wilfrid Sheldon's future was under consideration and a wealthy Australian uncle offered to train him up in his manufacturing business, but J.H. decided that his brother should become a doctor like himself, and, if his parent could pay for Wilfrid's keep, he would himself pay all his fees. By this time the war was over, and in order to collect the necessary money J.H. volunteered as a Surg. Lt. for mine-sweeping for the sake of the salary and the danger money… By the time he was demobilised J.H. realised that his decision to be a medical missionary had been a mistake, so he surrendered his Worsley Scholarship and set out to refund the money he had been given for it.
Returning to the hospital at Denmark Hill in 1918, J.H. became a house physician and assistant casualty officer, and Sambrooke Medical Registrar and Tutor in 1919-20. This gave him his chance as a clinical teacher and he very quickly became an extremely good one;… He…was appointed to the staff of the Royal Hospital, Wolverhampton in 1921, and soon found himself able to help to educate his youngest brother, Colin. He was now 27 and in the same year he married Marjorie Bannister, the daughter of a schoolmaster. This marriage was a supremely happy one…
Wolverhampton put Harold within reach of the Wrekin and the Welsh Hills. He was fascinated by their beauty, and their call led him to become an experienced mountaineer, a frequent visitor to the Alps and a member of the Alpine Club… He climbed in the Dolomites in 1934 and 1935, and wrote up his climb of the North wall of the Langkofel. By the later 30's his chest was beginning to be a handicap at high altitudes, but in 1938 he went to the Lofoten Islands to climb and to see something of the bird life.
It was his power of observation, which he inherited from his father, coupled with an amazing memory, which made J.H. such a brilliant clinician and teacher. He arranged his out-patient sessions to fit the Wolverhampton market days, and soon found himself a leading physician in the West Midlands. His reputation as a teacher spread over the country. Many students from the Middlesex profited by his ward rounds during the war, and applicants for his house appointments came from far and near. He was Hon. Secretary of the South Staffs Division of the BMA from 1924 to 1930 and President 1924-5 and 1930-31.
Staffs – ring – Jennie Lee
He joined the consultant staff of the Bridgnorth and S. Shropshire Infirmary, New Cross Hospital, Wolverhampton, and Midland Counties Eye Infirmary. He was Hunterian Professor of the College of Surgeons in 1928. He became a consultant for the Guest Hospital, Dudley, in 1929 and of the Hallam Hospital at W. Bromwich in 1941. In the mean time (1937) he had been elected a member of the Association of Physicians of Great Britain and Ireland. In 1942 he became a lecturer in Medicine at Birmingham University and later Chairman of the Consultant Services Committee of the Birmingham Regional Hospital Board; in 1948 a member of the Distinction Awards Committee of the Ministry of Health,
Distinction Awards HERE – Nye – detail
and in 1961 of the Northern Ireland Hospitals Authority.
Kincora – 5th Duke of W
Others re N Ireland – Sir Donald Acheson – Isobel Graham-Bryce's dad
He was a Councillor of the College of Physicians 1948-50 and was awarded the Moxon medal in 1966. He served as an internal examiner in medicine at Birmingham and as an external examiner at London, Liverpool, Bristol and Makerere (Uganda).
Although J.H. was such a good clinical teacher his calibre as an original investigator was as great. His early work was mainly on mineral elements. His Hunterian Lecture to the College of Surgeons in 1928 was entitled "An undescribed disease of bone", but he had already been writing on haemochromatosis and he began studying this disease in depth, gave the Bradshaw lecture on the subject at the RCP in 1934, and published the results as a book in 1935. After several purely scientific papers he summarised his findings in a lecture called 'The Mineral Basis of Life', a title which came to him in his bath.
His investigations were nearly always sparked off by a clinical observation which he pursued with all the skills he could command. During the war these were few, but the patient way he traced out the story of the outbreak of trichinosis in Wolverhampton is an excellent example. It may well have been while doing this that he became interested in the lives of old people in Wolverhampton. It was about this time certainly that he embarked upon the work which few but he could have done, and for which he will always be remembered. His book published in 1948, The social medicine of old age, brought him world wide recognition, presidency of the International Association of Gerontologists in 1954, and a journey round the world to lecture on the subject in the following year. The two honours he prized above all others, however, were his Fellowship of King's College, London, and having been made an Hon. Freeman of the County Borough of Wolverhampton, the town for which he had done so much.
In spite of all his honours J.H. remained a humble, unselfish and lovable man, ready as always to do what he could for other people. 
For many year an inveterate pipe smoker, he gave it up on his own advice after the war. He was a wide and discriminating reader, a lover of good music and a great admirer of scholarship and discovery in almost any field. His retentive memory and powers of observation made him able to speak with authority and no little interest on many things – some of them as widely separated as church architecture and sailing clippers. A keen ornithologist and photographer, he combined the two hobbies for a time to study the flight of birds, how they dived and the stability of some of them when asleep standing on one leg…
It was pure joy to be taken round Wolverhampton by him during the darkest periods of the war, and listen to him talking about the place, its history, its industries and his contacts with so many of the people in them. It was equally enjoyable to cycle to the Bellvide reservoir with him on a Saturday afternoon during the winter or early spring to look at the duck, being shown a number of glacial erratics on the way and told their probable site of origin.
Railways and railway accidents were another of Harold's great interests and he had a delightful story about a journey to London by the GWR during the latter part of the war. He had arrived in good time and strolled forward to study the engine. To his surprise he recognised both the driver and fireman as recent patients of his. One had had a coronary thrombosis and the other a large haemorrhage from a duodenal ulcer. He wished them well and got into the front compartment. He reached Paddington on time as they had assured him he would!
After his retirement he married Miss K. Luckett… and moved to a small cottage in Codsall Wood. Although progressively handicapped by shortness of breath, the last 9 years of his life were happy ones. He cycled less and less but continued to read voraciously while he could, listened to his "records" and good concerts and, characteristically, took a keen interest in the laying of the pipes to bring in the North Sea gas, because, during the deep trenching, many new facts came to light about the glacial flows west of Wolverhampton during the ice ages.
Sheldon's obit from BMJ – extra info
Other BMJ obits with Sheldon's –
Jim Hamilton
The homeopaths killed in the Trident air disaster
RA McCance – who he
While digging around and watching the archive Pathe clips of Brenda visiting GOSH I found other Pathe clips of public events in north Wales of that era, some of whom starred Mrs Wildred Ashley, who seemed to have been someone who was wheeled out if a Posh Person was needed to open something in the vicinity of Gwynne and co.
Mrs Wilfred Ashley was the second wife of:
Colonel Wilfrid William Ashley, 1st Baron Mount Temple, (13 September 1867-3 July 1939), served as Minister of Transport, 1924-29, under Stanley Baldwin.
Ashley was the son of Evelyn Ashley, second surviving son of the social reformer Anthony Ashley-Cooper, 7th Earl of Shaftesbury. His mother was Sybella Charlotte Farquhar, daughter of Sir Walter Farquhar, 3rd Baronet. William Cowper-Temple, 1st Baron Mount Temple, was his great-uncle. He was educated at Harrow and Magdalen College, Oxford.
Ashley held the rank of Colonel in the British Army, was well known as an activist in various pressure groups before commencing his political career. He was a leading figure in the Navy League and also set up the anti-state intervention No More Waste Committee during WW I. Ashley was subsequently involved in the foundation of the Comrades of the Great War in 1917 and as President of the group helped to ensure that the ex-servicemen's movement was closely linked to the Conservative Party at its foundation.
Ashley was elected to Parliament in 1906 to represent Blackpool, holding the seat until 1918 before subsequently sitting as member for Fylde until 1922 and New Forest, 1922-32. He served under Bonar Law and Stanley Baldwin as Parliamentary Secretary to the Ministry of Transport and Parliamentary Secretary to the Office of Works from October 1922 until October 1923, when he was appointed Under-Secretary of State for War, which he remained until January 1924. Ashley was sworn of the Privy Council in February 1924 and when the Conservatives returned to power under Baldwin in November of that year Ashley was made Minister for Transport, an office he retained until the fall of the Baldwin administration in 1929. Ashley left the House of Commons in 1932 and was raised to the peerage as Baron Mount Temple, of Lee in the County of Southampton, a revival of the title held by his great-uncle.
Lord Mount Temple remained active within the House of Lords and was a vocal supporter of the policy of appeasement towards Nazi Germany. He admired Hitler for his anti-communism, although much of his conviction rested on the belief that the Treaty of Versailles had been unjust to begin with and that it should be revised regardless of who was in Gov't in Germany. In 1935 in order to underline his support for the Germans, Ashley was instrumental in establishing the Anglo-German Fellowship. He served as Chairman of both this group and Anti-Socialist Union simultaneously in the later 1930s.
As AGF chairman, Lord Mount Temple (as he now was) visited Germany in mid 1937 and held a meeting with Hitler. Unlike some of his contemporaries in the Fellowship, the laissez-faire capitalist Mount Temple did not support ideological Nazism (perhaps due in part to the fact that his wife was Jewish). In the aftermath of Kristallnacht Ashley resigned in protest from the Chairmanship of the AGF, although his membership of the group continued.
INFO about George king n appeasement here
Portrait of Mrs Wilfrid Ashley (née Muriel ("Molly") Forbes-Sempill) by Philip de László, 1920
Lord Mount Temple married Amalia Mary Maud Cassel, only child of financier Sir Ernest Cassel, in 1901. Amongst the wedding guests were Bertie
(the wedding taking place on 4 January, only eighteen days before Bertie became King-Emperor), who was a friend of Cassel. Bertie was infamous for his numerous mistresses, casual liaisons, use of sex workers and illegitimate children so numerous that there is no meaningful estimate of their number. My post 'Sex, Lies and No Democracy' discusses the clues that suggest that some of those used and abused by Bertie may well have ended up in the dumping ground for the victims of Royals and aristos many miles away from polite society in England that was the North Wales Hospital Denbigh.
Lord Mount Temple and Amalia couple had two daughters:
Edwina, Countess Mountbatten of Burma (1901–1960), who married Louis Mountbatten, 1st Earl Mountbatten of Burma (1900–1979) and became the two associates of Gwynne and Dafydd's circle who were described by the FBI as Persons of Low Morals.
Ruth Mary Clarisse (1906–1986), who married Alec Cunningham-Reid (1895–1977) in 1927. They divorced in 1940 and in 1944 she married Thomas Cholmondeley, 4th Baron Delamere (1900–1979). They divorced in 1955.
Following his first wife's early death in 1911, Lord Mount Temple married in 1914 Muriel Emily ("Molly") Forbes-Sempill, the former wife of Rear-Admiral The Hon. Arthur Forbes-Sempill, daughter of the Rev Walter Spencer of Fownhope Court, Herefordshire and sister of Margery Greenwood, Viscountess Greenwood.
Lady Mount Temple who in 1929 opened the power station at Maentwrog near Sir Clough's domain, as well as the WHAT bridge on Deeside in DATE, had an interest in interior decoration and floral design which was then highly fashionable; she had a florist business named Flower Decorations. The couple commissioned the architect Oliver Hill to design two Westminster town houses, naming them both Gayfere House. The first house, built at 12 Gayfere Street (1923–26), had a drawing room completely decorated with gold leaf. The second, at the corner of Gayfere Street and Great Peter Street (1929–32), was decorated in Art Deco style, making much use of mirrored walls and ceilings, most famously in a bathroom called by the Press "Lady Mount Temple's Crystal Palace". Lady Mount Temple died in 1954. Lord Mount Temple died in July 1939, aged 71, when the barony became extinct.
The Mount Temple family owned Classiebawn Castle, a country house built for The 3rd Viscount Palmerston (1784–1865) on an estate on the Mullaghmore peninsula near the village of Cliffoney, County Sligo, in the Republic of Ireland. It was designed in the Baronial style by J. Rawson Carrol, a Dublin-based architect.
The land, which once belonged to the O'Connor Sligo family, was confiscated by the English Parliament to compensate the people who put down an Irish rebellion. Around 10,000 acres of land on which Classiebawn now stands was granted to Sir John Temple (1600-1677), Master of the Rolls in Ireland.
The property passed down to The 3rd Viscount Palmerston, who served as both British PM and British Foreign Secretary. This Lord Palmerston commissioned the building of the current Classiebawn Castle. The house was not complete on his death in 1865, but was completed in 1874 by his stepson and successor, The Rt. Hon. William Cowper-Temple, (later created the 1st Baron Mount Temple). The latter died childless and the estate passed to his nephew, the Hon. Evelyn Ashley, second surviving son of The 7th Earl of Shaftesbury. Evelyn Ashley spent some time there each year and on his death in 1907 was succeeded by his only son, Wilfrid Ashley (later created Baron Mount Temple in a new creation). He also spent his summers at the castle with his daughters Edwina, the future Countess Mountbatten, and Mary (1906-1986), who was Baroness Delamere from 1944 until 1955 as the second wife (of three) of The 4th Baron Delamere.
In 1916, Classiebawn Castle was cleared and remained empty until 1950. It was inherited by Edwina Mountbatten in July 1939 who, with her husband Louis Mountbatten made a number of improvements. After his wife's death in February 1960, Lord Mountbatten spent his summers at Classiebawn until his death when his boat was blown up off the coast of Mullaghmore by the IRA in August 1979. Or rather more likely by someone who was seriously pissed off about Mountbatten's involvement in organised paedophilia. The castle and surrounding lands are now owned by the estate of Hugh Tunney (1928-2011), a deceased businessman from County Tyrone, who bought the castle and surrounding estate in 1991.
john pardoe – mr becks bessell
Heseltine
Michael grade n westward etc – Plymouth
widgery
Jonathan Frappell, a senior reg with Bodger Chamberlain's team at St George's when I worked there, 1989-91, bagged a job as a consultant at Derriford Hospital in Plymouth. Frappell and his Angel wife Susan met when they both worked at Bart's.
Jonathan offered his services to barristers as an Expert Witness in medical negligence cases (see previous posts) but since I blogged about him Jonathan has voluntarily relinquished his licence to practice. In recent years Derriford Hospital has found itself the centre of nearly as much bad PR as Bodger and the crowd did.
Heathcote amory
biffen etc
dartington hall crowd – Bertrand – isobel Emmett
Th Strachey dynasty began in Somerset – details
Shortly before Hempsons refused to continue to represent Brave Wendy in her Battle Against The Male Medical Establishment, it was reported in the BMJ of 15 March 1986 that Dr Noel Olsen, a 'London community physician' was trying to collect the 250 signatures needed to call for an extraordinary general meeting of the MDU to 'press for the rights of members to choose their own lawyers' rather than have to use Hempsons. Had Dr Olsen perhaps heard that Hempsons were getting jumpy about acting for Brave Wendy and on behalf of criminal Top Docs everywhere was calling for even greater protection?
Dr Olsen died in 2013, as Operation Pallial began hauling in a few more of the bottom feeders who had enjoyed themselves in north Wales children's homes and as the Macur Review cometh.
Munk's Roll carries a tribute to Dr Olsen:
Noel David Lyche Olsen b.20 January 1946 d.2 September 2013
MB BS Lond(1969) MRCP(1973) MSc(1978) FFCM(1986) MFCM(1979) FRCP(1993) Hon FFPHM
Noel Olsen was a public health physician and advocate who campaigned vigorously on a number of health and social policy issues, specifically on the control of smoking and the impact of alcohol.
Olsen was born in Hampstead, London, the son of Frank Maurice Lyche Olsen, a chartered accountant and company director, and Dora Winifred Wyatt Olsen, a voluntary worker. He was educated at Mill Hill School, before entering St George's Hospital Medical School for his medical training. On qualifying in 1969 he set his mind on specialising in lung diseases, gaining experience at the Brompton Hospital with Sir John Batten and in Edinburgh with Sir John Crofton.
In 1974 he became one of the youngest consultants in the UK when he was appointed to Barking and Dagenham Hospital on the outskirts of the East End of London. The time he spent there accelerated his interest in the social origins of disease, particularly lung cancer, a disease which he increasingly saw as preventable. As a result he decided to retrain in public health medicine by gaining an MSc at the London School of Hygiene and Tropical Medicine in 1978 and an NHS fellowship to the Henley Business School.
Over the next 17 years he held senior public health appointments in Cambridge, Camden and Plymouth. Apart from conventional public health work, he was fortunate in also having an academic component at each of these localities; he benefited from the collaboration this offered, as well as the opportunity to teach at all levels. At a time when not all clinicians favoured medical audit, he was persuasive in promoting it by showing how small audits could be used effectively, not only to improve clinical care, but also in securing the resources needed to make these improvements.
He was prominent in the early days of anti-smoking campaigning when, following the RCP report Smoking and health (London, Pitman Medical Publishing Co Ltd, 1962), the lobbying group ASH (Action on Smoking and Health) started up in accommodation initially provided by the Royal College of Physicians. He later became its honorary secretary from 1978 to 1994, during a particularly intense period of its growth.
At a time when the need to control smoking is widely accepted, it is difficult to appreciate the early opposition by government, by the public and, above all, by the tobacco industry. The tobacco industry did not realise what a formidable opponent they had in Olsen, whose methods were not always conventional. Using his creative mind, he would think up effective ways to raise awareness and then propose practical action to make the necessary changes. For example, he had the idea of buying shares in tobacco companies and then turning up at their annual general meetings to ask unexpected and unwelcome questions. Another idea was to send MPs the mortality statistics for lung cancer and coronary disease for their constituencies, telling them these were preventable deaths. Such was his reputation that a confidential internal British American Tobacco (BAT) memorandum, available as part of the tobacco companies' settlement with the US government, described one meeting with him as a one-sided conversation and concluded: 'Dr Olsen seemed to be a remarkably able and intelligent trouble-maker'.
Dr Olsen's criminal colleagues used exactly the same words about me.
The work to which he so significantly contributed culminated in the present day legislation banning smoking in public places and, following increasingly emphatic warnings on cigarette packages, leading ultimately to the Tobacco Advertising and Promotion Act 2002.
His advocacy extended further when he joined the National Heart Forum (now the UK Health Forum), a consortium of over 60 organisations, brought together with the aim of reducing coronary heart disease. Again, Olsen became its honorary secretary, welding together contributions from diverse organisations into coherent, effective strategies, pressurising the tobacco, food and alcohol industries to desist from unhealthy practices and promotions.
He was recruited by many other bodies. He chaired the UK Public Health Consultative Committee and was a member of the Joint Consultants Committee. He was elected to the council of the British Medical Association (BMA), to its executive board and to many of its sub-committees notably, but not solely, in public health. For example, he helped junior doctors lobbying for improvements in their working conditions, was on the BMJ management committee and the BMA board of science.
BMA Chairman, 1984-90, was Dr John Marks, who fought a Brave Battle against Ken Clarke (who held numerous Directorships, consultantcies etc with tobacco companies) on behalf of the Gang, Bodger, Olsen, Brave Wendy et al but er failed to remove Ken from the political stage.
Against this background it is no surprise he was invited to participate in governmental bodies such as the Physical Activity Taskforce and the Fuel Poverty Advisory Group. As the social and medical problems of alcohol became increasingly evident, he chaired the Alcohol Education and Research Council of the UK when it was set up as a statutory body, later skillfully steering it when, as a result of a change government policy, it became Alcohol Research UK. Work on alcohol issues brought him into close alliance with the RCP's initiatives to reduce excessive alcohol consumption.
Outside the UK he advised on coronary prevention for the European Union and on social inequality for the World Health Organization. From 1991 to 2010, he was honorary secretary of the International Agency on Tobacco and Health.
After his retirement from his public health appointments, he added an interest in higher education by undertaking university and college inspections on behalf of the authorities. He became a member of the council of the University of Plymouth during a period of academic expansion, receiving in 2011 an honorary doctorate for all his contributions to public health. Nationally his work was recognised by receiving in 2008 the inaugural gold medal of the Royal Society for Public Health.
Olsen had a delightful personality, guaranteed to keep calm even when many others would have become exasperated, always tenacious when others might have felt there was no point in continuing but never, however strongly he felt or was provoked, ever succumbing to making personal attacks on his opponents. As a skilled debater, he could be depended upon to come up with an apposite phrase or an appropriate anecdote to emphasise his point and, without acrimony, had an ability to defuse sometimes vigorous opposition to his views.
In spite of the extent of his commitments, he maintained a happy family life with his wife Nicky Tewson, whom he married in 1982, and his two daughters, Sally and Suzanna, both of whom are doctors. He had a passion for sailing, was a member of the Royal Ocean Racing Club and regretted that his medical duties had at one time prevented him from representing Britain. Even in the last weeks of his life he participated in the Isle of Wight Round the Island race, coming second in his class.
His zest and commitment for what he believed in showed right up to his last days when, even in pain and discomfort from prostate cancer, he continued working, using the phone and internet, outlining what should be done and suggesting to the rest of us ways of doing it.
This tribute to Noel Olsen was written by Brian Kirby.
The Don Dr John Marks had family in Devon with whom he stayed during summers as a boy. Now here's a bit of top quality entertainment. On 7 Nov 1981, the BMJ carried an account of a Top Docs' jolly in California (all expenses will have been paid), 'Conference Report: Transatlantic contrasts: the BMA at San Diego'. The San Diego conference was on the theme of Doctors and Medicine In Jeopardy. Indeed, Mary Wynch had finally got out of Denbigh and had made her way to Benedict Birnberg's office and was preparing to knock on the door of Lord Donaldson, the Master of the Rolls and the Gang knew that they could be in deep trouble. Distress flares were being sent up everywhere. Here's the first part of the BMJ Conference Report:
Almost 1000 British doctors and their spouses took themselves to the BMA Congress in that most exotic part of the US, California, to see how big the differences were. Splendidly hosted by doctors and spouses in San Diego, the British doctors – accompanied by American, Canadian, Australian, New Zealand and Hong Kong doctors as well as many others – examined for four days the similarities and differences in medical practice on both sides of the Atlantic. The conference was started in fine style by Alistair Cooke, one of the men in the world best able to observe these two closely related but very different societies. In his speech… he wryly observed that one of the main differences is that the patients in the two countries have very different expectations. Mention California to many doctors and the first word that comes into their minds is malpractice. Every British doctor has heard terrifying stories of Californian surgeons paying more in insurance premiums to protect themselves against malpractice claims than most British doctors earn in a year. Dr Franklin Glanz from San Diego fed this terror into a session chaired by Dr John Marks, a GP from Hertfordshire and Chairman of the BMA Representative Body. Dr Glanz said that practicing medicine in California was a 'nightmare' because of the fear of litigation. There are in California he added two to three lawyers for every one doctor which means 'too many foxes for too few chickens'. He discussed various legal notions which he saw lawyers as having developed to catch the poor doctor, such as informed consent and contributory negligence. Dr David Rubsamen, a consultant on medical aspects of litigation from Berkeley however, saw things differently. Speaking in a session chaired by Dame Josephine Barnes, retired obstetrician and past-president of the BMA, Dr Rubsamen agreed with Dr Glanz that over the past 15 years malpractice suits had been a major problem in California – and in most other American states. This was the result of Californian doctors being expected to comply with a 'preferred standard of care' (the best care given by the best doctors in the best circumstances) rather than with a 'due standard of care' (the care given by average doctors in their routine practice). Most interestingly he then presented data which suggested that medical standards may have been raised by the epidemic of litigation. In the early 70s for example, intra-anaesthetic deaths were one of the commonest causes of litigation. Today such cases are uncommon as fewer deaths occur on the operating table because of improved intra-operation monitoring by anaesthetists. Dr Rubsamen concluded by saying that the best way to combat the malpractice problem was not for doctors to attack lawyers but for them to reduce the incidence of patient injuries to the lowest level possible.
British doctors could take some comfort from Sir John Stallworthy's talk on medical negligence in Britain. As Chairman of the BMA Board of Science and Education and after 20 years on the Council of the Medical Protection Society, he pointed out that very few British doctors would ever be accused of negligence during their careers and he said the defence societies were well able to manage the problem. Dr John Harvard, Secretary of the BMA, later threw a stone into this calm pond, arguing that Anglo-Saxon law was inherently incapable of dealing with medical and scientific issues. This was he said because of its unscientific bias and its inability to keep up with technological changes.
Audit is a concept that raises almost as many hackles as malpractice and yet, as Dr Rubsamen argued, auditing the outcome of the care he provides is one of the best ways that a doctor can reduce his chances of being sued. Audit or 'quality assurance' has made only a modest beginning in Britain Dr David Williams, a general practitioner from Wales, told the meeting in a session chaired by Dr David Allan, associate dean for continuing education at the University of California in San Diego School of Medicine. In the United States, audit has a much longer history and although there is some small evidence of the quality of patient care being raised, Dr Robert Brook of the Rand…[continued until the bar opened for pre-lunch drinks.]
Re intra-anaesthetic deaths on the operating table. Indeed, because patients were pegging out mid-operation, the Top Docs got wise to the possibilities of trouble. I had it from the horse's mouth, Clare Cheek, when she was a junior doc at Cardiff; because there will be an investigation if someone dies on the operating table, if it looks as though they are going to die, we get them out of theatre by any means so it can be said that they did not die in theatre. I suspect that in the event of the patient croaking on the operating table anyway, lies were told and documentation forged, it's the usual solution.
Sir John Stallworthy was honest enough to acknowledge that most British doctors will never face a negligence case during their careers; although of course Dafydd was facing one at the time of this conference. Even Dafydd had not been sued before Mary Wynch and just look at what he had been doing since qualifying in 1957. Sir John was correct, one has to be extreme indeed to be sued for negligence if one is a Top Doc and in 1981 it was a very rare event.
A humble general practitioner from Clwyd, Dr David Williams, had attended this Californian jamboree and his comments were flagged up. In 1981, every GP in north Wales was colluding with Gwynne, Dafydd, the paedophile/trafficking ring and knew about Mary Wynch beginning litigation. Mary also named a GP from Clwyd in her legal action – Dr Paul NAME – who had broken the law during the course of her wrongful arrest and unlawful detention by Dafydd, as well as a Top Doctor from Risley Remand Centre – Dr Paul NAME – and Clwyd Health Authority. By the time that Mary's action had arrived at Lord Donaldson's Court in July 1995, Dr Paul NAME had died. Gwynne and Dafydd's trafficking ring was international and Top Docs and others in the USA and elsewhere were involved. It was well worth the BMA holding this conference, there was a great deal at stake.
Re legislation being woefully inadequate re medicine. Yes it is and I have remarked before on this blog that politicians passing legislation are nearly always very short on medical knowledge and knowledge about the culture of the medical profession. Political parties love to have a Top Doc join them because they always think that apart from good PR, the Top Doc will help them deal with the BMA who strike fear into the heart of all PMs. Experience shows that this hope is in vain. If Top Docs go into Parliament, they never ever break ranks with their mates in medicine and become yet another problem for their Parliamentary colleagues because their professional identity remains as a Doc rather than a politician.
Dr Death and Sam Galbraith were disastrous, John Dunwoody returned to medicine very quickly and other Docs in politics have simply batted for the Docs on every occasion. Sarah Woolaston is a little different, she is not overtly aggressive, pompous and difficult, but Sarah Woolaston has never dared stick her neck out and admit the huge problems and scams on the part of her own profession; she sticks to doing the Nice Lady Doctor bit, discussing the few lesser problems in the NHS that have not been caused by the appalling conduct of Sarah's Top Doc colleagues. Sarah Woolaston does not want to be refused treatment next time she becomes ill and she has at least one child (also a Top Doc) who does not want to be refused treatment either. That is what will happen if Sarah (or anyone else) takes on this bunch of gangsters who have been completely out of control for a very long time.
If Top Docs felt so inclined, they could work with legislators and write legislation that would not be inadequate. They will not do this, because it suits the profession as a whole very well to have legislation that cannot rein them in. It means that in this greedy, cut-throat world, medicine remains the most powerful profession on earth. Top Docs can and do kill presidents, PMs and members of the Royal Family. They're having a great time. Dr John Marks was a barrister as well as a Top Doc. That isn't mentioned anywhere in the 1981 conference literature. Prof Nigel Eastman, part of the St George's/Springfield trafficking ring, is a barrister as well as a Top Doc. There are others. They have not done anything at all to bring about adequate legislation. Furthermore, there is swathes of legislation that is adequate. The conduct of Dafydd and his colleagues towards me and others was easily sufficient to have had them charged with assault, perjury and conspiracy repeatedly. It didn't happen because every time we complained they committed further serious crime in attempts to intimidate us, witnesses and even lawyers and the police. The criminality in north Wales was so serious that there was no shortage of legislation to deal with the Gang, people simply refused to.
So what was the background of Dr John Havard, Secretary of the BMA, 1980-89
(Havard was appointed BMA Secretary as Mary got out of Denbigh and was in post when A.H. Chadwick of the BMA was providing Tony Francis, Dafydd and others in north Wales with free advice as to how to avoid having my complaints investigated and to fit me up for serious offences)? Havard died in July 2010, just as Brown and I began publishing on the north Wales mental health services per se, so of course Munk's Roll has a lasting tribute to John Havard:
John David Jayne Havard b.5 May 1924 d.23 May 2010
BA Cantab(1946) MB BChir(1950) LLB(1954) MD(1964) LLM(1976) FRCP(1994)
A lawyer as well as a physician, John Havard, or 'Claude', was a former secretary (chief executive) of the British Medical Association (BMA) and the principal architect of Britain's seat belt and drink driving legislation.
One Jimmy Savile was used as the main face of the seat-belt safety campaign. Yes, 'people' did know what Savile was doing at the time.
His Welsh father, Arthur William, was a GP in Lowestoft and his mother was Ursula Jayne Vernon née Humphrey. Claude was the first in his family not to speak Welsh and the fourth generation to qualify in medicine.
Why are we not surprised? The Welsh-speaking suggests that the family were from West or North Wales.
Educated at Malvern College, he studied medicine at Jesus College, Cambridge and the Middlesex Hospital.
Gwynne and the Gilliatts.
Havard ticked all the right boxes for future BMA glory.
Qualifying in 1950, he did house jobs at the Middlesex, where he helped set up a sports injury clinic after he had pulled his own hamstring. He was called up for National Service in 1952 and joined the RAF as an acting squadron leader working on aircrew selection. As the job gave him plenty of spare time,
Not too onerous in the RAF as squadron leader then.
he did a correspondence course in law and sat the Cambridge law finals, eventually being called to the bar having eaten the required numbers of dinners at one of the inns of court.
Claude will have consumed a great many Top Docs' dinners by then as well, it comes with the territory.
On demobilisation he returned to Lowestoft to work as a GP and write his MD thesis. This was later published as 'The detection of secret homicide' (London; Macmillan 1960) and remains a standard reference work on the topic.
Claude failed to detect a great many not so secret homicides.
He stayed in Lowestoft from 1952 to 1958 and then, feeling that a change of direction was called for, he joined the BMA as an assistant secretary.
It was probably an emergency involving Gwynne or Dafydd that prompted the change in direction for Claude. Dafydd had qualified the year before and previous posts have noted that something happened on the Gwynne and Dafydd front in 1958 when Macmillan was PM that needed assistance from the highest levels but I'm not clear what it was exactly.
Eventually, in 1980, he was promoted to secretary
Mary Wynch is out, she's not finished and she's paid a visit to Benedict Birnberg…
and he set about a period of modernisation and reform.
Shurely shome mishtake – Ed.
On his appointment, Michael Wood wrote in World medicine 'Fate may have smiled on the BMA and delivered the right man at the right time'.
A Top Doc who is also a barrister and is virtually related to Gwynne and Dafydd. We're unsinkable boys!!!
He signed up their first personnel officer and public relations officer and set about improving staff morale by abolishing unnecessary paperwork
I must find out who the PR man was. Shredding is an essential skill for any BMA member unless additional documentation needs to be forged
and committee meetings (which he considered a waste of time).
Important decisions are better made behind closed doors between the smallest number of criminal Top Docs necessary. It is best not to document them either. A phone call to another Top Doc at his home is an excellent way of conducting business as D.G.E. Wood and Prof Robert Owen knew.
In the early 1960s the need for legislation on the effects of alcohol and drugs on road safety was becoming a pressing issue in the UK and Havard played an important role in collating and documenting the evidence that was available. With Sir Edward Wayne he worked on the various committees which led to the 1967 United Kingdom Road Safety Act. Of the many publications he worked on at this time, one of the most significant was the one he co-authored with Leonard Goldberg of the Karolinska Institute in Sweden which was published as 'Research into the effects of alcohol and drugs on driver behaviour' (Paris, OECD, 1968). This document was used by several European countries in the course of their legislation on the topic and he served as secretary of the International Committee on Alcohol, Drugs and Traffic Safety from 1962 to 1971, receiving their Widmark Award in 1989.
The Top Docs themselves continued drinking far more than the average citizen and Dafydd and at least one other Doc in Gwynedd were regularly pissed on the road and the North Wales Police dealt with this by parking up until the pissed Doc at the wheel had made his way out of the area. Some years ago, Dafydd's son was done for drink-driving and made a great fuss in Court re how he was his father's chauffeur and his poor old dad wouldn't be able to Help if he lost his licence. Dafydd junior's pleas fell on deaf ears for once and it was revealed that he was in fact a student at Aberystwyth University and somehow Dafydd, a very wealthy man, had obtained legal aid for the case. The magistrates were public spirited enough to comment on this and it found its way into the media, but no, no-one followed it up.
During his time at the BMA he raised the public image of the organisation, campaigning against boxing (because of the resulting brain damage),
John Marks was determined to see boxing outlawed. It wasn't. I think I know why. Substantially because of a boxing champ called Dai Davies, a member of a crime family from Maesgeirchan in Bangor. The Davies's were Of The Gang, keen on boxing, lived near the Ty'r Felin children's home where the kids were being trafficked to Dolphin Square and Dai Davies's mates who were mates with Dafydd – including Liz Stables, the Angel at the Student Health Centre at UCNW – Had A Word. John Marks shut up about boxing and the rest of the BMA did as well, although for once the BMA were telling the truth when they observed that there is no safe level for being hit on the head. There isn't, it is not a good idea and people are still dying in boxing matches. Rugby's quite risky as well, but that has been part of Top Docs' culture for generations, so they still love it even when one of their mates breaks his neck in the scrum and the rest of them are creaking like old buggers when they're in their 40s. I don't wish to tell people which sports to play, but boxing and rugby are rather more dangerous than many things for which we are urged to Get Screened, but that's the Top Docs for you. Dishonest.
for compulsory seatbelts and methods to minimise the high numbers, in those days, of road deaths in children. He was also a member of the Whitley council on NHS salaries
The Whitley Council that kept the salaries of all NHS professionals other than Docs down to low levels until they needed to buy off the Angels in the 1980s. Angels were then paid far more than the public ever realised but the hospital pharmacists, lab staff, medical physicists etc were paid so badly that the NHS didn't have many of them left by the mid-1980s. The public were never told, they continued to believe in Angels.
and of the General Medical Council.
The GMC has since Dafydd qualified been packed with Dafydd's mates who Uphold Standards.
He retired from the BMA in 1989 and again turned his attention to reviving a somewhat moribund institution, the Commonwealth Medical Association, which under his leadership developed an important role in assisting the medical associations of various developing countries and contributed to advances in safe childbirth, AIDS prevention and medical ethics
as a consulting body to the United Nations.
While he was at Cambridge, he became president of the athletics club in 1946 and, the following year, held the London University 100 yards record. A possible Olympic runner, he was selected to run for England against the rest of the British Isles. He was a member of the combined Oxford and Cambridge athletics club, the Achilles Club, and continued his interest by refereeing university races; apparently he once disqualified the politician Jeffrey Archer for starting before the pistol went off.
The business with Tuppence and the pistol is famous. It didn't stop Tuppence from developing a cosy relationship with certain Top Docs in Dafydd and Gwynne's network.
Music was another passion and he sang with the Bach choir (including participating in the chorus at the wedding of Prince Charles and Lady Diana)
That's Carlo the Great Umbrella for Gwynne, and Di who went into a tunnel at speed during the Waterhouse Inquiry who's distress over various matters was not allayed despite the Palace utilising the services of a number of Top Docs and Susie Orbach. It did wonders for their careers however.
and the Collegiate Singers who provide locum support to various cathedrals. A lover of the countryside, he also took a great interest in medieval history.
His first wife was Margaret Collis and they had a daughter and two sons. They divorced in 1982 and the same year he married Audrey Anne née Boutwood, who was a consultant gynaecologist. He had another son with Diana Northcott. Anne predeceased him in 2009 and he moved from London to be near his daughter, but died from the prostate cancer he had suffered from for a long time after only 11 days in his new home.
Thromboangiitis obliterans
Other names
Buerger disease, Buerger's disease, Winiwarter-Buerger disease, presenile gangrene[1]
He was survived by his daughter Amanda ('Mandy') who was a radiologist, his sons Jeremy and Richard, and grandchildren Edward and Lucy.
The Torygraph's 9 July 2009 obituary for Mrs Havard:
Anne Boutwood, who has died aged 81, was a consultant obstetrician and gynaecologist, and led a successful campaign to save the Elizabeth Garrett Anderson in London – the only large hospital in Britain staffed by, and treating, only women – when it was threatened with closure in the mid-1970s.
The Save The EGA campaign was another con in which Brave Wendy
played a central role. The EGA may have been staffed by Wimmin as Sisters but they were Camden Sisters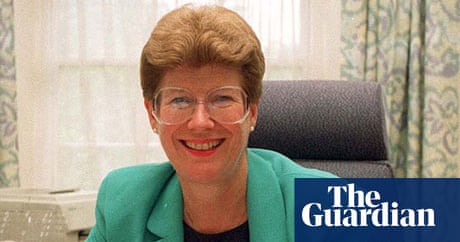 who were colluding with the international trafficking ring.
Lord Robert Platt, Giant of High Culture and Manchester Medicine during the 1950s and 60s, also climbed on board with the Save The EGA campaign. Lord Platt protected Gwynne and Dafydd during the Lobotomy Years and his wife was a psychiatrist; Lord P knew just how gross it all was. Never mind, Lord P continued to enjoy the opera and theatre as well as his leading role in the Eugenics Society.
 The EGA, founded in 1872 to train women doctors, was a renowned and much-loved hospital where women knew that they would be examined, treated and cared for by other women, especially important in the field of gynaecology.
It's a lovely photo, but the Wimmin had no idea that the Sisters of the EGA were the Little Helpers of a gang of male sex offenders.
In 1976, owing to cuts in government spending, there was a proposal that it should be absorbed into the Whittington in north London. The situation at the EGA was dire: the lifts did not work and the fire escapes were declared unsafe. The local health authority refused money for repairs, and the Secretary of State, Barbara Castle, refused to intervene.
Battling Babs was never quite as brave in the face of NHS scraps as has been pretended.
BTW, why had the Sister Top Docs of the EGA not been mouthing off loudly about the sheer physical danger that the EGA presented to their Wimmin patients?
The reaction of the hospital's staff – from the surgeons to the porters – was to resist in any way they could.
Ah it's the EGA, we love it! Never mind that the Wimmin could all be burnt to death at any point or have to crawl up the stairs in post-operative agony because the lifts don't work, Bless, mam worked there as an Angel and granny was one of the First Wimmin Top Doctors in Britain!
They organised a "work-in", manning the hospital 24 hours a day to prevent closure,
Get up those stairs bitch, never mind the haemorrhaging, Doctor will be coming in minutes and we mustn't be late.
and Anne Boutwood – as chairman of the action committee –
Why am I not surprised?
brought in Margaret Thatcher (then Leader of the Opposition), who promised her future support; if the EGA could raise money, Mrs Thatcher said, her government would match it, and the hospital would be saved. Campaigners managed to raise £900,000, and after she came to power in 1979 Lady Thatcher kept her word.
It's not much of a recommendation is it?
(The EGA is today part of University College Hospital in London.)
Prof Geoffrey Chamberlain, Brave Wendy's pal, trained at UCL.
In that year Anne Boutwood wrote: "There are still large numbers of women who want to come to us. We've got the young girl who is nervous and worried and is frightened of being seen by a man… We have the well-educated, intelligent woman who feels she can discuss her problems only with a woman – it's not so much that she doesn't want to see a man, but she feels that a woman will understand what she's talking about… Then there are people who would never see a man – the frightened, elderly woman or the woman from one of the minor ethnic groups, like Bangladesh."
And none of those Wimmin know that every one of their Sisters working at the EGA was in cahoots with male traffickers.
That was why there was the determination to keep the EGA open; that ring was big and profitable, Camden was the hotspot and the Wimmin were refusing to see the drooling men, so Ooh there's Lady Doctors at the EGA for you!
Anne Boutwood was born Audrey Anne Havard on September 19 1927 at Looe, Cornwall, one of three children of a rear-admiral.
Being of such humble origins, Anne Understood Poor Wimmin who were Bangladeshi.
Although the family often moved about,
Travelling the world in style, they were the family of a Rear-Admiral, not gypsies
spring and summer holidays were always spent at Polperro, where Anne learned to love the beaches, prawning, walking and bicycling, primrosing and blackberrying.
Bechod!
When war broke out, and her father was away at sea, the family went to live at Truro, and she was always to regard herself as "proper Cornish".
Even if Anne wasn't allowed to mix with those urchins From The Village.
At the age of six she wrote a prescient (in view of her future career) and charming story about a king and queen. "The Queen came back from hunting in the forest," it ran, "and was told that a fine baby prince had been born to her."
Oh please. For accuracy, Anne should have added that 'Diana's first delivery was difficult and made considerably more so by the Royal Doc Hugh Pinker who ignored Di's distress and William was lucky to be born with a full complement of brain cells or indeed to have avoided a nasty case of thromboangiitis obliterans…'
At Truro High School she was keen on biology, and the washbasins at home were full of newts and tadpoles. Her early ambition was to be an artist, but "I discovered at 16 that I was good at dissection, so decided to be a surgeon instead." This was a time when it was not easy for a woman to become a general practitioner, let alone aspire to surgery.
It was unusual but overwhelming evidence suggests that Posh Girls who were not that bright could make it if their families were supportive
In 1945 she went to the Royal Free hospital medical school in London.
The Royal Free had a long tradition of admitting Posh Girls as med students, the first British Medical School for Wimmin was part of the Royal Free.
The Royal Free was run by the Gang. Duncan Orme, the Students' Union Welfare Officer at UCNW who wet himself and fled when Brown and I refused to withdraw our complaint about Gwynne, was rewarded with a place on the NHS graduate training scheme at the Royal Free, in spite of Duncan's Third and, I was told, failured accountancy exams after the glorious Third. Duncan's dad was a senior executive In Oil (BP I think) so obviously that can only have helped.
Six years later she gained her medical degree, and having qualified in 1959
Dafydd qualified in 1957. Could there have been British security services involvement with Anne's application and acceptance to medical school a la Dafydd to ensure that only the right sort of people were qualifying?
she became a member of the Royal College of Obstetrics and Gynaecology; in 1974 she was elected a Fellow.
Anne Boutwood's first house jobs were at the Mile End hospital and the South London Hospital for Women. She was eventually appointed consultant gynaecologist at the Elizabeth Garrett Anderson, the Royal London Homeopathic Hospital and the Well Woman's clinic for female staff at the Bank of England. She also had a private practice in Harley Street.
From the slums of Hackney to the Homeopaths for Brenda, to the Ladies of the Bank of England and Harley Street. It's the spectrum one needs for a truly successful career in people trafficking.
In 1979 she became the first woman director on the board of the Medical Sickness Society.
They don't come much sicker than this lot.
By the age of 60 Anne Boutwood had been responsible for the successful births of thousands of babies; she was once flown out to the Gulf to deliver a son of the favourite wife of a sheikh – and given an opulent present for her efforts.
In the spirit of the Wimmin of the EGA.
Throughout her career she made drawings of her more complicated operations, "as this was the best way of recording them",
Not one for technological advances Dr Anne.
and after retiring in 1994
Oh gosh, Anne was off in that rather difficult year for the Gang, in spite of her being married to one of the biggest and best shop stewards
she returned to her first ambition, to become an artist. Spotting an "enrol today" notice in the City and Islington Art College,
I can imagine the sort of students who might have been on that course.
she embarked on a beginners' course in drawing and painting. This led to further courses, and the production of a vast range of work in pastel, oils and acrylic as well as fine line drawing – she paid the same attention to detail in her drawing of a honeysuckle as she had in her surgical diagrams. She exhibited every year at the Medical Art Society shows, and last April showed at the Islington Museum.
Sadie Francis's Lady Doctor mum was an Artist as well. They're just so brilliant at everything, how do they manage it?
A good, self-taught pianist, she also had a clear soprano voice which she brought to the Bach Choir for 42 years. She sang at the wedding of the Prince and Princess of Wales, at two concerts at La Scala,
Down among the Wimmin as always
and as backing on the Rolling Stones number 'You Can't Always Get What You Want'.
The BMA do or Fings Break.
Thromboangiitis obliterans
Other names
Buerger disease, Buerger's disease, Winiwarter-Buerger disease, presenile gangrene[1]
So Anne was pals with Mick as well, who according to an Empowered Service User – who was left for dead in Bethesda by the Gang – had sex with her when she was a young Empowered Service User of a Denbigh variety and a groupie. There were probably a few kids in care in north Wales who supplied Bill Wyman with What He Wanted, Bill had a penchant for rather young girls.
Anne Boutwood married, in 1982, John Havard, then secretary of the British Medical Association, and thus, as she put it, "my trade union leader".
Indeed he was and far more ruthless than Mick McGahey and far more greedy and hypocritical than Clive Jenkins. You can't beat the BMA for the best qualities expected in a British Trade Union Leader! They've been Holding The Country To Ransom since the day that the NHS came into being after Nye Bevan rolled over to have his tummy tickled at the end of the barrel of the shotgun wielded by Gwynne's mate Charlie Corkscrew aka Lord Charles Hill. See eg. 'BMA Calling, BMA Calling…'
They had met at Bach Choir rehearsals.
At their cottage at Tideford, Cornwall, she sketched, gardened, swam and bodysurfed until her eightieth year, and remained a champion prawner, knowing all the best pools. She had always been a superb dressmaker, and when someone commented on her fine buttonholes she replied: "It's my job, you see."
Caring For Wimmin certainly wasn't.
Anne Boutwood died on May 7. She had no children, but regarded her stepdaughter and three stepsons as her family. They and her husband survive her.
The man who welcomed the Top Docs to California on their mass jolly when they got wind that Mary Wynch had begun legal action, Alistair Cooke, was the Methuselah of journalism and did 'Letter From America' on Radio 4 and also that column in 'The Guardian'. Why Cooke ever bothered to toady to this bunch of scumbags at the San Diego conference I don't know; he'll have been well fed and watered, but one thing that Alistair Cooke became famous for after his death was his grave being robbed and his bones stolen no less and flogged to Big Pharma. Top Docs somewhere will have been on board with that.
One Big Mug:
'And we'll rob your grave and have your bones when you die as well you bastard. Now read the script…'
Thromboangiitis obliterans
Other names
Buerger disease, Buerger's disease, Winiwarter-Buerger disease, presenile gangrene[1]
Here's the timetable for the BMA San Diego Conference,
19-22 Oct 1981, issued to guests in advance:
Tues 20 Oct 1981. Plenary session. 'Doctors In Jeopardy'. Chairman BMA President. Speakers: Dr John Stallworthy (Oxford), Sir John Walton (Prof of Neurology, University of Newcastle-upon-Tyne), Dr John E. Milner (Medical Director, Medicine, Cabrillo Medical Centre).'The Sick Doctor'.
followed by simultaneous sessions –
Medical audit or quality control? Chairman: Dr David Allan (Associate Dean for Continuing Education, La Jolla, California). Speakers: Dr David Williams, GP, Clwyd, Wales; Dr Robert Brooks (RAND Co-operation, Santa Monica, California). Legal threats to medicine. Chairman: Dr John Marks, Deputy Chairman, BMA Representative Body. Speakers: Dr John Havard (BMA Secretary); Dr Joseph Boyle (President, California Medical Association).
Research restraints. Chairman: Professor J. William Hollingsworth (Professor of Medicine, VA Medical Centre, San Diego). Speakers: Dr Brian W. Cromie (Chairman, Medico-Pharmaceutical Forum); Professor Clifford Grobstein (Professor of Biological Medicine, University of California).
Wed 21 Oct 1981. Plenary Session II. The management of breast cancer. Chairman: Dr John Mendelsohn (Director, School of Medicine, University Hospital, San Diego). Speaker: Professor Michael Baum, (King's College Hospital, London); Professor Yosif H. Pilch (Head, Surgical Oncology Service, University Hospital, San Diego).
followed by simultaneous sessions –
Terminal cancer and the hospice. Chairman: Dr Joan St V Dawkins (Area Specialist in Community Medicine, Northampton). Speakers: Dr Richard G. Twycross (Churchill Hospital, Oxford); Professor E. Watson-Williams (Professor of Internal Medicine, University of California).
Women in medicine. Chairman: Dr Jacquelin D. Trestrail (National City, California). Speakers: Dr Celia M. Oakley (Physician, Hammersmith Hospital, London); Dr Katherine F. Carson (San Diego); Dr Ruth Covell (Assistant Dean, School of Medicine, University of California).
Geriatric medicine. Chairman: BMA Treasurer. Speakers: Sir Ferguson Anderson (Glasgow); Professor John C. Block (Director, Multicampus Division of Geriatric Medicine, Los Angeles).
followed by simultaneous sessions –
The National Health Service. Chairman: Dr Jack Miller (GP, Glasgow). BMA Panel: Mr Anthony Grabham (Surgeon, Kettering Hospital Northamptonshire); Dr John Marks (GP, Elstree, Hertfordshire); Dr Joan St V Dawkins (Area Specialist in Community Medicine, Northampton).
The physician and the stress on his family. Chairman: Mrs Vira K. Williams (President, San Diego County Medical School Aux). Speakers: Sir John Walton (Professor of Neurology, Newcastle-upon-Tyne); Professor Louis Jolyon West (Director, The Neuropsychiatric Institute, LA);
Who runs the hospitals? Chairman: Sir John Stallworthy (Oxford). Speakers: Dr Clifford Astley (Physician, Teeside group of hospitals); Professor Woodbury Perkins (Assistant Clinical Professor of Medicine, San Diego).
Thursday 22 Oct 1981. Plenary session. Chronic disability: the new leprosy? Chairman: Mr Anthony Grabham (Chairman of Council, BMA). Speakers: Professor Vernon Wright (Professor of Medicine, University of Leeds); Dr Edward Roberts (Director, Dept of Rehabilitation, Sacramento).
followed by simultaneous sessions –
Screening (routine medical examination). Chairman: Professor Joseph Stokes (Professor of Community Medicine, UCSD School of Medicine, La Jolla, California). Speakers: Professor Walter W. Holland (Professor of Clinical Epidemiology and Social Medicine, St Thomas's Hospital); Dr David Rubsamen (Berkeley, California); Professor Lester Breslow (Professor of Public Health, LA).
Role of the paramedic. Chairman: Dr Jack Miller (GP, Glasgow). Speakers: Professor Douglas Roy (Professor of Surgery, Queen's University, Belfast); USA speaker to be announced.
The day case – anaesthesia, surgery and other problems. Chairman: Professor Jordan Katz (Professor, Dept of Anaesthesia, California). Speakers: Dr Brian Lewis (Consultant Anaesthetist, Hythe, Kent); Professor Purvis Martin (Clinical Professor of Reproductive Medicine, San Diego).
At the time of this BMA Conference and Conference Report, I had just arrived at UCNW, Gwynne was sitting in the Student Health Centre in UCNW and 'the GP from Hertfordshire' – land of Lord Balniel, the Bingleys, Shirl and others – Dr John Marks, also doubled up as Vice-Chairman of the BMA. John Marks was a barrister as well as a Top Doc, who trained at Edinburgh University. Marks knew exactly how criminal Gwynne, Dafydd, Bodger and his own brother Prof Vincent Marks's friends and colleagues were. Marks and co were never in jeopardy, they get away with mass murder as Harold Shipman demonstrated…
So when is someone going to bring the worst (ie. all of the establishment and highest echelons) of this disgusting profession down then?