I have been up since 4 am, today being the Summer Solstice and me wanting to see the sunrise. After I watched the sun come up I became embroiled in following up a few matters for future blog posts and thus I didn't listen to the 'Today' programme or read any news online. I therefore missed this morning's main story until a helpful reader e mailed me earlier.
So Brian Leveson, who starred in my post 'International Finance, With Grateful Thanks To Gwynne', has Spoken Out about the grave danger that faces the country's criminal justice system. Sir Brian, the most senior criminal judge in England and Wales, has expressed "enormous concern" that many crimes are not being prosecuted. Sir Brian, who retires on Friday as Head of Criminal Justice, has warned that 'the system could collapse without investment'.
Sir Brian wants much more dosh to be given to the endemically corrupt lawyers and judges who allowed the NHS to become infested with serious organised crime and north Wales to be run by a gang of vicious sex offenders which has left the region on its arse.
Sir Brian has expressed concern that many crimes are going unpunished. Indeed Sir Brian, this blog details the numerous serious offences of the Gang and their colleagues, as well as those of your own colleagues in the legal/criminal justice system who witnessed them in action but said nothing or even assisted their criminality. The No Nonsense Judge Huw Daniel managed to break the law himself in open court. As for the criminal justice system being short of resources, I and another Empowered Service User who was targeted by the Gang over a period of decades worked out that the Gang had spent literally millions in litigation dragging us through the courts in serial attempts to imprison us. It was water off a duck's back to them, the NHS and Social Services are bottomless pits, no expense was spared. They used their own in-house crooked lawyers, they used crooked Welsh Office lawyers, they purchased 'expertise' from other lawyers. Then there was the cost of our lawyers to the Legal Aid Board, who unbeknown to us at the time were in cahoots with the Gang as well…
The Gang succeeded in unlawfully imprisoning my friend in HMP Walton on the grounds of false allegations made by the Hergest Unit staff. Once he was in Walton the charges were dropped after Dafydd offered to write an Expert Report testifying that my friend had PTSD from a climbing accident, which would result in my friend being released from Walton, into the Care Of Dafydd. My friend told Dafydd that he didn't think that he did have PSTD. Dafydd nonetheless wrote a Court Report stating that he did and my friend was released to the Care Of Dafydd's 'nursing home' in Llandudno, Ty Gwyn. The fees were thousands a week and there were no qualified staff available let alone Dafydd. My friend walked out after a few days and heard no more from the police or Courts although residing at Dafydd's money-spinner was a condition imposed by the Court. My friend smelt so many rats that he tried to acquire the prison paperwork related to his case. Not available…
I won't even begin to provide a resume of the many other serious miscarriages of justice that resulted from bent judges and lawyers being Of The Gang, just read the blog…
Some interesting facts:
Brian Leveson was born in Liverpool, on 22 June 1949. He was educated at the public school Liverpool College, as was that very good friend of the Gang Lord David Hunt, a lawyer himself. Leveson studied at Merton College, Oxford and was President of the Oxford Law Society.
Leveson was called to the Bar at Middle Temple in 1970. Ronnie Waterhouse was a member of Middle Temple. Ronnie's rigged Inquiry which concealed the multiple rape and even murder of the victims of the Gang and the wider Westminster Paedophile Ring cost in the region of £17 million quid (at a conservative estimate). Previous posts have discussed the future careers of the mass of lawyers who appeared at the Waterhouse Inquiry to defend the Gang. Many progressed onto stratospheric careers in law and in the judiciary.
Brian Leveson initially practised in Liverpool and took silk in 1986. Dafydd's Gang ran Liverpool. In 1986 the Gang unlawfully detained me twice, as a result of deals with corrupt police officers and lawyers, whom I have named in previous posts. My friend Anne was killed by the Gang in 1986.
Patient F was fitted up for class A drugs offences and arson by the Gang in 1986. As with my friend in Walton, the most serious charges against F were dropped when he was in Risley Remand Centre and Dafydd had prepared an Expert Report for the Court explaining that F had Paranoid Schizophrenia and would need to be detained in the North Wales Hospital Denbigh. When F was transferred to Denbigh, the admitting Angel told him that it was clear that he was better, but they'd keep him in Denbigh 'for the sake of the Court'.
F had to reappear at a magistrates' Court in north Wales days later; during the hearing, the defence lawyer made a reference to F 'now being very much more lucid' than he had been at the first hearing, which had immediately followed a violent assault on F by a senior officer in either Bethesda or Bangor Police Station. F was returned to Denbigh 'for the sake of the Court'.
Some three weeks later, days before he was told that Dafydd would be arriving to discharge him, one of Dafydd's drug patients sold F some amphetamine, within sight of the Angels. Being F and seriously depressed at the time, he took it and it precipitated a drug induced psychosis. Dafydd turned up within hours, announced that F was suffering from Paranoid Schizophrenia and F didn't get out of Denbigh for another year. Even then Dafydd tried to unlawfully stop him leaving and force him into one of his 'nursing homes' instead.
Liverpool is on the Northern Circuit and it was Sir John Kay sitting in the High Court in Leeds on the Northern Circuit who in 1990 gave Gwynedd Social Services a High Court injunction against me on the basis of the perjury of two Gang members, one of whom had never met me and the other one who had met me at most two or three times and had unlawfully detained me in 1986. See eg. 'The Bitterest Pill'. In Nov 1994, a judge in Liverpool High Court gave Dafydd an injunction against me on the basis of perjury and no evidence at all of any wrongdoing; the MDU who were acting for Dafydd knew that he had committed perjury and that there was no evidence. Readers might have noticed that I haven't yet named the judge who presided over that case. I'm saving it for a
Leveson became a Bencher in 1995, acted as a Recorder between 1988 and 2000 and as a Deputy High Court Judge between 1998 and 2000. In 2000, the year that the Waterhouse Report was published, Leveson was appointed as a Judge of the High Court, Queen's Bench Division. He served as a Presiding Judge of the Northern Circuit, 2002–2005. In 2006, Leveson was appointed to the new position of Deputy Senior Presiding Judge and, on 2 October 2006, he was appointed a Lord Justice of Appeal. Leveson was promoted to Senior Presiding Judge with effect from 1 January 2007.
While sitting with Lord Justice Mantell in the Court of Appeal in 2002 under the Lord Chief Justice, Lord Woolf (see previous posts for Lord Woolf's connections to the Gang), Leveson upheld the murder conviction of James Hanratty. There had been constant concerns that James Hanratty, who was hanged on 4 April 1962, was the subject of a grave miscarriage of justice. The Lord Chancellor at the time was David Maxwell Fyfe aka Dai Bananas aka Lord Kilmuir, Dafydd and Gwynne's Big Mate who was even hired by Gang members to act for them in petty legal disputes in north Wales, lest anyone ever forget that the paedophiles' friends will not be mocked. Kilmuir as Home Secretary under Churchill in the early 1950s was given responsibility for Welsh Affairs and MI5 were ordered to be responsible to him. In July 1962, Harold Macmillan had such a bellyful of Kilmuir and Dafydd's other mates that he ejected them from the Cabinet in the Night Of The Long Knives, but they continued causing havoc by blackmailing everyone who had colluded with their criminality. See previous posts.
Rab Butler was the Home Secretary who signed off the death sentence for Hanratty, although there was serious concern about it at the time. Butler spent his life concealing organised abuse, including that of the Gang, both when he was in politics and as Master of Trinity College, Cambridge, in which role he was Carlo's personal tutor and special mentor, 1968-71. Carlo was Chancellor of UCNW from 1976 onwards, when UCNW constituted a vehicle for Dafydd and Gwynne's Gang.
Rab Butler did not succeed Harold Macmillan as Leader of the Tory Party and PM when Macmillan resigned in 1963, although he had much support. Alec Douglas-Home – Foreign Secretary when Hanratty was hanged – succeeded instead, as a result of what was widely alleged to be an Old Etonians stitch-up, with the blessing of Lilibet. In 1972, Alec Douglas-Home's son and heir David married Jane Williams-Wynne, a member of a north Wales family who had long supported the Gang. See previous posts. David Douglas-Home succeeded on 24 Sept 1996, after his father's death.
In May 1996 The Hague announced that there would be a Public Inquiry into the North Wales Child Abuse Scandal. It was in Sept 1996 that The Hague announced that Ronnie Waterhouse would be Chairing it.
Shortly before The Hague announced that Ronnie would be Chair of the Inquiry, Patient F and I were arrested and charged on the basis of the perjury of an Angel who worked with the Gang, Bridget Lloyd. We were cleared in Jan 1997, days after Ronnie opened the Inquiry. The Gwynedd Community Health Trust refused to apologise or amend the accusations on our NHS records that F had made sexually threatening comments to Lloyd over the phone and the she was so frightened that I was going to attack her and 'her young children' that she was living in fear and had been issued with a personal alarm by the Trust to carry at all times lest she encounter me. At our trial, the magistrates were told that if I was acquitted, the Trust had prepared a safe house for Lloyd and her family, such would be the danger from me.
Before our trial, Tony Francis had prepared a Court Report for WHEN we were found guilty no less. His recommended that F should be put on probation and that I should be sent to a high security hospital such as Broadmoor. After we were acquitted, F and I walked into Tony Francis's room and asked for an explanation. Tony started yelling at us, so F said 'Don't shout at us, you are supposed to be the psychiatrist here'. Tony yelled even more loudly 'I have a right to my emotions'.
We walked out of Tony's office and there was Alun Davies, the corrupt Hergest Unit manager, who had fuelled much of the case. I simply said 'NOT GUILTY Mr Davies, are we going to receive an apology?' Davies bellowed that what with me going on at him 'Some things never change'.
One of the prosecution lawyers at Hanratty's trial was Geoffrey Lane, who in 1987 as Lord Chief Justice reduced the paedophile Top Doc from St George's Hospital Medical School Prof Oliver Brooke's sentence on appeal and compared Ollie's collection of kiddie porn to a collection of cigarette cards. See post 'Oliver!' Geoffrey Lane made his decision partly on the basis of the many letters that he had received from Top Docs stressing that Ollie was a great guy. Many of those Docs knew that Ollie was a key player in a pan-European paedophile ring and some of them were part of the ring themselves. Geoffrey Lane was the LCJ who appointed Ronnie Waterhouse to some of his exalted positions.
Ollie was jailed on 18 Dec 1986, four days after Dafydd had me wrongfully arrested and unlawfully detained at Denbigh.
Prof Ollie was a good friend of Prof Geoffrey Chamberlain and after Ollie was released on appeal by Geoffrey Lane, Ollie continued to publish with Chamberlain and his other mates from St George's Hospital Medical School, giving his affiliation as St George's. The general public and even the rest of the staff at St George's – one of whom was me – had been told that Ollie's career was over and he had long gone from St George's. See post 'Too Many Pills'.
Cilla was a good friend of Geoffrey Chamberlain. 'Blind Date' turned the fortunes of LWT around in the 1990s. It was their most profitable product and it revitalised Cilla's flagging career, turning Cilla into the UK's highest profile light entertainment star. Cilla who had been part of the Liverpool pop scene back in the early/mid 1960s when Dafydd and the Gang were supplying the sex workers and the drugs.
Peter Mandelson had worked for LWT before he redesigned the Labour Party as New Labour. Mandelson was hired by the Windbag. Who was Of The Gang and personally knew Tony Francis from their student days in Cardiff. The Windbag's wife's parents had been mates with the Gang for decades; Glenys's dad was a Labour Councillor in Holyhead, who was a longstanding friend of Lord Cledwyn, the Labour MP for Anglesey, 1951-79 and Secretary of State For Wales, 1966-68. Lord Cledwyn colluded with the Gang and served as President of UCNW, 1995-2000 (spanning the Waterhouse Inquiry), succeeding Sir William Mars-Jones, 1982-95.
By the time that he stood trial for murder, Hanratty had experienced Help from Top Docs who had diagnosed frightening things in him such as psychopathy. They were Dafydd's mates. Every lawyer involved with Hanratty's case, including the defence lawyers and the lawyers hired by his family after his death in an attempt to clear his name, have been lawyers who have done deals with Dafydd and the Gang. The three Home Office Inquiries held into the case of James Hanratty were held under Woy and Michael Howard, both of whom colluded with Dafydd and the Gang, as discussed in previous posts.
In 2002, Leveson et al were convinced of Hanratty's guilt as a result of DNA tests carried out on Hanratty's exhumed corpse. With a forensic science service which is still bedevilled by corruption and still withholds info that may be inconvenient or even makes assertions that cannot be deduced from the evidence available, Leveson probably shouldn't have been so confident about Hanratty's guilt, but at least it meant that no questions would be asked about the crowd back in the early 1960s, some of whom were still around and had played a part in the arrest and charging of me in 2002 for 'threats to kill' on the basis of the perjury of eight NHS staff and a police officer. The charge was withdrawn on the first day of the trial nearly two years later, by which time I'd lost me job and my home. Huw Daniel still managed to break the law in open court. Daniel's father J.E. Daniel was a mate of some of those involved in the James Hanratty case.
In 1989 Leveson was the lead prosecution counsel at the trial of comedian Ken Dodd, who spent part of his childhood in north Wales and had connections with the Gang. See 'My Arse – It's Tatifliarious!'. Dodd was charged with tax evasion, but was acquitted at Liverpool Crown Court, despite seemingly strong evidence. Ronnie Waterhouse was the Presiding Judge and the trial was memorable for Waterhouse allowing Dodd to tell jokes in the witness box and Ronnie himself laughing at them. It was also suggested that Brian Leveson missed a few obvious opportunities to present a case that would have really clinched it.
Not that it would have mattered. I was being dragged through the Courts myself at the time by the Gang and days after Ken Dodd was acquitted I chatted about the case with Alwyn Jones, my lawyer in Bangor. Alwyn observed that 'No Court in Liverpool was ever going to convict Ken Dodd'. George Carman QC defended Dodd. Carman was a violent, corrupt, alcoholic who worked on the Northern Circuit until he successfully defended Mr Thrope in 1979 and then relocated to London. Carman colluded with Dafydd and the Gang and he was ready to act for Jimmy Savile if anyone published anything about Savile's crimes. Savile was part of Dafydd's network and used to drop in at will to Ashworth, the secure hospital on Merseyside, which was used as one of the Gang's personal prisons.
It was announced on 13 July 2011 that Leveson would Chair the Public Inquiry into issues of British press culture, practices and ethics raised by the 'News International' phone hacking scandal. The Inquiry subsequently revealed the most disgraceful practices on the part of 'News International' and the Digger, but no-one told me that at the time the Digger was in possession of letters and documents stolen from my house at various times containing details of the experiences of F, Brown and me at the hands of the Gang and e mails hacked from my computer. Including a photo of my friend's baby who died as a result of the negligence of the Top Docs in Taunton in 1999, just before the Waterhouse Report was published. My friend who knew what had happened to me at the hands of the Gang and stood by me, which resulted in hassle from Michael Grade, then from the Royal Television Society, then from Gangsters and then the death of her baby.
In 2013 Brian Leveson was appointed as Chancellor of Liverpool John Moores University, taking over from Brian May who stepped down at the end of his term. Brian May had succeeded Cherie as Chancellor, the Cherie who, along with her husband Miranda, had once worked with George Carman. The Cherie who grew up in Liverpool when Dafydd's Gang ran the city, the daughter of two luvvies. Dafydd's Gang supplied sex workers and drugs to luvvies. Ronnie Waterhouse and his friend and senior colleague Sir William Mars-Jones, another one of Dafydd's Gang, were both enthusiastic members of the Garrick, a club that attracts members of the legal profession and luvvies.
My post 'International Finance, With Grateful Thanks To Gwynne' published a photo of Sir Brian with Brian May. Unfortunately I might have made a mistake which I shall now clarify. I called Sir Brian Leveson 'Lord Brian Leveson' in that post, because he is a Lord Justice of Appeal. However the news reports today are referring to him as Sir Brian Leveson. I do apologise if I used the incorrect title Sir Brian.
As for Sir Brian's concern that there are many people who are not being charged with offences because of the inadequacies of the criminal justice system, he is indeed correct. We screamed and screamed for years as loudly as we could about the serious criminals who were aiming fire at us and in return we were repeatedly arrested ourselves. People suffered and died and nothing can ever put it right, even if they were now to be prosecuted in the recent outbreak of Caring and the desire for Social Justice. Neither will giving even more money to a bunch of crooked professional people make a jot of difference. Their funding should be withdrawn until the whole bloody lot of them have resigned and gone.
If anyone wants to do anything worthwhile at all, they can get out to the North Wales Hospital and recover the bodies that are concealed out there and that will be the end of any claims of Not Knowing and Top Doctors Caring for Dangerous Nutters who Attack Angels.
P.S. Sir Brian: I have been told that I and other Empowered Service Users were filmed by hidden cameras in the bath etc when we were in Denbigh and that the pics were given to Dafydd's customers who bid for us and paid Dafydd for our services. Because I kept saying no to these fould old Top Docs – I also threw an Angel out of the bathroom when they walked in unannounced, asking me if I wanted 'help' in the bath, me being a mere 24 year old adult doing a postgrad degree in medical sciences – I am told that this left Dafydd in a difficult position and he and the Gang were very cross which is why I had so much grief from them. I am also told that the pics of us found their way onto the internet years later. I therefore believe that I am owed Royalties Sir Brian, as are the other Empowered Service Users. Could you Fix It For Us to receive them please?
Thank you/Diolch yn fawr.
Sir Brian Leveson: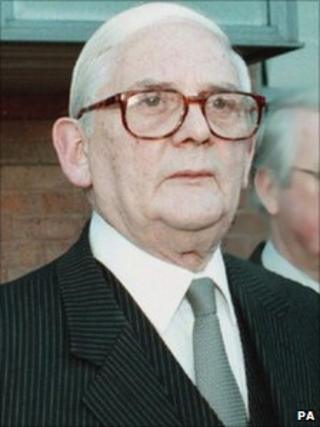 Sir Ronnie Waterhouse:
The Common Purpose: