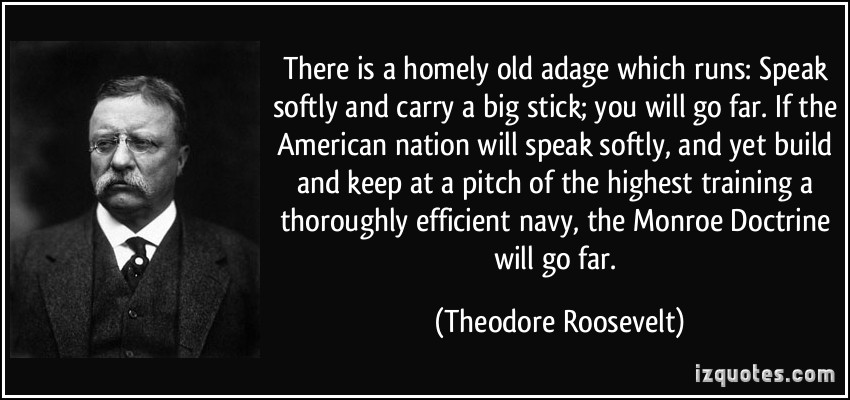 That Dreadful Peter Hain has been speaking softly but carrying a big stick for a very long time. 
A stick based on his knowledge of British Imperial wrongdoing in Kenya, South Africa and Rhodesia, how MI6 used Tiny Rowland
– who Owned The World and bankrolled Gwynne's Giggles – to Assist With The South African Problem which allowed Tiny and his fellow travellers
The Lord Duncan-Sandys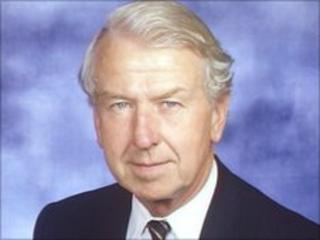 Lord Peter Walker
to ruin the lives of anyone who dared confront Gwynne's Giggles and Dafydd's Christmas Kindness. From his earliest involvement in the Anti-Apartheid Movement, That Dreadful Peter Hain had to throw his lot in with Gwynne's Gigglers, including David Ennals, Chief Giggler of Radical Causes eg. AAM, Amnesty, the Ghandi Foundation, Tibet.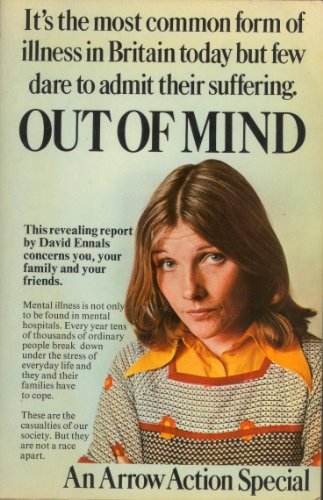 Ennals was Giggling with Gwynne before Profumo; Ennals was busy in the UNA of Lady Megan Lloyd George and her circle and served as Secretary to the United Nations Association from 1952 to 1957. Ennals began political life as a Liberal and stood as the unsuccessful Liberal candidate in Richmond in Surrey in 1950 and again in 1951. David Ennals – a personal friend of the Dalai Lama
– was of the Gigglers who were placed in politics in that era by the security services eg. Geraint Morgan QC, Mr Thrope himself etc. Ennals was one of the Liberals who a la Lady Megan and Dingle Foot defected to the Labour Party at that time and was soon Secretary to the International Department at the Labour Party's Head Office.
Ennals and many others with knowledge of the Source Material were wiped out
in the 1995 Genocide of Insider witnesses. I wonder why That Dreadful Peter Hain wasn't? Although having witnessed the 1995 Genocide, That Dreadful Peter Hain wasn't going to confront the Top Docs. Ever.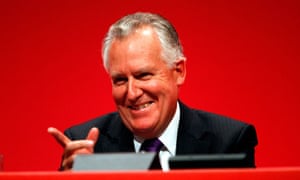 That Dreadful Peter Hain knew about Mrs Brady's letter from Theodore Goddard
and also knew that Thatch's Govt was based entirely on keeping that letter and everything that spiralled out from it out of the media.
The world has paid a very high price for That Dreadful Peter Hain carrying his big stick but not hitting the Top Docs with it very hard in 1995.
Although in May 1994 Top Doc Central gave out the clearest message since Hugh Gaitskell died all of a sudden in Jan 1963 
that Fings Break.
Jan 1963: Profumo was about to blow up in everyone's faces; Dafydd and Gwynne were at the root of that. Gaitskell was waiting to be the next Labour PM in the face of the shambles of the Tory Upper Crust. Gaitskell died and a senior ranking security services agent who was absolutely of the establishment but stuck a pipe in his mouth and spoke with a faux accent when he was addressing the plebs became the next Labour PM. 
May 1994: Peter Howarth and Paul Wilson were awaiting trial for a series of sexual assaults on kids in their care in north Wales. Gwynne and Dafydd were at the root of it. Their trial was the tip of a huge iceberg of hundreds and hundreds of complaints not just from north Wales but from other areas of the UK, where sex abuse rings directly linked to Gwynne's Giggles and Dafydd's Christmas Kindness were in operation.
John Smith died and the next Labour PM was a slippery ex-barrister of Lincoln's Inn a la Gnome's grandson Mark Piercy and Lords Denning and Hailsham, who was married to a slippery barrister of Lincoln's Inn a la Gnome's grandson Mark Piercy and Lords Denning and Hailsham. One bonus was that the next Labour PM and his wife had both been juniors of a barrister involved with serious organised crime
who had been concealing Gwynne's Giggles and Dafydd's Christmas Kindness for years – hitting the big time in 1979 when he successfully defended Mr Thrope –
and was of Lincoln's Inn… 
Another bonus was that the next Labour PM's lawyer father had concealed Howarth's crimes when Howarth worked in the ring run by Gwynne's friend Lord John Walton in the North East in the 1960s. Yet another bonus was that the next Labour PM's wife's father married one of those who's closest friends/colleagues had been using the services of Gwynne and Dafydd since Profumo…
The Wind Of No Change.
What could ever go wrong?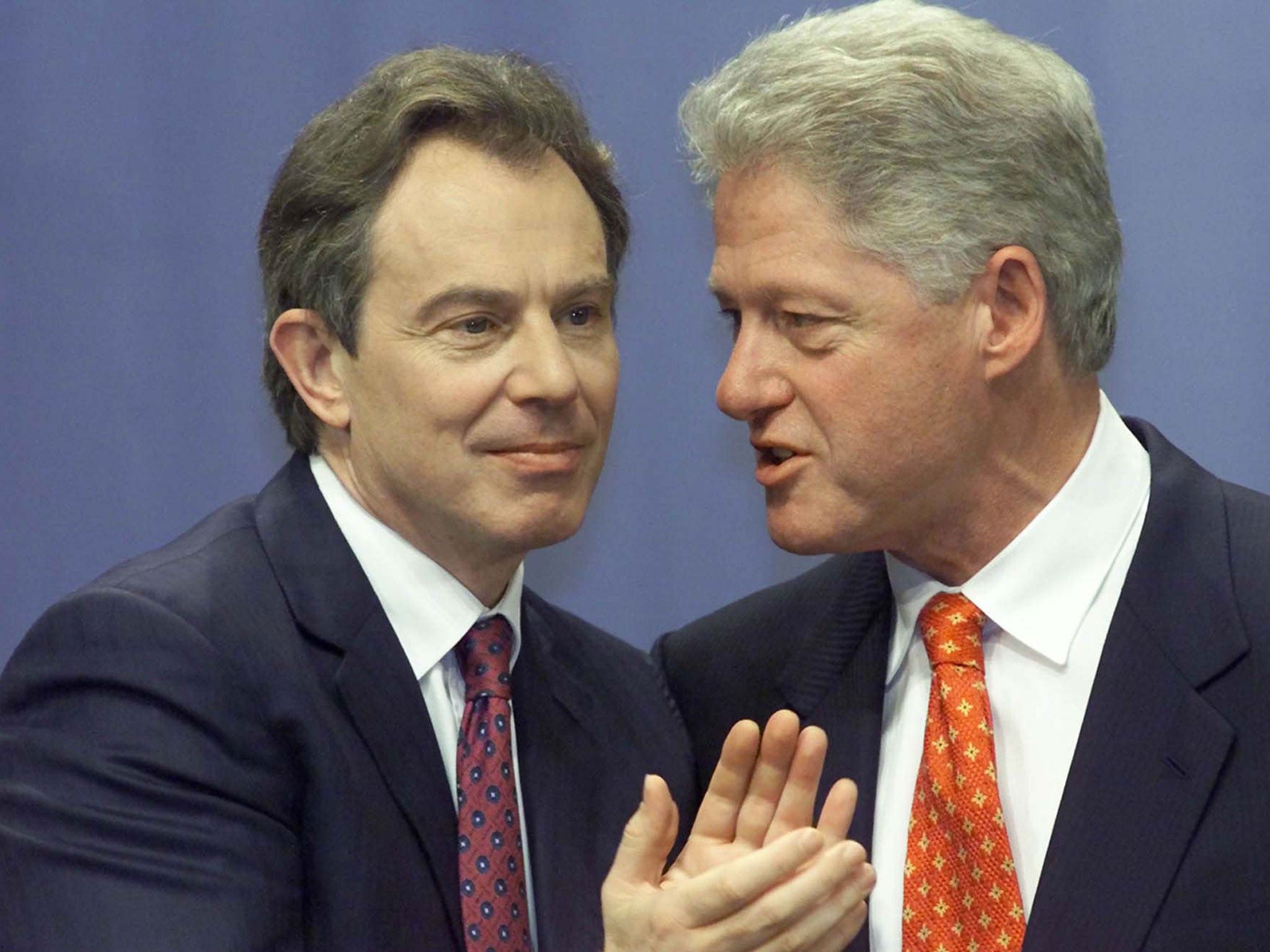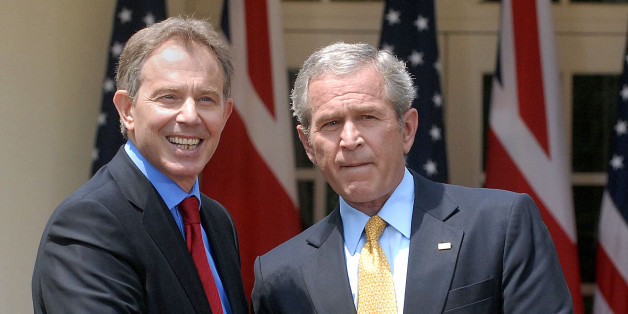 Now that I have my 10,000 documents, my big stick is bigger than That Dreadful Peter Hain's big stick. I'm not international like That Dreadful Peter Hain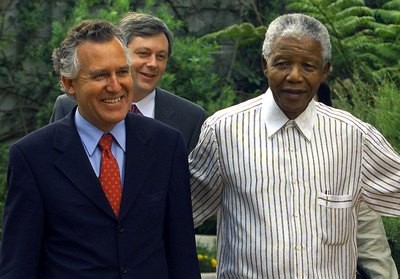 and I don't know the big names in activism in the UK
let alone internationally,
but for years I watched the most dreadful things happening to the Little People at the hands of The Most Trusted Profession In The UK. It was so bad that I knew that I would never be able to go public on much of it and be believed until I gained documents.
My 10,000 documents nail the lie that People Didn't Know. They bloody well did
and those who knew most were at the very top of the medical and legal professions.
Children repeatedly sexually assaulted after Top Docs had identified suitable victims and delivered them, using their legal powers, into the 'care' of the most serious criminals imaginable. Children who refused to shut up about it, once they were young adults, declared mentally ill and handed over to the 'care' of the most depraved Top Docs in the profession, using the Mental Health Act, the legislation that with the exception of legislation regarding terrorism is the most oppressive legislation that there is in the UK. Then if necessary murdered outright if their lives and credibility could not be completely destroyed by Top Docs without people asking questions.
I have been asked why I'm only making the excesses of Mrs Brady et al public now. I never expected to go pubic on the fuckwittery but I have because I want to illustrate beyond all doubt just how flaky the Evidence accepted by Internationally Respected Professors of Forensic Psychiatry
and Law Lords
was.
It was absolute nonsense and those Professors and Law Lords knew it. Evidence was taken without the knowledge of the subjects of the Evidence from people who were known to be abusive/dishonest/serious criminals or simply quite mad. The Experts who Had Known This Patient For Years did not know the most basic things about them, no matter how many case histories Had Been Taken by how many different Professionals Who Had A Rapport With The Patient.
Readers may have noticed that in comments and previous posts I have provided a few such examples – both from my own experience and that of others – and I have explained how I stopped bothering to even tell them that they'd got it wrong because they took no notice. Absolutely none.
I've mentioned that there is no mention in any of my records at all that from the age of 12 we lived with my grandparents and that even before that my grandparents were hugely important people in my life. Sister Ella Fisk, the main member of staff who pumped patients for info at the Hergest Unit when they had just refused to waste their time with the other utterly clueless (and sometimes violent) staff, was far more competent than her colleagues, but as discussed previously even Ella was missing the obvious eg. that I lived with my grandparents. One day after I'd known her for months, Ella told me that I could have expected to have experienced serious difficulties when I was older because at no point in my childhood had I ever had anyone upon whom I could rely; Ella maintained that most other kids in difficult situations had someone eg. a grandparent or an aunt, but I had no-one.
I didn't bother to say that I did, I had grandpa, granny and in some ways father, although father had been severely damaged himself by dear old Maurice Macmillan et al and I don't think that he ever really got over that. He believed that he had utterly failed in business, failed to provide a good lifestyle for his wife and kids and Mrs Brady was very happy to tell him that on a regular basis. Toxic rumours were spread about father by Maurice and co and Mrs Brady never denounced them as nonsense, although I witnessed people telling her that they probably were nonsense.
Last year a reader of the blog casually observed that I probably talked a lot about grandpa to the Hergest staff because he was obviously important to me. No, I never did. They only ever even mentioned grandpa when I told them very firmly that my father did not 'sexually abuse' me and they had to stop telling me that he did. I had no idea that D.G.E. Wood had been writing this in letters to third parties since 1984, including when he was no longer my GP…
It was only at that point that grandpa was mentioned by Ella, at the suggestion of Tony Francis; not to me but to Brown! The Hergest Unit, after refusing to pay any heed at all to Brown's complaints about Gwynne, Wood and then Dafydd, called Brown in to see them as someone who is So Supportive and asked him if I had ever told him that grandpa had 'abused' me. They did that some four years after Tony Francis had documented and sent to third parties the completely untrue allegation that Brown had been responsible for a bomb hoax. We had no idea that Francis had done this until I received the first batch of my records in 2005. I subsequently showed Brown the documents – it took me time to read them all – and Brown said 'I'll have him for that, it is libel'. As were so many of the other Facts on my records. We were being bugged when Brown made that comment and within months the authorities at De Montfort University had received a letter from a Sylvia Grenalda – who doesn't seem to exist – telling them that Brown was a 'known paedophile who had committed many offences when he worked at Aston University but hadn't been caught'. See 'A Nasty Ludicrous Poison Pen Letter'.
This was how that lot behaved. They did not just do this to me, it was what they did and they had been doing it for years. It's why they handled me so badly, they were gobsmacked that they had been caught out and confronted. They pompoused on constantly to patients in private and in public domains about We Doctors, ethics, confidentiality, respect, trust, Difficult Decisions In Complex Situations,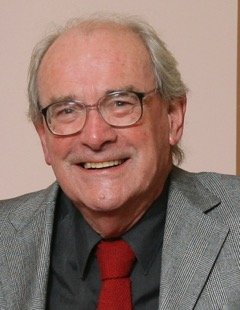 but their practice over the decades that my records cover demonstrate that all laws, yet alone guideline or ethics, were flouted whenever they felt like it and they literally said anything about anyone. Neither would they agree to amend documentation when they were presented with concrete evidence that a comment was simply not true.
This conduct on the part of the Top Docs has continued after scandal after scandal after scandal, including Harold Shipman and Jimmy Savile. The response of those in Authority after each catastrophe about which a great many people knew but concealed, was to have a polite conversation with the Leaders Of The Profession and ask them if they could possibly stop murdering their patients. 
The response remains the same when the next Jumped Up Nobody raises concerns about a dangerous criminal Top Doc.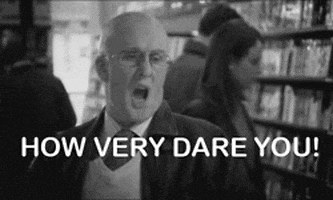 It wasn't just Gwynne and Dafydd who carried on like this; they were particularly dreadful but the scale of the problem is evident when one considers that not one Doc whom I ever met, not even the few who were definitely much better than the others, would agree to record in writing on my records that a criminal offence had taken place by one of their colleagues. A number of them did write letters to third parties stating that Dafydd and, they suspected, Tony Francis, were sexually abusing patients; one Bethesda GP, Dr Nicky Heinersdorff, recorded that I had had bad experiences with male doctors in the past and this 'was not delusional'. That GP played a key role in abducting F's new baby, placing F's baby in a family with two known child abusers and ensuring that F never gained access to his baby. After Dr  H wrote her comments about my past experiences not being delusional, she referred me completely unnecessarily – I told her that the referral was unnecessary (I had a better knowledge of the field than Dr H did because it was my speciality when I had worked in London) but Dr H maintained that if I didn't accept that referral I would not be referred for the matter that I was requesting – to one of the Top Docs in Gwynedd who had been the subject of complaint after complaint after complaint…
I think that it was supposed to shut me up once and for all. It hasn't and now I have documentation that could jail Dr H and her partners in crime, their Lawyers – the Best In The UK – have ordered them not to make any comment to me whatever.
I have now hit these worthless criminals with a big stick very hard but they continue to bellyache on about their Lack Of Resources and the ringleaders still won't just sod off after they have caused so much harm and misery to so many, so I'll be taking a few more trips down Memory Lane to leave readers in no uncertainty at all that the Experts were sheer bloody criminals who knew that their Evidence could simply not be believed and that there were plenty of people who could have demonstrated that; those people were never consulted. When they voluntarily came forward they were accused, 
arrested or harmed themselves.
Re Evidence: the time that I wore a T shirt with a picture of a Naked Man on and scandalised Somerset. 'Let me explain' as Dafydd would say.
In 1991, I was fond of a T shirt that I had purchased from a hippy shop in Bethesda, which had a picture of Leonardo's Universal Man on it.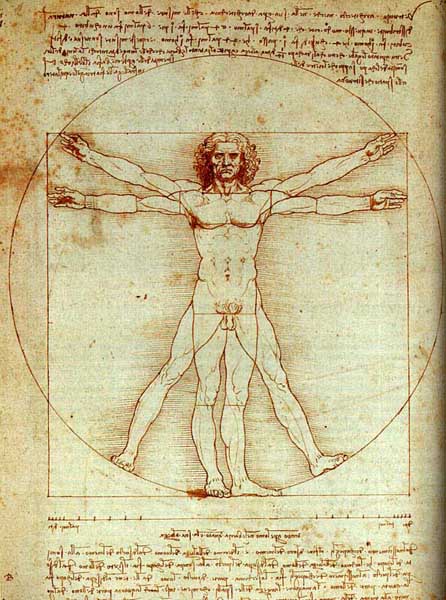 Mrs Brady could not cope with that T shirt. She shrieked 'You've got a naked man on your T shirt'. 'Mother, it's a famous picture'. 'It's a NAKED MAN'. 'It's Leonardo da Vinci mother, he's famous'. 'It's a NAKED MAN'. 'Mother, it's even used on the 'World In Action' TV programme, it's a really famous drawing'. 'It's a NAKED MAN'. I ignored the hysteria and carried on wearing the Naked Man. I was wearing the Naked Man when I took Mrs Brady for lunch at Kilve in Somerset in the Hood Arms, a gastro-pub that had been recently opened as a surprisingly nice eating place for Kilve and was run by two gay men from outside Somerset. I was later told that they left the area due to aggro, but I don't know what it was about. Kilve was where grandpa's gardener Charlie lived, who's son Derek was found shot dead in Kilve when I was a teenager.
Throughout lunch, all Mrs Brady could talk about was me wearing the Naked Man and how Everyone Was Staring At Me, they were Just So Shocked. They weren't staring at me, they weren't even looking at me and most of the customers in that gastro-pub would have known exactly who Leonardo was if they had have even noticed my T shirt. Mrs Brady dined out on my T shirt with a picture of a Naked Man on it for a very long while. It was Evidence of my debauched ways.
The biggest laugh is that I used to wear that T shirt to Ysbyty Gwynedd when I had appointments with the Gang. They all commented on my 'World In Action' T shirt. I think they were a little anxious at first because Jan Ingham, husband of the violent perjuring psych Angel Slob Ingham, asked me if that was a 'World In Action' T shirt, did I know anyone who worked on the programme…
Jan need never have worried, some of those who worked on 'World In Action' were the media mates of Dafydd. They were the friends of Elwyn Parry-Jones from Denbighshire. Parry-Jones – who worked on 'Panorama' and 'Rough Justice' – was one of the reasons why no programme in the genre of 'Panorama' or 'World In Action' was ever going to expose Dafydd et al. Certainly not 'World In Action', which was made by Granada, the Manchester based company responsible for Corrie that was founded by Sidney Bernstein, the brother-in-law of Joseph Stone, Harold Wilson's Top Doc.
So the Gang heard all about me Shocking Kilve with the Naked Man on my T shirt. While their friends worked on the TV programme that used in it's opening sequence the very same image that was on my T shirt that horrified Kilve.
A Naked Man:
The Lord Bernstein

Born

Sidney Lewis Bernstein

30 January 1899

Died
5 February 1993 (aged 94)
Nationality
British
Occupation
Media baron
Known for
Founder of Granada Television
Chairman of the Granada Group

Spouse(s)

Zoe Farmer (m. 1936; divorced)
Sandra Alexandra Malone (m. 1954; 3 children)
Bernstein was a keen art collector and paintings from his collection adorned the walls of the Granada Studios. On his death on 5 Feb 1993,
Sidney bequeathed part of his collection – which included works by Chagall and Modigliani – to the Manchester Art Gallery
In Feb or March 1993, Jackie Brandt gave her statement of lies to the police about F and me screaming and swearing at her in Safeways . The statement of lies was taken by the North Wales Police some two weeks or so before anyone told us. Thomas Tyrell- Kenyon, who was known to be sexually exploiting boys 'in psychiatric care' in north Wales as long ago as the 1970s, died from AIDS in early 1993. The North Wales Police seem to have waited until Thomas was either dead or nearly dead until arriving at our house to arrest us. Thomas's dad Lord Lloyd Kenyon, President of UCNW, 1948-82 – Sir William Mars-Jones succeeded him – died in May 1993. Lord Kenyon was the most senior Freemason in north Wales, a member of the North Wales Police Authority, a JP and among much else the Chairman of Clwyd Health Authority in the 1970s. Lord K had a great deal to do with the Dept of Agriculture at UCNW, being a landowning gentleman thug. Lord K was also a big name in museums and galleries and a Director of Lloyd's Bank. F and I stood trial at Bangor Magistrates Court in July 1993 and in the witness box Brandt admitted lying and began crying. I was found guilty of causing her alarm and distress by staring at her in Safeways.
EP Thompson, for years one of Clough's and Bertrand Russell's circle of second homers at Cwm Croesor, died on in Halifax on 28 Aug 1993. EP had originated in that area and retired there. Maurice Macmillan had been the Tory MP for Halifax, 1957-64; he was succeeded as MP by Labour's Nice Lady Doctor Shirley Summerskill of Gwynne and Dafydd. The Summerskills were family friends of Sadie Francis's family. Shirley's mum Dame Edith was of Gwynne in the 1950s and 60s and worked as a junior Minister under Clough's brother-in-law John Strachey. Strachey, who Giggled with Bob Boothby when they were both at Magdalen College, Oxford, was one of the people my grandfather fell out with when everyone in Oswald Mosley's crowd began scrapping. 
Shirley Summerskill, one of Veronica Gnome's Somerville crowd, stepped down as the MP for Halifax in 1983. She was succeeded by Tory Roy Galley, who in 1987 was succeeded by Labour's Alice Mahon who held the seat until 2005. Mahon was a local woman, a former Angel, who was on board with the Giggles and shortly after Thompson's death was approached by a constituent with evidence of the gross abuse of patients in Ashworth Hospital on Merseyside. The matter led to the second Public Inquiry into Ashworth in the 1990s; Robert Bluglass was one of the Inquiry members and the whole matter was blamed on Dangerous Patients, included the patient who had been beaten to death by Angels. The Drs Francis were mates with the Top Docs at Ashworth which was effectively run by Dafydd and exchanged staff with Denbigh. Alice Mahon demanded the Top Docs should clamp down on Dangerous Nutters.
Shirley Summerskill was for 20 years married to crooked barrister John Ryman, a Rotter who Deceived Wealthy Women and fleeced them. The Rotter eventually went to prison but not before he had been part of the Summerskill family for 20 years, had been elected as the Labour MP for Blythe Valley after the (honest) sitting Labour MP Eddie Milne had been deselected in favour of the Rotter – Shirley campaigned for him – and held the seat for a number of years. The Rotter was part of the T. Dan Smith-Poulson Web Of Corruption and the Summerskills knew just how rotten he was.
Shirley served as a junior Minister in the Home Office throughout the 1974–79 Labour Gov't, under Home Secretaries Woy and Merlyn Rees, Merlyn who liked ponies and facilitating organised abuse and was up to his neck in Kincora as well as Gwynne and Dafydd's Giggles (see 'Dafydd's Christmas Kindness'). Shirley was Merlyn's junior Minister when I found the nude pics of Paul McCartney and child porn in our disused garage; Wings had their Smash Christmas Hit not long afterwards. 
In 1980 Shirley was interviewed by the BBC's Panorama about Britain's preparations for a nuclear attack.
EP Thompson's wife Dorothy was an historian who worked at Birmingham University when Robert Bluglass was a powerful figure there, including when Clough's former Oundle Giggler friend Sir Peter Scott was Chancellor of Birmingham University.
I wrote to Michael Mansfield about our case with Brandt in the autumn of 1993. Elwyn Edwards – died on DATE Oct 1993.
Just weeks after I was found guilty of staring at Brandt, Slob Ingham stood next to me when I was talking to Penny Phillips, an Angel at Hergest. Slob stood right next to us glowering at me throughout the conversation. F and I complained and other patients backed us up, Ingham had been intimidating them as well. Our complaint was just ignored for ages. We repeatedly followed the matter up because we were just so sick of Slob and his mates openly hassling and intimidating us.
Alun Davies's investigation finally consisted of asking Penny Phillips if she had noticed Ingham causing me any bother at all. No, Penny saw Nuzzing. Penny and Ella were close friends of Slob's wife Jan. Jan worked as the Occupational Therapist in the Day Centre. By the time that our complaint was 'investigated', Peter Howarth was awaiting his June 1994 trial for sexually abusing kids in care in north Wales. Other patients had complained about Slob threatening to hit them; one family locked themselves in their house to ensure that CPN Slob couldn't get in.
Our complaint was constructed as us harassing Slob. By that time, Jackie Brandt had sent F and I a solicitor's letter accusing us of harassing her in the Deiniol Shopping Centre in Bangor. We had been in Bangor on a Saturday and had walked past Brandt and her husband in the High Street and then again some 10 mins later in the Deiniol Centre; Bangor is not the Serengeti, it is very small. There is one High Street and at that time one small Deiniol Shopping Centre. Andrew Brandt shook his fist at us, we walked away and received the solicitor's letter very shortly afterwards.
When I caused Shock and Disgust with my T shirt, the North Wales Police were conducting their first investigation into allegations of a VIP paedophile ring in North Wales and Cheshire. The investigation ended in Sept 1992 with the NWP declaring that they had found no evidence of any paedophile ring. Over 100 complaints of abuse of kids had been made during the investigation and although the CPS sent a file to the DPP, Mrs Mills the DPP did not mount one prosecution.
During that investigation Tony Francis and Mrs Brady had a telephone conversation;
Francis told me that Mrs Brady had rung him and he had refused to take the call citing confidentiality. When I challenged Mrs Brady about this, she looked sheepish and said nothing. After I began this blog I received an angry e mail from an ally of Mrs Brady's telling me that 'Doctors were ringing her all the time wanting information about you and she was only trying to help'.
A line straight out of Dafydd's Christmas Kindness Phrasebook there!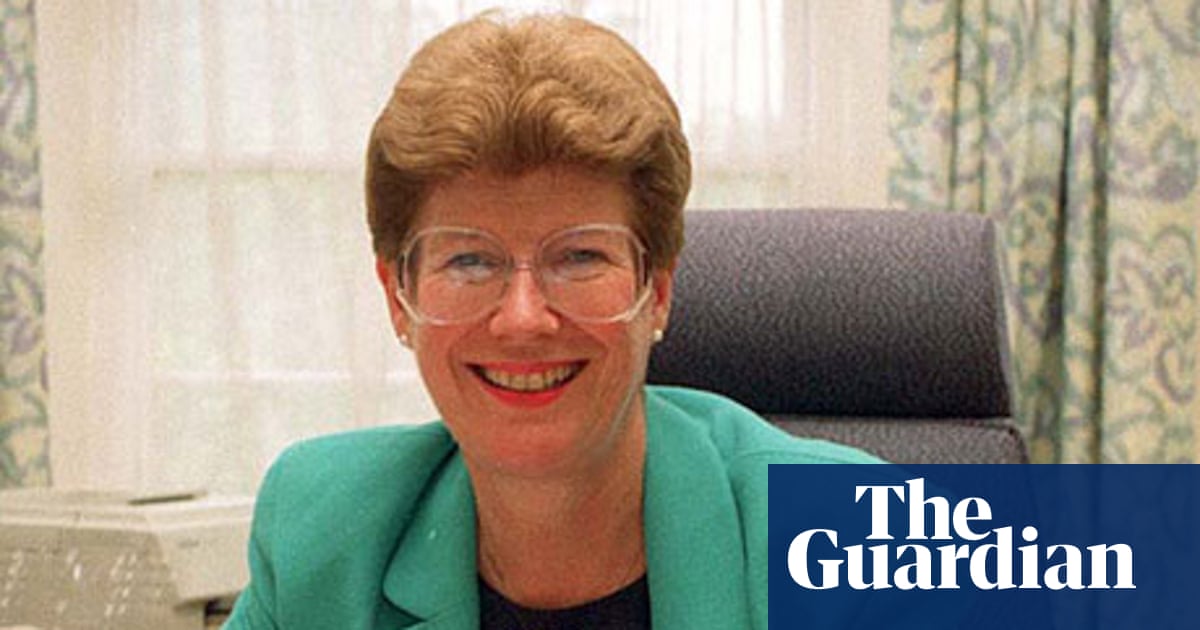 I and Brown made it very clear to all NHS staff and others at all times that we absolutely did not want them to contact any member of my family. My documents make it clear that this request was simply ignored again and again, by the Student Health Centre at UCNW, by the Gang in north Wales and even by St George's. I was only ever aware of this contact when someone let something slip…
This is how the Top Docs routinely conducted themselves. Lies and deceit and putting patients in danger. Respect for the individual just did not enter into the equation.
Friends of Maurice Macmillan were taking Evidence from Mrs Brady about my Dangerousness and Insanity.
Father had no idea at all.
My point here is not to ram home the difficulties of dealing with Mrs Brady; it is to make absolutely clear the criminal conspiracy led by Top Docs and lawyers who lied and lied, flouted all legislation and used what they knew to be nonsense from Mrs Brady and others as Evidence. Mrs Brady left the primary school that she attended with John Biffen when she was 11; she had serious eyesight problems and spent so much time in hospital that she didn't finish her schooling. John Biffen was a Cambridge graduate and so was Tom King. Bluglass and Lord Scarman bagged even more Professional Esteem Indicators to use the language of New Public Management. The MDU footed the bill.
Now Then. On the subject of Naked Men, Mrs Brady certainly had a blind spot, particularly for one who maxed out on her credentials as an Angel in Dr Hugh Jolly's domain of the West Country in the 1950s before Hugh went off to the Smoke to work with Royal Doc Wilfrid Sheldon, Paediatrician to Brenda. In the late 1980s, Mrs Brady had experienced an even bigger trauma than her encounter with my Leonardo's 'Universal Man' T shirt. She encountered a Naked Man in her house. It wasn't an intruder, it was Mr Bridgy Celeb who had become seriously ill, confused and wandered around the house In The Nude. As far as Mrs Brady was concerned this was the most terrible aspect of Mr Bridgy Celeb's extended illness. It wasn't the weeks that Mr Bridgy Celeb spent in a wheelchair, it was the 12 hours or so of what used to be called delirium when he walked out of his bedroom with no clothes on.
The wider context of this illness was far more worrying than Mrs Brady's concerns about a few hours of nudism and I was fascinated to discover that a Top Doc from Bridgy was in on the saga as well. I don't know the Top Doc's name unfortunately, but in view of the MDU deciding that they don't need to communicate with me, I'll hit them with a big stick again.
Mr Bridgy Celeb had contracted Reiter's Syndrome, an unusual STI that causes severe arthritis and sufferers often find that their ankles go and they're in a wheelchair for a while. Mr Bridgy Celeb and his mates didn't bother to hide the nature of Mr Bridgy Celeb's illness, they openly quipped about which one of his many Ugandan discussions might have resulted in him becoming infected and when he was well enough they took him out to pubs and clubs etc in his wheelchair.
In the case of Reiter's Syndrome, the usual practice is to of course contact all of ones sexual partners over the last few months and warn them. When Mr Bridgy Celeb was being pushed around in a wheelchair by his mates, there were cases of Reiter's Syndrome popping up all over Bridgy. Yet no-one advised any tracking of partners. Instead the GP in Bridgy whom Mr Bridgy Celeb had consulted when he became ill told Mr Bridgy Celeb and Mrs Brady – who for some inexplicable reason had accompanied Mr Bridgy Celeb to the appointment – that Reiter's Syndrome is usually caused by an STI but in this case it was probably the result of Mr Bridgy Celeb 'swimming in the river'.
Mrs Brady was delighted to hear this because it meant that whenever Mr Bridgy Celeb and his mates openly discussed Mr Bridgy Celeb catching a dose, Mrs Brady could declare that, as Brown's brother quipped at the time, Mr Bridgy Celeb 'Is as pure as the driven snow'.
So although Mr Bridgy Celeb and his mates did not for one minute imagine that he had contracted anything other than an STI which was by then spreading like wildfire around Somerset, a helpful GP in Bridgy was happy to spout rubbish about Germs in the river. No need to notify anyone about the matter then as people dropped all over the Bridgy area.
I was working at I think Surrey University at the time and Mr Bridgy Celeb cheerily asked me what I knew about Reiter's Syndrome. So I told him and my explanation involved a brief bit of microbiology. Mr Bridgy Celeb said 'Oh yes, that's what the doctor said'.
So the Top Doc consulted did know something about microbiology and someone had clearly communicated to Mr Bridgy Celeb that he had an STI. But the appropriate guidelines were as ever simply ignored.
After recovering from Reiter's Syndrome, not long afterwards, Mr Bridgy Celeb was clobbered with er another STI. Brown quipped 'Christ he must be a seething mass of infection'.
Indeed. But had there not been a total fuckwit of a GP in Bridgy who was happy to spout nonsense about swimming in rivers and Germs, to enable Mrs Brady to remain in denial, the seething mass of infection could have been limited.
When this was all happening, Ken Clarke was in battle with the BMA and their Chairman Dr John Marks, GP and barrister. John was the brother of Prof Vincent Marks, my boss at Surrey. Ken couldn't win his fight with Marks, so they did a deal: over me. I was made redundant after one year on the grounds that the CRC had no more funding for me. My work was plagiarised without my knowledge and given to Professor Nicola Curtin at Newcastle, who published it under her name with my name as a minor author and raised more funds from the CRC to fund other people's work, not mine. I knew that some of my Surrey work had appeared in the American Journal of Cancer Research, I was told about that. I Knew Nuzzing about Nicola et al; they were not working in partnership with our team and I had never heard of Nicola until some three or four years ago when I found myself on her publication…
After I left Surrey, my former line manager Wynne Aherne relocated to the Institute of Cancer Research at Sutton and won a prize for her Cancer Research Miracles. Wynne's husband, who had been made redundant and was worried about never working again, bagged a wonderful job with Big Pharma. Wynne grew up in Carmarthenshire of Giggles and lived in Hampshire, Land Of Lord Denning. Another member of our team, Anthea Hardcastle, came from Cricieth and her best friends were Griff and Sue, the Principal Biochemist at Ysbyty Gwynedd and his wife.
Anthea died not long after I began this blog. 
Cancer, bechod.
Wynne had two children, Paul and Sian. There are a number of Paul Ahernes on the web who might be Wynne's son, including an international banker. I think that Wynne's daughter Sian may well be the freelance PR consultant who can be found online.
Anthea's son was Bryn; I'm fairly sure that he is the Bryn Hardcastle who is now in Australia:
Mr Bryn Hardcastle
is a Partner at law firm, HWL Ebsworth, specialising in corporate, commercial and securities law. He advises on equity capital markets, takeovers, schemes and corporate acquisitions, reconstructions and disposals predominantly in the energy and resources sector. Mr Hardcastle joined the Board in December 2011.
Mr Hardcastle is also Non-Executive Chairman of Caprice Resources Limited.
Another member of Vincent's group, but who was working on circadian rhythms rather than cancer, was Debra Skene, a South African who had left South Africa because she was an Anti-Apartheid activist. Debra is now famous and Professor Debra has starred on Radio 4.
Throughout it all, Tony Francis was receiving free legal advice from the BMA re framing me for serious offences.
The only obviously weird Somerset-related thing that I noticed during my time at Surrey was that one day a old bloke who farmed near the village where I lived called over and said that he had heard that I was living there and did I know that he used to live near Fiddington? I had a chat with him and he told me how he used to break into my grandfather's house when grandpa and granny were abroad; I wasn't sure if he realised who I was or whether he thought that I was from another family in Coultings. I later found out that he was a very wealthy farmer from the Surrey/Hampshire border which surprised me because he seemed like the sort of bloke who would have scratched a living in Somerset in the 1940s.
I told father about it and father was gobsmacked; father remembered him. That bloke and his brother had been virtually gypsies, they had burgled and ripped people off and were absolutely notorious. They had left Fiddington years ago and no-one knew what had become of them. They became millionaires farming near Lord Denning that's what.
I didn't see the old bloke again but a couple of weeks later my housemates told me that he had turned up asking for me. When he was told that I wasn't in, he had become very unpleasant and threatened one of the girls in our house. He was told not to return or the police would be called.
My 10,000 documents include letters from Alun Davies and others from that time asking each other if they know anyone in Surrey who had managed to find out my address after I left that cottage.
Previous posts have discussed how when I worked in Surrey I went back to visit our old house in Overton, near Lord Denning's house – Lord D was still alive – and letters describing my benign visit were I have been told stolen/shared 'and used to plan crimes'. That was in 1988. The year that Cherie left George Carman's Chambers, where she had worked for some time. Lords Denning and Hailsham, Thatch, George Carman, Cherie, Miranda and the Hon Mark Gnome: all of Lincoln's Inn.
It was when I was working at Surrey that a serial rapist came after me, as I was walking from the railway station into work one morning; I got away but he raped the woman who came along the path after me. He was later jailed at the Old Bailey for five rapes on different women over a period of three weeks in the Guildford area. He wasn't from Guildford, he had travelled over and was staying for a little holiday  in a B&B. After I began the blog I was told that the rapist was a present from the Gang and I was his intended prime target. None of that ever came out at the trial but someone obviously knows about it…
My former colleagues in Vincent's CRC team weren't the only people at Surrey University when I worked there who came into good fortune. One of the students later became famous. A Jeremy Kyle…
Mrs Brady had an earlier distressing encounter with a Naked Man years before the Mr Bridgy Celeb walked around his own house Nude for a few hours whilst delirious. In the 1970s there was an encounter with a Naked Man at Moon Cottage, the house at Cossington that Mandy Rice-Davies purchased after the Profumo Affair and sold to Danny Lewis, who worked for grandpa. The Naked Man concerned was Danny, Naked in his own house. Furthermore Danny was Naked In The Bath. Covered in Bubbles, Bubbles that were Perfumed. It was the Perfumed Bubbles that were the biggest outrage.
Mrs Brady had gone to visit Danny and his wife Sarah; she knocked and the door was open and she heard Danny calling out to come in, he was in the bath, but it was OK. So Mrs Brady went in; I don't think she actually went into the bathroom where Danny was having his bath, but she did know that Danny was in the bath with Perfumed Bubbles. It took Mrs Brady many years to get used to men doing Male Grooming things like splashing aftershave around. I'm fairly sure that Danny was just doing what a lot of Younger Men had begun doing by then and was in the bath having a great time with the Perfumed Bubbles.
Obviously because the entire Tory Party in Somerset constructed Danny as a problem for reasons that I never quite understood – it was Danny's dad, Old Dan Lewis, the railway porter who became a self-made millionaire and was involved in prostitution, gambling etc, who was considered to be a very unsavoury person,
Danny was as far as I can work out the rather damaged son of an old git – even Danny having a bath in his own house with Perfumed Bubbles showed what a weirdo he was.
Previous posts have discussed how Danny was repeatedly burgled, had nervous breakdowns, then Sarah left him and the Tories all sneered. Danny died prematurely when I was a teenager. About the sort of time that Derek was found shot dead in Kilve.
Top Docs in Bridgy had some knowledge of whatever it was that was causing Danny so much distress.
Ray Stanlake, the predatory teacher at Chilton School who was cunningly disguised as a Kindly Uncle character to the more troubled kids, lived near Moon Cottage, as did J.C. Miles, the Principal of Bridgwater College. Bridgwater College grew out of the former Bridgwater Technical College and the Flagship Tertiary College over which J.C. Miles presided took in its first students in Sept 1979; I was part of the first batch. It all happened weeks after Mr Thrope Walked Free from the Old Bailey. Thatch had become PM in May 1979.
I know nothing about J.C. Miles other than that he was very elite for Bridgy, an Oxford PPE graduate who was a poet – a well-rated one as well, not Pam Ayres – and was rather unpopular in the local area. I suspect because he was rather different to so many other people in Bridgy at the time, rather than because he was any worse than his colleagues.
Stanlake was very different, he was from Devon I think, made it his business to know everyone everywhere, in particular in the farming community and prided himself on (his image of) being a Man Of The People. He had been to agricultural college – Seale Hayne in Devon I think – not university and was hostile in a defensive way towards academia. Before I found out quite what Stanlake was involved with, I noticed that he was someone who had passed through a lot of institutions with whom he was no longer on good terms eg. the C of E and the Tory Party, having left them because he 'couldn't bear the corruption'. I have often wondered if he was in fact asked to leave and no-one ever blew the whistle on his own activities because he knew so much about them.
Even if J.C. Miles had never set foot in Bridgy before being appointed Principal of Bridgwater College, he'll have known about Mr Thrope and Moon Cottage, everyone did.
Re Verification of Evidence provided by Mrs Brady by third parties with their own Agendas. It was well-known in our house that Mrs Brady found telling porkies very easy, particularly if it was a matter of keeping up with the Bridgwater Conservative Ladies Luncheon Club. Which was weird because when we were kids, it was impressed upon us by Mrs Brady that one of the biggest Crimes was to Tell Lies. In any circumstances. Mrs Brady justified all of her own lies when we caught her out with the explanation that it was just a Little White Lie – they teach all Angels that in Training, it was the only way in which the Top Docs could persuade the more honest Student Angels to ever participate in such serious wrongdoing ie. The Doctor Knows Better than You Do, If The Patient Asks You Only Need To Tell A Little White Lie – or that she was trying to prevent us from making the same mistakes in life that she had. Neither of which were convincing arguments in some of the circumstances that I remember.
When I was 13 and at Chilton Trinity School, father agreed to let me take part in the school French exchange visit (we were just preparing for that when Harold Wilson resigned in April 1976, as explained in previous posts), which was amazing really because we had so little money, but father managed to get the dosh together. I think that the boat might have been pushed out because grandpa was very keen on France, had taught me French before I did it at school and had been planning to take me to France before he was clobbered with his stroke. Because those school exchange visits involved the kids going to stay at each others houses, the schools used to interview the prospective host parents in their home surroundings as a (very cursory) Assessment of suitability. Had I been 12 months older, my fear would have been 'Christ we're never going to pass this test'.
So the two teachers from Chilton who were organising the exchange visit, Wendy Harris and John Chidgey, turned up to discuss the visit with Mrs Brady. Mrs Brady did a fantastic job of preparing a very appropriate scene, a lovely tea was prepared WITH DOILIES on the plates, upon which the most fantastic delicacies were arranged. Matters were considerably helped by one of our cats having had a kitten a few weeks previously, a lovely kitten as well, beautiful, white with ginger and black patches, looking like a posh pedigree cat but she wasn't. Wendy Harris really liked cats, so once that kitten jumped on her, Mrs Brady was on very safe ground.
Now Wendy Harris and Mr Chidgey witnessed HUGE CLUES that Mrs Brady was one for porkies. Harris and Chidgey arrived to be greeted by Mrs Brady before we had got home from school. So I walked into the room to see this amazing spread and I commented 'Gosh, a posh tea'. Mrs Brady laughed heartily and said 'What do you mean, we always have this'. So all the adults laughed at the funny ways of teenagers. Then my sister arrived, took one look at the table and said 'Cor, posh tea'. Mrs Brady simply repeated the performance 'Oh don't be ridiculous', with a few added comments to Harris and Chidgey that these girls are ridiculous, anyone would think that we don't have a proper tea. Some 15 minutes later, Mr Bridgy Celeb turned up, not a Teenaged Girl but an 18 year old Young Man. The first thing he said was 'POSH TEA'. 
It must have just been so obvious, with three offspring arriving in sequence, obviously not co-ordinated, all giving exactly the same independent, spontaneous reaction to the posh tea.
I don't have an issue with Mrs Brady putting on a posh tea or even trying to pretend that we lived the life of Riley on a daily basis. I am recounting this anecdote because within three years, Harris and Mrs Brady had fallen out in a very big way. Harris threatened to prosecute father for not sending me to school in the face of constant aggro from the teachers over my lack of Proper Uniform, so Mrs Brady reminded Harris of the three other kids in our village who had not been seen in the school for months because the school just didn't want them there. One of them had stopped going to school after Fiddler had made comments about her 'figure' while staring at her boobs. Fiddler who's wife was the Drunken Tart Who's Baby Was Taken Away From Her who had been busy when Mandy Rice-Davies purchased her cottage in the Poldens after the Profumo Affair and was the daughter of two Tories known to Mrs Brady.
After I began this blog I was told that Harris was one of those who had provided Evidence to the Gang of my Insanity and Dangerousness years after I left that awful abusive school.
Harris, Chidgey and Mrs Brady all knew that Mrs Brady could if required lie through her teeth and not back down, even over a matter that could have been dealt with quite light-heartedly without any terrible loss of face. They then fell out and loathed each other for a few years until the Gang came calling…
To be fair, I seem to remember that Mr Chidgey got the hell out of it. He left Chilton School – although he was there for years, when King's ring was causing havoc – in 1979ish. He married Another after years of Wendy Harris being very keen on him, which I was told later had greatly upset her. I always liked Mr Chidgey, he was quiet and not at all confrontational and like the other teachers of that nature he was dominated by very unpleasant characters.
None of this lot were in any way credible witnesses to my Insanity and Dangerousness and the Top Docs knew it. Everyone involved had a track record of lying and that school had such big problems that they had their own wrongdoing to conceal. Their own values were all a bit crazy anyway. When Mr Chidgey Married Another, the teachers conducted themselves like 14 year old 'Jackie' readers re Wendy's Broken Heart.
Surely Mr Chidgey can marry who he wants, no-one owns him and as for the comments that 'It is too later for Wendy now, all those years wasted…', she wasn't even 40. They were the most peculiar narrow minded people individually and en masse. But that is why Dafydd and a gang of sex abusing Top Docs found them so very useful.
The extraordinary thing about the French exchange visit was that Mrs Brady was really brilliant when Marie-Pierre, 'my French girl', came to stay. Mrs Brady did her Tory Hosting bit, kept it up for the whole of three weeks and Marie-Pierre got on with her very well. Marie-Pierre invited me back to her place again the next year independently, not with the school and when I said 'Ooh great' and began making the arrangements, Mr and Mrs Touze had kittens when they realised that I was just going to turn up at the port to wait for them. There had been a lot of publicity in France about teenaged girls arriving at ports and stations being abducted and attacked by er trafficking gangs, so Mrs Touze asked mother to come as well. Which she did and once more, in France, Mrs Brady did her entertaining Thatch to lunch bit and the trip was really brilliant. But it did mean that Marie-Pierre's family didn't realise what Mrs Brady got up to when she wasn't hosting visitors…
The Gang were part of the network that were causing such trouble at the French ports in er 1977.
The extended Touze family were very pleasant, very kind and the sort of middle class French family that I can't imagine would ever want anything to do with Dafydd. But they had no idea how Mrs Brady often conducted herself and the Touzes will have never imagined that they will have been under surveillance and no doubt manipulated at some point by the British security services. At least some teachers at Chilton School did know that very serious crime was involved somewhere along the way.
BTW, on the ferry across to France in 1977, Mrs Brady swore blind 'That man there is Peregrine Worsthorne'. It might well have been, Mrs Brady had an eye for the famous, but although I knew who Peregrine was, I had no idea what he looked like so I don't know if Mrs Brady got that one right.
Thanks to the many who are telling me that this blog needs to stop now, ooh you've made your point and Adrian Bell should be arrested and charged, you don't know who his father was, Bell was in UCNW quite deliberately to work for the Gang…
That's Adrian Bell, a retired junior lecturer from Bangor University who was always passed over for promotion and who is now nearly 80. I only wondered recently who Bell's family were, he struck me as probably being the low-achieving son of a well-to-do family; there were clues but I've never really dwelled upon it because so many more were so obviously so much more guilty. Including Bell's mate DGE Wood and Wood's mates Gwynne, Tony Francis and Dafydd. Not one person except for personal friends of mine has told me that any Top Docs or lawyers should be prosecuted. It is always Bell!
Should Bell wish to defend himself he can take a leaf out of Dafydd's book and simply say 'I just did what I had to do'. Dafydd used to say that in a grave voice while he did the Hands a la Sir Martin Roth
on every occasion that Sgt Wilson was obliged to have a discussion with Dafydd and ask him if he would mind awfully if he never did this again, because there was another assaulted, abducted/imprisoned or dead patient and yet more people had to be bribed to keep quiet.
Of course both Dafydd and Bell know why they just did what they had to do; it was because Mr Simpson had been divorced twice before 1936 and therefore it would be impossible for Mr Simpson to marry the King, because the King is Titular Head of the Church of England…
Adrian Bell was obviously not a very nice man. I was 20 and no-one told me that. No-one is going to persuade me to change my mind re who are the biggest offenders by sending me details of the many dreadful things that happened to me and others after I encountered Bell. The police and security services had a responsibility to us and they left us with murdering sex offenders for years. When the Top Docs killed John Smith and then the mass of Insider witnesses in 1995, everyone bravely ran away and left us with them. At no point were any of us warned about Tony and Sadie Francis let alone anyone else. Just look at what is on these 10,000 documents that were unlawfully withheld from me, yet were copied and sent to the Windbag and numerous others…
Bell??? Bell??? Carlo was reading copies of my medical records, which were living in Alun Davies's house at one point. Carlo's friends and others wanked over porn pics of us taken without our knowledge. Bell??? Oh do me a favour, prosecute a few Law Lords and Professors of Medicine.
I have realised for some time now that Mr Bridgy Celeb has involved himself in very serious crime and may well stand trial and end up with a substantial jail sentence, unless he is found dead before then. I'm not sure how the world will drool over his wrongdoing when everyone was so busy gunning for his sister and her friends while they gave him and his mates lots of money. If he is found dead I might just be tempted to remind everyone that he was actually a really wonderful brother until Edward du Cann and Tom King's mates went gunning for him when he was 11…
All those Caring Socialist Teaching Union Reps might have to resort to How Very Dare You if I even begin to reveal some of what happened to Mr Bridgy Celeb. Anyone for arresting Tom King or is it just Bell who needs to stand trial, along with Mr Bridgy Celeb? Thatcher built her Govt on this. She has been lionised and received a state funeral. She absolutely knew about sordid offences against children and promoted people who concealed that. Thatch was personally involved; it was a disgrace. Where were you all? Plenty of people knew what was happening…
Our house was bugged so someone will have known about the time when Mr Bridgy Celeb was followed through Bridgy by a bloke with his plonker out, propositioning him. He was about 15 at the time and came straight home and told us all, father was horrified. That will have happened to other boys in Bridgy as well, someone doing that won't have just done it to a kid targeted because his grandfather was going apeshit about such things.
Kids who went to school in Bridgy were absolutely brutalised, it was bad, that is why so many kids were being bussed out to other schools. Then those kids were labelled Snobs. Not all of them were, at least two were removed from Bridgy after sexual assault and breakdowns. Not a word ever appeared about this in public. Thatch's first big job was as Grocer Heath's Education Secretary, 1970-74. When Mr Bridgy Celeb was at Sydenham School.
Somerset was like Gwynedd, there were lots of really nice people on the ground who were just brutalised and terrorised. I'm receiving all sorts of info about people who were bribed and threatened to keep quiet; I know that they shouldn't have done it but who stood up for those of us who didn't accept bribes or succumb to threats? No-one. John Biffen was in the Cabinet; he was a criminal who destroyed the children of people with whom he went to school and they had no idea that it was him behind it. The girl with whom I went to school who has been completely paralysed for years now except for eye movement after a Top Doc Made A Mistake, is the daughter (or granddaughter) of the Biffens' farm worker whom Biffen kept in contact with and ruthlessly used for info.
It was a criminal state and a criminal Govt and I will not blame the Little People, not even those who weren't very nice to me. Who paid them to lie about me??
Then there was the notorious 'nightclub' in Bridgy in King's era, the 'Crow's Nest'. It was horrendous, no sane woman would go near the place, rapes and violent assaults; what was called in Bridgy a 'cattle market'. It was a hub of organised abuse but no-one was going to explain that to the targets. King's Govt maxed out on rhetoric about Short Sharp Shocks and Young Thugs. Just look at what King, a middle aged Cabinet Minister, was orchestrating.
As for the lies that were spread about father by Maurice Macmillan et al that Mrs Brady was happy to believe – they were classics, 'He was involved with Jeremy Thorpe', 'He was going up to London with Thorpe and they were in nightclubs and committing serious crimes' – it was Mr Bridgy Celeb who as a young man told mother that it was probably all utter rubbish. Father often didn't even have a car, he drove tractors, Land Rovers and vans and used baler twine for a belt, I think he might have looked a little incongruous in Mayfair with the Clermont Club set. He also loathed socialising anyway, he just didn't do it. When he first met Mrs Brady, everyone in Combwich thought that she was going out with Uncle John because no-one knew father. He lived two miles down the road from them but no-one knew him; they knew grandpa and they knew John, but they didn't know father. He kept pigs and was solitary.
Furthermore father hated Dr Morgan's School so much that he often didn't go. He went fishing instead, he didn't pop over to Kensington to meet Mr Thrope.
Re Blending In with Mr Thrope and the Clermont Club set when father was cavorting around Mayfair. Until I was in my 20s, father owned three cars; his other vehicles were vans or scooters/motorbikes and, before my memory, Land Rovers.
The first car that I remember was a pale blue Vanguard Standard from the 1950s that could be loaded with kids, dogs, gear needed for caravan holidays in Cornwall etc.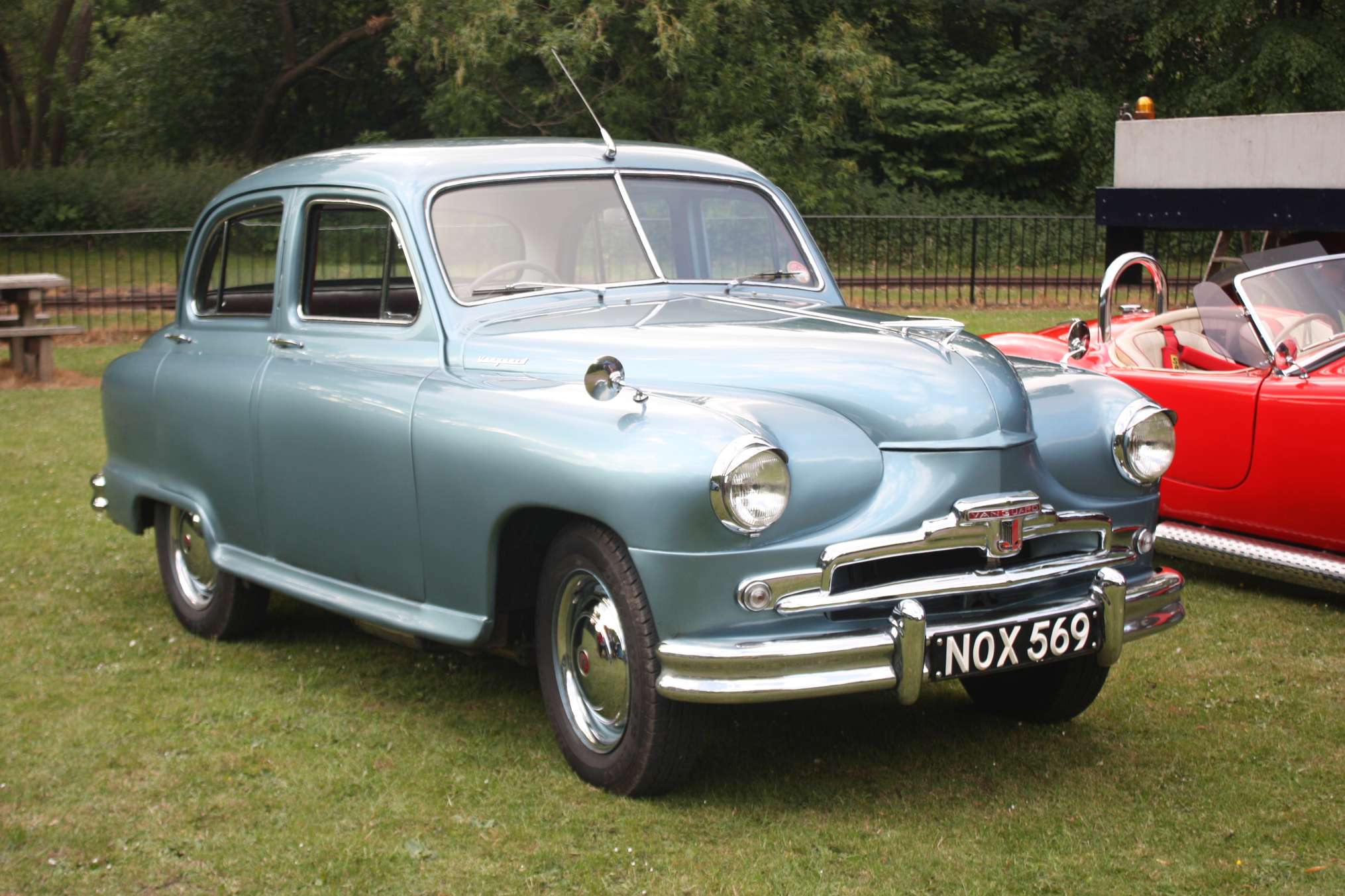 It was a fantastic car and the sort of thing that is much sought after now. Father acquired it very cheaply, I think from a relative before we left Hampshire. In Hampshire, because we lived on the farm, a car wasn't needed for commuting etc, but one was eventually offered anyway. Mrs Brady told me once that when they left Devon they had nothing, certainly not a car, but after they'd been at Overton a while, someone offered father an old car for free if he collected it. The car was in another county; father drove it back to Overton and it conked out after just days so there was no car once more. If father wanted to go to Basingstoke he went on the bus. Lord Lucan and Sir Jams might have noticed a farm worker arriving at the Clermont on the bus. Unless Lord Denning was giving him lifts.
The Vanguard did us very nicely when we lived at Bawdrip for quite a few years until it conked out. It stayed parked in our drive and we used to play in it. There were complaints from the petty bourgeoisie who surrounded us – including the mother of one of the boys who played in it with us – that the Vanguard was an 'eyesore'. Father ignored them, the car was on his property, not dangerous and they were just bellyaching. He carried on with the other activities that traumatised the same people so much, including Woodworking In That Garage until late at night. He was at work all day so when he wanted to make furniture – father was keen on woodwork and he particularly liked making ottomans and coffee tables, he churned them out – he did it at night, knocking off at about 10pm because he always went to bed at 10-30pm.
George Wigg's spies who lived next door to us knew exactly what the frenetic evening activity in the garage was, it was the construction of ottomans and coffee tables.
When the Vanguard conked out, father was back to the usual vehicles ie. vans. Mrs Brady was getting very irate because when she needed a lift to Tory functions, she would be delivered in a van, driven by father who hated Tom King anyway and buggered off as soon as Mrs Brady had been dropped off, without socialising. So pressure was exerted for us to acquire a car 'like everyone else has'.
Hilarious, father of course began scanning the small ads in the Bridgwater Mercury for a cheap car to fit a family. One was for sale on Sydenham estate. So we were all loaded in the van and driven to Sydenham estate to view the most wonderful car for trailer trash imaginable. A purple and white Vauxhall Cresta. My sister and I were about 9 and 10 and we thought that it was the loveliest car ever, so were urging father to buy it. Mrs Brady sat there looking like thunder denouncing the Vauxhall Cresta as 'flashy, tinny and vulgar'. Which it was, but so much so it was worth having. So father purchased the Vauxhall Cresta.
Shortly after that, a notorious car was seen around Bridgy, literally a Pink Cadillac. Enquiries revealed that the owners of the Pink Cadillac were the people who had sold father the Vauxhall Cresta. In retrospect it was a great shame that they hadn't then flogged the Pink Cadillac to father, it would have been Tom King's just desserts to have Thatch's lunch host arrive at the Clarence in a Pink Cadillac.
If anyone remembers seeing a purple and white Vauxhall Cresta parked outside the Dorchester Hotel during 1973-74, let me know, because it will have been father meeting up with Alistair McAlpine.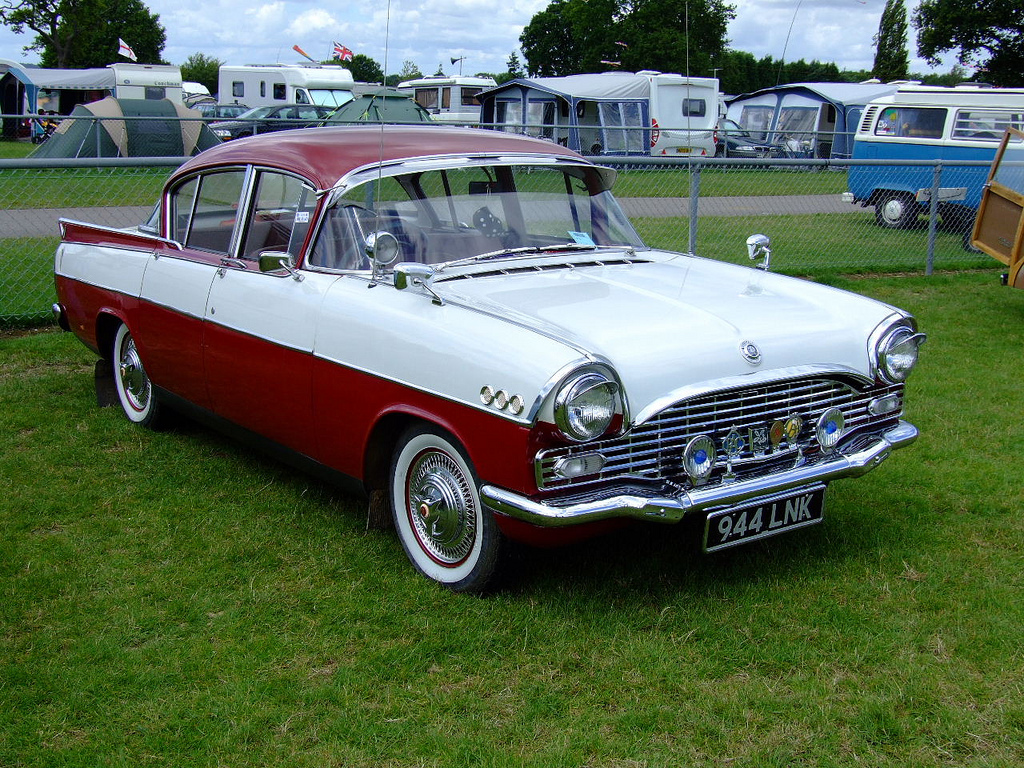 By popular demand – a few people have obviously heard about this – I have been asked for the story behind the cat that we had 'which was a reincarnation of someone'. That will be our cat Leslie. Leslie wasn't one of our cats per se, in terms of having been a kitten of our original cat which was where all the other cats came from. Leslie was a black cat who turned up from where no-one knew in 1980. Leslie was famous because Mrs Brady believed that he was a reincarnation of Grandpa Ford, Mrs Brady's father who had died about two weeks before Leslie turned up. Brown and I observed that even if Grandpa Ford was going to come back as a cat, it won't have been Leslie, because Leslie was very obviously at least a year old by the time that he turned up. Mrs Brady didn't bother to explain, Leslie was a reincarnation of Grandpa Ford and that was that. That's why he was given the same name as Grandpa Ford. Leslie did really well out of Mrs Brady thinking that he was Grandpa Ford reincarnated, Mrs Brady gave him special delicacies that the other cats didn't tend to receive. Word got around about Leslie because people asked why we had a cat called Leslie rather than eg. Fluff and in the evenings Mrs Brady could be heard standing outside, banging Leslie's bowl, calling 'Les, Les, tea time'.
So yes, we had a cat that was a reincarnation of Grandpa Ford although the dates of death and rebirth as it were didn't fit.
Mrs Brady hadn't been into reincarnation until Leslie turned up, but she was incredibly superstitious. Because I'd grown up with Mrs Brady's many rituals, beliefs etc I didn't think much about it, but when I met Brown he observed that Mrs B was far more superstitious that most people, including her extended family, the Fords, who were a bit inclined to 'touch wood' etc. Mrs Brady took the superstitions to a whole new level; most of them were beliefs that one can find in books of Old Superstitions, they hadn't just been invented by Mrs B, but she believed in all of them, rather than adhered to just a few.
Being me, I found another preoccupation of Mrs B's far more entertaining than the superstitions or even Leslie. For as long as I could remember, Mrs Brady had a very real fear that the Russians Were Going To Invade. I always presumed that it was probably a topic of conversation with the battier members of the Somerset Tory Party, but I noticed that it was always the Russians, rather than the Soviets. Perhaps Bridgy Tories feared that the few forebears of Brenda who had not been murdered after the October Revolution in 1917 were going to raise an Army and head towards Somerset.
I realised how seriously Mrs Brady viewed this possibility in 1979. I was downstairs listening to Peel (as he was called by teenagers at the time) after Mrs B had gone to bed, when the door flew open and there was Mrs B in her nightclothes going apeshit because she had thought that The Russians Were Coming. Why the hell they'd be bothering to invade Coultings I don't know, but even when Mrs B found out that it wasn't The Russians, it was just John Peel Making A Racket,
she became seriously irate on the grounds that I had Terrified Everyone. I hadn't, I had terrified her, no-one else mistook John Peel for The Russians Invading, but I do hope Dafydd et al were given a detailed account of the matter when they Took Evidence from Mrs Brady re my Dangerousness and Insanity.
Now for The Lesbians who were Living Together in Bristol, or so Mrs Brady absolutely assured me were. It was quite a surprise to me because I know both Lesbians, they were the daughters of two local farmers in the Fiddington area and I knew one of them quite well. She was engaged to a boy whom I knew from Quantock Young Farmers. They could be seen Engaged In Public at Young Farmers meetings in Spaxton Village Hall – there was even a portrait of Brenda on the wall – and together in the pub afterwards. She moved to Bristol and shared a flat with her mate, the two families having known each other for years. Thus Mrs Brady declared them to be Lesbians. I tried to explain that two friends sharing a flat is quite common and not a clue that they might be Lesbians. I told Mrs Brady that if they were Lesbians it wasn't anything to do with her but they weren't Lesbians, one of them was engaged to a bloke at Young Farmers. Mrs Brady snapped at me 'They won't have told YOU that they are Lesbians'. At which point I fell about laughing at the idea that they would have ever told Mrs Brady…
Mrs Brady's crazed obsession with the real or more often imagined Ugandan discussions of those around her were known to all of my friends; Brown and I had a standing joke about it, 'She's Listening For Sex again'. This resulted from Mrs Brady literally creeping around in the vicinity of where Sex might be going on (but almost certainly wasn't), letting herself into people's bedrooms, searching for letters that might have been From Potential Sexual Partners and generally doing all that she could to Detect Sex. Brown devised a game show, 'Listening For Sex', 'Can YOU hear Sexual Intercourse going on near you??'
We entertained ourselves for a long time re the Listening For Sex game show and the friends of Mr Bridgy Celeb and indeed my sister knew about the phenomenon as well, because they too had noticed. My sister at one point declared 'She's OBSESSED with sex' and one of Mr Bridgy Celeb's ex-girlfriends told me that they too had enjoyed the same joke, four years before Brown and I, being older than us. My best mate from school used to dare me to one day at a family meal suddenly stop eating, look up and shout 'SEX!!!'
That was how well-known Mrs Brady's pre-occupation was, it was a Bridgy joke and probably a very well-known one because Mr Bridgy Celeb was gregarious and had a big circle of friends.
Of course we lived in an era of parents being concerned about teen excesses, but Mrs Brady was in a different league to most parents. Somerset readers will all know that Mrs Brady's success in providing balanced guidance re Sex was born out in Mrs Bridgy Celeb's girlfriend becoming pregnant, the whole of Bridgy knowing but everyone agreeing Not To Tell His Mother because God you know what she's like…
Mrs Brady found out when the mum of Mr Bridgy Celeb's girlfriend turned up when her daughter was eight months pregnant to ask 'What are we going to do about this?' It was just before my O levels, there was a terrible row and Mr Bridgy Celeb responded with 'THIS is why we did not feel able to tell you, LOOK at your reaction…'
I was quite friendly with the girl concerned and remained so for years. I'm not discussing things in detail here, it will not be fair on her, I took the view that she was treated appallingly by Mrs B and all of Mrs B's circle. I stayed in touch with the girl for many years and knew her daughter, and then her next daughter with a different partner. Sadly the security services were following me everywhere and it Got Back To Mrs B that I was friends with her. Yes I was, she was a very nice girl who had been treated terribly.
Letters between me and her were stolen… More worryingly her brother was killed in a bike accident just when the Gang closed in on me… Her brother was lovely, a gentle bloke but he Looked A Sight (according to Mrs B); he had been a close friend of Mr Bridgy Celeb when they were at school. Another brother who was also a close friend of Mr Bridgy Celeb had terrible personal difficulties as an adult which I now suspect were Gang-related. A sister was denounced as a Psychiatric Case. I knew all of them and they absolutely were not the people that their Medical and Social Service Records said they were. Even Mr Bridgy Celeb acknowledged that they were not as the petit bourgoisie maintained.
So who was behind the character assasinations??
Mrs B really was quite notorious in Somerset. She continued to be obsessed with Sex and Brown had to work very hard indeed when he arrived on the scene. He only told me years later that Mrs B kept cornering him and declaring that if I 'got pregnant' I would 'have to have an abortion' and as an Angel she knew how terrible that would be. I was livid when Brown told me, for the usual reasons ie. we weren't idiots, I wouldn't want an abortion anyway and if I did ever want such a thing Mrs B would certainly not be consulted. When Brown finally told me what Mrs B had done for months after we first got together, I quietly contrasted it with Mrs Brown who had politely said to Brown 'You will be careful with Sally won't you?' Brown had a laugh and told me that perhaps I was a porcelain doll who might break if I was dropped. It was quaint and old fashioned but better than dwelling in a bloody sewer and making unfounded assumptions.
Mrs B was basically a loose cannon and very dangerous. This was widely known but she had that letter from Theodore Goddard, was friends with Tom King and had lunched with Thatch.
I have been refusing to discuss much on this blog because so much of it is ridiculous and sordid but it seems that very serious crimes resulted from Mrs B and just about everything that she did.
So here's the reply to the people who have been asking about Joe and the Barn Dance! I ignored these requests for months because I thought that even Mrs Brady could not have caused ructions as a result of Joe and the Barn Dance, a Bridgy non-event when I was 17, just before I met Brown. I have been told that she did…
Joe was one of the Italian boys from Bridgy who was much insulted by racist old gits – including a mate of Mrs B's from the Tories – who was a friend of Mr Bridgy Celeb before Mr Bridgy Celeb became intolerable and was hanging out with friends of Nigella Lawson. Joe was a bit quieter and more civilised than a lot of the Bridgy crowd and of course being Italian he was exotic. I didn't know him well, he used to turn up at ours to see Mr Bridgy Celeb and I wasn't part of their crowd, I was a swot and usually reading or revising so I barely knew him. I know that Joe's mum didn't speak English and within a few months of the Barn Dance she was very distressed at the sort of blokes who were turning up at her house to ask for her son. One of the criminals who later blackmailed people over the nude Macca photos and Gave Evidence about my excesses was taking the piss at Joe's mum being so frightened of him and his mates that she locked herself in the house crying 'No Joe, no Joe, go away'.
Anyway, one day, when I hardly knew him, Joe, or rather Mr Bridgy Celeb, asked me to go to a Barn Dance with Joe. Joe was there when Mr Bridgy Celeb asked and seemed delighted when I said yes. I didn't usually go to such events, I wasn't that much of one for parties etc because, at least in Bridgy, it was all rather Shangri-Las with silly arguments and people ending up in tears. My mate went to many such events and when I got together with Brown we marvelled at how traumatic the parties were and wondered why anyone ever went. Most of the party goers were benign teens but at the time there was a crowd of very predatory older blokes who were arriving at such events and causing serious problems.
I thought that the Barn Dance might be OK, it wasn't a disco, but I presumed the sort of event where one could chat and socialise. So we went to this Barn Dance and I was standing with Joe chatting; we had only been there about an hour when a Shangri-Las situation erupted. A girl came up 'Joe, Joe, Lorraine wants to know if You're Going Out With Her Now'. I just thought Oh God I don't believe it, the Shangri-Las. Then Lorraine came over, tears, 'Joe, Joe, I thought we were Still Together, are you going out with David's sister now??' I just said to Joe, look I'm not getting involved with this saga, if Lorraine wants you to spend the rest of the dance with her, it really isn't a problem'.
So Joe buggered off with Lorraine and I then bumped into one of my mates who had been told what had happened and said ooh its outrageous etc, to which my response was 'No, this is Bridgy!! It is how everyone around here carries on, it's why I don't bother with them…'
Joe carried on calling over to our house to see Mr Bridgy Celeb, there was no screaming rows or fall-out, I just wouldn't have bothered to do that, but within a few months I did realise that Joe's mum was terrified of some of his new friends. I then got together with Brown and I didn't see Joe again, not even to bump into because I spent so much time with Brown.
I know that Mrs B continued contact with Joe because years later, when I was visiting and Nigella's scumbag friends were intimidating father in his own house, I would hear Mrs B talking about Joe.
I have been receiving info for weeks now telling me that Joe was paid by the Gang to lie about me.
I didn't see what he could have said because I barely knew him. How could Joe possibly say anything to Dafydd et al about the one hour that we spent at a Barn Dance in Bridgy in 1980?? Lorraine turned up and I told Joe that if he wanted to spend the evening with Lorraine he could, I'm not a Shangri-La, I'm not interested in being a Shangri-La!
I have more recently been told that Mrs Brady asked – possibly paid -Joe to invite me to a Barn Dance, ensure that another girl turned up, thus I would be Dumped In Public
and obviously be expected to carry on like a Shangri-La, crying, having a scrap with the Other Girl etc. That would teach me! Being all swotty etc.
I had no idea that Mrs B was behind it all but it doesn't surprise me! She was bonkers with some mad ideas about the world and all that was in it.
It's why I didn't take advice from Mrs B! It would have been a high risk lifestyle, even higher risk that having her as my bloody nemesis. People have been telling me that Joe was one who subsequently received money or goodies in return for Giving Evidence to the Gang.
People need to understand that I am deeply cynical about all of this re There Needs To Be An Investigation, because a great many people knew what was going on. Witnesses to the Gang were killed, just how stupid was everyone?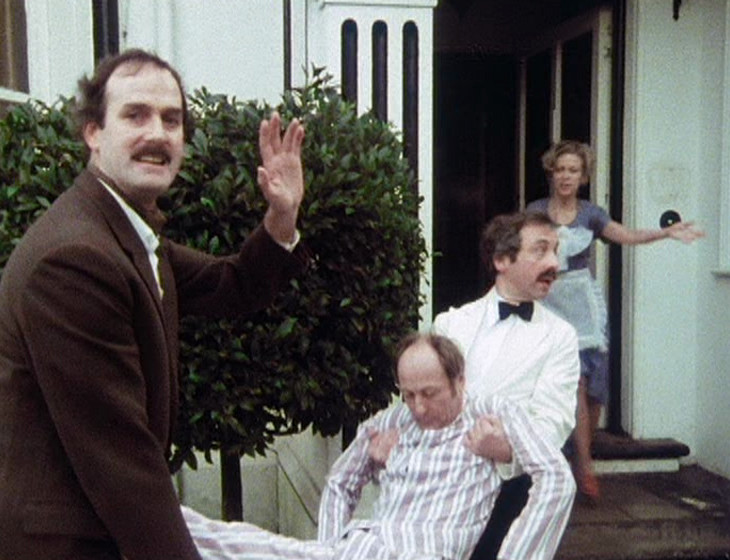 I have no idea what Joe said, did, what the rest of his life has been like, but I do know that as kids and teens it was known by many that life was difficult for us because Mrs B was bonkers and not very pleasant. If people who loathed Mrs B then palled up with her to Give Evidence about my Mad and Dangerous Ways, I cannot help that. People could have defended me, or the many other targets of that crowd but they didn't, they just were not interested.
I really am not going to start giving the gory details of some of the VILE crimes that were committed as a result of Mrs B and I think that people should stop asking me to do this. Just a few weeks ago I was told on the phone by someone that they just could never ever repeat in public what had happened to them; of course they couldn't, no-one should ever expect them to. Now just LAY OFF these targets, no-one was there for them, no-one, just as no-one was there for me but Brown. Stop sending me disgusting reminders of what these people did to us,
not because I can't cope, but because this is happening to other people as well and it is sickening.
After I began this blog I was sent a e mail from an ally of Mrs B telling me that they were hoping that a journo would contact them 'so we can give them something to use against you'. Well I've got 10,000 documents here which I promise will be far better than anything that Mrs B's allies can come up with. I am also aware that the Brady bunch were sending out e mails to all and sundry making various allegations about my friends and I. There is nothing that I can do about that! This should have been a matter for the police many years ago but they weren't interested 
  and neither was anyone else.
Brown and I spent years warning people about Mrs B, telling them not to return her calls etc but we were ignored. People were murdered. Sorry, but it really wasn't our fault. There's nothing that we can do if people ignore us, accept money to lie about us and smugly tell people that they Know Her Mother!
Well best of luck with that one then, it seems to have ended terribly.
It is the Top Docs again. While I now know that Tony Francis was sending forged documentation about me to the Windbag's office
and others as well, Ella was having discussions with me about My Home Background without ever asking about granny and grandpa, the two most important people to me for years when I was young. I did talk to Ella about the battering that all of us kids received in the schools at Bridgy that was very obviously related to the teachers' feelings about our family, particularly grandpa, whom none of those teachers knew. I told Ella that Mr Bridgy Celeb had endured the worst of it, he was a boy and boys experienced far more physical brutality than girls. Mr Bridgy Celeb – and other boys at his school – had a really bad time and Mr Bridgy Celeb didn't survive it. We lost our brother because of THEM.
One day Tony Francis spontaneously went into the most extraordinary monologue about Mr Bridgy Celeb. As far as I remember it really was fairly spontaneous; he just began talking about how my grandfather had sexually abused my father
and how this will have affected Mr Bridgy Celeb. Tony then began describing in detail – pretty crudely as well – the many ways in which Mr Bridgy Celeb will have been 'sexually abused' by the boys at his school. I was gobsmacked. It was just so weird, I had never mentioned a word about David being the subject of sexual abuse. I can remember David having his nose broken, his cheek broken, it was too dangerous for him to go on the school bus so grandpa bought him a new bike and it was stolen within days. He came home one day literally black and blue, blood pouring, crying, saying that he was never ever, ever going back to that school again. It was horrendous and Sydenham School just would not protect him, they just wouldn't.
What I never even touched on was anything to elicit Tony Francis's detailed description of the Public School Peter Morrison-style buggery and debauchery which Tony delighted in telling me will have happened to David. I'm not at all sure that it did; Sydenham School wasn't Winchester College, it was a sink secondary modern school for boys and girls, more like something out of 'Kes', not an institution in which Dick Crossman fagged for Puffin Asquith. There was much violence from teachers, other pupils and the older siblings of other pupils and serious risk to kids; there'll have been sexual insults flying around because teens go for that, but what on earth got Francis going that day re his imaginary scenes from Lindsay Anderson's 'If' I never knew.
'Pater works at Cellophane; mater works at Jammy and Uncle Piers works at Poultry Packers. We don't live on Sydenham estate like you plebs, we live in the Posh Bit at Parkway, the semi-detached houses that are the cheapest in Bridgy because of the dreadful smell from Cellophane..'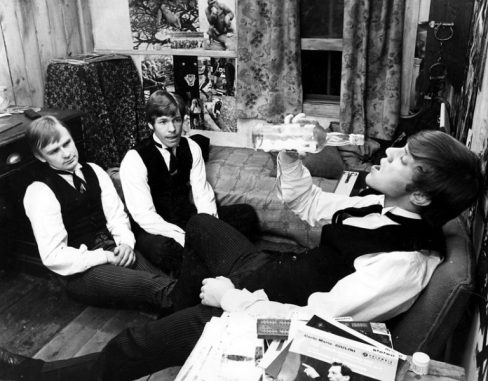 It's even more weird now I know that at that very time, the reason why Nigella and Call Me Dave's mates were hanging out with Mr Bridgy Celeb was because of the complaints that I had made about the Gang.
Over the last few weeks I have concluded that our family was destroyed by Edward du Cann and Tiny Rowland because grandpa would not keep quiet about Gwynne's network back in the era of Edward and Mr Simpson, Oswald Mosley and John Strachey. I now realise that the Royal Family themselves took a personal interest in the same project. It explains how the most trivial details of our lives as kids were being noted by people who have been able to send them to me once I began this blog.
Such as the story that my sister wrote about me when she was 12 in a school essay. It was a detective story in which my sister was kidnapped and thrown in a ditch; it ended happily because 'My sister came looking for me and found me'. I'm delighted that I was able to save the day on that occasion because until dear old Chilton School, my sister and I were very close. Because we were so similar in age and both had names beginning with S we were almost treated as twins, the same jumpers, skirts etc. All the photos of us as kids In Our Best have us with our matching jumpers, knitted usually by granny or Aunty Sheila.
The Proud Socialist Teachers of Bridgy, as ordered by Tony Benn, declared war on us and wrecked a family. Tony Benn gave them their orders but the thick idiots didn't know that Benn's instructions were coming from Tiny Rowland, Airey Neave, Mountbatten, Lord Denning and Oswald Mosley. Oswald also came up with the genius of seeding the idea that if my sister could be told that Grandpa Didn't Like Her, He Only Liked Sally, my sister and I would very soon be at loggerheads and there'd be no more essays handed in about me rescuing her from robbers.
Nice one Oswald! My grandfather, the one person who had the nerve to stand up to you when he found out about your sex offences. Oswald and the British Security Services: told the world that grandpa and father were sex offenders and wrecked the good relationship that there was once between grandpa's three grandchildren. Then they ensured that there was a local antiques dealer who would pay Mr Bridgy Celeb good money for every letter, document and photo of grandpa from his younger life that there was in the house. Someone will have worked hard to acquire the pics of us with grandpa when we were young as well. Pics of us at bird gardens, firework parties, in the garden with grandpa and granny etc looking remarkably happy for the kids of a sexually abusing old Hitler, will have all had to have been disposed of. Along with Danny Lewis and Charlie the gardener's son, Derek.
There is no evidence that a VIP paedophile ring dating from George V's reign ever existed. None. Neither did the Middlesex Hospital. All gone.
Should the Gang/MDU need anymore Evidence re F and his dreadful ways, I'll remind them that because I knew that F would have great difficulty understanding just what Mrs Brady was capable of, how she manipulated other people and how wrecked our family was by the time that F moved in with me in Dec 1992, I didn't even try to go into details. F was looking forward to meeting them and when we arrived in Somerset and F did the meet and greet bit, later on when he was talking to Mr Bridgy Celeb, F came out with 'I knew that you might be worried about me with your sister because I have had a divorce and obviously you will wonder whether a divorced man can be trusted…'
Spoken like a true Drug Addicted Degenerate F! F was a little non-plussed when Mr Bridgy Celeb said 'I don't care who she's marrying, it's nothing to do with me…'
Call the MDU! Statements needed of F's degeneracy and my absolute Insanity RIGHT NOW. Payment has already passed hands. But not in the direction of F or me.
Mrs Brady let the mask slip on our second visit or so to Somerset. Mrs B was her usual self and in the evening F said 'I'm really sorry, we are going to have to leave tomorrow, I cannot bear anymore of your mother's aggression.' I quite understood but didn't say 'This is normal; she's stopped putting on the lunch at the Clarence bit.' F was so unnerved that he couldn't sleep. So he got up and sat in a chair downstairs all night and dropped off just before dawn. Mrs Brady got up and Found F In A Chair Asleep. She never recovered from the trauma and the world was reminded of it ever after.
This was the person who was the main source of the Gang's Evidence. There were a great many people who knew what was happening because George Carman and the Digger had possession of years worth of documents; and there were my medical records of course…
Now would someone like to explain to the witnesses who were found dead?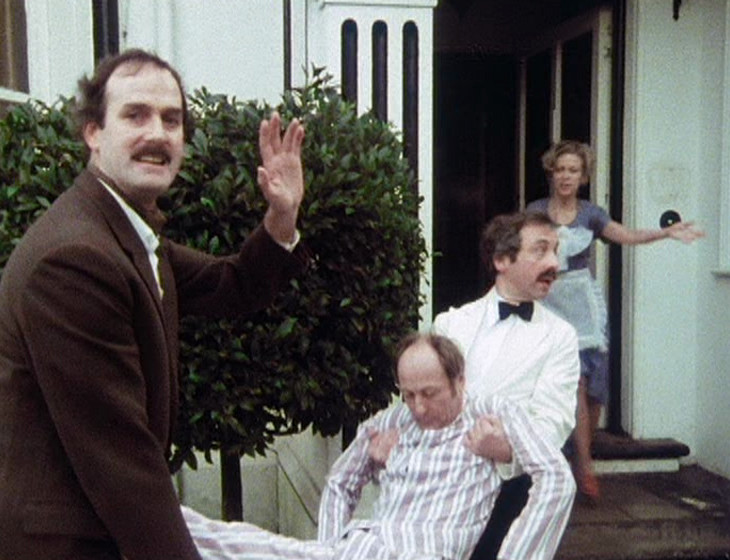 'Just mention my name.'
Thanks to the reader who has reminded me about the Vintage Cameras of grandpa's that were stolen by King Alfred's School during the brief few months that I was a pupil there in 1976. I had no idea that it was deliberate! I was only 12 at the time and pretty horrified, but I thought the teacher had forgotten and because I was too embarrassed to ask for them back, I just sort of waited. The cameras never did come back.
It was the art teacher at King Alfred's, I can't remember his name but he was sort of Young Arty and a bit Bohemian. As much as he could get away with while employed as a teacher in that school. Anyway, in one art class he was discussing styles of photography and began talking about old classic cameras and asked if any of us had ever seen one. I volunteered that my grandpa had some, four, in really good condition, still in their boxes with original instructions etc. The art teacher became very enthusiastic and asked me if I could get permission to bring them in to put in a class display.
I did, the cameras went on display for some two weeks and never came back. Not even a thanks, they just disappeared and were never mentioned again.
My informant might know about the gaiters as well! The science teacher, Miss Morrish, who also ran the Riding Club of which I was a member, began discussing old riding outfits and mentioned gaiters. Obviously with our treasure troves of cupboards at home, we had gaiters, traditional leather gaiters that father had worn as a young man for riding. Miss Morrish a la the art teacher then said that it would be wonderful if I could bring them in because not many kids of our generation will have seen them. I remember that she also asked if father would agree to put them on and be photographed for a laugh; I knew that wouldn't be happening so I said that no, he just would never do that, but I would bring the gaiters in. Miss Morrish took receipt of the gaiters, showed them to the class and I never saw them again. Which was ridiculous because I wasn't only in her science class, I was in Riding Club and we went riding at Mrs Hunter's Riding School at Enmore, near Spaxton, just three miles away or so from where I lived. It was our turf not King Alfred's, which was at Highbridge.
Although Enmore was Bridgy Tory Party HQ! Everyone who was anyone among Tom King's party workers lived at Enmore. There was a Bridgy Tory big wig at Barford Park, the grand house at Spaxton, but I can't remember their names. Mrs Brady was mates with them.
Miss Morrish was a rather odd woman who was famous for being very nice to kids when they first arrived at King Alfred's and then turning very nasty very quickly. She must have had contacts at Enmore because Mrs Hunter's Riding School won't have been the most convenient one for King Alfred's, it's miles away.
I used to ride Jasper. I do hope that Miss Morrish didn't steal him a la Shergar. The teachers at King Alfred's obviously could not be trusted.
As the disappearance of our property at the hands of those teachers seems to have not been the thoughtless oversight that I assumed, I will now recount with some irony the tale of When I Was Accused Of Theft in public, by a King Alfred's teacher. The teacher was the teacher who ran the Judo Club; I was a member of the Judo Club, so like Morrish, she knew me quite well. The public accusation was made after her colleagues had robbed me.
The teacher who accused me was a PE teacher; PE teachers at King Alfred's were not the loonies and perverts that they were at Chilton Trinity School, they were sort of traditional women who Liked Sport. If they were Lesbians, it will have been in the tradition of women tennis players.
I liked PE at King Alfred's because they played hockey there which I loved, so I'd never had a problem with this teacher, there was no previous between us. I had forgotten my kit one day – quite genuinely, not a Ruse as it always was by all pupils at Chilton – so I had to sit in the changing rooms and write an essay on 'Leisure'. I didn't know much about the subject, I remember thinking what an odd title. Surely 'sport' would have been more appropriate. I was beavering away on the essay when a girl from the year above me came into the changing rooms, very friendly and pleasant, to look for something. I knew of her but I didn't know her name. She couldn't find it and left.
Later on that day, the whole PE class was called into the hall. The PE/Judo teacher explained that there had been a Purse Stolen from the changing rooms during our PE lesson and did anyone know anything about this. No-one did, so the PE teacher then firmly explained that there was Only One Girl In Those Changing Rooms during the lesson; me. I was asked if I saw anyone come into the changing rooms. So I said yes, a girl in the second year but I didn't know her name. I was asked for a description and I gave one. Scepticism was expressed about my Description Which Could Have Been Anyone. Because the uniform at King Alfred's was taken rather more seriously than at Chilton, everyone dressed very similarly and no-one had a pink Mohican so of course the description Could Have Been Anyone, that is what schools who impose uniform regulations try to achieve; conformity.
I was then asked, in front of the whole silent-as-mice class 'Did you steal that purse?' The PE teacher didn't overtly intimidate, but she tried to stare me out; a technique that can turn frightened kids to tears and false confessions but if one has been taught to have a Stiff Upper Lip, one can cope with it. I said 'No, I didn't' and the staring match continued for probably three mins while the class all stared as well to see if I was going to crumble. I didn't and we all left.
I was told immediately afterwards by one girl that it was 'Really funny when she accused you and just stared at you for ages'. That girl some two weeks later told me that as I had befriended an epileptic boy 'We are not going to be friends with you'. It was Coventry for me from then on; the Leader Of the Pack was a friend of the daughter of Bill Francis, the Head of Chilton School… I ended up at Chilton months later.
I decided that I didn't need friends like those and continued to be friends with the Jew ie. Epileptic Boy. I subsequently found out that someone had told them all that I was a thief anyway, even if I Had Got Away With It.
I met the Jew years later when I was at Bridgwater College. He was in a dreadful state, shook visibly all the time and wouldn't talk to anyone. I recognised his name, that was the only thing about him that hadn't been destroyed during his time at King Alfred's. He had developed Psychiatric Problems you know. I am not surprised, people were not very nice to him. He left Bridgwater College after just weeks. Problems you know.
In terms of Jews, one teacher at King Alfred's said something very strange in class once, to one of the boys whom I was friendly with. She was the geography teacher and was talking about Judaism and spontaneously asked 'Simon, are you Jewish?' Simon looked a bit baffled and said 'No'. The teacher said 'It's just that you look Jewish, I thought that you might be Jewish'.
I don't know why she thought that, Simon didn't even have a Big Nose.
However that incident is known about by someone who reads this blog and I've been told that the teacher was hoping to cause friction between a boy whom Mrs Non-Racist had misidentified as Jewish and the granddaughter of the old Hitler who's cameras had been stolen by Mrs Non-Racist's colleague.
Mrs Non-Racist being put up to that might explain why she made specific mention of a little village over the sort of Enmore side of Somerset one day; Combwich, origin of John Biffen and Mrs Brady. Mrs Non-Racist was as hopeless at Somerset geography as she was at Spotting Jews and she mispronounced the name; she referred to 'Coombe-Witch'; I didn't say anything but Simon who Wasn't Jewish But Looked Like It did. Simon the Aryan who looked Dangerously Jewish observed 'Miss, it's pronounced Cumb-ich'. Mrs Non-Racist looked a little perplexed so I backed Simon up.
It was also the ever sensitive Mrs Non-Racist who Misidentified Jews In Public who told the whole class, when the Epileptic Jew was out of the room, that 'You do all know that he is Epileptic don't you? If he ever has a fit in class you are to move all the furniture away from him and he will froth at the mouth and wet himself as well.'
I'm all for kids being briefed on First Aid, but the manner in which the advice was given did nothing at all to help that boy. That was why cudgels were raised against him and then me when I refused to freeze him out.
Mrs Non-Racist was married to another teacher, the maths teacher who taught our class. Mr Woodward. Mr Woodward didn't come out with quite such offensive gaffes as his wife but he began to be very hostile to me for reasons that I never understood. Perhaps he wasn't receiving the correct Care and Treatment from Mrs Non-Racist. As any fule kno, Mr Woodward probably had a thyroid disorder. He had the characteristic Cow Eyes if we're going to be Big Noses about the subject and his Body Shape was being affected by his thyroid disorder.
I never mentioned this to anyone when I was at King Alfred's because I would never have been so fucking rude.
By Popular Request! Mrs Brady's Vetting Of The Socio-Economic Class of our friends! This was widely known, but I'm not sure how many people realised how brutal and offensive it was. When we were older we all made the same observation ie. that if the parents of our friends carried on Vetting in the manner that Mrs Brady did, none of us would be able to pass muster…
Mrs Brady's Vetting caused serious problems when Mr Bridgy Celeb went to Sydenham School, because the friends that he did make – as I remember they were all very nice, they had become friends with him in the face of the appalling brutality that was being meted out to Mr Bridgy Celeb at that school and they were the very nice kids – all lived on Sydenham Estate.
Anyone who lived in Bridgy in the 1960s and 70s will remember that Sydenham Estate and Rhode Lane were the most pathologized areas of Bridgy. Union Street was another much stigmatised address. When property prices began soaring in Somerset in the years after I left, people would comment that they couldn't even afford a house in Union Street now, it was quite a talking point. Sydenham Estate also went up the scale and a caravan park was host to people who couldn't secure a house on Sydenham Estate…
Mrs Brady had some very curious ideas about People Who Lived On Sydenham Estate and once Mr Bridgy Celeb found friends at school who were not the animals of legend known to Mrs Brady, he had a difficult job convincing her that there were some very nice people living on Sydenham Estate. There were a small number of notorious families there with histories that were just so dreadful that one wondered what the GPs surgery who served Sydenham Estate was doing. One famous 'rough' family had 15 kids 'and two drowned in the ditch at the bottom of the garden'. It wasn't a myth either, but kids of course didn't ask the questions that needed to be asked of Tom King et al…
None of Mr Bridgy Celeb's friends were Like That, but what I do remember was how many of his friends had serious difficulties as adults. I have been told to consider that the knives may have been out for all of them. People knew who they were years later as well because Mrs B had photos of them fishing, in the garden etc. One boy was done for a sex offence not long after he left school, but it was a sex offence that would have been easy to pin on an innocent young man with no education. He was accused of flashing and convicted; the specifics were that he was in his window at home and Exposed Himself to a Passing Woman who was Shocked and Disgusted. He might have been guilty as charged for all I know, he might have been doing that every night and someone had enough, but the Bridgy police at the time were fitting people up, including for sex offences.
A few years later another one of Mr Bridgy Celeb's friends was done for Indecent Assault and it caused quite a stink in Bridgy because in those days no-one ever was prosecuted for this – he pinched a woman's bum in a shop. He walked out of the shop, the woman rang the police and he was prosecuted, convicted and in the Bridgwater Mercury. Me being one of Them Women's Libbers took the view that he shouldn't be doing such things but there were many more people known to be doing far worse and I was gobsmacked that he was charged. Most locals took the view 'He pinched someone's bum and was prosecuted???'
I presumed that he had probably been reported because he looked dodgy; he was hairy and oily and father hated him because he Lived On The Dole and Had Never Done A Day's Work In His Life. He had a younger brother who was at Bridgwater College with me who was just rude and insulting constantly yet insisted on talking to me, but neither of those two blokes were anything like Nigella's fucking dreadful friends that turned up years later.
The other friends of Mr Bridgy Celeb whom he had when he was at Sydenham School were just very nice, absolutely no problem at all, but most of them as adults had lives that just fell apart for reasons that were absolutely not their fault. They became seriously depressed and couldn't get effective care, they lost children, went bankrupt, it was just awful and I suspect now that it was Gang-related attacks.
Mrs Brady's Vetting continued after Mr Bridgy Celeb had left the horrors of Sydenham School behind and began making friends with people who weren't Scum by anyone's standards. Except of course Mrs B had rather more exacting requirements that Anyone's Standards.
At one point Mr Bridgy Celeb acquired a new girlfriend who was a nurse in Taunton. When Mrs B began the interrogation, I knew what was coming but Mr Bridgy Celeb didn't because he didn't know that there is a firm hierarchy in nursing. Q: What sort of nurse is she? A: She's a nurse, in Musgrove Park Hospital. Q: Do the other nurses call her Sister?  A: No, she's not in charge, she's just a normal nurse, on the wards. Q: Is she an SRN or SEN? A: I dunno, she's a nurse, she's in a uniform on the wards. Reply: Ask her if she is an SRN or an SEN.
By this time I realised that things could get difficult if the answer SEN came back but even I had underestimated Mrs B.  Two days later: 'I've asked her which one she is and she is a State Enrolled Nurse'. Response: 'Well they're just the rubbish'.
There was one hell of a row. I quite understood why; Mr Bridgy Celeb never brought that girlfriend home which I think was for the best. What was known in Bridgy circles was 'David's mother makes all of his girlfriends cry'. Which she did, God knows what she'd have done if The Rubbish had dared turn up.
I had a different problem when I met Brown; it was so different that it was entertainment. As usual Mrs B found out From Another Person that I had a Boyfriend, I certainly wasn't going to tell her, but someone else did. First Q, as usual, 'What does his father do?' A. 'He's in the Army'. Q. 'What rank?' A. 'Something beginning with C'. [Before I met Brown I had bugger all knowledge of ranks, traditions etc of the Army.] Q. 'What beginning with C?' A. 'I think it's Corporal'. Q. 'Well that's NOTHING'. Mrs B walked out of the room, asked no more and I thought oh well I'll be left in peace now.
Bloody hell, I was not. Two days later: 'YOU told me that boy's father was a Corporal. He's a Colonel, EVERYBODY knows his father is a high ranking officer, they have been telling me, you have got it completely wrong, a Colonel is a very different thing to a Corporal…'
Mrs B from then on was desperate for me to invite Brown for tea; I did sort of warn him but nothing can quite prepare anyone for Mrs B, but Brown is always very good even with the most difficult of people.
Poor old Mrs Brady then found out the full horror, the OBE, TD, the Buck House garden parties, then Col Brown was appointed Deputy Lieutenant and Mrs B sort of was very obviously by then convinced that Brown would think of us as a bunch of plebs… There wasn't any point telling her that the whole world does not carry on like her and that the Browns were very nice to me, they never treated me as The Rubbish. But then I wasn't an SEN and Of Lower Caste.
Mrs B could freak out even the most seasoned observer; Brown soon got used to her totally mad, rude, crazee ways but even I was just gobsmacked when, I kid you not, we were having tea one day, ALL OF US, not just a Small Private Tea, and Mrs B spontaneously said, over the tea n cakes, 'Brian, do you masturbate?' God I nearly died, I thought I can't believe it, not even SHE could do this, but she had. Brown just did his curious face and replied 'I do nothing else'; brilliant, we were howling with laughter, the whole table just fell about…
I did apologise to Brown later and say look she really is bloody bonkers, but even I've never heard her ever say that to a guest before. Brown told me that he realised that there was a sort of insensitivity to other people's feelings problem there… Within a few months he realised that no, she was bloody crackers and one had to Screen One's Friends from her…
It was the worst that Mrs B had ever fired at one of my mates, but there was an incident when I was 14 and I dared bring a friend home, the friend who became very good mates with me, who was later forced out of her media career by Michael Grade and Paul Fox. This friend was very good mates with another girl who's mum and dad were well known in the Somerset Hunting and County Set and Mrs B directly asked my friend if it was true that the other girl's parents 'Had affairs with other people because I've been told that they are Carrying On all over the place'. My friend just looked a bit baffled and said 'Er, I don't know…'
When we got older we discussed Mrs B and her loose cannon ways in detail and how she said some extraordinary things to teens and children that most people really would never ever say, even if they didn't have kids themselves and weren't au fait with standard practice for kids and teens.
This is why I was astounded to hear that once the Gang were after my blood, Mrs B had become very good mates with two Bridgy social workers, entered into a business arrangement with them and had been offered the opportunity to foster kids in return for payment. Father refused to enter into this arrangement and that was the only reason why it did not go ahead. I remarked to Brown that I could not understand how anyone at all could even consider giving Mrs B kids to foster under any circumstances. Brown observed that the social services across the UK carried on a bit like Dafydd et al in that they didn't give a fuck about the people in their care, there was no sense shown at all and it didn't matter how loud the Warning Bells were, they were simply ignored.
I now know that the house had been bugged for years and years, that the security services had us all under surveillance because grandpa had dared challenge the people that Mrs B was doing deals with.
Mrs B and her funny little ways were absolutely not a secret.
Then there was the time when I was still at Chedzoy School and a girl invited me to hers for tea; her mum and dad were really hospitable, we had a lovely cooked tea, they did things with us, chatted etc and her dad gave me some chemistry books because he knew that I liked chemistry. I asked Mrs B if she could come to tea at ours and Mrs B arranged a date. I did remind her but when Angela turned up, off the school bus with me, her dad not due to collect her for another few hours, Mrs B wouldn't let us in the house. God knows why, but she decided that Angela wasn't coming in and wasn't coming to tea. We spuddled around outside until her dad came to collect her.
That friend of mine was taken out of the Bridgwater schools because her parents were so unhappy about what was happening; she went to La Retraite, the convent in Burnham-on-Sea for her secondary years. She was there with the Cardiff medical student whom I knew at Bridgwater College who was told to shut up about what was happening to me at the hands of the Gang if she wanted a career in surgery.
The friend who was Denied Tea when she came to er tea had a mum and dad much more middle class than nearly any of the other kids in Chedzoy School; her dad was a nuclear physicist at Hinkley, they weren't from Somerset and after I began this blog I was told that the Hinkley workers who knew me were the easiest to nobble because of the involvement with Govt security precautions there etc.
Col Brown was the easiest to nobble of all; I know that the Gang were up to something with him but I don't know what, until they killed him that was. Col Brown was never unpleasant to me, he certainly didn't carry on like Mrs B, but Brown and I have never been under any illusions that the Gang will have been in touch and he would never have defended us. So God knows why they bothered to kill Col Brown, but the Gang are Ungrateful Wretches.
So that is how Mrs B was able to Give Evidence to the Gang without anyone jumping up and saying loudly 'You what?? Do you know what she said/did to our child??'