My post 'A Message Of Peace For Christmas ' discussed how Pat Pottle and Michael Randle, two CND activists who lived at Croesor in Gwynedd for many years and worked for Bertrand Russell and the Committee of 100, helped the double agent George Blake escape from Wormwood Scrubs in 1966, yet weren't prosecuted until June 1991, shortly after Dafydd's gang made yet another attempt at imprisoning me on the basis of their perjury. Pat and Michael were prosecuted as a result of pressure from more than 100 Tory MPs. The prosecution occurred when Dafydd and the gang were under pressure as a result of demands that a police investigation should take place into the possibility that a VIP paedophile ring was operating in north Wales/Cheshire. At the same time, the gang was causing havoc at UCNW by launching an offensive against Graham Day, a senior sociologist who was Not Of The Gang, accusing him of racism when making appointments. 'The Guardian' assisted by printing a libellous article about Graham. The gang had a field day. See post 'Badlands'.
My trial too was at the Royal Courts of Justice in The Stand, where Pottle and Randle stood trial, but some two months before theirs. Bertrand Russell and his friends had drawn upon the services of Dafydd et al in a previous generation. See eg. posts 'The Vermin Club' and 'Captain Swing And His Crew'.
Among the many rumours surrounding George Blake's escape were that it had been organised by CND or the KGB, that Vanessa Redgrave had put up the money for it and that Pat and Michael had help from the inside. In 'A Message Of Peace At Christmas' I explain why it is fairly clear that the security services themselves, or at least someone linked with them, helped with Blake's escape. Bertrand Russell's circle was full of people who had links to the security services and they were assisting Dafydd's gang because of the presence of prominent members of the British establishment who were directly involved in organised abuse or colluding with it because members of their family and friends were directly involved.
Michael Randle was associated for a long time with the controversial Dept of Peace Studies at Bradford University. Randle did a degree and a PhD with that Dept and then returned to work there as a Research Fellow; he was working in the Dept of Peace Studies before his trial. Randle stepped down when it was confirmed that he would be standing trial, but returned to work at the Dept of Peace Studies at a later date.
The Dept of Peace Studies at Bradford was subjected to an attempt to close it by Thatch and Keith Joseph in the early 1980s, but as we shall see, it not only survived their onslaught but thrived and expanded. The VC of Bradford at the time of the Gov't row over the Peace Studies Dept was Prof John C. West. Like Sir Melvin Rosser, the former President of Aberystwyth University, the internet seems to have been virtually cleansed of references to John C. West, but I'm not sure when this happened or why. However, Prof West's portrait appears on a website displaying the work of an artist called Tom Wood, the portrait being dated 1989, so West was still the VC then…
Tom Wood has painted a lot of portraits of people with senior positions in UK universities.

Kenneth O. Morgan (b.1934), Vice-Chancellor of Aberystwyth University (1989 – 1994) 

Lord Ken is a Labour historian of whom the right wing of the Labour Party is fond, but Lord Ken really hates the Marxist historians because they took the piss out of him in public one day. Lord Ken was married to the late Jane Morgan, the criminologist specialising in 'child victims of crime' who grew up in Wrexham and during the course of her career passed through Leicester University, when that institution was run by people covering up for the crimes of Greville Janner and his mates and Oxford University when they were keeping schtum about organised abuse as well. See previous posts eg. 'A Bit More Paleontology'. Abersytwyth University has a long tradition of producing law graduates who evolved into crooked solicitors, barristers and judges who protected serious criminals, including Dafydd's gang.

Sir Michael Thompson, Vice-Chancellor, Birmingham University (1987-96)

Sir Michael Warwick Thompson (born 1 June 1931) was educated at the University of Liverpool; his time there overlapped with Dafydd's, although Thompson was studying physics. His academic work included early research on atomic collisions. The atomic collisions continued when Thompson was appointed Professor of Experimental Physics at Sussex University in 1965. He remained at Sussex until 1980, during which time he served as PVC and acting VC. Thompson was a Sussex big wig under the regime of Harold Wilson's mate Asa Briggs, the VC of Sussex University, 1967-76, who worked for the security services and concealed the Brighton end of Dafydd and John Allen's trafficking ring. Asa opened fire on Merfyn Jones when Merfyn was a Sussex student in 1967 and continued the firing when Merfyn became VC of Bangor University in 2004. See post 'Anthem For Doomed Youth'.

In 1980 Thompson was appointed VC of the University of East Anglia, remaining in post until 1987 when he was appointed VC of Birmingham University, retiring in 1996. Thompson was VC of Birmingham University when Birmingham School of Medicine employed Dafydd and Tony Francis's mate Robert Bluglass as Professor of Forensic Medicine and also housed Tony Francis's mate Professor Ian Brockington. See post 'Ian Brockington's Mischief'. Bluglass actively concealed the criminal wrongdoing of Dafydd, Tony Francis and the gang while Thompson was VC. See previous posts eg. 'Enter Professor Robert Bluglass CBE'.

Thompson was knighted in 1991, which was the year in which I and three other witnesses to the gang's crimes had our careers destroyed. In Feb 1991, just after I had been forced out of my job at St George's Hospital Medical School, Lilibet knighted Peter Morrison, the Tory MP for Chester, who was abusing kids in care in north Wales and elsewhere.

Professor Thompson is a member of the Athenaeum, as was Jimmy Savile. I'm sure that they enjoyed many happy hours in each other's company.

Michael Thompson's son Paul Warwick Thompson is Rector of the Royal College of Art.

Tom Wood painted Lord Bob Winston. Twice. Lord Bob knew Professor Geoffrey Chamberlain and his colleagues at St George's who were concealing the crimes of Dafydd and the gang in north Wales as well as the trafficking ring in south London which was linked to Dafydd's gang. Lord Bob also knew of much research fraud and bad practice in his own institution of Hammersmith Hospital but kept quiet. Lord Bob was very aware of bad practice in IVF clinics other than his own and the most outrageous scams which were relieving patients of money but said nothing about that either. Here's Lord Bob in casual dress:

And here's Lord Bob in gear appropriate to his role as Chancellor of Sheffield Hallam University, 2001-18.

If any readers know why two of the 'most respected' Labour peers who both colluded with a pan-European VIP trafficking gang are cluttering up the highest echelons at Sheffield Hallam University, please do let me know.

Bradford was the first British university to appoint a Chair of Peace Studies, Adam Curle, in 1973. Charles Thomas William Curle was known as "Adam" after the town where he was born, L'Isle-Adam, north of Paris. Adam Curle was related to members of the Bloomsbury Set, many of whom holidayed or had second homes in Croesor, Gwynedd throughout the middle decades of the 20th century, as a result of Clough Williams-Ellis, a local landowner, marrying Amabel Strachey, a member of the family at the centre of the Bloomsbury Set. See previous posts eg. 'The Village', 'The Vermin Club' and 'Captain Swing And His Crew'. Adam's mother was Cordelia Fisher. One of her sisters, Adeline, married the composer Ralph Vaughan Williams, who was a friend of Bertrand Russell. Curle was also related to Virginia Woolf and the artist Vanessa Bell. See post 'The Vermin Club' for details of their wider network. Curle was also a relation of the historian Frederic William Maitland and the photographer Julia Margaret Cameron. Curle's father Richard was a journalist, writer and friend of Joseph Conrad of 'Heart of Darkness' fame.

Curle went to school at Charterhouse and then studied anthropology at New College, Oxford, an institution which the British security services favoured when recruiting (see post 'A Study In Tyranny'). He married Pamela Hobson in 1939 and the couple had two daughters, Christina and Anna, although they divorced some years later. Curle served in the British Army during WW II and towards the end of his time in the Army, he became closely acquainted with the psychological traumas of conflict when working with prisoners of war in the Civil Resettlement Unit. Between 1947-1950, Curle worked at the Tavistock Institute of Human Relations, London, 1947-50. See previous posts for the rotten foundations of the Tavi and the numerous Top Docs associated with the Tavi, including those who worked with Curle, who concealed organised abuse and trained people who were involved in future scandals.

Curle subsequently lectured in social psychology at Oxford University and in 1952 was appointed Professor of Education and Psychology at the then University College of the South West of England, which became the University of Exeter. Curle was therefore in Devon during the 1950s, when Plymouth was dominated by Michael Foot's family, who concealed organised abuse linked to the Westminster Paedophile Ring. See post 'The Bay Of Pigs Invasion'. Jeremy Thrope was elected the MP for north Devon in 1959 and then the county really saw some action.

In the later 1950s Curle travelled extensively and while advising the Pakistan Planning Commission on Social Affairs, he met a New Zealand community health worker in East Pakistan, Anne Edie, who became his second wife, with whom he had a third daughter, Deborah. Anne and Adam joined the Quakers while Adam was serving as a Professor of Education at the University of Ghana. In 1962 Curle set up the Harvard Center for Studies in Education and Development at Harvard University and travelled widely, including to Nigeria, Tunisia, Central America and Barbados. Between 1967-70, Curle mediated in the Nigerian Civil War and also in the Pakistan-Indian War.

In 1973 Curle was appointed as Professor of Peace Studies at Bradford, the Dept being established by Curle and a small number of Quakers. One of the key members of Dafydd's gang, Owain Gethin Evans, the de facto Head of Children's Services for Gwynedd County Council throughout most of the time between 1982-95 (see post 'I Know Nuzzing…') while the gang did whatever they wanted to kids in care, was a Quaker in Gwynedd, as was Dr Paul Nickson, a GP in Bethesda who actively colluded with the abuse of children and psych patients. Previous posts have detailed other Quakers and institutions run by Quakers outside of north Wales who had links with Quakers in north Wales. Dafydd himself turned up on a Quakers website a few years ago dispensing his wisdom as a Top Doc.

After Curle retired from Bradford in 1978, under Quaker auspices his "tools for transformation" (including mediation, problem-solving, negotiation, policy analysis, advocacy and nonviolent activism) were put to work in conflict states such as Zimbabwe, South Africa, N Ireland, Sri Lanka and the Balkans. Curle helped set up the Centre for Peace, Non-violence and Human Rights, an NGO based in Osijek, Croatia during the Balkans Conflict,  1991-95. In 2000 Curle was the recipient of the Gandhi Foundation International Peace Award.

Besides Quakerism, Adam Curle had an interest in Tibetan Buddhism and the Dalai Lama.

A great many people involved with Professor Mark Williams's Mindfulness, which was a research fraud perpetrated by Williams when he worked with Dafydd's gang in Bangor in the late 1980s (see post 'The Biggest Expert Of The Lot'), are involved with Buddhism. However I have noticed that the Buddhist contingent are the very people who soon begin asking questions about Mark Williams and raising concerns…

Adam Curle died in September 2006 in London. He had 'been ill for about a week with a very virulent leukaemia'. Leukaemia doesn't usually kill people within a week, it is something which takes a very long time. So it is likely that if Adam did have leukaemia, he had had it for ages and wasn't told. Or it was something else which killed him. The paedophiles' friends were beginning to panic again in 2006 because Brown and I had begun appearing in print discussing the mental health services. Over the next three years or so there was an influx of paedophiles' friends into the Welsh Assembly. See post 'The Battle Of The Cowshed'.

 Curle's 2006 obituary in 'The Guardian' filled in the picture further:

…those who knew [Adam] as friends, students, colleagues, peace activists, or simply through reading his books, were inspired by his gentle charisma to spread the values of peace through education and action…he was also innovative and courageous as a peacemaker, pioneering citizen mediation and peace building.

…After the war he worked at the Tavistock Institute of Human Relations in London, helping to resettle British servicemen who had been prisoners of war.

...Then came the invitation to lead the new Bradford department – itself the idea of a small group of Quakers.

Adam retired from Bradford in 1978 but worked on as a peacemaker, often under Quaker auspices, putting into practice the idea that education was concerned with emancipation. This value was also embodied in the principle of "speaking truth to power" asserted by Quakers. 

Adam was related to and worked with privileged powerful people who were involved in organised abuse and managed not to speak the truth about this to anyone. He was 'invited' to establish that Dept at Bradford in 1973. Bradford was on the turf of a big paedophile/trafficking ring associated with serious organised crime which involved Jimmy Savile; Savile was a visitor to Bryn Estyn and his mates in Yorkshire had close links with Dafydd and the gang in north Wales, who by 1973 were rapidly expanding business. It was in 1973 that Matt Arnold and Peter Howarth relocated from Axwell Park Approved School, part of the ring in the north east of England linked to the Yorkshire ring, to Bryn Estyn. Matt Arnold replaced Peter Burton in March 1973 as Head of Bryn Estyn after Burton had been killed in a road accident, along with his wife, young son and the Deputy Head of Bryn Estyn. Arnold died from an 'unspecified blood disease' in June 1994, four days before Howarth's trial for sexually abusing boys in his care began.
In 1973/74, there was a local authority reorganisation in Wales, which was used as an opportunity to increase organised abuse. Ioan Bowen Rees was appointed as County Solicitor for the newly created Dyfed County Council. A ring with links to Dafydd's gang in north Wales flourished in Dyfed; in 1980 Ioan was appointed Chief Exec of Gwynedd County Council and it was then that the party really began. See post 'I Know Nuzzing…'
Questions were constantly asked of this lot, it wasn't as if people were unconcerned about their activities. The response was always the same; after the How Very Dare Yous, concerned people would be reminded that the alleged abusers were Eminent Doctors/Famous Artists/Writers/Posher than the rest of us. Betrand Russell got away with a great deal until the day that he died by simply reminding people that he was Very Clever and also Earl Russell. See previous posts eg. 'So Who Was Angry About What?' The same strategy was still being used by Russell's mates many years after his death. I was introduced to an Alternative Person in Gwynedd some 10 years ago and one of the first things that I was told was 'she lives in Bertrand Russell's old house'. It was an interesting talking point, but it was fairly clear from the conversation that followed that the person in question and her mates had no idea about some aspects of Russell's life. What they did know was that he was a Clever Philosopher and a Peace Activist.
I had this sort of thing thrown at me for years when I raised concerns about people who's wrongdoing I now know to have been even more serious than I realised. It really is incredibly foolish to believe that someone in possession of a medical degree or who has published philosophy books cannot be involved in wrongdoing. I can certainly understand why people might be gobsmacked to be told that such a person is sexually molesting people on a vast scale and bribing and blackmailing people to keep quiet about it, but when evidence is produced that this is indeed happening and it transpires there have already been numerous complaints of the same nature, an investigation needs to take place. I note with some irony that when Baker and Brown were observed to be Clever and Qualified themselves, everybody DID remind themselves that Clever Qualified people can be Wicked and Manipulative. But not Dafydd obviously.
So in 1973, a PR unit for people involved in organised abuse was set up in Bradford University by Adam Curle, who was supported in this venture by a small group of Quakers.
 It is not easy to capture in words the deep affection that people formed for this extraordinary man. He was warm, humorous, modest and wise in equal measure. Visitors were welcomed by him and Anne, whether in America, Yorkshire or, in his later years, in retirement in London. Their hospitality was legendary. Both were avid gardeners and grew the vegetables that graced the dishes cooked by Anne, to the delight of their many guests.
The vegetables will no doubt have been organic and 'oooh the dinner was lovely and we read poetry over that gorgeous bottle of wine… all of us being committed to peace and justice…' People renowned for their hospitality are able to cultivate a big network of other people who join in with the How Very Dare Yous in the event of questions being asked…
In his early years, Adam played the flute, and maintained a love of music throughout his life.
Jeremy Thrope was noted for being an excellent violin player. A love of music is another sign of a Sensitive person who by definition wouldn't ever do anything unpleasant to anyone else.
A deeply spiritual man, remaining a Quaker but influenced also by the Dalai Lama and Tibetan Buddhism in recent years, he was never pious or doctrinaire…He is survived by Anne, his daughters Christina, Anna and Deborah, and several grandchildren and great grandchildren.
·
The Journal of Conflictology published a tribute to and an account of the life of Adam Curle in 2010, by Tom Woodhouse. Highlights included:
in the course of his first year. He conducted field research in various areas of the Middle East for which he obtained a Diploma in Anthropology,
So Adam didn't complete his degree and left with a booby prize instead…
and then spent six years, from 1939 to 1945, serving in the Army, and in this period became interested in the work of the Tavistock Institute for Human
Relations, particularly in their approach to the sociopsychological problems of post-war reconstruction…
Despite the hype, the Tavi, like the Maudsley, really were not fussy with regard to the students whom they accepted, principally because those institutions and the disciplines which they were promoting had so little status and respect that all comers were welcome.
His first academic publication was for the Human Relations journal and described the special problems of prisoners of war as they adapted to the strains of returning to normal community. He was awarded a postgraduate degree in anthropology in 1947, worked for the Tavistock Institute on a project on rural decay and was appointed lecturer in social psychology at Oxford in 1950.
It was rather like the Masters degree courses which British universities began offering in a big way in the 1980s for which one did not need a first degree before one enrolled. The rationale was that able older people who had experience in other fields should not have to be treated as if they were teenagers who had just left school, but the desire of HE institutions to acquire bums on seats led to some surreal events. The Tavi was desperate so standards were remarkably flexible.
During this time he became interested in the link between social psychology and education policy, and in 1952, at the age of 36, he was appointed to the Chair of Education and Psychology at the University of Exeter.
Except that it wasn't yet the University of Exeter; it was aspiring to be and Exeter still had a very questionable reputation in the late 1970s…
Between 1956 and 1959 he served as consultant in Pakistan on issues of education and development policy. Between 1959 and 1961 he was Professor of Education at the University of Ghana, and from 1961 until his appointment to the Chair of Peace Studies at the University of Bradford in 1973, he was Director of the Harvard Centre for Studies in Education and Development…
I only know one academic who has been to Harvard and that is someone who did a lot of very interesting things like join the Committee of 100 as a schoolgirl and end up in Holloway after a CND demo because no-one realised that she was only 15. When she was at postgrad level she won a scholarship to Harvard and after a few months she walked out. She maintained that Harvard has been the centre of a massive amount of undeserved hype, it has a tick box culture of the worst and it is full of people who have brought their way in.
So imagine my surprise when I found out that Grace Lewis-Parry, a member of the Betsi Board who had for years been a particularly dozy senior Angel employed in north Wales where she presided over terrible things, including the sexual assault of female patients by staff, births so badly handled that babies had died and mothers had been left seriously injured – Grace has a background in women's health – somehow got onto a management course at Harvard. Grace would never have even thought of that herself, I'd be most interested to find out how that was arranged. Just take a look at what has happened at the Betsi since Grace was appointed Board Secretary. It's enough to justify closing Harvard down.
Uncle Harry's nephew completed a stint at Harvard:
Grace only zoomed off to Harvard relatively recently, at about the same time that Uncle Harry's nephew and his associates were trying to cause a great deal of trouble for anyone who dared point to the genocide in the north Wales NHS. Do you know how a hopelessly incompetent, not very highly qualified Angel who managed NHS services with some of the worst mortality rates in Europe was accepted by Harvard Ed? After I gained documentary evidence and a recording of her refusing to address a serious complaint that I had made, involving staff assaulting me, perjuring themselves and then unlawfully refusing me all medical care?
…during the intensive and searing experiences of the Biafran War he felt a
compelling need to understand more about why these conflicts
happened…Three major studies in which these changed perceptions are hardened into substantial analyses are Education for Liberation,
Making Peace and Mystics and Militants. Making Peace was written in the course of a sabbatical year spent as a visiting research fellow at the Richardson Institute of Conflict and Peace Research in London in 1969-1970…
His time at Harvard saw him concerned with development in over twenty countries in the Middle East, North and Sub-Saharan Africa, Latin America, the Caribbean and Asia. He was able to draw from his period as an early staff
member of the Tavistock Institute and from two university appointments in psychology.
The grateful Johnny Foreigners in those developing countries will not have been aware of how flaky Curle and his mentors were; they will have been told that an Expert and a British Expert at that was going to show them how things were done. Exactly the same situation prevails today with some UK academics receiving huge grants to Share Knowledge with people in Hot Countries and very questionable knowledge too. Professor Catherine Robinson received millions to dispense words of wisdom in India with regard to suicide prevention. Catherine is a former colleague of Dafydd's and has spent her entire career working in north Wales which has one of the highest suicide rates in the UK. Catherine works with the Betsi Cadwaladr University Health Board and has done so throughout the many scandals regarding patient neglect and abuse as well as repeated concerns over the number of mental health patients killing themselves. I was not the only person who's jaw dropped on hearing the news that someone had given Catherine a lot of money on the basis of her expertise in suicide prevention.
…Curle had been deeply involved in the practice of peacemaking. In the 1990s much of this involvement took the form of supporting the activity of the Osijek Centre for Peace, Nonviolence and Human Rights. Osijek, a town in the Eastern Slavonia province of Croatia, was, with the adjacent town
of Vukovar, the site of the most violent fighting of the Serb Croat War. This involvement with the people of Osijek, who were trying to rebuild a tolerant society while surrounded by enraged and embittered feelings caused by the war, motivated a considerable amount of reflection by Curle on the problems of practical peacemaking. It was apparent, for example, that the model of mediation specified in his book, In the Middle, and distilled from his experiences in the conflicts of the 1970s and 1980s was very difficult to apply on the ground, in the confusion and chaos of the type of conflict epitomised by the wars in former Yugoslavia…
One feature of the Balkans Conflict was en masse sexual assault and gang rape. Brits who had Gone To Help found themselves out of their depth because they didn't realise that women who had been gang raped weren't actually Sharing about this, so the stupid buggers who's Help was deemed to be essential didn't pick up the codes that were being used by people who had experienced sexual assault. Eventually it dawned on everyone that women in the Balkans hadn't read 'Our Bodies Ourselves' in the 1980s or even 'Cosmo', they didn't discuss the pursuit of G spots and no, they were not going to Share as expected. Adam Curle will not have been the best person to have advised in the Balkans.
I'm glad to say that the experiences of women who were raped and murdered in the Balkans were put to good use though. When 'The Vagina Monologues' came to Theatre Gwynedd in Bangor, there was a scene in which one of the talking vaginas described being gang raped in Yugoslavia. Not that I saw it myself, I had no intention of spending money on such exploitative crap, but I heard all about it from an Angel who had been Touched by the performance. She was an Angel who knew about Dafydd and the gang and had acquired a number of well-paid NHS jobs that she could not do by blackmailing people over it all. The icing on the cake was that at the time I knew a young Albanian woman living in Gwynedd who had become very depressed after the birth of her baby. The Angels and Top Docs had no idea that she had been gang raped in the Balkans Conflict as a teenager. They had of course completely missed every clue.
Angels and Top Docs: when an Albanian woman told you that she looked out of her farmhouse in Albania after hearing people crying and saw 'soldiers killing people' and then the 'soldiers came into our house and did bad things to us', surely even you could have worked out what she meant. Or were you too busy telling her that she had to have the correct sort of car seat fitted before she was allowed to take the baby home, as another one of your newly delivered patients told me?
Three years later the maternity services in north Wales were found to be so dangerous that the Betsi Board was placed in special measures and Bangor University withdrew the student midwives from their placements.
Now don't you worry my dear, we'll look after you. Never mind the astronomical mortality rate, you won't be taking Baby home until we've approved the car seat.
God knows what they do to the parents who don't have a car, I expect that their newborns are taken into care by Safeguarders personally appointed by Jane Hutt and handed over to Dafydd's gang.
Adam Curle died in Wimbledon, London, on 28 September 2006. His life and work touched many people worldwide and his academic thinking is now firmly embedded in modern peace theory.
So Curle retired to Wimbledon. That is the area favoured by the more highly paid staff of St George's Hospital. Prof Geoffrey Chamberlain lived in Wimbledon, as did George Carman QC, the bent lawyer who was concealing the Westminster Paedophile Ring. Miranda was Carman's pupil and Cherie shared Carman's Chambers until 1988. They used to go to his garden parties in Wimbledon, even when Miranda was PM.
Michael Mansfield lived just down the road at Wandsworth, another favourite area for St George's staff, which is expensive but not quite as expensive as Wimbledon. Michael Mansfield and St Helena worked together at Took's Court Chambers. In 1993, I wrote to Michael Mansfield about the abuse of the law by Gwynedd Social Services to criminalise patients who had complained. I received a one line reply thanking me for my letter.
Adam Curle's empire lives on. Professor Tom Woodhouse now holds the Adam Curle Chair in Conflict Resolution at the University of Bradford, Department of Peace Studies.
James O'Connell was a high profile colleague of Curle's at Bradford with whom Michael Randle worked. O'Connell died in 2013 and there are tributes to him all over the internet, so I'll just reproduce a few extracts here.
The Guardian's obituary for O'Connell told us:
Professor James O'Connell, who has died aged 87 after a short illness, saw the department of peace studies at Bradford University through a period of intense attacks from Margaret Thatcher's government in the early 1980s.
I remember the row well. Questions from Gov't re the Bradford peace studies contingent had actually been raised in the 1970s.
Such was the extent of the political dislike for "appeasement studies" during the cold war that it was the only department in any British university to be investigated by the University Grants Committee (UGC), after considerable pressure from the then education secretary, Sir Keith Joseph.
I have mentioned in previous posts that when Thatch et al went gunning for HE in the 1980s, their principal targets were UCNW, Aston, Bradford and Salford Universities. There was much confusion on the part of the commentariat at the time, because Aston, Bradford and Salford were all universities who did what Thatch wanted universities to do in that they taught huge numbers of science and engineering students. It just didn't make any sense. Or at least not to people unaware that the priority of all politicians at the time was to keep the Westminster Paedophile Ring under wraps, particularly after it very nearly all unravelled in 1979 with Mr Thrope's appearance at the Old Bailey – he was of course supported by his wife Miriam, throughout the long and unnecessary ordeal – and the bawdy humour which followed. Miriam's status as the ex-wife of Lilibet's cousin did not go unnoticed.
But the resulting assessment was positive, and during his 15 years as head (1978-93), James saw the department treble in size while establishing a worldwide reputation.
The UGC could not find anything at all amiss in the Dept which Thatch and Sir Keith were desperate to close down, which had been founded by an associate of Earl Russell and was on the turf of the paedophile gang led by Jimmy Savile and his gangster friends – Jimmy being a good friend of Thatch as well as of Carlo, the Chancellor of UCNW – which also ran the city of Leeds, where Keith Joseph's constituency was. Malcolm Pearce, the consultant at St George's Hospital Medical School who was in the thick of the trafficking gang in south London linked to Dafydd, Jimmy et al (see eg. post 'Oliver!') came from Leeds and still had links there.
He was born in Cork, where his mother, Agnes (nee Harrington), kept a public house. His father, also James, was away at sea for much of the time, but returned to run the pub when Agnes died in 1935. In November 1942, during the second world war, he was one of 33 crew who were lost when the merchant ship Irish Pine disappeared without trace. Many years later it was determined that the vessel had been torpedoed by U-608, even though Ireland was a neutral state.
James was taught in Gaelic until the age of 16, took his BA and MA degrees at University College Galway and then joined the Society of African Missions, studying at Dromantine College near Newry before being ordained as a Catholic priest in 1952.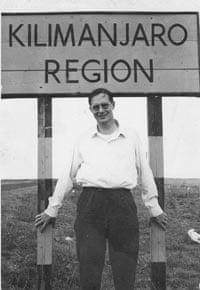 After further study in Belgium, in 1957 he was awarded a doctorate… and spent the next 18 years in Nigeria. James left the priesthood in 1973 but stayed on in Nigeria as Professor of Government at Ahmadu Bello University.
Before James left the priesthood he'd have found out about the organised abuse in the Catholic Church which spanned entire continents.
By playing a significant role in redrawing the Nigerian constitution in the aftermath of the Biafran war of the late 1960s, James fell foul of some leading political figures and in 1975 was deported at 24 hours' notice. Earlier that year he had married Rosemary Khawaja, nee Harris, from a Belfast Protestant family, and on returning to Britain they settled in Belfast, where James was Dean of Arts at the Northern Ireland Polytechnic.
When in Belfast, James will have found out about the elite paedophile ring based at the Kincora Boys' Home at the time and he probably had heard the names 'Lord Mountbatten' and 'Sir Anthony Blunt' mentioned in connection with it.
It was chaos and chaos in terms of no exams and 'unusual freedom' was questioned in those days.
He was still running things which was hardly surprising in the light of what the Peace Studies was concealing
James hit the jackpot. His strategy was to expand the support-base of Peace Studies in Bradford, to include CND and all those numpties who were Supporting Greenham etc but understood that if they wanted their Funding to continue, they had better not say a word about the abuse of kids and vulnerable people in the care of the local authorities who had Funded This Project or at the hands of the social workers who were also active in their local CND branch or the more committed activists who were busy in END, with E.P. Thompson et al. The E.P. Thompson who, along with so many of his fellow Radicals and Peace Campaigners, lived some or all of the time in Croesor in Gwynedd. See eg. posts 'The Village' 'Captain Swing And His Crew'.
The Making Of The English Working Class – while the Left ignored the criminal gangs who were targeting their children… Give them all a zero hours contract and Parenting Advice from an Expert who's colleagues ran a paedophile ring…
Professor Judy Hutchings was awarded an OBE in 2011. Here she is with her husband, Lewis, after receiving the award in February 2011 in London. Where the eyes of those who attended the celebration after the gong was handed over were a very long way from the carnage in Gwynedd, where Judy developed and presides over her 'Incredible Years' programme for Troubled Children.
North Wales has Mindfulness! North Wales has DBT! North Wales has Suicide Prevention! North Wales has Incredible Years! It's also got Dafydd and a bunch of criminals running the whole region but that is never mentioned at the Glittering Awards Ceremonies, the Woman of the Year Dinners and at Buck House when the gongs are dispensed.
Can I invite those who attend these Events to just take a walk around Holyhead, Bangor, Bethesda, Caernarfon, Blaenau Ffestiniog, Wrexham, Rhyl etc and look at what the Award Winners have actually done to their neighbours??
The Men in CND were Feminists too:
There were Feminists who were waverers, particularly when they thought that No 10 was a real possibility:
It certainly won't have been the links of people in Bradford to a gang of paedophiles who were supplying some of Thatch's friends and Ministers with children for sex.
Shut your mouths everyone, Swinnerton-Dyer's sorted it. Thatch and Joseph are not going to touch us no matter how much they want to because they've been reminded of a few things.
James…served as President of the Partnership for Theological Education, Manchester, now Luther King House Theological College. 
James was highly critical of the structures of the Roman Catholic church but retained his faith to the end. He is survived by Rosemary, his daughters Sanjida, Sheila and Dee, his son Patrick and three granddaughters.
A tribute to James O'Donnell on 'Open Democracy'  included the information:
At the time of the Falklands/Malvinas conflict in 1982 there weren't many universities or think-tanks in the UK providing independent critical analysis of the progress of the war. One was the department of peace studies at Bradford University, which at the time had but a handful of staff and barely a hundred students. Such was the political mood of the day, though, that a classic bit of graffiti on campus read: "they used to hang traitors – now they give them degrees in peace studies".
Still no-one mentioned the real problem with the Dept of Peace Studies…
A couple of years later, at the height of one of the most dangerous periods of the cold war,
Which as any fule kno was brought to an end by E.P. Thompson, but no-one realised that at the time. See post 'Captain Swing And His Crew'.
peace studies at Bradford was again under attack, this time directly from Margaret Thatcher's government. The education ministry, led by Sir Keith Joseph, was putting serious pressure on the University Grants Committee to investigate what was widely viewed as pro-Soviet "appeasement studies".
The head of the UGC, Sir Peter Swinnerton-Dyer, approached the vice-chancellor at Bradford about looking at the department as part of a normal overview of the university, promising an independent and genuine assessment. This was a very unusual request, possibly unique in the 1980s, as the UGC did not normally go into such detail. The Bradford vice-chancellor agreed – but only if the peace-studies staff would go along with it.
As with investigations into Top Docs, they have to agree to the terms of the investigation…
The head of the department at that time was Professor James O'Connell. He discussed the request with his staff and they agreed. Swinnerton-Dyer and a colleague visited the department, looked at examination scripts, publications and other outputs, and gave peace studies a positive assessment. Thatcher and Joseph were reportedly very annoyed, but the UGC was a lot more independent of government that its modern-day equivalents and there was little they could do about it…
Peter Swinnerton-Dyer, who was Chairman of the UGC, 1983-89, had a rethink regarding his intention to completely close down UCNW in 1984. UCNW did lose a few Depts, including maths, philosophy and drama, but the institution lived on. I have known for a while that this was because Swinnerton-Dyer was reminded that the whole of UCNW was a vehicle for Dafydd's gang which was supplying the Westminster Paedophile Ring, but more recently I have been told 'it was you sucker, UCNW agreed to ensure that your career would be fucked within a short while and then they kept schtum about your mate Anne Vernon being killed in spring 1986 and your other friends who's careers were also ruined and who found gangsters coming after them…' See previous posts.
Sir Peter Swinnerton-Dyer
Peter Swinnerton-Dyer at the workshop "Explicit methods in number theory" in Oberwolfach, 2007. 'Number theory being 'there are a great many people who's careers, pensions and even liberty depends upon no-one opening their traps about this'.
The Viscount Whitelaw

 The man who wanted a Short Sharp Shock for Young Thugs! The reasons why the Young Thugs were so out of hand were the gang rapes at gun point and beatings to which they were being subjected…
Leader of the House of Lords and Lord President of the Council which brings with it the role of visitor to UCNW
In office
11 June 1983 – 10 January 1988

Willie had previously been Secretary of State for N Ireland under Ted Heath, 24 March 1972 – 2 December 1973.
Kincora Willie, Kincora…
Willie's first go at being Lord President of the Council was between 20 June 1970 and 7 April 1972. Dafydd was in control of the Dept of Psychology at UCNW then, but Fergus Lowe had just arrived and was plotting as to how he would one day overthrow Dafydd and be crowned King of the Paedophiles himself. See post 'Feet In Chains'.
Willie served as Home Secretary, 4 May 1979 – 11 June 1983, being appointed as soon as Thatch became PM. That was when Willie appeared in public wobbling with excitement at the notion of giving Young Thugs their Short Sharp Shock. The experiment was abandoned because it was demonstrated to be utterly ineffective. Willie was Home Secretary when Mary Wynch was unlawfully imprisoned by Dafydd and the gang and when she began her legal action against them. He was in post when Brown and I were placed under surveillance and undercover officers moved into our house in the guise of house mates etc…
Willie was a big mate of Thatch's although he was a Heathite wet left over from the regime which preceded Thatch. As with Ian Gilmour (see post 'Bernard Levin And Jonathan Miller Talk Bollocks'), people marvelled at how these two old pals of Ted's survived among Thatch's circle of hard right monetarists. Simple really. Peter Morrison was a mate of Thatch's and on the right of the Party, but Peter's brother Charles, the Tory MP for Devizes, was a pal of Ted's and a wet. Dame Mary Morrison, their sister, was Woman-of-the-Bedchamber to Lilibet. So Dafydd had the whole spectrum of the Tory Party covered. Dafydd's a One Nation Tory. Like his mate Ken Clark.
Willie Whitelaw and the Tory Party went back a long wavy. He was elected as the Tory MP for Penrith and The Border in 1955 and held his first Gov't post under Harold Macmillan as a Lord of the Treasury (Gov't Whip), 1961-62. Willie was where the action was re Profumo, which starred Bronwen Astor nee Bronwen Pugh, daughter of Sir Alun Pugh, a judge who had grown up in west Wales and who sent Bronwen to boarding school in Dolgellau. There was just one year's difference in age between Bronwen and Ioan Bowen Rees, who also went to school in Dolgellau and who's dad taught at Dolgellau Grammar School. Ioan himself went to Oxford – he made it big like Bronwen – but his dad and mum both went to UCNW and his dad had held office in the Students' Union there.
Willie Whitelaw lived in Cumbria for approx 40 years – he was the MP for Penrith and the Border, 1955-83 – and entertained Savile's mate Trumpers there. Bulletproof windows were installed in Willie's country seat when Willie was appointed N Ireland Secretary. It is now widely believed that some of the IRA's targets were killed because they were involved in organised paedophilia and it might not have been the IRA who assassinated them. Mountbatten is alleged to have been one such person, Ian Gow and Airey Neave are two others. There is suspicion that it was the security services themselves who killed them, the security services warring within their own ranks in a way that would have made the gwerin proud.
William Bingley lived in Cumbria. Bingley, who, when he was Legal Director of MIND, then Chief Exec of the Mental Health Act Commission, colluded with Dafydd and the gang, as did William's mum, Lady Juliet Bingley, when she was a big wig in MIND. Lady Juliet had cut her teeth in colluding with organised abuse when young as as student at the LSE and during her training as an almoner (social worker) on placement with Liverpool Personal Social Services at about the time that dear old Dafydd and Lucille were at Liverpool University. Lady Juliet got off to a flying start, being the daughter of Reginald Vick, a surgeon at Bart's, an institution facilitating organised abuse. Lady Juliet subsequently hit the jackpot when she married Admiral Sir Alec Bingley, who was Commander-in-Chief of the Mediterranean Fleet and NATO Commander Allied Forces Mediterranean in 1959 and then Commander-in-Chief, Portsmouth and Allied Commander-in-Chief, Channel in 1961 and who served with Lord Louis… Lady Juliet officially joined forces with Dafydd – who was a leading light in MIND – after Sir Alec pegged out in 1972.
Call me old fashioned, but I expect something rather better from the Commander of the NATO Allied Forces than to be a friend of Dafydd's.
William Bingley died in a fell walking accident in 2011, just as Operation Pallial opened and when there were demands for a review of the Waterhouse Inquiry. Ooh the Top Docs couldn't save poor old William and he'd just resigned as Chair of North Lancashire NHS Primary Care Trust because he'd been running a scam, after serving as a non-executive Director of Morecambe Bay Primary Care Trust (2000-06) which wiped out all those babies but that was kept quiet for a long time. After William entered the Golden Charidee in the Sky, he was fondly remembered in obituaries as having been a Wonderful Host, along with his wife, a former Angel, at their gorgeous house in Cumbria, where the dinners were legendary and the wine flowed and Important People Met Each Other. I do hope that the veg was organic and home grown.
Welcome to chez Bingley Lord King, you MUST meet Trumpers, she'll tell you to fuck off…
And do you know Willie?
Willie, when you've changed out of the baby doll nightie and put some panties on, DO meet Marion, she's a Mental Health Campaigner, like us, but she's also given birth to a Tibetan Terrier called Buddy who is employed as her emotional support dog…
Marion's been on Radio 4 with Claudia, DO have a chat with Claudia…
And have you met Michael Grade and Ruth Deech??

Now we've got two Very Special Guests coming to dinner tonight…
Peter Swinnerton-Dyer was a man who could get things done, being a Fellow of Trinity College, Cambridge, Master of St Catharine's College, Cambridge and then VC of Cambridge University, 1979-83. I know someone who was a student of Swinnerton-Dyer's at Cambridge many moons ago and he maintained that Swinnerton-Dyer propositioned undergrads – male undergrads, 'there weren't any women there' – and used to enjoy walking around Trinity College wearing nought but a little towel wrapped around his nether regions to show off his physique, Greek God-like.
Rab Butler, who spent donkey's years in Tory Cabinets but never became PM, was Master of Trinity, 1965-77. See previous posts. Trumpers was mates with Rab during much of that time because she was based in Cambridge and was busying herself as a Tory Councillor, magistrate, Lady Mayoress, Helping Unmarried Mothers, prison visitor, sitting on Committees and raising money for Addenbrookes Hospital, because the doctors they were wonderful. See post '95 Glorious Years!'. There was an elite paedophile ring in operation at Cambridge at the time. Carlo was a student at Trinity College, Cambridge, 1967-70 and Rab was appointed as his personal mentor. See previous posts. Thatch gave Trumpers a peerage in 1980 for being no more than a crooked interfering busybody, but there was Mary Wynch to deal with by then and then between 1985 and 1987, Trumpers served as a junior Health Minister, in which capacity Trumpers gave her mate Jimmy Savile a job on the management task force of Broadmoor. See post 'Socio-Political Context Of The North Wales Mental Health Services In The 1980s' and 'A Pretty Classy Piece Of Operation'.
To return to the man who made it clear to Swinnerton-Dyer that Bradford's Dept of Peace Studies had better be allowed to survive, James O'Connell:
…was head of department for fifteen years from 1978-93 and by the time he retired…Bradford had acquired a worldwide reputation as one of the leading university centres for peace research.
James's background was distinctive. He was born in Cork in the early years of Ireland's independent statehood, was educated in Gaelic in his early years, ordained a Catholic priest in 1952 and awarded a PhD from Leuven/Louvain in 1957. He was a member of the Society of African Missions and worked in Nigeria for twenty years, including seven years as professor of government at Ahmadu University in Zaria. He left the priesthood but remained a Catholic for the rest of his life. James wasexpelled from Nigeria in 1975, mainly as a result of getting on the wrong side of politicians for his role in redrawing the constitution after the Biafra war, and was then dean of arts at Northern Ireland Polytechnic for two years before coming to Bradford to succeed Adam Curle in 1978.
At Bradford, as well as facing up to intense external pressures James had the difficult task of trying to combine leading a department that had staff and students heavily involved in activism with fulfilling the academic demands of an often suspicious university…
James's role in all of this was crucial and it stemmed partly from his own background. As a native of County Cork he had a distance from the British establishment that ensured he was never in awe of it.
He had the dirt on it.
Moreover, his quiet demeanour concealed a tough centre and a determination which surprised many who knew him little, ensuring that he played important roles at Bradford not just as head of peace studies but also variously as dean of faculty and pro-vice-chancellor.
James was holding a stick of dynamite, there'd be no worries about promoting him to senior management.
In addition to his university work James played a key role in the development of a particularly effective NGO, the British American Security Information Council (BASIC), as its longest-serving board member: a clear demonstration of his determination to combine scholarship with support for activism…
Expanding the network.
…When he arrived there were six staff, by the time he retired there were twenty-one and a student community from at least thirty countries, in an institution that had become renowned internationally for the quality of its work…
Fungus Lowe in Bangor managed a far more impressive bit of empire building in the School of Psychology after he overthrew Dafydd, but then Carlo wasn't Chancellor of Bradford and Fungus will have worked harder than O'Connell. Fungus did have a strong work ethic but he was a sociopath so the result wasn't as positive as it could have been.
Bradford University's website has a tribute to James O'Connell as well:
Professor O'Connell served as Head of Department of Peace Studies from 1978 to his retirement in 1993 and was a leading figure in the development of the University in the 1980s with periods as Dean of Social Sciences and Pro-Vice Chancellor.  James played a major role in ensuring that the University survived the huge cuts imposed by the University Grants Committee in 1981 but his most enduring legacy lies in the development of Peace Studies at Bradford.
The man who's charm, diplomacy and steady hand on the tiller was credited with helping steer UCNW through the Swinnerton-Dyer storm that nearly rendered it a shipwreck was Professor Eric Sunderland. Eric calmed the waters by being a well-camouflaged paedophiles' friend who pandered to the bastards so effectively that they continued running the place. When Eric retired in 1995 he assisted in operating the strings of Professor Roy Evans, the succeeding VC. Krakatoa erupted in 2004 when Merfyn Jones became VC, who had a track record of spilling the paedophiles' pints, as did his wife and one of his friends (see post 'Lest We Forget' and 'The Point Is To Change It').
The PVC who actually thrashed out the dirty deal between UCNW and Swinnerton-Dyer was Professor/the Rev Alwyn Roberts, who was among other things, a former Methodist Missionary, a BBC Governor and a Gwynedd County Councillor. See post eg. 'Meet The Gwerin', 'The Wind Of No Change' and 'There's Methodism In this Madness'. Alwyn Roberts also used his knowledge of Dirty Dafydd and the gang to twist Thatch's arm re matters Welsh language campaigning…
UCNW – and indeed the wider University of Wales of which UCNW was a constituent college – was blessed with Carlo as Chancellor from 1976, when it was obvious that Jeremy Thrope's alleged hiring of a hitman to kill Norman was a story that could not be suppressed any longer and that things might unravel at great speed if people in the Highest Places Possible didn't rearrange the furniture. See previous posts.
Bradford University couldn't boast the heir to the throne as its Chancellor, but it came a good second with Harold Wilson as Chancellor, 1966-85. So Harold was Chancellor during the years that he was PM, while he restructured huge swathes of Gov't in order to conceal the Westminster Paedophile Ring and beyond that, until the year that Mary Wynch made legal history when the Master of the Rolls gave her the go-ahead to sue Dafydd and the gang. 1985 was also the year in which I first contacted MPs and Ministers about the gang in north Wales. I went to see Keith Best, the Tory MP for Anglesey, in the summer of 1985, just after Mary had appeared in the London broadsheets. I had no idea that Best was a Minister in the Welsh Office who was fully on board with the gang and as I have explained in previous posts, I'm fairly sure that Tony Francis had contacted the Welsh Office as soon as I challenged him, before I got as far as contacting Best myself.
Harold Wilson's biggest problem in Wales in terms of molesters needing to be protected was George Thomas, the south Wales Labour MP who was elected in the mid-1940s, was appointed Speaker of the House in 1976 and in 1983 was given a Viscountcy. For years Thomas had been a huge vote-puller for the Labour Party in south Wales and he was also a big figure in the Methodist Church. See post 'There's Methodism In This Madness'. Harold's own wife Mary was the daughter of a Nonconformist Minister. See post 'Come, Friendly Bombs'. Wilson used to begin his General Election campaigns in south Wales, sharing a platform with George Thomas. Thomas was a friend of Thatch as well, despite their political differences. And a big fan of the Royals… Bradford's Gentle Folk in the Dept of Peace Studies received an added layer of protection with Harold at the top of the University.
Harold Wilson was pals with Lord Asa Briggs who grew up in Keighley, on the outskirts of Bradford, who after Cambridge and work with the intelligence services during WW II, worked at Leeds University and then spent many years at Sussex University, serving as VC, 1967-76. Not only was Asa concealing the Brighton end of Dafydd's business, but Asa declared war on Merfyn Jones when Merfyn was still an undergrad at Sussex. Asa mobilised with the knives of many other paedophiles' friends once more years later when Merfyn was appointed VC of Bangor University. See post 'Anthem For Doomed Youth').
Harold Wilson was succeeded as Chancellor of Bradford by Sir John Harvey-Jones, 1986-91. Sir Trevor Holdsworth, served as Chancellor, 1992-97; then Baroness Betty Lockwood, 1997-2005 and then Imran Khan, 2005-14. I heard all about Imran Khan from my friend who worked at Bradford, but that's another story…Bradford University and Bradford the city had some pretty big problems and Imran On Board was a helpful distraction… The huge trafficking ring that operated in Bradford for so long with the knowledge of so many people has become horribly public now Imran. DUH!!
'Born in Lahore, Pakistan, as a cricketer Imran led Pakistan to numerous victories all over the world before moving into politics. One of his first duties as Chancellor was to lay a foundation stone for the University's Institute of Cancer Therapies'.
What was happening to psych patients in Bradford, the huge problems in the 'Health and Warfare' Dept at Bradford, the con that is the 'Born In Bradford' project and the large scale class A drug dealing facilitated by the NHS in Bradford has still to become public. It's OK though, as Imran confirmed, the doctors they were wonderful.
Betty Lockwood, Baroness Lockwood (born 22 January 1924), is well worth a visit as they used to say on Blue Peter. 'On a national and international level she has been heavily involved in promoting equal opportunities for women'. Reading those words are beginning to fill me with dread these days.
Born in Dewsbury, West Yorkshire, the daughter of a coal miner, Betty Lockwood left Eastborough Girls School at 14, then continued her studies at night school. With the support of a Mary Macarthur Scholarship for working wimmin, she studied at Ruskin College. Betty hasn't clarified exactly when she studied at Ruskin, which is probably quite sensible of her, because Matt Arnold taught Peter Howarth at Ruskin in the mid-1960s before they ran the massive paedophile ring with Dafydd and John Allen in north Wales. Prezza was at Ruskin with Arnold and Howarth. Arnold and Howarth were not the only people at Ruskin involved with organised abuse. See eg. post 'A Study In Tyranny'.
After Ruskin, Betty became active in the Labour Party as Regional Wimmin's Organiser for Yorkshire, then moved to London as the National Wimmin's Officer for the Labour Party, 1967-75. Betty was instrumental in the creation of the Equal Pay Act 1970. Betty served as the first Chair of the EOC, 1975-83 and was Chair of the European Advisory Committee on Equal Opportunities for Women and Men, 1982–83.
So perhaps Betty can tell us all why she, along with all the other Wimmin's Champs previously outed on this blog, said not a word about the cartel of Top Doctors who until about 1990, conspired to make it virtually impossible for women in north Wales to access NHS abortions, thus sending them into the hands of the dangerous private abortionist in Chester or other abortionists who were even more unlawful and dangerous. Then there were the women who couldn't afford the fee to risk their health who were told that if they wanted an NHS abortion – although they still were going to be refused one – they had to stay at the North Wales Hospital to be 'assessed' by Dafydd. None of them emerged with a baby. Other women and not just girls, had their babies abducted by Top Docs. See eg. post 'It's Bachman Turner Overdrive – Not Arf'. But Betty didn't mention the large scale sexploitation of girls in care in north Wales or indeed by Savile's gang in Yorkshire. Betty kept quiet about the forced marriages and 'honour' killings as well, it was only the Labour MP for Keighley, Ann Cryer, who had the guts to speak out about that and was called a racist by the rest of the Labour Party. See previous posts.
Betty, ask yourself why the BNP were winning seats on Bradford Council and ask yourself why Gorgeous George Galloway was elected as MP for Bradford West in 2012. You left people behind Betty, just as Little Nell Hodge left them behind in Barking while the local hospital exterminated patients and the BNP began picking up votes there.
We should not be surprised that Betty remained silent about the appalling suffering of some women and girls in north Wales and elsewhere. Because Betty while was Chair of the EOC, 1975-83, this was the Deputy Chair of the EOC, 1975-79:
 Baroness Elspeth Howe, relation of Carlo's wife Camilla, wife of Geoffrey Howe, Thatcher's right hand man until he threw a wobbler at the end of 1990. Before he was an MP and Cabinet Minister, Howe was a crooked barrister working on the Chester and Wales Circuit, concealing the crimes of Dafydd et al. Howe served as Solicitor General, 1970-72, in Heath's Gov't, where he continued to hide the crap.
Elspeth and Geoffrey were lifelong friends of Ronnie Waterhouse and his wife. Howe knew Waterhouse when they were young, years before Howe became an MP. They Howes and Waterhouses went on holiday together regularly, they were the best of mates.
 Ronnie Waterhouse enjoyed kipping at Dorneywood when Howe was Chancellor of the Exchequer, but he was a bit pissed off when Howe was demoted to Foreign Secretary because the official residence wasn't up to Waterhouse standards. Ronnie ensured that the rest of the family enjoyed a bit of life at the top too; when his wife couldn't make it to a Geoffrey and Elspeth Jolly, Ronnie's daughter 'deputised' for his wife. The rest of us would call it 'getting your daughter into a Cabinet Minister's freebie'.
Not that the Waterhouses were the only unacceptable things to find their way into official Gov't residences during Dafydd's heyday. Savile spent numerous Christmas's at Chequers with his pal.
No-one can accuse Elspeth of using her husband to get through the doors of the Lords though. Although she became Lady Elspeth after Geoffrey was Sirred and then Lady all over again when Geoffrey became Baron Howe, Elspeth was given a peerage in own right in June 2001, the year following the publication of the Waterhouse Report. Obsequious press reports quipped that the woman who ignored the gang rape and murder of children was 'Once, Twice, Three Times A Lady'. The Triple Lady had achieved international significance by being, as well as Betty's Deputy at the EOC, a JP in Inner London, 1964-2002.

Would that be the Inner London of the Boroughs which sent so many kids to children's homes in north Wales throughout the 1970s and 80s, ignored serious complaints of abuse and then kept quiet when the kids returned to London as sex workers, many of them dying of HIV AIDS in the late 1980s? Yes, it would be. Elspeth was Chairman of the Bench at Camberwell Youth Court. Camberwell is on the doorstep of the Maudsley and the Top Docs of the Maudsley, including Dafydd's boss Dr Bob Hobson when Dafydd passed through the Maudsley before returning to north Wales and becoming a consultant, were facilitating a sex abuse ring in Camberwell. The business bloomed and under various local authority reorganisations, part of the turf became Southwark Borough Council, which sent huge numbers of kids to children's homes in north Wales, as part of massive corrupt deals carried out by Bermondsey MPs/Councillors. Peter Tatchell tried to challenge the people involved – Lord Bob Mellish and pals – when he stood for Bermondsey in 1983, but was subjected to a homophobic hate campaign organised by Mellish and co, which was joined by all other political parties, as well as the tabloid press. See post 'The Battle For The Labour Party's Soul'. Tatchell was beaten up and received death threats. Betty Lockwood was Chair of the EOC at the time. Equal Opps are about men as well Betty…
The kids in care and Empowered Service Users of Southwark were cursed by layers and layers of paedophiles' friends. Dafydd's mate Dr Jim Birley from the Maudsley, who was almost as unhinged as Dafydd but managed to hold many roles at the top of the psychiatry establishment nonetheless, set up various charidees for Empowered Service Users and like Dafydd, was involved with MIND. Jim Birley was mates with Lord David Ennals, who as well as having a long and glorious involvement with MIND alongside Dafydd and the Bingleys, served as a Minister in the Home Office in 1967 when Harold Wilson was PM, as a Minister in the DHSS, 1968-70, under Secretary of State Battling Babs Castle and then as Secretary of State for the DHSS, 1976-79, under PM Jim Callaghan. David Ennals knew exactly what Dafydd was up to from numerous sources and he was a big wig in MIND throughout the years when MIND was associated with the NCCL and campaigns for paedophiles' rights. Ennals was the Labour MP for Dover, 1964-70 and Norwich North, 1974-83, so all will not have been well in Norwich. Norwich is the location of the University of East Anglia, which was presided over by Bluglass's mate Michael Thompson…
Parts of the old Camberwell Borough Council were subsumed into Peckham and Dulwich. The Labour MP for Peckham, 1982-97 and Camberwell and Peckham from 1997 until the present moment was/is dear old Harriet, who was the legal officer for the NCCL when the NCCL was campaigning for paedophiles' rights. Tessa Jowell was Labour MP for Dulwich, 1992-97 and Dulwich and West Norwood, 1997-2015. Tessa was a social worker who worked as a child care officer for Lambeth Borough Council, which oversaw kids in care abused in its own homes and sent them into the arms of Dafydd and John Allen. Tessa also worked as a psychiatric social worker at the Maudsley and served as Deputy Director of MIND during the 1970s. Before being elected as MP for Dulwich, Tessa was Chair of the Camden Borough Council's Social Services Committee, when kids and psych patients were being abused in Camden.
On 27 February 1978 Elspeth's mate Betty was elevated to a life peerage and sat in the Lords until her retirement in May 2017. In 1978, Dafydd and the gang were in hot pursuit of Mary Wynch who had gone into hiding before they found her and illegally imprisoned her and it was obvious that Jeremy Thrope was living on borrowed time.
Betty's connections with Bradford University dated back to 1983, when she became a member of its Council. So Betty joined just after Thatch and Keith Joseph launched their attack and Professor James O'Connell twisted Swinnerton-Dyer's knackers and reminded him of what was at stake here. Betty became Chancellor in 1997, the year that Elspeth's pal Ronnie began the Waterhouse Inquiry. Betty remained as Chancellor throughout many of the Bradford adventures of which I heard and then handed over to Imran in 2005.
Betty is Chair of the National Coal Mining Museum for England.
Here she is, down t' pit:
Here's Betty's fellow miner:
Betty is President of the Yorkshire Arthritis Research Campaign. She is also a member of Soroptimist International, of which Lucille Hughes was/is a leading light, along with a lot of Lucille's friends. Betty is Patron of the Born In Bradford research project. The Top Doctors probably haven't told Betty that for years they knew about genetically inherited conditions affecting the children of cousins who married, but have only just begun offering a genetic counselling service. The forced marriages and 'honour' violence has been admitted now, but the Top Docs are still keeping schtum about the disproportionately high mortality rate among baby girls in some parts of Bradford.
Betty lists her hobbies as enjoying the Yorkshire Dales and opera. Here she is with her friends at La Scala:
Betty was succeeded as Chair of the EOC in 1983 by another battler for the everyday woman, Beryl Catherine Platt, Baroness Platt of Writtle, (18 April 1923 – 1 February 2015). Beryl was a Tory who's background was in engineering and she worked in aeronautics and aviation safety. She retained a strong interest in science and technology, 'particularly the advancement of women in these fields'.
Beryl Catherine Myatt was born at Leigh-on-Sea in 1923. Platt was educated at Westcliff High School for Girls in Southend-on-Sea, Essex. When WW II broke out, Platt and her family moved away from the coast and she spent a year at Slough High School for Girls (now known as Upton Court Grammar School) where she initially gained entrance to read Mathematics at Cambridge.
In July 1941, the Gov't announced a state bursary for engineering undergraduates to help the war effort. Platt wanted the dosh, changed her plans and thus studied  Aeronautical Engineering.
When Platt arrived at Girton College, Cambridge, she was one of five women amongst 250 men studying Mechanical Sciences; she was only the ninth woman to be accepted since her original predecessor in WW I. Wartime meant that the course was reduced to an intensive two years, including for Platt three weeks' experience on the shop floor of the Hawker Aircraft Company. Platt was of the generation where women were not awarded a degree, no matter how well they'd done, in 1943, they still received a 'Title of degree'. It was not until 1948, that women were admitted to degrees at Cambridge.
Upon graduation in 1943, Platt was advised by C.P. Snow in his role at the Cambridge University Appointments Board (a sort of careers advisory service) to contribute to the war effort and so Platt chose to return to the Hawker factory. This was the beginning of six years of work as a technical assistant in the aviation industry, 1943-49.
Platt's first job was at Hawkers Experimental Flight Test Department, where she was one of only three women in the Dept. Platt worked on the testing and production of three of RAF fighter planes. After the end of the war, Hawker's chief designer Sidney Camm offered Platt a continued role at Hawkers but Platt declined, preferring to move from war planes to investigating air safety for British European Airways.
In 1949, Platt married Stewart Sydney Platt, marking the end of her professional career in aeronautical engineering. Platt became a housewife, and a mother of two children, Hon. Roland Francis Platt (b. 1951) and Hon. Victoria Catherine Platt (b.1953). Both her children are chartered accountants.
Once Platt's children began school she considered a return to the aircraft industry but there were none to be found within range of Writtle, the village where she lived. So like many posh, well-educated women of her generation, Platt plunged into local politics.
Platt's political career began through her membership of the Parochial Church Council and she was then nominated for a vacancy on Chelmsford Rural District Council in 1956, a role she held until 1974. In 1965, Platt was elected to Essex County Council and held this role until 1968, when she was appointed to the office of Alderman of the Essex County Council, 1969-74. Platt was also appointed Chairman of the Essex County Council, 1971-80.
Platt was created a life peer in 1981. Platt wasn't quite the offensive criminal that Trumpers was, but like Trumpers, Platt was given a peerage by Thatcher after doing, at least officially, bugger all. Britain was full of ladies who sat on the Church Council and Chaired the County Council at the time, they didn't all receive peerages. Excuse my cynicism, but Platt received that peerage for something that does not appear in accounts of her biography. I suspect that it was something to do with the abuse ring in the Suffolk/Essex area, which gave rise to John Allen and Dafydd's business plan to produce child sex workers in north Wales. Allen was in Suffolk, Rab Butler was the Tory MP for nearby Saffron Waldon, 1929-65 and the aristocratic family, the Herveys, have long since had their family seat in the area. John Jermyn Hervey aka Lord Bristol was famously a drug raddled toe rag who infected numerous rent boys with HIV, but John Jermyn was not the only member of his family to meet a sticky end when not very old. His brother Nicholas did as well, who's lifestyle was nothing like John's, but Nicholas suffered very badly at the hands of Top Docs. See post 'Captain Swing And His Crew'.
The obliging and unscrupulous Top Doc in the Suffolk area keeping the lid on the crap was Dr John W. Paulley, who was one of the founders of the University of Buckingham, Thatcher's dream of a private university. Thatch became Chancellor after the University of Buckingham came into existence. Lord Max Beloff was also heavily involved with the University of Buckingham and many members of the extended Beloff family bagged senior academic positions at the University. Lord Max was mates with Ioan Bowen Rees and Lord Max' son Michael Beloff QC was a colleague and friend of Cherie and Miranda's who ensured that the 1996 Jillings Report into the abuse of children in the care of Clwyd County Council since 1974 was completely suppressed. See post 'It's A Piece Of Cake…' Lord Max's sister Norah Beloff was a journo who worked for Reuters and also 'The Observer' for many years. Her husband continued to work for 'The Observer' after Norah had fallen out with Donald Trelford and left. See previous posts. For information on Lord Max and his family and the University of Buckingham, see post 'The International Language of Screaming'.
On 24 June 1981, less than a month after joining the Lords Beryl, Platt made her maiden speech on a "subject very close to [her] heart", that of higher and further education.
Platt was a member of the European Communities Advisory Committee on Equal Opportunities for Women and Men, 1983-88 and became Chair of the EOC in 1983. In 1984, as a result of encouragement from the Finniston Report, the EOC together with the Engineering Council set up WISE – Women Into Science and Engineering. The initiative was spearheaded by Platt and was established to highlight the career opportunities for girls and women in science and engineering professions.
Beryl Platt almost certainly knew Daphne Jackson, who was President of the Women's Engineering Society. Daphne Jackson was the first female Professor of Physics in the UK and she spent most of her career at the University of Surrey, her early career having been given a helping hand by Lewis Elton, Ben Elton's dad, who was also an academic at Surrey. Like Platt, Daphne made a great deal of her support for women in science and engineering and she promoted schemes whereby professional women who had taken career breaks could return to work without losing seniority. As with Beryl, Daphne's Support For Women was in fact Support For Middle Class Women to go further in their careers. Not all of them however. What did Daphne and her mate Wynn Aherne at Surrey do to me? They stole my work, gave it to one of their mates in Newcastle-upon-Tyne University – a woman of course – who published it with her name on it without me having any idea about this, used it to raise further funds for themselves and told me that my funding had run out. I was made redundant. The biggest irony of all was that Daphne died of cancer in 1991, just two years after they did all this. It was ironic because Daphne wasn't that old and she had been involved in cancer research fraud with the people who plagiarised my work. Daphne's obits stressed how she succumbed to the disease that she was 'helping to fight' to 'save other people'. Not quite the real story… See previous posts for further details of Daphne Jackson and Lewis Elton fun..
Platt was an active member of the Lords and between 1990 and 2008 she served on a number of Committees relating to science, technology and engineering, including the Select Committee on Science and Technology. Lord John Walton, the Bastard of Newcastle-upon-Tyne, who protected Dafydd and the gang for their entire careers (see previous posts), was a member of the Select Committee on Science and Technology, 1992-96 and 1997-2000. Lord Bob Winston Chaired the Lords Select Committee on Science and Technology.
From October 2010, Platt was on a leave of absence from the Lords and she died on 1 February 2015.
Platt was a member of the council of the City and Guilds of London Institute, 1974-94. She was a member of the Cambridge University Appointments Board, 1975-79. Platt had been awarded numerous of honorary fellowships and doctorates and was a Fellow of the RSA. She was given the Freedom of the City of London in 1988. Platt was also made a liveryman of the Worshipful Company of Engineers in 1988. She was Vice-President of UMIST, 1984-92 and Chancellor of Middlesex University, 1994-2001.
Compare and Contrast:
The Baroness Platt of Writtle
Joyce Gould followed Betty Lockwood as National Wimmin's Officer of the Labour Party, 1975-88. Joyce became a Baroness as well, one obviously does OK for oneself if one spends a few years as the National Wimmin's Officer of the Labour Party and says nothing at all about the most serious abuse of girls and wimmin at the hands of organised gangs with links to Jimmy Savile.

Gould worked as pharmaceutical dispenser, 1952-65, when she was then employed as a clerical worker whilst assisting to organise the 'Pioneer Women', 1965-1966. Gould was Assistant Regional Organiser for the Labour Party, 1969-75, Assistant National Agent and Chief Women's Officer, 1975-85 and then Director of Organisation, 1985-93. Gould was a Committee member of the Campaign Against Racial Discrimination, 1965-75.
Joyce Gould was a member of the management committee of the Grand Theatre in Leeds, 1968-72. Theatres, dance halls, entertainment, Savile, Geddit…
Joyce was Executive Member of the Joint Committee Against Racism in 1970 and Secretary of the Yorkshire NCCL, 1970-75. NCCL campaigning for paedophiles' rights, in Yorkshire, 'owz about that then, now then now then why didn't anyone stop these silly fuckers at the time…

 Joyce Brenda Gould, Baroness Gould of Potternewton (born 29 October 1932) was the daughter of Sydney Manson and his wife Fanny (née Taylor). Joyce was educated at the Roundhay High School for Girls and the Bradford Technical College, where she studied pharmacy. Like Dafydd's gang in north Wales, the Bradford contingent had and still have a profitable line in distributing and dealing class A drugs.

Joyce is a member of the TGWU and GMB. Joyce is rather like Mary Turner, the Labour movement's wimmin's hero who was Gen Sec of the GMB from 1997 until her death. Mary the dinner lady who cared so much about wimmin and children while she worked in a Borough of London with Social Services that were riddled with neglect and abuse and one child was slowly starved and battered to death in front of the eyes of Mary's own colleagues and fellow trade unionists. They didn't ask any questions before the girl died and they still didn't ask any after. See post 'Mary Turner – An Appreciation'. Two stupid vain wimmin who took their orders from some very unpleasant men…
On 6 October 1993, Joyce was created a life peer. Just months before, I'd been found guilty of 'staring at a social worker in Safeways', the social worker in question being a member of Dafydd's gang who had perjured herself when she claimed that I screamed and swore at her and that she feared imminent violent attack. She admitted lying when she was in the witness box but there was no investigation…
 Joyce was Opposition Whip, 1994–97, whilst also holding positions for the Citizen's Charter, 1994–96 and Women, 1996–97. She has held positions on various Lords Select Committees: Finance and Staffing (1994–97); European Union Sub-committee C – Environmental Affairs (1994–97); Constitution (2001–05); Speakership of the House (2003); Refreshment (2005-2008) (2012-); Procedure (2008-2009) (2012-2014); Enquiries (2013-2014); Affordable Childcare (2014-); Standing Orders (Private Bills) Committee (2008-). She was Deputy Chair (2002-2012) and Deputy Speaker (2002-2012).
Joyce is a member of the Fawcett Society, a past Council member of the Constitution Unit and Vice Chair and Executive member of the Hansard Society.
Joyce is President of the Family Planning Association. Previous posts have discussed how many paedophiles' friends have been involved with the FPA; it was about ensuring that hormonal contraception could be prescribed to underaged girls in care who were being forced into sex work, without questions being asked.
Joyce is also Chair of the H Chapman Society. She is a Patron of Yorkshire MESMAC (2008-); UN Women UK, HIV Sport, the Brighton Women's Centre; Forward (Foundation for Women's Health Research & Development) and Jo's Trust. She is Vice President of Speakability (2000-) and President of the Brighton and Hove Fabian Society (2008-) Gould is President of the Mary MacArthur Holiday Trust.
Joyce was Chair of the Independent Advisory Group on Sexual Health and HIV, 2003-2011.In 2007, Gould was appointed to the Board of the Women's National Commission and shortly after that was made interim Chair . In March 2008, she was appointed as Permanent Chair. She is a past President of the UK charidee Epilepsy Action.In 2006, Gould was made an Honorary Fellow of the Faculty of Sexual and Reproductive Healthcare of the Royal College of Obstetricians & Gynaecologists. In 2007 she was made an Hon Fellow British Association for Sexual Health and HIV.

Malcolm Pearce, the St George's consultant who was one of those concealing organised abuse in London and in north Wales, grew up in Leeds and retained close contacts with the area.

Joyce was Secretary of the National Joint Committee of Working Women's Organisations, 1975-1985. She was Executive member of the Women's National Commission, 1970-75 and of the Commission on Conduct of Referendums, 1990-94. In 1971, Joyce was a member of the Dept of Employment Women's Advisory Committee, 1997 -98 of the  Independent Commission on Electoral System. She held the position as Vice President Socialist International Women, 1978–85 and was also a member of the Home Office Committee on Electoral Matters.

Joyce Gould: the biggest useful idiot that the Labour Party ever had the good fortune to stumble upon. One who really like being On Committees as well.
Joyce published her autobiography in Jan 2016, called 'The Witchfinder General: A Political Odyssey'. 
Here's the Witchfinder General herself thinly disguised in a layer of Wimmin's Wisdom and the Minutes of the Last Meeting:
---
Baroness Joyce Gould of Potternewton

This photo of the Witchfinder General may be found on the website of Anne Weyman, A Mentor, who describes herself thus: 'I support Senior and Chief Executives to help promote skills development in areas where executives are less experienced or less comfortable. I also help balance the demands of the job to aid personal and career development.'
Joyce appears on Anne's website among the 'endorsements' testifying to how great Anne is. The first endorsement is this one:
Professor Sir Graeme Catto:
Former Chair of the General Medical Council and a man who ignored the crimes of Dafydd et al: I was delighted when Anne was appointed to the General Medical Council. Her clarity of thought and ability to focus on the essential elements of complex issues ensured that her views were influential with her colleagues. As President I knew I could always rely on Anne to make informed comments on sensitive issues in a way that helped us all come to an agreed outcome without rancour. Anne has the ability to encourage less experienced colleagues and always expresses her opinions lucidly and honestly.   She is a great asset to any organisation in which she takes an interest.
Endorsements follow from Sarah Wootton, Chief Exec, Dignity in Dying; David Aaronovitch (he's been on the Board of the FPA, that's how he knows Anne); dear old Professor Tanya Byron who tells you how to look after your kids because you certainly can't do it (Tanya found that Anne was just the role model that she'd been looking for); Sir Nick Partridge, Leading Health care and HIV/AIDS care activist, who worked with Anne when Miranda's Gov't gave Anne and Nick £50 million quid in 2000 to design a national strategy for sexual health and HIV (that'll be why STIs are on the up then, even the old classic gonorrhea; bring back syphilis that what I say, if it was good enough for Bertrand Russell…)
Then Baroness Joyce gives her endorsement of Anne:
'I have known Anne for many years as a colleague and friend. Her clarity of thought and passionate commitment to combating prejudice and inequity has been a valuable source of advice and support to me in my work in the House of Lords.  Anne always gets to the core of an issue and finds imaginative and practical routes to achieve changes in public policy.  
 
As President of FPA I saw first hand her effective leadership in restoring its financial health and establishing FPA at the forefront of influence with government and in the media, ensuring that sexual health had high priority in the public health agenda.  With her vast range of experience no one is better qualified than Anne to mentor chief executives and senior executives.
Two more endorsement of Anne follow from Rick Stein and Dr Katherine Rake…
Baroness Gould of Committees was succeeded as National Wimmin's Officer for the Labour Party, by Vicky Philips, 1989-92. Vicky Philips qualified as a solicitor in Aug 1996. She is Head of the Employment Rights Unit at Thompson Solicitors. Thompsons are the lawyers who represent trade unions. Thompsons represented the NHS and public sector trade unions who's members were involved in every big health and care scandal that there has been, including the North Wales Child Abuse Scandal. Vicky was President of the NUS, 1986-1988. Gwynne the lobotomist pegged out towards the end of 1986. He and his people trafficking pals staffed the Student Health Centre in the SU at UCNW. Gwynne's colleagues continued to do so after Gwynne had snuffed it. Every NUS sabbatical officer in UCNW knew what was going on at the Student Health Centre and colluded with it, in return for comfortable careers, often in the health and social care sector.
Vicky qualified as a solicitor in the same month that William Hague announced the Waterhouse Inquiry. She was Wimmin's Officer for the Labour Party when the police investigation into a possible paedophile ring in operation in north Wales/Cheshire was underway. 'No evidence' of such a ring was found. Vicky was in post when there were two attempts to have me imprisoned on the basis of the perjury of members of the paedophile ring which did not exist, one of those attempts being made at the Royal Courts of Justice in The Strand, next door to the Court where St Helena of the Kennedy's, now a Labour peer, was bringing a Wimmin's Rights test case involving a woman who had murdered her husband. I hadn't murdered anyone but St Helena was far too busy working with Professor Nigel Eastman, one of Dafydd's associates at St George's Hospital Medical School to worry about what was happening to me…

Vicky Philips regularly gives talks and lectures on employment law to trade union clients and speaks at events organised by the Institute of Employment Rights. She also writes articles and commentary on employment law matters for Federation News and Equal Opportunities Review.

Vicky's brief CV:

2004–present – Member and Executive Committee Member of the Industrial Law Society
1988–1993 – National Women's Officer, Labour Party
1986 – 1988 – National President, NUS
1985- 1986 – President (Welfare), NUS
1984–1985 – Member of Executive, NUS. In 1984, Duncan Orme, the NUS Welfare Officer at UCNW, refused to deal with my complaint about Gwynne the lobotomist and told me to withdraw it or 'you'll get a bad name for yourself'. Duncan was rewarded for running away with a place on the NHS management training scheme and until recently was Financial Director of one of the Staffordshire NHS Trusts which was exterminating patients and deeply in debt. Duncan got a Third and failed his accountancy exams, but he did conceal a trafficking gang. See previous posts.
1983–1984 – President Students' Union, University of East Anglia.
Here's some fireworks to welcome in 2019:
May there be many more of them…