Readers will know that the Gang excel at propaganda, the peaks of which can be mapped against the periods of time when they are under police investigation or subject to an inquiry or when they are faced with a serious challenge that cannot be swatted away or crushed in the usual manner. The wonderful thing about the Gang is that because so many in generations gone by colluded with them and they then achieved positions of influence, bred, ensured that their children and grandchildren in turn achieved positions of influence, the propaganda potential of the Gang is now really something. I have discovered more splendid examples recently that in true Gang-style were orchestrated by people whom no-one suspected as being connected to the Gang.
Before I introduce the newly identified accomplices, I'll just remind readers of some of the successes of the Gang. I won't provide many details of these old favourites, they have all featured in previous posts, often more than once…
The most recent member of the Gang to have achieved a truly impressive success on a global level is of course this blog's old friend Professor Mark Williams who discovered the Miracles Of Mindfulness when he worked with the Gang at their offending best in north Wales in the 1980s.
Just sit calmly with both feet on the floor, be aware of your breath and live in the moment. Gwynne the Royal Lobotomist was still alive when Mark discovered that living in the moment overcame all sorts of problems.
Living in the moment works a treat if you're Mark and his friends on a Mindfulness retreat in the agreeable surroundings of Trigonos in Nantlle, an organic bolthole in one of the nicest valleys in Snowdonia. Trigonos has done really well out of the Mindfulness retreats, Mark and the Gang must have provided most of their business for the last 15 years. This is what at present can be found on the Trigonos website:
Myths: Snowdonia is the home of Arthurian legend and the Nantlle valley is the site of one of the tales in the Mabinogi, recognised as one of the oldest collections of British Celtic myths.
GROWTH & DEVELOPMENT
Lots of news from Trigonos! Our programme of growth and development in 2019 is underway! To help generate the new energy and ideas, we have created a leadership team to help both consolidate and expand our portfolio of work. This team comprises: Kayleigh Hodgson (a familiar face!) who leads on Business Development & Communications, Lowri Vaughanwho joined us in February to lead on Resources & Projects and (starting in April) Sophie Trow who will lead on Hospitality and Team Development.
We say a fond farewell to Red – our former lead chef – whose contribution to Trigonos on a number of fronts has been much appreciated. She leaves the catering in the very capable hands of Mandy (another familiar face!) who takes over as Senior Chef heading up the catering team.  All our returning visitors will be pleased to know that a Trigonos cookbook is on its way!
Earlier this year we held our first Space to Be retreat – a Trigonos-led course for up to seven people at a time offering the opportunity to access all that Trigonos has to offer (including our new Quiet Room) together with some gentle / light touch facilitated sessions as and when the group choose to meet up. The feedback we received  was fulsome and we are now offering Space to Be three times a year. This retreat seems to be especially popular with people who have been before on a more formal course and are looking for a less structured visit.
We are also very glad to announce that Surinder Hundal (who has a rich background in communications, marketing and, more recently, medical herbalism) has joined Richard Grover and Ros Tennyson as a member of Trigonos' Board of Directors. More to come!!!
One of Mark's colleagues who was acknowledged in Mark's first volume on Mindfulness and who assisted Mark with field work was Keith Fearns, Therapist, leader of the Arfon Community Mental Health Team and the man behind Bangor Ladies Football Team aka Fearns's Harem, the team being virtually 100% social workers, probation officers or students training for these professions.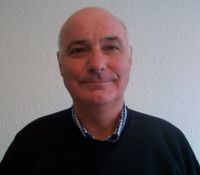 Keith's career highlights included perjuring himself three times in the High Court in an attempt to have me imprisoned, never having previously met me. Furthermore Keith had not seen the affidavit that was signed and sworn in by him at Chester before he stood in the witness box. See eg. 'The Bitterest Pill'. Keith impressed a member of staff at Bangor University after she raised her concerns about a suicidal student when Keith responded with 'let the little bastard jump off the bridge then, I'll section him if he gives me any trouble'.
Keith was just as pleasant to some of his colleagues, violently assaulting an Angel in the street in Bangor. Keith's former neighbours told me that they moved house to get away from him; it was the drunken fist fights in Keith's garden and Keith's harassment of their elderly mother that was the tipping point.
After decades of abusing clients, Keith and his colleagues were finally dismissed some years ago. Realising that the local population would still be in need of their help, they set themselves up in private practice as therapists. Keith as ever led the field and went one better than his mates by appearing on TV, touring the local schools and publishing a book.
Keith hasn't always been a Therapist, he used to be the milkman on Maesgeirchan, the Bangor council estate which hosted Ty'r Felin, the children's home where kids were abused and trafficked to Dolphin Square. Keith is married to June, who I was told has led a truly terrible life at the hands of Milko what with his nasty habits and Harem.
I have long since believed that Milko Qualified in 1979, but Milko maintains on his website that he became a social worker in 1970. Milko does not have a track record of clarity, so I am wondering if Milko worked as an unqualified carer from 1970. Normal carers always call themselves carers, but the thugs of the Gang in north Wales describe themselves as 'social workers' even if they are unqualified labour used to assault the clients, in the way that agency nursing assistants would scream at the patients injured by them that they were 'nurses'. It is possible that Milko worked as a hired thug in Ty'r Felin before Qualifying in 1979, probably at Cartrefle College, an institution who's purpose was to issue certificates to members of the Gang, no matter how hopeless their performance on the course or how many clients they abused. See previous posts…
Milko himself believes that 'I specialise in working with people with anxiety and depression. I have a particular interest in obsessive compulsive disorder (OCD)'.
Milko himself shows signs of OCD. When Milko was asked what he wanted 'done about' me, Milko repeated 'lock her up' even after Milko was told that was not possible. Repetitive Rituals Milko, it's a Symptom!!
Milko is an enterprising man. As well as Arfon CMH Team Leadership and the Bangor Ladies Football, Milko ran a B&B and a fancy dress hire company. For many years now Milko has held office in the North West Wales Branch of the BABCP (British Association of Behavioural and Cognitive Psychotherapists), although I have been told that Milko does not have any qualifications in psychotherapy. Milko's friend, colleague and fellow perjurer Maggie Fookes is listed on the BABCP website as being their Welsh National Chair. Maggie's therapeutic endeavours included locking a distressed Bangor University undergrad in a room and screaming at her 'I know that you were abused, now tell me what happened'.
Milko and his sacked friends colonised the BABCP and used it as a vehicle to continue accessing vulnerable people. We need to ask who established that organisation, when and why. Because no reputable professional body would have touched Milko and his mates. Who is behind the BABCP?
In 2000, I was asked by a social work lecturer why the patients hated Milko and his team because when Milko et al turned up at conferences they wowed everyone with their radical Thomas Szasz-like approach. I explained to the social work tutor that Milko and his mates were a bunch of thugs who lied in court and the only reason that they would ever pretend to be interested in Thomas Szasz would be to use it as an excuse to yell at their clients to go and bloody well kill yourself then it's your choice. I later found out that the social work tutor was on board with Milko himself and I was being questioned to see if I was still a Grass.
Yes Geoff Lees, I will never ever stop denouncing Milko and the Gang for the absolute bastards that they are. Doesn't matter how much I am threatened, they are so bad that I will not remain silent about them. People traffickers Geoff, it's a serious business.
One social worker who left the profession on the grounds that in north Wales one cannot work in social work without colluding with abuse told me that Milko was the 'most abusive professional that I have ever met'.
It is difficult to convey the true essence of Milko on this blog as a result of him being so impressively unpleasant. Suffice to say that mainstream people in Gwynedd who are not Of The Gang are often heard remarking 'I could not believe it when I heard what he did for a living. A social worker?? Him??? He's a thug'.
Milko has organised many Therapy Conferences – his recent interest has been in Compassionate Therapy – and one such Therapy Conference was attended by Hywel Williams, the Plaid MP for Caernarfon, who is a former colleague of Milko's. There was a write up in the local papers with a nice photo. An Empowered Service User who had suffered at the hands of Milko observed 'What chance do we have when the bloody MP is in with them?'
'We're the paedophiles' friends and you can't get us.'
I was told by a former member of staff at Ysbyty Gwynedd that Milko's philosophy was 'Touch us and we'll brain you'. One former member of staff in Milko's team who was dangerously rebellious made a complaint about Milko's workplace bullying. She was signed off work sick and on the evening of the day on which she returned to work she rang a friend and told them that a male member of the Arfon CMHT had sexually assaulted her while telling her that was what happened to Grasses. She left north Wales the next day and never returned.
Well Milko and his pals conducted themselves like that towards their clients, no-one did a thing to stop them, even as the suicide rate soared. Why shouldn't they do it to staff with standards who blew the whistle on them?
Perhaps Prof Alexis Jay would like to leave a comment on the blog and explain why we were left at the mercy of these monsters for years. Fearns should have received a five year sentence for perjury in 1990 with regard to my case alone.
Anyone for Compassionate Therapy and Mindfulness?
Dafydd and the Gang were radical years before Mark Williams discovered Mindfulness and Milko became interested in Compassionate Therapy. Dafydd and his colleagues used to be Laingians. I'm not sure how they squared that with working alongside the Royal Lobotomist and doing all that they could to ensure that he continued lobotomising, but then the Gang have never prioritised consistency. Laing himself was of course not all that he pretended to be or all that his followers thought that he was, but he wasn't as dim as Dafydd et al so was able to occupy the tropes of the counterculture and philosophy in a way that Dafydd et al could not have. See previous posts.
I am fairly sure that R.D. Laing had a personal association with the Gang or at least those members of the Welsh Bloomsbury Set who hung out at Croesor and used the services of Dafydd and Gwynne. The papers of one of their number, Isabel Emmett, a social anthropologist from Manchester University who married a local man from Croesor, are kept at Dartington in Devon. R.D. Laing used to give public lectures at Dartington in the 1980s and of course Bertrand Russell sent his children to school at Dartington Hall. See previous posts.
Empowered Service Users of my vintage used to enjoy pretending to be R.D. Laing – I knew an Angel who did as well – and formulating pointless philosophical phrases that don't actually mean very much. A visitor to our house greatly admired Patient F when he pronounced 'If nothing changes it all remains the same'. This was actually a phrase that F had cribbed from a satirical TV drama, in which an elderly man walked into a room and said 'If nothing changes, it all remains the same' and was hailed as a guru. F enjoyed the meaningless of this phrase for years, but the joke was on us, because it is possible to look at the fuckwittery prevailing at present, the Top Docs screaming that the mental health services are at breaking point, that more resources are needed, at people being urged to talk to their GP, to talk to the Samaritans, at being told that help is there and the problem is that men Won't Share and they Bottle It Up and then read the unremitting stream of scandal, failure and death which still dogs the mental health services and how as ever no-one is prosecuted no matter how serious the neglect and abuse.
'We've failed.' 'We apologise to the relatives and to the patients who may have suffered.' 'It was not the fault of any one individual. It was systemic failure. No-one should be scapegoated, the NHS is a learning organisation with a no-blame culture.'
That is why patients continue to die at the hands of the same people who killed the previous patients who died as a result of systemic failure for which no one individual could be held responsible.
Indeed F, if nothing changes it all remains the same. There is still green paint on the Renault and tomorrow it will rain over Bethesda.
That well-known Laingian Dafydd must have forgotten this when he continued to diagnose paranoid schizophrenia in every patient who complained about him and his colleagues:
F was thinking of the above when Dafydd accused him of lying and F responded with a whole Laingian Knot beginning with I'm a liar – that's the truth. But how can I be telling the truth when I'm a liar…' It was impressive, the Knot went on for quite some time and Dafydd just remained silent throughout it all. But then psychiatrists are supposed to be Good Listeners and to be fair Dafydd was because he was always on the look out for clues as to who had witnessed which crimes.
The Earl and Famous Philosopher who used Dafydd and Gwynne's services while working for the cause of World Peace:

Professor Richard Bentall is a colleague of Dafydd's and the Gang who enjoys mentioning in media interviews that 'People have compared me to R. D. Laing'. Actually Richard, Brown commented years ago that you have built your reputation entirely by saying what other people said many years ago, you have not contributed anything new at all and he wondered how you had managed it. Then I found out who your father was and all became clear. It became even clearer more recently when someone reminded me that you were one of those beginning your career at UCNW when that girl complained about Gwynne the Lobotomist and some of her friends were shafted and another was killed….

In 1979 R.D. Laing was given a boost as his reputation came under attack, by David Edgar's play about Mary Barnes. Mary Barnes was of course Laing and Joe Burke's cause celebre, a middle aged Angel with a diagnosis of schizophrenia who had suffered at the hands of the Top Doctors and then become famous after she arrived at Kingsley Hall and went on the Journey with Joe and Ronnie which included covering the walls with crap. Literally. Ronnie and Joe realised that this was a sign that Mary Barnes was a talented artist and the world famous Recovery followed. Mary Barnes wasn't quite the success story that was given to the media; after the journos and cameras went away she continued to experience serious problems. It's not that I think that Mary would have been better off in the hands of Gwynne, it is rather that Laing and Burke were as dishonest about the Mary Barnes Story than Gwynne and Dafydd were about their Considerable Success With Patients… See previous posts.
In the year that David Edgar's play reminded everyone of Mary Barnes and her Journey, another Mary was illegally imprisoned by the Laingians in north Wales and a Westminster Swinger who was a pal of the Lloyd Georges and married to the former wife of Lilibet's cousin was acquitted of conspiracy and incitement to murder at the Old Bailey.
R.D. Laing was found unfit to practice by the GMC two years before his death on 23 Aug 1989. Whatever his flaws, Laing was no more dangerous than Dafydd and Gwynne who received 100% support from the GMC after every death and disaster. I complained to the GMC about Dafydd and other members of the Gang repeatedly, in 1984, in 1987 and again at intervals as recently as five years ago. No action on any occasion, although the GMC was found to be in possession of a forged document purporting to be a letter from me…
Laing was yet another witness to much crime who keeled over suddenly and unexpectedly at a not very great age (61) with a heart attack. He was in France playing tennis at the time. Dafydd's mate Robert Bluglass had Chaired the 'investigation' my complaint against the Gang in July 1989 and concealed their criminality. Bluglass's Report into my complaint giving Dafydd et al a clean bill of health although Bluglass did note that Dafydd's 'clinical standards' needed to be raised and constructing me as the most serious problem in north Wales was completed by Bluglass and submitted to Clwyd and Gwynedd Health Authorities in August 1989. The year before the North Wales Police launched their first investigation into the paedophile ring that did not exist.
Laing's death sent a chill down the spines of a few, not because another witness, an insider as well, had dropped dead at such a convenient time, but because when Laing had been interviewed by Anthony Clare on Radio 4's 'In The Psychiatrist's Chair' in 1983, Laing had talked about his crazy old mother who hated him (she did seem to have been quite mad and very difficult) and was making voodoo dolls of him in an attempt to kill him by a heart attack. Laing thought that it was hilarious…
Laing's comments during the interview with Anthony Clare re Laing's alcoholism and depression were used by the GMC in their 1987 case against him. 1987 was the year that Ollie Brooke was released from prison early and the year that Dafydd and the Gang formulated their huge conspiracy, in collaboration with the Home Office, to have me framed and imprisoned for a serious crime.
Anthony Clare, like Laing, knew about Dafydd and Gwynne. Clare suddenly gave up all his substantial media work in the very early 1990s and returned to Ireland. No-one knew why because he stopped giving interviews as well. Clare died suddenly and unexpectedly on 28 Oct 2007 at the age of 64. Heart attack. In Paris. See previous posts.
Laing had a lot of kids by different women and treated some of the children and their mothers terribly. One daughter was diagnosed with schizophrenia herself and ended up in the hell hole of the Glasgow hospital that had caused Laing to become so critical of mainstream psych. It was said that he abandoned her, did not visit her or attempt to get her out. Another daughter Susan died in March 1976, aged 21, of leukemia. Adam, Laing's oldest son by his second marriage, was found dead in May 2008, in a tent on a Mediterranean island. He had died of a heart attack, aged 41.
Adrian Laing, Laing's most well-known child, is a media lawyer and a writer.
David Edgar (born 26 February 1948) is one of the most prolific dramatists of the post-1960s generation in Great Britain. He was resident playwright at the Birmingham Repertory Theatre in 1974–5 and has been a board member with them since 1985. Awarded a Fellow in Creative Writing at Leeds Polytechnic, he was made a Bicentennial Arts Fellow (US) (1978–79).
Edgar has enjoyed a long-term association with the Royal Shakespeare Company since 1976, beginning with his play Destiny; he was the company's literary consultant (1984–88), and became an honorary associate artist of the company in 1989. His plays have been directed by former artistic directors of both of the largest British subsidised companies, Trevor Nunn for the RSC and Peter Hall for the National Theatre
Edgar's had his first operatic libretto, The Bridge, performed as part of the Covent Garden Festival in 1998. He is president of the Writers Guild of Great Britain and a Fellow of the Royal Society of Literature. Edgar founded the University of Birmingham's MA in Playwriting Studies programme in 1989 and was its director until 1999. He was appointed Professor of Playwriting Studies in 1995.
Edgar was born in Birmingham, into the fourth generation of a theatrical family. His maternal grandmother was the character actress Isabel Thornton who had made films in the 1930s. His maternal aunt Nancy Burman ran the Birmingham Repertory Theatre throughout the 1960s and '70s, and his mother Joan (née Burman) was an actress and BBC Overseas Service radio announcer during WW II. His father, Barrie Edgar (1919–2012), was an actor and stage manager at the Birmingham Rep before joining the BBC in 1946, soon working as a TV producer, whose credits included Come Dancing and Songs of Praise. Barrie Edgar's father, and David Edgar's grandfather, was the early broadcaster Percy Edgar who had been the founding manager of 5IT – the first BBC radio station to open outside London – and the first regional Director of the BBC Midland Region.
Edgar remembers having seen most of the Shakespeare canon by the age of 15, either in his native Birmingham or in nearby Stratford-upon-Avon, plus the complete Agatha Christie 
At Oundle School Edgar became immersed in theatre and was the first pupil in over 300 years of school history to be permitted to direct a play.
OUNDLE – Clough – Kenneth Robinson – Mickey Wynn
After leaving school in 1966, Edgar taught for one term at a preparatory school and then went to Manchester University to read drama with a view to becoming a playwright. MANCHESTER – Clough's mates there
In addition to chairing the Socialist Society at Manchester University, Edgar edited the student newspaper. In 1967, the National Student Drama Festival was held in Bradford and was won by Edinburgh University's production of Harold Pinter's The Homecoming (1965). Peter Farrago, director of the winning play put together a cast from talent at the Festival to perform Mike Alfreds' Mandrake, The Musical at the next Edinburgh Festival. That cast included Ian Charleson and David Rintoul, both of Edinburgh University, Tim Pigott-Smith from Bristol University and David Edgar played the Apothecary.
On graduating in 1969 Edgar became a journalist with The Telegraph and Argus in Bradford for a short time before becoming a full-time writer in 1972. He maintains his journalism with regular contributions to newspapers and journals such as The Guardian and The London Review of Books.
Initially, Edgar's career as a journalist developed alongside his attempts to write plays. In 1970, soon after moving to Bradford to take up his role with the Argus, he met Chris Parr, a Fellow in Theatre at Bradford University, who was able to commission aspiring playwrights and produce their works with the Bradford University Theatre Group, the company consisting of university students. While writing for his newspaper to expose a minor scandal in local politics in northern England, Edgar wrote a play for Parr dealing with the anti-apartheid campaign directed against a tour of South African rugby players. Before the play was accepted, however, the tour was called off.
On the strength of this, Parr commissioned Edgar to write a play for two student actresses to perform at the Edinburgh Festival. The result was Two Kinds of Angel, a one-act play that received its Bradford premiere in July 1970, was revived at the Basement Theatre in London and led to more commissions from Parr for the Bradford Theatre Group.  Edgar's first full-length work, Bloody Rosa, was produced by students of Manchester University and was performed at the Edinburgh Festival in August 1971. 
Further material followed in quick succession and by the end of 1971 Edgar had seen eight of his plays performed, including A Truer Shade of Blue (1970); Still Life: Man in Bed (1971), produced at the Pool Theatre, Edinburgh, and again at the Little Theatre, London in 1972. Acid (1971) for Parr's Bradford University Theatre Group then again at the Edinburgh Festival in 1971; Tedderella (1971) at the Pool Theatre, Edinburgh then again at the Bush Theatre London in 1973.
During this period, Edgar continued to work as a full-time journalist and even found time to do some acting with Parr's group. Edgar's acting also ran to playing God in Howard Brenton's Scott of the Antarctic (1971). This was staged as part of a series of events produced by Parr for which Edgar's main contribution was The End, presented in the great hall at Bradford University in March 1972.
During the early 1970s, Bradford had what The Guardian called a "burgeoning fringe scene", which included theatre companies with names like the John Bull Puncture Repair Kit and The Welfare State. Edgar was co-founder of such a group that took the name The General Will Theatre Company. General Will took several of Edgar's works on tour including The National Interest(1971), a series of sketches showing how the mythical concept of 'The National Interest' can be used to justify sacrifices by the many on behalf of the self-interested few; The Rupert Show (1971) and State of Emergency (1972), which toured with General Will and also appeared at the Edinburgh Festival and at the Royal Court Theatre Upstairs, all in 1972. General Will came to a halt when the only gay member of the company took exception to the heterosexual slant of the material and went on strike in mid-performance.
Shortly after the Bloody Sunday shootings in 1972, Edgar collaborated with six friends (Tony Bicat, Brian Clark, Howard Brenton, Francis Fuchs, David Hare and Snoo Wilson) who pretended to be on a walking holiday and booked an isolated country cottage for a week where they sat down and wrote a play together. The result was England's Ireland (1972), an episodic look at the history of the British in Northern Ireland with different episodes shown from different perspectives. This received its world premiere at the hands of the Shoot Theatre Company at the Mickery Theatre, Amsterdam, in 1972 and later the same year transferred to the Round House Theatre in London.
By now, Edgar was receiving commissions from repertory theatres and small touring groups, resulting in Excuses Excuses (1972), for the Belgrade Theatre Studio, Coventry and later revived by OpenSpace Theatre, London in 1973 and then revived as Fired (1975) by Second City Theatre Company was a debate on the motives for arson committed in protest at redundancies at a local factory; Rent or Caught in the Act (1972), at the Unity Theatre, London was about housing conditions for the working classes (and this was also produced at a community centre in Battersea at the request of the Wandsworth Community Workshop led by the Tenants Union, as part of the campaign in 1971–72 against the Housing Finance Bill, eventually enacted as the Housing Finance Act 1972); Road to Hanoi (1972) produced on tour by Paradise Foundry Theatre Company, London.
In 1972 Edgar decided to put the journalism to one side and took to being a playwright full-time. Lunchtime theatre is an avant-garde phenomenon that seems to exist on the fringe of the fringe and whose popularity waxes and wanes but never disappears. One series in Glasgow was scheduled for a dozen plays but proved so popular they eventually had over a hundred. In London in the 1970s it had something of a renaissance at The Orange Tree, at the Croydon Warehouse where it proved so popular they didn't bother putting on evening performances for a while, and London's Gay Sweatshop started as a gays-only lunchtime theatre club called Ambience. The Soho Polytechnic was another lunchtime theatre venue where Edgar put on a number of necessarily short plays written for office workers on their lunch break but which proved remarkably popular with TV producers.
Backshot (1973) was written for the Soho Polytechnic and was televised as Sanctuary by Scottish Television in 1973. Baby Love (1973) was written for Leeds Playhouse Theatre where it premiered in March 1973 then transferred to the Soho Polytechnic Lunchtime Theatre. This was televised by the BBC as part of their Play for Today series in November 1974, with Patti Loveas Eileen. In the wake of the 1973 sit-in at the Triumph motorcycle factory at Meriden that lasted until 1976, the play, Events Following The Closure of a Motorcycle Factory was written and went on tour after debut at Birmingham Rep.
Whilst working as a journalist in Bradford, Edgar came across a group led by an ex-conservative councillor that called itself the Yorkshire Campaign to Stop Immigration. This group apparently, "addressed many real needs and some real fears" by holding meetings at which they showed films upside down with no sound. This group later merged with the National Front which, in 1973, won 16% of the vote at the West Bromwich by-election, at which point Edgar decided it was time to write a play about them. Destiny (1976) was the result. Edgar had wanted it to be produced in a big repertory theatre in a multi-racial city but it was instead picked up by Ron Daniels at the Royal Shakespeare Company who produced it at The Other Place, Stratford-upon-Avon, which Edgar described as, "a tin hut in rural Warwickshire". From there it transferred to the RSC's London home, The Aldwych Theatre, opening in May 1977 at the height of the Queen's Silver Jubilee celebrations and just after the National Front won almost 120,000 votes in London's local elections.
That summer, Britain was in the throes of the Queen's Silver Jubilee and West End theatre audience figures suffered as a consequence, with only two shows managing to hold their own during Jubilee week, both of which were at the Aldwych.
Edgar's NAME OF PLAY won the John Whiting Award, presented by the Arts Council for new dramatic writing and was televised by the BBC as part of the Play for Today series in January 1978 with Frederick Treves Nigel Hawthorne , Colin Jeavons and Saeed Jaffrey  
After his greatest success in 1980 with The Life and Adventures of Nicholas Nickleby for the Royal Shakespeare Company, Edgar resumed writing original plays which deal more overtly with political subjects. After the abandonment of the left by a number of public figures during the 1970s, Maydays(1983) deals with people's drift rightwards as they age. The play returned to The Other Place at the Royal Shakespeare Company in September 2018.
Edgar wrote a trilogy of plays on the theme of negotiation set in Eastern Europe: The Shape of the Table (1990); the second part, Pentecost, set during the early 1990s, concerning the discovery of a mural in a small church; and The Prisoner's Dilemma (2001), which premiered shortly before 11 September.
Edgar's other recent plays include Albert Speer (2000) and Playing with Fire (2005), both of which premiered at the Royal National Theatre, in London. Playing with Fire, a play about the politics of New Labour, multiculturalism, and ethnic tensions in the north of England, has been produced both on stage and in an adaptation for radio. Testing the Echo was concerned with a diverse set of characters preparing to become British citizens.
In 2003 Edgar was commissioned by the Oregon Shakespeare Festival, in Ashland, Oregon, and the Berkeley Repertory Theatre, in Berkeley, California, to write Continental Divide. In 2011 he produced Written on the Heart for the Royal Shakespeare Company. He also participated in the Bush Theatre's 2011 project Sixty Six.
Edgar married the social activist Eve Brook in 1979; she died of lung cancer aged 53 in 1998. In 1999, he met fellow dramatist Stephanie Dale. 
The Joys of Life is a country park near Bethesda, formerly owned by Ralph Oxley and Isabel Hargeaves, members of the Gang. The image of the Oxley/Hargreaves household was endearing, an eccentric botanist from UCNW and his social worker wife who Helped People and was one of Mark Williams's Mindfulness pioneers. The star attraction of the Joys Of Life was the llamas, ah bechod, the children loved them. Those llamas could have been symbolic; they looked interesting and cuddly but there were many complaints of them spitting at people…
The Oxleys left the Joys Of Life and moved over to Menai Bridge during the 1990s, but I'm not sure why. After Ralph retired from Bangor University, they purchased a castle in Spain. Ralph died while they were renovating the castle. The last that I heard (ages ago) was that one of the Oxley children was aspiring to be a social worker to spread a bit of good around the world like their mum ie. they'll live in a country park and retire to a castle in Spain while their Clients who have been Helped are banged up on the basis of perjury, die destitute or at best spend a lifetime on benefit in a hard-to-let council flat enduring multiple health problems which the local Top Docs are not interested in addressing.
A family with a history of Helping.
In 1985, the year that Mary Wynch won her appeal to the Master of the Rolls, received coverage in the London-based media and I contacted Keith Best, the MP for Anglesey, about the Gang, Rolf was commissioned to star in child protection videos. Rolf's job was to roll around on the grass clutching kids and then have a conversation with them about the different sorts of touching that they experience with adults. After Rolf was banged up for child abuse some 30 years later, no-one knew who had dreamt up the idea of the videos with Rolf and the BBC knew nuzzing. Everyone forgot that the videos were not merely a hobby of Rolf's, they were the basis of the Gov't backed child protection campaign. See previous posts for info that I have managed to dig up re those videos.
It was in 1985 that Esther, who Didn't Know about Jimmy Savile (so definitely won't have known about Rolf), was approached by Michael Grade and asked to run the child protection campaign that became ChildLine. I'm surprised that Grade found the time, he was busy trying to have my friend sacked in 1985. See previous posts…
Esther had a minor foray into Mental Health Campaigning in the latter part of the 1980s after the suicide of David Scarboro from EastEnders. See previous posts for a discussion of how David's death was hijacked and used as fodder for PR by the very people who's dreadful treatment and neglect of David substantially contributed to it.
However it was of course Dafydd's pal and Lord Snowdon's bedfellow Marjorie Wallace who really maxed out on Campaigning To Have Nutters Locked Up, a cause that Marjorie found was close to her heart and indeed her purpose in life in 1987. Just after I'd written to Esther about Dafydd and the Gang. See previous posts.

It was worth their while pushing all the boats out because Patient F had found out that boys in the children's homes in Bangor were being abused and he wouldn't shut up about it either. F also discovered that George Melly had offered an underaged boy money to have sex with him when Melly was staying in Bangor after playing at Theatre Gwynedd and F was very voluble about that as well. F spent 1986 in Risley Remand Centre and then in the North Wales Hospital Denbigh after being fitted up by the Gang for class A drugs offences and arson.
Gwynne the Royal Lobotomist died in the autumn if 1986. He was written out of history virtually immediately. Over the following few years virtually all the patients who had seen him were found dead. So many died that I haven't actually met many of them. One of them was a girl who I was friends with at UCNW; she killed herself some six years ago. I'm one of the few still alive, although I did receive an e mail from someone else a few weeks ago who was sent to Gwynne when he was a student at UCNW. He told me that it was a bad experience that resulted in him doing some rather unhinged things for a while. But obviously not as unhinged as the things that Gwynne himself did.


Following the Spirit of the Awarding of Gongs to Esteemed People, whenever the Gang found themselves under investigation, members of the Gang's wider network would find themselves being feted by the world for their Great Talent. Thus Kate Roberts's novel were enthusiastically reprinted during the early 1990s accompanied by much publicity, even the novels of whom hardly anyone had heard. Aled Jones, a boy from Llandegfan on Anglesey who lived in a village full of Top Docs, Angels and UCNW staff – I lived nearby – and who was at school with the children of this lot and indeed with D.G.E. Wood's children, was discovered when he was warbling away in Bangor Cathedral. The Bishop of Bangor and his predecessor were fully on board with the Gang. Aled's recording contract came from SAIN, the company established by Dafydd Iwan, the leader of Gwynedd County Council. Dafydd's Wigley's wife the harpist Elinor Bennett recorded with SAIN…
Aled went to Ysgol David Hughes. Which did/does a good job for kids from supportive homes, but I knew of about five kids who were being targeted by the Gang when Aled was the superstar of Ysgol David Hughes and they were treated very differently from Aled et al by the teachers at that school. Furthermore only one of those kids presented difficulties to the school; the others were frozen out because they had fallen foul of the Gang that ran the region. See previous posts.

Jonathan Miller gave the Gang a helping hand in 1993 when they were getting desperate by making his TV series 'Madness' in which Jonathan conveyed how brilliant Dafydd's colleagues were at Seeing Into Disturbed Minds. One of the Docs involved with that series worked with a ring of abusers in London and another was the friend of a well-known National Treasure who has a close family member who was dumped in the care of Dafydd and Gwynne many years ago when she was young and treated scandalously by the mental health services in north Wales.
As the allegations of a big paedophile ring in north Wales just wouldn't die down and the investigations and inquiries found serious abuse in north Wales but not a sausage to link it with anyone outside of north Wales or anyone other than a few local cavemen, Bangor University's very own Judy Hutchings, a clin psychologist, became World Famous for her parenting programme, Incredible Years! Lessons From Wales no less!
The world was enthralled at what was happening up in Bangor's School of Psychology! Prof Tim Miles and his dyslexia unit of course had led the way for years – the Tim who worked with Dafydd's and Lucille's victims on Anglesey and found that so many of them had dyslexia – but then there was Mark and his Mindfulness, Richard 'Some people have compared me to R.D. Laing' Bentall and now Judy and her Incredible Years!
Judy Hutchings was appointed Wales Woman of the Year when I was doing my PhD. There was the people trafficker, photographed in a golden taffeta gown thing at a Glittering Awards Ceremony in Cardiff. A Role Model To Us All. Judy was probably on the 'Woman's Hour' Power List but mercifully I missed that.
In north Wales, the suicide rate continued to soar, the health outcomes were some of the worst in Europe, the poverty was obvious to anyone walking through Bangor or Caernarfon, the drug problem was dreadful in rural Anglesey of all places, the educational achievements of certain cohorts was very poor and the criminal justice system was endemically corrupt. As none of the people suffering as a result had a voice it didn't matter.
Huge swathes of UK youth will have never heard of Judy Hutchings no matter how Incredible her years. They nearly all know of Gruff Rhys of the Super Furries though, Gruff who's dad Ioan was the Chief Exec of Gwynedd County Council while those kids in the Council's homes were battered, raped and trafficked to Dolphin Square… Gruff became Famous during the Waterhouse Inquiry, as did many of the other offspring of the Gang; they were the rock musicians that constituted the Cool Cymru phenomenon.
In 1988 the literary world was taken by storm by Paul Sayer, a previously unknown author who won the Whitbread Book of the Year award with his novel 'The Comforts of Madness'. 'The Comforts of Madness' even beat Salman Rushdie's efforts to win the Whitbread Book of the Year. Paul Sayer was a psychiatric nurse who of course Got Into The Mind of a Nutter. However Paul Sayer was a psych nurse with a difference in that he was a truly excellent writer; I was one of many who loved his book. Being me though, I noticed a few things that were not discussed amidst the acres of reviews and interviews with Sayer.
Sayer's book was written as an account of the thoughts of an institutionalised catatonic patient who was being cared for by some highly abusive, highly manipulative mental health staff who, if I remember rightly, end up murdering him with Medication. The book was clearly written by someone who had witnessed the sort of scenes that I had witnessed only months before in north Wales. The Angels in Sayer's book could have been working in Ysbyty Gwynedd or Denbigh or they could indeed have been the people who took the patients out on day trips once in a while and chatted to people about their jobs and how they love what they did for a living. However, throughout Sayer's book, one of course is never clear as to whether the hideous manipulation and abuse that the narrator is observing is really happening or whether he is getting rather over-anxious… The other theme is 'This is terrible, theoretically this could happen to a catatonic patient who can't move and can't communicate, but in reality it just wouldn't, someone somewhere would stop it…'
Paul Sayer was an Angel who knew that no, that sort of abuse wasn't stopped, no matter how many different staff had an input to the care of the patient. Paul Sayer also knew that in 1988, one no longer found catatonic patients anywhere in psychiatry. It was a phenomenon very much seen in the 1930s, 40s and 50s and then it stopped. As those catatonic patients gradually died, no-one else developed that syndrome. Catatonic schizophrenia no longer exists and not because any Top Doc Cured It. Brown told me that there is a theory that it was the result of neurological damage sustained by people after the early 20th century Spanish flu epidemic.
Paul Sayer would not have had any catatonic patients, but he would also have known that the condition was still described in psych textbooks and that well-read lay people would think that such patients were still to be found in Denbigh.
Paul Sayer worked as an Angel in York. He worked with Savile's Gang who were linked to Dafydd. Sayer may well have known Dafydd because Dafydd used to hold clinics in York and had many contacts there. Psych patients in Yorkshire were being seriously abused and not just by Savile. When the Kerr-Haslam Scandal (see previous posts) finally became public in the late 1990s, it was admitted that Kerr and Haslam, two psychs working in Yorkshire, had sexually abused and even raped their female patients over decades and nothing was done to stop them. There had been numerous complaints about Kerr and Haslam establishing relationships with female patients, telling their patients that sex with them was therapy, right through to raping them. One Angel – only one – blew the whistle loudly and clearly. She was demoted and then forced out of nursing. A Prof at Leeds University (I don't know who) stated that he would put a stop to Kerr and Haslam's activities. He was told that he would lose his job if he did not stop raising concerns.
The GMC did not take any action against Kerr or Haslam until the scandal hit the media. They had both retired by then. Only one of them went to prison and for only a short time. The patients were not compensated and the NHS refused to remove the records that Kerr and Haslam had compiled about the victims from NHS files. The women whom they assaulted are, in the eyes of the Top Docs, still fantasists, disturbed ladies, people with borderline personality disorders or paranoid schizophrenia. They are women who probably didn't know exactly what happened to them re Kerr and Haslam because they were Very Ill at the time. Kerr and Haslam kept their generous pensions.
When people from the BMA, the NHS and MIND were appearing on TV discussing How It Mustn't Happen Again, I was receiving letters from all and sundry refusing to investigate my complaints about Dafydd et al and was being regularly arrested on the back of the perjury of the Gang. One of the MIND reps who appeared on TV to discuss Kerr and Haslam had put the phone down on me when I had rung her and mentioned the words 'The Hergest Unit'.
At the height of his fame Paul Sayer was interviewed on TV. He explained that he was bowled over by his success, had never expected to win the Whitbread Award, had written a few bits and pieces before but had got nowhere. Now he was so famous and was receiving so many offers that he'd given up his job as an Angel.
Brown's mum saw the interview and observed that Sayer was very inarticulate and didn't seem capable of writing such a book; Mrs Brown had read it before Sayer was interviewed. Because I know that people like Prof Tim Corns and Jim Perrin exist, I do know that some people who refuse to talk or swear/grunt/hit other people can write beautifully and I just thought at the time that Brown's mum was doing a bit of stereotyping…
Paul Sayer dropped off the radar and didn't enjoy the sort of success that Ian McEwan or Julian Barnes or any other bright young thing did who suddenly took the literary world by storm after they Won A Prize.
Paul Sayer's CV and biographical details have disappeared from the internet; the links are broken.
Did Paul Sayer write that book himself? I think we should be told.
It has been suggested to me that a lot of people were very worried that someone else was going to write a book about her experiences in Denbigh, particularly after she told Alun Davies that she could do better than Jeffrey Archer if ever she decided to cut her literary teeth on Dafydd and co. Someone who had seen the very behaviours described by Sayer, heard the same phrases and who maintained that patients WERE being killed in north Wales. Had I done that after Paul Sayer's triumph, even if my book had been very good, it would most definitely have been a case of Ah bechod, she's clever but she's REALLY like the man in 'The Comforts of Madness'…
Now that I have copies of the documentation compiled by Dafydd, Tony Francis and others during 1987 and 88, the allegations that would have come my way if I had ever published are quite clear. I was indeed the man in 'The Comforts Of Madness' and my delusions were described by Mr Savile's colleague who won the Whitbread Prize.
Gren Kershaw, the truly disastrous and dishonest north Wales NHS manager who has been discussed in previous posts, arrived in north Wales from Yorkshire, just as I began to do battle with them in the mid-1980s. Martin Jones who achieved notoriety during his time as the CEO of the NW Wales NHS Trust (see previous posts), after doing very badly in his finals at UCNW some two years before I graduated, ended up bagging a place on the NHS graduate trainee managers scheme when he found out what had happened to me. Martin popped off to York to do a business course after he had a foothold at Ysbyty Gwynedd. Then he returned in a senior capacity and the abyss opened beneath Ysbyty Gwynedd.
It was during Mr Sayer's five minutes of fame when someone tried to murder Brown. In 1988 I was working at Surrey University with Vincent Marks, the brother of Dr John Marks the Chairman of the BMA who was at war with Ken Clarke.
Winner of the 1988 Whitbread Award, "The Comforts of Madness" is narrated by a catatonic who never speaks. To the rest of the world he is an inert body and is subjected to a variety of experiments, but his own consciousness is vital and reflective. 
There was a bit of difficulty in Bradford at the time, as a result of a book which did not win the Whitbread Book of the Year. (Dr Cathy Wilson at St George's Hospital Medical School was friends with Salman Rushdie.)
It has now been admitted that there was a big problem with organised abuse and trafficking in the Bradford area but it was concealed by every local and national politician and by the welfare services. Bradford mental health services concealed it as well, their track record was on a par with north Wales, it was a genocide there.
Paul Sayer may well have had a helping hand from a union baron who also held high office in the Labour Party, David Oliver Williams (born 12 March 1926), the General Secretary of COHSE, 1983-87. Wiliams is an old favourite of this blog, but I'll remind everyone of the salient parts of his biography again. David Williams grew up in Gwynedd and was educated at Brynrefail Grammar School before qualifying as an Angel at the North Wales Hospital, Denbigh. The Assistant Royal Lobotomist became active in COHSE and worked for the union full-time from 1955, when he became its Yorkshire Regional Officer.
In 1962, Williams moved to COHSE's Head Office as a National Officer, then was successively promoted to Senior National Officer and Assistant General Secretary. Also active in the Labour Party, Williams served on its NEC, 1981-83, when he was elected to the TUC. Gwynne was very much alive and living in the UNCW Student Health Centre.
Mervyn Jones who wrote this biography of Foot was Foot's friend of many years standing and the son of Dr Ernest Jones. Ernest Jones was a Welsh Top Doc who was largely responsible for introducing Sigmund Freud's ideas to Britain. Ernest Jones knew Gwynne and might have known Dafydd when Dafydd was a whippersnapper. Much of Ernest's conduct was worrying, but the high point was him killing his wife when he performed abdominal surgery on her in her parents' house in south Wales. They had only been married for one year. Ernest gave an implausible reason for Morfydd's unfortunate death and there were no questions asked. Ernest married again fairly quickly and his second wife lasted rather longer. See previous posts.
Footie was friends with Eric Hobsbawm and the crowd who over-wintered at Hampstead and migrated to Croesor in the summer, so he was connected to Gwynne and Dafydd in many ways. Not least because Footie was a Westminster Swinger himself. Footie's nephew was the investigative journo Paul Foot who worked for 'Private Eye' and along with many other members of Footie's family, not least his brother Dingle who served as Harold Wilson's Solicitor General, 18 October 1964-24 August 1967, kept Dafydd, Gwynne and the Gang out of trouble. Dingle was the Labour MP for Ipswich, 24 October 1957-18 June 1970. John Allen was based at Ipswich before he moved to north Wales in the late 1960s to open the Bryn Alyn Community. Dingle died on 18 June 1978 in an hotel in Hong Kong, after choking on a bone in a chicken sandwich. Mr Thrope was charged with conspiracy and incitement to murder on 4 Aug 1978. Dingle was a Labour MP but his family were lawyers and traditionally a Liberal family. See post 'The Bay Of Pigs Invasion'.
The Foots were a family from Devon who, like Mr Thrope, were friends with the Loyd Georges. The Lloyd Georges ran north Wales throughout most of the 20th century. Dingle was a member of Gray's Inn, as was Dafydd and Gwynne's umbrella and Ronnie Waterhouse's mate Sir William Mars-Jones.
The Ipswich area was host to a ring supplying sex workers and class A drugs who found what must have been their best customer living at his country seat nearby, Lord Bristol aka John Jermyn Hervey. Lord Bristol famously pegged out after years of excessive class A drug use and also had hepatitis and HIV, but his half-brother Nicholas who did not share his brother's lifestyle was found hanging dead in his early 30s, after being Helped by Top Docs and shafted by some members of his family. Nicholas was close to Lord Bristol and probably could have named names. See post 'The Vermin Club'.
Before Ipswich, Dingle Foot served as the MP for Dundee, 27 October 1931-5 July 1945. He was succeeded in that seat by John Strachey, Lady Amabel Williams-Ellis's brother. Other members of the family were James and Alix Strachey, who were Freudian analysts and completed the definitive translation of Freud's works, which is still used today. Joe Strachey was a close friend of the Tory politician Lord Bob Boothby, who was keen on sex workers of both genders, also had an affair with Ronnie Kray and a long-running affair with Lady Dorothy Macmillan. Dingle Foot was a pal of er Lord Boothby. Dafydd and Gwynne were mates with Selwyn Lloyd, Macmillan's Chancellor until Macmillan threw Selwyn overboard in the Night of the Long Knives. Dafydd and Gwynne had other pals in Macmillan's Cabinet as well who Macmillan dispensed with, although they continued to cause problems.
My post 'Shurely Shome Mishtake' discussed how my father was swindled by Macmillan's son Maurice Macmillan during the early 1960s when my father was farming in the Blackdown Hills in Devon, as well as Maurice's involvement in the huge trafficking business involving Dafydd and Gwynne that was tied up with the civic corruption of Reginald Maudling, John Poulson, T. Dan Smith etc. I am correlating dates and events at present for a follow-up post, because my grandfather's political enemy Edward du Cann, the corrupt Tory MP for Taunton, served as Economic Secretary to the Treasury under Chancellor Selwyn Lloyd and this lot were still busy causing problems when I was targeted by the Gang in 1983-84.
David Williams was elected as the General Secretary of COHSE 1983-87. The Assistant Royal Lobotomist was an enthusiastic supporter of the NHS and in later life was always happy to lead a protest against Fatcher's Cuts. Here he is in his younger day on the campaign trail with Nye.
By the time that Paul Sayer was an award-winning author, a former COHSE rep who had worked at the Maudsley with Dafydd's mates as well as at Cefn Coed Hospital in Swansea with yet more of Dafydd's mates, had become a well-known Labour-supporting comedian who Stood Up For Wimmin Against Male Harassment. See previous posts. Indeed Jo Brand, who in those days still called herself The Incredible Sea Monster, did a gig at Leicester in 1987 and an advert for it went up near the house that Brown and I lived in at the time. At the time, Jo's act pivoted around her being fat and ugly and Not Caring and all those Nutters whom she had Looked After who of course regularly attacked her and she and five other Angels had to pin them to the floor and inject them because as any fule know, Nutters Have The Strength Of Ten.
Pretty terrible really wasn't it Jo, because you knew that it was all about Brown and me refusing to keep quiet about the Royal Lobotomist didn't you? Even if As A Woman you didn't give a stuff about the 12 year old boys who were being gang raped by that lot, they targeted women and girls as well. Do you think that you've done much for the cause of Wimmin's Liberation Jo?
Here was Mr Big who was co-ordinating the Top Doctors part of it all, Dr John Marks, Chairman of the BMA, while scrapping with Ken Clarke. Clarke realised that the only way to keep the lid on the barrel of crap that was Thatcher's penchant for close friendships with active paedophiles known to Dafydd, including Peter Morrison, Savile and George Thomas, was to collude with John Marks et al – whom Clarke loathed – and use Clarke's corrupt legal and business contacts in Nottingham to cause yet more problems for my father at the end of his working life. See post 'Jennifer's Diary'.
The price that John Marks paid was seeing the Tories remain in Gov't. Marks and his buddies really wanted to bring the Tory Gov't down but they couldn't because they had to work with old Ken to protect the Gang. See previous posts. Had Marks not prioritised shafting my friends and I, we could have given him all the ammunition that he needed to get rid of the Tories…
Although David Williams the Assistant Royal Lobotomist had excellent dirt on People In High Places with which to blackmail and bribe, it wasn't Williams who bagged a peerage. That was Lord Hector MacKenzie, who succeeded David Williams as General Secretary of COHSE in 1988. It is highly likely that Hector was a higher calibre of patient batterer than Williams, Team Dafydd weren't that bright and they did mess up frequently and have to be rescued by people who hated them but we in it up to their eye-balls themselves. Including Ken Clarke.
Hector hadn't spent his younger years as Assistant Royal Lobotomist, but Hector had worked as an Angel in Cumbria. The turf of Willie Whitelaw and his Short Sharp Shocks since 1955, the Willie who assisted the Tory Party throughout Profumo and many other difficulties, including those caused by Dafydd and Gwynne. Willie was Macmillan's Gov't Whip, 1961-62 and Chief Whip, 16 October 1964-20 June 1970, under Douglas-Home and for a few days under Sailor Ted until Sailor Ted replaced him with Frances Pym.
Willie concealed criminality as Secretary of State for N Ireland, 16 October 1964-20 June 1970; as Home Secretary, 4 May 1979- 11 June 1983; as Chairman of the Tory Party, 4 March 1974-11 February 1975; as Deputy Leader of the Tory Party, 11 February 1975-7 August 1991. Willie was Lord President of the Council, which brings with it the role of visitor to UCNW, twice, 20 June 1970-7 April 1972 and 11 June 1983-10 January 1988. Which covers a great deal, including the murder of my friend Anne when she was a PhD student at UCNW…
Willie certainly did something for which Thatch was grateful because he was only one of two people to whom she dished out a hereditary Viscountcy, the other one being the molester George Thomas. As Willie didn't have any sons and George Thomas was a gay paedophile with no children at all, why either of them wanted an hereditary Viscountcy I don't know. Surely a gold watch or a clock would have been more useful.
It's just incredible what people allowed them to do isn't it.
1987 was the year in which reinforcements were called in from all directions at the highest levels after Ollie Brooke found himself in prison.
The Whitbread Awards (1971–2005), called Costa Book Awards since 2006, were literary awards in the UK, awarded both for high literary merit but also for works considered enjoyable reading. The Costa Book Awards are a set of annual literary awards recognising English-language books by writers based in Britain and Ireland. They were inaugurated in 1971 and known as the Whitbread Book Awards until 2006 when Costa Coffee, a subsidiary of Whitbread, took over sponsorship.
Whitbread plc is a British multinational hotel and restaurant company headquartered in Houghton Regis, Bedforshire. The company has its origins in brewing. Its largest division is Premier Inn, which is the largest hotel brand in the UK. Until January 2019 Whitbread owned Costa Coffee but sold it to The Coca-Cola Company. Whitbread's brands include the restaurant chains Beefeater, Brewers Fayre and Table Table.
Whitbread is listed on the London Stock Exchange and is a constituent of the FTSE 100 Index. The business was formed in 1742 when Samuel Whitbread formed a partnership with Godfrey and Thomas Shewell and acquired a small brewery. Godfrey Shewell withdrew from the partnership as Thomas Shewell and Samuel Whitbread bought the large site of the derelict King's Head brewery in Chiswell Street in 1750. The new brewery was renamed the Hind Brewery. From the outset, Whitbread was the leading financial partner, and solely responsible for management, and in 1761, Whitbread acquired Shewell's share of the business. It was the largest brewery in the world by the 1780s. The firm struggled after the death of Samuel Whitbread Sr and saw ownership transfer to his son, also called Samuel Whitbread. The company adopted the name Whitbread & Co Ltd in 1799. Whitbread brewed over 575,000 barrels in 1917.
The company was first listed on the London Stock Exchange in 1948. In 1972, Whitbread became the initiating sponsor, with the Royal Naval Sailing Association of the Whitbread Round the World Race (now called the Volvo Ocean Race), a yacht race around the world held every three years. One of the founders of the race, Anthony Churchill, raced for 10 yrs on Sailor Ted's 'Morning Cloud'.
The 1985–86 Whitbread Round the World Race was the fourth edition of the race. Fifteen boats started out from Southampton on 28 September 1985. L'Esprit d'Équipe, skippered by Lionel Péan, won the race. Drum (carrying its owner, the pop star Simon Le Bon), finished just behind the first four.
Whitbread sponsored the race until 2001.
Whitbread acquired a 20% stake in TVS for £6.5M from European ferries in April 1984. Whitbread sold its liquor division (including Beefeater Gin) to Allied Lyons in 1989. Whitbread decided in 2001 to sell all its breweries and brewing interests (Whitbread Beer Company) to Interbrew, now known as InBev.
Whitbread-branded alcoholic beverages are still available in the UK, such as canned Whitbread bitter, but these are not produced by InBev, but rather under licence by other producers. In 2002 Whitbread sold its pub estate, known as the Laurel Pub Company, to Enterprise Inns. The Whitbread & Co brewery building at 52 Chiswell Street in London still survives, although beer ceased to be brewed there in 1976 and it is now a conference and events venue. Still named "The Brewery", it was part of the Earls Court and Olympia Group, 2005-12, where it was subsequently sold to a private investor. In 2005, it moved its core operations from CityPoint in central London, to Oakley House in Luton and then, in 2006, to larger offices at Whitbread Court in Dunstable. In 2006, it went on to sell 239 of its 271 Beefeater sites to Mitchells & Butlers.
In 2013, as part of the horsemeat scandal, DNA tests ordered by Whitbread revealed that horsemeat was present in some meat products sold in outlets owned by the company, at the time Britain's biggest hotel group. On 26 February 2013 Whitbread vowed to remedy the unacceptable situation. In 2018, Whitbread faced pressure from two of its largest shareholders, hedge fund Sachem Head and activist group Elliott Advisers, to break itself up by splitting off the Costa Coffee chain, the theory being the individual businesses would be worth up to 40% more than the current market capital value. On 25 April 2018, Whitbread announced its intention to demerge Costa. However, on 31 August 2018, it was announced that Coca-Cola had agreed to acquire Costa Coffee from Whitbread for £3.9bn.
The Torygraph ran one of their articles admiring capitalists on 5 Sept 2009, announcing that Richard Baker, the former CEO of Boots, was 'joining' Whitbread:
The leisure group, which fell out of the FTSE 100 earlier this year, will announce Mr Baker's appointment along with its latest trading numbers to the City this week. Mr Baker has remained out of the publicly quoted sector since he left Boots with a multi-million pound payoff in 2007. The former retailer who joined Advent International, the private equity group, as an adviser last month, but this will be his most high-profile appointment since Boots. The former retail chief is also a non-executive chairman of Virgin Active, the health club part-owned by Sir Richard Branson. Mr Baker made a reported £6.5m following the £11bn leveraged buy-out of Boots by KKR, the private equity firm, leaving the high street retailer two months after the deal was completed. He was thought to be reluctant to continue as chief executive while reporting to executive chairman Stefano Pessina.
Mr Baker's appointment at Whitbread is likely to provoke speculation that he could be being lined up as a future successor to Alan Parker, the leisure group's chief executive. However, Chris Rogers, Whitbread's finance director, and Patrick Dempsey, managing director of the company's hotels and restaurants business, are strong internal candidates. Mr Parker, who has been with Whitbread for 17 years, has held the top job since June 2004 and speculation is growing that he could move on or replace Anthony Habgood as chairman.
Whitbread declined to comment.
Jan 2010 – RIchard Baker joined Whitbread
Richard Baker (born 6 August 1962) is the former chief operating officer of Asda Stores Ltd. and CEO of Boots Group. He is currently chairman of the European Division of Groupe Aeroplan, which owns and runs the Nectar Loyalty Programme in the UK. He also serves as non-executive chairman of Virgin Active, non-executive director of Whitbread plc, operating partner at Advent International and chairman of DFS.
After graduating from Downing College, Cambridge, Baker worked at Mars Confectionery for nearly 10 years, working his way up to sales and marketing director. He joined Asda Stores Ltd in 1995, where he worked for the following 9 years becoming Marketing Director in 1999 and ultimately chief operating officer in 2002, following their acquisition by Walmart.
In September 2003, Baker joined Boots Group as chief executive officer. The company had been reporting losses following its ill-advised move into its 'Wellbeing' services, which included Dentistry, Massage and Botox. Despite implementing a number of cost-cutting measures and extending opening hours, the company continued to struggle until October 2005 it announced it was to merge with competitor Alliance Unichem. The announcement met with widespread opposition, but the merger was cleared by the OFT in February 2006 and completed in July that year. Baker became chief executive officer of the new Alliance Boots GmbH.
LOOK UP ROOTS OF THESE BIG PHARMAS
In April 2007, after publishing annual results that showed a profit increase of 7.4%, Alliance Boots was sold to private equity firm KKR for £11.1 billion; the highest price ever paid by a private equity company for a British public company. Baker left the company on completion of the transaction. Baker has served as chairman of DFS since April 2010, following Advent International's £500 million takeover of the furniture retail chain.
Baker now holds various board and advisory roles with top international companies including:
In 2015, a new CEO of Whitbread was announced, Alison Jane Brittain (née Hopkins, born February 1965), formerly head of retail banking at Lloyds Banking Group. Brittain grew up in Derbyshire, completed a business studies degree at Stirling University and then an MBA from the Cambridge Judge Business School.
Derbyshire
Lord Jack
Gordon
Alison Brittain joined Barclays as a graduate trainee and worked there for 19 years. She joined Santander UK in 2007, then Lloyds Banking Group in 2011.
SANTANDER – bangor
In May 2015, it was announced that from January 2016, Brittain would take over from Andy Harrison, as CEO of Whitbread. Brittain had been seen as a favourite to succeed the current CEO, António Horta-Osório.
Alison Hopkins is married to Kevin Brittain; the couple have two children.
'The Guardian' ran one of their Amazing Woman Capitalist features about Alison Brittain as Whitbread's new Chief Exec on 22 May 2015: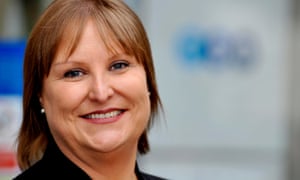 Currently the boss of Lloyds Banking Group's retail banking arm, she is one of the most powerful women in the City. But from January 2016, she will take charge of the hospitality group Whitbread, putting her at the helm of the nation's biggest coffee chain, Costa Coffee and one of the largest budget hotel brands, Premier Inn. Brittain, a career banker who spent nearly two decades at Barclays, was not the obvious choice to take over the hotel and pub group, which also includes Brewers Fayre and Beefeater Grill Restaurants. The veteran retail analyst Nick Bubb described her as a "rank outsider".
But Whitbread chairman Richard Baker said she was the "standout candidate from a very strong field", adding that her strong personal belief in putting the customer at the centre made her "a perfect fit with our culture and values".
Sources close to the company stress the broadbrush similarities between Lloyds and Costa Coffee. The Lloyds Banking Group, which includes Halifax and Bank of Scotland, has 2,200 branches with 30 million customers. The relentlessly expanding Costa Coffee has nearly 2,000 UK outlets, while 25 million people are said to visit a Whitbread hotel, restaurant or cafe each month. The group's current chief executive Andy Harrison was also a newcomer to the hospitality trade. Before joining Whitbread, he was in charge of EasyJet and the RAC car breakdown service. Neither is Brittain a stranger to the more fun outposts of the high street. She is a non-executive director at Marks & Spencer, a job she took because she is "a huge fan and a huge shopper" of the business.
Hailing from Derbyshire, Brittain has a degree in business studies from Stirling University and an MBA from Cambridge University's Judge Institute. She initially set her sights on going into marketing, but ended up joining Barclays' graduate trainee scheme and working at the bank for 19 years.
She even met her husband Kevin in a Barclays branch on Baker Street – at the time just a few doors from Marks & Spencer, which was one of her clients. As a few worries surfaced about being "institutionalised" at Barclays, Brittain jumped ship for Santander in 2007. She moved to Lloyds in 2011, at a time when the bank was still reeling from a £20bn taxpayer bailout and a string of mis-selling scandals not limited to PPI.
In 2013 Lloyds was fined a record £28m and ordered to compensate up to 700,000 customers of Lloyds, Halifax and Bank of Scotland who were mis-sold products by staff desperate to hit targets on sales and bonuses. In an interview with the Daily Mail Brittain blamed "the Americanisation of banking", perceived as a dig at Eric Daniels, the Montana-born executive who took charge of Lloyds' retail banking operations in 2001 and became chief executive in 2003.
Her defection from Lloyds is a blow to the bank, where she was seen as a favourite to replace current chief executive António Horta-Osório. When she starts at Whitbread next January, she will join a select club of FTSE 100 female chief executives, currently numbering just five.
Brittain is ambivalent about quotas to increase boardroom roles. She told the Observer in 2012 that she worried the focus on boosting the number of female non-executives will "suck out" talented women who might have gone on to become CEOs. "Where are the chief executives of the future going to come from when 38-to-48-year olds are missing from the full-time workforce."
'The Guardian' was so excited over the Most Powerful Woman In The City becoming Chief Exec of Whitbread that they managed two articles about Alison on 22 May 2015:
The Premier Inn and Costa Coffee group Whitbread has appointed Alison Brittain as its next chief executive, boosting the number of female CEOs at FTSE 100 companies to six. Brittain, who is in charge of the retail division of Lloyds Bank, joins Whitbread on 4 January 2016…. She will be paid a basic salary of £775,000, but once benefits and performance-related bonuses are included, her package could be worth £6.4m.
Richard Baker, the Whitbread chairman, said: "We are delighted to have secured someone of Alison's calibre. We ran an extensive search and selection process and Alison was the standout candidate from a very strong field." He also praised her "natural ability to inspire and motivate large customer-facing teams" and "proven experience in delivering digital online and mobile technology".
Whitbread, which owns Premier Inns, Brewers Fayre and Costa Coffee, has seen profits soar as it capitalises on the UK's seemingly insatiable demand for frothy coffee, as well as growth in the market for budget hotels. Brittain's appointment takes her into a select group of female CEOs at the top of Britain's biggest companies that includes Véronique Laury at Kingfisher, Liv Garfield at Severn Trent, Moya Greene at Royal Mail, Alison Cooper at Imperial Tobacco and Carolyn McCall at easyJet.
However, female CEOs of FTSE 100 companies are  still far outnumbered by male bosses called John. Women hold 23.5% of FTSE 100 directorships, according to the latest report from Lord Mervyn Davies, the government's champion of gender equality in the boardroom. But progress has been slower when it comes to promoting women into the most powerful jobs in British companies – the chief executive, chief finance officer and chairmanship roles.
LORD MERVYN – HERE
Brittain, aged 50, has been called the most powerful woman in British banking. Her departure from Lloyds will come as a blow to the 20% state-owned bank, where she has been overhauling systems after a mis-selling scandal… She started at Lloyds in 2011 after holding senior roles at Barclays and Santander. She is also a non-executive director at Marks & Spencer.
One insider described her appointment as "a fairly unanimous choice", with her customer-focused role at Lloyds making her a natural fit. She beat off competition from external and internal candidates, including the managing director of Costa Coffee, Christopher Rogers. The appointment of a career banker caused some surprise among industry watchers, but analysts at Credit Suisse described her as a highly credible choice: "She is a high-calibre individual, [a] good communicator and engages well with investors."
Brittain said: "I am absolutely delighted to have been chosen to lead Whitbread. I am impressed by its success and its strong, well-loved brands. Its belief in focusing on customers and team members is something that is very close to my heart and I am committed to supporting and developing this even further in the future."
check – barcalys – lord kenyon – idwal pugh??
In 1988 the full list of winners of the Whitbread prizes were:
Children's Book of the Year: Judy Allen, Awaiting Developments
First Novel: Paul Sayer, The Comforts of Madness
Novel: Salman Rushdie, The Satanic Verses
Biography: A. N. Wilson, Tolstoy
A BBC report of 19 Jan 1988 headlined 'Disabled Author Wins Whitbread Prize for Book of the Year' explained that Christopher Nolan was picking up his prize for his book 'Under the Eye of the Clock', which was the Whitbread Book Of The Year in 1987:
Writer Christopher Nolan, who cannot move or speak because of an accident at birth, has won the Whitbread Book of the Year. 
The 21-year-old Dubliner, who has cerebral palsy, was awarded this year's Ł18,750 prize at the brewery's London headquarters for his autobiographical view of his life, Under the Eye of the Clock. Others in the running for the award were Ian McEwan, for the novel, A Child in Time, Francis Wyndham for his first novel, The Other Garden and Seamus Heaney for a volume of poetry, The Haw Lantern. Mr Nolan is able to write only with the aid of a word-processing computer and what has been described as a 'unicorn stick', strapped to his forehead. His mother, Bernadette, has to hold his head while he is writing.
He went on: "You all must realise that history is now in the making. Crippled man has taken his place on the world's literary stage."In an acceptance speech read by his mother, Mr Nolan said: "I want to shout with joy. My heart is full of gratitude." His prize-winning book tells how he was deprived of oxygen at birth. It left his brain damaged, meaning he was unable to talk, walk or use his hands – but his intellect was unharmed.
The book is not told in the first person, but uses the character of a young man called Joseph Mehan to present his own moving struggles with his disabilities. Mrs Nolan said winning the book of the year prize would mean a great deal to her son: "Now he's being taken as a serious writer. "He's up there with all of the established writers and now he's beaten them at their own game so that must give him a sense of respectability as a writer now." Mr Nolan's writing has been likened to that of James Joyce. His first book, a volume of poetry called A Dam-burst of Dreams, was published in 1980 when he was 14.
While the ah bechod contingent had their hearts touched by Christopher Nolan, some people did express frank disbelief that Christopher was managing to write so prolifically by his mother holding his head while he tapped out the words on an ancient computer one letter at a time with the stick attached to his head. Allegations that this was a fraud were made. I try not to underestimate what severely disabled people can achieve ever since I watched people disabled as a result of thalidomide do incredible things because they had from birth used their legs to do what most people use their arms for, but as someone who has written for years, by hand, using old typewriters and then word processors and computers, I know that it takes up time, even if you are a fast writer. I can't quite understand how Christopher wrote so much in the manner claimed. He wasn't Stephen Hawking with all the computerised gear.
Christopher had severe cerebral palsy as a result of asphyxiation at birth. As a child he saw Dr. Ciaran Barry, a Top Doc who specialised in physical medicine and rheumatology with a particular interest in children with cerebral palsy. Dr. Barry was attached to the Central Remedial Clinic and drew the conclusion when Christopher was a toddler that he did not have learning disabilities. Once he was a teenager, Nolan received his education from the Central Remedial Clinic School (CRC) in Dublin.
The CRC was founded by Lady Valerie Goulding and Kathleen O'Rourke in 1951 as a small non-residential treatment centre. It later became known as the Central Remedial Clinic and began operations as a legal company in October 1953. In the 1970s, Lady Goulding hired Charles Haughey to head up its fund-raising arm. The accountant to Haughey, Des Peelo, was Chairman for a period. While Lady Goulding ensured continuing finance from state and philanthropic sources, its medical development was under the direction of Dr Ciaran Barry, who also worked at the Mater Hospital a teaching hospital for UC Dublin. In 2001, the CRC opened a centre in Waterford, providing a regional assessment service for children in the south-east of Ireland. The Chief Executive Officer of the Clinic is Stephanie Manahan who was appointed in July 2014.
Valerie Hamilton, Hon. Lady Goulding (12 September 1918-28 July 2003) was a campaigner and senator. The CRC which she established is now the largest organisation in Ireland looking after people with physical disabilities. Valerie Goulding served as a member of Seanad Éireann from 1977-81.
Born Valerie Hamilton Monckton, she was the only daughter of Mary Adelaide Somes Colyer-Ferguson and Sir Walter Monckton (later 1st Viscount Monckton of Brenchley). She was born at Ightham Mote, which was owned by her maternal grandfather, Sir Thomas Colyer-Fergusson, until his death in 1951. Her only brother, Gilbert (1915-2006), became a Major-General in the British Army. Valerie was educated at Downe House, near Newbury. Both Valerie and her brother, Gilbert, would ultimately convert to Roman Catholicism.
Valerie's father was a British lawyer and politician and became chief legal adviser to King Edward VIII during the Abdication Crisis in 1936. She acted as her father's secretary and courier during the crisis, carrying letters between the King and Stanley Baldwin, the PM.
During WW II, Valerie joined the First Aid Nursing Yeomanry before switching to the Auxiliary Territorial Service. In 1939, she met and soon married Irish fertiliser manufacturer and art collector Sir Basil Goulding, 3rd Baronet and moved to Ireland. However, her husband moved to England to join the RAF. Meanwhile, Valerie served in the British Army. After the war, the couple returned to Ireland, where Sir Basil and his family managed Goulding Chemicals.
Lady Goulding remained Chairman and Managing Director of the CRC until 1984. On account of her widespread popularity, Valerie was nominated by the Taoiseach, Jack Lynch, to Seanad Éireann, in 1977, where she worked to raise awareness of disability issues in 1977. She sought election to Dáil Éireann twice as a Fianna Fáil candidate, both times unsuccessfully. She was spoken of as a possible President of Ireland in 1983 should the President, Patrick Hillery, decline to seek a second term. Hillery ultimately was re-elected.
Lady Goulding died on 28 July 2003 in Dublin, aged 84. She was predeceased by her husband, Sir Basil Goulding, in 1982, but survived by her sons, the eldest of whom, Sir William Goulding, known as Lingard Goulding, served as Headmaster of Headfort School in County Meath; the other sons are Hamilton and Timothy of the Irish folk group Dr. Strangely Strange. Dr Strangely Strange were formed in Dublin in 1967 and have worked with a number of other old rockers such as Phil Lynott from Thin Lizzy (see previous posts) who came unstuck and had connections to the Gang's network.
The Torygraph's obituary for Valerie read:
Valerie Lady Goulding, who has died aged 84, acted as a courier between King Edward VIII and the prime minister Stanley Baldwin during the Abdication Crisis; later she founded and managed the largest charity hospital in Ireland. Her energy and imagination raised millions of pounds for the 2,000-bed Central Remedial Clinic in Dublin, an institution for the disabled which she established during the polio epidemic of 1951.
One of the clinic's beneficiaries was the writer Christopher Nolan, who in 1988 won the Whitbread award for Under the Clock, his autobiographical account of life as a sufferer from cerebral palsy. He owed his literary success, he said, "to Lady Goulding and her harbour of hope".
Valerie Goulding's father, Sir Walter Monckton, the future 1st Viscount Monckton of Brenchley who became Attorney-General to the Duchy of Cornwall and a confidant of King Edward VIII, made her his secretary during the crisis. On the first occasion she carried an important letter between the King at Fort Belvedere and the prime minister at 10 Downing Street, Valerie Monckton was driving her pink open Morris (known as "George") when she was stopped by the police for speeding in Hyde Park: "They asked me where I was going. But I couldn't tell them." Later she was fined £2 in court.
"My father chose me as his secretary because I knew how to keep a secret," she said later. "Even my mother never knew that I was going up and down to the Fort."
Valerie Hamilton Monckton was born at Ightham, in Kent, on September 12 1918, the only daughter of Walter Monckton. Her mother was a daughter of Sir Thomas Colyer-Fergusson of nearby Ightham Mote, which is now a National Trust property. She was educated at Downe House, near Newbury, where she excelled at games, but said she "read only Punch". A fine rider, she hunted with the East Kents. Miserable at school, Valerie wrote to her father in 1935 begging him to take her away. "He replied and promised rather vaguely that there was something coming up," she said later. "I went off and learned shorthand and typing at the Monkey Club."
Valerie was presented as a debutante in the spring of 1936, by which time the rumours of the King's affair with Mrs Simpson were circulating. Her presentation did not occur inside Buckingham Palace, but at a garden party, as the court was still in mourning for King George V. It was the first time Lady Goulding recalled seeing Wallis Simpson: "She was standing much too close to the King."
As her father's secretary, Valerie attended to his post in his chambers from nine to 11 each morning, and again in the afternoon. She remembered lurking in the drawing room at Fort Belvedere when Baldwin arrived to see the King and seeing the tears flowing from Baldwin's large, lugubrious eyes. Years later, in 1993, Lady Goulding was invited to Fort Belvedere by its new owners, the Canadian supermarket magnate Galen Weston and his Irish wife Hilary. Walking into the dining room, she said she was immediately able to place the King, Mrs Simpson, her father and herself at the last lunch she attended there in December 1936.
"She [Mrs Simpson] was leaving that afternoon for Cannes, and everyone was talking about nothing so as to avoid what was on everyone's mind. But one really nice thing happened: there were four bottles of beer next to my place. The King had remembered that when we were rounding up the ponies on Dartmoor the previous year I had a beer in the pub, and that he had remarked that I was very young to be drinking. It was very touching."
Churchill had warned Valerie Monckton that war was imminent, and suggested she join the War Office; but instead, she joined the First Aid Nursing Yeomanry. She was encouraged by a senior officer in the Fanys to switch to the Auxiliary Territorial Service, with which, as war loomed, she worked identifying sites for anti-aircraft batteries and searchlights on the east coast.
In 1939 she flew to Dublin with friends for the Fairyhouse race meeting weekend, where she met Sir Basil Goulding at a dinner party. "We clicked straight away, and I was three days late back for work in London," she recalled. Sir Basil, who was aged 30, had inherited his father's extensive business interests in Ireland, and was regarded as a catch.
Goulding's bachelor status had been causing concern in his own family, and his uncle, Lord Wargrave, who was chairman of Rolls-Royce, had written to him saying he was prepared to "transfer more stock to you when I hear that you have met the lady who will share your lot in life".
Valerie and Basil became engaged on her second visit to Ireland. "He was a terrific dancer and so handsome with very blue eyes," she said. "I hadn't noticed that he sounded Irish until I heard him on the telephone." The wedding had been planned for September 20 at the Temple Church, but the imminence of war brought Valerie's call-up papers, and the couple were married hurriedly in Co Donegal, where they were on holiday.
They travelled to England, where Basil was commissioned as a pilot officer in the RAF. By the end of 1942 he was a wing commander. After the birth of their first child Valerie joined the Army; and, because her mother insisted on addressing her letters to "Lady Goulding", was put in charge of cleaning the lavatories at the training camp. Valerie Goulding asked her brother to send her a list of swear words and obscene phrases. "After that, things improved." As a second lieutenant, she became a platoon commander in charge of secretarial work and cooking at Windsor.
After the war, she and Sir Basil moved to Dargle Cottage, a picturesque house on the banks of a river in Co Wicklow, which housed his art collection. Keen on new work, he commissioned many sculptures for the grounds, including several bars of Handel's Water Music, which were cast in iron with the riverside railings as a stave.
Valerie Goulding founded the Central Remedial Clinic in Co Dublin in 1951, which was launched with just one room and two patients. Today it provides services for 3,500 children and 500 adults, and is the national centre for the treatment of cerebral palsy, spina bifida, and muscular dystrophy. She was chairman and managing director until 1984. She also chaired the board of the clinic's school.
She was a prominent member of the Boxer Society of Ireland, and in recent years cut a startling figure as she walked her dogs, Pericles and Minerva, through country lanes, sometimes raising what appeared to be a revolver and firing it into the air. She would explain carefully to other, terrified, dog owners that the gun was merely a starting pistol, and was the most effective way to control her pets.
In 1977 she was nominated as a Fianna Fail Senator, and stood unsuccessfully as a candidate in the general election of 1982.
Valerie Goulding was an enthusiastic supporter of the admission of women soldiers to the Irish Republic's armed forces. "If the women's army is to be a real army it should be combatant, and that means they should pull the trigger," she told an Irish Senate debate. In 1983 she visited Lebanon to establish a mission for children, and was slightly injured by falling debris when she was trapped in an area of intense shelling, but was rescued by an Irish Army patrol with the UN peacekeeping force.
Valerie Goulding died on July 28. With Sir Basil, who died in 1982, she had three sons, the eldest of whom, Sir (William) Lingard Goulding, Bt, is Headmaster of the Headfort School, Co Meath
Now Then:
Here's some photos of Lady Goulding with a friend of hers:
Lady Valerie's friend Jimmy was also mates with Charley Haughey. Here they are having a threesome:
Valerie's dad Sir Walter Monckton worked in propaganda and information during WW II and became Solicitor General in Churchill's 1945 Gov't although he refused to join the Tory Party.  After the 1945 General Election, Monckton returned to legal practice. He joined the Tory Party and became MP for Bristol West in 1951. Down there with D.G.E. Wood's Top Doctor father and his network. Monckton served as Minister of Labour and National Service, 1951-55. He was Anthony Eden's Minister of Defence, 1955–56 – preceding Dafydd and Gwynne's mate Selwyn Lloyd in that post – but was the only Cabinet Minister to oppose his Suez policy and was moved to Paymaster-General, 1956–57. Leaving a vacancy for Selwyn.
Monckton was made Viscount Monckton in 1957. He had wanted to become Lord Chief Justice and been promised the job by Churchill, Eden and Macmillan, but in 1957 Monckton decided instead to join the Board of Midland Bank. 1957 was one of the years when there was a frantic reshuffling of Gov't posts, including that of Health Minister, which was something to do with Gwynne's activities. See eg. 'A Holy Fool Among A Feast Of Fools', 'Holding The Country To Ransom – Part II' and 'Shurely Shome Mishtake'.
Lord Monckton of Brenchley was Chairman of Midland Bank (1957–64), President of the Marylebone Cricket Club (1956–1957), President of Surrey County Cricket Club (1950–52 and 1959–65), Chairman of the Iraq Petroleum Company (1958), Chairman of the Advisory Commission on Central Africa (1960) and Chancellor of Sussex University, 1961–65. Asa Briggs, Harold Wilson's mate and VC of Sussex University, 1967-76, worked for the intelligence services and concealed the criminality of Dafydd and Gwynne's partner Gang in Sussex. Asa was a friend of Howard Smith who became DG of MI5 in 1979. The year that Dafydd unlawfully imprisoned Mary Wynch and Mr Thrope walked out of the Old Bailey an innocent man.
Asa grew up near Bradford in Yorkshire and  went to Sidney Sussex College, Cambridge. He was elected a Fellow of Worcester College, Oxford (1945–55), and was subsequently appointed Reader in Recent Social and Economic History, 1950–55. Asa was Faculty Fellow of Nuffield College (1953–55) and a member of the Institute for Advanced Study, Princeton, New Jersey, US, 1953–54. From 1955 until 1961 Asaheld a Chair at Leeds University. Between 1961 and 1976 he held a Chair at Sussex University, while also serving as Dean of the School of Social Studies, 1961–65 and PVC, 1961–67. In 1976 Asa returned to Oxford to become Provost of Worcester College, retiring from the post in 1991. He was Chancellor of the OU, 1978-94.
Walter Mockton married twice. Firstly he married Polly Colyer-Fergusson, daughter of Sir Thomas Colyer-Fergusson, the family who owned Ightham Mote, Sevenoaks. In 1947, he married Bridget Monckton, 11th Lady Ruthven of Freeland, CBE, the wartime head of the ATS counterpart in India, the Women's Army Corps (India), and also of the Women's Royal Indian Naval Service.
From 1962-74 Lady Monckton was the Chairman of the charity Attend: the National Association of Leagues of Hospital Friends. The 'Hospital Friends' in north Wales and at St George's were 100% on board with the Gang. They were usually retired NHS staff or their wives and if they were ever unhappy about anything they would never have dared pipe up anyway. In 1977-78 she returned to office at the charity when elected to be the President of Attend.
From 1963, Lady Bridget Mockton sat in the Lords.
Bridget Monckton was the niece both of Miles Lampson, 1st Baron Killearn, and of Alexander Hore-Ruthven, 1st Earl of Gowrie, the father of Lord Grey Gowrie, Grey Gowrie being part of the wider network of Dafydd's and surely the member with the most inherited titles. See previous posts.
Bridget  died in April 1982, aged 85 and was succeeded in her own title by her son, Charles Howard, who was already the 12th Earl of Carlisle, having inherited the title for Bridget's first husband, George Howard, the 11th Earl of Carlisle.
Walter Monkton's son by his first wife Polly was Gilbert, who succeeded Walter on Walter's death in 1965. Gilbert Walter Riversdale Monckton, 2nd Viscount Monckton of Brenchley (3 November 1915-22 June 2006) served in the British Army, 1939-67. He was Army Director of PR in the 1960s when the conduct of the Army's personnel came under scrutiny during the Profumo Affair.
Gilbert, Valerie's half-sister, was educated at Harrow and then read agriculture at Trinity College, Cambridge, graduating in 1939. Gilbert was at Cambridge alongside the members of the Cambridge spy ring. The famous ones are the spies who became double agents, but many of them saw their role as concealing the Westminster Paedophile Ring. Some of them were involved with it themselves, or the elite ring that was located at Cambridge.
After a career in the Army, in retirement, Gilbert ran his 350-acre farm near Maidstone, Kent. He served on the Board of Directors of Anglo-Portuguese Bank, Burberrys and Ransomes. Gilbert regularly attended the Lords, having succeeded to the Viscountcy in 1965, speaking on rural affairs and the armed forces. Originally a Conservative, he resigned the whip to become a crossbencher. He lost his right to sit and vote in the House of Lords in 1999. Gilbert was a Deputy Lieutenant of Kent from 1970 and his wife was High Sheriff of Kent in 1981 and 1982. Gilbert was interested in archaeology and pursued an active interest in heraldry, being President of the Institute of Heraldic and Genealogical Studies 1965–2000.
Gilbert Monckton married Marianna Laetitia Bower (born 1929), a Roman Catholic and the daughter of Commander Robert Tatton Bower, on 30 December 1950; Marianna later became a Dame of Malta; they had five children:
Rosa Monckton's father-in-law Nigel Lawson was a member of Thatch's Cabinet who concealed the crimes of Dafydd and Gwynne as well as those of the wider Westminster Paedophile Ring. Lawson was a friend of Jim Slater, Slater being the business partner of Peter Walker, a longstanding associate of Dafydd, Gwynne and the Gang who came through for them on every occasion when he served in Thatch's Cabinet as Energy Secretary and then Welsh Secretary. See posts 'Holding The Country To Ransom – Part I', 'A Holy Fool Among A Feast Of Fools', 'Holding The Country To Ransom – Part II' and 'Shurely Shome Mishtake'.
Rosa was of course a big pal of Carlo's ex, Diana. A very big pal. Diana was the godmother of Rosa and Dominic's daughter Domenica. Domenica has Down's syndrome and Rosa has spent many years now involved with campaigns and charidees for the disabled.
Rosa Lawson was Chief Executive of Asprey & Garrard until in 2002 she became a non-executive Chairman of Asprey London and Garrard & Co.
In 2017, Rosa Monckton wrote a controversial piece for 'The Spectator', arguing for learning-disabled people to be able to work for less pay than minimum wage, citing 1.3 million unemployed people of 1.4 million people with learning disabilities in the UK. This article was criticised by members of the disability rights movement.
Rosa and Nigel Lawson seem to have been incredibly supportive to Domenica and they have spoken about her taking on work that she loved and would have done for less pay. That is fine for Domenica, because she is financially secure and has parents who would never let her be exploited in the way that I know one learning disabled woman was in Bangor, by the Gang. Forced to wash up dishes in the British Hotel for 50p/hour or 'my social worker will hit me'. The social workers were hitting the boys whom Patient F found out were being forced to work gutting fish for 50p/hour if they refused. It was what the Gang did Rosa and Dominic and Nigel Lawson protected them. The forced labour got a passing mention in the Waterhouse Report, but we knew some of the slaves.
By the way, I was supposed to have been one of the slaves too, although I had a Masters degree. Sacked from job after job after my employers were either leaned on or told lies about me and fitted up for criminal offences to make it hard for me to get professional jobs. Then sneered at by Angels because I was cleaning and working in the chicken factory in Llangefni with a Masters degree. Then wrongly accused of fiddling benefits – the work of the Gang once more – so it would have been 40 hours a week washing up/cleaning for the rest of my life then. Except that I got on a teacher training course – OH NO, the Pathetic Sharks heard and they swung into action once more…
The point Dominic and Rosa was to show people what happens if they didn't join the Royal Brothel operated by Gwynne and Dafydd when they were young. Being me, I didn't have a problem cleaning or working in the chicken factory, although I preferred doing academic work. It also introduced me to so many more people who had been shafted by the Gang; they were all cleaning or in the chicken factory.
Your daughter wasn't in the hands of the Gang Rosa. I wish that you and your husband and father-in-law had shown a bit more concern for those who were. Not that the disability campaigners who mouthed off at you gave a stuff about what was happening to us either…
Ah well, at least I haven't crashed into a tunnel yet. Although I had a few near misses when I was still in north Wales and the Gang kept trying to run me off the road.
Rosa Lawson is a fundraiser and supports several charities relating to children and Down's syndrome. The charities include:
The Acorns Children's Hospice for the care of life limited children in the heart of England
Downside Up a Down's syndrome charity in Russia
The Down's Syndrome Educational Trust based in Portsmouth, which through research provides education, information and training to promote the development of children with Down's syndrome.
Kids (charity), a disabled children's charity based in England. KIDS helps in developing and improving the lives of disabled children
The Bulgarian Abandoned Children's Trust, a British charity dedicated to helping disabled and disadvantaged children in Bulgaria and campaigning for an end to the use of institutional care.
Er anyone for dealing with all those members of the Gang who are occupying so many positions of responsibility in Wales?? Never mind lecturing the Bulgarians, they have every right to tell us to piss off and put our own house in order. Ironically, I know one young man from north Wales who escaped the Gang after a relative helped him buy a very cheap house in rural Bulgaria. He lives a frugal but peaceful life there, far away from People Who Helped.
As if the list of posh people linked to Dafydd and the Gang who were/also associated with Lady Valerie of the Miracles, here's a few more observations:
The Gang had a few Irish members, including Angel Bridget Lloyd and Angel Rea Stanley. Professor Fergus Lowe did his first degree at UC Dublin and then arrived at UCNW Dept of Psychology in the early 1970s when there was nothing there but Dafydd and the Gang. Dr Brian Gibbons, who's father Dr Hugh Gibbons was a TD for Fianna Fail, 1965-77, rocked up as a GP in Calderdale, Yorkshire in 1976 and then found his way to south Wales, to share a GPs practice with Julian Tudor-Spart and join the Gang. Brian Gibbons' brother Hugh is a lecturer at UC Dublin. See previous posts.
Brian Gibbons ended up as an AM and then the Welsh Gov'ts Health Minister, in which role he flatly refused to investigate what was happening to me or other people at the hands of the Gang.
When Mary Wynch was in Denbigh, an Irish Top Doctor called Kieran Lynch worked there. Like so many 'supportive' Angels and Docs did with me, Kieran Lynch used to tell Mary to carry on fighting and he hoped that she won against Dafydd. Kieran Lynch witnessed what was happening at Denbigh. He never spoke out. Lynch left Gwynedd some years ago as the hue and cry about a possible paedophile ring would not die down. Was Kieran anything to do with Jack Lynch who gave Lady Valerie's career a substantial boost?
And Rhodri Morgan was friends with Charles Haughey. The Charles who is widely viewed to have been as bent as some of Rhodri's associates.
Christopher Nolan died at age 43 in Beaumont hospital in Dublin on 20 February 2009. He died after a piece of salmon became trapped in his airway. Irish president Mary McAleese, upon hearing the news, said:
| | |
| --- | --- |
| " | Christopher Nolan was a gifted writer who attained deserved success and acclaim throughout the world for his work, his achievements all the more remarkable given his daily battle with cerebral palsy. |
Minister for Arts Martin Cullen TD reflected that people should draw inspiration from Nolan's life. "With grace and courage, and with the support of his family, he never gave up and he never gave in […] His bold creativity has ensured a written legacy."
Earlier in Christopher's writing career, after entering a poetry competition hosted by the British Spastics Society, Nolan received praise from writer Edna Healey, wife of then Chancellor of the Exchequer Denis Healey. As one of the judges of the competition Edna was one of the early recognizers of Nolan's writing abilities. Edna Healey was later invited as a guest on BBC TV's "The World This Weekend." On the broadcast in response to the question "what was the most impressive moment," Edna remarked that reading Nolan's work: "Was the highspot of my year."
Denis Healey knew exactly how serious the crimes of Dafydd, Gwynne and the Gang were and worked as hard as any of his colleagues to conceal them. The Spastics Society is now known as Scope. There were complaints of abuse of clients by the Spastics Society/Scope and two MPs who previously worked for Scope colluded with abuse, including that of Dafydd and the Gang.
Tim Yeo was Chief Exec of Scope, 1980-83. Yeo went to Emmanuel College, as did Tom King. Yeo was the Tory MP for South Suffolk, 9 June 1983-30 March 2015. In 1988, he became the PPS to Home Secretary Douglas Hurd, who concealed the criminality of the Gang and their associates at UCNW. Hurd's uncle Prof Edred Henry Corner was a Cambridge botanist who knew Prof Greig-Smith, one of the botanists at UCNW who were colluding with the Gang. See eg. 'Additional Security Measures'. Yeo was a junior Minister in Health, 1992-93. At the scene of a great deal of crime… Yeo was at the centre of a number of scandals re Ugandan discussions, fathering the children of people to whom Yeo was not married etc. Yeo is Chairman of New Nuclear Watch Europe and Chairs Sheffield University's Industrial Advisory Board for the Energy 2050 initiative.
Tim Yeo's son Jonathan was not part of any of the scandals. Jonathon Yeo is a portrait painter of celebs. He has painted Kevin Spacey, Dennis Hopper, Cara Delevingne, Damien Hirst, Prince Philip, Erin O'Connor, Tony Blair, David Cameron, Jude Law, Kristen Scott Thomas, Lily Cole, Nicole Kidman, Grayson Perry, Ozwald Boateng, the Windbags' daughter-in-law Helle Thorning-Schmidt, The Duchess of Cornwall and Rupert Murdoch.
David Hanson, the Labour MP for Delyn in north Wales,worked for Scope, 1982-89. David has featured a great deal on this blog. He and his wife Margaret are Of The Gang. They both served as Cheshire Councillors when the ring was active in Cheshire; Margaret was a children's social worker for Cheshire County Council, a team leader at that. Margaret also served as a Councillor in Flintshire and was Vice Chairman of the Betsi Cadwaladr University Health Board. David Hanson was appointed PPS to Miranda in 2001, in the aftermath of the Waterhouse Report and when the Gang launched their conspiracy to force me out of teaching. See previous posts for info on the lovely Hansons.
The 6th Duke of Westminster, Gerald Cavendish Grosvenor, friend of Carlo and always where the Gang was, served as President of Scope, 1982-2005.
Christopher Nolan's father was fond of James Joyce, Samuel Beckett and D.H. Lawrence. Every night he would read Christopher passages from Ulysses. Christopher Nolan's writing was constantly compared to that of James Joyce.
The year that Christopher won the Whitbread Book of the Year, 1987, saw Ollie Brooke released from prison early on appeal by Lord Chief Justice Geoffrey Lane. Marjorie Wallace launched Sane, ChildLine was up and running accompanied by much PR and Savile was appointed to the Broadmoor management task force, which led to him being appointed General Manager in 1988, the year that Paul Sayer won the Whitbread Book of the Year. In 1987, the Gang embarked upon the Cunning Plan to frame me for a serious offence and have me imprisoned shortly after the June 1987 General Election, as discussed in previous posts.
In 1987 I placed a small ad in 'Private Eye' asking for info about Dafydd. I didn't realise that people on the Eye were Of The Gang. After he saw the advert, Dafydd rang me up and threatened to have me arrested and imprisoned in Risley Remand Centre. I told him not to be so bloody stupid and following that he tried to bribe me. Our phone was tapped by the security services who failed to stop that Gang.
In 1987, the police were in pursuit of Dr Anne Dally, Harley Street's answer to Dafydd, who was being assisted by the corrupt Home Office mandarin Bing Spear, as was Dafydd. Wendy Savage, one of those facilitating Dafydd's partner gang at the London Hospital, Tower Hamlets, had been suspended from her job, but not for people trafficking. Dally and Savage were constructed in the media as Strong Women who had been shafted by the Male Medical Establishment. Plenty of Top Docs knew what Dally and Savage were doing; they didn't like it but no-one blew the whistle. See previous posts.
Paul Sayer worked in a psychiatric hospital in York, but because Mr Sayer's CV and biographical details have disappeared from the internet recently I don't know which one. Not only was York on the manor of Dafydd's pal Jimmy Savile. Dafydd held clinics in Yorkshire.
The Labour MP for York in 1979 when Dafydd and the Gang needed rescuing the first time that they were caught bang to rights unlawfully imprisoning someone, Mary Wynch, was Alexander Ward Lyon (15 October 1931-30 September 1993). Lyon was educated at West Leeds High School and UCL. The Top Docs at UCL were facilitating the Westminster Paedophile Ring. Marjorie Wallace's husband Andrew Skarbek was one of them, but many more UCL Docs were part of it because of the presence of Lord Max Rosenheim at UCL for so many decades. No-one dared disagree with Lord Max or they'd be ruined, but if they agreed with him and followed orders, the sky was the limit. Prof Geoffrey Chamberlain trained at UCL, as did Dame Josephine Barnes. Docs who trained under Rosenheim went out into other hospitals and expanded the ring. UCL also trained lawyers who colluded, including Lord Woolf. See previous posts.
Lyon became a barrister and was called to the Bar at Inner Temple in 1954, which also hosted Mr Thrope, the Havers' family and many more who did the Westminster Paedophile Ring so many favours.
Alex Lyon was a member of the Bar Council and of the Fabian Society. Lyon was also a Methodist lay preacher and Secretary of Leeds North West Constituency Party. Previous posts have discussed a number of Leeds MPs who's constituencies were on Savile's turf and were complicit with the criminality, including Cabinet Ministers Keith Joseph and Merlyn Rees. I have not yet mentioned the Tory MP for Leeds West,1950-83, Donald Kaberry, Baron Kaberry (18 August 1907-13 March 1991), known as Sir Donald Kaberry, 1st Baronet, 1960-983.
Kaberry was educated at Leeds Grammar School and became a solicitor (a partner in Ford and Warren, Leeds) and Company Director. Kaberry served as a Councillor on Leeds City Council, 1930–50, except for a period during WW II when he enlisted in the Royal Artillery. After WW II Kaberry was, as Lieutenant-Colonel, President of the military governing board at Hamburg.
Kaberry was a member of the Speakers' panel of Chairmen in the Commons and an Assistant Government Whip, 1952-55 and PPS at the Board of Trade in 1955 under President of the Board of Trade, Peter Thorneycroft. Thorneycroft was the Tory MP for Stafford, 9 June 1938-5 July 1945 and Monmouth, 30 October 1945-31 March 1966. Stafford was the centre of organised abuse with a long history such as in north Wales and Lambeth. By the late 1960s the ring in Stafford was directly linked to the Gang in north Wales. Thorneycroft served in Churchill's, Eden's and Macmillan's Gov'ts. Thorneycroft was Macmillan's Chancellor, 13 January 1957-6 January 1958. Although Thorneycroft supported Macmillan to succeeded Eden as Tory Leader and PM in 1957, Thorneycroft resigned from his Gov't post (Chancellor) along with the two junior Treasury Ministers, Enoch Powell and Nigel Birch, because of increased Gov't expenditure. Macmillan dismissed the resignations as "little local difficulties", although in reality, Macmillan was deeply concerned about the possible effects of Thorneycroft's resignation. Nigel Birch was an MP for Flintshire in north Wales who was well-acquainted with Dafydd and Gwynne and when he stood down as MP in 1970, most helpfully ensured that the Westminster Swinger Sir Anthony Meyer replaced him as the constituency MP. Sir Anthony knew of Dafydd and Gwynne's services because Sir Anthony's grandmother Adele Meyer had been a close friend of Alys Pearsall Smith, Bertrand Russell's first wife and they had established a pioneering welfare clinic for mothers and babies in St Pancras. Whatever the clinic was doing, it was not what was advertised. See 'International Women's Day! Let's Celebrate With Jane…'
Thorneycroft was back in Macmillan's Cabinet in time for the events which led to the Profumo Affair and throughout the Affair and beyond. Thorneycroft was Minister of Aviation, 27 July 1960-3 July 1962     and Secretary of State for Defence, 13 July 1962-16 Oct 1964. Jack Profumo was the War Minister, so Thorneycroft was right at the scene of the crime. Thorneycroft was also in Macmillan's Cabinet when Maurice Macmillan swindled my father and father was then paid a visit by Bertrand Russell's solicitors seemingly on an errand from serious criminals with mates in high places. See post '            '.
Thorneycroft was a barrister and a member of Inner Temple, with Mr Thrope, the Havers family, Alex Lyon…
Thorneycroft was given a peerage in 1967. He was a big supporter of Thatch and served as Chairman of the Tory Party, 1975-81. Thorneycroft died on 4 June 1994. Matt Arnold the former Head of Bryn Estyn died from an 'unspecified blood disease' on 9 June 1994. The trial of Arnold's long time friend and colleague, Peter Howarth, for sexually abusing kids in care in north Wales opened at Chester Crown Court on 13 June 1994. Howarth was found guilty in July 1994 and sentenced to 10 years in prison.
Thorneycroft's second wife, Carla Thorneycroft, Baroness Thorneycroft, (12 February 1914-7 March 2007), helped establish the Venice in Peril Fund and was a noted philanthropist and patroness of the arts. Carla Maria Concetta Francesca Malagola, Contessa Cappi was the elder daughter of the Italian Count Guido Malagola Cappi and his wife, Alexandra (née Dunbar-Marshall) who had come over with her mother from Natchez, Mississippi to settle in Europe. She was born in Paris and grew up in Venice where her paternal grandfather Professor Carlo Malagola of Bologna kept the archives at the Frari basilica, and then in Rome.
Carla's father was an interior designer and a photographer. Alexandra and Guido lived in Venice and Rome and Carla was educated by Roman Catholic nuns, along with her siblings, Anna-Viola and Francesco. Francesco, later known as Francis Dunbar Marshall Malagola (1918–2001), was an artist whose works are conserved in a wide range of European collections and museums.
In 1930, Carla and her mother met Major Mervyn Thorneycroft while on holiday on Capri and later visited his home in Staffordshire, where she first met Peter, the Major's son. They were quickly engaged, but the engagement was broken off after Carla returned to Rome. She married Count Giorgio Roberti, in 1934, aged 20, and had a son and a daughter.
During the WW II, Carla served as a nurse with the Red Cross at the Principessa Piemonte hospital in Rome. Her marriage was annulled in 1946, and she then took her young children to England. She impressed the Vogue fashion editors with her startling new ideas which they commissioned from her and her forthright attitude won her praise at Vogue. She worked with John Deakin, Cecil Beaton and Norman Parkinson. Her interior design skills were spotted and she assisted John Fowler and Sybil Colefax to renovate Chevening and worked with Nancy Lancaster.
Carla met Peter Thorneycroft again at a party hosted by Henry "Chips" Channon the father of Paul Channon, Thatch's Cabinet Minister who's daughter Olivia died after a drug fuelled binge at Christ Church, Oxford in 1986. See post 'Is The Party Over Yet?'. Thorneycroft had become a barrister and been elected as a Conservative MP in 1938. He had been married and divorced. Carla married him in 1949 and she left Vogue in 1951.
Carla was a founder member of the Italian Art and Archives Rescue Fund, which was formed in April 1966. She was a member of the Fund's first committee, alongside Sir Ashley Clarke (former British Ambassador in Italy), John Julius Norwich and Mrs. Natalie Brooke (wife of the secretary of the Royal Academy). The fund became the Venice in Peril Fund in 1971.
Meanwhile, her husband held a succession of ministerial positions. He was President of the Board of Trade from 1951–57, Chancellor of the Exchequer from 1957 to 1958, Minister of Aviation from 1960–62, Minister of Defence and then Secretary of State for Defence from 1962–64. He left the House of Commons in 1966, and became a life peer in 1967. He was Chairman of the Conservative Party from 1975–81.
Carla supported her husband's political career and spoke on his behalf in his re-election campaigns. She was a trustee of the Conservative Winter Ball and its President, 1984-94. Carla also supported Thorneycroft with his later career in business, on the boards of Trusthouse Forte, Pirelli and Cinzano. Carla was appointed a Dame in 1995, the year after her husband died, for her work for the Conservative Party.
Carla was also a founder of the League of Friends of the Italian Hospital in London from 1956 until it closed in 1989, a Vice-President of the British-Italian Society for 50 years, a trustee of the Rosehill Arts Theatre, a Trustee of the Chichester Festival Theatre Trust, 1962-88 and a Vice-President of the Council of Friends of Westminster Cathedral  from 1993. She was a Trustee of the Royal School of Needlework 1964–76.
Carla's first husband, Giorgio, and her son, Piero, Count Roberti, from her first marriage predeceased her. She was survived by a daughter, Francesca, from her first marriage, a daughter from her second marriage, Victoria, and a stepson, John Thorneycroft.
Donald Kaberry served as Conservative Party Vice-Chairman Organisation, 1955–61 and Chairman of the Association of Conservative Clubs in 1961. During his time as Vice-Chairman, he was in position to receive a note from Thatch following the birth of her twins, informing him that Thatch was interested in a "return to active politics."
Kaberry was created a baronet in 1960 and on his retirement from the Commons in 1983 he was made a life peer.
Lord Kaberry was injured in the IRA bombing of the Carlton Club in June 1990 and died in March 1991, aged 83. The life barony became extinct on his death while he was succeeded in the baronetcy by his son Christopher.
Donald Kaberry was succeeded as the Tory MP for Leed North West by Keith Hampson (born 14 August 1943), who has featured in previous posts. Hampson was educated at King James I Grammar School, Bishop Auckland, Bristol University and Harvard. Hampson was an academic by profession. He was a Personal Assistant to Sailor Ted in the 1966 General Election. Hampson was elected as the  MP for Ripon in February 1974. The constituency was abolished for the 1983 General Election and Hampson was then elected for Leeds North West.
Hampson was PPS to Heseltine, then Defence Secretary, when Hampson was involved in a May 1984 incident in a gay theatre club in Soho where Hampson "accidentally brushed" the thigh of an undercover police officer. Although the court case against him was dropped, Hampson was forced to resign as PPS. In 1990, with Michael Mates, Hampson ran Heseltine's Leadership campaign. At the 1997 General Election, Hampson lost his seat to the Labour candidate Harold Best.
Hampson does not only know about matters involving Sailor Ted, who's friend and personal Top Doc Sir Brian Warren was one of those who facilitated the Westminster Paedophile Ring, as did Warren's wife, Dame Josephine Barnes (see post 'Uncle Harry's Friends…), but Hampson knows something about Jimmy Savile's crime empire and a lot about the dodgy deals that Heseltine did during Westland, 1985-86 and the deals that he thrashed out with Anthony Meyer in Heseltine's efforts to become Leader of the Tories and PM. During the Westland business and during his deals with Dafydd and Gwynne's mate Meyer, Heseltine used his knowledge of what was happening to me at the hands of Dafydd and the Gang in order to try to achieve his aims. See eg. posts 'Those Who Are Ready To Serve' and 'A Legend Lives'.
Heseltine's daughter Annabel got pissed at all the best parties when she was a student at Durham University and was also a mate of Call Me Dave's.
Keith Hampson married former fashion model Frances Pauline Einhorn in May 1975 but she died in an accident in September 1976, when things were looking worrying for Mr Thrope and the wider Westminster Paedophile Ring, five months after Harold Wilson resigned as PM and four months after Mr Thrope resigned as Leader of the Liberal Party. Reinforcements arrived in the shape of Carlo as Chancellor of UCNW and the molester George Thomas as Speaker, succeeding Dafydd's mate Selwyn Lloyd in Feb 1976. George Thomas was someone who used Dafydd and Gwynne's services, so Dafydd and Gwynne were quids in.
Not only was Leeds Savile's patch, but being a Methodist preacher, Alex Lyon would have known George Thomas, Britain's most well-known Methodist and a lay preacher himself, as well as the many other Methodists who propped up Dafydd and Gwynne and the wider Westminster Paedophile Ring. See eg. 'There's Methodism In This Madness' and 'Come Friendly Bombs'.
Lyon was elected as the Labour MP for the marginal City of York in 1966. He was Minister of State at the Home Office, March 1974-April 1976, but, 'as a radical, was sacked by Callaghan'. I can't quite understand how Alex Lyon could be constructed as a radical, but then it was Jim Callaghan's definition. Lyon was at the Home Office under Woy the Westminster Swinger; perhaps Lyon didn't drink enough claret to meet Woy's requirements. Woy was later part of the Gang of Four who based their entire political strategy on concealing the Westminster Paedophile Ring and becoming bestest friends with the ringleaders. See eg. 'We've Been Expecting You…'.
Lyon was a Home Office Minister alongside Shirley Summerskill, a Nice Lady Doctor, who knew exactly what Dafydd, Gwynne and the rest of her colleagues were doing and concealed it. Summerskill was the Labour MP for Halifax, who succeeded  Harold Macmillan's son Maurice in the seat. Halifax was on the territory of the big ring in Yorkshire directly linked to Dafydd and Gwynne in north Wales. Judge James Pickles grew up in Halifax, served as a Councillor there as well as working as a lawyer/judge and was also concealing the ring. See post 'Judge James Pickles'. Dr Sadie Francis came from Yorkshire, where her mother was a Top Doctor, but she didn't practice. Sadie's mother was an artist instead. Sadie's grandmother was one of the first women Top Docs in Britain, like Shirley Summerskill's mother Edith Summerskill. Shirley Summerskill's son Ben is the Ben Summerskill of Stonewall fame. See previous posts.
In 1971 Alex Lyon introduced the United Reformed Church Bill, which became the act which created the United Reformed Church from a union of Presbyterian and Congregationalist churches in England and Wales. Many Presbytarian and Congregationalists colluded with the Gang in Wales and were even members of the Gang.
In 1981, Lyon married Clare Short, a Home Office civil servant who had been his colleague when he was at the Home Office. Short herself later became a Labour MP and Cabinet minister, winning Birmingham Ladywood for the first time in 1983 on the same day Lyon lost his seat. Clare Short worked for the Tory MP Mark Carlisle when she was at the Home Office, when Carlisle was concealing the appalling brutality and deaths of kids in care and other victims of Dafydd's Gang in Risley Remand Centre. See post 'Include Me Out'. Clare Short's constituency included Aston University and she was at the Home Office when Brown was threatened with murder by an emissary of the Gang in his room at Aston in early 1983. I told my tutor at UCNW, Adrian Bell, a former Home Office forensic scientist who ignored me. As did Dr D.G.E. Wood. I know now that someone from UCNW got in touch with Aston University, some of who's staff and definitely the VC, Sir Freddie Crawford, were part of the network making up Dafydd's partners in crime in Birmingham. Clare was selected as the candidate and elected a few months later. See previous posts eg. 'Shurely Shome Mishtake'.
Alex Lyon died on 30 Sept 1993 from Alzheimer's disease, aged 61. The account of Lyon's decline and death doesn't quite fit the usual picture of Alzheimer's. Lyon had two sons, Marcus and Adrian and a daughter, Rebecca, from a previous marriage.
Marcus Lyon (b. 1965) is a British artist. Alex's website tells us that: His works and publications are held in both private and international collections including the Smithsonian Institution, the Art Institute of Chicago and the Arts Council of Great Britain. He has been commissioned and exhibited globally. Born and raised in rural Britain, Lyon studied Political Science at Leeds University, Leadership at Harvard Business School and Performance Measurement at the Kennedy School of Government. His early working life with Amnesty International in Latin America was the inspiration for his twenty-five year exploration of the issues at the heart of globalisation.
In the early 90's he founded the Glassworks, an award-winning multidisciplinary art studio that acts as a gallery, exhibition venue and centre of excellence for commissioned and original art.  As a portrait artist he has photographed a diverse range of public figures from Queen Elizabeth II, to Bill Nighy and the last four British Prime Ministers. His images have won numerous awards and nominations including the B&H Gold Award, Agfa Photographer of the Year, Prix Pictet 2012 & 2013, a D & AD Silver and five AOP's. He has created extensive bodies of work around the subjects of disability sport and development, with particular focus on the urban space. The early 21st century saw his work move from the micro to the macro with the formation of the large scale BRIC, EXODUS and TIMEOUT  series: explorations of our global mass behaviours. In recent years he has undertaken significant collaborative commissions producing large-scale imagery in the science/art arena, most notably his Optogenome series with Kings College and AstraZeneca. His most recent body of work,  Somos Brasil (2017), that explores Brazilian identity through a series of sound and DNA enabled portraits, was recently featured as a TED talk. Outside of the art world Lyon is a determined social entrepreneur and an active public speaker. In the not for profit sector he serves on the board of the Somerset House Trust and Leaders' Quest and is a Founder Ambassador for both BLESMA,  Home-Start UK  and  the global think-tank The Consortium for Street Children. Currently he lives between central London and Brazil with his wife, Bel and their daughter Florence (2010) and their son Arthur (2012).
In 1983 the Tory Conal Robert Gregory (born 11 March 1947) succeeded Alex Lyon's seat and held it until 1992. Conal was educated at King's College School, Wimbledon and the University of Sheffield. He is a Master of Wine , worked for many years in the wine trade and published on the subject. Conal has worked as a journo, writing for the Financial Times, Guardian and was made the personal Financial Editor of the Yorkshire Post winning Regional Financial Journalist of the Year Award in 2016.
Many of the staff, particularly the senior staff, of St George's Hospital Medical School live at Wimbledon. St George's had a popular wine club run by a corrupt MSF rep, David Hole, a senior technician who worked for Prof Geoffrey Chamberlain, Oliver Brooke's friend and umbrella. Hole eventually became a Master of Wine.
Sheffield was on Jimmy Savile's manor and part of the Yorkshire ring. Sheffield University was on board with the Westminster Paedophile ring as well as the Gang from north Wales and so was Sheffield City Council, David Blunkett and his fellow travellers. See eg. 'The Science Of Animal Behaviour' and 'The Big Questions'.
In 1992, Labour's Sir Hugh Nigel Edward Bayley (born 9 January 1952) took the seat from Conal Gregory, holding it until 2015, by which time it had become York Central. Bayley was born in Maidenhead, Berkshire and was educated at Haileybury and Imperial Service College, and Bristol University from where he graduated in 1974, before completing another degree at York University in 1976.
Dr D.G.E. Wood trained at Bristol University and qualified in the late 1960s. Wood's father was a Top Doc in Bristol. David Hunt who spent many years in the Welsh Office as a Minister and Secretary of State colluding with the Gang read law at Bristol University and stayed there until he was elected as the MP for Wirral in 1976, succeeding Dafydd and Gwynne's mate Selwyn Lloyd in the seat, working for the Tory Party in the West Country. David Hunt is now a senior figure at the international legal firm DAC Beachcroft, which takes work on behalf of the MDU. See previous posts.
A sex abuse/class A drugs ring was operating in parts of the West Country at the time, eg. in Bridgwater, the constituency of Tom King, where I grew up, that was being at least partly co-ordinated by Dafydd's partner Gang at the London Hospital, via their Top Doc colleagues in London, Bristol and Taunton. See previous posts eg. 'The Logic Of Medicine' and 'Oliver's Army'.
A contingent were present in Bangor University/the north Wales NHS who had passed through York University during their careers, including Profs Ian Russell and Rhiannon Tudor Edwards and Martin Jones and what trouble they caused. See previous posts.
In 1975 Hugh Bayley became a District Officer and later a National Officer with NALGO until 1982. NALGO was a union which represented many of the social workers, officials and managers involved in the North Wales Child Abuse Scandal as well as other abuse scandals. One man who admitted abusing kids in care in north Wales was a NALGO rep. He was allowed to retire instead of facing any action and accessed his pension early. This was achieved after a psychiatrist wrote a helpful letter of support for him. I wonder who that psychiatrist was?
NALGO merged with NUPE, another union which represented many social workers named as abusers or facilitating abuse and COHSE to form UNISON. The one social worker whom NUPE refused to represent was Alison Taylor when she was sacked by Gwynedd County Council, although Alison was a paid up member. See previous posts. At one point, David Hunt accused Alun Michael of following NUPE's orders. See post 'The Paedophiles' Friends Of Cardiff North'. David Williams, the Angel who doubled up as Assistant Royal Lobotomist at Denbigh served as the General Secretary of COHSE…
Hugh Bayley became the General Secretary of the International Broadcasting Trust in 1982 and served as a Councillor for the London Borough of Camden, 1980-87. Bayley lectured in social policy at York University, 1986-98.
Hugh Bayley was nominated as the Labour candidate for York at the 1987 General Election but was defeated by 147 votes by Conal Gregory. After the election, Hugh Bayley became a Health Economics Research Fellow at the University of York – until 1992 – and became a member of the local Health Authority. Prof Rhiannon Tudor Edwards at Bangor University is a Health Economist who passed through York University…
Conal Gregory and Hugh Bayley again fought it out at the 1992 General Election in York and this time Bayley won by a comfortable margin. Shortly after his election Bayley joined the Health Select Committee. The name of the York constituency was subsequently changed to City of York (although with unaltered boundaries) and Bayley won a majority of over 20,000 at the 1997 General Election. Bayley was on the Health Select Committee when chaos and criminality prevailed in the NHS in north Wales, St George's and various other places.
After the 1997 General Election, Bayley became the PPS to Secretary of State for Health and Social Security, Dobbo, who lived near York. I don't know what Dobbo was doing living near York because he was the Labour MP for Holborn and St Pancras, 1979-2015, but there were many complaints that Dobbo was neglecting his constituents… Dobbo had previously served as a Camden Councillor and worked in the Ombudsman's Office. However, nothing alerted Dobbo to the plight of the organised abuse that took place in his part of north London which was linked to people associated with Dafydd and Gwynne. See post 'The Most Dangerous Man In The World – Part IV'. Dobbo was a Camden Councillor when the Camden Councillors were carefully selected and organised by Richard Crossman, but then Dobbo graduated from the LSE in 1962, when that institution was staffed and managed by Crossman's mates and churned out graduated who subsequently concealed the Westminster Paedophile Ring. Dobbo grew up and went to school in York.
Frank Dobson
In 1998 Hugh Bayley was appointed to Miranda's Gov't as the junior Minister in the Dept of Social Security under Dobbo once more, responsible for Incapacity, Maternity, Disability benefits and Vaccine damage. Bayley was deputed to bring the Welfare Reform and Pensions Bill through the Commons, which attracted much criticism from backbench Labour MPs over plans to means-test and restrict access to incapacity benefit. This was the beginning of the destitution which soon engulfed so many Empowered Service Users in north Wales, but then Dobbo presided over the genocide in north Wales anyway, he was Secretary of State for the DHSS during the Waterhouse Inquiry when former kids in care and Empowered Service Users dropped like lemmings.
Frank Dobson – He Knew Nuzzing
Miranda dropped Hugh Bayley from Gov't after the 2001 General Election.
Bayley has since served on the International Development Committee and pioneered the foundation of the Africa All Party Parliamentary Group, serving as Chair for several years, now being its Vice-Chair. He was president of the NATO Parliamentary Assembly from November 2012 to 2014. Bayley was also a Chairman of the Public Bill Committee. Bayley rarely voted against his party whip. On 5 December 2014, Bayley announced his intention to stand down as an MP at the 2015 General Election.  
Bayley bagged a K in the 2015 New Year Honours for his "services to parliamentary engagement with NATO".
Frank Dobson
Hugh Bayley married Fenella Jeffers from Nevis in Camden on 22 Dec 1984. They have a son and a daughter.
Sir Hugh Bayley was active in the Anti-Apartheid Movement in his student days. Previous posts have discussed how many of Dafydd's associates were high profile members of AAM. In my post 'Shurely Shome Mishtake' I named people who held office in the AAM in 1968/69 when the Chairman of the AAM was John Ennals – brother of Dafydd's mate David Ennals, who also served as Chairman of AAM –  including Ben Whitaker, the Hon Vice-President of AAM.
Benjamin Charles George Whitaker (15 September 1934-8 June 2014) was a barrister and Labour Party politician. He was the third son of Major-General Sir John Albert Charles Whitaker, 2nd Baronet of Babworth Hall, Retford, Nottinghamshire. Ben Whitaker was educated at Eton before undergoing his National Service as an officer in the Coldstream Guards, 1952-54. He read history at New College, Oxford before being called to the bar at the Inner Temple in 1959. Another one in Inner Temple with Mr Thrope and famille Havers.
Ben Whitaker practised as a barrister from 1959 and worked as an extramural lecturer in law for London University from 1963. He was elected as the Labour MP for Hampstead at the 1966 General Election, succeeding Henry Brooke, the Home Secretary. Henry Brooke was denounced by the Bright Young Things of That Was The Week That Was as a dreadful old git which indeed he was. Henry and his wife Barbara Brooke (the daughter of a Welsh Minister of religion) established the Tory dynasty of which Thatch'e Cabinet Minister Peter Brooke was a member. Barbara Brooke was one of the Ladies Who Ran Hampstead; Babs was also involved in NHS governance, children's welfare and training of welfare professionals. See previous posts for details of the Brooke family.

Although the Brookes were Tories and thus denounced, those denouncing them concealed the same criminality. Barbara Brooke or Peggy Jay, it didn't make a jot of difference: two grandiose old bags who ruthlessly used other people and believed that they Knew Best. Richard Crossman's 'Diaries' contain numerous mentions of him and his Labour Party mates enjoying themselves at the opera or theatre with high Tories. It's not that I believe that people with differing political views cannot be friends; the point that I am making is that these people were unprincipled and colluding with serious abuse/crime.
Let us take a close look at Ben Whitaker, who was delighted to have Broken The Mould In Hampstead as a Labour MP following decades of Tories and see how much difference he made.
Shortly after his election to the Commons, Whitaker was appointed PPS to Anthony Greenwood, Minister of Overseas Development. Greenwood was appointed Minister of Housing and Local Gov't on 11 Aug 1966 and Whitaker continued to serve as his PPS.
GREENWOOD – preceded at Housing and Local Govt by Richard Crossman
Dafydd's mate – Ken Robinson – remember – MP St Pancras North – 10 March 1949-18 June 1970
 In 1969 Whitaker was appointed junior Minister in the Department of Overseas Development. WHO Sec of State?? Reginald Prentice followed by Judith Hart –
At the 1970 General Election when Sailor Ted became PM, Whitaker lost his seat to the Tory Geoffrey Finsberg, FINSBERG HERE See post '         '.
Whitaker was active in a number of charities and foundations, particularly relating to global poverty. He was an Executive Director of Minority Rights Group International, 1971-88 and of the UK branch of the Calouste Gulbenkian Foundation, and serving on the United Nations Commission on Human Rights for 15 years.
An admirer of George Orwell, Whitaker was a leading member of a memorial trust which erected a plaque to the writer in Hampstead and sought to have a statue installed at the BBC's Broadcasting House, It was announced in August 2016 that Westminster City Council had granted planning permission and that the project would go ahead, funded by £110,000 in private donations. The statue, by sculptor Martin Jennings, was unveiled in November 2017.
Among the many things that George Orwell did, was at the outbreak of WW II, to put his name forward to the Central Register for war work, but nothing came of it; his wife Eileen worked in the Censorship Department of the Ministry of Information in central London. In August 1941, Orwell finally obtained "war work", but with the BBC's Eastern Service. He supervised cultural broadcasts to India to counter propaganda from Nazi Germany designed to undermine Imperial links. This gave Orwell an opportunity to create cultural programmes with contributions from T. S. Eliot, Dylan Thomas, E. M. Forster, Ahmed Ali, Mulk Raj Anand, and William Empson among others. At the end of August Orwell had a dinner with H. G. Wells which degenerated into a row because Wells had taken offence at observations Orwell made about him in an article. David Astor was looking for a provocative contributor for The Observer and invited Orwell to write for him – the first article appearing in March 1942.
At the BBC, Orwell introduced Voice, a literary programme for his Indian broadcasts and by now was leading an active social life with literary friends, particularly on the political left. Late in 1942, he started writing regularly for the left-wing weekly Tribune directed by Labour MPs Nye Bevan and George Strauss. By spring 1943 Orwell began work on Animal Farm. In September 1943, Orwell resigned from the BBC post that he had occupied for two years. His resignation followed a report confirming his fears that few Indians listened to the broadcasts, but he was also keen to concentrate on writing Animal Farm. In November 1943, Orwell was appointed literary editor at Tribune, a publication on which his old friend Jon Kimche  worked. Orwell was on the staff of Tribune until early 1945. FOOTIE – had recommended Kimche to Nye in 1942 for the post of de facto Editor of Tribune – Tribune – some of them working for MI5 there. See post '        '.
Ben Whitaker was made a CBE in the 2000 New Years Honours for "services to Human Rights and to the Voluntary Sector"; he Waterhouse Report was published the following month.
Ben Whitaker died on 8 June 2014 at the age of 79. His passing was noted by a number of publications. 

The Observer's obituary of 15 June 2014 was written by Geoffrey Robertson HERE

Geoffrey Robertson
The former Labour MP for Hampstead, north London, Ben Whitaker, who has died aged 79, was the embodiment of the liberal values associated with the area. At the 1966 election he won the Hampstead seat, for 81 years a Tory fiefdom, from the reactionary former home secretary Henry Brooke, and championed the progressive social reforms of the Harold Wilson government, in which he held a number of posts. Subsequently, as a human rights lawyer long before this was a fashionable career, he made distinguished contributions to civil liberties in Britain, and especially abroad, through his leadership of the Minority Rights Group and then of the Calouste Gulbenkian Foundation and as a UN rapporteur.
Ben was born in Nottinghamshire, the son of Major General Sir John Whitaker and his wife, Pamela (nee Snowden), who were not modern enough to avoid sending him to Eton. He subsequently did national service in the Coldstream Guards, before graduating from New College, Oxford, to the bar. After what he described as this "Victorian education", he lectured in law at London University and became outraged at the conduct of the police, who at the time were framing Stephen Ward, planting bricks on political protesters and, in Sheffield, had been caught beating suspects with rhino whips. His first book, The Police (1964), was written with the object of restricting their powers.


His concern for human rights took him on Amnesty International missions, most daringly in 1965 to Rhodesia (now Zimbabwe), at the repressive height of Ian Smith's UDI. His heavily pregnant wife, Janet, accompanied him, hiding banned anti-UDI literature under her dress: they reckoned (correctly) that the sexist chivalry of the Rhodesian police would preclude a body search. They managed to enter one of Smith's secret detention camps, and afterwards Ben arranged to be interviewed live on the heavily censored Rhodesian Television Service (now the Zimbabwe Broadcasting Corporation). After 10 minutes during which he condemned "an illegal police state afraid of the truth", the police raided the studio, claiming he had broken laws against bringing Smith into disrepute and revealing the secret detentions. He had to exit the studio by the back door, collect Janet, and make a quick escape to the airport.
They just don't have the ability in Bethesda, or the needs either. It's why people in Hampstead have better houses, having more ability and – most importantly – greater needs.
As a Labour MP, he served as parliamentary private secretary to the minister for overseas development and then to the minister for housing, finding time to write Crime and Society (1967),
Participation and Poverty (1968)
and Parks for People (1971).
n wales – silence
In 1971 he became executive director of the Minority Rights Group, writing and publishing well-researched reports on communities – some that had never been mentioned before by the media – that were being subjected to physical and cultural destruction by their states or through the actions of multinational corporations. "Indigenous rights" was a little-known concept at the time.
In 1975, David Owen appointed him as British representative on a UN sub-committee on the rights of minorities,
Death – friends with Peggy's son Peter Jay, Callaghan's son-in-law – Xman
and in 1985 it handed him the hottest of hot potatoes: to investigate whether the Turkish atrocities against the Armenians amounted to genocide. He concluded emphatically that they did, and refused to withdraw his report despite a furious response from Turkey. In recent years he was particularly critical of "genocide equivocation" by the UK government, which refused to mention his report and claimed that the evidence for Turkish guilt was "not sufficiently unequivocal". He was pleased when this misleading formula, devised by the Foreign Office to avoid political and economic reprisals from Turkey, was finally exposed and dropped in 2010.
Ben maintained strong and combative interests both in defending culture from political philistines and in encouraging new forms of art thatgovernments were not prepared to subsidise.
The anti-censorship group the Defence of Literature and the Arts Society, of which he was chair, out-lobbied Mary Whitehouse in her attacks on the BBC and the National Theatre.
w house – contradictatory views
Later, as executive director of the Calouste Gulbenkian Foundation, he took great pleasure in encouraging competition between museums and in backing art that was too experimental or "political" for government funders tocontemplate.
F and the Jesus
His work for the foundation, which was established in Portugal, earned him a Portuguese Order of Merit.
In his last years, this most sociable of socialists took pleasure in his wife's performances in the Lords (she was raised to the peerage in 1999), his daughter Quincy's courtroom accomplishments and in his other children and grandchildren.
Quincy is a barrister who is based at Doughty Street Chambers, with that member of the Mansfield Community St Helena Kennedy and George Clooney's wife Amal! Another barrister at Doughty Street is of course Theo Huckle QC FINISH -See post '           '.
Quincy Whitaker's work encompasses all aspects of domestic and international criminal justice Human Rights law. Her practice spans the domestic criminal justice process, from challenges to the compatibility of criminal law with human rights law and other judicial review proceedings against public bodies through to obtaining civil redress for victims of state misconduct;
Just leave a comment on my blog Quincy, your colleague Theo has already read the 10,000 documents detailing the serious organised crime…
civil actions against the police and other public authorities, prisoners' rights, discrimination claims and victims of trafficking. 
She has particular interest in disclosure and retention/misuse of data and represents G in the successful challenge to the existing criminal records disclosure scheme (P,G & W v Secretary of State for Home Dept & Secretary of State for Justice [2017] EWCA Civ 321 – Secretaries of States' appeal to be heard by the Supreme Court in June 2018).
She also  has  practical experience and  detailed academic knowledge of international criminal  and international human rights law and  has  taught & lectured widely  on  the  subject as  well as  appearing at  a  variety of international tribunals. She has appeared in a number of notable cases involving the death penalty in the Caribbean and has been involved with death penalty litigation in many Commonwealth jurisdictions. She is a founding Director of TWL Legal Consulting which provides consultancy services in the field of international law and the development of legal and judicial systems to governments and NGOs.  She has contributed as an International Expert to the development of the CoE's training programme for legal professionals and has acted as a Senior Criminal Justice consultant for DfID in Kosovo.  
She has  a first class masters degree in International Human  Rights Law and  has  taught undergraduate and  graduate degree courses at the  LSE, SOAS and  the  University  of North London  on Human  Rights Law, Administrative Law and Criminal Law. She co-authored (with Keir Starmer QC) 'Criminal Justice,  Police Powers  & Human  Rights' (Blackstone's) and has acted as legal consultant on a number of TV and film projects including the award winning drama documentary 'Consent'.
[Ben Whitaker] became a dab hand at painting and flower arranging, and not even the pain from a broken ankle that refused to heal could stop him furiously agitating and fundraising almost single-handedly for a statue of George Orwell to be placed outside BBC Broadcasting House. He will not now be present for the unveiling of the Martin Jennings sculpture, but he would have wished it inscribed with his favourite aphorism, from the censored introduction to Animal Farm, which states the principle for which his own life stood and for which he wanted the BBC to stand: "If liberty means anything at all, it means the right to tell people what they do not want to hear". He is survived by Janet and their children, Quincy, Dan and Rasaq; Aaron, a son from a previous relationship and seven grandchildren.
I think that Rasaq was previously known as Andrew and converted to Islam…
On 12 June 2014 The Camden New Journal mourned Ben Whitaker's passing:
Ben Whitaker during his years as MP for Hampstead
By GERALD ISAAMAN, former editor of the Ham & High newspaper
What a sweet moment of iconic victory it was on the steps of Hampstead Town Hall almost half a century ago. Ben Whitaker, then 32, stood there in smiling silence with his arm around his wife, Janet, late on that October night in 1966, triumphant in having become Hampstead's first ever Labour MP.
He had defeated Tory Cabinet minister Henry Brooke, known as the most-hated man in Britain after having pushed through Parliament the Rent Act that tore working-class homes apart, and had then become a humiliated home secretary. I was there and remember it now like yesterday in sadly reporting the death of Ben Whitaker, aged 79, found dead by his  daughter Quincy at his country hideaway home in Piddinghoe, Sussex. Ben had caught MRSA in hospital after breaking his ankle, which refused to heal and left him in acute pain at the end of a remarkable life devoted to seeking help and justice for the oppressed.
As ye sow so shall ye reap Ben.
He was a hidden hand fighting for social welfare, minority rights, the arts and education and against genocide, poverty and slavery and censorship.
He was executive director for a decade of the Gulbenkian Founda­tion UK with a £2 million give-away grants budget for a decade. He was also a member of the UN Human Rights Commission, its vice chairman for 13 years, and sat on a host of committees. His significant record was recognised in 2000 with the award of the CBE, having been awarded the Order of Merit by Portugal in 1993.
But back in the 1960s Ben affectionately called me Scoop, and with good reason after the then left-wing Hampstead Labour Party had chosen him as their parliamentary candidate for the safe Tory seat. They did so amazingly unaware that he was the son of a baronet, went to Eton and served in the Coldstream Guards, which was my exclusive revelation in the Ham and High.
SCOOP???
After reading history at Oxford, he started his career as a barrister and lecturer and worked for the Italian Mafia-fighting social activist and poet Danilo Dolci and when elected Hampstead's MP his many talents were soon recognised by Labour prime minister Harold Wilson. He was appointed a PPS immediately and then junior minister for Overseas Development before, four years later in 1970, Hampstead reverted to type when the late local Tory councillor Geoffrey Finsberg won back the seat.
And it was not until 1992 after unsuccessful bids by Tony Clark, Ken Livingstone and John McDonnell that double Oscar-winning actress Glenda Jackson reigned supreme when the boundaries were changed.
Glenda j
Indeed, Parliament was probably not the best place for Ben Whitaker. It was too frustrating and too delaying for a man of so many parts and sensibilities. He was totally determined and demanding, charming and forever curious in his relentless pursuit as a social reformer, author, supporter of the arts, and an unequivocal admirer of George Orwell. It was on Ben's initiative and with the help of Hampstead bookseller Ian Norrie and myself that we put up a plaque, since stolen, to Orwell on the site of Booklovers' Corner, in Pond Street, Hampstead, where he worked while writing Keep the Aspidistra Flying.
Ben subsequently campaigned for the BBC to erect a statue to the author of 1984 – which may yet happen, the sculptor Martin Jennings having created a portrait bust of Orwell, who, like Ben, was an Etonian.
"Orwell was always my hero at Eton, he and Shelley," Ben told me at the time. "He is such a marvellous example of honesty and integrity in writing. Animal Farm is my favourite book, a classic that is there to be read for all time.
PICS
"I wish Orwell was here with us now, to hear his views on the mess that we are in, the media and the evidence of the Leveson inquiry. We need heroes like Orwell but there aren't any with his vision in the world today."
Ben too was an acknowledged author, journalist and broadcaster, editing in 1967 a collection of essays entitled A Radical Future,
as well as producing a substantial study of The Police in Society and another book on Parks for People. He lived throughout his political life in Adamson Road, Swiss Cottage, where he and his wife, the Labour life peer Baroness Whitaker of Beeston, brought up their three children. 
Among the many allies of Dafydd and the network who lived in Swiss Cottage were Dr Dannie Abse and his family.
Painting, writing, photography, theatre, music and opera and walking, especially hill and coastal, were among his pastimes until he broke his ankle. A private humanist funeral is to be held in Sussex. Details of a memorial service will be announced later.
The working man Didn't Know and neither did her husband.
REMEMBER – XMAN re HAMPSTEAD with Peggy et al – rigged council
I have been tracing the fortunes of a few of the key UCNW staff from earlier geological eras and their descendants. It is certainly a case of Didn't They Do Well
Lieutenant Elias Henry Jones (21 September 1883-22 December 1942) was the Registrar of UCNW, 1933-42. That was before Dafydd and Gwynne, but UCNW for most of its existence was dominated by number of very powerful families who's descendants were often those who did make hay with Dafydd and Gwynne.  Ioan Bowen Rees – mum and dad HERE – students in E.H. Jones's era
E.H. Jones at Aberystwyth 21 September 1883, eldest son of Sir Henry Jones . Sir Henry was a Giant of North Wales life who was one of the founders of UCNW. E.H. Jones was educated at Glasgow High School, Glasgow University, the University of Grenoble and Balliol College, Oxford. After being called to the Bar, E.H. passed the Indian Civil Service exams and in 1905 went to serve in Burma. Jones retired in 1922 as Financial Commissioner, settled in Bangor and 'for the next ten years was actively interested in the movement for international peace and in Welsh education'. From 1927 to 1933 he was editor of 'The Welsh Outlook'. In 1933 he was appointed registrar of the University College of North Wales, a post which he held until his death on 22 December 1942.
E.H. Jones is best known as the author of The Road to Endor, the classic account of a cunning escape in World War I. Jones joined the Indian Army as a private soldier and was commissioned just before he was taken prisoner by the Turks after the fall of Kut-el-Amara. He then survived a march of 700 miles to Yozgad, during which one in every seven of the prisoners died, and he was in captivity for three years before he and a comrade, feigning madness, were repatriated only a fortnight before the Armistice. Evans's book was reprinted 17 times and ran into three editions.

In 1913 E.H. Evans married Mair Olwen, the youngest daughter of Dr Griffith Evans of Bangor. Dr Griffith Evans was born in 1835 in Towyn, Merioneth (now spelled Tywyn, in what is now Gwynedd). His father claimed descent from Merioneth families which have a distinguished record in Welsh history, numbering among his ancestors Lewis Owen, slain in 1555 and Robert Vaughan of Hengwrt. Griffith Evans was educated at the British school, Bryn-crug and then privately. He was a pupil of John Pughe at Aberdovey and Towyn. In December 1853 he entered the Royal Veterinary College, qualifying as M.R.C.V.S. in May 1855. Evans became a vet in the Royal Artillery. He went to Canada with the Army and gained further qualifications from the medical faculty of McGill University.
Posted to India 1877, Evans was sent to the Punjab to investigate a fatal, endemic disease; it proved to be anthrax. While working on the Indian subcontinent, Evans identified the protozoan that causes surra, a disease of animals and it was named after him, 'Trypanosoma Evansi'. Evans returned to Britain in 1885, retired from the Army in 1890 and settled at Brynkynallt, Bangor.
Griffith Evans married Catherine Mary, the daughter of John Jones, surgeon, of Gelli, Llanfair Caereinion in Montgomeryshire and grand-daughter of Owen Jones of Gelli. They had one son and four daughters. Griffith Evans died in 1935.
A film adaptation of The Road to En-dor was written by Neil Gaiman and Penn Jillett and produced by E. H. Jones's granddaughter Hilary Susan Bevan Jones (born 18 October 1952; sometimes credited as Hilary Bevan-Jones). Hilary is a TV producer who has worked on several acclaimed drama programmes. She entered TV in 1979, when she gained a job as an assistant floor manager at BBC TV Centre. Hilary had spent four years working as a teacher in Essex. After graduating with a degree in psychology, Hilary tried and failed to get into theatre: 'They said I was over-qualified and under-experienced'.
Yet after four years teaching in Essex, Hilary hit the jackpot: "A friend of a friend who worked in children's television at the BBC introduced me to the head of studio management in 1979. Someone resigned that day and I became a floor assistant the following Monday.
That was it. I was a runner really. It was just so exciting, I was 27, really old to get in. My God, I appreciated it."
So Hilary, having been rejected repeatedly as being too inexperienced for showbiz, after gaining four years experience of teaching kids in Essex found that one day in 1979 when she was introduced to the Head of Studio Management at the BBC by a friend of a friend who worked in children's TV at the BBC, someone resigned on the spot and Hilary was in! She was too old by convention but those four years teaching kids in Essex had done the trick; in 1979, the BBC wanted Hilary, the psychology graduate – although I cannot find a reference to where Hilary studied for that psychology degree –  who's family founded and ran UNCW.
Trypanosoma evansi  a protozoan parasite, shows a very broad vector specificity including the genera Tabanus, Stomoxys, Haematopota, Chrysops and Lyperosia. In Pakistan T. evansi has been found to be the most prevalent trypanosome species in donkeys.
Trypanosoma evansi
Trypanosoma evansi in blood
During the 1980s Hilary worked predominantly on comedy programmes such as Not the Nine O'Clock News and Blackadder, becoming a producer in 1988, working in that capacity on Red Dwarf. In the 1990s she switched to working on drama programming and left the BBC. Hilary produced Cracker for Granada Television, upon which she first worked with the writer Paul Abbott, who went on to write State of Play, which Hilary produced in 2003.
State of Play was co-produced by Endor Productions, a company Bevan Jones had co-founded in 1994. Remember granddad's WWI adventure, En-dor? On 9 June 1994, Matt Arnold, the former Head of Bryn Estyn, died of an 'unspecified blood disease'. On 13 June 1994, the trial opened at Chester Crown Court of Arnold's long time friend and colleague at Bryn Estyn Peter Howarth; Howarth faced multiple charges of sexually abusing kids in care in north Wales. Howarth was found guilty in July and sentenced to 10 years in prison.
Jilling investigation – Feb CHECK 1994
F n me – MHAC – spring 1994 – planted brick etc days afterwards – injunction – MDU – BMA – Nov 1994
1993 – Thomas and Lord Kenyon died – DATES pres – prev Lord Kenyon – DATES pres
In 1994 – W Mars-J – pres?? Lord Cled
Eric stood down
Dafydd on TV all the time
michael howard – mongomeryshire – carlislse
After working on the WHAT series with Paul Abbott, Hilary and Abbott established their own new production company, Tightrope Pictures. Tightrope has produced several dramas for the BBC, including the Richard Curtis piece 'The Girl in the Cafe', which Bevan Jones produced herself.
Richard Curtis – wife Emma Freud, daughter of Liberal Party molester Clement – Freud family – Bernard Jenkin – son of Patrick – Ronnie's mate – Ann Jenkin – See previous posts.
Hilary Bevan Jones served as Chairman of BAFTA, 2006-08 and was the first woman to hold this position.
Trypanosoma evansi
Trypanosoma evansi in blood
Hilary serves as Patron for Watersprite: The Cambridge International Student Film Festival.
Trypanosoma evansi
Trypanosoma evansi in blood
Hilary's great-granddad, the father of the hero of End-Or and the Registrar of UCNW while members of the Gang were students there, Sir Henry Jones (30 November 1852-4 February 1922), was a philosopher and academic who was instrumental establishing the University of Wales, of which his son later became a senior manager, after a career in veterinary science on the Indian subcontinent.
The Dictionary of Welsh Biography of course provides further info about Sir Henry, a founding father of the Gwerin:
Born at Llangernyw, Denbighshire 30 November 1852, the son of a shoemaker. Apprenticed to his father at 12 years of age, he had an arduous struggle for education, but later qualified as certificated teacher at Bangor Normal College and for two years was master of an elementary school at Brynaman, Glamorganshire. He then decided to enter the Calvinistic Methodist ministry, won a Dr. Williams scholarship, and, in 1875, entered Glasgow University, where Edward Caird had a dominating influence on his thought and career. Graduating in 1878, he won the Clark fellowship, which gave him four years at Oxford and in Germany. In 1882 he married Annie Walker, of Kilbirnie.
Appointed lecturer in philosophy at Aberystwyth in 1882, he became professor at Bangor in 1884,
UCNW was established in 1884
at S. Andrews in 1891, and at Glasgow, as Caird's successor, in 1894. An outstanding teacher, his doctrine was essentially Caird's version of Hegelian idealism, but the Bible and the great poets also contributed to his thought and style. To him philosophy was a way of life, a faith to be taught and accepted. Moral values were the basis of his creed: he stressed man's infinitude as well as his finitude, and viewed the world-process as the progressive realization of an all-inclusive God of Love, ever moving and yet perfect. His writings were many and varied, the most important being 'Browning as a Philosophical and Religious Teacher' (1891), Lotze (1895), and 'A Faith that Enquires' (1922) — Gifford Lectures delivered at Glasgow in 1920-1.
Profoundly interested in social affairs and an ardent liberal, he founded the Glasgow Civic Society. Educational reform in Wales owes much to his unstinted effort; he was a leader in the movement which resulted in the Intermediate Education Act (1889), and after the establishment of the Welsh University he originated the plan of a 'penny rate' levied by the County Councils for higher education; he also served on various commissions and committees. Despite an operation for cancer in 1913, he actively supported the national effort during the war, and visited the U.S.A. in 1918. He died at Tighnabruaich, Argyll, 4 February 1922.
He gained many honours: hon. LL.D. (S. Andrews) 1891, F.B.A. (1904), hon. D.Litt. (Wales) 1905, knighted (1912), C.H. and Cymmrodorion medal (1922). Of his six children, two died in youth, and one son fell in the war of 1914-18. In 1934 a memorial fund was instituted to acquire and maintain his birthplace at Llangernyw, and the balance of the fund was used to establish an annual prize in moral and political philosophy at Aberystwyth, Bangor, Coleg Harlech, S. Andrews, and Glasgow.
Sir Henry Jones, Old Memories. Autobiography of Sir Henry Jones (London 1924/1925), 1923;
H. J. W. Hetherington, The Life and Letters of Sir Henry Jones, professor of moral philosophy in the University of Glasgow (London 1924), 1924;
Hector Hetherington – HERE
J. H. Muirhead, 'Sir Henry Jones', in Proceedings of the British Academy, x, 1921-3;
Henry Jones
Jeremy Thorpe
missing Link!! Hilary's parents??
Hilary!! –
An article published in 'The Guardian' on 6 Dec 2004 makes it clear how impressive Hilary is:
If there is a secret to Hilary Bevan Jones's success it is this: at 52 she has the reputation for being the producer that the most talented names, on and off screen, want to work with again and again – Richard Curtis, John Lloyd, Bill Nighy … she has a contacts book to die for and on Friday was honoured at the Women In Film & Television Awards for her contribution to the medium.
What with it being a Secret, Hilary didn't tell 'The Guardian' about the real secret of her success:
2004 – war on merfyn – hetherington still alive?? – me in court in july – bristol case DATE??
She first worked with the acclaimed writer Paul Abbott 12 years ago on ITV's Cracker, which put them both firmly on the drama map, and she went on to produce his drama Butterfly Collectors. Abbott is now a business partner in their independent company, Tightrope, based in an atmospheric Soho Georgian house nearing complete renovation. It will be the focus for many of his future projects, distinctive dramas, and they hope, films for cinema.
Trypanosoma evansi
Trypanosoma evansi in blood
Cracker is a British crime drama series produced by Granada Television for ITV, created and principally written by Jimmy McGovern. Set in Manchester, the series follows a criminal psychologist (or "cracker"), Dr Edward "Fitz" Fitzgerald, played by Robbie Coltrane, who works with the Greater Manchester Police to help them solve crimes. The show consists of three series which were originally aired from 1993 to 1995.
N Wales Police investigation – PR war – Kate Roberts etc
No real life Crackers – increase in applications to psychology degrees – Greater Manchester – Dafydd – Anderton DATES?? – Francis etc – Hobson – DATE OF DEATH?? – promoted stereotype of the Clever Psychologist who Gets Into The Mind of the Dangerous Nutter
me n the Gang!!
Brick – injunction
Jimmy McGovern was one of nine children born to working class Liverpool born parents, William McGovern and Jane Warner. He attended a Jesuit secondary school, St Francis Xavier's College in Liverpool. He taught for a time at Quarry Bank Secondary Comprehensive school, where he organised the end-of-school play. WHICH BEATLES??
1993 – Cilla – LWT – Mandy – Chamberlain – 1994 – fraud
Jimmy McGovern started his TV career in 1982 working on Channel 4's soap opera Brookside.
Bluglass rewriting etc
Phil Redmond HERE
S4C time – war with Thatch
When Cracker swept the TV schedules by storm, Dafydd and Gwynne's big umbrella Sir William Mars-Jones was President of UCNW. Mars-Jones was a High Court judge who worked both in London and in Cheshire/north Wales; at Cambridge he'd been in Footlights and he was a key fixture at the Garrick, a club who's members are substantially drawn from the legal profession or the world of theatre/TV/film. Sir Robin Day was a member of the Garrick; Day was a very close friend of Ronnie Waterhouse, who was a close friend and colleague of William Mars-Jones. The Garrick also boasted of David Frost and many, many more and it was packed to the rafters with the big names from the Royal Shakespeare Company etc. See previous posts.
With a second series of 'Shameless' completed for Channel 4, Abbott is writing the second series of the conspiracy-driven 'State of Play' for the BBC. It stars John Simm as an investigative journalist, working for a newspaper editor played by Bill Nighy, ("I first worked with him in 1992, we go back a way," says Bevan Jones),
Trypanosoma evansi
Trypanosoma evansi in blood
plus Blackpool's David Morrissey. BBC drama controller Jane Tranter says: "Hilary's absolutely brilliant at getting people to do their best.
Bechod! What were the circumstances? I think we should be told.
 The series, filmed in South Africa, is "glorious, so epic", says Bevan Jones.
Just like her granddad's WW I escape.
"We found Richards Bay near Durban and we built a stage over the harbour. We had three sets on pontoons, with compressed air and we had people pulling ropes to rock the set.
Surely Hilary means 'pulling strings'?
If we wanted big waves they ran from one end to the other."
Bevan Jones doesn't come with arty credentials. One of the keys to her success is that, like many other successful television executives, she has a degree in psychology. In short she understands how to work with people and has real charm.
"When I was at university I had a summer job compering dolphins at Woburn wildlife safari park and curiously that gave me the taste for the theatre," she says.
QUE???
After graduation, she tried and failed to get into theatre ("They said I was over-qualified and under-experienced") She spent four years teaching in Essex. "A friend of a friend who worked in children's television at the BBC introduced me to the head of studio management in 1979. Someone resigned that day and I became a floor assistant the following Monday…
Yeh, we know the story… Now tell us WHO at the BBC Fixed It For Hilary and who was kicked out because Hilary Needs That Job.
In 1979, when mountains were moved for Hilary, the Chairman of the BBC was Michael Swann. I have discussed Swann previously in detail on this blog. Lord Swann's credentials were perfect in terms of being happy to make room for Hilary when the Gang needed a favour. Michael Swann was the son of a Top Doctor, Cambridge pathologist Meredith Blake Robson Swann. Michael Swann was a zoologist who studied at Cambridge and then lectured in zoology there. That alone will have given him excellent contacts with UCNW, as so many members of the Gang were zoologists at UCNW who had studied/worked at Cambridge or with people who had. See previous posts for further info on Swann.
The DG was WHO?
Hilary worked her way up between 1979-1988, from golf and Top of the Pops to comedy.
From 1984, Hilary's future will have been assured because I wouldn't keep quiet. Hilary was cluttering up the BBC in 1985 when Michael Grade, then the WHAT demanded my friend's head on a plate because she refused to do a fiddle for Leon Brittan's brother Samuel, Michael Grade's mate, when she was working at the Edinburgh Fringe, as described in previous posts. Leon was at the time concealing the Westminster Paedophile Ring and losing the dossier that Geoffrey Dickens MP had given him providing names of suspects. By the time that my friend's husband was finally forced out of his job at the BBC for refusing to accept a bribe and/or being friends with me (see previous posts), Hilary had founded Endor and was producing PR bollocks about psychologists Who See Into The Minds Of Nutters.
"I loved the BBC comedy department, I found the drama people a little intense." She worked on Not the Nine O'Clock News and Blackadder – "people like John Lloyd and Richard Curtis were my mentors."
As Hilary was 'inexperienced' and only bagged her job by nepotism, she had to rely on other people who were slightly less inexperienced and had also bagged their jobs by nepotism to induct her into the ways of Advanced Nepotism.
For the last 14 years, Bevan Jones has worked her way up the drama ladder, from freelance to independent producer. "It's been fun. I don't know about being driven, I genuinely enjoy it. The day I stop worrying about tiny details on the call sheet, or don't get nervous about a read-through, that's the day to stop. I feel so lucky to get paid for what I do." She founded her first company, Endor Productions, ten years ago, and based its name on a book, Road to Endor, written by her grandfather E H Jones, an extraordinary, true story about his escape from a German prison camp.
100% True. Unlike the lies that were told at the Waterhouse Inquiry by Criminal Nutters who were Lying To Get Compensation. Hilary knows that Psychologists can deal with them.
1994: Cracker riding high in the TV ratings.
1994: Bryn Estyn staff on trial for abusing kids in care in north Wales. In Dec 1994, retired senior police officer Gordon Anglesea won the best part of £400k in libel damages after he was named in 'Private Eye', OTHERS as having abused kids in care in north Wales. In Feb 1995, CHECK Mark Humphreys, one of the boys who had given evidence against Anglesey at the trial, was found hanging from the stairwell in the block of flats in Wrexham where he lived. In 2016 Gordon Anglesea was jailed for historical sex offences on boys in care in north Wales. See posts '         ' and '         ' for details of the bent barristers and judge who were involved in the 1994 libel trial.
Trypanosoma evansi
Trypanosoma evansi in blood
Tightrope has two BBC1 films in production, 'Dad', for Comic Relief, which is being filmed and 'The Girl In The Cafe', with Curtis, which stars Nighy – a departure from Curtis's romantic comedies, set against the backdrop of a G8 summit. About 'Dad' [who is Hilary's dad??] written by Lucy Gannon ("a perfect choice, such a tender emotional piece"), Bevan Jones says: "Richard came to us at the beginning of this year to see if we could come up with a drama that would help illustrate the UK things Comic Relief is campaigning for. Richard Briers and Kevin Whately are playing a father and son. The theme is elder abuse. It's in the hinterland of denial that child abuse was in 30 years ago."
Trypanosoma evansi
Trypanosoma evansi in blood
1979 – thomas tyrell-kenyon…
When Hilary produced her awareness-raising bit about elder abuse, elder abuse was rife in care settings in north Wales and elsewhere. There were constant complaints about homes owned by Dafydd in particular and Mary Wynch's problems with Dafydd began after she complained about her elderly mother being abused when she was a resident in one of Dafydd's homes. By the way Hilary, in 2000 I was forced out of a job in an elderly person's home on Anglesey after I reported witnessing a care assistant slap a lady in her 80s and draw blood as her fingernails broke the old lady's skin. One resident in the home had been lobotomised by Gwynne. She was the youngest resident there but having been lobotomised she couldn't look after herself. She had been lobotomised years after Lobotomies Weren't Done Any More at Denbigh. Or indeed anywhere else.
For five years Bevan Jones, a Bafta council member, has been a driving force behind the Bafta Craft awards, which celebrate British production talent. What tips does she have for people starting out? "Try and get a job doing anything, starting as a runner. When you have worked your way up you might be producer but I still make the tea. Richard and John Lloyd taught me: try and make it better, never stop. When we were doing Blackadder Curtis put script amendments under my door at 3.30am. Once he wanted 20 black jacob sheep on location in Northumberland for the opening set-up the next day. I got them. It's a good lesson – never stop, don't rest."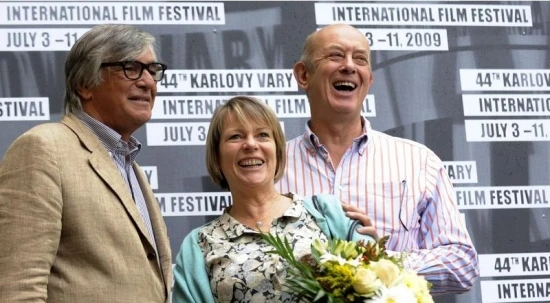 Jiří Bartoška, ​​Hilary Bevan Jones and Roy Marsden (2009)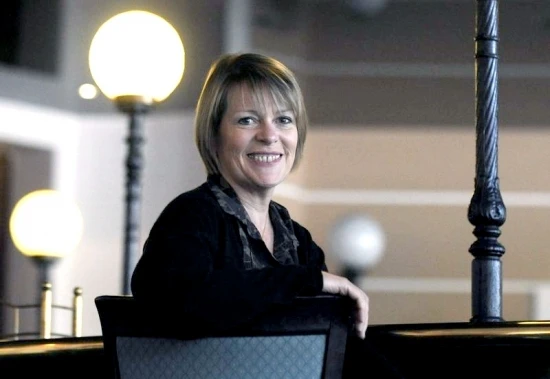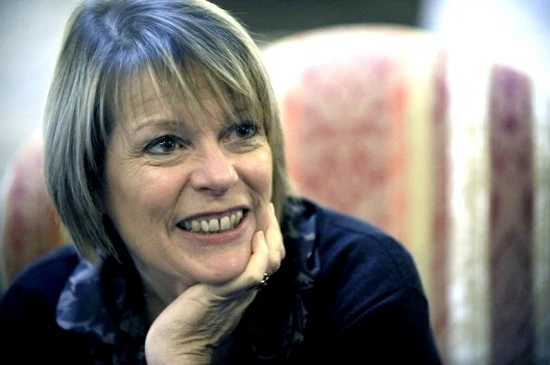 On 29 April 2006, the Indie published one of those lighthearted rather pointless gratuitous articles with A Celeb, in which an interview was held with Hilary's partner Roy Marsden re the more trivial aspects of their lives. It was mentioned that they lived in Norfolk.
Roy Marsden (born Roy Anthony Mould; 25 June 1941) is an actor, who is probably best known for his portrayal of Adam Dalgliesh in the Anglia Television dramatisations of P. D. James's detective novels.
P.D. James –
Marsden attended the RADA and spent four terms there. He attempted to unionise the students but was thwarted. After one argument he poured a bottle of ink down the front of the director's suit. Marsden recalled, "Two weeks later, he phoned me up and asked if I'd got a job or an agent. I said no, so he arranged for me to start work at a theatre in Nottingham and who should be the student assistant manager there but Anthony Hopkins. I persuaded him to go to RADA."
See previous posts for discussion of Anthony Hopkins, a proud Welsh patriot who appeared in the UK media declaring his love for Wales, his involvement with Snowdonia, the Royal Welsh College of Music etc immediately before he returned to California to live (the proud Welsh patriot had lived in California before) and took US citizenship. When did Mr California come over all Welsh? You've guessed it, during the Waterhouse Inquiry. Hopkins didn't hang about for long after the multiple media appearances and adverts for Wales and soon jetted off back to America.
The BBC reported the hurt feelings of those in Wales who had been forsaken by Sir Anthony when he returned to his natural habitat of Hollywood:
Friday, 21 April, 2000

Hopkins explains US citizenship

Sir Anthony Hopkins says he expected his decision to become a US citizen would cause a "stir up" in his native Wales.The star of Silence of the Lambs and Nixon, pledged allegiance to the US in a short ceremony earlier this month at the Federal Building in Los Angeles.

His friends Steven Spielberg and John Travolta witnessed the ceremony.

But the news mystified people living in his south Wales home town of Port Talbot and there were even been calls for him to be stripped of the freedom of the town.

But, Sir Anthony explained: "America has been very generous to me, magnanimous really.

"I thought it would be good to give something back. It was a decision of the heart."

And when asked about the anger his decision had sparked back home, he said: I love Wales where I was born.

"There's been a bit of a stir-up there. I expected it."

The Oscar-winning actor has never made a secret of his preference for life in the US.

In the 90s, Hopkins became one of the most bankable and famous faces in films and for the past 20 years he forged his career in the US.

As Nixon he was cast as one of the most famous Americans of the 20th century.

But as Hollywood made him one of their own, his connections with Wales appeared to grow stronger.

Sir Anthony gave Ł1m to save Snowdon for the nation, and played a big part in promoting Wales abroad.

But many residents of his home town of Port Talbot – where Sir Anthony was the son of the local baker – have accused him of forgetting his roots.

Resident Glanville Mills, 67, said: "Anthony Hopkins is a local boy – it is disgusting what he has done.

"He has lost touch with his roots and should be ashamed of himself."

But the strongest response came from Assembly Member Gwenda Thomas.

She is calling for the Freedom of the Borough of Port Talbot – granted to Sir Anthony four years ago – to be removed.