Recent posts (eg. 'A Holy Fool Among A Feast Of Fools', 'Holding The Country To Ransom -Part II', 'Shurely Shome Mishtake' and 'The Joys Of Propaganda') discussed members of Anthony Eden's, Harold Macmillan's and Alec Douglas-Home's Gov'ts who were mates with Gwynne the Royal Lobotomist and Dafydd and were customers of/facilitating/concealing the criminality of the Gang. It is clear that somehow Gwynne and Dafydd were closely associated with the Profumo Affair and that Macmillan's Night of the Long Knives was an effort to cleanse his Cabinet of Gwynne and Dafydd's mates. They left Cabinet but they certainly didn't go away. I'll be discussing this in detail in a future post.
There was a junior Minister whom Macmillan appointed to the frontbench in Oct 1961 whom I haven't mentioned in relation to this yet; Margaret Thatcher. Macmillan promoted Thatch to the post of PPS at the Ministry of Pensions and National Insurance under Minister of Pensions and National Insurance, John Boyd-Carpenter. Thatch will not have only gained knowledge as to what Gwynne and Dafydd were doing when she was in that role, but she had already gathered quite a bit of info.
Thatch's family were staunch Methodists and they and she will have known some of those Of The Gang in Wales. See eg. posts 'There's Methodism In This Madness' and 'Come, Friendly Bombs'. Thatch knew the Westminster paedophile George Thomas by then well. As PM, Thatch explained that their good friendship was based on their Methodism and bridged the political divide between them. Even more important was their shared criminality and hypocrisy but that received no media attention. Not only was Thomas already in the Commons by the time that Thatch was elected for Finchley in 1959, but he was a towering figure in British Methodism and was known in the Methodist Church overseas. Methodism is international and has a long tradition of missionary work; some high profile Methodist missionaries eg. the Rev Alwyn Roberts and Top Doc William Ernest 'Bill' Beer (see previous posts), were key members of the Gang in north Wales.
Thatch had joined the local Conservative Association  when she was working as a research chemist for BX Plastics near Colchester in Essex; she was still Snobby Roberts in those days, not yet having married the rich old soak who financed her career in politics. In 1948, she attended the Tory Party conference at Llandudno as a representative of the University Graduate Conservative Association. Thatch will have got to know the mentors of Beata Brookes, Peter Walker and David Hunt, who became active in the Young Conservatives in the 1950s and subsequently leading members of the Gang. See previous posts. Their senior colleagues when Thatch attended that conference included (David) Vivian Penrose Lewis aka Lord Brecon, who was au fait with the export of young people from Wales to England as sex workers and later did very nicely out of this knowledge, as did Lord Brecon's daughter Lindy Price and her husband, the Camden-based lawyer Leolin Price QC.
Lord Brecon was someone else who was at the scene of the crimes re Macmillan et al. In Dec 1957 Macmillan appointed Vivian Lewis, then an unknown Councillor in south Wales, as Minister of State for Welsh Affairs under Henry Brooke, Macmillan's Cabinet Minister of Housing and Local Government and Welsh Affairs and in Jan 1958, Lewis bagged his peerage. From Councillor in south Wales to the Lords in just a few short weeks. That's some progress. Progress which adds to me wondering what it was that Gwynne did in 1957 which caused the rapid ejection of Macmillan's Minister of Health Dennis Vosper 'on Top Doctors advice' in Sept 1957, only for Vosper to reappear as a Minister in the Home Office, 1959-61, in time for the shenanigans at Cliveden. Vosper was a loyal supporter of the Gang, being the Tory MP for Runcorn in Cheshire – part of the Gang's domain – and having served in Eden's Gov't, but was the only Minister of Health from that time of constant musical chairs who was not still cluttering up the world in the 1980s when the Gang freaked in the face of me complaining about Gwynne. Vosper died on 20 Jan 1968, having picked up his peerage in April 1964.
Vosper was Eden's Parliamentary Secretary to the Ministry of Education, Oct 1954-Jan 1957, before he was appointed Minister of Health when Harold Macmillan became PM in Jan 1957. I have not lost sight of the death of J.E. Daniel as the result of a car crash in Flintshire on 11 Feb 1962, two days before Saunders Lewis made his famous 'Tynged yr Iaith' radio broadcast with Dafydd at his side recording it. It was that broadcast which led to the establishment of Cymdeithas yr Iaith (Welsh Language Society) on 4 Aug 1962. J.E. Daniel was, with Saunders Lewis, a founder member of Plaid. Daniel was a theologian at the Bala Theological College and a schools inspector with responsibility for religion. See post 'Tan yn Llyn'. J.E. Daniel's son is the dreadful Huw Daniel, a bent judge who has carried out the Gang's wishes for decades. Huw probably feared meeting an unpleasant end if he didn't. Both J.E. and Huw Daniel went to Jesus College, Oxford, as did many other associates of the Gang. Harold Wilson also went to Jesus College Oxford; he was there at the same time as Dafydd's pal Gwilym Williams, the Archbishop of Wales, 1971-82 and Bishop of Bangor, 1957-82.
I note that although Gwilym Williams was from a wealthy north Wales land-owning family, he was born in Finchley, Thatch's constituency for so many years. I have not yet found any explanation of WHY Thatch was selected as the candidate for Finchley. Finchley wasn't Thatch's first go at becoming an MP; she stood unsuccessfully for the safe Labour seat of Dartford in 1950 and 51. She put her name forward for selection as the Tory candidate in Orpington to fight the 1955 by-election but didn't win the nomination. In April 1958, Thatch was selected as the Tory candidate for Finchley and was elected in 1959, after a hard campaign.
Thatch beat Ian Montagu Fraser for the nomination for Finchley in 1958. Ian Montagu Fraser (14 October 1916-8 November 1987). He subsequently served as the MP for Plymouth Sutton, 1959-66, succeeding Jakie Astor as MP for the constituency. Jakie who's family were soon at the centre of the Profumo Affair. Fraser lost his seat in 1966 to Dr Death. Fraser died on 8 Nov 1987, at the end of a truly desperate year for the Gang as Ollie Brooke had to be retrieved from prison, I refused to shut up and their conspiracy with the Home Office to imprison me fell apart. The King's Cross Fire took place on 18 Nov 1987. I was due to pass through King's Cross at the time of the fire but my plans were disrupted. After I began this blog I was told that the fire was an attempt to kill me. If that is true, as with so many matters Gang, their plans went wrong and a lot of other people were clobbered instead.
Dr Death not only knew members of the Gang in north Wales, as a relatively new MP, he was one of Richard Crossman's advisers just before and when Crossman ran the DHSS. Before Death had even entered the Commons, he had been the research registrar to Dr William Sargant, a Top Doc so crazed and so dangerous that psychiatry now tries to pretend that he never existed. Sargant was unhinged and treated himself with a whole range of drugs both legal and illegal and carried out experiments on his patients which were so dangerous that many of them died. See post 'Dr Death'. As with Gwynne and Dafydd, Gov't drew a veil over the activities of William Sargant because there would have been an outcry if the public had known the truth. Death assisted in those experiments and he has never been confronted by anyone about the. However, publications written by Death when he worked for Sargant and which I think were co-authored with Sargant seem to have disappeared from the archives. Brown and I have looked but they are not coming up in searches. They definitely existed though didn't they Dr Death? I KNOW that they did because you used to boast about them years ago when you thought that your mates had put me out of action…

Dr Death's mentor, William Sargant:
Gwilym Williams attended Brynrefail School in Gwynedd, as did David Williams, the Angel who trained at Denbigh as Assistant Royal Lobotomist and then in 1955 moved to Yorkshire as that region's full-time COHSE rep. In 1962 – when Macmillan knew that the Profumo story was going to become public imminently – Assistant Royal Lobotomist Williams moved to COHSE's Head Office as a National Officer and was then promoted to Senior National Officer. Assistant Royal Lobotomist Williams served as COHSE's Assistant General Secretary, 1974-83 -he was in post when Dafydd and Gwynne unlawfully imprisoned Mary Wynch – and as General Secretary, 1983-87, when the Gang declared war on me. The Assistant Royal Lobotomist sat on the Labour Party NEC, 1981-83, when he was then elected to the General Election of the TUC.
The Assistant Royal Lobotomist With Nye:
Fattersley addressed a public meeting held by COHSE in Jan 1985 in his capacity as Deputy Leader – to the Windbag as Leader – of the Labour Party.
Fattersley has of course starred on this blog many times previously but I only recently found out that Molly Fattersley, to whom Fattersley was married for decades until they had a divorce when they were in old age – Fattersley remarried at the age of 80 – considered herself an educationist and in 1999 edited a textbook, 'The Appraisal of Headteachers'. That is so reassuring to know in the light of Molly's husband remaining silent about organised abuse, including in north Wales, which was facilitated/concealed/sometimes even carried out by teachers.
Here are the Bright Young Radicals:
Gwilym Williams was one of the troika of paedophiles' friends who paid a visit to Willie Whitelaw when Thatch tried to renegade on the agreement to establish S4C and reminded Willie of a few matters involving Dafydd and Gwynne. S4C duly came into being and provided well-paid jobs for many Gang members, as well as a source of PR for the Gang. Exactly the same technique was utilised to ensure that Thatch allowed what became the Welsh Language Act, 1993. See previous posts.
I don't have a problem with giving the Welsh language legal status, but I do wish that as much energy and commitment had been dedicated to stopping a gang of sex offenders.
Henry Brooke was the Tory MP for Hampstead, who's wife Barbara Brooke was one of the old bags who served as a Hampstead Councillor and sat on every committee in existence. Barbara of course had a special interest in children, women and the NHS. Barbara was the daughter of a Welsh Minister of religion. Henry and Barbara Brooke spawned a Tory dynasty, one of whom was Peter Brooke, who served as a Cabinet Minister under Thatch and concealed the crime emanating from Dafydd and the Gang of which his mother and father had fanned the flames. See previous posts for further details of the Brookes and their funny little ways.
Down Memory Lane:
[Sorry readers, the image has disappeared before I've even had time to put this post up on the blog! Someone doesn't want you to see this…]
This photograph shows Lord Brecon, the Minister for State for Welsh Affairs, in Penygroes (Gwynedd) in 1958. He is on the extreme right in an overcoat talking with Goronwy Roberts MP for Caernarfon. Mr Tom Jones, with briefcase, is secretary of Transport and General Workers Union (T&GWU). From the left 3rd, Mr O.W. Williams, Treasurer Unemployed Committee and 4th, John Llywelyn Roberts, secretary, Unemployed Committee.
Goronwy was the Labour MP for Caernarfon who's seat was succeeded by Plaid's Dafydd Wigley in Feb 1974. Goronwy was one of the bent lawyers who ran north Wales and colluded with the Gang as much as Dafydd Wigley did. See my post 'Slaves, Perfect Slaves' for details of Goronwy and Lord Wigley. Mr Tom Jones at the T&GWU didn't give a stuff about the victims of Dafydd and Gwynne either, which wasn't a sensible long term strategy for the T&GWU because the Gang have destroyed Gwynedd and there's no work left for any potential members of the T&GWU. Never mind, Rhodri was sponsored by them and ended up as FM and Lord Jack Jones did OK for himself as well, while being mates with Richard Crossman and the Maltese Mafia who were in turn friends with Dafydd and Gwynne's pal Lady Juliet Bingley. See previous posts…

The elderly Blair's babe Betty Williams, MP for Conwy, 1979-2010, who did so much to assist the Gang grew, up in Penygroes. Betty trained as a teacher with Dafydd's pals at Bangor Normal College. See previous posts.
Lord Brecon was admitted to the Privy Council in 1960 and remained Minister of State for Welsh Affairs after Alec Douglas-Home had succeeded Macmillan as PM, until Harold Wilson won the General Election in 1964. See post 'On The Occasion Of The 70th Birthday Of HRH Carlo' for info about Lord Brecon and Gwynne's and Dafydd's embryonic trafficking enterprise which soon vastly expanded. My post 'Only One Died' details Lindy Price's role in NHS governance in Wales during the 1990s and Leolin Price's activities as a Eurosceptic lawyer who provided legal advice for questionable purposes to questionable people from across the political spectrum, ranging from Mystic Mogg to Harriet Harman, his role in the Church in Wales and as a Governor of GOSH alongside Audrey Callaghan, when Jimmy Savile made himself comfortable there and some at GOSH were facilitating the Westminster Paedophile Ring.
Meanwhile, Thatch became a high-ranking affiliate of the Vermin Club, a group of grassroots Conservatives formed in response to a derogatory comment made by Nye Bevan. Vermin were not the preserve of the Tories, Nye was the centre of rats who equalled Thatch and her mates which is why Nye's successors didn't – indeed couldn't – deal with Thatch as they should have when she became PM.
Thatch met the rich man whom she had admitted a few years previously that she needed for her political career in Feb 1949 and married him in Dec 1951. Thatch and Denis's friendship with Bill Deedes, who was someone else who ended up in Macmillan's Cabinet as the Profumo Affair exploded and edited the Torygraph, 1974-86, went back to this era. See post 'Shurely Shome Mishtake'.
Thatch's boss in Macmillan's Gov't John Archibald Boyd-Carpenter, Baron Boyd-Carpenter (2 June 1908-11 July 1998), was the only son of Conservative politician Sir Archibald Boyd-Carpenter MP and his wife Annie. Boyd-Carpenter was educated at Stowe School and at Balliol College, Oxford, where he was President of the Oxford Union in 1930. He graduated in 1931, so Boyd-Carpenter was at Balliol some five years before that illustrious troika of Heath, Woy and Healey. See previous posts.
Stowe School has featured in previous posts. Peregrine Worsthorne was at Stowe and boasted of being seduced by George Melly there. George Melly offered an underaged boy money in return for sex when Melly stayed over in Bangor. For many years Melly lived near Brecon. Perry not only spent years writing for and editing the Sunday Torygraph which employed many associates of the Gang, but Perry's wife Lucinda Lambton is the daughter of Lord Lambton who achieved notoriety when he was caught in a 1970s sting involving prostitutes and cannabis. I don't have a problem with that because the prostitutes were adults and I presume consenting, but I have recently found out that Lord Lambton's network did include Dafydd and Gwynne's partners in crime in the North East. The Torygraph was of course right behind Thatch although they knew about Morrison, Savile, George Thomas and the serious criminality that Thatch built her position upon. See previous posts for info re Perry, Lucinda, her father, the Torygraph etc.
Stowe School has educated a few others known to this blog, included Lord Noel Annan – who has tolerated a great deal in the universities which he has run – dear old Michael Grade, Annabel Heseltine, Leonard Cheshire, Sir Peter Hayman, Lord Henniker, Richard Branson, Nicholas Lyell (who designed the Rules For The Waterhouse Inquiry, including the Rule that said if the likes of Lucille Hughes agreed to appear before the Inquiry they would be granted immunity from prosecution), Lord Alistair McAlpine, John Sainsbury and Nicholas Winton. Others who attended Stowe of interest include Chelsy Davy (Prince Harry's ex), 3rd Earl Attlee (grandson of Clement), the Law Lord Simon Brown, SOE Officers Oliver Churchill and Andrew Croft, 2nd Earl Haig (George) and the Tory MP Graham Riddick.
The journo Robert Kee also went to Stowe. I haven't had time to blog about Kee yet, but I recently read the book that he wrote as part of his campaign to have the Birmingham Six freed; the campaign that helped establish Kee's reputation. The Birmingham Six were no doubt very grateful, but Kee is one of those of whom I was thinking when I made my recent remarks on this blog re people who campaigned for/represented the Birmingham Six, Guildford Four, McGuire Seven etc who knew that they had been fitted up by the same people who concealed the crimes of the Gang and the Westminster Paedophile Ring but said nothing about that. They all knew that they had to agree to keep quiet about it in return for doing deals with the same people to get the Birmingham Six etc released. Cardinal Basil Hume was part of the campaign to free the Birmingham Six and provided a glowing review of Kee's book. Basil Hume was the son and brother of Top Doctors who facilitated organised abuse and serious crime, he was pals with Jimmy Savile and did of course collude with abuse in the Roman Catholic Church. See previous posts.
John Boyd-Carpenter was a Harmsworth Law Scholar at the Middle Temple in 1933, was called to the Bar in 1934 and practised in the London and South-East Circuit. Ronnie Waterhouse was a member of Middle Temple, as was Greville Janner, who's father Barnett was a solicitor in Cardiff. Barnett, like Ronnie's extended family, was active in the Liberal Party before he defected to Labour… See previous posts.
John Boyd-Carpenter joined the Scots Guards in 1940 and held various appointments, including with the Allied Military Gov't in Italy. He was elected as the Conservative MP for Kingston-upon-Thames in 1945, holding the seat until 1972, when he was raised to the peerage.
Kingston-upon-Thames was pretty much run by Prof Hugh Bentall, who spent years working as a cardiac surgeon at Hammersmith Hospital/Royal Postgraduate Medical School, by dint of Bentall being the heir of the very wealthy family who owned Bentall's, the upmarket department store in Kingston. Hugh Bentall ran Hammersmith Hospital as well as Kingston and there was huge resentment towards him because of the obvious injustices that resulted. Bentall's secretary at Hammersmith doubled up as his mistress and Bentall bagged her a place on an anatomy degree, then a PhD and then a lecturing post. Bentall himself only ended up with his own Chair after a colleague was found dead in the hospital in worrying circumstances and Bentall made a large financial donation to Hammersmith Hospital. Bentall and his colleagues were also involved in truly spectacular research fraud. See post 'Interesting Facts'.
Hugh Bentall is the father of Richard Bentall, a clinical psychologist who trained and spent years working with Dafydd and the Gang in north Wales. Richard married into the Gang in the form of Rhian (or it might be Rhiannon), the daughter of Eifion Jones, the Dean of Science at UCNW. Richard's wife did a degree in the Dept of Plant Biology at UCNW, a Dept staffed by so many spouses and friends of the Gang as well as a friend of Douglas Hurd's uncle. After her degree in Plant Biology, Richard's wife trained as an Angel… One of the Plant Biology lecturers at UCNW was Adrian Bell, a former Home Office forensic scientist who had done his first degree at Kingston Poly. See previous posts.
It was Kingston Crown Court who jailed Prof Ollie Brooke in Dec 1986. Although Ollie was jailed, it wasn't for very long – and his sentence was reduced on appeal by Lord Justice Geoffrey Lane in May 1987 – and Kingston Crown Court knew that barefaced lied were told about the extent of Oliver Brooke's crimes, his career, research record and standing in the academic community at his trial.
Lord Peter Rawlinson was the Recorder of Kingston-upon-Thames, 1975-2002. Rawlinson concealed the Westminster Paedophile Ring throughout his career. He was at the centre of the Gov's handling of the Profumo Affair as Macmillan's Solicitor-General and then served as Ted Heath's Attorney General for England and Wales, 1970-74 and for N Ireland, 1972-74. Rawlinson played a substantial role in the miscarriages of justice resulting from and the mishandling of the Troubles in N Ireland. See previous posts for info on Peter Rawlinson.
When John Boyd-Carpenter resigned as the MP for Kingston to take up the post of Chairman of the CAA, he was succeeded in the seat by Norman Lamont, who held the seat, 4 May 1972-1 May 1997. Lamont was the constituency MP when Ollie appeared at Kingston Crown Court. Lamont's father was a Top Doc, the surgeon for Shetland, who knew Sir Douglas Black, a towering figure among Top Docs when the Gang did what they pleased. In 1974 Black was appointed Chief Scientist at the DHSS; he also served as President of the BMA and President of the Royal College of Physicians. Sir Douglas knew Gwynne in his lobotomising heyday and Dougie really did ensure that there'd be no investigations into Dafydd and Gwynne or their network. Sir Douglas's son is a Top Doc who has worked with many of Dafydd's protectors. See post 'The Logic Of Medicine' for details of Douglas, his son and their many influential friends and colleagues.
Norman Lamont went to Loretto School, Musselburgh. In 2001, the film director Don Boyd published an article in 'The Observer' detailing his systematic sexual abuse by a teacher at Loretto School in the 1960s. The revelation led to further allegations about the teacher from other former pupils and subsequent calls for the teacher's prosecution. The teacher, then 79 years old, was charged, but the case was dropped on the grounds of his ill health. The teacher subsequently died.  In 2017, it was announced that the school would be investigated as part of Lady Smith's inquiry into child sexual abuse.
Other former pupils of Loretto School, some of who have featured on this blog, include:
The Headmaster of Loretto School while Don Boyd and others alleged serious abuse was Rab Brougham Bruce Lockhart (1 December 1916-1 May 1990), a rugby union player, who gained three caps for Scotland between 1937-39 and who played for Cambridge University R.U.F.C. , London Scottish FC  and for London Scottish RFC. Rab also played for the Scotland national cricket team
Rab Lockhart was a member of the well-established Bruce Lockhart family. His father, John, was both a rugby and cricket international for Scotland and Headmaster of Sedbergh School. Rab's brother Logie was also a Scottish rugby international and Headmaster and another brother, Patrick, was a Top Doc, an obstetrician. An uncle, Sir Robert Hamilton Bruce Lockhart, was a notable rugby footballer, spy, and journalist, whose son Robin wrote 'Reilly, Ace of Spies'. Lord Bruce-Lockhart was Rab's nephew. Rab attended Sedbergh School and Edinburgh Academy, and studied at Corpus Christi College, Cambridge. He taught in Canada, 1950-54, then was Headmaster of Wanganui Collegiate School, New Zealand, 1954-60 and of Loretto School 1960-76.
Rab Lockhart married Helen Priscilla Lawrence Crump and they had two sons, Alastair Kim and Malcolm.
Rab Lockhart died at his home in Burneside, Cumbria on 1 May 1990, aged 73, from undisclosed causes. When Rab Lockhart died the Gang had already perjured themselves in the High Court on a number of occasions with regard to their attempts to have me imprisoned and were getting ready to do it again. See post 'The Bitterest Pill'. I might not be completely on the grassy knoll here, because Willie Whitelaw was in it up to his neck with Dafydd and Gwynne et al and Willie lived in Cumbria and had ruled the roost up there since 1955. Willie was Harold Macmillan's Gov't Whip, 1961-62 and continued from there. Willie's posts included: Tory Party Chief Whip, 16 October 1964-20 June 1970, in opposition, under Douglas-Home and Heath; Leader of the Commons and Lord President of the Council, 20 June 1970-7 April 1972, under Heath; Secretary of State for N Ireland, 24 March 1972 -2 December 1973, under Heath; Chairman of the Tory Party, 4 March 1974 – 11 February 1975, under Heath; Deputy Leader of the Tory Party, 11 February 1975-7 August 1991, under Thatch and Major; Home Secretary under Thatch, 4 May 1979-11 June 1983; Leader of the Lords and Lord President of the Council, 11 June 1983-10 January 1988.
Previous posts detailed the cosy relationship between Willie and Dafydd, Gwynne and the Gang. Willie wobbled away affording them full protection although he knew about their criminality as well as Dafydd's association with Republican activists in Ireland. The role of Lord President of the Council brings with it that of the visitor for UCNW. Just look at the dates when Willie held that role…
Willie Whitelaw, a Trinity College Cambridge graduate who used his role/links with the security services to conceal and indeed facilitate child abuse, sexual assault, terrorism and the murder of witnesses.
Dafydd's mate William Bingley who prevailed over MIND and then the Mental Health Act Commission also frequented Cumbria socially and in terms of his work. See previous posts.
Hector Mackenzie who was Assistant General Secretary of COHSE, 1983-87, when David Williams, former Assistant Royal Lobotomist at Denbigh was General Secretary of COHSE and who succeeded Williams as Gen Sec of COHSE, 1987-93, worked as a psych Angel in Cumbria during the latter half of the 1960s and had the dirt on whatever Willie and his mates were up to. Hector was Associate General Secretary of UNISON, 1993-2000 and President of the TUC in 1999. Hector was given a peerage in 1999. See previous posts.
You bet that Hector became Lord Hector, the Waterhouse Report would soon be arriving and Hector had witnessed what was going on in Cumbria and had, like the Assistant Royal Lobotomist from Denbigh, found that his progression to high office in COHSE and the TUC was quite rapid after that.
Hector: 1969, COHSE as Assistant Regional Secretary, Cumbria; 1970 to 1974, COHSE Regional Secretary for Yorkshire and East Midlands; COHSE National Officer, 1974-83; COHSE Assistant General Secretary, 1983-87; COHSE General Secretary, 1987-93.
Rab Lockhart's son Alistair Kim Bruce-Lockhart was a Scottish professional squash player. Bruce-Lockhart was born in Woking – Patient Fr grew up in Woking –  but from age 4 to 8, he lived in Ontario, Canada before returning to the UK. He was educated at Sedbergh School and St John's College, Cambridge, Ronnie Waterhouse's old college. Waterhouse was an enthusiastic member of the alumni association and his daughter went to St John's College, Cambridge as well. After receiving coaching from Dick Hawkey Bruce-Lockhart began playing squash for Cambridge and the Hampstead Club. In 1968, he was capped by Scotland and played 59 times for his country. Bruce-Lockhart participated in the British Open Squash Championships 1970-79.
Bruce-Lockhart died suddenly of a heart attack in Harrow while playing for the Herga Club in a Cumberland Cup match in 1980, aged 33. 
John Boyd-Carpenter served as Financial Secretary to the Treasury, 1951–54, under Churchill's Chancellor Rab Butler. In 1954 Boyd-Carpenter was promoted to Minister of Transport and Civil Aviation and appointed a  Privy Counsellor. In December 1955 Boyd-Carpenter was appointed Minister of Pensions and National Insurance in Eden's Gov't. It was in this capacity that he became Thatch's boss in Oct 1961 .Boyd-Carpenter had remained in the post after Macmillan became PM and stayed there until July 1962, when Macmillan appointed him Chief Secretary to the Treasury and Paymaster-General. Boyd-Carpenter was one who was promoted in the Night of the Long Knives, rather than kicked out of the Cabinet. John Boyd-Carpenter remained in both posts until Oct 1964, when Douglas-Home lost the General Election and Harold Wilson became PM.
Thus Thatch had a ringside seat in Macmillan's Gov't during the period that led up to the Profumo Affair and in the aftermath. Whatever Dafydd and Gwynne were up to, Thatch knew about it because everyone in that Gov't was concealing the wrongdoing. That Thatch's boss Boyd-Carpenter was not a casualty in the Night of the Long Knives suggests that Boyd-Carpenter was considered a safe pair of hands by Macmillan. He may not have been overtly tainted by Dafydd and Gwynne, but he will have been a clean skin forever sworn to silence, who quietly milked the situation for the rest of his career. As did Thatch and a great many other people in UCNW and elsewhere.
Reginald Maudling, who had been been Economic Secretary to the Treasury when John Boyd-Carpenter had worked in the Treasury under Rab Butler as Chancellor, served as Chancellor himself, 13 July 1962-16 October 1964, in Macmillan's and then Douglas-Home's Gov'ts. Reggie Maudling was appointed Chancellor by Macmillan when Dafydd and Gwynne's mate Selwyn Lloyd was removed from that post and indeed from the Cabinet altogether by Macmillan in the Night of the Long Knives. Selwyn and the Gang were not happy. See previous posts.
Maudling subsequently became Home Secretary under Ted Heath and famously resigned on 18 July 1972 amid allegations of corruption. Maudling and his son were found to have business interests in John Poulson's companies and although the Poulson-T. Dan Smith corruption scandal in the 1970s ended Maudling's career and was considered to have rocked Gov't because of the scale of the civic corruption and the involvement of Civil Service mandarins and senior Ministers (see previous posts), the true extent of the criminal empire was never exposed because it embraced the Westminster Paedophile Ring, as well as those parts of it run by Dafydd and Gwynne, as well as their partners in crime Lord John Walton in Newcastle-upon-Tyne  and Jimmy Savile in Yorkshire.
After resigning from Gov't, Reginald Maudling underwent a sad decline as a result of alcoholism worthy of an Empowered Service User being Helped by Dafydd. Maudling died at the age of 61, at the Royal Free Hospital in Hampstead, from kidney failure and cirrhosis of the liver. The Royal Free was and probably still is an institution run by Dafydd's network. See previous posts. One of the leading Top Docs in Britain re renal medicine when Reggie died was Professor William Asscher.
Regular readers will remember Asscher. He was one of the key Top Docs facilitating the Westminster Paedophile Ring. Asscher became involved when a student and then as a junior doc working at the London Hospital with Dafydd and Gwynne's partner gang. In the early 1960s Asscher relocated to south Wales, where he made friends with George Thomas and facilitated the Gang in Wales. Asscher returned to London in 1988, when St George's Hospital Medical School headhunted him as their Dean/Principal in the wake of the previous Dean being symbolically booted out after Ollie Brooke was jailed. Asscher remained at St George's facilitating the ring throughout scandal after scandal. He was Dean when I was offered my job there in the spring of 1989, which I have recently been told was a trap to get me out of medical research for ever because I would not withdraw my complaint about the Gang.
Asscher established a kidney research charidee which became a substantial concern and also branched out into organ donation. The charidee underwent several name changes and was robustly supported by every Welsh MP, in particular George Thomas and David Hunt. See post 'The Paedophiles' Friends Of Cardiff North'. Carlo's and Peter Morrison's pal, Gerald Cavendish Grosvenor, the 6th Duke of Westminster, served as President of Asscher's charidee, 1985-97, while it went under the name of the National Kidney Research Fund,. See previous posts.
Sir William Asscher – he was originally called Adolf – was a Dutch Jew who fled the Nazis with his family when young and he therefore had an international network of family, friends and colleagues. While he was Dean/Principal of St George's Asscher organised a merger between St George's and Kingston University, previously known as Kingston Poly. When he retired from St George's in 1996, Adolf 'returned' to live in the Vale of Glamorgan; he hadn't actually ever left, he returned to his home there at weekends throughout his time at St George's. See previous posts for full details re Adolf Asscher and his adventures.
Reggie Maudling died on 14 Feb 1979, while Mr Thrope was awaiting trial and Mary Wynch was unlawfully imprisoned by Dafydd and the Gang. Not that Reggie's old foe Selwyn did much better; Selwyn died on 18 May 1978, although he was older at death than Reggie. Mr Thrope was charged with conspiracy to murder Norman Scott on 4 Aug 1978.
When Alec Douglas-Home became PM in October 1963, he initially promised John Boyd-Carpenter the job of Leader of the Commons, but the job actually went to Gwynne and Dafydd's pal Selwyn Lloyd, who returned to Gov't from the backbenches, after Macmillan had dispensed with his services in July 1962. 
As with Dafydd and Gwynne, people like Selwyn causing that degree of difficulty do not need to be moved sideways or asked to refrain from their activities, they need to be dealt with and finished off once and for all. The legacy of Macmillan's failure to swat that lot out of all positions of influence remains with us today in the form of a genocidal NHS and Social Services and a crowd of shysters in Parliament all quietly singing 'We're going to tell, we're going to tell…'
Drop a bomb on them someone, now and put an end to it. They're no good to man or beast and never have been. The bastards ruined my life and that of many others, they killed witnesses as the criminality snowballed and they're now draining the nation's resources with their interventions and diagnoses based on fabricated research and lies, are taking early retirement and going off sick because the poor dears are so distraught at the appearance of this blog and still the troughing continues because they want compensation for this, they're not having it. Just fuck off, all of you, what did you think you were doing?
NB: To those who are telling me that they're glad that my name has been cleared and at least some of the truth is out now; it's nice of you to care but I don't! I knew that they were a bunch of lying criminals and I knew that they knew. I knew that even the judges were breaking the law in those court cases and I could see that most of those Top Docs did not know their arses from their elbows. I didn't care if Angels insulted me because I was working in the chicken factory at Llangefni because I knew that those Angels were stupid, vile, abusive and gave themselves away every time that they sneered at the Empowered Service Users, including the one with a Masters degree who was working in the chicken factory. I didn't run a trafficking gang Angels or shag Dafydd, that's the difference between me and you, I've got some principles and a brain but you were so stupid that you didn't even work that bit out. OOH she'll regret it now she's in the chicken factory!! No I didn't scumbags, the workers in the chicken factory were far nicer than the sociopaths who people the Caring Professions, they didn't drip with contempt for the rest of the human race, they didn't take porn pics of people whom they were paid to care for and flog them to perverts, they didn't tell suicidal people to go and do it then and snigger when their dead bodies were found at the bottom of the Menai suspension bridge…
That lot lost it, I'm not sure that they even understand how low they sunk. It's the Community In Pain!! Scream a bit more Angels In Pain, there's more coming.
Now WHY was this allowed to go on? It wasn't just Thatch was it? Come on, thousands of you, WHY were people sexually assaulted, wrongly imprisoned and killed??? Anyone??? Where are the thousands of comments on this blog from you all?
Don't bother with prosecutions on my behalf Police Investigating Historic Abuse, as far as I am concerned it is meaningless. Although people like F might want to see a few police, Angels, lawyers, Top Docs, judges etc banged up, that is a matter for F and the other targets. I just feel like throwing up every time another collaborator appears in the media screaming about Safeguarding, Wimmin and Children or a Royal launches yet another mental health charidee…
Anyone feel like returning those documents that were stolen from my house in Rachub all those years ago? Anyone want to explain why my medical records were passed around? I should think myself lucky that I didn't have the same gynaecological condition that the Royal Personage mentioned in previous posts suffered from when her records were passed around London. But then I wouldn't have would I not having shagged Dafydd or his ilk. Not that the notes are an accurate record of anything anyway, who knows, the Royal Notes could have been doctored (so to speak), in order to discredit the lady who was causing the Firm so much trouble. I dunno who's pissed them off the most, Di, Fergie or me.
Following the Conservative defeat in 1964, Boyd-Carpenter served as Opposition Front Bench Spokesman on Housing, Local Government and Land, 1964–66 and as Chairman of the Public Accounts Committee, 1964-70.
John Boyd-Carpenter was appointed a life peer on 1 May 1972, as Baron Boyd-Carpenter. 
Boyd-Carpenter was the first Chairman of the UK's Civil Aviation Authority (CAA) and was at the controls at the time of the collapse of the UK airline Court Line and their subsidiary Clarksons Travel Group in Aug 1974. Court Line Aviation was a British holiday charter airline of the early 1970s based at Luton Airport. It helped pioneer the concept of "cheap and cheerful" package tours to Spain and other destinations in the Med in conjunction with Clarksons Holidays,.The airline, its parent company and its subsidiary tour operators, Clarksons Travel Group and Horizon Travel, ceased trading on 15 August 1974, with at least £7 million owing to 100,000 holidaymakers.
Clarksons Travel Group was founded, in 1959 as Clarksons Tours, as a subsidiary of the long-established City firm of H. Clarkson shipbrokers, by Tom Gullick, a former flag-lieutenant in the Royal Navy. The company was immensely successful but ran into financial difficulties and in 1972 was taken over by its major supplier of air travel, Court Line. However, after two years, on 15 August 1974, Court Line collapsed, taking down Clarksons with at least £7m owing to 100,000 holidaymakers and possibly twice as much. The company was based in Sun Street, EC2 in London and it specialised in cheap package holidays. Clarksons had an air terminal at 202–204 Finchley Road, London, NW3, which was used for coach transport to Luton Airport. Court Line had to step in and bail out Clarksons when it went into financial difficulties, as it was their largest customer. The collapse was referred to recently as "the most spectacular failure in package holiday history", not even surpassed by the subsequent failures of Laker Airways in 1982 and Intasun in 1991.
Flight International stated that the marketing of airline seats with Med hotels had given millions of people holidays once available only to the privileged and that the collapse was: "the inevitable consequence of continuing to see £25 flights for £20 and less". This was compounded by high inflation, a sinking pound, doubled fuel prices and coups in Portugal, Cyprus and Greece. On top of that was the three day week in the key booking period. A takeover of Clarksons competitor, bankrupt Horizon Holidays by Court Line, failed to improve the financial situation. Flight International added that the UK's CAA headed at the time by John Boyd-Carpenter, must bear some responsibility for Court Line's and Clarksons' collapse and asked questions such as how interlocking companies were related. 'Flight International' stated that the information should be public, as in the US and criticised Peter Shore, the Secretary of State for Trade at the time, for continuing the Gov't policy of secrecy, financial unprofessionalism and hiding behind the Civil Aviation Act 1971.
Peter Shore was the Labour MP for an East End constituency in which Dafydd's partner gang was operating. Shore was a leading light in the Labour Party for years, including when Richard Crossman ran the DHSS for the benefit of the Westminster Paedophile Ring. Shore's wife Liz Shore was a Gov't Top Doc of Deputy Chief Medical Officer rank for years, including when Crossman was running the DHSS, 1968-70. Liz Shore was a Nice Lady Doctor who was facilitating serious crime and protecting Dafydd and Gwynne. When the former kids from children's homes in north Wales began dying of AIDS in the mid-late 1980s, Peter Shore extracted funding from Ken Clarke at the Dept of Health – who was doing everything possible to conceal Dafydd and the Gang's activities himself – to convert the former Mildmay Mission Hospital in Shoreditch into an AIDS hospice. Thus the victims of Dafydd and Gwynne died in complete invisibility and no-one ever knew how so many of those young men became infected with HIV at such a young age. See post 'Apocalypse Now'. See previous posts for further details of the Baron and Baroness Shore as they became.
Clarksons held an ATOL Licence and were therefore theoretically covered by their insurance bond. Unfortunately, although the 35,000 passengers stranded abroad were repatriated, there was insufficient funds for the 100,000 whose holidays had been paid in advance. Tony Benn was the Trade Minister at the time and assured customers that none of them would lose money as a result of the collapse, perhaps mindful that a second General Election in 1974 was likely and the Labour Gov't had only just scraped into power in Feb 1974. All the customers eventually had their money returned.
Clarksons had been at the centre of a rather worse disaster some four years previously that was not amenable to desperate Gov'ts stumping up cash to bribe the electorate. On the evening of 3 July 1970, a Clarksons-chartered Dan Air de Havilland Comet, en route from Manchester to Barcelona, deviated from the intended course and crashed into high ground at Girona, northern Spain. The aircraft was destroyed by impact and subsequent ground fire. There were three flight crew, four cabin crew and 105 passengers aboard. All suffered fatal injuries. It was Dan Air's first fatal accident with fare-paying passengers.
This is an extract from the archives of Flight International, 22 Aug 1974, on the subject of the collapse of Court Line:
The CAA licenses airlines and travel organisers on behalf of the public and it must bear a share of the responsibility. The CAA is still flying the airline economy in cloud with inadequate instrument readings. Who owns the aircraft? What are the financial terms? What costs are capitalised over what period? Exactly how are interlocking companies related? All this information should be public, as it is in the USA. It is doubtful whether Lord Boyd-Carpenter and his team get such information even privately. The financial data which the CAA does obtain, in commendable efforts to get better readings, is insufficient and out of date. Mr Peter Shore, the Secretary of State for Trade, apparently still maintains that the truth about Court Line's finances was rightly protected from public disclosure by Section 31 (1) (b) of the Civil Aviation Act, 1971. This continuing policy of Government approved secrecy, which begets financial unprofessionalism, is the true bankrupt in this case.
H. Clarkson, the parent company of Clarksons Travel Group, now known as Clarkson PLC, often referred to simply as Clarksons, is a provider of shipping services and is headquartered in London. In 2011, Lloyd's List described the company's shipbroking service as the "undisputed heavyweight of the shipbroking market". It is listed on the London Stock Exchange and is a constituent of the FSTE 25o Index.
The company was founded by Horace Anderson Clarkson in London in 1852. Anderson invited Leon Benham, a former colleague, to join him in partnership and Benham's son Henry soon joined the business. The company became the world's largest tanker broker in 1929 when Esso appointed Clarksons as its exclusive shipbroker. The first overseas office opened in New York in 1954. Offices soon followed in France, Australia and Germany, and in the 1960s, South Africa and Greece. Expansion in the Far East began in the 1990s when companies were established in Hong Kong, Shanghai and Singapore.
Carron Greig became joint MD in 1962, served as Chairman of the shipbroking division, 1972-85 and as Chairman of the whole group, then known as Horace Clarkson, until his retirement in 1993. Under Greig, the company became a global force and Greig increased its business, especially with Esso, bringing in Brazil, Norway and the Far East to its portfolio. The company spun off various diversified assets as Shipping Industrial Holdings in 1974.
Sir Henry Louis Carron Greig (21 February 1925-11 July 2012), known simply as Carron Greig, was born in Kingston-upon-Thames and attended Eton and Sandhurst. Greig served in the Scots Guards, 1943–47, where he was made a captain and intelligence officer. Other junior officers in his battalion included Willie Whitelaw, Robert Runcie and the future industrialist Hector Laing of United Biscuits fame.
Greig joined Horace Clarkson & Co. Ltd in 1948, serving as Director and Managing Director before being named Chairman, 1973-85. He later became Chairman, Horace Clarkson, PLC, 1976–93. One of Greig's colleagues at Horace Clarkson was Sir Alexander Glen. Carron Greig also served as Director of British gunmaker James Purdey & Sons 1972–2000. In 1955, Greig married Monica Kathleen Stourton. They three sons and one daughter, Louis, Jonathan, Geordie, and Laura, Mrs. Lonsdale. Carron Greig was a Gentleman Usher for Lilibet, 1961-95, when he became Extra Gentleman Usher. His son Louis was Page of Honour to Lilibet and his daughter Laura was a Lady-in-Waiting to Diana. Sir Carron Greig died on 11 July 2012, aged 87, at Fleet, Hampshire.
Geordie Greig featured in my post 'Did Glenda Occupy A Key Role In Keeping It All Out Of the Media?', in which I discussed the ultimate Glenda, Amanda Plattell, whom William Hague appointed as his Press Officer and PR woman when he became Leader of the Tory Party in 1997. Amanda was in post throughout the Waterhouse Inquiry – which had of course been carefully orchestrated by William Hague when he was John Major's Secretary of State for Wales – and for the aftermath. Amanda has been/is closely associated with a number of people who really would never want the truth re the North Wales Child Abuse Scandal to emerge, including Hague's wife Ffion. See previous posts.
George Carron Greig (born 1960), known as Geordie Greig, is at present the Editor of the Daily Mail. Geordie was born 16 December 1960 in Lambeth. Greig's mum Monica Stourton was the granddaughter of the 24th Lord Mowbray, Segrave and Stourton. Members of Geordie's father's family have been Royal courtiers for three generations. Geordie attended Eton and St Peter's College, Oxford.
Greig began his career as a reporter for the South East London and Kentish Mercury newspaper, before joining the Daily Mail and then Sunday Today. He moved to 'The Sunday Times' in 1987, under Brillo as Editor, becoming Arts correspondent in 1989 and then the American correspondent based in New York in 1991.
Greig returned to London in 1995 to become 'The Sunday Times' Literary Editor and was then appointed Editor of 'Tatler' in 1999.
Greig was appointed Editor of the London Evening Standard in February 2009. During Greig's time as Editor, the Dispossessed Campaign was launched tackling poverty, illiteracy and unemployment. The campaign led to a Dispossessed Fund 'which has raised over £9 million for grassroots groups addressing poverty and has helped more than 100,000 people, including the homeless and unemployed.'
In 2010 Greig was appointed Editorial Director of The Indie,  The Indie on Sunday and i (Independent Print Ltd) as well as the Evening Standard. In March 2012, Greig became Editor of the Mail On Sunday while remaining a Director of Independent Print Ltd and The London Evening Standard.
Greig succeeded Paul Dacre as Editor of the Daily Mail in September 2018.
In addition to his editorial duties, Greig has literary interests. His 2011 book, The Kingmaker is about his grandfather, Louis Greig, 'a war hero and rugby international, who became mentor, physician and friend to the young and hesitant Prince Albert, the future King George VI. Louis Greig's influence helped to guide the Prince from a stammering, shy schoolboy to become the monarch who saw Britain through WW II'. Or that's what Geordie reckons. 
Greig has also written about the life of Lucian Freud. According to Greig's publishers Jonathan Cape:
As one of a few close friends who regularly had breakfast with the painter during the last years of his life Breakfast with Lucian tells an insider's account … Greig, who has studied his subject's work at length, unravels the tangled thread of a life lived on Freud's own uncompromising terms. Based on private conversations … and informed by interviews with friends, lovers, and some of the artist's children who have never before spoken publicly about their relationships with the painter … The book was published in autumn 2013.
Geordie Greig must know as much about Lucien Freud and his network as Patient F does then. Somehow I doubt that Geordie will publish some of what I heard about that circle of Artistes.
On 25 November 1995 Greig married Kathryn Terry, who is originally from Texas; the couple have three children, a son, Jasper, and twin daughters, Monica and Octavia. Greig and his family live in Notting Hill, London.
Sir Alexander "Sandy" Richard Glen (18 April 1912-6 March 2004), with whom Geordie Greig's father Carron Greig worked at Horace Clarkson, was a Scottish explorer of the Arctic and wartime intelligence officer. Glen was the son of a Glasgow shipowner and educated at Miranda's old school, Fettes College and Balliol College, Oxford. Balliol is famous for having educated Ted Heath, Woy and Denis Healey there at the same time in the latter part of the 1930s.  Sandy Glen might have been there with them, if not he  was there just two or three years before they arrived. The presence of the troika at Balliol gave it even greater status and influence.
Alexander Glen married Nina Gladys Nixon and they had one son, Adrian Martin de Courcy Glen.
The Torygraph's obituary for Sandy Glen published on 9 March 2004 provided much useful information:
Sandy Glen knew Ian Fleming who was a pal of Charles Morrison, Tory MP for Devizes and brother of Sir Peter. Peter Morrison was a close mate of Thatch, Charles was a buddy of Ted Heath. In the way that Dafydd and Gwynne enjoyed protection from both people of the left and the right, the Morrison family spanned the entire Tory Party. But in many ways the Morrison family WERE the Tory Party for many decades during the 20th century.
Sandy Glen also knew Sir Charles Evans, Principal of UNW and Lord John Hunt, Sir Charles's mate who was a senior officer in the British security services. Glen probably knew Eric Sunderland as well, who succeeded Sir Charles as Principal of UCNW. See previous posts.
Sandy Glen's friend Hugh Patrick Lygon (2 November 1904-19 August 1936) was the second son of William Lygon, 7th Earl Beauchamp, and is often believed to be the inspiration for  Lord Sebastian Flyte in Evelyn Waugh's 'Brideshead Revisited'. He was a friend of Waugh's at Oxford (A. L. Rowse believed the two to be lovers), where both were members of the Hypocrites' Club (Lygon was also the President of the club), along with their contemporary Murray Andrew McLean and the Plunket Greene's brothers, Richard and David. David Plunket Greene was a good friend of Hugh Lygon.
Hugh Lygon was educated at Eton and Pembroke College,Oxford.
After leaving Oxford, Lygon worked in a bank in Paris before working in the City. Lygon died in Germany, where he was on a motoring tour with his friend, the artist Henry Wynn. Lygon was standing in the road to ask the way and fell backwards, hitting his head on a stone. He died later due to a fractured skull, having spent four days in hospital.
Charles Henry Romer Wynn, aka Henry Wynn was the son of 6th Baron Newborough. Henry was the younger brother of the illustrious Micky Wynn, the 7th Baron Newborough. Micky was a man about whom fairy tales were told in terms of his wartime escapades  – Wynn served in the British Army and in the RNVR – and was one of the network who propped up the Gang as they took over north Wales. Micky Wynn was one of Sir Clough Williams-Ellis's Oundle old boys crowd, along with Gwynne and Dafydd's mate Sir Kenneth Robinson, Harold Wilson's Minister of Health and Sir Peter Scott, the David Attenborough of his day. See eg. post 'He Got On His Bike And Looked For Work'. Wynn was totally bonkers but was nonetheless given positions of responsibility although he clashed with the law himself sometimes eg. in 1976 when he fired a cannon across the Menai Strait wrecking a passing yacht. Micky Wynn's son the 8th Baron Newborough, Robert Vaughan Wynn, is a very rich friend of Carlo's and owns estates in north Wales, his showpiece being the Rhug estate near Corwen, known for its bison and farm shop with the most expensive stuffed peppers in Wales. Lord Newborough must be the only Farmer in Wales who has a part-time job in global capitalism in the Far East, as opposed to running a B&B to help out financially. See post 'And Death Shall Have No Dominion'.
Henry Wynn was born in 1923 and educated at Canford School  in Dorset. Henry Wynn fought in WW II and gained the rank of Lieutenant-Commander in the Royal Navy. Later in life at least he lived near Tiverton, Devon.
Henry Wynn married Angela Hermione Ida Willoughby, the daughter of Michael Guy Percival Willoughby, 11th Baron Middleton of Middleton
The East Riding was on the site of the ring linked to those in the North East in partnership with Dafydd and Gwynne's Gang. The region was dominated by Jimmy Savile's empire and many at Hull University were complicit, from Commies like John Saville (see previous posts) to the librarian and poet Philip Larkin (who's mistress Monica Jones was a lecturer at Leicester University keeping the lid on the ring there and contributing to the effort to hamper Brown when he was doing his PhD, as discussed in previous posts). Previous posts eg. 'A Trail Of Blood' have named many we know and love who passed through Hull University in some capacity, including Miranda's guru Anthony Giddens, as well as David Hanson, Tom Watson and the Red Wedge Windbag-supporter rocker Tracy Thorne. Dear old Prezza is of course a Hull graduate, he completed his degree there after studying at Ruskin College, Oxford when Matt Arnold taught at Ruskin and Peter Howarth was Arnold's student. See post 'A Study In Tyranny' for further details of the Ruskin crowd who colluded with organised abuse.
Prezza graduated from Hull University in 1968 and was elected as the MP for Hull East in 1970. Prezza was of course born in Flintshire and spent the first four years of his life there. His dad worked on the railways and served as a Labour Councillor. The family moved to Yorkshire and then to Cheshire. Prezza joined the Merchant Navy and worked as a steward/waiter for Cunard. He married Pauline and her hair in Chester in 1961, by which time Prezza had become a union activist.
So what was it about the meatheaded inarticulate laughing stock that is Prezza that impressed Miranda so much that caused Miranda to appoint the big idiot Deputy PM?
Being the offspring of a Councillor who colluded with a gang of paedophiles and who then spent the rest of his life surrounded with people who propped that gang up has obviously taken its toll on Prezza. No wonder Chumbawamba threw a bucket of water over him in 1998, a few more people should.
Henry Wynn's wife Angela's brother was Digby Michael Godfrey John Willoughby, 12th Baron Middleton of Middleton. Digby married Janet Marshall-Cornwall Digby died on 27 May 2011 at age 90. He was educated at Eton, fought in WW II and served in the Coldstream Guards. Digby graduated from Trinity College, Cambridge and worked as a land agent. Digby served as a JP and was Deputy Lieutenant of the East Riding, Yorkshire in 1963. Lord Digby Middleton was a member of the East Riding, Yorkshire County Council 1964-77. Digby succeeded as the 13th Baronet Willoughby in 1970 at the same time as succeeding as the 12th Baron Middleton of Middleton. Digby was a member of the North Yorkshire County Council, 1974-77. We're back to the Yorkshire ring again with its direct links with Dafydd and the Gang. Sadie Francis, one of the Nice Young Doctors who was drafted into north Wales in 1983 along with her husband Tony, grew up in Yorkshire and was the daughter of a Nice Lady Doctor herself. Sadie's mother was in turn the daughter of a Pioneering Lady Doctor, one of the first Lady Doctors in the UK. They all colluded with the male sex offenders, not because they were Under The Patriarchy (although the patriarchy won't have helped), but because they did quite well out of assisting a gang of sex offenders. I'm sure being married to those scumbags wasn't easy Little Women but you didn't have to get involved and then stay involved with them. You also knowingly allowed yourselves to be used as a highly effective cover for their offending.
Sandy Glen's obituary for 'The Guardian' was written by dear old Jim Perrin, he who writes like an angel but behaves like a total scumbag and spent many years living in north Wales. Jim was the dad of Will Perrin, a very able young climber who was found hanging in his house near Llanberis when I lived in the same village as Will while I was doing my PhD and witnesses were dropping like flies. See previous posts. Jim Perrin is Of The Mountains and knew/knows the whole climbing crowd in Snowdonia, many of whom were networked into the Gang or even paid up members.
…In 1936, he married Nina Nixon and went into banking. In 1939, he was mobilised in the Royal Navy Volunteer Reserve, trained as a meteorologist and served on the light cruiser HMS Arethusa in the Mediterranean. Transferred to naval Intelligence the following year, he was posted to Belgrade, where he shared a flat – and an active social life – with the future Conservative MP Julian Amery.
Julian Amery was the son Leopold Charles Maurice Stennett Amery (22 November 1873-16 September 1955), usually known as Leo Amery or L. S. Amery, a Tory MP who served in Stanley Baldwin's Cabinet. Leo Amery was noted for his interest in British India, the British Empire and for his opposition to appeasement. Leo Amery was a keen sportsman and a well-known mountaineer. Amery continued to climb well into his sixties and Mount Amery in the Canadian Rockies is named after him. Amery was a member of the Alpine Club, serving as its President, 1943–45. Charles Evans was President of the Alpine Club, 1967-70.  Leo Amery was a member of the Athenaeum, the club of choice for Top Docs and Vice-Chancellors and of the Carlton Club ie. the Tory Party's chill-out venue.
Harold Julian Amery, Baron Amery of Lustleigh (27 March 1919-3 September 1996), served as a Tory MP for 39 of the 42 years between 1950 and 1992. He was appointed to the Privy Council in 1960. Julian Amery was created a life peer upon his retirement from the Commons in 1992.
Julian Amery was the son-in-law of Harold Macmillan. Julian's brother, John, was hanged for treason having pleaded guilty to making recruitment efforts and propaganda broadcasts for Nazi Germany. 
Julian Amery was educated at Eaton House, Summer Fields School, Eton and Balliol College, Oxford. While an undergraduate, Juliam Amery had a brief romance with the novelist Barbara Pym, who was some years his senior.
On 26 January 1950, Julian Amery married Catherine Macmillan (died 1991), the daughter of Harold Macmillan. The couple had one son, Leo Amery, a stained glass artist and three daughters: Caroline Louise Michelle Amery (born 1951), Theresa Catherine Roxane Amery (born 1954), and Alexandra Elizabeth Charmian Amery (born 1956).
Before the beginning of WW II, Julian Amery was a war correspondent in the Spanish Civil War and later an attaché for the British Foreign Office in Belgrade. After WW II began, Amery joined the RAF as a sergeant in 1940 then was commissioned and transferred to the British Army. Amery spent 1941–42 in the eastern Mediterranean and served as Liaison Officer to the Albanian Resistance Movement 1943–44. The following year, Amery went to China to work with General Carton de Wiart, the Prime Minister's Personal Representative to Generalissimo Chiang Kai-shek. Amery became a close friend of King Zog of Albania 
Zogu I, Skanderbeg III
King of the Albanians
Julian Amery served as Conservative MP for Preston North, 1950-66 and for Brighton Pavilion, 1969-92. He held a number of Gov't offices, all under Macmillan, his father-in-law. Amery was junior Minister for War (1957–58) and for the Colonies (1958–60). Amery succeeded John Profumo as junior Minister for the Colonies. Amery served as Secretary of State for Air, 1960–62, succeeding George Ward in that post. Amery was Minister of Aviation, 1962-64, succeeding Peter Thorneycroft.
Previous posts have explained how the Tory Ministers of Thorneycroft's era, including Thorneycroft, protected Dafydd and Gwynne, how some of them were friends with Dafydd and Gwynne and that Dafydd and Gwynne were involved with the Profumo Affair. Dafydd and Gwynne were also protected by the Cambridge spy ring, some of whom eg. Anthony Blunt were using services provided by the Gang and their partners in crime. Julian Amery's friend King Zog's attempts to reclaim his throne after WWII, assisted by the US and the British, failed because of Kim Philby's leaks to the Soviets.
Here's the man who influenced Events in the Communist Bloc:
MI6: All you needed to have done was to have rung him up and taken the piss out of him as the Empowered Service Users did. Dafydd ALWAYS answered, even at 3 am, lest it was Sir Peter Morrison who needed rescuing from police custody. If you had joined us in those phone calls, Dafydd wouldn't have had time to have run the paedophile ring let alone the Soviet Union.
Happy days Dafydd! Thanks for the memories!!
The Black Hole of Calcutta. Dafydd will remember the conversation:
Under Ted Heath's administration, Julian Amery was Minister for Public Works (1970), Minister for Housing and Construction, 1970–72 and Minister of State, Foreign and Commonwealth Affairs, 1972–74, under Foreign Secretary Alec Douglas-Home.
For 30 years, Julian Amery was an active member and later a Patron of the Conservative Monday Club, where he became friendly with General Sir Walter Walker, subsequently writing the foreword for Walker's anti-Soviet book, The Next Domino. Sir Walter Walker was a splendidly mad old Tory, who privately told journalists that he thought that Harold Wilson was a "proven Communist" and that there was a "Communist cell" in Downing Street. Walter He advocated Enoch Powell for PM. Powell was the man who in 1961 as Minister of Health publicly declared his intention to put a stop to Gwynne the Lobotomist  but quietly dropped the plan, yet remained schtum throughout the Profumo Affair and while Gwynne and Dafydd continued with their criminality assisted by Powell's friends and colleagues. Having taken a close look at the timing of Powell's denouncing of Denbigh and the musical chairs in Gov't of the time, I can only conclude that Powell's visit to Denbigh and his well-publicised horror were a ruse to reassure people that Macmillan was Onto This One and would be Changing Things, because Profumo was on the way and a massive cover-up was needed. See previous posts.
Sir Walter Walker favoured "tougher" measures against Dafydd's mates in the IRA. He was an early member of the Monday Club and in 1984 became Patron of the far-right anti-communist Western Goals Institute, a position he retained for the rest of his life.
Whether one is bringing about Revolution a la Eric Hobsbawm, or Breaking The Mould Of Politics a la the Gang of Four, or Fighting The Red Threat, as with the BMA Discussing Important Matters, it always has to be done over a good nosh:
See previous posts for some of the adventures of those in the Monday Club eg. the student riot precipitated by the presence of Patrick Wall.
Amery was in favour of entry to the Common Market and also of the nuclear deterrent. His support for both caused some discord between himself and his old friend Enoch Powell. Amery was regarded by most as an imperialist.
In 1963, Amery took charge of Quintin Hogg's campaign for Leadership of the Tory Party. Previous posts eg. 'Holding The Country To Ransom – Part II' discussed Quintin Hogg aka Lord Hailsham and his long and glorious history of concealing the Gang, as well as his periods of serving as Lord President of the Council – 17 Sept 1957-14 Oct 1959, under Macmillan and 27 July 1960-16 October 1964, under Macmillan and then Douglas-Home – and therefore the visitor of UCNW, providing much needed assistance for the Gang at times when they were at risk of being exposed. Between 1963 and 1970, Hailsham was of course the Tory MP for St Marylebone, a constituency containing a great many wealthy Top Doctors who were facilitating the Westminster Paedophile Ring. In his youth, Hailsham had been an enthusiastic mountaineer; he'll have known Sir Charles Of Dafydd and Gwynne, the Everest Hero, before Hailsham began to dig for victory on Evans's behalf as Principal of UCNW.
Hogg's descendants continued the family tradition of protecting and helping the Gang, as evidenced by his daughter Dame Mary Hogg the High Court judge, his son Douglas Hogg to whom Dafydd will be forever grateful re Douglas's efforts as a Home Office Minister, Sept 1986-26 July 1989 and even Douglas's wife Sarah Hogg and Douglas's and Sarah's daughter Charlotte Hogg. See post 'Holding The Country To Ransom – Part II'. I have noticed that Douglas Hogg was installed as a Home Office Minister just in time for the spate of wrongful arrests of me by the Gang and the subsequent major conspiracy between the Gang and the Home Office to fit me up for a serious crime and imprison me shortly after the June 1987 General Election.
Douglas Hurd was Home Secretary when it was all kicking off, who's uncle Prof Edred Henry Corner knew Prof Greig-Smith in the thick of the Gang's mates in the Dept of Plant Biology at UCNW. See previous posts eg. 'Additional Security Measures' for details of the numerous links between the Gang and the Dept of Plant Biology. Douglas Hogg's old dad Quintin hadn't only helped the Gang out years previously but Quintin was a member of Harold Macmillan's Gov't during the Profumo Affair and when Harold's son Maurice swindled my father and other farmers in the early 1960s, as described in eg. 'Shurely Shome Mishtake'. Maurice and other members of Macmillan's Gov't were by then already deeply involved in various business scams, including trafficking/prostitution, which needed Dafydd and Gwynne for success.
Anyone for a Hogg roast?
In 2009, during the MPs' expenses scandal, the Torygraph alleged that Douglas Hogg had submitted and was paid a claim form including more than £2,000 to clean the moat around his country estate. The taxpayer also helped meet the cost of a full-time housekeeper. Other allegations included expenses for work done to Hogg's stables and for his piano to be tuned. Hogg generously spent or perhaps somewhat overspent on his farm and home office: Hogg agreed a deal with the expenses office simply to have one twelfth of the second homes allowance paid into his bank account every month.
In his defence, Hogg resolutely claimed he had not claimed for moat cleaning and that the items were a list of all expenses incurred during house works, most of which were not paid for by the taxpayer. Hogg responded to the Torygraph's claims by saying he had agreed the claims with the Fees Office and therefore hoped and believed that they would comply with the rules and the "spirit of the rules" as advised. In saying that his claims complied with both the spirit and letter of the rules, Hogg said he had issued, in the interests of transparency, full lists of all his expenditure on the property but these were never meant to be the record of a claim.
On 14 May 2009, Hogg agreed to repay the £2,200 cost of clearing the moat, after an order from the Tory Party leadership. He maintained he had not claimed the money but agreed it had not been "positively excluded" from paperwork submitted to the Commons Fees Office. Following the scandal, Hogg announced on 19 May 2009 that he would not stand at the following general election.
While I am delighted that the Hogg – a crooked barrister who was the son of another crooked barrister who became Lord Chancellor -was eventually roasted, it is interesting to note that the Hogg was roasted over those excessive expenses and not over his central role in a criminal conspiracy to frame someone because she refused to drop complaints about a Royal Lobotomist who was running a paedophile ring who had been protected by Hogg's Major, an even bigger Hogg than Hogg Minor.
In early 1975, Julian Amery took part in a Commons debate on the  TUC's invitation to Alexander Shelepin, the former  KGB chief, to visit Britain. He stated that "more and more people are beginning to look upon the TUC as a Communist-penetrated show and this invitation must strengthen that view." Dafydd and Gwynne enjoyed protection and support from Amery and his mates as well as the Commies in the TUC. The Gang had the whole  political spectrum covered.
According to Thatch's 1995 memoir, 'The Path To Power', when Harold Wilson's Labour Gov't proposed devolution for Scotland in 1976, "Julian Amery and Maurice Macmillan proved effective leaders of the anti-devolution Tory camp."
Maurice Macmillan, who managed to fleece many farmers of a great deal of money but who was never held to account and then held a series of Ministerial posts in Heath's Gov't:
When Maurice swindled my father, Quintin Hogg was Lord President of the Council. When Quintin's son took part in the criminal conspiracy to frame me, Quintin was Lord Chancellor.
Although he was Harold Macmillan's son-in-law, Julian Amery failed to defend Macmillan when Count Nikolai Tolstoy published 'The Minister and the Massacres' in 1986, focusing the ultimate burden of blame sharply on Macmillan for the 1945 Bleiburg repatriations and the Cossack repatriations. Amery stated that the repatriations were "one of the few blots on Harold that I can think of".
Previous posts have discussed the libel trial which resulted from Tolstoy's allegations that the British Army had been complicit with war crimes, although Tolstoy presented a very compelling case. Lord Aldington aka Toby Low, the Tory Party big wig and war hero who maintained that his poor old heart had been broken by Tolstoy's Terrible Lies, sued Tolstoy for libel, was awarded huge damages after what seemed to Brown and I at the time to be a politically rigged case which was about defending Britain's reputation during WW II and Tolstoy was bankrupted.
I've just had another look at Toby Low's biography and I've noticed far more than I did when I wrote that early post about him.
Toby Austin Richard William Low, 1st Baron Aldington (25 May 1914-7 December 2000), known as Austin Richard William Low until he added 'Toby' as a forename on 10 July 1957, was known for his alleged role in Operation Keelhaul, the forced repatriation of Russian, Ukrainian and other prisoners of war to the Soviet Union where many were executed.
Toby Low was the son of Colonel Stuart Low, who died in action in 1942 and Lucy Atkin, daughter of the Lord Atkin. He was educated at Winchester College (where he later became Warden, i.e. Chairman of the governing body) and at New College, Oxford, where he studied law. So Low went to the same school as Richard Crossman and the same Oxford College, which recruited for the security services. Toby Low was seven years younger than Crossman, but Crossman stayed at New College as a don recruiting for the security services after his studies.
Toby Low qualified as a barrister in 1939. He had joined the King's Royal Rifle Corps in 1934 and served in WW II. Low served as the Tory MP for Blackpool North, 5 July 1945-29 January 1962. He served as Parliamentary Secretary at the Ministry of Supply, 1951–54 and then as Minister of State at the Board of Trade from 1954, under Peter Thorneycroft as President of the Board of Trade. Low also became a Privy Counsellor. 
In 1957, the year in which Anthony Eden was forced to resign after being undermined and having his health severely damaged by Top Doctors who were on excellent terms with Lilibet as well as with Gwynne's network (see eg. post 'A Holy Fool Among A Feast Of Fools', Toby Low was knighted and became Chair of the Select Committee on nationalised industry. In 1959, Low became Deputy Conservative Party Chairman. In 1962 the year in which the rumours which exploded in the form of the Profumo Scandal at the beginning of 1963 snowballed, Low was created Baron Aldington.
Toby Low increased his business interests from 1962. Low had been a Director of the Grindlay family banking company, Grindlays Bank, in 1946, following his father and grandfather.
In 1984 Citibank and Lloyds – who by then owned Grindlays – sold Grindlays to the Australia and New Zealand Banking Group. In 1989, five years after it acquired Grindlays, ANZ changed Grindlays' name to ANZ Grindlays Bank and transferred its domicile (requiring an Act of Parliament) to Australia in 1995. In 1993, ANZ Grindlays sold its African operations to Standard Bank Investment Corporation (Stanbic), which was the holding company for Standard Bank of South Africa's operations outside South Africa. Standard Chartered Bank had sold its shares in Standard Bank of South Africa to the bank's existing shareholders in 1987 to escape anti-apartheid sanctions against South Africa. In 2000, ANZ sold its Grindlays subsidiary to Standard Chartered for US$1.3 (A$2.2) billion in cash, which merged it with its existing banking operations, after which the Grindlays name fell out of use.
Minerva House was built on the south bank of the Thames between 1979 and 1983 as the London office of Grindlays Bank with Twigg, Brown & Partners as architects.
Twigg Brown are London-based architects. Their notable projects include the Hay's Galleria as part of the overall Twigg Brown masterplan for London Bridge City and the Grosvenor Waterside development in Chelsea for Grosvenor. Grosvenor Group Limited is a property group, which was founded in 1677 and is headquartered in the UK. It is now in 62 international cities, with offices in 14 of them, operated on behalf of its owners, the Duke of Westminster and his family. It has four regional development and investment businesses: in Britain and Ireland, the Americas, Europe, and Asia Pacific; and a portfolio of indirect investments. Its sectors include residential, office, retail, industrial, and hotels.
In 1964, Lord Aldington became Chairman of Grindlays Bank as well as of GEC. In 1971, he joined the BBC General Advisory Council and became Chairman of Sun-Alliance and the Port of London Authority. In 1972, he became Co-Chairman, with Jack Jones, of the Joint Special Committee on the Ports Industry.
Lord Jack Jones was accused of working for the British security services and even of being a Soviet double agent, which upset his mates in the Labour Party and union movement. I have no idea as to the truth of those allegations, but Jack Jones was one of the union barons – he was elected General Secretary of the T&GWU in 1968 – who was in the pocket of Dafydd and Gwynne. Jack Jones was friends with Dom Mintoff, the PM of Malta, who was one of the leaders of the Maltese Mafia. Mintoff was also good friends with Richard Crossman and Lady Juliet Bingley, both loyal protectors of Dafydd, Gwynne and the Gang. Very worrying really, because Lady Juliet, an LSE trained social worker and daughter of Reginald Vicks, a surgeon at Bart's, was married to Admiral Sir Alec Bingley, Fifth Sea Lord and NATO Commander of the Mediterranean Fleet. Friend of Mountbatten, Quintin Hogg, Lord Denning's brother Sir Norman Denning and crowds of senior Forces and intelligence people. See previous posts for info on Jack Jones and his mates.
Lord Aldington became Chairman of Westland in 1977. Westland was a Yeovil-based helicopter company which, in the early 1980s, employed an engineer who was a girl with whom I used to play as a child, Janet Mitchell (nee Janet Sims). Westland became the centre of a Tory Party storm in 1986 when, during one of Westland's regular crises, the Tory Cabinet ripped themselves apart over the Future Of Westland. Westland was a big deal in Somerset, but the UK media looked on baffled and asked why there was all this fuss over a small ailing Somerset business, with Heseltine storming out of the Cabinet and resigning in support of it, the whole saga nearly bringing down Thatch. Previous posts eg. 'Those Who Are Ready To Serve' and 'A Legend Lives' explained that Janet knew what was happening to me at the hands of the Gang, who were of course being facilitated by those crooked Tory Cabinet Ministers with Tom King, a Somerset MP – indeed Janet's MP I think – in the middle of them.
Deals were being done all over the place on the basis of bribery and blackmail and Heseltine thought that he'd spotted his route to being PM. Janet and her husband did very nicely out of it all, as did other engineering companies linked to Westland and the huge scrap. Sir Anthony Meyer, Dafydd's mate who was the Westminster Swinging Tory MP for Clwyd North West, also ensured that he benefited by drumming up business for Airbus at Broughton, in his constituency. The full story is provided in previous posts, along with the names of the guilty parties.
What I did not mention in any of the earlier posts is that Janet Mitchell's husband used to work for my grandpa's company, the grandpa who denounced Edward du Cann, the Tory MP for Taunton, as a crook and who hated Tom King and was hated by King and his cronies in return. I have been told that my father was targeted by Maurice Macmillan and co because of grandpa denouncing crooks in public life.
A lot of other people worked for my grandpa as well; he was only the Chairman of a small company but it was big by Bridgwater standards. Janet's husband and his colleagues all stated that they liked my grandpa because he was a grafter who didn't take two hour lunch breaks and who was in the office before any of the workers arrived in the morning and left after they had gone home in the evening. So it is rather sad that Janet and her husband accepted the filthy lucre in return for keeping quiet about what happened to me after grandpa died because I took on – unknowingly – the same scumbags whom grandpa had done battle with years before.
I received another bit of info yesterday about a grandpa-related event which left me really surprised, but I do remember it. Before we moved in with my grandparents after mu grandpa had a stroke, we lived in a house owned by him. So when we all moved in to his place, he put the house that we had lived in up for sale in about 1974. A young couple put in an offer, a low one, because they had no money. We knew them but not as friends. The man was called Anthony Croft and he was the son of Mrs Croft, a lady (a widow I think) who ran a garage mid-way between Bawdrip and Chedzoy. Anthony used to serve in the garage. Anthony and his wife had gone to see grandpa and were really grateful that he was OK with a low offer because he was sympathetic to a young couple after their first house. Then someone else turned up, but I don't know who and made a much bigger offer. Grandpa said no, he'd promised the house to Anthony Croft. I know that the other people got nasty, told grandpa that he was a mug and then told a lot of other people that he was an idiot for not taking the higher offer. Anthony and his wife moved in and when we used to see them about they were always kind enough to say that they'd always be grateful because they could not have afforded anywhere else.
I was told yesterday that the people who wanted that house and tried to freeze out Anthony Croft were seriously pissed off at grandpa turning them down and they got together with the du Canns and Tom Kings of the world and wanted blood…
Mrs Croft died not long afterwards; she wasn't that old but I don't know how she died. I just remember being told how sad it was because she always seemed very pleasant.
Grandpa had of course also pissed off the Top Docs of the Nuffield Hospital in Taunton who were running the prostitution racket with the Angels that he'd found out about, as discussed in previous posts. I can remember the row about that but I didn't realise until recently that Dafydd's Gang had by that time networked right across the UK and they had at least one Doc – Brian Webb – in Taunton working for them. See eg. post 'A Charming, Uplifting Sound'. Webb will not have been the only one, HQ were the London hospitals and Bristol…
This lot were a load of mobsters who were completely out of control.
Lord Aldington was considered a One Nation Conservative – like Ken Clarke and his hush puppies – and supported British involvement in the EU. He continued political activities in the Lords, including as Chairman of the Lords' Select Committee on overseas trade. Aldington was also a Deputy Lieutenant of Kent.
In 1999, when hereditary peers were excluded from the Lords by the House of Lords Act 1999, as an hereditary peer of first creation, Toby Low was granted a life peerage as Baron Low, so that he could remain.
Aldington married (Felicité Ann) Araminta MacMichael (d.2012) (a daughter of Sir Harold MacMichael) on 10 April 1947. They had two daughters, Priscilla Jane Stephanie, Lady Roberts, Lucy Ann Anthea, and a son, Charles Low, 2nd Baron Aldington.
Lady Aldington was Patron of the Jacob Sheep Society.
It was in 1989 that Lord Aldington initiated and won a record £1.5 million (plus £500,000 costs) in the libel case against Nikolai Tolstoy and Nigel Watts, who had accused him of war crimes in Austria during his involvement in Operation Keelhaul  Nigel Watts, who was in a business dispute with one of Lord Aldington's former companies, printed 10,000 leaflets about Aldington's role in the matter and circulated them to politicians and other figures. Tolstoy avoided paying the damages by declaring himself bankrupt, although after Aldington's death he paid £57,000 in costs to Aldington's estate.
The damages awarded were criticised by the European Court of Human Rights in July 1995 as excessive and "not necessary in a democratic society", although this did not overturn the ruling itself or affect the amount to be paid out.
Subsequently, allegations were made that Aldington had been materially assisted by friends at the MoD, who had suppressed crucial documentation, but Tolstoy and Watts were not granted leave to appeal on the basis of those findings. Nigel Watts was jailed for 18 months in April 1995, after repeating the libel that Aldington was a war criminal in a pamphlet.
In 1996 the Court of Appeal upheld an order Aldington had obtained that made lawyers acting for Tolstoy pro bono parties to the case and thereby jointly liable with Tolstoy for any costs or damages awarded to Aldington. This order was combined with a requirement that Tolstoy underwrite the cost of Aldington's defence to obtain leave to appeal.
Toby Low's son Charles Harold Stuart Low, 2nd Baron Aldington (born 22 June 1948) succeeded to the Barony on 7 December 2000. Lord Charles Aldington, was born in London in 1948. He was educated at Winchester College, New College, Oxford (here we go again…) and at INSEAD. He also attended the Baden-Baden Unternehmer Gespraeche. His early career was with Citibank and Grindlays Bank in New York, Hong Kong, Dusseldorf and London.
Charles Low worked for 28 years for Deutsche Bank. From 2002-2009 he was Chairman of Deutsche Bank London and Chairman of Morgan Grenfell Private Equity, following which he was a Senior Adviser for three years. He joined Deutsche Bank in 1986 and worked in Germany before joining the management of Deutsche Bank's London business in 1988. In 1997 Low moved into a Corporate Finance role.
While Charles Low was Chairman of Deutsche Bank, there was an event at Bangor University with a link to Deutsche Bank, while the Business School was filling up with people who were openly hostile to Merfyn the VC and were so obviously trying to undermine him in every way, but then so was No 10 Downing Street. 'Sandra from Deutsche Bank' arrived to work at the Business School and the Business School made a great song and dance about it and sent an e mail around to announce Sandra's arrival. The Business School being what it was ie. a School which routinely treated people appallingly, forgot that Sandra from Deutsche Bank might be used to not being treated like a turd and treated her like a turd. She walked out after a matter of days, to the entertainment of those of us who really had had a bellyful of the Business School. I did wonder why Sandra from Deutsche Bank had ever arrived at Bangor though; amazingly enough she was the real thing, a Proper Banker who had commanded a huge chunk of Deutsche Bank rather than a delusional idiot who once managed a small bank branch in north Wales.
Charles Low currently chairs the Finance Committee at the Ditchley Foundation. He was Chairman of Stramongate Ltd, on the Boards of LIBA, BBA and the British German Chamber of Commerce, Deputy Chairman of the Royal Academy Trust, a Trustee of the Institute for Philanthropy, Vice President of the National Churches Trust, a member of Oxford University's Court of Benefactors and of the Business Advisory Council to the Said Business School, Chair of the New College Development Committee and Chair of the European Vocational College.
Charles Aldington is married to Dr Regine von Csongrady-Schopf, an art historian, and they have three children.
Toby Low's daughter Dame Priscilla Jane Stephanie Roberts, The Hon. Lady Roberts (née Low; born 4 September 1949) has been the Curator of the Print Room at Windsor Castle since 1975 and was the Royal Librarian, 2002- July 2013.
Roberts was appointed an MVO in 1984. She was subsequently promoted to LVO in 1995, CVO in 2004 and to Dame Commander (DCVO) in 2013.
Priscilla Jane Roberts was educated at Cranborne Chase School, Westfield College (now part of Queen Mary, University of London) and the Courtauld Institute of Art.
On 13 December 1975, Priscilla Jane Stephanie Low married Sir Hugh Roberts, who was the Director of the Royal Collection and Surveyor of the Queen's Works of Art until April 2010.
Which all these references to the Courtauld Institute and Lilibet's works of art and Priscilla's dad being a spy, one would have thought that Dame Priscilla and Sir Hugh would remind Lilibet of someone known to – and who used the services provided by – Dafydd and Gwynne's network:
Dame Priscilla and Sir Hugh have two daughters: Sophie Jane Cecilia Roberts (born 28 March 1978) and Amelia Frances Albinia Roberts (born 1982).
That Nikolai Tolstoy ended up under fire from Toby Low is ironic, because Tolstoy is not made of Reds Under The Bed stuff. He is a distant cousin of THE Leo Tolstoy and his political activism has tended to be of a very conservative nature. A committed monarchist, Nikolai Tolstoy is Chancellor of the International Monarchist League. He was also Chairman of the London-based Russian Monarchist League and chaired their annual dinner on 6 March 1986, when the Guest-of-Honour was the MP John Biggs-Davison. Tolstoy was also in the chair for their Summer Dinner on 4 June 1987, at the Oxford and Cambridge Club in Pall Mall. Tolstoy was a founding committee member (January 1989) of the now established War and Peace Ball, held annually in London, which raises funds for White Russian charities. A member of the Royal Stuart Society since 1954, Tolstoy is presently one of the Vice-Presidents.
Lord Nicholas Hervey was the younger half-brother of the notorious John Jermyn Hervey aka Lord Bristol. Lord Bristol famously died as a result of a combination of class A drug use, Hep B, Hep C and HIV after a life of serious excess. Nicholas was close to John Jermyn and probably knew who was supplying the rent boys, the class A drugs and the helpful Court reports which kept John Jermyn out of prison and into private rehab clinics on so many occasions, but Nicholas didn't live a life anything like John Jermyn's. Nicholas was rather conservative in all senses of the world and had been a successful student, despite a Top Doc's diagnosis of schizophrenia went Nicholas was at university. Nicholas nonetheless gained an OK degree and worked successfully for some time after graduation. Until Nicholas had a minor blip which resulted in Help from the Top Docs. His life fell apart and his friends noticed that he was too drugged to do anything but sleep. Nicholas was found hanging in his Chelsea home in his mid-30s. He died before his brother John Jermyn. Both of them were dead by the time that the Waterhouse Report was published. The Hervey family seat, where Lord Bristol lived for most of his life, is near Ipswich. Which is where Dafydd's pal John Allen lived before he moved to north Wales in the late 1960s and opened Bryn Alyn. See post 'The Vermin Club' for details of the sad and inexplicable demise of Nicholas Hervey as well as the more predictable death of his brother but who nevertheless outlived the credible witness.
Tolstoy has stood unsuccessfully for UKIP as a parliamentary candidate in four British general elections, having first been asked by UKIP founder Alan Sked in November 1996.
Tolstoy is married and has four children:
Alexandra (born 1973), mistress of Sergei Pugachev, a married Russian tycoon with whom she has three children.
Anastasia (born 1975), married to John Elliott, with whom she has a son (Thomas) and a daughter (Elizabeth).
Dmitri (born 1978), who received a PhD in medieval history in 2008 from the University of London.
Xenia, Lady Buckhurst (born 1980), married since 2010 to the elder son and heir of the Earl De La Warr, William Sackville, Lord Buckhurst, with whom she has two children.
My post 'The Old Crowd' discusses William Sackville's family, including the 10th Earl De La Warr –  Xenia's husband's grandfather –  who went under a tube train at a convenient time for Dafydd's network. Xenia's husband, a hedge fund manager who is also called William Sackville, is the nephew of Tom Sackville, the younger son of the man who went under the tube train. Tom Sackville was a Tory Minister in the Home Office and the Dept of Health when Dafydd and the Gang were busy in the direction of me, Alison Taylor, Mary Wynch and others.
Nikolai Tolstoy has a strong link with Cwm Croesor and the Welsh Bloomsbury Set. His stepfather was the novelist Patrick O'Brian (12 December 1914-2 January 2000), born Richard Patrick Russ, best known for his Aubrey-Maturin series of novels set during the Napoleonic Wars. O'Brian lived in Cwm Croesor, 1946-49, in a house that he rented from Sir Clough. O'Brian had a big fan base re his novels and there was a lot of upset in the late 1990s when allegations were made that O'Brian was either a serial liar or a fantasist with regard to much of what he had said about himself. O'Brian's fans took the view that a lot of people had spouted rubbish about him over the years and he just hadn't bothered to correct it. Tolstoy himself did not provide a flattering picture of his stepfather.
I only ever met one person at Croesor who remembered Patrick O'Brian; this man claimed that O'Brian told so many lies that it was impossible to know who or what he was. O'Brian was widely believed to be working for the security services. See previous posts for further information about O'Brian and his time at Croesor.
What I notice among this mass of people who battled with each other but who all were linked to Dafydd, Gwynne and the Gang are the dates re Aldington's libel case. Again and again, the dates were pivotal to the battles of the Gang with me and other people. I have been told that Aldington AND Tolstoy both used the crap that they had on so many people re me and other targets to try and win their case and gain personal benefit. I'm not going to go through all the dates again, I am hoping that readers are beginning to correlate the info that is of interest to them anyway, but the glaring matter is the European Court of Human Rights judgement in 1995 which condemned the libel award secured by Aldington but didn't overturn it. In 1995 the Gang were on their quest to send me to live with Mr Savile in Broadmoor.  Dafydd had in Nov 1994 appeared in the High Court in Liverpool and sworn an affidavit stating that I had thrown a brick through his glass door at 3 am in the morning after he planted the brick himself and complaining about F blowing a raspberry down the phone at him. This was the sum total of evidence which demonstrated to the High Court, to the BMA and to the MDU, that I presented a danger to Dafydd's life AND all other NHS staff and should be sent to a high security institution. The problems had snowballed after spring 1994 when F and I had met with the Mental Health Act Commissioners and told them that Dafydd was sexually exploiting patients and that serious complaints were not being investigated. Brown sent yet another letter to Gwynedd Community Health Trust detailing the phone call that he listened into during which Dafydd tried to bribe me into dropping my complaint. Brown did not receive a reply.
On 9 Jan 1995, Peter Cook, a witness to the wider network of the Gang, including Graham Chapman's abuse of boys, died. On 5 March 1995, Viv Stanshall, another comedian who was witness to the Gang's wider network including Graham Chapman's abuse of boys, spontaneously combusted in bed. On 17 June 1995, Dafydd's partner in crime Lord David Ennals died. On 2 July 1995 Geraint Morgan QC, barrister on the Northern Circuit – which included Liverpool – and the Tory MP for Denbigh, 1959-83, died. On 9 July 1995, Bing Spear, the corrupt mandarin at the top of the Home Office Drugs Branch who'd kept Dafydd in business for years died. On 13 July 1995 Sir Peter Morrison was found dead in his house in Belgravia. Brown was sacked from his job at Aston University in July 1995. In July 1995, the world was told that Dafydd and retired and that the North Wales Hospital had shut down. Neither was true. See previous posts for matters 1995… eg. 'Dates For Your Diary', 'A Solicitor's Letter From North East Wales MIND', 'The Banality of Evil'…
Toby Low died in Dec 2000, at the end of the year that the Waterhouse Report was published.
As so many of the people involved in all this were working for the security services, I can only marvel once more that the one thing no-one did at any time was to pull the plug on a gang of sex offenders.
One of Nikolai Tolstoy's books was The Founding of Evil Hold School, London, 1968.
Maurice Macmillan's friend and brother-in-law Julian Amery believed that "The prosperity of our people rests really on the oil in the Persian Gulf, the rubber and tin of Malaya and the gold, copper and precious metals of South- and Central Africa. As long as we have access to these; as long as we can realize the investments we have there; as long as we trade with this part of the world, we shall be prosperous. If the communists [or anyone else] were to take them over, we would lose the lot. Governments like Colonel Nasser's in Egypt are just as dangerous."
To return to Sandy Glen's obituary:
At a party one evening, a beautiful Serbian, Baroness Zora de Collaert, asked who was "that little Englishman with the unpressed trousers". Glen, despite his marriage, promptly proposed.
They married seven years later, following his divorce in 1945.
In March 1941, a pro-allies coup d'état in Belgrade led to the Luftwaffe blitzing the Yugoslav capital for 72 hours. Glen, the baroness and others from the British legation headed, through appalling weather conditions, across the mountains to Kotor, on Yugoslavia's Montenegran coast, and on to Tirana, the capital of Albania. From there, the Italians repatriated them via Italy, Vichy France and Spain.
By mid-1941, Glen was back in Spitsbergen assisting the evacuation of Norwegian and Russian workers and sabotaging coal mines. In the early summer of 1942, he took part in two 27-hour reconnaissances of Spitsbergen by Coastal Command Catalina flying boats based in the Shetlands. These initially – and wrongly – suggested that there was no German presence. A 70-strong joint British-Norwegian force was sent, but its boats were sunk and 17 men killed in Spitsbergen harbour by a Luftwaffe raid.
The survivors struggled ashore, and Glen remembered where to find the frozen corpses of 60 slaughtered pigs, off which they lived, washed down with Russian tea and abandoned German brandy and champagne. Further air attacks came while the wounded were airlifted out, but relief arrived with the supply of heavy munitions. This ensured the island could not be used as a base against allied convoys to Murmansk.
In autumn 1943, Glen was landed by sea in Yugoslavia, to take part in operations in that country, Albania and Bulgaria with Fitzroy Maclean's mission to Tito's communist partisans. At cessation of hostilities, Glen was in Athens, and had won a bar to his DSC, and been awarded the Czechoslovak War Cross.
Thereafter, he enjoyed a long and, on occasion, mercurial business career, initially with Clarkson's, which became one of the first major package holiday operators. He was a director of British European Airways (1964-70), of the Tote (1976-84) and the British National Export Council (1966-72), chairman of the British Tourist Authority (1969-1977), chairman of the advisory council of the Victoria and Albert Museum (1978-1984). He was appointed CBE in 1964, and KBE in 1967.
His arctic experiences were recounted in the first of his books, Under The Pole Star (1937). Recognition of his exploratory work included the Patron's medal of the Royal Geographical Society (1940), the silver Polar medal (1942), and the Bruce medal of the Royal Society of Edinburgh. For his exploits in Spitsbergen, he received the DSC, the Norwegian War Cross and was appointed a knight of St Olav.
Zora, and a son from his first marriage, predeceased him.
Sandy's obituary in 'The Scotsman' told us that:
Died: 6 March, 2004, in Worcestershire, aged 91. HE WAS an adventurer in the Richard Hannay and James Bond mould: indeed some say Alexander Glen was the model for 007. During the Second World War, he worked in naval intelligence under Bond's creator, Ian Fleming. Glen stayed with the service until 1959, going on to have a distinguished career in industry and with various public bodies.
He always had a twinkle in his eye and maintained a sense of fun to the end:
he had style and panache, and was invariably courteous and modest. He was willing to admit his mistakes yet share the credit with others.
I am waiting for Sandy's pals to admit one huge mistake in particular, in terms of misplaced loyalty and the misuse of considerable state resources, including those of the intelligence services:
During the war, he experienced much physical hardship but was never heard to complain. 
As opposed to a few other people who complained about other matters, but Sandy's mates had the answer:
Alexander Richard Glen was a member of the Glen shipping family of Glasgow and attended Fettes College – he was to remark many years later that the "misty playing fields of Edinburgh made the Arctic seem like the Ritz going on to read geography at Balliol College, Oxford.
Alumni are all to public schools like Fettes.
His thirst for adventure began in 1935 when he led a university expedition to Spitzbergen in Norway. It gleaned much useful geological information but also researched military material about possible radio stations and landing areas. His success as leader was marked with several awards, including the Bruce Medal of the Royal Society of Edinburgh.
 On the outbreak of war, Glen was called up and sent to naval intelligence under Fleming. His first major appointment was to Belgrade where, apartfrom some hair-raising experiences as the Nazis bombed the city, he met his second wife, Lady Zora de Collaert, at a British Embassy party: he proposed to her that evening. When the Nazis invaded, the two made a dramatic escape. A harrowing car journey to the border was followed by a hazardous voyage along the Adriatic in freezing snow and ice. They then scrambled on to a closed army train to Marseilles where the Gestapo interviewed them for days. They were an unlikely pair: Zora, beautifully dressed and carrying a long, ivory cigarette holder, and Glen, an articulate, rather laid-back Scot.
Somehow, they got visas and reached Britain via Spain.
I'd be interested to know how the two very rich, upper-class chums obtained those visas and Escaped From The Hun.
Within a week, Glen was told to report to the Norwegian desk at naval intelligence. An operation in Spitzbergen was planned and his knowledge of the area was vital: it was strategically important in guarding convoys supplying Russia. But the expedition's ships were bombed and Glen and his Norwegian guides had to survive on what they could find while avoiding the attention of German planes.
But the Germans never did command a supply route in the seas off Spitzbergen, and this meant ammunition and materials were able to sail from Glasgow to reinforce the base. Glen's determination and courage also ensured the Germans never gained a foothold on the Spitzbergen land mass and the Soviet convoy system continued until the end of the war.
Glen was awarded the DSC and the Norwegian War Cross.
In 1943, he returned to the Balkans to join his friend Fitzroy Maclean in adding support to Marshall Tito and the Yugoslav freedom fighters. He was parachuted into the Dalmatian coastal area in 1944 ("the most civilised method of travel") and linked up with the partisans in harrying the German retreat.
They eventually found the advancing Soviet army and Glen offered assistance in clearing mines on the Danube. This, the Soviets turned down, but there were many parties and Glen developed a life-long interest invodka.
I presume that Sandy Glen was not Referred to Dafydd. That is for Other People, not the likes of Glen and Lady Zora.
For his Balkan adventures, he was awarded a Bar to his DSC and the Czechoslovak War Cross. After the war, he stayed with naval intelligence and was demobbed with the rank of captain in 1959.
Glen became chief executive of Clarksons Shipping in 1960 and within a decade it was a hugely profitable organisation. It started a subsidiary concentrating on package holidays, but this collapsed in 1973 and Glen resigned.
Not only was Glen at the helm throughout the fleecing of the plebs who wanted to sit on the beach in Spain for two weeks liberally covered in Ambre Solaire, but this dreadful old git resigned as a result, so there must have been one hell of a row.
While at Clarksons, he often revisited the Clyde, watching over the ships with which his company were connected: Lady Zora launched many of them. However it was to Argyll that he went for relaxation. He often rented Sir William Lithgow's estate for the summer and many friends remember the excellent sport, boundless hospitality and sheer joy of their visits.
Compare and contrast:
Sir Charles Evans, Everest Hero:
Customers of Sir Charles Evans's friends:
Sir William James Lithgow, 2nd Baronet (born 10 May 1934) is Vice-Chairman of Lithgow Group. In 1952 he inherited the Scottish shipbuilding company, Lithgows, which was established by his grandfather, William Lithgow. At the time, it was the largest private shipbuilding concern in the world. Economic and political changes, especially the nationalisation of British shipbuilding in the 1970s, prevented Sir William from simply continuing the family business and he therefore led it in new directions, including engineering, salmon farming and other marine and agricultural matters. Sir William describes himself as an "industrialist and farmer". Since 1999 his son James has been Chairman of the Lithgow Group, with Sir William as Vice-Chairman.
Sir William is the son of Sir James Lithgow, 1st Baronet, and Lady Gwendolyn Lithgow, whose family homes were Gleddoch House on the Clyde, a few miles from their shipyards at Port Glasgow and Ormsary, their country estate in Knapdale. Sir William was educated at Winchester College and is a Chartered Engineer and Fellow of the Royal Academy of Engineering. Sir William's father died when he was eighteen and his mother acted as Chairman of the family company until 1959. In 1967 Sir William married Mary Claire Hill and they have a daughter and two sons.
In the 1960s British shipbuilding was facing serious competition from the Far East, as well as other challenges; in the late 1960s a Gov't enquiry into the UK shipbuilding industry led to a merger between Lithgows Ltd and Scotts Shipbuilding & Engineering Co Ltd. of Greenock. This became Scott Lithgow Ltd. in 1970, but in 1977 Callaghan's Gov't nationalised the company under the control of the British Shipbuilders Corporation by the Aircraft and Shipbuilding Industries Act 1977.
Sir William and others involved challenged the amount of compensation they were offered and ended up taking their case to the European Court of Human Rights. The press reported his views about the wider implications of his experience, which he related to Thatch's privatisation policies and the forthcoming expiry of the British lease on Hong Kong. Sir William was quoted in 'The Financial Times', 9 July 1986, as saying: 'You can hardly expect Marxists in Peking to pay decent compensation for property rights, when the Government has pleaded that no such rights exist in Britain".
Michael Grade's mate Samuel Brittan worked for 'The Financial Times' at that time. It was in 1985 that Grade tried to have my friend sacked from the Edinburgh Fringe's box office for refusing to do a fiddle for Samuel Brittan and get him a ticket and a hotel when everything HAD SOLD OUT MICHAEL AND SAMUEL. A bit like you two.
Samuel Brittan: Anyone at the FT will vouch for him:
Michael Grade: Samuel SHALL go to the Fringe, even if Michael has to give Samuel his own ticket!
When Sir William Lithgow finally lost his legal battle in 1986 he told 'The Times' that his claim had started as a "squalid argument about money" but had come to be about "fundamental property rights which are part of the basis of the free world". Although 'fundamental property rights' sounds rather like a squalid arguments about money when one has as much property as Sir William. It's not as if he's bought his own council house, it's being repossessed and he's going to end up homeless.
On other occasions Sir William has expressed strong views publicly on subjects ranging from the importance of wealth creation to weaknesses in ferry services to the Scottish islands.
Meanwhile, Lithgows was diversifying. In 1980 they moved into salmon farming through their subsidiary Landcatch. Their Campbeltown boatyard producing fishing vessels closed in 1997, but they still build fishing boats at Buckie in Moray. Engineering interests include firms producing off-road vehicles and rifles. Many of the conglomerate's interests are related to rural and coastal life, not least their land management and agricultural activities on the Ormsary estate and on the nearby Isle of Jura.
Call me Dave's father-in-law owns an estate on Jura and Call Me Dave has tried his hand at deer stalking on Sir Reggie's land there.
The many public bodies on which Sir William has served include some connected with shipbuilding and agriculture. He also has links with Strathclyde University which made him an honorary LLD in 1979. Previous posts have discussed some of those at Strathclyde University who hit the big time after discovering what Gwynne and Dafydd were up to, sometimes with regard to my friends and I. eg. Professors Colin MacCabe and Alexis Jay.
Alexis Jay
Sir William is a member of the Royal Company of Archers.
In 1999, Sir William passed on the Chairmanship to his son James, around the time of his 65th birthday. At the time, the press reported his belief that many of British shipbuilding's problems in the 1960s and 1970s could be attributed to Gov't policies stemming from the Treasury.  Sir William had "seriously considered relocating to Australia". As of 2006, he has an address in Western Australia, but Ormsary is his home as well part of his title as 2nd Baronet of Ormsary. Sir William and the Lithgow Group still have offices at Langbank.
[Sandy] Glen's other appointments included the National Ports Council (1966-70); BEA (1964-70) and the Air Safety Council (1965-82).
The Clarksons-related air disaster of 1970 didn't result in Sandy's removal from the Air Safety Council then. Indeed there were quite a few air disasters while Sandy was on the Air Safety Council.
Knighted in 1967, he was made chairman of the British Tourist Authority in 1968. "I was asked," he waspishly wrote, "to operate a four-legged animal with no head, put together by Whitehall without consultation." It was a task made for this resourceful man. He toured the country and started a campaign to encourage tourists to visit areas out of London. In 1977, he left the BTA but retained an interest in tourism through directorships of British Transport Hotels and Gleneagles Hotels.
Sandy Glen had the whole European tourist industry in his pocket.
His wife died last year and in her death notice in The Scotsman Glen wroteof an "adored wife in peace and war, as brave as she was beautiful". I composed an obituary for Lady Zora and after it was published the phone rang and a voice full of apologies for not writing ("it isn't so easy now") thanked me for "realising his wife in words". As our conversation drew to a close, Glen said: "Any time you are passing just drop in: I can usually rustle up some soup for lunch."
Glen could manage a bit of soup, but not a package holiday company or the British Tourist Board. Not that it held him back, the directorships kept coming and Lady Zora just looked SOO beautiful 24 hours a day even when in the hands of the enemy.
This 'Boys Own' version of Alexander Glen's life was written by Alasdair Steven who has died a hero's death himself now. Alasdair received the following tribute, published in 'The Scotsman':
Alasdair Steven, bibliophile
Born: 25 July, 1915, near Blairgowrie. Died: 13 September, 2003, in Auchterarder, aged 88.
ALASDAIR Steven was raised and educated in Dundee, where he developed a love of books that was to stay with him all his life; much of his boyhood was spent in the public library at Sinderins. After leaving school, he became a telegram boy in 1930, and progressed to sorting mail. His early interest in Fabian Socialism led him to join the Peace Pledge Union, and he became its Scottish secretary in the late 1930s. Soon afterwards, he claimed he was arrested in for disturbing the peace by brawling with a fellow official over a point of principle.
In 1938, he moved to Bristol, married Agnes, and became a clerical officer in the county courts. His spare time was spent bicycling around Wiltshire and Dorset, exploring Thomas Hardy country – Hardy's writings were one of his innumerable passions.
When war was declared in 1939, Alasdair, a conscientious objector, faced a tribunal which gave him conditional exemption. For the next five years, he worked on the land, latterly at Broughty Ferry, during which time he and his family lived as part of a like-minded community in a large house in the west end of Dundee.
In 1945, the family moved to Edinburgh, and Alasdair's love of books and his growing collection led him towards bookselling. Without capital, he loaded his bicycle with as many volumes as it could carry and peddled them to farmhouses and cottages all over the Highlands and rural Scotland, sleeping wherever he could find a bed. His courtesy and transparent kindness meant it was more often in a customer's house than in a barn or youth hostel.
He told of being blizzard-bound overnight at the top of the Moneiga Pass, east of Spittal of Glenshee, as he wheeled his way with two punctures towards Braemar. On another occasion, he knocked on the door of a likely cottage in the Borders and had his first meeting with a "nice lad" called Chris Grieve, who had already metamorphosed into Hugh MacDiarmid.
Ioan Bowen Rees, the Chief Exec of Gwynedd County Council when Lucille was Director of Social Services and the Gang had a party in the Council's children's homes, was of Hugh MacDiarmid's circle. See post 'Events, Dear Boy, Events'. Ioan was a keen mountaineer, like Sir Charles, Jim Perrin and Huw Thomas who was Chief Exec of Gwynedd Health Authority, 1983-96. Not only is Huw's name all over my documents, but look at what happened when Huw was Chief Exec and who were given jobs in Gwynedd Health Authority.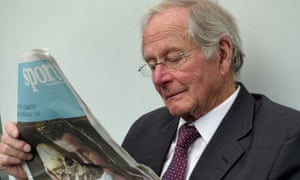 'In a distinguished career in NHS management, he also worked in Kenya, running the hospitals in Kisumu on Lake Victoria, and in Zambia. For four years from 1999 he worked with the Aga Khan Foundation in Tajikistan, helping to sort out a huge Soviet-era hospital in Khorog, on the Afghan border. While there he became aware that many baby girls in the region suffered from a congenital hip problem that could be easily rectified if treated correctly. He personally set up and financed a health initiative to provide treatment. When his time in Khorog came to an end, he was presented at a ceremony with full traditional Tajik costume and a carpet with his face woven into it. The local headman said that he "would be remembered for a hundred years".
Huw loved mountains. He gloried in the scenery of the Pamirs in Tajikistan. There was also a special place in his heart for Snowdonia, where for 25 years he served with the Ogwen valley mountain rescue team, making forays into the mountains or controlling the rescue missions from the radio hut at the head of the valley. 
Dafydd and Gwynne's Gang had a number of members in the Ogwen Valley Mountain Rescue Team, including Dr Tony Jones, the marine geologist from UCNW/Bangor University, who in Jan 1993 starred on 'This Is Your Life' with Michael Aspel, the Gang being in need of PR at the time. See previous posts.
Huw was born in Gorseinon, south Wales, the son of William, who worked in a bank, and his wife Mary (nee Hatton), who ran a corner shop. His father had mental health issues and Huw was brought up by his mother and grandmother in Warminster, Wiltshire; his parents later divorced. He went to Lord Weymouth's grammar school in Warminster, studied history at Birmingham University and then gained a diploma in social administration from Manchester, before working in hospitals in Plymouth, Cardiff, Swansea and Bangor.
He had his eccentricities. He loved music hall and together with his pals Bernard and Julia (a belly dancer) he created a tribute act to the 1940s entertainers Wilson, Keppel and Betty. Performing in Egyptian costume, Huw and friends appeared in local theatres and for charity events. For many years Huw was a leading light with the Llanfairfechan community players, portraying five contrasting roles in a production of Under Milk Wood in 2015.
Llanfairfechan is a village where many members of the Gang were/are to be found living. It is because Bryn-y-Neuadd, the former long-stay hospital for those with learning disabilities was there and as with Denbigh, most of the inhabitants worked there. Bryn-y-Neuadd was seriously grim, most families did anything possible to avoid their children being placed there. I have been told that those buggered by Gwynne's lobotomies also ended up there. The 'service' at Bryn-y-Neuadd was run by Dafydd's pal Cledwyn Williams, who so impressed those in authority that Cledwyn was then appointed Director of Social Services (I think for Conwy) and made responsible for the All-Wales Learning Disability Strategy. Cledwyn is now a Trustee of Dafydd's charidee CAIS.
Bryn-y-Neuadd employed Dafydd's friend Ann Craft, who supported the Empowered Service Users within to explore their sexuality and encouraged them in their sexual relationships. They have Needs as well you know, as Dafydd was always happy to explain. Ann's Pioneering Work In Disability Rights bagged her a senior post at Nottingham University. See post 'Vested Interests Or Common Pool?' Ann's Craft's husband Dr Michael Craft conducted community research with Dafydd, into incest no less. See post 'The Old Devils'.
I tell you, people in the NHS in north Wales are beyond embarrassment or shame, they just don't do it.
Bryn-y-Neuadd is now a medium secure psych unit, housing some of those put away by Gwynne and Dafydd in the 1980s.
An idealist, [Huw Thomas] fought for local health issues, cleared footpaths, collected rubbish on beaches, stocked the local food bank and supported the local credit union. He was an avid Guardian reader. He is survived by his partner, Mari Gruffydd, his daughters, Emma and Lucy, from his marriage to Ann Doidge, which ended in divorce, his stepdaughter, Nicola, five grandchildren and by me [Tim Thomas, Huw's brother].
[Alasdair's Steven's] business grew. He began contributing to The Scotsman and Edinburgh Evening News; he graduated to a car and, in 1960, moved his stock and long-suffering family to Blairgowrie; he began issuing lists offering for sale antiquarian and historical books from "Speir Book Services".
Ousted by his stock in 1973, his wife and daughter settled in Edinburgh. Alasdair moved to the remaining wing of Old Ballechin, in Strathtay, which the Society of Physical Research declared in 1890 to be the most haunted house in Scotland, and Agnes made regular trips to Perthshire carrying his meals for the week packed in individual plastic tubs. From Ballechin, which rapidly became so stuffed that its capacious rooms became small grottoes connected by narrow passages amid piles of books, he sent out the rest of his 75 Scottish and general lists, and entertained visitors who came to buy and listen to his "hoots", delivered with immense humour from his desk by a large window that looked out across the Tay to Castle Dow on the opposite hillside. With his encyclopaedic knowledge of the works of every Scots writer up to 1970, one subject rapidly led to another and the listener was soon led into increasingly obscure corners of literature or local history, particularly that of Perthshire and Galloway. At intervals, he would dart from his desk to find a particular volume and, amid his scores of thousands, he would invariably home in on the precise cubic foot where it was located. The lists became increasingly spasmodic as his pursued his own interests. In the early 1970s he and John McEwan compiled the pioneering The Acreocracy of Perthshire, subtitled 'Who owns our land?' and published by the Perth and Kinross Fabian Society.
Answer: Sir Charles Evans's friends.
The flavour of the work can judged by Alasdair's words: "Paul wrote to the Corinthians, 'The earth is the Lord's and the fullness thereof'.
Whatever extremes modern Biblical exegesis may have gone to, even the most liberal-minded could not transform this into, 'The Earth is the Laird's, though the fullness thereof has not passed by their pockets'."
He began to re-publish books that he considered of value, for example In Famed Breadalbane by William Gillies and works by RB Cunninghame Graham – another of his passions, along with Effie Gray, hill walking, Leslie Howard, words, Guy de Maupassant, James Kelloway, the Gowrie Conspiracy and red geraniums.
When he was nearly 80, he became the weekly presenter and main contributor to a programme on Heartland FM which was sustained for several years by his knowledge and enthusiasm. He was immensely pleased with his own execrable title for it – Late Bookings. He wrote regular articles on the origin of surnames for the Scots Magazine until he was 85, and the day before his death he was discussing a meeting of MacDiarmid's literary circle in the Abbotsford in Rose Street, Edinburgh.
Meet Ioan; wherever he ran a local authority, there was a sex abuse gang:
He is survived by his wife, his son, Richard, his daughter, Yla, and his grandchildren and great-grandchildren.
Lady Zora received a tribute in 'The Scotsman' when she died in 2003:
Aristocrat and wife of Sir Alexander Glen
Born: 1913, in Dubrovnik: Died: 21 May, 2003, in Worcestershire, aged 90
SHE was tall, witty, elegant and one of the beauties of her age. Her full title was Baroness Zora Cartuyvels de Collaert, having been born into a distinguished diplomatic and artistic family in the old Yugoslavia. She and Sir Alexander Glen met during the war and had a hair-raising escape from the Nazi occupation of a country they both loved. They were to remain together for 63 years and she played a supportive and enthusiastic role when, as chairman of the shipbrokers H Clarkson & Co, Sir Alexander commissioned many boats to be built on the Clyde. Their mutual love of Scotland was far-reaching and, as well as many visits on business, the couple regularly rented a house in Argyll, where they proved the most excellent and generous hosts.
They first met at a British Embassy dance in Belgrade in 1940. Sir Alexander was serving in the legation and recalls in his book The Danube: A River Not Quite Too Far how he spotted this "tall, Slavonic lady with Byzantine good looks: she looked the product of a Paris salon". A year later their relationship was interrupted by the arrival of the Germans, and the British legation was badly bombed. The two gathered their belongings together and emerged from the blazing building only to be met by the Egyptian ambassador who, with a wonderful dose of old-world politesse, took Zora's hand, kissed it amid the turmoil and said: "Chre baroness, my humble regards to your charming mother."
Zora, with complete calm, thanked him and dashed with Glen to a car.
They faced a harrowing journey out of Yugoslavia, with German planes bombing the roads and bridges. They then had a bumpy and slow – not to say hugely uncomfortable – journey in a closed army train through Albania to Italy. It was an anxious and chaotic time. When they arrived at Marseilles, Zora was approached by a Gestapo officer who suggested she stayed in France. "I think," she replied, puffing on a cigarette through a long ivory holder, "I'll go to Britain. I know people there."
If she had stepped outside, she would have been arrested as an alien.
Glen returned to Yugoslavia to fight with Fitzroy McLean on the side of Marshall Josip Broz Tito and the freedom fighters.
Not everyone had a high opinion of Tito:
Norah Beloff was the sister of Ioan's friend Lord Max Beloff. See post 'The International Language Of Screaming'. Norah is the aunt of Cherie and Miranda's colleague and friend Michael Beloff QC (see previous posts) who was the lawyer who suppressed the Jillings Report in 1996. See eg. 'It's A Piece Of Cake…'
Zora remained in London, where they were married in 1947.
While her husband enjoyed a very successful career with Clarkson's, Lady Zora was a popular figure in the company, and the many others with which he was associated, such as British Transport Hotels, the Tote and British European Airways. He was a trustee of the Victoria and Albert Museum, and Sir Roy Strong, the V&A's director, singled out the Glens in his autobiography as "my beloved and best of all chairmen".
Sir Roy Strong: says it all really. See previous posts…
Sir Alexander had been educated at Fettes and he and Lady Zora became firm friends and supporters of the school.
Her enthusiasm and devotion to helping her husband fulfil such public posts was invaluable. Her zest for life and for people was unquenchable, and went far beyond acting as the chairman's wife at social functions.
Iain Harrison is now dead.  died in Jan 2018. His obituary 'The Times' in Jan 2018 described him as a' Ship owner and patron of the arts who was an astute risk-taker and whose goodwill was infectious'…
Clydeside was of course the site of serious industrial unrest and collapse. Previous posts have discussed some of the Red Clydesiders who were, like the people they loathed such as the Lithgows, Of Dafydd's network. eg. politicians such as Norman and Janey Buchan, as well as Top Docs such as Sam Galbraith. Clydeside had quite a tradition of Top Docs who became involved in socialist politics when young yet joined the troughing, lying and cheating classes when they embarked upon their careers. Dafydd's mate Jerry Morris who worked with Crossman's Swingers as the LSE was one such man and of course R.D. Laing grew up in Glasgow and studied at Glasgow University. See eg. 'The Joys Of Propaganda'.
Although they both loved to travel, the Glens were perhaps happiest in Scotland, where they rented a summer house on Sir William Lithgow's estate in Argyll and had a constant stream of guests. All were given the special hostess treatment from Zora, and many of the shooting and fishing stories at the day's end became legendary. "The Glens themselves may not have been the greatest of shots," one guest recalled with affection. "But they knew how to look after a house party."
Nothing typifies the glorious, gentle nature of Lady Zora more than the enchanting announcement of her death which Sir Alexander put in The Scotsman. It described her as his "adored wife, in peace and war as brave as she was beautiful".
Lady Zora is survived by her husband.
Sandy Glen and Lady Zora ended up living in Worcestershire. Dafydd and Gwynne's people trafficking accomplice Peter Walker, who was the Man With The Money as well as Thatch's Cabinet Minister, who provided such assistance to Gwynne and Dafydd as long ago as the early 1960s, was the Tory MP for Worcestershire. George Ward, another member of Gwynne and Dafydd's circle from their Profumo days preceded Walker as Tory MP for Worcestershire. See eg. 'A Holy Fool Among A Feast Of Fools' and 'Shurely Shome Mishtake'.
Sandy Glen's son Adrian, by his first wife Nina, whom Sandy dumped when he ran off with Lady Zora for his Barbara Cartlandesque future, died in his mid-40s, years before his father, in 1983. 1983 was the year of Paedophiles' Panic as a result of the fall-out from Mary Wynch and I am sure a death at UCNW as a result of Gwynne – Bluglass rewrote the Mental Health Act – Nice Young Doctors arrived in north Wales, including Sadie and Tony Francis – George Thomas became a Viscount  – Gang began targeting me – Brown threatened with murder – undercover officers arrived in our vicinity and indeed in our house – readers will get the picture by now. See previous posts.
And Adrian Glen died.
Forthcoming Marriages
MR. A. M. DE C. GLEN AND Miss A. HOWARD
The engagement is announced between Adrian Martin de Courcy, son of Mr. A. R. Glen, of 46 Wilton Crescent, London, S.W.1, and of Mrs. Peter Boughey, of Heath End, Ascot. Berkshire, and Amanda, elder daughter of Mr. and Mrs. Stafford V. S. Howard, of Greystoke Castle, Penrith, Cumberland, and Woodend, South Ascot, Berkshire.
Published in Country Life on 6 January 1966
Miss Amanda Howard, elder daughter of Mr. and Mrs. Stafford Howard, of Greystoke Castle, Cumberland, and of Woodend, Ascot, Berkshire, is to be married to Mr. Adrian Glen, only son of Mr. Alexander Glen, of 46 Wilton Crescent, SW1, and of Mrs. Peter Boughey, of the Stable House, Puddington, Cheshire, at the Guards Chapel on July 20.
Amanda Howard came from a rather grand family with an estate in Cumbria, Greystoke Castle and an impressive house (which no longer exists) near Ascot. Amanda's family will have known whatever it was that Hector MacKenzie and COHSE knew about Willie Whitelaw's activities in Cumbria.
Greystoke Castle is near Penrith, Willie Whitelaw Central and was inherited by Captain Stafford Howard in 1950. Stafford restored the property. It is now managed by his Stafford's son, Neville, but owned by Lord Shahram Lee Namin.
The Namin family has not yet opened Greystoke to the public, but is used as a venue for corporate hospitality, outdoor management training and is licensed for civil weddings.
One wedding however, did not happen.The marriage between Adrian Glen and Amanda didn't go ahead and on 4 Feb 1967, Amanda Arianwen Cecilia Howard married Michael Noel Cottrell. I have no idea what happened but I suspect that it involved much distress and subsequent bad feeling.
Amanda's dad Captain Stafford Vaughan Stepney Howard, (3 September 1915-1991), changed his surname from Howard-Stepney to Howard by deed poll in August 1950, on inheriting the family estate in Cumbria. Stafford Howard stood for Parliament as the Liberal candidate in south Gloucestershire in 1950. The seat was retained by the sitting Labour MP, Anthony Crosland. Stafford stood again for the Liberals in 1951 for Penrith and the Border but was beaten by the Tory candidate, Sir Robert Donald Scott. Scott stood down in 1955 and old Willie Whitelaw got his feet under the table, where they remained for a very long time.
Sir Robert Scott first entered the Commons as MP for Wansbeck in 1940, but in 1945 he lost his seat to Labour's Alf Robens, Alf Robens was the Chairman of the NCB – he was appointed by Harold Macmillan – who took the hit for the Aberfan Disaster. It was very much a public display, because the south Wales Labour Party could have been in very deep trouble there. Local Labour Councillors and MPs knew that the tip at Aberfan was dangerous but no-one raised concerns because they feared the effect on local employment if the pit was closed. Previous posts have discussed how everything about Aberfan was stage-managed by Wilson's aides, the same people who were facilitating Dafydd and Gwynne and the Gang. The same Welsh Office Ministers were involved, including the Windbags' mate Lord Cledwyn and of course George Thomas, the same lawyers and the same civil servants. I have been told that they were still hanging around pulling the strings when I did battle with the Gang in the 1980s and 90s. No-one lost their jobs or were prosecuted over Aberfan and the compensation paid to the families was insulting, as were the hoops that they had to jump through to claim it. George Thomas famously raided the disaster fund to pay for the flattening of the tips because the NCB and Gov't wouldn't stump up. Lord Robens became a hate figure but he didn't suffer the sort of damage that would have concerned him.
In 1969, Robens was selected by Babs Castle to Chair a committee on workplace health and safety, which led to the 1972 Robens Report which controversially championed the idea of self-regulation by employers.
The Robens Report itself led to the Health and Safety at Work Act 1974 and the creation of the Health and Safety Commission and the Health and Safety Executive.
Robens had become a Director of the Bank of England in 1966 and a Director of Times Newspapers in 1967. He was Chairman of Vickers 1971-79, opposing the Labour plans for nationalisation that led to the Aircraft and Shipbuilding Industries Act 1977. Robens was Chairman of Johnson Matthey 1971-83 and a Director of Trust House Forte and several other companies.
Robens was the first Chancellor of Surrey University and his other public appointments included:
Chairman of the Foundation on Automation and Employment (1962);
Chairman of the Engineering Industries Council (1976–80);
Member of the Royal Commission on trade unions and employers' associations (1965–68);
Member of the National Economic Development Council (1976–80);
Council of Manchester Business School:

Member;
Chairman (1970-79);

Chairman of the Court of Governors of the LSE, 1965, the domain of Richard Crossman's friends and of course Uncle Harry's brother-in-law's employer;
Chairman of the Board of Governors of Guy's Hospital, 1965–74, the employer of Uncle Harry, Sister Hutt's father and many more if Dafydd and Gwynne's network.
By 1979 Robens had become aligned with the Conservative Party.
In 1950 Donald Scott was returned to Parliament for the new constituency of Penrith and The Border.
Stafford Howard served as a Parish and County Councillor, Chairman of Penrith and Border Liberal Party, Chairman of the Ullswater Outward Bound Trust, served on the Lake District Planning Board and the Ullswater Preservation Society and was High Sheriff of Cumbria in 1979.
Jeremy Thorpe
Stafford Howard married, firstly, Ursula Priscilla Marie Gabrielle, daughter of Colonel Sir James Nockells Horlick, 4th Bt. (they divorced in 1940), and secondly, Mary Gracia (1913-2004), daughter of George Wilder Neville, of Portsmouth, Virginia and New York City, on 24 October 1940. Gracia became a Trustee of the Shrewsbury Hospital (not a hospital, but almshouses and a chapel) in Sheffield in 1965. By his first wife, Howard had a son, Nicholas Stafford Howard (20 Jul 1937-17 Feb 2008), of Johnby Hall, Penrith and by his second wife he had two daughters and a further son, Lt Col. Murray Bernard Neville Cyprian Howard, who inherited Greystoke Castle and now does the weddings there.
Nicholas Stafford Howard (July 1937-Feb 2008) attended Sunningdale School and Eton. Sunningdale is a prep school with many famous old pupils, including Gerald Cavendish Grosvenor the 6th Duke of Westminster, Fredrick Hervey 8th Marquess of Bristol, Douglas Hurd's son Nick, Prince Michael of Kent, Lord Frederick Windsor, Humprey Lytellton, Ferdinand Mount and Hugh van Cutsem. See previous posts for more names.
In his year of national service, Nicholas Stafford Howard trained as a Russian language specialist. He then read mathematics at Magdalen College, Oxford. Nicholas worked at GCHQ, rising to be the head of his division, which specialised in cryptanalysis, the mathematical science of codebreaking. In the early stages of his career he spent a year at Churchill College, Cambridge and three years at the British Embassy in Washington. He and his wife Bethan lived in and renovated Johnby Hall, near Greystoke, Cumbria, which he had inherited from his father.
PAEDOPHILES IN DISTRESS, PAEDOPHILES IN DISTRESS, COMPLAINT ABOUT GWYNNE, ASSISTANCE NEEDED.
Stafford Howard was the younger son of Sir Edward Stafford Howard. A member of the influential Howard family headed by the Duke of Norfolk, Sir Edward was the second son of Henry Howard, son of Lord Henry Howard-Molyneux-Howard and nephew of Bernard Howard, 12th Duke of Norfolk. Sir Edward was the younger brother of Henry Howard and the elder brother of Lord Howard of Penrith. Sir Edward was educated at Harrow and Trinity College, Cambridge. He was called to the bar at Inner Temple. Mr Thrope and the Havers clan who concealed the Westminster Paedophile Ring were members of Inner Temple. See previous posts. Sir Edward Howard entered Parliament as one of two representatives for Cumberland East in 1876, a seat he held until 1885 when the constituency was abolished under the Redistribution of Seats Act 1885. In 1885 Sir Edward was elected as MP for Thornbury until he was defeated at the 1886 election. He served briefly as Under-Secretary of State for India, April to July 1886, in William Ewart Gladstone's short-lived third administration. North East Wales was fortress William Ewart Gladstone for a long while and even those dominating public life in north Wales in more recent years often have forebears who were colleagues of or who knew William Gladstone well.
Sir Edward Howard was later  Senior Commissioner of HM's Woods and Forests. He served as Mayor of the town of Llanelly (in Monmouthshire, near the Brecon Beacons) 1913-16. Sir Edward was an Ecclesiastical Commissioner from 1914 to his death, a JP and a Deputy Lieutenant of Gloucestershire.
Sir Edward married secondly, in 1911, Catharine Meriel, only child of Sir Emile Algernon Arthur K. Cowell-Stepney, 11th/2nd and last Baronet. After Sir Edward Howard's death in 1916, Lady Howard served the remainder of his term as Mayor of Llanelly. She was a JP from 1920; a Carmarthenshire County Councillor. Lady Howard lived at Llanelly and at Woodend, South Ascot. She was a member of the Ladies' Hyde Park and Bath clubs. Lady Howard was granted authority, by royal licence, to take additional surname of Stepney in 1922. She died on 8 June 1952.
Stafford Howard's sister – Sir Edward's daughter by his second wife, Catharine Meriel 'Alcyone' Cowell-Stepney – was Margaret Catherine aka Marged Stepney Howard Stepney (1913-53), of Llanelly and Hampstead Lane, London. Margaret/Marged married Patrick Wyndham Murray-Threipland (1904-1957), only son of Colonel William Murray Threipland, had one son and divorced in 1938. In later life Marged was a friend and patron of Dylan Thomas.
So who was Hector, the Boss of United Biscuits who wanted UCNW graduates to work for him? Hector Laing, Baron Laing of Dunphail (12 May 1923-21 June 2010) was educated at the Loretto School and Jesus College, Cambridge. Laing served as a tank commander in the Scots Guards, 1942-47. After this, Hector Laing followed his father, and grandfather Alexander Grant – who invented the digestive biscuit – into the McVitie & Price biscuit business and in 1947 became a Director. The company merged to form United Biscuits, and Laing became MD in 1964 and served as Chairman, 1972-90.
From 1973 to 1991, Laing was Director of the Bank of England. He was Director of the Exxon Corporation , a multinational oil and gas company, 1984-94.
Laing married Marian Clare, daughter of John Emilius Laurie in 1950; they had three sons. Reverend Sir John Robert Laurie Emilius Bayley, 3rd Baronet (16 May 1823-4 December 1917), later Reverend Sir John Laurie, was an English clergyman and amateur cricketer. He was generally known by his middle-name Emilius and changed his surname to Laurie in 1887.
Hector Laing was knighted in 1978 and was created a Conservative life peer as Baron Laing of Dunphail on 8 February 1991. Readers might remember that Feb 1991 was the month in which I was forced out of my job at St George's and ended up in Springfield Hospital, where, unbeknown to me, staff at Springfield were not only facilitating the Westminster Paedophile Ring but were directly in touch with Dafydd, Tony Francis and Lucille Hughes, gathering information about my 'dangerousness', although Dr Robin Jacobson at Springfield was kind enough to write a letter to St Helena Kennedy's pal Prof Nigel Eastman that Dafydd had told Jacobson that I was 'attractive and seductive', that Dafydd was sexually exploiting patients and that Jacobson thought that Tony Francis might be as well. Nigel's subsequent advice to me was to go back to north Wales because Dafydd was my doctor and he knew me no less. Even though, as well as telling Jacobson that I was attractive and seductive and that he and Francis 'had a soft spot' for me, Dafydd had also told Jacobson that I had 'broken into' Dafydd's office and behaved in such a way that Dafydd had 'believed that he would be killed there and then'. I have no recollection of any such incident, but never mind. See previous posts eg. 'Some Very Eminent Psychiatrists From London…'
In Feb 1991, as all the action kicked off in London, two of my friends who knew what had happened to me at the hands of Dafydd and the Gang were forced out of their jobs as well and Lilibet gave Peter Morrison a knighthood. A few more of the Gang's associates bagged honours and promotions in 1991, some of them in February as well.
Hector Laing was also a Fellow of the Royal Society of Edinburgh.
Laing received an Honorary Doctorate from Heriot-Watt University in 1986. The year that my friend Anne Vernon, a PhD student at UCNW, was killed, the year that Gwynne died, the year that Ollie Brooke was jailed and the year that I went to begin my MSc at Hammersmith Hospital – after D.G.E. Wood yelled at me (two or three weeks after Anne died) to leave north Wales, forget about everything that had happened there and make a new life for myself a long way from Bangor. A few months later, in Dec 1986, three days before Ollie was jailed, Dafydd had me unlawfully arrested and imprisoned in the North Wales Hospital Denbigh. See post 'Hey, Hey, DAJ, How Many Kids Did you Kill Today?'. They should have made their minds up as to whether they wanted me in north Wales or not.
Lord Laing died on 21 June 2010 after a short illness.
The Torygraph published an obituary for Lord Laing on 27 June 2010:
Lord Laing of Dunphail, who died on June 21 aged 87, was chairman and life president of United Biscuits, and treasurer of the Conservative Party.
Until March 2012, Martin Stopford sat on the Board of Clarkson plc and was Head of the research arm of the company.  Martin Stopford is an economist who has had careers as a teacher, writer, information provider and business manager. Stopford was born in Bolton, Lancashire in 1947, son of a clergyman. He was educated at Prestfelde School, Shrewsbury and Denstone College, Staffordshire. In 1966 he won an Abbott Scholarship to Keble College, Oxford in 1969 where he studied PPE under Adrian Darby, James Griffin, Paul Hayes and Basil Mitchell. Peter Morrison and Keith Best, the former MP for Anglesey who colluded with the Gang, studied at Keble College, Oxford. Martin Stopford was probably at Keble College when Best was there. Stopford went on to receive his PhD from Birkbeck College,University of London, which he completed in 1979.
Eric Hobsbawm spent most of his career at Birkbeck. It was in 1979 that Hobsbawm gave up his second home at Cwm Croesor and acquired another one in south Wales. Hobsbawm's reason was the hostility that was being whipped up against him and other English second homers by Plaid members. That did happen, but Hobsbawm also made his escape the year that Mr Thrope stood trial and the year that Dafydd and Gwynne unlawfully imprisoned Mary Wynch.
Martin Stopford first became involved with the shipping business in 1971 when he joined Maritime Transport Research, a London-based shipping consultancy. In 1977, Stopford joined British Shipbuilders as Group Economist and 1981 he became Director of Business Development. In 1988 Stopford was recruited by Chase Manhattan Bank as Global Shipping Economist. Then in August 1990, on the day Saddam Hussein invaded Kuwait, Stopford became MD of Clarkson Research, a post he retained for 20 years. In 2004 Martin Stopford joined the Board of Clarksons.
In the late 1970s Stopford started lecturing at Cambridge Academy of Transport and in 1989 he set up the Anatomy of Ship Finance course which he still leads. He also developed the International Commodity Trade and Transport (ICTC) module at the Centre for Shipping, Trade & Finance at CASS set up by Professor Costas Grammenos in 1984. During the first term Martin Stopford added Shipping Economics and taught both courses until the early 1990s.
Stopford is also a Visiting Professor at Cass Business School, Dalian Maritime University, Copenhagen Business School and Newcastle University.
Martin Stopford has two children, Benjamin and Elizabeth. He manages a small organic hill farm in Staffordshire Moorlands.
I have a younger cousin, Martin, with whom I have not had contact for many years, but he was the only other person in my family apart from me who went to university. Martin was very able and ended up doing a degree in physics at Kent University. He was offered a place to do a PhD with Stephen Hawking and was expected to get a First. Martin was very upset when he received a 2:2 and couldn't take up the PhD place with Hawking. He had no idea at all why he had done so much worse than he expected. Martin did bag a very highly paid job instead though, in marine insurance in the City of all things. I don't know how or why, but he'd never shown any interest in such matters before. Martin lived in Dulwich with his girlfriend for a while but he decided that marine insurance and life in the City wasn't for him and became a web developer instead. The last that I heard, years ago, Martin had become a plumber. He got that job in marine insurance during the mid-1990s when the Gang were after my blood.
I don't know the details of Martin's career but he seemed to encounter a few difficulties yet other opportunities which one would never have expected. Since I began this blog I have been told that the Gang were behind all of it, with a bit of help from that bent old barrister and MP Ken Clarke, who also caused havoc in terms of my father's employment at the time. See post 'Jennifer's Diary'. Martin, his mother, my aunties and my grandmother lived just down the road from John Biffen's parents' farm. Ken knew Biffen. Biffen was the Tory MP for Oswestry, went to school with my father and was a member of Thatch's first Cabinet. See eg. post 'A Local Boy Made Good?'. Dafydd's Gang operated in Shropshire and the family seat of the Ormsby-Gores – the Lords Harlech – who are also connected to the Gang and paid the price for tangling with them is near Oswestry. See previous posts.
Ken, are you a bit bonkers?? You were a Cabinet Minister and rather than deal with criminal Top Docs, whom you hated anyway, you actually went to the trouble of nobbling relatives of mine. Could you not have provided that service for Dafydd and a gang of traffickers?
My cousin Martin met his girlfriend, Claude, at Kent University and they seemed to establish a very good relationship, setting up home together when my cousin got that job in marine insurance and bought their place in Dulwich. I didn't meet Claude, but I was shown photos of her and I heard about her. She was, from what I could work out, from a middle class black family but I don't know where from. There was a problem with her father not being happy about Claude getting together with a white man, although Martin and Claude seemed determine to overcome the tensions that this was causing. They eventually split up, after a long time together. I was told that it was Claude's dad, he just became more and more difficult. I have received more information recently…
Ken, don't tell me that you know a man who's daughter went to Kent University…
In 2013, Clarksons plc acquired Gibb Tools, a North sea oil engineering tools supplier, for £12.7 million. In 2015, Clarkson acquired RS Platou AS, a Norwegian headed shipbroking and investment banking group.
Clarksons operations are divided into four areas: broking, financial, support and research. The company brokers vessels for some of the world's largest producers and traders of natural resources. Broking constitutes more than 75% of company revenue. Clarkson Research Services focuses primarily on the collection, validation, analysis and management of data about the merchant shipping and offshore markets. The CEO since 2008 has been Andi Case. William (Bill) Thomas was appointed as Chair on 13 February 2019. The company has its headquarters at Commodity Quay, St Katharine Docks, London.
The website of the Thatcher Foundation can always be relied upon to provide a few gens and here is yet another, Thatch's address at John Boyd-Carpenter's memorial service on 3rd November 1998, during the Waterhouse Inquiry:
'Many of us here today have our own special memories of John Boyd-Carpenter.
Mine go back almost forty years to when I was a very young, new Member of the House of Commons. The House was different then. It was still without dispute the supreme political forum of the nation.
Give us that old time paedophilia…
And it was a forum – perhaps an arena is a better word – in which oratorical prowess, intellectual nimbleness and moral courage were at a premium.
That will explain them keeping this man out of prison, on the Medical Register and in business:
In these things a few great Tory parliamentarians of the day excelled. John Boyd-Carpenter, along with Peter Thorneycroft, Quintin Hogg and Enoch Powell were our models and our heroes.
…Such men had been through the War. They had seen life and suffered some of its heart-aches. Their wits were matched by their wisdom. And it is, I think, no coincidence that all of them were in some degree disappointed in their expectations. In politics too much talent can sometimes be a handicap.
Which explains how these two became Leaders of their Parties and one a PM:
…'[Lord John Boyd-Carpenter] had been elected for Kingston in 1945 and in 1951 achieved his first Ministerial Post as Financial Secretary to the Treasury, an office which his father Sir Archibald Boyd-Carpenter had held before him…
… in 1955 he was made Minister for Pensions and National Insurance, a senior position but still not in the Cabinet. It was in the Pensions Department that our paths later crossed. As a woman in those days it was quite difficult to get into the House of Commons, but once there the very lack of women became a kind of advantage because it was felt that the welfare departments of state benefited from a woman's touch.
Specifically, women who assisted male sex offenders while banging on about having special womanly qualities and Duw sometimes it's hard to be a woman.
…I accordingly found myself made a Junior Minister at John Boyd-Carpenter's Pensions and National Insurance Department…In his memoirs he says that he at first wondered whether my appointment was just one of "Macmillan's gimmicks", though he graciously adds that he later decided otherwise…
John Boyd-Carpenter was a strong Minister with his own ideas, but he was also open to argument from his juniors and his officials.
And no doubt blackmail, bribery and corruption
He was…a man you could trust completely and respect profoundly, in fact, to use an old-fashioned but apt term for an all-too-endangered species, he was an English gentleman.
'Trust me, I'm running a sex abuse gang…'
But one thing that English gentleman-parliamentarians are not is soft.
Which is why they spent so much of their time roughing it at White's, the Garrick and other working men's clubs.
His fierce sparring with the late Richard Crossman – which I witnessed at Pensions in government and later at Housing in opposition – was certainly not for the faint-hearted.
Richard Crossman – the King of the Westminster Swingers who spent most of his time at the opera, at the theatre, at his farm in Oxfordshire or in a variety of London clubs, even when he had the security services and the DHSS to run – and Thatch got on very well with each other. It was another one of Thatch's friendships across the political divide,  even though she wanted to Destroy Socialism Forever
Both men were enormously intelligent and absolutely fearless…
Kids in care and Empowered Service Users being such formidable enemies and needing the might of the entire state to force them to have sex with horrid old men.
The issues at Pensions and National Insurance in those days have a strangely contemporary ring about them. We were constantly worried about expenditure, worried about how to deal with hard cases in a compassionate fashion without opening up new precedents, worried about ensuring that people were provided for in their old age in ways that didn't discourage thrift….But what we now call Social Security is the very best training ground. In this way, John taught and showed me much of what I would have to do in other Departments and eventually as Prime Minister. John spent, in fact, nearly seven long years at Pensions and National Insurance. And he spent a still longer eleven years altogether in Ministerial posts outside the Cabinet, before entering it in 1962 on the "Night of the Long Knives", as Chief Secretary to the Treasury. It was to prove a difficult period, as the government's economic problems grew,
Despite encouraging all that thrift on the part of everyone but themselves
but John Boyd-Carpenter was a "natural" in his new position. He liked the rigorous atmosphere of the Treasury, remembered his time there with affection, and regularly, I understand, wrote to his successors to congratulate them…
Previous posts, including 'The Naked Civil Servants', discuss how many mandarins facilitated Gwynne and the Gang as well as the wider Westminster Paedophile Ring throughout their entire careers. Many of them had served in the Treasury before moving to Health and Social Security.
the regular requirements of his office were supported by a strong personal conviction that government is servant and not master, that the wealth of a country fructifies in the hands of the people not of politicians, and that the best answer to most requests for more expenditure is "no".
I said no to Gwynne and Dafydd and no-one could cope with that at all.
I soon began to like the work at the Department, particularly parliamentary confrontations… Anyway, in spite of regaining a good deal of the ground conceded earlier, the Conservatives lost the 1964 election and so John lost his post as Chief Secretary. He was never in fact to hold high office again… For my part, I had the great pleasure of working with him once more when he shadowed Housing in Opposition. My role was to oppose the setting up of Labour's Land Commission. And, as I recall, we were even then trying to reform the rates: some things don't change!
…John Boyd-Carpenter was dropped from the Shadow Cabinet. He did not pretend to appreciate this, but neither was he a man who held grudges. He got on with life as a back-bencher and enjoyed it, making an extremely important contribution as Chairman of the powerful Public Accounts Committee… he put the skills he had acquired in his earlier Ministerial portfolio at Transport to good use as chairman of the newly created Civil Aviation Authority
He became a successful businessman, and he went on to make many stimulating contributions in the House of Lords, as I learned for myself when I took my place beside him there.
By the time that Thatch got to the Lords, the bad feeling towards her was so great that some of her old Cabinet Ministers would make a point of walking out. Trumpers boasts of being so appalled at this that she made a point of sitting next to Thatch until Thatch wanted to leave. Here is Trumpers communicating with Lord Tom King, the former MP for Bridgwater, who has a great deal of explaining to do:
John Boyd-Carpenter's career was a long and distinguished one…Politics was always his first professional interest. It ran in his blood, as it ran – and has continued to run – in his family's… 
...John had something with deeper roots entirely – he had his Christian faith. His grandfather had been a bishop, and so perhaps he knew how to deal with the bishops who later contemplated closing the little church where John served as Church Warden for forty years… Let me just express the personal conviction that John Boyd-Carpenter was a good politician because he was a good man, and that he was a good man because he was a good Christian.
Here's that good Christian, George Thomas:
Another Good Christian who doubled up as a sex offender and enjoyed protection was Bishop Peter Ball, who sheltered under the wing of Carlo and even lived in a house provided by Carlo after Carlo was made aware of the allegations – which were indeed true – that Ball had sexually assaulted people.
Those good Christians the Bishops of Bangor Gwilym Williams and Cledan Mears were good pals with Dafydd and Gwynne. In 1984, Dafydd was invited by Cledan Mears to be the keynote speaker at a public meeting in Bangor called by Cledan in the face of the explosion in the use of class A drugs in Gwynedd. Brown and I attended that meeting, not having encountered Dafydd before then and it was certainly an experience. Dafydd talked his usual nonsense, a corrupt intimidating police officer was on the platform with Dafydd and Cledan Mears silenced the one person in the audience who sounded as though she actually knew something about class A drugs. Whether she knew that it was Dafydd himself who was directly responsible for the class A drugs explosion in north Wales in the mid-1980s I don't know. See post 'Amber Rudd, The Miners' Strike And A Memory Jogged'.
Dafydd addressed the good Christians of the Welsh Baptist Union in 1971 and explained to them that learning Bible verses as a child in Welsh could protect against 'a serious moral collapse' in later life. Presumably Dafydd didn't learn enough of those verses or he learned them in the wrong language. See post 'A Serious Moral Collapse'.
…he honoured the memory of his grandfather, the bishop of Ripon; he was obviously influenced in his choice of career by that of his father, the Conservative MP; and (I understand) he inherited something of his force of character from his Yorkshire mother.
The big ring in Yorkshire which was linked to Dafyfdd and Gwynne – Jimmy Savile – Audrey Callaghan was from Yorkshire and provided cover – Leon Brittan was an MP for a Yorkshire constituency and was succeeded in his seat by William Hague… See previous posts. John Boyd-Carpenter's father Archibald was based in Yorkshire and held public office in the region.
But I can personally vouch for the influence of his wife Peggy. As a young politician I was sometimes invited to enjoyable dinner parties at the Boyd-Carpenters by these two perfect hosts….
I began by linking John Boyd-Carpenter with a particular generation of Tory MPs. And for all John's powerful individuality, that is undoubtedly so. It is difficult precisely to know what made these men so outstanding.
They weren't. Lies were told about them.
The War, as I've mentioned, was certainly one influence. But there was also a seriousness about politics in those years that drew out the best in people. It was clear that there were great issues at stake both at home and abroad. On both sides of the political spectrum there was whole-hearted engagement in a battle of ideas about the nation's, and indeed the world's future. Yet at the same time men like John Boyd-Carpenter had the moral depth and balance to conduct their debates and live their political lives according to the abiding values with which they'd been raised, codes of behaviour which were almost second nature to them.
Without wishing to sound too nostalgic, I am inclined to doubt whether we shall see their like again…
There was a running theme which ensured the continuity of dreadful conduct unto the next generation of the House:
Previous posts eg 'The Naked Civil Servants' discusses the careers of some of the mandarins most culpable with regard to knowingly concealing the criminality of Dafydd, Gwynne and the Gang, over many, many years, as they moved higher up the ladder and between different Gov't Depts. Sir Edmund Compton was one who gave Gwynne and Dafydd outstanding service and was remembered for his encyclopaedic knowledge and his helpfulness by John Boyd-Carpenter when Boyd-Carpenter was Chair of the Public Accounts Committee. Compton had been at New College, Oxford with Richard Crossman and they had both learned at the knee of H.A.L. Fisher, who was in Lloyd George's Gov't and was a friend/relative of the Welsh Bloomsbury Set who hung out at Cwm Croesor and utilised the services of Gwynne. See post 'The Vermin Club'.
John Boyd-Carpenter married Peggy in 1937. Boyd-Carpenter's son Sir Thomas Patrick John Boyd-Carpenter (born 16 June 1938) served as Deputy Chief of the Defence Staff (Programmes and Personnel) 1992-96. Like his father, Thomas was educated at Stowe School. In 1957, Thomas Boyd-Carpenter was commissioned into the Scots Guards. He became commanding officer of 1st Battalion Scots Guards in 1979, Commander of 24the Infantry Brigade in 1983 and Director, Defence Policy at the MoD in 1985. Thomas went on to become Chief of Staff at Headquarters of the British Army of the Rhine in 1988, Assistant Chief of the Defence Staff (Programmes) in 1989 and Deputy Chief of the Defence Staff (Programmes and Personnel) in 1992 before retiring in 1996.
In retirement, Sir Thomas became Chairman of the Kensington & Chelsea and Westminster Heath Authority and then Chairman of the Moorfields Eye Hospital NHS Foundation Trust. Which brings us back to John Dunwoody…
Sir Thomas also became President of the Berkshire Royal British Legion.
Lord John Boyd-Carpenter's family interbred with the Hoggs when Boyd-Carpenter's daughter Sarah mated with Douglas Hogg, 3rd Viscount Hailsham That bit of selective breeding was a grander version of the crossing of the Bentall line of Hammersmith Hospital/Kingston-upon-Thames with the Jones line of Bangor University/Gwynedd and Anglesey.
Sarah Hogg's finest hour was on Black Wednesday, 16 Sept 1992 , when the economy began unravelling and no-one in John Major's Specialist Unit knew why it was happening or what to do about it. Ken Clarke, Norman Lamont and their Bright Young Aide David Cameron were clueless and panicking. Sarah Hogg kept her head and blamed it on the Bank of England, stating that they should have seen it coming. See previous posts. Sarah the economic adviser didn't, but then she was just being paid to assist with the management of the economy so it wasn't nuffink to do with her. After such a stellar performance it is not surprising that Sarah is a Baroness Hogg in her own right and not simply because she married a Baron Hogg.
Douglas and Sarah's daughter Charlotte Hogg was previously in charge of retail operations at Santander UK. When Prof Fergus Lowe was causing havoc at Bangor University while Merfyn the VC was off on compassionate leave caring for his dying wife (see post 'Lest We Forget'), one Fungus-initiative was a revamping of the University library. Imagine my surprise when the revamping didn't include any more academic resources; it didn't even involve a Costa Coffee branch which Brown told me was favoured by some universities in terms of library development. Instead a branch of Santander arrived in the library, indeed it took pride of place, occupying much space and it robustly advertised its services to students. Not long after, Santander explained that as part of their interest in Bangor University they would be offering scholarships to students. I am someone who sees nothing wrong with benevolent people offering to support students, but this was a rapidly expanding bank with aggressive business practices.
I and a few others were a bit worried at these developments and we thought that perhaps it was something to do with the dreadful John Thornton, Professor of Global Finance at Bangor Business School, formerly the Director of the Western Hemisphere at the World Bank, who's recommendation re regenerating the Welsh economy was to turn Wales into a tax haven a la the Isle Of Man. See comments following my post 'Jehova, Jehova, Jehova'.
I had no idea that Charlotte, daughter of Douglas who had years previously been at the scene of many crimes with regard to UCNW/Bangor University, who in turn was the son and heir of Quintin who had been at the scene of even more crimes re UCNW, was responsible for 'retail operations' at Santander.
During the period of time that Sarah's dad Douglas propped up the serious organised crime of the Gang in his capacity as a Home Office junior Minister, 10 Sept 1986-26 July 1989, Fungus Lowe overthrew Dafydd's influence in the Dept of Psychology at UCNW, replaced it with his own toxic brand and subsequently built an empire based on dealing with and indeed blackmailing so many of those who had colluded with Dafydd and Gwynne, Gwynne having died either just before, or just after, Douglas arrived at the Home Office.
As the War On Merfyn Jones the VC escalated from No 10, Lord Mervyn Davies was appointed as the Chair of Council at Bangor University. Lord Davies is from Gwynedd, a Labour politician and a banker no less. He went to Rydal School, which has educated all sorts including Ken Barlow. There have been historical investigations into the sexual abuse of boys at Rydal.
Mervyn Davies was Chairman of Standard Chartered PLC, Nov 2006-Jan 2009, having been Chief Executive, 2001-06 and a Director since 1997. The Standard Chartered that can be traced back to Lord Aldington's domain… Since 2010, Davies has held executive roles on the board of Corsair Capital LLC where he is the Chairman and a partner, a private equity investor. Davies is also a non-executive Director of Diageo. From 2014, Davies was Chairman of Jack Wills. In August 2016 Sky News reported that Davies was to stand down as Jack Wills was taken over in a private equity transaction involving Bluegem taking a minority stake in the company, following reported losses.
In November 2013, Mervyn Davies became Chairman of the Garden Bridge Trust. The bridge was intended to be built largely from privately donated funds, but on 26 July 2016 the BBC reported that Davies had approached the Secretary of State for Transport seeking an extension of a £15m government underwriting commitment until September 2017. £37.7m had been spent on preliminary works, but construction of the bridge had not started and was being delayed until the autumn of 2016. However, the project was subsequently further delayed and construction of the bridge did not start in 2016. In January 2017 the Garden Bridge Trust lodged its accounts with Companies House but was unable to classify itself as a going concern, due to uncertainties about the funding and planning permissions needed for the bridge. Davies insisted that the Garden Bridge Trust expected to start construction "in 2017", but the project was scrapped in August of that year, having spent taxpayers' funds of £50m.
In May 2015 Davies was appointed Deputy Chairman of the LetterOne Group, an investment business in the energy, technology and telecom sectors. He is currently the non-executive Chairman of the Board of Directors of both L1 Holdings and L1 Investment Holdings.
Mervyn Davies was made a life peer in 2009, with Ministerial posts in the Foreign & Commonwealth Office and in the Department of Business, Innovation and Skills. He later held posts in Business, Enterprise and Regulatory Reform and in Trade, Investment and Small Business. Mervyn Davies was in one of those posts when Gordon Brown was PM, but left very quickly, so quickly that there was media discussion as to why, but no-one ever knew. I was still working at Bangor University when Lord Mervyn was hired and fired again by Gordon. A member of staff suggested that Gordon was so dodgy that Lord Mervyn may have found his Gov'ts practices unacceptable. I don't know anything about Lord Mervyn's own practices so I can't comment. I have recently been told that I was made redundant from Bangor University because of Lord Mervyn's influence.
I don't know Lord Mervyn, I have never spoken to him. But previous posts have discussed how Gordon's mates like Lord Jack McConnell gained power in the Scottish Labour Party because they were at university with my friends and in turn Gordon fed off them, the Gordon who was mates with the Hobsbawms and Uncle Harry's nephew.
It was of course Peter Mandelson who presided over the Dept of Business, Enterprise and Whatever – it was a ruse of Gordon's to put Mandy in charge of everything – and Mandy's right-hand woman at the time was a civil servant who began life as a lawyer, who grew up on Anglesey and went to Ysgol David Hughes. Her dad was Ron Evans, the crooked lawyer employed by Gwynedd County Council and Brains behind the fitting up of witnesses, including me. I have copies of Ron's forged documents, they are of a superior quality to those forged by Alun Davies and others, Ron has remembered to post-date them, add an office stamp so that it looks as though they have been received through the appropriate channels etc. I also have copies of notes that Ron sent to Gwynedd Health Authority and Gwynedd Community Health Trust re their efforts to frame me. Andrew Park, the crooked lawyer at the Welsh Office, deferred to Ron's superior corrupt techniques and took advice from him. Ron was a sharp little bunny, when he wanted to ensure that my barrister didn't arrive at one High Court case in time for me to instruct her, Ron arranged for her not to be told that they'd rigged the case and I'd been re-scheduled for a different Court and a different judge; Ron informed his side, but not ours, of the change of venue by leaving a little handwritten message on their copies of the official letters but not ours.
Ron's wife was a lecturer in  the School of History at Bangor University, the School in which Merfyn was Chair. Ron's wife was friends with the Drs Francis. She did know just how serious the crime was, she told me – not knowing who I was – that when the investigations began into the North Wales Child Abuse Scandal, Ron told everyone that they must never ever tell anyone what they had done because it was so serious and so inexcusable that they would all be in prison for a very long time if the truth ever leaked out. Ron was one of the lawyers who appeared at the Waterhouse Inquiry, when They All Lied To Get Compensation.
Ron's wife Dinah is a magistrate in Gwynedd. The Head of the School of History now is (or was) Prof Andrew Edwards, who is also the Dean of the Arts Faculty at Bangor. Andrew is a former policeman who served with the North Wales Police when everyone Lied To Get Compensation.
My post 'The Joys Of Propaganda' discussed a Powerful Woman In The City, Alison Brittain and her links with people who knew what happened to my friends and I at the hands of the Gang as well as the many involved in concealing it or filling their boots by keeping quiet because ooh this goes as high as Lord Jack McConnell and Gordon Brown you know. Alison made media headlines in 2015 when it was announced that she was to be the next CEO of Whitbread, Whitbread being the company that was at the centre of a scam to provide good PR to the Gang and their Jimmy Savile branch in 1988 by awarding a prestigious literary prize to an Angel member of the Gang and constructing him as an undiscovered genius.
After graduating from Stirling University, shortly after my friends studied there when Jack McConnell led the Students' Union at Stirling, Alison Brittain joined Barclays as a graduate trainee and worked there for 19 years. She joined Santander UK in 2007, then Lloyds Banking Group in 2011. Which sort of places Alison at the scenes of more than a few crimes. I also suspect that Alison's path may have crossed with that of Lord Mervyn Davies.
Lord Mervyn Davies: grew up in Pwllheli, went to school at Rydal, followed a career in the City surrounded by crooks who were propping up Dafydd and the Gang by acting as Directors of City businesses while they doubled up as Cabinet Ministers facilitating the Gang. As did Lord Mervyn until Gordon gave him the boot.
I don't know why Gordon kicked Pwllheli's answer to Biggus Dickus in the knackers, but I've just done it again. I had a gun waved at me Biggus you big wazzock, surely even your bum on a chair somewhere in The Very Big Bank Of America isn't worth children being filmed having sex with animals for porn purposes, victims of sexual assault being kept in a dungeon, others being brain damaged or dying as a result of a butcher lobotomising them or being killed by a firebomb. How fucking stupid are you??
Previous posts have discussed Edward du Cann who for many years was the Tory MP for Taunton and was hated by my Tory activist grandfather on the grounds that du Cann was a crook. Grandpa denounced du Cann as a crook sometime before du Cann was exposed as a crook. It didn't stop du Cann, the crooked business practices continued, businesses came and went and everyone lost their money except du Cann. du Cann's grand house Cothay Manor was frequently under threat of repossession but du Cann managed to retrieve it even when the bailiffs were on their way. Most impressively, du Cann managed to be declared bankrupt in the Court in London yet the bankruptcy was discharged literally with days and du Cann was back in business again before most people even realised that he had been declared bankrupt. Du Cann was assisted by the usual techniques, companies that only existed for a short while with no identifiable people responsible and solicitors firms that came and went, practices were so sharp it was impressive, as explained in previous posts eg. 'Conference At Cold Comfort Farm' and 'Hearing Voices'.
I have previously blogged about my father being swindled by Harold Macmillan's son Maurice during 1962-63 and subsequently receiving correspondence from Theodore Goddard – whom I later found out were Bertrand Russell's solicitors, used by Bertrand for banging people up on the grounds on their insanity when they had pissed him off – who seemed to be representing a load of gangsters trying to get my father on board. See eg. 'Shurely Shome Mishtake'. Very recently I was told that the business with Maurice Macmillan was a revenge attack on my father for grandpa pissing off du Cann and his buddies and that the Gang received much support for their attack on me years later for the same reason. du Cann was still very much alive and swindling when the Gang came after me. Dafydd and Gwynne were mates with crooked politicians as far back as Harold Macmillan who were in Gov't with du Cann.
Edward du Cann was elected as MP for Taunton in 1956. Auberon Waugh, who knew about the Gang, the Westminster Paedophile Ring and took the piss but never exposed them, presumably because of his commitment to the Tory Party, the Establishment and the Roman Catholic Church, was one of du Cann's constituents. du Cann served as the Economic Secretary to the Treasury from 1962 and as a Minister of State at the Board of Trade, 1963–64. Dafydd's mate Selwyn Lloyd was Chancellor for the first seven months of 1962 and then the crook Reginald Maudling who was in business with Dafydd's partners in crime took over in July in 1962. So du Cann was working with a pair of charmers there. Frederick Erroll, one of the Gang whom I discussed in my post 'Holding The Country To Ransom – Part II', was President of the Board of Trade, 9 Oct 1961-20 Oct 1963 and was succeeded by Ted Heath. Erroll was the Tory MP for Altrincham and Sale, 1945-65, part of the Gang's Cheshire turf, who was educated at Oundle School a la Sir Clough and so many other Big Mates of the Gang, as well as Trinity College, Cambridge. Erroll's business interests provided the Gang with huge power and contributed to the many knots that the Gang already had everybody tied up in. Erroll was the Chairman of Consolidated Gold Fields, so once more Dafydd and Gwynne were wielding a big stick, in the shape of one of their accomplices being involved in a South African gold mining company as most politicians in the UK opposed apartheid and then there were those negotiations to have Mandela released. The Gang's supporters on the left decided that took such priority over the abduction and sexual assault of kids and the murder of witnesses that the serious organised crime spiralling out from Dafydd and Gwynne was propped up by the British state. Perhaps someone should have arranged for Nelson Mandela to have served his sentence in the North Wales Hospital, Denbigh, there might have been a bit more interest shown in the poor sods imprisoned in Dafydd's Denbigh Dungeon then. See previous posts.
So du Cann learned at the knees of the best and way back then made many useful contacts whom he could later blackmail should they refuse to play ball with him. All paths led to Dafydd and Gwynne.
'Conference At Cold Comfort Farm' discusses how du Cann reared his head in the media on 18 July 1995, declaring that he was disgusted with the state of the Tory Party and that someone needed to do something. John Major was Leader at the time and William Hague was Welsh Secretary. There was havoc in north Wales and demands for a Public Inquiry re child abuse. Hague had supposedly not decided to hold one by July 1995, but Ronnie Waterhouse had altered his retirement plans and seemed to know that he would be Chairing such an Inquiry. See previous posts eg. 'Heart Of Darkness'. In July 1995, the Gang were at an advanced stage (but I didn't know that) re their plans to have me declared dangerous and sent to live with Jimmy Savile.
At Bangor University, in 1994 the Principal Prof Eric Sunderland suddenly announced his retirement despite being in good health, living another 20 years and continuing his career in public life and involvement with the University until he died. Prof Roy Evans, a paedophiles' friend from Cardiff University, succeeded Eric as Principal. Gwynne and Dafydd's mate Sir William Mars-Jones stepped down as President of Bangor University in 1994 and the Windbags' bestest mate Lord Cledwyn, the former MP for Anglesey, succeeded him. See previous posts.
I will ask readers to read 'Conference At Cold Comfort Farm' once more, but here are a few important points.
Du Cann succeeded Duncan Sandys as Chairman of Lonrho in 1984. Edwin Duncan Sandys, Baron Duncan-Sandys (24 January 1908-26 November 1987) was Churchill's son-in-law who behaved very badly indeed towards the osteopath Stephen Ward who was the scapegoat for the Profumo Affair, being put on trial for offences re procuring prostitutes and then committing suicide – if indeed he did die by his own hand – during the trial. See previous posts. Sandys was a patient of Ward's and was good mates with him until the scandal blew up and then it was a case of Sandys never having heard of Stephen Ward.
Sandys was born in Dorset, the son of George John Sandys, a Tory MP (1910–1918). The Jurassic coast in Dorset is famous for its fossils:
Sandys was educated at Eton and Magdalen College, Oxford. He entered the diplomatic service in 1930, serving at the Foreign Office in London as well as at the Embassy in Berlin. Sandys was the Tory MP for Norwood, 1935-45 and for Streatham, 1950-74. The south London trafficking ring facilitated by St George's and Springfield Hospitals and Wandsworth Borough Council operated in Streatham. Streatham was the location of Cynthia Payne's notorious brothel at Ambleside Avenue, which was used by peers, police officers, bishops, Gov't Ministers, judges, lawyers etc. Top Docs from St George's were in there when the police raided as well but that received no media coverage. The problem with Cynthia's brothel wasn't the matter of it being a brothel, it was that it also served as a networking opportunity for people in high places who weren't only interested in sex with consenting adults. See previous posts eg. 'The Most Dangerous Man In The World – Part III' for more info on Ambleside Avenue and the Streatham circle. Dafydd's Gang were directly involved with the south London ring, their mate John Tilley, a Wandsworth Councillor who then became the Labour MP for Lambeth Central, arrived in south London in the late 1960s to drum up business and co-ordinate it. See post 'Lord Snooty The Third'.
Sandys was an officer in the TA for the first few years of his service in his father-in-law's Gov't. Sandy's Gov't career can be summarised as:
Coalition Government (under Churchill)

20 July 1941 – 7 February 1943, Financial Secretary to the War Office
7 February 1943 – 21 November 1944, Parliamentary Secretary, Ministry of Supply
21 November 1944 – 25 May 1945, Minister of Works

Caretaker Government (under Churchill)

25 May 1945 – 26 July 1945, Minister of Works

Conservative Government (under Eden, Macmillan and then Douglas-Home)

31 October 1951 – 18 October 1954, Minister of Supply
18 October 1954 – 13 January 1957, Minister of Housing and Local Government
13 January 1957 – 14 October 1959, Minister of Defence
14 October 1959 – 27 July 1960, Minister of Aviation
27 July 1960 – 13 July 1962, Secretary of State for Commonwealth Relations
13 July 1962 – 16 October 1964, Secretary of State for the Colonies and Commonwealth Relations
While a Minister, Sandys was Chairman of a War Cabinet Committee for defence against German flying bombs and rockets. Sandys was responsible for establishing the European Movement in Britain in 1947 and served as a member of the European Consultative Assembly 1950-51. When Minister of Defence, Sandys' policies were responsible for lost orders and cuts in research, resulting in several British aircraft manufacturers going out of business. 
Sandys was not offered a post when the Tories won the 1970 General Election, but instead served as leader of the UK delegation to the Council of Europe and Western European Union until 1972 when he retired.
In 1974 Sandys retired from the Commons and received a life peerage, becoming Baron Duncan-Sandys.
Sandys was an active early member of the Monday Club.
Among Sandys' interests was historic architecture. He formed the Civic Trust in 1956 and was its President; the Royal Institution of British Architects made him an honorary Fellow in 1968 and the Royal Town Planning Institute made him an honorary member. Sandys was also a Trustee of the World Security Trust.
Between 1969–1984 Sandys was President of Europa Nostra and acted for the preservation of the European cultural and architectural heritage.
Sandys' business activities included a Directorship of the Ashanti Goldfields Corporation, which was later part of Lonrho of which he became Chairman. Sandys was caught up in the scandal in which Lonrho was revealed to have bribed several African countries and broken international sanctions against Rhodesia (Sandys was a supporter of Ian Smith) as well as the what Ted Heath called the "unpleasant and unacceptable face of capitalism" episode in 1973, in which eight Directors of Lonrho tried to have Tony Rowland, the Chief Exec of Lonrho, 1962-94, removed from his position after they alleged that he had concealed financial information from the Board. Rowland went to the High Court in an attempt to defend his position; he lost the case but remained as Chief Exec anyway as a result of receiving the backing of shareholders. The Directors who had tried to have Rowland removed were the ones who ended up leaving their positions.
In 1935, Duncan Sandys married Diana Churchill, daughter of Wiinston, before Winston became PM. They divorced in 1960, so Dafydd and Gwynne will have had a bit of time to make friends with the lovely couple and of course Dad.
We fought them in the telephone boxes of north Wales and on one occasion of Newcastle… Never in the field of human conflict have so many been entertained by so few. 
Sandys' wife Diana had several nervous breakdowns. In 1962, she began working with the Samaritans. In 1963, she died, at age 54, from an overdose of barbiturates. A coroner later concluded that the death was a suicide. Diana is buried with her parents (who both outlived her) and siblings in Oxfordshire.
In 1962, Sandys married Marie-Claire (née Schmitt), who had been previously married to Robert Hudson, 2nd Viscount Hudson. The marriage lasted until Sandys' death.
It has long been speculated that Sandys may have been the 'headless man' whose identity was concealed during the (then considered) scandalous divorce trial of Margaret, Duchess of Argyll, in 1963. Why anyone continues to obsess about the presumed oral sex between the Duchess of Argyll and whoever it was when there were 12 year old boys being gang raped by Dafydd and Gwynne's customers on a regular basis and a load of other victims in a dungeon at Denbigh until at least the 1980s I cannot understand.
Duncan Sandys died on 26 November 1987 at his home in London. Dafydd's Denbigh Dungeon was still in operation.
Sandys' children from his first marriage to Diana Churchill were:
The Hon. Julian Sandys (19 September 1936 – 15 August 1997)
The Hon. Edwina Sandys (born 22 December 1938)
The Hon. Celia Sandys (born 18 May 1943). She married firstly Michael Kennedy and secondly Dennis Walters (divorced 1979).
From his second marriage to Marie Claire Schmitt: The Hon. Laura Sandys (born 5 June 1964), who was the Tory MP for South Thanet, 2010-15 (see previous posts).
Diana and Duncan Sandys' daughter Edwina Sandys is a sculptor who married stockbroker Piers Dixon in 1960; they were divorced in 1970. Piers Dixon was the Tory MP for Truro, 1970-74, preceding David Penhaligon, the Liberal MP for Truro, 1974-86, who died an untimely death in a car crash on 22 Dec 1986, some 9-10 days after Dafydd unlawfully imprisoned me at Denbigh and some 7-8 days after Ollie Brooke was jailed. Previous posts discussed David Penhaligon, a long standing West Country Liberal whom many hoped would become their Party Leader.
Jeremy Thorpe
That car crash put an end to such dreams, although it gave David's newish research assistant Matthew Taylor a wonderful opportunity, because Matthew succeeded David as the MP for Truro! Matthew is now in the Lords, although he's never been a giant of politics and no-one much has heard of him. See previous posts.
Edwina and Piers have two sons Mark Pierson Dixon (b. 1962) and Hugo Duncan Dixon (b. 1963). Hugo went to Eton and Balliol and became a financial journalist. I recommend that readers have a quick look at Hugo's career progress and the unfathomably large sums of money that he has acquired via his financial journalism.
Piers Dixon married four times. His second wife was Janet, Countess of Cowley. In 1984, Dixon married Anne Olivia Cronin, daughter of John Desmond Cronin, a Top Doc and Labour MP; they had one son, Piers Alexander Jago. In 1994, Piers Dixon married Ann Mavroleon, daughter of John Davenport.
Piers Dixon died in March 2017. His former father-in-law – whom Piers acquired in 1984, the year that I complained about Gwynne and the Gates Of Hell opened – John Desmond Cronin (1 March 1916-3 January 1986) was born in Shimla, the summer capital of India in the days of the British Raj. His father, John Patrick Cronin (1889–1952), a Director of Lever Brothers', was Lord Leverhulme's representative in India and later Chairman of Horlicks, Australia. Previous posts have discussed the association between Dafydd and the Gang and Philip Lever, Lord Leverhulme and how Prof Fergus Lowe made excellent use of his knowledge of this and thanks to funding from Unilever, transformed the School of Psychology at Bangor from a derelict house containing a few mediocrities of paedophiles' friends and a handful of PhD students, one of whom was Dafydd's daughter, into a globally leading huge academic powerhouse with numerous US professors headhunted at great expense. The paedophiles' friends remained and Fungus simply added to the problem. See eg. 'Feet In Chains'.
Cronin's family returned to their home in Highgate, London in 1919. In 1929, the family near Totteridge in North East Finchley. Totteridge hosted the family home of Vanezza Feltz when she was growing up, Vanessa who married a Nice Young Doctor and became a TV star just when the Gang needed good PR. The local MP was Reginald Maudling. See post 'Dates For Your Diary'.
Cronin was educated at St Aloysius' College then Hodder House, the prep school for Stonyhurst College in Lancashire and then Stonyhurst.
Cronin trained at Bart's and was the Resident Surgeon at Grimsby and District Hospital, 1940-41. Cronin became surgical registrar and surgeon in the Emergency Medical Service at the Royal Free Hospital. He served in the RAMC during the 1940s, took part in the Normandy landings in 1944 and later worked as a surgeon just outside Caen. He was then posted to India and then served in Burma. He returned to England in 1946 to live in Regents Park Road and had at that time a Harley Street practice. In 1947, Cronin was appointed as assistant orthopaedic surgeon at the Prince of Wales Hospital later. In 1948, he was appointed orthopaedic surgeon at the French Hospital.
John Cronin became an expert in industrial injuries and from the 1950s he was regularly an expert witness in personal injury cases. He was a founding Director of Racal Electronics Ltd 1965-1986.
In 1948, Cronin joined the Labour Party. He became Vice Chairman of the North St Pancras Labour Party in 1950, and was a member of London County Council, 1952–55. In 1955, Cronin was elected MP for Loughborough, on the turf of the sex abuse ring in Leicestershire which by the 1960s, had linked up with Dafydd and co and indeed all the other rings in the UK. Think Greville and Greville's dad Barnett, who was in the Commons with Cronin. See previous posts.
Cronin was a close friend of Hugh Gaitskell and Woy. In 1964, Cronin wrote a report for Harold Wilson, in which he argued for the Ministries of Shipping and Aviation to be combined. Wilson agreed and the result was that both Ministries were combined and become known as the MoD.
In 1965, Cronin was offered a peerage; he turned it down and continued to represent his Loughborough seat until 1979, when he lost it to the Tory Stephen Dorrell. Who succeeded Virginia Bottomley as Health Secretary on 5 July 1995, when there was havoc in north Wales and Sir Edward du Cann thought that he might have a lot to tell, decided that he didn't and soon found himself once again a wealthy man living in Cyprus.
In 1984 – GWYNNE!! – Cronin became a member of Brooks' having been proposed as a member by Woy. Cronin hunted, regularly rode Household Cavalry horses in Hyde Park, played polo, squash and tennis. Cronin was an enthusiastic yachtsman – a member of Hampshire's Royal Lymington Yacht Club and was Commodore of the House of Commons Yacht Club. Cronin's yacht, named 'Hardie' after the founder of the Labour Party – It's All For The Poor! – was a 17 ton Bermudian rigged sloop and won the Cowes to Cherbourg race with Cronin at the helm. 'Hardie' was far from the only thing associated with Cronin that was rigged.
John Cronin married Cora Mumby-Croft and they had three children, the first being Anne Olivia, born in 1942, who married Piers Dixon, Tory MP and son of Sir Pierson Dixon, GCMG, Ambassador to France, 1960–64. Pauline Margaret Cronin was born in 1944 and married Stephen Clarke, the son of Bernard and Doris Clarke. Charles John Cronin was born in 1961 and married Jane Hockey; Charles served on Westminster City Council as a Tory, 1998- 2002. See previous posts for details of Westminster City Councillors who were facilitating the Westminster Paedophile Ring and of course Dame Shirley Porter…
Here's Cronin, concerning himself over the matter of The Poor:
John Cronin died on 3 January 1986, aged 69, whilst out riding in the New Forest. In the late afternoon his horse returned home without him. He was found dead on a forest path. A post mortem later found that he had died of a massive heart attack and a stroke.

du Cann was forced to resign as Chairman of Lonrho in 1991 as a result of his role as Deputy Chairman of Homes Assured, a finance company which crashed. His resignation came two days before the company collapsed, owing £10 million. The Serious Fraud Office began an inquiry. Du Cann was involved in several legal disputes over debts. Cothay Manor was repossessed in 1992 and du Cann's London flat in Westminster was repossessed in 1993. In 1985-86, the Eagle Star insurance company began proceedings three times to repossess Cothay Manor. Between 1980 and 1993 there were at least seven writs against du Cann for late payment of bills, including failure to pay water rates, to pay commission on the sale of a yacht, to keep up his mortgage payments and to clear a £137,000 overdraft. du Cann left Somerset and lived for several years in Alderney on the Isle of Wight.
du Cann got his filthy paws on money again and again and called on assistance from friends in high places throughout the years of my battles with the Gang. D.G.E. Wood's family were Top Doctors based in Bristol. The Gang's partner in crime in Gov't, David Hunt, had read law at Bristol University when Wood was at Bristol Medical School and had worked for the Tories in the West Country before succeeding Dafydd's mate Selwyn Lloyd as the Tory MP for the Wirral. David Hunt was called upon to act as Secretary of State for Wales (again) just for a few days, 26 June 1995-5 July 1995, (succeeding John Redwood and preceding William Hague) as the crisis escalated in north Wales and lies were told about Dafydd retiring and the North Wales Hospital closing down. Then there were all those deaths of key witnesses in July 1995 and Brown being sacked….
On 25 March 1993 du Cann told the media that within days his solicitors would be applying to have a bankruptcy order made in the London Bankruptcy Court on 12 March 1993 against him lifted. Because of that order, an Inland Revenue petition for unpaid taxes became a formality on 25 March 1993 and was automatically dismissed at a brief private hearing before Registrar Geoffrey Pimm in London on 25 March 1993. Both the Inland Revenue and the law firm who had requested du Cann's bankruptcy had filed their petitions in Jan 1993.
An article in the 'Sunday Herald', 18 July 1995, about du Cann mentioned his long and glorious life – he was by then 71 yrs old – his service in the Royal Naval Reserve in the 1940s, his former close relationship to Ted Heath and his numerous dodgy deals and friendships with the rich and famous. It was explained that du Cann's wife had recently died, that du Cann was living on the Isle of Wight in reduced circumstances and was unhappy at the way that the Tory Party was 'being run'. Du Cann told the 'Sunday Herald' that he had a lot to tell and he would be telling it.
Du Cann never did tell anyone anything, or at least if he did, whatever he told them received no publicity. He then found himself in possession of a great deal of money.
In Oct 2013 the 'Cyprus Mail' ran a feature on a long forgotten elderly English gentleman who had been living in Cyprus for the last 12 years and who's previous as the Chief Exec of a a wine company with vineyards in the south of France had prompted him to 'invest' in Cyprus vine yards years previously. It was Edward du Cann. Du Cann told the 'Cyprus Mail' that he used to regularly visit the south of France to 'inspect the vine yards'. John Allen owned a villa in the south of France to which he took kids from the children's homes of north Wales 'on holiday'. Dafydd was a regular in the south of France as well, he 'held clinics' there.
So it looks as though du Cann rolled up in Cyprus with much dosh to invest in vine yards just after the publication of the Waterhouse Report.
I need to mention Lord Charles Hill here. Charles Hill has featured in previous posts eg. 'BMA Calling, BMA Calling' and 'The Naked Civil Servants' but I want to flag up a few more things. Charles Hill was a huge pain in the bum wherever he went, a sort of Dr Death whom PMs wanted on board because Hill was a Top Doctors' Leader, but Hill would then cause havoc. Hill found fame as the 'radio doctor' during WWII, when he was employed to broadcast to the nation in a Lord Haw-Haw manner. Hill was employed to do the broadcasts because the Gov't thought that he would not be suspected of propaganda because he was a Top Doc. When he was PM, Harold Wilson appointed Charles Hill Chairman of the BBC, 1967-72, a move that infuriated Richard Crossman (or so Crossman noted in his 'Diaries') as Crossman viewed Hill as a pompous idiot who would stifle the BBC. Hill's presence as Chairman of the BBC would of course do the very opposite; Hill's colleagues were facilitating the Westminster Paedophile Ring and they were busy in the BBC as well. Richard Crossman did know that.
Wilson appointed Hill as Chairman at a time when Hugh Carlton-Greene was DG of the BBC – Carlton-Greene was the brother of the novelist Graham and many members of the family were working for the security services (see previous posts) – and there was much public concern re the alleged immorality being promoted by the BBC. One of the most vocal was of course Mary Whitehouse who was conducting a personal war with Carlton-Greene. The Mary who was a schoolteacher from the West Midlands, knew about organised abuse on her doorstep, said nothing but loved those Top Docs who were facilitating the abuse and worked with them on her Clean Up campaigns. We're talking Bluglass, Dafydd, Colin Berry etc. Mary also campaigned with Lord Longford who, along with many members of his family, were colluding with the Gang while they busied themselves with prison reform and literary pursuits. See post 'Comedies of Menace'.
Lady Antonia, Lord Longford's daughter:
Who was married to Swearing Harold:
Swearing Harold had an affair with Joan of the BBC:
Lady Antonia was a friend and colleague of Conrad, 5th Earl Russell. Conrad was a Liberal politician and one of the very troubled children of Bertrand, who used the services of Gwynne and Dafydd as well as those of Theodore Goddard, lawyers to High Society Crooks:
Points of note re Lord Charles Hill:
Charles Hill was born in Islington and educated at St Olave's Grammar School in Southwark. London. By the 1970s, Southwark was a stronghold of a partner gang to Dafydd and Gwynne which thrived as a result of the corruption in the Bermondsey Labour Party and Southwark Borough Council and the presence of Lord Bob Mellish and his pals. A great many kids from Southwark were sent to children's homes in north Wales and complaints were ignored, including one of a boy being sexually assaulted at gunpoint. See previous posts eg. 'The Battle For The Labour Party's Soul'.
Southwark is on the doorstep of the Maudsley and Dafydd's mate David Ennals made friends with Dafydd's mate from the Maudsley, the crazed Dr Jim Birley, when Jim Birley was establishing charidees for Empowered Service Users in Southwark.  Jim Birley, despite being mad and facilitating a sex abuse ring served, as President of the Royal College of Psychiatrists. See eg. 'A Galaxy Of Talent'. Dafydd met the best at the Maudsley when he 'trained' there after qualifying from Liverpool but before being appointed as a consultant at Denbigh in 1964. The Maudsley was trafficking back in the era of Anthony Eden and Profumo.
Charles Hill went to Trinity College, Cambridge and undertook his medical training at the London Hospital. Alumni associations are everything to Top Docs. Trinity College, Cambridge = the Cambridge spy ring. London Hospital: facilitating the Westminster Paedophile Ring in a very big way from the early 1960s. The London Hospital crowd included Sir John Rogers Ellis (who went to Oundle and Trinity College, Cambridge), Ellis's protege Clifford Wilson, Anthony Jackson, Sir William Asscher, Wendy Savage and Lord Bob Winston. The London Hospital was partnering Dafydd's Gang by the late 1960s as described in previous posts and by the late 1960s Sir John Ellis was responsible for postgraduate medical training across the whole of London University, along with Clifford Wilson. Anthony Jackson was responsible for placing junior Docs across the whole of the south of England, including in Bristol and Taunton. See eg. post 'Oliver's Army', 'Error Of Judgement?' and 'A Charming Uplifting Sound…'.
Hill became Deputy Medical Officer of Oxford in 1930. He was Assistant Secretary of the BMA, 1932-44 and Secretary, 1944-50. Hill was the BMA's Secretary when the NHS was introduced in 1948. Hill told Nye that he wouldn't be getting an NHS if GPs became salaried NHS employees. Nye who did it for The Poor followed Hill's orders.
Hill was the Conservative and National Liberal MP for Luton, 1950-63.
Hill served in the Gov'ts of Churchill's, Eden and Macmillan. Under Macmillan, Charles Hill was Minister of Housing and Local Gov't and Welsh Affairs, Oct 1961-July 1962.
Charles Hill was one of Gwynne and Dafydd's mates whom Macmillan kicked out of the Cabinet in the Night of the Long Knives. See previous posts. Hill did not go away and neither did Dafydd and Gwynne.
Hill became Baron Hill on 13 June 1963. Or he would have Told All and as Edward du Cann smugly told William Hague in 1995, 'I've got a lot to tell'. FINGS BREAK.
DATES FOR YOUR DIARY:
On 17 June 1963, Macmillan survived a Parliamentary vote with a majority of 69, one fewer than had been thought necessary for his survival, and was afterwards joined in the smoking-room only by his son Maurice and son-in-law ie. Julian Amery, not by any Cabinet minister.
JFK visited Macmillan's country home on 29–30 June 1963, for talks about the planned Multilateral Force. They never met again and this was to be Kennedy's last visit to the UK. JFK was assassinated on Nov 22 1963, shortly after the end of Macmillan's premiership.
By the summer of 1963, Conservative Party Chairman Lord Poole was urging Macmillan to retire. Lord Poole would have been another useful contact for the Gang. Oliver Poole was the Tory MP for Oswestry, 1945-50, preceding Lord David Harlech. By the 1960s, there was a ring in Shropshire directly linked to Dafydd's Gang and John Allen established a children's home in Shropshire. John Biffen, Thatcher's Cabinet Minister who went to school with my father and who's parents lived near us, succeeded Lord Harlech as the MP for Oswestry. See eg. 'A Local Boy Made Good?'.
Oliver Brian Sanderson Poole was born at St Marylebone and his father was an insurance broker and a member of Lloyd's of London. Oliver went to Eton and Christ Church, Oxford. After serving in the Life Guards and Warwickshire Yeomanry, Poole was elected for Oswestry. Altough he lost his seat in 1950, he served as Joint Honorary Treasurer of the Tory Party, 1952-55, its Chairman, 1955-57, its Deputy Chairman, 1957-59, its joint Chairman with Iain Macleod (see previous posts) in 1963 and its Vice-Chairman, 1963-64. Poole became Baron Poole in July 1963. He also became a Privy Counsellor in 1963. 

In 1933, Poole joined a firm of building contractors in Birmingham. He joined the family business, John Poole & Son Ltd, insurance brokers, in the City, in 1939 and became a member of Lloyds. In 1950, Poole joined S. Pearson & Sons Ltd on the invitation of his friend Weetman Pearson, 3rd Viscount Cowdray, and became Chief Executive. He oversaw the expansion of the company through the acquisition of the Financial Times, Penguin Books, Longman, Chateau Latour and Royal Doulton. From 1950 to 1965, Poole was a Director of the merchant bank Lazard Brothers & Co, in which Pearsons owned an 80% of the stock; Poole was its Chairman, 1965-73. Poole became a member of the Board of Fiat, in Turin in 1972.
Lord Poole married three times and his children were/are: Caroline, Alison Victoria, Sheila Marian and David Charles. David Poole inherited the peerage.
Oliver Poole was confined to a wheelchair after he suffered a stroke in 1974. He spent summers at his villa in Chianti, Tuscany. Poole  died from bronchopneumonia in Kensington in Jan 1993. So Poole was part of that flurry of witnesses to Gwynne and Dafydd who died in early 1993, including Lord Kenyon, his son Thomas Tyrell-Kenyon and Lady Eva Green, the wife of Sir Allan Green the DPP who resigned after an encounter with the police and some sex workers in King's Cross. Lady Eva's improbable 'suicide' occurred two days after Lord Poole pegged out. See previous posts for info on Sir Allan and Lady Eva.
Poole was survived by his third wife and his four children from his first marriage and was succeeded in the barony by his son David.
The Denning Report – which was widely perceived to have been a cover-up and not a very convincing one (see previous posts) – into the Profumo Scandal was published on 26 September 1963.
Macmillan talked retirement options over with his son Maurice and other senior ministers. Over lunch with Lord Swinton on 30 Sept 1963 Macmillan favoured stepping down, but only if Quintin Hogg could be shoehorned in as his successor.
Lord Swinton was another useful pal for Gwynne and Dafydd. Philip Cunliffe-Lister, 1st Earl of Swinton (1 May 1884-27 July 1972), was known as Philip Lloyd-Greame until 1924 and as The Viscount Swinton, 1935-55. Philip Lloyd-Greame was the younger son of Lieutenant-Colonel Yarburgh George Lloyd-Greame of Bridlington, Yorkshire. Philip's mum  Dora was a daughter of the Right Reverend James Thomas O'Brien, Bishop of Ossory.
Philip was educated at Winchester College and studied law at University College, Oxford, after which he was admitted to the Inner Temple. Philip served in the British Army during WW I and spent time with Churchill at his advanced HQ, Lawrence Farm. They later worked together in the Baldwin ministries of the 1920s, when Philip Cunliffe-Lister served as a Minister of state. In 1917 Cunliffe-Lister was appointed Joint Secretary to the Minister of National Service. He was noticed by Lloyd George, who recruited him to be Chairman of the Labour sub-committee of the War Cabinet. At the end of the war, Cunliffe-Lister stood as a Conservative candidate and was elected for Hendon, holding this seat until he entered the Lords in 1935.
Cunliffe-Lister achieved his first ministerial post in Foreign Affairs in 1920 and took charge of the Overseas Trade Department in 1921 as Additional Parliamentary Secretary. In 1922 he became a Privy Counsellor and was appointed President of the Board of Trade, an office he held with two breaks until 1931. This fast elevation to the Cabinet resulted from the collapse of Lloyd George's Coalition Gov't, which forced the new PM Bonar Law to promote many inexperienced MPs. In 1923, Law was forced to resign due to failing health. Cunliffe-Lister/Lloyd-Graeme was the last survivor of Law's Cabinet. (On 27 Nov 1924 Lloyd-Greame changed his surname to Cunliffe-Lister so as to be able to inherit property from his wife's family.) 
In 1931 Cunliffe-Lister was one of the Tories chosen to negotiate with the Labour PM Ramsay MacDonald as the latter's Gov't collapsed and was replaced by the multi-party National Gov't in 1931. Cunliffe-Lister was one of just four Tories in the emergency Cabinet, serving as Secretary of State for the Colonies, 1931-35. When MacDonald was succeeded as PM by Stanley Baldwin, Cunliffe-Lister became Secretary of State for Air. In 1935, he was ennobled as Viscount Swinton, retaining his ministerial office for the next three years into the premiership of Neville Chamberlain Viscount Swinton took the strategic post of Secretary of State for Air, responsible for Britain air defences, in the lead up to WW II. In the Lords, Swinton was free to be Chairman of the UK Commercial Corporation responsible for boosting enterprise and output. Neville Chamberlain appointed Lord Winterton (an Irish peer who sat in the Commons) to speak for the Air Ministry in the Commons. This arrangement did not prove successful and in May 1938 there was a disastrous debate on Air and it became clear to Chamberlain that the Secretary of State must sit in the House of Commons. Swinton was dismissed, his political career seemingly over.
After serving as Minister Resident in West Africa during WW II, Swinton's career revived when he was appointed as the first Minister of Civil Aviation, a post he held until the end of the war. During 1944 Swinton served on the Executive Committee and on the Steering Committee at the Convention on International Civil Aviation carried out in Chicago, formally representing the UK.
When Churchill formed his Gov't in 1951 he appointed Swinton as Chancellor of the Duchy of Lancaster and Minister for War Materials a year later. As Deputy Leader of the House of Lords Lord Swinton was also Secretary of State for Commonwealth Relations for three years. When Churchill retired in 1955, Swinton retired too and he was further ennobled as the Earl of Swinton. 
Lord Swinton married Mary Constance "Molly" Boynton (died 1974), the granddaughter of industrialist Samuel Cunliffe-Lister, 1st Baron Masham In 1924, Philip and Molly Lloyd-Greame took the name of Cunliffe-Lister. Their children were:
John Yarburgh Cunliffe-Lister (1913–14 April 1943)
S/Ldr The Hon Philip Ingram Cunliffe-Lister RAF (1918– )
John Cunliffe-Lister was killed in WW II, leaving two sons of his own; his elder grandson succeeded his grandfather as the 2nd Earl of Swinton, and was succeeded 2006 by his younger brother as the 3rd Earl of Swinton. 
The 2nd Earl of Swinton, David Yarburgh Cunliffe-Lister,(21 March 1937-26 March 2006), was educated at Winchester College and the Royal Agricultural College, Cirencester. Before the nationalisation of the coal industry, the family had owned the colliery in Featherstone; David never forgot his links with the area, being a fervent supporter, as well as President of Featherstone Rovers Rugby League Club. David Cunliffe-Lister succeeded as the 2nd Earl of Swinton in 1972 and served as Deputy Chief Whip in the Lords under Thatch, 1982-86. He was also Gov't spokesman on agriculture and education, 1983-86. David Cunliffe-Lister will have had something to do with the dysfunctional Dept of Agriculture at UCNW who were part of the Gang and the appointment of one of them, Prof Richard Howarth as Thatch's adviser. David Cunliffe-Lister left the Lords following the House of Lords Act 1999.
In 1959, David married Susan Lilian Primrose Sinclair who was created a life peer as Baroness Masham of Ilton in 1970. David and his wife adopted two children, Claire and John. As an adopted son, John was not an heir to the earldom.
Lord David Swinton was a member of the North Riding of Yorkshire County Council 1961–74, and of its successor, North Yorkshire County Council, 1973–77. He was also a JP and Deputy Lieutenant of North Yorkshire. David Swinton was a member of the Countryside Commission (see previous posts for friends and contacts of the Gang in the Countryside Commission) and a Director of the Leeds Permanent Building Society.
During the last 10 years of his life, Swinton suffered a stroke and was disabled by its effects and those of Parkinson's disease. He also suffered from diabetes and eventually cancer. lord David Swinton died at 69 years in March 2006. To summarise, he was known as David Yarburgh Cunliffe-Lister, Esq (1937–1955); Lord Masham (1955–1972); The Right Honourable The Earl of Swinton (1972–2006).
Lord David Swinton's wife Susan Cunliffe-Lister, Dowager Countess of Swinton, Baroness Masham of Ilton (née Sinclair; born 14 April 1935) sits as a crossbencher in the Lords. Susan was the daughter of Major Sir Ronald Sinclair, 8th Baronet. She was educated at the Heathfield School and the London Poly. Susan married David, then known as Lord Masham, in 1959, thus becoming Lady Masham, and later Countess of Swinton. She was created a life peer in 1970 as the Baroness Masham of Ilton.
Susan is a prominent Roman Catholic convert and a Patron of the Margaret Beaufort Institute of Theology. She was disabled in a riding accident in 1958 and subsequently became a champion for causes related to disability. She was the subject of 'This Is Your Life' in February 1976. Susan is known as the Baroness Masham of Ilton in the Lords. Susan Masham takes a particular interest in disability, health and penal reform.
Susan runs the Masham Riding Centre in North Yorkshire. In 2011, she was awarded an Honorary Fellowship by the  RCN.
Dame Kathleen Raven, one of the RCN's finest:
A Disability Champ:
The Dowager Countess of Swinton
The Baroness Masham of Ilton
Baroness Masham of Ilton has long been a supporter of the charidee Disability Action Yorkshire becoming Patron in 2011.
Susan was the founder of the Spinal Injuries Association, of which she is President.
Baroness Susan competed in several Paralympic Games, winning medals for table tennis in 1960, 1964, and 1968. She is Vice President of the Snowdon Trust, founded by that client of Gwynne and Dafydd's, Lord Snowdon, which provides grants and scholarships for students with disabilities. Susan has undergone so many metamorphoses, so to avoid confusion, here's the summary:
Miss Susan Lilian Primrose Sinclair (1935–1959)
Lady Masham (1959–1970)
The Rt Hon. The Baroness Masham of Ilton (1970–present) ‡
The Rt Hon. The Countess of Swinton (1972–2006)
The Rt Hon. The Dowager Countess of Swinton (2006–present)
You don't need to explain Baroness/Dowager/Lady Susan; You Didn't Know. Just like you Didn't Know about Gwynne and Dafydd. I knew, but then I seem to have known a great deal that no-one else knew about, although some of them were in the same places at the same time as I was and witnessed the same things. By the way Susan, do you know a medical family from Yorkshire who had a daughter called Sadie who joined the Gang in north Wales about whom you know nuzzing? If you do, can you tell me who Sadie's grandmother was? She will have been famous as one of the first women Docs to qualify in Britain, but I don't know who she was.
Susan's husband Lord David Swinton was succeeded in the earldom and viscountcy by his younger brother Nicholas John Cunliffe-Lister, 3rd Earl of Swinton (born 4 September 1939), styled Nicholas Cunliffe-Lister, 1974 to 2006, inherited the title Earl of Swinton on 26 March 2006. Nicholas Swinton's first wife was Susan Whitelaw, eldest daughter of Willie!! Another mating between two lines of paedophiles' friends of the finest pedigree.
The mating took place in 1966, while Willie was the Tory Party's Chief Whip.
The Hon. Elizabeth Susan Whitelaw was appointed Lord Lieutenant of the East Riding of Yorkshire in July 2005.
Lord Swinton and Susan had two sons and one daughter:
Lady Lorna Mary Cunliffe-Lister (b. 1968) married 2001 to William Parker.
Mark William Philip Cunliffe-Lister, styled Lord Masham (born 15 September 1970), who has been married since 17 June 2000 to Felicity C. Shadbolt. They have two sons and one daughter.
Hon. Simon Charles Cunliffe-Lister (born 1977).
The heir apparent to the earldom is their elder son the Honourable Mark William Philip Cunliffe-Lister, Lord Masham.
Lord Swinton and the Hon Susan Whitelaw divorced and Lord Swinton remarried in 1996 to Pamela June Wood (former wife of Jeremy Sykes).
The Swintons starred in a Mail Online Celeb Gossip feature on 28 Feb 2012. Richard Kay became quite excited:
Countess of Swinton's shocking discovery
There are few wives who remain on good terms with their ex-husbands after their former spouse re-marries. In the case of the Countess of Swinton, who has stayed close to both her first husband, Jeremy Sykes, and his second wife, Annabel, it has proved a bitter-sweet experience. For when Annabel died suddenly last week while Jeremy was in hospital, it was his first wife, Pamela — now Lady Swinton — who discovered her body. Pamela — who famously left Jeremy in the Nineties after becoming involved with Lord Swinton (he was then plain Nicholas Cunliffe-Lister and was himself married to former Tory grandee Viscount Whitelaw's daughter, Susan) — was asked to help after a family friend failed to get a response from Annabel's house in Driffield, East Yorks.
Jeremy, the brother of bachelor baronet Sir Tatton Sykes, was in hospital in Hull. Says younger brother, writer Christopher Sykes: 'A friend in the village had arranged to drive Annabel to visit Jeremy. But when he knocked on the door of her house, he couldn't get a response. He was concerned about going inside on his own, so he went over to Pamela's for help. 'The two then went back and found Annabel. She looked like she was asleep, but she had died.' A friend tells me: 'It is unclear whether she had a heart attack or stroke, but the funeral has been arranged for Thursday at Rudston Church, which is near Annabel's family home, Thorpe Hall — she is the daughter of the late clan chief, Sir Alexander Macdonald of Sleat. There has already been a memorial service in the chapel at the Sykes's Sledmere estate. Adds the friend: 'It has all been very sad and very  unexpected.' Ampleforth-educated Jeremy, 65, married Pamela in 1982 and they divorced in 1996 after she fell for Swinton. He is heir to his brother, who is known to his circle as Sir Satin Tights.
I'd be interested to know why.
At one stage before their respective divorces, Swinton lived with his first wife Susan at weekends, but spent weekdays with Pamela in a bungalow at Sledmere. At the time, Pamela insisted on maintaining a friendship with her estranged husband and she became friends with Annabel, too, when they later married.
Tony Francis killed himself in 2012; I had fled Wales after being unlawfully detained by Top Docs (again) and Operation Pallial had managed to charge a few bottom feeders re the North Wales Child Abuse Scandal. Years after Whitelaw and the many others who assisted that gang of sex offenders in every way possible had died.
After meeting Lord Swinton of the Earlier Ring, Harold Macmillan saw Rab Butler on 7 October 1963 and told him he planned to stay on to lead the Conservatives into the next General Election. Macmillan was struck down by prostate problems on the night of 7-8 October 1963, on the eve of the Conservative Party conference. On 10 Oct 1963 Macmillan was operated on. Some sources state that Macmillan believed himself to have inoperable prostate cancer; other sources state that he knew that it was benign before the operation. In the opinion of Macmillan's Top Doc Sir John Richardson, Macmillan was almost ready to leave hospital within ten days of the diagnosis and could easily have carried on, but it was said that Macmillan's illness 'gave him a way out'.
We cannot ever be 100% certain of the truth here because both Macmillan and his colleagues lied repeatedly, as did and do the Top Doctors. The Top Docs really shafted Anthony Eden when Eden was PM; they seemed to have done this as a result of their close association with Lilibet. By the time that Macmillan resigned, the Profumo Affair was threatening to leave the Gov't and the Top Docs in a very big mess. As well as the Royal Family, particularly whichever male Royal was alleged to have been swinging at Cliveden with the best of them.
While recovering in hospital, Macmillan wrote a memorandum (dated 14 October 1963) recommending the process by which "soundings" would be taken of party opinion to select his successor, which was accepted by the Cabinet on 15 October 1963. Backbench MPs and junior Ministers were to be asked their opinion, rather than just the Cabinet as in Jan 1957 when Eden stood down and efforts would be made to sample opinion amongst peers and constituency activists. Although Enoch Powell claimed that it was wrong of Macmillan to seek to monopolise the advice given to Lilibet thus, this was done at the Palace's request, so that Lilibet was not being seen to be involved in politics as had happened in January 1957 and had been decided as far back as June 1963, when it had looked as though the Gov't might fall over the Profumo scandal. 
13 June 1963:
The Lord Hill of Luton
PC
Macmillan resigned on 18 Oct 1963, receiving Lilibet from his hospital bed. It was/is widely believed that an old Etonians stitch-up ensured that Douglas-Home succeeded Macmillan as PM…
Charles Hill was appointed as the Chairman of the ITA in 1963. When Hill succeeded Lord Normanbrook as the Chairman of the BBC Governors in 1967, several Guv'nors resigned. Hill forced the DG Hugh Carlton Greene to resign in 1969.
Charles Hill married Marion Spencer Wallace, with whom he had two sons and three daughters. I have yet to find out whether Marion Wallace is anything to do with the traffickers' friend and Lord Snowdon's bedfellow Marjorie Wallace of SANE fame. See eg. 'One Dangerous Fucker' and 'Error Of Judgement?'.
Charles Hill died on 22 Aug 1989, by which time I was working at St George's Hospital Medical School with the Mr Bigs of the Westminster Paedophile Ring, but I was unaware of that. My post 'The Night Of The (Dr Chris) Hunter' provides details of the co-ordinated conspiracy during 1989 on the part of the Gang in north Wales and the Welsh Office to have me declared Dangerous and banged up with Mr Savile at Broadmoor. There was another equally well co-ordinated attempt during 1994-96, then another one just after the Waterhouse Inquiry… The 1989 plot took off seriously in the spring and in the immediate aftermath of Charles Hill's death the Gang certainly began to move quickly. In Nov 1989, a 'case conference' was held about me in north Wales by Dr Chris Hunter from south Wales, whom I did not know existed until I obtained the relevant documents some five years ago, at which people of whom I had never heard were invited to give evidence as to my dangerousness. Dr Chris Hunter declared me to be homicidal and in need of a high security psych hospital. He offered to write a Report for Court saying this. I was not facing any charges at the time, I was working at St George's unaware of all this. But of course it wasn't long before I was arrested again… I invite readers to take note of the dates and events described in 'The Night Of The (Dr Chris) Hunter. Chris Hunter was the forensic psychiatrist responsible for the infamous Lawrence Ward at Ashworth, in which Angels (who were members of the POA) shared porn with the victims of Dafydd's Gang who were the dangerous loonies incarcerated and also beat a patient to death… The Expert commissioned to investigate the murder was Dafydd's mate Prof Bluglass, who contracted two senior Angels to help him, a senior Angel from his own clinic in Birmingham and a senior Angel from Clwyd Health Authority, who er worked with Dafydd… See eg. 'Security, Security'.
Charles Hill's Deputy Chairman at the BBC was Lord Fulton, who featured in previous posts. Fulton had a great deal to do with the Gang. John Fulton's highlights included:
Born in Dundee in 1902; studied at the University of St Andrews (Robert Bluglass is an alumni), at Balliol College, Oxford in the mid-1920s (alumni included Heath, Woy and Healey) and then lectured at the LSE (domain of Richard Crossman's friends, including Ralph Miliband), before returning to Balliol in 1928 as a fellow and tutor. Fulton remained at Balliol until 1947, with a period in the Civil Service during WW II, during which time he became a friend and colleague of Harold Wilson. Fulton was Principal of University College Swansea, 1947-59, the institution dominated by Rhodri Morgan's family and which also employed Saunders Lewis and Kingsley Amis. Amis was a pal of Edward du Cann, du Cann was Amis's friend when they were students at St John's College, Oxford. Fulton was VC of the University of Wales, 1952-54 and 1958-59. He was Chairman of the Universities' Council for Adult Education 1952-55 and the Council of the National Institute of Adult Education.
Fulton was appointed Principal of the University College of Sussex, in 1959, which became the University of Sussex (with Fulton as Vice-Chancellor) when students started in 1961. Fulton left in 1967 and Harold Wilson's other mate Asa Briggs became VC, the Asa who concealed the crimes of Dafydd's and Gwynne's partner gang in Sussex and conducted a lifelong vendetta against Merfyn Jones. See post 'Anthem For Doomed Youth'.
Is there no end to Dafydd and Gwynne?? Not only did they initially come after me in 1984 and here I am at the age of 56 having fled Wales because of them and their associates, but Asa bloody Briggs declared war on Merfyn in 1967 when Merfyn was an undergrad and continued it when Merfyn became a VC in 2003 (see post 'Lest We Forget) and a Chairman of a Health Board in 2011 (see post 'The Point Is To Change It'). Gwynne and Dafydd were shafting people even before Merfyn, they pre-date him, it is incredible.
Graphical representation of Earth's history as a spiral:
From magical myths to evidence of evolution, fossils have fascinated human beings for thousands of years. Today scientists use fossils to understand how life has changed, adapted and survived over millions of years. The evidence they provide shows how animals and plants evolved during the Mesozoic Era, between 250 and 65 million years ago.
Fulton also played a large part in the formation of the Universities Central Council on Admissions, serving as Chairman, 1961-64. I have been told that, by the 1980s, the Gang were raiding the UCCA database for details of possible targets. Fulton was a member of the Planning Committee of the OU, 1967 -70. There was a heavy presence of people associated with Sussex University on the Planning Committee of the OU, including of course Asa Briggs.
Asa was in an excellent position to cause problems for Enemies of the Paedophiles because his friend Howard Smith became DG of MI5 in 1979.
John Fulton became involved in university policy making overseas, including in Malta, Sierra Leone, Nigeria, and Hong Kong, and in 1962, Fulton chaired the Committee that established the new Chinese University of Hong Kong. He also served as Chairman of the Inter-University Council for Higher Education Overseas  1964-68. From 1962-65, Fulton was Chairman of both the BBC and ITA  Committees on adult education. He served as a BBC Governor, 1966-71, serving twice as Vice-Chairman (1966-67 and 1968-71). Wilson invited Fulton to Chair the Committe on the Civil Service in 1964. Fulton was Chairman of the British Council, 1968-71.
Fulton picked up his K in 1964 and his peerage on 19 January 1966.
Fulton's parents were Angus Robertson Fulton, who was Principal of University College, Dundee and his wife, Annie Scott.
Fulton married Jacqueline Wilkinson in 1939 and they had three sons and one daughter. John Fulton died at home in Jimmy Savile Central, North Yorkshire on 14 March 1986.
Edward du Cann was appointed a member of the Privy Council in 1964. He served as Chairman of the Conservative Party, 1965-67. du Cann was Chairman of the 1922 Committee, 1972-84, which gave him huge influence over Tory backbenchers throughout those years, which included those years when the Gang first targeted me.
du Cann played a major role in the events which led to Thatch becoming Tory Leader. By Oct 1974 the Tory Party was desperate to get rid of Ted Heath and I can remember the despair of the Tories at being saddled with him. My grandfather wasn't able to take part in campaigning because he had been clobbered by a stroke some two years earlier which had left him extensively paralysed, although he was busy communicating with his old mates re the necessity of getting rid of Heath. He was also one of those who did not want Thatcher; but most of the Tory Party did not want Thatch.
On 14 October 1974, the Executive of the 1922 Committee met at du Cann's home, amidst a good deal of press attention. That was soon followed by a more public meeting of the Executive at du Cann's offices at his company Keyser Ullman, on Milk Street in London, where it was decided that the 1922 Committee would press Heath to hold a leadership election. Fleet Street nicknamed the attendees the "Milk Street Mafia".
Alec Douglas-Home, at Heath's request, considered the procedures for a leadership election and there was some speculation that du Cann would himself stand as a representative of the Party's right-wing against Heath. By the time Douglas-Home reported in December 1974 events the collapse of the banking boom had swept up Keyser Ullman in its path. du Cann, who had been Chairman, came under serious fire and was denounced as "incompetent" by a 1974 DTI report regarding the bankrupt Keyser Ullman bank.
Du Cann did not put himself forward as a candidate in the leadership contest, which released key support for Thatch, especially as the other potential right-wing candidate, Keith Joseph, withdrew from any leadership attempt following a series of controversial speeches in which Joseph expressed fears that the lower orders were breeding on a rather greater scale than Nice People and thus were in danger of outnumbering the Civilised. It sounded rather eugenicist, Joseph ended up in hot water and his chances of being Tory Leader were blown; he had been the favourite choice of the right of the Party. No-one mentioned that Joseph was an MP for a Leeds constituency plagued with child abuse, organised crime, police and judicial corruption with Jimmy Savile in the thick of it. Joseph, like du Cann and Willie Whitelaw, also dated back to Macmillan's Gov't and the Profumo cover-up. See previous posts for info on Joseph. Willie Whitelaw was in demand as a leadership candidate, but he refused to stand against Heath, out of loyalty to Heath. Thatch was noted for not feeling that way and was one of the few who was prepared to consider standing. She received the backing of one newly elected Tory MP in particular: Sir Peter Morrison. It was Morrison who encouraged Thatch to go for it and then worked at drumming up support for her.
After defeating Heath in the first round, Thatch emerged triumphant in the second round in early 1975, defeating a the other candidates. For years the standard interpretation was that Thatch became Leader of the Tories almost by accident because they were desperate to get rid of Heath and once Joseph had blown it and Willie refused to stand, there was no other real runner. More recently however there has been discussion that Thatch arrived in place as a result of careful planning and manipulation by a group of security service officers who were of a right wing persuasion and rather unhinged, Airey Neave being the name mentioned most. Thatch didn't have the intellectual capacity to understand the political agenda that they wanted to introduce, but she did want to be PM. Neave became Head of Thatch's private office once she became Leader of the Tories.
There are many allegations swirling from that time about the security services being divided and at war with themselves. It's fairly clear that they gave Harold Wilson a shove not long after Thatch became Leader of the Tories, as the problems engulfing Mr Thrope threatened to unravel and reveal the Westminster Paedophile Ring. Shirl bangs on about there being some people in the security services at the time who were 'really mad' and wanted to bring down any Labour Gov't. No Shirl you stupid old trout, they were really mad because they were going after people like my grandpa who were railing against corruption in public life and then they came after me and you helped them you daft old bat. Your bloody husband Bernard Shirl, you brainless old cow, as well as you who would not take on gangsters in medicine and instead got into bed with Dr Death, the worst of the lot.
Airey Neave was not only happy to follow a right wing agenda but he was also happy to allow Dafydd and Gwynne et al to continue with their criminal empire. Airey Neave was of course blown sky high on 30 March 1979, not long before Thatch became PM, by what was said for years to have been a bomb planted by the INLA. There is now serious discussion re the dirty deed having been carried out by the security services because Neave was considered to be so bloody dangerous. There is also the possibility that, like Mountbatten, Neave was targeted because of some sort of involvement in child abuse. It only dawned on me recently that the Brighton bomb of 1984 that nearly got rid of Thatcher was almost certainly planted with the collusion of the security services. It is highly improbable that security around Thatch would have been so lax at that time to have missed the bomb. The bomb was in Thatch's bathroom wall and only missed her by minutes; that took some precision planning yet we are expected to believe that an angry Irishman stuck that bomb in there months in advance before security checked out the whole hotel.
The mess was impressive. Dafydd and Gwynne were supplying the Westminster Paedophile Ring, were associated with Kincora and thus were afforded 100% protection from Royalty and the security services. Dafydd, in the 1950s, had made friends with Irish Republication activists and had visited Ireland to learn techniques of violent resistance. See post 'A Network Stretching Back Decades…'. Dafydd developed political ambitions and in 1959 and 1964 stood as the Plaid candidate for Denbigh. Dafydd didn't win, the seat was held 1959-83 by the Tory Geraint Morgan QC, who er worked for the security services and was there to keep the lid on what Gwynne and then Dafydd were doing at Denbigh…
It really was not a good idea not dealing with Dafydd and Gwynne, no matter who Gwynne had lobotomised on Royal Command.
It could have all been blown open after the Ely Hospital Scandal of 1968, Ely Hospital being run by the Welsh Hospitals Board who also ran the North Wales Hospital Denbigh. Ely's defence after they were caught battering patients was that things were worse at Denbigh and no-one was banging on about them. Richard Crossman knew that the Ely Scandal could inflict great harm on Wilson's Gov't so he lied to the House, as did a few other people and appointed Ronnie Waterhouse's close friend Geoffrey Howe to Chair the Public Inquiry into Ely. Howe had been concealing the Gang for years in his capacity as a bent Welsh barrister and was the son of a solicitor from south Wales who was probably involved in concealing Gwynne's criminality when Gwynne was a whippersnapper… Howe covered up the worst of the excesses at Ely and everyone pretended that No-One Knew. They did, Dame Kathleen Raven, Chief Nursing Officer who also served as RCN President, as featured in my post 'I Passionately Believe…',  admitted to Crossman that she had known via concerns raised by Angels and the Welsh Hospitals Board had also ignored many complaints.
Dame Kathleen was a student nurse at Bart's in the 1930s; her elder brother Ronald trained as a Top Doctor at Bart's. Kathleen and Ronald trained at Bart's when Lady Juliet Bingley's father worked as a surgeon there. Kathleen Raven remained at Bart's as an Angel and in 1946 she was appointed Assistant Matron there. In 1949, Kathleen was named as Deputy Matron at Leeds General Infirmary. She became Matron in the same year and held the post for eight years. The General Infirmary at Leeds was the first teaching hospital to set up an Assistant Nurse Training Programme in 1955. While at Leeds, Raven was a member of both the General Nursing Council and the Council of the RCN, as Chair of the Yorkshire Branch of the RCN. Raven was also a member of the National Executive Committee of the Association of Hospital Matrons and served as a member of the Leeds Central Area Advisory Board for Secondary Education. For several years Raven was External Examiner for the Diploma in Nursing at the University of Leeds. In 1957 Kathleen became a member of the Central Health Services Council. Raven tore herself away from Jimmy Savile's manor in Leeds to go to the Department of Health in London, where she was Deputy Chief Nursing Officer, 1957-58 and then Chief Nursing Officer, 1958 -72. Just think organised abuse, Jimmy Savile, Gwynne, Dafydd and Denbigh, throughout years of Gov't cover-ups and collusion. Dame Kathleen was at the top of the DHSS for a very, very long time… After her retirement from the Department of Health in 1972, Kathleen Raven became Chief Nursing Adviser to the Allied Medical Group, which involved her with hospitals in Iran, Saudi Arabia and Egypt. Raven worked for the Civil Service Commission and was appointed a Governor of and in 1992 Vice-President of Epsom College – a school which specialised in producing Top Doctors and which Raven's brother Ronald had attended – and of Aylesbury Grammar School. Raven died at the age of 88 in 1999, before the final two fingers up to her victims, ie. the publication of the Waterhouse Report.
Dame Kathleen Did It For The Poor as well.
George Thomas and Gwilym Prys Davies, two members of the Gang were on the Welsh Hospital Board. The icing on the cake was that Crossman was particularly keen to conceal the horrors at Ely because George Thomas was Welsh Secretary by the time that the scandal was receiving wide attention and Wilson's Gov't had just devolved responsibility for all matters in Wales re the NHS and Social Services to one George Thomas at the Welsh Office. See post 'Shurely Shome Mishtake'. Geoffrey Howe occupied Cabinet posts when I was doing battle with the Gang in the 1980s…
I have discussed in previous posts how when I was an undergrad at UCNW, there was a man called Aidan occupying one of the offices in the Students Union building who was organising support for the INLA (Irish National Liberation Army). I received information after I first blogged about Aidan that he was an undercover officer. I first met Aidan in the autumn of 1981. Aidan's office was just down the corridor from the Student Health Centre which hosted people traffickers D.G.E. Wood and Gwynne the Lobotomist. I can understand why MI5 might have put undercover officers in UCNW and bugged the whole place (I have evidence that they did indeed do this) but they did not use any of that to get rid of the Gang; they used those resources to protect them.
Ian Gow, like Airey Neave, was another one of Thatch's henchmen who was killed by a bomb, which was attributed to the work of the IRA. Gow was a solicitor and the MP for Eastbourne, 28 February 1974-30 July 1990, on the turf of Dafydd's partner gang in Sussex. Gow served as Thatch's PPS, 4 May 1979-13 June 1983.
Ian Gow was educated at Winchester College, where he was President of the Debating Society. During his period of National Service, 1955-58, he was commissioned in the 15th/19th Hussars and served in Northern Ireland, Germany and Malaya. He subsequently served in the TA until 1976.
Gow took up a career in the law after National Service and qualified as a solicitor in 1962, eventually becoming a partner in the London practice of Joynson-Hicks and Co. Gow also became a Conservative Party activist. He stood for Parliament in Coventry East in 1964, but lost to Richard Crossman, the sitting MP. Gow then then stood unsuccessfully for Clapham in 1966 and an account in The Times of his candidature described Gow thus: "He is a bachelor solicitor, aged 29, wearing his public school manner as prominently as his rosette. Words such as 'overpowering', 'arrogant', and 'bellicose' are used to describe him."
Gow succeeded in winning the nomination for Eastbourne in 1972 after the local Party de-selected its sitting member, Sir Charles Taylor. Sir Charles had represented Eastbourne since 1935 and did not take kindly to Gow. Gow entered Parliament in the General Election of February 1974. Eastbourne was then a safe Conservative seat and Gow always had a majority share of the vote during his time as the constituency's MP. 
Gow voted for Thatch in the first round of the 1975 Tory leadership competition. Once Thatcher had forced Heath out of the contest, several new candidates appeared and Gow switched his support to Ronnie Waterhouse's close friend Geoffrey Howe in the second round, which Thatcher won. Gow was brought onto the Conservative front bench in 1978 to share the duties of Opposition Spokesman on N Ireland with Airey Neave. The two men developed a Conservative policy on N Ireland which favoured integration of the province with Britain. This approach appeared to avoid compromise with the province's nationalist minority and with the Irish Gov't.
Neave and Gow were killed by car bomb attacks in 1979 and 1990 respectively. Irish republican paramilitaries claimed responsibility in both cases, but nobody was ever charged with causing the deaths. As well as allegations that Neave and Gow were killed because of their involvement with the organised abuse of children, claims were made of possible involvement of the CIA as well as the British security services. 
Through his association with Neave, Gow was introduced to the inner sanctum of the Tory Party. While serving as Thatch's PPS, 1979-83, Gow became a close friend and confidant of Thatch. He was deeply involved in the workings of Thatcher's private office until his departure in June 1983. Though elevated to Minister for Housing and Construction before moving later to the Treasury, Gow was known to be disappointed by his loss of influence with Thatch in his new role.
In late 1983 Gow developed plans with the Tory sexual harasser/molester of both underage and adult females, Alan Clark (see previous posts) to reinvigorate Thatch's private office by expanding it and its influence over policy, thereby creating a new role for himself, but these came to nothing.
Gow was identified with the right-wing of the Party, but took a liberal position on some issues. As Minister of State for Housing and Construction (from 1983 to June 1985) he showed a willingness to commit public funds to housing projects that alarmed some on the right-wing of the Party. It was believed by some that this was the reason why Gow was moved sideways into a post at the Treasury under Chancellor Nigel Lawson.
From 1982, Conservative policy began to move towards a more flexible position on N Ireland. In November 1985, Gow was persuaded by the speeches his cousin Nicholas Budgen made to resign as Minister of State in the Treasury over the signing of the Anglo-Irish Agreement.
Dafydd with his IRA-links continued business as usual in north Wales enjoying protection from those politicians who never did any deals with the IRA and who were delighted now that an Agreement had been reached.
Watch/Listen
The Anglo-Irish Agreement was signed on 15 Nov 1985. From August 1985, my early problems with Gwynedd Health Authority rapidly escalated with Tony Francis and his colleagues simply lying constantly. Another person whom I knew, a UCNW student, also encountered serious problems with Francis and he seemed to be conducting himself in the same way towards both of us. I had been to see the MP for Anglesey Keith Best in the summer of 1985, not realising that he was on board with the Gang and that Francis almost certainly contacted him as soon as I complained…
Ian Gow used his resignation speech to underline his personal devotion to Thatcher, describing her as "the finest chief, the most resolute leader, the kindest friend that any member of this House could hope to serve." The Anglo-Irish Agreement would ultimately lead to devolved government for N Ireland, power sharing in the province and engagement with the Republic. After his resignation from the Gov't, Gow became Chairman of the parliamentary Conservative backbench committee on Northern Ireland. He was a leading opponent of any compromise with republicans and his tactics in this regard caused concern to the Northern Ireland Secretary Jim Prior and other MPs, Gow co-ordinating the Tory backbench opposition to Prior's Northern Ireland Assembly bill in the early 1980s. Gow's activities were said to have startled other Tory MPs and led to a complaint from an enraged Prior to Thatch.
Jim Prior was a Norfolk farmer who was clueless politically and admitted that his only interest in politics was to assist his and his friends' business interests. Why anyone, even Thatch, thought that this uninterested lazy old git would be a suitable person as N Ireland Secretary is baffling. Prior was hopeless at the N Ireland office, he was not interested and had no grasp of the 'issues' and didn't try to grasp them either. Prior had for years ignored organised abuse that was facilitated by Dafydd's mate David Ennals and other mates of Dafydd and Gwynne's on Prior's own turf of Norfolk. See post 'The Science Of Animal Behaviour'.
In spite of his disagreement with the direction in which Gov't policy on Northern Ireland was moving, Gow remained on close terms with Thatcher. In Nov 1989, he worked in Thatcher's leadership campaign when she was challenged by the stalking horse candidate, Sir Anthony Meyer. Meyer was a Westminster Swinger, a mate of Dafydd's, who was using the services of Dafydd and Gwynne. Meyer made his 1989 Tory leadership challenge to enable his mate Heseltine to come forward as the 'real' candidate to challenge Thatch, but Heseltine didn't come forward. See previous posts.
By the time of Gow's death Gow believed that Thatch's time as PM had reached a logical end and that she should retire.
Gow enjoyed friendships with people of various political persuasions, including the left-wing Labour MP Tony Banks. Banks was a witty man who made everyone laugh but he and some of those close to him were also colluding with Dafydd and Gwynne, Banks in particular, being the MP for Newham North West and then West Ham, an area that hosted one of Dafydd's partner gangs. See eg. post 'Yes, There Is Still Green Paint On The Renault…' and 'The Bodies Beneath Canary Wharf'.  Alan Clark described Gow as "my closest friend by far in politics".
Ian Gow married Jane Elizabeth Packe (born 1944) in Yorkshire in 1966. They had two sons, Charles Edward (born 1968) and James Alexander (born 1970).
In the early hours of 30 July 1990, a bomb was planted under Gow's car, which was parked in the driveway of his house in Hankham, East Sussex. The 4½-lb Semtex bomb detonated at 08:39 as Gow reversed out of his driveway, leaving him with severe wounds to his lower body. He died ten minutes later.
The IRA claimed responsibility for killing Gow, stating that he was targeted because he was a "close personal associate" of Thatcher and because of his role in developing British policy on Northern Ireland.
Gow was killed on July 30 1990. In my post 'Some Big Legal Names Enter The Arena' I described how in May 1990, Gwynedd Health Authority took me to the High Court in Cardiff seeking an injunction against me that would prevent me writing to them to follow up my complaints. I was indeed writing them many letters; the law had been broken repeatedly and there had been no attempt to address numerous aspects of very, very serious complaints. I was lied to constantly and when I confronted those we know and love with evidence of their lies, more lies were told and I received further threats or the police were ordered to arrest me. Gwynedd Health Authority's idea of how to deal with a complainant who was acquiring more and more evidence of serious wrongdoing was to seek a High Court injunction preventing me from visiting Gwynedd Health Authority premises or contacting any member or employee of the Health Authority in any way for any reason, even to follow up my complaint.
I now have documentation demonstrating that Andrew Park, the crooked Welsh Office lawyer, was working very hard indeed and pooling his expertise with the perjurers and crooked lawyers of both Gwynedd County Council and Clwyd Health Authority in his attempts to raise an injunction against me of the most restrictive nature possible.
Gwynedd Health Authority took their application to the High Court in Cardiff and the case was heard in front of Sir Malcolm Pill. Crispin Masterman represented Gwynedd Health Authority and Ian Murphy represented me. Masterman and Murphy both later became judges. They were both involved in child abuse cases. See previous posts.
Sir Malcolm Pill did not grant Gwynedd Health Authority an injunction on the terms sought and Gwynedd Health Authority were livid about this. My documentation shows that the day after the hearing in front of Pill, Andrew Park was busy communicating with Gwynedd Heath Authority as to how they could return to the High Court as soon as possible and acquire the injunction on the terms that they had hoped that Pill would have agreed to and how to ensure that I never ever accessed my medical records via the High Court.
Whilst I was indeed grateful that Pill did not give Gwynedd Health Authority what they asked for, Pill was still a very culpable man and no doubt simply clever enough to participate in a longer term plan rather than grant an obviously ridiculous draconian injunction which would have resulted in questions being asked. At the time of the hearing in front of Pill, there were allegations of a VIP paedophile ring operating in north Wales and Cheshire which was being concealed at the highest levels and demands for a police investigation. The North Wales Police launched an investigation just months after Malcolm Pill heard my case. The Chief Constable, David Owen, refused to co-operate with the investigation; the Home Office refused to place another Chief Constable in charge of the investigation; and much documentation was not made available at all or was presented unsorted. In 1992, the North Wales Police closed the investigation, announcing that there was no evidence of a paedophile ring. During the course of the investigation, there were hundreds of complaints made about the abuse of kids in care in north Wales, particularly in the Ty'r Felin children's home in Bangor. A file was sent to the DPP. There was not one prosecution mounted. See previous posts.
The Home Secretary, 26 October 1989-28 November 1990, was David Waddington. Waddington had served as Minister of State at the Home Office, 1983–87, so he had an excellent grounding in the way of assisting the criminality of Dafydd and the gang before becoming Home Secretary. Waddington's father and grandfather were both solicitors in Burnley, Lancashire; he grew up in Lancashire and was a Tory MP for three different Lancashire constituencies, 1968-90. The was long-standing organised abuse of children and vulnerable people in Lancashire with links to the gangs operating in Merseyside and Cheshire. Waddington was a Lord Commissioner of the Treasury, 1979-81, as was Sir Peter Morrison, the Tory MP for Chester, who was known to be abusing kids in care, in north Wales and other places.
The Lord Waddington
Governor of Bermuda
In office
11 April 1992 – 2 May 1997
Malcolm Pill, Crispin Masterman and Ian Murphy had access to many letters that I had written to Gwynedd Health Authority and they referred to them extensively during the hearing that lasted several hours. My letters contained numerous details of the most serious abuse of psychiatric patients and criminal wrongdoing on the part of NHS and social services staff, as well as some police officers and other accessories. I supplied names, dates, details, names of witnesses, places etc. Any lay person, let alone a High Court judge, would have realised that they were reading matter which pointed to serious organised crime. Pill, Masterman and Murphy at no point stated that they did not believe my allegations; they simply ignored them. Crispin was arguing that the detail and volume of my letters demonstrated that I was 'obsessed' and needed to be stopped from sending anymore. I was obsessed with the reality that the most terrible things were happening and the whole world determinedly looked in the other direction.
After the hearing, Ian Murphy told me that I had cause to sue Dafydd, Gwynedd and Clwyd Health Authorities for false imprisonment and negligence. I was delighted, particularly because Ian Murphy gave every indication that he'd be keen to take the case and it would be a big one. Somehow it never happened. Years later I acquired documentation that showed the involvement of the Welsh Office in taking a close interest in whether Ian Murphy was going to take this case for me. I was told by another lawyer that Ian Murphy was a ruthless, very ambitious barrister and if he took the case, he really would flatten them. I can only presume that someone made it clear to Ian Murphy that he had better not take the case if he wanted to become a judge. Or indeed to even carry on living.
Sir Malcolm Thomas Pill (born 11 March 1938) is a former Lord Justice of Appeal, who was the longest-serving member of the Court of Appeal of England and Wales upon reaching mandatory retirement at age 75.
Pill was born on 11 March 1938. Pill was educated at Whitchurch Grammar School, Cardiff and Trinity College, Cambridge. Pill was at Whitchurch Grammar with Rhodri Morgan. When I appeared in front of Pill, Rhodri was the Labour MP for Cardiff West – the former constituency of the child molester George Thomas – and Shadow Environment Spokesman, as well as Opposition Front Bench Spokesman on Energy. Miranda was part of the Opposition Energy team as well. The Miranda who, before becoming the Labour MP for a constituency that was on the patch of the ring in the North East of England which was linked to Dafydd's gang, had been a barrister and a pupil of George Carman QC. George Carman was a bent barrister who was colluding with Dafydd's gang and the wider Westminster Paedophile Ring. George Thomas was by then sitting in the Lords.
I appeared in front of Sir Malcolm Pill in May 1990.
Sir Peter Morrison was Minister of State for Energy, 11 June 1987-23 July 1990. On July 10 1990, Gwynedd Social Services took me to Court in Chester and attempted to have me imprisoned on numerous charges of breaching the High Court injunction that they had obtained against me in May 1990, on the basis of the perjury of two Gwynedd social workers, Keith Fearns and Jackie Brandt. When I appeared at Chester Court, Fearns, Brandt and their social worker colleague Maggie Fookes, as well as their CPN colleague Bob Ingham, perjured themselves to such an extent that something like 13 or 14 charges against me were thrown out. The Presiding judge, Justice John Roch – he later became Lord Justice Roch – helpfully asked if they would like more time to rewrite their statements, presumably in order to get their stories straight. Their barrister politely turned down the request, but why I have no idea. My post 'Some Big Legal Names Enter The Arena' provides details of: the perjury; the forged documents, which included a forged letter from a Top Doc, Carl Littlejohns, who had previously been employed at the North Wales Hospital Denbigh; the collusion of the Welsh Office with Ron Evans, the bent lawyer employed by Gwynedd County Council; and the change of judge and Court of which my barrister Suzanne Evans was not told, she was sent to the wrong Court and arrived late and stressed for my case.
Suzanne Evans knew that there had obviously been an attempt to rig the trial; she was a young, unknown barrister and after it became clear that industrial scale perjury had been exposed, Roch became very angry with her, rather than the perjurers. He shouted at Suzanne and she was clearly intimidated; as was I, I realised that we were dealing with a madman who was ignoring the obvious lies of four witnesses. Suzanne Evans however has gone on to forge a nice career for herself in the Family Courts having rolled over for a gang of paedophiles (see previous posts), so it was clearly worth it.
On 23 July 1990, Peter Morrison was appointed as PPS to Thatch. One week later Gow was killed.
On 24 July 1990, administrators at Clwyd Health Authority contacted Andrew Park claiming that I had rung a Kay Hemsley at the North Wales Hospital and threatened an Angel. No-one could produce evidence that I had done this or that if such a call had been received it was me who had made it, so Park wrote to Clwyd Health Authority requesting that next time could Hemsley remember to explain how she knew that it was me calling. Kay followed orders, within a short while she had given a written account of another call supposedly from me and explained that she knew that it was me because she had spoken to me before and recognised my voice. Park had been busy anyway, informing Gwynedd and Clwyd Health Authorities that he wanted as much information as possible, to build up a complete 'dossier' against me. The perjury and forging of documents continued apace. See 'Some Big Legal Names Enter The Arena'.
The Secretary of State for Wales, 4 May 1990-27 May 1993, was Lord David Hunt. Hunt has given much loyal service to the gang, I have provided details in previous posts.
After Trinity College, Cambridge, Malcolm Pill was called to the Bar at Gray's Inn in 1962. Dafydd's Big Umbrella Sir William Mars-Jones was a member of Gray's Inn, as were others who did the gang favours, including David Waddington.
From 1963 to 1964 Malcolm Pill was Third Secretary at the Foreign and Commonwealth Office and spent a period in Geneva at the United Nations Commission on Human Rights. For nine years Pill was Chairman of the UK Committee of the Freedom from Hunger Campaign.
Pill was a Recorder, 1976-87. 1976 was the year of Paedophiles' Panic, as the Norman Scott/Jeremy Thorpe story finally appeared in the press. George Thomas was appointed Speaker of the House, Carlo was appointed Chancellor of the University of Wales and the security services forced Harold Wilson to resign as PM.
Pill became a QC in 1978, the year that Jeremy appeared at Minehead Magistrates Court and was committed for trial. George Carman QC represented Jeremy. After the Thorpe case, Miranda was a pupil barrister of George Carman and Cherie shared Chambers with Carman until 1988.
Malcolm Pill was appointed a High Court judge on 15 January 1988. By this time Dafydd's gang were in full pursuit of me and my friends who were supporting me. In 1988, the Welsh Office finally acknowledged my complaint about Dafydd et al and told me that an investigation would be arranged. The investigation was of course a sham, carried out in July 1989 by Dafydd's mates Professor Robert Bluglass and Dr Colin Berry; it was organised by Dafydd's other mate Professor Robert Owen, who was appointed as Medical Ombudsman by the Welsh Office. See post 'Enter Professor Robert Bluglass CBE'. By 1988, Alison Taylor had been sacked but continued to write to Ministers about the abuse of kids in care in north Wales and in the late 1980s, she also wrote to Carlo.
From 1989 to 1993, Pill was Presiding Judge for the Wales and Chester Circuit; he was therefore in that role when I appeared before him in Cardiff and at the time of the shenanigans when I appeared before Roch in Chester. Does Sir Malcolm Pill know who rigged the case at Chester I wonder? Nobbling the venue as well as the judge is quite impressive, as was the preparation of affidavits which were signed by Fearns, Brandt et al, without Fearns, Brandt et al ever having seen them…
Pill was appointed a Lord Justice of Appeal on 1 February 1995 and was given the customary Privy Council appointment.
NOW THEN. Gow's widow Jane became Dame Jane Gow in 1990. On 4 February 1994, she remarried in West Somerset to Lt-Col. Michael Whiteley and became known as Dame Jane Whiteley. She continues to promote the life and work of her first husband. Minehead is in West Somerset, the centre of the action re Mr Thrope back in 1978, when he was committed for trial at the Old Bailey. Mr Thrope and many of his pals were still living in West Somerset when Jane Gow remarried there, as were people who knew me. David Hole, the corrupt MSF rep at St George's, where I had been working when Ian Gow was killed, came from Minehead. Hole knew about the criminality at St George's and along with the other MSF reps was colluding with it for his own benefit. Lord John Hunt of Tanworth, Cabinet Secretary, 1973-79, who was central to the continuation of the Westminster Paedophile Ring, came from Minehead and went to Downside School near Bath. John Hunt's second wife was the sister of Cardinal Basil Hume, the man who nominated Jimmy Savile for membership of the Atheneaum, the club favoured by Top Docs and VCs in 1984. The year that I complained to the UCNW authorities and the GMC about Gwynne. Basil Hume's father, Sir William Errington Hume, was a Top Doc who trained at the London Hospital and ended his career as Professor of Medicine at Durham/Newcastle. As a student, Sir William had clerked for Lord Bertrand Dawson, the Royal Top Doc, who was known to have deliberately shortened the life of King George V. See post 'The Old Crowd'. Sir William Hume's father, George Haliburton Hume, was surgeon to the Newcastle Infirmary. (Basil Hume's original name was also George Haliburton Hume.)
Basil Hume's brother, John Basil Hume, was a Bart's surgeon and was one of the Top Docs who damaged the health of Anthony Eden, after being recommended to Eden by Lord Horace Evans, the Royal Top Doc. For details of the multiple health problems that Eden experienced at the hands of a small group of Top Docs before and when he was PM, see previous posts. You've guessed it, the Top Docs involved knew Gwynne and Dafydd.
Basil Hume's sister Madeleine's first husband, before she married the Cabinet Secretary who was facilitating the Westminster Paedophile Ring, was John Alexander Charles (26 July 1893-6 April 1971). John Charles trained at Newcastle Medical School, the domain of Gwynne and Dafydd's mate Lord John Walton (the Chairman of the GMC when the GMC refused to investigate my complaint about Gwynne in 1984) and served as Chief Medical Officer of the UK, 1950-58. As Deputy CMO from 1944-50, John Charles helped with the planning of the NHS, like everyone else, doing it for The Poor. John Charles's father was also John Charles, a Top Doc and JP in County Durham. See previous posts…
When Jane Gow married into West Somerset in Feb 1994 , Oliver Brooke's friends Malcolm Pearce and Geoffrey Chamberlain at St George's Hospital were busy perpetrating the research fraud which blew up in their faces just after Dame Jane was married when someone blew the whistle on them…. See post 'Now Then…' Matt Arnold, the former Head of Bryn Estyn died of an 'unspecified blood disease' on 9 June 1994. The trial of his long standing friend and colleague Peter Howarth for the sexual abuse of kids in care in north Wales opened on 13 June 1994.  Howarth found guilty in July 1994 and sentenced to 10 years. See previous posts.
Previous posts eg. 'The Banality Of Evil', 'A Solicitor's Letter From North East Wales MIND', 'Jennifer's Diary' and 'Dates For Your Diary' provide further details of the many events during this time.
The by-election for Gow's seat following his death was won by the Lib Dem David Bellotti. The Tory MP Ann Widdecombe sent a message to voters saying "Bellotti is the innocent beneficiary of murder. I suspect that last night as the Liberal Democrats were toasting their success, in its hideouts the IRA were doing the same thing". Ann Widdecombe had a very cosy relationship with the associates of Dafydd's Gang in the Anglesey Conservative Party. See post 'Doris Karloff – Honest About Her Expenses But Not Much Else'.
Bellotti subsequently tabled an Early Day Motion in support of Mary Wynch in March 1991 –  signed by only Lib Dems and Dafydd Wigley from Plaid – yet after Alex Carlile's 1993 Commons question was 'answered' in 1995 by Michael Howard's minion at the Home Office, no-one ever mentioned Mary again in the House or the media. Every MP who signed the EDM received a peerage except for Bellotti, who lost his seat and never returned to Parliament. See post 'A Few Of The Relevant Politicians Re Mary Wynch's Case'.
The Guardian obituary for Ian Gow was written by Jonathan Aitken and Edward Pearce:
Aitken: With the assassination yesterday of Ian Gow, the House of Commons has lost one of its most admired and courageous characters. In government he had played a pivotal role in the making of the Thatcher revolution, while on the backbenches he was one of those rare parliamentarians who could captivate both sides of the House with a stylish humour that was sui generis.
After his National Service, which consisted mainly of duty in Northern Ireland as an officer of the 15/19th Hussars, Ian Gow became a successful solicitor, and was elected to parliament as member for Eastbourne in February 1974. He swiftly established his reputation as a backbencher with panache and persistence. In the early days of opposition he was out of step with the consensus Conservatism of the Heath-Whitelaw era. Using his mordant Wykehamist wit, softened by delightful touches of self-parody, Gow took his own critical line on devolution on the setting up of the European Assembly on quangos and on the high level of public expenditure. Swimming against the stream on these and other issues brought him to the attention of Margaret Thatcher, who made him her parliamentary private secretary when she came to power. It turned out to be an inspired appointment.
From 1979 to 1983, Ian Gow was probably the prime minister's most trusted confidant. He served her not just with loyalty but with love. Inside a parliamentary party which was initially uneasy with some of the government's more radical policies, Gow fought the prime minister's corner with the fervour of a romantic crusader. However, he did not confuse his two roles as advocate and messenger. He had an aura of granite integrity which caused him to be implicitly trusted by his colleagues both as a repository of confidences and as an accurate reporter to No 10 of back bench opinion.
So well did he perform as PPS that Gow became the most pivotal member of the prime minister's official family, occupying that favourite-son position now filled by Charles Powell. During his four years inside Downing Street Gow's unseen hand exercised great influence over policies and ministerial promotions. He was personally close to the prime minister, sometimes even reinforcing her own convictions, for he was the apotheosis of the "one of us" spirit, often with views that were plus royaliste que la Reine.
In 1984, Gow was given his own portfolio as minister of housing. After a brilliant debut from the despatch box, he lost his surefootedness in the Whitehall jungle and became bogged down in technical arguments with the Treasury. After taking what was perhaps too principled a stand in a complex dispute over Housing Improvement Grants, he was moved sideways to the post of minister of state at the Treasury. He lasted only a few months in that role, voluntarily cutting short his ministerial career by resigning from the government on an issue of principal his fundamental disagreement with the signing of the Anglo-Irish Agreement.
Northern Ireland was Gow's political passion. He knew and understood the province as few Englishmen do. From his days of military service he developed a feel for the people of Ulster, and after long years of study at the feet of Airey Neave, John Biggs Davison and Enoch Powell all of whom were romantic heroes to him
he became the inheritor of their political mantle in Northern Ireland.
With such a background it was inevitable that he would reject the Anglo-Irish Agreement which he saw as a constitutional abomination, fatally flawed in both structure and detail. Gow's central reason for opposing the treaty was that it would hinder rather than help in the fight against terrorism. Alas, his Cassandra-like warnings on this theme went unheeded. When the casualties of terrorism mounted as he had forecast, he consistently spoke out in the House and to the media always with an eloquent condemnation of the IRA's men of violence. With his high profile stance on the terrorism issue, he well knew the risk that his strong voice might one day be silenced, but he was far too courageous a politician to hesitate in the line of duty he had drawn for himself.

Away from the public platform Ian Gow was an adorable private man. His devotion to his wife and family was the cornerstone of his life. He had a deep spiritual dimension, with a religious faith that was central to his political beliefs and his upright way of life.
By temperament he was a romantic patriot with a broad sweep of quintessentially English interests which included cricket, the verses of Hillaire Belloc, clubland, the making of cocktails, and cultivating his garden.
Above all, Ian Gow was great fun. Devoted to the House of Commons he could caress both sides of the chamber into laughter with his slightly ponderous Dickensian wit, while in the dining room he could keep the table in a roar with his anecdotes, his mimicry and his "laughter and the love of friends."
He enjoyed a good political quotation and was much given to reciting passages from Winston Churchill's speeches or books, particularly 'Great Contemporaries'
which he appeared to know by heart. Some weeks ago he enlivened a lunch party by declaiming the tribute in that book to FE Smith which ends with these words: "He banked his treasure in the hearts of his friends and they will cherish his memory till their time is come." It is a worthy epitaph for Ian Gow , the friend who will always be cherished for his good company, political consistency, and personal courage.
Edward Pearce: Gow won a reputation for sedulous efficiency between 1979 and 1983 as Mrs Thatcher's parliamentary private secretary. He interpreted that to mean not only the representation of the Prime Minister's thought to her rank and file, but a minute trawl of all strands of opinion, including potentially treasonable ones, within the inner party groups. He functioned, in a beaming and genial fashion, as the nicest sort of non-violent secret-policeman.
During those years, carrying his reporter's notebook and wearing soft-soled shoes, he would attend every faction meeting and that was a time of intense "wet" criticism of Mrs Thatcher taking a detailed note which was universally known to be intended for Number 10. No successor, the nervous Mark Lennox-Boyd, the genial Archie Hamilton, or anyone else ever had Gow's huge success with a controversial job.
His sense of humour was slightly naughty in that it was often provocative and controversial. But the absence of real malice generally meant that his jokes were taken in good part by victims.
A notorious imbiber of the gin and Cointreau mixture known as a White Lady, he made an offer to the black MP, Paul Boateng: "He must visit me in my home in Sussex, The Doghouse, where I shall be delighted to receive him, despite his unwise views. And I shall offer him one, perhaps more than one, White Lady." It was a measure of Gow's skill at the outrageous that Paul Boateng first smiled then laughed out loud.
White Ladies were not the only services on offer from Gow's friends.
Despite passionate loyalty to Mrs Thatcher and the broad drift of her policies, he had in the last couple of years become convinced that her shelf-life was exhausted. He did not broadcast that opinion widely, but he remarked privately over a year ago that although she was owed a huge debt by the Tory party and should go "in a blaze of glory", nevertheless she should go .
Ian Gow, born February 11 1937 died July 30 1990.
Ian Gow was the son of Alexander Gow, a Bart's Top Doctor who knew the crowd at Bart's, including Lord Snowdon's grandfather, Reginald Vicks, Juliet Bingley and the rest of Dafydd's mates…
b.9 March 1884 d.19 September 1952
MD Lond MRCS FRCP(1919)
In the last week of the 1975 referendum on British membership of the EEC, du Cann came out against British membership.
As well as being Chairman of the 1922 Committee, du Cann served as Chairman of the Public Accounts Committee 1974-79. So in that role, like John Boyd-Carpenter, du Cann will have worked closely with the Civil Service mandarins who were rendering Gwynne and Dafydd bombproof. du Cann knew one of the mandarins who was Of The Gang to a greater extent than any other, Sir Idwal Pugh. Pugh went to St John's College Oxford with du Cann, as well as with Kingsley Amis. Idwal Pugh is discussed in my post 'The Naked Civil Servants'. His family came from Blaenau Ffestiniog just down the road from Cwm Croesor and then they moved to south Wales, to George Thomas territory. Idwal spent his career ensuring that the Gang were unhindered and later in his career in the 1970s, when he served as Parliamentary Commissioner and Health Ombudsman, Pugh made damn sure that not one serious complaint against the Gang was investigated.
Pugh moved to the Ministry of Housing and Local Gov't in 1961, where he became Deputy Secretary. Until Oct 1961, Henry Brooke was the Minister for whom Pugh worked; then it was Charles Hill…
During his time there, Pugh Chaired an inter-departmental inquiry into ways of modernising the planning system and his proposals for fewer and more independent planning authorities were broadly accepted by the Gov't.
Pugh served as Permanent Secretary of the Welsh Office, 1969-71. George Thomas was Secretary of State for Wales, 1968-70 and he was succeeded by Peter Thomas when Heath was elected. Peter Thomas came from Llanwrst, where his father was a solicitor. Mary Wynch's original litigation concerned what she maintained were a ring of corrupt solicitors in Gwynedd who were, in collaboration with Dafydd and Top Docs, fleecing people. My post 'A Few Of The Relevant Politicians Re Mary Wynch's Case' discusses one Peter Thomas as playing a key role in the unlawful shafting of Mary Wynch.
Llanrwst is a hot spot for the Gang, Peter Higson and his sister Dr Ruth Hussey (see post 'Topsy and Tim') grew up in Llanrwst, as did many more of those we know and love. Dafydd's son Deiniol ap Dafydd has his wine bar and deli in Llanrwst.
In 1971, Pugh moved to the much enlarged Dept of the Environment to serve with the Secretary of State there, Peter Walker, as Second Permanent Secretary, where he remained until 1976.
Peter Walker was a longstanding and key member of the Gang, dating back to the Cretaceous with Lord Brecon, Beata Brookes and Gwynne, before Dafydd had qualified as a Top Doc. Peter Walker was the man with the City Links and had been a friend and business partner of Jim Slater, who was a friend of Nigel Lawson. Peter Walker served in Thatch's Cabinet as Energy Minister, when his knowledge of the Gang was put to use in Thatch's battle with the NUM, 1984-85 and he also served as Welsh Secretary in which role he colluded with the Gang. One of Walker's Ministers at Energy was Anthony Eden's son Nicholas, who was slowly dying from AIDS at the time. See previous posts eg. 'A Holy Fool Among A Feast Of Fools', Holding The Country To Ransom – Part II' and 'Shurely Shome Mishtake'.
In 1976, Idwal Pugh was appointed Parliamentary and Health Service Ombudsman and remained in the roles until 31 Dec 1978.
My post 'The Naked Civil Servants' details how the political journo Jackie Ashley put in a complaint to Idwal as a stooge to show that the system was working; Airey Neave had put in complaint to Idwal's predecessor, the equally corrupt Sir Edmund Compton for the same purpose. Jackie Ashley's dad was Jack Ashley, the Labour MP for Stoke-on-Trent, a constituency on the turf of the big ring in Staffordshire which was directly linked to Dafydd's ring and other rings and like the other rings was being concealed at Gov't level. See previous posts.
Jackie Ashley is married to the journo Andrew Marr, who like his wife knew about Dafydd and the Gang. Marr is another old boy of Loretto School.
After Idwal Pugh stepped down as Parliamentary Ombudsman in 1978, he pursued a career in the City. Pugh was a Director of Standard Chartered Bank – a la Lord Mervyn! – as well as of the Halifax Building Society. My post 'The Naked Civil Servants' details an illegal action that the Halifax pulled on me in 1999/2000 that prevented me moving to the Isle of Ling in Scotland after I'd finally had enough of the constant aggro and wrongful arrests. It's not as if the Gang really wanted me to ever leave their clutches, although they screamed at me regularly how much they hated me and why I should get the hell out of Wales…
Idwal Pugh also became Chairman of the Hodge Group and Hodge Finance, founded by Pugh's friend Julian Hodge, a dodgy money-lender. George Thomas was a mate of Julian Hodge and was a Director of Julian Hodge's questionable money lending outfit, the 'Bank Of Wales'. Pugh was Chairman of the Development Corporation for Wales, 1980-83 and the President of the Cardiff Business Club, 1991-98. Now I know why people laugh at Cardiff Business Club (see previous posts) with its Edwina Hart links! You're in good company there then Edwina, Idwal Pugh, a friend of Julian Hodge and George Thomas. Edwina who as the Welsh Gov't Health Minister utterly failed to deal with those we know and love although I'd sent her enough evidence to have them arrested.
Furthermore Idwal Pugh went to Cowbridge Grammar School, as did Prof Geoffrey Chamberlain. When Chamberlain retired from St George's after finding himself at the centre of scandal after scandal after scandal, he accepted a lecturing job in the history of medicine at Swansea University. the Swansea University that was the domain of Rhodri Morgan and his family. Edwina Hart was the AM for the Gower and was alleged to be part of the Swansea Mafia, who batted for Swansea and its institutions at every opportunity.
Pugh also served as Chairman of the Royal Northern College of Music, 1988-92 and President of Coleg Harlech, 1990-98.
Sir Idwal maintained that his Cavinist Methodism underpinned his existence, that he believed in God and that God spoke Welsh no less. He's had enough of you Idwal.
Here's a bit more info on Keyser Ullman, of which du Cann was Chairman, 1970-75:
Keyser Ullman was a British merchant bank. A. Keyser & Co was an independent merchant bank founded by Samuel Montagu and his partners in 1868. Naomi Levine states that Keyser was founded by Ellis Abraham Franklin using Montagu's money. In The Rise of Merchant Banking, Stanley D. Chapman describes Keyser & Co as a "second eleven" for the overcrowded flanks of Montagus and Franklins. In 1973, Keyser Ullman lent £17m to a 28 year old entrepreneur, Christopher Selmes, secured on a valueless guarantee. Mr Selmes later fled the country, leaving debts of more than £20m. Property developer Jack Dellal sold his merchant bank, Dalton Barton, to Keyser Ullman for £58m just before the 1973-74 banking crisis that caused Keyser's failure. Dellal was Deputy Chairman of Keyser and some have argued that he was "prime culprit" in the failure of Keyser Ullman and du Cann's resulting bankruptcy.
Jack Dellal (2 October 1923-28 October 2012) was a British property. His company, the property group Allied Commercial Holdings, financed the purchase of Shell Mex House in 2002 and sold it in 2007. The building was for many years the London HQ of Shell-Mex and BP for which it was originally built. Shell-Mex and BP was a joint venture company created by Shell and British Petroleum in 1932 when they decided to merge their UK marketing operations. Upon the brand separation of Shell-Mex and BP in 1975, Shell Mex House became the Head office of Shell UK, which was Shell's UK operating company. Changes in the way that Shell was run in the 1990s led to the disposal of the property by Shell. Today, simply known as 80 Strand, most of its floors are occupied by companies belonging to Pearson plc.
Sir Peter Morrison was Minister of State in the Dept of Energy, 11 June 1987-23 July 1990, with responsibility for Oil, under Secretary of State Cecil Parkinson. How could we ever forget Cecil?
Jack Dellal had a net worth of £6.5 billion. He must have Lied To Get Compensation. Dellal was born in Chorlton-cum-Hardy, Manchester – as was Lord Robens – to immigrant Iraqi Jews. Jack was educated at Heaton Moor College, also in Manchester. Dellal worked with his father from the early age of 18 selling cloth. Jack Dellal then turned his hand to banking in the 1970s and owned the Dalton Barton bank, which he sold to Keyser Ullman for £58 million. Jack set up Allied Commercial in 1974 with Stanley Van Gelder, with whom he worked for over 40 years. One of their deals was the flip of central London's Bush House, home of the BBC, which made £750 million within two years. Dellal was said to have invested up to £200m in London's Dolphin Square.
Dellal's nickname, "Black Jack", was said to have derived from his love of gambling. Through two marriages and at least one long term relationship, Jack had seven daughters and two sons:
Zehava Helmer: (1952-1975; divorced) – Guy (businessman), Lorraine, Suzanne, Diane and Gaby (film director).
Katya Douglas: – Jasmine (film director 'with a conscience') and Rowan
Ruanne (née Louw) : Miss South Africa 1974: marriage (1997-Jack's death in 2012 death) – Zack and Catherine, to whom he left £1.2 billion of his fortune.
In memory of his daughter Suzanne, Jack founded the Suzanne Dellal Center for Dance and Theater in Tel Aviv in 1989.
Jack's son Guy was a Director of Allied Commercial Holdings, who ran Allied Commercial along with his father from 1986 and took over operational ownership years before Jack died. Today Guy is an investment partner of Robert and Vincent Tchenguiz, as well as an art dealer.
Jack Dellal died in his sleep in London on 28 October 2012, aged 89.
Robert Tchenguiz (born 9 September 1960) is a British entrepreneur, securities dealer and is in business with his brother Vincent. Robert and Vincent Tchenguiz were born in Tehran to Iraqi-Jewish parents who had left Iraq in 1948 and settled in Iran. Robert and Vincent's family were jewellers who worked for the Shah and ran the country's mint. The family moved in England after the Iranian revolution in 1979. Robert and Vincent's sister Lisa Tchenguiz was married to BBC Radio 1 disc jockey, Gary Davies and then to the South African-born CEO of Del Monte, Vivian Imerman.
In 2008, in the wake of the collapse of the Icelandic bank Kaupthing Robert Tchenguiz was suspected of fraudulent dealings and was arrested in a dawn raid in 2011. The investigation ended in 2012 with the SFO citing 'insufficient evidence'. In fact, Robert Tchenguiz lost millions of pounds in Kaupthing's collapse. Robert sued the SFO for false imprisonment and damages to his businesses. Due to mishandling of the inquiry, the court had already ordered the SFO to pay 80% of Robert Tchenguiz's legal expenses in the matter. SFO settled with Tchenguiz for a sum of £1.5m.
In 2005, Robert married his longtime girlfriend, American Heather Bird; they have two children. They are separated and live in different parts of the same house in Kensington, London. Robert's girlfriend, Julia Dybowska, also lives in the house.
Vincent Tchenguiz (born 9th October 1956) is Robert's brother. Vincent completed his Iranian education in Tehran in 1973. He subsequently completed a business administration course at Boston University and then went on to complete Commerce and Economics degrees at Montreal's McGill University in 1978. A Master's degree in business administration from New York University followed two years later. Following that, Vincent Tchenguiz took employment in London with Prudential Bache as a Senior-Vice President in their fund management division. In 1986, Vincent went on to another Senior Vice-President position, for Shearson Lehman Brothers in London.
Two years later, Vincent and Robert established a commercial property business, Rotch Property Group. Vincent Tchenguiz is joint MD and joint Chairman. In 2002, Vincent set up Consensus Business Group, assuming the position of Chairman. Consensus functions as the principal adviser to a family trust, advising on an investment portfolio of residential freeholds and commercial properties, valued by Lazard in 2012 at approximately £3 billion. Consensus also advises on other investments, including health care, clean technology, biotechnology, homeland security and holdings in funds valued at around £200 million pounds.
In 2009, Tchenguiz steered the move of Bramdean Alternatives investment trust to move to private equity following the Bernie Madoff scandal The fund was taken over by Aberdeen Asset Management and rebranded Aberdeen Private Equity and run by Alex Barr
On 10 March 2011, Vincent Tchenguiz was arrested by the SFO as part of a wider investigation into the collapse of Kaupthing. He was released the same day without charge. On 16 March 2011 the High Court in London ruled that Vincent Tchenguiz could sue Kaupthing for damages of £1 billion. In September 2011, Kaupthing reached an out of court settlement with the Tchenguiz Family Trust in their pursuit of damages against the Icelandic bank. All details of the settlement remain confidential.
On 5 December 2011, Vincent Tchenguiz and other parties in the case wrote to SFO, outlining details of allegation against the SFO and seeking damages of c.£100 million. On 22 December 2011, the SFO and the Treasury Solicitors Department (TSoI) admitted factual errors in the information used to obtain the warrants against Consensus Business Group and Vincent Tchenguiz; stated that the warrants should be quashed; and that material seized under the warrants would be returned that day. The SFO offered to pay reasonable legal costs.
Vincent Tchenguiz said: "It beggars belief that the SFO has taken so long to realise the error of their ways and I do not regard their actions … as being of their own initiative – their hand has been forced by our legal actions. Whilst I am glad that they have conceded to pay the significant legal costs incurred – the damage their actions have caused, both financial and to my reputation, are far greater. I intend to pursue them through the civil courts for damages."
In December 2012, the Financial Times reported that the brothers were seeking up to £180m in damages from the SFO.
On 25 July 2014, Vincent Tchenguiz agreed a settlement with the SFO for £3m in damages and £3m in legal costs and received a full apology from SFO Director David Green. In a statement, Vincent Tchenguiz said "it has become increasingly apparent that the SFO's investigation was influenced by certain third parties acting in their own commercial interest."
Beginning in 2011, Black Cube, a private intelligence firm founded by former Israeli intelligence agents, provided intelligence services to Vincent Tchenguiz in a number of cases, including Tchenguiz's fight against the UK Serious Fraud Office (SFO). Black Cube analysed the network of relationships surrounding the collapse of the bank and helped build a successful challenge to the SFO arrests and search warrants, causing the judge to declare the SFO's actions unlawful in 2013. It was following this investigation that the SFO was ordered by the Court to pay over £3m in damages and £3m in legal costs to Tchenguiz in 2014 and to issue a formal apology. In 2013, Black Cube filed a lawsuit in the UK against Vincent Tchenguiz for unpaid invoices and breach of contract. Concurrently, Tchenguiz filed a lawsuit in Israel against Black Cube, alleging fraudulent invoices, an allegation denied by Black Cube. Both lawsuits were dropped in a settlement agreement, the details of which are undisclosed.
In January 2018, Proxima GR Properties, owned by the Tchenguiz family trust of which Vincent Tchenguiz is a beneficiary, refused to replace flammable cladding, similar to the material responsible for the Grenfell Tower fire. The company insisted that the leaseholders pay the £2 million cost, up to £31,300 per flat and any costs incurred in delay of payments including fire wardens and scaffolding.
Vincent Tchenguis has invested more than £500,000 in Israeli defence technology company eVigilo, which has cooperated with Ericsson to send warning text messages in specific areas. Tchenguiz has also been the largest shareholder of Cambridge Analytica, the company involved in 2018 Facebook scandal.
Vincent Tchenguiz is unmarried, resides in Mayfair, London, with additional homes in St Tropez and Cape Town. He maintains a 130-foot motor yacht on the French Riviera. The Guardian's Robert Booth reported on 17 January 2018 that Vincent purchased a new 165-foot motor yacht in 2017. The same article reported that Tchenquiz had agreed to replace hazardous flammable cladding on his Citiscape complex in Croydon as soon as its low-income residents pay him £31,300 per flat in advance to cover the cost.
The Torygraph obituary for Jack Dallal, published on 30 Oct 2012, read: