My post 'Devonshire Cream and Fudge' discussed how Mark Bonham-Carter, a grandson of the PM Herbert Asquith and the Liberal MP for Torrington, Devon, from 1957, was defeated in 1959 by the Tory Percy Basil Browne who served as MP for Torrington, 1959-64.
Browne's Torygraph obituary stated that: After being adopted by the Tory Party as the candidate who was "very much the horse for the local course", Browne's tall, dark, handsome figure was seen as a winner with female electors, and he held off the rising Liberal tide that swept Jeremy Thorpe into the contiguous constituency of North Devon. In his maiden speech, Browne recalled receiving a phone call after the election in which a voice declared: "This is Asquith's voice speaking, and I am very displeased with you."
From what I understand, Asquith's Voice is very displeased with this blog. So just to reassure Asquith's Voice that I have a healthy disrespect for Voices that try to push me about, this blog post will discuss Asquith's Voice and the Voices of some of those in Asquith's circle.
Bonham-C – Mark – Dick – and the Royal Navy B-C
Desmond B-C
Asquith – reputation with the Ladies – Lady Ottoline Morrell –
Venetia Stanley – etc
Violet – Laura – Jo Grimond
In 1916 Asquith's Voice was speaking when the PM recommended that King George V should appoint Victor Cavendish, 9th Duke of Devonshire, Governor General of Canada.
George V – Gwynne connection –
After the death of his father in 1891, Victor Cavendish entered politics, winning his father's constituency of West Derbyshire unopposed. Cavendish held the seat until he inherited his uncle's dukedom in 1908.
Cavendish's appointment as Governor General of Canada was initially controversial but, by the time of his return to England, the Duke had earned praise for the way in which he carried out his official duties.
Following his tenure as Governor General, Cavendish returned to political and diplomatic life, serving as Secretary of State for the Colonies, 1922-24, before retiring to his estate in Derbyshire, where he died on 6 May 1938.
On 30 July 1892, Cavendish married Lady Evelyn FitzMaurice, the elder daughter of the Marquess of Lansdowne, Viceroy of India and quondam Governor General of Canada. The couple thereafter had seven children: Edward, Marquess of Hartington (born 1895), Lady Maud Louisa Emma (born 1896), Lady Blanche Katharine (born 1898), Lady Dorothy (born 1900),
Lady Rachel (born 1902), Lord Charles Arthur Francis (born 1905), and Lady Anne (born 1909). Through his children's eventual marriages, Cavendish became the father-in-law of Henry Philip Hunloke, James Stuart, Harold Macmillan, and Adele Astaire
In 1907, Victor Cavendish was appointed a Deputy Lieutenant of Derbyshire and, from 1908, acted as Honorary Colonel of the 5th (TA) Battalion of the Sherwood Foresters.
In 1908, Devonshire, as he was thereafter known having inherited the Dukedom, was appointed as Lord Lieutenant of Derbyshire. In 1908 Devonshire became Chancellor of the University of Leeds. He was then elected to two mayoral offices: first to that of Eastbourne, between 1909 and 1910, and then Chesterfield, from 1911 to 1912. In the House of Lords, Devonshire served as Conservative Chief Whip from 1911 and, after the Conservatives joined the Govt during the First World War, as joint Government Chief Whip in the Lords, holding office as Civil Lord of the Admiralty. Following WW I, Devonshire became Honorary Colonel and Commandant of the Derbyshire Volunteer Regiment of the Volunteer Training Corps in 1918.
When the Voice Of Asquith recommended that George V appoint Devonshire as Governor General of Canada, the Voice Of Asquith caused political problems, as Canadian PM Robert Borden had not been consulted on the matter, contrary to practice. Borden thus felt insulted, which led to considerable difficulties at the beginning of Devonshire's tenure, beginning after he was sworn in on 11 November 1916 during a ceremony held in Halifax.
There was social unrest in Canada at the time, but the Canadian victory in 1917 at Vimy Ridge, helped fuel Canadian pride and nationalism and the Governor General, while conscious of his role's remaining connection to the British Govt, used this victory to positively and publicly encourage reconciliation between Canada's two main linguistic groups. At all times, Devonshire was careful to consult with the Voice Of Asquith and the leaders of His Majesty's Loyal Opposition in Canada on matters related to conscription and the war effort.
As a landowner himself, as Governor General of Canada, Cavendish was particularly focused on the development of farming in Canada and during his travels, at agricultural and horticultural fairs, shows, and sugaring-off parties in the Gatineau, he discussed agricultural issues with farmers and other people in the industry. Cavendish's speeches often referred to Canada's potential to lead the world in agricultural research and development, and one of his major projects while viceroy was to establish experimental farms, including the Crown's central one in Ottawa. At the same time, Devonshire acted as a Patron of the arts; when not on tour or residing at La Citadelle – the viceregal residence in Quebec City at which the Duke enjoyed spending time – Devonshire frequently visited the National Gallery and hosted theatrical performances at Rideau Hall. There, on the grounds of the Royal residence, during the winters, the Devonshires also hosted tobogganing and skating parties, as well as hockey matches. Officially, in 1918 Devonshire travelled to the United States to meet President Woodrow Wilson informally, and the following year, he was host to Prince Edward, Prince of Wales, before the Mrs S business, during his first tour of Canada. Lady Megan Lloyd George was in Canada when Edward was and they kicked off a Big Event by taking the dance floor.
By the end of his tenure as Governor General, Devonshire had overcome all of the initial suspicions that had surrounded his appointment; both men who served as his Canadian PM  – Borden and Arthur Meighen—came to view him as a personal friend. The former said of Devonshire: "No Governor General has come with a more comprehensive grasp of public questions as they touch not only this country and the United Kingdom, but the whole Empire."
The Duke left as a mark of his time in Canada the Devonshire Cup, for the annual golf competition of the Canadian Seniors Golf Association  and the Duke of Devonshire Trophy, for the Ottawa Horticultural Society. While in Canada, Devonshire's two aides-de-camp married his daughters.
On returning to England, Devonshire worked at the League of Nations before serving from 1922 to 1924 as Secretary of State for the Colonies (with a seat in the Cabinet, while headed by PMs Bonar Law and Stanley Baldwin). There, he opposed the views of Lord Delemere, the leading White settler in Kenya, who had helped found the Happy Valley set and campaigned for self-government by White settlers. Devonshire advocated protecting the interests of the Africans. The Devonshire White Paper of 1923, which he authored, was cited as a reason why Kenya did not develop as a white minority rule, similar to the model of the Union of South Africa and Southern Rhodesia.
In 1922, Devonshire was appointed by King George V to the Committee that was charged with looking into how honours were to be bestowed in the United Kingdom. Lloyd George had been flogging honours and things became a bit difficult.
From 1933 until his death Devonshire was Honorary Colonel of the 24 (Derbyshire Yeomanry) Armoured Car Company, Royal Tank Regiment, in the TA. He simultaneously continued to run his agricultural land holdings, especially around Chatsworth House, where he died in May 1938.
Devonshire's wife ie. Dorothy Macmillan's mother and Maurice Macmillan's grandmother:
Evelyn Emily Mary Cavendish, Duchess of Devonshire, DStJ, GCVO, JP née Petty-FitzMaurice oversaw the reorganisation of the Devonshire estates and presided over four English houses and one Irish castle.
Evelyn held the position of Mistress of the Robes to Queen Mary from 1910 until 1916, when she accompanied her husband upon his appointment as Governor General of Canada. The Duchess held the position Viceregal Consort until the Duke's term ended in 1921. Upon returning to England, the Duchess again was appointed Mistress of the Robes to Queen Mary, holding the position until the latter's death in 1953. The Dowager Duchess, widowed since 1938, spent her final years living at Hardwick Hall, which was made over to HM Treasury in 1956, in part payment of death duties.
The Petty-Fitzmaurice dynasty were an Anglo-Irish aristocratic family, while the Hamilton dynasty were, by origin, an Ulster-Scots aristocratic family. Lord Lansdowne, Lady Evelyn's father, served as Governor General of Canada from 1883 to 1888, as Viceroy of India from 1888 to 1894, and as Leader of the Conservative Party in the House of Lords from 1903 to 1916.
Evelyn was married on 30 July 1892 to Victor Cavendish, the youngest member of the House of Commons. They and their growing family resided at Holker Hall in Lancashire; Lord Richard Cavendish lived there after Victor's ascension as Duke of Devonshire in 1908. The family eventually came to include two sons, five daughters and twenty-one grandchildren.
As part of the celebrations for Queen Victoria's Diamond Jubilee in 1897, Victor's uncle hosted the Devonshire House Ball, one of the event's most extravagant parties.
The Devonshires were one of the UK's richest families, thought by some to have more wealth than the Royal family. In 1909, the Duchess founded the Derbyshire branch of the Red Cross and became its first President. She was appointed Mistress of the Robes to the newly crowned Queen Mary in 1910. In 1916, the Duke accepted the appointment of Governor General of Canada and his wife relinquished her position to accompany him, along with six of their children.
While in Canada, Lady Dorothy met Harold Macmillan. While the Duke was delighted with the match, the Duchess was unhappy that Macmillan, though wealthy, was In Trade. Nevertheless, Dorothy and Macmillan were married in April 1920.
The Duke of Devonshire's tenure in Canada ended in 1921 and the Duchess resumed her role as Mistress of the Robes to Queen Mary, holding the appointment from 1921 to the latter's death in 1953. Queen Mary invested the Duchess as a Dame Grand Cross of The Royal Victorian Order in May 1937.
In April 1925, the Duke suffered a stroke that paralysed him and led to his gradual mental deterioration. The Duke 'became miserable towards his family and others, and suddenly could not tolerate his wife'.He died in May 1938; after his death, the Duchess took up residence at Hardwick Hall, where she oversaw a significant amount of repair work of its tapestries and embroideries.
In 1950, the unexpected death of the 10th Duke of Devonshire and the subsequent death duties (rated at 80%) caused the sale of many of the Devonshire assets and estates, including Hardwick. The decision was made to hand the house over to HM Treasury in lieu of Estate Duty in 1956. The Duchess agreed to the plan despite her love for the estate. In 1959, the Treasury transferred the house to the National Trust. The Duchess remained in occupation until her death on 2 April 1960. She was to be Chatsworth House's last occupant.
The 9th Duke and the Duchess had two sons and five daughters; thus Maurice Macmillan had a good supply of aunts and uncles.
The Marquess of Hartington began service with the TA as a second lieutenant in the Derbyshire Yeomanry in 1913.
Mobilised at the outbreak of the First World War, Edward was an aide-de-camp (ADC) on the Personal Staff at the British Expeditionary Force's General HQ. In 1916, Edward rejoined his regiment in Egypt and served in the latter stages of the Dardanelles campaign. Edward then returned to France, became attached to Military Intelligence, then to the War Office and the British Military Mission in Paris. In 1919 he served on the British peace delegation that attended the signing of the Treaty of Versailles
Edward continued serving after the war with his regiment, which became 24 (Derbyshire Yeomanry) Armoured Car Company of the Royal Tank Regiment in 1923. Edward was also Honorary Colonel of the 6th Battalion of the Sherwood Foresters, 1917-37, and of its successor, the 40th (Sherwood Foresters) Anti-Aircraft Battalion of the Royal Engineers.
Edward served as Tory MP West Derbyshire, 1923-38; he succeeded to his father's peerage and entered the House of Lords in 1938. Edward was subsequently a minister in Winston Churchill's wartime Govt as a Parliamentary Under Secretary of State, for India and Burma (1940–1942) and for the Colonies (1942–1945).
Edward also served in Derbyshire local government. He was appointed a JP for the county in 1917, and a Deputy Lieutenant in 1936, ultimately becoming the county's Lord Lieutenant from 1938 until his death in 1950. Edward served as Mayor of Buxton in 1920–21.
Edward was Chairman of the Overseas Settlement Board in 1936 and was High Steward of the University of Cambridge and Chancellor of the University of Leeds, 1938-50. He was a Director of The Alliance Insurance Company of Britain and the Bank of Australasia. Edward served as President of the Zoological Society of London in 1948.
Edward was a Freemason and was Grand Master of the United Grand Lodge of England, 1947-50.
The Duke's younger brother Charles was married to dancer Adele Astaire, sister of Fred Astaire.
In 1917, Edward married Lady Mary Gascoyne-Cecil, granddaughter of PM Robert Gascoyne-Cecil, 3rd Marquess of Salisbury. They had five children:
On 26 November 1950, Edward suffered a heart attack and died in Eastbourne in the presence of his GP, John Bodkin Adams, the suspected serial killer. Despite the fact that the duke had not seen a doctor in the 14 days before his death, the coroner was not notified as he should have been. Adams signed the death certificate stating that the Duke died of natural causes. Thirteen days earlier, Edith Alice Morrell – another patient of Adams – had also died. Historian Pamela Cullen speculates that as the Duke was the Head of British freemasonry, Adams – a member of the fundamentalist Plymouth Brethren – would have been motivated to withhold the necessary vital treatment, since the "Grandmaster of England would have been seen by some of the Plymouth Brethren as Satan incarnate". No proper police investigation was ever conducted into the death, but the Duke's son, Andrew, later said "it should perhaps be noted that this doctor was not appointed to look after the health of my two younger sisters, who were then in their teens"; Adams had a reputation for grooming older patients in order to extract bequests.
Adams was tried in 1957 for Morrell's murder but controversially acquitted. The prosecutor was Attorney-General Sir Reginald Manningham-Buller, a distant cousin of the Duke (via their shared ancestor, George Cavendish). Cullen has questioned why Manningham-Buller failed to question Adams regarding the Duke's death, and suggests that he was wary of drawing attention to PM Harold Macmillan (the Duke's brother-in-law) and specifically to his wife who was having an extramarital affair with Bob Boothby at the time.
The Queen Mum Gawd Bless 'Er is on record as saying that the criminal activities of Boothby and his circle could not be investigated by the police not because Boothby's mistress Dorothy was married to the PM, but because Dorothy's father was a Duke and it would have been scandalous for the daughter of a Duke to have been discussing Uganda with Another Man.
Here's the Queen Mum Gawd Bless 'Er, with Backdoor Billy and Another:
Backdoor Billy giving Ma'am Darling a push after her life of booze, fags and Class As:
Maurice's grandfather was a Duke, so that'll be why Maurice swindled my father and Royal Solicitors Theodore Goddard tried to entrap father in serious crime and there was just nothing that anyone could do.
They couldn't do anything about Gwynne and Dafydd when they were running an international paedophile/trafficking ring and lobotomising complainants/killing witnesses. There was a Daughter Of A Duke related to the customers ewe see.
Home Office pathologist Francis Camps linked Adams to 163 suspicious deaths in total, which would make him a precursor to Harold Shipman. but Camps was dodgy himself –
GWYNNE AND DAFYDD – BY ROYAL APPOINTMENT !!
The Duke's body was buried in the churchyard at Edensor, Derbyshire, near Chatsworth.
In 1946 the Duke transferred most of his assets to his only surviving son in an attempt to avoid a repeat of the heavy death duties which the 9th Duke had had to pay in 1908. The Duke's surprise death less than four years later meant that his estate had to pay 80% death duties on the value of the entire estate. Had he lived longer, the value assessed to tax would have been progressively reduced to zero. The tax liability led to the transfer of Hardwick Hall to the National Trust, and the sale of many of the Devonshires' accumulated assets, including tens of thousands of acres of land, and many works of art and rare books. Whilst the majority of the Duke's property transferred to the next Duke, his private funds of £796,473 8s. 9d. were willed to his widow Mary Alice, Dowager Duchess of Devonshire.
Among the many Derbyshire MPs over decades who facilitated the ring in Derbyshire which exchanged staff with Gwynne and Dafydd's Gang was Tory Sir James Sidney Rawdon Scott-Hopkins, who was elected as for Edward's former seat in 1967, after he lost his former seat of North Cornwall to Liberal John Pardoe in 1966. John Pardoe was the only MP who still supported Mr Thrope after Mr Thrope was charged. John Pardoe's brother Robin was a farmer in the village where I lived as a teenager.
Born in Croydon, Scott-Hopkins was educated at Eton and Oxford University. He joined the British Army in 1939. Scott-Hopkins was commissioned in the 3rd QAO Gurkha Rifles in 1942 and served on the North-West Frontier, commanding C Company of the 4th Battalion, and in Burma until 1946, having taken a commission in the King's Own Yorkshire Light Infantry in 1944. Scott-Hopkins retired from the Army in 1950 and became a farmer. He married Geraldine Hargreaves in Eton in 1946 (three sons, one daughter).
Scott-Hopkins was MP for North Cornwall from 1959 until he lost the seat to John Pardoe in 1966. Scott-Hopkins had served as joint Parliamentary Secretary at MAFF 1962–64, in Supermac's Govt. Scott-Hopkins was elected as MP for West Derbyshire at a 1967 by-election, and served until 1979.
Scott-Hopkins' successor as MP was Matthew Parris. Scott-Hopkins had served, concurrently (to 1979), as the MEP for Hereford and Worcestershire, 1973-94. PETER WALKER – JERRY Wiggin Scott-Hopkins was knighted in 1981.
'In his political career he was probably happiest as an Agriculture Minister between 1962 and 1964. He adored the county shows. But he was also able to bring considerable intellectual vigour to the conflicting demands of agricultural support and Treasury restraint. The introduction of standard quantities was strongly opposed by the farming lobby and it was Scott- Hopkins – rather than his titular boss Christopher Soames – who took much of the strain of putting the Government's case.'
SOAMES – the father of Fatty Soames, Carlo's mate!
According to Leigh, Alec Douglas-Home asked Scott-Hopkins in 1965 to investigate rumours circulating about Harold Wilson's private and political life. This work included developing links with key members of the "Wilson circle" such as Joseph Kagan. He also picked up political gossip: later, it was over lunch with Mrs Kagan that he learnt of the Government's intention to devalue sterling.
KAGAN – one of Wilson's crooked friends
Scott-Hopkins died age 73 in Westminster on 11 March 1995, joining the many other Insider witnesses who are members of the 1995 Club.
JILLINGS Inquiry – set up by Clwyd CC in early 1994 – John Jillings was the former Director of Derbyshire Social Services – Jillings and his panel knew from the outset that they would never be able to tell the truth about the extent of the abuse of kids in north Wales, its why Jillings per se was appointed
SPENCER  Le Marchant – Derbyshire MP for High Peak – relation by marriage of Mrs Simpson – spencer a Westminster swinger – stood down as mp in 1983 died in 1986? date – on isle of wight – prematurely
friend of Wyn – and psychiatrist Colin McEvedy -Mce knew Gwynne and Dafydd – McEvedy's dad was a surgeon who was of Giggles – mcevedy 'committed suicide' just as I received my phd
Andrew Robert Buxton Cavendish, 11th Duke of Devonshire, (2 January 1920-3 May 2004), styled Lord Andrew Cavendish until 1944 and Marquess of Hartington from 1944 to 1950 was a Minister in Harold Macmillan's Govt; Macmillan was Cavendish's uncle by marriage. Cavendish's sister-in-law was Kathleen Kennedy, sister of John F. Kennedy and US Senators, Robert Kennedy and Ted Kennedy.
Cavendish served in the British Army during World War II, in the Coldstream Guards. In later life, Cavendish took on a number of honorary positions within the military. On 2 December 1953, Cavendish was appointed Honorary Colonel of a TA unit of the Royal Regiment of Artillery. On 2 October 1981, Cavendish was appointed Honorary Colonel of the Manchester and Salford Universities Officers' Training Corps. He relinquished this appointment on 2 January 1985.
Cavendish was Mayor of Buxton, 1952-54. He served as Parliamentary Under-Secretary for Commonwealth Relations, 1960-62, Minister of State at the Commonwealth Relations Office, 1962-63 and for Colonial Affairs, 1963-64. Cavendish once said that these appointments,made by his uncle, Harold Macmillan, the then-PM, were "the greatest act of nepotism ever".
Cavendish joined the SDP shortly after its foundation in 1981. A supporter of Dr Death – whom he later described as "the best of them"- Cavendish chose to remain with the rump 'continuing SDP' after the majority of the party's members voted to merge with the Liberal Party in 1988.
Alliance campaign for June 1987 Gen Election – organised by John Pardoe  – the Cunning Plan by the Gang to frame and imprison me immediately after the GE – the plan unravelled because they were caught lying – then planned to kill me – Oct 1987 – Brown's brother and I found Stephen Bagnall malnourished and covered in cuts and bruises in the corridor in Denbigh – Stephen asked us to help him – someone tried to kill Brown's brother not long after – and then Brown
Cavendish later sat as a crossbencher during his rare appearances in the Lords.
Cavendish followed the family tradition of owning racehorses. The Duke had many disputes over the years with the ramblers who used the paths near Chatsworth. Eventually though, in 1991, the Duke signed an agreement with the Peak National Park Authority opening 1,300 acres of his estate to walkers. He said that everyone was "welcome in my back garden". The Duke's real estate holdings were vast. In addition to Chatsworth he also owned Lismore Castle in Ireland and Bolton Abbey in North Yorkshire. He also owned the bookshop Heywood Hill and the gentleman's club Pratt's.
Cavendish was a major collector of contemporary British art, known especially for his patronage of Lucian Freud.
Cavendish was one of the founders, and the chief Patron of, the Next Century Foundation, in which capacity he hosted the private Chatsworth talks between representatives of the Govts of the Arab World and Israel. The Duke was listed at number 73 in the Sunday Times Rich List of the richest people in Great Britain in 2004.
In 1941 Cavendish married the Hon. Deborah Mitford (31 March 1920-24 September 2014), one of the Mitford sisters
The Duke's extramarital affairs became public after he appeared as a witness at a burglary trial and was forced to admit, under oath, that he was on holiday with one of a series of younger women when the crime occurred at his London home. The Duke, however, claimed that much of his marriage's success was due to the Duchess's tolerance and broadmindedness. The Duchess, as chatelaine, was largely responsible for the success of Chatsworth as a commercial endeavour.
Cavendish's three surviving children were a son, Peregrine Cavendish, 12th Duke of Devonshire, and two daughters, Lady Emma Cavendish and Lady Sophia Topley.
Lady Emma Cavendish (born 26 March 1943); married Hon. Tobias Tennant, son of Christopher Grey Tennant, 2nd Baron Glenconner on 3 September 1963. MA'AM DARLING
They have three children (including Stella Tennant) and ten grandchildren
Peregrine Cavendish, 12th Duke of Devonshire (born 27 April 1944); married Amanda Heywood-Lonsdale on 28 June 1967. They have three children and eight grandchildren.
Lady Sophia Cavendish (born 18 March 1957); married Anthony Murphy on 20 October 1979 and they were divorced in 1987. She married Alastair Morrison, 3rd Baron Margadale, on 19 July 1988 and they were divorced. 3rd Baron Margadale was Peter Morrison's Uncle – – They have two children. She married William Topley on 25 November 1999.
Cavendish's uncle, Lord Charles Cavendish, died aged 38 as a result of alcoholism. Lord Charles's will bequeathed Lismore Castle to Andrew upon the remarriage of Charles's wife, Adele Astaire, in 1947.
Cavendish inherited the estate but also an inheritance tax bill of £7 million (£242 million in 2019), nearly 80 per cent of the value of the estate. To meet this, the Duke had to sell off many art objects and antiques, including several Rembrandts, Van Dycks and Raffaello Santis, as well as thousands of acres of land.
In 1996 the Duke was made a Knight of the Garter.
He once told an interviewer:
"Wonderful things have happened in my life — it's time my son had his turn. When I was young I used to like casinos, fast women and God knows what. Now my idea of Heaven, apart from being at Chatsworth, is to sit in the hall of Brooks's, having tea."
Cavendish's wife Deborah Vivien Cavendish, Duchess of Devonshire, DCVO (born Deborah Vivien Freeman-Mitford and latterly Deborah, Dowager Duchess of Devonshire; 31 March 1920-24 September 2014) was the youngest and last surviving of the six Mitford sisters.
Known to her family as "Debo", Deborah Mitford was born in Asthall Manor, Oxfordshire, England. Her parents were David Freeman-Mitford, 2nd Baron Redesdale (1878–1958), son of Algernon Freeman-Mitford, 1st Baron Redesdale, and his wife, Sydney (1880–1963)
The Duchess was the main public face of Chatsworth for many decades. She wrote several books about Chatsworth and played a key role in the restoration of the house, the enhancement of the garden and the development of commercial activities such as Chatsworth Farm Shop (which is on a quite different scale from most farm shops; it employs 100 people); Chatsworth's other retail and catering operations; and assorted offshoots such as Chatsworth Food, which sells luxury foodstuffs carrying her signature; and Chatsworth Design, which sells image rights to items and designs from the Chatsworth collections. Recognising the commercial imperatives of running a stately home, Debo took a very active role and was known to man the Chatsworth House ticket office herself. She also supervised the development of the Cavendish Hotel at Baslow, near Chatsworth, and the Devonshire Arms Hotel at Bolton Abbey.
In 1999, the Duchess was appointed a Dame Commander of the Royal Victorian Order (DCVO) by Brenda for her service to the Royal Collection Trust. Upon the death of her husband in 2004, her son Peregrine Cavendish became the 12th Duke of Devonshire. Debo became the Dowager Duchess of Devonshire at this time, and moved into a smaller house on the Chatsworth estate.
Debo and the Duke had seven children, four of whom died shortly after birth: Mark Cavendish (born and died 14 November 1941); An unnamed child (miscarried December 1946; the child was a twin of Victor Cavendish, born in 1947); Lord Victor Cavendish (born and died 22 May 1947); Lady Mary Cavendish (born and died 5 April 1953)
It would not have been expected in the 1940s/50s to lose over 50% of ones children as newborns, particularly in a privileged family such as the Devonshires. Why did so many of the children die? There is no mention of any hereditary problem that was wiping the children out. It would also be very unusual to miscarry one twin and have the other survive; even now a woman considers herself fortunate to keep a twin if one miscarries in pregnancy. It's a cause for concern and makes for a very high risk pregnancy. Debo's history on this regard is horrific and would normally have resulted in advice from Top Docs not to become pregnant again. Neither is there any mention of the sadness and distress that the deaths of so many children caused; three out of six children dying would normally have a serious effect on family dynamics.
The Duchess was a maternal aunt of Max Mosley, former President of the Fédération Internationale de l'Automobile (FIA), as well as the grandmother of fashion model Stella Tennant.
Debo's death, at the age of 94, was announced on 24 September 2014.
Bodger – Oct 2014 – Alistair McAlpine – DATE?? – Mr Thrope – Dec 2014
The Duchess was survived by three of her children, eight grandchildren and eighteen great-grandchildren.
Cavendish was interviewed on her experience of sitting for a portrait for painter Lucian Freud in the BBC series Imagine in 2004. BOTNEY OF BRIDGY
In an interview with John Preston of The Daily Telegraph, published in September 2007, Debo recounted having tea with Adolf Hitler during a visit to Munich in June 1937, when she was visiting Germany with her mother and her sister Unity, the latter being the only one of the three who spoke German and, therefore the one who carried on the entire conversation with Hitler. Shortly before ending the interview, Preston asked her to choose with whom she would have preferred to have tea: American singer Elvis Presley or Hitler. Looking at the interviewer with astonishment, she answered: "Well, Elvis of course! What an extraordinary question."
In 2010, Lord Jack McConnell's friend BBC journalist Kirsty Wark interviewed the Duchess for Newsnight. The Duchess talked about life in the 1930s and 1940s, Hitler, the Chatsworth estate, and the marginalisation of the upper classes. She was also interviewed on 23 December by Charlie Rose for PBS.
On 10 November 2010, she was interviewed as part of "The Artists, Poets, and Writers Lecture Series" sponsored by the Frick Collection, an interview which focused on her memoir and her published correspondence with Patrick Leigh Fermor
Debo was the one who in media interviews about this Fascinating Posh Lady – one of the Mitford Sisters You Know, Hitler, a Previous Era, Rich People In Big Houses Just Like On The Tele – heaped praise on Call Me Dave and Sam after Call Me Dave became PM! They were just so good for the country…
Dad Mitford –
David Bertram Ogilvy Freeman-Mitford, 2nd Baron Redesdale (13 March 1878-17 March 1958) was as a child prone to sudden fits of rage. He was totally uninterested in reading or education, wishing only to spend his time riding. His lack of academic aptitude meant that he was not sent to Eton with his older brother, but rather to Radley, with the intention that he should enter the army. He failed the entrance examination to Sandhurst and was instead sent to Ceylon to work for a tea planter.
Redesdale was the second son of Algernon Bertram Freeman-Mitford, 1st Baron Redesdale and Lady Clementine Gertrude Helen Ogilvy. The Mitfords are from Northumberland and the family dates back to the 14th century.
Algernon Bertram Mitford, born in 1837 and known as "Bertie", was a diplomat and traveller who held minor office in Disraeli's second ministry, from 1874 to 1880. In 1874 Bertie married Clementina, the second daughter of David Ogilvy, 10th Earl of Airlie, a union that linked the Mitfords to some of Britain's most prominent aristocratic families. Blanche Ogilvy, Clementina's elder sister, became the wife of Sir Henry Montague Hozier, a soldier turned businessman. Their four children included daughters Clementine ("Clemmie"), who in 1908 married the future British PM Winston Churchill, and Nellie, who married Bertram Romilly. Both Hozier and Blanche were Gigglers, and it is generally accepted by historians and family members that Hozier was not Clemmie's father, although he was registered as such. Blanche told her friend Lady Londonderry, shortly before Clemmie's birth, that the father of the expected child was her own brother-in-law, Bertie Mitford, although most historians believe that other candidates for the paternity are more likely'. 
Bertie Mitford's marriage produced five sons and four daughters. His career in government service ended in 1886, when, after the death of a cousin, he inherited a considerable fortune. A condition of the inheritance was that he adopt the surname "Freeman-Mitford". Bertie rebuilt Batsford House, the family's country seat, served briefly as a Unionist MP in the 1890s, and otherwise devoted himself to books, writings and travel. In 1902 Bertie was raised to the peerage as 1st Baron Redesdale, a re-creation of a title that had previously been held in the family but had lapsed in 1886. His son became known as The Hon David Freeman-Mitford, although the surname Mitford was more commonly used.
In early 1900 David Freeman-Mitford returned to England from Ceylon, and on 23 May 1900 he joined the Northumberland Fusiliers His battalion served in the Second Boer War in South Africa, where Mitford soon joined in the fighting, in which he was wounded three times, losing one lung. In May 1901 David was appointed an Aide-de-camp to Lord Methuen, a senior commander during the war. David was seconded to serve with the 40th (Oxfordshire) Company of the Imperial Yeomanry and returned to the UK in April 1902. He resigned from the army three months later, in October 1902.
For a time David's father-in-law employed him as manager of The Lady, but he showed no interest in, or talent for, this. The Mitfords travelled regularly to Canada, where Mitford owned a gold claim near Swastika, Ontario: no gold was ever found there, but David enjoyed the outdoor life. His neighbour Harry Oakes did strike gold nearby in 1912.
On the outbreak of the First World War in 1914, David immediately rejoined the Northumberland Fusiliers. David served as a logistics officer in Flanders, where his elder brother Clement was killed at the Battle of Ypres. With only one lung David was invalided out of active service in 1916. After David' father's death in 1916, being now Lord Redesdale, David was briefly appointed Provost Marshal for Oxfordshire, with responsibility for ensuring the enlistment of new recruits. In 1918–19 he served as a ground officer with the Royal Air Force.
As Lord Redesdale he was often silent in the House of Lords, but joined the House of Lords Select Committee on Peerages in Abeyance in 1925.
Although Redesdale was a large landowner, 'he was not a wealthy man': the estates were poorly developed and rents were low. With seven children to feed and five servants to pay, he could not maintain the expense of his large home at Batsford in the Cotswolds. Redesdale bought and extended Asthall Manor and then moved to nearby Swinbrook. Here he indulged his passion for building by building a new large house, named after the village. The expense of these moves nearly ruined Redesdale, who was a poor manager of money. This, plus Redesdale's increasing disappointment that all his later children were girls, led to the deterioration of his temperament which became legendary through his daughters' portrayals of his frequent and terrible rages.
As a peer, Redesdale was a member of the House of Lords, then an hereditary chamber, apart from the members who were bishops and law lords. Redesdale attended the House conscientiously, although he was not really interested in party politics or in legislation, except for being opposed to nearly all change. In the 1930s, both Redesdale and his wife developed a strong sympathy for fascism, and Redesdale became known for his extreme right-wing views, particularly anti-Semitism. Redesdale's daughter Diana, herself a fascist and from 1936 the wife of Sir Oswald Mosley, described her father as "one of nature's fascists", but it seems that he never joined any fascist party. Redesdale was permanently estranged from his daughter Jessica, who was a communist from her teenage years and partly estranged from his eldest daughter Nancy, who was a strong anti-fascist although not as left-wing as Jessica.
Notice of a demonstration organised by the British Brothers League
Redesdale's wife Sydney's father Thomas Gibson Bowles had been one of the strongest parliamentary supporters of the Royal Navy while he was an MP; and her maternal uncle William Evans-Gordon MP was a retired British Indian Army officer who was opposed to uncontrolled immigration into Britain, was allied to the British Brothers League, and helped to enact the Aliens Act 1905.
Redesdale was an instinctive xenophobe; he came back from the First World War with a dislike of the French and a deep hatred of the Germans. He was widely quoted as saying that: "Abroad is bloody". If one was fighting WW I, one would draw that conclusion, it was one of the more sensible things that Redesdale said. Redesdale was initially scornful of the enthusiasm shown by his daughters Diana and Unity for Nazi Germany and Adolf Hitler: Hitler was, after all, a Hun. In November 1938, however, the Redesdales accompanied their daughters to Germany, where they attended the Nuremberg Rally and met Hitler, with whom Unity and Diana were already acquainted. Both the Redesdales were immediately won over by Hitler's superficial charm and his declarations of Anglophilia. Redesdale later spoke in the Lords in favour of the Anschluss and of returning Germany's colonies, and became a strong supporter of Neville Chamberlain's policy of appeasement towards Germany. Before we're too enthusiastic about being Shocked and Disgusted at this xenophobic old bugger we need to bear in mind that Redesdale wasn't the Lone Appeaser, there were quite a few others, including some of Brenda's forebears and Nancy Astor. Lord Rothermere thought that there were many positive aspects to Oswald Mosley et al, who retained a loyalty to Hitler and fascism after the previous widespread support began to collapse…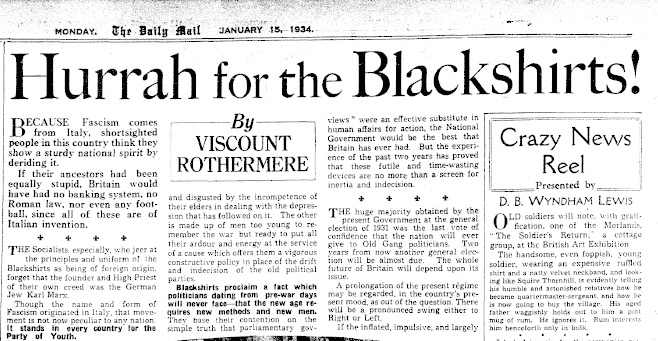 Lady Redesdale went further than her husband and wrote articles in praise of Hitler and in support of National Socialism.
The outbreak of the Second World War in 1939 precipitated a series of crises in the Mitford family. Redesdale was above all a patriot and as soon as war was declared he recanted his support for Hitler, once again becoming violently anti-German. Lady Redesdale stuck to her Nazi sympathies and as a result the pair became estranged, separating in 1943.
The Official Line is that Unity, who was famously in love with Hitler, attempted suicide in Munich on the day war was declared and suffered severe brain damage. She was brought home an invalid and Lady Redesdale cared for her until her death in 1948.
There has for years been a Mad Conspiracy Theory that Unity did no such thing and that her Suicide Attempt and Brain Damage were Faked. Read the details; anyone with any knowledge of what severe brain damage entails knows that Unity did not incur it. Furthermore NAME, the Top Doc who operated on Unity performing a Miracle, was a senior colleague of Gwynne and Dafydd's mate, Sir Charles Evans, Principal of UNCW, 1958-84. Whatever happened to Unity, she did not shoot herself in the head and sustain brain damage as claimed. That circle of Top Docs were liars, cheats and criminals who were in the service of VIP liars, cheats and criminals, even in 1984 when I encountered them. They were also highly experienced in forging documentation and 'medical histories'. They did and said anything, anything at all.
The most likely explanation for Unity's suicide attempt, severe brain damage and extraordinary recovery with just a bit of disability left to live with, is that this was a face-saving exercise for the British Royal Family. The Royal Family were in the thick of the Mitford's social circle, they were all long-standing friends who had been Giggling with each other for years. The Mitfords were regular visitors to Edward and Mr Simpson after their exile in France. Of course they were, they were all really good mates and had been for years. Diana and Oswald Mosley lived in France themselves from DATE.
The British Royal Family were barely British, they were substantially Russian and German with a few other nationalities thrown in. Things got messy when the excesses of Hitler could no longer be denied and as war approached. Unity had been quite openly discussing Uganda with Hitler so a Grand Finale of Unity Going Completely Mad, Shooting Herself In The Head and being Saved By A Heroic Top Doc was the Last Resort. Charles Evans and his colleagues were barely capable of the most basic Top Doctoring; they were a circle of Gentlemen Thugs who did a bit of medicine on the side but who's real expertise lay in whatever their main interests were, in Evans' case, mountaineering. Evans was an excellent mountaineer but a dreadful Top Doc and he couldn't run a university either. The Doctoring of Evans, Gwynne and the rest of that crew was a mess, the whole mess was predicated on their Doctoring prioritising running the Royal Brothel.
Unless the text disappears or my IT system collapses, I intend to blog further about Unity and Charles Evans' mate who Saved Her Life.
Diana and Oswald Mosley were interned in 1940 as security risks and spent three years in prison. Jessica's husband, Esmond Romilly, was killed in action in 1941, deepening her bitterness towards the "fascist branch" of the family – she never spoke to her father again, nor to Diana until 1973, although she was reconciled with her mother in the 1950s.
In February 1904, Redesdale had married Sydney Bowles (1880–1963), whom he had first met ten years previously, when he was 16 and she was 14. She was the daughter of Thomas Gibson Bowles, a journalist and Conservative MP, who in 1863 had founded the magazine Vanity Fair, and some years later the women's magazine The Lady.
Thomas Gibson Bowles – his offspring – queen mary link
sydneys brothers – George – barrister – Geoffrey – Royal Navy Commender
David Freeman-Mitford and Sydney had one son and six daughters, who all used the surname Mitford rather than Freeman-Mitford. On Nancy's birth certificate David listed his occupation as: "Honourable"; the girls were known collectively as the Mitford sisters:
Nancy Mitford (1904–1973), who married Peter Rodd, a soldier, aid worker, film-maker and the son of Rennell Rodd, 1st Baron Rennell, in 1933. They divorced in 1957.
Pamela Mitford (1907–1994), who married Derek Jackson, a physicist and the son of Sir Charles Jackson. Derek – the really excessive bisexual Giggler who was part of Gwynne and Dafydd's network – See previous posts.
Major Thomas David Mitford (1909–1945), who was killed in action
Diana Mitford (1910–2003), who married Bryan Guinness in 1929. They divorced in 1933 and she then married Sir Oswald Mosley in 1936.
Unity Valkyrie Mitford (1914–1948)
Jessica Lucy Mitford (1917–1996), who married Esmond Romilly, an anti-fascist, in 1937. After his death in 1941, she married Robert Treuhaft, an American lawyer, in 1943.
Deborah Vivien Mitford (1920–2014), who married Andrew Cavendish, 11th Duke of Devonshire.
In 1945, Tom Mitford, Redesdale's son, was killed in action in Burma, a blow from which Redesdale, already depressed by the break-up of his marriage, never recovered. Redesdale retreated to Inchkenneth, an island In the Inner Hebrides off the west coast of Scotland, which he had purchased in 1938. Later he moved to Redesdale in Northumberland, his family's ancestral property. He lived there as a virtual recluse. By 1950, when Nancy visited him, he was "frail and old." Redesdale died there in 1958 and was buried at Swinbrook, where three of his daughters (Nancy, Diana and Unity) are also buried. His title passed to his brother Bertram.
Redesdale is the model for Uncle Matthew, Lord Alconleigh of Alconleigh, in Nancy Mitford's novels The Pursuit of Love (1945) and Love in a Cold Climate (1949). In a typical passage from the former: "As soon as breakfast was over, he would begin striding about the hall, bellowing at the dogs 'Come here, blast you! Get off that coat!' Kick. 'Stop that noise, blast you!' – shouting for his loader [gun], damning and blasting anyone rash enough to cross his path." He would keep his bloodhounds in practice by having them track his children. Uncle Matthew also kept a wartime entrenching tool on a chimneypiece that still had an enemy's hair and brain parts on it. Nevertheless, both daughters' accounts make it clear that between rages Redesdale was an indulgent father who loved riding and hunting with his children.
Uncle Matthew was played by Michael Aldridge in the 1980 Thames Television series Love in a Cold Climate. In a 2001 BBC production he was played by Alan Bates (see Love in a Cold Climate (TV serial)). – BATES – The Gang – partner of Dafydd's mate Linford rees's daughter
Nancy –
Nancy Freeman-Mitford CBE (28 November 1904 – 30 June 1973), was an English novelist, biographer and journalist. She was regarded as one of the "Bright Young People" on the London social scene in the years between the world wars. She wrote several novels about upper-class life in England and France and popular historical biographies. Educated privately, she had no training as a writer before publishing her first novel in 1931. It was her two semi-autobiographical postwar novels, The Pursuit of Love (1945) and Love in a Cold Climate (1949), that established her reputation.
Responsibility for Nancy's day-to-day upbringing was delegated to her nanny and nursemaid, within the framework of Sydney's short-lived belief that children should never be corrected or be spoken to in anger. Before this experiment was discontinued, Nancy had become self-centred and uncontrollable; Hastings writes that her first years were "characterised by roaring, red-faced rages". The phenomenon is also known as Being A Toddler, most parents and indeed Nannies are quite familiar with it and it is not a Sign Of Genes Prone To Extreme Politics In Later Life or Becoming a Posh Witty Lady Novelist.
Just before Nancy's third birthday, a sister, Pamela, was born; Nanny's apparent change of loyalty in favour of the new arrival was a further source of outrage to Nancy, and throughout their childhood and into young adulthood she continued to vent her displeasure on her sister. Also known as Sibling Rivalry With An Obvious Cause.
One only needs to ask Jacob Rees-Mogg about this, Jacob famously adored Nanny, she campaigned for him when he grew up into an MP and I think that Nanny helped when Jacob's own children were born. Jacob's Nanny sounds as though she actually did a pretty good job and not just in terms of all the entertainment that Jacob and his Nanny have given to the nation. Jacob's Nanny would not be in the least bit fazed if faced with a furious toddler and she would also know that in the event of the arrival of a New Baby, toddlers already on the scene need to be reassured in every way possible that they will not be ousted by the New Baby.
One way of doing this is to ask the toddler to Help with the New Baby and explain how very lucky the New Baby is to have a Big Brother/Big Sister and that the New Baby is really wowed by their Big Sibling and furthermore Mummy/Nanny greatly appreciates the Expertise of the toddler as well. It isn't rocket science, although Hugh Jolly probably didn't know about these age old guidelines and although Gwynne will have recited the guidelines, he will not have followed them. The disaster that followed will have been attributed to the Serious Mental Illness of the person on the receiving end.
In January 1909 a Mitford brother, Tom was born, and in June 1910 another sister, Diana, followed. That summer, to relieve the pressure on what was becoming an overcrowded nursery, Nancy attended the nearby Francis Holland School. The few months she spent there represented almost the whole of her formal schooling; in the autumn the family moved to a larger house in Kensington, after which Nancy was educated at home by successive governesses. Summers were spent at the family's cottage near High Wycombe, in Buckinghamshire, or with the children's Redesdale grandparents at Batsford Park. In the winter of 1913–14 David and Sydney visited Canada, prospecting for gold on a claim that David had purchased in Swastika, Ontario. It was here that their fifth child was conceived, a daughter born in London on 8 August 1914 and christened Unity.
In 1921 Nancy was allowed a year's boarding at Hatherop Castle, an informal private establishment for young ladies of good family. Laura Thompson, in her biography of Nancy, describes Hatherop as not so much a school, "more a chaste foretaste of debutante life". Here Nancy learned French and other subjects, played organised games and joined a Girl Guide troop. It was her first extended experience of life away from home, and she enjoyed it. The following year she was allowed to accompany four other girls on a cultural trip to Paris, Florence and Venice; her letters home are full of expressions of wonder at the sights and treasures:
Nancy's eighteenth birthday in November 1922 was the occasion for a grand "coming-out" ball, marking the beginning of her entry into Society. This was followed in June 1923 by her presentation at Court—a formal introduction to King George V at Buckingham Palace—after which she was officially "out" and could attend the balls and parties that constituted the London Season. She spent much of the next few years in a round of social events, making new friends and mixing with the "Bright Young People" of 1920s London. In 1926 Asthall Manor was finally sold. While the new house at Swinbrook was made ready, the female members of the family were sent for three months to Paris, a period which, says Hastings, began Nancy's "lifelong love affair" with France.
Among Nancy's new London friends was Evelyn Gardner who,[49] Nancy informed her brother Tom, was engaged "to a man called Evelyn Waugh who writes, I believe, very well".[50] She and Waugh later developed a lasting friendship. Her father maintained an aggressive hostility towards most of her male friends. Among them was Hamish St Clair Erskine, the second son of the 5th Earl of Rosslyn, an Oxford undergraduate four years Nancy's junior. The pair met in 1928 and became unofficially engaged, despite his homosexuality (of which Nancy may not have been aware). Against a backdrop of negativity from family and friends—Waugh advised her to "dress better and catch a better man"— the affair endured sporadically for several years.
Mitford began writing, encouraged by Waugh. Her first efforts, anonymous contributions to gossip columns in society magazines, led to occasional signed articles,[55] and in 1930 The Lady engaged her to write a regular column.[56] That winter, she embarked on a full-length novel, Highland Fling,The book made little impact when it was published in March 1931, and she immediately began work on another, Christmas Pudding, illustrated by her close friend Mark Ogilvie-Grant. Like the earlier novel, the plot centres on a clash between the "Bright Young People" and the older generation. Hamish Erskine is clearly identifiable in the character of "Bobby Bobbin", and John Betjeman is the basis for the supporting role of Bobby's tutor. .
The affair between Erskine and Mitford continued intermittently.[60] While she often despaired of the relationship, she refused other offers of marriage, saying that she would "never marry anyone except Hamish."[61] In 1932 her plight was overshadowed by a family scandal involving her younger sister Diana, who had married Bryan Guinness in 1928 and was the mother of two young sons. In 1932 Diana deserted her husband to become the mistress of Sir Oswald Mosley, the leader of the British Union of Fascists, himself married with three children. Almost alone of her family, Mitford offered her sister support, regularly visiting her and keeping her up to date with family news and social gossip.[62] Her own love affair with Erskine came to an abrupt end when, in June 1933, he informed her that he intended to marry the daughter of a London banker.
Within a month of Erskine's departure, Mitford announced her engagement to Peter Rodd, the second son of Sir Rennell Rodd, a diplomat and politician who was ennobled that year as Baron Rennell.
RODD – knew Maurice Macmillan!! –
Hon. Peter Murray Rennell Rodd (16 April 1904 – 17 July 1968),[1] soldier, aid worker, film-maker and idler, was the second son of Sir Rennell Rodd, a diplomat and politician who was ennobled in 1933 as Baron Rennell.
James Rodd was educated at Haileybury and Balliol College, Oxford, where he was associated with the circle of Oscar Wilde. Wilde later assisted Rodd in securing publication for his first book of verse, Rose Leaf and Apple Leaf, for which Wilde provided an introduction. As Wilde began to court scandal in his public career, their friendship subsequently cooled.
He entered the British Diplomatic Service in 1883, and served in minor positions at embassies in Berlin, Rome, Athens and Paris. From 1894 to 1902, Rodd worked under the Consul-General of Egypt, Lord Cromer. He played an important part in negotiating the Anglo-Ethiopian Treaty of 1897 with Emperor Menelik II of Ethiopia. In late 1901, he was appointed first secretary at the embassy in Rome, where he arrived in 1902, and remained for the next two years.[1]
In 1904, Rodd was made minister plenipotentiary to Sweden—and until November 1905, Norway—but did not arrive until 17 January 1905. He played an active and neutral part in the Dissolution of the union between Norway and Sweden, for which he was rewarded the Grand Cross of the Order of the Polar Star by King Oscar II. After the secession, he continued as a minister in Sweden until 1908.
In 1908 he was appointed ambassador to Italy. He remained in this post until 1919, and played a key role in securing Italy's adhesion to the Triple Entente. Rodd left the Diplomatic Service in 1919, but nonetheless served on the mission to Egypt in 1920, with The Viscount Milner. Rodd was the British delegate to the League of Nations from 1921 to 1923. He also sat as Unionist Member of Parliament for the constituency of St Marylebone between 1928 and 1932. TOP DOCS CENTRAL!!
Apart from his diplomatic services Rodd was also a published poet and scholar of ancient Greece and Rome.
Rodd  was appointed to the Privy Council in 1908 and in 1933 he was raised to the peerage as Baron Rennell, of Rodd in the County of Hereford.
Rennell Rodd married Lilias Georgina Guthrie, daughter of James Alexander Guthrie, in 1894. They had four sons and two daughters. His eldest daughter Evelyn Violet Elizabeth Rodd was a Conservative politician and was created a life peer as Baroness Emmet of Amberley in 1965. His second daughter, the Hon. Gloria Rodd, married the painter Simon Elwes, by whom she had a four sons, including the portrait painter Dominick Elwes, who had three sons with Tessa Kennedy, including actor Cary Elwes
Rennell Rodd, 1st Baron Rennell died in July 1941, aged 82, and was succeeded in the barony by his second but eldest surviving son, Francis, who later served as President of the Royal Geographical Society.
Peter Rodd was educated at Wellington College and Balliol College, Oxford.
Rodd was married to Nancy from 1933 until their divorce in 1957, although by then the marriage had been over in all but name for some years.
Rodd followed no specific career and his views were erratic and changeable; having joined the British Union of Fascists in 1933, by the following year he was fiercely denouncing the movement. In 1938 he carried out humanitarian work in Perpignan on behalf of refugees from the Spanish Civil War. He was commissioned into the Welsh Guards in 1939,[6] and during a varied war career saw service in Africa and Italy, attaining the rank of Lieutenant-Colonel. After the war he attempted unsuccessfully to become a film-maker; his one completed project, For Whom the Gate Tolls, shot in Spain, was a failure. Other than this, for the remainder of his years he lived a more or less idle life, mainly on handouts, mostly in Rome and finally in Malta, where he died in 1968.
According to Mitford's friend Harold Acton, Rodd was "a young man of boundless promise … he had abundant qualifications for success in any profession he deigned to choose". Other biographers describe him as irresponsible, unfaithful, a bore and unable to hold down a regular job,They were married on 4 December 1933, after which they settled into a cottage at Strand-on-the-Green on the western edges of London. Mitford's initial delight in the marriage was soon tempered by money worries, Rodd's fecklessness and her dislike of his family.
In 1934 Mitford began her third novel, Wigs on the Green, a satire on Mosley's fascist "Blackshirt" movement. Mitford herself had briefly flirted with this cause, although her enthusiasm was short-lived and she soon became a vociferous opponent of fascism. When the novel was published in 1935 it made little critical impact, while seriously offending members of her own family, particularly her sisters Diana and Unity, both of whom were supporters of Mosley's movement and devotees of the German dictator Adolf Hitler. The rift with Unity, who was outraged by her depiction in the book was never fully healed.
By 1936 Mitford's marriage was largely a sham. Rodd was engaged in an affair with the wife of a friend, a situation that continued into the new year, when the Mitford family was further shaken by the 19-year-old Jessica's elopement with her cousin Esmond Romilly. A rebellious ex-Wellington schoolboy and avowed Communist, Romilly had been invalided home after fighting on the Republican side in the Spanish Civil War. Mitford was despatched to bring them home, but failed to persuade them, and they were married in May.
Through the winter of 1937–38 Mitford's main literary task was editing the letters of her cousins the Stanleys of Alderley, Her preoccupation with this project – nine or ten hours a day, she informed her friend Robert Byron – further damaged her relationship with Rodd. Nevertheless, in the summer of 1938 she discovered she was pregnant. She hoped for a girl; but in September she miscarried. Early in 1939 Rodd left for the South of France, to work with the relief organisations assisting the thousands of Spanish refugees who had fled from General Franco's armies in the final stages of the civil war. In May Mitford joined him, and spent several weeks there as a relief worker.[79] She was much affected by what she saw and The experience hardened her anti-fascism to the extent that she wrote: "I would join hands with the devil himself to stop any further extension of the disease".
Having rejected the political extremes within her family, Mitford affected a stance of moderate socialism, though as Hastings points out, without much depth or conviction. Many of her writings—for example, her introductions to the Stanley letter collections, and her "U–non-U" essay of 1955—are staunch defences of aristocratic traditions and values.
The outbreak of war in September 1939 divided the Mitford family. Nancy and Rodd supported the war; the Romillys had by this time departed for America, while the others either hoped for an Anglo-German détente or, as with Unity, were openly pro-Nazi. Mosley and Diana, who had married secretly in 1936, were detained under Defence Regulation 18B. Nancy, in full anti-fascist mode, had described her sister to the British Intelligence agency MI5 as "a ruthless and shrewd egotist, a devoted fascist and admirer of Hitler [who] sincerely desires the downfall of England and democracy in general."[87][n 8] During the "phoney war" of 1939–40, Nancy was briefly an Air Raid Precautions (ARP) driver, and later worked shifts at a first-aid post in Paddington.[90] She drew on these experiences in her fourth novel, Pigeon Pie, a comedy about spying. It was published by Hamish Hamilton in May 1940, at a time when there was little public appetite for lighthearted war satire, and the book was a commercial failure
In April 1940 Mitford suffered her second miscarriage. Shortly afterwards Rodd, who had been commissioned into the Welsh Guards, departed overseas. Alone in London, Mitford moved to the family's Rutland Gate house where she remained during the London blitz. The main house had been requisitioned to provide a refuge for Jewish families evacuated from the bombed areas of the East End. A brief affair with a Free French officer, André Roy, resulted in a third pregnancy. Mitford again miscarried, with complications that led, in November 1941, to a hysterectomy. After convalescence, at a loose end, she began working as an assistant at the Heywood Hill bookshop in Curzon Street.[n 9] The shop became the centre of Mitford's daily activities, and was a favoured meeting place for London's literati.
In September 1942 she met Gaston Palewski, a French colonel attached to General Charles de Gaulle's London staff. She found him fascinating, and he became the love of her life For the sake of Mitford's reputation the affair was pursued with discretion, before Palewski left for Algeria in May 1943. Thereafter the relationship was conducted mainly by letters and occasional phone calls, since Palewski was only intermittently in England before the end of the war.
in 1944 in September, she went to Paris. Ostensibly this was to establish a French branch of Heywood Hill but in reality she wished to be close to Palewski, who was now a member of de Gaulle's postwar provisional government.[101] She was back in London in December 1945 for the publication of The Pursuit of Love
At the end of the war Rodd returned home, but the marriage was essentially over; although remaining on friendly terms, the couple led separate lives.[103][n 11] Mitford's visit to France in late 1945 had revived her longing to be there, and in April 1946, having given up working in the shop the previous month, she left London to make her permanent home in Paris; she never lived in England again. She was a prolific letter writer, and kept contact with her large cohort of friends
diana cooper – friend
During her first 18 months in Paris Mitford lived in several short-term lodgings while enjoying a hectic social life, the hub of which was the British Embassy under the regime of the ambassador, Duff Cooper, and his socialite wife Lady Diana Cooper. Eventually Mitford found a comfortable apartment, with a maid, at No. 7 rue Monsieur on the Left Bank, close to Palewski's residence. Her socialising, entertaining and working were interspersed with regular short visits to family and friends in England and summers generally spent in Venice.
In 1948 Mitford completed a new novel, a sequel to The Pursuit of Love she called Love in a Cold Climate, with the same country house ambience as the earlier book and many of the same characters. 1950 – The Sunday Times asked her to contribute a regular column, which she did for four years. This busy period in her writing life continued in 1951 with her third postwar novel, The Blessing, dedicated to Waugh
Mitford then began a biography of Madame de Pompadour. The general view of the critics, when the book was published in March 1954, was that it was "marvellous entertainment, if hardly to be taken as history".
In 1954 Alan Ross, a University of Birmingham professor of linguistics, devised the terms "U" and "Non-U" to differentiate the speech patterns of the social classes in England. "U" indicated upper-class usage, and "Non-U" the conventions of the lower strata of society.[119] His article, in a learned Finnish journal and with an illustrative glossary, used The Pursuit of Love to exemplify upper-class speech patterns.[120] In a spirit of mischief, Mitford incorporated the U and Non-U thesis into an article she was writing for Encounter on the English aristocracy. when it was published in September 1955 it caused a major stir. Few recognised the tongue-in-cheek aspect; Mitford received hundreds of letters from worried readers desperate to know if they were snobs or merely "common".[122] The level of anxious or amused interest was sustained to such an extent that in 1956 Hamish Hamilton reproduced the article in a short book, entitled Noblesse Oblige. The book also included an abbreviated version of Ross's original article,[n 12] and contributions from Waugh,[124] Betjeman, Peter Fleming and Christopher Sykes,[125] … Nancy's comments made her the arbiter of good manners for several generations".[126] Thompson notes the irony that the U and Non-U labels, perhaps Mitford's best-known legacy, were not her own but were borrowed…
In October 1957 Palewski was appointed as France's ambassador to Italy. Mitford's meetings with him, which had become increasingly rare because of his many political and social commitments, were now reduced to a single visit a year, supplemented with occasional letters. In March 1958 Mitford's father, Lord Redesdale, died.
Meanwhile Mitford had completed her latest book, Voltaire in Love,Published in 1957, Its writing had been hampered by painful headaches arising from her apparently failing eyesight and worries that she might be going blind. The problem was resolved after a visit to the ophthalmic surgeon Patrick Trevor-Roper, who gave her new spectacles: She then returned to writing fiction,
In August 1962 Palewski was appointed a minister in Georges Pompidou's government, and returned to Paris. This did not mean more regular or frequent meetings, and the affair with Mitford continued at arm's length. In April 1963 Mitford was in England for the wedding of her cousin Angus Ogilvy to Princess Alexandra. A month later she was back for the funeral of her mother, Lady Redesdale, who died on 25 May. Mitford's friends were dying, too, "in middle age", she informed her long-time friend Violet Hammersley. The premature deaths included that of Evelyn Waugh, who died on 10 April 1966.
Amidst these personal upheavals Mitford continued writing. In 1964 she began work on The Sun King, a biography of King Louis XIV. When it was published in August 1966, among the many tributes to the book was that of President de Gaulle, who recommended it to every member of his cabinet.[138][139] By this time, Mitford's relationship with Palewski had become dormant, and she recognised that the best days would never return.[140] Under pressure from her landlords to leave her rue Monsieur apartment—they had raised her rent "exorbitantly"— she decided to leave Paris and buy herself a house in Versailles.
Mitford moved to No. 4 rue d'Artois, Versailles, in January 1967. The modest house had a half-acre (0.2 hectare) garden, which soon became one of her chief delights While confined at home in March 1969 after a series of illnesses she learned from a newspaper announcement that Palewski had married the Duchesse de Sagan, a rich divorcée. Mitford had long accepted that Palewski would never marry her. Shortly after, she entered hospital for the removal of a tumour. After the operation she continued to suffer pain, although she was able to continue working on her book. In October 1969 she undertook a tour of East Germany, to visit former royal palaces and battlefields. In April 1970 was back in hospital for further tests, which did not lead to either a diagnosis or effective treatment.
Mitford's remaining years were dominated by her illness, although for a time she enjoyed visits from her sisters and friends, and working in her garden. In April 1972 the French government made her a Chevalier of the Légion d'Honneur, and later that year the British government appointed her a Commander of the Order of the British Empire (CBE). At the end of 1972 she entered the Nuffield Clinic in London, where she was diagnosed with Hodgkin's lymphoma, a cancer of the blood. She lived for another six months, unable to look after herself and in almost constant pain, struggling to keep her spirits up. She wrote to her friend James Lees-Milne: "It's very curious, dying, and would have many a drôle amusing & charming side were it not for the pain". She died on 30 June 1973 at her home in the rue d'Artois and was cremated in Versailles, after which her ashes were taken to Swinbrook for burial alongside her sister Unity.
Mitford did not regard herself as a journalist: nevertheless, her articles were popular, particularly those she contributed on Paris life to The Sunday Times. Many of MITFORDS letters have been published within collections; they are, according to The Independent's reviewer: "a delight, full of the sparks of an abrasive and entertaining wit, refreshingly free from politeness".
Diana –
Jessica –
Unity –