My post 'The Two Cultures Of Organised Abuse' discussed the collection of Clever Scientists who worked in institutions such as Cambridge University (in particular the Cavendish Laboratory), Imperial, King's College London and Birkbeck during the middle decades of the 20th century who in reality built their reputations on the back of their knowledge of organised abuse and serious wrongdoing in High Places, some of which they were directly responsible for themselves. Many of them worked for the security services or had friends/relatives/colleagues who did and as a result a great many people joined in the party. It is obvious that the sacks of honours, awards and even Nobel Prizes accumulated by this group was the result of deals thrashed out to keep people quiet or as rewards for their own collaboration. The trail led directly to Dafydd and Gwynne in north Wales as a consequence of people like Lord Patrick Blackett who had a second home at Croesor being of this group; then there were people like Eric Hobsbawm who worked alongside these folk and also had homes/friends with homes at Croesor or were part of the wider Bloomsbury Group.
Much has been written about the way in which Rosalind Franklin was mistreated by Crick and Watson, exposed to gross sexism and never received the credit for her work that she should have during her lifetime. Much less has been written about the widescale cheating, plagiarism, research fraud and disgraceful behaviour in general that prevailed among this group of academics/scientists. Rosalind Franklin won't have been the only person who was shafted by them; she is just the most well-known name. Once Crick and Watson had stuffed Franklin over, the bandwagon could not be stopped and goodies had to be handed out to everyone who knew to ensure that they never exposed the travesty.
The situation was compounded by the close relationships that some of these scumbags had with politicians or their own roles as political advisors to people like Winston Churchill, who's reputations just could not be sullied. Science and academia is international so the problem spread across the globe as the crowd moved between the most prestigious institutions in Europe, the US, Canada, Australia and New Zealand.
One person involved was Dorothy Hodgkin, Thatch's tutor at Somerville College, who slept with a whole variety of people, including her PhD supervisor John Bernal, the Communist spy who was part of the deal to shaft Rosalind Franklin and ensure that Crick and Watson lapped up the credit for her work. Dorothy subsequently received her own rewards, including a Nobel Prize in 1964 and when Thatch became PM, favours were being called in everywhere. See 'The Two Cultures Of Organised Abuse'.
There were just so many people cashing in that I have not yet had (and will not have) time to discuss everyone and to the degree that they deserve to be discussed, but to illustrate the enormity of this problem and how it still dominates science/academia today, I'll discuss a few more of those who benefited from this tawdry, sordid process in this post.
Reginald Victor Jones (29 September 1911-17 December 1997) was a physicist and military intelligence and expert who played an important role in the defence of Britain in WW II.
Reginald Jones was born in Herne Hill. He was educated at Alleyn's School, Dulwich and Wadham College, Oxford. He graduated in 1932 and then completed his DPhil in 1934 in the Clarendon Laboratory at Oxford University. Subsequently, Jones took up a Skynner Senior Studentship in Astronomy at Balliol College, Oxford.
Ted Heath, Denis Healey and Woy were all at Balliol when Reg held his Senior Scholarship but they were undergrads on arts courses.
In 1936 Jones took up a post at the Royal Aircraft Establishment, Farnborough, a part of the Air Ministry, where he worked on the problems associated with defending Britain from an air attack. In September 1939, the British decided to assign a scientist to the Intelligence section of the Air Ministry. No scientist had previously worked for an intelligence service. Jones quickly rose to become Assistant Director of Intelligence (Science) there. During the course of WW II, he was closely involved with the scientific assessment of enemy technology and the development of offensive and counter-measures technology. Jones solved a number of scientific and technical intelligence problems during World War II and is known today as the "father of S&T Intelligence".
R.V. Jones was briefly based at Bletchley Park in September 1939, but returned to London in November, leaving behind a small specialized team in Hut 3 at Bletchley who reported any decrypts of scientific or technology nature to "ADI Science". Jones's first job was to study "new German weapons", real or potential. The first of these was a radio navigation system which the Germans called Knickebein.
At Jones's urging, Winston Churchill ordered up an RAF search aircraft on the night of 21 June 1940 and the aircraft found the Knickebein radio signals in the frequency range which Jones had predicted. With this knowledge, the British were able to build jammers whose effect was to "bend" the Knickebein beams so that German bombers spent months scattering their bomb loads over the British countryside. Thus began the "Battle of the Beams" which lasted throughout much of World War II, with the Germans developing new radio navigation systems and the British developing countermeasures to them. Jones frequently had to battle against entrenched interests in the armed forces, but, in addition to enjoying Churchill's confidence, had strong support from, among others, Churchill's scientific advisor F. A. Lindemann and the Chief of the Air Staff Sir Charles Portal.
Lindemann aka Viscount Cherwell was discussed in my post 'The Two Cultures Of Organised Abuse'; Cherwell ended up at loggerheads with many people, including those Of Gwynne and Dafydd, but he remained influential and yet another person who couldn't actually ever be ignored because of what he had been party to. See post 'The Two Cultures Of Organised Abuse'. Lindemann was R.V. Jones's PhD supervisor.
R.V. Jones, with Joan Curran, were later instrumental in the deployment of "Window": strips of metal foil, cut to a length appropriate to the radar's wavelength, and dropped in bundles from aircraft, which then appeared on enemy radar screens as "false bombers". R.V. Jones also served as a V-2 rocket expert on the Cabinet Defence Committee (Operations) and headed a German long range weapons targeting deception under the Double-Cross System.
In 1946 Jones was appointed to the Chair of Natural Philosophy at Aberdeen University, holding the Chair until his retirement in 1981. The bisexual Westminster Swinger Lord Bob Boothby who was involved with serious organised crime while he had a decades-long fling with Harold Macmillan's wife Dorothy sat as a Tory MP for an Aberdeen constituency, 1924-58, which will have had a knock-on effect in the Aberdeen area.
Aberdeen University also hosted the Top Doc Sir Dugald Baird who pioneered aborting babies on the grounds of the poverty of their parents decades before abortion was legalised under certain circumstances in 1967. Dugald was so effective at aborting the foetuses of the poor that it impacted upon the socio-economic composition of the area for which he was the responsible Top Doc. Dugald's practices were known at the highest levels of the medical establishment and across the UK; Dugald was so notorious that when the Top Docs at Tommy's wanted to justify their brisk business in illegal abortions in the 1950s and 60s they held Dugald up as a role model and constructed him as a champ of Wimmin's Rights. See post 'Little Things Hitting Each Other'. No, Dugald just didn't like plebs. Dugald later branched out into a terrifying variety of sociology, establishing an MRC-funded unit at Aberdeen led by Raymond Illsley, who in turn was affiliated to Dafydd's mate Prof Jerry Morris. See eg. 'Rab, High Table and the Founding Fathers'.
After the Dept of Agriculture at UCNW was given a shake in the wake of the unlawful imprisonment of one of their secretaries, Mary Wynch, a new Prof arrived from Aberdeen University, the dreadful J.B. Owen. J.B. Owen was hardly a New Broom, he was the son of the north Wales family who had supplied the dosh that had founded the Dept of Agriculture at UCNW and was a paid-up member of the Gang. Presumably Owen had been Called Home as part of the reinforcements. See previous posts.
Aberdeen University also supplied other staff to UCNW, such as the earth scientist Sinclair Buchan, who was a good mate of marine geologist Dr Tony Jones, the racist South African, leading light of the Ogwen Valley Mountain Rescue Team, friend of corrupt police officers and excellent mate of the Gang, the Ollie Reed of Bangor. Tony Jones starred as Michael Aspel's guest on 'This Is Your Life' in Jan 1993 when the Gang were in need of PR and was constructed as a real hero with thousands of people who owed their lives to him. Opinion of Tony Jones in north Wales was somewhat different. See previous posts…
R.V. Jones did not want to stay in Intelligence under the proposed post-war reorganisation. During his time at Aberdeen, much of his attention was devoted to improving the sensitivity of scientific instruments. His book Instruments and Experiences details much of his later work in some depth.
Jones was appointed CBE in 1942, for the planning of a raid on Bruneval to capture German radar equipment. Churchill had proposed that Jones should be appointed a Companion of the Order of the Bath (CB) but the Head of the Civil Service Sir Horace Wilson threatened to resign as Jones was only a lowly Scientific Officer and the CBE was a compromise. Jones was subsequently appointed CB in 1946; and Companion of Honour (CH) in Lilibet's 1994 Birthday Honours.
Sir Horace John Wilson (23 August 1882-19 May 1972) was the mandarin who was Head of the Home Civil Service, 1939-42. He graduated from the LSE at the very end of the 19th century and joined the Civil Service in 1900. Under the Premiership of Stanley Baldwin, in 1935, Wilson was afforded a secondment described as 'for service with the Prime Minister'. This continued with ascent on Neville Chamberlain to the office in 1937. Horace was reputed to have huge influence over Chamberlain and Chamberlain's biographer Robert Self noted that the two men "enjoyed the sort of unparalleled intimacy only possible among truly kindred spirits."
Wilson was the British Gov't official who had a key role in Chamberlain's Gov't re the appeasement period just prior to WW II.
Sir Horace in a car with Neville Chamberlain, Munich, 23 Sept 1938
Horace Wilson also liaised with the press, meeting newspaper owners to gain support for appeasement. He warned the BBC to exercise self-censorship in relation to Germany. Wilson was referred to in the book  'Guilty Men' by Michael Foot, Frank Owen and Peter Howard (writing under the pseudonym 'Cato'), published in 1940 as an attack on public figures for their failure to re-arm and their appeasement of Nazi Germany. Wilson stated in 1962 that, "Our policy was never designed just to postpone war, or enable us to enter war more united. The aim of our appeasement was to avoid war altogether, for all time."
Wilson reverted to his role as Permanent Secretary to the Treasury until August 1942 when he retired, having reached the age of 60, then the pensionable age for the Civil Service. In January 1944 Wilson was appointed by Henry Willink, the Minister of Health, to act as Chairman of the National Joint Council for Local Authorities' Administrative, Professional, Technical and Clerical Services. The Council was engaged in matters of pay and conditions of those in local government as well as supervision of recruitment and training provision.
Horace Wilson acknowledged having felt out of his depth in dealing with Nazi Germany and it has also been reported that he showed little interest in the fate of Germany's Jews during the negotiations with Hitler. Speaking to another journalist, Colin Cross, in 1968 – 23 years after the liberation of Auschwitz – Wilson, by then well into his 80s, is quoted as saying that he understood Hitler's feelings about the Jews. "Have you ever met a Jew you liked?" he asked Cross. Horace Wilson died in Bournemouth on 19 May 1972.
Sir Henry Urmston Willink (March 1894-20 July 1973)
R.V. Jones was elected FRS in 1965 and received an honorary DSc from the University of Aberdeen in 1996.
It was in 1996 that The Hague announced the Waterhouse Inquiry and of course in 1996 there was yet another attempt to frame and imprison Patient F and I on the basis of the perjury of an Angel, Bridget Lloyd. See previous posts.
R.V. Jones married Vera Cain in 1940 and they had two daughters and a son.
Jones's autobiography, Most Secret War: British Scientific Intelligence 1939–1945, (published in the USA as 'The Wizard War') formed the basis, pre-publication, of the BBC 1 TV documentary series 'The Secret War', first aired on 5 January 1977 and narrated by William Woollard, in which Jones was the principal interviewee. The historian A. J. P. Taylor described Most Secret War as "the most fascinating book on the Second World War that I have ever read" and, more generally, it has acquired almost classic status.
In 1981, Jones became a founding member of the World Cultural Council. My post 'The Two Cultures Of Organised Abuse' discusses many of the research fraudsters, spies and Commies who doubled up as Great Men Of Science who established the World Cultural Council in 1981. In the same year R.V. Jones delivered the Royal Institution Christmas Lectures on 'From Magna Carta to Microchip'.
The World Cultural Council was established by the grander friends of Dafydd and Gwynne in the same year that Dr Death et al launched the SDP, which was undoubtedly an attempt by Dr Death to become PM on the back of the panic that followed the trial of Mr Thrope and Mary Wynch making her way to a lawyer. Dr Death et al  personally knew members of the Gang. See previous posts. There were fears that the Westminster Paedophile Ring was going to become horribly public. I wonder if the World Cultural Council was yet another Gang-related initiative to cover their tracks?
In 1993 R.V. Jones was the first recipient of the R.V. Jones Intelligence Award, which the CIA created in his honour and, logically, awarded to R.V. Jones.
Jones died on 17 December 1997. George Thomas had died on 22 Sept 1997. During 1997 Ronnie Waterhouse had heard evidence, in public, from former kids in care in north Wales. As they collapsed while giving evidence, began crying, vomited etc Ronnie and the lawyers who had been paid a great deal of money to represent everyone but the former kids in care reminded the world that this lot could not be believed because they were Criminals, Drug Addicts and Mentally Ill. There were more witnesses sitting in the Hergest Unit at the time who had not been told that their medical records would have provided solid evidence that organised abuse was a substantial problem in north Wales. My records alone would have confirmed that Lucille Hughes and Ron Evans, the crooked Gwynedd County Council lawyer, were ordering staff to perjure themselves in attempts to have complainants imprisoned. Ron was one of the lawyers who appeared at the Waterhouse Inquiry to defend against allegations of abuse on behalf of Gwynedd Social Services.
Ronnie Waterhouse: a good mate of T.M. Haydn Rees, CEO of Clwyd County Council, 1974-77 (see post 'Ain't Nothing Clean, Not Even The Calvinistic Methodists'). Ronnie's dad was a good mate of Haydn Rees as well.
Patsy Scotland represented the Welsh Office at the Waterhouse Inquiry. As a young barrister Patsy was a housing lawyer helping the Poor and knew all the other 'radical' lawyers in London who have spent their entire careers carefully ensuring that they did nothing to piss off Dafydd and Gwynne or the Westminster Paedophile Ring. See previous posts for extensive details of Baroness Patricia Scotland's many friends and colleagues as well as Patsy herself and the cosy relationships that they have enjoyed with the Gang's network. Patricia Scotland was given a life peerage by Miranda during the Waterhouse Inquiry.
Previous posts have discussed another Radical Lawyer and a Wimmin's Champ to boot, St Helena Kennedy (see eg. 'Eve Was Framed – As Were A Lot Of Other People' and 'Close Your Eyes And Make A WISH') and how St Helena knew about Dafydd, Gwynne and Jimmy Savile and kept schtum. I mentioned that St Helena's book 'Eve Was Framed' contains a thank you to Prof Nigel Eastman of St George's Hospital Medical School/Springfield. In 1991, Eastman was told by his colleague Dr Robin Jacobson that Dafydd was sexually exploiting patients and that Jacobson thought that Tony Francis was as well. I had no knowledge that Jacobson had done this until I later obtained some of my records. Jacobson referred me to Eastman after refusing to treat me himself. Eastman told me to go back to north Wales because Dafydd was my doctor and 'they know you there'. I was refused any sort of support in London and left effectively destitute, facing yet more criminal charges on the basis of Tony Francis and other members of the Gang. See eg. 'Some Very Eminent Psychiatrists From London…'.
In April 1991 when the Gang made yet another attempt at having me imprisoned on the basis of their perjury at the Royal Courts of Justice at the Strand no less, St Helena was leading a test case in a Court next door to me, in which she was trying to have Sara Thornton released from a prison sentence, after Sara had killed her husband. As I left the Court, St Helena's supporters were protesting outside and asked me to support them.
St Helena's book with it's thank you notice to Nigel Eastman, whom St Helena tells us has taught her so much and helped in so many of her cases, was published in Oct 1993. In the late summer of 1993 I was convicted by Bangor Magistrates Court of a Public Order offence after I had 'looked at a social worker' in Safeways. Jackie Brandt, the social worker concerned, had alleged that I had screamed and yelled at her and she had feared immediate violence. Brandt cried under cross-examination and admitted lying to the police and on oath. She admitted that I had not said anything to her at all, but I'd looked at her. That was the third time that Brandt had perjured herself in Court in attempts to have me imprisoned. See eg. 'The Bitterest Pill'. Brandt was never investigated for perjury. After I had been convicted for looking at Brandt, I wrote to Mr Radical Barrister, Michael Mansfield, to tell him that social workers in Gwynedd were abusing their position and using the law to do so. Michael Mansfield at the time was based at Tooks Court Chambers with St Helena. I received a one-line reply from Mansfield. It was in Sept or Oct 1993 and the North Wales Police had recently closed their investigation into a possible paedophile ring in north Wales/Cheshire having found no evidence of any such thing.
Mansfield, St Helena and the rest of the Radical Barristers had an arrangement with the Top Docs that the Top Docs would provide expert witness reports for them in other cases as long as the Radical Lawyers didn't act for us against Dafydd et al. It is how the Birmingham Six etc managed to overturn their convictions. Of course I am glad that the Birmingham Six were released; however although there was that agreement between the Top Docs and the Radical Ones, many of the same people were involved in framing the Birmingham Six et al as in framing us in north Wales. Michael Mansfield represented the Price Sisters who admitted planting a bomb in central London, but he wouldn't represent people who had been abducted and unlawfully imprisoned by Dafydd.
Dafydd's mate William Mars-Jones was a member of Gray's Inn. As was Michael Mansfield. As was St Helena.
Documentation now in my possession demonstrates that people in Wandsworth Social Services knew Lucille Hughes, Dafydd's mistress and the Director of Gwynedd Social Services, by name. Nigel Eastman worked with Wansdworth Social Services. Michael Mansfield lived in Wandsworth. Dafydd's partner gang had been operating in Wandsworth since at least as far back as 1966-67. 'See eg. Lord Snooty The Third'. Just for good measure, Donald Naismith, the Director of Education for Wandsworth, was an active paedophile who was abusing kids in care. See previous posts.
R.V. Jones is buried in Corgarff Cemetery, Strathdon, Aberdeenshire. His papers are held by Churchill College, Cambridge.
The Indie obituary for Professor R. V. Jones was published on 19 Dec 1997 by M. R. D. Foot
R.V. Jones's colleague Joan Elizabeth Curran (nee Strothers) (26 February 1916-10 February 1999) was from Swansea! Joan Elizabeth Strothers was the daughter of an optician, Charles William Strothers and his wife, Margaret Beatrice. Joan was educated at Swansea Girls' High School and in 1934 won an open scholarship to Newnham College, Cambridge. She gained a physics degree but it was not awarded because when Joan passed her finals, Cambridge would not let Ladies graduate. In her 70s, in 1987, Joan was honoured with the degree of Doctor of Laws honoris causa by the University of Strathclyde.
At one point Joan was named in a media article as being one of 900 Cambridge Wimmin who finally attained Equality. The University of Strathclyde in 1987 would never discriminate against Ladies, in particular the Lady who was married to the VC of the University of Strathclyde, 1964-80, who happened to be one Lady Joan Curran.
Joan, Before Achieving Equality:
The Men Who Made Joan's Equality Possible: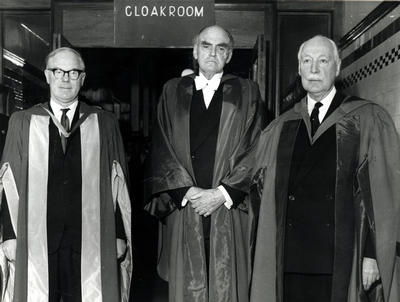 Sir Samuel Curran, Lord Reith and Sir Andrew McCance about to present awards to students at the Royal College of Science and Technology, 1963.
Samuel Curran (left) was an eminent scientist who had worked on the atomic bomb Manhattan Project and with the Atomic Energy Authority before becoming Principal of the Royal College of Science and Technology in 1959. He played a major role in the establishment of the University of Strathclyde, and served as its first Principal from 1964 until his retirement in 1980, when the Curran Building was named after him.
John Reith (centre) was educated at Glasgow Academy and graduated as an engineer at the Royal Technical College. As founding Director-General of the BBC from 1922 to 1938, he exerted a major influence on the early years of broadcasting, emphasising standards and a high moral tone. The annual Reith Lectures were established by the BBC in 1947 in his honour. He was elected Rector of the University of Glasgow, 1965-1968.
Lord Reith was famous for being seriously weird and seriously intimidating. While he was DG of the BBC, imploring it to educate and inform, the BBC VIP paedophile ring was in its embryonic stages.
Andrew McCance was a distinguished metallurgist and businessman, who was Chairman of Colvilles. A graduate of the Royal Technical College, he was the College's last Chairman of the Board of Governors, 1950-1964. His role in the transformation of the College into the University of Strathclyde was recognised in the naming of the McCance Building.
Joan Strothers was awarded a Gov't grant to study for a higher degree and elected to go to the Cavendish Lab at Cambridge, where she joined the man whom she later married Sam Curran in a team under the direction of Philip Dee.
My post 'The Two Cultures Of Organised Abuse' discusses the cheating, research fraud and plagiarism that took place at the Cavendish Lab, including that of James Watson who bagged the Nobel Prize for elucidating the structure of DNA.
Prof Philip Ivor Dee CBE (8 April 1904-17 April 1983) was responsible for the development of airborne radar during WW II. Glasgow University named the Philip Ivor Dee Memorial Lecture after him.
Dee was born in Stroud, Gloucestershire, the son of Albert John Dee, a schoolmaster. He was educated at Marling School and then studied at Cambridge University where he graduated MA in 1926. Dee thereafter took on research roles, initially as a student of Charles Thomson Rees Wilson at the Cavendish Lab, during which time Samuel Curran worked under him.
Dee was elected FRS in 1941 and won its Hughes Medal in 1952. During WW II, he initially worked in the Ministry of Aircraft Production and in 1940 moved to the Telecommunications Research Establishment. Dee led the team which developed the Village Inn radar system.
In 1945, Dee became Professor of Natural Philosophy at Glasgow University. He was created a CBE in the 1946 Birthday Honours, having already been appointed an OBE in the 1943 Birthday Honours. In the same year Dee received Gov't funding to build equipment to investigate particle physics and placed Glasgow University as a world authority in that field during the 1950s.
In 1946 Philip Dee was also elected a Fellow of the Royal Society of Edinburgh. His proposers were Thomas Alty, John Walton, Edward Provan Cathcart, and Sir Robert Muir. He was awarded the Society's Gunning Victoria Jubilee Prize for 1958-1962 in recognition of his work on nuclear physics. By which time thanks to Philip Dee's wider network, this man had retrained as a Top Doc after a 'career as an atomic scientist', following his early years migrating around Bethesda when he/his family were moved on by the bailiffs and then being thrown out of a chemistry degree in disgrace:
Philip Dee retired in 1972 and received an honorary doctorate (DSc) from Strathclyde University in 1980, the year that his mate and former junior colleague Sam Curran retired as VC of Strathclyde. Dee died in Glasgow on 17 April 1983. His obituary was written by Sir  Samuel Curran FRS.
Dee married Phyllis Elsie Tyte in 1929.
Glasgow University, Dept of Natural Philosophy, 1952:
In 1952 Dafydd began his medicine degree at Liverpool University…
The archives of Philip Ivor Dee are maintained by the Archives of the University of Glasgow (GUAS). His 1973 portrait by Kathryn Kynoch is held by the Hunterian Art Gallery.
Another online biography supplies a few more details re Philip Dee:
Philip Ivor Dee… was educated at Marling School, Stroud and Sidney Sussex College, Cambridge, where he gained the degree of MA. In 1929 he married Phyllis Elsie Tyte, and had two daughters. From 1930 until 1933 he was Stokes Student at Pembroke College, Cambridge, and from 1934 until 1943 he was Lecturer in Physics at Cavendish Laboratory and Fellow of Sidney Sussex College, Cambridge. At the Cavendish Laboratory he worked closely with Charles Thomson Rees Wilson (1869-1959), Professor of Natural Philosophy. Under Wilson's direction he became responsible for the development of the 1 million volt H T set and with the direction of its experimental programme. From 1939-1945 he was Superintendent of the Telecommunications Research Establishment at the Ministry of Aircraft Production, at Swanage and Malvern, and was responsible for the development of the use of the magnetron for centimetric radar… In 1943 he was appointed Regius Professor of Natural Philosophy at the University of Glasgow, becoming Professor Emeritus on his retirement in 1972. Soon after his appointment he secured funds from the University and the Department of Scientific and Industrial Research for the purchase of an HT set similar to that at Cambridge, and later for a 300 MeV electron synchrotron. He personally supervised the design and construction of the synchrotron, which was completed in 1954. In the mid-1960s the synchrotron was replaced by an electron linear accelerator, which was installed at the Kelvin Laboratories at East Kilbride. He was a member of the Advisory Council of the Department of Scientific and Industrial Research from 1947-1952…
Sources: Who Was Who, VIII; 'Obituary: Emmeritus Professor Philip I Dee, CBE, MA, FRS', College Courant, 71, (Glasgow, 1983).
Observations: Harold Wilson's mate Asa Briggs who kept the lid on the Brighton end of Dafydd and Gwynne's operation when Asa worked as Sussex University was an alumnus of Sidney Sussex, Cambridge. Asa went to war on Merfyn who later became VC of Bangor University when Merfyn was an undergrad in 1968, after Merfyn and his mates staged an anti-Vietnam protest. Asa bore a lifelong grudge and was happy to swing into action again when Merfyn became VC of Bangor decades later. See eg. 'Anthem For Doomed Youth'. Asa graduated from Sidney Sussex in 1941 and was an Honorary Fellow from 1968. Briggs served in the Intelligence Corps, 1942-45 and worked at Bletchley Park. While there, he became friends with Howard Smith, who in 1979 became Director of MI5. Asa was one of those who used the security services to conceal serious crime.
Philip Dee sat on the Advisory Council of the Dept of Scientific and Industrial Research during the premiership of Clement Attlee.
In 1939, Philip Dee proposed that the team spend a month at the  Royal Aircraft Establishment at Farnborough Airfield. They arrived on 1 September 1939. Two days later, Britain declared war on Germany, and Britain entered WW II. Instead of returning to the Cavendish Lab, the team moved to Exeter where Dee and three others worked on developing rockets as anti-aircraft weapons, while Joan Strothers and Sam Curran joined a group under John Coles working on the development of the proximity fuse. Strothers was based at Leeson House and Durnford School. Joan and Sam Curran developed a workable fuse, which was codenamed VT. Britain lacked the capacity to mass-produce the VT fuse, so the design was shown to the United States by the Tizard Mission in late 1940. The Americans perfected and mass-produced the fuse. In due course, these proximity fuses arrived in the United Kingdom, where they played an important part in the defence of the kingdom against the V-1 flying bomb.
Strothers married Curran on 7 November 1940. Soon afterwards they were transferred to the Telecommunications Research Establishment (TRE) near Swanage. It was with this group, at Swanage and later at Malvern, that Joan devised the technique that was codenamed Window, also known as chaff ie. radar reflectors that could be scattered from bombers, thus disrupting the enemy's radar.
R.V. Jones later declared: "In my opinion, Joan Curran made an even greater contribution to victory, in 1945, than Sam."
In early 1944 the Currans were part of a group of British scientists invited to go to the US to take part in the Manhattan Project, the Allied project to develop an atomic bomb. They joined the British Mission at the Berkeley Radiation Laboratory, California, headed by Mark Oliphant, an Australian scientist who Joan knew from the Cavendish Laboratory. Oliphant also acted as de facto deputy to Ernest Lawrence, the Director of the Radiation Laboratory.
Mark Oliphant was one of the biggest names in terms of the Famous Scientists with Gwynne and Gwynne connections via Patrick Blackett et al, as discussed in my post 'The Two Cultures Of Organised Abuse'.
While at Berkeley, Joan gave birth to her first child, a daughter, Sheena, who was born severely mentally handicapped. The Currans later had three sons, all of whom went on to complete a PhD.
After the war ended, Sam took up an offer from Philip Dee to take up a Chair at Glasgow University. In Glasgow, the Currans, together with a few friends, set up the Scottish Society for the Parents of Mentally Handicapped Children (Enable), which eventually grew to 100 branches and more than 5000 members. Later, when Joan was a member of the Greater Glasgow Health Board and the Scottish Special Housing Association, the needs of the disabled were always at the forefront of her mind and she did much to promote their welfare. So why the disabled, including those with what were then called mental handicap and people with mental health problems, were so badly abused and neglected one can only wonder. Joan was a member of the Greater Glasgow Health Board when R.D. Laing Made A Stand with regard to the dreadful treatment of psych patients and others. Previous posts have discussed how Laing's desire to hang out with those from the counter-culture, including Bertrand Russell's mates from Croesor, rather got in the way of Laing's reforming zeal. It inspired Dafydd though, at one point Dafydd was a Laingian. See previous posts.
Dafydd had a whole collection of mates who hampered Joan Curran's liberation of the disabled in Glasgow because as any fule kno, THEY transformed the care of the oppressed! There was for example Prof Jerry Morris, Kay Carmichael, Janey Buchan, David Donnison and at a later date Sam Galbraith! Many of the crowd doubled up as Labour politicians and Janey was mates with Nelson Mandela. See eg. 'Vested Interests Or Common Pool?'. Those in the Gorbals were in bloody clover, the best health and social care in the world.
Where would they have been without Joan?
As well as her roaring success in other domains, Joan Curran took a close interest in the work of the Council for Access for the Disabled and helped improve the range of facilities, especially for disabled university students, which will have been why even in the early 1980s, facilities for disabled university students were virtually non-existent.
Sam Curran worked at the Atomic Weapons Research Establishment at Aldermaston on the development of the British H bomb, 1955-59.
Here's Bertrand sitting in the road in Feb 1961, protesting about nukes, in particular Aldermaston:
Bertrand leading this protest in Feb 1961 and he and his mates in CND becoming particularly militant at about this time might be the cause for the mystery discussed in previous posts, ie. that of Minister of Health Enoch Powell making a big thing of visiting the North Wales Hospital in early 1961, telling them that he was horrified at what they were doing to people and would not allow them to do it any longer. He returned to London and made his well-publicised speech to the National Association of Mental Health (MIND), which was run by Dafydd and Gwynne and announced the closure of every mental hospital in the country. Dafydd and Gwynne's mate Lord Robert Balniel, a leading light in MIND and a Tory politician, was in the audience. Powell didn't close any asylums and his 'Hospital Plan' was quietly rewritten with this proposal dropped. Powell never returned to the subject again although he remained Minister of Health throughout the Profumo Affair with which Dafydd and Gwynne were involved in some way. See previous posts…
For a long while I presumed that someone had leaned on Powell and told him to leave Gwynne and Dafydd alone. Then I realised that Powell's Denbigh visit and his much publicised horror were part of an elaborate charade in response to something that had happened with regard to Dafydd and Gwynne but I didn't know what.
I presume that it was Bertrand Russell; there he was fomenting revolution and leading marches which ended in confrontations with the police and people being jailed when there were more than a few people who knew that Denbigh was the Final Solution for anyone who dared complain about his sexual exploits/assaults on people, along with those committed by his mates and others in High Places.
Since the Westminster Paedophile Ring has become a topic of discussion, one name that has been repeatedly suggested as having been a member is Enoch Powell. Powell was certainly an odd man who had difficulty in his relationships with women and as a young man had very close relationships with other men which could well have been sexual. That does not mean that Enoch Powell was a child molester or having sex with people who did not want to have sex with him, but it does place him as yet another Cabinet Minister/public figure who was part of an overtly homophobic establishment that was excluding and jailing some gay men, 'treating' them for homosexuality, yet concealing Dafydd and Gwynne who ran a paedophile ring targeting boys.
I will correlate the dates of Russell's revolutionary fervour and re-read information about Enoch Powell etc and return to this in a future post.
Bertrand Russell's anti-nuclear activities might also explain why Harold Macmillan visited Denbighshire in the early 1960s for a bit of spontaneous campaigning on behalf of the Tory Party and why Cymro 007 aka Geraint Morgan QC, the Tory candidate for Denbigh, was assisted in winning the seat in 1959 by  help from the National Liberals. See previous posts eg. 'Cymro 007'.
Previous posts including 'Captain Swing and His Crew' and 'A Message Of Peace At Christmas' discussed Bertrand Russell's mates in CND, the Committee of 100 etc, some of whom were working for the security services. When I interviewed people in the Croesor area a few years ago, a number of them mentioned someone called Ralph Schoenman, an American activist who acted as Bertrand Russell's Secretary and became General Secretary of the Bertrand Russell Peace Foundation. A number of people didn't like Schoenman but wouldn't expand on why. Russell publicly repudiated his relationship with Schoenman in December 1969 and had him removed from the Board of the Bertrand Russell Peace Foundation. Schoenman then renamed the American branch of the foundation the American Foundation for Social Justice and continued to promote hearings into alleged American atrocities in Vietnam.
Recently I received info that Schoenman might have had something to do with rather worrying Bertrand Russell-esque sexual activities. Whether he was directly involved or not, Schoenmen was in north Wales long enough to know about Gwynne and Dafydd. See previous posts for info re Schoenman.
Now readers mustn't worry that Gwynne and Dafydd may have had divided loyalties, the beauty of Dafydd and Gwynne was that they provided services to unscrupulous offenders across the political and cultural spectrum. In the way that Dafydd became a Laingian while Gwynne lobotomised, Dafydd and Gwynne were happy to provide services to Bertrand and pals who were on the Aldermaston marches as well as to those building and dropping bombs, as discussed in 'The Two Cultures Of Organised Abuse'.
Dafydd let it all hang out at times what with his Beatles connections:
Sam Curran returned to Glasgow in 1959 as Principal the Royal College of Science and Technology. When it became the University of Strathclyde in 1964 Sam became its first Principal and Vice Chancellor. While her husband was Principal, Joan founded the Strathclyde Women's Group and became its President. I am glad that Joan received that honorary Doctor of Laws from Strathclyde because of her own contribution to Strathclyde and not because she was married to the VC.
During WW II, the Polish 1st Armoured Division had been based in Scotland, establishing ties between the community and Poland. Joan promoted a special relationship with the Technical University of Lodz, and also devoted care and attention to the children's hospital of that city.
Lodz soon benefited from Joan's Midas Touch:
Later Joan established the Lady Curran Endowment fund for overseas, particularly Polish, students.
Sir Sam Curran died on 25 February 1998. While gravely ill with cancer in 1998, Joan unveiled a memorial plaque in Barony Hill, Glasgow, to commemorate her husband and it was announced that the walled garden at Ross Priory, on Loch Lomondside, was to be named in her honour and that the Joan Curran Summer House would be built there. That told those who had Lied To Get Compensation at the Waterhouse Inquiry the year previously where to go.
Previous posts have discussed the extraordinary upturn in the fortunes of a jobbing Top Doc who used to work at the Hergest Unit, Gwen Jones-Edwards, who made a rapid exit from north Wales during the Waterhouse Inquiry and re-emerged a few years later as Clinical Director of Southern General, the enormous flagship neurosurgery hospital in Glasgow, one of the best in Western Europe. Gwen wasn't even a neurosurgeon so one can only marvel at her good fortune. Gwen was last heard of living in style in a splendid house on the banks of Loch Lomond.
Joan Curran died on 10 February 1999. Her daughter, Sheena, three sons and three grandsons survived her.
So Sam and Joan were both safely out of the way by the time that Ronnie Waterhouse showed the draft of his Report to Insiders before it was published in Feb 2000. There were of course the plaques and buildings to remind us of their achievements in the face of all those who were Lying To Get Compensation.
Tam Dalyell aka Sir Thomas Dalyell of the Binns, Richard Crossman's pal who worked for the security services and could never inflict the damage on Thatch that he desired because he was so busy concealing the Labour Party's role in the Westminster Paedophile Ring (see previous posts), wrote Joan Curran's obituary for the Indie, which was published on
LBJ awarding a medal to a U.S. soldier during a visit to Vietnam in 1966
Philippines President Marcos hosting the leaders of SEATO nations during the Oct 1966 Manila Conference on the Vietnam War
LBJ greeting a crowd, 1966
1967
In January and February 1967, probes were made to assess North Vietnamese willingness to discuss peace, but they fell on deaf ears. Ho Chi Minh declared that the only solution was a unilateral withdrawal by the U.S. Johnson's anger and frustration over the lack of a solution to Vietnam and its effect on him politically was exhibited in a statement to Robert F. Kennedy, a prominent public critic of the war who loomed as a potential challenger in the 1968 presidential election. Johnson had just received reports predicting military progress by the summer and warned Kennedy, "I'll destroy you and every one of your dove friends in six months; You'll be dead politically in six months".
McNamara offered Johnson a way out of Vietnam in May 1967; the administration could declare that its objective, South Vietnam's self-determination, was being achieved and the upcoming September elections in South Vietnam would provide the chance for a coalition government. The US could reasonably expect South Vietnam to assume responsibility for the election outcome. But Johnson was reluctant in the light of some 'optimistic' reports. The CIA was reporting widespread food shortages in Hanoi and an unstable power grid, as well as military manpower reductions.
By the middle of 1967 nearly 70,000 Americans had been killed or wounded in the war. In July, Johnson sent McNamara and other officials to meet with General Westmoreland and reach agreement on plans for the immediate future. At that time the war was being commonly described by the press and others as a "stalemate". Westmoreland declared that to be pure fiction and that "we are winning slowly but steadily and the pace can excel if we reinforce our successes". Johnson agreed to an increase of 55,000 troops bringing the total to 525,000, although Westmoreland wanted many more.
In August 1967 Johnson, with the Joint Chiefs' support, decided to expand the air campaign and exempted only Hanoi, Haiphong and a buffer zone with China from the target list. In September, Ho Chi Minh and North Vietnamese PM Pham Van Dong appeared amenable to French mediation, so Johnson ceased bombing in a 10-mile zone around Hanoi. In a Texas speech Johnson agreed to halt all bombing if Ho Chi Minh would launch productive and meaningful discussions and if North Vietnam would not seek to take advantage of the halt, the "San Antonio" formula. There was no response, but Johnson pursued the possibility of negotiations with a bombing pause.
1968 
As casualties mounted and success seemed further away than ever, Johnson's popularity plummeted. College students and others protested, burned draft cards and chanted, "Hey, hey, LBJ, how many kids did you kill today?" Johnson could scarcely travel anywhere without facing protests and was not allowed by the Secret Service to attend the 1968 Democratic National Convention, where thousands of opponents of Johnson's policies re both Vietnam and the ghettos converged to protest. By 1968, the public was polarized, the "hawks" rejecting Johnson's refusal to continue the war indefinitely and the "doves" rejecting his current war policies. Support for Johnson's middle position continued to shrink until he finally rejected containment and sought a peace settlement.
Although Tricky Dicky was closer to LBJ's position than Hubert Humphrey, the Democrat candidate who would stand against Tricky Dicky in the forthcoming Presidential election, LBJ continued to support Humphrey publicly in the election and personally despised Tricky Dicky. One of LBJ's well known quotes was "the Democratic party at its worst, is still better than the Republican party at its best".
On January 30, the Viet Cong and North Vietnamese launched the Tet Offensive against South Vietnam's five largest cities, including Saigon and the U.S. embassy there and other government installations. The Tet Offensive failed militarily, but it was a psychological victory, definitively turning American public opinion against the war effort. Walter Cronkite of CBS news expressed on the air that the conflict was deadlocked and that additional fighting would change nothing. Johnson responded with "If I've lost Cronkite, I've lost middle America". Johnson agreed to increase the troop level by 22,000, despite a recommendation from the Joint Chiefs for ten times that number… The disaster continued, eventually leading to Tricky Dicky becoming President, which did not end well.
President Johnson meets with Republican candidate Tricky Dicky in the White House, July 1968.
Harold Wilson supported LBJ and the Vietnam War.
In Feb 1968, Robert Beer, a US official, visited Sussex University, who's VC, Asa Briggs, was a mate of Harold Wilson and was concealing the Brighton end of Dafydd and Gwynne's enterprise. Three Sussex undergrads threw red paint over Beer and Asa never forgave them.
Asa was happy to wreak revenge decades later when Miranda and others opened fire on Merfyn in his capacity as VC of Bangor University and invited others to join in… See post 'Anthem For Doomed Youth'.
After leaving office, LBJ recorded a TV interview with Cronkite at his ranch on January 12, 1973 in which he discussed his legacy, particularly with regards to the civil rights movement. On January 22, 1973, Johnson suffered a massive heart attack in his bedroom. He managed to telephone the Secret Service agents on the ranch, who found him still holding the telephone receiver, unconscious and not breathing. Johnson was airlifted in one of his own planes to San Antonio and taken to Brooke Army Medical Center, where cardiologist and Army Colonel Dr George McGranahan pronounced him dead on arrival. Johnson was 64 years old.
Shortly after Johnson's death, his Press Secretary Tom Johnson telephoned Cronkite at CBS; Cronkite was live on the air with the CBS Evening News at the time and a report on Vietnam was cut while Cronkite was still on the line, so that he could break the news. Johnson's death came two days after Tricky Dicky's second inauguration, which followed Tricky Dicky's landslide victory in the 1972 election. LBJ's death meant that for the first time since 1933, there were no former Presidents still living; Johnson had been the only living ex-President since December 26, 1972, following the death of Harry S. Truman. As of 2019, Johnson remains the most recent former Democratic President to die.
Never mind, Alan Hodgkin's Top Doc father-in-law bagged a Nobel Prize, Dafydd and Gwynne continued in business and Thatch maxed out on the situation along with everyone else years later when she became PM, because her old tutor from Somerville Dorothy had been sleeping with John Bernal, a Communist spy who was part of the agreement to stuff Rosalind Franklin over to enable Crick and Watson to bag the Nobel for the discovery of the double helix. See post 'The Two Cultures Of Organised Abuse'.
The My Lai Massacre (16 March 1968) was such a shame though.
Mind How You Go Sir…
Ernst Chain was born in Berlin, the son of Margarete and Michael Chain, a chemist and industrialist. His family was Jewish; his father emigrated from Russia to study chemistry and his mother was from Berlin. In 1930, Ernst received his chemistry degree from Friedrich Wilhelm University.
After the Nazis came to power, Chain understood that he would no longer be safe in Germany. He left Germany and moved to England, arriving on 2 April 1933. Geneticist and physiologist J.B.S. Haldane helped him obtain a position at UCL. Haldane was a central player in the UCL network discussed above.
After a couple of months Chain was accepted as a PhD student at Fitzwilliam House, Cambridge University, where he began working under the direction of Sir Frederick Gowland Hopkins. In 1935, Chain accepted a job at Oxford University as a lecturer in pathology. During this time Chain worked on a range of research topics, including snake venoms (which was, most appropriately, what Dr Bill Hemmings worked on at UCNW as the Gang pursued him) and tumour metabolism. Ernst Chain was naturalised as a British subject in 1939.
In 1939, Ernst Chain joined Howard Florey and they revisited the work of Alexander Fleming, who had described penicillin nine years earlier. Chain and Florey went on to discover penicillin's therapeutic action and its chemical composition and how to isolate and concentrate the bacteriocidal agent in penicillin. Along with Edward Abraham Ernst Chain was also involved in theorising the beta-lactam structure of penicillin in 1942, which was confirmed by X-ray crystallography done by Dorothy Hodgkin in 1945. For this research, Chain, Florey, and Fleming received the Nobel Prize in 1945.
Towards the end of World War II, Chain learned his mother and sister had been killed by the Nazis. After World War II, Chain moved to Rome, to work at the Istituto Superiore di Sanità (Superior Institute of Health). Chain returned to Britain in 1964 as the founder and Head of the Biochemistry Dept at Imperial where he stayed until his retirement. So Chain would have known the crowd at Imperial, including those with strong connections to Bangor and the Gang.
Chain was a lifelong friend of Professor Albert Neuberger, whom he met in Berlin in the 1930s.
On 17 March 1948 Chain was appointed FRS.
In 1948, Ernst Chain married Anne Beloff-Chain, sister of Renee Soskin, Max Beloff, John Beloff and Nora Beloff. Like her husband, Anne was a biochemist. Ernst Chain was an ardent Zionist and he became a member of the Board of Governors of the Weizmann Institute of Science at Rehovot in 1954 and later a member of the Executive Council. He raised his children within the Jewish faith, arranging much extracurricular tuition for them. Chain's views were expressed most clearly in his speech 'Why I am a Jew' given at the World Jewish Congress Conference of Intellectuals in 1965.
On 8 July 1969 Chain was appointed a Knight Bachelor.
Chain died at the Mayo General Hospital on 12 Aug 1979. Mr Thrope had been acquitted at the Old Bailey in June 1979. Mary Wynch was illegally imprisoned by Dafydd at the time.
The Beloffs, the family into whom Chain married, have been discussed on the blog previously but I'll remind readers of them once more.
Ernst's wife Lady Anne Ethel Beloff-Chain (26 June 1921-2 December 1991) was born in 1921 in Hampstead to Simon Beloff and Marie Katzin. Her parents were of Russian–Jewish background. She completed a degree in chemistry from UCL in 1942 before completing a PhD in the biochemistry of skin burns with Rudolph Peters at Oxford University. Anne visited Harvard Medical School in 1946 to perform research and returned to the UK in 1948. In the same year she married Ernst Chain, who had won the Nobel Prize in Physiology or Medicine in 1945 and moved with him to Rome.
Anne Beloff-Chain worked at Italy's Istituto Superiore di Sanità (National Institute of Health) with Ernst Chain, 1948-64 and held the position of Chief Research Scientist. In 1964, Beloff-Chain and her husband were recruited by Imperial – by then already a stronghold of the Gang's Big Mates, as discussed in 'The Two Culture Of Organised Abuse'- and they returned to London. Anne was appointed Professor of Biochemistry at Imperial in 1983, but she decided to leave, with her research team, in 1985 and join the University of Buckingham.
1985 was the year after Brown and I complained about Gwynne and by the summer of 1985 I had gone to see Keith Best about wider matters re the psychiatric services in Gwynedd. Anne's brother Lord Max Beloff was a friend of Ioan Bowen Rees, the Chief Exec of Gwynedd Social Services. Ioan was mates with Dafydd, had known Gwynne for years, was mates with Huw Thomas the Chief Exec of Gwynedd Health Authority and was one of the key figures in the Gang. In his early career in the late 1950s/early 60s, Ioan had worked as a solicitor for Denbighshire County Council when Gwynne was lobotomising. Ioan also knew the gerontocracy at UCNW, his mum and dad were both UCNW graduates. I now know that the cover-up went as high as Thatch and that Cabinet Ministers knew that I was kicking up a fuss in 1984-85. Lord Max Beloff was one of the founders of the University of Buckingham, the first private university in the UK. It was Thatch's flagship university and she served as Chancellor, 1992-98.
A £250,000 new laboratory was built and Lord Max's sister became a Professor at the University of Buckingham in 1986. My friend Anne Vernon was killed in April 1986; I was unlawfully detained at Ysbyty Gwynedd in August 1986 by Gwynedd social worker Jackie Brandt, where I met Dafydd who tried to Talk Sex and who told me to get out of Wales and never come back when I challenged him; I began the MSc at Hammersmith Hospital in Sept 1986 and Ollie Brooke was jailed on 18 Dec 1986. On 13/14 Dec 1986, Dafydd had me wrongly arrested and illegally imprisoned at Denbigh. Anne and Ernst's pals at Imperial/Hammersmith Hospital were on board with the Cunning Plan.
It was in 1986 that Patient F was fitted up by the Gang for Class A drugs offences and arson and spent a year unlawfully imprisoned variously in Risley Remand Centre and the North Wales Hospital.
It was the Clore Foundation who provided the dosh for Anne Beloff-Chain to establish and head the Department of Biochemistry at the University of Buckingham, where she worked until her death on 2 December 1991.
Anne died in Dafydd and Gwynne Big Mates Central, Camden Town.
In July 1985, the year that Anne Beloff-Chain decided to leave Imperial with her entourage for the green pastures of Buckingham, which was just waiting for Anne to come along and establish a Dept of Biochemistry, Mary Wynch's case was heard by Lord Donaldson, the Master of the Rolls and she won. Mary made legal history when she won that case and in the summer of 1985 it was reported in all the London-based broadsheets. It also made the TV news bulletins. Dafydd and the Gang admitted guilt and offered a compensation sum that was accepted by Mary. That was publicised in the media. What was never publicised was that they then simply refused to pay Mary as agreed, declaring that if she wanted her dosh, she'd have to return to Court to enforce payment. Mary couldn't afford to, because Dafydd had fleeced her of her money and property on the grounds that she was insane and wasn't fit to inherit and handle her financial affairs; that was part of her case against Dafydd, the case that she won… Mary never received that compensation.
Not that Mary was the only person who had been fleeced by Dafydd using that tried and tested technique.
John Beloff (19 April 1920-1 June 2006) was a Prof of Psychology at Edinburgh University and a parapsychologist. Beloff was born and brought up in London and served in the British Army in WW II. John Beloff worked in an architect's office, then studied at London University where he graduated in 1952. Shortly after graduation he married Halla Beloff, a fellow psychology student who was ten years younger. Together, they spent a year at Illinois University and then enrolled for PhDs at Queen's University Belfast, completing their PhDs in 1956. In 1962 John and Halla both were offered jobs at the same department of the University of Edinburgh and worked there until retirement.
John and Halla had a daughter Zoe, who became an international artist.
John Beloff had been interested in parapsychology from an early age and served as President of the Society for Psychical Research, 1974-76. He was an executor of Arthur Koestler's will in 1983 and was instrumental in setting up the first UK Chair of parapsychology, the Koestler Parapsychology Unit at Edinburgh in 1985. Beloff's belief in paranormal powers and parapsychological statements were heavily criticized by Nicholas Humphrey for being based on wishful thinking. Science writer Martin Gardner dismissed Beloff as credulous and willing to believe. Beloff had endorsed some fraudulent mediums such as Helen Duncan. Gardner quoted Beloff as admitting "my own ignorance of conjuring techniques may have misled me", but Gardner noted despite this, he still went on believing. Beloff had endorsed levitations, psychic surgery, the "thoughtographs" of Ted Serios and various spiritualist mediums as genuine evidence for the paranormal. Beloff favoured mind-body dualism. This view was criticized by Margaret Boden a Professor of Cognitive Science in a detailed review.
Arthur Koestler has been discussed in previous posts. Koestler was lauded as a Thinking Giant and was incredibly well-networked with other Thinking Giants of the 20th century.
Arthur Koestler (5 September 1905-1 March 1983), a Hungarian British author and journalist was born in Budapest and apart from his early school years was educated in Austria.
Anne Applebaum, reviewing Michael Scammell: 'Koestler: The Literary and Political Odyssey of a Twentieth-Century Skeptic'.
Arthur Koestler lived in a house in Cwm Croesor belonging to Clough from Aug 1945 until 1948; Koestler shared the house with his then partner Mamaine Paget. Koestler was still married to his first wife Dorothy at the time; he subsequently married Mamaine in 1950. While they lived at Croesor, Koestler became a close friend of George Orwell. Mamaine and Koestler split up in 1952. She died 'suddenly and unexpectedly' in a London hospital as a result of asthma in June 1954.
In 1962, along with his agent, A D Peters and the editor of 'The Observer', David Astor, Koestler set up a scheme to encourage prison inmates to engage in arts activities and to reward their efforts. The charity exists to this day and holds an exhibition in London each year. When the charidee was established, David Astor's brother Bill Astor was in the middle of what would soon become the very public Profumo Affair, with which Dafydd and Gwynne were involved. Bill Astor at the time was married to Bronwen, the daughter of a Welsh judge, Sir Alan Pugh. The family home was in Hampstead but Bronwen Astor had been to boarding school in Dolgellau, the home town of Ioan Bowen Rees. Ioan's father was a Master in the Grammar School at Dolgellau. There was one years difference in age between Ioan and Bronwen. See previous posts…
There is much evidence that Arthur Koestler was a deeply unpleasant and very abusive man. Michael Foot's wife Jill Craigie maintained that he brutally raped her in 1951. This is one of the more well-known anecdotes; there were many other accusations that Koestler was abusive, particularly towards women and often sexually violent.
During the final years of his life, Koestler, Brian Inglis and Tony Bloomfield established the KIB Society (named from the initials of their surnames) to sponsor research "outside the scientific orthodoxies". After Koestler's death it was renamed The Koestler Foundation.
In his capacity as Vice President of the Voluntary Euthanasia Society, later renamed Exit, Koestler wrote a pamphlet on suicide, outlining the case both for and against, with a section dealing specifically with how best to do it. He and his wife Cynthia killed themselves on the evening of 1 March 1983 with overdoses of the barbiturate Tuinal taken with alcohol. Their bodies were discovered on the morning of 3 March, by which time they had been dead for 36 hours. Since the double suicide, there have been serious concerns that Cynthia may have been coerced into killing herself by Koestler. Cynthia was years younger than him – still in her mid-50s – and not in poor health. There have been allegations that Koestler completed dominated Cynthia and could well have persuaded her that life without him would be worthless.
No-one but Edinburgh University would accept the bequest in Koestler's will for a Chair of Parapsychology. See previous posts.
At the time of Koestler's death, the Gang were after Brown and me. Brown had already been visited by their emissary Paul Bates who had held Brown hostage with a swordstick after trashing his room and threatened to come back and kill him. I was telling my tutor at Bangor, Adrian Bell, what was happening but it just didn't seem to sink in. I told D.G.E. Wood as well, but no, he wasn't in the least bit concerned either. Brown and I didn't know about Koestler's connection with north Wales and the Gang – Koestler's links weren't only due to Koestler having lived at Cwm Croesor – but I'd mentioned his work and his death to Bell. Since writing the blog I've been told that Bell might have thought that Brown and I knew people in north Wales who were involved with Koestler's network.
The Society for Psychical Research with which Koestler and John Beloff were involved was a rather eccentric organisation. When he was at school, Brown wrote to them and although they were delighted to hear from someone young because they all seemed to be rather elderly, they were a tight circle of rather batty people and one could only become a member if one was nominated by another member, a la the Athenaeum. Thus it was a circle of elderly friends. There was a Prof at Bangor, Clement Mundle, who was a member of the Society for Psychical Research, although Brown and I didn't know him. I will return to Clement shortly…
Koestler's partner Mamaine's twin sister was Celia Goodman. Celia's obituary was published by 'The Guardian' on 6 Nov 2002 and was written by D.J. Taylor:
Until the mid 1960s there was not a Dept of Psychology at UCNW; the small group of people who subsequently formed the Psychology Dept split off from the Dept of Philosophy in 1963. Clement remained behind in the Philosophy Dept. One of those who left Clement and the Ghost Hunters to form the Dept of Psychology was Tim Miles, who became very well-known as a dyslexia specialist and has been discussed in previous posts.
Tim's manner was that of a lovely old buffer but he absolutely must have known about Gwynne and Dafydd. Not only because Dafydd dominated the Dept of Psychology at UCNW once it was established, but because Tim's Pioneering Research into Dyslexia was carried out on Anglesey in the 1960s among SEN children. Not only were the SEN children the kids most frequently targeted by the Gang, but the only other research being conducted on Anglesey at the time was being undertaken by Dafydd. Dafydd was leading 'community research' into incest on Anglesey no less. I can only imagine what the research involved. To add to the party, Lucille Hughes was the social worker responsible for children on Anglesey at the time.
Tim Miles could not have failed to notice what was happening, Dafydd is not someone who can escape one's attention. It is highly likely that Dafydd was something to do with Tim's research as well, Dafydd interfered in everything, he could never have stood on the side lines watching while Tim became famous for his dyslexia work.
When Dafydd and Tim were conducting their research on Anglesey, Lord Cledwyn was the Labour MP for Anglesey. Lord Cledwyn served as Secretary of State for Wales, 1966-68. The Westminster molester George Thomas was his Minister of State; George Thomas succeeded Lord Cledwyn as Secretary of State, 1968-70. Lord Cledwyn was a very old friend of the Windbag's wife's parents and it was Lord Cledwyn who introduced the Windbag to Jim Callaghan. See eg. 'The Cradle Of Filth'.
Callaghan, who held a Cardiff seat, was Harold Wilson's Home Secretary, 1967-70 and gave George Thomas's pal and Gang member Leo Abse everything Abse needed to work towards rewriting the legislation re kids in care. The result was the Children Act 1975, which resulted in hundreds of kids being sent into the arms of the Gang in north Wales. Abse rigged the whole process and at every stage, Dafydd and the Gang 'advised' the stooges who sat on the Committees. There was a delay in passing the legislation when Heath was PM, but as soon as Wilson was re-elected, Dr Death kindly used his Private Member's Bill to ensure that Abse's law hit the statute books. See eg. post 'Cry, The Beloved Country'.
Tony Francis was at the Welsh National School of Medicine in the latter half of the 1960s and while there knew the Windbag, when the Windbag was President of the Students' Union in Cardiff.
George Thomas and the Welsh National School of Medicine enjoyed a very cosy relationship of mutual backscratching and concealing each others wrongdoing. See eg. The Great Stink'.  My posts 'Successful Surgery On King George VI!' and 'International Finance, With Grateful Thanks To Gwynne' discussed how during the 1960s in particular  the Welsh National School of Medicine was actively recruiting senior staff who played a key role in expanding the trafficking ring. Top Docs and others were being sent to Cardiff from London and vice versa and were also relocating across the UK and indeed the whole globe after having worked with the traffickers in Cardiff.
Not only was the influx of posh, English untouchable academics eg. the appointment of Patrick Mounsey, formerly of Hammersmith Hospital, as Provost of the Welsh National School of Medicine in 1969, highly effective at turning Cardiff into a fortress, but the function of the Welsh National School of Medicine was to uphold standards and regulate the NHS across the rest of Wales. It was HQ at Cardiff who diligently maintained that not only were Gwynne and Dafydd doing a great job but that the North Wales Hospital Denbigh was suitable for training Angels and Top Docs no less.
Patrick Mounsey, the Eton-educated Even Mr Bigger than Sir William Asscher Westminster Paedophile Ring link between London and Cardiff (Mounsey and Asscher were mates), died on 21 Feb 1999. Someone was wiping out the insider witnesses at a rate of knots as Ronnie Waterhouse wrote up his Report. Mounsey, then Lord Max, then Ioan…
When George Thomas was Secretary of State for Wales, Health and Social Services became devolved responsibilities, as had been organised by the previous Welsh Secretary, Lord Cledwyn, when Thomas was his Minister of State. A serial sex offender had been given responsibility for the NHS and children in care. John Allen took out the lease on the building which would become the Bryn Alyn Community in 1968, the year that George Thomas became Secretary of State.
Prof Tim Miles worked very closely with Prof Margaret Newton of Aston University re dyslexia research… See previous posts.
Presidents of the Society for Psychical Research included:
| | |
| --- | --- |
| 1949 | Gardner Murphy (1895–1979), Director of Research, Menninger Foundation, Topeka, Kansas; Psychologist |
| 1950-1951 | Samuel Soal (1889–1975), Mathematician |
| 1952 | Gilbert Murray (→ 1915) |
| 1953-1955 | F. J. M. Stratton (1881–1960), Astrophysicist, Professor in Cambridge University |
| 1956-1958 | Guy William Lambert (1889–1984), Diplomat |
| 1958-1960 | C. D. Broad (→ 1935) |
| 1960-1961 | H. H. Price (→ 1939) |
| 1960-1963 | E. R. Dodds (1893–1979), Hellenist, Professor in Birmingham and Oxford |
| 1963-1965 | Donald J. West (born 1924), Psychiatrist and criminologist |
| 1965-1969 | Sir Alister Hardy (1896–1985), Zoologist |
| 1969-1971 | W. A. H. Rushton (1901–1980), Physiologist, Professor in Cambridge |
| 1971-1974 | Clement Mundle (1916–1989), Philosopher |
| 1974-1976 | John Beloff (1920–2006), Psychologist at the University of Edinburgh |
| 1976-1979 | Arthur J. Ellison (1920–2000), Engineer |
| 1980 | Joseph Banks Rhine (1895–1980), Biologist and Parapsychologist |
| 1980 | Louisa Ella Rhine (1891–1983), Parapsychologist, wife of Joseph Rhine |
| 1981-1983 | Arthur J. Ellison (→ 1976) |
| 1984-1988 | Donald J. West (→ 1963) |
| 1988-1989 | Ian Stevenson (1918–2007), Psychiatrist |
| 1992-1993 | Alan Gauld (born 1932), Psychologist |
| 1993-1995 | Archie Roy (1924–2012), Professor of Astronomy in Glasgow, founded the Scottish SPR in 1987 |
| 1995-1998 | David Fontana (1934–2010), Professor of Psychology in Cardiff |
| 1998-1999 | Donald J. West (→ 1963, → 1984) |
| 2000-2004 | Bernard Carr, Professor of Mathematics and Astronomy in London |
| 2004-2007 | John Poynton, Professor Emeritus of Biology, University of Natal |
| 2007-2011 | Deborah Delanoy, Parapsychologist |
| 2011-2015 | Richard S. Broughton, senior lecturer in psychology at The University of Northampton, UK |
| 2015-2018 | John Poynton (→2004) |
| 2018- | Chris Roe, Professor of Psychology, University of Northampton |
Many of these Presidents were/are closely associated with the Gang.
Here's more gen on Ioan Bowen Rees's pal Max Beloff, Baron Beloff (2 July 1913-22 March 1999), the historian and Tory peer. From 1974 to 1979 Max was Principal of the University College of Buckingham, now the University of Buckingham.
Beloff was born on 2 July 1913 at 21 York House, Fieldway Crescent, Islington, the oldest child of his family. His sister Nora Beloff was a journalist and political correspondent. Norah worked for Reuters and for the 'The Observer', 1948-78. She married late in life, to another journo on 'The Observer'. Although Norah did Harold Wilson a massive favour by never publishing anything about Dafydd, Gwynne et al, Harold perceived her to be anti-Labour and kept trying to persuade David Astor to sack her. Norah died on 12 Feb 1997, a few weeks after the Waterhouse Inquiry opened. She was doing the Gang favours until the very end.
Max was educated at St Paul's School and then studied at  Corpus Christi College, Oxford. The Beloff family's lineage to the House of David as descendants of Rabbi Meir Katzenellenbogen, the Maharam of Padua, is detailed in The Unbroken Chain. Why they thought that was worth boasting about when they helped Dafydd, Gwynne and Ioan run a sex trafficking ing I'm unsure.
At school Lord Max was a conservative, was attracted to socialism once at university and became a Liberal after WW II. In the debate about educational standards in the 1960s, Max found the Labour Gov't hostile to his idea of a university outside of the state-financed framework and felt that the liberal Party was "moving increasingly to the left". Thus Max joined the Conservative Party upon his retirement in 1979.
Max received a K in 1980, in the immediate aftermath of Mr Thrope and Mary Wynch and on 26 May 1981 he was created a life peer, so someone was desperate to ensure that Ioan had a close friend in a high place. Max was a strong Eurosceptic and argued that Britain's history made it incompatible with membership of the EU, which led to him writing Britain and European Union: Dialogue of the Deaf, published in 1996.
Max was a strong opponent of New Labour's House of Lords Act and gave many speeches in the chamber defending the hereditary principle. Max died before the bill was passed. Max gave his final speech in the House of Lords on 22 March 1999, the day that he died. Max's mate Ioan died on 4 May 1999. They were both out of the way before the publication of the Waterhouse Report in Feb 2000.
Junior Research Fellow, Corpus Christi College, 1937
Assistant Lecturer in History,  Manchester University, 1939–46

WW II service: Royal Corps of Signals, 1940–41.

Nuffield Reader in Comparative Study of Institutions, Oxford University, 1946–56
In 1954, Max delivered the Albert Shaw Lectures on Diplomatic History at Johns Hopkins University for that year, with the lectures later published as Foreign Policy and the Democratic Process.
Fellow of Nuffield College, Oxford, 1947–57
Prof of Gov't and Public Administration, Oxford University, 1957–74, then Prof Emeritus
Fellow, All Souls College, Oxford, 1957–74, Emeritus Fellow, 1980–99
Supernumerary Fellow, St Anthony's College, Oxford, 1975–84
Principal, University College of Buckingham, 1974–79
Honorary Professor, St Andrew's University, 1993-98.
Max became governor of the University of Haifa, After his death the University of Buckingham established 'The Max Beloff Centre for the Study of Liberty' in January 2005.
This is Ioan's book that Lord Max recommended everyone interested in Gov't and Democracy to read:
I lived in the same Snowdonia village as Ioan for years and the village was virtually destroyed because of the endemic corruption and crime that pervaded Gwynedd County Council, of which Ioan was CEO. I only found out years later that Ioan was an erudite Oxford-educated Expert on Local Democracy and bollocked on about Gov't by Community and how he was on the side of the Common Man. Ioan was the most greedy elitist selfish bastard one could imagine, he lived in a huge Plas down a lane well away from the rest of us plebs and no, he didn't hang out in the village pub no matter what nonsense was written about Ioan of the Common People in his obituaries. See 'I Know Nuzzing…' for further info on Ioan and some of what was going on in the village where he lived and the surrounding area.
Lord Max's son Michael is the Human Rights barrister who is a colleague and friend of the Blairs. Michael Beloff QC provided the legal advice to Municipal Mutual, the insurers of Clwyd County Council in 1996 which ensured that the Jillings Report into the abuse of kids in care in Clwyd was completely suppressed, read only by lawyers and insurers and then pulped. Jillings did admit that the abuse was so serious and so prolonged and was known to be happening by so many in authority that Clwyd didn't have a leg to stand on. The fear was that Clwyd were going to be sued by so many for so much that Municipal Mutual would never withstand it. Municipal Mutual also insured the North Wales Police. One of the Director of MM at the time was Merlyn Rees, who had been one of the Home Secretaries who had colluded with the abuses of the Gang. Merlyn Rees was from south Wales, an MP for Savile Central in Leeds and also served as N Ireland Secretary, in which capacity he concealed the VIP ring at the Kincora Boys' Home. Rees was in the thick of it yet was never mentioned.
The Chairman of Municipal Mutual at the time of the suppression of the Jillings Report was Sir Basil David Henry Montgomery, 9th Baronet. Sir Basil resigned as a Director of MM on 29 May 1996 as the row over Jillings exploded. Sir Basil owned an estate in Scotland, also served as the Chairman of the Forestry Commission and was Lord Lieutenant for Perth and Kinross.
Sir Basil's wife Delia was the daughter of Admiral Sir John Reid by his wife Jean Dundas. Delia a great granddaughter of the 12th Earl of Home, the 12th Earl being Alec Douglas Home's grandfather.
Jean's position in her family can be summarised thus:
Lady Beatrice was the sister of the 13th Earl of Home (Alec Douglas-Home's father) thus the 13th Earl was Jean Reid's uncle, which made Jean Reid Alec Douglas Home's cousin.
Previous posts have explained how Alec Douglas Home held key Cabinet positions throughout the years that Gwynne lobotomised and that Alec's son and heir David, the 15th Earl Home, in 1972 married Jane Williams-Wynne, a member of one of the powerful landowning families in north Wales who had been supporting the Gang and their forebears who ran the North Wales Hospital since it was built.
So that is why a Scottish aristocrat who doubled up as Chairman of the Forestry Commission and was Chairman of Municipal Mutual called in Lord Max's son Michael Beloff QC to get them all out of a tight spot.
Sir Basil and Lady Delia are dead now but they had two sons and four daughters. Their son James David Keith Montgomery is described as an hotelier in Kinross. One of their daughters, Iona, married Benjamin Knyvett Romer-Lee, who works in the media.
Another member of the family works in the media too; Sir Basil's mother-in-law Jean before she married was Jean Dundas and she was a relative of David Dundas, the Posh Aristocrat who in 1976 had a Hit Record and appeared on Top of the Pops singing about the joys of wearing his jeans. A great deal was made by Savile et al of the fact that David Dundas was a Real Lord; he is the son of Lawrence Dundas, 3rd Marquess of Zetland, David Dundas has also starred in TV productions and films.
When he was a student at the Central School of Speech and Drama in the 1960s, Dundas shared a Camden Town house with actor Vivian MacKerrell and film director Bruce Robinson. The house had been bought by Dundas's parents for him to live in, but eventually according to Dundas himself "15 people were living there – there were three bedrooms". Those years served as the basis for Robinson's unpublished memoir and the film Withnail & I (1987). Dundas co-wrote the score for the film, considered "one of Britain's biggest cult films".
1987. Dafydd and the Gang were calling in as many reinforcements as possible…
In early 1960s Vivian MacKerrell starred with Ian McKellen in "Saturday Night and Sunday Morning". MacKerrell had only a handful of TV and film credits, which included the Play for Today Edna, the Inebriate Woman (1971) and Ghost Story (1974), a horror film which also starred Marianne Faithfull.
Then:
Now:
Vivian MacKerrell was part of the insider witness genocide of 1995. His career was curtailed by heavy drinking and he died from throat cancer on 2 March 1995. After a short remission in the mid-1980s, the cancer returned and eventually a laryngectomy was performed. Unable to eat or drink, MacKerrell resorted to injecting alcohol directly into his stomach. In his last days MacKerrell contracted pneumonia after a drunk incident and died in Gloucester Royal Infirmary.
Another housemate in Dundas's house was the actor Michael Feast (born 25 November 1946). He was born in Brighton and performed in the original 1968 London production of 'Hair'.
'Do ewe mean mari-jew-ana?'
Feast worked several times with John Gielgud, whom he later played in Nicolas de Jongh's biographical play Plague Over England. Feast had a significant role in the acclaimed TV series State of Play. He also played Aeron Greyjoy in the sixth season of the HBO series Game of Thrones.
Ah well, Ioan's son Gruff Rhys and his mates were international rock stars by the time that Ronnie finished the Waterhouse Inquiry… See post 'The International Language Of Screaming'.
Ernst Chain's lifelong friend Albert Neuberger (15 April 1908-14 August 1996) was Professor of Chemical Pathology at St Mary's Hospital, 1955-73, and subsequently Emeritus Prof. Born in Hassfurt, northern Bavaria, the first of the three children of Max Neuberger (1877–1931), cloth merchant and businessman, and Bertha (1888–1974), both religious Jews, Albert Neuberger studied medicine at the University of Wurzburg. He also took courses in chemistry there and also attended lectures given by Karl Bonhöffer, the psychiatrist and neurologist. Albert worked for a while in research in Berlin where he began his friendship with Chain.
Neuberger foresaw Hitler's persecution of the Jews and, as with numerous other Jewish intellectuals (including Chain), Neuberger fled to London. He received a PhD from UCL after studying at UCL Medical School under Professor Sir Charles Robert Harington
Neuberger continued to research at UCL. At the start of WW II, Neuberger moved to Cambridge University, where Neuberger took on Fred Sanger as his PhD student. In 1942 Neuberger moved back to London to work at the NIMR. From 1950 to 1955 Neuberger was Head of Biochemistry at the NIMR. He then moved to St Mary's Hospital to take up the Chair there.
Neuberger was at St Mary's when the crazed, violent Royal Top Doc Arthur Dickson Wright worked there, father of Clarissa Dickson Wright. Dickson Wright was known to be dangerous and terrifying and he rarely actually turned up for his clinics at St Mary's but he was nevertheless feted. Dickson Wright's family suffered dreadfully at his hands as Clarissa admitted years later. Clarissa asked for help from her school and was told to take a running jump and her mother was told that if she (Clarissa's mother) ever made a formal complaint about her husband's violence, she would be sectioned and no Top Doc would challenge the decision. I can believe that and Clarissa's mother certainly took the threat seriously. Clarissa herself blew her massive inheritance as a young woman, developed a huge booze problem and was prevented from practising as a barrister after being found guilty of misconduct. After years of alcoholic destitution, Clarissa reinvented herself as a TV celeb chef with her mate Jennifer, who had previously catered for Carlo, after Clarissa realised that by then a great many people were desperate to keep a lid on what was happening in north Wales and Clarissa had found out about a former medical researcher who would not shut up…
Read about all about it in 'Arthur Dickson Wright – An Appreciation'.
You really are all a load of snowflakes aren't you?? If Brown and I could challenge these bastards, what was wrong with you?
Neuberger was elected FRS in 1951, as was his son, Michael Neuberger, in 1993, a rare case of both father and son being FRS. But not that rare if your surname was something like Huxley or Neuberger. Albert Neuberger was awarded a CBE in 1964. He was also a Fellow of the Royal College of Physicians and the Royal Society of Chemistry. Other awards bagged by Albert included the Heberden medal of the Royal Society of Medicine (1959), the Frederick Gowland Hopkins medal of the Biochemical Society (1960), of which he was elected an honorary member in 1973). Albert was a foreign honorary member of the American Academy of Arts and Sciences (1972).
Albert Neuberger received honorary doctorates from Aberdeen University (1967), the Hebrew University of Jerusalem (1968) and Hull University (1981).
Albert married Lilian Dreyfus in 1943 and was the father of James Neuberger, David Neuberger, Baron Neuberger of Abbotsbury, Anthony Neuberger, and Michael Neuberger. Albert was the brother of Rabbi Herman Neuberger.
The Neubergers have all starred in previous posts, so just the highlights:
James Max Neuberger (born 4 November 1949) is a Top Doc at Queen Elizabeth Hospital, Birmingham and Professor of Medicine at Birmingham University. James is one of the editors of the journal Transplantation and is Associate Medical Director (Organ Donation and Transplantation) of NHS Blood and Transplant.
David Edmond Neuberger:
David Edmond Neuberger, Baron Neuberger of Abbotsbury (born 10 January 1948) served as President of the Supreme Court of the UK, 2012-17. David was a Law Lord until the Lord's judicial functions were transferred to the new Supreme Court in 2009, at which point he became Master of the Rolls. Neuberger was appointed to the Supreme Court in 2012. He also serves as a Non-Permanent Judge of the Hong Kong Court of Final Appeal.
Neuberger worked at the merchant bank, N M Rothschild & Sons, 1970–73. Neuberger was called to the Bar at Lincoln's Inn in 1974; he became a Bencher in 1993. Lord Denning was a member of Lincoln's Inn, as was George Carman, as is Miranda and Cherie. The finest could always be found at Lincoln's Inn, Richard Crossman's dad Sir Charles Stafford Crossman was a member.
David became a QC in 1987. He was a Recorder, 1990-1 October 1996, then David was appointed a High Court Judge. In 2001, David was made Supervisory Chancery Judge of  Midland, Wales and Chester and of the Western Circuits, a post he held until 12 January 2004, when he was appointed a Lord Justice of Appeal and a member of the Privy Council.
David was a Law Lord in time for my trial at Mold Crown Court in 2004 then, which had it not blown up in the Gang's face, was intended to see me imprisoned for threatening to kill Alun Davies. Alun Davies bellowed at me that I would be going to prison for seven years. Definitely. Davies probably thought that they were bombproof what with eight perjuring NHS staff and a perjuring police officer. Of course the Gang needed to prepare for all eventualities, including an appeal after conviction…
Since 2005, David the paedophiles' friend has been co-chair (with Richard Susskind) of ITAC (Lord Chancellor's Information Technology and Courts Committee).
Between 2006 and 2007, David led an investigation for the Bar Council into widening access to the Bar. He also served on the Panel on Fair Access to the Professions, led by former Health Secretary Alan Milburn (himself married to a Top Doc on the territory of Dafydd's partner gang in the North East, as discussed in previous posts) which reported in July 2009. Other Panel members included Trevor Phillips, (then Head of the Commission for Equalities and Human Rights), Michael Grade, (then Chairman of ITV) and Martin Rees the Astronomer Royal.
In May 2011, while commenting on super injunctions, David said that social media sites like Twitter were "totally out of control" and society should consider ways to bring such websites under control. Twitter doesn't fit up victims of criminal gangs led by your friends for serious offences David, it just hurls abuse at Diane Abbott and others. It shouldn't do that, but Twitter is not half as dangerous or indeed as out of control as some of your mates.
I became so fed up with the GMC that in about 2010 I told them that I was thinking of publicising the activities of Dafydd and the Gang on Twitter lest a super injunction was served on me…
In 1976, David Neuberger married Angela Holdsworth, the TV producer and writer. They have three children, Jessica, Nicholas and Max, who are all solicitors. Neuberger's sister-in-law, through his brother Anthony Neuberger, is Baroness Julia Neuberger Senior Rabbi of the West London Synagogue. See previous posts for full details re Julia, who involves herself with matters NHS and vulnerable people who have been shafted by her friends and relations.
David Neuberger was Chairman of the Schizophrenia Trust, 2003-13, before it merged with and was subsumed by Mental Health Research UK: David is now a Trustee of MHRUK. See previous posts for info about this farce of a research charidee and the collection of Dafydd's mates who prop it up. David was a Governor of the University of the Arts London, 2000-10. Neuberger was President of the British Records Association from 2009 to 2012, in his capacity as Master of the Rolls.
Anthony Neuberger studied at Trinity College, Cambridge, 1969–73 and the London Business School (MBA, 1983–85; PhD, 1985–91). Anthony did a stint in the Civil Service as Principal, Department of Energy, 1975-83, dealing variously with oil taxation, nuclear fuel trade, energy policy and financial control of the electricity supply industry.
On 11 June 1983, Dafydd and Gwynne's Mr Big with contacts in the City, Peter Walker, was appointed Energy Secretary. Walker was an essential part of the Gang and went back to the 1950s with Gwynne and Dafydd. See eg. 'Holding The Country To Ransom – Part I' and 'Holding The Country To Ransom – Part II'. Nicholas Eden, Anthony Eden's son, was a Minister in the Dept of Energy, 6 Jan 1983-11 Sept 1984. Nicholas was in the later stages of AIDS at the time; he died on 17 Aug 1985. About the time that I popped in to see Keith Best about the Gang's activities. Walker was preceded as Energy Secretary by Nigel Lawson, who, as well as being an old friend of Peter Walker, was also keeping schtum about the ring in his area of Leicestershire that was directly linked with the Gang in north Wales. Lawson was preceded as Energy Secretary by the legendary Lord David Howell (George Osborne's father-in-law and another Mr Big, mates with the Guildford contingent of the Top Docs as discussed in previous posts), who was preceded by Tony Benn, who was preceded by Eric Varley. The whole lot of them knew about the Westminster Paedophile Ring, as well as Dafydd and Gwynne and Anthony Neuberger will have known as well.
Before joining the Dept of Energy, Anthony was previously a Consultant, Central Policy Review Staff aka Ted Heath's "Think Tank"), 1973–75. So Anthony was at the scene of the crime from the beginning.
Anthony held positions at the London Business School, 1991-2004, before he was appointed to the Chair of Finance at Warwick University, where he remains. Merfyn Jones did his PhD at Warwick University, where he once more pissed off a corrupt VC – Richard Crossman's friend Lord Jack Butterworth – when he and his mates held a sit-in at the Registry and found documentation demonstrating that Butterworth had been keeping secret files on the students (probably on Merfyn) and had been involved in dodgy deals with British and American industrialists in return for dosh for Warwick University. See previous posts for details of Butterworth and the Warwick Events. Merfyn's friend the Philanderer – who as one of Miranda's junior Ministers cleared my name when the Gang tried to have me struck off the teaching register and was then named by the BBC as having allowed a paedophile to return to teaching – was also one of those who took part in the Warwick Events. Merfyn was appointed VC of Bangor University in 2004.
Anthony Neuberger is married to Julia Neuberger. The couple have two children, Harriet and Matthew. Julia was Chair of Camden and Islington Community Health Services NHS Trust, 1992-97, as ever-desperate attempts to conceal the ring in Camden and Islington were made and the suicide rate soared. Camden had the highest suicide rate for women in England and Wales, north west Wales had the second highest. The figures were concealed for years. Julia served as Chief Executive of that Top Docs' Support Group the King's Fund, 1997-2004.
Julia Neuberger was the SDP candidate for  Tooting in the 1983 General Election. No she didn't mention that St George's Hospital (which had recently relocated from Hyde Park Corner to Tooting), Springfield Hospital and Wandsworth Social Services were partners of the Gang in north Wales and were facilitating a big sex abuse/trafficking ring right across south London. Dr Death personally knew members of the Gang.
Julia became a Dame in 2003, just after I was arrested and charged with threatening to kill Alun Davies and in June 2004 Julia was created a life peer as Baroness Neuberger, of Primrose Hill. Uncle Harry's brother-in-law and Uncle Harry's nephews lived in Primrose Hill, I wonder if Julia knows them?
Julia served as a Lib Dem Health spokesperson, 2004-07. On 29 June 2007, Neuberger was appointed by the incoming PM Gordon as the Govt's champion of volunteering. Julia resigned from the Lib Dems upon becoming senior rabbi of the West London Synagogue.
In January 2013, Julia was appointed Chair of an Independent Review of the Top Docs method that eliminated many vulnerable people, the Liverpool Care Pathway. The impartiality of the appointment was questioned by some of the bereaved families, due to Julia's previous endorsement of the pathway, which was written by Dr John Ellershaw, Medical Director of the Marie Curie Palliative Care Institute in Liverpool, in a 2003 BMJ article and Julia's widely publicised support of the Marie Curie Institute. The results of the review were published in July 2013; accepting the review's recommendations, the Gov't advised that NHS hospitals should phase out the use of the LCP ie. the means by which some patients were killed by Top Docs. See previous posts.
Julia was elected Vice-President of Attend, a charidee that supports and expands the roles volunteers play in 'creating healthy communities', in 2006 and held the position until she retired in 2011. I haven't seen any increase in Healthy Communities since Julia held that role. The situation remains that if you live in Primrose Hill your health will be far better and your life expectancy far longer than if you live in the poorest part of Glasgow or in Merthyr Tydfil.
Neuberger was appointed to the board of Irish health insurers Vhi Healthcare for a five-year period from 2005 by Mary Harney, the Tanaiste and Minister for Health and Children.
Michael Samuel Neuberger (2 November 1953-26 October 2013) was a biochemist and immunologist. He completed his first degree at Trinity College, Cambridge and then obtained his PhD from Imperial. Michael Neuberger was a Fellow of, and Director of, Studies at Trinity College, Cambridge from 1985 and then Professor of Molecular Immunology there from  2002. Neuberger was also joint Head of the Protein and Nucleic Acid Chemistry division at the MRC's Lab of Molecular Biology in Cambridge, alongside Mariann Bienz. Mariann is married to Sir Hugh Pelham, who is yet another cell biology genius who just happens to have trained and worked with all the other geniuses in this tight incestuous network… Just google Mariann and Hugh and you'll soon get the hang of what is going on.
Michael Neuberger died of myeloid myeloma in 2013 while still in his 50s. Here's an extract from his obituary that was published on the MRC website:
Michael Neuberger, Deputy Director of the LMB and Head of Division of Protein and Nucleic Acid Chemistry died on Saturday 26 October, after several months of serious illness. He was an outstanding and brilliant scientist.
Michael was educated at Westminster School and Trinity College Cambridge, received a first class honours degree in Natural Sciences (Biochemistry), and started a PhD in Biochemistry with Brian Hartley at Imperial College in London in 1974. His interest in biochemistry followed in the tracks of his father, Albert Neuberger, who was a distinguished biochemist (and former PhD supervisor of Frederick Sanger).
At Imperial College, Michael studied the experimental evolution of enzymes in Klebsiella aerogenes, using transducing phages to analyze gene duplications of the evolved enzymes. The work won him a Junior Research Fellowship at Trinity College in 1977, and after a year of postdoctoral work at Imperial College he applied to work at the LMB with Cesar Milstein. Cesar recommended that he first learn some immunology, and Michael went to work with Klaus Rajewsky in the University of Cologne on an EMBO Fellowship….
It all went well until Michael himself became ill and had to rely on his cheating liars of colleagues who have spent decades fabricating research and lying about the efficacy of treatments… Michael was another one who died at dear old Addenbrookes Hospital, domain of the fragrant Lady Mary Archer, wife of Tuppence. See post 'Tuppence And His Fragrant Wife'.
As ye sew, so shall ye reap Michael!
Frederick Sanger (13 August 1918-19 November 2013), Albert Neuberger's PhD student, twice won the Nobel Prize in Chemistry.
In 1958, Sanger was awarded a Nobel Prize in Chemistry "for his work on the structure of proteins, especially that of insulin".
Dorothy Hodgkin is credited or credited herself with 'discovering the structure of insulin', but then Dorothy was a bedfellow of John Bernal, so Dorothy could claim all sorts of incredible things. The Nobel Prizes were being shared out between the whole network across successive generations and Sanger was part of it, so Dorothy had to bag one and so did Frederick Sanger.
In 1980, Walter Gilbert and Sanger shared half of the Nobel Prize for Chemistry "for their contributions concerning the determination of base sequences in nucleic acids". The other half was awarded to Paul Berg "for his fundamental studies of the biochemistry of nucleic acids, with particular regard to recombinant DNA".
Walter Gilbert initially studied at Harvard and then completed his PhD at Cambridge University in 1957, where he was supervised by the 1979 Nobel laureate Abdus Salam the Science Advisor to the Ministry of Science and Technology in Pakistan, 1960-74. It is believed that in this position, Salam played a major and influential role in the development of the country's science infrastructure. Salam was responsible for the establishment of the Theoretical Physics Group (TPG) in the Pakistan Atomic Energy Commission (PAEC). As Science Advisor, Salam played a role in Pakistan's development of nuclear energy and may have contributed as well to development of Pakistan's atomic bomb project in 1972. Salam died on 21 Nov 1996 in Oxford, so he was out of the way before the Waterhouse Inquiry was completed.
After Cambridge, Walter Gilbert returned to Harvard and was appointed Assistant Professor of Physics in 1959. Gilbert's wife Celia worked for James Watson, (see post 'The Two Cultures Of Organised Abuse') so success for the Gilberts was guaranteed really. Watson and Gilbert jointly ran a laboratory throughout most of the 1960s, until Watson left for Cold Spring Harbor Laboratory. In 1968 Walter was appointed Professor of Biochemistry at Harvard.
Walter was a co-founder of the biotech start-up companies Biogen and Myriad Genetics, and was the first Chairman on their respective Boards of Directors. Walter Gilbert left his position at Harvard to run Biogen as CEO, but was later asked to resign by Biogen's company's Board of Directors. Walter is a member of the Board of Scientific Governors at The Scripps Research Institute. Walter has served as the Chairman of the Harvard Society of Fellows.
In 1996, Gilbert and Stuart B. Levy founded Paratek Pharmaceuticals and Gilbert served as Chairman until 2014.
Gilbert was an early proponent of sequencing the human genome.
Paul Berg (born June 30, 1926) is Professor Emeritus at Stanford University. Berg received his undergraduate education at Penn State University and then received his PhD from Case Western Reserve University in 1952. Berg was a Professor at Washington University School of Medicine and Stanford University School of Medicine in addition to serving as the Director of the Beckman Center for Molecular and Genetic Medicine.
From 1951 Frederick Sanger was a member of the external staff of the MRC and when the MRC opened the Laboratory of Molecular Biology in 1962, Sanger moved from his laboratories in the Biochemistry Department of Cambridge University to the top floor of the new building and became Head of the Protein Chemistry division.
One of Sanger's key challenges in his subsequent work was finding a pure piece of RNA to sequence. In 1964, during the course of the work Sanger, along with Kjeld Marcker, discovered the formylmethionine tRNA that initiates protein synthesis in bacteria. Sanger was beaten in the race to be the first to sequence a tRNA molecule by a group led by Robert Holley from Cornell University, who published the sequence of the 77 ribonucleotides of alanine tRNA from Saccharomyces cerevisiae in 1965. By 1967 Sanger's group had determined the nucleotide sequence of the 5S ribosomal RNA from E.coli.
Sanger then turned to sequencing DNA, which would require an entirely different approach. In 1975, together with Alan Coulson, Sanger published a sequencing procedure using DNA polymerase with radiolabelled nucleotides that he called the "Plus and Minus" technique. The procedure could sequence up to 80 nucleotides in one go, but was still very laborious. Nevertheless, Sanger's group were able to sequence most of the 5,386 nucleotides of the single-stranded bacteriophage φX174. This was the first fully sequenced DNA-based genome.
In 1977 Sanger and colleagues introduced the "dideoxy" chain-termination method for sequencing DNA molecules, also known as the "Sanger method". This allowed long stretches of DNA to be rapidly and accurately sequenced. It won Sanger his second Nobel prize in Chemistry in 1980, the one he shared with Walter Gilbert and Paul Berg.  
During the course of his career Sanger supervised more than ten PhD students, two of whom went on to also win Nobel Prizes. His first graduate student was Rodney Porter who joined the research group in 1947. Porter later shared the 1972 Nobel Prize in Physiology or Medicine with Gerald Edelman for his work on the chemical structure of antibodies. Elizabeth Blackburn studied for a PhD in Sanger's laboratory between 1971 and 1974. She shared the 2009 Nobel Prize in Physiology or Medicine with Carol W. Greider and Jack W. Szostak for her work on telomeres and the action of telomerase.
Prof Rodney Robert Porter was born in Lancashire, England and was educated at Ashton-in-Makerfield Grammar School. Porter received his BSc from Liverpool University in 1939. His career was interrupted by WW II during which he served in the Royal Engineers in Sicily and North Africa and in the Royal Army Service Corps as a War Department analyst, based in Naples, Italy. After WW II, Porter he moved to Cambridge University, where he became Fred Sanger's first PhD student.
Porter worked for the National Institute for Medical Research, 1949-60, before joining St Mary's Hospital Medical School, Imperial and becoming the Pfizer Professor of Immunology. In 1967 Porter was appointed Whitley Professor of Biochemistry at Oxford University and Fellow of Trinity College, Oxford. His colleague Elizabeth Press (Betty Press) worked with him at NIMR, St Mary's and at Oxford, contributing extensively to the work that led to the Nobel Prize in Physiology of Medicine, which Porter shared in 1972 with Gerald M. Edelman
In 1948 Porter married Julia New. They had five children together. Porter died following a four car accident on 6 September 1985, near Guildford, as the driver of one of the cars. Julia was only slightly injured in the accident. They had been en route to France for a holiday, just prior to his formal retiral.
Gerald Maurice Edelman was born in New York to Jewish parents, Top Doc Edward Edelman and his wife Anna. Gerald attended public schools in New York, graduating from John Adams High School, and going on to college in Pennsylvania, where he graduated from Ursinus College in 1950 and then received an MD from the University of Pennsylvania School of Medicine in 1954. After a year at the Johnson Foundation for Medical Physics, Edelman became a resident at the Massachusetts General Hospital; he then practiced medicine in France while serving with the US Army Medical Corps. In 1957, Edelman joined the Rockefeller Institute for Medical Research as a graduate fellow, working in the laboratory of Henry Kunkel and receiving a PhD in 1960. The Institute made Edelman the Assistant (later Associate) Dean of Graduate Studies; he became a Professor at the school in 1966. In 1992, Edelman moved to California and became a Professor of Neurobiology at the Scripps Research Institute.
Edelman founded and directed The Neurosciences Institute, a non profit research centre in San Diego that, between 1993 and 2012, studied the biological bases of higher brain function in humans. Edelman served on the scientific board of the World Knowledge Dialogue project and was a member of the USA Science and Engineering Festival's Advisory Board.
Edelman married Maxine M. Morrison in 1950. They have two sons, Eric, a visual artist in New York City and David, an adjunct professor of neuroscience at the University of San Diego. Their daughter, Judith Edelman, is a bluegrass musician, recording artist, and writer.
Edelman died on May 17 2014 in La Jolla, California, aged 84.
Elizabeth Helen Blackburn was born in  Tasmania on 26 November 1948 to parents who were both Top Doctors. Her family moved to the city of Launceston when Elizabeth was four, where she attended the Broadland House Church of England Girls' Grammar School (later amalgamated with Launceton Church Grammar School) until the age of sixteen. Upon her family's relocation to Melbourne, Elizabeth attended University High School. She went on to complete a BSc in 1970 and an MSc in 1972, both from the University of Melbourne. Blackburn received her PhD in 1975 from Cambridge University, where she worked with Frederick Sanger. It was also there, at the MRC Laboratory of Molecular Biology at Cambridge University, where Blackburn met her husband John Sedat. Blackburn's soon to be husband had taken a position at Yale, where she then decided to finish her postdoctoral work. "Thus it was that love brought me to a most fortunate and influential choice: Joe Gall's lab at Yale."
In 1978, Blackburn joined the faculty of the University of California, Berkeley, in the Department of Molecular Biology. In 1990, she moved to the Department of Microbiology and Immunology at the University of California, San Francisco (UCSF), where she served as the Department Chair, 1993-99 and was Morris Herzstein Professor of Biology and Physiology at UCSF. Blackburn became a Professor Emeritus at UCSF at the end of 2015.
Blackburn, co-founded the company Telomere Health which offers telomere length testing to the public, but she later severed ties with the company.
In 2015, Elizabeth Blackburn was announced as the new President of the Salk Institute for Biological Studies in La Jolla, California.  In 2017, she announced her plans to retire from the Salk Institute the following year.
Blackburn was appointed a member of the President's Council on Bioethics in 2002. She supported human embryonic cell research, in opposition to the Bush Administration. Blackburn's Council terms were terminated by White House directive on 27 February 2004. Dr. Blackburn believes that she was dismissed from the Council due to her disapproval of the Bush administration's position against stem cell research. Scientists and ethicists at the time went as far to say that Blackburn's removal was in violation of Federal Advisory Committee Act of 1972, which "requires balance on such advisory bodies"
"There is a growing sense that scientific research – which, after all, is defined by the quest for truth – is being manipulated for political ends," wrote Blackburn. "There is evidence that such manipulation is being achieved through the stacking of the membership of advisory bodies and through the delay and misrepresentation of their reports."
Blackburn serves on the Science Advisory Board of the Regenerative Medicine Foundation formerly known as the Genetics Policy Institute.
Blackburn's first book The Telomere Effect: A Revolutionary Approach to Living Younger, Healthier, Longer (2017) was co-authored with health psychologist Dr. Elissa Epel of Aging, Metabolism and Emotions (AME) Center at the UCSF Center for Health and Community. Blackburn comments on aging reversal and care for one's telomeres through lifestyle: managing chronic stress, exercising, eating better and getting enough sleep. The book hones in on many of the effects that poor health can have on telomeres and telomerase activity. Through research and data, Blackburn explained that people who lead stressful lives exhibit less telomerase functioning in the body, which leads to a decrease in the dividing capabilities of the cell. To increase telomerase activity in people with stress-filled lives, Blackburn suggests moderate exercise, even 15 minutes a day, which has been proven to stimulate telomerase activity and replenish the telomere. Blackburn also states that unhappiness in lives also has an effect on the shortening of telomeres. In a study done on divorced couples, their telomere length was "significantly shorter" compared to couples in healthy relationships, and Blackburn states, "There's an obvious stressor… we are intensely social beings." She suggests to include positivity into our daily lives to increase health as well.
Some lab scientists place much more emphasis on journal articles than books, so Blackburn can be excused for not having written a book until her retirement years. She cannot be excused for publishing such nonsense however. Blackburn will know that its nonsense as well, although the health psychologist probably won't, not having a clue what a telomere is.
In recent years Blackburn and her colleagues have been investigating 'the effect of stress on telomerase and telomeres, with particular emphasis on mindfulness meditation'.
I thought that Elizabeth Blackburn might be seeking to integrate her work on telomeres with Mark Williams's highly successful research fraud that he conducted while he worked with Dafydd and the Gang in north Wales in the late 1980s. See post 'The Biggest Expert Of The Lot'.
Blackburn is also one of several biologists (and one of two Nobel Prize laureates) featured in the 1995 science documentary Death by Design/The Life and Times of Life and Times. Studies 'suggest that chronic psychological stress may accelerate ageing at the cellular level. Intimate partner violence was found to shorten telomere length in formerly abused women versus never abused women, possibly causing poorer overall health and greater morbidity in abused women'.
OM!!! Let's train all Wimmin's Aid workers in pseudobiology… What if the abused women have been beaten senseless by Angels employed in psych units for Personality Disordered Women (who are often the very women who have experienced domestic violence) rather than 'intimate partners'? Do the telomeres know and thus not shorten? Does the sex of the intimate partner have any effect on the telomeres shortening? If one is abused by a lesbian partner do the telomeres keep their length?
At the University of California San Francisco, Blackburn 'currently researches telomeres and telomerase many organisms, from yeast to human cells'. So how does domestic violence theory re telomere length translate with regard to yeast cells?
Blackburn's lab's work 'is focused on telomere maintenance and how this has an impact on cellular aging. Many chronic diseases have been associated with the improper maintenance of these telomeres, thereby effecting cellular division, cycling, and impaired growth. At the cutting edge of telomere research, the Blackburn lab currently investigates the impact of limited maintenance of telomeres in cells through altering the enzyme telomerase'.
Here's Elizabeth, looking rough for someone who takes such good care of her telomeres:
Here's someone who's telomeres are in need of intensive care. Perhaps he should book in with one of Elizabeth's PhD students for a telomere-pampering session:
Corresponding Fellow of the Australian Academy of Science (2007)
Recipient of the UCSF Women's Faculty Association Award
Honorary Doctorate of Science from Princeton University (2007)
Louisa Gross Horwitz Prize of Columbia University (2007) (shared with Carol W. Greider and Joseph G. Gall)
Because your telomeres are Worth It!
Elizabeth after a late night when those telomeres really took a knock:
Mike Hogg Award (2009)
In 2007, Blackburn was listed among 'Time' magazine's The TIME 100 – The People Who Shape Our World.
Blackburn splits her time living between La Jolla and San Francisco with her husband. They have a son, Benjamin. Blackburn serves as a mentor and advocate for scientific research and policy, influencing generations to come to continue the scams and nonsense that she has initiated.
Blackburn's PhD student at the University of California, Berkeley was Carolyn Widney "Carol" Greider (born April 15, 1961), a Bloomberg Distinguished Professor, Daniel Nathans Professor and the Director of Molecular Biology and Genetics at Johns Hopkins University.
After Greider completed her postdoctoral work, she held a faculty position at the Cold Spring Harbor Laboratory, Long Island, New York. In the mid-1990s, Greider was recruited by Michael D. West, founder of biotech company Geron (now CEO of AgeX Therapeutics) to join the company's Scientific Advisory Board.
Greider was first promoted to Daniel Nathans Professor at the Department of Molecular Biology and Genetics in 2004, when war was declared on Merfyn and the well-planned attempt to frame and imprison me unravelled.
Greider married Nathaniel C. Comfort, a fellow academic, in 1992. She has two children. Greider is divorced. I presume that there was no intimate partner violence in Greider's marriage because her telomeres would seem to be longer than Elizabeth's:
Or is it just that Greider is er younger than Elizabeth?
In the 1970s and 80s, when UK women's magazines featured photos of sunkissed Californian beauties, they would inform their readers that they looked different to the people in Wolverhampton because 'they eat so many nuts'. We now know that it wasn't anything to do with the consumption of nuts, they had just taken better care of their telomeres.
When I was studying biology I drew loads of diagrams of telomeres re cell division. Like most students I found drawing those diagrams and having to learn all the different stages and what everything inside the cell was doing at different stages of the cycle really tedious. It never occurred to me to spout nonsense about telomeres and flog it as part of the beauty industry. But then I didn't live in California.
Jack William Szostak (born November 9, 1952) is a Canadian American of Polish British descent and Professor of Genetics at Harvard Medical School and Alexander Rich Distinguished Investigator at Massachusetts General Hospital. Szostak's research findings have been instrumental to the Human Genome Project.
Szostak grew up in Montreal and Ottawa. He attended Riverdale High School (Quebec) and graduated with a BSc from McGill University. In 1970, as an undergraduate, Szostak participated in The Jackson Laboratory's Summer Student Program under the mentorship of Dr. Chen K. Chai. He completed his PhD at Cornell University (advisor Prof. Ray Wu) before moving to Harvard Medical School to start his own lab at the Sydney Farber Cancer Institute. Szostak credits Ruth Sager for giving him his job there when he had little yet to show. In 1984 Howard Goodman recruited him to Massachusetts General Hospital and the Department of Molecular Biology. Szostak was granted tenure and a full professorship at Harvard Medical School in 1988.
Szostak's discoveries have helped to clarify the events that lead to chromosomal recombination – the reshuffling of genes that occurs during cell division, meiosis – and the function of telomeres, which are simply the specialized DNA sequences at the tips of chromosomes.
Currently, Szostak's lab focuses on the challenges of understanding the origin of life on Earth and the construction of artificial cellular life in the laboratory. I'll expect a press release very soon explaining that they've come face to face with God, built a whole living human being from metal and plastic and have discovered the secret of eternal life. Elizabeth and Carol will make a fortune flogging the info to ageing rich Californians.
Beyond his research, Szostak has delivered talks about the origin of life on Earth, as he did at the first Starmus Festival in the Canary Islands, in 2011. He subsequently joined the Starmus Board of Directors, and his 2011 lecture was published in the book Starmus: 50 Years of Man in Space.
Szostak has received several awards and honours for his contributions. He is a member of the National Academy of Sciences, American Academy of Arts and Sciences and New York Academy of Sciences, and is a member of the Kosciuszko Foundation Collegium of Eminent Scientists of Polish Origin and Ancestry.
Szostak has received the following awards:
Szostak is married to Terri-Lynn McCormick and has two sons. He has two sisters, Carolyn Szostak and Kathy Hysen.
As of 2015, Frederick Sanger is the only person to have been awarded the Nobel Prize in Chemistry twice, and one of only four two-time Nobel laureates: The other three were Marie Curie (Physics, 1903 and Chemistry, 1911), Linus Pauling (Chemistry, 1954 and Peace, 1962) and John Bardeen (twice Physics, 1956 and 1972).
Sanger married Margaret Joan Howe in 1940. She died in 2012. They had three children, Robin, born in 1943, Peter born in 1946 and Sally Joan born in 1960.
Frederick Sanger retired in 1983, aged 65, to his home outside Cambridge.
In 1992, the Wellcome Trust and the MRC founded the Sanger Centre (now the Sanger Institute), named after Sanger. The Institute is located only a few miles from Sanger's home. Sanger agreed to having the Centre named after him when asked by John Sulston, the founding Director, but warned, "It had better be good." It was opened by Sanger in person on 4 October 1993, with a staff of fewer than 50 people and went on to take a leading role in the sequencing of the human genome. The Institute has over 900 people and is one of the world's largest genomic research centres.
Sir John Edward Sulston won the Nobel Prize in Physiology or Medicine for his work on the cell lineage and genome of the nematode worm Caenorhabditis elegans in 2002 with his colleagues Sydney Brenner and Robert Horvitz. Sulston was a leader in human genome research and Chair of the Institute for Science, Ethics and Innovation at Manchester University.
Sulston was born in Buckinghamshire to Arthur Edward Aubrey Sulston and his wife Josephine. His father was an Anglican priest and administrator of the Society for the Propagation of the Gospel. His mother quit her job as an English teacher at  Watford Grammar School to care for him and his sister Madeleine. At age five John entered the local preparatory school, York House School. Sulston won a scholarship to Merchant Taylors' School, Northwood and then to Pembroke College, Cambridge, graduating in 1963. Sulston joined the Dept of Chemistry at Cambridge University after being interviewed by Alexander Todd (see post 'The Two Cultures Of Organised Abuse') and was awarded his PhD in 1966.
Between 1966 and 1969 John worked as a postdoc at the Salk Institute for Biological Studies in La Jolla, California. His academic advisor Colin Reese had arranged Sulston him to work with Leslie Orgel, who turned his scientific career onto a different pathway. Orgel introduced John to Francis Crick and Sydney Brenner, who worked in Cambridge. He became inclined to biological research.
Although Orgel wanted Sulston to remain with him, Sydney Brenner persuaded Sulston to return to Cambridge to work on the neurobiology of Caenorhabditis elegans at the MRC Lab of Molecular Biology. Sulston worked on the genome sequencing of the worm and in 1998, the whole genome sequence was published in collaboration with the Genome Institute at Washington University in St Louis. Thus C. elegans became the first animal to have its complete genome sequenced.
Sulston played a central role in both the C. elegans and human genome sequencing projects. He had argued for the sequencing of C. elegans to show that large-scale genome sequencing projects were feasible. As sequencing of the C. elegans genome proceeded, the Human Genome Project began. It was at this point that Sulston was made Director of the newly established Sanger Centre.
The Sanger Centre was partly funded by the Wellcome Trust, who in 1987 were such good mates with the crowd at Hammersmith Hospital that I carried out a rheumatoid arthritis project jointly with Dr Brian Henderson at the Wellcome Labs in Beckenham and Hammersmith.
In 2000, after the 'working draft' of the human genome sequence was completed, Sulston retired from Directing the Sanger Centre.
Sulston was elected FRS in 1986. John Sulston was someone else who Knew who bagged a goody in 1986…
Sulston was elected an EMBO Member in 1989 and awarded the George W. Beadle Award in 2000. In 2001 Sulston gave the Royal Institution Christmas Lecture on The Secrets of Life. In 2002, he won the Dan David Prize and the Robert Burns Humanitarian Award. Later, Sulston shared the Nobel Prize in Physiology or Medicine with Sydney Brenner and Robert Horvitz, both of whom he had collaborated with at the MRC Lab of Molecular Biology for their discoveries concerning 'genetic regulation of organ development and programmed cell death'.
In 2006, John Sulston was awarded the George Dawson Prize in Genetics by Trinity College, Dublin.
Sulston was appointed a Companion of Honour in the 2017 Birthday Honours for services to science and society.
On 23 October 2017 John Sulston was awarded the Cambridge Chemistry Alumni Medal.
John Sulston met Daphne Bate, a research assistant in Cambridge and they got married in 1966. Together they had two children. Their first child, Ingrid, was born in La Jolla in 1967 and their second, Adrian, in England. The couple lived in Stapleford, Cambridgeshire, where they were active members of the local community: John regularly volunteered in the local library and in working parties at Magog Down; he was a Trustee of Cambridge Past, Present and Future.
John Sulston lost his Christian faith during his student life at Cambridge, and remained an atheist. He was a distinguished supporter of Humanists UK and in 2003 Sulston was one of 22 Nobel Laureates who signed the Humanist Manifesto.
In December 2010, John Sulston backed Julian Assange by providing bail sureties for him. Sulston lost the money in June 2012, when a judge ordered it to be forfeited, as Assange had entered the embassy of Ecuador to escape the jurisdiction of the English courts. Sulston died on 6 March 2018 of stomach cancer, aged 75 years.
Sir John Sulston; picked up his K but was dead just over a year later:
Frederick Sanger himself declined the offer of a knighthood as he did not wish to be addressed as "Sir". He is quoted as saying, "A knighthood makes you different, doesn't it, and I don't want to be different." In 1986, Sanger accepted the award of Order of Merit, which can have only 24 living members. So that made Sanger as common as muck.
In 2007 the British Biochemical Society was given a grant by the Wellcome Trust to catalogue and preserve the 35 laboratory notebooks in which Sanger recorded his research from 1944 to 1983.
Sanger died in his sleep at Addenbrooke's Hospital, Cambridge on 19 November 2013. As noted in his obituary, Sanger had described himself as "just a chap who messed about in a lab" and "academically not brilliant".
Arthur Mullard: