My post 'The Science of Animal Behaviour' discussed Professor Hugh Freeman, a Top Doctor who worked in Manchester for most of his life and was a consultant psychiatrist to the city's hospitals, 1961-88. Hugh Freeman was Editor of the British Journal of Psychiatry for many years.
In 1974, Dafydd's friend and former boss Dr Bob Hobson relocated from the Maudsley, where he had facilitated organised abuse, to join Freeman et al in Manchester. Readers will be able to guess what Hobson did after he arrived to work in Greater Manchester, where an abuse ring was already in existence and had been for years under the regime of Freeman and his colleagues. See post 'The Mentor'.
After the Children Act 1975 was passed, hundreds and hundreds  of kids in care were sent to children's homes in north Wales from big metropolitan centres in England, including Manchester. Social workers who trained at what became Salford University took jobs in the children's homes in north Wales and one student social worker from Salford blew the whistle on the abuse of kids in care that he witnessed in north Wales. Excuses were made to invalidate him and no action was taken. His testimony was undermined at the Waterhouse Inquiry. What later became Salford University continued to send social work students on placement to north Wales. See previous posts.
Greater Manchester mental health services were in a very sorry state. As with north Wales this was known but the official line was that things were good and getting even better as Hugh Freeman performed his magic there. The reality was that like north Wales, the situation was truly appalling, patients were at risk and had been for years; the mental health services in Manchester imploded some years ago and the Top Doctor Chairing the mental health Trust was forced to resign. However he remained in his post as a consultant psychiatrist leading the mental health research programme in Manchester. See post 'The Mentor'.
Hugh Freeman's charnel house supplied north Wales with mad and abusive Top Docs. The genocidal Dr Tony Roberts was a Manchester product, as was Dr Sadie Francis. Tony Francis trained with Dafydd's mate Professor Kenneth Rawnsley in Cardiff – who before then had been working in Manchester (see post 'The Discovery Of A Whole New Galaxy…') – then Francis popped over to the Maudsley to work with Dafydd's mates there and after that Tony Francis joined Bob Hobson and Hugh Freeman's trafficking gang before finding his true home in north Wales…
Not only was Hugh Freeman responsible for the killing machine that was the Greater Manchester psychiatric services, but Freeman was Vice Chairman of MIND, 1984-88, spanning the years when Mary Wynch successfully sued Dafydd and the gang thus making legal history and when Brown and I were raising our concerns and receiving threats from Top Docs as a result. Alison Taylor also began to blow the whistle as loudly as she could during the years that Freeman served as MIND's Vice-Chair. Dafydd's pal Lord David Ennals was Chairman of MIND, 1984-89. MIND provided complete protection for Dafydd and other Top Docs involved in organised abuse and criminality.
Professor Hugh Freeman was involved in serious crime and was in addition protecting other people who were. To ensure that waters became even muddier as the world gradually woke up to the possibility that the organised abuse of children and vulnerable people was a considerable problem, Freeman founded the False Memory Society, which was the end for anyone who actually wanted to get to the bottom of who was sexually exploiting who.
As police investigations began into the paedophile/trafficking rings across the UK whom Freeman and his colleagues had been protecting, Hugh Freeman did what all the best Top Doctors realised that it was their duty to do; Freeman became an Historian of Medicine. Thus Freeman and his mates began writing the history of their own abusive, genocidal services to enable people to understand that psychiatry was grim at some point in the dim and distant past but it Is Different Now because We Arrived. The recent history of psychiatry has not been accurately recorded in work of this nature and no-one at all has explained that the Enlightened Top Docs writing this history were trained by and worked for some real butchers and continued the butchery using different diagnoses and 'treatments'. The abuse and neglect of patients did not stop and the outcomes for seriously ill patients did not improve.
The acknowledged excesses of Top Docs like William Sargant which psychiatry is doing its best to forget about did not take place in the dark ages, it took place until well into the 1960s and furthermore Dr Death worked as Sargant's research register. Sargant was bad even by the standards of the Top Docs; he conducted crazy experiments which killed patients. See post 'Dr Death'. No-one mentioned a word as the appalling Dr Death became Foreign Secretary, then did all that he could to become PM via the SDP. See post 'We've Been Expecting You…'
There was also a paedophile/trafficking ring at Tommy's where Sargant and Dr Death were working, with links to Dafydd et al. Dafydd's mate Professor Jim Watson the 'sex therapist' worked at the Maudsley, then at St George's, then at Guy's and Tommy's… See previous posts.
This lot were all protecting each other and I realised some time ago that the history of psychiatry written by them and their mates was flaky indeed. What I didn't realise was that other historians, very big names as well, were fully on board with these abusive Top Docs and knew at least some of what they were doing.
When Hugh Freeman decided to become an historian, he did a lot of work with John Pickstone (who also published as John V. Pickstone). John Pickstone (29 May 1944 – 12 February 2014) was the Wellcome Research Professor in the Centre for the History of Science, Technology and Medicine at Manchester University. 
Pickstone was born and raised in Burnley, Lancashire. By the 1980s, Burnley was of course famous for poverty and inter-racial strife. What wasn't discussed at the time was the trafficking ring which was operating across the wider region. After attending Burnley Grammar School, Pickstone studied Natural Sciences, especially Physiology, at Fitzwilliam College, Cambridge and at Queen's University, Kingston, Ontario. Pickstone then completed an MSc in the History and Philosophy of Science at UCL in 1969 and then his PhD at Chelsea College London in 1974. Pickstone held fellowships at the University of Minnesota, 1971–73 and then at UCL, before moving in 1974 to UMIST to work on the history of hospitals in the Manchester region.
The Tory peer Baroness Beryl Platt served as Vice-President of UMIST, 1984-92. See post 'Stations of the Crass'. Whereas Trumpers found herself in receipt of a peerage after many years of colluding with the elite abuse ring of Cambridge (see previous posts eg. '95 Glorious Years!'), Beryl Platt was offered a peerage after many years of colluding with the elite abuse ring of Essex/Suffolk. Rab Butler was for decades the Tory MP for Saffron Walden in Beryl's part of the world. After retiring as an MP, Rab served as Master of Trinity College, Cambridge for many years, including while Carlo was a student there, for whom Rab was special mentor. One celebrity drug abuser and HIV infected user of sex workers on Beryl's turf was Lord Bristol aka John Jermyn Hervey. Lord Bristol's brother Nicholas Hervey didn't share Lord Bristol's many vices but he did know what his brother got up to. Nicholas was found hanging in his Chelsea flat in his mid-30s after his life was destroyed as a result of help from the Top Doctors. John Allen lived on Beryl's manor before he opened the Bryn Alyn Community in north Wales. See post 'The Vermin Club'. Top Doc John W. Paulley and his wife Deirdre supplied the dangerous experimental 'treatments' and 'psychological help' for the 'disturbed' on Beryl's patch. Paulley was one of the people who sparked off the development of the University of Buckingham, Thatch's dream of a private university, of which Thatch eventually became Chancellor. See post 'The International Language of Screaming'. Thatcher gave both Trumpers and Platt their peerages.
John Pickstone, like me, pursued an education in the biomedical sciences as well as the humanities. He knew as well as I do how much fraud, deception and plagiarism there is in medical research and he knew that this has had and continues to have very serious consequences for patients. Like me, Pickstone could have named some of the biggest offenders in terms of unscrupulous practice which has resulted in patient harm. I can see from his biography that he worked in institutions where this was endemic and which employed some of those who had worked or were working with Dafydd and the gang. Dafydd and pals are known to many at UCL…
No matter how interesting John Pickstone's work is, there are huge areas of the histories of the medical services which he has studied that he did not dare mention. Like the people who 'wrote the history of the mental health services in north Wales', Pickstone omitted much of the 'history of hospitals in the Manchester region'. I understand that Pickstone could not publish the sort of material that I have published on this blog in academic fora and he would have to be very careful indeed if he were to name individuals, because unlike me he hasn't acquired 10,000 documents which detail serious organised crime and wrongdoing in the NHS and associated services over 30 years. However, there is a great deal more that John Pickstone could have published, in the way that the historians of the North Wales Hospital Denbigh did not have to dribble on about the Caring within. It was a notoriously abusive institution and the stuff of nightmares, even by the standards of its time.
This sort of 'history of medicine' is not just dishonest, it is an absolute insult to people who suffered at the hands of those violent, abusive sex offenders who's 'excellence' is documented. I and a few others who knew what went on at the North Wales Hospital passed some of the 'history' that had been written about that institution around between ourselves observing 'have you read this, it is certainly not where we spent those weeks is it??'
Lest readers believe that it doesn't matter if fairy stories are written about Dafydd, Gwynne and Hugh Freeman now that they are nearly dead or dead, it matters very much, because the work of historians of medicine, including John Pickstone, is now being used to inform policy. That is of course why funding is available for people who want to publish along the lines of 'ah the doctors they were wonderful' or 'it's different these days…'
The Wellcome Trust funds a great deal of work in the field of history of medicine. The Wellcome Trust also funds Top Doctors and other people who have kept quiet about matters that should have been made public and stopped. Then there's the question of who it is exactly who occupies senior positions at the Wellcome Trust…
It was no coincidence that Dafydd's gang and their associates tripped over themselves to become historians of medicine when police investigations began into allegations that a VIP paedophile ring was in operation in north Wales…
We're the paedophiles' friends and you can't get us. When our appalling track records as Top Doctors can no longer be concealed in terms of clinical outcomes, we'll become historians and bloody well conceal it in that way.
There is a difference between situations in which people who did some regrettable things during their lives are allowed to rest in peace as it were once they have died and are afforded privacy and dignity and the conscious rewriting of history to enable the serious criminality of an international syndicate who caused untold harm and subverted the entire health and care system for their own purposes to be entirely forgotten.
Furthermore, if we faithfully document that Mindfulness was responsible for miracles in north Wales and that the patients received much better care in the community once the asylums were closed and that Patients Are Now Empowered, we will never improve services. Er – anyone noticed that the Gov't is in a blue funk because the mental health services just do not work and the maternity services are not much better… Then there's the inexplicable failure to improve the outcomes for cancer patients… the stubborn problems presented by 'difficult' children or those in care…the puzzling reality that Prison Doesn't Work no matter What Is Done… the statistics relating to the continued dreadful outcomes for people with severe mental illness or learning difficulties…
You can't formulate policy on the basis of lies and you can't improve services if those who have screwed up so disastrously are relied upon to formulate future policy and then colonise the discipline of history to boot…
In 1985/86 Pickstone moved to the Victoria University of Manchester (later known as the University of Manchester after the merger with UMIST in 2004) and established the Centre for the History of Science and Technology (CHSTM), including the Wellcome Unit for the History of Medicine and the National Archive for the History of Computing before directing the Centre until 2002, when Pickstone became a Research Professor.
Latterly, Pickstone published mainly on modern medical history, e.g. cancer and medical technology but also on regional history of science, technology and medicine. Pickstone edited the Cambridge University Press History of Science volume on 'Modern Earth and Life Sciences' (2008) with Peter Bowler.
During 2007-08, Pickstone's work attracted international attention in Washington, DC , Yale University, Pennsylvania, Paris, Maastricht, Berlin and Mexico. With friends at Manchester Metropolitan University, John Pickstone planned a major local history festival for 2009.
Pickstone's research interests mostly included aspects of recent medicine, such as the Wellcome project on the history of cancer in Britain, work on medical technology, the history of the mental health services and a collaborative project regarding recent changes in the NHS.
Pickstone became increasingly interested in the uses of history for health policy… Which is why Hugh Freeman wanted to work with John Pickstone.
When marvelling at how Hugh Freeman the dodgy doc who presided over such shameful practices managed to become networked with credible historians who found money thrown in their direction, we need to remember that Freeman was Vice-Chairman of MIND while Lord David Ennals was Chairman and they concealed much criminality together. David Ennals had by then enjoyed a long career in Gov't, including posts as a Home Office Minister, a Minister in the DHSS, a Minister in the Foreign Office and then as Secretary of State for the DHSS under Jim Callaghan. David Ennals was a key member of the Ennals-Barbara Castle-Jack Straw troika who covered up a great deal of crap throughout their entire careers. See previous posts. That was the Labour Party branch of the heap of crap. The Tories took care of the crap involving posh people with links to the Royal Family.
Ah Hugh Freeman he was wonderful! The historians are all agreed!
History is written by the winners as any fule kno, even John Pickstone. That is why Trumpers 'worked at Bletchley Park decoding messages'. Although Trumpers did no such thing. It's why a pub was named after Lord Tonypandy aka George Thomas, what with George Thomas having made such a huge contribution to Wales. There is now a campaign to change the name of that pub, because it has finally been admitted that George Thomas was a child molester. It's why the Women's Archive Wales wants to discover the Hidden Histories of Wimmin, although not those wimmin who have been declared heroines but who actually did some pretty dreadful things.
 Shall we just stop telling lies about people who have done awful things even if they are wimmin?

Here's Harold Wilson, remembered at St George's Square:

 Uncle Harry's hero Nye remembered in Cardiff:

 Uncle Harry's hero Nye remembered in Cardiff after a bird crapped on him:

Pickstone's projects 'Big Pictures' and 'Ways of Knowing' 'grew from a conviction that through some of the hundreds of excellent papers – not the crap papers, not that any crap papers ever get published  of course, not with Hugh Freeman editing the British Journal of Psychiatry – produced in the history of science, technology and medicine since the 1960s, we might develop new and better frames for understanding long-term history'.
Prof Brian Abel-Smith and his mate Prof Richard Titmuss:
 Sir George Godber, Chief Medical Officer for England, 1960-73, another pal of Dafydd's. Sir George was a member of the team who planned Nye's NHS, for the benefit of The Poor.

Sir George helped The Poor so much that like Nye, he got a statue:

With Chris Philo, John Pickstone wrote 'Unpromising Configurations: towards local historical geographies of psychiatry'. Chris Philo is Professor of Geography at Glasgow University. Philo graduated from Sidney Sussex College, Cambridge University and worked as a Research Fellow there. In 1989 Chris Philo joined the Department of Geography at the University of Wales, Lampeter and remained there until 1995. Lampeter was located in the region of the abuse ring in west Wales which was linked to Dafydd's gang and some members of staff at Lampeter were concealing the ring.
Philo then joined Glasgow University. Philo's interests have been in the historical geographies of 'madness' and  mental health and mental health care provision. A devotee of the work of Michel Foucault, Chris Philo's research extended and localised Foucault's history of madness to England and Wales. I have no idea whether Chris Philo knows exactly what John Pickstone's mate Professor Hugh Freeman was doing in Manchester, but Foucault could most usefully be applied to Freeman, Freeman's colleague Tony Francis and of course to dear old Dafydd. No-one has yet done this…
I'll have to put in for funding from the Wellcome Trust and do it myself because everyone else has just been so unfathomably slow despite the obvious huge potential of such a piece of work…
I do not know if Chris Philo is any relation of Greg Philo. Greg Philo was a member of the Glasgow Media Group and a generation ago the Glasgow Media Group published the ground-breaking work 'Bad News' and 'More Bad News', in which they analysed 'impartial' media news coverage and demonstrated bias throughout. For example, when covering industrial disputes, it was found that news readers said things such as 'the unions demand' and 'the management request'. Brown introduced me to the work of the Glasgow Media Group when I was an undergrad and I used some of their strategies when confronting the Top Docs. 'Dr Jones told us that…', however, when I told Professor Bluglass that Dafydd had tried to bribe me into dropping my complaint about him, I had merely 'claimed'. When I pointed out these inconsistencies, the Top Docs became very angry.
Top Docs! I was being polite. I could have just said 'you're a bunch of lying fucking crooks'. Which of course in the end I did say because it was so overwhelmingly obvious… One didn't even need the help of the Glasgow Media Group.
The Tories subsequently used the work of the Glasgow Media Group's analysis of language use for their own gain. It's why we heard about 'old fashioned' trade unions when the police were beating up striking miners and the needs of a 'modern' economy. Did the Windbag take advantage of the Glasgow Media Group's work? Er – well what do you think????
Thatch's Gov't was a 'radical' Gov't as well…
As for the NHS, we now have the idiocy of Empowered Service Users. They are sectioned in locked wards against their will with fewer legal rights than people in prison… Cameron told us that the NHS and Social Care Act 2012 would Empower patients. Over-priced crap is sold to women because it will Empower us. And of course because we're worth it.
Not so long ago I came across a report of some Angels who had Supported A Resident To Leave The Room. She was an old lady who hadn't wanted to leave the room, so they had dragged her out physically while she tried to resist.
If Greg Philo has time on his hands perhaps he'd like to analyse every bit of propaganda published by the NHS over the last year, all the Empowering, the Caring, the Supporting, the Personalised Medicine Tailored To Your DNA and give us all a good laugh.
John Pickstone worked with the late Professor Roy Porter and Pickstone, with Roberta Bivins, edited a volume in honour of Porter in 2007.
Roy Porter was one of the biggest names in the history of medicine and there was a lot of sadness when he pegged out suddenly and unexpectedly, at only 55 yrs old, in March 2002. Porter had retired as Director of the Wellcome Institute of the History of Medicine at UCL in 2001. In the aftermath of the Waterhouse Report as there was still a wailing and a gnashing of teeth and shouts of 'cover-up'… People did wonder why Roy Porter, a prolific workaholic with a truly impressive output, retired at the age of 54 and moved to St Leonards-on-Sea telling people that he was going to learn the saxophone and work on his allotment. St Leonards-on-Sea is in East Sussex, the turf of the partners-in-crime of Dafydd's gang. The brothels to which John Allen trafficked the kids in care from north Wales were in Brighton.
Roy Sydney Porter was the son of a Bermondsey jeweller. He grew up in South London and attended Wilson's School in Camberwell. Camberwell is on the doorstep of the Maudsley and the citizens of Camberwell were being targeted by the organised abuse which was facilitated by the dangerous idiots employed at the Maudsley. See posts 'A Galaxy Of Talent' and 'The Discovery Of A Whole New Galaxy…'.  As the Top Docs at the Maudsley went through life destroying all those whom they touched, one of the things that they carried out was a community study of Camberwell…
Bermondsey was on the patch of Southwark Borough Council which was, by the 1970s, sending numerous kids in care to north Wales children's homes. It was the territory of a group of utterly corrupt local Labour Councillors and politicians who had ruled the area for many years, the crew being led by Lord Bob Mellish. It was this lot whom Peter Tatchell challenged in the early 1980s, which resulted in the hate campaign against Thatchell when he stood as the Labour candidate in the 1983 Bermondsey by-election. See post 'The Battle For The Labour Party's Soul'. Everyone from across the political spectrum as well as the press joined in the attack on Tatchell, including Michael Foot, who was at the time the Labour Leader. Tatchell had very effectively revealed the endemic corruption of Mellish and his mates, yet not a word appeared about that in the media. As for the kids from Southwark who were sent to north Wales, one of them was sexually assaulted at gunpoint. No action was taken even after this and Southwark kids continued to find themselves being packed off to those lovely homes in north Wales with all that fresh Welsh air for their lungs…
I remember the 1983 Bermondsey by-election well. I was living on Anglesey and I had just encountered Dr D.G.E. Wood. Little did I know what was about to be unleashed. Brown was in the final year of his first degree at Aston University and had been receiving death threats. Tutors at Bangor, as well as D.G.E. Wood, simply ignored me when I told them that someone was threatening to murder Brown, even when that someone turned up at Brown's room in hall armed with a swordstick, held Brown hostage, trashed his room and told him that he'd be back to finish him off….
That man later tried to kill Brown by repeatedly smashing Brown's head on a pavement.
'We didn't know!'
UCNW was bugged by MI5 at the time. Since beginning this blog, I have received transcripts of my conversations with Wood and my tutor Adrian Bell on the occasions that I told them what was happening to Brown. So MI5 were standing back and waiting for Brown to be killed. While the bodies of psych patients and former kids in care were found regularly.
The Home Secretary in Feb 1983:
The Viscount Whitelaw of Short Sharp Shocks
On 11 June 1983, Lord Brittan of Sex Parties With Little Boys succeeded Willie as Home Secretary and Willie was appointed as Lord President of the Council. One of the roles of Lord President of the Council was that of visitor to the University of Wales, of which UCNW was a constituent college. Read more about Willie's glorious career which involved numerous roles in which he concealed the criminality in north Wales in my post 'Stations of the Crass'. He even had two goes at being Home Secretary and Lord President of the Council such was the trust invested in him not to put a stop to Dafydd and the gang.
On 11 June 1983, Trumpers, the pal of Jimmy Savile's who later appointed Savile to the Broadmoor management task force when Trumpers was a junior Health Minister, was appointed Baroness-in-Waiting to Lilibet. Lilibet's son Carlo was Chancellor of the University of Wales. Trumpers was mates with Willie and used to stay at his place in the Lake District.
It's just..um…thingy…appalling…really…
The other day someone told me that Willie Whitelaw 'looked like an old pervert' and that they could imagine him raping the boys at Bryn Estyn. One can't judge a person on whether they look like an old pervert or not, although the method does work in the cases of Gwynne the lobotomist and Dafydd, but incredibly enough I was reminded of Willie Whitelaw when I watched that scene in the film 'Mona Lisa' years ago. The bit where a girl of about 12 is picked up by a sleazy old man with a plummy voice and he takes her to a posh hotel in central London and has his wicked way with her. After The Act, which I think was anal, he says in a Willie Whitelawesque tone 'you didn't enjoy that did you? Well you weren't meant to'. I thought of Willie and the Short Sharp Shock at the time.
There's also a bit in 'Mona Lisa' when Bob Hoskins takes the girl for a meal in a cafe and she orders an ice cream rather than a breakfast and he asks her if she wouldn't like something more substantial. In reply she says 'I can only eat ice cream now'. So Bob Hoskins says 'what cha mean?' And she says 'You don't know nuffink do you?' Well I don't know nuffink either, I've wondered ever since what that ice cream business was all about and Brown doesn't know nuffink as well because he hasn't been able to explain it.
Dafydd: what was the ice cream business about? Pray tell…
There's another fine example of what might have happened to me had I succumbed to Dafydd's employment in the film 'Blue Velvet'. The scene where Frank pays a visit to the lady whom the gangsters have trapped into a sado-masochistic relationship with the dreadful Frank and Frank has sex with her after yelling 'Baby wants to fuck' and punching her in the face. Frank inhales something through a face mask while he's having sex and I asked Brown what that was all about as well. Brown maintains that he doesn't know, perhaps Frank suffers from breathing difficulties and needs extra oxygen when he's having sex. I doubt it, like the scene in 'Mona Lisa', it is a reference to practices with which Dafydd and John Allen are well-acquainted but I'm not.
'Dear Minister, I am expressing my deepest concerns with regard to the practices of the mental health services in north Wales.'
In north Wales there were hundreds and hundreds of complaints about children in care and psych patients being abused and neglected. This man was the middle manager who deflected all of them:
Lord Wyn Roberts was a mate of Dafydd's.
After A levels, Roy Porter went on to Christ's College, Cambridge where he studied under J.H. Plumb. Porter's contemporaries at Cambridge included Simon Schama and Andrew Wheatcroft.
Sir John (Jack) Harold Plumb (20 August 1911 – 21 October 2001) was known for his work on British 18th century history. Plumb was born in Leicester and educated at Alderman Newton's School, Leicester, then at University College Leicester and finally at Christ's College, Cambridge.
A paedophile ring in Leicestershire finally came to public awareness in Nov 1991 when the social worker Frank Beck, a pal of Greville Janner's, was sentenced to five life terms for sexual and physical assaults against more than one hundred children in his care. Beck was sentenced to a further 24 years on seventeen charges of abuse, including rape. The Kirkwood Inquiry which followed Beck's conviction admitted that there had been collusion with the abuse of children in Leicestershire on the part of the police, the Social Services and the City and County Councils. In 1987, Dr James Earp, a forensic psychiatrist in Leicester, concealed the criminality of Dafydd, Tony Francis and Gwynedd Social Services. See post 'An Expert From England'. Earp was just a few years later named in a scandal when a convicted murderer escaped from Earp's secure unit after receiving help to do this on the inside. See previous posts. There are indications that corrupt lawyers and Top Docs had been involved in ensuring that the convicted man was sent into the care of Earp rather than prison.
The Kirkwood Report failed to mention that the Top Docs, the education system, Leicester University and the local MPs also colluded with the ring in Leicestershire. There was an agreement between Andrew Kirkwood QC, who Chaired the Inquiry and Greville Janner, who had been interviewed by the police and by Kirkwood, that Janner would not be named in the Kirkwood Report. See previous posts.
Lord Robert Kilpatrick served as the Dean of the University of Leicester School of Medicine, 1973-89. The GMC headhunted Robert Kilpatrick in 1989 as their President, where he remained until 1995. The GMC went in pursuit of Kilpatrick the year that I began work at St George's Medical School, which I have since been told again was part of an elaborate trap to get me out of medical research. St George's was facilitating the elite end of the pan-European trafficking ring of which Dafydd's gang were part. After I left St George's, my former bosses Professor Geoffrey Chamberlain and Malcolm Pearce were caught in a huge research fraud scandal. The 'research', if it had not blown up in their faces, would have made them world-famous. Although Chamberlain's name was on the paper which gave an account of a miraculous operation which had never taken place, only Malcolm was sacked and struck off. Chamberlain wasn't touched by the GMC, with Kilpatrick as President and Chamberlain even gave evidence against Malcolm. But Chamberlain couldn't be caught because he was friends with Cilla and more importantly Sir George Pinker, who was the Royal Gynaecologist and delivered William and Harry. See previous posts.
In 1989, the police launched an investigation into a paedophile ring in Leicestershire. In July 1989 Dafydd's mate Robert Bluglass Chaired the hearing into my complaint about Dafydd et al, concluding that the only person who was responsible for all the whole business was me and that poor Dafydd had suffered unbearably as my wicked hands. See post 'Enter Professor Robert Bluglass CBE'. By 1989, Jimmy Savile had been installed as the General Manager of Broadmoor, thanks to the efforts of Trumpers.
Kilpatrick was a Scottish doctor who didn't only know every Top Doc worth knowing, but Kilpatrick also made friends with lots of grand people from a whole variety of professional backgrounds via his membership of elite golf clubs, including the Royal and Ancient in St Andrew's, which has a big membership among the senior staff of St Andrew's University. Dafydd's mate Prof Robert Bluglass is a St Andrew's graduate and Bluglass loves quaffing champagne in various old boys' organisations. Kilpatrick had served as Dean of Sheffield Medical School, 1970-73, on Jimmy Savile's patch, as well as President of the BMA. See post 'Remember Girls – Never Get Into A Car With A Stranger!' for details of Kilpatrick's many links and more info on the shenanigans in Leicester.
Dear old Greville Janner and his family have featured many times on this blog previously and of course Greville's name is constantly bandied about in the media in relation to the Westminster Paedophile Ring. The more astute also notice that Keith Vaz has served as a Leicester MP since 1987. I've blogged about Keith in previous posts and comments, the Keith who was the Labour MP for the constituency in which Brown and I lived when we shared a house in Leicester with friends in 1987. I have discussed in previous posts the aspects of Leicester life that were simply ignored by the professional and political classes, including sex shops and the feminist raids on them, forced marriage of teenaged girls who were running away from home in great numbers to avoid this, the unlawful working practices of the sweatshops that were in operation in our neighbourhood…
The media have concentrated so much on the allegations about Greville and the stench that accompanies Keith Vaz wherever he goes, that this man who served as the Tory MP for Blaby in Leicestershire, 1974-92, never receives a mention:
The Lord Lawson of Blaby
Frank Beck abused children at the Beeches children's home in Blaby where he worked. In 1983 Beck was elected as a Liberal Councillor on the Blaby District Council, a seat which he successfully defended in 1987.
Beck was sentenced to five life-terms for sexual and physical assaults against more than one hundred children in his care between 1973-86. He was sentenced to a further 24 years on seventeen charges of abuse, including rape.
Lord Lawson worked with the security services and I suspect that at least some of his children did/do as well. Lord Lawson: thank you very much for taking Frank Beck out of circulation and for your role in the destabilisation of Thatch, but next time that you go into action, could you please not just blame everything on one perverted old social worker and leave the rest of the entire network untouched? Leicestershire was relieved of one dreadful man, but the many others remained, including in the GMC, BMA and Parliament and they have caused a great deal of trouble.
The crooked barrister George Carman QC, who established his reputation after successfully defending Jeremy Thorpe at the Old Bailey in 1979 was preparing to take up a post in Hong Kong until he stayed in Leicester in Nov 1981 while defending Dr Leonard Arthur, a kindly old paediatrician who had killed a baby with Down's syndrome and found himself in Leicester Crown Court charged with attempted murder. See previous posts. Something or someone in Leicester persuaded Carman to remain in the UK and to specialise as a libel lawyer. The reason that was always given for no media outlet ever naming Savile as a sex offender although some journos have admitted that they received credible accounts from witnesses whom they believed was that Savile was known to have Carman at the ready and no-one would risk it. Cherie Booth and Miranda both worked in Carman's Chambers. Cherie was still there in 1988.
Greville was interviewed by the police in 1991 in relation to sexual assaults on children in care in Leicestershire. His solicitor David Napley was so sure that Janner would be charged that he retained George Carman. It was in Feb 1991 that Professor Nigel Eastman of St George's Hospital Medical School told me to go back to north Wales because Dafydd was my doctor and 'they know you there'. Eastman had received a letter from his colleague Dr Robin Jacobson telling him that Dafydd was sexually exploiting patients and that he suspected that Tony Francis was as well and that I was suicidal because of being constantly arrested.
Nigel Eastman is a pal of St Helena Kennedy, the Wimmin's Champ. St Helena's book 'Eve Was Framed' contains an acknowledgement to Eastman and thanks him for helping her with so many cases. In 1987, a charidee called WISH (Women In Special Hospitals) was formed with which St Helena was involved. WISH knew that victims of Dafydd's and other gangs were in special hospitals and they knew that they had been abused and trafficked by those gangs. WISH also knew that Savile was sexually assaulting patients in Broadmoor where he was employed as the General Manager. They said nothing about any of this. See posts eg. 'Eve Was Framed – As Were A Lot Of Other People' and 'Close Your Eyes And Make A WISH'.
The gang in Leicestershire, like the gangs in north Wales and areas such as Lambeth, was built on organised abuse that had existed in the area for many, many decades. In previous posts I have discussed the gay playwright Joe Orton who met a sticky end; Joe Orton grew up in Leicester on the notorious Saffron Lane housing estate. The 'Saffs' were the target of abuse in the 1980s… Sue Townsend of Adrian Mole fame grew up in Leicester and spent her entire life there. Previous posts have explained that Townsend knew about Greville and his pals and I very much suspect that this was the basis of Sue Townsend's huge success, because her writing wasn't that good and after the initial Adrian Mole book, it was very clear that Townsend was flogging a very dead horse.
In previous posts I discussed Sir Fredrick Attenborough, the Principal of the University College of Leicester, 1932-51. Sir John Plumb graduated from the University College of Leicester the year after Sir Frederick became Principal. Plumb became an alumnus of Leicester who achieved great success and influence. As did two of Sir Frederick's sons, who worked in the media, an industry fully on board with Dafydd and the gang as well as with the wider Westminster Paedophile Ring. See previous posts, including 'Life In Cold Blood' for the many ways in which Brown's senior colleagues at Leicester University tried to hamper his career when he was a PhD student there.
My post 'Radical Leicester And Some Other Free Radicals' gave an account of some of the others who worked in Leicester University – including Lisa Nandy's dad Dipak Nandy – as well as in the schools and various Councillors who knew about the ring in Leicestershire.
If anyone has ever asked themselves, as I used to, how Anthony Giddens became such a Famous Sociologist, the Director of the LSE and even managed to persuade Miranda to base his entire political philosophy on Gidden's pamphlet about The Third Way, they only have to remember that Giddens worked as a lecturer at Leicester University during the Paedophile Years…
My How Things Haven't Changed:
King Lear, a tragedy of jealousy, murder and the descent into madness. 
Act I
Jack Plumb's doctorate was on the social structure of the House of Commons at the time of William III aka William of Orange.
Then:
Now:
'During the 1690s, rumours grew of William's alleged homosexual inclinations and led to the publication of many satirical pamphlets by his Jacobite detractors. He did have several close male associates, including two Dutch courtiers to whom he granted English titles: Hand Willem Bentinck became Earl of Portland and Arnold Joost van Keppel was created Earl of Albemarle. These relationships with male friends and his apparent lack of mistresses, led William's enemies to suggest that he might prefer homosexual relationships. William's modern biographers disagree on the veracity of these allegations. Some believe there may have been truth to the rumours, while others affirm that they were no more than figments of his enemies' imaginations, and that there was nothing unusual in someone childless like William adopting or evincing paternal affections for a younger man.
Whatever the case, Bentinck's closeness to William did arouse jealousies at the Royal Court. William's young protegé, Keppel, aroused more gossip and suspicion, being 20 years William's junior, strikingly handsome, and having risen from being a Royal page to an Earldom with some ease. Portland wrote to William in 1697 that "the kindness which your Majesty has for a young man, and the way in which you seem to authorise his liberties … make the world say things I am ashamed to hear." This, he said, was "tarnishing a reputation which has never before been subject to such accusations". William tersely dismissed these suggestions, however, saying, "It seems to me very extraordinary that it should be impossible to have esteem and regard for a young man without it being criminal."
Similar speculation surrounded the late Dr Tony Jones, Butch Action Man and associate of Dafydd's gang, who 'was like a father' to many of the male students at UCNW. Tony Jones, a marine geologist unknown outside geology and mountaineering circles, found himself the subject of a 'This Is Your Life' episode screened in early 1993, just when Dafydd's gang were in need of some PR. During the programme it was stressed how many lives Tony had saved in his capacity as a key figure in the Ogwen Valley Mountain Rescue Team. See eg. previous posts and comments that follow them. Tony's quaint way of calling black students niggers or his arrangements with corrupt police officers to have students whom had crossed his path unlawfully arrested and detained in the cells were not mentioned. Tony and his mates did however slap each other on the back a lot and remember the times that they got rat arsed on whiskey and painted Tony's ears green and tattooed his bum while he was out cold.
 Dr. Tony Jones MBE
It is with great sadness we have to announce the passing of  Dr. Tony Jones MBE one of the founder members of the Ogwen Valley Mountain Rescue Organisation. For many years he also served on regional and national bodies and was chair of North Wales Mountain Rescue Association until 2013. He was also a member of the UK Search and Rescue Operators Group, chairman of the Medical Group, secretary of the Inland Consultative Committee and chairman of the Communications Working Group and attended the Maritime and Aviation Consultative Committee, since their inception in 2000.
In 1939 Jack Plumb was elected to a research fellowship at King's College, Cambridge.
Trinity College and King's College were the two main Cambridge colleges from which the members of the Cambridge Apostles were drawn. Many Apostles were recruited by the British security services and the 1930s contingent became notorious because of those who were later revealed to have been double agents working for the KGB. It is likely that there were more people in this category than were ever revealed. The Marxist historian Eric Hobsbawn was an Apostle in the 1930s. Hobsbawm had a second home at Croesor in Gwynedd for many years until 1979, where he was part of a group of second homers and visitors known as the Welsh Bloomsbury Set. The Welsh Bloomsbury Set were a group of radicals and intellectuals who had their main homes in London but spent much time in Gwynedd as a result of the friendship with Sir Clough Williams-Ellis, a local landowner who married Amabel Strachey, a member of the Strachey family who were at the heart of the Bloomsbury Group. Bertrand Russell was part of that group of friends.
Some of the Welsh Bloomsbury Set and their network were involved in organised abuse and they made use of the services provided by Dafydd's gang and before Dafydd led the gang, Gwynne the lobotomist. The Welsh Bloomsbury Set were leftists and many of them were members of the Communist Party. As an adult Eric Hobsbawm's daughter Julia established her own PR company with Sarah Macaulay which worked for the Labour Party and trade unions.
See eg. 'The Village', 'The Vermin Club' and 'Captain Swing And His Crew' for details of the second homers at Croesor and their network.
In 1997 Sarah married Gordon Brown, the Chancellor of the Exchequer and in 2007 Sarah was the wife of the PM. Miranda and Gordon launched an all out attack on the VC of Bangor University from 2004 onward with the purpose of removing him from public life. The reason for this was that Merfyn, his wife and his close friend had spilt the pints of the gang on a number of occasions. Merfyn had grown up near Croesor, knew what the gang were doing to local people and spilt the pints of the Sussex end of the gang in 1967 when he was a student. The VC of Sussex University, Asa Briggs, never got over it and went to war along with Miranda and others many years later. See post 'Anthem For Doomed Youth'. Asa was an historian, a Cambridge graduate who worked in intelligence during WW II and will have known Jack Plumb…
During WW II, Jack Plumb worked in the code breaking department of the Foreign Office at Bletchley Bark. Being one of the Cambridge graduates who worked for the security services, Plumb might actually have done some code breaking, as opposed to the code breaker Trumpers who was a secretary who didn't do a great deal of work, spending her time larking around with her mates and going up to London to gamble and get pissed with GIs. See post '95 Glorious Years!'
Jack Plumb was highly likely to have been one of those members of the security services recruited from Cambridge pre-WWII who contributed to the combined effort to conceal Dafydd et al's criminality under the mistaken belief that because Royals were linked to the shenanigans, it was In The Interests Of National Security to stand by and allow horrid old gits to force kids and psych patients to have sex with them and kill them if they blabbed.
In 1946 Plumb became a Fellow and Tutor of Christ's College. It's much nicer than King's College, less grandiose and with bushes, but it didn't contain as many gay spies who concealed elite paedophile rings as King's College did.
In 1962 Plumb was appointed Reader at Cambridge University and Professor in 1966. Jack Plumb served as Master of Christ's College, 1978-82.
Plumb had a visiting Chair at Columbia University in 1960. He was elected a Fellow of the British Academy in 1968 and knighted in 1982.
Plumb was the European Advisory Editor for 'Horizon' and the Advisory Editor for history for Penguin Books. Contributors to his books included other well known historians like Jacob Bronowski. Later Plumb worked with Hugh Casson on the BBC TV series Royal Heritage about the Royal Family and the Royal Collections first broadcast in 1977.
Jacob Bronowski was a loyal servant of the security services who concealed the shenanigans upon which Dafydd expanded and built. More recently the baton of protecting a gang of old molesters was passed on to his daughter Professor Lisa Jardine, an historian – they're the Men or Wimmin Of The Moment – who toadied to all the right people, including  those of Middle Temple, of which Sir Ronnie Waterhouse was a member and of course the Royal Colleges of Top Doctors. Read about Jacob and Lisa in previous posts, including how Lisa achieved success without anyone ever knowing that she was Jacob Bronowski's daughter, in much the same way that Peters and Lee won 'Opportunity Knocks' without the viewers knowing that Peters was blind.
See post 'The Big Questions' for an account of the career of another Inspirational Blind Man who became Home Secretary on the basis of his Huge Talents, not at all because he spent years running Sheffield City Council while ignoring the activities of Jimmy Savile – whom no-one knew was molesting children anyway – and subsequently the activities of Dafydd et al and other linked gangs.
Jack Plumb is seen as mentor to a school of historians and a generation of scholars that included Roy Porter as well Simon Schama, Linda Colley and David Cannadine and others who came to prominence in the 1990s. The decade in which police investigations were launched into a number of paedophile rings which were facilitated by the Top Doctors, including the one in north Wales/Cheshire which as any fule kno didn't exist.
Plumb was champion of a 'social history' in a wide sense; he backed this up with a connoisseur's knowledge of some fields of the fine arts, such as Flemish painting and porcelain.
Plumb clashed with other historians, notably Cambridge colleague Geoffrey Elton. Geoffrey Elton is the brother of Lewis Elton, Ben Elton's dad. Lewis Elton spent much of his career as a Professor at Surrey University and worked with those who shafted me and stole my work in 1988-89 after receiving Orders From the BMA. The then President of the BMA was Dr John Marks, who's brother Prof Vincent Marks was my boss at Surrey. Lewis Elton was largely responsible for the career of Britain's First Lady Professor of Physics, Daphne Jackson. Dear old Daphne established an organisation to assist professional women advance in their careers and some of Daphne's mates advanced their careers considerably by plagiarising my work to raise further research funding for themselves while I was made redundant because my funding had run out. See previous posts.
Daphne, Who Made It In A Man's World:
Thanks To This Man's Dad:
Ben famously hated Mrs Thatch! Which was why his dad shafted the woman, who along with her friends, had evidence of a gang of criminal doctors that if it had ever been allowed to become public could have finished Mrs Thatch off. My media friends who were also shafted for supporting me used to meet Ben at events. They observed that Ben was indeed a Bob Monkhouse in the making as Dame Edna Everage later also quipped. Ben went to Manchester University and the drama/entertainment scene there was supplied with sex workers who had come off the Top Docs conveyor belt.
Ben was born in Fitzrovia, among the Bloomsbury Set and in 1968 the family moved to Guildford. After Ben graduated and moved to London to make his name in alternative comedy, his parents gave him a house to live in so the poor mite didn't have to worry about rent. See previous posts for info re Ben and his right-on friends.
Friends from Jack Plumb's early life including C.P. Snow portrayed him in novels; he also is known to be the model for a character in an Angus Wilson short story The Wrong Set.
The Guardian's obituary for Sir John Plumb written by Neil McKendrick told us:
With the death of Sir John Plumb…Cambridge has lost one of its most influential historians and one of its most memorable characters. He was one of a remarkable group of dynamic and charismatic scholars (including Sir Moses Finley, Sir Geoffrey Elton, Sir Harry Hinsley, Owen Chadwick, Sir Denis Brogan, Sir Herbert Butterfield, Dom David Knowles, MM Postan, Philip Grierson, Walter Ullman, Peter Laslett and Denis Mack Smith) who made the Cambridge history faculty such an exciting place to be in the 1960s and 1970s.
When one recalls that Joseph Needham and EH Carr were then at the height of their powers in Cambridge; that exciting young scholars such as John Elliott, Quentin Skinner, Christopher Andrew and Norman Stone had already joined the faculty; and that ambitious youngsters such as Richard Overy, Geoffrey Parker, Roy Porter, Simon Schama, John Brewer and Keith Wrightson were beginning their research careers, it is little wonder that one looks back on it now as a golden age, unequalled since. Few, if any, could claim to have played a more central role than John Plumb. As a hugely influential teacher, the most popular lecturer and the most prolific writer, and as an unforgettably colourful character, Plumb dominated Christ's and Cambridge history during much of this period.
Jack Plumb…was the product of a working-class family in Leicester…His first attempt to get into Cambridge ended in a humiliating form of rejection. He took the St John's scholarship examination…Despite coming top of the exhibitioner list, quite exceptionally he was not awarded one, so he went to Leicester University and was the first person ever to take a first in history from that university college. He went up to Christ's College, Cambridge, in 1933 to begin research as GM Trevelyan's first and last research student and, apart from a brief interlude as a research fellow at King's and his time at Bletchley during the war, he never left Christ's again.
He became a fellow in 1946, and for over half a century devoted his life to the college…Plumb was a dedicated "college man" and anyone who used that phrase in a disparaging way in his presence could expect an Exocet-like rebuke. Not for him the uninterrupted research time that many academic prima donnas now demand. He was in turn an official fellow, college lecturer and director of studies in history, tutor, steward, wine steward, vice-master and master…Greater love for his college has no man than the fellow willing to take on all these burdens… He did not skimp on his university duties either, being, among many other things, a notably brisk and efficient chairman of the history faculty board from 1966-68….
Dafydd's gang had sent up a Paedophiles In Distress flare by 1991, which resulted in havoc at UCNW when the gang launched an attack on senior sociologist Graham Day and were assisted by 'The Guardian' publishing an article accusing Graham of racism. See post 'Badlands'. One person caught in the crossfire was Nerys Jones, who's ex-husband was the Harvard sociologist Professor Orlando Patterson. Nerys knew about Dafydd's gang and suffered at their hands. She later married Merfyn the VC of Bangor University which was the last straw for the gang. Nerys died in 2008 at the hands of Dafydd's colleagues at the Walton Centre who, despite being Global Leading Top Docs, just couldn't do anything in the face of her serious illness. Orlando, who did his PhD at the LSE in the 1960s (see previous posts), is a favourite of black elites in the US, who are linked with those we know and love in High Places, such as Barack and Michelle. See eg. post 'Right To Reply'.
I don't know why Porter was Plumb's last postgrad, but it's probably significant.
But Plumb recognised very early in his career that other historical disciplines were increasingly coming to the fore. He wrote in Studies In Social History (which he edited in 1955) that "social history, in the fullest and deepest sense of the term, is now a field of study of incomparable richness and the one in which the greatest discoveries will be made in this generation". His prediction has long since been borne out, and he increasingly followed the dictates of his own prophecy…It was a decision which fuelled and exacerbated the strong personal antipathies between the Plumb and the Elton schools of historiography in Cambridge and beyond.
To Elton, who espoused ever more strongly the pre-eminent claims of constitutional history, Plumb's decisive move towards the history of social realism was anathema. Elton might be said to have won the battle (after all, he did become regius professor), but Plumb has surely won the war. The study of history has marched irresistibly in the direction in which he predicted and led.
...Seven honorary degrees (five in the US) testified to his international reputation as a scholar, but in many ways he still felt frustrated by the prizes which had eluded him…He was on Harold Wilson's infamous resignation honours list for a peerage, but was dropped in the furore which followed its "leaking" to the press.
That was the Lavender List, written by Marcia Williams aka Lady Falkender, in which Harold planned to give honours to his mates who had helped him conceal wrongdoing, including that involving the Westminster Paedophile Ring. Wilson almost certainly suddenly resigned in 1976 after the security services gave him a push, because they knew that Jeremy Thorpe's previous relationship with Norman Scott could not be denied any longer, that Norman's allegations of Thorpe trying to have him killed were credible and that Thorpe was going to find himself charged with very serious offences very soon. See previous posts…
By 1976, Thatch was leader of the Tory Party. The Liberals had Jeremy and Labour had Harold and of course Labour had been getting in and out of bed with the Liberals in terms of the Lib Lab Pact. Could this have resulted in the security services backing Thatch and mobilising the campaign to make her PM as is constantly rumoured? It wasn't the best idea that you ever had C or M or Dickwit, she was every bit as bad as the Men. But there you are, Thatch banged on about her gently waved hair and her red chiffon dress and she flirted with all of you old farts in a 1950s way and you were as hooked as Alan Clark was when he noticed her 'very pretty ankles'… Patient F was so shocked when he watched that interview with Clark banging on about Thatcher's 'carnal' tastes and women's 'globes' that F commented at the time that Clark was going to tell us in a minute that Thatch liked the big knobs.
Oz Magazine, Tory Party Issue:
 Sadly, some of those mad old gits who were taking orders from Thatch were waving their big knobs in the direction of kids in care supplied by Dafydd et al.
Where he [Jack Plumb]did achieve the full recognition he deserved was from his pupils. They were quick to recognise the influence of his teaching and his generous promotion of their talents. At Christ's alone he promoted the careers of historians of the calibre of Rupert Hall, John Kenyon, Frank Spooner, Barry Supple, Eric Stokes, John Burrow, Jonathan Steinberg, Quentin Skinner, Norman Stone, Geoffrey Parker, Roy Porter, Simon Schama, Clive Holmes, David Cannadine, Linda Colley, Joachim Whaley, Niall Ferguson and myself. These and many others were launched on their successful careers by Plumb's patronage and support at Christ's…
I will try and find out if John Kenyan was any relation of Sir Frederic Kenyon, the Director of the British Museum and the father of Dame Kathleen Kenyon. They were relations of Lord Lloyd Kenyon who spent nearly 40 years as President of UNCW and who's son Thomas Tyrell-Kenyon, who was infected with HIV, was caught abusing a boy in the care of social services but faced no charges. Dame Kathleen returned to live in the Wrexham area at the end of her career as an archaeologist who achieved fame as a result of her digs in the Middle East. See previous posts. Dame Kathleen, being a World Famous Archaeologist, will have been on the receiving end of much toadying from the Dept of Archaeology at UCNW.
Indeed, many of his pupils would readily admit (as would I) that he was the greatest single influence on their early lives and careers. Many have told me what an inspiration he was in their days in Cambridge, and many count it as one of the great pleasures of their lives to have basked in his company. Not that it was always a comfortable experience. Jack Plumb did not earn the title of being the rudest man in Cambridge without inflicting some hurtful verbal wounds…
He never ceased to surprise. After more than 60 years as a passionate socialist, he suddenly embraced Thatcherism with an ardour that astonished his friends. As he moved ever further to the right, he met the appalled response of his old liberal friends with the smug retort, "There's no rage like the rage of the convert."
Such a complex personality inevitably subjected some of his friendships to strain. Not all of them survived…
And when it wasn't fun, it was always memorable. Jack Plumb made good copy. His turn of phrase made him eminently quotable. His trenchant judgements made good stories – and sometimes unforgiving enemies…
He will, of course, be remembered best by historians for the impact of his work on what is known as "Plumb's century", but in London and New York (and in Cambridge and academia at large) he will, perhaps, be remembered even more for his ebullient personality, which expressed itself not only in his erudition but in his enthusiasm and his enjoyment of the good things of life.
For he played as hard as he worked. An entrepreneur, a bon viveur, a connoisseur of food and wine, a collector of fine silver and porcelain, his rooms were far more opulent than those of most dons. Fine paintings adorned the walls, fine claret and champagne flowed with abandon, and his Vincennes and Sèvres were far superior to the collection in the Fitzwilliam Museum. His cellar was the finest in Cambridge. Apart from his splendid rooms in Christ's, he shared for over 30 years a 16th-century rectory in Suffolk, he had a long-term interest in a magnificent moulin in Provence, and kept a pied-à-terre 22 stories up in the Carlyle in New York. Not for Plumb the life of the cloistered and ascetic scholar, not for Plumb the life of the remote and ineffectual don. He lived his life to the full. He had little time for what he called "the quiet rich", he abhorred meanness, and he spent his money with as much gusto as he earned it. He approached his 90s full of plans for the millennium, still encouraging and exhorting the gifted young, still planning further trips to the US, still plotting the outcome of his munificent charities.
I've never met an academic as rich as this, where did Jack Plumb get it all from, especially as he was born a Saff in Leicester…
Plumb was a formidable fundraiser. He did not scruple to flatter or cajole or bully his friends into stumping up for the charities he believed in. He claimed to have raised more than £3m for Christ's alone.
How?
About a third came from his own pocket
So he had a spare £1 million knocking around
and his intentions in his will confirmed where his ultimate loyalties lay. His not inconsiderable fortune will go to promote the two things which have dominated his life – Christ's College, Cambridge, and the study of history.
There must have been something very interesting behind this caricature of a Christ's Man, a Dr Donald Trefusis worthy of Stephen Fry's imagination, who's whole life was dedicated to dear old Cambridge and his archives, but who just happened to find himself in the possession of serious money and art treasures.
Although twice engaged, he remained unmarried.
A Bachelor who was not Blessed With Children.
In an article for 'History Today', Sir John Plumb explained how, between 1857 and 1888, after much controversy, the mystery of the Nile's source was finally solved by the successive discoveries of Speke, Burton, Livingstone and Stanley. I think that Plumb himself might have been the source of one sort of Nile, a Nile of a Westminster Paedophile Ring and How They Got Away With It sort.
 As for the Nile's tributary, Roy Porter became a junior Fellow in 1968 studying under Robert M. Young and lecturing on the British Enlightenment. In 1972, Porter moved to Churchill College and became Dean in 1977. Porter received his doctorate in 1974 and was then given a lecturing job at Cambridge. It was in 1979 that Porter joined the Wellcome Institute for the History of Medicine at UCL and in 1993 he became Professor of Social History at the Institute. He briefly served as its Director.
Porter retired in September 2001, moving to St Leonards-on-Sea and died of a heart attack five months later at the age of 55 yrs.
Roy Porter was married five times, firstly to Sue Limb (1970), then Jacqueline Rainfray (1983), then Dorothy Watkins (1987), then Hannah Augstein, and finally his wife at the time of his death, Natsu Hattori.
Roy Porter's wiki entry notes that he was 'known for the fact that he needed very little sleep'. There are a very small number of people who do need very little sleep, but most of those doing the Superman bit have assistance from substances rather more exciting than Pro Plus tablets. Thatch achieved her wonders with regard to lack of sleep by the use of amphetamines. She acquired her goodies from a street dealer on the street, a Harley Street dealer to be precise and this was widely known among the Top Docs of London.
As with Peter Morrison and Norman St John Stevas attending sex parties with little boys, no-one mentioned Thatcher's little helpers outside of the Top Docs' habitat. It was one of those Docs Only secrets that one could cheerily joke about in the right environment and a conversation would follow, but on one occasion that I mentioned it to people who weren't Top Docs. I received one comment of 'oh that is crap', another of 'you're fucking mad you are' and a third from a shocked looking man who said 'I wouldn't have thought that she was the sort of person who would do that'. So I explained that Thatch wasn't nipping over to Holyhead for a fix, she got her supply from a Harley Street Top Doc. Where was I when I told the three about Thatch? On a psych ward in Ysbyty Gwynedd the summer of 1991. The three Empowered Service Users then told everyone that the girl who'd been working in that hospital in London had said that Margaret Thatcher – who had only been kicked out of Number 10 a few months previously – was buying drugs from Harley Street.
DON'T LISTEN TO HER ANYONE, SHE'S MAD.
It was at about that time that some of the gwerin became Historians of Medicine, but I've always presumed that was because the North Wales Police had begun the investigation into the suspected paedophile ring. Not that the gwerin had anything to fear from that, the North Wales Police were among the bestest friends that Dafydd had and some of them eg. Gordon Anglesea, were members of the ring.

Dafydd and Tony Francis were probably worried that I knew which Doc Thatch was buying her powders from. Don't worry Dafydd I didn't, but I had so much other info on you all that I didn't need to know who Thatch's dealer was.
'Ooh we doctors hated Thatcher, the NHS wasn't safe in her hands, we did all that we could to get her out.' Well not quite everything.
'Good morning PM, a repeat prescription is it? Let me just take a look at your notes.'
Ah the doctors they were wonderful!
A lot of Top Doctors from Tommy's have Harley Street practices, as did Drs Ann and Peter Dally, who numbered Ma'am Darling among their patients.
On 12 May 2007, Tony Benn was joined by Gill Hicks at the opening of a new exhibition charting the experiences of patients and staff at Guy's and St Thomas' hospitals.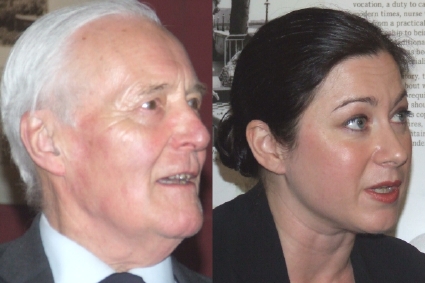 Ah the doctors they were wonderful!
Tommy's merged with Guy's in 1982. Uncle Harry worked at Guy's. As a Top Doctor, Uncle Harry would have known how important it was to Take And Keep Good Notes. Top Doctors are judged on the quality of their Notes and if their Notes are insufficient, a Top Doctor may even be summoned in front of the GMC. I have yet to hear of a case in which the GMC has taken action against a Top Doctor for keeping too many Notes.
Roy Porter made many TV and radio appearances. He was an original presenter of BBC Radio 3's 'Night Waves' and, at the point of his death, was scheduled to appear to discuss doctors in literature. I wonder if Porter was planning to mention Dr Savile, as the Top Docs and managers at Broadmoor were told to call Jim, although every one of them knew that Savile was not a doctor of any kind and that the use of the title constituted misrepresentation. The Civil Service mandarins knew that Savile was misrepresenting himself and on documentation as well.
Savile wasn't qualified but he was accepted in Top Docs and even political circles on the strength of his excellent Notes.
Roy Porter was awarded the Leo Gershoy Award of the American Historical Association in 1988. He was elected a fellow of the British Academy in 1994, and was made an honorary fellow of the Royal College of Physicians and the Royal College of Psychiatrists.
Any illusions that I held regarding Roy Porter has being used as a source of PR by the unscrupulous Top Docs without knowing what they were up to have now been dispelled.  
A plaque in the memory of Porter was unveiled by the Mayor of Lewisham at 13 Camplin Street, New Cross Gate, London. The Mayor of Lewisham will have known that organised abuse had taken part on his/her patch for years and that the Top Docs were key players in this. Lewisham is on the doorstep of the Maudsley. For a long while, Lewisham has been solid Labour territory and is part of that area of south London over which Harriet Harman and her mates reign. I have blogged previously about how virtually every constituency in that part of south London had/has as an MP a Harriet or Tessa or a Bridget Prentice or a Joan Ruddock… 
People were so gobsmacked by the unexpected retirement of Roy Porter and then by his even more unexpected death, that there was no shortage of tributes and obituaries. The Indie told us that Roy Porter reviewed for all the daily papers and the Sundays and that his reviewing began in the 1970s with 'New Society'. 'New Society' was the house journal for social work and throughout the 1970s and 80s there was no mention of the widespread abuse and neglect of clients. The magazine carried adverts for jobs as senior managers with Depts of Social Services where abuse was endemic and concealed by senior managers. John Allen advertised for staff in 'New Society'. 'New Society' published a regular column by Geoffrey Parkinson, a probation officer who worked in Inner London who was not only corrupt but knew that hordes of kids from London were being sent to children's homes in north Wales and were then trafficked back to London as sex workers. See post '        '.
The Indie remembered Roy Porter for being a wonderful host, for giving 'raucous and unbuttoned dinner parties' and for being an incredibly gregarious man 'who knew everyone'. Roy Porter knew one Top Doc in north Wales who wasn't known by many people to be Of Dafydd because he had rather more credibility than his colleagues, but he knew what they were doing and was beavering away planning a military coup and while doing so, was putting patients in as much danger as Dafydd et al did…
The Indie painted a vivid portrait of Roy Porter: One feature of Porter's career is unique: he was the populist and good liver, the don in jeans and untreated leather boots, famous gold chain nestling on his hairy chest, arriving for parties with a bike-lamp in one hand and a bottle of champagne (always he brought champagne) in the other, published and broadcasting everywhere; yet he was never outside the Establishment, in which he had absolutely no interest…
Dafydd and Tony Francis's mate Professor Hugh Freeman wrote the obituary for the Leader Of The Pack for the 'Psychiatric Bulletin'.
The Leader Of The Pack keeled over with a heart attack in March 2002. In the aftermath of the Waterhouse Report and when, unbeknown to me, Dafydd et al were on manoeuvres yet again to wreck yet another career of mine  – I had begun teaching – and this time to ensure that I was convicted of a serious crime which would see me in prison for a substantial period of time and would never work in another professional job again. See previous posts eg. 'Thought For The Day'.
The Leader Of The Pack should have realised that no matter how much he helped the Top Docs in return for his class A goodies, they have no loyalty to anyone and they were desperate to wave goodbye to anyone at all still alive and kicking after Waterhouse who might just bite them on the bum one day and name names. Consumption of class A drugs makes people very vulnerable to the dirty deeds of Top Docs even if they are a Leader Of The Pack with a brain and medical knowledge who have written or edited over 100 books.
The Leader Of The Pack was 'particularly notable for his work in the history of medicine, in pioneering an approach that focuses on patients rather than doctors. Despite Porter's recognition in the history of medicine, he is quoted as having said "I'm not really a medical historian. I'm a social historian and an 18th century man". In addition to the history of medicine and other sciences, Porter specialised in the social history of 18th-century Britain and the Enlightenment. He also wrote and lectured on the history of London.'
The Leader Of The Pack published, with G.E. Berrios, A History of Clinical Psychiatry (1985) and co-edited the journal History of Psychiatry (1989). He also edited the journal History of Science for many years. I love the work of the Leader Of The Pack's that I have read, but I did notice that he didn't venture into anything too painful with regard to the modern history of psychiatry. The Royal Colleges of Physicians and Psychiatrists won't be inviting me to join them and they wouldn't even if I had written as many books as the Leader Of the Pack did.
Germán Elías Berríos is a  Professor of Psychiatry at Cambridge University. Berrios was born in Peru and studied at the University of San Marcos and read at Corpus Christi, Oxford University. Between 1973 and 1976 Berrios lectured in psychiatry at Leeds. Leeds was of course Jimmy Savile's HQ and Savile had them all well-trained in the NHS. Jimmy hadn't yet become a doctor of nothing when he gave out the orders in the Leeds NHS, but he worked voluntarily as a porter at St James's Hospital and at Leeds General Infirmary in between sexually assaulting patients. Jimmy was mates with Alan Franey, the General Manager of Leeds General Infirmary and when Jimmy spent all those years dabbling in being a doctor of nothing as well as being General Manager of Broadmoor while his day job was sexually assaulting patients, Alan Franey was Chief Exec of Broadmoor. See posts 'Socio-Political Context Of The North Wales Mental Health Services In The 1980s' and 'A Pretty Classy Piece Of Operation'.
Yet another observation re the mass outbreak of Not Knowing which afflicted the NHS in the wake of the revelations that Jimmy Was A Monster. Jimmy spent years farting about as a 'voluntary porter' in the NHS. During the 1970s and early 80s, the NHS unions were very militant, much more so than the NUM. I know one Angel who voted for Thatch because of this Angel's perception that the union which represented the porters wielded more power in her hospital than the RCN did. In Bridgwater Hospital in the 1970s, one of the union reps was a porter who wielded the same sort of influence. Savile himself in his guise as a porter was part of an NHS protest that greeted a Tory Minister in Leeds. Had anyone else spent years pushing trolleys around an NHS hospital free of charge while wearing a porter's outfit, those unions would have gone apeshit. There would have been angry claims that a Porter's Job was being taken by the volunteer, that the Porter Wasn't Insured and the brothers would probably have been out on strike. Not in the case of Jim.
The irony was that Edwina Currie supported Savile's appointment as General Manager of Broadmoor because the POA was causing havoc and embezzling NHS funds and Savile told Edwina that he'd deal with them. See post 'A Pretty Classy Piece Of Operation'. He dealt with all of you Edwina, he was the most serious sex offender in the NHS, at the BBC and in Carlo's circle, as well as a supporter of the Tory Party and he had the whole lot of you by the knackers. Not one of you had the guts to blow the whistle on Savile and have him charged.
When Dafydd's Friends In The North caused havoc in 1986-87 which resulted in the Cleveland Child Abuse Scandal, one of the those named as most culpable was Dr Jane Wynne who worked in the Leeds General Infirmary and St James' Hospital Leeds. See post 'Twas the Night Before Christmas And The Culprits Were Named'.
Berrios started teaching at Cambridge University in 1977, so he wasn't at the scene of the crime in 1986-87, but he could hardly have missed Savile during his years at Leeds, particularly as a lot of people in the NHS loathed Savile and Savile used to threaten people in authority by stressing that he had clout among the porters and ooh you wouldn't want a porter's strike on your hands would you. Employing more porters if the ones that are there won't do their jobs because a serial sex offender had told them not to wouldn't be rocket science, but this is the NHS that we are talking about. Savile didn't 'groom the nation', he threatened the nation and no-one was capable of grabbing him by those elderly, wizened knackers and putting an end to the fuckwittery. 'Ooh but he was friends with the police.' Well had those CORRUPT police not been paid a fortune by Thatcher, been armed to the teeth and given permission to beat up hippies and striking miners, they wouldn't have been quite such a problem. What was Jim going to do, bring the police out on strike? It would have provided a bit of light relief for me, they couldn't have arrested me three times in one weekend because a load of Angels had perjured themselves.
Berrios is a Fellow of the Royal College of Psychiatrists, the British Psychological Society and the Academy of Medical Sciences. In 1989, he founded the international journal History of Psychiatry with the Leader Of The Pack of which Berrios remains the Editor.
Dr Savile was appointed to the management task force of Broadmoor in the mid-1980s and then became the General Manager in 1988. I started working at St George's Hospital Medical School in May 1989. St George's was facilitating the poshest end of the spectrum with regard to the gangs linked to Dafydd's. Oliver Brooke, the Professor of Paediatrics at St George's, was a key member of the pan-European paedophile ring of which the gangs were a part, but Ollie was imprisoned in Dec 1986. It wasn't too disastrous though, Ollie was out again by the summer of 1987, after Lord Chief Justice Geoffrey Lane cut his sentence on appeal in May 1987. See eg. post 'Oliver!'. In May 1987, Dafydd et al in collaboration with the Home Office, Risley Remand Centre and the Mental Health Act Commission had their Cunning Plan in place to have me framed and then imprisoned for a serious offence very soon after the General Election of June 1987…
It was about as cunning as Profs Mark Williams and Tom Burns yes, but it wasn't cunning enough. It fell apart when Sgt Morgan at Bangor Police Station and Jeff Crowther, a nursing officer at Ysbyty Gwynedd, didn't tell enough lies. See previous posts eg. 'Hey, Hey DAJ, How Many Kids Did You Kill Today?'
Professor of Cunning at Oxford University:
Another Professor Of Cunning at Oxford University:
I note that Berrios and Porter published 'A History of Clinical Psychiatry' in 1985. Porter's obituaries mentioned that his work in the field of the history of psychiatry took off in 1985. I first wrote to the GMC about Gwynne the lobotomist in 1984. It was in the spring of 1985 that I consulted a solicitor and contacted my then constituency MP, Keith Best, the Tory MP for Anglesey, who was also a Minister in the Welsh Office. I didn't realise at the time that Best was Of The Gang, that Tony Francis had almost certainly got to the Welsh Office and Best before I did after I had confronted Francis and that the solicitor that I consulted at the CAB in Bangor was married to one of the crooked solicitors employed by Gwynedd County Council who were Of The Gang as well.
My post 'Amber Rudd, The Miners' Strike And A Memory Jogged' supplies information about a family who moved from Birmingham to Anglesey in the mid-1980s after adopting a little girl who had been a victim of the West Midlands gang that was linked to Dafydd's. Dafydd's gang made their lives a misery after they arrived in north Wales and in 1985, the father of the family died after being very obviously utterly neglected by the Top Docs when he had a life threatening condition. He had lived with the condition for years but the Top Docs decided that they couldn't be arsed with him.
Gren Kershaw was a man responsible for much of the toxicity in the NHS in north Wales and in particular for the corruption, patient harm and deaths at Ysbyty Glan Clwyd. Gren began his NHS career as a graduate management trainee and held health management posts in Leeds and East Yorkshire.  Gren moved to north Wales in 1983 and held a series of senior management posts, including that of the CEO of the Glan Clwyd District General Hospital NHS Trust and the various other names that this organisation adopted as it sank among scandal. When the scale of the catastrophe could be denied no longer, Gren resigned and set up his own management consultancy. Gren was also appointed as Chief Executive of the Welsh Risk Pool, therefore becoming responsible in Wales for authorising successful claims for negligence as well as the promotion of good risk management practice. Gren was given that position when I finally called lawyers in re my constant battles with the NHS. Then one of Gren's corrupt managers attempted to register for a PhD with my PhD supervisor and join our team. Gren's colleague at the Welsh Risk Pool was Patricia Gaskell, who had just months before been the solicitor for Ysbyty Gwynedd responsible for sending a note out to all staff asking for 'more nurses down to the police station to complain [about me] please.' Eight Angels subsequently perjured themselves. See previous posts.
Gren! A gift from Jimmy Savile HQ to fulfil every NHS need: cooking the books, killing the patients, harassing complainants, appointing his mates to roles in which they do the same…
Berrios's research has centred on the psychiatric complications of neurological disease and the history, structure and epistemological power of descriptive psychopathology. The power of descriptive psychopathology is a discipline in which Dafydd and his partner-in-crime Prof Robert Bluglass of Birmingham University had much expertise. Dafydd's excellence in the field resulted in him diagnosing 'manic depressive insanity' in 1987 – in me of course, but no doubt others were afflicted as well – and in 1988 Bluglass was able to exceed Dafydd's own powers of descriptive psychopathology when he told Dafydd that I would 'end in ward for the criminally insane'.
When I told Patient F this some years later, F was horrified and yelled  "Insanity?? Insanity?? The bastard, he must have been trying to really upset you' and I replied that I was too busy laughing to be upset. F responded with 'well I know that you were, but other people might have believed him and been shattered'. Of course they will have, that is the point of the ludicrous diagnoses, nasty comments and downright lies about people. None of it is a coincidence, it is done to cause people as much distress as possible. They really are Marjorie Dawes, but Dafydd is so ludicrous that it is rather less effective in his case.

I spent the last few years before I fled north Wales telling distraught patients 'this really is not personal, it is them, they do it routinely, they don't even believe what they are writing themselves, it is just done to be as destructive as possible and no-one, no-one has had the decency to publicise this and warn patients. So I am.' Since I began this blog, I have received e mails from people who have become suicidal because of what was written about them and passed to third parties.
Brown told me years ago that this was happening in Birmingham. He told me about a truly terrible clinical psychologist whom he knew who did real damage. One of Brown's observations was that this woman used to tell people that she had to ensure a plentiful supply of tissues 'because my patients cry so much' and Brown used to say to me 'I bet they do…' Before I had encountered those we know and love I kept saying to Brown 'but she's a really bad clinical psychologist' to which Brown would reply 'no, she's a clinical psychologist'. I have after many years concluded that Brown was right; she's a clinical psychologist. As with Top Docs, good people do enter the supply line but they are either driven out or bludgeoned into being as bad as that woman in Birmingham who only ever saw patients who wept buckets. Good ones really are thin on the ground.
I heard a lot from patients about a clinical psychologist who was one of Dafydd's gang based in Bangor called Neil Cheshire. Neil Cheshire seemed to piss a lot of patients off, including women who told me that he was keen to talk about their sex lives and didn't seem to understand that they really did not want to discuss this. Years later I found out that Neil Cheshire was a standing joke among the clin psy students at Bangor because he talked about penis envy a lot and whenever he talked about penis envy to the students, Cheshire would shout the word 'penis', yet speak very quietly the rest of the time, so in lectures the overall impression would be of a man shouting "PENIS' at regular intervals. The students just fell about…
Patient F was referred to Neil Cheshire although no-one ever quite managed to explain why. Being male, F didn't have the 'talk to me about sex and a PENIS' experience with Neil Cheshire, but F did tell me that Cheshire was a pompous old git who would not listen to what he was saying so F walked out of the room and later told a Top Doctor 'I'm not going to waste my time with Mr Cheshire again'. The only response from the Top Doc was 'he's called Dr Cheshire'. So F told the Top Doc that from then on he would demand to be called 'Mr [surname] BA (hons) Fine Art, Farnham'. The Top Doc said to F 'I didn't know that you had a degree in Fine Art' and I thought 'you've known F for five years, he comes in here every four weeks and tells you about the adventures that he had at art college and festivals of yesteryear and what he's painting at the moment and how big the canvas is and what type of medium he's using… and you didn't know that he had an art degree…'
I should have just told F to yell PENIS, they might have remembered that.
They were fucking hopeless and still are. I was told a few days ago of someone who recently told a Top Doc that his cat had been run over, only to find out that it had been recorded on his notes that his father had been run over…
When people in the UCNW Student Health Centre yelled at me that there were no problems with Gwynne the lobotomist, I yelled back that I knew at least three students had attempted suicide within days of encountering him and that was just the cases that I knew of over a period of two years, of course there was a fucking problem. The response was always the same: a shout of 'they were ILL'. Yes but Gwynne was the final straw, he was not a good idea but then a sex abuse gang wouldn't be would it.
The security services knew about this, as did the police and I was sent further information after beginning this blog. No patients were warned, none of them. The patients were injuring themselves, they were trying to commit suicide, some of them did commit suicide, they were completely distraught at the thought of what had been documented and passed onto other people, usually breaching all confidentially.
Er MI5??? A serious public health matter is it not? You saw the statistics, you knew that numerous complaints were being made and that most of them pivoted around indecent behaviour on the part of staff, or lies on medical records and Court reports. A PATTERN MI5, A VERY OBVIOUS ONE. A trafficking gang's methodology.
When the Welsh Gov't takes up my idea of a memorial in Bethesda, the Tomb Of The Unknown Service User, situated in a place where the over-paid GPs of Bethesda who exterminated so many in the town where Dafydd spent his childhood will not be able to avoid seeing it, I shall ask for a great big phallic symbol to be built on top of it, as a tribute to DR Cheshire and his PENIS.
When UNITE and UNISON next march down through central London on a 'Save The NHS' rally because they are very cross about this blog, perhaps marchers placed at regular intervals could carry placards with images of a huge erection on them to remind people in north Wales of the happy times when they received Excellent Care in a dungeon at the hands of dangerous madmen and no-one at all would put a stop to it.
Roy Porter's mate Berrios has published 14 books and more than 400 papers on the clinical, historical and philosophical aspects of neuropsychiatry, descriptive psychopathology – PENIS –  and the hermeneutics of mental symptoms.
If one is going to concern oneself with organic neuropathology as opposed to Dafydd's idiocies, it all comes down to neurones, or in the case of DR Cheshire, no doubt the PENIS. Neurones vary, but here's an image of two of them:
The long arm of the neurone is the axon and the little branches are called dendrites. Dendrites are great because there can be a lot of them on each neurone. Nerve impulses are transmitted between neurones via the synapses at the end of the dendrites. Millions of dendrites form a complex network. If dendrites were members of and associates of trafficking gangs, they would stretch out from north Wales, some down to south Wales and into the Bristol and the West Country, others up to Leeds, over to Cleveland, down to the West Midlands, into Oxford and Cambridge, down to London, through Harley Street and Tommy's, over to Guy's, across to St George's, around to the Maudsley, forming a very, very intricate and complex network. The dendrites are all over Scotland as well thanks to people like Bluglass and Kilpatrick.

When one thinks of criminal gangs run by Top Doctors as dendrites, one can see how ridiculous the mantra of 'We Didn't Know' is. Particularly when students are pissing themselves laughing at a senior clinical psychologist yelling PENIS constantly. Neil Cheshire looked very boring for a man who shouted PENIS, he was rather dull and grey and wore a camel hair coat with formal dress under the coat, always with a collar and tie. His colleagues were in such a sound sleep that Neil Cheshire could probably have gone to work wearing a fur coat and nothing underneath and yelled out PENIS all the way down the corridor and they wouldn't have batted an eye-lid. They were after all used to Dafydd.
German Borrias holds degrees honoris causa from the University of Heidelberg; the Autonomous University of Barcelona (Spain) and the University of Chile.
The Top Docs of the London Clinic were most helpful to Augusto Pinochet after he was placed under house arrest when the Spanish Gov't wanted to charge him with crimes against humanity. Pinochet had come to London for the Top Docs to operate on his bad back just when he knew that people wanted to do him for at least some of the murders that he'd ordered and after having tea with Thatch on the terrace of the Commons, he booked into the London Clinic only to find himself under arrest. The Top Docs were able to rustle up some helpful expert witness reports and carried out by Docs fluent in Spanish as well to ensure that no questions could be asked and after reading the opinions of the Experts, Jack Straw agreed that this poor old man was unfit to be extradited. Pinochet was flown home in comfort and upon hitting the tarmac at Chile, got up out of his wheelchair and raced towards his family to embrace them. The dying old man subsequently enjoyed many more years of life and that back didn't bother him again either, unlike those social security scroungers who were the butt of so many Tory jokes. 'Oh it'll be the bad back again, the ailment that only afflicts the British workman.' Or the Chilean mass murderer:
 Pinochet's furniture is rather like that which graced the Windbag's house in 1979, when Mavis Nicholson interviewed him about his Moral and Social Values. See comments after post 'R.I.P. Julia Grant and Many More'.
One of the Directors of the London Clinic was John Biffen, who spent a number of years in Thatch's Cabinet and although Biffen himself was the Tory MP for Oswestry, his grew up on a farm about 8 miles away from Bridgwater and his parents still lived on the farm when John was in the Cabinet. I don't know when Mr and Mrs Biffen died, they had probably gone by the time that Pinochet was using the London Clinic to avoid being tried for crimes against humanity. Lord Tom King and his wife Lady Jane of One Sausage Roll To Last All Evening knew the Biffens.
Unlike so many of his colleagues, John Biffen was a clever man but he was not a very nice one. He'd spent his youth having his head kicked in by the local kids because he was clever and asthmatic and it didn't do him much good. Biffen could well have been Brains behind that master plan with Pinochet and the London Clinic.
See previous posts for the gen on Pinochet, the London Clinic, John Biffen and of course the Kings who go sparingly with the sausage rolls…
In 2006, a Chair in Descriptive Psychopathology carrying Borrias's name was established at the University of Antioquia (Medellín, Colombia). In 2007 he was awarded the Order of the Sun (Class: Grand Officer) by the Peruvian Government.
In 2008 Borrias received the Ramón y Cajal Award from the International Neuropsychiatric Association; in 2010 he was made Honorary Fellow by the Royal College of Psychiatrists; and in 2016 he received a Life-Achievement Award from La Sociedad Española de Psicogeriatría and the Honorio Delgado Medal from the Instituto Nacional de Salud Mental Honorio Delgado – Hideyo Noguchi, Perú. In 2018 he received the 'Maestro Laguna' award from the University of Alcalá (Madrid, Spain).
Here's Gren, as he appears on the website of NHS Wales alongside the slogan 'Improving Leadership For Quality'.
PENIS!
'Professor Geoffrey Elton was a staunch admirer of Margaret Thatcher and Winston Churchill. He was also a fierce critic of Marxist historians, who he argued were presenting seriously flawed interpretations of the past.'