My previous posts 'Lord Gnome, My Distant Relative By Marriage', 'My Gangland Family' and 'By Popular Demand – Or Request?' discussed Lord Gnome's grandson, Mark Piercy, a graduate of New College, Oxford and a barrister of Lincoln's Inn a la Richard Crossman's father Sir Charles Stafford Crossman, Lord Denning, George Carman, Miranda and Cherie.
Mark's wife Vivien is a lawyer too. This is how Mark

describes himself on his firm's website 'Piercy & Co, Family Solicitors':
Mark Piercy practised as a barrister for many years, specialising in all aspects of family law including finance and property issues in divorce proceedings, cohabitation property cases, children cases and inheritance claims. He has extensive experience of advisory work, drafting pre-nuptial and separation agreements, court proceedings and advocacy at all levels.
He has appeared in a number of reported cases in the Family Division.
Mark has dual qualifications as solicitor and non-practising barrister, having been admitted as a solicitor in order to form the specialist firm of family lawyers, Piercy & Co, with his wife Vivien Piercy. He now practises exclusively as a solicitor with higher rights of audience as a solicitor advocate. He is a trained collaborative lawyer and an accredited specialist of Resolution.
Amongst the reported cases in which Mark has appeared as an advocate are the following:
P v P [2007] 2 FLR 439: Wardship jurisdiction concerning the temporary removal of children for the purpose of education
V v V (Contact: Implacable hostility) [2004] 2 FLR 851: a landmark case in which the High Court transferred residence to a father as a result of the mother's repeated breaches of contact orders
Re B (Wasted costs: Abuse of process) [2001] 1 FLR 843
K and A (Local authority: Child maintenance) [1995] 1 FLR 688
W v W (A minor: Custody appeal) [1988] 2 FLR 505
Appointments and Memberships: Mark is a member of Lincoln's Inn and the Inner Temple. He has appointments as legal adviser to the Institute of Actuaries and legal assessor to the Nursing and Midwifery Council, Health and Care Professions Council and the General Optical Council. He is an accredited specialist of Resolution with particular specialisms in Advocacy, Divorce Financial Provision, Cohabitation. Private Children Law and Financial Provision for Children. He is also a member of the Family Law Bar Association.
Publications/Lectures: Mark has published articles in Family Law on the subject of Cohabitation and Property Rights and Intractable Contact Disputes. He has also lectured on family law issues and on evidence and procedure in contested proceedings.
Mark was a Scholar at Oxford University and is M.A (Oxon). He was a Hardwicke Scholar of Lincoln's Inn. He was called to the Bar in 1976 and was admitted as a solicitor in 2007
Email:
mark@piercysolicitors.com
Mobile: 07766024229
This is Mark's wife:

Vivien Piercy originally practised as a barrister specialising in family law. She was admitted as a solicitor in 1997 and is now dually qualified as a solicitor and non-practising barrister. She has extensive experience of all aspects of divorce and cohabitation , and the related children and financial issues connected with relationship breakdown, and undertakes her own advocacy in suitable cases. Vivien is committed to a non-confrontational approach and to finding alternatives to litigation wherever possible.
After graduating from University College London, Vivien worked for other law firms specialising increasingly in family law before setting up her own specialist family law practice in 2001.
She is a member of the Law Society's Family Law Panel, an accredited specialist of Resolution, a trained Mediator and a member of the Inner Temple.
Email:
vivien@piercysolicitors.com
Mobile: 07917484749
Mark and Vivien's home page tells us:
It is our aim to give clients a personal, efficient and affordable service. As accredited specialists of Resolution we are committed to resolving family law disputes in a constructive and non-confrontational way, designed to preserve the dignity of all concerned and to encourage agreement. As former practising barristers we have the experience and expertise, where necessary, to conduct cases effectively through court proceedings, thereby providing our clients with a comprehensive service and significant savings in costs.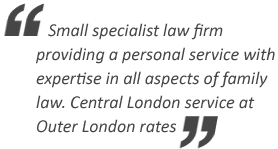 Mark and Vivien's page entitled 'About Us' declares:
Piercy & Co is a specialist family law practice based in Dulwich and Central London.
We cover all aspects of family law including:
Marriage and cohabitation.
Divorce and separation.
Pre-nuptial, cohabitation and separation agreements.
Preservation of family assets and preventing their removal and dissipation.
Investigation of trusts, private companies and pensions.
Financial settlements.
Children: residence, contact and parental responsibility agreements and orders.
Children: removal from the jurisdiction.
Civil partnerships.
Rights of dependants to financial provision following the death of their partner, spouse, parent or other family member.
Enforcement and variation of court orders.
As family lawyers we understand the emotional and financial impact of relationship breakdown and adopt the Resolution Code of Practice which aims to minimise areas of conflict and to resolve disputes in the best interests of the family. Where proceedings are unavoidable, we are able to provide in-house advocacy, giving our clients the benefits of continuity in the conduct of their cases and significant savings in costs. The firm has excellent connections with specialist Counsel and experts in all related disciplines, including forensic accountants, pension experts, property valuers and lawyers in other jurisdictions. We are dedicated to providing our clients with an efficient, responsive and personal service and a high level of expertise. Appointments can be arranged at our office in Dulwich or, if more convenient, in central London at 2 Harcourt Buildings, Inner Temple, London EC4. In either case, office hours are flexible and charging rates competitive.
I'm surprised that non-confrontational committed to resolution Mark and Vivien haven't left a message on my blog what with me being family! How about it Mark and Vivien, I do have 10,000 documents with evidence of serious organised crime over ooh more than 35 years…
Mark and Vivien: GANGSTERS aren't you Mark and Vivien? 10,000 documents Piercys…
Mark and Vivien Mr H, a terrible pair! The Lucan side of the family!
The Philanderer ought to write Miranda a thank you letter for blocking his peerage. Christ, one wouldn't want to be in the Lords with the fucking Piercys in there…