In previous posts and comments I have posed questions with regard to the identities of the numerous Top Doctors who wrote to Lord Chief Justice Geoffrey Lane before Professor Oliver Brooke's appeal in May 1987 testifying to Ollie's 'good character', which was partly what persuaded Lane to release Ollie from prison early. Ollie's conviction for the possession and procuring of kiddie porn was not overturned; Ollie was released on appeal after Geoffrey Lane read all those tear-jerkers testifying that Ollie was a really good bloke. Geoffrey Lane stated that a man like Ollie really was Suffering in prison and compared Ollie's huge collection of child porn to a collection of cigarette cards and ordered Ollie's early release. See post 'Oliver!'.
Oliver was Prof of Paediatrics at St George's Hospital Medical School; many of his colleagues, particularly in the Dept of Psychiatry at St George's (see post 'Meet The Gwerin!) had been facilitating the Westminster Paedophile Ring for decades. Ollie's friend Professor Geoffrey Chamberlain, the Prof and Head of the Obs and Gynae Dept at St George's (see post 'Now Then…'), was definitely involved and scores of other staff at St George's knew that Ollie, Chamberlain and the Dept of Psychiatry were doing a great many things that they should not have been, but ignored it.
When Ollie was imprisoned in Dec 1986, the world was reassured by St George's that Ollie was a sad and lonely man, a one-off who of course had never abused his patients and that no-one should be worried about taking their children to St George's. At Ollie's trial and his subsequent appeal, the message was the same: Ollie is a sad old bugger and it is a tragedy because he's such a bright bloke and an outstanding paediatrician. Geoffrey Chamberlain was still saying this to people when I worked at St George's, 1989-91.
I am someone who also thinks that Ollie was a sad man and yes, it was a dreadful shame that someone who had the potential to contribute to medicine was abusing children. However Ollie was abusing kids and on a scale grander than anyone admitted; Ollie was not just a sad man, Ollie was the key figure in a huge pan-European paedophile ring. At his trial, Ollie was charged with a small number of specimen charges of possessing child porn and one charge of attempting to procure child porn. What the public was not told at the time was that Ollie was a big dealer in child porn, he was commissioning it, trading in it and sending child porn abroad. St George's staff knew that Ollie didn't just have a few photos. Ollie had been caught by fluke when a lab technician went into Ollie's lab for something and found a cupboard full of child porn. She then opened another cupboard and found more. So she went to the authorities and a search was carried out of Ollie's multiple labs and offices and every locked cupboard was packed with child porn…
This was never mentioned at Ollie's trial, or at his appeal and it did not appear in the media at the time. Ollie's trial was held at Kingston Crown Court. Perhaps we should not be surprised that the harsh reality behind the allegations of Ollie's 'good character', his 'clinical excellence' and status as an 'eminent researcher' never emerged in Court because Kingston was pretty much owned and run by Professor Hugh Bentall, the late cardiac surgeon from Hammersmith Hospital, who was Of The Gang. Hugh Bentall participated in a major research fraud and was offered a Chair after one of his colleagues was found dead in worrying circumstances and after Bentall had made a substantial financial donation to Hammersmith Hospital. See post 'Interesting Facts'. Hugh Bentall's son Richard is a clinical psychologist who 'trained' with Dafydd and the gang and who has spent much of his career at UCNW/Bangor University. As an added bonus, in the 1980s, Richard Bentall married the daughter of Dr Eifion Jones, the Dean of Science at UCNW who presided over the Faculty of Science for so many years while Dafydd and the gang called the shots. Richard's (now ex) wife did her own degree in the Dept of Plant Biology at UCNW, which was choc full of people married to or friends with members of the gang. She later trained and worked as an Angel. Dr Adrian Bell, one of the lecturers in the Dept of Plant Biology, who was mates with the gang, did his degree at Kingston Poly. See previous posts.
In the early 1990s, St George's merged with Kingston Poly. The ruthless elites of St George's who had found the culture shock of working in Tooting rather than Knightsbridge almost intolerable cannot have been happy at getting into bed with a former poly. Professor Sir William Asscher was the Dean/Principal of St George's who pushed the merger through. Asscher was head hunted by St George's after the previous Dean had been ritually deposed in the wake of Ollie being jailed. Asscher had qualified at UCL but had spent most of his career at the Welsh National School of Medicine/Cardiff University, where he had led the south Wales branch of the gang and in that capacity also afforded valuable protection for Dafydd et al in the north. See previous posts. Asscher was Dean when I was offered the job with Chamberlain et al at St George's. After Asscher retired from St George's, he served as the President of the Faculty of Pharmaceutical Medicine, 1995-97.
I have no idea who the many Top Docs were who wrote those heart-breaking letters to Lord Chief Justice Lane in support of Ollie, only that Geoffrey Chamberlain was one of them.
Ollie is no longer on the Medical Register and I don't know what happened to him after he was released from prison in the summer of 1987. When Malcolm Pearce, Ollie's colleague at St George's, was struck off in 1995 for medical research fraud, Geoffrey Chamberlain – who was Malcolm's Head of Dept and party to the research fraud but was never investigated himself yet alone summoned before the GMC – did his 'this is a sad day for medicine, such a talented Top Doctor's career is at an end' bit once more, just as he had for Ollie. It wasn't the end of Malcolm's career. Malcolm quietly built a second career in medico-legal work, giving his clinical opinion to barristers. See previous posts. So it is entirely possible that Ollie also enjoyed a second life out of public view.
Because I have been unable to find any info at all about who the Top Docs were who lobbied to have Ollie released from prison, I have finally done something that I should have done ages ago, but pressure of work has resulted in me only just doing it. I have done a bit of research into who Ollie worked with. Ollie was a well-known paediatrician, he will have known loads of people, but I have taken a look at Ollie's publications to see with whom he published and when.
Ollie was given his Chair when he was still only in his mid-30s, so Ollie's publications don't go back into the pre-Cambrian. The bulk of his publications span the 1970s and 1980s. I did expect that. What I did not expect however was to find that Ollie was still publishing AFTER he had been jailed. Ollie appeared on co-authored articles in academic journals, along with colleagues, a matter of years after he had been jailed, released and supposedly finished in disgrace.
Everyone reading those journals will have known who Ollie was and so would the Editors of the journals. Ollie's affiliation was still given as St George's Hospital. Ollie was struck off over the unfortunate business of the kiddie porn, so I presume that the articles were based on work that Ollie had already conducted or on data that he had already gathered. Unless of course those public spirited Top Docs who worked with Ollie carried out the research, gathered the data, shared it with Ollie and then he helped analyse it and co-authored the articles. Those articles were submitted after Ollie was jailed. These days, because there is so much pressure on academics to publish, journals receive a great many articles and articles can be in the pipeline for up to two years before publication, but they weren't in the late 1980s. There were articles co-authored by Ollie which were submitted some three years after Ollie was allegedly a broken man who's life and career was over.
I'm happy to accept that Ollie's friends and colleagues might have wanted to support him after his release from prison; I'm not suggesting that Ollie should have been cast into the outer darkness. The point that I am making is that Ollie was not a lone wolf. He worked in a paedophile/trafficking ring, a big ring, of powerful professional people who protected him and some of them were facilitating the ring of which Ollie was a central part.
Previous posts eg. 'Some Very Eminent Psychiatrists From London…' explained how the Dept of Psychiatry at St George's had direct links to Dafydd, Tony Francis and Lucille Hughes. Documents in my possession show that when I was a patient of that Dept in Jan/Feb 1991, they were writing to each other, phoning each other up, bleeping each other and that the Top Docs at St George's personally knew the Top Docs with whom Dafydd and Tony Francis had worked with previously at the Maudsley. One of the Top Docs whom St George's asked to give an 'independent opinion' on me was Paul Bowden of the Maudsley. Bowden didn't just know Dafydd and Tony Francis and their colleagues, Bowden was a friend of and co-author with Dafydd's mate Professor Robert Bluglass, who in the summer of 1989 had concealed the criminality of Dafydd, Tony Francis, Gwynedd and Clwyd Health Authorities and Gwynedd Social Services. See post 'Enter Professor Robert Bluglass CBE'.
Top Docs at St George's/Springfield Hospitals acknowledged in writing to each other that Dafydd was sexually abusing patients and that they believed that Tony Francis was as well. None of them raised any concerns about this. They acknowledged that I was suicidal because I was being constantly arrested at the request of those we know and love in north Wales yet the Top Docs in London stated that they would not treat me, I was to be referred back to north Wales 'because they know her'.
The most recent publication that I have found with Ollie's name on was published in Sept 1990. It appeared in the 'Journal of Epidemiology and Community Health' 44 (3), 205-209: 'Social determinants of nutrient intake in smokers and non-smokers during pregnancy'; Haste, F.M., Brooke, O.G., Anderson, H.R., Bland, J.M. and Peacock, J.L.
The abstract read: STUDY OBJECTIVE–The aim was to investigate the effects of social factors (education, income, marital status, partners' employment status, housing tenure, social class), smoking, and maternal height on the dietary intake of pregnant women. DESIGN–The study was a prospective investigation on a two phase sample. SETTING–The study involved women attending the antenatal clinic at a district general hospital. PATIENTS–A group of pregnant Caucasian women, selected because they were heavy smokers (15+ cigarettes/day) (n = 94) and a randomly selected sample of never smokers (n = 112) were studied. MEASUREMENTS AND MAIN RESULTS–Data on social factors were collected by interviewer administered questionnaire. A 7 day weighed intake method was used to determine dietary intake at 28 weeks gestation. In univariate analyses, income, housing tenure and social class had significant effects on intakes of both macro- and micronutrients, and maternal education and smoking had significant effects on intakes of micronutrients. Using a stepwise multivariate analysis with income, smoking and maternal education, income was a significant factor in the intake of most nutrients but this effect disappeared when social class and housing tenure factors were entered into the model. Only social class and housing tenure had any significant effect on intakes of macronutrients–energy, protein and fat. Smoking and maternal education were the most important determinants of quality of diet (nutrient density); other factors had only negligible effects. Income was the only significant factor in alcohol intake. It is suggested that the effects of social class and income are overlapping. CONCLUSIONS–Smoking, being renters of accommodation, and being of minimum education and low social class are risk factors for poor dietary intake. It is recommended that such higher risk groups be specifically targeted for nutritional advice in pregnancy.
Anderson, Bland and Peacock who starred with Ollie on this piece of work were obviously very fond of him because they had co-authored a paper with Ollie that was published six previously, in March 1990. That paper was 'MATERNAL ACTIVITY AND BIRTH WEIGHT: A PROSPECTIVE, POPULATION-BASED STUDY', American Journal of Epidemiology, Volume 131, Issue 3, 1 March 1990, Pages 522–531.
The abstract read: To determine the association between maternal activity and pregnancy outcome, the authors investigated the separate influences of time, physical effort, and posture at work, both at a job and in the home, on birth weight Study subjects were 1,507 of 1,889 women appearing consecutively for antenatal care at a district general hospital in inner London, England, in 1982-1984. Data were collected prospectively by interview and examination at several stages of pregnancy. Multivariable linear regression was used to distinguish associations with physical activity from confounding by other factors. The mean birth weight of infants born to women in full-time employment was 49 g less than that for births to women not in paid work (95 percent confidence interval (Cl) 1–97 g). However, the difference was due to confounding, and after adjustment, full-time employment was associated with a 12-g increase in birth weight (95 percent Cl -39 to 63 g). There was little difference in birth weight related to gestational stage at leaving work. Duration, physical effort required, and energy expenditure in paid work and in work at home had no discernible association with birth weight A small increase in birth weight was associated with increased hours of sleep. These data allow estimates of associations with birth weight as precise as 80 g. Within the range of activities performed by pregnant women in the population studied, birth weight is unlikely to be associated with maternal physical activity.
The authors were: Charles S. Rabkin, H. Ross Anderson, J. Martin Bland, Oliver G. Brooke, Geoffrey Chamberlain and Janet L. Peacock.

The information supplied on the paper for CHARLES S. RABKIN read: 'Epidemiology Program Office, Centers for Disease Control Atlanta, GA, and Department of Epidemiology, London School of Hygiene and Tropical Medicine, London. Reprint requests to Dr. Charles S. Rabkin, Viral Epidemiology Section, National Cancer Institute, Executive Plaza North, Room 434, 6130 Executive Blvd., Rockville, MD 20892.
LinkedIn tells us that Charles Rabkin is a medical epidemiologist at the National Cancer Institute, Washington D.C. Charles Rabkin's webpage on the National Cancer Institute states that:
Dr. Rabkin earned an Sc.B. and M.D. from Brown University and an M.Sc. in epidemiology from the London School of Hygiene and Tropical Medicine. He received postgraduate training at the University of Colorado and is board certified in internal medicine and preventive medicine. Before coming to the NCI, he was an Epidemic Intelligence Service Officer and a medical epidemiologist at the Centers for Disease Control and Prevention. He has received PHS Commendation and Unit Commendation Medals for his studies of non-Hodgkin lymphoma and Kaposi sarcoma and the Outstanding Service Medal for the molecular epidemiology of Helicobacter pylori and HIV-related malignancies.
Charles Rabkin's research interests are described as 'Chronic infection and inflammation are associated with increased risk of many types of cancer. My research is directed toward understanding the molecular mechanisms underlying these associations, particularly for gastric cancer and non-Hodgkin lymphoma'.
Charles has also supplied a bit of spiel explaining his interest in specifically gastric cancer: 'My work in gastric cancer encompasses three sub-projects on the pathogenic microbes, modifying host factors and intermediate markers with potential for screening of gastric cancer and pre-neoplastic lesions. I have a particular focus on the Epstein-Barr virus (EBV) as a co-factor with Helicobacter pylori, the established cause of most cancers of the noncardia stomach. Viral coinfection is present in 8-10% of gastric cancers worldwide, and I lead an international consortium studying EBV's etiologic and clinicopathologic significance. An increasing fraction of my research is directed toward Latin America, where gastric cancer has previously been relatively understudied despite some of the highest incidence rates in the world. The overarching objective of this research program is to increase etiologic understanding and diminish burden of disease'.
My post 'They Think It's All Over – It Is Now' describes a piece of research published by a group of Dafydd's mates based at UCNW and Ysbyty Gwynedd in Dec 1990, the month in which the Drs Francis perjured themselves resulting in yet more Court appearances for me. The research claimed to have made a ground breaking advance in gastric cancer and received world wide media attention. Days later a statement was made that there were 'flaws' in the research and the publicity ended. The 'flaws' included a control sample of three, not all of whom had gastric cancer. The biggest name in epidemiology – Sir Richard Doll – had been acknowledged on the paper as an 'adviser'. That paper would not have passed muster as an undergrad's project, so how Richard Doll managed to endorse it and how it then passed peer review and ended up being published I cannot fathom.
I wonder of Charles Rabkin knows anything about it.
Meet Charles Rabkin:
Organization:
National Cancer Institute
Division of Cancer Epidemiology & Genetics, Infections and Immunoepidemiology Branch
Address:
NCI Shady Grove
Room 6E110
Phone:
240-276-7105
E-mail:
rabkinc@mail.nih.gov
Charles's webpage has kindly supplied information for journos who might wish to interview Charles or his colleagues, which advises that to request an interview with a DCEG investigator, contact the NCI Office of Media Relations:
E-mail:
ncipressofficers@
mail.nih.gov
Phone: 240-760-6600
If anyone wants to ask Charles how he ended up writing a paper with a British paediatrician who had served a prison sentence for child porn offences and was a member of a huge international paedophile ring or whether Charles was anything to do with that joke of a paper written by Dafydd's mates which boasted earth-shattering advances in the field of gastric cancer based on a sample of three, not all of whom were suffering from gastric cancer, they'll know how to get hold of Charles.
The affiliation of H. ROSS ANDERSON was given as the Department of Clinical Epidemiology and Social Medicine, St. George's Hospital Medical School. Professor Ross Anderson at present appears on the St George's website as an Emeritus Professor:
Professor Anderson is Emeritus Professor of Epidemiology and Public Health in the Population Health Research Institute. He has a longstanding interest in the epidemiology of asthma and the health effects of air pollution. His early air pollution research was into the effects of indoor biomass burning in Papua New Guinea but over recent decades he has been mainly concerned with outdoor air pollution. The body of his research in this area has been concerned with time-series studies in the UK, Europe and Hong Kong and has included extensive systematic reviews and meta-analyses of time-series studies.
More recently Prof Anderson has been investigating the effects of long term exposure to air pollution using health datasets from the UK and the International Study of Asthma and Allergies in Childhood. His main current interest is in investigating the health effects of traffic pollution in London.
I can find no explanation as to why someone who's main interest is in air-pollution co-authored with a struck-off paedophile paediatrician on the subject of maternal activity and birth weight.
The address for J. MARTIN BLAND on the paper was also given as the Department of Clinical Epidemiology and Social Medicine, St. George's Hospital Medical School.
John Martin Bland (born 6 March 1947) known as Martin Bland, is a statistician and has been Professor of Health Statistics at York University since 2003. Bland is known for his methodology for method comparison studies such as the Bland-Altman plot. Martin Bland was born in Stockport and obtained a BSc, MSc and diploma from Imperial College, London, followed by a PhD in epidemiology from London University. Previous posts have detailed the many members of Dafydd's circle who had worked at Imperial, including Lord Brian Flowers, who rose to High Office in London and Manchester Universities and then to High Places in Parliament. Martin Bland worked at St George's, 1976-2003. He was certainly an old lag.
There was also an exchange in people between the gang in north Wales and York University. Martin Jones, the lethal and highly problematic NHS manager who eventually became CEO of the NW Wales NHS Trust in 2006 and presided over soaring suicide and death rates, serious complaints, investigations, the haemorrhaging of funds from the Trust with no explanation and general all round serious mismanagement, completed postgrad management qualifications at York University. Professor Ian Russell who worked as a public health researcher at Bangor University for years and seemed to be on a mission to inflict as much damage upon the institution as possible had previously worked at York and Professor Rhiannon Tudor Edwards did her PhD at York. Rhiannon has spent many enjoyable years at Bangor University evaluating interventions and treatments which have either been the result of research fraud or are spectacularly ineffective or both, giving them a glowing review and advising that they should be adopted across the NHS. The deaths, disasters and scandal under her nose has escaped Rhiannon's notice. See previous posts.
Here's Professor Martin Bland of Health Statistics at York:
Here's a photo of Martin with some friends ie. Patrick Royston, Agnes Herzberg, Sir David Cox and David Clayton, at the London School of Hygiene and Tropical Medicine, 8th March 2013: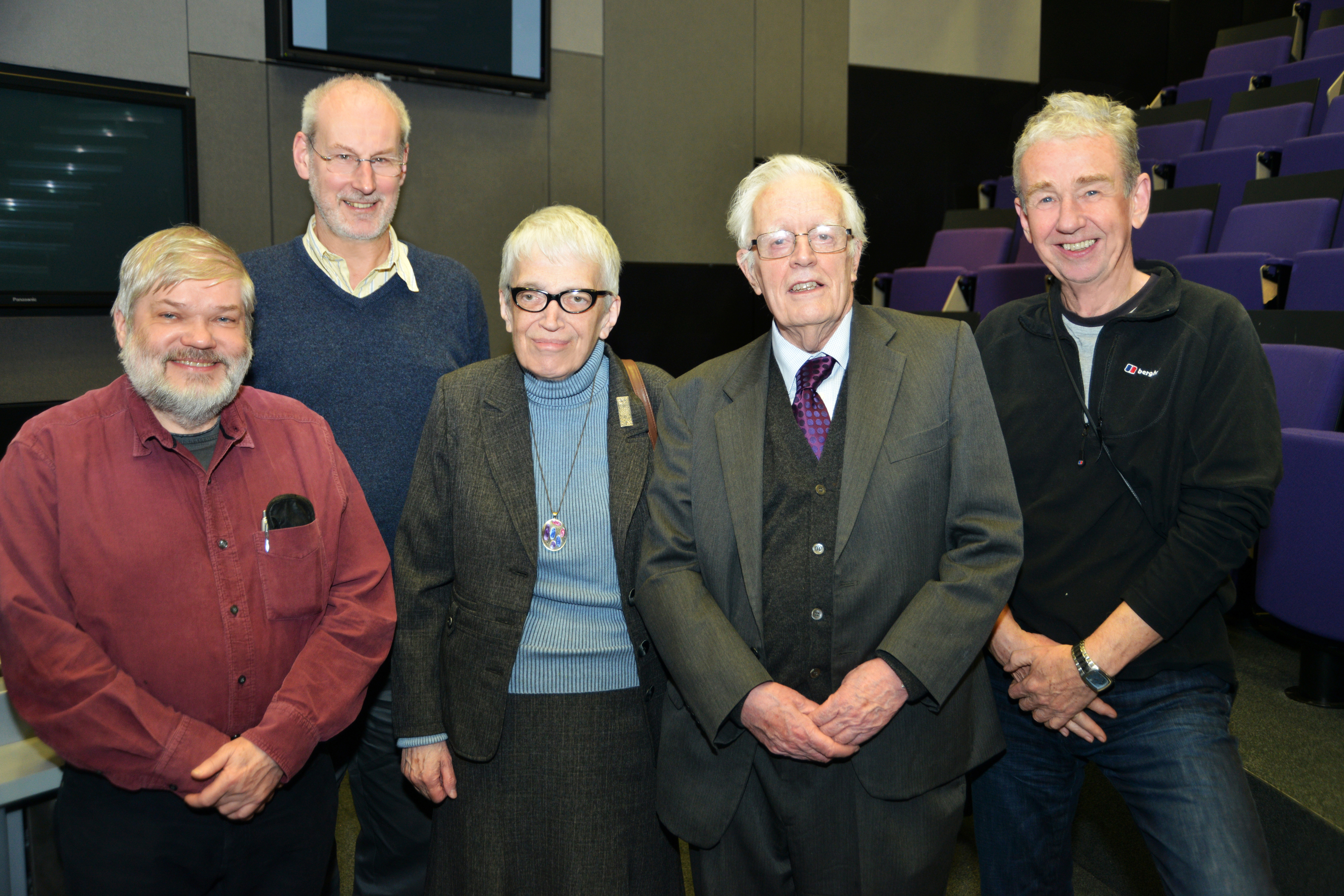 Photo: Anne Koerber (and thanks to Bianca de Stavola for making it available.)
This picture was taken at the Biometric Society meeting '40+ years of the Cox model'. These five people were all present at the original presentation of David Cox's seminal paper on 8th March 1972. Agnes Herzberg was my M.Sc. supervisor and David Cox was my statistics professor at Imperial College, both taught me a lot. I have known David Clayton and Patrick Royston for most of my career in medical statistics, and I learned quite a bit from each of them, too. There is also a paper by Bland, Altman, and Royston (Statisticians in medical schools. Journal of the Royal College of Physicians of London 1990; 24: 85-86).
The article in the 'American Journal of Epidemiology' gave Ollie's affiliation as the Department of Child Health, St. George's Hospital Medical School and Geoffrey Chamberlain's affiliation as the Department of Obstetrics and Gynaecology, St. George's Hospital Medical School. The co-author JANET L. PEACOCK was affiliated to the Department of Clinical Epidemiology and Social Medicine, St. George's Hospital Medical School.
Professor Janet Peacock can at present be found advertising herself on the King's College, London website:
Janet leads Medical Statistics within the School of Population Health and Environmental Sciences. Her main research interests are in the use and extensions of statistical methods in epidemiological studies and the communication of biostatistics to non-statisticians. Her clinical research includes paediatric studies, particularly preterm birth, cancer and other long term conditions. Her main methodological interest is in making outcomes clinically meaningful and accessible to non-statisticians. She has written three biostatistics books for non-statistical researchers including the 'Oxford Handbook of Medical Statistics' and the new 2nd edition of 'Presenting Medical Statistics'.
Janet is School Lead for Development, Diversity and Inclusion and leads Athena SWAN and other equality-centred activities. She is co-lead for Data Analytics in GSTT/KCL NIHR Biomedical Research Centre.  She has contributed research expertise leading to national policy changes for NICE and NHS England via King's Technology Evaluation Centre (KiTEC). She chairs the NIHR Statistics Group and was appointed a NIHR Senior Investigator in 2017.
When I worked at St George's I was told that one of the Profs of Obstetrics and Gynaecology at King's 'went too far' because 'he has sex with his children'.
Janet began working at King's in 2010. Janet certainly rakes in the research funding, she has bagged so much of it that I can only give a flavour of Janet's dosh here; readers are advised to visit Janet's webpage for full details:
Understanding Multiple Long-Term Conditions (MLTCs) in Lambeth and Southwark
Janet has co-authored with Martin Bland of the Plots and they are chums. Here they are in March 2004, enjoying themselves at St George's Hospital Medical School while wearing their floppy hats, ready for the postgraduate degree ceremony where Martin was presiding guest: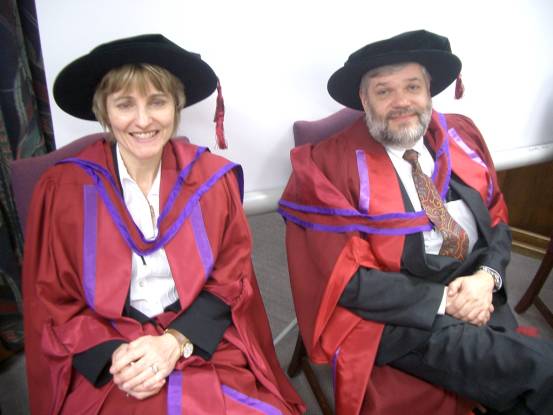 Just three months before Ollie starred in the 'American Journal of Epidemiology' with Martin, Janet and chums, Ollie had made an appearance in The American Journal of Clinical Nutrition, Volume 51, Issue 1, 1 January 1990, Pages 29-36, when Ollie co-authored: 'Nutrient intakes during pregnancy: observations on the influence of smoking and social class'.
The abstract read: The influence of smoking and social class on dietary intake in pregnancy was investigated in a random sample of smokers (greater than or equal to 15 cigarettes/d) and nonsmokers. A total of 206 subjects (94 smokers and 112 nonsmokers) completed a 7-d weighed dietary intake at 28 wk gestation and 178 completed a second assessment at 36 wk. Nonsmokers had higher intakes of almost all nutrients than did smokers and the nutrient density of their diet was greater. Energy intake was nonsignificantly higher in nonsmokers. Women in higher social classes had the highest nutrient intakes. Smokers were shorter than nonsmokers and tended to be of lower social class. After maternal height and social class were controlled for, smoking had a significant effect on intake of many micronutrients. Dietary intake was reduced in late pregnancy, particularly in smokers. These data suggest that smokers in all social classes have a poorer quality of diet.
The authors were: F.M. Haste, Ollie, Ross Anderson, Martin Bland, A. Shaw, J. Griffin and Janet Peacock. All authors gave their affiliation as the Department of Paediatrics, St George's Hospital Medical School. From what I remember, the Dept of Paediatrics at St George's changed it's name to the Dept of Child Health in the wake of Ollie's conviction coinciding with the word 'paedophile' becoming more widely used on the part of laypeople. St George's became very touchy with regard to the four letters 'paed', which was ironic because the more robust staff at St George's openly referred to the 'Dept of the Paedophiles'. As with F.M. Haste, I have not yet found out who A. Shaw and J. Griffin are.
Ollie starred in the BMJ in March 1989, with 'Effects on birth weight of smoking, alcohol, caffeine, socioeconomic factors, and psychosocial stress': 
BMJ
1989
; 
298
(Published 25 March 1989).
The abstract read: OBJECTIVE–To investigate the effects of smoking, alcohol, and caffeine consumption and socio-economic factors and psychosocial stress on birth weight. DESIGN–Prospective population study. SETTING–District general hospital in inner London. PARTICIPANTS–A consecutive series of 1860 white women booking for delivery were approached. 136 Refused and 211 failed to complete the study for other reasons (moved, abortion, subsequent refusal), leaving a sample of 1513. Women who spoke no English, booked after 24 weeks, had insulin dependent diabetes, or had a multiple pregnancy were excluded. MEASUREMENTS–Data were obtained by research interviewers at booking (general health questionnaire, modified Paykel's interview, and Eysenck personality questionnaire) and at 17, 28, and 36 weeks' gestation and from the structured antenatal and obstetric record. Variables assessed included smoking, alcohol consumption, caffeine consumption, and over 40 indicators of socio-economic state and psychosocial stress, including social class, tenure of accommodations, education, employment, income, anxiety and depression, stressful life events, social stress, social support, personality, and attitudes to pregnancy. Birth weight was corrected for gestation and adjusted for maternal height, parity, and baby's sex. MAIN RESULTS–Smoking was the most important single factor (5% reduction in corrected birth weight). Passive smoking was not significant (0.5% reduction). After smoking was controlled for, alcohol had an effect only in smokers and the effects of caffeine became non-significant. Only four of the socioeconomic and stress factors significantly reduced birth weight and these effects became non-significant after smoking was controlled for. CONCLUSIONS–Social and psychological factors have little or no direct effect on birth weight corrected for gestational age (fetal growth), and the main environmental cause of its variation in this population was smoking.
H.J. Eysenck, who designed the 'personality questionnaire' used in this study, was by the time that this work was carried out discredited in the eyes of many. Eysenck held a Chair at the Institute of Psychiatry at the Maudsley where he worked alongside many of Dafydd's friends and umbrellas, as well as with those Top Docs who were facilitating abuse themselves. No-one dared speak publicly of such matters at the time, but nonetheless Eysenck's work was so controversial that there were student protests and boycotts. Eysenck's 'personality tests' were available in best-selling books for the layman and caused caused similar problems that IQ tests carried out by one's mates in the lower sixth did; teenagers having a bad day diagnosed themselves as being terribly dysfunctional if there was not a Responsible Adult on hand to say 'look, it's H.J. Eysenck, he's populist, simplistic and deeply unpleasant, you mustn't take any notice of it'. See previous posts for details re Eysenck and his side-kick, his wife Sybil.
The authors of the paper which put Eysenck's dodgy personality test to good use were: O. G. Brooke, H. R. Anderson, J. M. Bland, J. L. Peacock and C. M. Stewart. I have yet to find out who C.M. Stewart is. All authors gave their affiliation as the Department of Child Health, St George's Hospital Medical School.
These articles all appeared after Ollie had been released from prison. Ollie's first post-jail contribution to medical science was published nearly two years after Ollie was freed and the last post-jail article appeared more than three years after he was freed. So presumably Ollie and his fan club kept a low profile, then, when they hoped that everyone had forgotten about Ollie, he re-appeared amidst a flurry of academic articles, although he had been struck off and as far as I know not reinstated.
I am very interested in these articles and their timing. Ollie made his post-prison debut two months before I was offered the job at St George's with Ollie's friend Chamberlain, which I have recently been told was an elaborate trap after a bit of collective planning on the part of numerous people of whose existence I was completely unaware, to ensure that I would end up being forced out of medical research for good.
Ollie's post-prison debut was in the BMJ in March 1989. The BMJ is the in-house magazine of the BMA.
The BMA had, by that time, been supplying Tony Francis, Dafydd and other members of the gang in north Wales with free advice as to how to have me fitted up and convicted for offences of which the BMA were aware that there was no evidence that I had committed, for some four years. The BMA were still very busy dispensing all the help that Dafydd, Francis et al required when Ollie appeared in the BMJ. Furthermore, Dr John Marks, the then Chairman of the BMA, had played a part in March 1989 in ensuring that I was made redundant by the Cancer Research Campaign. At the time, I was a member of the CRC-funded research team led by Professor Vincent Marks, John Marks's brother, at Surrey University and I was told that my CRC funding had run out. I was not told that my work had been plagiarised and given to Professor Nicola Curtin at Newcastle-upon-Tyne University – who was not a member of our team or any team working with us and I had no knowledge of Nicola's existence at the time – who had used it to raise further funding from the CRC for other people. See previous posts eg. 'Oh, Lordy! It's CR UK', 'Reports Of Death Were Greatly Exaggerated' and 'Apocalypse Now'.
The month after that BMJ article appeared, I was offered a job at St George's by Ollie's friend Geoffrey Chamberlain, as a member of Chamberlain's research team. William Asscher was Dean of St George's at the time that I was offered the job. My immediate boss was Malcolm Pearce, but Chamberlain was the Head of Dept and therefore my ultimate boss. Chamberlain was the lead person of the panel who interviewed me. Throughout the entire time that I worked at St George's I never heard Ollie discussed as someone with whom they were still working, even by the researchers from the Dept of Child Health, some of whom I knew. Ollie was discussed but it was always as a past member of staff, who's sad penchant for child porn had caused much bad publicity for St George's and as a result there were no locked cupboards allowed in labs anymore… I had no idea that those publications with Ollie's name on along with people who still worked at St George's were appearing.
After the BMJ article, the next three articles featuring Ollie were published in Jan 1990, March 1990 and Sept 1990. My post 'Some Big Legal Names Enter The Arena' details the repeated times during 1990 that I was taken to the High Court on the basis of the perjury of the gang in north Wales. In Feb 1990, Gwynedd County Council obtained an ex parte injunction against me from Sir John Kay, sitting in the High Court in Leeds, on the basis of the perjury of two social worker members of the gang, one of whom had never met or communicated with me and one of whom had met me at most three times. Leeds was the centre of Savile's crime empire. All parties named in the case lived in Gwynedd.
In May 1990, Gwynedd Health Authority took me to the High Court in Cardiff before Sir Malcolm Pill in an attempt to gain a High Court injunction against me to prevent me from writing to them in order to pursue my complaints against them. Pill refused to issue the injunction, for which I was most grateful, but I didn't realise at the time that Pill was simply playing a cleverer game than Gwynedd Health Authority and he knew that issuing that injunction would have made him look ridiculous and party to something worrying; dear old Pill was fully on board and this would be a long and dirty war…  I had to take the day off work to go to Cardiff for the hearing, so I was quite upfront with St George's as to why I was taking a days holiday. I had no idea at that time that they knew the gang in north Wales and were literally conspiring with them. When I returned to work, my senior colleagues made no attempt to disguise their fury that Pill had not issued the injunction on the terms that Gwynedd Health Authority had requested. I was baffled by their reaction, particularly as one of them seemed to believe that I was going to be imprisoned when I went to Cardiff…
In July 1990, Gwynedd County Council took me to Chester Court and asked for my imprisonment on the grounds that I had breached their injunction on some 17 occasions. It was clear that the four witnesses, three social workers and a CPN had lied repeatedly. 14 or 15 charges had to be thrown out. The judge, Justice John Roch – later Lord Justice Roch – ignored the perjury, shouted at my barrister and I and asked the perjurers if they would like more time to re-prepare their case. My barrister Suzanne Evans arrived late for the case because she had been sent to the wrong court. See previous posts.
Documents in my possession demonstrate that the perjurers were told of a last minute change of judge and Court days in advance yet my barrister wasn't and I was only told at the final hour. My documents also show that the affidavits 'sworn in' by the four perjurers were not written or signed by them and they had never seen them before they arrived at Court. They were given instructions by the crooked lawyer employed by Gwynedd County Council, Ron Evans, to arrive at the Court early in order to 'familiarise' themselves with the affidavits.
Posts 'Some Big Legal Names Enter The Arena' and 'The Bitterest Pill' provide full details of the forgeries, the perjury, the letters that circulated between Andrew Park, the bent lawyer employed by the Welsh Office and the bent lawyer Ron Davies and Gwynedd and Clwyd Health Authorities and Gwynedd County Council, the admissions from Andrew Park that they did not have the evidence that I had committed the crimes of which I was being accused and the numerous links between Malcolm Pill, John Kay, the gang in north Wales and Gov't Ministers in the Home Office, the DHSS, the Welsh Office and of course Sir Peter Morrison.
Gwynedd County Council and Justice Roch failed to imprison me on July 10 1990. Everyone went back to the drawing board and a co-ordinated effort between the whole gang to gather evidence against me kicked off. See previous posts. Peter Morrison was appointed PPS to Thatcher on 23 July 1990. On the 24 July 1990, the administrators at Clwyd Health Authority contacted Andrew Park and told them that I had rang a member of staff at the North Wales Hospital and made threats. Park told them that there was a problem in that no-one had any evidence that I had done this and told the Health Authority that in future, they had to make statement as to how they knew that I had done the dastardly deed. Within a short time, Kay Hemsley, the member of staff who claimed that I had made the threatening call to her previously, made another statement claiming that I'd Done It Again and she knew that it was me because she recognised my voice from the Last Time That I'd Done It.
The BMA had regular meetings with the Top Docs from the gang and offered advice throughout.
Ollie had made an appearance in 'The Journal of Pediatrics', Vol 109, Issue 5, Nov 1986, the month before he was jailed at Kingston Crown Court. When the article was in press, Ollie and his colleagues and almost certainly the journal Editor as well – who will have been a colleague and possibly a friend of Ollie's – will have known that Ollie had been charged and was due to appear in Court very soon. The article was entitled 'Effect of nonnutritive sucking on nutrient retention in preterm infants'.
The authors were: Mario De Curtis, M.D., Nell Mclntosh, F.R.C.P., Valerie Ventura, B.S. and Oliver Brooke, M.D., F.R.C.P. The authors' all gave their affiliation as the Department of Child Health, St. George's Hospital, except for De Curtis, who's affiliation was the Neonatal Unit, 2nd School of Medicine, Via Pansini 5, 80 l 31 Naples, Italy. It was explained that the work was  completed during the Research Fellowship of Dr. De Curtis at St. George's  Hospital. The paper was submitted for publication on May 22, 1986 and accepted on July 14, 1986. Reprints could be requested from Mario De Curtis, M.D., Neonatal Unit, 2nd School of Medicine, Via Pansini 5, 80 l 31 Naples, Italy.
Because of the nature of the discovery of Ollie's stack of child porn, his coauthors on this paper will have known all about it…
Nell McKintosh is a misprint; the person concerned is Professor Neil McKintosh. Neil McKintosh appears on the website of MCAI (Maternal and Childhealth Advocacy International) as a 'MCAI Trainer in advanced neonatal care'. The biographical details given for Neil McKintosh are:
Neil McIntosh qualified at University College Hospital, London in 1968. After his postgraduate training at UCH and a fellowship in San Fransico, he gained his first Senior Lecturer/ Consultant post in Paediatrics at St Georges Hospital in London in 1978 where he developed neonatal services for S.W Thames Region of the UK. In 1987 he was appointed to the Edward Clarke Chair of Child Life and Health at the University of Edinburgh. As a busy Intensive Care Neonatologist, he introduced computerised trend monitoring in the management of critically ill infants and has been working on automatic pattern recognition of pathophysiological conditions in this environment. He retired in June 2007. Professor McIntosh was Vice President for Science and Research at the Royal College of Paediatrics and Child Health from 2002 – 2007. He has previously been President of the European Society of Paediatric Research and a Trustee and Chairman of the Trustees of the International Pediatric Research Foundation.  He is currently the Emeritus Professor of Child Life and Health at the University of Edinburgh and joined the MCAI team in 2016 at a trainer in advanced neonatal care for our Liberian project.
Now here's an interesting thing. Before Ollie and friends wrote this paper which was submitted while he was awaiting trial and published the month before Ollie appeared in Court, Ollie hadn't published anything for ages. It rather looks as though Ollie's colleagues, including the eminent Neil McKintosh, got that paper out in time for Ollie's Court appearance, in order to paint a picture of a cutting-edge Top Doc who's global leading gems had wowed the readers of the 'Journal of Paediatrics' just five weeks before Ollie appeared in Court. Ollie's outstanding research was mentioned in the media at the time. There wasn't anything said about Ollie having stopped publishing some six years previously, probably because he was far too busy running an international paedophile ring.
I will remind readers who are not academics and have no idea of how incestuous the world of academic publishing can be and readers who have not yet grasped how utterly unscrupulous the tribe at St George's were, that the Aug 1994 journal article which reported a huge medical fraud perpetrated by Malcolm Pearce which resulted in him being struck off in June 1995 had Geoffrey Chamberlain's name as co-author and was published in the 'British Journal of Obstetrics and Gynaecology', the Editor of which was Geoffrey Chamberlain. The Assistant Editor was Malcolm Pearce. Throughout the whole scandal, Chamberlain maintained that he knew nothing about the research fraud and that it had all been the work of Malcolm and Malcolm alone. The fraud involved the claim that Malcolm had carried out a pioneering operation at St George's, transferring the embryo of an ectopic pregnancy from the Fallopian tube to the uterus, allowing the baby to grow to full term and then be delivered alive. How Malcolm was supposed to have carried out that particular scam all by himself without the collusion of anyone else, then published it in a paper with Chamberlain's name on, in the journal which Chamberlain edited, without Chamberlain or indeed anyone else realising what Malcolm was up to, I'd be most interested to know. There was a third name on the paper as well, that of I.T. Manyonda. They are not mentioned in any media reports and no-one seems to have asked them what on earth was going on.
It gets better. Chamberlain was President of the Royal College of Obstetricians and Gynaecologists at the time and felt obliged to resign from that position and he resigned as Editor of the 'British Journal of Obstetrics and Gynaecology' as well. He kept his NHS job, he kept his Chair and he gave evidence at the subsequent GMC hearing against Malcolm. Chamberlain was not even investigated with regard to his role in it all. The year before the GMC hearing, Malcolm had been sacked after a disciplinary meeting held on the afternoon of the last working day before the beginning of the Christmas holiday. Malcolm had gone by the time the statement announcing that he had been sacked was issued.
The scandal kicked off soon after Aug 1994, when the fraudulent research was published; a whistleblower raised concerns virtually as soon as the publication appeared. At that time, Tony Francis, Dafydd et al were trying to construct a case of me being so phenomenally dangerous that I should be incarcerated in a high security hospital. My post 'The Banality Of Evil' provides details.
The event that elicited the denouncing of me as being potentially murderous was Patient F and I, in the spring of 1994, meeting two Commissioners from the Mental Health Act Commission and telling them that Dafydd was sexually exploiting patients and that serious complaints against him were not being investigated. The Commissioners wrote to Gwynedd Community Health Trust and the Trust failed to respond. After more letters from the MHAC, dated 7th July, 1 July and 4 Aug, the Trust eventually responded but not with relevant information. Our complaint went uninvestigated by the Trust and the MHAC. During our meeting with them, the MHAC told us that they had received many similar complaints about Dafydd, stretching back as far as the 1960s.
Immediately after we met with the MHAC, Dafydd got busy. He wrote to Ian Rickard, a manager at the Gwynedd Community Health Trust with regard to the extreme danger that I presented to Dafydd and other staff. Letters were exchanged between Dafydd, Rickard and others in relation to this. In the autumn of 1994, just as that paper coauthored by Malcolm and Chamberlain was published, Dafydd told the police that I had thrown a brick through his glass door at 3 am one night. I hadn't and there was nothing to suggest that I had. The police held a series of meetings with Dafydd and it was documented that I had thrown the brick. I had no idea that this was going on. Dafydd then wrote to the MDU and they too documented that I had thrown the brick… See post 'Dirty Rotten Scoundrels'.
I have more recently been told that no-one threw the brick, the brick was planted.
The usual methods were being employed to demonstrate the extreme danger that I posed to Dafydd and others: forged documents, lies, perjury etc.
On 9th June 1994, Matt Arnold, the Head of Bryn Estyn, died from an 'unspecified blood disease'. On 13th June 1994, the trial at Chester Crown Court opened of Peter Howarth, Arnold's long-term friend and colleague at Bryn Estyn, who was charged with multiple sexual assaults on boys in care in north Wales. Howarth was found guilty on 8 July 1994 and sentenced to 10 years. Howarth always maintained that he had taken the rap for offences committed by high profile people who were never named and never charged. Howarth died in HMP Wakefield 'from a heart attack' on 24 April 1997. The Waterhouse Inquiry opened in Jan 1997 and in March Ronnie Waterhouse stated that he was in need of a holiday. He popped over to Hong Kong for a few weeks and while he was there Howarth died. When Ronnie was in Hong Kong he bumped into Derry Irvine who was also hanging around out there and they met up for a meal and a chin wag.
Had Malcolm and Chamberlain not been caught out on that fraud, they would have become world-famous Top Docs, gone down in history and anything that I might have said about the gross malpractice that I witnessed at St George's as a member of staff or patient would have been the rantings of that nutter. Furthermore, if Dafydd et al had succeeded in banging me up in Broadmoor, it would have been the rantings of that dangerous nutter, who was such a wicked genius that she even gained an MSc and blagged her way into a job at a Top London Hospital and began a PhD. But the world had been saved by the Top Docs who saw through her wicked ways who were er running an international paedophile ring…
A great many people didn't notice the extraordinary happenings at St George's, let alone the extraordinary happenings on the turf of their mates in north Wales. In the wake of the Pearce-Chamberlain scandal, not only did William Asscher set up an investigation into the matter at St George's, but the Royal College of Obstetricians and Gynaecologists set up a working party to consider the implications of the case for the college, the journal, and the relationship between them. Pearce had by this time been found guilty of serious professional misconduct by the GMC and struck off; Chamberlain had resigned both as Editor and President. St George's investigated other studies by Pearce and another four were retracted, including two that had been published in the BMJ.
The working party was Chaired by a 'senior lawyer' and interviewed all the protagonists, including Pearce and Chamberlain. According to Richard Smith, who was Editor of the BMJ and Chief Exec of the BMJ publishing group for 13 years, the working party 'offered a remarkable insight into what is still Britain's major case of research fraud.' [No-one's investigated Prof Mark Williams and Mindfulness yet. Or Dame Julia Polak and Sir Magdi Yacoub. Or Prof Robert Baldwin and his CR UK labs at Nottingham University – Ed.] Richard Smith was a member of the working party.
Smith wrote in a May 2006 article for the 'Journal of the Royal Society of Medicine': The well-written report we produced (which was not written by me) reads somewhat like a whodunit. It made a great many recommendations which argued that the time had come to move from the long amateur tradition of editing specialist journals to something more professional. The appointment, training, support, records, and accountability of editors all needed to be modernized. These recommendations apply to all journals. What happened at the British Journal of Obstetrics and Gynaecology could easily have happened at other journals – and probably still could. Indeed, it probably will.'
You missed the international sex abuse ring Richard. Never mind, just be at one with the breath, live in the moment and ignore the suicide rates in north Wales as well as the numerous serious complaints.
On 11 Oct 1994 Dafydd wrote to John Mullen, the CEO of Gwynedd Community Health Trust, telling Mullen that he'd ordered the MDU to raise an injunction against me. He obtained his injunction in Nov 1994 from Liverpool High Court. The Court was told all about the brick but no evidence was presented that I had been responsible. There were no other actions of mine alleged in the affidavit, but Dafydd explained that F had blown a raspberry down the phone at him and furthermore Dafydd discussed his anus in the affidavit as well. It was enough for Liverpool High Court, Dafydd was given an ex-parte injunction to Protect Him From Me Immediately.
Golden Raspberries:
During all this, a smear campaign was launched against Brown. He was sacked from his lecturing job at Aston University at the end of July 1995, the month after Malcolm was struck off, amid student protests at his unfair treatment at the hands of the University.
Sir Peter Morrison was found dead in his house in Belgravia on July 13 1995. Until 1980 when St George's relocated to Tooting, St George's was located at Hyde Park Corner, down the road from Sir Peter's house and it served Belgravia. Even in the late 1980s, many of the staff at St George's still lived and socialised in that part of London, they certainly didn't hang around Tooting. The only senior member of staff whom I knew who did live in Tooting was Malcolm and he felt dreadfully hard done by because of this. Malcolm hadn't come from such a privileged background as many of his colleagues, he was a grammar school boy from Leeds (Jimmy Savile Central) and he bitterly resented living in (a very nice) house in Tooting when his friends lived in such splendour. Not that Malcolm spent much time at his house, he was usually to be found drunk in the medical school bar, boasting about which junior doctor he had shagged the night before when he was in the junior docs residences.
Four days before Peter Morrison was found dead, Bing Spear, the corrupt Home Office Drugs Branch mandarin who had been so helpful to Dafydd and the gang, died. On 2 July 1995, one week before Bing died, Geraint Morgan QC, the Tory MP for Denbigh, 1959-83 (see previous posts), died. 1995 was one of those years where there was a cluster of deaths of witnesses/accessories. The comedian Viv Stanshall, who had a great deal of info about Dafydd's celebrity clients such as Graham Chapman, spontaneously combusted on 5 March 1995. See previous posts.
Just to remind readers: Two/three days after Ollie was jailed in Dec 1986, Dafydd unlawfully arrested and imprisoned me in the North Wales Hospital Denbigh. See eg. post 'Hey, Hey DAJ, How Many Kids Did You Kill Today?' It was in 1986 that Patient F was framed for the possession of class A drugs and arson, imprisoned in Risley Remand Centre and then unlawfully detained in the North Wales Hospital for a year. While he was in Risley, the most serious charges against F were dropped. F had previously found out about the mistreatment of boys in the Ty Newydd children's home and had challenged social workers about it and told third parties what was happening to the boys. F's father-in-law at the time was a society dentist based in Surrey who was friends with Harley Street Top Docs. He and F loathed each other and I have been told that he had something to do with F being fitted up and imprisoned.
It was in 1987, the year of Ollie's early release, that Jimmy Savile was appointed to the general management task force of Broadmoor Hospital by junior Health Minister Trumpers. This then enabled Savile to be appointed General Manager of Broadmoor a few months later. See 'Socio-Political Context Of The North Wales Mental Health Services In The 1980s' and 'A Pretty Classy Piece Of Operation'.
Before Ollie busied himself with Prof McKintosh and others in the run-up to his Court appearance, his last contribution to the world of academic publishing had been in Jan 1981, in 'Metabolism', Vol 30, Issue 1: 'Fasting energy utilization in the smaller of twins with epinephrine-deficient hypoglycemia' by Douglas S. Kerr, Oliver G. Brooke and Hazel M. Robinson.
The paper stated that the research was 'supported in part by the Helen Hay Whitney Foundation as a fellowship for D.K., by the Medical Research Council (U.K.), by the Diabetes Association of Cleveland, by the Trustees of Rainbow Babies and Children's Hospital and by National Institutes of Health Grant HD-11089'.
In 1978, J. Alvear and Ollie published in 'Archives of Disease in Childhood', Vol 53, Issue 1: 'Fetal growth in different racial groups'.
The abstract read: Three racial groups of mothers and their newborn babies– North European 75, Negro 75, and "Indian" Asian 37–were matched for parity, gestational age, sex, maternal age, maternal smoking habits, and social class. Multiple anthropometric measurements, including skinfold thickness, limb circumferences, and various linear measurements were made on the mothers and their infants to determine the effects of race and smoking on fetal size. Indian-Asian mothers, though shorter and lighter than Europeans and Negroes, had similar skinfold thickness and weight: height ratios and gained as much weight during pregnancy. Their infants, however, were lighter than the others, and had smaller head and limb circumferences, although their linear measurements were the same. Negro and European infants were almost identical in size. We found no effect on any of the fetal measurements which could be attributed to smoking.
'Archives of Disease in Childhood' is the official journal of the Royal College of Paediatrics and Child Health.
J. Alvear and Ollie had starred in 'The Lancet' on May 28th 1977 with a letter on the subject of 'Effect of Smoking on Fetal Growth'.
The Royal College of Paediatrics must have liked Ollie because he had previously appeared in the 'Archives of Disease' in Childhood in 1976: 'High energy feeding in protein-energy malnutrition': O. G. Brooke & E. F. Wheeler.
The abstract read: The use of a high-fat diet in malnourished children produced accelerated growth of lean tissues as well as adipose tissue, and resulted in rapid nutritional rehabilitation in 25 seriously malnourished babies. Such diets are easy to prepare and relatively cheap, and they offer important advantages over conventional feeding in the hospital treatment of malnourished children.
In Dec 1974, Ollie published 'RESTING METABOLIC RATE IN MALNOURISHED BABIES IN RELATION TO TOTAL BODY POTASSIUM' in
In 1974, Ollie and Carmencita B. Salvosa published in the 'Archives of Disease in Childhood' Vol 49, Issue 2: 'Response of malnourished babies to heat'.
The abstract read: Twelve seriously malnourished Jamaican babies were investigated before and after treatment to discover whether they were unduly susceptible to heat in the malnourished state. On exposure to an environmental temperature of 38 °C at low humidity their mean rectal temperature increased at a rate of 0·75 °C/hour when they were malnourished, while after recovery it showed little change. During heat exposure total evaporative water loss in the recovered children was, on average, 44% greater than it was in the malnourished state, and in the malnourished children there was a significant inverse relation between total evaporative water loss and rise in rectal temperature. Measured sweat loss under a ventilated capsule after an intradermal diaphoretic injection in 7 of the children confirmed that sweating was impaired when they were malnourished. Rectal and skin temperatures at sweat onset were unchanged after recovery, indicating that central homoeostatic mechanisms were probably not disturbed. Peripheral vasodilatation in response to heat was unimpaired. Children with severe skin lesions had the most defective sweating, and malnutrition may damage the sweat glands as it does the hair follicles. It is very important to nurse malnourished children at the correct temperature; an environmental temperature of about 29 °C is satisfactory in most cases.
Ollie and colleagues appeared in the 'Journal of Physiology', 231 (2): 91-93, June 1973, 'Evaluation of a Method for Measuring Urine Temperature'. Brooke, O.; Collins, J.E.; Fox, R.; James, Sally; Thornton, Christine.
Ollie had published a previous paper based on work carried out in the West Indies, in the 'Journal of Physiology' in 1973: 'THE RESPONSE OF MALNOURISHED BABIES TO COLD': O. G. BROOKE, M. HARRIS AND CARMENCITA B. SALVOSA From the Tropical Metabolism Research Unit and the Department of Pathology, University of the West Indies, Kingston, Jamaica. (Received 12 February 1973).
When this paper was published, Ollie stated that he was a 'Member of Medical Research Council external scientific staff. Present address:
Division of Human Physiology, National Institute for Medical Research, Holly Hill, London, N.W. 3.' Ollie's co-author, M. Harris, was at the time of publication, based at the Dept of Pathology, Manchester.
There was a long-standing ring based at Manchester facilitated by Dafydd and Tony Francis's colleague Professor Hugh Freeman. See post 'The Science Of Animal Behaviour'. Dafydd's mate Kenneth Rawnsley had been part of the Manchester ring until 1966 when Ken was appointed Chair of Psychological Medicine at Cardiff and was then able to provide a massive umbrella for Dafydd, Gwynne and the merry band from there. See post 'The Discovery Of A Whole New Galaxy…' Things really got going in Manchester in 1974 when Dafydd's former boss at the Maudsley, Dr Bob Hobson, relocated to Manchester to add to the fun there. See post 'The Mentor'. My documentation shows that Ollie's colleagues at St George's and Springfield Hospital knew Bob Hobson.
When Salvosa worked with Ollie in Jamaica, Salvosa was in receipt of a WHO Fellowship.
Ollie obviously spent a period of time working in Jamaica in the early 1970s, but I'm not sure exactly when he was there and when he was elsewhere but using the work that he carried out in Jamaica for publications.
In March 1972, Ollie published with Ann Ashworth in the 'British Journal of Nutrition', Vol 27, Issue 2: 407-415: 'The influence of malnutrition on the postprandial metabolic rate and respiratory quotient'. This was a paper based on 'malnourished Jamaican infants'.
Ann Ashworth has published in all the best journals, including 'Nature' and 'The Lancet'. Ann appears on the 'World Nutrition Knowledge Policy Action 2016 Cape Town' website and is described as 'Emeritus Professor of Community Nutrition at the London School of Hygiene and Tropical Medicine. She has helped shape national and international policies regarding infant and child nutrition. She worked for many years at the Tropical Metabolism Research Unit, Jamaica. She has led initiatives to improve treatment of severe malnutrition and helped to produce the WHO guidelines. She has been a facilitator and team leader on a number of capacity-building programmes in Africa, Asia and Latin America. She Chairs the International Malnutrition Task Force which is a global advocacy and capacity-building partnership of academics and UN and non-government agencies'.
In Feb 1972, Ollie published a single authored paper in the BMJ, 'Influence of Malnutrition On the Body Temperature of Children'
Br Med J
1972
; 
(Published 05 February 1972) 
Cite this as: 

Br Med J

 1972;1:331
The abstract read:
The mean auricular temperature of 10 malnourished Jamaican infants was 0·84°C lower on admission to hospital than it was after recovery. Body temperature was influenced by ambient temperature in the malnourished state. During the rapid growth that accompanies recovery the mean auricular temperature was raised. Five malnourished children with hypothermia were given a standard high-calorie feed, and this caused the body temperature to return to normal levels within two hours in every case. These results suggest that reduced mean temperature in malnourished children may be an adaptation to conserve calories, and that severe hypothermia in malnutrition results from an acute shortage of energy reserves. Frequent feeding of malnourished children is most important in their management.
This is the earliest paper of Ollie's that I have found so far.. Presumably Ollie must have headed for Jamaica as a junior doc…
Let us take a brief look at the Presidents of the Royal College of Paediatrics who were in post as Ollie built his career, then fell from grace but clearly didn't really and after a brief interlude published academic articles with his old pals giving St George's as his affiliation during the very months when I was being set up by Ollie's mates.
Seymour Donald Mayneord Court served as President of the British Paediatric Association, which later became the Royal College of Pediatrics, 1973-76. Court was born in 1912 in Wem and is described as having been 'deeply religious'. Court was a Quaker; Dr Paul Nickson and Gethin Evans who plated key roles in the gang in north Wales were Quakers in Gwynedd. Seymour Court was known for his work in the fields of respiratory disease, the epidemiology of disease in childhood and for his work that established the importance of research into the social and behavioural aspects of illness in childhood.
Donald Court was the son of a schoolmaster and was educated at the Haberdashers' Adams and in the local school in Redditch. Court initially studied dentistry at Birmingham University, but switched after three years to medicine. As a junior doctor, Court worked at Queen's Hospital and Birmingham General. Positions followed at Great Ormond Street Hospital and later as paediatric registrar at Westminster Hospital. Previous posts have discussed how many Top Docs who facilitated the Westminster Paedophile Ring worked at GOSH and at the Westminster Hospital, including Wilfred and Dannie Abse who were directly connected to Dafydd and Gwynne (see post 'O Jones, O Jones') and Dame Josephine Barnes and Geoffrey Chamberlain. There must have been pre-existing organised abuse at GOSH and Westminster – as there was in Birmingham – for those institutions to have provided such fertile territory for organised abuse by the 1960s…
Being a Quaker, Court was exempted from conscription in WW II; he served with the emergency medical services instead.
In 1946, Court became a Nuffield fellow at King's College, Durham University. He was subsequently appointed as a Reader to King's College, University of Durham which later became Newcastle University. In 1955 Court was given the Chair of Child Heath at Durham. He retired in 1972, becoming the Emeritus Professor of Child Health at Newcastle. Previous posts (eg. 'The Newcastle-upon-Tyne Connection') have discussed the big ring in the North East which by the early 1970s was supplying staff and children to the gang in north Wales. Durham and Newcastle University were colluding institutions. Dafydd's pal Lord John Walton was the Mr Big in Newcastle who was particularly useful to everyone because of the years that he spent at the top of the BMA, the GMC, the Royal Society of Medicine and finally of course the Lords. See previous posts. UCNW enjoyed a supply of staff from Durham and Newcastle, including Professor Eric Sunderland, who was head hunted by the Gwerin when they needed to appoint a Big Mate as Principal in 1984.
Seymour Court married Dr. Frances Edith Radcliffe in 1939 and had a daughter and two sons. In 1986, the year in which Ollie was charged and later convicted, Court suffered a serious head injury, from which he never fully recovered and affected his retirement.
When Seymour Court joined Newcastle University, he became involved in the Thousand Families Study, a big epidemiological study. During the study Court made over 3000 visits to the homes of families, selected for the study. Court's vision of the child changed during this study and influenced him throughout his professional life. Instead of the prevailing view, which saw the child as a unit in isolation to be treated, Court now saw the child, as part of a network consisting of the family, the neighbourhood and the wider community, as a cogent whole. Brown has had discussions with me with regard to how, until the 1970s, if children seemed to be distressed, the cause was always seen to have been something within them; a disorder or a brain injury etc. Even if the kid was living in the most stressful or frankly cruel circumstances the view was always that there was something wrong with the child. The worrying thing was that although Seymour Court's generation of Top Docs challenged that and made much of viewing the child in the context of the people around them, the widespread use of questionable therapeutic ideas and even more questionable therapists provided rich soil in which goalposts could be moved and people could be tied up in knots if there was a desire to detract from the cause of the kid's distress.
Thus people like Professor Desmond Pond (see previous posts) would recommend the removal of kids from their carers/families into the hands of Dafydd's gang who had Expertise in looking after troubled kids. The most excessive abusers eg. Frank Beck carried out their abuse in the name of therapy. Some of the therapy was so crackers that mainstream people were gobsmacked at what was being done, but they Didn't Understand Troubled Children so concerns were dismissed and if the person raising them didn't shut up the finger would be pointed at them. Although children in professional families can be abused and mistreated and innocent professional parents can be wrongly accused, if one looks at the overwhelming trend, people who are not deemed to be capable of caring for their kids or who are accused of abuse tend to be poor and not very well-educated. They really don't stand a chance against those we know and love; every action, including them being utterly distraught at the removal of their kids, is interpreted as a sign of their deficit and guilt.
In north Wales it was farcical; the community was small and rural and the huge problems that many of the kids of the Experts were known to be experiencing were no secret. It was just a case of no-one daring to mention them because the gang would simply get even nastier. Some five years ago, Dr Phil White, a GP in Gwynedd who's own son was in prison for impressive drugs offences, appeared in the Daily Post stating that parents who allowed their children to 'become obese' should have them removed by the social services. Phil White is absolutely enormous. If you are me and you read that, you roll around laughing and tell all your mates who also think that Phil White is an idiot about it, but what if you are a single parent who left school at 16 with no qualifications and Big Phil announces that he will be Making A Referral?
Brown knew of a case in which a young woman and her little girl were living in a house where the rent was paid by a friend who happened to be male. The GP, on a referral letter, had written 'thanks for agreeing to see this young prostitute who has a small child'. That GP had absolutely no evidence that his patient was a prostitute – neither would it have been relevant to the matter in hand if she had have been – he had just made a huge assumption because her rent was paid by a male friend. These stereotypes are far more commonly held by Top Docs and other welfare professionals than most people believe and it is not necessarily the 'poshest' doctors who hold them. It is called stupidity and narrow-mindedness and is not necessarily related to a privileged upbringing; the condition is exacerbated by colleagues never challenging it or backing up the patients who try to.
Seymour Court took a specific interest in speech disorders and his efforts were important in the development of speech therapy.
Seymour Court was succeeded as President of the British Paediatric Association by Otto Herbert Wolff, who became Professor of Child Health at GOSH. Phil White would like Otto, Otto was one of the first paediatricians in Britain to set up a clinic for obese children.
Otto Wolff's father, Herbert Wolff, was a GP who was born in Manchester to a British mother. Otto's mother Anna was the daughter of a lawyer. Otto Wolff had dual German-British nationality. Herbert Wolff was a Top Doc who served in the German Army during WW I and during the interwar period, the family lived a comfortable life in Germany. Otto Wolff's early schooling took place in Hamburg and despite his Jewish background, he was well received by his classmates. When he turned 16, Otto was sent to London to study in preparation for application to Cambridge University to read medicine; his brother Heinz was already on that course. In 1937, the whole family emigrated to England, but upon arriving, Otto's father realised that his medical degree from the University of Strasbourg was not recognised in the UK. So Herbert studied medicine at Manchester University, while both of his sons studied medicine at Cambridge, Otto gaining a place at Peterhouse College.
There was an organised abuse ring at Manchester by the mid-1950s, facilitated by Top Docs who within a few short years were working with and protecting Dafydd and Gwynne the lobotomist. It will have been built on existing malpractice/abuse. Peterhouse College became notorious for the rather eccentric traditions there, one of which was for dons and students to attend parties dressed in ladies clothes throughout which they adopted girls' names. Michael 'Of Course I'm Not Gay, Oh I'd Forgotten, Yes I Was When I Was At Peterhouse' Portillo is a graduate of Peterhouse.
Otto Wolff started his clinical career at UCL. During WW II, that institution had to be evacuated to Cardiff due to the Blitz; Otto qualified as a Top Doc in 1943 and then held a number of junior posts at St Olave's Hospital in London. UCH/UCL was the research hub of the London teaching hospitals during the middle years of the 20th century and because of the presence of Lord Max Rosenheim on the staff, it trained a lot of Top Docs who later became very influential, including those facilitating the Westminster Paedophile Ring. As long as they didn't piss Lord Max off they were untouchable. Geoffrey Chamberlain was a medical student at UCH/UCL, as was William Asscher, Dame Josephine Barnes worked there and many more. See previous posts. UCH was located very close to the Middlesex Hospital and the medical students and Top Docs from the two institutions were good pals and popped in and out visiting each other. Dannie and Wilfred Abse were regulars at UCH. Gwynne trained at the Middlesex.
In 1944 Wolff joined the RAMC; in 1947, he was demobilised. When returning from war, Wolff 'had a chance meeting' with a senior Top Doc and that resulted in Wolff taking a position at Birmingham University in paediatrics. In 1951, Wolff started work at Birmingham University, becoming a Lecturer in the Department of Child Health. Wolf finished his academic career at Birmingham University as a Reader under Professor Sir Douglas Hubble. It was Otto Wolff who, at Birmingham, provided the first description of the chromosomal abnormality that results in Edwards syndrome, Trisomy 18.
Sir Douglas Vernon Hubble was a paediatric endocrinologist, a GP, Professor of Paediatrics and Dean of Medicine at Birmingham University. Hubble graduated from Barts in the mid-1920s and began his career as a GP in Derby, joining Derbyshire Children's Hospital as a consultant in 1932. He worked simultaneously as a GP and a specialist paediatrician until 1942, when he was appointed as a physician to the Derbyshire Royal Infirmary and Derby City Hospital. Hubble was one of the Top Docs who resigned from general practice in 1948 following the formation of the NHS. In 1958 Hubble was appointed to the Chair of Paediatrics at Birmingham University, becoming Dean of the Faculty of Medicine in 1963. He was forced to retire from Birmingham in 1968, 3 years beyond his retiring age, but moved to Ethiopia to become the Dean of the Faculty of Medicine at Addis Ababa University. Hubble returned to England upon his retirement and settled in Berkshire. He died in 1981.
By the mid-20th century, there was organised abuse facilitated by Top Docs at Barts, in Derbyshire and in Birmingham. All of these sites were major hubs when the rings operating across the UK all linked up to function as one big network in the 1970s and these sites were among those which had direct links with Dafydd's gang in north Wales and afforded the north Wales gang protection. Barts had links with north Wales going back years as a result of high profile Welsh Top Docs training at Barts, including Lord Snowdon's grandfather, Sir Robert Armstrong-Jones. See previous posts. Lady Juliet Bingley and her son William provided an umbrella for Dafydd et al for years as a result of them occupying senior roles in MIND and the Mental Health Act Commission. Lady Juliet's father was Reginald Vick, a surgeon at Barts who wielded great influence at Barts for decades. See previous posts.
Abusers employed by Derby County Council were also employed in children's homes in north Wales. John Jillings, who Chaired the Jillings Investigation into the abuse of children in the care of Clwyd County Council, 1974-93, was the retired Director of Derbyshire Social Services. There was a widespread belief that although Jillings admitted that the abuse of kids in Clwyd had been very serious and inexcusable, he had nevertheless played down just how bad matters were. John Jillings refused to say whether he believed that a paedophile ring was in operation in north Wales. See post 'It's A Piece Of Cake…'
Dafydd's gang had a collection of professional partners in crime in Birmingham by the 1970s, one of them being Professor Robert Bluglass of Birmingham University. Bluglass had trained at St Andrews, but found a home for himself in Birmingham and by the early 1970s he was playing a role in a ring that was already well established there. See previous posts.
While Douglas Hubble pre-dates these people, it has to be understood that they successfully built upon organised abuse that had already existed for a long time and it was the towering reputations of people like Hubble which were used to deflect complaint and criticism years after they had died, let alone retired. I discovered that the How Very Dare Yous in response to my complaint about Gwynne the lobotomist in 1984 were very much alive years after Gwynne had died in 1986. I became even more wicked after he'd died, because it was then a case of me having made 'allegations' about a 'deceased doctor'. I had made the 'allegations' when he was still alive but everyone refused to investigate them and tried to threaten me into withdrawing my complaint. The problem was that he was a lobotomist who had run a sex abuse ring for many years and there were a great many careers, pensions and reputations based on people not admitting this. So years after his death I was still the toxic lying cow who had Made Those Allegations. Perhaps someone would like to make a note of it on my gravestone when I die, my story hasn't changed since 1984, the Top Docs are welcome to add 'Here lies the body of the Woman Who Made The Allegations About Gwynne With Royal Connections'.
In 1965, Otto Wolff moved to London and was appointed Nuffield Professor of Child Health at the Institute of Child Health at GOSH, as well as consultant paediatrician at GOSH and London University. During his time at the Institute, Wolff turned 'what was essentially a collection of pre-war cottage hospitals into a 'world class centre for children".
Otto Wolff's predecessor as Nuffield Professor at GOSH was Sir Alan Aird Moncrieff (9 October 1901 – 24 July 1971). Moncrieff was a paediatrician who was of course of the generation who pathologised all those distressed kids and speculated about what it was within them that had caused them to be like that. As with all high profile Top Docs though, Sir Alan is only remembered for revolutionising and humanising his field of medicine.
Moncrieff was born in East Cliff Manse, St Johns Wood Road, Bournemouth, the son of a Congregationalist Minister. See post 'There's Methodism In This Madness' for an account of the numerous Nonconformists past and present who were involved with organised abuse in north Wales and elsewhere and 'Come, Friendly Bombs' for the background to Harold Wilson's wife Mary, a Congregationalist who's father was a Minister and her network, who concealed the Westminster Paedophile Ring and Dafydd et al. The Westminster child molester George Thomas was of course the most famous Methodist in Britain for decades and Thatch explained that the basis of their friendship across the political divide was their Methodism. It's not Methodism per se that is the problem I stress, I have good friends who are Methodists, it is ruthless people using their contacts to get away with serious crime.
Moncrieff received his early education at Caterham School, trained as a Top Doc at the Middlesex Hospital and qualified in the early 1920s. Gwynne was a student at the Middlesex some years after that, as was Roger Gilliatt, who was a close friend of Lord Snowdon and best man at Snowdon and Ma'am Darling's wedding. Roger Gilliatt's dad, Sir William Gilliatt, the Royal Gynaecologist, had been a student at the Middlesex and then taught there when Roger Gilliatt and Gwynne were students there. See post 'Error Of Judgement?'
Between 1922 and 1934, Moncrieff held various positions including some at the Middlesex and GOSH. We're in Royal Top Doctors territory again. It renders a Top Doc bombproof, even one as gross as Gwynne.
Sir William 'Just Mention My Royal Connections' Gilliatt:
During this period Moncrieff also worked as a GP. In 1923-24 Moncrieff worked in Paris in the health division of the International Federation of Red Cross and Red Crescent Societies. Between 1930-31, he studied in Hamburg and other parts of Germany, while holding a Rockefeller Travelling Medical Fellowship. Moncrieff's studies at this time were related to neonatal respiratory failure in newborn babies. He obtained MRC funding to support some of his work.
In 1933, Moncrieff was appointed a paediatrician to Queen Charlotte's Maternity Hospital, where he remained working until 1951. He worked at Hammersmith Hospital, 1935-64. So Moncrieff knew Hugh Bentall and the merry crowd there. See 'Interesting Facts'. Geoffrey Chamberlain worked at Queen Charlotte's and at Hammersmith when he was younger.
In 1934, Moncrieff was appointed to the consultant staff of both the Middlesex Hospital and the Great Ormond Street Hospital as physician.
During WW II Moncrieff worked in the Emergency Medical Service. When the Institute of Child Health was founded at GOSH in 1946, Moncrieff was appointed as the first Chair of Child Health at London University and Director of the Institute, a position he held until 1964, which was based across the Queen Elizabeth Hospital for Children, Hackney, the Royal Postgraduate Medical School, Hammersmith, and at GOSH.
John Cleese's psychiatrist friend Robin Skynner worked at the Queen Elizabeth Hospital for Children. Previous posts (eg. 'Ian Brockington's Mischief') have discussed Robin Skynner – who was a student at UCH and also worked at the Maudsley with Dafydd – his wife Prudence and their many connections with those facilitating the Westminster Paedophile Ring and assisting Dafydd and Gwynne. Skynner and his wife undoubtedly knew of many celebrity/professional abusers, including clergymen.
Robin Skynner became famous outside Top Doc circles when he began co-authoring popular psychotherapy books with John Cleese. That particular project got off the ground in 1984, when I refused to withdraw my complaint about Gwynne and when Brown and I first began to be seriously bothered by people working for the security services. Cleese's friend and colleague Graham Chapman was known to be sexually exploiting underaged boys and had been for years. Chapman was protected by his status as a celeb, but even more so because he was of course a Top Doctor who had qualified at Barts… On the one occasion when Chapman was questioned by the police he later boasted about having done a How Very Dare You after mentioning that he was a Top Doctor and the police scuttled off and did not return. See previous posts. By 1986, a friend of Chapman's had tripped over people in Somerset who knew some of what was happening to me at the hands of the gang in north Wales and one of those people became inexplicably very wealthy after embarking upon various bizarre business ventures with Chapman's mate. See 'Upper Class Twit Of The Year – Shooting Themselves'.
The Institute of Child Health was developed by Alan Moncrieff into an organisation of postgraduate paediatric teaching in co-operation with the Institute of Education. James Mourilyan Tanner later became responsible for the Institute of Child Health. James Mourilyan Tanner made a career out of measuring the genitalia and pubic hair of adolescents.
James Mourilyan Tanner (1 August 1920-11 August 2010) was a paediatric endocrinologist who developed the Tanner scale, which measures the stages of sexual development during puberty. Tanner was born in 1920 in Camberley, Surrey and was educated at Marlborough College and the University College of the South West of England, now Exeter University. After Tanner's brother was killed in WW II, he decided against following his father into the British Army and decided to become a Top Doctor.
Tanner studied at St Mary's Hospital, Paddington, as a result of a scholarship which involved him instructing the St Mary's athletics team. He went to the United States to complete his medical studies, funded by a grant from the Rockefeller Foundation. Tanner met his first wife, fellow Top Doc Bernice Alture, while at the University of Pennsylvania. Tanner qualified in 1944 and spent nine months in an internship at Johns Hopkins University Hospital before returning to the UK to join the Emergency Medical Service (EMS). Until 1946, Tanner worked at the wartime Maudsley Hospital, situated at the time in Mill Hill, as well as the returned prisoner of war rehabilitation unit in Dartford, Kent. At the time, some truly extraordinary things were happening to those patients at Mill Hill. See previous posts.
Following his time with the EMS, Tanner was appointed a demonstrator in anatomy at the Oxford University Medical School, working for the famous anatomist and surgeon Sir Wilfred le Gros Clark. It was while Tanner was there that he was asked to initiate a new lecture series on human growth. He obtained a travelling scholarship to return to the US to visit various studies that were already running there and returned determined to initiate something similar in the UK.
In 1948 Tanner was appointed Lecturer and then Senior Lecturer in Physiology at St Thomas' Hospital and in 1956 he was asked to establish a new Department of Growth and Development at London University's Institute of Child Health (ICH). Here he became Lecturer and then Senior Lecturer in Growth and Development, was appointed Reader in 1960 and Honorary Consultant at the Great Ormond Street Hospital for Sick Children in 1961. Five years later Tanner became the first Professor of Child Health and Growth at the University of London.
Tanner had been asked, at the end of his time with Le Gros Clark in Oxford, to undertake a study in child development funded by the Ministry of Health. It was to be based on the occupants of an orphanage in Harpenden, Hertfordshire. Designed originally to measure the effects of malnutrition on growth, Tanner made it into a long term study, weighing, measuring and photographing the same subjects as they matured for several years with his long time collaborator, Reginald Whitehouse. From this work Tanner devised the  'Tanner Scale' which measures sexual maturation in adolescents based on characteristics such as the size of the genitals and the quantity of pubic hair. The data has now been incorporated in a 'modern growth chart'.
I wonder how Tanner explained why he ended up measuring young people's genitalia when he had been employed to conduct a study on malnutrition. Perhaps he wasn't ever asked to explain, he was working in an orphanage and no-one took the slightest bit of notice when kids in such institutions freaked out at what was happening to them, although it was widely accepted that in many orphanages the children experienced what was always called 'cruelty' in those days.
From the 1950s onwards Tanner had been associated with experiments in using human growth hormone (HGH) and was responsible for selecting the children who would be treated with HGH, in those days extracted from cadavers. Up to 1,900 children received the treatment from 1959 onwards. The Royal College of Physicians 'Lives of the Fellows' online tells us that 'As soon as reports were published of patients who had received the substance dying from Creutzfeld-Jakob disease in 1985, Tanner stopped the treatment in spite, apparently, of some wishing to continue regardless.'
That is not quite how I remember the HCG scandal. It was an everyday story of Top Doctor folk: patients had been put at risk even after concerns had been raised and 'informed consent' had not entered into the equation. There was a widespread  response of YUK and 'you gave our children something that was extracted from corpses??' and then there was one hell of a row, in the face of Top Doctors crawling out of every corner and explaining that they'd been using the dead bodies for years and this had never happened before…
The Great Ormond Street Expert Who Measured Willies:
Whatever attracted Jimmy Savile to voluntary work for the NHS?
It could only have been for the reason that Dafydd gave when he was interviewed on TV after Mary Wynch won her case: 'I found myself in this bizarre situation and I was only trying to help'. Dafydd explained to his mate Robert Bluglass when Bluglass 'investigated' my complaint in 1989 (see post 'Enter Professor Robert Bluglass CBE'), that 'I found myself in this extraordinary situation and I was only trying to help'.
Dafydd, the hapless victim of circumstances, who repeatedly finds that he has no option but to have people who have spilt the gang's pints unlawfully arrested and imprisoned.
James Tanner resumed his HGH work in the 1990s using genetically engineered HGH and, according to the Royal College of Physicians, 'Tanner believed that although the doctors had acted in good faith at the time, the victims should receive compensation'.
It doesn't matter what a Top Doctor does, as long as they repeat the mantra, 'I was acting in what I thought was your best interests' and 'it was a matter of clinical judgement', their career will survive anything. The discourse of best interests was eventually used on Brown and I when Dr D.G.E. Wood finally condescended to even speak to us after my encounter with Gwynne. Brown's response was to write to Wood and very politely explain that surely nobody could really have believed that this could have been in any patient's best interests. Brown made a number of observations, including that 'if even half of the first hand accounts of this man's insensitivity and inappropriate conduct are true, then he should not be in his present job' and 'loyalty is an admirable quality but loyalty can be misplaced and I think that your duty should be to your patient, not to Dr Williams' and 'the rareified atmosphere of squash clubs and dinner parties does not always equip us for understanding other people's cultures and values'.
Brown did not receive a reply to that letter and after he sent it, in the course of our best interests, my friend Anne was murdered, I was hounded out of my career and pursued by gangsters and Brown was violently attacked in public and had his head repeatedly smashed against the pavement in an attempt to kill him.
When Dafydd's mate Robert Bluglass 'investigated' my complaint, Bluglass concluded that Dafydd and the other members of the gang were caring people who had tried to help me but my relentless harassment of Dafydd and others had made that impossible.
The author of over 300 scientific papers and monographs, James Tanner also published many influential books including, A history of the study of human growth (Cambridge, University Press, 1981), Foetus into man: physical growth from conception to maturity (London, Open Books, 1978) and, with Phyllis B Eveleth, Worldwide variation in human growth (Cambridge, University Press, 1976). Both the latter two books were reissued in second editions.
Not forgetting the bestseller 'Measuring Orphans Penes Day By Day While Being Answerable To Absolutely No-One'.
A founder member of the Society for the Study of Human Biology, James Tanner co-edited its journal for a long time and was also instrumental in founding the International Association of Human Auxology (a term that he himself coined for the study of human growth). In 1977 Tanner played a role in the creation of the main charity in his field, the Child Health Foundation.
James Tanner enjoyed skiing and golf and his other interests were theatre, art, music and he sang in London choral societies for many years. Those will not have been activities on offer at the orphanage in Harpenden, but then Tanner wasn't at risk of non-standard growth and in need of having his penis measured on a regular basis. This freed him up for a bit of ski-ing.
Tanner's wife Bernice was the daughter of Top Doctor Sigmund Alture and they married in 1941. She became a GP when they settled in the UK. Bernice died in 1991 and the following year Tanner married Gunilla Lindgren, a Swedish scholar and also an expert on auxology, with whom he had been corresponding since the 1970s. He died of a stroke in Wellington, Somerset in 2010 and was also suffering from prostate cancer. Gunilla survived him, together with his daughter from his first marriage, Helen Phillips, a stepson and stepdaughter, Fredrick and Katarina and three granddaughters, Mary, Sarah and Julia. His son David predeceased him.
I suspect that Bernice Alture's Top Doc father was a central European Top Doctor whom had very likely been influenced by Sigmund Freud's circle, because they were just so influential in Europe at the time. It was Welsh psychiatrist Dr Ernest Jones, who knew Gwynne and the gang, who was substantially responsible for introducing Freud's ideas to Britain (see previous posts) and James and Alix Strachey were key figures in analytic circles in the UK because they provided the definitive translation of Freud's works. James and Alix Strachey were related to Sir Clough Williams-Ellis's wife Amabel and were networked into the Welsh Bloomsbury Set who had second homes at Cwm Croesor in Gwynedd (see post 'The Vermin Club').
To return to Tanner's colleague, it was Sir Alan Moncrieff 'more than anybody else who established preventative and social paediatrics with Europe'. Moncrieff lived in Hertfordshire and he assisted in the organisation of child health services in that county until he suffered a stroke in 1968. Hertfordshire wasn't just the location of that orphanage in Harpenden where James Tanner busied himself, it was also where Sir Alec and Lady Juliet Bingley lived.
During his career, Moncrieff worked on several Home Office and Ministry of Health Committees. One of the most prominent was the Central Training Council in Childcare. Previous posts have named some of those on this body who colluded with organised abuse. Moncrieff worked in advisory capacity on the Ingleby Committee for children and young people. He provided expert advice regarding the Children's Act 1948 'which laid the foundations of social care of children and young people by local authorities, in those instances when the child was without parents or whose parents could not look after them'. The rationale for the successive rewriting of the legislation regarding children in care which, on every occasion, involved people who were facilitating organised abuse, was always the inadequacy of previous legislation which had resulted in children being left in the care of unsuitable people who had abused them.
Moncrieff had a position at the MRC Clinical Research Board as an expert adviser. He acted on the expert advisory panel on the maternal and child health panel of WHO and he served for many years on various BMA committees. In 1967, Moncrieff became Chairman of the Central Midwives Board. Sir Alan Moncrieff was the British representative on the Executive Board of UNICEF. He worked on the Journal Publishing Subcommittee, becoming its Chairman in 1950. Moncrieff also served on the Journal Committee of the BMA, becoming it Chairman in 1967. Sir Alan worked in the juvenile courts in London as a JP.
Now here's a heartwarming tale. One of Sir Alan Moncrieff's Middlesex student Top Docs was Archie Norman, who later became a Cystic Fibrosis Expert at GOSH. Archie committed his memories of the Good Old Days when orphans had their penes measured on a regular basis to a website along with a few poignant pics.
Archie was Moncrieff's student at the Middlesex at about the same time as Gwynne, when the Gilliatts were cluttering the place up as well:
Archie at GOSH at the creation of the NHS: 

Now have you grown any hairs Down There yet my dear?
In 1950, Archie set up the Respiratory Clinic at GOSH, for the study of cystic fibrosis and asthma. He had to battle with the problem of post-war rationing with regard to his patients' diets:
In 1953, Archie was appointed consultant paediatrician to Queen Charlotte's Maternity Hospital, the post to run parallel with his work at GOSH:
In 1964 Archie helped found the Cystic Fibrosis Trust.
Archie and the team at GOSH; Archie is sitting second from the left, next to Sir Alan with the specs:
Matron ruled the roost in those days and the Angels knew how to do a good hospital corner. There was no nonsense and if a Top Doctor asked to measure your penis and count your public hairs for no good reason you respected their request. 
It wasn't all grind, there were wonderful moments Back Then. In 1969, as a result of his consultancy at Queen Charlotte's Hospital, Archie was responsible for the care of Britain's first quintuplets, born to Irene Hanson in 1969, with the help of the team led by George Wynn-Williams, the Consultant Obstetrician and Gynaecologist. The birth made headline news and Archie was photographed with the staff, in a group photo. The tiny Hanson girls did survive and are believed to be only the second set of all-girl quintuplets to do so.
The TV cameras were so busy with the little quinteplets that no-one noticed a far bigger star, who no doubt had offered to work as an unpaid research assistant on the 'How Big Is Your Penis My Son?' project:
Archie retired from the NHS in 1972, but his good work continued. He was Chairman of the Research Committee of the Cystic Fibrosis Trust, 1978-84. In 1985, Archie was also instrumental in seeing the conversion of GOSH's former long-term care facility at Tadworth in Surrey into the 'Children's Trust Centre for Respite Care and Rehabilitation' for brain-damaged children. One of its buildings was named after Archie in a ceremony attended by himself and Elaine Paige, Trust Ambassador. So in 1985 there was yet more celebrity-promoted PR for someone known to Gwynne while Brown and I were being threatened and told to withdraw our complaint about him and shut up.
In the year 2000 at the age of 88, Archie spoke at a seminar at the Wellcome Institute for the History of Medicine entitled 'Childhood Asthma and Beyond' and lightened the proceedings when he recalled :
"I just happen to remember I recommended that a dog should be taken away from the house because an asthmatic child appeared to be sensitive to the dog. The family came back to see me a month later and said that they had had a burglary the next day."
I do hope that Archie didn't discuss that order to get rid of the guard dog in front of people who Aren't Trained and Don't Understand Confidentiality:
GOSH has always been proud of its celebs and they certainly brought in the money and good publicity.
Sir Otto Herbert Wolff
Among Otto Wolff's awards were the 1987 Harding Award from Action Research for the Crippled Child, later known as Action Medical Research, which suffered the fate of many children's charidees and found rather a lot of people involved with it had links to paedophiles. See previous posts. In 1988 Wolff was awarded the James Spence Medal by the Royal College of Paediatrics and Child Health, of which he had been President for more than 10 years.
In 1988, a glass ceiling was broken when the first female President of the British Paediatric Association was appointed, June Kathleen Lloyd, Baroness Lloyd of Highbury (1 January 1928-28 June 2006). Lloyd sat as a cross bencher in the Lords.
Ah, a Lady Doctor! Thank goodness for that after Ollie… It Won't Happen Again.
Baroness June Kathleen Lloyd
June Lloyd was a 'determined advocate for children's health and, like her two predecessors as President of the British Paediatric Association, she was instrumental in the establishment of the Royal College of Paediatrics and Child Health. June Lloyd was known for discovering the role of lipid metabolism in health and disease in childhood. Ollie had dabbled in the same field of research.
 June Lloyd was born in Kashmir, where her father was an officer in the Royal Indian Army Service Corps. The family returned to England in 1936. Lloyd was educated at the Royal High School in Bath and qualified as a Top Doctor at Bristol University. Dr D.G.E. Wood trained at Bristol University and Wood's father was a Top Doc in Bristol. From the mid-1950s onward, June Lloyd did the rounds of the organised abuse rings in South Shields, Bristol, Plymouth, Oxford, Manchester and Durham. She then became research assistant to Otto Wolff in Birmingham and taught at Birmingham University, 1958-65. Dafydd's accomplices were in place in Birmingham by then and would soon be joined by Bluglass.
In 1965, Lloyd relocated, along with Otto Wolff, to GOSH and the associated Institute of Child Health at UCL, where she eventually became a Professor. Lloyd hit the big time in 1975 when she was appointed Professor of Child Health and Head of the new Department of Paediatrics at St George's Hospital Medical School. While she was Head of Dept at St George's, June appointed a consultant called Ollie Brooke!
Ah the Nice Lady Doctors broke the glass ceilings in medicine and brought warmth and their caring sharing ways with them. And they had to Fight Sexism and the Male Medical Establishment at the same time.
After appointing Ollie, in 1985 – the year before Ollie was charged and the year that Mary Wynch won her case against Dafydd and the gang and the year that the threats began raining down on Brown and me big time – June Lloyd returned to GOSH as Professor of Child Health, 'where she served with distinction on many committees'.
While June was serving with distinction on the committees, children in north Wales were beaten up and gang-raped, used for porn – including porn with added bestiality – and were found dead. Some of them found themselves in Risley Remand Centre and indeed died there, but the harsh reality was disguised by the data referring to the deaths of inmates as deaths of 'male' and 'female' 'remand prisoners', rather than 'deaths of boys and girls from children's homes'. The Prison Service did provide the essentials for the kids in care at Risley though in the form of a visiting clap doctor, although virtually any other form of medical care was unavailable even in the 'hospital wing', where Dafydd and Gwynne's victims ended up.
June was Vice-President of the Royal College of Physicians, 1992-95, during the North Wales Police investigation into a possible VIP paedophile ring in north Wales/Cheshire, which found 'no evidence' of such a ring, although over 100 complaints of the abuse of kids in care were made. That was dealt with effectively: a file was sent to the CPS and the DPP, Dame Babs Mills, did not mount one prosecution. See eg. 'A Future Leader Of The Labour Party' and 'The Mrs Mills Experience'. June was also Vice-President of the Royal College of Physicians during the Jillings Investigation and when the 'Islington Gazette' reported the havoc in Islington's children's homes, with children trafficked to Europe and found dead. No other newspaper reported the story.
The Breakers of Glass Ceilings Were Giving Everything A Woman's Touch.
June Lloyd retired from medicine in 1992, perhaps because she had stood back and gawped at the mess. Notwithstanding the mess, June became a Dame in 1990 when Geoffrey Chamberlain, Ollie and chums began publishing those journal articles as they offered me a job and then set about hounding me out of medical research, while Dafydd's gang repeatedly perjured themselves in the High Court in repeated attempts to have me imprisoned.
It was ever upwards for Dame June and in 1996, she became Baroness Lloyd of Highbury of Highbury in the London Borough of Islington. How very apt.
Poor old Baroness June suffered a trauma on her way to the Lords though. A severe stroke before her introduction to the House of Lords prevented her from taking her seat until 1998. Her resulting disability left her unable to become an active member of the House. Ah bechod, never mind, at least this utter fuckwit reached her 60s without being forced to have sex with a queue of horrid old men and then an alsation, only to find herself arrested for Looking At Dafydd In A Funny Way, then gang banged all over again in Risley and then told that she was Lying To Get Compensation when she gave evidence in public, under the hostile gaze of the people who had facilitated all this, at the Waterhouse Inquiry.
The wicked old cow June died on 28 June 2006, aged 78. She had never married. Well a Lady Doctor's life in those days didn't usually leave time for a family. Geoffrey Chamberlain's wife was a Lady Doctor, indeed a Professor at Gwynne's alma mater, the Middlesex and she had five kids while she and her husband ran the Westminster Paedophile Ring, but she was exceptionally talented, as I was told by one of the Chamberlains' friends in 1989. I wonder why Jocelyn Chamberlain was really given that Chair and who arranged it?
Jocelyn Chamberlain was one of the Top Doctors who devised the cervical cancer smear testing programme. The programme about which many lies have been told re the effectiveness and the lives being saved, particularly since I began blogging about Jocelyn Chamberlain and her colleagues.
Baroness June's brother, Philip Lloyd, was a Commander in the Royal Navy. Geoffrey Chamberlain served in the RNVR until the mid-1970s, he was a surgeon commander. Gwynne was in the Royal Navy as well.
What's It All Abaaaht Alfie?
Give us a clue!
While Otto and others also 'played a role' in transforming the British Paediatric Association (BPA) into the Royal College of Paediatrics and Child Health, it was Baroness June who was crucial. It was originally thought that Baroness June would become President of the BPA, after being Honorary Secretary for a number of years, but the Baroness believed that the paediatricians should have their very own college. She was a member of an influential group with the BPA, which enabled her to push for the establishment of a new college. Many in the profession believed it was not necessary and there was serious differences of opinion. Sir Peter Tizard and his research group at Hammersmith were one group of dissenting voices, who believed that Paediatrics should have the same intellectual footing as medicine for adults but within general medicine, rather than a speciality. However, it was thanks to Baroness June and those who supported her, including Otto and Roy Meadow, that the argument was won. Roy Meadow would become the first President of the Royal College, but Baroness June wouldn't lose out. She would feature on the coat of arms of the new College, in which she is a supporter holding a staff of Aesculapius entwined with a double helix. The other supporter was Thomas Phaire, whose Boke of Chyldren from 1545 was the first book on paediatrics in English; the crest is a baby, taken from the arms of the Foundling Hospital in Coram's Fields. The Baroness June took over responsibility for training and standards for paediatricians that had previously been under the control of the Royal College of Physicians.
Even readers who are not regular visitors to this blog may know who Sir Roy Meadow is. Meadow achieved widespread fame by inventing a psychiatric disorder, Munchausen's by proxy, even though Meadow wasn't a psychiatrist, convinced other Top Doctors that this disorder existed, which resulted in scores of people being diagnosed with this, some of whom were subsequently imprisoned, the essential symptoms of the illness invented by Meadow being injuring or killing other people, often one's own children. Meadow's reputation was consolidated by him appearing as an expert witness in a number of murder trials and making up statistics to convince the jury that the prisoner in the dock was a wrong 'un.
After innocent people had languished in prison for a few years, somebody finally had the sense to challenge Meadow's made-up statistics – they need to challenge the made-up illness as well – and some deeply traumatised people were released from life sentences. Meadow was rightly targeted for criticism but no-one asked why he had been allowed to spout rubbish in court when any statistician could have confirmed that it was rubbish and no-one made any enquiries about the pathologist who performed an autopsy on one of the dead children involved in one of the cases and concealed the fact that the baby had died of a lung infection and was definitely not murdered by his mother as alleged. The baby's mother, Sally Clark, went to prison amidst screaming tabloid headlines, her families desperate pleas were ignored and although Sally was eventually released, losing two babies and then being wrongfully imprisoned finished her off and she died prematurely.
Meadow was struck off by the GMC, yet he received massive support from Top Docs and accusations continued to be levelled at the people whom he had wrongly accused and Meadows was reinstated when he appealed. Sally Clark's husband was then accused of murder himself by David Southall, one of Meadow's colleagues. See previous posts.
Sadly Mr Clark, they're nuts. There is no getting through to them even when the damage that they have caused can no longer be denied. They are nuts, they have been mentored and trained to believe that no-one can challenge them, that no-one else's opinion matters but the real killer is that their profession is corrupt from top to bottom and the honest Top Docs are beaten into silence and kept out of positions of influence.
The extent of the fairy tales that this crew of dangerous, criminal abusers told about each other is illustrated by the obituary that was published for Baroness June in 'The Guardian' in 2006. Here are the edited highlights:
June Lloyd, who has died aged 78, was an outstanding expert in child health. Her research into metabolic disorders led to substantial advances in treatment… She…was recognised as the doyenne of British paediatrics when created a baroness in 1996. Sadly, she was disabled by a severe stroke soon afterwards, an event that brought her career to a sudden, devastating close.
…She qualified at Bristol in 1951 with distinctions in pathology, forensic medicine, public health and surgery, and won the gold medal at the Bristol Royal hospital. Training appointments in medicine, paediatrics and public health in Bristol, Plymouth (with Hugh Jolly), Oxford, Manchester and Durham preceded research on the role of lipid metabolism in diabetes mellitus and other inherited disorders of childhood.
Hugh Jolly was the publisher of baby and child care manuals in the 1970s; he succeeded Dr Spock as the Top Doc who told anxious parents how to do it. Hugh Jolly had an appealing name, but he was a dreadful old git and, far from reassuring and advising nervous parents, he blamed them for everything and was very intimidating. See previous posts. Hugh Jolly worked as a Top Doctor in the west country during the 1950s. I am of the generation who had older female relatives who worked as Angels in Somerset during the 1950s, as did a few of my friends at school. My God, the stories that we heard at first hand from people who never thought that the youngsters would grow up to be sociologists with an interest in health. It really was not simply a matter of a good hospital corner and damp dusting the shelves.
The received wisdom with regard to a lot of childhood illnesses has been and is currently being questioned, particularly in relation to child abuse cases. Again and again patents have sworn blind that they were not abusive to their children in the face of Top Docs who have snapped that the symptoms show that they have been, or that they have poisoned the child, there is no other explanation. Subsequent revelations cleared the names of a number of the accused. One Top Doctor, Waney Squire, was so diligent in demonstrating the serious flaws in her colleagues' expert witness testimonies that the solution was for the GMC to stop her practising, although Dr Squire hadn't actually been guilty of anything other than making her colleagues look pretty hopeless. See previous posts.
Children with lipid disorders of all kinds were referred to June from across the country, and her clinical wisdom was fully recognised. With Professor Otto Wolff she wrote a review on obesity in Recent Advances in Paediatrics in 1976, and a second review on hyperlipoproteinaemia and atherosclerosis, which revealed an interest in lifelong problems beyond those commonly associated with paediatrics, but inseparable from them.
It was typical of June to pursue such wider interests. Her behaviour in committees endeared her to many chairmen – there were long silences, without any hint of tension, still less of impatience, but when she spoke it was always in a calm, fair, reflective and authoritative manner; little more needed to be said, but quietness was always associated with warmth and practicality.
What a nightmare those committees must have been with bloody June and her long silences. As for 'little more needed to be said',  I have encountered Top Docs like June all too often. A tight-lipped expression accompanied by a 'I don't think that we really need to discuss this do we?' Of course not June, we're only talking a gang of predatory sex offenders targeting kids and young people, why ever would we want to raise that particular matter??? Nothing about June will have been 'associated with warmth and practicality', she will have been a grade A bitch and there will have been distressed patients' parents all over the place making comments such as 'oh we tried to talk to her about it but she was really nasty…'
Among her many tasks were chairmanship of the Medical Research Council's physiological systems board and the scientific advisory panel of the National Fund for Research into Crippling Diseases. She also chaired the Nuffield Foundation's council on bioethics' working party on genetic screening…
Who better to proffer opinion on the subject of ethics for the Nuffield Foundation than Ollie's friend? Unless of course it was those other two figures epitomising all that is excellent in medicine, Dafydd's mate Lord John Walton or Geoffrey Chamberlain's mate Lord Bob Winston.
In 1974, she joined the executive council of the Ciba (now Novartis) Foundation, becoming chairman in 1990 and a trustee in 1988; it was towards the end of her chairmanship of a Ciba Foundation debate on Alcohol, Friend or Foe?, as part of the British Association annual festival in 1996, that she collapsed. The meeting was rapidly closed and expert care sought.
There may well not have been any expert care in the room at the time.
Just to confuse everyone, there are two organisations called the Novartis Foundation and they are both working in the arena populated by Top Doctors.
The Novartis Foundation was a scientific and educational charity, formed in 1949 by the Swiss Big Pharma company Ciba, now Novartis, but was dissolved in 2008. It was the direct successor to the Ciba Foundation and the changed name (Novartis Foundation) reflected the new name of Ciba, after merging with Sandoz. The Foundation was the brainchild of Robert Kappeli, Managing Director (and later President), of Ciba. The purpose of the Foundation was to promote collaboration in the medical sciences by the organisation of symposia which would allow experts of different fields to share ideas. Symposia took place both at their London premises and also in locations across the globe. Later these discussions were written up by in-house editors and published by John Wiley & Sons with whom the Foundation had a long-standing relationship.
Novartis, though it provided financial support for the Foundation, was not (in later years) represented on the Board of Trustees and occupied only a minority of seats on the executive council. The company withdrew their financial support from the Foundation in February 2008. The Trustees chose to undergo a merger with the Academy of Medical Sciences, which occurred on 31 July 2008 prior to the dissolution of the Foundation later that year. The Foundation had its HQ at 41 Portland Place in central London. The HQ was refurbished and reopened by the Academy of Medical Sciences in 2010.
41 Portland Place is certainly a Bobby Dazzler and rather confusingly for something called the Academy of Medical Sciences, they do weddings as well:
The Novartis Foundation (formerly known as the Novartis Foundation for Sustainable Development) is a 'non-profit organisation and part of the corporate responsibility portfolio of the Big Pharma company Novartis in Switzerland. The 'Foundation conducts projects to improve health, mostly in sub-Saharan Africa and in south-east Asia. The aim of the Foundation is to improve access to primary healthcare and to strengthen the local healthcare systems. The Foundation fosters health policy among the private sector, NGOs, research institutions and state organisations. The Foundation organises an international symposium in Basel every year'.
It must be very convenient for both of these charitable organisations which are spin offs from the same Big Pharma company to have the same name, while offering academic symposia, healthcare projects in a part of the world famous for sex tourism and weddings. Baroness June would have been proud of it all.
…the sadness of June's final affliction, faced with great courage,
Of course it was. Other seriously disabled people are demanding, inadequate, selfish, Rude To The Angels, Lying To Get Compensation etc, but dear old June soldiered on with Great Courage.
should not be allowed to cloud the serene confidence of most of her life.
Ah the long silences where everybody was made to feel like shit for daring to continue breathing…
She was a doctor to communities, but mainly to thousands of individual children and their families. In academic life and on government, medical and charitable bodies she carried more than her fair share of responsibility.
June had a great deal to conceal, there must have been quite a panic on the part of paedophiles in high places when the old cow keeled over with that stroke, even they could bring back Ollie to Chair the Committees, they had to resort to Roy Meadow and look where that ended up.
She lectured extensively abroad; examined widely; belonged to paediatric associations in America, Australia, Finland, France, Germany, Sri Lanka and Switzerland…
They were international, this is not small scale pilfering from the corner shop.
Her small, slight figure, crowned with red hair, was to be seen everywhere.
Like Babs Castle, Baroness June had her trademark 'red hair'. Working class women are Bottle Blondes or sad old slappers with Dyed Hair and I was arrested for having pink hair and calling the car of the Chairman of the NW Wales NHS Trust a penismobile. If only I had been an accessory to a gang of paedophiles, my hair would not have made anyone angry at all, no matter what colour it was.
June was a friend in a thousand. Everything she did, she did supremely well…
The excellence oozed from every pore.
This tribute to a woman who was an accessory to an international trafficking ring was penned by Top Doctor Gordon Wolstenholme, who died in 2004 before June, but had already prepared her hagiography, in the way that Tam Dalyell, Richard Crossman's pal, wrote glowing appreciations of so many Westminster Swingers in readiness for their deaths.
Sir Gordon Ethelbert Ward Wolstenholme (28 May 1913-29 May 2004) was the founding Director of the Ciba Foundation.
Gordon Wolstenholme was born in Sheffield, the son of a mechanical engineer and educated at Repton School and Corpus Christie, Cambridge. He studied medicine at the Middlesex Hospital and graduated in 1948. From 1940 to 1947 he served with the RAMC. On his return to Britain Gordon was appointed to the post of founding Director of the Ciba Foundation.
Gordon was President of the Royal Society of Medicine, 1975-77, Harveian Librarian of the Royal College of Physicians, 1979 -89 and Master of the Worshipful Society of Apothecaries, 1979-80. Gordon was knighted in 1976, the Year Of The Great Panic, when it became clear that Jeremy Thrope was eventually going to be charged with serious offences, so Harold Wilson resigned as PM, Carlo was appointed Chancellor of UCNW where the action on the ground was and George Thomas the Westminster Molester was appointed Speaker. Dafydd and the gang took their pursuit of Mary Wynch up a gear. See previous posts.
Sir Gordon died in 2004 and was survived by his second wife Dushanka. His grandson is the American music producer Alex Pall, of The Chainsmokers.
'The Guardian' published a touching tribute to Gordon when he died:
Sir Gordon Wolstenholme, who has died aged 91, was internationally famous for exploring new ideas in medicine as the firmly independent director of the Ciba (now Novartis) Foundation for three decades. But this was just the main strand in an enormously productive involvement with medical organisations across all disciplines that continued for the rest of his life.
Its course was shaped by his experiences in the second world war. Born in Sheffield, Wolstenholme studied at Repton school, Derbyshire, Corpus Christi College, Cambridge, and Middlesex Hospital Medical School. In 1939, he went into the Royal Army Medical Corps, where, because of his interest in haematology, he ended up directing the allied blood-transfusion services in the Mediterranean.
By 1944, he was commanding a military hospital in north Italy, responsible for all resuscitation services in the Mediterranean, while also overseeing the distribution and first large-scale use of penicillin in that region. Among his activities were training doctors serving with Tito's partisans and providing medical supplies to the various groups fighting in notoriously difficult terrain in Yugoslavia.
When he left the RAMC in 1947, Wolstenholme had thoughts of a life as a specialist in haematology. However, the Swiss pharmaceutical company Ciba decided to set up an independent centre in London to help repair the war-torn fabric of research in medicine and biology, partly because of British resistance to Nazi ideology and partly because under English trust law, alone in Europe, a charitable foundation of this kind has total independence from its sponsor.
However, it was realised from the outset that research and academic communities would be highly suspicious of commercial subsidy. The centre needed a director and trustees whose background, position and clout would dispel all doubts about freedom from parent-company influence, and set the new and relatively small enterprise on the same lines as the Nuffield or Wolfson foundations. When the Ciba Foundation opened its doors in 1949, Wolstenholme was behind the desk, with trustees including the proponent of the welfare state, Lord Beveridge, and the Nobel laureates Alexander, later Lord, Todd (chemistry, 1957) and Sir Howard Florey (medicine, 1945).But the greatest guarantee of independence came from the vigour, integrity and style of the foundation's activities.
Under Wolstenholme, the foundation set a pattern of cross-disciplinary, intensive and often controversial residential symposia. The pattern worked well because the number of worldwide participants was strictly limited, nobody could escape examination, and chairmen were chosen for their ability to probe and stimulate debate.
The presentations and discussion sessions of each symposium were (and still are) edited and published rapidly.
Other centres used a closed symposium framework as a means of probing highly technical questions, but the small, highly intensive meeting was the brainchild of Wolstenholme and was developed under his guidance. Sometimes it was touched with humour, as at a symposium on extrasensory perception (set up under external pressure in the mid-1950s) whenparticipants were surprised on their final day to find that some among their number were able to perform the mysterious feats they had come together to discuss. It turned out that these gifted individuals were professional magicians covertly hired by Wolstenholme to pep things up a bit. Not all participants were amused.
Lord Greville Janner was famously a member of the Magic Circle:
In any case, most meetings had more than enough pep. Wolstenholme's abilities as an organiser, administrator and fount of ideas were matched by his ability to act as a mediator and catalyst. He brought together scientists who, although matched intellectually, were separated by age, background and status, and would never normally have debated together.
Professor Abraham White, of the Albert Einstein College of Medicine, New York, described Wolstenholme's Ciba Foundation meetings as a 20th-century version of a caravanserai, a gathering of travellers at an oasis where from dawn to dusk the time is spent matching ideas and intellects and engaging in pointed discussion. This is apt, for some symposia went east, to India or Malaysia for example, and although the early meetings concentrated on very narrow medical subjects, the range and breadth of the programme increased with time.
In 1967, the theme of the 100th symposium was Health and Mankind. An eminent gathering heard Wolstenholme nail his colours and idealism to the mast. "Healthcare – a world health service – is an essential step toward man's wellbeing and toward a world society. If we cannot work together for the health of mankind we are rightly doomed," he declared.
Wolstenholme was somehow able, without evident effort, to manage simultaneously a dozen or more complex enterprises, for example working on the restructuring of medical care in Ethiopia (1963-74) and in Caracas, Venezuela (1969-78). When he retired from the Ciba Foundation in 1978, he moved, not into the country, but into the heart of London, where he would be close to the many medical and scientific organisations that he served. He was knighted in 1976, and in 1975-77 and 1978 was president of the Royal Society of Medicine.

In 1988, at the age of 75, he founded Action in International Medicine (Aim), which he chaired till 1995. It is an appalling waste, he would sometimes say, to pour money into costly hi-tech medicine and training to create specialist units in countries where communities lack even the simplest provisions for primary health care. Medicine must be structured upward from a broad community base, for it cannot be built soundly from the top down. Aim's work towards the goal of sensitive local primary and environmental health care in countries including the poorest continued until 2001.
Wolstenholme is survived by Dushanka, their two daughters, and a son and two daughters by his first marriage.
·Gordon Ethelbert Ward Wolstenholme, medical academic, born May 28 1913; died May 29 2004.
The obituary published for Gordon Wolstenholme by the Torygraph provided yet more names of some very famous people who had been rash enough to hitch their fortunes to that of the Lord of the Rings and his dodgy 'foundation' and charidees:
…From the outset, the Ciba Foundation, based in the heart of the West End of London, was devised as a meeting place for scientists from all over the world; its activities reflected this mission through the provision of accommodation, meeting and library facilities, the organisation of a multitude of scientific conferences, and the publication of the proceedings. Wolstenholme likened these gatherings to "scientific house parties" and he and his wife Dushanka would preside over them with warmth and humanity.
Wolstenholme's talents as a facilitator and organiser engendered outstanding standards of interaction and discussion among participants, and great loyalty to the meetings' unique format, in which small groups (typically numbering just 25) of the world's best experts were brought together, usually for about three days.
The subjects of the symposia were very much in keeping with Wolstenholme's wide and varied knowledge and interests; in 1956 there was a symposium on the nature of viruses; chaired by Sir Charles Harington, it included Francis Crick, Rosalind Franklin and James Watson.
Crick and Watson of Double Helix fame were known to have behaved appallingly toward Rosalind Franklin who was actually on course to work out the structure of DNA before they were. They hindered her work in every way possible and at one point broke into her lab and stole data. Franklin died young – it is suspected that her ovarian cancer may have been caused by her exposure to radiation during the course of her research – and for many years she was written out of the picture re DNA. James Watson outlived Francis Crick and was constantly under fire for mouthing off and making statements without the evidence to back them up. Watson had some quaint ideas about women, darkies and the nature and origin of 'intelligence'. James Watson really was a most unpleasant old git. But he bagged the Nobel Prize, not Franklin.
The opening of a new conference room was marked in 1962 by a meeting on "Man and his Future", and included papers presented by Julian Huxley (on evolutionary aspects); Gregory Pincus (on the control of reproduction); Albert Szent-Györgyi (on the promise of medical science); Alex Comfort (on ageing) [the Alex Comfort of 'Joy of Sex' fame]; and Joshua Lederberg (on the biological future). It finished with a tour de force from J B S Haldane who spoke on the subject of "The Next 10,000 Years".
The 200th (and Wolstenholme's final) Ciba Foundation Symposium, "Brain and Mind", was held in 1978, and drew together neuroscience, psychology, philosophy, law and theology.
I would have loved to have been present at that one, I can imagine what took place.
His 30 years had seen many meetings focused on topics such as transplantation, genetics, embryogenesis, carcinogenesis and immunology. But his taste for the broader brush was also reflected in meetings on Man and Africa, Conflict in Society, Teamwork in World Health, Caste and Race, Health of Mankind and Civilisation and Science.
At all stages of Wolstenholme's career his interests were international and idealistic.
It will have been because the Corporate Responsibility depts of those ever-giving big business whom Wolstenholme approached for dosh couldn't see a substantial return for them.
He aided the development of many other organisations, including the Arthritis Research Campaign, the Renal Association and National Kidney Research Fund, the International Society for Endocrinology and the European Society for Clinical Investigation…
Sir William Asscher was the mover and shaker behind the Renal Association and the National Kidney Research Fund. See previous posts.
In 1981 Wolstenholme was one of the 43 victims of an outbreak of hepatitis at the annual ladies' dinner of the Worshipful Society of Apothecaries after the raspberry parfait was found to be infected with the virus. Several eminent members of the medical profession were laid low for six months after eating the Scottish raspberries which, it turned out, had been picked by casual labourers who had no lavatory facilities.
While this incident could be viewed as being an excellent example of natural justice, I wonder if someone helped it along a bit? I can imagine that Wolstenholme and his pals had shafted so many people that there would be more than a few sufficiently motivated to organise this. Wolstenholme was screwing over scientists, they'll have known how to infect him and his posh ladies.
Wolstenholme was appointed a Chevalier of the Légion d'Honneur in 1959 and received the Star of Ethiopia in 1966. He was knighted in 1976. His endless reserves of energy and curiosity were equally matched by his generosity and good nature…
In April 1987, the month before Ollie Brooke's appeal was heard by the Lord Chief Justice – and after I had made yet another formal complaint about Dafydd and the gang, April 1987 also being the month before I finished my MSc at Hammersmith, while unbeknown to me the people who ran my course were in collusion with Dafydd and the gang re screwing me job-wise – Gordon Wolstenholme interviewed Sir Douglas Black in the series of filmed interviews with Eminent Top Docs at Oxford Poly (now Oxford Brookes University).
Douglas Black was yet another person who held very senior roles and used his position to protect the Westminster Paedophile Ring and Dafydd et al. Black was a very culpable man, having been Professor of Medicine at the University of Manchester and physician at the Manchester Royal Infirmary, 1959-77, when Dafydd's pals Hugh Freeman, Mervyn Susser, Kenneth Rawnsley et al were facilitating the ring in Greater Manchester. Douglas Black served as Chief Scientist at the DHSS, 1973-77.
During Black's years at the DHSS, organised child abuse in the UK exploded; the Children Act 1975 resulted in the removal of hundreds of children from their families and their placements with gangs like those in north Wales, Islington, Lambeth etc. Black was appointed by Heath's Gov't, while Sir Keith Joseph was Secretary of State for the DHSS (see previous posts for the gen on Joseph). When Joseph was in that post, he also appointed Barbara Kahan as his social work adviser on children in care. Kahan had for years colluded with organised abuse and along with her husband Top Doc child psychiatrist Vladimir Kahan, facilitated the elite ring in Oxfordshire. See eg.'Always On The Side Of The Children'. Kahan remained as a Gov't adviser for years after Heath left office, but then so did Douglas Black.
The summary provided of Wolstenholme's interview with Black reads:
In this interview conducted by Sir Gordon Wolstenholme, Sir Douglas Black, President of the Royal College of Physicians from 1977 to 1983, discusses some aspects of medicine in Britain. He begins by reflecting on the state of the National Health Service almost forty years after its introduction, commenting on morale within the service following several reorganisations, and encouragement to the private health sector from government. The interview moves on to a discussion of the division of health service resources among regions, and Sir Douglas speaks of chairing a working group in the 1970s on inequalities in health, resulting in the publication of the Black report in 1980. He then talks of his time as Chief Scientist at the Department of Health and Social Security from 1973 to 1977, and the consequences for the Medical Research Council caused by changes in research policy and funding following the Rothschild report. Sir Douglas, who was a member of the BMA working party reporting on alternative therapy, then discusses with Sir Gordon Wolstenholme the rise in popularity of alternative and complementary medicine. There follows a discussion of risk assessment, including reference to the nuclear power industry.In the final part of the interview Sir Douglas mentions his work as chairman of the ethics committee of the Royal College of Physicians, and the interview concludes with a discussion of medical education and the role of the College in postgraduate training.
See previous posts for more info on Sir Douglas Black.
Sarah Boseley, who wrote 'The Lancet' obit for Gordon's friend Baroness June, also pushed the boat out:
Few people are immortalised in a heraldic coat of arms. June Lloyd's place in history, however, is confirmed in the shield of the UK's Royal College of Paediatrics and Child Health… Baroness Lloyd, as she became in 1997, was a remarkable woman who earned this compliment not only as one of the founders of the college, but also as one of the leading paediatricians of her day and a pioneering example to women in medicine.
"She is an example to us of what can be achieved and showed us that we should not accept that the higher roles are not for women, because they certainly are", said Patricia Hamilton, the current—and first woman—president of the college, who knew Lloyd. "She was very much a role model for women. She was a doctor at a time when it was not so easy to be at the top of your profession as a woman."
Now so many more women can preside over a Dept of Paediatrics which has been infiltrated by paedophiles, appoint one of the most serious offenders to a Chair and allow him to use the labs and offices of the dept as a repository for the child porn before he distributes it across Europe!
These days 60% of trainee paediatricians in the UK are women. But after Lloyd qualified in medicine at Bristol University, in 1951, she was advised that she should try a speciality that was less male-dominated and competitive than paediatrics.
So how exactly do you think that Baroness June made it to the top of the greasy pole among these difficult hostile men? By her long silences?
But she persevered and ended up at Birmingham University as research assistant to Otto Wolff, who became her friend and mentor….She became widely known as an authority on lipid disorders in children. In 1965, Lloyd became a senior lecturer at Great Ormond Street and the Institute of Child Health in London.
Someone let Jimmy Savile in and no matter what is now said, They Did Know, I was told about Savile molesting 'young girls' in 1988 by two medical researchers. They Definitely Did Know and furthermore there had been complaints…
In 1975, she became professor of child health at St George's Hospital Medical School, establishing a new department of paediatrics.
In 1975, Dr Death's use of a Private Member's Bill ensured that the Children Act 1975 found its way onto the statute books. See post 'Cry, The Beloved Country'.
In 1985, she returned to Great Ormond Street as Nuffield professor of child health. She won much recognition for her work and was active on the national stage…
She needed to be. Ollie was under investigation and there was also havoc breaking out in north Wales.
…She was one of an influential group within the British Paediatric Association that believed it was time paediatricians had a college of their own….Aligned with Lloyd were Otto Wolff and Roy Meadow, who eventually became the first president. When the argument was won and the college was founded, there was little debate as to who would feature on the coat of arms. "She was key and institutional. She was highly respected and had a very good, considered judgement", said Hamilton.
She was a Woman, not in possession of a penis and after Ollie, that sadly convinced the uninitiated that June was therefore not on board with Ollie and Chums…
Hamilton described Lloyd, famous for her flaming red hair,
Ooh it's straight out of a bottle
as "feisty"—a word others also regularly use about her—and with a propensity not to tolerate fools gladly.
The biggest idiot of the lot was the first to point the finger…
She was also credited with supporting and mentoring many young paediatricians.
One word about Ollie and the many others and they'd be finished.
She is said to have been distant to many adults
Translate as 'cold and deeply unpleasant'
but to have had a great rapport with children, although she did not marry and had no children of her own. In 1996, Lloyd suffered a sudden and serious stroke that left her disabled and without the power of speech. Although she took her seat in the House of Lords in 1998, she was unable to make much use of it. It was very sad, reflected Hamilton. Had she not been so incapacitated, Baroness Lloyd of Highbury would have continued to be the powerful and impassioned advocate for children's health in the Lords that she had been all her life.
Patricia Hamilton is another Lady Doctor who worked in a senior capacity at St George's and served as President of the Royal College of Paediatrics and Child Health. Patricia rocked up at St George's in 1987, the year in which Ollie achieved early release. This is what appears on the Royal College of Paediatricians' website about Patricia:
Start year of presidency: 2006
End year of presidency: 2009
My CV demonstrates the unplanned and unguided nature of a career in medicine in the 1970s. Like many of my contemporaries, opportunities presented themselves and one took a deep breath and went through doors that opened. There was not much time to decide, as each six month post meant applying for the next one almost immediately.  Usually each move was influenced by someone who inspired me; not by formal advice but by example. I trained in paediatrics in Bristol, Birmingham, London (UCH and GOS)
All the old favourites there then! Patricia will have noticed this man cluttering up GOSH:
and Plymouth,
and in all of these places I found true role-models among the consultants. I made a detour into Obstetrics in Nottingham, which set me up well for a Neonatal Fellowship in Vancouver. I learned there how to look after premature twins in a small plane taking off over a snowy runway (pilot's comment: "we've only got one go at this") and that a helicopter is not an easy place for evaluating clinical signs.
I have come to be very cynical about these tales of derring-do combined with life-saving heroics on the part of Top Doctors.
I had not really thought about my longer-term future, and it was not until I was at Great Ormond Street that I had to think about where I might go as a consultant.
A job at St George's, Tooting became vacant, and I wasappointed consultant and senior lecturer in neonatology in 1987.
St George's was very well-known for its neonates unit, it was why so many women with high risk pregnancies booked in to deliver at St George's. It had the reputation of being the best, or at least among the best, in London.
There I enjoyed teaching and the training and career guidance of junior doctors, who I found to be much more thoughtful about future life. They were more settled, not just in where they wanted to live, but also with partners and families to consider. This was very different from our peripatetic "training" and long hours of work with frequent night and weekend on-call rotas.
St George's, like many hospitals at that time, was facing considerable management pressures and I added management roles to my clinical duties. One of my early tasks was to introduce annual appraisal to the consultant workforce – you may imagine how well that went down with the older generation! I became a Medical Director of the Hospital with particular remit of Children and Women's services.
Patricia will have witnessed the unpleasantness and chaos that I witnessed when I worked at St George's. If she was Medical Director a few years later, she'll have presided over the Chamberlain-Pearce scandal. That was followed by another scandal involving Prof Stuart Campbell, who had been brought in after the Chamberlain-Pearce scandal to steady the ship. That was followed by Rashmi Varma, a St George's fertility consultant, appearing before the GMC, accused of coercing NHS patients to donate their eggs to private patients…
One day Keith Dodd, then Honorary Secretary of the RCPCH, rang me up and asked me if I would be interested in working for the College – and so began my association with the RCPCH.  I became a member of various committees, then chair of a few, and then took some officer roles. I became Honorary Secretary and then Vice President for Training and Assessment and I was President from 2006 to 2009. It was an honour to be elected and I was proud to be paving the way for women in paediatrics by being the first woman President of the RCPCH.
Baroness June was robbed as we know, what with Roy Meadow coming along and bagging the prize, June's only comfort being her featuring on the coat of arms. Thus it was Patricia who broke the glass ceiling in terms of being the first woman President of the Royal College of Paediatrics and Child Health.
My philosophy for the College was that we were best placed to improve healthcare for children and young people through providing the best recruitment, training and performance. I wanted strong partnerships with our fellow professionals and robust interactions with the Department of Health and other organisations. I planned to extend the concept of family-friendly care to the families of our young trainees and indeed our consultants. Hard work was already guaranteed, but I wanted the profession to be recognised as one that cared about its own young trainees and their families.
This sounds great, but what I witnessed at St George's was an atmosphere of bullying, intimidation and conflict. A few years later, Brown got talking to a Top Doctor whom he met at a friend's wedding and they told him that they had worked at St George's as a junior doc, for Chamberlain's team and it was not a nice experience. Her perception was that she was treated badly because she was an Asian doc. I suspect that they just beat everyone with whatever stick was convenient. When I was a PhD student, I met a senior administrator/manager from St George's at a conference and I let on that I had worked there years ago and that the Personnel Officer, Frank Ball, had been appalling when I approached him about being insulted and abused in the lab and the man at the conference responded with 'Oh God, Chamberlain and that lot, they were a bunch of absolute bastards, completely out of control'.
Then, I reasoned, we could attract the brightest and best newly qualified doctors to join us in paediatrics and we could also retain them. I consider the main achievement during my Presidency was the acquisition and design of our new College building.
Professor Martin Roth of the Royal College of Psychiatrists finest hour was the negotiation of the loan from Marks and Spencer to buy the grandiose building in Belgravia – which the Royal College could not afford and had to later move out of anyway – while Dafydd, Gwynne et al ran riot. See post 'The Newcastle-upon-Tyne Connection'.
The decisions to move from Hallam Street, not to buy the adjacent GMC premises and to pay a considerable sum of money for the new College, were made after much discussion and agonising. It cost me many sleepless nights, but I believe the new building encapsulates and furthers our aims, and strengthens the influence of the College.
As President I represented the RCPCH in many fora, including the European Academy of Paediatrics of which I was President from 2009 until 2011.
Following my term as RCPCH President I was appointed to the Department of Health as Director of Medical Education (England).
We set up Medical Education for England (MEE), which addressed the issues of recruitment and training for all disciplines of medicine. The challenges of the European working-time directive had to be tackled to ensure that proper working hours did not compromise the quality of training or the service. In addition we started to rationalise recruitment and selection to regulate the numbers of applicants applying for the appropriate number of posts across all specialities. So now in retirement I have tried to both look back to summarise a paediatric career as I saw it and try to remember how it was to be looking forward.
Sarah Boseley, the writer of the lies about Patricia's mate Baroness June which appeared in 'The Guardian', is the Health Editor of 'the Guardian'. So she's responsible for the acres of misleading reporting and the notable silence with regard to those we know and love.

Sarah, do you know what Ollie Brooke and the other pals of the Inspirational Baroness June actually did???
Baroness June features on the Royal College of Physicians website as an example of, you've guessed it, part of the 'Women In Medicine' project, which 'showcases a number of today's leading female clinicians and the women from the history of medicine who have inspired them'. Professor Neena Modi was Inspired by paedophiles' friend and international trafficker's career-builder Baroness June. Here's Professor Neena, holding a photo of her Role Model and Inspiration:
This nice pic was posted up on the Royal College's website on 3 Oct 2017. By that time, word had got around that a blog had appeared on the web written by a woman in north Wales who had worked as a medical researcher in London and was dishing the dirt on the Top Docs.
Neena: You holding up pictures of Baroness June and banging on about Inspirational Role Models does not wipe out the reality of Oliver Brooke and his associates. Furthermore if any of you had any sense or integrity, your response to this blog would not have been 'liar, liar, pants on fire', it would be to think long and hard about how you allowed yourselves to be enlisted to support an international gang of paedophiles who had infiltrated your workplace.
Professor Neena Modi is a consultant at Chelsea and Westminster Hospital, Professor of Neonatal Medicine at Imperial College London and President of the Royal College of Paediatrics and Child Health, one of only three women to hold that position.  
Oh please, give it a rest.
Neena qualified from the University of Edinburgh, completing her training at University College Hospital, London, and Liverpool University.
Max Rosenheim, Geoffrey Chamberlain, Dafydd etc, we get the picture Neena, you worked Among The Greats.
She heads a major neonatal research programme focused on the perinatal determinants of lifelong health, and led the development of the UK National Neonatal Research Database, of which she is the current director.
Professor Modi has made many contributions to children's services, and has been at the forefront of reinvigorating the clinical research base of paediatrics and child health. During her career she has served, among many other roles, as president of the UK Neonatal Society, President of the Academic Paediatrics Association of Great Britain and Ireland, and Chair of The BMJ's ethics committee.
Baroness June was remembered by the Royal College of Physicians of Edinburgh when she turned her toes up and of course by the BMJ. The BMJ mentioned that the Baroness was 'Petite, red haired, fiery, and formidable'. Could they not have given us her vital statistics and weight as well? The BMJ failed to supply a photo of Baroness June in swimwear a la Miss World, but they did publish one of her in ermines:
The BMJ also provided a pic of that coat of arms. The petite, red-haired, fiery and formidable paedophiles' friend is on the left:
The Royal College of Physicians' Lives Of The Fellows Online does of course provide an account of Baroness June's life and career and gives a few details that do not appear elsewhere:
June Lloyd was a determined advocate for children's health and was instrumental in the establishment of the Royal College of Paediatrics and Child Health (RCPCH)… Lloyd is depicted holding the staff of Aesculapius, but instead of a serpent it is intertwined with a double helix, representing DNA and the importance of science, of which Lloyd was a powerful proponent…
…She was again told paediatrics was not for women, but, undaunted, she finally found a position in Birmingham, as a research assistant to Otto Wolff. Her friendship with him and his family was probably the most important of her life.
So it was Otto who gave this dreadful woman her big break. There will have been an interesting reason for that. Perhaps one related to Uganda.
In 1975 she was appointed to establish a new department of paediatrics at St George's Hospital Medical School and, despite many inconveniences,
Including a flourishing ring of professional people involved with organised abuse
including clinical facilities located far away from the Portakabin housing the academic offices, the department flourished.
I wonder how?
Many of the young doctors she appointed have gone on to become professors and leaders in paediatrics.
It'll be a matter of symbiotic relationships again a la all those who worked with Serious Abusers including Gwynne, Dafydd and William Sargant as well as Ollie. 'Keep your mouth shut about this and you'll Go Far. Once you have Gone Far, you will be obliged to never ever allow what happened to become public knowledge or you'll be finished'.
Here's Two Bobby Dazzlers!
Lloyd also developed close associations with biochemists and geneticists, which enabled her research to flourish. In 1985 she returned to Great Ormond Street as Nuffield professor of child health. This second period at the Institute of Child Health was not as enjoyable as her first: she did not really fit well into the new, highly scientific atmosphere where laboratory science took precedence over clinical matters.
Surely the genius who prioritised science and appeared on a coat of arms alongside a symbolic representation of the DNA molecule would have thrived in such an atmosphere? Or was the Baroness one of those medics at St George's whom the lab scientists loathed, because they were on huge salaries, did not understand the science but insisted on telling everyone what to do, how to do it and Chaired every fucking Committee? One reason why Malcolm Pearce and Patrick Vallance (see previous posts) got on better with the scientists than a lot of medics did at St George's was that they could do the science, but they nonetheless still took their places among the pompous scrapping Top Docs and kept quiet about the wrongdoing and the blood on the carpet. Patrick Vallance hasn't been recently appointed as the Gov'ts Chief Scientific Officer only because of his abilities in science. Or even because of his previous very senior position in R&D at GSK. Patrick was working at St George's when Ollie was imprisoned, when Pearce and Chamberlain were up to no good and when that research assistant who had blown the whistle on Gwynne and Dafydd was bullied out of her job while Patrick was supposed to be assisting with her mentoring…
They all hated Thatch you know, really hated her, what with the Damage That She Did To The NHS…
Sabotage a research assistant's lab equipment, refuse to help her when she reports that it has broken down, order her to work with broken equipment, then hit the fucking roof when she does so and refuse to supervise her anymore?
Whatever you say Thatch!!!
[June] retired in 1992, but continued to work for the promotion of paediatrics and children's health… in 1997, was made a life peer. When informed that she was to enter the House of Lords and that it was the best club in town, she said: 'But I am not a clubbable person.'
People who are not clubbable famously find it difficult to thrive in medicine, because so much of it is about getting pissed on fine wines. But the Baroness compensated for her lack of clubbability by being a useful idiot sans male genitalia so above suspicion when Ollie was arrested.
Sadly, just before she was due to be introduced into the House of Lords, while she was chairing a meeting on alcohol at the CIBA Foundation, she suffered a massive stroke which left her very disabled and unable to speak. With the considerable help of Lords Walton and Kilpatrick, she did eventually take her seat in 1998, but her disability prevented her from playing an active role in Parliament.
Lord John Walton: Dafydd's Big Mate from Newcastle, President of the GMC, 1982-89. Walton was President of the GMC when the GMC refused to investigate my complaint about Gwynne and then Tony Francis and then Dafydd. Lord Robert Kilpatrick: Greville's Big Mate from Leicester. After John Walton had provided sterling service, Kilpatrick was headhunted by the GMC to be their President/Chair. Kilpatrick was in post when the Pearce-Chamberlain scandal blew up. Kilpatrick accepted the evidence from Chamberlain re Pearce's guilt alone and how Chamberlain Knew Nuzzing.
For many years [June] was civilian adviser to the Navy and took this responsibility very seriously, showing special concern for the dependent children of isolated service families. She would often tell colleagues that although the position of adviser was honorary, she was really an admiral. By this stage her brother, Philip, was a commander in the Royal Navy, and he took great pleasure in seeing both their names on the same Navy List.
Lloyd had a fiery temper to match her red hair.
Hair dye has no known effect on temperament.
She had a steely eye, and attention to detail was impressed on all who worked for her, including the keeping of meticulous charts of every facet of any child who was a patient under her care.
How did she miss Ollie's child porn library right there in the medical school, occupying several labs and offices?
She was much in demand for committee work, thanks to her thoroughness, conscientiousness and reliability.
And her willingness to collude with serious criminality.
Always accessible to colleagues, she was affectionately known as 'Aunty June' by staff.
That was almost certainly being used as an insult.
If she was concentrating on papers at her desk, it could take many minutes before a visitor at the open door could gain her attention.
I know this variety of person. You stand there respectfully not disturbing them, waiting for them to finish at their convenience. You know that they are aware that you are waiting but they are routinely as arsey as possible and deliberately keep you waiting ages, to emphasise that you are so unimportant that you can be ignored for a very long time. Those who excel at this will make a point of seeing other people who have arrived after you who are lower down in the pecking order than you, just to rub it in that you really are a piece of shit. It is a very transparent technique and one of many that used to leave me thinking 'are you really so dim that you think that I haven't seen through this charade? I am only not telling you how rude and vile you are because I am rather more polite than you. It is certainly not because I have any respect for you or that I have accepted your view of me you thick grandiose dipstick'.
She was probably most comfortable in the company of her younger male colleagues.
But she's an Inspirational Role Model For Other Women!
She was good with children, although she did not find close personal contact easy.
So she wasn't good with children. She was one of those Top Doctors who didn't find close personal contact easy, so physical examinations were not a pleasant experience for the patients. Particularly for children, who wouldn't understand that this Top Doc was uncomfortable with other people and it really wasn't the kid's fault that the Top Doc wasn't doing this very well.
Despite her formidable public persona, she had a great sense of fun – which she kept for special occasions – and she was capable of great kindness.
Especially towards members of international paedophile rings who were in need of a job as a Professor of Paediatrics.
She was engaged to be married soon after qualifying as a doctor, but this was called off at a late hour and she did not marry.
Then she found Otto, so there was a happy ending.
She was survived by her brother Philip.
Sir Alan Craft was the person who wrote this guff for the Royal College of Physicians Lives Of The Fellows Online. Who is Sir Alan Craft? Well, considering that he felt able to write this about Baroness June, a pal of Ollie and the Ring, Sir Alan is one fun guy.
Sir Alan William Craft (born 6 July 1946 in Newcastle-upon-Tyne) has been Emeritus Professor of Child Health at Newcastle University since he retired in 2010. Craft was most notable for his work as one of the founders of the Children's Cancer Study Group.
Craft began his clinical training at Newcastle Medical School in 1964, qualifying in 1969. He chose to enter paediatrics, becoming a pre-registration house offer at the Royal Victoria Infirmary. When a colleague at the Royal Victoria Infirmary went on maternity leave in the 1970s, Craft stood in to look after the children with leukaemia and it sparked an interest in children's diseases and thus started his road to specialising in paediatric oncology. Craft then undertook an MRC Fellowship, working for a year at the Royal Marsden Hospital in London, before returning to Newcastle.
Craft was appointed a consultant in 1978. His initial consultancy position was at North Tyneside General Hospital, where he worked in tandem with a part-time position at Royal Victoria Infirmary developing the new speciality of paediatric oncology. Sir Alan expanded the unit over the next 25 years into an oncology service for the north of England. In 1985, Craft also undertook training in rheumatology, when he returned to work full time at the Royal Victoria Infirmary in Newcastle. This led Craft to an interest in joint diseases in children and from that he established a paediatric rheumatology service. In 1993, Sir Alan was appointed to the Chair of Child Health and became responsible for the teaching of undergraduate medical students.
In Jan 2006, Craft was appointed by the Charles Clarke, Secretary of State to the new Post Graduate Medical Education and Training Board as the UK's new regulator of postgraduate medical education. In 2006, Clarke was Home Secretary. Did he perhaps make Craft's appointment at an earlier date when Clarke was still Secretary of State for the DES?
In 2006 the paedophiles' friends of Bangor University and the NW Wales NHS Trust were doing all that they could to force Merfyn Jones, the VC of Bangor University out of his job, as a result of him, his wife and one of his friends challenging the gang. The last straw was Merfyn giving me a place to do a PhD and then a job in the University. Merfyn had enemies in high places, including in No 10. See previous posts eg. 'Lest We Forget' and 'The Point Is To Change It'.
At the same time as trying to force Merfyn out, the gang wanted one last gift on his watch: a medical school. The NHS was in such a bad state in north Wales that I used to think that a medical school would be a very good idea. Until it became clear to me that the paedophiles' friends were going to ensure that they secured all the senior posts in the medical school, having already destroyed the region's NHS. The paedophiles' friends were even telling each other which jobs they would have 'when Merfyn Jones gives us that medical school', it was seriously weird. Merfyn wouldn't make any noises of commitment -well who could blame him, just look at what that lot had done with three district general hospitals: the highest mortality in the UK and the hospitals were bankrupt – and so at one public meeting, paedophiles' friend Iean Wyn Jones, then still the AM for Ynys Mon, confronted Merfyn in front of cameras etc and demanded a medical school.
'Will ewe give us a medical school Prrrofessor Jones? Ewe know that the rregion is dessperate…'
Footnote: Ieuan was born in Denbigh, where his dad was a Minister. Iean trained as a lawyer at Liverpool Poly when the poly was run by Dafydd's mates. Ieuan worked as a solicitor in practices which were fitting up the gang's victims. Ieuan married a girl from Denbigh who worked as an Angel and who knew all about the abuse of kids and patients. Ieuan then spent years as the MP and then AM for Ynys Mon, where he supped with the gang and ignored serious complaints about them. See previous posts.
Give 'em a few more billion Ieaun and when they produce the most dangerous, dysfunctional joke of a medical school on the planet, blame it all on someone else as usual!
Who's going to be Prof of Community Health, Meri Huws?
The Gwerin didn't get a whole medical school, the Fight For That Continues, but they did get The Clinical School, a postgrad training centre which was an off-shoot from Cardiff, led by one Dr Richard Tranter. Who imposed himself as my Top Doc, turned up to my office when I told him that I was fed up with all of them and wanted no more to do with them, wrote fiction on my medical records, told me to abandon a suicidal student whom I was supporting (who was one of Tranter's patients), demanded to know which of my senior colleagues I was telling about the threats and harassment that I was receiving 'because we know you're talking to someone in the University and we want to know who it is' and then prescribed me a combination of drugs which was neurotoxic and could have killed me had I taken them. As the NW Wales NHS Trust began to sink, Tranter than emigrated to New Zealand. See previous posts.
Charles Clarke knew all about those running The Clinical School and indeed the maniacs and fraudsters providing postgrad medical education in other HE institutions, including St George's, because Charles Clarke ran the Windbag's office back in the 1980s when the Windbag was Leader of the Labour Party.  See eg. 'The Big Questions'. The Windbag who was friends with Tony Francis, who's wife came from Ynys Mon and had parents who were Councillors and who knew Dafydd and the gang as well as those Councillors and politicians who had colluded with them for decades…
Lord Cledwyn, Labour MP for Anglesey/Ynys Mon, 1951-79, a big pal of the Windbag's in-laws and the man who introduced the Windbag to Sunny Jim Callaghan:
Between 2006-08, Alan Craft, along with Sue Killen, Chief Executive of St John Ambulance, undertook a major review of palliative care services for children in England for the Secretary of State, eventually producing a report titled Palliative Care for Children and Young People in England.
Craft has a large number of professional memberships, both local and international. From 2004 to 2007, he was Chairman of the Academy of Medical Royal Colleges. In the 1990s Alan Craft had various roles in the British Paediatric Association before becoming Vice President, 1998-2003 and then President of the Royal College of Paediatrics and Child Health until 2006.
Craft was Chairman of the UK Children's Cancer Study Group, 1992-94 and Chairman of the MRC Bone Sarcoma Committee, 1989-96. He was a member of the MRC Cancer Therapy Committee 1989-96 and of the Management Board of the UK Case Control Study of Childhood Cancer from 1992 onward and Honorary President of 'Together for Short Lives'. Internationally, Craft was President of the International Society of Paediatric Oncology, 1999-2005.
Craft established the North of England Children's Cancer Research Fund in 1978.
Craft was a Boy Scout when he was young and in 2009 he was appointed as Chairman of the UK Scout Association. Craft is currently the County Chairman of the Northumberland Scouts. 
Great Scouts In History:
Bear's dad is the former Tory MP Sir Michael Grylls, who was named in the Ian Greer cash for questions lobbying scandal, along with Neil Hamilton. Sir Peter Morrison was also involved, but because Morrison had left the Commons by the time that the scandal received media attention, the spotlight was not shone upon Morrison.
Sir Alan Craft is married to Lady Anne Craft, a children's Angel.
Previous posts eg. 'The Most Dangerous Man In The World – Part III' discussed how Cynthia Payne's world famous brothel in Ambleside Avenue, Streatham (just down the road from St George's), in which elderly men in positions of influence famously exchanged luncheon vouchers for sex, was a hub for the Westminster Paedophile Ring. The girls in the brothel when the police raided may well have all been consenting adults, but what was never stressed among the ribald humour and hilarity was that people who had sexual interests in people who were not consenting adults could meet other very helpful people at Mrs Payne's place, including lawyers, judges and senior police officers, who could help them out of a tight spot. The well-publicised police raids of Cynthia's brothel also found Top Docs from St George's enjoying themselves in there, but that did not appear in any media reports or was not referred to during the trials. The world heard about the vicars, the peers of the realm, the solicitors, the MPs – although their identities were not revealed – but no-one was told that the Top Docs of St George's were popping off down to the brothel. The St George's which employed Top Docs who were facilitating a sex trafficking/paedophile ring.
Cynthia Payne first came to national attention in 1978 when police raided her home at Ambleside Avenue and found a sex party in progress. When the case came to trial in 1980, Payne was sentenced to 18 months in prison, reduced to a fine and six months on appeal. She served four months in Holloway. In 1986, the police raided Payne's home again, this time during a "special party" that she was hosting after the completion of the shooting of the film of her life. Cynthia was subsequently acquitted at the resulting court case in Feb 1987, causing headlines once more.
Cynthia's acquittal in 1987 was not because anyone had 'seen sense' after the fiasco when she was raided in 1978 which had resulted in a great deal of sympathy for her, Cynthia having been jailed, yet the old boys in the brothel being afforded total protection and anonymity. By the time that Cynthia was raided in 1986, she was famous, a cult figure and the whole business of Madam Cyn and the brothel was a national joke of a saucy postcard type. I can understand that; everyone thought that it was a nothing more than a load of elderly posh men with interesting sexual tastes looking a little foolish by having to pay young women for sex. However that brothel was one of the hubs in which the traffickers of the Westminster Paedophile Ring hung out, so no-one was going to jail Cynthia again after the 1986 raid. Ollie had been caught by then and his colleagues and co-criminals were seriously worried and reinforcements were pouring in from all directions. Factions of the police were moving in on the ring, Mary Wynch's case had shone a spotlight on the very serious criminality that Dafydd et al were involved with and Alison Taylor, I and Brown would not shut up about equally serious criminality on the part of the same group of people. We didn't know him at the time, but F too was making a fuss about the corruption of the North Wales Police and what was happening to kids in care. My post 'Hey, Hey, DAJ, How Many Kids Did You Kill Today?' discusses some of the events of 1986 and 1987.
In the mid-late 1980s the Civil Service mandarins in the highest positions at the DHSS and the Home Office were involved with organised abuse and serious crime; they were so unsuitable for those positions that a conspiracy of terrifying proportions at the highest level was the only explanation. These were the mandarins who were mates with Jimmy Savile and had a meal with him at the Athenaeum, where they discussed the offer of the job as General Manager of Broadmoor and then had a drink and a chat with his mate Alan Franey, who subsequently became CEO of Broadmoor. See posts 'Socio-Political Context Of The North Wales Mental Health Services In The 1980s', 'A Pretty Classy Piece Of Operation' and 'The Old Devils'. No-one serious about running the NHS mental health services would ever have done any of it.
It was in 1986-87 that Baroness Jean Trumpington, Thatch's junior Health Minister decided that Mr Savile was needed to manage Broadmoor. He was in post at some point during 1987.
Cynthia was acquitted of all nine charges of controlling prostitutes on Feb 11 1987. The courtroom burst into applause after the decision of the jury – of eight men and four women – was announced after just over five hours of deliberation. The 13 day trial was presided over by Judge Brian Pryor QC. During proceedings at the Inner London Crown Court, Judge Pryor told the court: "You must be sure that the particular woman was acting as a prostitute and that that particular girl's movements were influenced one way or another by Mrs Payne." Pryor ordered defence costs – in a trial costing £117,000 – to be paid from central funds and Mrs Payne' s £5,000 legal aid costs to be reimbursed. Mrs Payne emerged from the court beaming with smiles as she was mobbed by a crowd of 100 media and well-wishers. The Conservative MP Geoffrey Dickens said: "It seems astounding that all this public money should be poured into bringing these charges."
Geoffrey Dickens was the one MP who outed the Westminster Paedophile Ring in Parliament during the 1980s. He was widely criticised and mocked for it and was subsequently characterised as a thick Yorkshire red-neck. Geoffrey Dickens alleged that children were being used for porn and sex work and that another arm of the business was class A drugs. Geoffrey Dickens had found out about the empire run by Dafydd's gang and Ollie and his mates. No-one would pay any attention to Dickens and the dossier of names and details that he handed to Leon Brittan, the Home Secretary, was then lost by Brittan. Greville Janner accused Dickens of anti-semitism. Numerous other Home Office files relating to the allegations re the Westminster Paedophile Ring have gone missing.
When Geoffrey Dickens made it public that he had been told that his name was on a hit list for assassination, he was mocked once more. By the very same people who wet themselves every time that someone like me contacted them and told them what had happened to me. One thing that was not widely known about Dickens was that he'd won an award for bravery after he single-handedly saved two boys and a man from drowning.
Geoffrey Dickens died in May 1995, two months before Geraint Morgan QC, Bing Spear and Peter Morrison died and two months after Viv Stanshall died.
Because the security services themselves were protecting the Westminster Paedophile Ring as well as Dafydd's gang, it is difficult to speculate over exactly what happened with regard to Cynthia's Feb 1987 trial; as in the case of Jeremy Thorpe's 1979 trial, the simple interpretation is that it was rigged, on the part of the jury or judge or barristers or indeed on the part of everyone. However, because there were elements of the police and security services who were trying to close in on the ring by 1986 and there was Resistance among other factions of the same organisations, matters could be more complex. I'm wondering if perhaps the whole thing was a put-up job. If the police really wanted to bring charges of brothel keeping, they wouldn't have raided on that particular occasion. The raid and the subsequent trial simply confirmed Cynthia Payne's status as a national treasure and events at Ambleside Avenue as harmless fun. Whoever was going to believe that the most horrific things were happening in north Wales, that it was Top Docs who were leading the crime and it was directly linked to serious organised crime in London and overseas?
Cynthia did really well out of that 1987 trial.
Now here's a weird thing. Previous posts have explained that as well as other forged documentation with regard to me, I have copies of documentation completed and signed by a Top Doc of whom I have never heard stating that I was discharged from the North Wales Hospital Denbigh in February 1987, at the time of Cynthia's trial and that this Top Doc, on the day of my discharge, diagnosed me with Paranoid Schizophrenia. I was not in the North Wales Hospital at the time, I returned to London in mid-January. The North Wales Hospital knew this, because as described previously, one day, with no warning at all, Dafydd and the Angels arrived on the ward, told me that I was being discharged and I was driven to a train station by two Angels and physically put on a train to London. I was told to 'shut your mouth about DA' and never to come back to north Wales again, or I would be arrested and imprisoned in Risley. Clwyd Health Authority even paid for my train ticket. Immediately before I was driven to the train station, Dafydd told me that he was ringing Haringey Social Services to tell them that I was being sent back to their area. This was not a referral for aftercare, I received no 'aftercare' and I heard nothing from Haringey Social Services. However back in London, I received death threats, as did my friends with whom I had stayed in Bethnal Green, before I moved to Harringay.
Had my dead body been found in London, just before Cynthia had been acquitted, it would never have been identified, because according to the records, I was sitting in a locked ward of the North Wales Hospital with Paranoid Schizophrenia.
This is just some of the evidence that numerous Top Docs, lawyers and judges, as well as Theo Huckle QC, the Counsel General for Wales (see post 'Theo Huckle QC'), read and ignored.
Immediately after the Feb 1987 trial, Cynthia made headlines for several weeks with lurid tales, some details of which she aired in 1987 on the Dame Edna Experience, a TV series produced by LWT, with co-guests Sir John Mills and Rudolf Nureyev. Cynthia also launched her book on the programme, Entertaining at Home. Peter Mandelson worked for LWT and in 1987 was desperately trying to make the Windbag electable by June. The court case ended Payne's career as a party giver, but that didn't matter; she had a far bigger career and more importantly the Westminster Paedophile Ring remained 100% obscured by the jokes…
Here's a gnat who hitched a lift on the back of this lot:
On the Dame Edna programme, Payne expressed an interest in becoming an MP in order to change Britain's sex laws. She stood for Parliament as a candidate for the Payne and Pleasure Party in the Kensington by-election in July 1988 and followed that by standing in her own area of Streatham for the Rainbow Dream Ticket in the 1992 General Election. She did not gain a Parliamentary seat.
Two films based on Cynthia's life were both released in 1987: 'Wish You Were Here', about her adolescence, with Emily Lloyd in the lead role and 'Personal Services' about her adult life, starring Julie Walters. Both were written (and Wish You Were Here was directed) by David Leland.
Emily Lloyd went through a very bad time when she was early adulthood after being diagnosed with serious mental health problems, although she has recently been doing much better. Julie Walters is a member of that cohort of actors who knew about the trafficking and sexual exploitation of kids in care and vulnerable people but remained silent.
Payne made appearances as an after-dinner speaker and launched a range of "adult" services and products in 2006. Payne died on 15 November 2015, aged 82.
For quite some time Cynthia Payne cohabited at Ambleside Avenue with Screaming Lord Sutch. They weren't partners, they were just friends, but David Sutch shared the house with Cynthia. David knew many of the identities of those who had frequented that brothel, he had further info about them as well and he will have known where the girls who staffed the brothel were coming from. David Sutch was found hanging dead on 16 June 1999, seven months before the publication of the Waterhouse Report. See previous posts. It was presumed that David Sutch had killed himself, in the way that all the deaths by hanging in north Wales were attributed to suicide, even the deaths of people who had hung themselves in places and ways that would have been unusual or difficult for someone committing suicide.
David Sutch had been seriously depressed which was why so few questions were asked about his death. He had been under the care of Top Doctors and I think that it was the Top Docs based at St George's/Springfield. I witnessed them in action, the neglect of patients equalled that prevailing in north Wales, it was truly impressive, they really did not work too hard to keep desperate people alive.
1999 was one of those years of Peak Witness Deaths, like 1994 and 1995. Ioan Bowen Rees, who had been Chief Exec of Gwynedd County Council while the paedophile gang raged within the Council's homes, died on May 4 1999.
Rudolf Nureyev, who starred with Cynthia on the Dame Edna show, died from an HIV related condition in Jan 1993. Nureyev had been a very promiscuous gay man and had frequented the notorious bath houses a great deal. When AIDS appeared in the news around 1982, Nureyev took little notice. He tested positive for HIV in 1984, but for several years he denied that anything was wrong with his health. Nureyev began a marked decline in the summer of 1991 and entered the final phase of the disease in the spring of 1992. In March 1992, living with advanced AIDS, Nureyev visited Kazan and appeared as a conductor in front of the audience at Musa Cälil Tatar Academic Opera and Ballet Theatre. Returning to Paris with a high fever, he was admitted to the hospital Notre Dame du Perpétuel Secours in a suburb northwest of Paris, and was operated on for pericarditis. He made a recovery but in July 1992, Nureyev showed renewed signs of pericarditis; he determined to forswear further treatment. His last public appearance was on 8 October 1992, at the premiere at Palais Garnier. Nureyev re-entered the hospital Notre Dame du Perpétuel Secours in Levallois-Perret on 20 November 1992 and remained there until his death from AIDS complications at age 54 on 6 January 1993.
Thomas Tyrell-Kenyon, who was known to be sexually abusing at least one boy in the care of the social services in north Wales, died from an HIV-related condition in 1993. His father Lord Kenyon also died in the early months of 1993, close in date to Thomas. Lord Kenyon had been President of UCNW, Chairman of Clwyd Health Authority, a JP, the most senior Freemason in north Wales, a member of the North Wales Police Authority and much more. See previous posts. Days after both Kenyons were dead, I was arrested on the basis of the perjury of Jackie Brandt, a Gwynedd social worker; Brandt had made a police statement claiming that I had screamed and shouted at her in Safeways, such that she thought that a violent assault from me was imminent. At my trial Brandt cried in the witness box and admitted that I had said nothing to her at all and had not threatened her in any way. I was found guilty for looking at her and thus causing her alarm and distress and had to pay £60. There was no investigation into why Brandt had perjured herself or into why it was then documented upon my medical records that I had 'stormed out of the Court swearing' after the case, when I had remained sitting in the Court in full view of numerous people, laughing with F at the farce of it all.
The judge who presided over Cynthia Payne's 1987 trial, Bryan Pryor, presided over another highly publicised sex trial in Jan 1996, when music teacher Valerie Short, 41, was accused of giving sexual favours to under-age boys at a youth orchestra. Short was alleged to have taken part in one-to-one and group sexual encounters at parties attended by members of a London college youth orchestra which she helped run. Prosecutor Miranda Moore said: "This teacher made herself available to boys of 13, 14 and 15 for sexual favours. It was widely known amongst the youngsters she mixed with."
Judge Brian Pryor QC said: "The evidence discloses a prima facae case of sexual activities by the defendant with these young boys, quite advanced sexual activities in some instances, going on over a period of time when the defendant was a teacher – one of those helping to run the youth orchestra with quasi-parental responsibilities. But at the end of two days of legal argument at Woolwich Crown Court in south-east London, he stayed the case, saying it would be grossly unfair to go ahead because the alleged incidents took place between 10 and 12 years ago and valuable defence evidence would have been lost.
Pryor said Ms Short's alleged victims appeared to have been willing participants and there was no evidence that they had suffered psychological or emotional damage. "This isn't a case where the victims have suffered in silence for years and years before being able to reveal the dreadful truth," he added. Ms Short, of Blackheath, south-east London, was charged with five counts of indecent assault involving boys aged between 13 and 15 after a former victim contacted police last year. She was suspended from her post as music teacher at the John Roan school, Blackheath, pending the trial.
One of the alleged victims, who cannot be named for legal reasons, described one encounter with Ms Short when he was 15 after a violin lesson at her house. Miss Moore read a statement from the boy in which he described how sexual contact between himself and Ms Short took place in the teacher's bedroom. Defence counsel Louis French read from the same boy's evidence alleging that Ms Short had had sex with several boys at a party. But the boy had told police: "Nothing happened that I was coerced into. I did it because I wanted to. I took advantage of it."
Judge Pryor concluded: "There's a real danger that because of the delay, valuable evidence supporting the defendant's case or weakening the prosecution case may well have been lost. In all the circumstances …it would be grossly unjust for the case now to be pursued against her."
Brian Pryor's decision is quite extraordinary. Even if the boys who gave evidence were not coerced and suffered no emotional damage, Valerie Short should absolutely not have done this; there is no 'grey area' involved, this was way beyond any acceptable conduct for any adult teacher. The obvious concern that arises is 'she may well have done something that was far more distressing to boys who did not come forward', but even if she didn't, teachers are not supposed to have sex with their pupils and Valerie Short will have known that. Indeed, no adult woman should have sex with boys of 13, 14 and 15. Brian Pryor's comments suggest that he is unable to identify sexually predatory conduct even at its most obvious.
Pryor stopped the case against Valerie Short on Jan 24 1996. Some three weeks after the Waterhouse Report opened. In Jan 1996, Patient F and I were acquitted after the gang mounted yet another prosecution against us, on the basis of the perjury of a CPN, Bridget Lloyd. Tony Francis had prepared a Court Report before the trial had taken place for WHEN we were found guilty, stating that I should be sent to a secure psychiatric unit. After the trial, there was a flat refusal to apologise to us and there were no questions asked by anyone about the perjury of Lloyd and the extraordinary report that Francis had prepared. See previous posts.
In Sept 1999, Brian Pryor presided over another trial and made a decision for which he became notorious. Clifford Norris, the brother of David Norris, one of the suspects in the 1993 murder of Stephen Lawrence, was due to be retried for allegedly assaulting Gatri Hassan, an Asian taxi driver, in south-east London in November 1998. Mr Hassan claimed that Mr Norris attacked him with a knife after he complained about his driving. In May 1999 a jury found Mr Norris not guilty of possessing an offensive weapon but could not reach a verdict on whether he had unlawfully wounded Mr Hassan, who needed hospital treatment. Judge Brian Pryor QC, sitting at Woolwich Crown Court, told Mr Norris that he was free to leave after deciding that it might be "unfair" for him to face another trial on the charge.
At his original trial Mr Norris said his brother David, 22, had borrowed his car on the night in question and that he had been with a girlfriend at the time of the attack. Judge Pryor highlighted the publicity that surrounded the case because of Mr Norris's family. Not only was his brother a suspect in the Lawrence case but his father, also called Clifford, was serving a jail sentence for drug offences at the time of the last trial. "This notoriety could have a contaminating and prejudicial effect on the defendant's case," he said.
The judge also said that although the victim had picked out Mr Norris from an identity parade a few days after the attack, having studied pictures of David and Clifford he could see a family likeness that could give rise to an "honest" error with identification on the part of Mr Hassan. There was also a danger that a jury might be prejudiced by the relationship between Clifford and David because of pre-trial publicity.
The London Hospital serves Tower Hamlets, where Dafydd's partner gang operated for many years. My post 'Uncle Harry's Friends…' discusses how Social Feminist Top Doc Wendy Savage, who has spent virtually her entire career at the London Hospital, knew about the gang and simply performed repeated abortions – in some cases 16 or 17 abortions or more – on her patients, who were victims of that gang. I gained the impression from something that Dafydd said to me in 1987 that he knew Wendy Savage… Wendy Savage's work at the London Hospital dates back to 1960. Le Fanu will have studied under her when he was training. Wendy Savage was a friend of Geoffrey Chamberlain's. Lord Robert Winston also trained at the London Hospital. Lord Bob knew Chamberlain and was on good terms with him as well. See previous posts.
James Le Fanu is married to Juliet Annan. Juliet's dad has featured in previous posts; he was Lord Noel Annan, Provost of King's College, Cambridge, 1956–66, Provost of UCL, 1966–78 and Vice-Chancellor of London University, 1978-81. Noel Annan knew about the criminality, the research fraud and the Top Docs facilitating the Westminster Paedophile Ring via the London teaching hospitals. Noel was one of the members of the security services who interpreted his duty to Queen and country to cover it all up.
Annan was educated at St. Winnifred's School, Seaford in East Sussex and Stowe School. At Stowe, Annan was head of Temple House and Editor of the school newspaper The Stoic. Peregrine Worsthorne who spent most of his career on the Sunday Telegraph, as a journo, then Assistant Editor, then Editor, went to Stowe School, where he claims that he had a sexual relationship with George Melly. When George Melly stayed in Bangor after performing at Theatre Gwynedd, he offered to pay an underaged boy to have sex with him. The boy told F and F was rash enough to raise his concerns about Melly. Wendy Savage was married to a Jazz musician. Ronnie Scott's was a popular venue for the Top Docs of St George's. In the 1960s, Dannie Abse had been the organiser of the Poetry and Jazz events. See post 'O Jones, O Jones'.
Worsthorne is married to Lucinda Lambton, who's dad Lord Lambton was the Tory Minister in Heath's Gov't who was caught in the call girls and joints in bed scandal. Lord Lambton's family seat was in Durham and he very likely possesed detailed knowledge of the Westminster Paedophile Ring and Dafydd's partner gang in the North East, even if he was restricting his own attentions to consenting adults. See previous posts.
Noel Annan went up to King's College, Cambridge in 1935, where he read History, then continued for a fourth year to read Law. While at King's, he was recruited into the Cambridge Apostles, whose members included the double agents Guy Burgess and Michael Straight. See previous posts. Eric Hobsbawm was an Apostle who was studying at King's at the time. Hobsbawm had a second home at Croesor for years and was mates with the Welsh Bloomsbury Set. See post 'Captain Swing And His Crew'.
Hobsbawm, although a member of the Communist Party, supported the Windbag's efforts to become PM. Hobsbawm's daughter, when she grew up, established a PR company with Sarah Macaulay, who later married Gordon Brown. Hobsbawm Macaulay Communications worked for the Labour Party from 1993 onward. Sarah Brown studied psychology at Bristol University at the same time as Sarah Jenkins, the daughter of Sheila Jenkins, a Gwynedd social worker who was a colleague of Jackie Brandt and a particularly abusive member of the gang. See previous posts. Sarah Jenkins' dad David Jenkins was a Prof at UCNW. Dafydd ruled the roost in the Dept of Psychology at UCNW until approx 1987, when he was overthrown by Prof Fergus Lowe who used his knowledge of Dafydd and his crimes to build his own equally toxic empire. See 'Feet In Chains'.
In January 1941 Annan was commissioned in the Intelligence Corps and posted to MI14, a Department of the War Office. In 1942, he was posted to the Joint Intelligence Staff in the War Cabinet Office which was located with Churchill in his bunker. In 1944, Annan was transferred to Paris to become the French liaison officer with British military intelligence, later becoming a senior officer in the political division of the British Control Commission in Germany. Annan returned to King's in 1946. In June 1950, he married the author and critic Gabriele Ullstein and they had two daughters, Lucy and Juliet.
Gabriele Annan was an author, literary and film critic. She was educated at a progressive boarding school in England and studied modern languages at Newnham College, Cambridge. After WW II, Gabriele was a member of the Cambridge Ladies ski team, shared a London flat with Mary Blewett and worked in advertising. Blewett and Annan remained lifelong friends. Mary H. Blewett is Professor Emerita of History at the University of Massachusettes Lowell, having retired in 2002 after 36 years. She also lectured for twenty years at various museums and historical societies in Massachusetts.
Gabriele Annan wrote literary criticism for 'The Spectator' and 'The New York Review of Books'. She was an early advocate for the work of Kazuo Ishiguro, Ian McEwan and Alan Hollinghurst. She was a film critic for The Spectator and the Sunday Telegraph until 1987.
Noel Annan acted as a Trustee of the British Museum, 1963–80 and of the National Gallery, 1978–85. Sir Frederic Kenyon, a relative of Lord Kenyon, was the Director of the British Museum. Sir Frederic's daughter Dame Kathleen Kenyon was a well-known archaeologist and influential academic, including in London and Oxford Universities. In later life Dame Kathleen moved to live near Wrexham, during the 1970s, when Thomas Tyrell-Kenyon was known to be abusing the boy in care. See previous posts. Noel Annan also Chaired the Annan Committee aka the Royal Commission on Broadcasting, which concluded in 1977.
Gabriele Annan died of heart failure in Nov 2013 in her flat at Eaton Square:
Since I began this blog, I have been told that the Bobby Dazzler central to the negotiations between the Duke and Thatch was, er, me! Yes, the order went out that I had to be shafted in every way possible because I had managed to accumulate some qualifications and I was Very Plausible. Of course I was, I'd met the lobotomist of the Westminster Paedophile Ring, you don't forget that in a hurry and then I was surrounded by mad Top Doctors yelling threats at me.
It's OK Gwerin, my work has always been so much better than yours that you had to plagiarise it and now my blog has a bigger readership than anything than any of you have ever published. How does it feel to be this crap? I could even be in the Lanesborough at present for all you know, unlike you I've never plastered my mug all over the internet publications etc, so it's not as if anyone would recognise me if I was kipping in there.
Noel's daughter Lucy Annan is an architect, like Sir Clough Williams-Ellis and the network of architects linked to Richard Crossman and the Westminster Paedophile Ring as discussed in my post 'An Error Of Judgement?'. Lucy is listed as a Director of the following companies.
Lucy Annan married fellow architect Spencer de Grey.
Spencer Thomas de Grey

Born
1944 (age 74–75)
Occupation
Architect
Practice
Foster Associates
Spencer Thomas de Grey was born in 1944 in Farnham, Surrey. Patient F was born and brought up in Surrey and went to Farnham Art College. de Grey studied architecture at Cambridge University under Sir Leslie Martin. On graduation in 1969, de Grey worked for the London Borough of Merton on one of the first middle schools in the UK. He became a registered architect in 1969 and a chartered architect in 1993.
de Grey joined Foster Associates in 1973, continuing his work in education on the Palmerston Special School in Liverpool. He then worked on the Hammersmith Centre before, in 1979, setting up Foster Associates' office in Hong Kong to build the Hong Kong and Shanghai bank. In 1981 de Grey returned to London to become the Director in charge of Stansted Airport, which he saw through to completion in 1991. During this period, he was also responsible for the Sackler Galleries at the Royal Academy of Arts in London.
de Grey was made a partner at Foster Associates in 1991 and since then he has overseen a wide range of projects, including Cambridge Law Faculty, the Commerzbank Headquarters in Frankfurt, the Great Court at the British Museum, the Great Glasshouse at the National Botanic Garden of Wales, the World Squares for All masterplan together with the implementation of its first phase at Trafalgar Square, the redevelopment of Dresden Station, The Sage Gateshead (Music Centre), HM Treasury in Whitehall and nine City Academy schools in the UK.
de Grey is responsible for a number of projects in the USA including the masterplan and first phase of the Boston Museum of Fine Arts, the Winspear Opera House in Dallas, Avery Fisher Hall at New York's Lincoln Centre and the competition winning scheme for the National Portrait Gallery courtyard at the Smithsonian, Washington DC.
In May 2007, Foster + Partners restructured with external investor 3i and the new executive board included Lord Foster as Chairman, Mouzhan Majidi as Chief Executive and original shareholders Spencer de Grey and David Nelson as Heads of Design.
The Lord Foster of Thames Bank and Spencer Thomas de Grey
Spencer de Grey lectures widely, is an architectural adviser for the Royal Botanical Gardens in Kew, Chairman of the Building Centre Trust and was a visiting lecturer at the Royal College of Art's Curating Contemporary Art course. He is Chairman of the Cambridge University School of Architecture Advisory Board and was elected Visiting Professor of Architecture from January 2010 until September 2011. de Grey was elected a Royal Academician in December 2008.
de Grey's mentor Sir John Leslie Martin (17 August 1908 – 28 July 2000) was a leading advocate of the International Style. Martin's most famous building is the Royal Festival Hall.
After studying at Manchester University, Leslie Martin taught at the University of Hull, which for many years concealed the big sex abuse ring in Yorkshire which was linked to the ring in north Wales. During WW II, Martin was assigned to the pre-nationalisation Railway companies to supervise re-building of bomb damaged regional rail stations. In this capacity Martin developed pre-fabricated designs to speed construction.
Following WW II Martin was made a Deputy Architect to the London County Council and in 1948 Hugh Casson selected him to lead the design team for the Royal Festival Hall, the most prestigious building project of the Festival of Britain. Sir Hugh Casson (see previous posts) was close to the Royal Family and taught Carlo how to paint in watercolours. Mandy's granddad Herbert Morrison oversaw the Festival of Britain. Mandy's granddad was a leading figure in the Labour Party at the same time as Richard Crossman, who was a member of the Westminster Paedophile Ring and Harold Wilson who rearranged the furniture of Gov't in order to conceal it.
In part in recognition of his achievement Martin was made Chief Architect of the LCC in 1953 and used his position to promote emerging younger architects. From 1956, Martin was made Head of the Architecture School at Cambridge University, where Colin St John Wilson was his assistant. Martin was Slade Professor of Fine Art at Oxford University, 1965-66.
Martin was involved initially with Patrick Hodgkinson in the Brunswick Centre in Bloomsbury, that was partially completed. The 1950s also saw the creation of the Loughborough Estate in Brixton, designed by Martin.
Martin with Colin St John Wilson completed a number of academic buildings, including halls of residence Harvey Court for Gonville and Caius College and the William Stone Building for Peterhouse as well as the St. Cross faculty libraries, St Cross Road, for Oxford University. Martin was also the masterplanner for Leicester University. One of his later projects was an extension to Kettle's Yard Art Gallery to house the works of Dame Barbara Hepworth and others.
Martin and his wife, Sadie Speight, were responsible for the modernist house Brackenfell (Grade II listed) in Brampton, Cumbria.
Leslie Martin's assistant, Sir Colin St John Wilson was the son of Henry Wilson, who became the Bishop of Chelmsford in 1929. Henry Wilson was known as the "Red Bishop" as a result of his sympathy for the Republican cause in the Spanish Civil War. The Red Bishop will have known many others who also supported that cause he later became well-known people on the left who concealed/were members of the Westminster Paedophile Ring, as named and discussed in previous posts.
Colin Wilson was educated at Felsted School and Corpus Christie College, Cambridge. He served in the RNVR as a lieutenant in a Communication Squadron of the Fleet Air Arm in Europe during the Second World War and then India. Wilson was demobilised in 1946 and completed his studies at the Bartlett School of Architecture at UCL, graduating as an architect in 1949.
Wilson married twice. First he married Muriel Lavender in 1955, but they were later divorced in 1971. Then he married the American-born architect Mary Jane Long, a founding partner of Long & Kentish architects, in 1972; with Long, Wilson has one son and one daughter. Long and Wilson often collaborated on design projects.
After graduating, Colin Wilson worked at the London County Council architects department, 1950-55, under the Directorship of Sir Leslie Martin. Wilson was involved with the Independent Group of artists at the Institute of Contemporary Arts in London and he contributed to the seminal "This Is Tomorrow" exhibition at the Whitechapel Art Gallery in 1956. Wilson worked for a development company for a year before becoming a lecturer in architecture at Cambridge University in 1956, where Martin had been appointed Professor of Architecture. Wilson was a Fellow at Churchill College, Cambridge, 1962-71. He retired from teaching in 1969 to concentrate on his architectural practice.
Colin Wilson is best known for designing the current British Library building in London, begun in 1962 and finally completed – after a 35-year history of political wrangles, budget overspending and design problems – in 1997. The architecture of the building is influenced by several sources and was shortlisted for the RIBA Stirling Prize in 1998.
Wilson returned to Cambridge to become Professor of Architecture in 1975, stepping into shoes vacated by the early death of William Howell. He was a Fellow at Pembroke College, Cambridge from 1977 to his death in 2007. He retired in 1989, becoming a Professor Emeritus. Wilson became a Trustee of the Tate Gallery in 1974, and a Trustee of the National Gallery in 1977, retiring from both positions in 1980. He was a member of the RIBA and the Royal Academy. Colin Wilson was knighted in 1998 for services to architecture and was an Honorary Fellow at Churchill College, 1998-2007. He was a visiting Professor at Yale four times (1960, 1964, 1983 and 2000) and at MIT from 1970 to 1972.
More recently, Wilson and Long & Kentish designed the new wing of Pallant House Gallery in Chichester, England, which opened in June 2006. It was shortlisted for RIBA awards in 2007, and won the 2007 Gulbenkian Prize. Wilson also donated his share of his collection of over 400 works of art to the gallery (owned jointly with his second wife). His collection, worth £5m, included works including those by Peter Blake, Lucian Freud and Walter Sickert. Many of the works were acquired directly from the artists, who were friends of Wilson: indeed, he designed homes for several.
An extension to the British Library opened in 2007, shortly before Colin Wilson's death. Wilson was survived by his second wife and their son and daughter.
See previous posts for details of the huge civic corruption involving Gov't Ministers and others with links to the Westminster Paedophile Ring and architects, town planners and local authorities, including that which resulted in the Poulson scandal and the jailing of John Poulson, T. Dan Smith and Andy Cunningham. The trials of Poulson, Smith and Cunningham barely scratched the surface of what had happened because nothing which touched on the Westminster Paedophile Ring was investigated…
James Le Fanu's wife Juliet is a publisher who served as a Director of Penguin Books Ltd, 1997-05. Juliet is at present Publishing Director of Fig Tree and she explains that 'For Fig Tree, I publish well-written, entertaining and occasionally provocative books that tap into the zeitgeist both in literary and commercial fiction, art history, memoirs and cookery. I publish authors including Zoë Heller, M.J. Carter and Meera Sodha'.
One of James Le Fanu's own books is entitled Too Many Pills: How too much medicine is endangering our health and what we can do about it. There are indeed too many Pills, far too many of them:
There are so many Pills that it was cause for a celebration on the part of the Mills:
There is a You Tube clip available of James Le Fanu in which he chats about medicine, including spinal problems; the clip is called 'Developing A Spine'. How about trying it Dr Le Fanu?